I am beaming like a cheshire cat who just found the big bowl of cream for the afternoons teas at Claridges!  Yes I am, because I have a super gorgeous 'real wedding' feature to share with you.  
Tiffany married her beau Rob in August 2008, at Pembroke Lodge, a magnificent Georgian Mansion, set in 2500 acres of Richmond Park with spectacular views across the Thames valley to Windsor and Surrey.  A fitting venue, I'm sure you'd agree, for the UK's top Vintage Wedding Planner.  Tiffany runs the fabulous Grant-Riley Weddings, a wedding planning company specialising in the design and creation of beautiful bespoke weddings from the 1920's through to the 1960's.  Tiffany also happens to be the resident wedding planner for the fabulous Luella's Boudoir of London.
"It was such a surreal experience for me as I'm so used to being the wedding planner behind the clipboard attending the bride on the day. I still can't believe I was the bride!"...
All Photography Copyright (C) 2010, Matt Faber [Click each image to enlarge]
Photography kindly provided by Tiffany-Grant-Riley
There is a little story behind me delivering these lovely photographs to you… 

When I was planning my own wedding back in 2008, I regularly stopped by one particular very popular wedding planning forum to share ideas and seek inspiration.  I recall this one Bride posting a report of her wedding day and remember being absolutely stunned with the photographs.  THAT, I thought to myself, is how I want my wedding day to look; think 1930's opulence, understated elegance and detail that really paid homage to a vintage era in the most thoughtful and considered way; all art-deco inspired fonts, peacock feathers and a 1930's style bias cut gown to die for. I remember printing off the wedding report and savouring it one evening in bed.  I was inspired!
When I started writing Love My Dress late last year, the  memory of this particular wedding report came back to me one morning, and I knew I just had to try to track down the Bride to ask if I could feature her wedding; everything about her big day represents the essence of Love My Dress so perfectly; beautiful, glamorous, elegant, stylish and vintage inspired and hugely inspirational to any Bride to Be planning a wedding of her own. 
I returned to the same wedding planning forum and tried to find the original post, but couldn't. I did a bit of Googling – nothing.  Then one day, I stumbled entirely by accident upon Tiffany's Blog.  No way! It's her, it's my Bride!!  …. and so swiftly followed a little merry jig in the kitchen (and some ridiculous celebratory "WOOOOOS!"), all excited fumbling fingers trying to type an email much faster than my mind could even generate the words ~ I probably made so many typos! Anyway, if I did, it doesn't matter, because Tiffany sounded delighted to have heard from me and seemed to share my excitement, so today, I bring to you a little glimpse into her big day.
I hope you enjoy and can take inspiration from these beautiful wedding photographs as much as I have. 

Prembroke Lodge, the venue…
"We chose Pembroke Lodge because we absolutely love Richmond. I was working with a touring theatre company a few years ago and we spent a week at the Richmond Theatre. I had such a wonderful time and loved the locality of the river, countryside and good shopping, that it was a sign when we found Pembroke Lodge hiding in Richmond Park in all its Georgian glory!"
One of the elements I love most about Tiffany's wedding story is her dress.  Not least because it is very beautiful and elegant, but because, her Mother made it for her.   Regular readers of Love My Dress will know that I am very proud of my Husband, a graduate in Fashion Design, who also makes beautiful dresses (and has made some incredibly beautiful wedding gowns like the one below).  I know how fabulous it feels to step into a bespoke dress that has been made just for you, especially by someone you love…
"My mum made my dress…I wanted to have something I could pass down one day, a piece of family history…"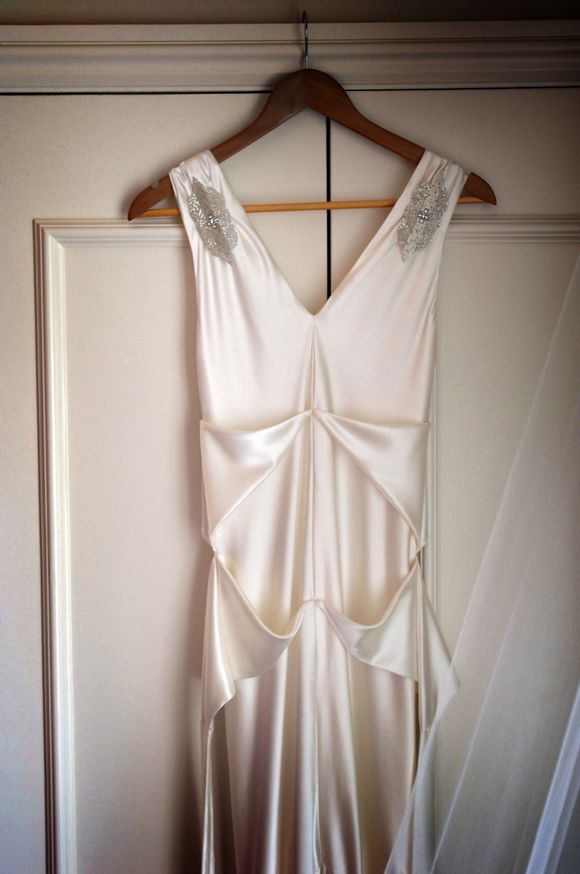 Such exquisite art-deco style beading detail…
Veiled in beauty…
"My veil was an ivory cathedral mantilla veil with gold lace edging…"
Tiffany's shoes were from Office…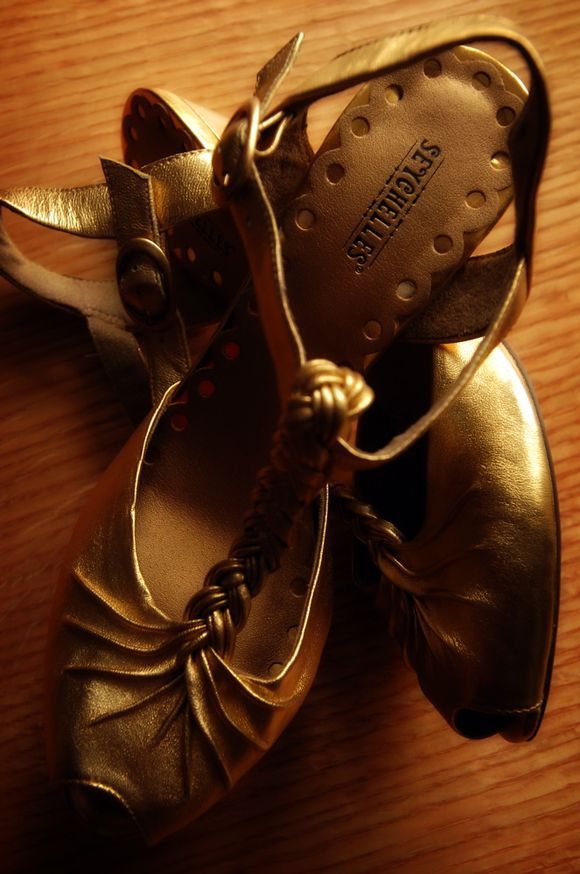 I was keen to know what had inspired Tiffany in styling her vintage wedding day…
"For as long as I can remember  I had always admired a wedding photograph of my great aunt and uncle Peter and Mavis. Mavis holds a very special place in my heart and although she lost Peter 25 years ago, I still aspire to have the happiness they shared in their marriage. (Picture is attached). Their wedding took place on New Year's Eve 1949 but her gown and veil still reflect the 1930s glamour…"
Tiffany's Great Aunt and Uncle, Peter and Mavis, and their wedding photograph that so inspired Tiffany in styling her day…
Florist for the day was Rebecca Mays…
"I had worked with Rebecca on one of my weddings the year before and was so impressed with her work I had to book her for ours. Our theme was 1930s opulence, using deep blues and purples with antique gold and I loved the idea of using flowers in similar shades to pick up on this. I chose deep purple irises with peacock feathers in an over arm bouquet (typical of 1930s bridal fashion) held together with an Art Deco brooch with blue rhinestones.  The the irises were a reference to my bouquet and Rob's buttonhole…"

"The bridesmaids had burnt orange Milva roses to pick out the rich blue of their dresses, filled out with rosemary for a gorgeous scent and tied with organic guipure lace."
Bonny in blue…
Style Details…
Bride's hair accessory ~ Emma Embery
Bride's  Earrings and necklace ~ Accessorize (Monsoon)
Bridesmaids Dresses & Shoes ~ Accessorize (Monsoon)
Brides Hair & Makeup ~ Simply Fab Company
Makeup used on the day ~ MAC
Bridesmaids Gold leaf hair bands ~ Shannon Hazell Jewellery [click the link to visit her Etsy store]
Bridesmaids necklaces ~ Urban Rose Jewellery Designs, La Dee Da Jewellery, Divine Rose, September Blackbird
Kiss the Bride! Tiffany says she was incredibly nervous as this photograph was taken…
The look of love!  A very newlywed Mr and Mrs Grant-Riley!
Rob was suited and booted as follows…
Suit & Shoes ~ Marks & Spencers
Shirt ~ Next
What a stunning shot by Photographer Matt Faber; Tiffany's veil caught in the breeze brings life to this photograph and illustrates the intricate lace/scalloped edging on her veil.  So beautiful…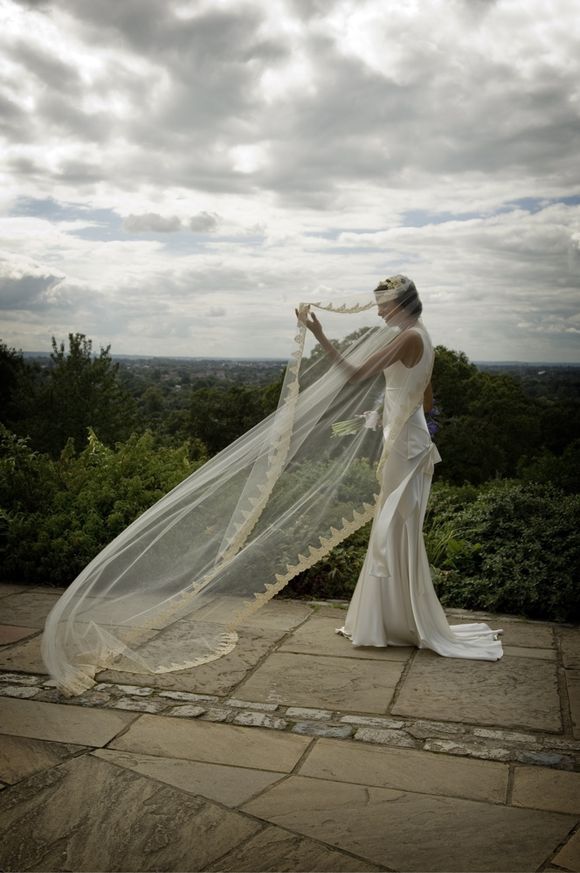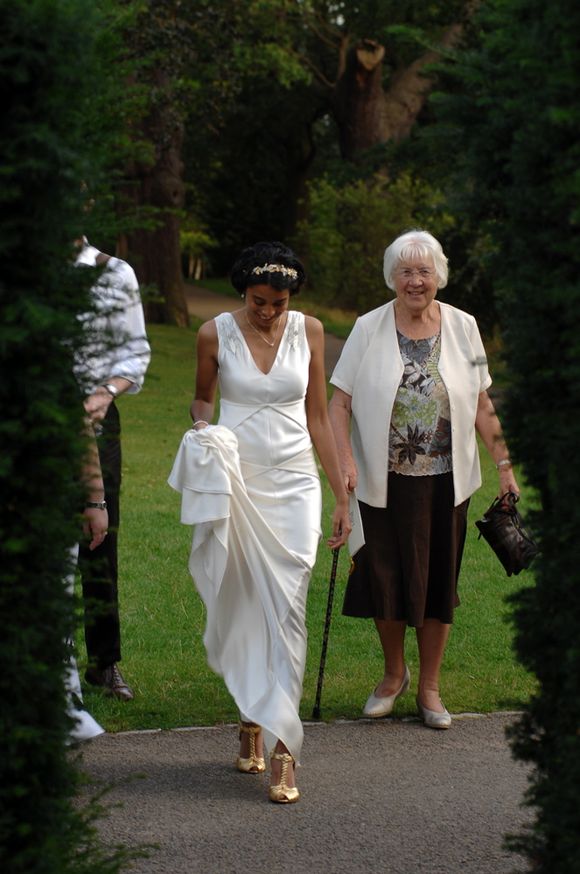 "When Rob proposed we were at a stunning stately home which had a walled Victorian garden full of irises so this was a symbolic gesture really. Our centrepieces were incredibly simple but so, so stunning. Rebecca sourced vintage decanters and medicine bottles and packed them with heads of blue hydrangeas along with my collection of gold and cobalt blue tea cups".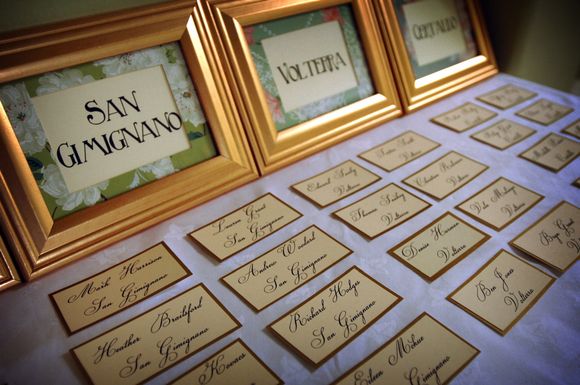 "I collected vintage embroidered tablecloths to lay on top of the tables and made the place cards using original 1930s and 1940s wallpaper swatches. They took ages to make and were a real labour of love!
We wrote our own menu with a real Italian influence-we hope to live in Italy one day and spent our honeymoon on the Amalfi Coast so it had to be done! We started with antipasta and breads to get everyone round the table sharing before moving on to a pasta main dish (something for the vegans and vegetarians in our families too!) and followed up with Rob's favourite-Profiteroles!"
The incredibly elegant wedding cake was provided by Carolyn Mackenzie. 
"I first met Carolyn when I signed her up to my books at her studio and having spent a good few hours in her company sampling her cakes, admiring her portfolio and discussing our love of cake stands (she collects them too!) I ended up booking her!

Each cake she makes is completely bespoke and the love and attention she puts into her creations is out of this world. She picked out the antique gold beautifully with the gold leaf on top of our cake and some of the cupcakes and she hand crafted the cream peonies with pearl centres, purples roses and blue hydrangeas. We chose a chocolate and Kahlua sponge which was out of this world!"
Tiffany's good friend Vula was close at hand to deliver the entertainment…
"Vula is a very good friend of mine and an incredible singer-you may recognise her from Basement Jaxx. She sang me down the aisle accompanied by her boyfriend, musician Ben Jones and made everyone cry! Then in the evening they blew the place apart with an incredible soul band, including Amy Winehouse's bassist, Zero 7's keys player and male vocalist Wayne Hernandez who made me cry with his rendition of Al Green's 'Let's Stay Together'…

The Vintage Wedding Planner shares some advice for anyone planning their own wedding…
♥  Make sure you really take it all it and spend a little time with your new husband on your own on the day as it's so easy to spend the whole day apart talking to your guests otherwise!

♥  I was incredibly nervous (see kiss picture). It was relieving when we shared our first married kiss as my legs were about to go from under me so Rob held me up! 

♥  Do it your way. If you want stilt walkers or an under water ceremony then do just that, it's always the weddings with real personality that people remember and you'll feel so much more comfortable just being you together with friends and family.
Excellent advice that I couldn't agree more with.
Thanks so much Tiffany for kindly sharing your photographs and details with Love My Dress readers.  May you and Rob have many fabulous wedding anniversaries from here-on, recalling your wonderful vintage filled day! 
Much love…
♥