I do love it when I receive a real wedding submission that looks as fab as this one, with it's bold colour scheme and sparkly stilettos's!  Donna and James tied the knot earlier this year with a beautiful ceremony in Kent Village, followed by a reception held at Donnington Manor Hotel in Sevenoaks.
London and Kent Wedding Photographer Eliza Claire told me…
"I was incredibly lucky to have my husband, Richard, second shoot for me at this wedding.  He's done a lot of portrait photography before, but until now
he's not had the opportunity to second shoot a wedding with me.  His
photos are fab, I love them so much! He's really built up a great
rapport with the guys getting married, and the bridesmaids told me in
the evening how much he made them laugh after the ceremony!  
Bride Donna wore a gorgeous Benjamin Roberts wedding dress, and any honest and decent Sex In The City Fan will recognise the beeeeeeeeeeeautiful blue heel beauties in this real wedding feature, for they were only worn by Carrie Bradshaw in the original Sex In the City – The Movie!
"Donna put so much effort into the details on her big day, from the beautiful
crystal-embellished flowers from Floral Explosion in Bluewater, to the stunning Sex and the
City shoes (buy them here!)
to the beautiful vintage fire engine, to the birdcage floral
centrepieces.
It was a truly beautiful wedding, with so much love expressed for both Donna and James, by their friends and family…"
Love My Dress Wedding Blog – Photography Copyright (c) 2010, Eliza Claire Photography
I just LOVE this shot below!!! 🙂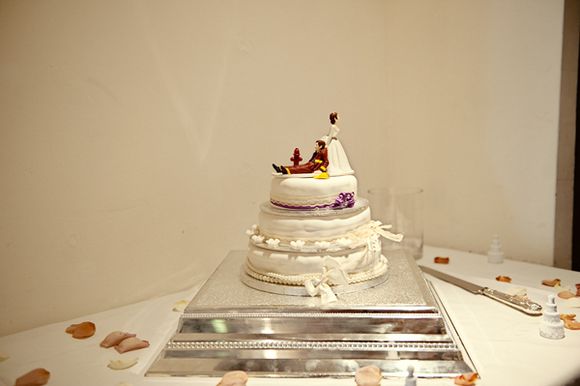 If you like these fabulous photographs and would like to enquire with Eliza Claire – please visit http://elizaclairephotography.com/ or email [email protected].  You can view other Eliza Claire Photography Features on Love My Dress here.
Have a super Thursday all – the weekend is almost here! Yipppeeeeeeee 🙂
Annabel xXx
♥