Good morning everyone 🙂 I hope you are well and ready to embrace the week ahead with positivity and a smile! ;)  Last week was a bumper week for discussion posts on Love My Dress, so this week, I intend on making it all about the pretty. Let's get started and banish those Monday morning blues with a beautiful London wedding and a bespoke 1930's inspired wedding dress.
Say hello to Jo and Martyn, who tied the knot on 4th of February at Old Marylebone Town Hall, London.  The couple chose the venue for it's iconic building status.
Jo wore a bespoke dress, based loosely around an original 1930's pattern and reworked by Jo and Natasha at Harlequin Fox, the dressmaker. And I think she looked absolutely wonderful. Smile? Check!
I thought it would be fun to start off with a video for a change today…
"Love My Dress was the first website I came to, to seek inspiration for my dress! I loved that there were lots of Art Deco dresses and accessories, which was the direction I wanted to go in. 
Once I came across the Love My Dress blog, my inspiration for hair and gown was the animated lady at the top – I literally wanted to look like that on my big day!"
Love My Dress Wedding Blog – Photography Copyright (c) 2012, Sassy n Frank

All the images on this page from hereon were taken by the wonderful Sassy of Assassynation. Take a look at Jo's incredible dress, and what a stunning shot captured by Sassy there…
Love My Dress Wedding Blog – Photography Copyright (c) 2012, Assassynation
"I knew that the traditional style of wedding dress would not suit me, and wanted a dress that reflected my personality and flattered my body-shape. I initially started my search by looking for a vintage dress, but nothing was quite right.  I then started to trawl through vintage patterns with a view to having one made and was recommended Natasha at Harlequin Fox by a mutual friend.
I chose the dress because I wanted an elegant, simple silhouette that felt timeless…"
"The company I initially ordered my headpiece from went out of business so I had to customise an old hairband onto a hairgrip at the last minute!"
"I wanted to arrive in something different to the classic wedding car, and having travelled a lot in India, I thought it would be great to arrive in an Indian taxi hired via Karma Kabs. The detailing inside the cab was stunning, and the tunes that the car played were hilarious and certainly caught the attention of passers by"
I just love the table plan below!
"Our theme was based around Love Birds. So I spent hours scouring shops nad the net for themed lighting. We decorated the reception with birdcages and candle lanterns decorated with birds and created a warm atmosphere with lots of tealights. We also had ceramic lilac lovebirds on each table.
We hired pea canopy fairy lights to drape from the ceiling and above the tables upstairs, and for the disco, which was stunning. 
The columns upstairs were wrapped in fairy lights, too. And downstairs where the speeches and champagne reception took place, there was a curtain of fairy lights, lanterns, and more columns wrapped in lights. It really added a warmth and softness to the proceedings…"
"I loved the stunning rose-coloured pearls that added interest to the back, and the gorgeous sash bow that added a playful element to the dress. I surprised myself by asking for a train at the back, as I thought initially it might have been too fussy for the usually clumsy me. But I am so glad I had one, as it really added to the dress when I walked…"

"Our guests travelled via a London bus.  We wanted to encourage our guests to leave their cars at home and join us for a drink, so decided to put on transport from the registry office to the reception and being a Londoner, for me, this couldn't have meant anything other than an original Routemaster. All the guests commented on what a great touch it was and the diesel engine kept the toddlers in stitches of laughter!"
"Our Florists were The Flower Works.   I wanted a rustic, low-key floral arrangement with seasonal flowers that complimented with the white, heart-embossed, 'farmhouse style' pitchers I had found. The loose purple theme we had used on invites, and in lighting at the reception venue, formed the basis of the arrangement. Half of my family are Scottish, and I wanted to tie that in with the flowers, so opted for thistles with contrasting vibrant green and white chrysanthemums, Baby's Breath and other foliage…"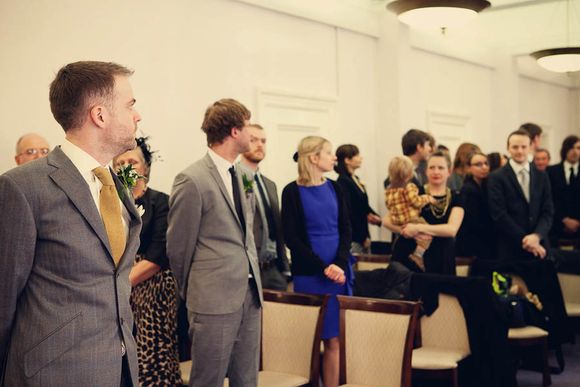 "Martyn and I met at work. We used to chat about football and Big Brother (highbrow!) before Martyn finally asked me out for a drink one night. We had a daughter, Mia, in 2009 and I had given up on Martyn proposing, before he took me away to Bath for the weekend and proposed in a Boutique Hotel, just after I started singing "Perfect Day" by Lou Reed…."
"Basilica Duo in Reading is a great men's designer boutique, with a side in extremely well-tailored suits. Simon, the owner has a real eye for design, and was great at helping Martyn put together his complete outfit.  Martyn wore shoes from Marks & Spencer…"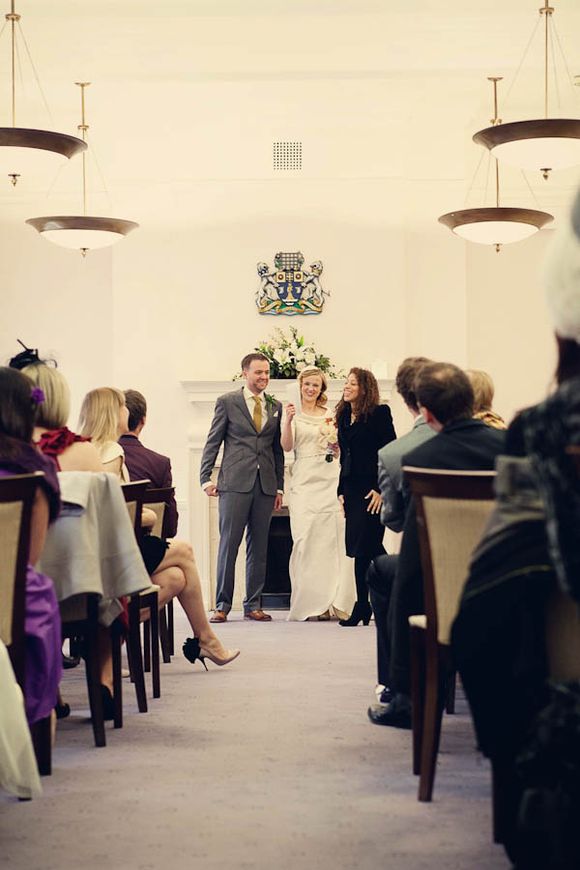 "Claire was fantastic at styling my hair – super professional and did the most amazing job on my dream hair 'do. I knew I wanted a retro wave to match the style of the dress and she was a total perfectionist at getting it right.  I did my own make-up…"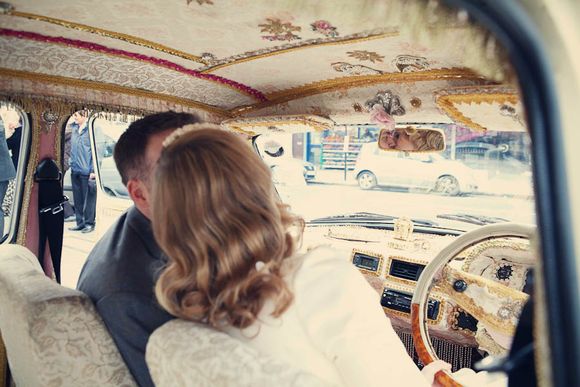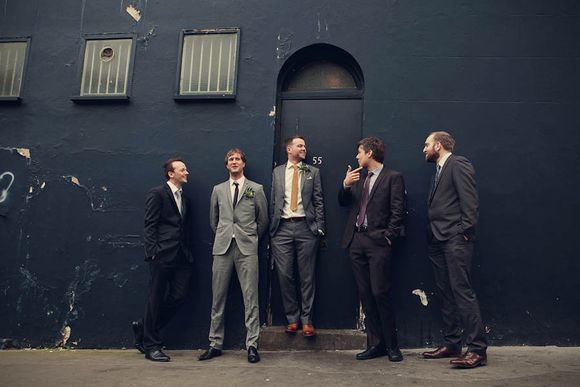 "We danced to 'Something Changed', by Pulp;  As a large part of our relationship has always been about going to gigs, we wanted a first dance that meant something to us, by a band we had seen live, together. The lyrics to Something Changed perfectly encapsulate our relationship, as we were friends before we started dating. The choices we made reflect the ones in the song, and over and above all the questions, the song is about fate – which is what we feel our relationship is!"
Words of Wedded Wisdom…
"It's never too early to start planning! The earlier you start, the more time you have to compare prices, and make sure that what you are doing/buying/hiring is what you really want!
Ask your married friends for advice – planning a wedding can be a minefield, and there's no shame in getting context from those who have been there before you.
Never compromise on your dress. You only get to wear it once and you should feel perfect in it. If there's something that's nagging you about it that isn't quite right, get it sorted and you'll feel 100 per cent better for it on the day
Forget about tradition – pick and choose the bits that suit you and don't worry about the rest."
What a beautiful wedding to kick start the week with! Big congratulations Jo and Martyn, and huge big Monday morning thanks to Sassy n Frank and of course Assassynation…
"Sassy is seriously the most gifted, inventive photographer. We knew we didn't want stuffy, formal wedding pictures.  But we didn't have a "vision" for our photos – and we didn't need one! Sassy's energy and originality captivated us and everything felt so natural, which has left us with the most awesome pictures from our day, and totally represents who we are!
Frank was brilliant – at no point did I feel like I was being filmed – despite the fact he spent practically the whole day following us around! The result is a stunning, super cool video that I can't stop watching, with all the key moments of the day, set to the soundtrack of our first dance."
Ann, *brilliant* team work there Sassy 'n Frank ! Goodness me I really love this wedding, Jo's dress is stunning and suits her so very well, I love the idea of a sleeve lke that too and the train, beeeautiful!  Do  have any other readers planning a wedding at Old Marylebone Town Hall, or going bepoke and visiting a dressmaker for thier wedding dress design? I'd LOVE to hear your plans whatever they are 🙂
You can view more from Assassynation on Love My Dress here, and be sure to also explore the Art Deco, 1930s and London Weddings categories.
Do take a moment to leave a lovely comment for Jo – I'm sure she'd love to know that you've enjoyed looking through her photographs 🙂
Much love all,
Annabel
♥
Photographer & Videographer – Assassynation + Sassy n Frank
Venue – Old Marylebone Town Hall, London
Brides dress – Harlequin Fox {bespoke, based on a 1930s design} 
Brides shoes – Dorothy Perkins 
Groom – Basilica Duo, Reading
Bridesmaids Dresses – Monsoon + BHS {purple dress}
Flowers – The Flower Works
Bride's Car – Karma Kabs
Transport – Routemaster bus
Catering Company – Food Events
Hair Stylist – Claire Cross