Good morning gorgeous people. Did I not say you had a Friday packed full of features in our early morning inspiration board feature?  This wonderful collection of inspiration images was submitted by wedding planning boutique owner Carmen Yuen-Stevenson of Carmen Weddings, who took a lead in styling this shoot to showcase the beautifully feminine lace wedding dresses from designer Kula Tsurdiu.
I can't tell you how pleased I'm featuring some of Kula Tsurdiu's designs today; only yesterday, one of her recent brides submitted her own wedding to feature, and she is a designer I've had my eye on for quiet some time now having seen her dresses up close and personal and the Luxury Wedding show last year.  And heck, I'm such a sucker for little ankle socks on a bride. Pleeease someone wear socks on their actual wedding day – I want to blog you so badly!
Carmen talks us through this photoshoot designed to inspire you my lovely readers. You are so luck you know that?
"I wanted to create a full wedding day story in a fabulous city venue in the heart of The Lace Market area of Nottingham. So when the Mercure Nottingham Hotel approached me about creating a wedding styled shoot, that was exactly what we did!
Within an old lace factory in the Lace Market area, is the studio of couture bridal gown designer,  KulaTsurdiu.  I first clasped eyes on Kula Tsurdiu's latest collection when the gowns graced the catwalk at the Luxury Wedding Show last autumn. Her collection is soft, romantic and feminine, yet she designs with influences of iconic eras and contemporary designs. When I visited The Lace Market Bridal Boutique with our model, Alice, I knew then we had the opportunity to make this whole shoot absolutely amazing…"
 Love My Dress Wedding Blog, Photography Copyright © 2012, Emma White Photography and Lee Garland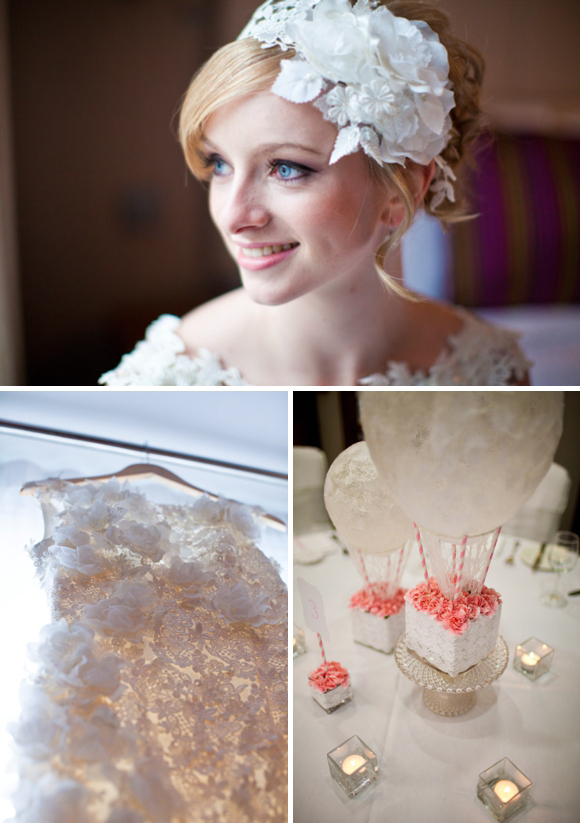 Our hairstylist  Louise Ingman created a soft and romantic look for the longer gown, while Carly ensured Alice's make-up was natural and pretty. This worked well as we wanted a stronger and more fashionable statement for Alice's quirky style later on in the day.
For both the morning and afternoon make up, I asked Carly to really bring out Alice's beautiful eyes – we were attracted to Alice for her similarities to Twiggy and her eyes played a huge part in our choice of model for the shoot.  Louise created a sleek hairstyle for the afternoon shots giving us the modern edge we were looking for.
The pretty and very girly shoes are by Rachel Simpson and are available from The Lace Market Bridal Boutique…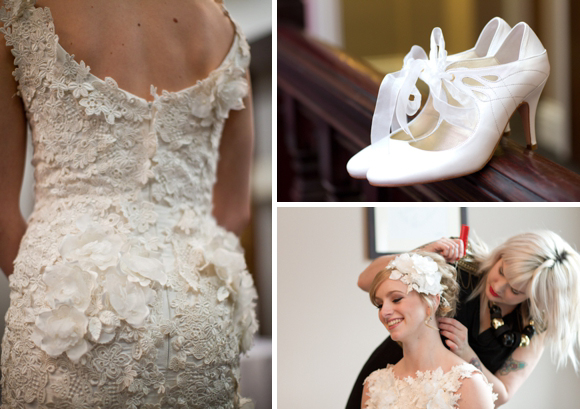 The Mercure Nottingham Hotel is located in the famous Lace Market area of the city and my vision was to infuse gorgeous lace details throughout, to honour what this area was once most famously known for…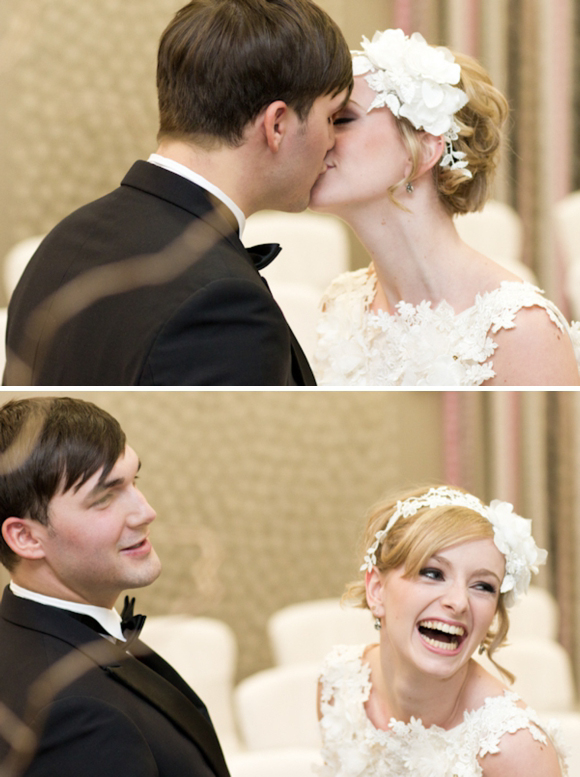 Michele Gledhill knew straight away what I wanted to achieve from this shoot. My design brief to Michele for the flowers and props were to create something which would work well in The George suite, which complemented the gowns and depicts romance in the city. I asked Michele to infuse lace into the whole day, from the ceremony to the city shots, and create something which had touches of a modern yet vintage style.
I was keen to use gypsophila for the simple but statement pedestal floral displays for the ceremony and to add height, Michele placed tall salix branches in the centre of her already beautiful creation. The ceremony table was displayed with white flowers and the romantic flicker of candle light, were displayed at different heights…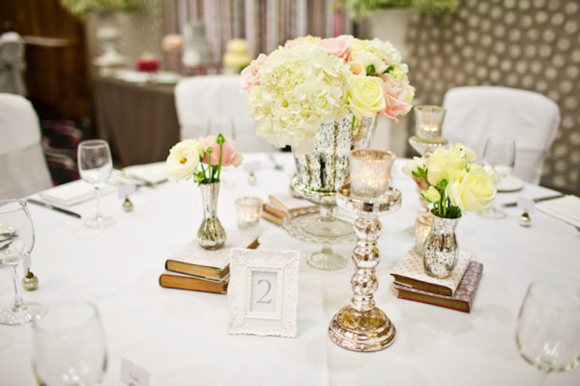 For the tables we used 4 different designs – every single centrepiece was to complement each table design but this allowed us to show brides that not every centrepiece had to be exactly the same to work.
Michele used white and soft pink roses, ranunculus, stocks and hydrangeas – then the same colours and flowers flowed through to the bridal bouquet. The soft tones of the flowers contrasted well with the venues dark wooden decor. Michele had chosen to use silver and mercury glasses on the tables to lift the theme and make it a little more vintage chic.
One evening I had the thought of creating lace balloons to add something a little different and Michele handmade the lace balloons for a most pretty and unique centrepiece!
My vision was to create an elegant and romantic feel for the Ceremony and Wedding Breakfast. Therefore we chose a beautiful appliqué Nottingham lace and all over flower placements gown complimented by a handmade lace headpiece by Kula Tsurdiu. The fitted fishtail gown, with amazing intricate detail of beautiful lace pieces it encompasses a glamorous yet romantic slender look,  perfect for a city wedding.
For the outdoor city shots, we opted for something a little more quirky – I instantly fell in love with Kula's short layered gown of pleated tulle and I accessorised it with a blush pink cardigan and socks. Kula Tsurdiu and Laura from The Lace Market Bridal Boutique and I discussed what we thought would work best for Alice and how best to accessorise both gowns for various shots…
Yummy Little Cakes designed 3 totally different cakes – in completely different shapes and heights which went very well with our overall colour choice and styling. The cake designs included pink ruffles, elements of lace and beautifully chic white flowers on a stunning silvery cake to compliment the bridal gown designs 
Gorgeous pink and white macaroons by Cameo Cupcakes were also displayed in a beautiful glass display to add height and a modern touch to the table.
Between the mother of pearl walls in the venue, I visualised a ribbon and lace backdrop for the cake table. We wanted to add something which could be easily hand-crafted by brides and Michele Gledhill made this gorgeous backdrop.
Midlands based and the creators of loveable stationery, Pocket Typewriter shared with us their hand drawn place cards. All of their designs are not only a little quirky but like the whole shoot, it's a touch of vintage and a splash of city chic…
Right from design concept, I imagined that the complete shoot would tell a full story… from a romantic city venue wedding, models Alice and Matt then headed into the streets of The Lace Market for a bit of fun and to add some quirkiness to our shots. The whole story then became from wedding morning right to when they were on their way to their honeymoon!
We accessorised Alice's look by using two different handmade headpieces and ankle and knee high socks. It meant we could show-off the different looks and how one dress can create the different styles. Kula's large floral headpiece made a true statement and it gave Alice, a beautiful and contemporary bridal look.
We used many of the stunning buildings in the Lace Market area as backdrops for the shoot.
For this city wedding styled shoot, a dinner suit was most perfect. This fashion-forward, well tailored suit is ideal for the venue and complemented both the bridal gowns. Our male model Matt wore a suit available to hire from Moss Bros and from the smart look in the morning, our hairstylist, Louise, transformed him into a groom with a relaxed and trendy look for the afternoon city shots.
Michele Gledhill handmade the silk bouquet using gorgeous dupion silk and lace flowers created with vintage style brooches and buttons…
How delightful is this shoot? Lots of inspiration for anyone who loves lace and all things chic and pretty.
I'd like to thank the whole creative team for so kindly sharing these wonderful images this morning. Special thanks though to Carmen Yuen-Stevenson for submitting this photoshoot.
Come on then girls, who is braving it and having a beautiful short wedding dress on their big day? And do we have any Kula Tsurdiu in the house? Hand up please!
Lots of love,
Annabel 
♥
Creative team credits
Photography – Emma White Photography and Lee Garland
Planning, Design & Co-ordination – Carmen Weddings
Florist, Design & Styling – Michele Gledhill
Bridal Gowns & Lace Hair Accessories – Kula Tsurdiu
Bridal Shoes – Rachel Simpson from The Lace Market Bridal Boutique
Menswear – Moss
Props & Bespoke Bouquet – Michele Gledhill
Cakes – Yummy Little Cakes
Venue – Tamsin Jackson (Hotel Manager) of  Mercure Nottingham Hotel
Hair Stylist – Louise Ingman
Make- Up Artist – Carly Flint
Stationery – Pocket Typewriter
Macaroons – Cameo Cupcakes
Models – Alice & Matt of Model Students
Cardigan and Socks – Topshop