Morning all! Well, it's cloudy and rainy up here in the North East, COME ON Mr sunshine, do your thing, pleeeeease!!!
Here's something beautiful, fun and blue – the wedding of Brian & Laura, which took place on 21st June at St Fagan's National History Museum, Cardiff…
"We didn't really pick a style or theme; 'blue' and 'vaguely 50s-ish' happened by accident rather than by design because that's what we like usually…"
 
Love My Dress Wedding Blog – Photography Copyright (c) 2012, Matt Parry
"The beautiful baby blue 1948 Buick Special was a surprise gift from my parents I had thought we were going in taxis until I got outside and saw that baby blue beauty on the driveway!
Riding to the venue with my dad and brother was one of my favourite moments of the day and the bit where I finally 'let go' of the planning and started just enjoying…."
"My Vivienne Westwood Melissa shoes are the greatest shoes I have ever owned. I bought royal blue contrast seamed stockings from What Katie Did to match the blue heart on the front and my husband's blue tie and laces, as well as my dress. When the skies are grey there is no such thing as too much blue.
I wore a pair of vintage earrings that originally belonged to my grandmother and were my tribute to my 'something old/borrowed'. She was all about the glamour and would have loved what we did.
Brian saw his Bertie shoes on a post-engagement trip to Copenhagen and regretted not buying them as 'they'd be awesome for the wedding'. I got them for him as a surprise engagement present a week later. Neither of us can decide who had the best shoes; we've agreed to settle on 'all-score draw'…"
"My veil wasn't a real veil as such, but a simple and effective finishing touch. Jen of H'Atelier, the designer of my headpiece is a bespoke genius and made the hat and its 'victory roll veil' to fit the hairdo…."
"Getting married was always a thing we talked vaguely about doing later – 'maybe'. We met at University and lots of things came higher on the list than spending money on a big party; we graduated, moved to a new city, got jobs, had career hiccups, saved for and finally bought a place of our own before 'making it legal' got on to the plan. Eloping quietly was an attractive idea, but celebrating how far we've come with the families that have helped us get there seemed right.
We wrote the ceremony ourselves, and included a section about the wedding being 'our first family reunion'.
To have those people who we hold dear join with us and share our joy and excitement was really moving…"
"My dress was a custom Whirling Turban Wing Bust Dress **link amended, sorry folks, link I was provided iwth originally didn't work, this one does!** just e-mail your measurements and fabric specifications and a few weeks later your dress arrives from Bali!
I had never really planned on having a wedding, so when the time came I didn't have a 'dream dress'.  The thought of wearing a big white gown was uncomfortable (when I was little I wanted to be Princess Leia, not Princess Auora), so I did a bit of research; before Queen Victoria brought white into fashion most people wore their Sunday best and blue was considered lucky.  Buying a great dress I could wear again 'for best' seemed less stressful and much more fun than finding a full-on wedding dress with all the cultural and personal baggage that holds…"
"I was a little nervous of ordering entirely online, but the lovely ladies at Whirling Turban did an amazing job. The first time I put it on I spent a good 15 minutes giggling and twirling. The elastic-ruching at the sides meant it fitted perfectly, the hand-dyed fabric was mind-bogglingly beautiful and no alterations at all were needed. 
It's a dress you can't stand still in; it demands shimmying, dancing and full-on jazz-hands. It brought out everything I wanted to feel; a 'better' version of myself…"
"We hired some cute battery powered fairy lights from Wilkinsons and a whole host of bits & bobs gathered over a year. We filled jars with our favourite sweets, and tall bottles of blue and pink  water added a bit of colour. We made the 'YAY' flag/straws ourselves, but lacked the steady hands required to make ones with matching moustaches…."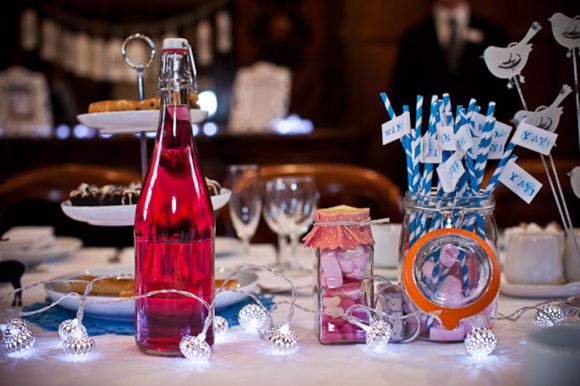 "Our Photographer Matt Parry was utterly brilliant and a total dream to work with. Photography was the one thing we were prepared to spend a large proportion of our budget on and we took some serious time to find the right person with a style we both loved.
Neither of us like having our photograph taken. We always end up looking stiff and/or frightened in photos, but Matt made us feel comfortable immediately and his reportage style meant all of our photos look casual, beautiful and natural. His presence is massively reassuring and we both felt like we could 'hang out' with him and be ourselves. He was completely charming, professional and easy-going with our guests too and captured everything exactly how we want to remember the day…"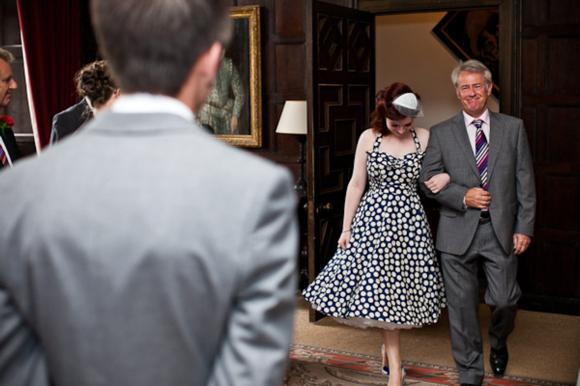 "I made our cake with a Lego Star Wars theme. It started off as an in-joke (what kind of cake could we have that has a white colour theme and is also nerdy? A Star Wars battle on the snow planet of Hoth from Empire Strikes Back? HELL YES!) but the more we said it, the more it had to actually happen. Baking keeps me calm, so I spent the week before making two multi-tier gluten-free fruit cakes, some solid chocolate Millennium Falcons and frosty chocolate cake pops on frosted bases. I
n retrospect this might have been a bit much and ironically ended up being the one thing that caused me to have a minor melt-down!
We didn't have any flowers. We wanted to keep it simple and I have hayfever so flowers were the first thing slashed from the budget. We took the money saved and spent it on more cake and bubbly…"
Words of Wedded Wisdom…
"Plus 10% is enough. Aiming for the perfect anything when wedding planning is a route directly to madness, but aiming to be just a little better than usual is achievable and comforting. 'I don't have to look perfect, just put 10% more effort in than usual' calms many a potential panic.
You don't really remember what your wedding looked like; what you remember how it felt. Without looking at photographs I can't remember what our table looked like, but I do remember the looks on people's faces as they tucked into the cakes and bubbly. I remember quietly high fiving my new husband under the table as he tried to get a whole Welsh cake in his mouth and my aunt comedy running the length of the room to fill the Man of Awesome's glass in time for his speech. The things that make you smile to yourself months on are not bought.
Also, being a wife is way more fun than being a bride…."
Congratulations Brian & Laura and thank you for so kindly allowing me to share your day 🙂
What do you think ladies? Would you be brave enough to order a wedding dress from abroad?  Are there any of you following the entirely 'non-white' route like Laura and who is up for a little polka dot blue? 🙂
Lots coming your way today my loves, check back soon,
Annabel
Photographer – Matt Parry
Venue – St Fagan's National History Museum, Cardiff
Brides dress – Whirling Turban
Brides Shoes – Vivienne Westwood Melissa 'Lady Dragon'
Brides Headpiece & Veil – Custom at  H'Atelier of Manchester
Brides blue heeled 'contrast' stockings – What Katie Did
Grooms Suit – Marks & Spencer + Tatty Devine cufflinks, Paul Smith tie + Shoes by Bertie
Hair Stylist – Hair by Jelajo
Tranport – The 1948s Buick Special in baby blue, c/o Happy Day Cars