Morning 😉 Say hello to Rachel & Rob tied the knot on 8th October 2011.
The couple are a little bit in to their 1930's vintage style and so wanted to incorporate a sense of the era in to their wedding day, which I think they did beautifully, assisted of course by the quite frankly stunning art-deco back-drop that is the Midland Hotel in Morecambe, Lancashire…
"We were inspired by 1930's glamour Art Deco architecture and also Poirot and old school Hollywood film stars.
I never wanted to to feel like a Princess for a day; I wanted to feel like a film star! And I totally did!"
Love My Dress Wedding Blog – Photography Copyright (c) 2012, Kath Occleston Photography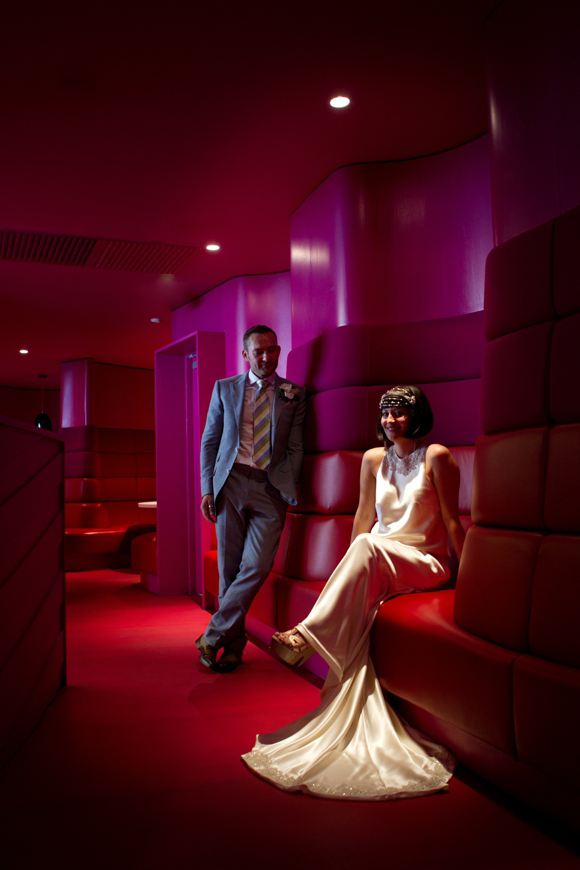 "Before Rob even proposed we knew we wanted to have a 30's inspired wedding (I'm a big Poirot fan!) so we were always keeping our eyes peeled for Art Deco buildings. We came upon The Midland Hotel one day when we took a day trip to Morecambe from the Lakes and we were blown away by it's orginal Art Deco features, modern and stylish renovation and excellent staff.
As soon as we got engaged the hotel came to mind but we were on a budget and I thought it would be quite expensive.  After viewing a number of alternatives that were pretty disappointing I thought I would check out the cost of the Midland and was over the moon when I realised we could actually afford it!! What's more, Vicky Cruse the Wedding Coordinator there really took our ideas on board and created a bespoke package for us. We couldn't have asked for more…"
"My headpiece was designed by my Sister – Sarah Drew, so I was very lucky to have my pick of her collection – and her design ideas. I wanted something very striking as the dress was so simple. The moment I tried on the head dress I knew it was the one I wanted and I just asked Sarah to add more bling and chains for a dramatic effect!
 Thee silver lace that is featured in the head dress is actually a piece of  dyed lace taken from my sister's wedding dress material (which my Mum made).
It's nice to keep it in the family…." 
 
"Our Florist Catherine is the official florist for the Midland Hotel so on one of our meetings Vicky arranged for us to meet with her. I had my heart set on having bird cages filled with flowers as the table centre pieces and prior to our meeting I noticed she had done something similar before, so I was pretty sure she would be the right florist for me! 
I love flowers and had also decided that I wanted Hydrangeas (because they remind me of childhood summers in Cornwall), Orchids (because they are exotic and glamorous) and blush coloured old roses (because they are traditional and of the era). Catherine really took my ideas on board and made some lovely suggestions such as the wrist corsages for the bridesmaids (a lovely retro feel) and tall vases filled with hydrangeas and twisted willow…"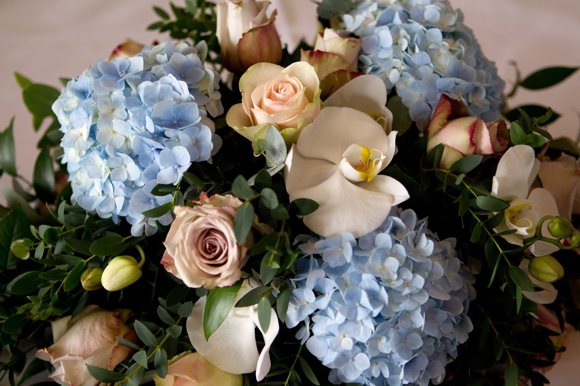 "I needed height (to accentuate the long line of the dress and I'm only 5ft 2ins!) but I can't walk in high heels, so these platforms by Carvela were a find! I also loved the nod to the 30's in the design and I was certain I wanted pale pink shoes.
They were amazingly comfortable and I managed to wear them all day – including dancing until midnight!!"
Rachel's dress was 'Caroline', by Augusta Jones which she bought from Brides of York…
 "I wanted a vintage 1930's inspired look and I knew I wanted something sleek and simple. Originally my Mum was going to make me a silk jumpsuit with palazzo pants and we were just going to try on some dresses for fun and inspiration. When I tried on my dress though it felt so comfortable and so 'like me' that I didn't want to take it off. My Mum loved it too so she didn't mind not making my dress – although we had to reassess the budget a bit. But my Mum and Dad were brilliant and just wanted me to feel right in whatever I was wearing. 
For my 'something blue' my Mum embroidered 'Mrs Shaw' in turquoise thread onto my pants! I didn't change my name so this was a little joke for Rob…"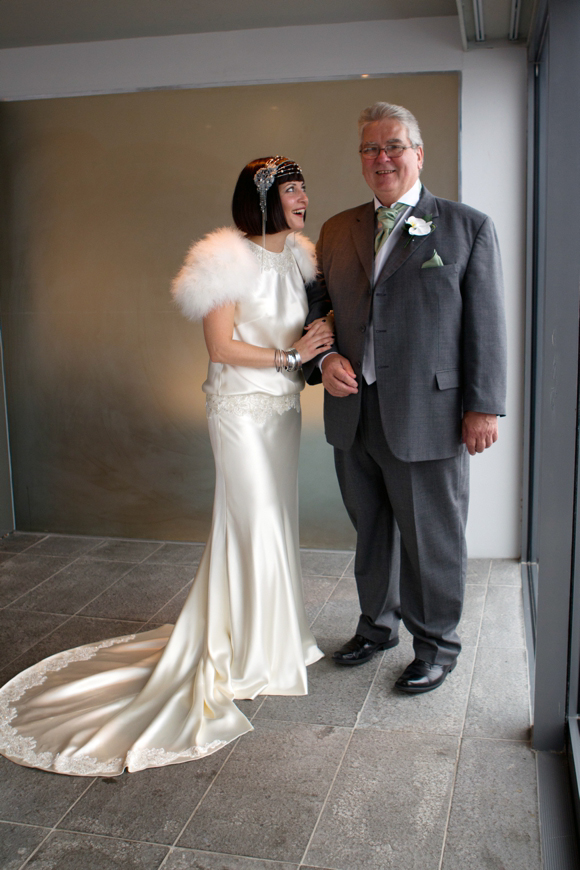 "I loved the silver waistcoat and pale green cravat combination worn by the Groomsmen – I really wanted my Dad to look like Poirot!! I also had a male bridesmaid and I think the grey suit and silver waistcoats worked really well with the girl's dresses.
My colours were pale green, silver, gold and blush. I wanted the bridesmaids to wear blush coloured dresses but they felt the colour was unflattering!  So we compromised by having blush coloured feathers in their hair!"
"We are lucky that we have such creative family and friends who were all so generous with their skills and time. My Mum and Uncle and Rob's Mum and Dad were scouring charity shops for suitcases, penguin books and vintage china and my Dad was snapping up cake stands in the sales at BHS!
We had a really strong idea of what we wanted but there is no way we could have created that vision without everyone's help and support. It was a real joint effort…."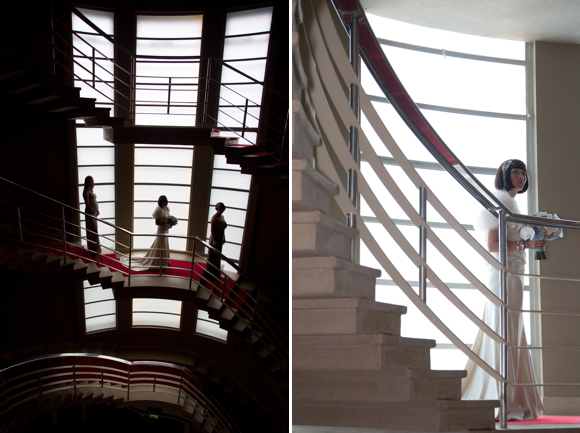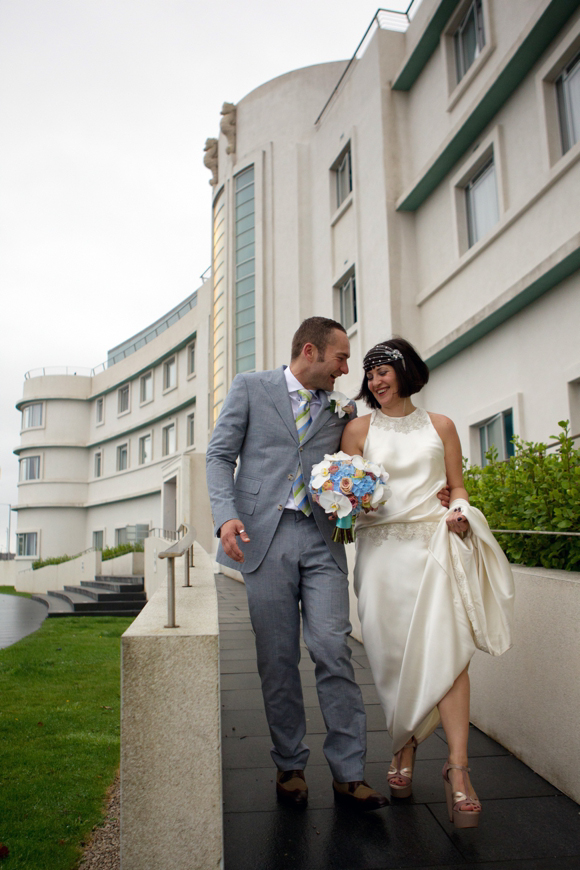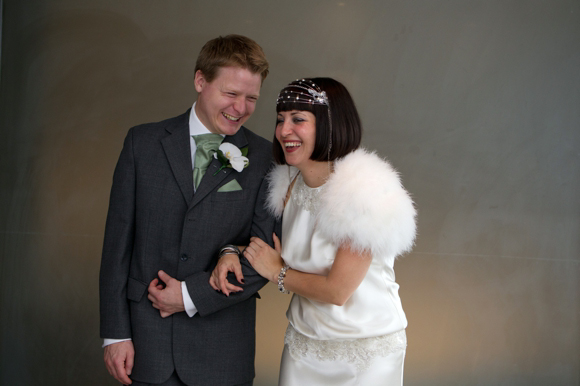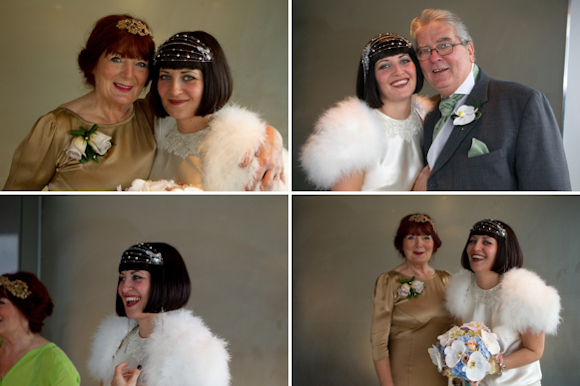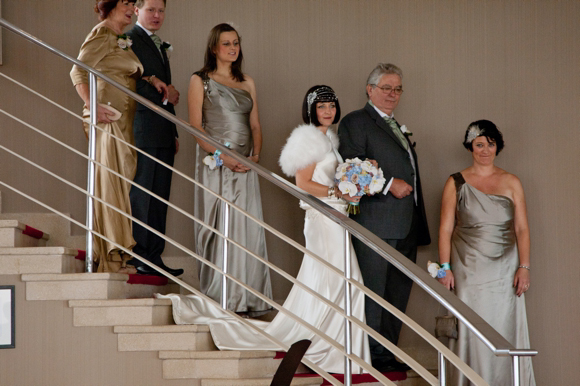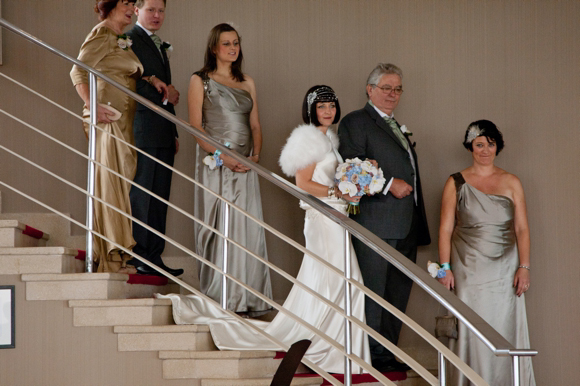 "My Mum really wanted to look in keeping with the tone of the day and I found her the most perfect 30's style dress in Ghost.
As we were by the sea the light there is quite soft and I really wanted muted and pastel colours so the dark gold of my Mum's dress really complimented the colour scheme whilst still being individual and not too matchy matchy…"
"Rob and I had been together 5 years (and not getting any younger) so I made it clear to him that I was READY to get married. I then left it up to him to propose. To his credit he did it in style! He put on his best outfit – complete with braces! – and took me, on a cold Tuesday night in January, to the American Bar at the Savoy hotel in London. We were sat between two groups of business people with a beautiful cocktail in hand, when he got down on one knee and popped the question.
I was overjoyed – although suggested he get up pretty sharpish and everyone was looking at us!  I wanted to get married the same year so we booked the wedding for October, giving us only 9 months to put it all together…"

"Rob wanted something a bit different, with a retro feel, that he could wear again in the future. This blue linen mix suit was perfect for our colour scheme and the cut of the trousers were vintage looking. Apparently, it was designed in the style of 'Tom Ford' with a wide lapel and slim fit jacket which really suited Rob's shape…"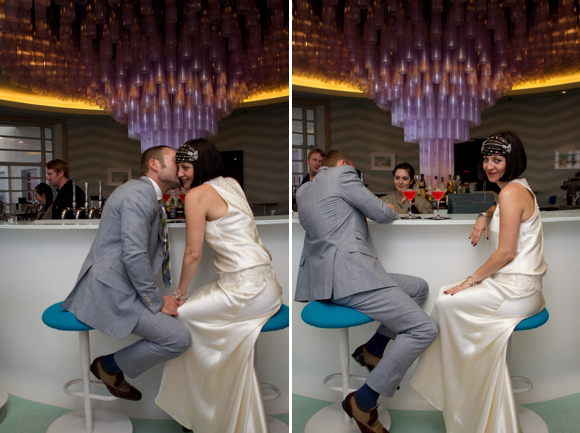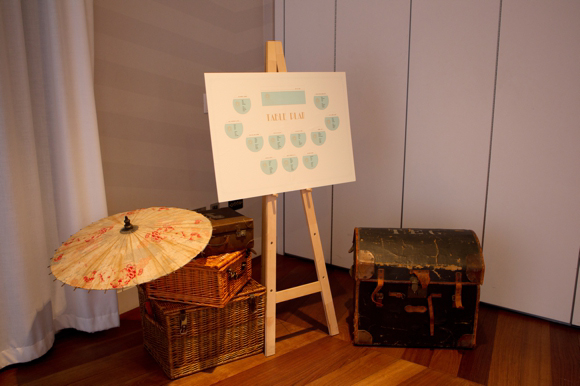 "The cake was made by my Mum, Kath Nicholson. I wanted something structural and inspired by Art Deco architecture. I had seen a cake in 'Glamour' magazine that I liked and ripped out the photo for Mum to work from. Mum had to work out how to get the layers of cake to sit on top of each other – she even called Glamour who told her the cake was made by Harrods so she promptly called Harrods up to find out how they had done it!! They were very helpful and the result was stunning.
Mum also made the fabric flowers from vintage material for the cake topper, complete with crystals, pearls and an antique brooch…"    
"Rob and I also spent hours creating a 'Through the Ages' disco for the evening. Starting with 50's (as the Lindy Hop was 40's) we put together our favourite tracks from each decade ending the night with 'Only Girl in the World' by Rihanna.
This went down really well with our guests and as everyone was packing up for the night we played them out with 'Bring me Sunshine'!  After our dance lesson that everyone had to join in with Rob and I did our first dance. We had choreographed a fun dance to 'Take it Easy' a Northern Soul track by Sugar Simone.
We included some moves from our 20 weeks of jive lessons, some free styling and finished off with the moves made famous by Morecambe and Wise when they danced to 'Bring me Sunshine'! This was in homage to Rob's favourite comedians and was rather apt as we were in 'Morecambe'!!
Words of Wedded Wisdom…
"Be clear on what you want. Don't be afraid to tell those helping you exactly what you want.  And then trust their abilities to create your day. Friends and family genuinely wanted to be involved in creating our vision and got really into the theme, so don't feel bad about asking them for help.  Inspiration can come from the most unlikely places so shop around. But in the end, no matter how perfectly you have planned everything, let yourself relax and enjoy the day: Rob and I just had so much fun!"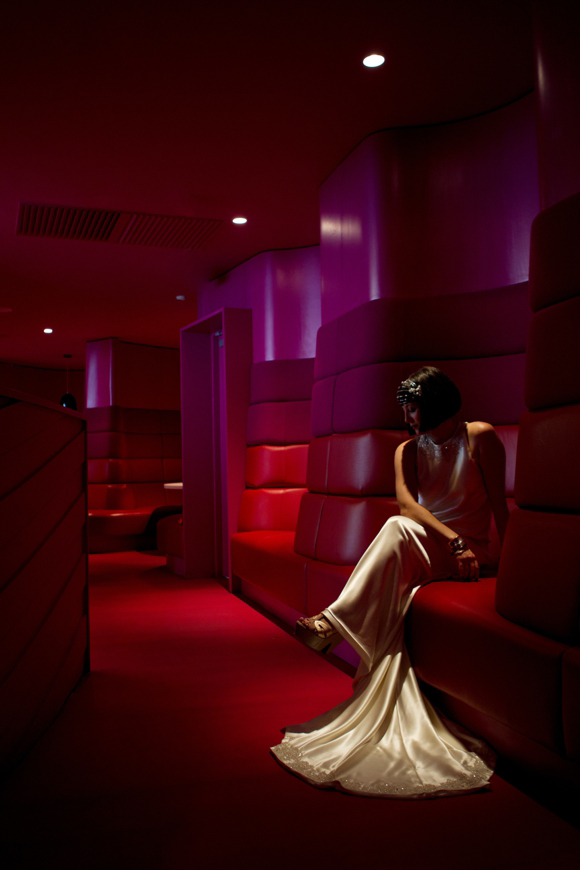 Congratulations Rachel and Rob – thank you for sharing your wedding day style and inspiring my readers.
Thanks to photographer Kath Occleston for sharing these images too…
"I got in touch with Kath because I saw on her website that she had already photographed a Bride at the Midland and I liked the way her photos were natural, artistic and incorporated architecture and the design of a wedding.
When we met Kath and Russell they were so enthusiastic about The Midland Hotel we were sold!  We didn't want to spend ages on group shots and asked them to take reportage style photos. On the day they were so supportive, friendly, creative, enthusiastic and non-intrusive. Posing for photos around the building was one of the highlights of the day for Rob and I!! We would definitely recommend them to any couple getting married..."
I adore the Art Deco movement and the 1930's is my favourite era for bridal wear – what about you?
Annabel
Photographer – Kath Occleston
Venue -   The Midland Hotel in Morecambe, Lancashire.
Bride's dress – Caroline, by Augusta Jones , via Brides of York + feather shrug – Jasper Conran at Debenhams
Bride's shoes – Carvela
Brides Hair Accessories + Bracelet – Sarah Drew Jewellry
Grooms Suit – Suit Suppl + Tie: Saville Row tie + Dune shoes + 1930s cufflinks via EBay
Bridesmaids Dresses -  Monsoon
Bridesmaids – Monsoon
Florist – Wedding Flowers – by Catherine
Cake – made by the Bride's Mum