Warning: This post is rather epic in length.  Too many gorgeous photographs. That's what happens when you hire a wedding photographer as plain fabulous as Lawson Photography, see. 
I can't tell you how much I love this wedding. Everything little single thing about it. I just know you're gonna love it too.
Vicky and Gavin tied the knot on 19th July 2012 at The Inn at Whitewell.  It was a proper countryside kind of affair, with a beautiful Claire Pettibone wedding dress taking centre stage and a celebration full of delightful home-made, DIY touches…
"I just love the countryside and getting married there was a dream.  I wanted to embrace it and bring the country feel throughout. I also study fashion and I am up for anything crafty so I was able to make certain things myself which gave it a homemade personal feel, which I loved…"
Love My Dress Wedding Blog – Photography Copyright (c) 2012, Lawson Photography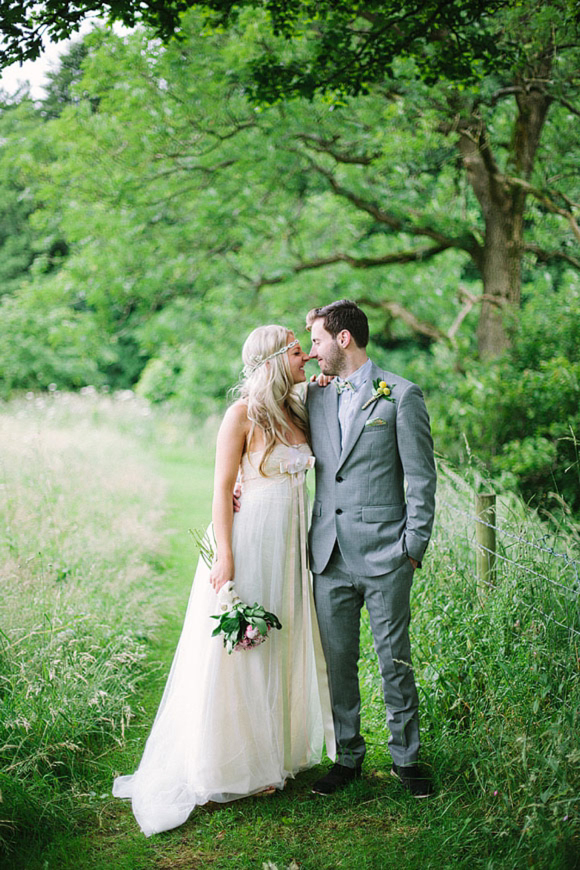 "We met nearly ten years ago when we were both eighteen, in a local nightclub. We decided to get married as my Mum was very ill and I planned the main parts of the wedding with her. Unfortunately, my Mum passed away before Gavin did an official proposal, which he did with rose petals, candles, champers and a carved heart in wood with our initials in it – one of the cutest things ever…"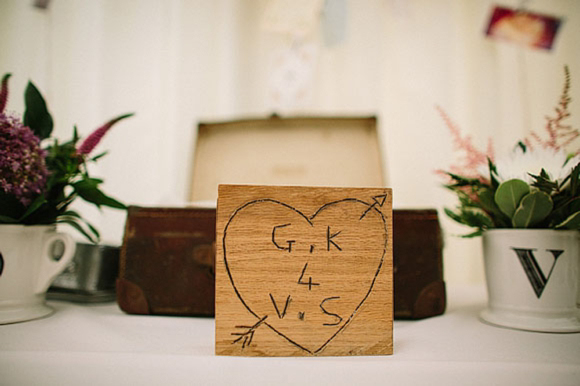 "My wedding dress was Larrisa by Claire Pettibone.  I actually found my dress three years ago when doing a fashion project and when I started looking for my wedding dress it was always in the back of my mind, nothing i tried compared to it.
I wanted something relaxed and comfortable and something I could move easily in but was different. I was that sure that I wanted it, but it was only stocked in London, which was a 3 hour train journey awa.  However a bridal boutique in Nantwich managed to get one for me.
I truly felt like a princess in it, its the most beautiful dress i have ever seen and feel lucky that I got to wear it…"
"I got my shoes from The Kooples, the colour matched the ribbon on my dress perfectly i was so lucky finding them..."
"I wore a headband from Rainbow Club. I think all brides need a bit of sparkle and i loved how simple it was. We added gypsophila to the back of the headband which I loved..."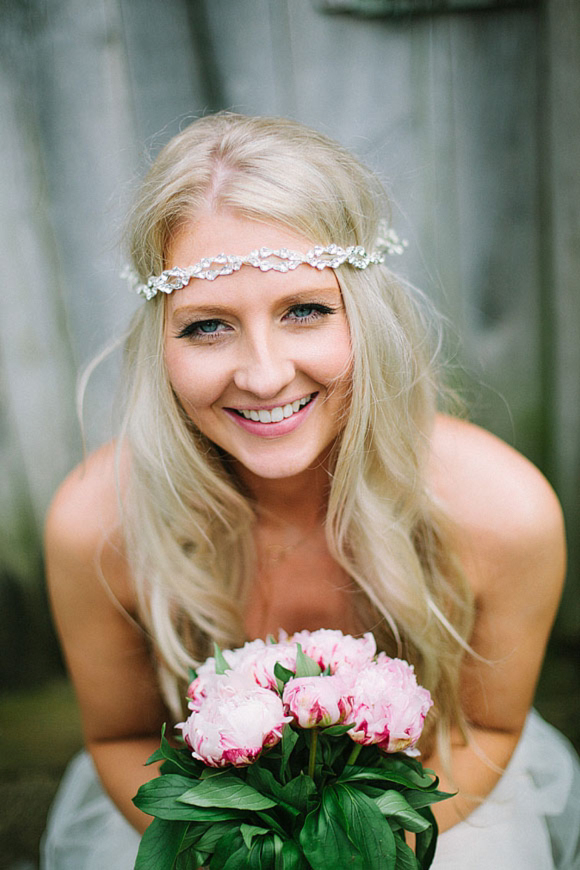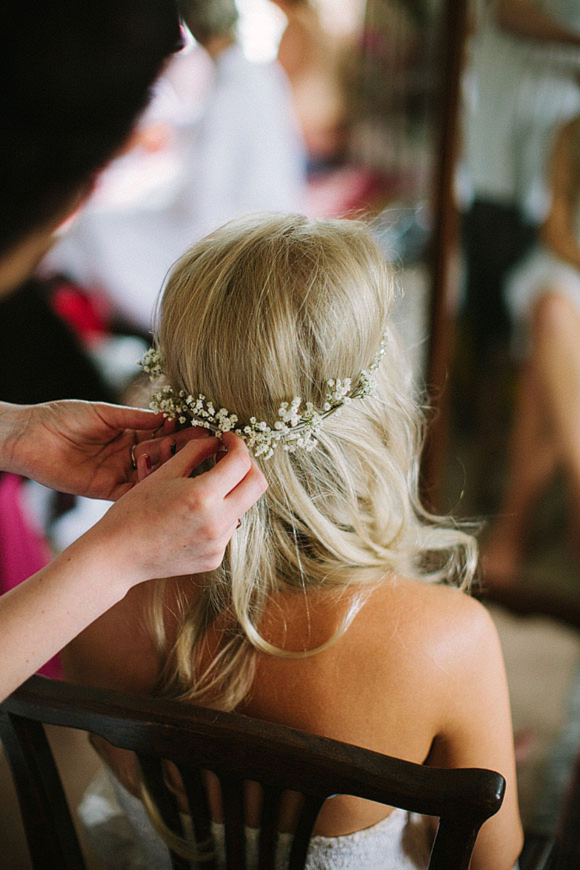 "Our Florist was Poppies in Kirkham – they were amazing. I had a homemade vintage country garden feel to the wedding in mind so i started collecting all the jars, glasses, jugs, boxes, candle holders from charity shops and vintage shops for the flowers to go in. Nothing matched and I  wanted the flowers to look wild and different, as if I'd just picked them out of a garden.
I looked on the internet and found a few pictures of flowers I liked, then I actually went to the wholesalers with Poppies and picked out what I liked…."
"I had my Granny's locket with a picture of my Mum wrapped round my flowers…"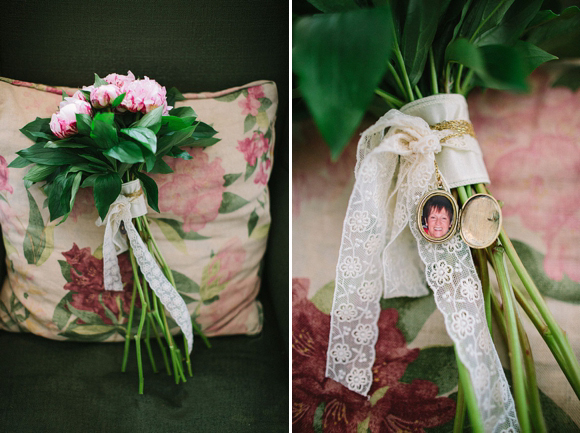 "I went to London and bought vintage lace to go around mine and the bridesmaids bouquets.  I wanted the girls to have all different and with their simple dresses – the flowers look stunning!
I sewed their initials on the lace so they couldn't argue whose was whose…"
"I  got the bridesmaids dresses from French Connection.  I just wanted something relaxed and simple they all looked stunning. 
The bridesmaids hair was waved or plaited and accessorised with gypsophila to give a country feel…"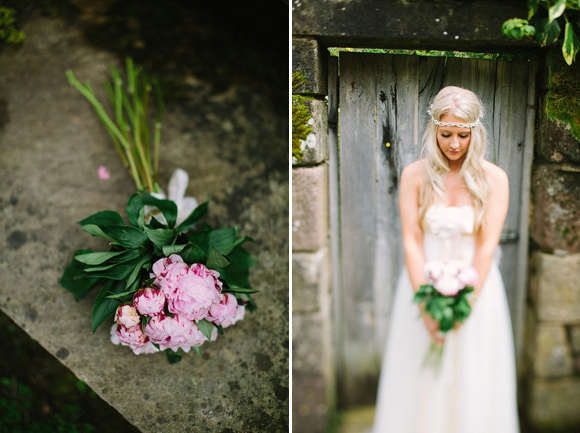 "I loved the little yellow pom poms and chose them for the boys button holes which looked amazing…"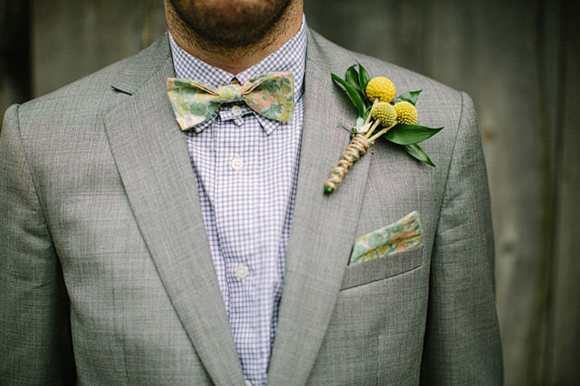 "Gavin wanted a regular slim fitting suit that he could use again. We looked at hiring but there wasn't much out there so he found the perfect suit at Reiss and they tailered it to fit just how he wanted.  Gav was dead set on having a bow tie so I decided to make it. I ordered some gorgeous fabric from Liberty and made his bow tie and the pocket squares for the suits. Gav's shoes were by Schmoove…"
"I made all the order of service booklets and menus myself using Photoshop…"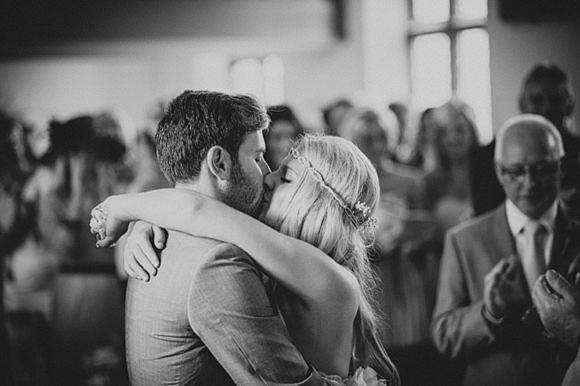 "We had a love letter table instead of a wedding book – I made bunting for the card suitcase, the love letter table and the Mr and Mrs sign on our chairs. I made paper pom poms to hang from the marquee and I collected all the jars, jugs, boxes, baskets, candle holders, mugs, glasses,teapots and embroidered cloth to style our reception…"
"We made the seating plan which was a window frame with a window box filled with gorgeous flowers, we also had pictures of our parents on their wedding day and honeymoon out as my mum had passed and both gavins mum and dad had passed away, and we wanted to include them in our day…"
"I also made a 'wedding tree' for people to thumb print and sign their name…"

"We hired our chairs from Evans Marquee Hire – I really dislike chair covers so I wanted something a little different. I sourced these wooden folding chairs and made everybody a cushion to sit on using bits of material I had collected, everybody loved the fact they could take them home!"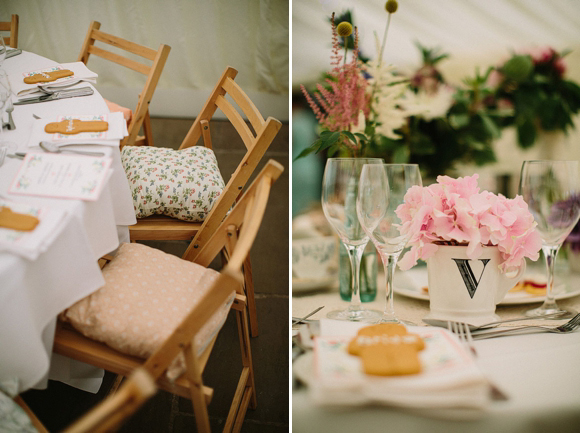 "The flowers in the marquee were amazing, it looked better than I had ever hoped it could – all handmade and individual. My family and I ollected embroidered cloth and lace from charity shops to go on top of the white table cloths these just went with the flowers perfectly…"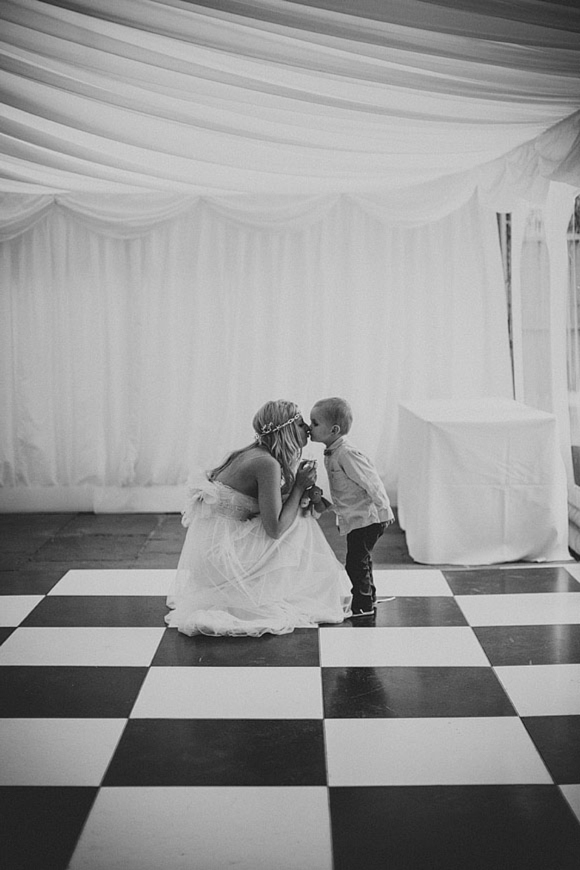 "We didn't have a cake as I think it's one thing that never gets eaten, so we opted for a sweet table with a mix of traditional and modern sweets and homemade tray bakes and cookies. we bought sweet bags and we were hardly left with anything. I made a fabric bunting to hang behind the table and got a "love is sweet" banner from Etsy that hung on the table.
I hired some of the jars and bought the rest of the cake stands and baskets, I made the sweet labels myself and we made a stand to give the table some height. It looked brill on the day and was such a good idea especially for the children…"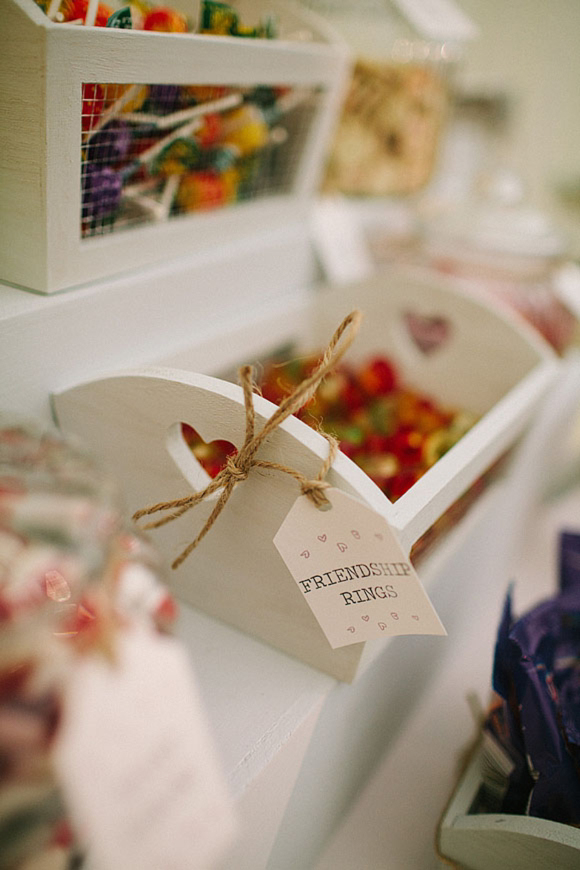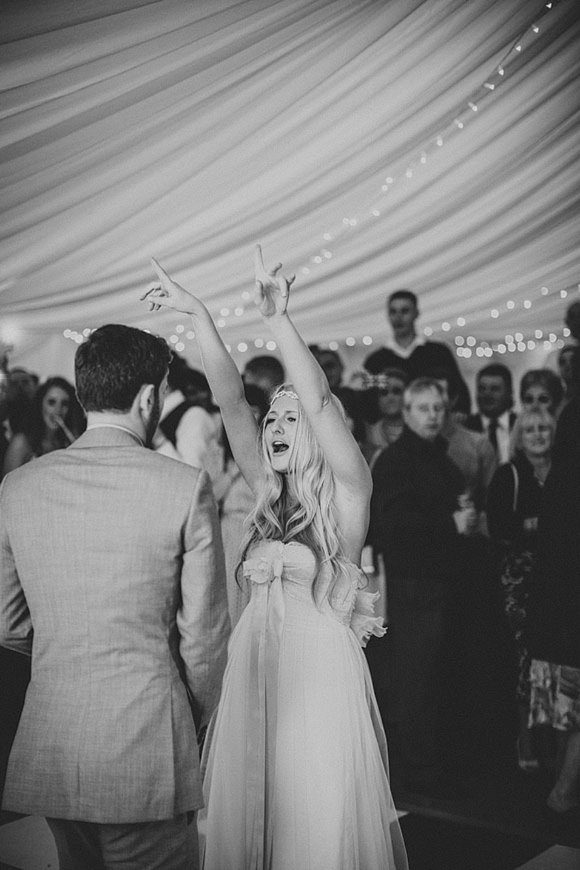 "Our photographers The Lawson's were amazing, we used Lawson Photography. After searching the internet looking for photographers, these were by far the best and they certainly proved that. The pictures are amazing, we are so happy with them. I really don't like my photo being taken and I was nervous about it, but I didn't even notice them taking them. 
They are such a lovely down to earth couple and put you at ease…"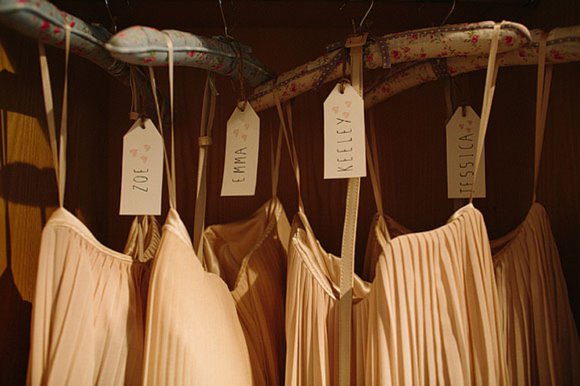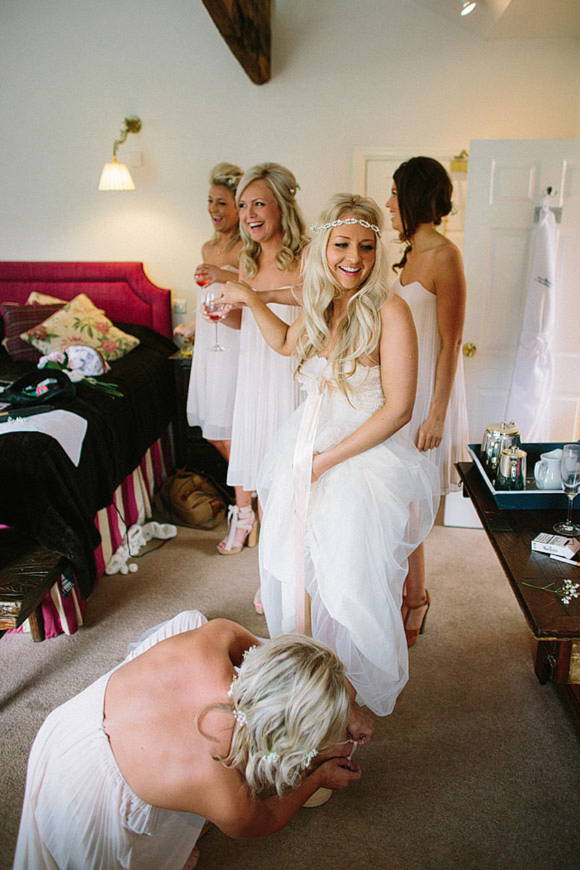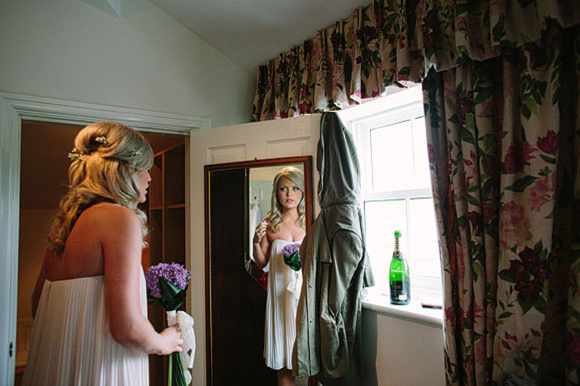 "I stayed at the inn the night before the wedding so I only had a short walk with my bridesmaids to the church but gavin and his ushers and best man came in a vaultswagen camper van which just looked the part!"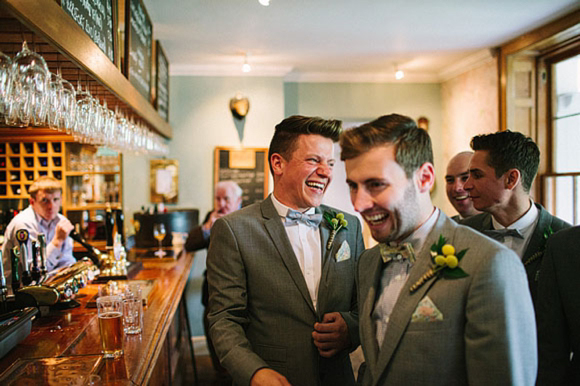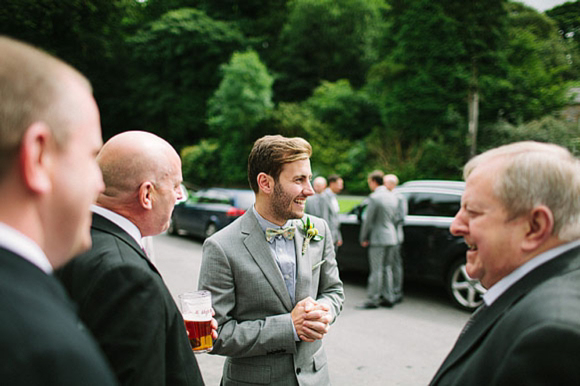 "We got the ushers and best man suits from Topman and that was their present from us. I also bought fabric and made there bow ties, they had the same pocket squares as gav in the liberty print fabric. I was so pleased how it looked in the end…"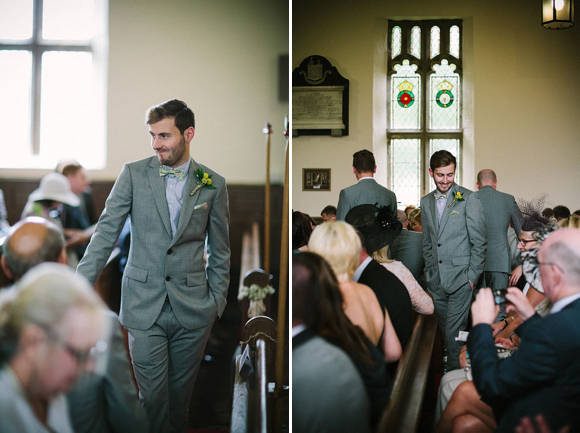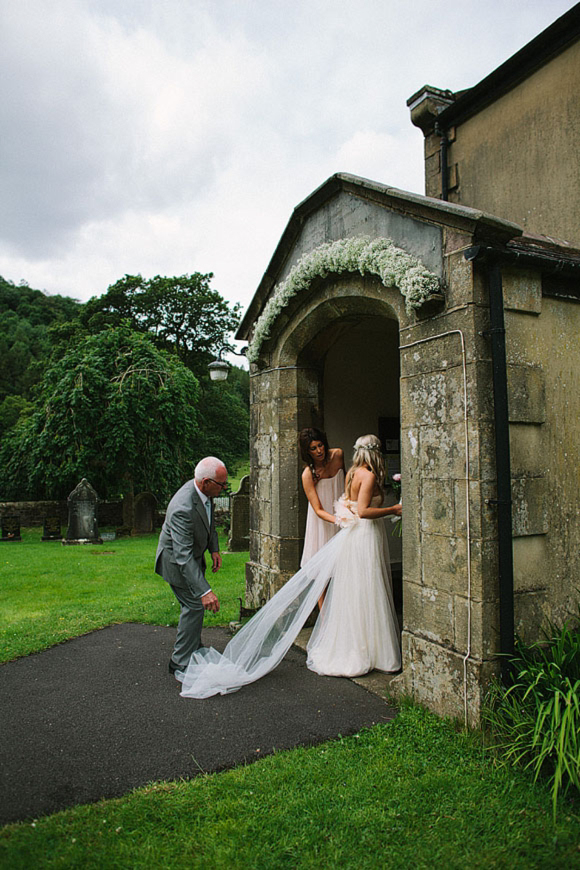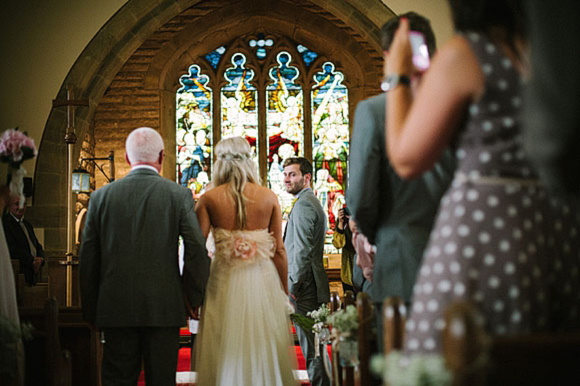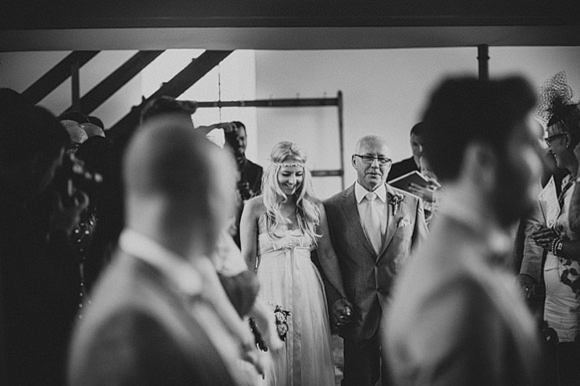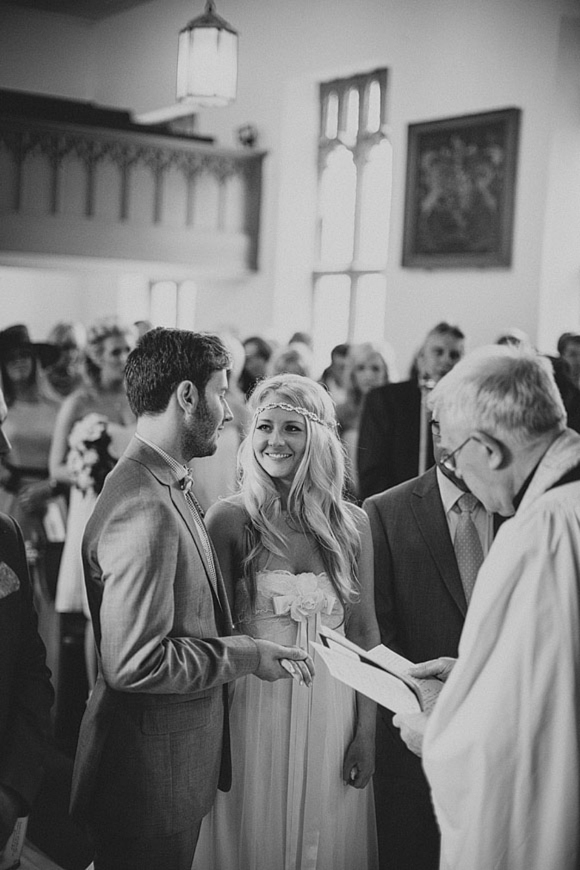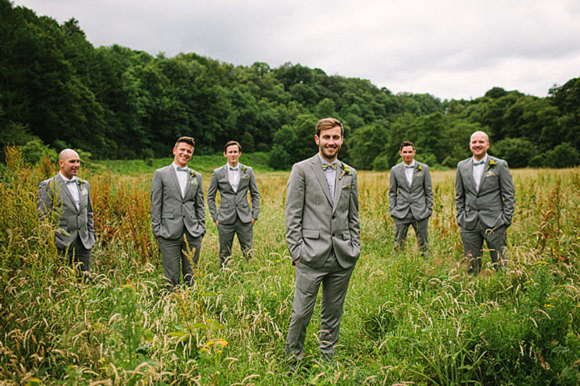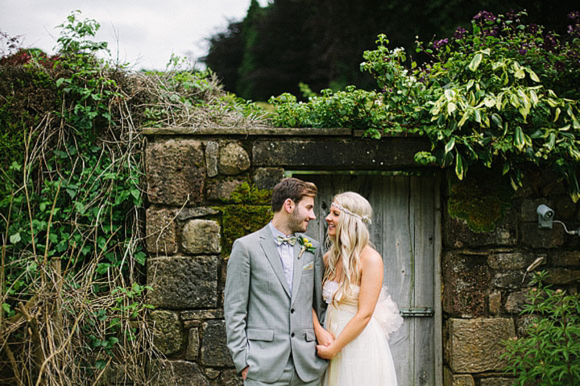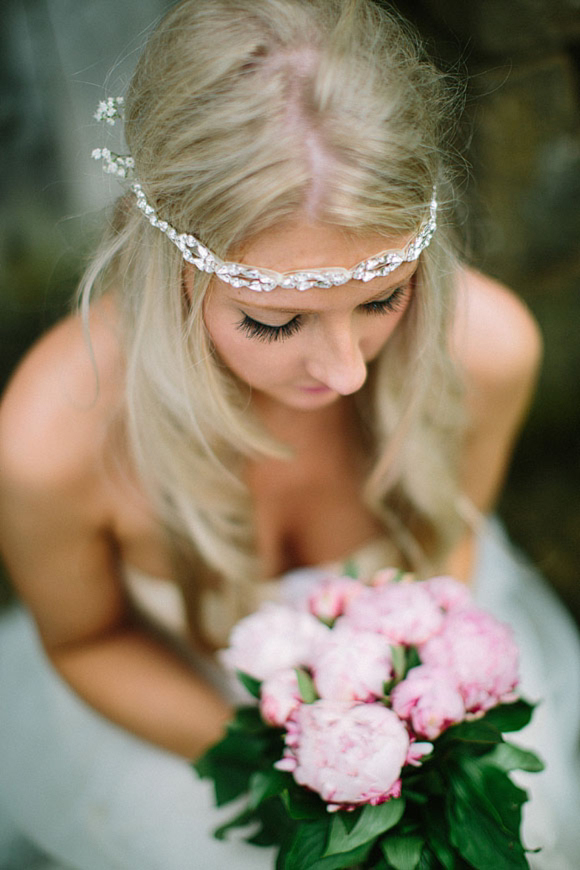 "Our wedding venue was The Inn at Whitewell.  I remember the first time Gavin and I went and we totally fell in love with the place. The sun was shining, the view was amazing and the food was delish, we left with a wedding brochure knowing that would be the place we would have our reception. We got married in the cutest church, st michaels which is just next door to the inn…"
"We hired vintage tea cup and saucers, sugar bowls and sweet jars with Emma at One Lump Or Two based in Kendal her vintage items are amazing and she is so lovely..."
"The day before, myself and one of my bridesmaids iced everbodys name onto 109 gingerbread men. this doubled up as a name setting and a favour along with the homemade cushions that everybody could take home. It was different and everybody loved the individual touch…"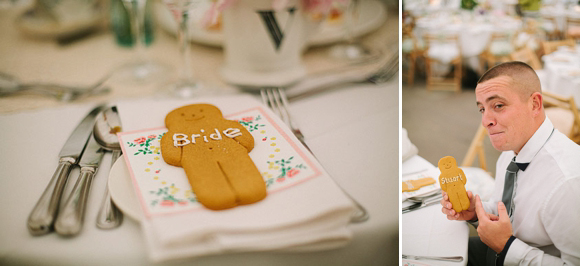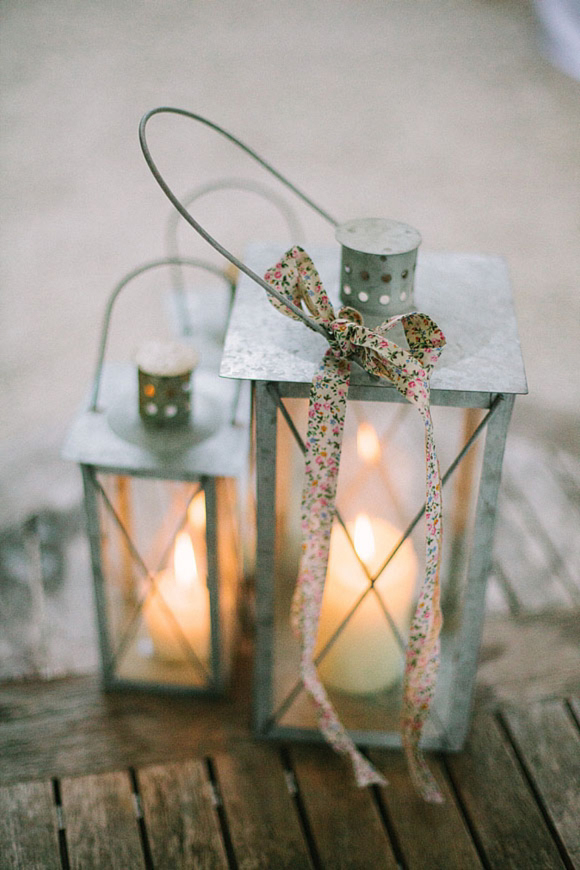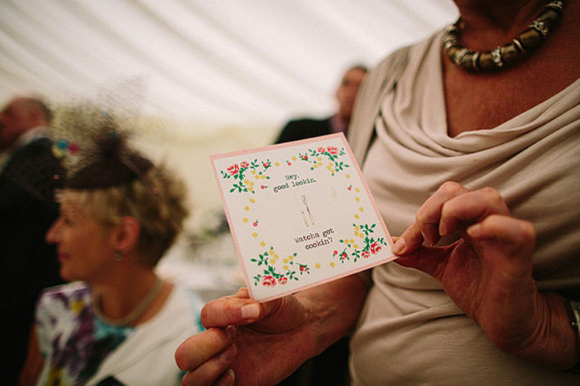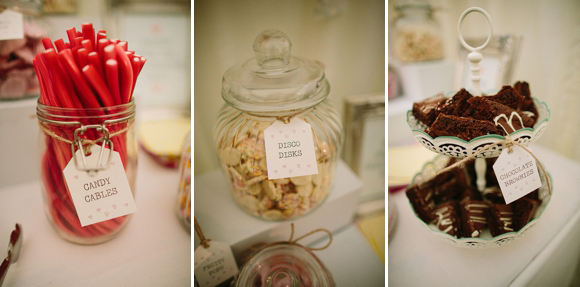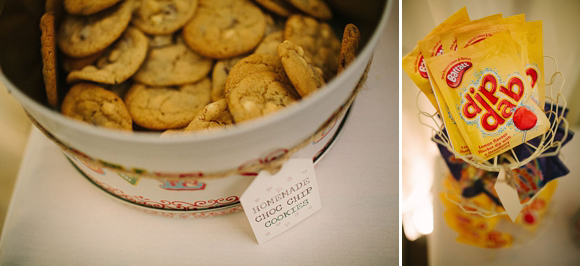 "We bought a giant game of Jenga for outside which went down a treat -  everybody was playing it at some point of the day and it kept people entertained when they were waiting around…"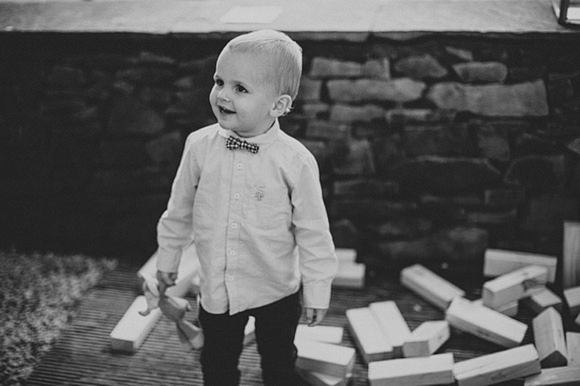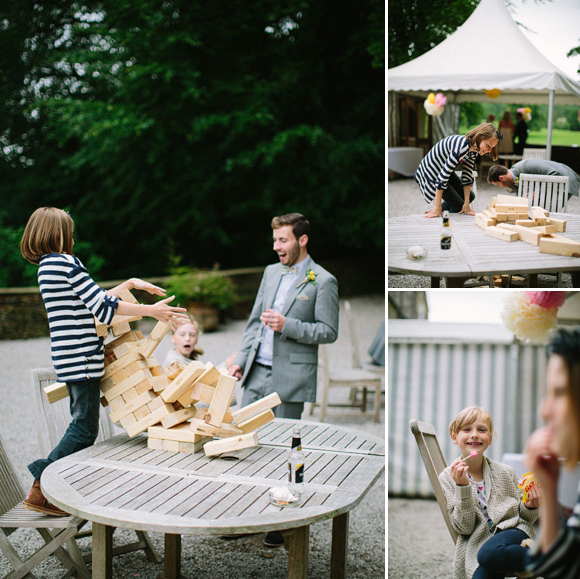 "We hired a photo booth from Pictureblast they came for 4 hours and everybody loved it.  The one we picked had a wind machine and a fancy dress box! They all got a copy of their photos within a minute and we got a disk with them all on. It was so funny looking through them.  The company was so professional and somebody was there all the time to assist people..."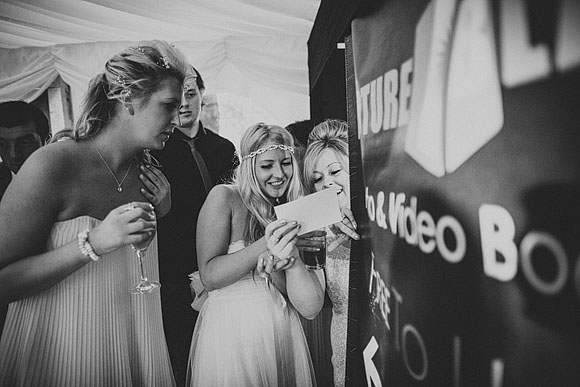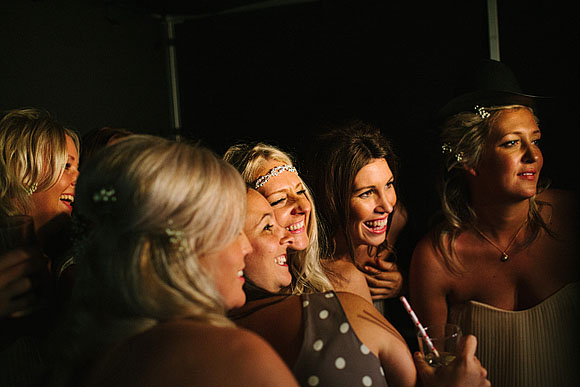 "One thing we definitely wanted was a live band. We had a local group called Sydney Gumboots, who were just fab, everybody was dancing from the first dance song till the last song they played. the amount of people that commented how amazed they were with how quick the dance floor filled.
We had the band sing 'Mardy Bum' by Arctic Monkeys which is one of our favourite songs. I dont believe you have to have a soppy slow song as the first dance, you should have what you and your partner like!"
Words of Wedded Wisdom…
"Definitely do what you want, dont be swayed by other peoples opinion. You are only going to do it once and you don't want to look back and regret that you didn't have it exactly the way you wanted it. The personal touches really do get noticed and people appreciate them.
Make lists when planning it keeps you on track and makes sure you don't forget anything, and keep everything together in a folder.  Try and relax on the day and enjoy it because it really does go that fast. Take a moment to look around and see what you have taken so much time to create and appreciate it.
Don't be afraid to make things yourself give it a go before you pay someone else to do it…"
Immense adoration for Mr and Mrs Lawson Photography – thank you so much guys for sharing these beautiful photographs, and huge congratulations to you Vicky and Gavin, I'm just delighted for you that you had your perfect day 🙂
I'd love for you to show Gavin and Vicky some love, this is such a beautiful wedding, the kind that makes Love My Dress pretty well, ace really. 
Annabel
Photographer – Lawson Photography
Venue – The Inn at Whitewell with marquee by Evans Marquee Hire
Brides dress – Claire Pettibone
Brides shoes – The Kooples
Brides accessories – Rainbow Club headpiece
Grooms – Reiss suit + Liberty fabric bow tie + Schmoove shoes
Bridesmaids – French Connection
Florist – Poppies, Kirkham
Stationery – all designed by the bride
Entertainment – Sydney Gumboots
Vintage china hire – One Lump Or Two