Morning all! There was no blog post yesterday, and now we have actual photographic evidence
to account for our absence! Huge thanks to everyone who was so kind to
tweet their congratulations – Franky and I really are so incredibly grateful you
know and winning our first blog award means the world to us.
OK, I'm going to warn you now.  This is a MASSIVE long blog post. 
Massive.  And it will be the only blog post today. And very deservedly
so too, because this wedding is a little bit special.
Love My Dress Wedding Blog – Photography Copyright (c) 2011, Dasha Caffrey
You see, Danielle (a photographer herself) and her beau Rob actually 'won' their wedding photography through a competition on Love My Dress.  And the brilliant thing about it all, is that you, our lovely readers, voted for Danielle as the competition winner.
Our readers adored how Danielle described her plans for her eco-friendly wedding day and voted in their droves to ensure she was the winner of the fabulous wedding photography services provided by Dasha Caffrey – how lucky are these two love-birds?
Danielle and Rob's wedding
ceremony took place at St Andrew's Church in Wickhampton, followed by an
amazing, laid back reception, held at Southwood Hall…
"We got engaged in the May of 2009, although we didn't begin
planning until Summer 2011 really. In fact, most things came together in
the last few weeks before the wedding. We're both teachers and
therefore extremely busy until Summer, so we could only really sort
things out in the holidays."
"Rob and I met at high school and
have been together for 10 years this year. We know each other so well
and are so in love. Getting married was just a natural progression as we
knew we wanted to cement our relationship, seeing a lovely future
together, forever. However, I had no idea he would propose when he did –
and with such an amazing ring!
We wanted a fun, informal day which was centered around the joy we
wanted everyone to share in with the ceremony. We only had a limited
budget, but wanted to really push that as far as we could…"
"We spent about a year collecting jam jars that we crammed full of
beautiful flowers on the tables. We used part of my collection of
vintage cameras on the tables too – each table named after a different
one."
"My Step-Dad got a friend of his to buy the milk churns from a farm
auction. My bridesmaid Zoe and I (with the help of my friend Emma's
little girls (Poppy, Daisy and Lily) set up the photobooth and hung the
photos around the venue on the morning of the wedding. My bridesmaid
Ella (an illustrator) and I, wrote all the chalkboard signs that we
dotted around.
My other bridesmaids, Amy and Sarah sorted the tables,
the sweets and the other bits of décor the evening before the wedding."
This whole wedding just blows me away – the handmade and DIY aspect of it all makes it all the more special too…
"I began making my dress to a vintage 1950's
dress pattern, but being a teacher (I was supply teaching during
planning the wedding), a photographer, planning and sorting the wedding,
moving house and applying for full time jobs there was little time for
me to give it the attention it needed. So five weeks before the wedding
(gulp!!!) I handed over what I had managed to make so far to a
dressmaker and she finished it for me. Initially I wanted it all covered
in crochet doilies, but due to time factors, I had to just sew on two
really meaningful doilies that my late Nan made. I t was lovely to have
her close to my heart all day. 
I adore 1950's
style. I always have done and the shape suits my figure well. I wish
I'd had time to source a fluffy petticoat, as I do love a poofy
petticoat under a full circle skirt. My ideal dress for any occasion
would be a 1950's number, all day long."
"Rob knew he wanted a tweed jacket, but not full on suit as
he thought this would be too hot. After the June and July we had we both
wondered if this was a wrong move, but we had the most amazing weather
on our wedding day and he couldn't get his jacket and tie off quick
enough in the end!  Rob bought his jacket and shirt from ASOS,
(I promise I don't have shares in the company!) his trousers were from
H&M and his waistcoat was an old one he already owned, originally
from Monsoon, before they scrapped their menswear section.
I
made Rob's buttonhole, I knitted his tie and made the pin badges which I
put on him during our first look under the pom pom tree. I also made the groomsmen's button holes and a lovely friend at work
saved my hands and time, by knitting their ties for them. In fact, my Mum
also got a couple of her friends to knit ties as we wanted them all in
different blues."
"I wore a single ivory swallow clip in my quiff which I bought from Chain of Daisies,
who is another photographer and talented jewellery maker friend of
mine. I purchased my earrings, the bridesmaids earrings and their hair
clips from her too. They all had flower hair clips with different tones
of blue in them.
I
made my birdcage veil and embellished it with another crochet doily
from my late Nain. I adored my veil and lots of guests commented on how
lovely it was."
You need to prepare yourself for the epicness of this post, because
these photographs, and the whole gorgeous styling of this day will make
your knees weak.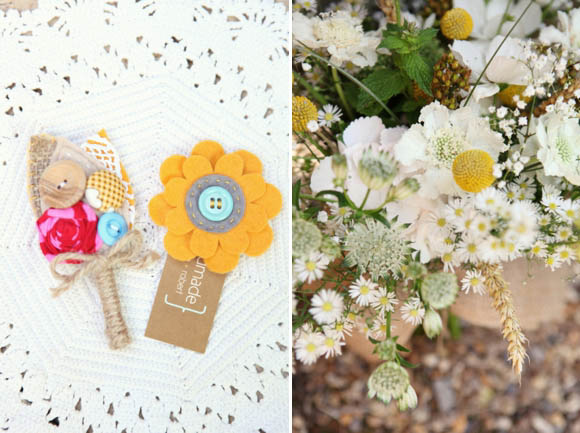 "My bridesmaids dresses were my actual first wedding purchase! I bought them last Summer from ASOS,
for £29.00 a dress! Bargain! They all fitted them incredibly well and
my gorgeous bridesmaid, Zoe, was a dab hand the night before the wedding
at making some last minute adjustments to some of the dresses.The girls all purchased their own shoes and I have no idea where
from… but their shoes were all amazing!
They have a great choice in
shoes! I especially loved that Ella wandered over to the house I was
staying at on the morning of the wedding with bed hair, her tartan pjs
on, a roll up in hand, and shuffling on her ridiculously high suede
wedges!! Legend!"
"I made a load of
woollen pompoms which my bridesmaid Zoe and her boyfriend G decorated
the "first look" tree with. It looked absolutely beautiful.  Zoe and G also made all the crepe paper streamers, which added colour to the walls in the barn."
"Rob knew he wanted to drive his Dad's Lotus to
collect me, so we asked the bridesmaids to wear red shoes that matched!"
"The look we wanted was rustic,
hessian, duck egg blue, mustard and dashes other bright colours. I knew I
wanted to have lots of crocheted doilies, as I have collected a lot
from relatives, car boots sales and antique shops over the years, as I
love them so much…"
 "I designed all the stationery and we printed and put it all
together at home. I studied design at Uni and am quite particular about
the Graphics of things, so loved creating all the stationery.  I
illustrated and drew all the little characters in the 'Order of the
Day' and the cameras on the table plan. I'm thinking of making little
prints of these and hanging them around the house."
"My Mum got her friend to do the flowers and I have to say that
they were pretty spectacular. The brief was white, herbs, craspedia and a
look like someone had brushed their hand along the side of a country
road and made a posy from it. Mum organised everything and we were
absolutely delighted with how everything looked. My Mum even spent the
year before the wedding, cultivating and growing the vast majority of
the flowers we used.
My bouquet smelt gorgeous as it had rosemary, mint and lavender in it, amongst other flowers."
"The cake was another thing my Mum sorted. The brief was a plain,
white, three tiered cake that we could embellish the night before the
wedding. Sarah, who made the cake, helped me to wrap the tiers in
hessian ribbon and top with the little family that I painted the week
before the wedding. The little family featured Rob and I in our wedding
outfits and our two little cats, Moustache and Smudge. The figures now
sit at the base of my imac and I smile whenever I sit at my computer –
they're so cute!"
"Dasha Caffrey of Exhibit Emotions was our photographer who we amazingly won through a Love My Dress competition. It was absolutely awesome, as we only had a
small budget and were delighted to win. Lots of our friends and family
voted for us, so they loved seeing Dasha on the day and feeling like
they had helped us with a part of our day. It was brilliant.
Dasha
has created incredibly beautiful images that we will treasure forever.
We are over the moon 🙂 and loads of our guests have said how much they
love them too."
"I booked Millie Rose
and her Mum Jan to do my hair and make up about eight weeks before the
wedding after finding a link to her work on Model Mayhem. I spent ages
talking myself out of doing it all myself and am so glad I did, as I
would have had squiffy liner flicks from being so nervous on the day! 
Millie
and her Mum were an absolute dream team on the day and made me feel
like a film star! Millie also did my nails a few days before the
wedding, which were little duck egg blue numbers – they were so pretty!!"

"I knew I wanted mustard yellow shoes to go with the tie I was
knitting Rob, but at the time couldn't find any in the shops. I
eventually managed to find a second hand pair on Ebay
and purchased them for all of £7.51!! I glittered the bottoms of them,
a.) to cover the scuffs and worn soles, and, b.) so they would sparkle
when I knelt down to pray in church. I loved my shoes, as did my Year 9
Resistant Material's class, who watched me sand the soles in preparation
for the glitter and glue!"
"We were
having a picnic under a willow tree, in Bakewell, by a river, with
Swallow's flying overhead. Whilst I lay in Rob's arms, we discussed the
future and he suddenly shuffled out of the hug, sat up and insisted I
did the same… I thought maybe he'd dropped something!!  He began
fumbling around in his pocket and then pulled out a box. I was shocked,
but incredibly excited to see what was in it! He then asked me to marry
him and showed me the most gorgeous, art deco style ring I had ever
seen. Rob   asked me "what do you say?" and being a well mannered girl I
just kept repeating "thank you!!" Rob took my endless thanks and a
"yes" as that was all I could muster at the time and we spent the rest
of the afternoon eating fish and chips, sitting on the wall and watching
a local cricket match."
"I wasn't 'given away' in the traditional sense.  I have a Mum, Dad
and Step-Dad who would have all felt honoured to give me away, but being
with Rob for 10 years, I didn't feel like anyone could give me away. It
was either walk in together, or on my own and I didn't want to walk in
on my own, because the marriage is about the two of us, not just the
bride. I loved walking in with Rob, we couldn't help but grin like
Cheshire cats the whole way down the aisle!  We walked in to Bibio –
Lover's Carvings.
The girls walked down in pairs to the slower part of
the song, then Rob and I semi-danced, semi-floated down the aisle to the
more upbeat part of the song. I bloody love that song and can't help
but well up when it comes on my ipod now."
"Our readings included Hovis Presley – I rely on you
(read by Jenni, my bridesmaid). It's absolutely beautiful this reading,
and we both sobbed when she caught my eye whilst reading it.  We also
had Albert Einstein – Relativity (read by Michael, Rob's best man) I love this Physics-y reading and so does Rob."
"Rob's parents live in one of the few houses in the village. It's
just an idyllic little English village and the church is so pretty. The
Vicar was an absolute blast too – friendly, fun and relaxed. He allowed
us to walk in together, walk out to all our guests singing Darlin'by the
Beach Boys – I'm sure not many Vicars would say yes to this!!"
Southwood Hall is a short distance from the church and so lovely. We wanted a rustic
barn setting for all our family, with a big lawn for the kiddies. The
barn is a bit more 'polished'than us, but we made it rustic and homely."
"The ceremony was what the wedding was all about – we got married.
We had all of our friends and family sitting in one, beautifully lit
room, sharing in our love and happiness as we tied the knot. It was
fantastic. Neither of us would change any aspect of the ceremony, it was
perfect.
"I bought the flowergirl dresses from H&M,
but my flowergirls were my cousins from Italy and when they came to try
them on a few days before the wedding, they didn't fit, so my amazing
Mum offered to go to John Lewis, four days before the wedding, and
bought them the cutest little dresses which matched in perfectly!"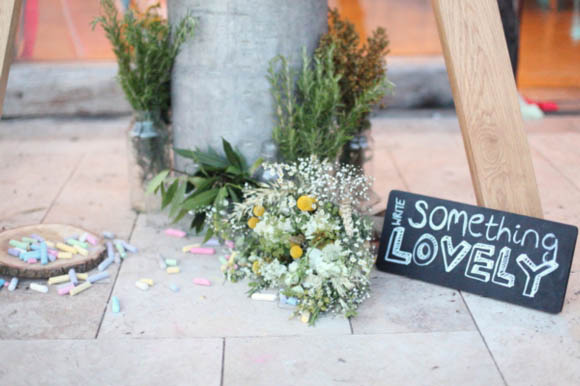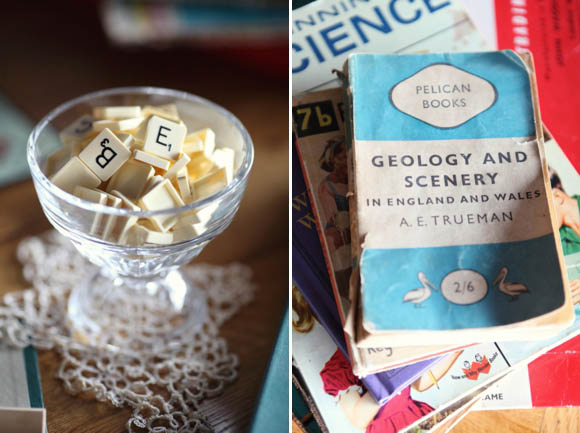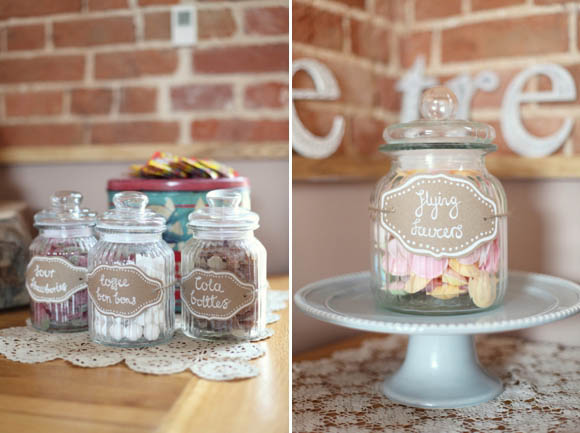 "Our next door neighbour sourced some linen napkins
for us and I hand-cut a doily stencil that Rob painted onto each of the
napkins in the wedding colours. He was an absolute gem, spending three
days of solidly washing, ironing, stencilling and re-ironing 80 napkins
in the week before the wedding!"
"We had booked an awesome live, local band who we had been to
previous gigs of theirs in advance. Rob and I love gigs, live music and
festivals, so wanted a proper gig feel to the evening, but the bloody
band didn't turn up, so many of the guests left after the cake cutting,
when the evening began to fizzle out due to the lack of entertainment.
It didn't matter though as the bridesmaids and I still managed to dance
the night away to Kings of Leon, Yeah Yeah Yeahs and the Foo Fighters to
name but a few, as Rob and his best man Michael threw together an
emergency playlist.
We are gutted about the band and are still pursuing the reason they didn't show…"
"We danced to Maps by the Yeah Yeah Yeahs. We have so many songs
that mean so much to us as we listen to a lot of music, so it was a
really tough choice. We used to listen to this song on long car journeys
and sing at the top of our lungs. It came on our random playlist whilst
we were doing weddingy bits and we both knew we had to choose it. 
We had Edward Sharpe and the Magnetic Zeros, Born Ruffians and The Invisible during our register signing."
Word of Wedded Wisdom… 
"The ceremony should be the
main focus of your day – it's the reason you're all there. How ever much
(or little) money, style and intricate décor, you throw at the rest of
the wedding, the ceremony will always be what you remember most and an
incredibly special part of your life.
I'm delighted that we found a
Vicar who was singing from the same hymn sheet 😉 with regards to what
we wanted as it made everything seem so effortless. Being a
photographer, I shoot a lot of weddings and see a lot of Vicars and I
have to say, our chap was pretty special.
It's all about the ceremony, your love and the rest of your lives. Do what makes you both happy."
Oh how completely wonderful is all of this? I am so very genuinely thrilled for Danielle and Rob, I really am. This is one of those wedding features that as a blogger, you'd give your right arm for, and to be able to think that Love My Dress has played a small part in these beautiful photographs and memories being created makes me incredible happy – and really rather proud!
So, Danielle, Robe, congratulations to you both my lovelies – you both look amazing and I wish you a very long life filled with love and wedding bliss 😉
Huge thanks also to lovely Dasha Caffrey for sharing her work today too and for her amazing generosity also.  You can see more wonderful photography from Dasha and Dasha on Love My Dress.
Who adores this wedding just as much as I do?
Much love all,
Annabel xXx
Photographer – Dasha Caffrey
Venue – Southwood Hall
Brides dress – Handmade by the bride & finished off by a seamstress
Brides shoes – Ebay
Brides birdcage veil – handmade by Danielle herself
Brides hairclip accessory – Chain of Daisies
Groom – ASOS + H&M + Monsoon
Bridesmaids – ASOS + own choice shoes
Flowergirls – John Lewis
Florist – A friend of the family
Cake – A friend of the family
Hair Stylist/Makeup Artist – Millie Rose
Transport – the Groom's Father's Lotus!