Well hello again lovely people, thank you so much for all the kind and wonderful birthday messages today, that has made me very happy indeed.
In this second wedding I'm featuring today – beautiful bride Bo sports the most elegant of wedding dresses that was made by her very own sister and dress designer, Adah Lynch, and was inspired by the Swan Lake ballet.
Love My Dress Wedding Blog – Photography Copyright (c) 2012, Lisa O'Dwyer
Bo married Talbot on 14th April this year at Kilshane House in Bansha, Co. Tipperary. Very sady, Talbots Dad passed away only two weeks before the wedding.  It brings me
such pleasure therefore to see these beautiful images bursting with the
essence of a joyous occasion and lots of love… 
"My sister Adah Lynch made my dress.
She is just the most fabulous designer. Each piece that she makes is
totally unique. She does the design, then drafts the patterns and makes
the masterpieces come to life –there is nothing like having a piece
designed especially for you. I can't believe I had a couture wedding
dress!  Adah has made loads of dresses for me for balls and parties. I
was very lucky really – having her doing my dress meant I had no
stress."
"Adah's style definitely has a modern edge to
it. We worked out some mood boards and she helped guide on what would
work well and what ideas she had for me. Sourcing the fabric was really
important too, my dress felt beautiful on – it was fully lined in the
silk. A total luxury! Adah made sure to incorporate my love for Swan
Lake and she spent hours embellishing the dress with pearls and
feathers. The fabulous silk came from Clonmel Fabrics."
"My dress was inspired by my sister Adah's wonderful design and
influenced by my love for ballet and Swan Lake. The dress was
embellished with pearls and feathers. My headdress was a feather band.
The church music had pieces from swan lake and other beautiful pieces
chosen for us by Talbot's dad.  Other than that we left the beautiful
church and venue shine – we just had big bunches of luscious country
flowers. We really felt we had a beautiful church and a beautiful venue
so they didn't need anything extra."

"Bloomsday Flowers supplied all our flowers.  I
really wanted to have natural, country flowers; and for my bouquet to look like someone had gathered up a collection of freshly picked, big beautiful
flowers.
Jesse likes to work with the flowers that are in season so she
is able to get great value for money. We had lots of flowers and they
made a really big impact in the church. Then we had them transferred to
the venue and popped into vases. The buttonholes for the boys had a
little something extra too which was lovely."
"Adah made my
headpiece two days before the wedding! We knew what it was going to be
alright, a band of feathers, like the swans, with the netting, so she
found it easy to make. I removed the netting after the church and had
the feather band."
"My necklace is a really special piece. My family gave it to me
for my 30th birthday. I guess Adah and I knew we were doing a low-backed
dress so that I could wear these gorgeous pearls.
My group of friends
gave me Mikimoto pearl earrings for the same birthday, which I wore too.
I love the idea that I had these special pieces from special people for
the wedding day. The necklace is from a lovely boutique in Waterford
http://museboutique.ie/ and the earrings came from London."
"My shoes were the very first item I bought for the wedding. Even before a date was set. We bought them in Furla in Kildare Village. A fabulous bargain that we couldn't leave behind."
"Again the wonders of Adah
were behind my bridesmaid's dresses. Adah made the two dresses, for
herself and Leah. They looked beautiful and elegant. Some inspiration
was drawn from Wallace Simpson's wedding dress. A The cream crepe fabric
came from Clonmel Fabrics and Adah embellished her dress with some
lace."
How adorable is this little guest!?
"Our photographer was Lisa O'Dwyer.  Talbot and I loved the style of Lisa's photography. She really
captured our day wonderfully.  Her work tells such a beautiful story and
it has allowed us to relive the day. We especially appreciated her work
on film. It has such a beautiful texture and depth to it. Lisa arrived
at my [Bo] home that morning and she was so calm and lovely. She really
loves what she does and is so enthusiastic about the day and the
details. I couldn't believe all the little pieces that she spotted and
photographed.
Lisa's work is outstanding and her personality makes her
the perfect person for such an important job. Funnily our priest also
loved her too – he thought she did her job wonderfully and was almost
invisible even though she was documenting every moment of the ceremony –
the sign of the perfect pro!"
"My
Dad gave me away, and I walked down the aisle to 'Nella Fantasia'. We
then had a number of pieces from Swan Lake through the ceremony."
"We met at a Swing Dance event in Dublin in 2008.  Then in 2012
Talbot took me on a trip to Canada – he had arranged a seaplane out to
Vancouver Island and we had the most amazing time. We both love the
outdoors and we did everything we could – kayaking along the coast
exploring the wildlife, cycling through the beautiful national parks.
Talbot proposed while we were there – he was spoiled for perfect moments
really, but he picked a lovely moment when we were watching whales at
sunset. Naturally we were bursting to get home to share the news with
our families.  When we got home there was already a party going as my
sister got engaged the same weekend too. So spirits were very high at
home. I think my dad was a little in shock!
We did no
planning for six months, then in a three month period we booked the day
and did all the planning.  A bit of a whirl-wind in the end!"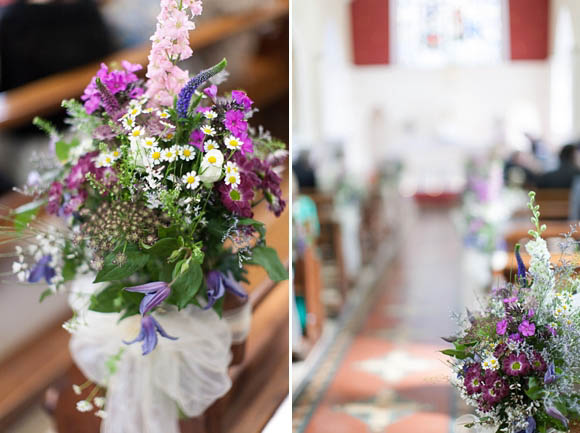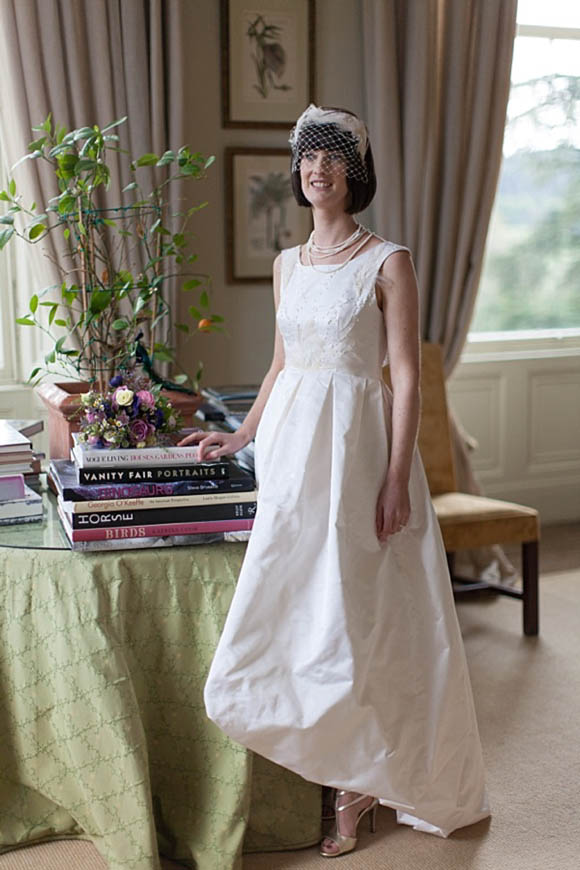 "We had a two-tier cake, one chocolate and one lemon. Then we had a
'kitchen cake' which was the traditional fruit. We served the kitchen
cake on the wedding day and kept the main cake until the next day. We
served it as dessert after our barbeque. It was totally yummy."
"Our venue is close to the my home. When Talbot and I went to visit
we were in awe. We immediately got giddy – we knew we were going to have
to have our party there."
Words of Wedded Wisdom…
"As our priest told us – enjoy and appreciate all the good will that you receive in the run up and during the wedding."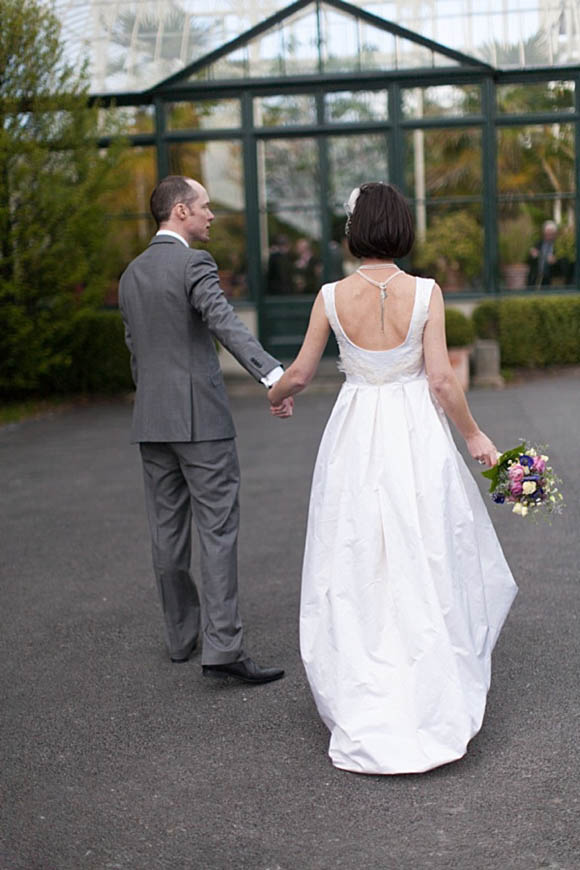 What a beautiful and elegant affair.
Bo and Talbot, I am so very sorry for your recent loss, but I am delighted for all the wonderful opportunities that lie ahead for you both as man and wife. Many sincere congratulations to you – and thank you so much for allowing me to share your beautiful day with my readers.
Who's in love with Bo's elegant ballet inspired wedding dress as much as I am?
Much Friday love to you everyone,
Annabel
Photographer – Lisa O'Dwyer
Venue – Kilshane House in Bansha, Co. Tipperary
Brides dress + headpiece – Adah Lynch (the bride's sister)
Brides shoes – Furla in Kildare Village
Brides accessories –
Grooms Suit – House of Fraser, Dundrum
Bridesmaids –
Flowergirl –
Florist – Bloomsday Flowers, Carrigtwohill, Cork
Cake –
Cars/Transport – Butler's Car hire from Dungarvan