It's almost lunch time, which surely means it's time I treated you to a wedding :)  Love My Dress reader Laura married her beau Paul on 9th June with a ceremony at Islington Town Hall in London, followed by a reception at The reception was at The White Horse Pub, Exchange Square near Liverpool Street Station.
I adore Laura's 50's style wedding dress – a black lace design by Maria at The Little Black Dress in South Woodford, London.
"I
knew I didn't want to wear white and I had seen and tried on some great
1950s prom dress styles and found a few pictures. Maria and I agreed
the design together and she made it.
I ordered the white net petticoat
from LissyKate's on Ebay. I loved the idea of having a black lace
neckline and overlay (I have a party dress with a similar idea) and the
gorgeous shape and mid-calf length. I felt like I was in Mad Men (I'm a
bit obsessed with it, actually!"
Love My Dress Wedding Blog – Photography Copyright (c) 2012, Sally T Photography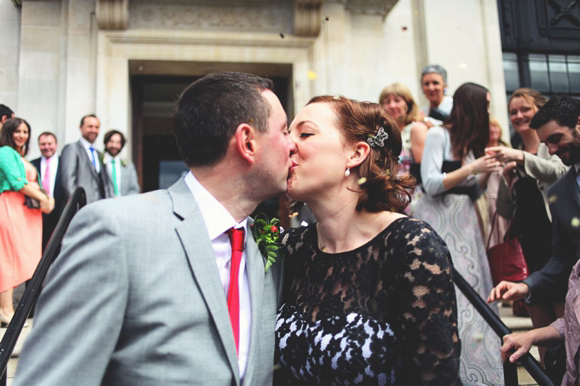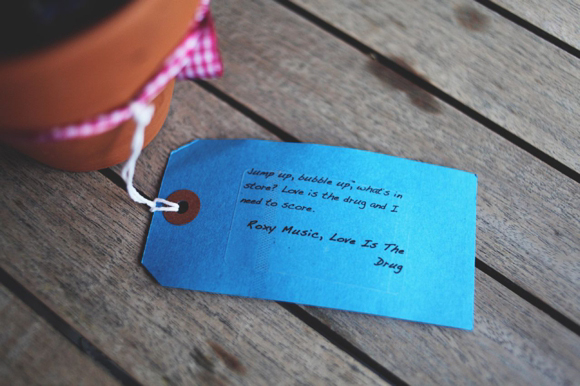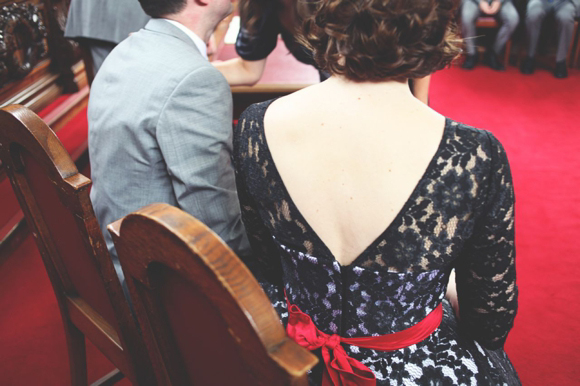 "My Bridesmaid's halterneck circle dress was from Vivien of Holloway, London. The other was from Pretty Kitty Fashion on Amazon. Both had petticoats from Vivien of Holloway."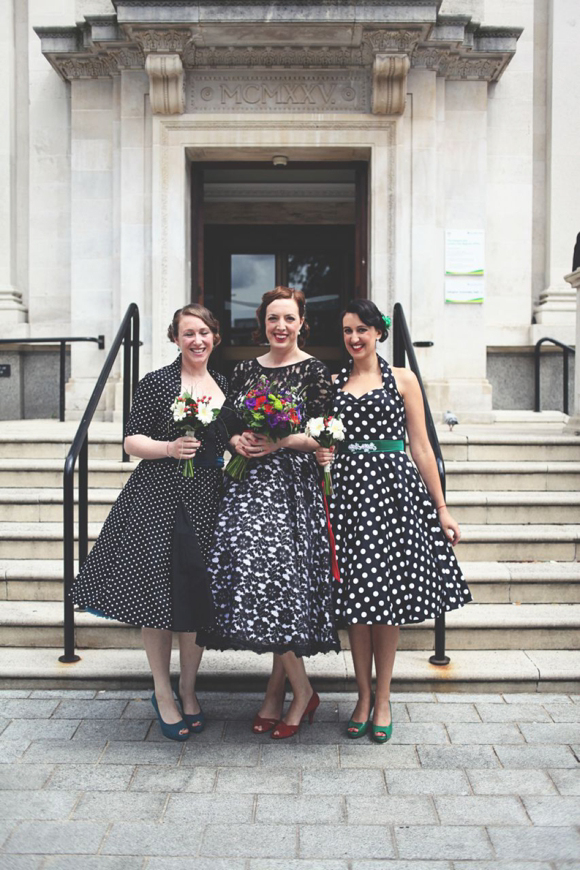 "I had two pairs of shoes in the end! I started with some cheap red satin shoes from Ebay
that I customised with some netting I had from my Hen Do. (We made net
petticoats in a vintage dressmaker's workshop).  They ended up looking a
bit mad so I bought some more sensible ones, again from Ebay but
originally from Hobbs. Much more sensible but still gorgeous and retro. I
did wear both pairs on the day.
Bridal party flowers were by Flora of Wanstead in London. I wanted quite a loose & wild bouquet with garden flowers. I
love the fact the bouquet was so full of jewel colours which looked
great with the black and white dresses."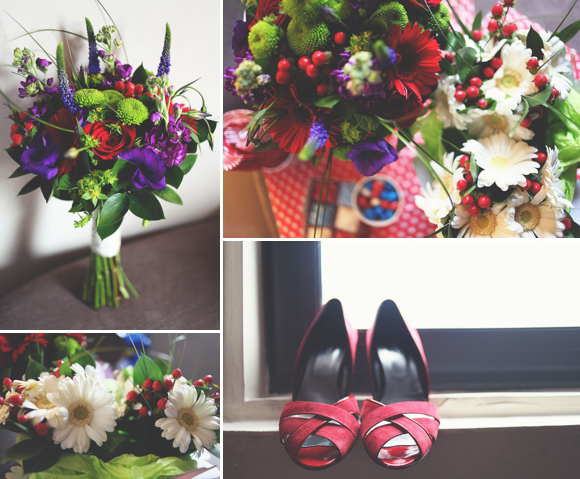 "Our readings were 'The Passionate Shepherd To His Love' by Christopher Marlowe read by Paul's mum and 'Traditional Irish Wedding Blessing' read by my cousin.  We
wanted something classical and in some way significant.
Being a Drama
teacher and from a performing family, Marlowe was just right. Paul and I
both have some Irish blood and the blessing is really beautiful."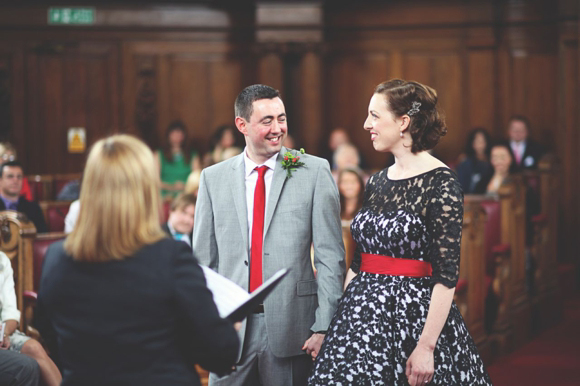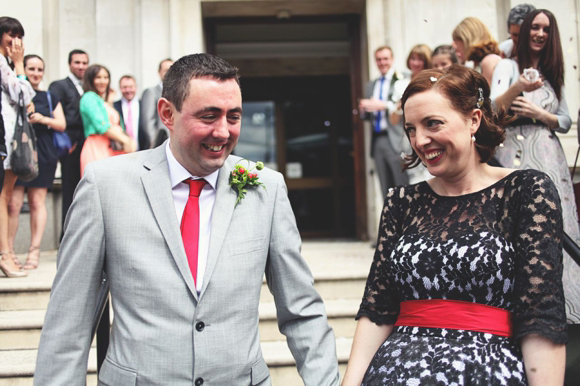 "We wanted a pub because we knew we wanted a relaxed
atmosphere for the celebrations. It's also got some lovely retro style
décor, which went well with the vintage feel we ended up with and a
great patio area outside.
The fact that the pub is in the City also
meant that the area was really quiet so we had loads of space for guests
to wander around and have our photos.The White Horse Pub has their own Events Organiser. The staff were brilliant and really made sure our reception went smoothly."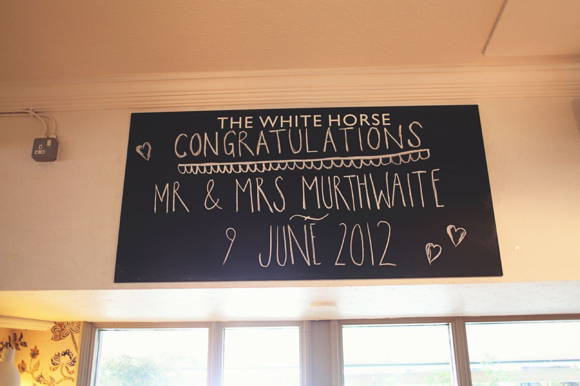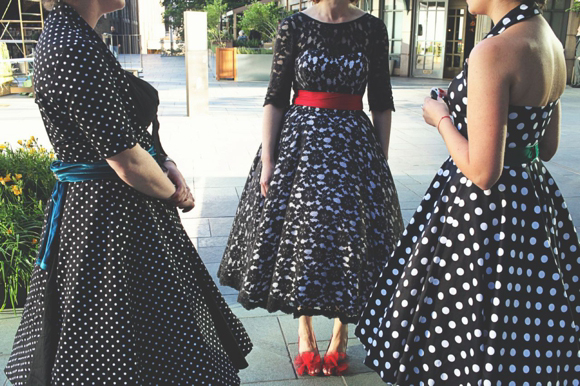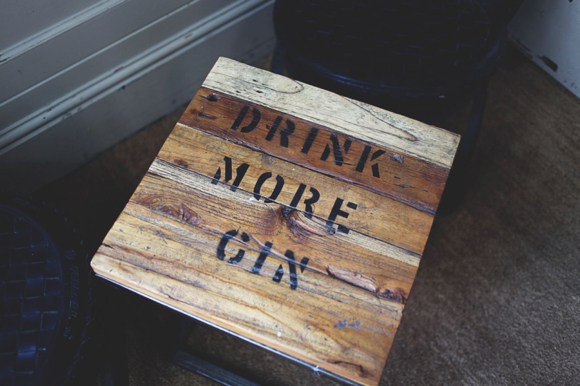 "My mum ordered a brilliant cake of cheese from The Cheese Shed in Devon.
It was amazing. It included lots of different wheels of cheese so was a
great after dinner extra and a bit of sustenance for our evening guests
too.  We also had a cake baking competition for our guests. They totally overwhelmed us with their skills and creative ideas."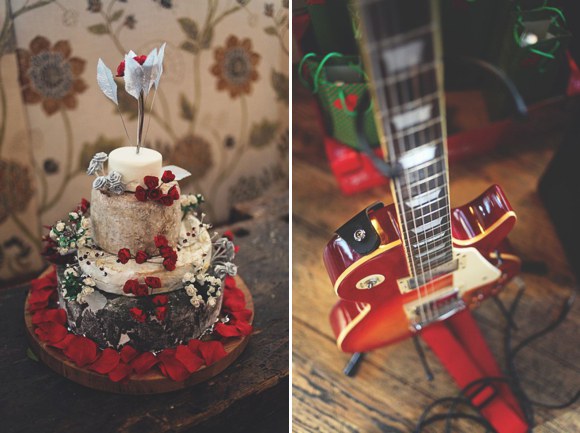 "To be completely honest, we were pretty dead against getting
embroiled in themes or getting sucked into the styling part of planning
the wedding. We just wanted to invite everyone we wanted to and give our
guests a brilliant day. But before we knew it, we were talking about
having a Cabaret as part of the reception, so we organised our own,  featuring performances from members of
our family and some friends.
Susanna, my bridesmaid and a friend
compered and Paul and I both performed too! My brother did a DJ set of
classic tunes for the evening."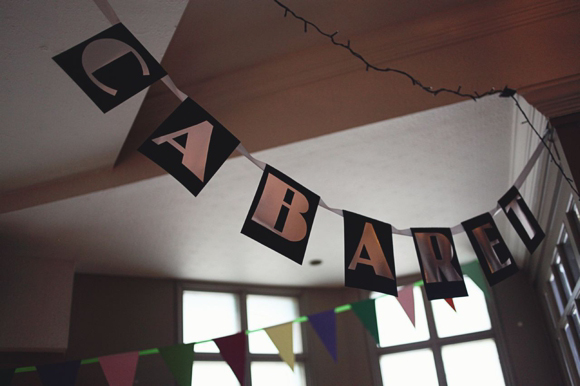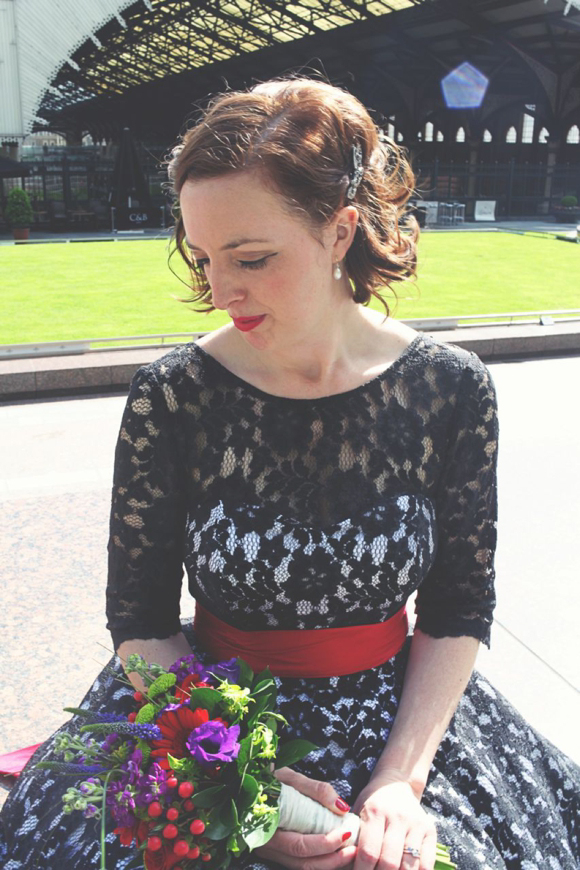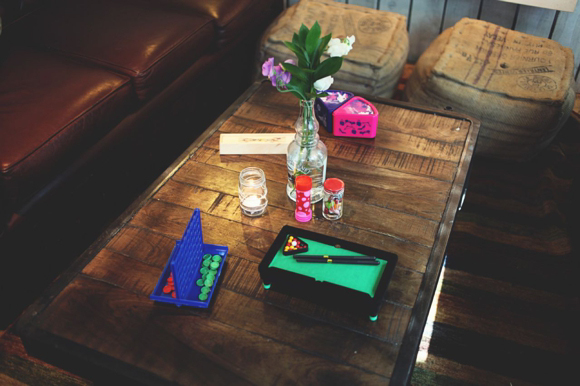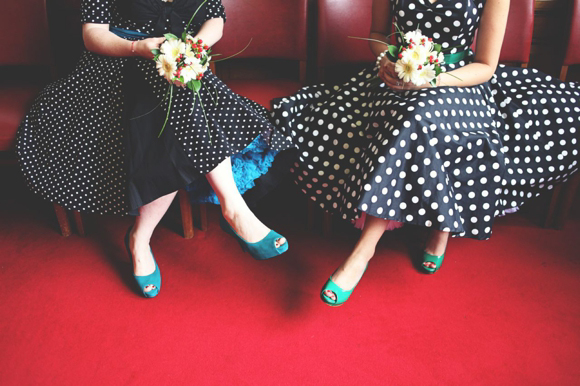 I
love these getting ready shots – and anyone who has ever stayed at The
Hoxton Hotel will recognise those cushions immediately…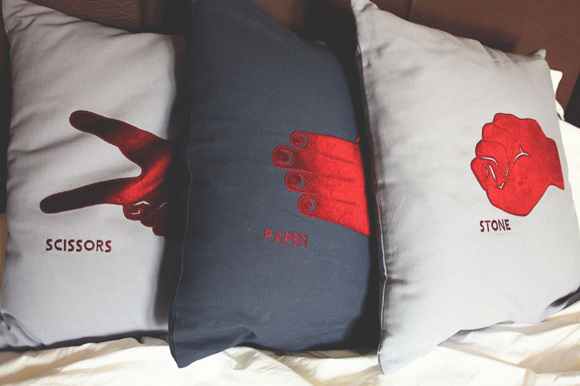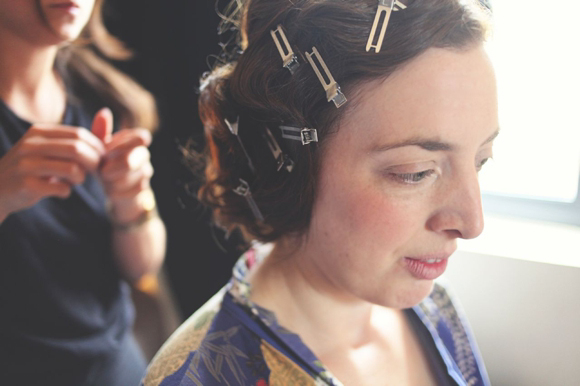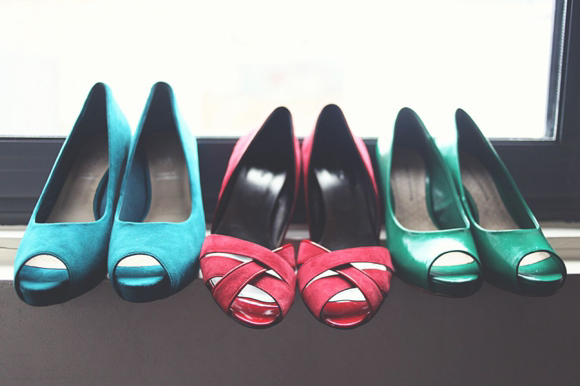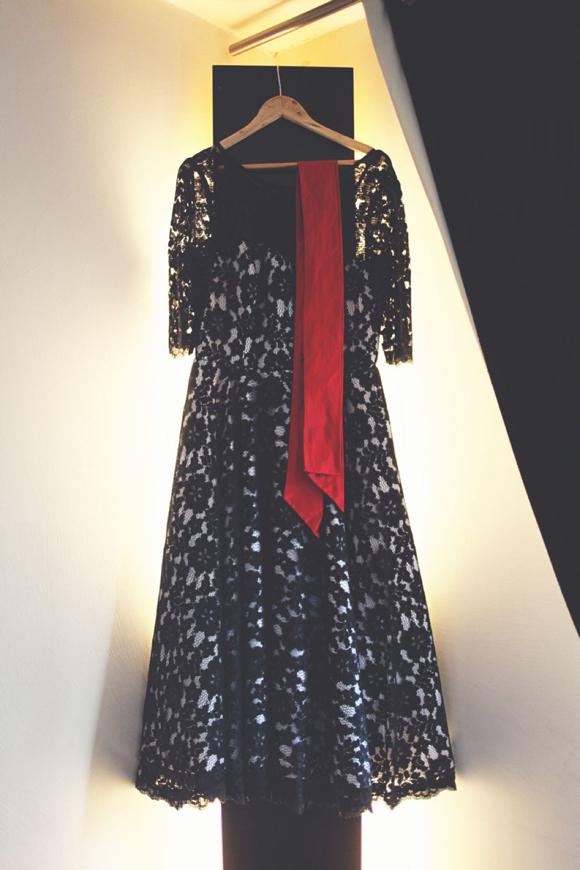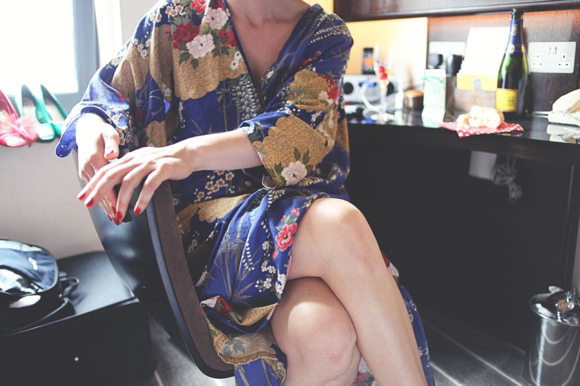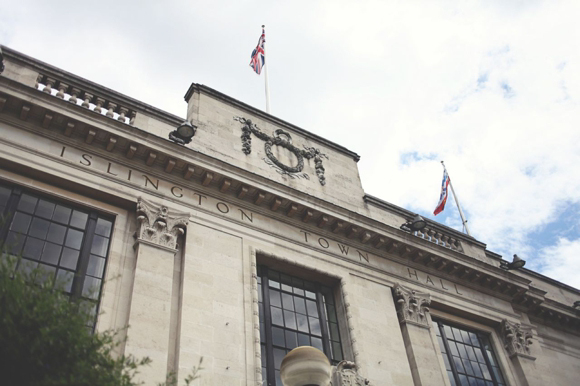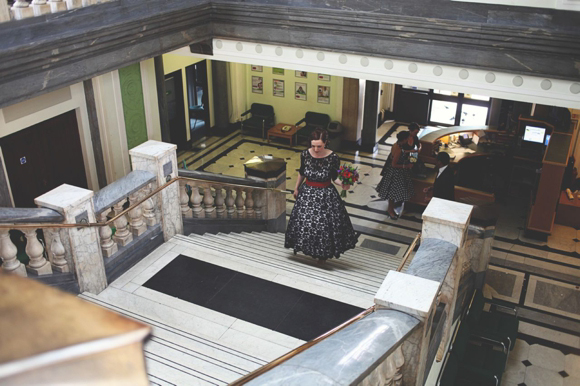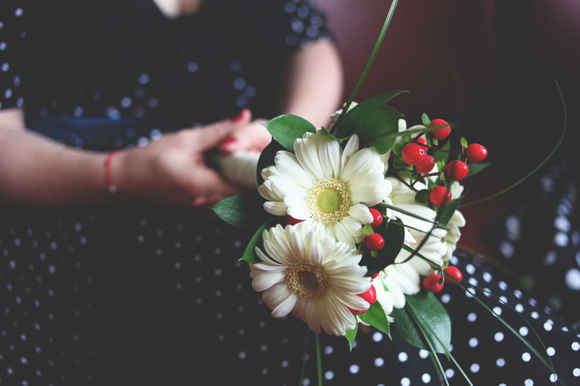 "Our wedding ceremony took place at Islington Town Hall in London. 
It has a really amazing Council Chamber that seats over one hundred
people (a big reason for choosing it!) but it's got quite an original
in-the-round seating set-up."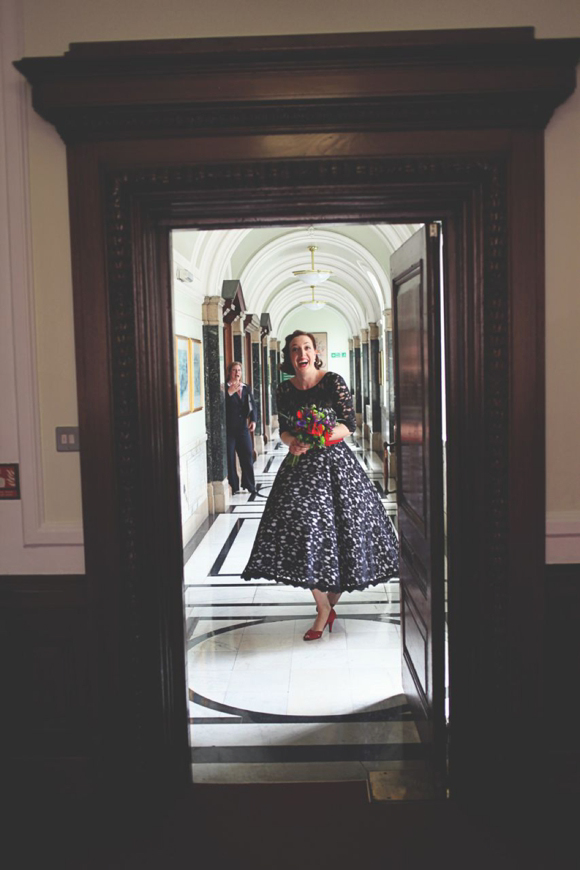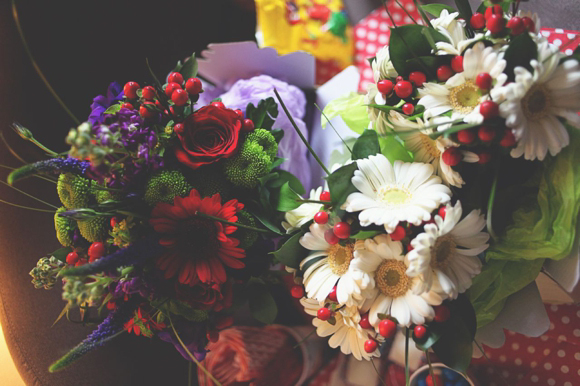 "Paul and I met through an internet dating site four and a half
years ago. He totally hijacked my valentine's day weekend by getting
down on one knee outside Tate Modern
(where we met on our first date) on our way to a restaurant. I was
completely shocked!
We decided to get married about 14 months later
partly for financial reasons and partly because I'm a teacher so we were
restricted to my school holidays, not to forget the Queen's Jubilee and
the Olympics!"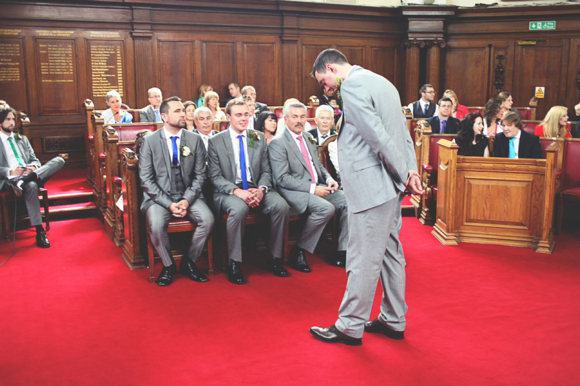 "I walked 'down the aisle' to 'So Good at Love' by Kneehigh Theatre Company.
Paul and I saw their production of 'Brief Encounter' on one of our
first dates and I have seen loads of their shows in the South West so it
was quite appropriate."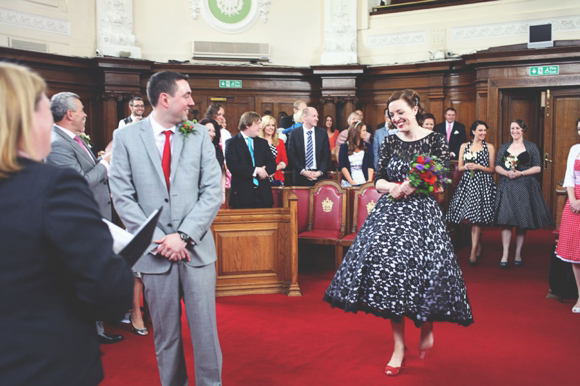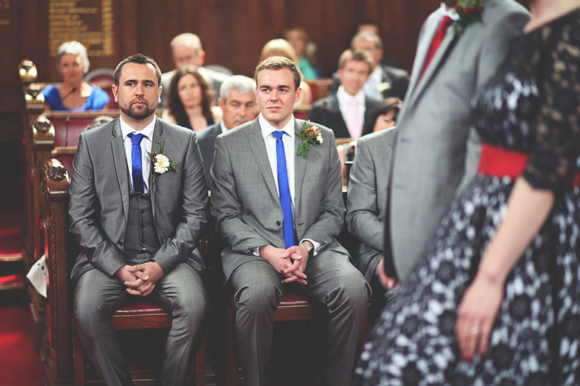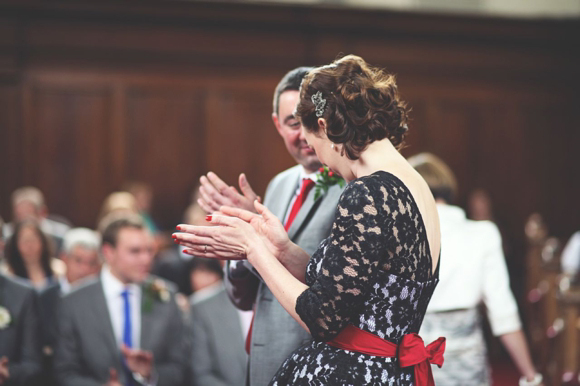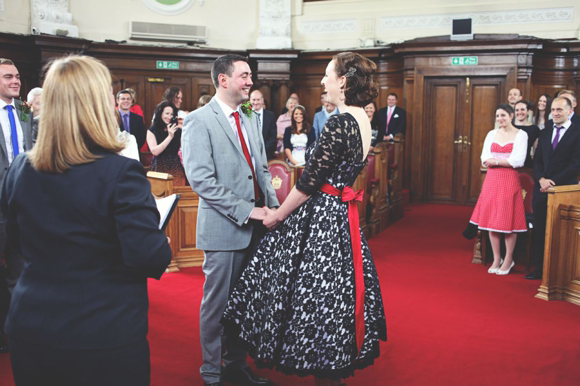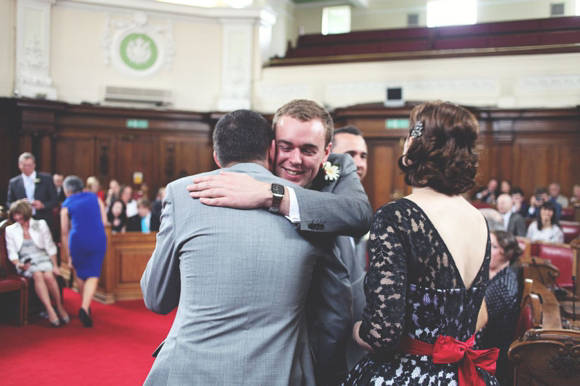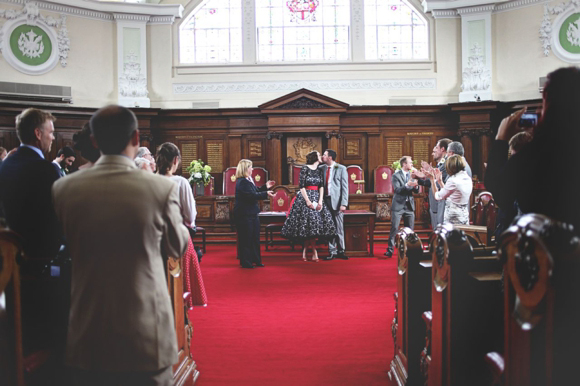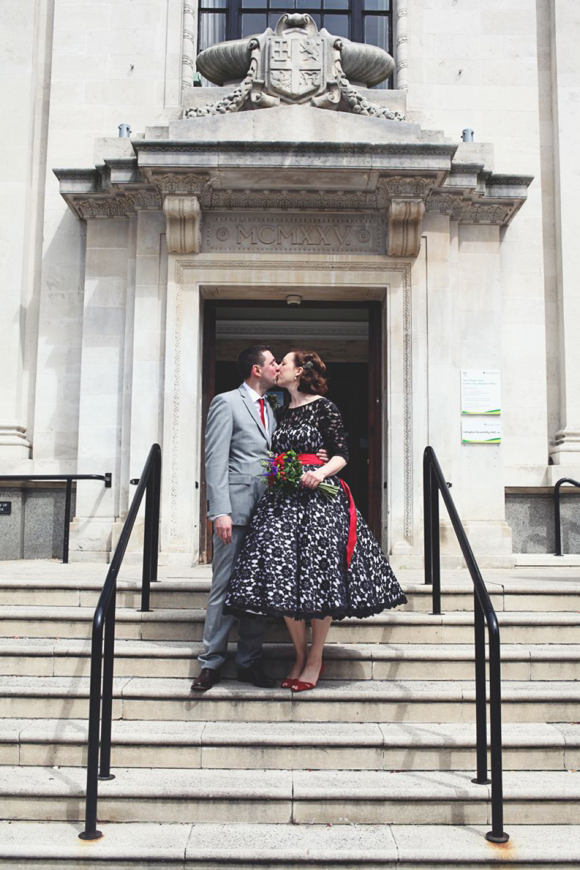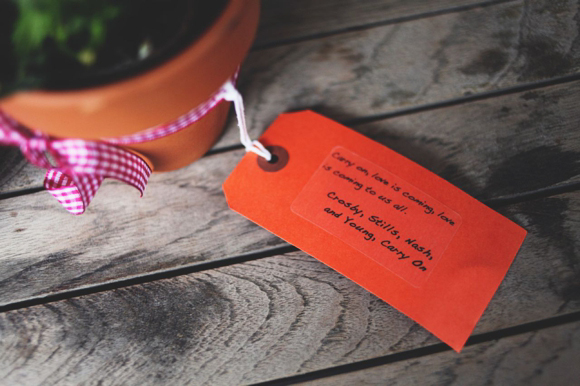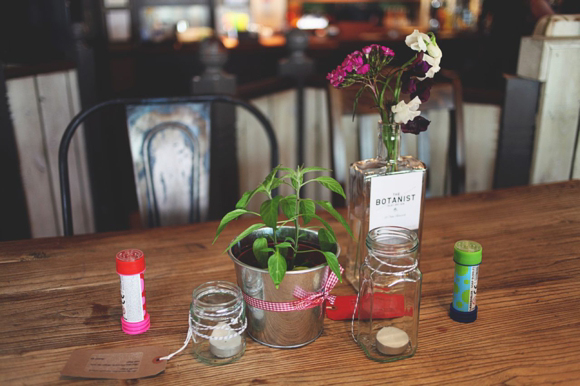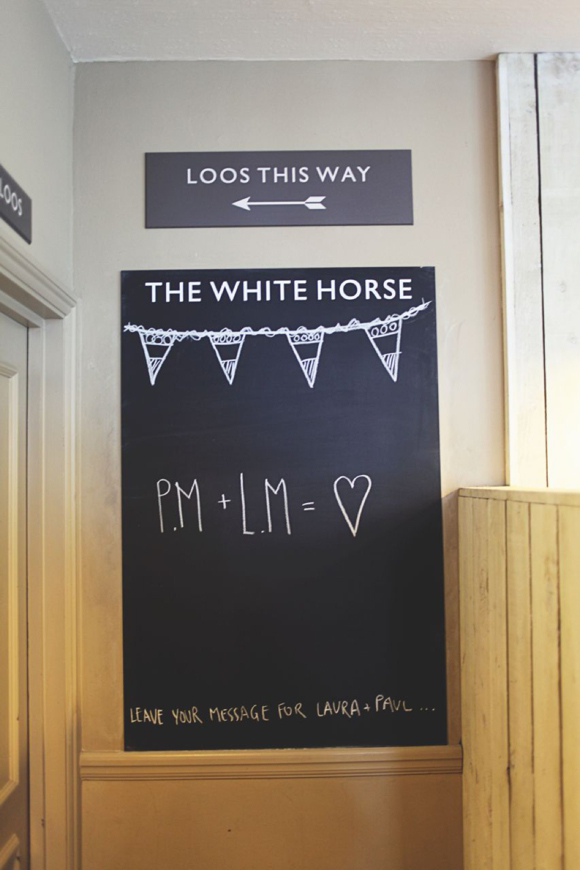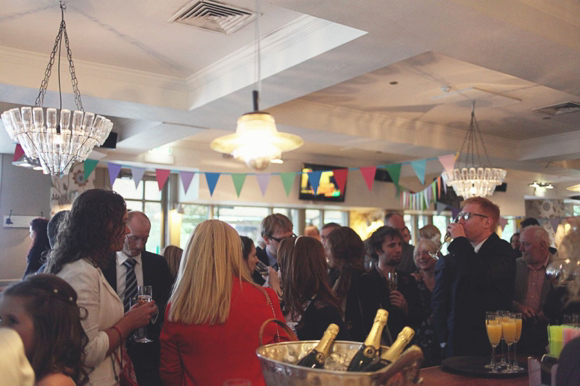 "We made all our own decorations, including buying potted plants for
the tables and little jars of sweets. Our guests took these home at the
end of the night.  Paul was amazing with the cutting and glueing. He
made metres and metres of bunting, while I made loads of paperchains and
decorated old jars and collected bottles. All I will say is Tiger is
the most brilliant shop for DIY weddings. Super cheap and some really
quirky ideas for decorations and favours."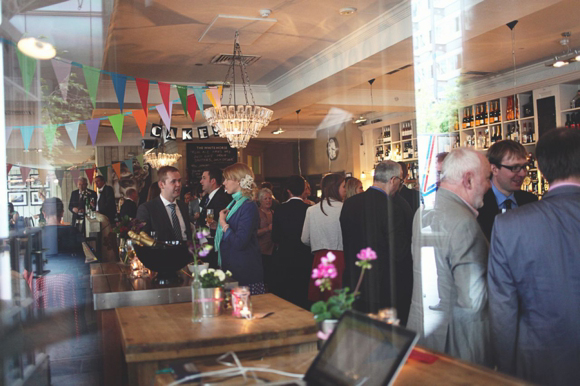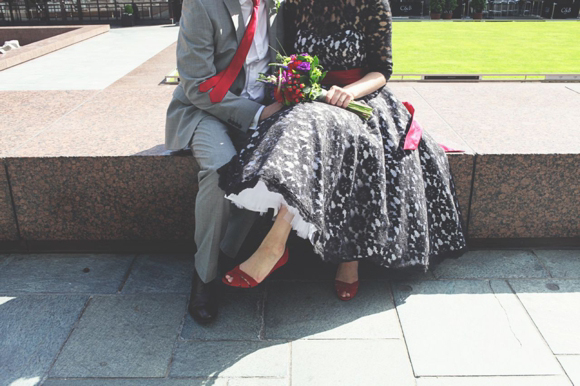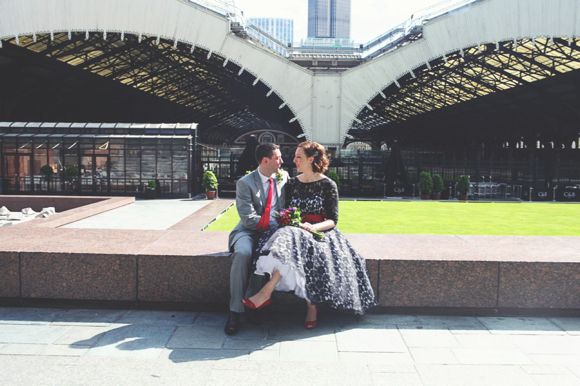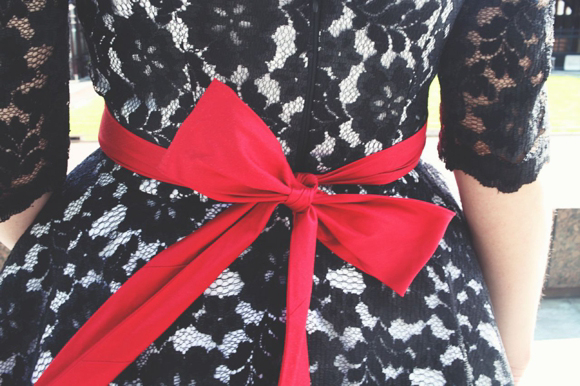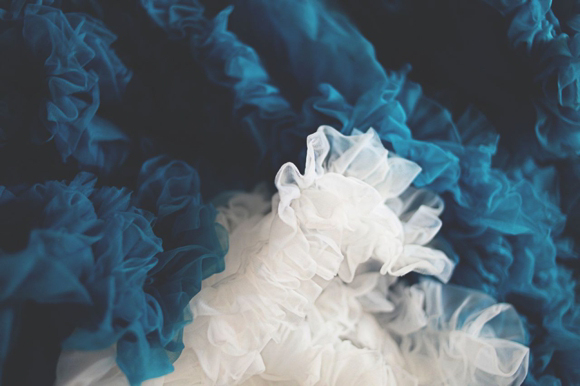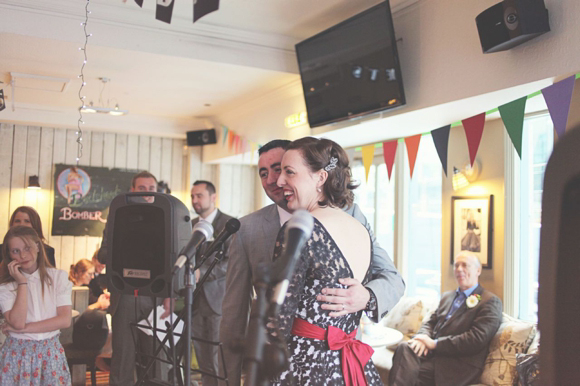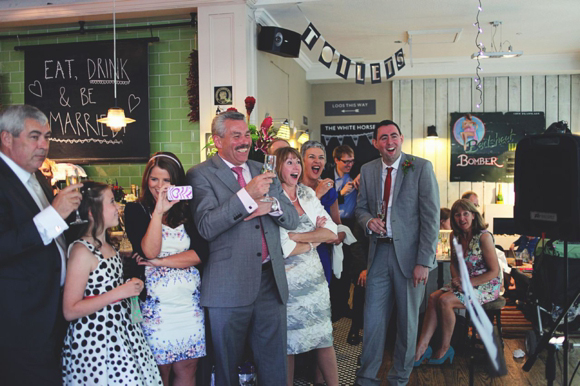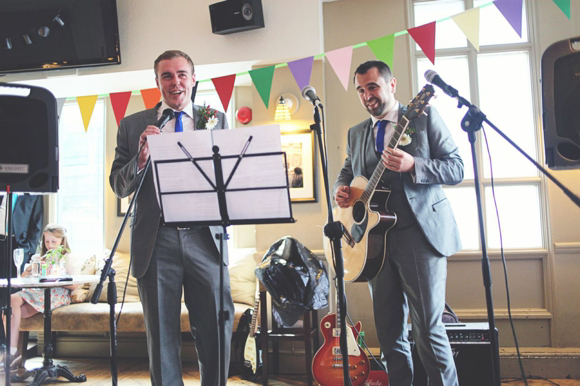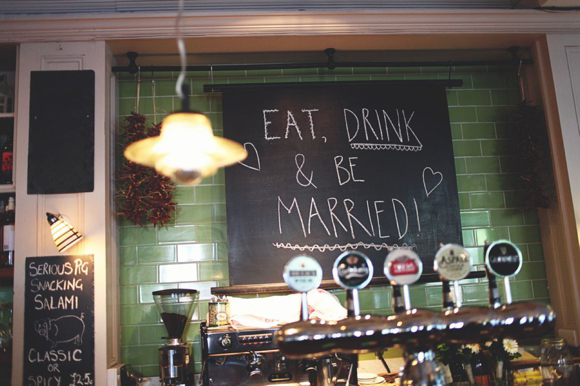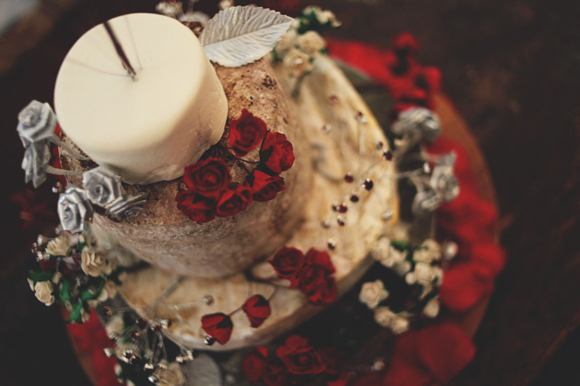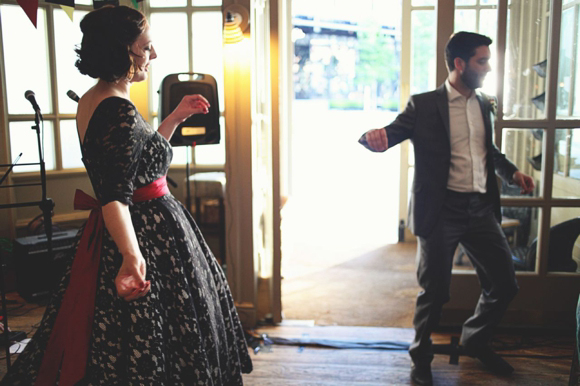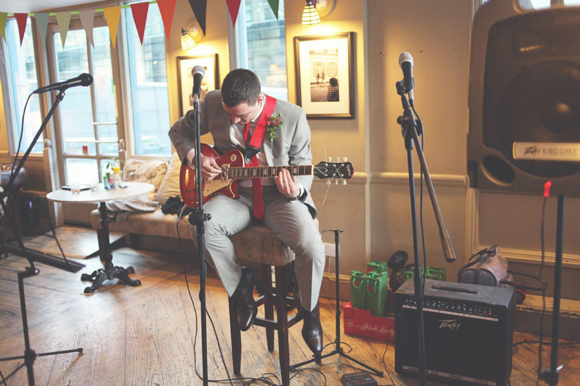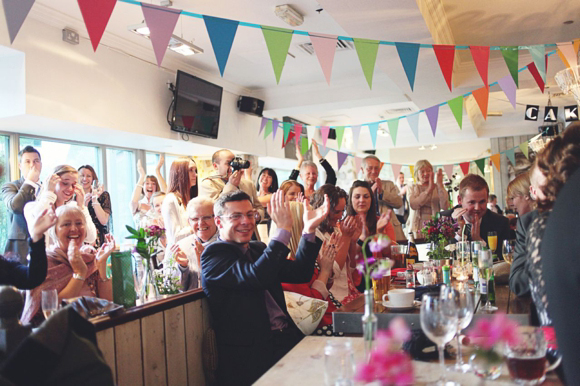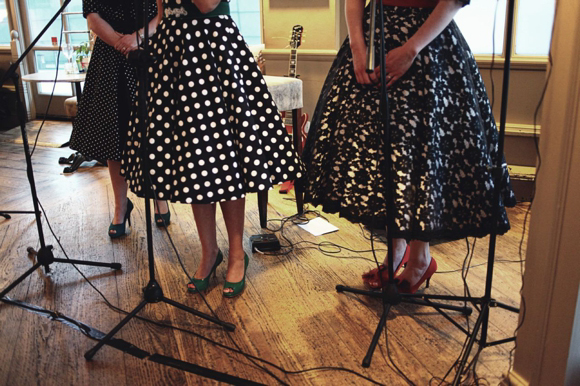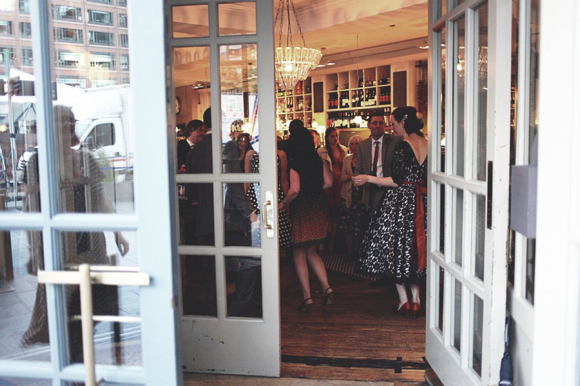 Words of Wedded Wisdom…
"Our wedding cost just under £10,000, which includes contributions from family members. It can be done!  I was trying on vintage style
dresses and admiring the bunting, homemade cakes and decorations on the
internet and at my friends' weddings. We started to really enjoy
devising the aesthetics of the day but we made sure we kept to our,
relatively, tiny budget and didn't get self-obsessed or over-the-top.
Look
for unusual venues rather than blank canvas venues, otherwise you'll
feel like you need to spend a fortune to make the place look the way you
want it. Also, I feel very strongly that it is unnecessary to spend a
small fortune on the dress.  Look for a straightforward dressmaker and
you might be lucky enough to get a great deal on a gorgeous dress like I
did."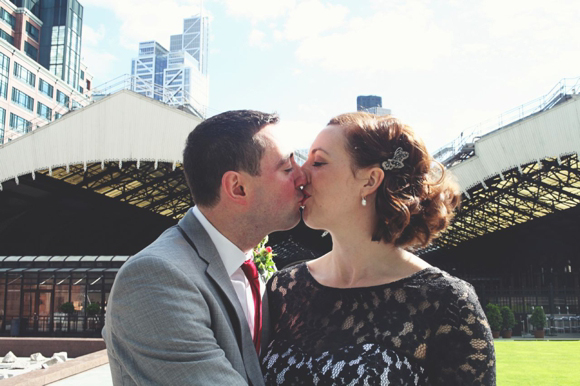 Oh I so love these photographs and the laid back and relaxed vibe of this whole day – don't you?
Love seeing a bride opt for something non-traditional too whilst keeping it completely elegant and classy.  Anyone else wearing black? Did you see the epic black wedding dress by The Couture Company in this feature yesterday?
Huge thanks to Sally Thurrell for submitting these images.  You can see more of Sally right here on Love My Dress.
I'd love your thoughts and comments on this wedding, as I'm sure would Laura and Paul. Head on over here to discover more black magic and weddings held at Islington Town Hall.  And check back this afternoon to find out how you can get your hands on the most exquisite wedding dress by KatyaKatya Shehurina. It's all happening here at Love My Dress.
Much love all,
Annabel

Photographer – Sally T Photography
Venue – The White Horse Pub,
Brides dress – The Little Black Dress + petticoat from LissyKate's on Ebay
Brides shoes – via EBay
Brides accessories – A glittery pin bought at Spitalfields market
Grooms Suit – Jeff Banks Made to Measure at Debenhams + shirt from TM Lewin + tie from Tie Rack.  Shoes by Churchs.
Bridesmaids – Vivien of Holloway + Pretty Kitty Fashion on Amazon
Florist – Flora, Wanstead, London for the bridal party.
Cake – 'Cheese Cake' via The Cheese Shed in Devon
Hair Stylist – The Painted Lady, London
Flowergirl Dresses – Debenhams Debut with a sash and petticoat added by a dressmaker