You know, as a blogger, I've got it pretty sorted haven't I? I mean,
don't get me wrong, running your own business is damn hard work (she says, as
her two year old daughter helps herself to the butter knives and pots
out the dishwasher to play drums whilst I try to get some admin work
done!) but all that aside, I have one of the most amazing jobs in the
world. I get to pour through beautiful, glorious, romantic images every day and
then I have the absolute pleasure of being able to share them with you.
I truly mean it when I say that sometimes, I have to pinch myself to believe it all.
This wedding today is one of those that tugs at
my heart strings and makes my face ache from smiling during the blog
post editing process.  Lydia and Patrick got married on 28th July this
year and their wonderful wedding photographer, Hannah Mia, thought these
photographs would look might pretty on these pages. She was right
there, for this wedding couldn't ooze more Love My Dress appeal; Lydia wears an original Edwardian wedding dress and adores the 1960's Mod style.  The couple tied the knot at
"I initially had in mind a very mod 1960's style wedding with an
empire line dress and lots of eyeliner but when I fell in love with my
Edwardian dress the styling adapted around the dress…"
Love My Dress Wedding Blog – Photography Copyright (c) 2012, Hannah Mia
"We still had the
late 60's influence with the car (a 1969 Jaguar Mark ii) and daisies in
the flowers but it all had a softer more natural rustic feel. The eras
were mixed to create, what we hoped, was a very relaxed and informal
feel to the day.
My dress was an original vintage Edwardian dress from a shop in Brighton called Hope & Harlequin.  I
loved the simplicity of the dress but at the same time the incredible
detail, the dress felt unique.  It was also really comfortable and fitted
me perfectly so I didn't have to worry about it being altered, just a
little bit of repair work! I also had a beautiful silk slip made to go
underneath and silk sash."
"Our driver David, from The Classic and Vintage Car Company
was brilliant – really friendly and even went for a little walk along
the seafront whilst me and Patrick had a moment to ourselves &
enjoyed some champagne."
"For me, my favourite part of the day was the ceremony held in the Town Hall,
from the anticipation beforehand and the exhilaration of seeing
Patrick, we were both very emotional!"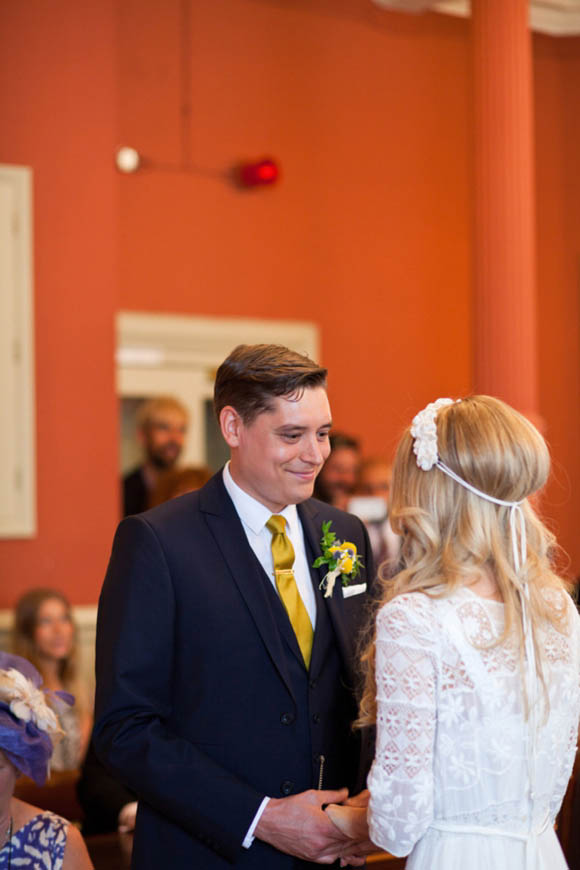 A groom caught on camera shedding tears of joy. Gets me *every* time…
"We chose to get married in Brighton Town Hall which is a
beautiful Grade 1 listed building, we both love Brighton and it is
where Lydia grew up, we also thought everyone would be happy to spend a
summers day by the sea side! The reception was held in The Connaught Pub
and Kitchen, which is a great pub in Hove
with a lovely garden.
We actually very first met each other in my hometown of Brighton. Patrick
organised a weekend away in Cornwall and proposed in the grounds of some
beautiful Cornish valley gardens. Patrick proposed at the end of August
2011 and we were married at the end of July 2012- so we were engaged
for eleven months before the wedding."
"Everything that Patrick wore was from Mr Start
in Shoreditch – including his tie, shoes, shirt and pocket hanky. 
Patricks pocket watch was a family heirloom lent to him by his father
for the day."
"Our Florist, Gingerlily,
is based in Brighton. I loved the bright yellow of the craspedia and
the simplicity of the daisy's, I wanted to go for a summery natural
looking bouquet tied with raffia. And the flowers in the pub had a wild
natural, garden feel also."
"As favours, we had rock sweet that said 'just married' on inside favour boxes…"
"Patrick and his brothers
had visited the pub the day before and hung loads of fairy lights in the
garden but i didn't actually get to see them as I never really left the
dance floor once the music started!  I wish I had gone outside to have a
look!"
"Our wedding cake by Flutterby Bakery followed on from the bouquet with all the same flowers and I wanted quite a pretty cake with lots of detail"

Lydia wore a pair of vintage pearl earrings from her Mum, and a
1970's pearl and sapphire bracelet borrowed from Patrick's mother Vicky,
in silk – as well as a beaded head band by designer Sakra Hats (owner is
Zina Kral) – also purchased at Hope & Harlequin…
"I also wore two vintage lockets from the early 1960's one of which had a little picture of my Nanny in."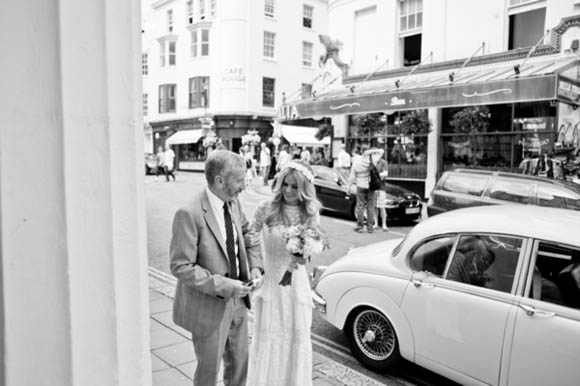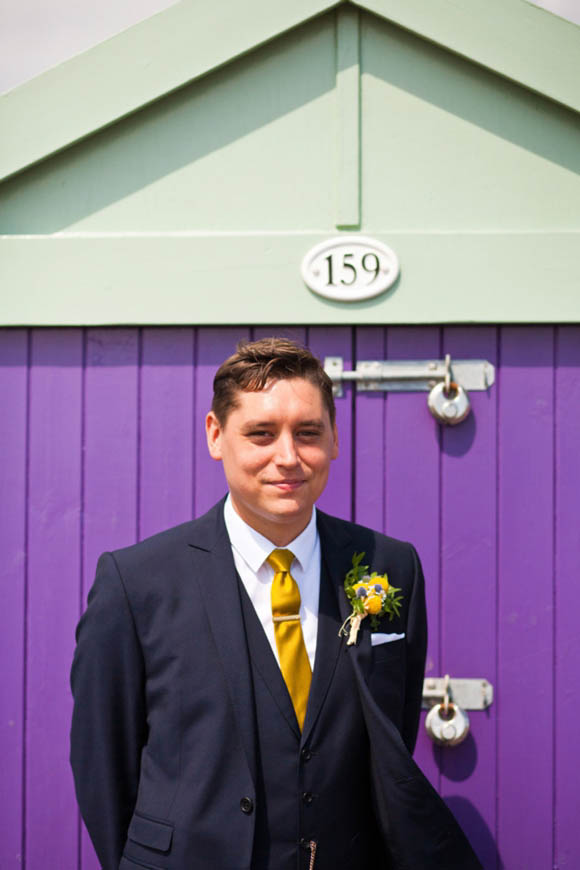 "My make up artist was called Nadia
and she was fantastic she was such a calming influence during the
morning of getting ready she was just lovely and obviously used to
working with nervous brides. The whole experience was completely
faultless.
My hair dresser was Adele from Trevor Sorbie Brighton."
"When it came to decor, the Lace doilies under the vases and the lace table cloths on
our 'top table' were all from H&M Home.  Different shaped cut glass
vases were used for the flowers for the tables, they were sourced from
charity shops around Brighton and a couple were borrowed from my mum's
house for the day.  
My older sister Zoe created all the
table names from a mix of vintage and modern pictures of famous Brighton
landmarks. The Picture frames for the table names were sourced from
both charity shops and TK Maxx.  Me and my mum added
flowers, ribbon & lace and little birds to the wicker wedding bells
and hung them in the pub as decoration. The bells were originally bought
from a store in Brighton North Laines, and we just added all the bits to them."
"My beautiful niece wore a dress and lace jacket from Monsoon and Patricks nephews wore shirts from Gap and bow ties and Chinos from H&M."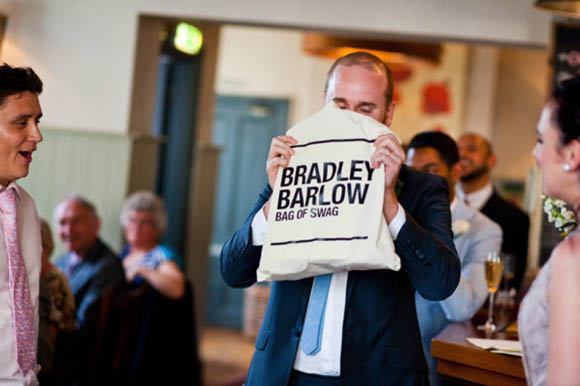 Words of Wedded Wisdom…
"Try not to spend too
much time worrying about things going wrong & thinking but 'what
if'…. Although much easier said than done!
Also, our wedding photographer, Hannah Mia,
has been brilliant from our very first get together in a pub in London
to seeing Hannah on the big day down in Brighton, and most importantly
we have some beautiful pictures, which really have captured the feeling
of the day perfectly no detail was missed!"
I told you this was a lovely wedding didn't I? I adore bridal style that is inspired by teh 1960's, and Lydia has managed to mix her fashion era influences with such perfection (doesn't she look knock-out in her dress and pretty head-band?), coupled with Hannah's photography skills, this makes me happy!
I'd love your feedback on this wedding. We don't often see many original vintage Edwardian wedding dresses appearing on the blog, but they are out there!  You can explore more 60s Mod inspired nuptials here too.
Huge love and congrats to you both Lydia and Patrick and thank you too Hannah.
With much love,
Annabel
Photographer – Hannah Mia
Venue - Brighton Town Hall + The Connaught Pub
and Kitchen
Brides dress – Hope & Harlequin
Brides Shoes – Rachel Simpson 'mimi' shoes, purchased via Bridal Rogue Gallery in London
Brides accessories – Hope & Harlequin
Grooms Suit – Mr Start
Flowergirl – Monsoon
Page Boys – Gap + H&M
Cake – Sada at Flutterby Bakery
Florist – Gingerlily
Transport – The Classic and Vintage Car Company
Makeup Artist + Hair Stylist – Nadia + Adele from Trevor Sorbie Brighton