This cute little 1950's farm inspired photoshoot deserves a little love on these pages, don't you think? Because, like it or not, brides will always love cupcakes and bunting. Sure as chips is chips my friends. And for those of you who do adore the quaint English country style, this set of photos provides a lovely set of inspiration. 
With a focus on showcasing the work of local suppliers, the creative duo involving photographer Linda Scannell and planner and event stylist Louise Harris of Warwickshire Wedding Planner,
set out to create a fun and quirky set of images that would inspire
brides looking to hold their wedding at a farm venue or rural setting.  Louise says… 
"Our
main aim was to create something fun and quiry, but also current – with such a
beautiful farm right on my doorstep it made perfect sense to use this
as a backdrop – and so our wedding theme was born; a 100% local, and
British 1950's farm styled wedding shoot."
Love My Dress Wedding Blog – Photography Copyright (c) 2012, Linda Scannell Photography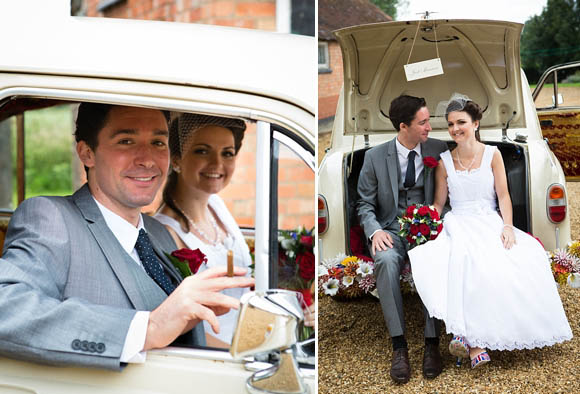 I love this wedding car! I've seen this little beauty pop up on one or two weddings featured here on Love My Dress.
"When I found Karma Kars Cotswolds' original 1950s style Indian
Ambassador wedding car complete with gorgeous sequin details inside
and
decorated all along the front and rear bumpers in beautiful flowers, I
knew I'd found the ideal car to transport our bride and groom off on
their honeymoon!"
"We created a traditional English afternoon tea party, with
sandwiches, scones with clotted cream and strawberry jam and classic
English cakes presented on delicate vintage cake stands.  Kelly from Kelly's Cake Creations
showed us an unusual way to present cupcakes with her beautiful cupcake
"flower" centrepiece.
And to top it all off, Lisa from Cake by Lisa
Price created the totally yummy 3-tiered Victoria Sponge wedding cake
dressed with real berries to match our red, white and blue colour
scheme."
"We were very fussy about our supplier choices – they had to be
local and they had to be suppliers that I had never worked with
previously so that I could really test them out before I would consider
recommending them on to any clients. I have to say all of them were an
absolute pleasure to work with, so dedicated and passionate about their
businesses.
 Costs were important to us too; the whole
point of this shoot was for everyone to show off how talented they are
in their own particular area in return for some great marketing and free
professional photographs.  Everyone involved gave their time and
products or services for free and I begged and borrowed props from
around the farm and even raided my Nan's house for some original 1950s
items.  We supplemented all this with a few items from eBay."
"Our bridesmaids, Kerrie and the inspiring Miss Teen Coventry
2012, Sonali Gupta, wore knee length 50s rockabilly style polka dot
bridesmaid dresses from Aspire Style in red and blue with net
underskirts.  Louise sourced some some very bright and totally gorgeous
suede style peep toe shoes from eBay in contrasting colours to the
dress, portraying the fifties 'mix and match' style."

"The bride wore a gorgeous white 50s style wedding dress, designed and made especially for this shoot by the very talented Jacqueline Doxey.
It was edged in lace with beautiful organza straps and more lace
detailing on the bodice to complement the bride's bird cage veil and
completed with a very fifties satin sash around the waist showcasing a
beautiful bow design and fastened at the back with lots of pearl buttons
and hooks. We went to town with the bride's choice of footwear
encompassing everything from wedding wellies to tie in with the farm
theme to gorgeous Union Jack shoes from Irregular Choice, loaned by
Linda.
The groom wore his own slim fit fashion suit complete with a
waistcoat and thin blue and white polka dot tie to create that
fashionable fifties look."

"Decorating  the barn – Laura from My Vintage Party
supplied the vintage suitcases and all the beautiful vintage crockery –
the tea set is the same design that was used on the Royal Yacht for the
Jubilee celebrations earlier this year.  The rustic wooden tables were
dressed with fifties white lace tablecloths and crocheted tablecloths
kindly lent to us by Louise's Nan.  Louise found lots of old
agricultural props around the farm, and some original extras that we
felt would have been part of a 1950s wedding: an old record player with
authentic 78s records, and an old Kodak film camera.  We used straw
bales to hide some of the less attractive parts of the barn, and
finished off with a bargain that Louise found on eBay: some red, white
and blue polka dot bunting that matched the bridesmaids' dresses
perfectly…"
"Our venue, Lower Heathcote Farm,
encompasses classic English countryside.  It's located in the heart of
Warwickshire on the outskirts of Leamington Spa and Warwick and has a
fabulous old farmyard with falling down barns and original black and
white timber stable doors that made the perfect backdrop for our
wedding.  We took advantage of a recently harvested wheat field to
contrast the beautiful bridesmaids' dresses against the coarse texture
of the stubble and the hilltop location gave an uncluttered horizon. 
The green backdrop of the bean field made the red and blue colours of
the bridesmaids' outfits really zing.  The orchard area provided a shade
from the strong sunlight, and the trout lake and its rustic hut gave us
an opportunity to create images with even more interesting textures and
reflections.
Finally, we transformed a dark dusty old barn, which is
usually full of tractors and corn, into a stunning location for a
wedding breakfast, demonstrating that a grand location isn't essential
for creating a welcoming and interesting backdrop for your wedding
celebrations..."
"Yvonne from Heaven Scents in Welford on Avon (Tel 01789 750929) designed
beautiful seasonal flowers for the table presented in watering cans and
enamel jugs to fit the rustic theme, plus matching hand tied bouquets
finished with red organza ribbon for the bride and bridesmaids, and a
traditional red rose buttonhole for the groom."
"Talented artist Melanie
from Melanie's Studio Designs, created our guest book, table plan,
place names with personal messages for guests from the bride and groom,
and fun quirky labels as well as the beautiful vibrant painted
glasswear.  The wooden birdcage card receptacle was a joint effort from
Louise and Melanie, finished with Laura's birds and topped off with
fresh roses from Yvonne."
"The bride and bridesmaids' crystal necklaces and bracelets were
handmade using genuine Swarovski elements by talented jewellery
designer Tam Vo. 
We also included Tam's handmade handbags, which are created using silk
and ethically sourced buffalo horn and shell, and fitted in with the
1950s style."
"A farm wedding would be incomplete without a tractor and a
recently restored 1959 Fordson Dexta fitted the bill perfectly."

Big thanks to the creative team behind this shoot for choosing Love My Dress tho showcase their hard work, but in particular Louise from Warwickshire Wedding Planner for her original submission. Please take a moment to check the credit list below.
And if a farm style wedding is right up your street, you need to check out our farm and barn categories to view tonnes more yummy inspiration.
Much love all,
Annabel
Photography – Linda Scannell Photography
Venue – GF Moreton & Sons, Lower Heathcote Farm, Warwick
Hair – Jenny from The Spa, Leamington
Makeup – Colleen Phelan
Flowers – Heaven Scents, Welford-on-Avon, Tel 01789 750929
Stationery & Painted Glass – Melanie's Studio Designs
Bridesmaid dresses – Aspire Style
Wedding car – Karma Kars Cotswold (1950s original Indian Ambassador)
Wedding cake – Cake by Lisa Price
Jewellery and handbags – Tam Vo
Vintage crockery hire – My Vintage Party
Cupcake centrepiece – Kelly's Cake Creations
Wedding dress & bridal shoes – Jacqueline Doxey Design Couture
Birdcage veil & wedding wellies – Village Brides of Long Compton
Wedding design & Styling – Warwickshire Wedding Planner
Models:
Bride – Andrea Tickle
Groom – James Tickle
Bridesmaids – Kerrie Lucas & Sonali Gupta