I'm not sure what's in the water this week, but this beautiful bride is the second lady to wear the most fabulous sparkly shoes and a beautiful 50's style dress, only this time, bride Jo chose to wear an original vintage gown, that she sound via the gorgeous ladies that are Fur Coat No Knickers.
Tim and Jo tied the knot on 1st September 2012 with a ceremony at Cheltenham Town Hall, followed by a fun filled reception at Crumps Barn in Syde, Gloucester.
"I wore an original 1950's dress, supplied and beautifully altered by Emma and Laura at Fur Coat No Knickers. 
It was just so elegant and I loved the skirt which was such beautiful
material and absolutely pristine given its age.  It fitted really well as
soon as I tried it on. I had my heart set on an illusion bodice so
wasn't 100% convinced to begin with as it didn't have one, but then the
amazing Emma and Laura said they could alter it and I was sold!"
Love My Dress Wedding Blog – Photography Copyright (c) 2012, Moments Captured
"My bridesmaids all wore original vintage dresses from the 1950's and 1960' – purchased separately from ebay, etsy and Spitalfields Market.
Our flowers were by Sara at Aqua Florists, to
fit the informal atmosphere I wanted a 'just gathered' look and also to
incorporate all of the colours of the bridesmaids dresses. Me, 5 of my 7
bridesmaids and my mum-in-law all went to visit Sara in her studio a
few months before and not only was she undaunted by the size of my
entourage, she got exactly what I wanted.
Each of the bridesmaids had a
bouquet with white and cream flowers as a base but then the colour of
their dress picked out in individual flowers. My bouquet incorporated
the colours of all of their dresses, and each bridesmaid had a best man
with a matching buttonhole."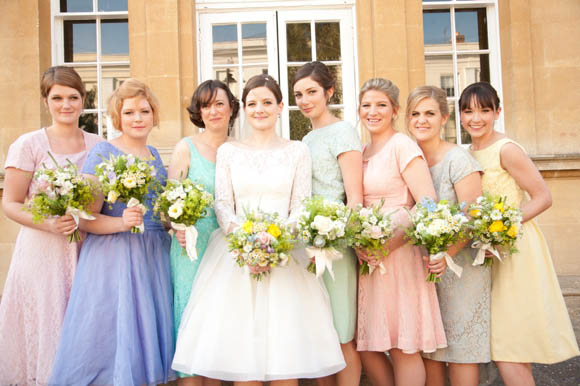 "I absolutely love 1950's style (and was glued to the 1950's pages on Love My Dress for months),
partly because I am sadly a classic English pearshape so like the big
skirts this involves! I always knew I wanted a 1950s style dress, and
though I tried on some lovely new 1950's inspired dresses, I decided that
ultimately I wanted something that was actually from the era and had sixty
years of history behind it, and the same for my bridesmaids and then
tried to bring this vintage-ness into the wedding more generally.

Tim loves superheroes – and all things Marvel particularly. This
aspect started to creep into the theme when we decided he and his (7)
best men should all wear superhero t-shirts under their suits and then
things somewhat snowballed from there! I am also a keen but not
especially talented crafter, so wanted as much of the day to be
DIY/crafty/homespun as possible, and decided on a general 'brights'
colour scheme to placate Tim (rather than pastels)!"
"We chose the Cotswolds because Tim's sister Lorna and her partner
Jeremy very kindly offered to let us hold our reception in Jeremy's
workshop (he is a woodworker). They live in a converted barn, 1/3 of
which is living space and 2/3 of which is Jeremy's workshop. We jumped
at the chance as we wanted to have a very informal day and do everything
ourselves, and were really keen to hold our reception somewhere that
had some personal meaning for us. It was, however, not a wedding venue,
and Lorna and Jeremy worked non-stop for almost a year to transform it
into one!"
"Pretty much everything was DIY. My sisters Sally and Rachel made
60m of superhero bunting and a melted-crayon welcome sign respectively,
my other bridesmaids and me made hundreds of tissue paper flowers and
pompoms, our lovely friend Anna and my sister's boyfriend Ian made some
fantastic signs to point out different areas of the venue, my dad made a
postbox for our cards and Tim's mum made over 20 tissue paper covered
tea light holders and lanterns.
I also made some superhero posters for
the walls, origami paper pinwheels, decorated some jamjars with ribbons
and flowers, handpainted our cake toppers, made corrugated cardboard
hearts for the top table chairs and, with Jeremy's help, made a
'twitter' tree adorned with fake birds! My mum collected almost 40
vintage glass bottles and vases from charity shops and I bought lots of
vintage embroidered tablecloths from ebay. We decorated the chairs at
the ceremony with paper fans from Pipii."
"We met at friend of a friend of a friend's party that I
effectively gatecrashed while more than slightly tipsy. The party was
'80s themed and Tim was dressed as Rod Stewart, complete with blonde
wig, eyeliner and leopard-print trousers (which on a 6'4" ginger man is
quite a sight!). Despite all this, we got talking and at the end of the
night my friend forced me to hand over my number to him, which I did by
writing it on his arm in lipliner – classy!
Tim proposed four years on in October 2011 in Tromso, Norway, on
the first night of a holiday we'd been planning for a year.
He'd had
everything planned for months – he'd bought my engagement ring with four
of his best friends while I'd been on a girls' holiday that summer, and
had secretly travelled to Newcastle (where I'm from) overnight two
nights before to ask my dad's permission! He'd researched the view from
the Tromso harbour in advance to check it was suitably pretty, and
proposed after a lovely meal with the lights of the Arctic Cathedral
twinkling in the background. I was very shocked but said yes straight
away and we celebrated with massively overpriced (as everything is in
Norway) champagne!"
"We had a pick and mix bar and a vintage American soda pop bar instead of individual favours. We bought most of the sweets from Mr. Simms' Olde Sweet Shoppe and the soda from Amazon."
"My AMAZING bridesmaid Katie (with help from her lovely boyfriend
Matt) made us a three tier cake and 100 cupcakes. The cake was one layer
salted caramel, one layer victoria sponge and one layer fruitcake i.e.
one layer each of mine and Tim's favourite flavours and one layer fruit
for tradition's sake. Katie designed the cake from scratch and I had no
idea what it would look like until the day, which she was very nervous
about, but she did a brilliant job and incorporated the rainbow colour
scheme perfectly.
The yummy cupcakes were chocolate and red velvet flavoured and we bought the cupcake toppers from Cupcakes Central via Etsy, which were all made to order with our choice of superheroes!"
"Our photographers were Claudine and Tash of Moments Captured.   They were
absolutely brilliant – they are fantastic at the reportage style we
were looking for (neither of us being comfortable in front of a camera
or photogenic!) and were so unobtrusive that they were able to take
really natural, un-posed photographs."
"I wore a glittery star hair clip to match my Kate Spade shoes and fingernails,  from Hannah Zakari…"
"We designed all our stationery ourselves, with help from
friends and family! Our invitations were all made from scratch,
including the envelopes, which were made from blue mirrored card and
lined with vintage Marvel comics. Inside was a red balloon on a card on
which we stamped 'Please inflate me' and printed on the balloons were
the invitation details! (happy to send a photo if you'd like one)."
Words of Wedded Wisdom…
"Try to
stay calm and not let things get on top of you – by the time the day
arrives you really will not care if it's raining or something doesn't
turn out exactly as was planned – you will just be so happy to be
marrying your soulmate. Also, don't be afraid to ask family and friends
for help in planning – we weren't shy in doing this and not only was
everyone really enthusiastic, it also helped them really feel a part of
the day.
I had two favourite moments of the day – the first was when we got
into our vintage hire car after the ceremony and drove off together, and
the second was after our first dance when we were able to totally relax
with all of our favourite people as all of the formality of the day was
over with.
The main thing I would do differently is to
not get so stressed beforehand – we barely slept the week before the
wedding as we just weren't sure that everything would come together. In
the end, on the day, it really didn't matter!
I absolutely love Love My Dress, and it was a real inspiration to me while we were planning our DIY day, as you always feature weddings that are just that little bit different, but at the same time full of heart (with a good helping of 1950's style!) We really wanted to have a wedding that represented us as a couple, and involved all of our loved ones, without being laden with tradition and formality, and hope that we achieved it."
Just amazing, and Jo, thank you so so much for the lovely lovely words about my blog.
Where to even start about what I love about this wedding, there are so many things, of course, it probably has to start with Jo's beautiful vintage wedding dress from Fur Coat No Knickers, closely followed by those
I'd love your thoughts on this beautiful day – let's show Jo and Tim some love 😉
Thanks so much everyone,
Annabel
Photographer – Moments Captured (Claudine Sinnett and Tash Turrell)
Venue – Crumps Barn in Syde, Gloucester
Bride's dress + veil- Fur Coat No Knickers
Brides Shoes – Karolina by Kate Spade New York
Brides Glittery Star Hair Accessory -  Hannah Zakari + earrings loaned by Sophia at Hirsh jewellery
Grooms Suit – Gieves & Hawkes + Duchamp (tie, cufflinks, socks, pocket square) + Thomas Pink shirt
Bridesmaids – All 50s/60s originals – bought separately from ebay, etsy and Spitalfields Market
Bridesmaids Hair Accessories = Fabric butterflies bought from Kate's Cottage via Etsy
Florist – Sara Tuckey at Aqua Florists
Cake – Made by one of the bridesmaids, Katie + cupcake toppers via Cupcakes Central on Etsy
Entertainment – Revolution DJs and Events services (DJ)
Cars/Transport – Great Escapes Car Hire
Paper fans/chair decoration – Pipii
Hair and make-up Artist – Jo Penford