Good morning beautiful 🙂 So today, I'm aiming to make Love My Dress a little tiny bit more beautiful than normal and I'm kicking off with the absolutely adorable wedding of Audrey and Tron, who tied the knot on 30 June this year at the amazing The Ubiquitous Chip in Glasgow, and who very cleverly chose the wondrous Lillian and Leonard to take their wedding photographs.
I previewed a couple of images from this wedding on Facebook last night and knew you'd love it – that dress! It's a design by Dana Bolton, one of my favourite independent designers in the UK… 
"I
had an image in my head of a ¾ length, lace dress with sleeves but as
we live in Kuwait I wasn't sure how to go about obtaining it.  I had a few
appointments in Glasgow and Edinburgh, but there were very few shorter
dresses to choose from, and what was on offer was mostly strapless and plain. In fact, I still didn't have a
dress six months before the wedding!  Then I discovered Dana Bolton whilst
browsing Love My Dress, and she agreed to make a dress from scratch
with only one dress fitting. 
After flying back from Kuwait two weeks before
the wedding, I made the trip down to London to collect the dress – it
was perfect…"
Love My Dress Wedding Blog – Photography Copyright (c) 2012, Lillian and Leonard
"We both love all things old-fashioned and music from the 50's and
60's. I knew I wanted a ¾ length, lace dress and the colour's to be
shades of antique pink. I love all things shabby chic and French."
"Our Florist was Sparrow & Rose.  I
love all things floral and knew I wanted pale pink peonies to be the
main flower in my bouquet. I went for a round posse shape and the flower
girls had lovely little corsages tied with lace."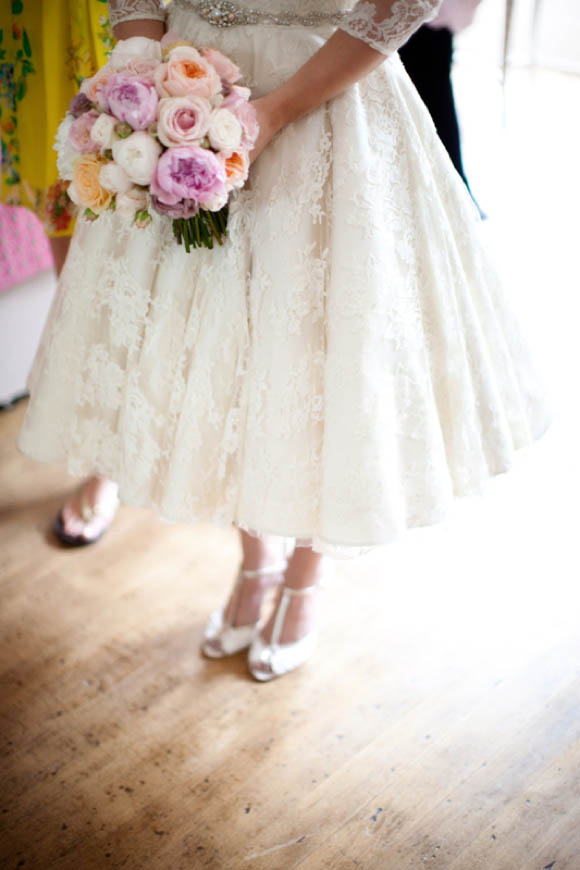 Are these possibly the cutest little page boys you ever did see??  Their outfits are from Vertbaudet and those sweet brown tweed bow ties are from Pink Flapjacks on Etsy…

"Our venue, The Ubiquitous Chip,
was the only venue that we immediately loved. We love it's location on
an old, cobbled lane full of history and charm. Inside it is quirky yet
traditional and we liked that it wasn't custom built for weddings. And
lastly, the yummy food…"
"Many things weren't too important to us when it came to planning our wedding – but choosing the right
photographer really was. We're both a bit camera shy and didn't want
many posed shots. Lillian and Leonard
was the only blog I kept going back to and feeling inspired by.
Cara and Nye, the photographers behind Lillian and Leonard, are so down to
earth and yet so amazingly talented. They have a magical way of capturing
special, candid moments and their photos speak a thousand words which I
love.
It was a pleasure having Cara there whilst getting ready. Working
as a couple was also great as I got to see photos of Tron getting ready.
They sent us over 800 photos all of which are amazing. I really am in
awe of their work and I promise they didn't pay me to say that!"
"Our flowergirl dresses were made by Gilly Gray via Etsy.  Gilly
was amazing and reasonably priced. She made the dresses from scratch
based on my ideas and I sent her the girls' measurements via email."
"My Dad walked me down the aisle to the sound of John Lennon' 'Woman' – an instrumental version played on the piano…"
"We had random decor at the venue, including old vintage books as
table centres with various vases and jugs filled with flowers, jam jars
and milk bottles filled with flowers hanging from the ceiling candle
holders.  We made the table plan from an old suitcase and floral fabric,
tweed and lace I ordered online – it was finished 2 days before the
wedding!"
"We met at school, although Tron
is 4 years older so we didn't know each other well. Then Tron moved
into the same street as me when I was 14. I was living in France for a
while and our paths didn't cross for many years, until I was back
doing my teacher's training in Glasgow.
Our first date was in Ashton
lane (the same place we got married). We moved to Kuwait a year and a
half after getting together and Tron propsed a year after that.  He
proposed while we were back in Glasgow, at the Paul McCartney concert in
Hamden. It was magical. (We were engaged for 2 years before the wedding
day)."
"When it came to readings, we had an extract from Les Miserables by
Victor Hugo "You can give without loving, but you can never love without
giving. The great acts of love are done by those who are habitually
performing small acts of kindness. We pardon to the extent that we love.
Love is knowing that even when you are alone, you will never be lonely
again. And great happiness of life is the conviction that we are loved.
Loved for ourselves. And even loved in spite of ourselves.  And my
friend read an extract in French of the Edith Piaf song 'La vie en
rose'"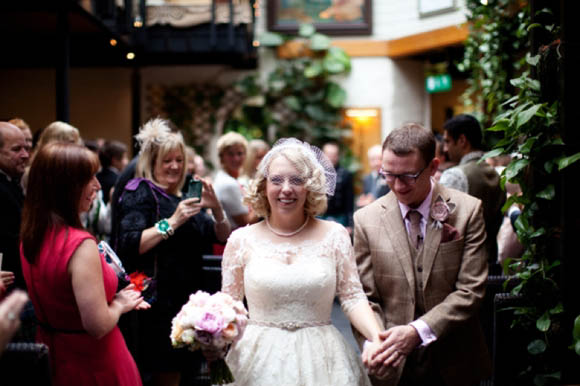 "As our first dance track, we had 'True Love Ways' by Buddy Holly.
We had the original track played as we both love his voice. We love the
words and the meaning of the song."
Words of Wedded Wisdom…
"Do what pleases both
you and your husband to be – not others. We stuck to this and I'm so
glad we did. If possible, pay more for a good photographer, you really
do get what you pay for. On the day of the wedding, let any anxieties
evaporate as it's out of your hands. Enjoy being pampered and being the
centre of attention (I was worried about this and needn't have been) and
be yourself.
Everything
worked out perfectly on the day but if I could go back I would try not
to leave so much until the last 2 weeks before the wedding. This was
difficult though as we were in Kuwait until then but there was more I
could have organised. I was probably too laid-back about everything . It
wasn't until my bridesmaid stuck 4 huge flipchart pages to our living
room wall containing my to-do list that I realised how much there was to
do with only 2 weeks to go."I found my dress maker on your blog
and regularly checked your blog during wedding planning. Your honest
style of writing is refreshing and I often spent an hour or more reading
through posts and checking links without even realising. I love that
your blog is diverse and contains posts with unusual ideas that are hard
to find elsewhere – I can't think of anything to improve upon!"
You know, it makes all those late nights burning the candle at both ends to keep this blog looking beautiful so very, very worth while when I read comments like the one above.  Audrey, thank you so soooo much for your wonderful words about Love My Dress.  I'm absolutely delighted you discovered the brilliant Dana Bolton through these pages, and honestly, you could not have made a better coice when it came to your dress designer – you looked absolutely divine!
Love and adoration for Cara and Nye of Lillian and Leonard for taking such beautiful, beautiful photography and being so happy to share it with us.
Tell me what you love most about this wedding?
So much love,
Annabel
Photographer – Lillian and Leonard
Venue – The Ubiquitous Chip
Brides Dress – Dana Bolton + belt by Live Adorned on Etsy
Brides birdcage Veil – Via Melle Cloche
Brides Shoes – Rachel Simpson via Melle Cloche
Brides Accessories – antique head band + pearl necklace from Melle Cloche
Grooms Suit – brown tweed suit, custom made by Steven Purvis – 0141
357 2665
Grooms Extras/Accessories – pink floral shirt + Brown tweed tie + Topman braces
Bridesmaids – Dessy dresses in pearl pink + Shoes by Schuh
Flowergirl Dresses – Gilly Gray via Etsy
Page boy outfits – Vertbaudet + brown tweed bow ties via Pink Flapjacks on Etsy
Florist – Sparrow & Rose
Entertainment – The Schmohawks + Chris Connelly (pianist) + Jim The Piper
Cars/Transport – Mustang Convertible for the bride
Macaroons – Venues to Menus