Right, well, if any of you out there are mothers with children who are ill, you'll know why we're a little late this morning with our first post! Sorry about that everyone, but we're back on track, and now have some lovely posts to share with you today, starting off with this one, the wedding of Francesca and Andy, who tied the knot on 22 September 2012 at Newington
Green Unitarian Church, London, followed by a reception at Abney Public Hall, Stoke
Newington.
Francesca and Andy had acutally already been away to secretly get married, but they also wanted to celebrate the occasion with their friends, so this is what happened…
"We actually ran
off to Gretna Green just the two of us to get married in June, it was
really important to do that part on our own and while we still saw
September as the 'wedding', we knew we wanted to be the hosts of a party
that was just as much about everyone else as it was about us, so we
invited lots of people to come forward with ideas and contributions as
we really wanted to make it a party everyone would be excited about.
The
idea of a sitdown, formal bash filled both of us with horror! We didn't
want fuss or huge detail and credit has to go to my good friend Beth
Murray, crafty extraordinaire, of 'Handpicked House' who had most of the 'vision' about style
and décor…"

Love My Dress Wedding Blog – Photography Copyright (c) 2012, Lisa Carpenter
I am in love with these LOVE letters from Vowed and Amazed! Did you know you can order your own personalised light up letter signs from Vowed and Amazed too?
"I wanted everything as handmade and mismatched as possible, in
keeping with our relaxed vibe and we were really looking to create a
sort of festival/village fete type style. So many of our creative
friends offered to help in designing, decorating and lending us
materials. Andy is a musician and we have many talented friends in great
bands, who were all delighted to be asked to play so it was more like a
big knees-up than a wedding!
As far as styling went, two things were important – no waste, and
everything just had to look pretty! This meant that instead of having
favours we wanted to decorate with things that our guests could take
home with them."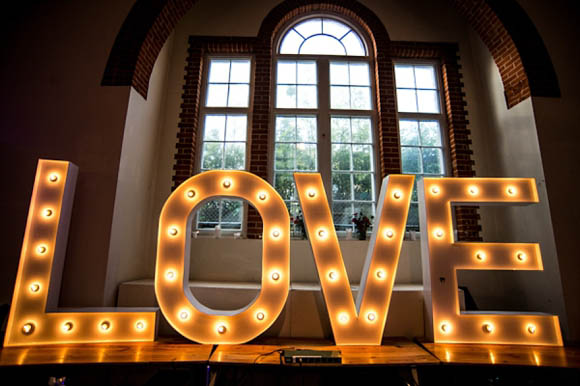 "As music is a big thing for both of us, we picked some of our
favourite love song lyrics, that meant a lot to our relationship. A
friend designed these into colourful prints in pastel colours which we
framed and hung round the hall, and people seemed to love spotting their
favourite lyrics. Guests were encouraged to take a print home with them
– they went very quickly!"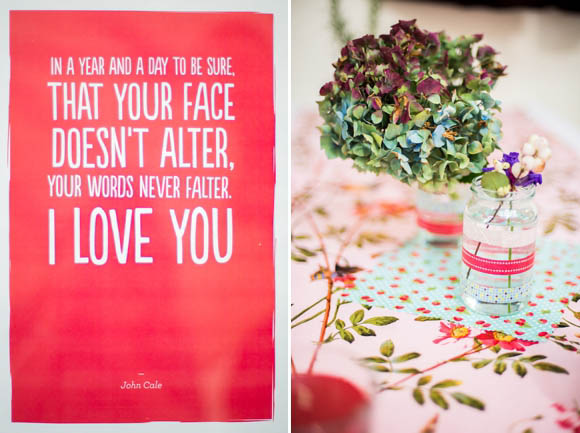 "We met online dating, and had been together about 18 months
when we got engaged. Neither of us are particularly traditional and
there was no huge proposal, we had talked about it for a while. One
evening, a bit drunk, we just decided to go for it. I later learned
there had been a planned proposal involving a hot air balloon trip that
had been previously cancelled 4 times due to bad weather so if he'd
waited for that to happen (it never actually did by the way!) we
probably wouldn't be married today. 
As above,
neither of us wanted 'weddingy' at all, we just wanted to throw a great
party. It was important that everyone felt relaxed, and free to just
enjoy themselves without the pressure of being forced to sit next to
someone and having to endure endless speeches. We were adamant we didn't
want a massive fuss – having already done the marriage bit on our own –
and just wanted as many of our family and friends to come together for a
big party."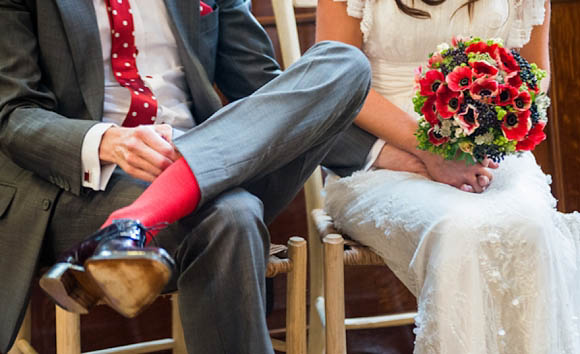 "Andy already had a tailor-made suit which he was fine to wear again"
"I had no fixed ideas about my bouquet, just that I wanted something
red in it. I went to Dansk Flowers as I pass them fairly often, had a
chat with the owner, she showed me some pictures of previous things
she'd done and together we picked red anemone, viburnum, white
snowberries, astrantia and bupleurum foliage. It arrived on the morning
and was spot on. Very reasonable too!"
"I had originally thought I wanted red shoes but couldn't find
anything I liked. A friend of mine, Ellie, very sadly died two weeks
before her own wedding earlier this year and, in her honour, I bought
the same ones she had picked for her own big day from Rachel Simpson. It felt like she was with me that day."
What a lovely thing to do Francesca, this has really touched me…

"Our cake was made by the very talented sister of a friend, as a
gift. I hate fruit cake so chose a chocolate and white chocolate tier,
which was decorated beautifully with red flowers and fruits."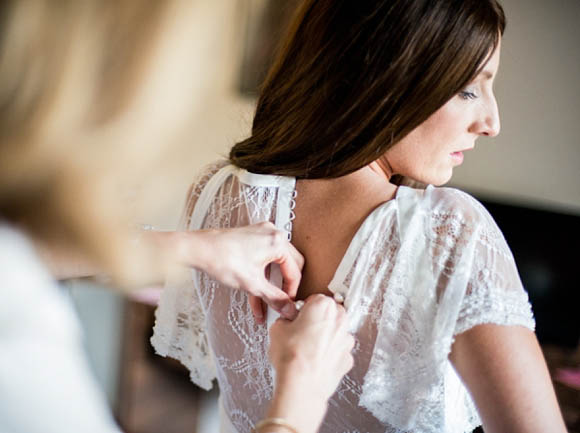 "To decorate the tables we used Michael Miller's 'Bird' fabric,
which we bought by the roll from eBay and cut into runners. We used
charity shop, china tea cups with candles, jars filled with sweeties and
lanterns.
We also used plain jam jars as candle holders, decorated with
both coloured patterned tape and lined with pages from a book on the
history of London to create a softer lighting glow. Bunting was again
from eBay, as were the bamboo tiki torches that made up the walkway
outside when it got dark."
"We didn't want to spend hundreds on carefully crafted wedding
flowers that would just go to waste so instead ordered little pots of
herbs, which people were encouraged to
take home as a lasting, growing keepsake of the day – plus, they made
the hall smell wonderful! We chose herbs that had a historic connection
to love, and we put them in stainless steel pots to stop them looking
too twee. My friend Lisa designed stickers that went on all of the herbs
which asked people to take them home, which meant a lot of drunken
people weaving into the night brandishing rosemary pots!
 We also went to New Covent Garden wholesale flower market
at 5am the morning before the wedding where we had our pick of the
freshest, cheapest flowers which we arranged in vases Beth had brought
from home, including rustic farm jugs and Rob Ryan vases. We used vast
bunches of multicoloured hydrangeas mixed with pink snowberries, using
small bunches in jam jars which we dotted around the hall. It was £4 for
a car to get in – and I'd recommend the early morning trip to any bride
as the whole room only cost about £70 to fill with flowers!"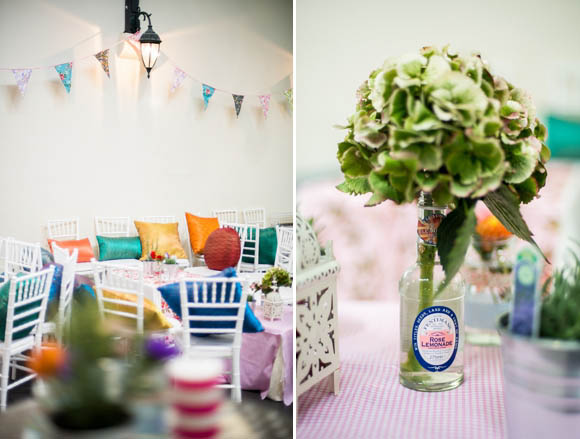 "My dress was Katrina, by Anoushka G and it was from Morgan Davies in Islington.   I
knew I didn't want anything strapless with the typical big skirt. Andy
would have died on the spot if I'd turned up in something huge! I hate
shopping and gave myself one day to find a dress. I took a friend,
Laura, who had arranged appointments for us in three very different
shops/studios.
Initially we thought we had found 'the one' in the second
place we went to and even stopped for champagne to congratulate
ourselves.However this dress was quite expensive and even though I had reservations about Morgan Davies
(I really wasn't keen on anything 'bridal') we decided we should go and
take a look anyway. Laura pulled out the dress and my first thought was
'it's white. Absolutely not!'"
"It seemed so bright compared to the
racks of ivory. I tried it anyway and immediately loved it, it had such a
simple line which made the fairly heavy embellishments stand out on
their own without being too much. It also had a beautiful lace back
which provided enough detail without being garish. And it was half the
price of the first one!
Everyone had said "ooooh go for Jenny Packham"
but having already seen two brides with the same JP dress, I knew I
wanted something that not everyone would have."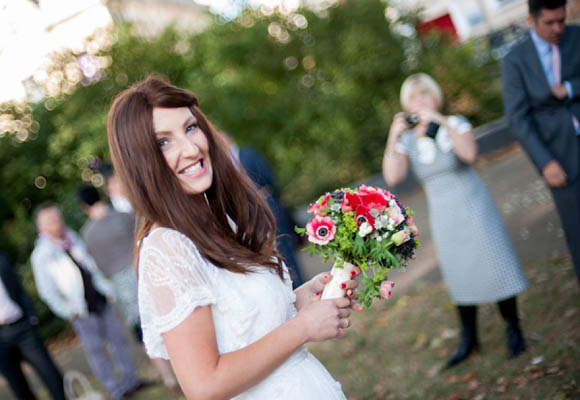 "Our photographer Lisa Carpenter was recommended by a friend. Our aversion to all things
'wedding' meant that, initially, we were thinking we wouldn't bother
with a professional photographer as we couldn't bear the thought of
being made to stand against a tree looking wistful, yuk. But we were
rightly talked into it by friends and having looked at Lisa's website
and her previous work as a music photographer in New York, we were
seriously impressed.
They say the mark of a good
photographer is that you don't notice they're there and I did wonder
whether Lisa would have got anything decent as we barely seemed to see
her all day. But when she sent the pics through, we were amazed. She
literally had been there at every moment. She didn't make us do the
painful staged shots although did borrow us for half an hour for a walk
round the beautiful cemetery opposite and this was where some of our
favourite pictures happened.  She also made a slideshow
of the pictures set to music, which was the most wonderful thing ever
and we have watched it about 100 times. The way she chose the music
meant it really felt like we were reliving the day, completely."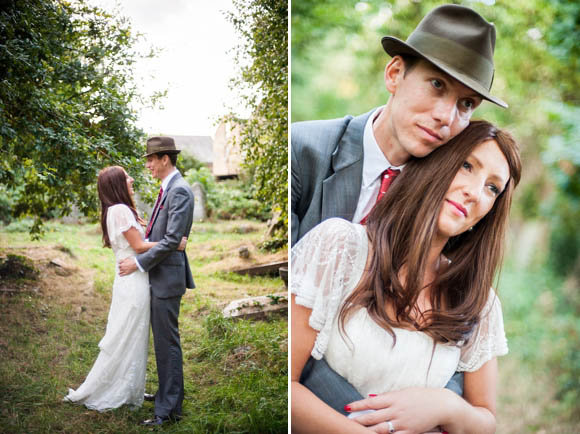 "I did my own hair as I knew I would just be sticking  slide in and
that would be it, although I did have the fabulous Arabella Preston to
do my make-up (http://www.arabellapreston.com). She was excellent,
really honest about what would work, cracked my fear of eyeshadow and no
scary bridal make-up in sight! She did my mum's make-up on the day
too."
"I have been attending the Unitarian church for the past couple
of years, it's a beautiful building on Newington Green with lots of
history. One of the earliest feminist voices, Mary Wollstonecraft,
worshipped there and formulated many of her ideas there based on
Unitarian principles of justice and equality for all. Very recently, it
became the first religious building in London to conduct same- sex civil
partnerships, which it had been campaigning for for some years.
We
chose the village hall on Stoke Newington's Church St as I was living
in Stoke Newington when Andy and I met, and we did much of our early
dating on and around Church St. Even though we have since moved to
another part of London, we both felt it was important to take our family
and friends back to where it all began. We also wanted a blank space we
could make our own, without being tied to a particular theme or set
caterers etc."
"We had our respective best friends do the readings and we asked
them to choose their own readings, ones that they felt represented us
best;  The Owl and the Pussycat, Edward Lear:- 
'Dear Pig, are you willing to sell for one shilling your ring?' Said
the piggy 'I will.' So they took it away, and were married next day by
the turkey who lives on the hill. They dined on mince, and slices of
quince, which they ate with a runcible spoon; and hand-in-hand, on the
edge of the sand, they danced by the light of the moon, the moon, the
moon, they danced by the light of the moon.'"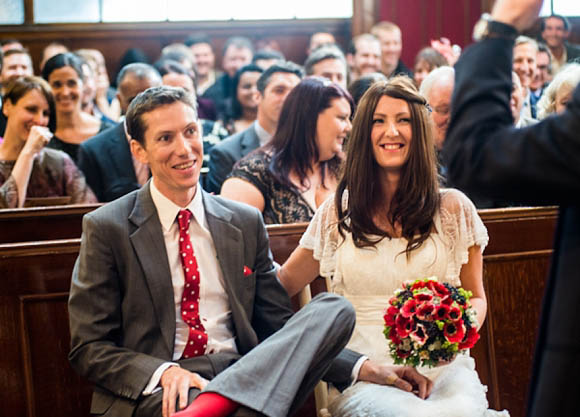 "We also had 'What Is A Friend?', by C Raymand Beran:-
'What
is a friend? I will tell you. It is a person with whom you dare to be
yourself. Your soul can be naked with him. He seems to ask of you to put
on nothing, only to be what you are. He does not want you to be better
or worse. When you are with him you feel as a prisoner feels who has
been declared innocent. You do not have to be on your guard. You can say
what you think, as long as it is genuinely you. He understands those
contradictions in your nature that lead others to misjudge you. With him
you breathe freely.
You can avow your little vanities and envies and
hates and vicious sparks, your meanness and absurdities and, in opening
them up to him, they are lost, dissolved on the white ocean of his
loyalty. He understands. You do not have to be careful. Best of all, you
can keep still with him. It makes no matter. He likes you – he is like
the fire that purges to the bone. He understands, he understands. You
can weep with him, sin with him, laugh with him, pray with him. Through
it all – and underneath, he sees, knows and loves you. A friend? What is
a friend? Just one, I repeat, with whom you dare to be yourself.'"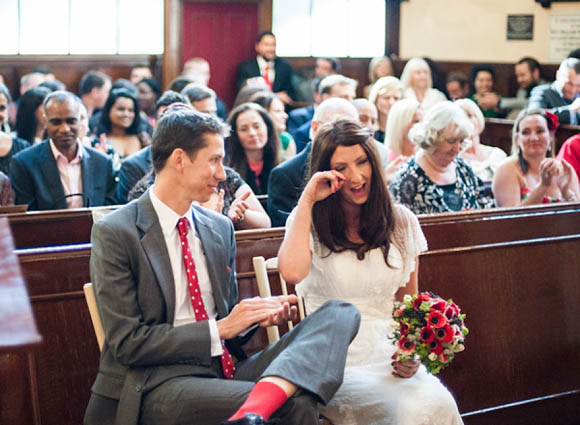 "As we were already married, we felt it would be a bit fraudulent to
do them again and our actual marriage vows were too private to share
which is why we had gone to Gretna in the first place. Instead we picked
poems that we felt reflected us individually. Andy chose Valentine, by
John Fuller, and I picked Vow by Clare Shaw;
'Say yes. That word on your lips is a kiss; is a
promise already made. We made it. Love did not turn from hurt or hard
work. When lights failed, it did not switch off. When love had no road,
we willingly built it. We shouldered its stones and its dirt. So thank
God there are days like this when it's easy. When we open our mouths and
the words flood in… How love must, at all costs, be answered. We have
answered and so have a million before us and each of their names is a
vow. So now I can tell you, quite simply, you are the house I will live
in: there is no good reason to move. Good earth, you are home, stone,
sun, all my countries. Vital to me as the light. You are it and I am
asking. Say yes.'
And also, Valentine;
'The things I
appreciate about you may seem indelicate: I'd like to find you in the
shower, and chase the soap for half an hour. I'd like to have you in my
power and see your eyes dilate. I'd like to have your back to scour and
other parts to lubricate. Sometimes I feel it is my fate to chase you
screaming up a tower or make you cower by asking you to differentiate
Nietzsche from Schopenhauer. I'd like to successfully guess your weight
and win you at a fete. I'd like to offer you a flower.  …I'd
like you in my confidence, I'd like to be your second look. I'd like to
let you try the French Defence and mate you with my rook. I'd like to
be your preference and hence I'd like to be around when you unhook. I'd
like to be your only audience, the final name in your appointment book,
your future tense."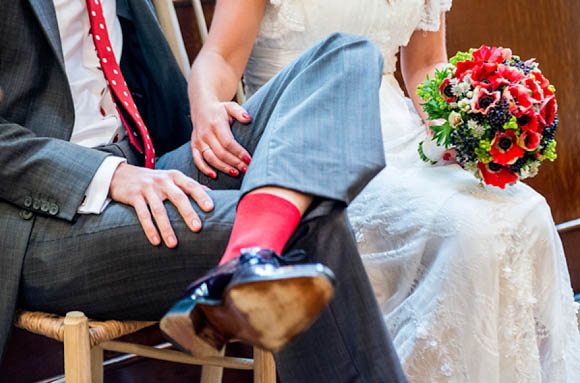 "I asked my florist if she could make me a hair slide with some of
the berries she used for my bouquet and she did a very simple clip with
dark blue Viburnum berries."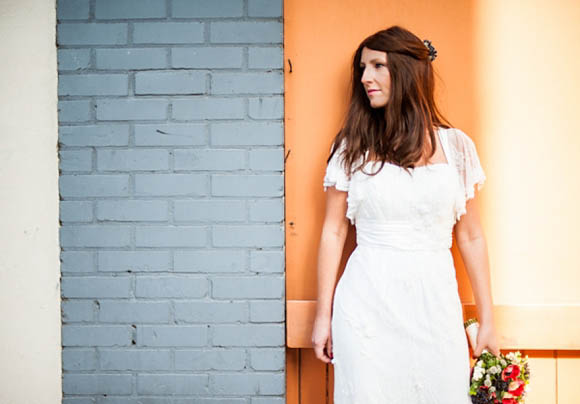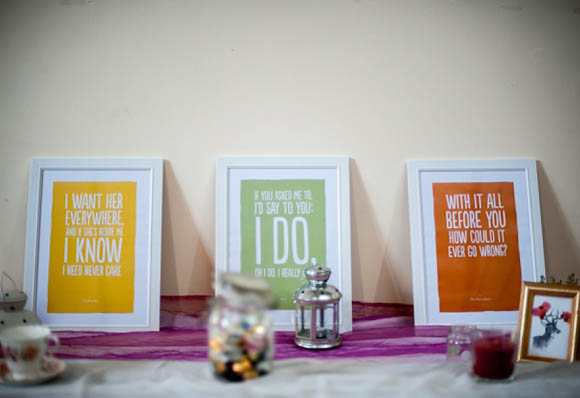 "Seeing how all our guests, many of whom didn't know each other,
just came with a great attitude and all ended up making new friends.
That really meant a lot to us, as the most important thing is that we
wanted to just host the bash and everyone knows it's the guests that
make the party which they completely did, we were so proud to see them
all really enjoying it. 
The other thing we loved about
having two 'weddings' was that by the time September came around, we had
had three months of being husband and wife, and really got to know and
love what that felt like. And then it felt like the right time to invite
everyone else to toast and celebrate how happy marriage had already
made us, and remind them to think of their own marriages/relationships
in the same way."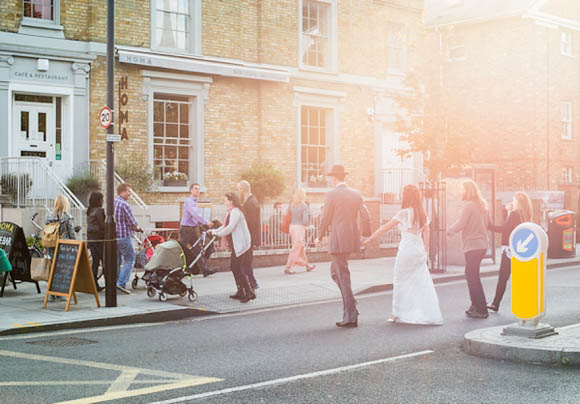 "We are members of the Wine Society
and a couple of months before, Andy and a friend drove to France to
their warehouse to pick up LOTS of booze. We were so determined to make
sure everyone had a good time that we went rather overboard and still
have boxes of (excellent) wine under the stairs.
In addition, we hired Liquid Spirit to come and run a cash bar. They came with a wooden bar, lots of Jaegermeister and a great attitude."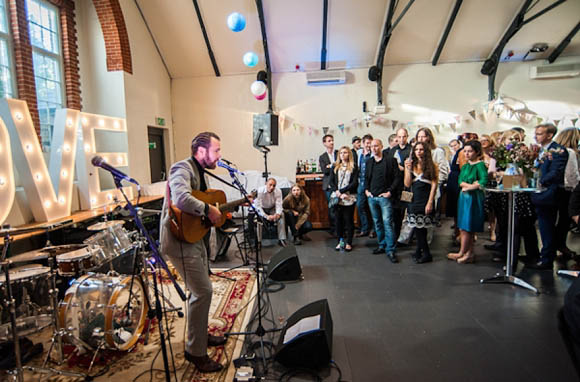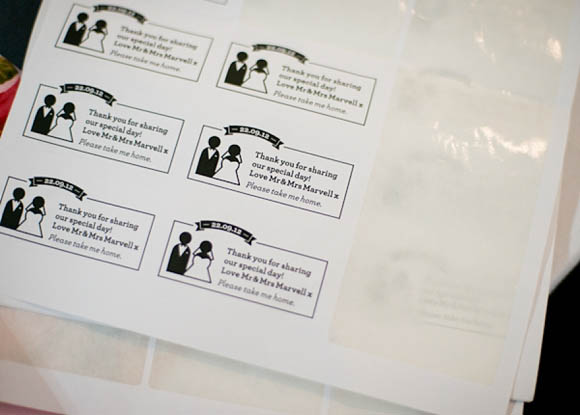 "We didn't have a irst dance as such, it felt a bit
self-indulgent but we did all have mass dance-off to Groove Is In The
Heart by Dee-Lite!"
"The entertainment was all provided by amazing musician friends
of ours! As music is so important to us, we couldn't stand the idea of a
wedding band and instead asked our friends, who were all delighted. A
large part of our budget went on hiring decent PA equipment and a
fantastic, lit-up LOVE sign by Vowed and Amazed, which formed the backdrop for the musicians, which included;
Marmaduke's band  – Andy plays in this band!
The Son of Dark Horses – Andy guested on drums here, along with his brother
The Great Malarkey – a friend from work is in this band
Jimmy & The Lips – Jimmy and I lived together many years ago"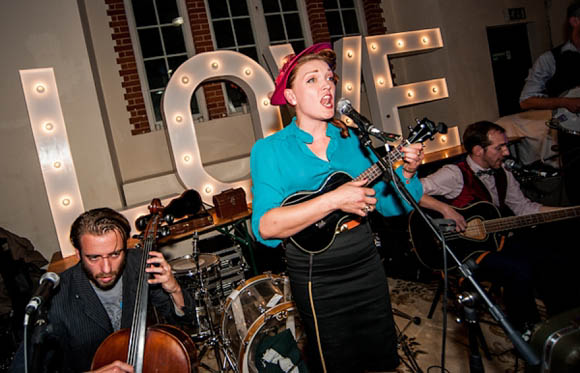 Words of Wedded Wisdom…
"Really stick with your
own ideas, don't worry too much about what type of wedding everyone else
has had (I fell partially into this trap but was very lucky to have
Beth who seemed to know me better than I did at times) as it's not about
the details, it's about who you invite and what's important to you
both. If you've got great friends and family, you're guaranteed to have a
good time. No-one will care about carefully planned co-ordination if
you're so busy stressing about it all.
They just want to see you having
an amazing day so do whatever feels right for you. Ours was
unconventional in many ways, there were certain things we just did away
with as they weren't appropriate for us and people would have thought we
were mad if we just done it 'traditionally' for the sake of it. Stamp
your personalities all over it!"
A colourful and bright way to (ever so slightly lately) start the day 😉 Thank you so much for your patience today everyone – it's so very much appreciated.
And lots of love and best wishes to Francesca and Andy too, and to photographer Lisa Carpenter for sharing these lovely images.  See similar inspiration here red, real weddings and London weddings.
Check back this afternoon to see what's on my christmas wish list! I've been drowning in a sea of online shopping inspriation. Someone save me!!!
Annabel
Photographer – Lisa Carpenter
Venue – Abney Public Hall, Stoke
Newington, London.
Wedding Dress – Anoushka G and it was from Morgan Davies in Islington.
Brides Shoes – Mimi by Rachel Simpson
Brides Accessories – Earrings – simple pearl/diamante studs from Glitzy Secrets
Grooms Suit – Tailor made suit already owned + tie via Jump The Gun + Jeffery West shoes
Florist – Dansk Flowers
Cake Designer – Made by a friend
Entertainment – Marmaduke's band + The Son of Dark Horses +The Great Malarkey + Jimmy & The Lips
Light up LOVE sign – Vowed and Amazed