It is lovely to be back gracing the pages of Love My Dress once more!  As event designers and wedding planners we love to get our hands dirty crafting and creating our own unique decorations, not just for parties but for making our homes sparkle too. Recently, we have been embracing our creative passion over at Pocketful of Dreams with our Crafted Christmas series and today we have a rather special DIY feature for you. It's just perfect for those wanting to introduce a bit of personalised styling into their Christmas decorations or winter wedding this year!
Photography by Debs Ivelja
The centrepiece of every home at Christmas has to be the tree and today we are sharing with you details of how to turn traditional glass baubles into an eclectic and colourful set of decorations, featuring everything from sparkly sequins to rustic moss.  If you are planning a Christmas wedding, these would also make fabulous decor items, place name settings or even favours.
To make your baubles you will need:
Transparent glass baubles with removable tops.  We brought ours from Amazon but try craft shops or Christmas shops.  Just make sure you go for baubles with a seamless finish to best display your "fillings"
Decorative items to fill your baubles; choose from glitter to sequins to artificial snow!  Visit your local craft shop for inspiration.
To create your own baubles, take the transparent baubles and remove the tops from each.  You may find that it is helpful to stand your baubles up in the container they come in to make it easier to add your decorative touches.  Then simply take your choice of decoration and carefully insert into the bauble.  There are only two restrictions here – your imagination and the opening of the bauble!
Make sure you check the diameter of the neck of the opening before you start buying pieces to add in; the glass at the neck of the bauble will be very fragile so you need to be quite delicate and avoid forcing any larger objects through.
If you are a glitz and glamour kinda girl then why not play with sequins and glitter which will beautifully reflect in the twinkling fairy lights on your tree.  Or if rustic is more your style, then you can use feathers, moss, twigs or even cuttings from your Christmas tree to create beautiful natural decorations.
The more adventurous amongst you may even want to have a go at creating winter scenes; invest in some artificial snow and then place model reindeer or Christmas trees inside your bauble.  You may find a pair of tweezers will help you to position things in your snow scene.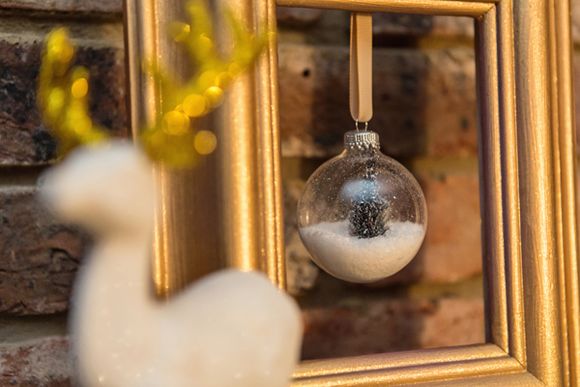 This easy DIY is perfect for anyone out there new to crafting who wants to create something special and personal to adorn their tree this Christmas.  For other low cost, high impact crafting ideas, pop over to Pocketful of Dreams for our Crafted Christmas series.
Michelle x