Earlier this month, lovely Michelle and Vicki of Pocketful of Dreams! shared this lovely 'make your own Christmas baubles' DIY feature with us.  Today, I'm sneaking in another easy-as-pie DIY tutorial from this talented and super lovely creative duo – it's another one we can all try and that reuqires no skill level and that should absolutely be enoyed with a mince pie and glass of mulled wine close by….

We were thrilled with the reaction we had to our our last DIY post for Love My Dress, and so we are back today with some festive crafting ideas; this time for wrapping your presents.
Love My Dress Wedding Blog – Photography Copyright (c) 2012, Debs Ivelja Photography
This tends to be the last task you get to in the busy festive planning schedule and it can be tempting just to reach to the back of the cupboard and see what paper you have left over from previous years.  But after all the time you have spent choosing the perfect gift, personalising your gift wrap will ensure the recipients of your presents feel extra special!  And best of all, these gift wrapping ideas aren't just for Christmas…you can use your wrapping creativity for birthdays, spontaneous gift buying or even for thank you gifts on your wedding day.
To make your own gift wrap you will need:
Brown kraft paper – you can buy this from any craft store, often far more cheaply than standard gift wrap

Double sided tape

Ribbon, twine, yarn, doilies, festive foliage and any other decorative elements you want to use
Card or luggage tags to make your own gift tags
To start, wrap your presents in brown kraft paper to give all your gifts a consistent canvas on which to decorate.  Using double sided tape requires a little extra patience compared to standard sellotape but will give your gifts a slicker and more professional finish.  For those odd shaped presents, try putting them into cardboard boxes first to make wrapping that bit easier.
Then comes the fun bit – adding your own decorative touches!  There really are no rules here; we chose to use coloured yarn and gold sparkly ribbon and string to decorate our gifts.  Wrapping continuous loops of yarn in single colour blocks is quick and easy but creates a high impact effect.  Or for something a little more involved, take a strip of kraft paper which is along enough to reach around your gift, cut a scalloped pattern into the strip and then using a hole punch make a hole in each scallop.  We then plaited together different coloured yarns and thread them through the scalloped holes before tying this around our gift.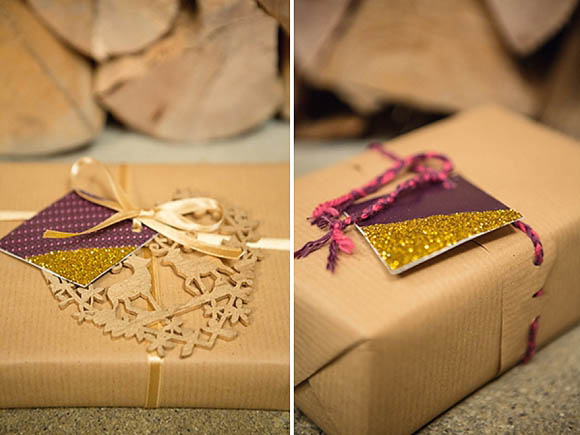 Choose colours which coordinate with your Christmas tree decorations, go rustic by adding baby pine cones, fir tree cuttings taken from the back of your real tree or holly picked up your local park.  For an added festive twist, you can spray your foliage with white paint for a snowy effect or gold spray paint as we did for some Christmas sparkle.  Or to really add some personalisation, you could create a different wrapping style for each friend or family; inexpensive shop bought decorations, the humble doily and other knick knacks can all add cute little details to your gifts.
And of course, you need to make sure you remember to add gift tags to avoid Christmas morning confusion!  Again, there is huge scope for personalisation here.  A simple option could be to write names or initials straight onto your paper or why not use luggage tags, perhaps stamped with a festive motif like a reindeer, snowflake or Christmas tree.  For our presents, we created gift tags from the bauble artwork of our Pocketful of Dreams exclusive Christmas cards designed by Bonjour Pony; we just printed the designs onto standard paper, cut them out and backed them with gold and silver card.
This DIY is a great way to add some personalisation into an essential Christmas task.  It doesn't take much more time than wrapping with shop bought paper but the extra thought you put in will ensure that your presents look dazzling under your tree and your friends and family will be bowled over by the extra little touches.  For other low cost, high impact crafting ideas, pop over to Pocketful of Dreams for our Crafted Christmas series.
Michelle & Vicki
Event Designers and Stylists at Pocketful of Dreams
Pocketful of Dreams offers wedding and event design, planning and styling services across the UK