In stark contrast to the North East Tyneside cinematic style wedding of this morning, this afternoon, we're heading off over to British Columbia in Canada for a cowboy ranch style wedding like you've probably never seen before. I don't often feature overseas weddings, because predominantly I'm here to support and promote the UK wedding industry, but there are occasions where I'm sent the most beautiful wedding that took place in another country that I know my readers will die for.  Not only because of the gorgeous inspirational images, or the beautiful wedding dress, but because I think that it's often fascinating to see how other couples who are living in different parts of the world choose to honour the tradition of getting married.
These photographs were submitted by Cole and Jakob of Nordica Photography and feature Bryan and Amber's wedding that took place on 2nd September last year, at the historic Hat Creek Ranch in Cache Creek, British Columbia, Canada.
Love My Dress Wedding Blog – Photography Copyright (c) 2013, Nordica Photography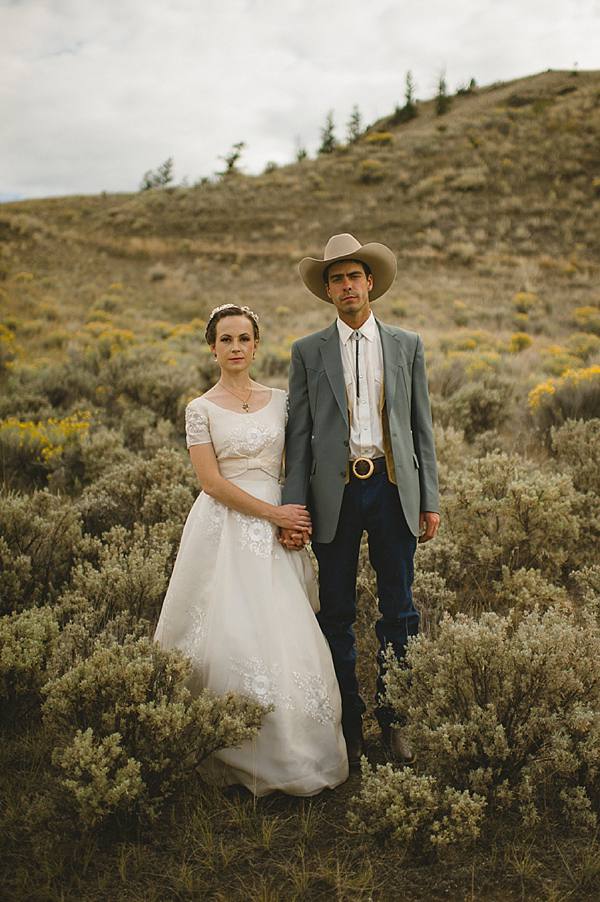 "We met at Sundance Guest Ranch in Canada.  I visited the ranch as a teenager with my mother where we met Bryan, who was wrangling at the ranch at the time. We were the only guests on the ranch for a quiet midweek get away and Bryan took us for an all-day horseback ride with a picnic lunch on the trail. Fast forward nearly eight years later and Bryan proposed during a private evening ride, just him and I.
We rode up to a lookout point where Bryan had stashed a picnic dinner, dessert and wine for our special moment. He proposed with his Great Grandmothers ring during a purple sunset and we rode home beaming with joy. We were engaged for fifteen months before our wedding day."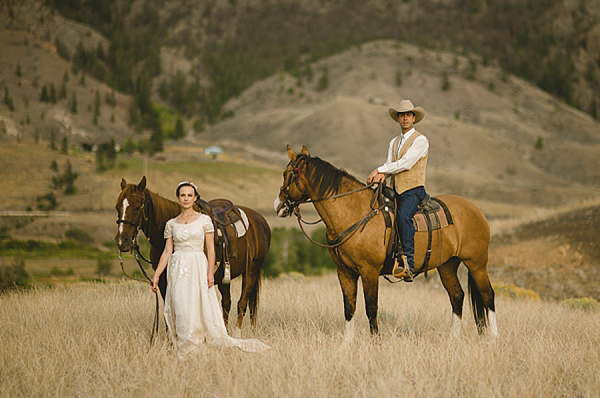 "We choose Hat Creek Ranch for our wedding for its historic roots with ranching in this area and the ability for our guests to bring campers and tents and spend the whole weekend with us for the special occasion.
I created all the paper goods myself in the months leading up to the wedding. I used some of my mother's handmade paper for our invitations as well as custom stamps, scraps of leather and rusty old horseshoe nails."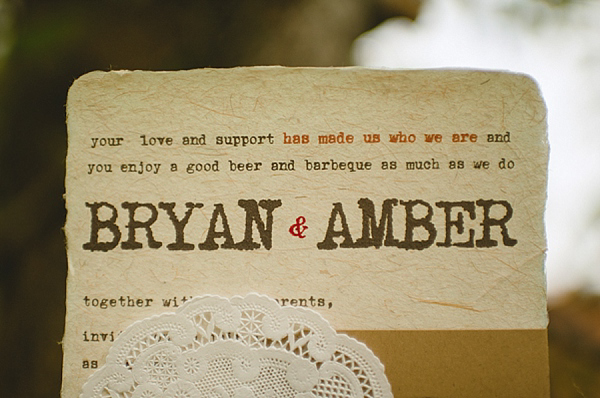 "The style for our wedding was very organic and genuine to our characters. It simply evolved to express how we live our life on the ranch and our casual approach to tradition. We wanted everyone to feel laid back and truly enjoy the social festive coming together that is a wedding."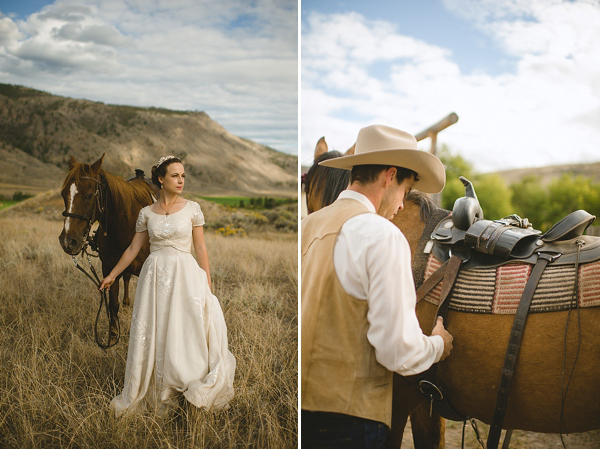 "My dress was a 1950's original silk gown that I purchased online through My Smitten Vintage on Etsy. It fit me perfectly. My sister-in-law finished the cap sleeves, removed a large bow off the back and hemmed the dress for me and it turned into everything I could have ever imagined and perfectly me. 
I loved the classic lines and the modest nature of the dress. The full skirt and romantic embroidery throughout the dress was just the prefect touch of feminine for this country girl. I also loved that I only paid $250.00 for it, I never tried on any other dresses, nor went dress shopping in the convention way.
"I wore an old favourite and very comfortable pair of ankle boots, which I cleaned up and put away on reserve for the wedding day after Bryan proposed!"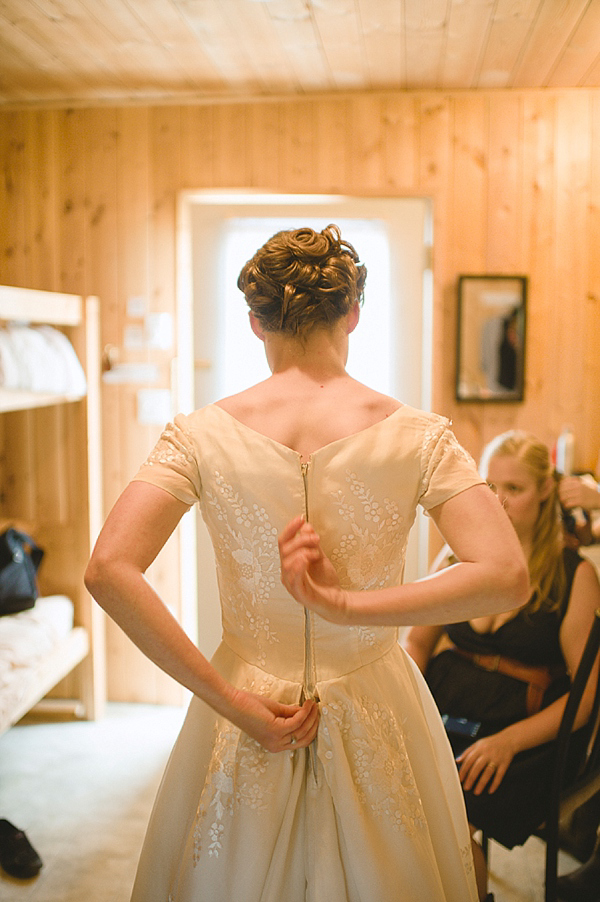 "When it came to my bridesmaids, I asked for each girl to pick out a navy blue dress of their choice. I loved that each one of my ladies glowed beautiful in a style that they felt comfortable in and reflected their personalities within my only request, navy blue.  I also asked the girls to each wear a pair of brown cowboy boots. Some were vintage some new, they each picked out their own."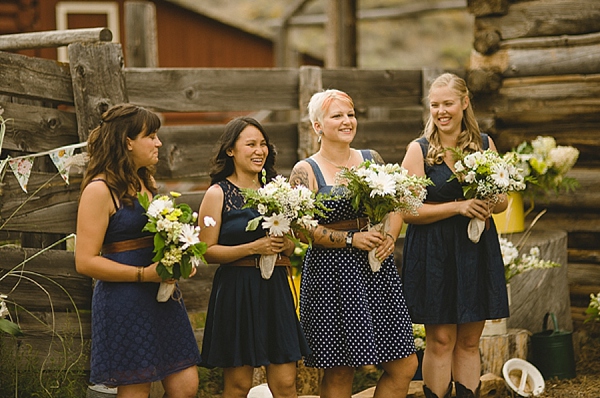 "I made the leather belts the bridesmaids wore as a gift to each one of them. I customized each belt by asking them to complete the sentence 'love is…', and I stamped it into the leather myself'."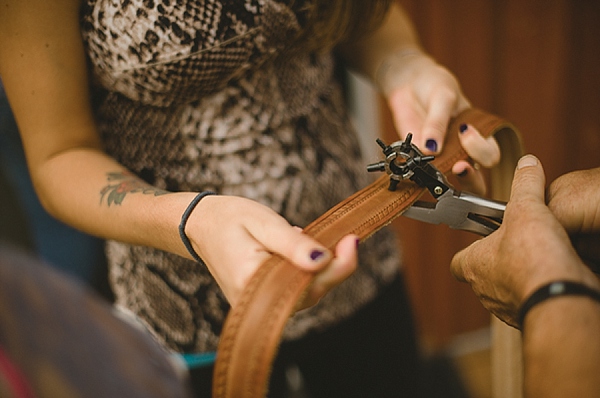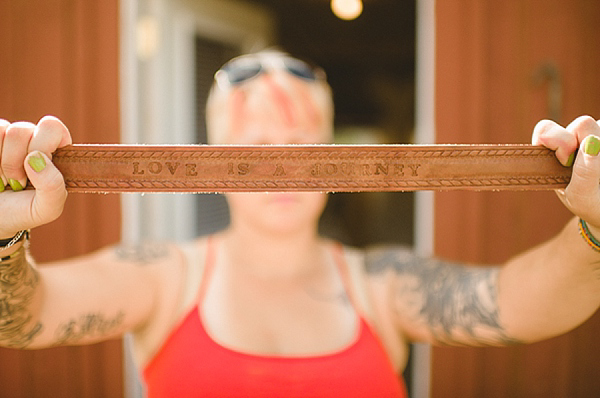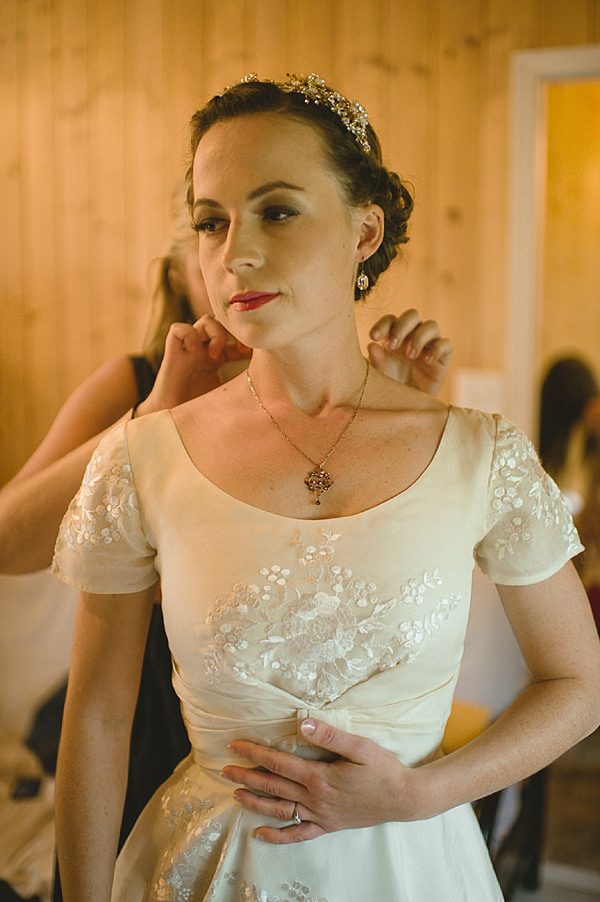 "Bryan wore a new pair of blue jeans and a vintage dress shirt and vintage jacket purchased from Woo Vintage. His vest was a birthday gift from me which I purchased from O'Lear Studios.  His cowboy hat was purchased from Master Hatters.
As a wedding gift I gave Bryan an old packet watch purchased from http://www.etsy.com/shop/BaumLove it is broken and no longer contains a clock but inside I placed a picture of his best friend whom we lost to cancer just the year prior. I knew how important it was for Bryan to have Dave near on our wedding day. Bryan still carries the watch on special occasions and important events, for luck and guidance he says."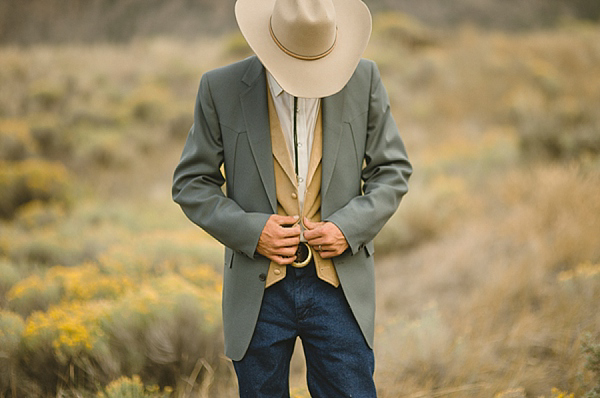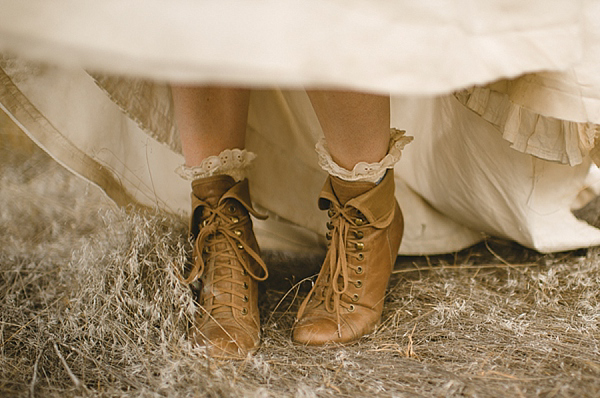 "I wore a crystal headband by Twigs and Honey. This was my wedding splurge for myself and went with my dress wonderfully."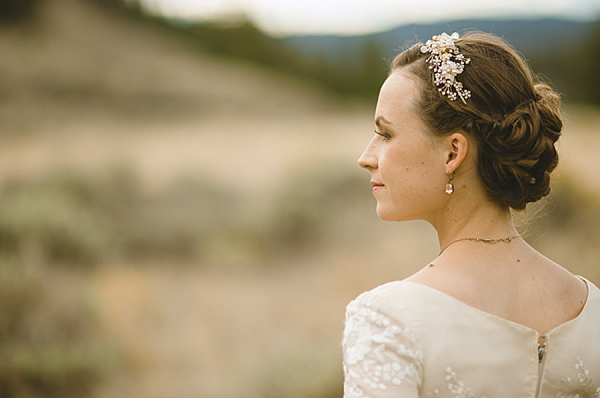 "I wore a ruby and gold necklace that was given to me by Bryan's Grandmother. It had belonged to her mother and is a beautiful family heirloom. I paired it with simple blush coloured earrings purchase from Gracefully Vintage on Etsy  I am not one for much accessories so that is all I wore."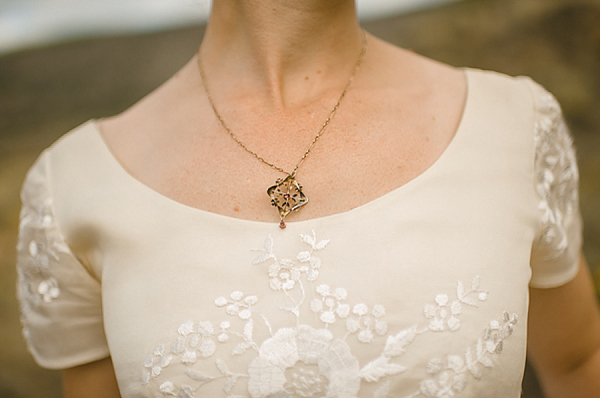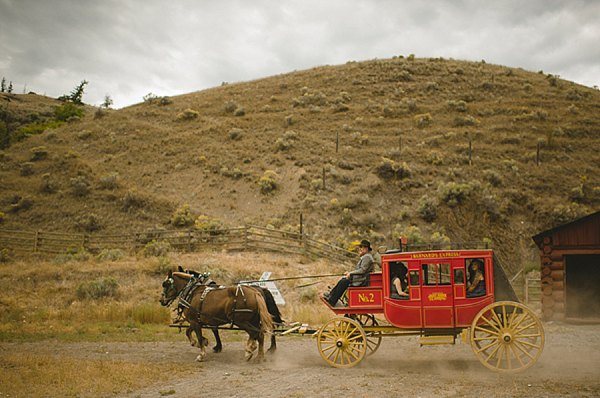 "My sister-in-law made our niece's denim dress. She also carried a little purse made from the bow that had been removed from my wedding dress.  She also made our nephew's vest to match the groomsmen. He then wore a pair of jeans and button down shirt and looked ever so handsome."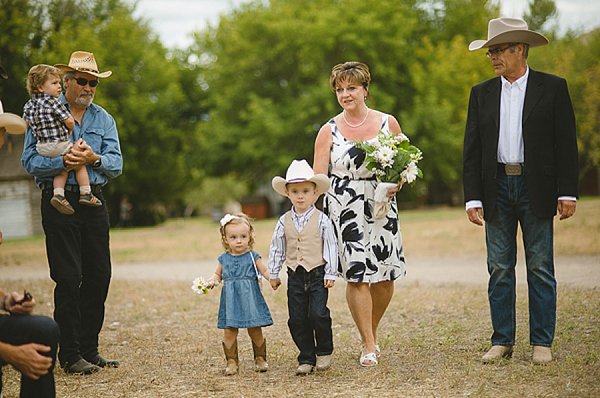 "My father walked me down the 'aisle', which was more like stroll through a pasture and up to the barn.  I made my entrance to Eddie Vedder's 'Guaranteed', played acoustically on guitar."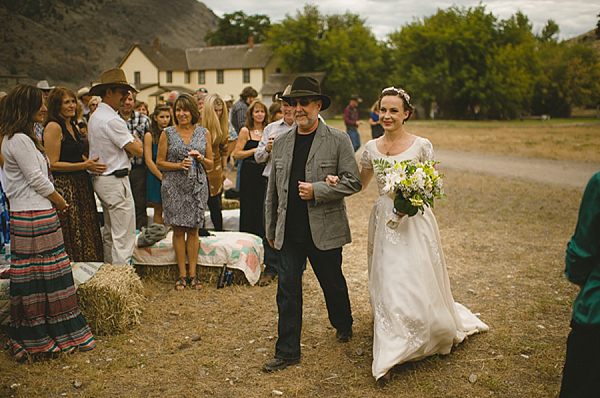 "For our flowers, I simply purchased what was called 'the white assortment' from Costco, a local bulk food supplier. We all made our own bouquets the day before the wedding. My dear friend and horticulturalist then accented the ceremony and reception site with my favourite flower, hydrangeas, which she grew in her garden for the wedding. I also added Freesias to my own bouquet, a favourite of my father's and a silent nod to my grandpa."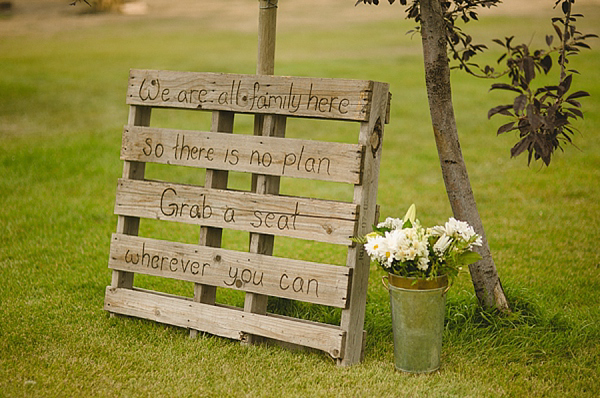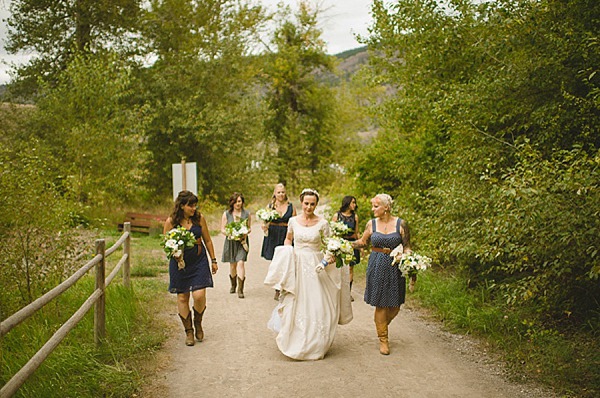 "We wrote our civil ceremony mostly ourselves using some guidance from our Justice of the Peace. It was a short ceremony and we concluded it with our "cowboy communion" – shots of Tullamore Dew whiskey – a salute to a father figure who passed away suddenly before the wedding.
We shared these handwritten vows with each other:'Today I will marry my best friend, the one I live with, dream with and love. From this day forward I will cherish you, I will look with joy down the path ahead, Knowing we will walk it together side by side, hand in hand and Heart to heart….with this ring I give you my heart, I promise from this day forward, you shall not walk alone, may my heart be your shelter and my arms be your home.'"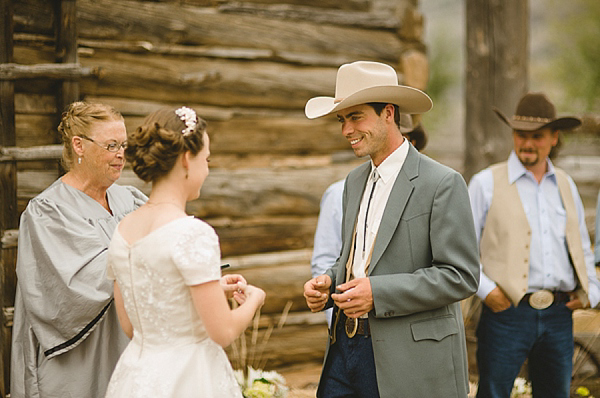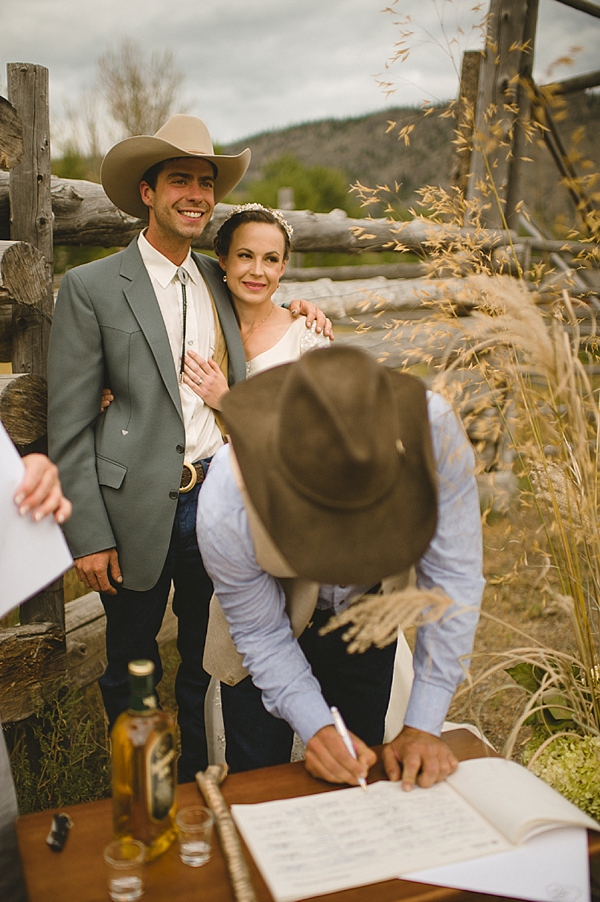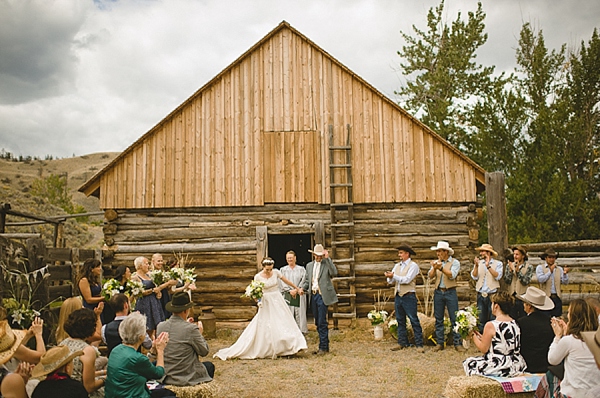 "My mother-in-law and I made the cake at our home the day before the wedding, what a wonderful bonding experience that was! We then did all the decorations at the wedding venue and my sister-in-law and niece helped adorn the flowers and our cartoon toppers."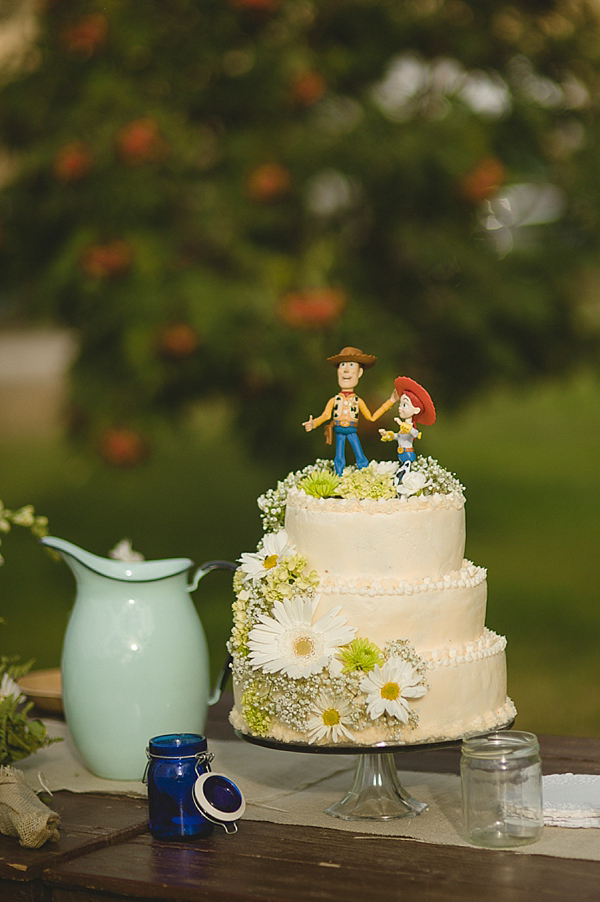 "We gave out old horseshoes as wedding favours and for luck. I spent a few days in the blacksmith shop at the wedding venue heating up and cleaning out each shoe. Then I coated them in bees wax and adorned them with a little tag of thanks. The shoes themselves came off our ranch horses at the end of the prior riding season."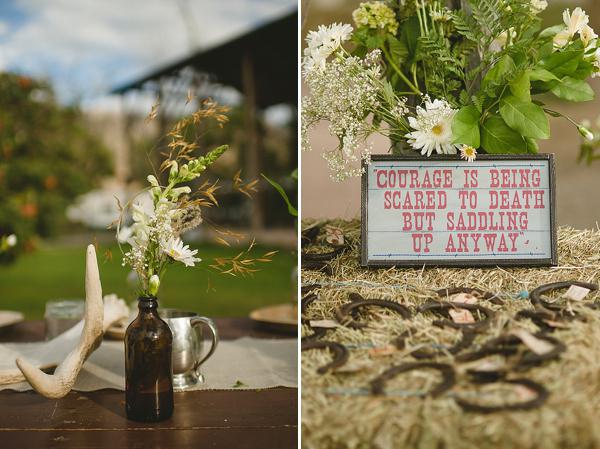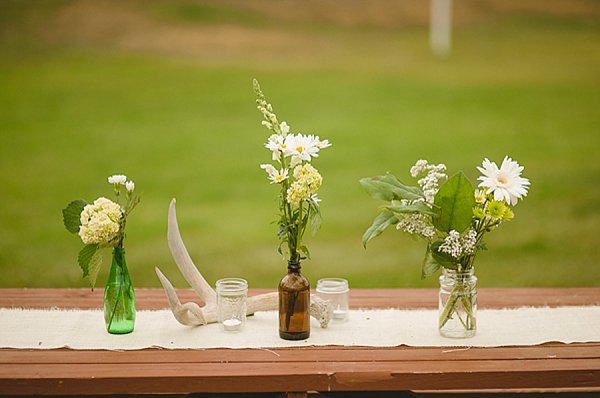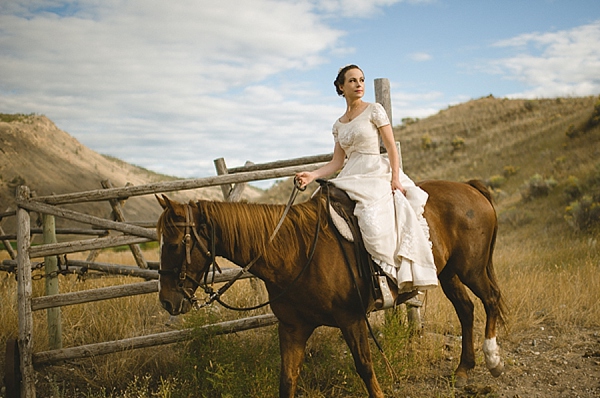 "Our photographers were Nordica Photography – these guys are amazing! The pictures captured the details, the emotion, the scenery and the love so completely that to look through all the images is like watching a movie or stepping back in time. They made us feel comfortable on the day and we cannot thank them enough for the gift of telling our story."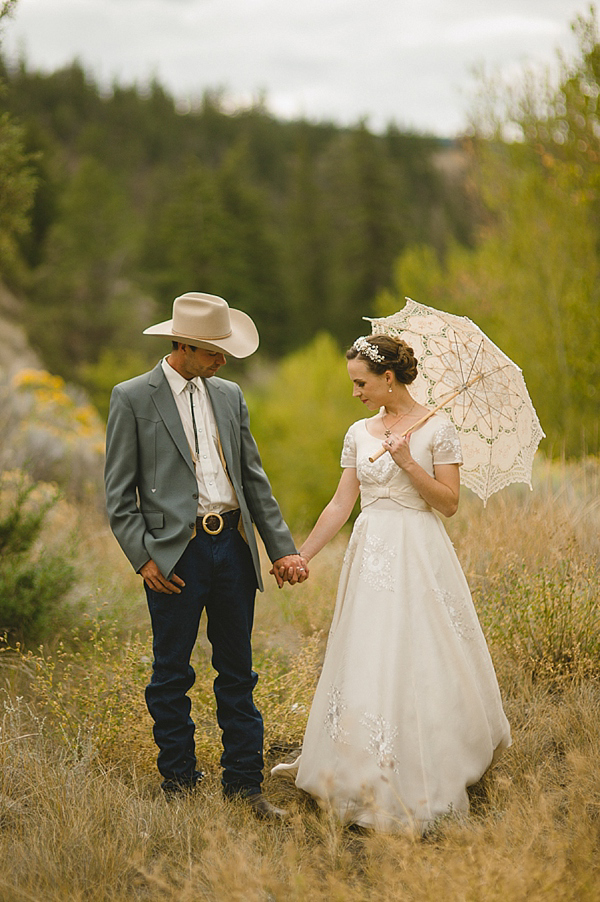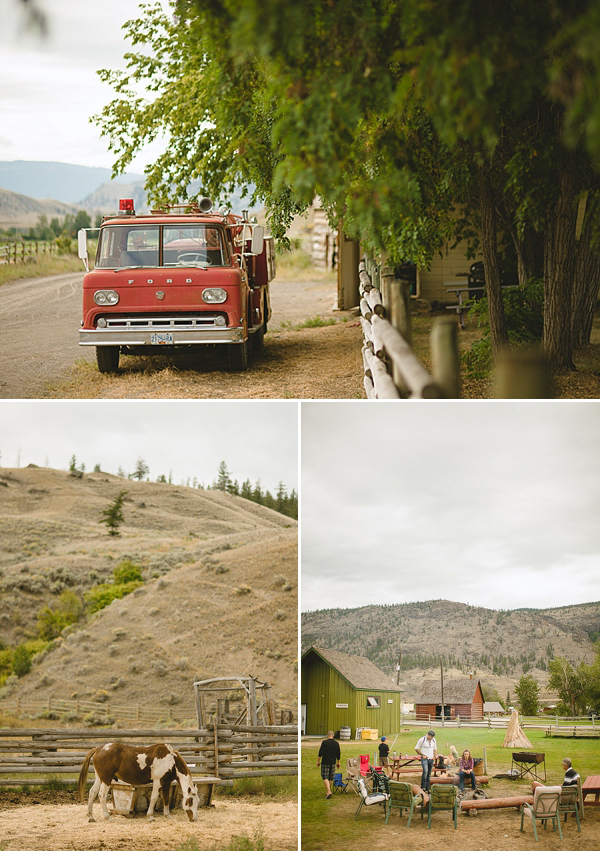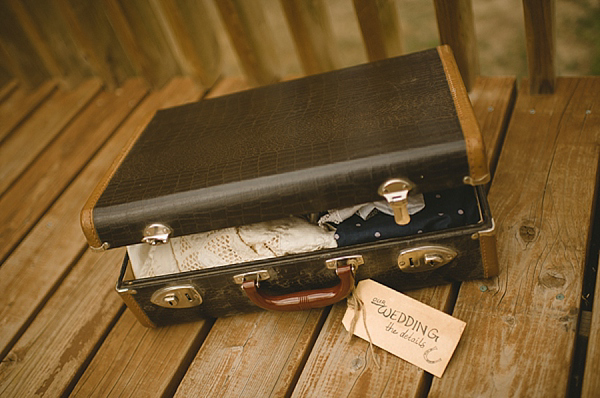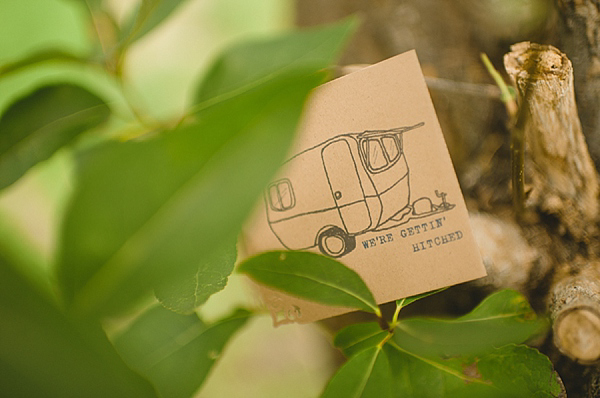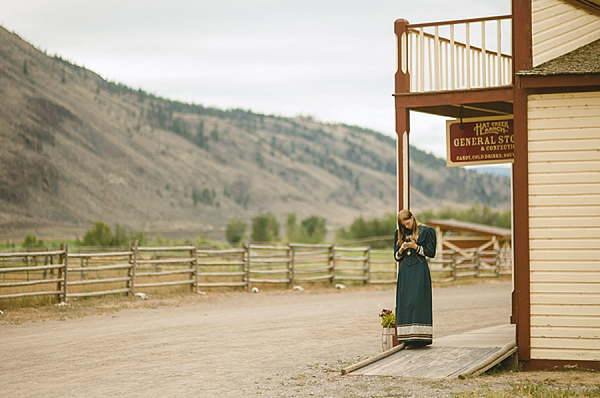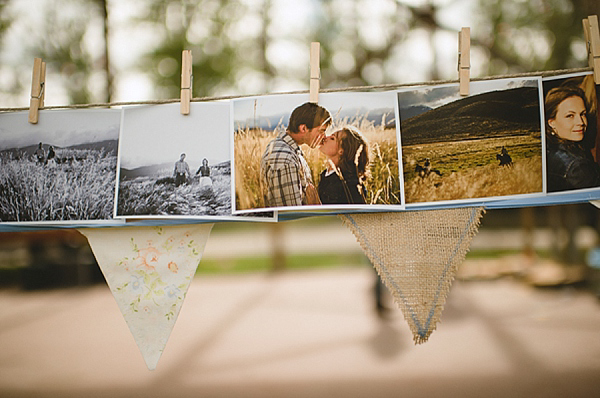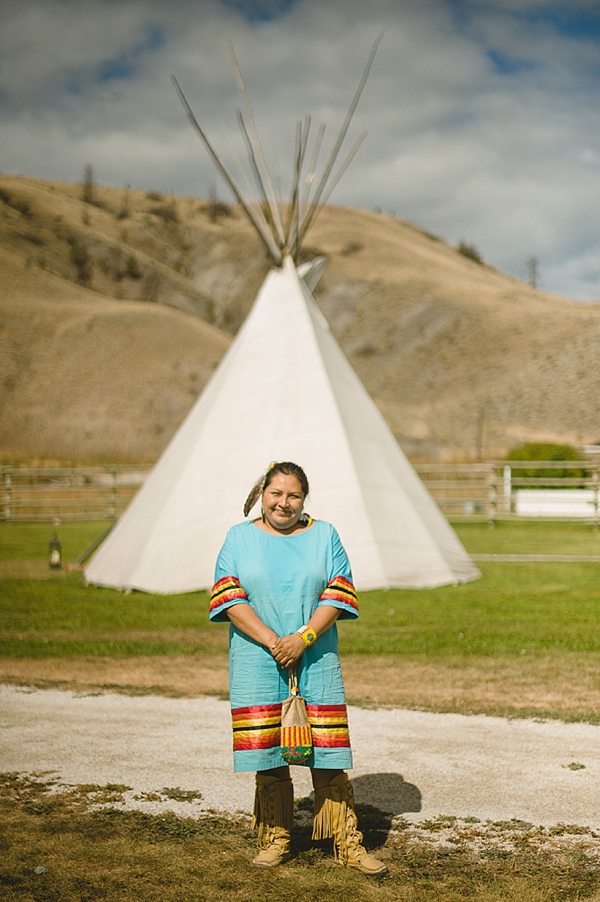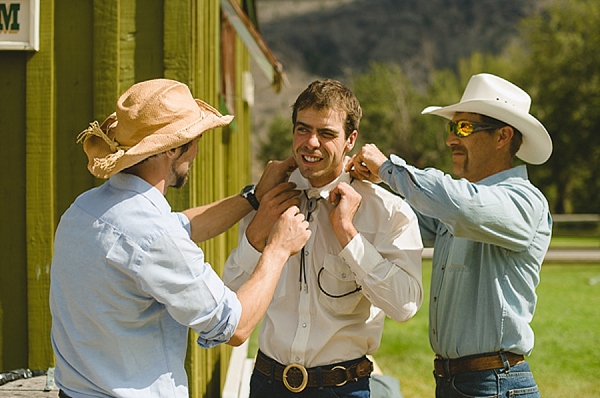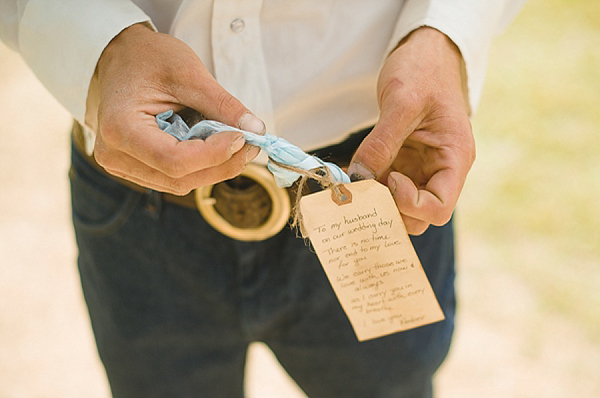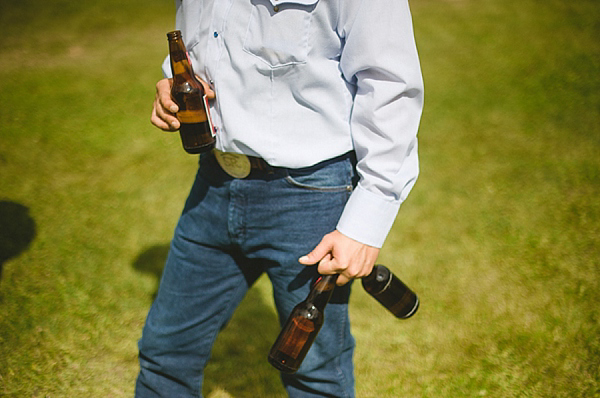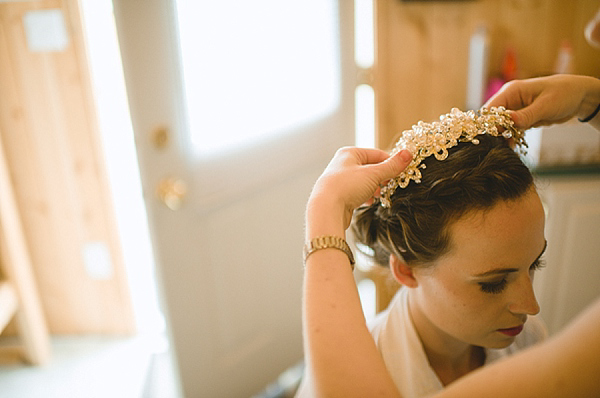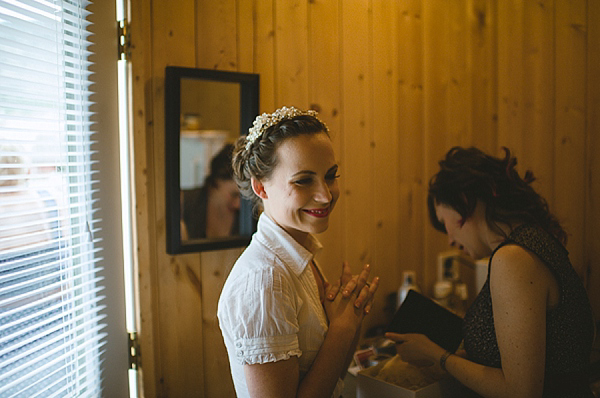 "We asked the guys to wear a pair of blue jeans and any light blue button down shirt they wanted. We then provided vests from Brightwall on Etsy to complete their outfits."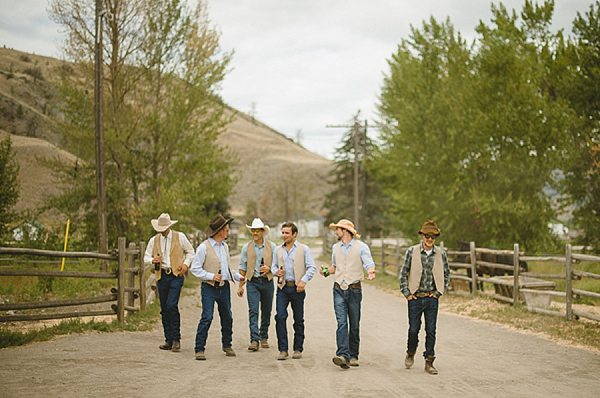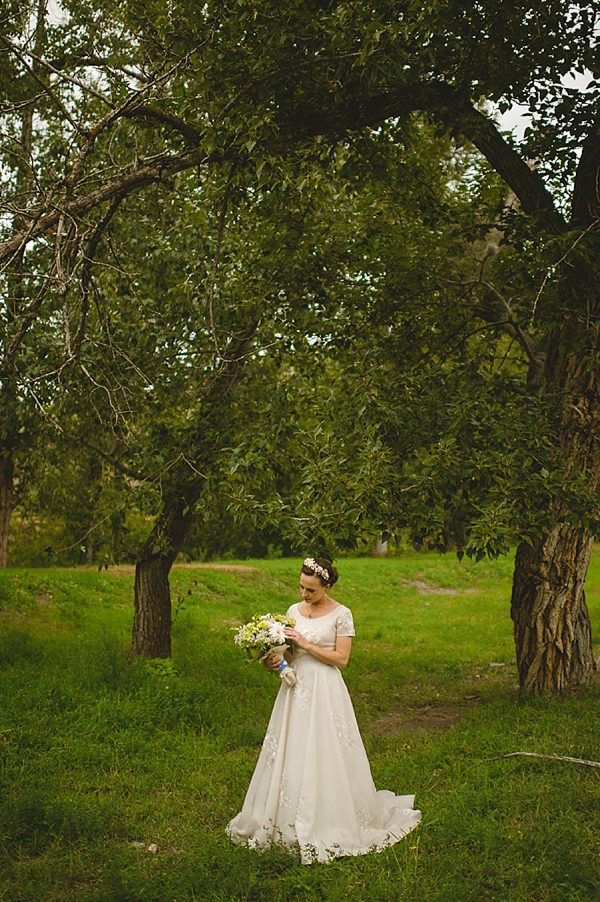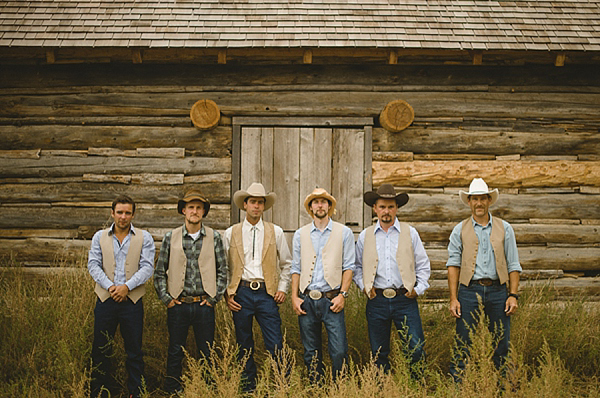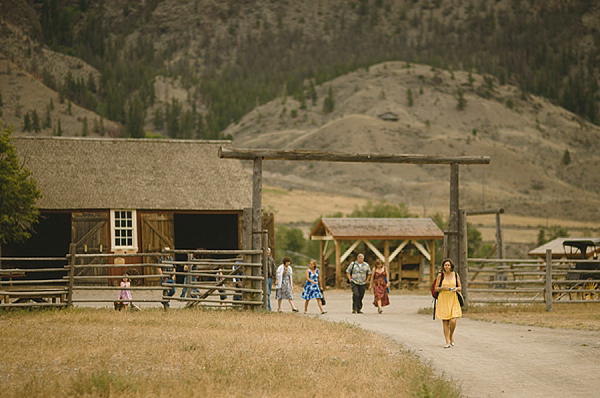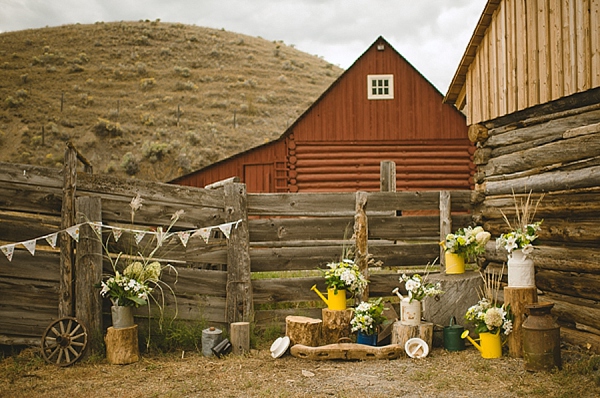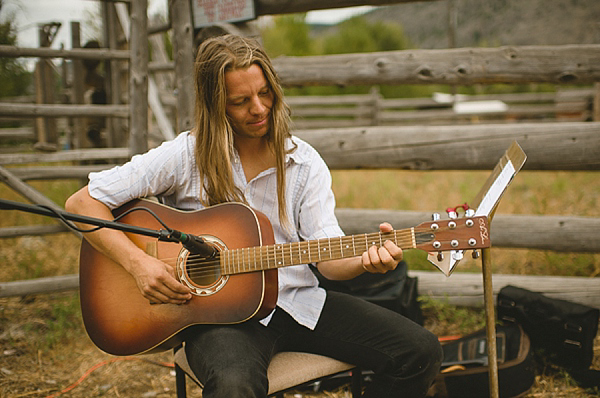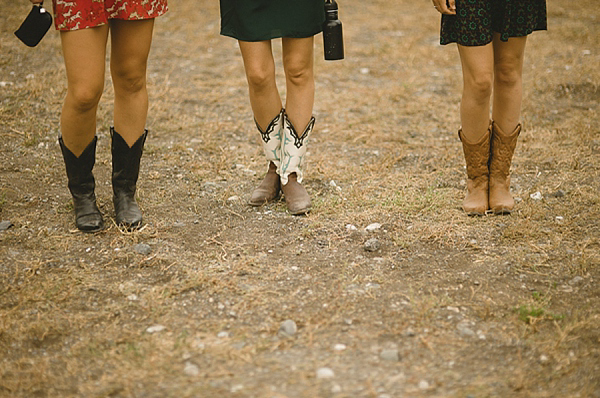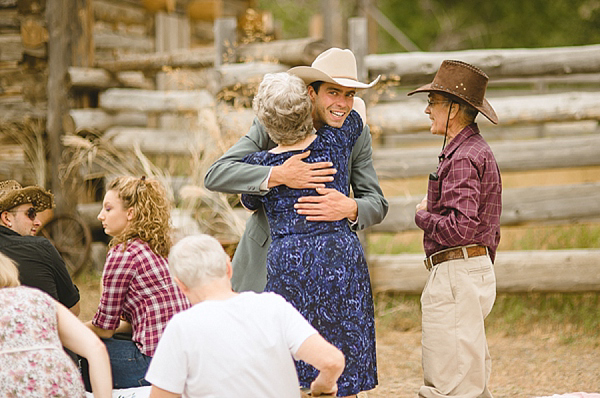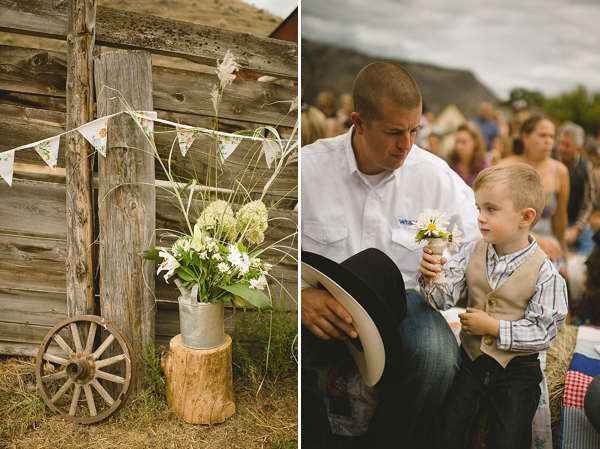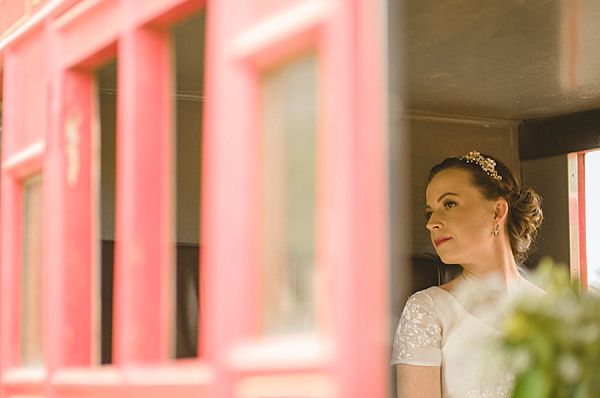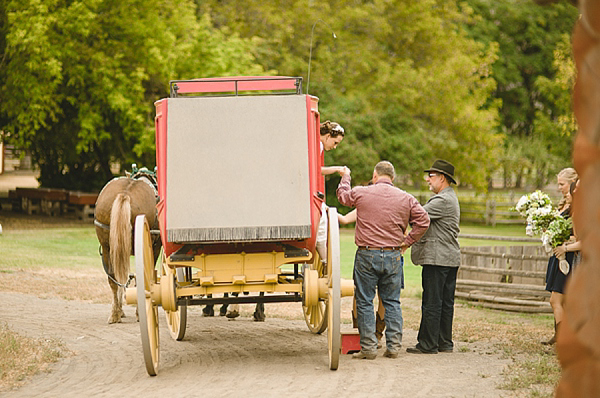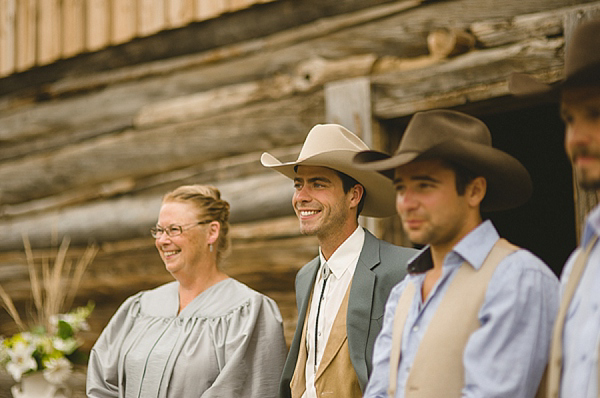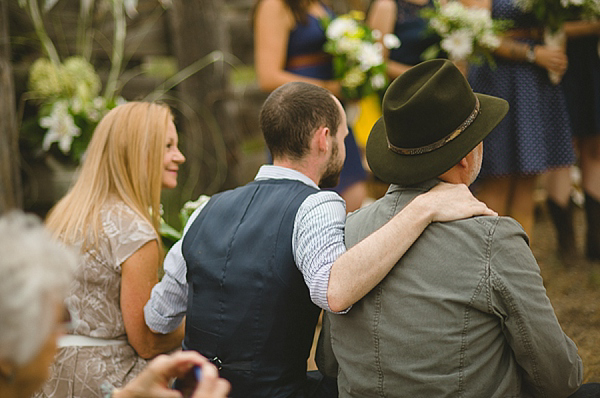 "Bryan's cobalt ring was purchased for its durability. As a wrangler and farrier it was important to pick out something that could handle our way of life. My ring was custom made to fit my engagement ring by the wonderful people at Ravens Refuge, a very simple platinum ring, again made with the intent to fit our very physical lifestyle."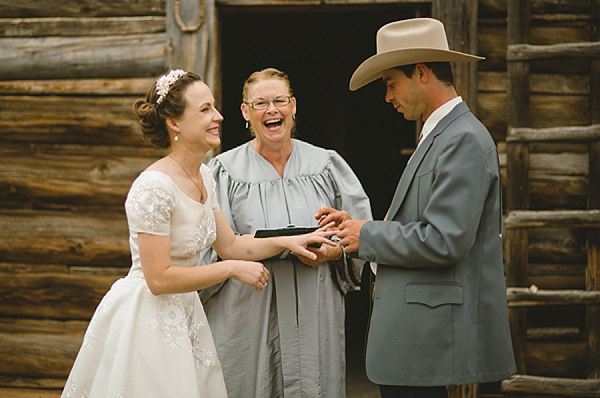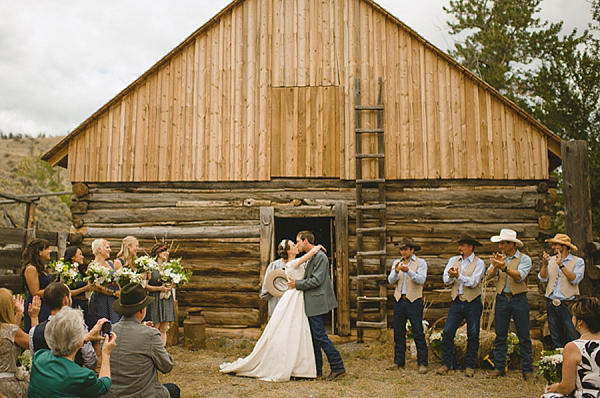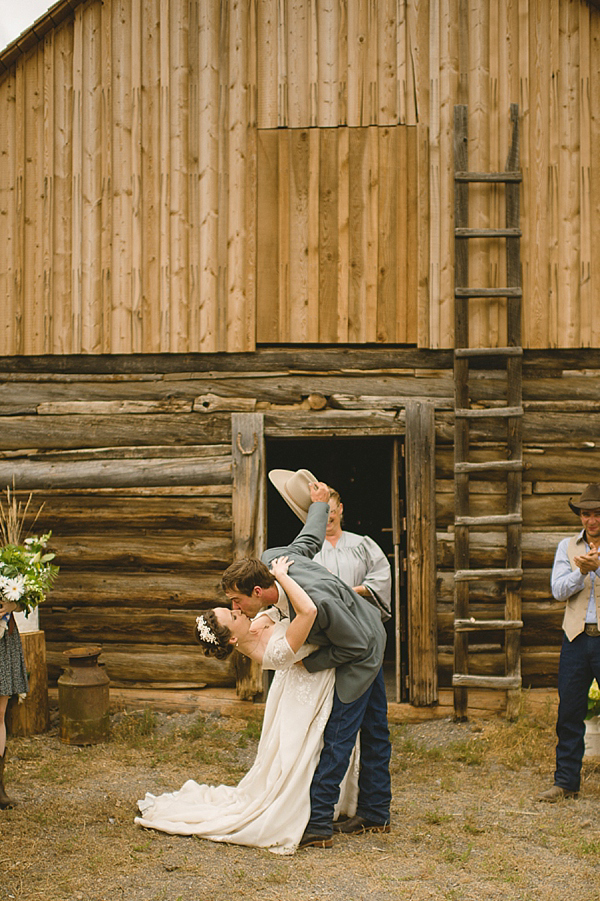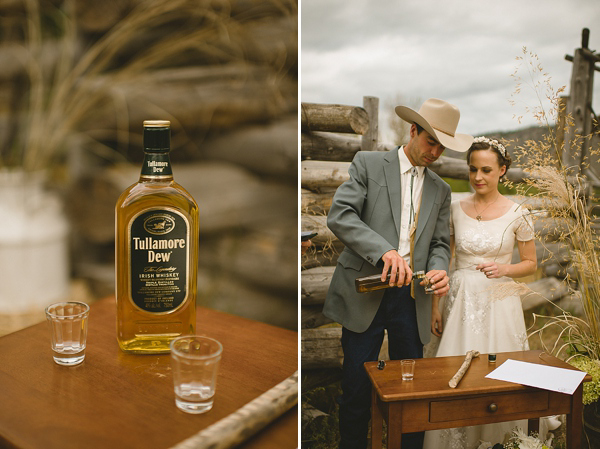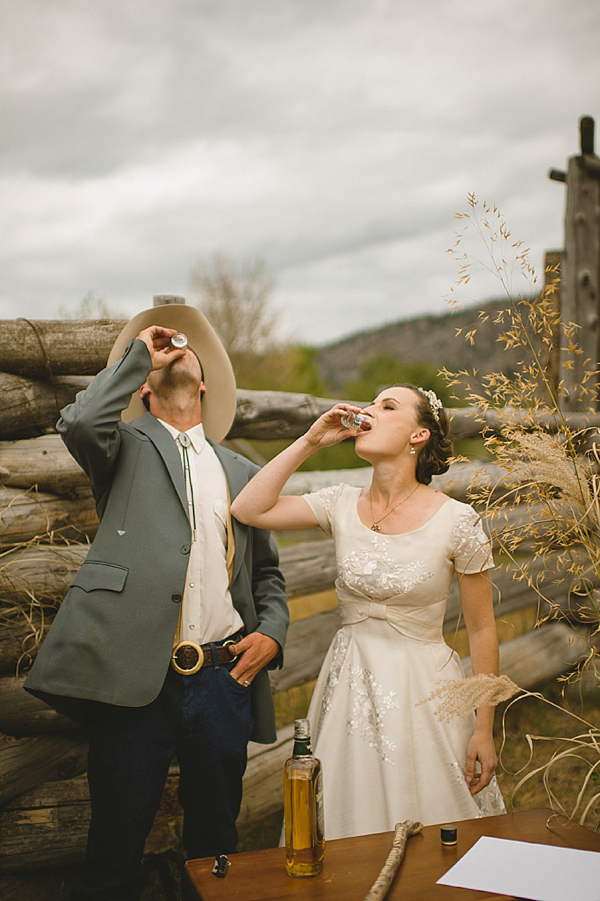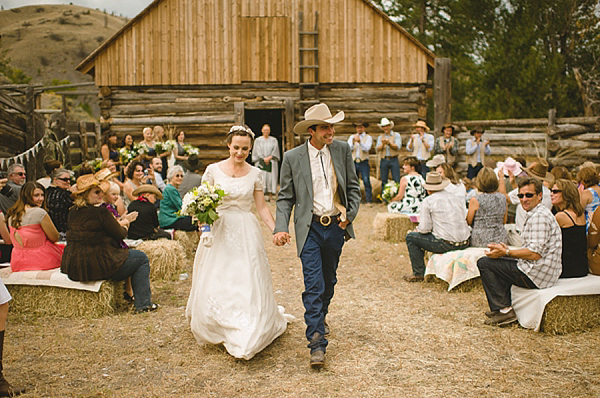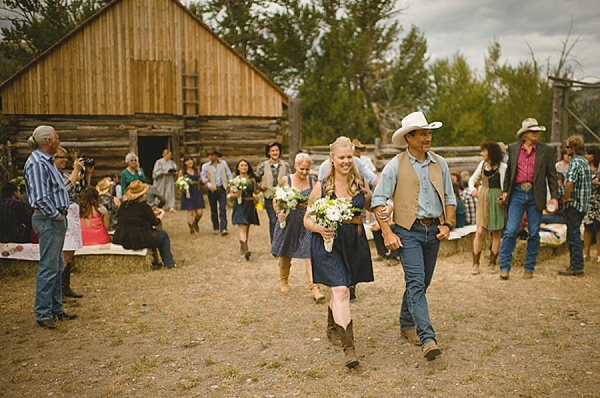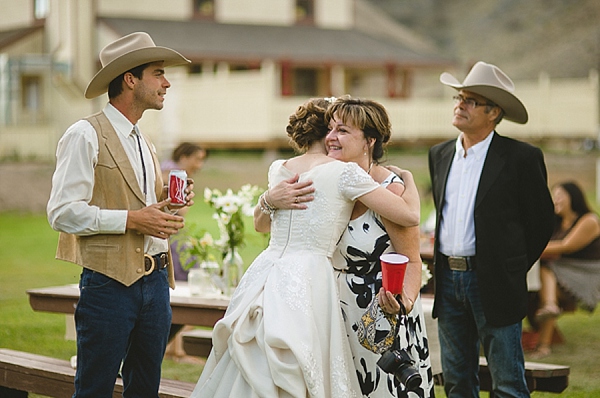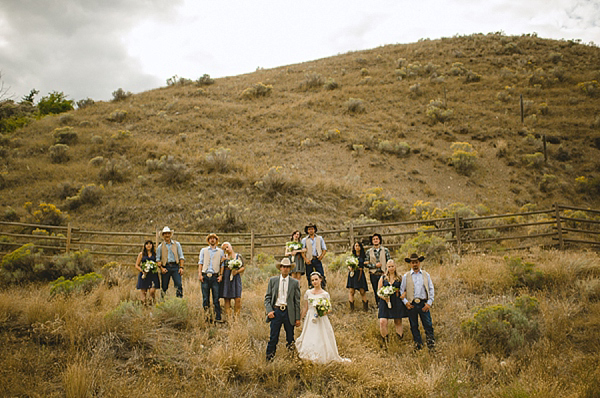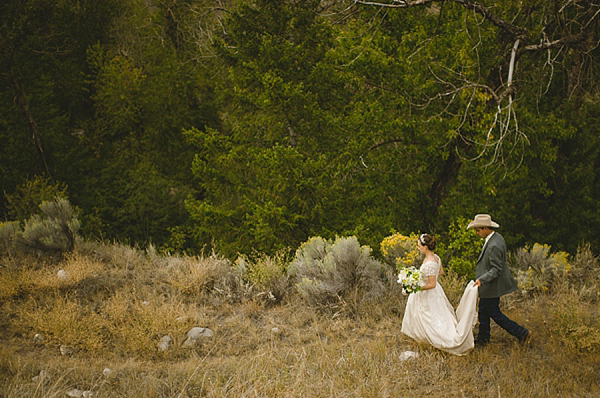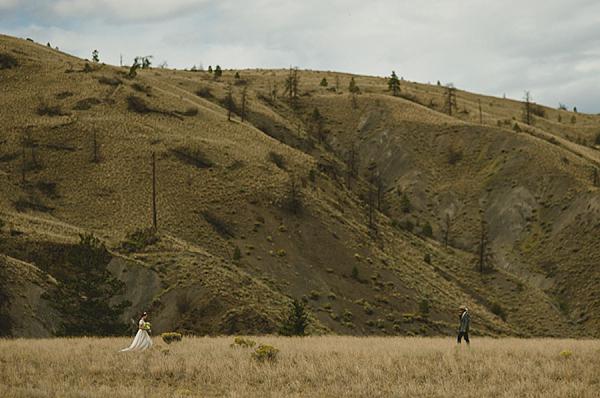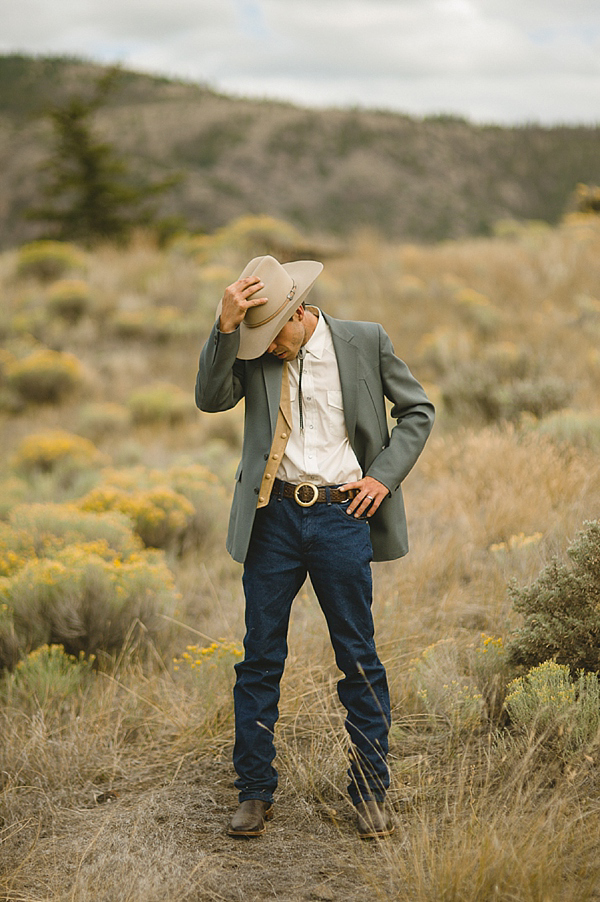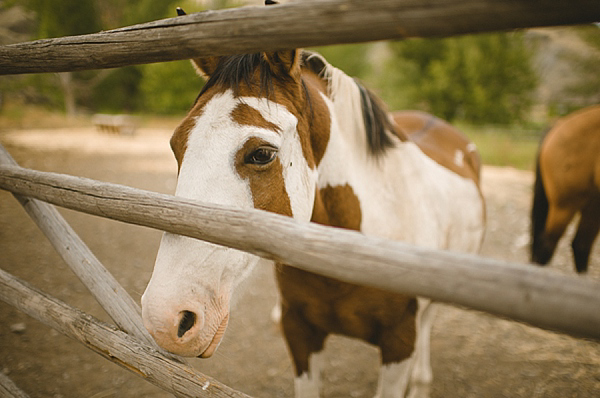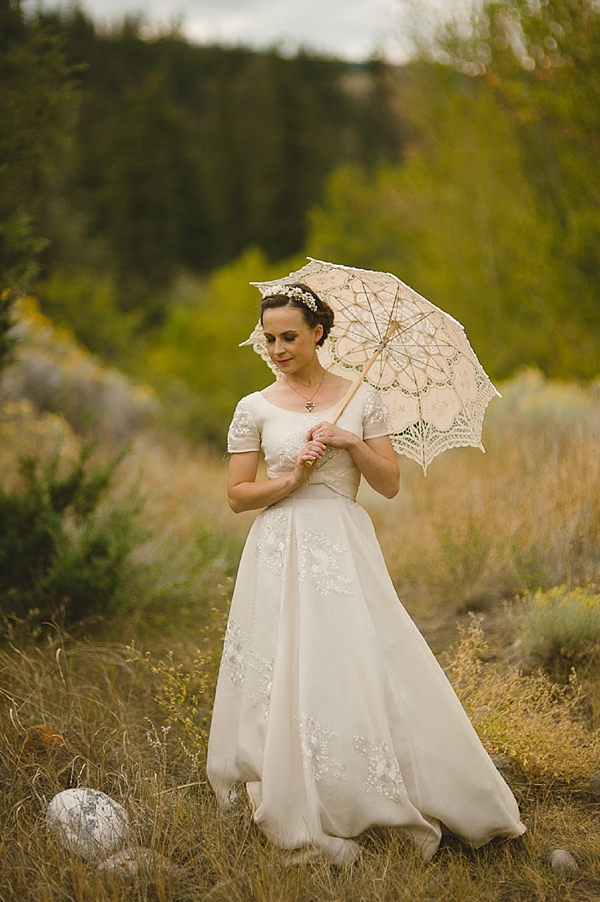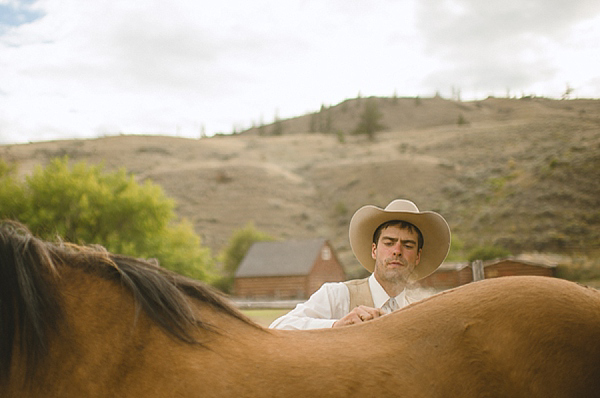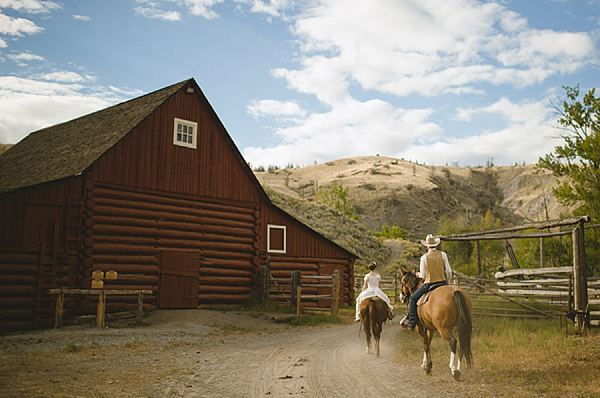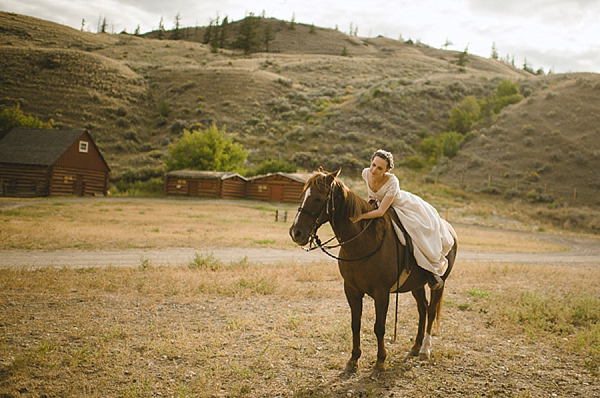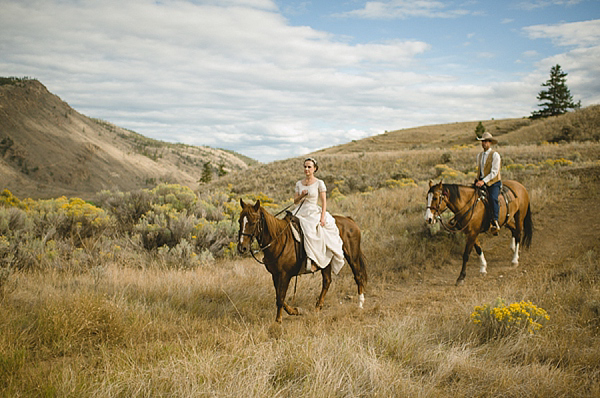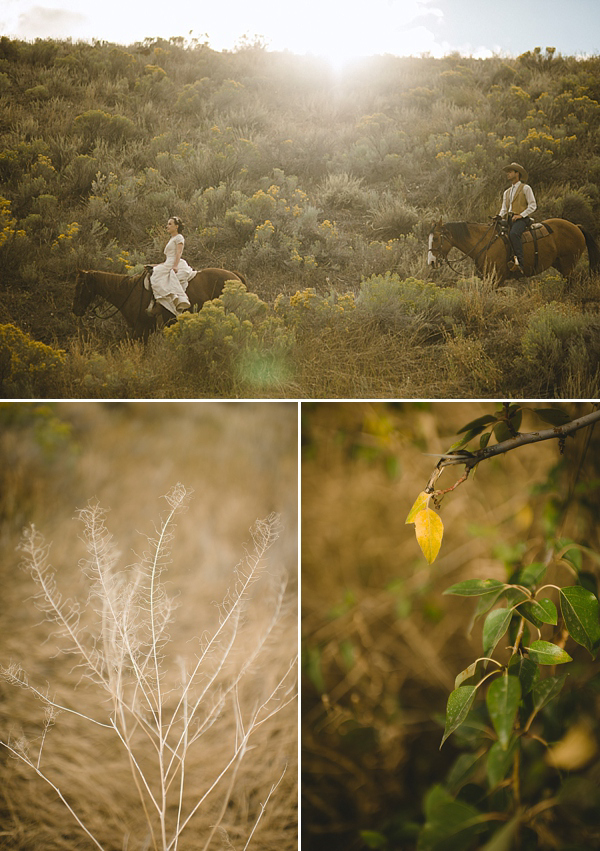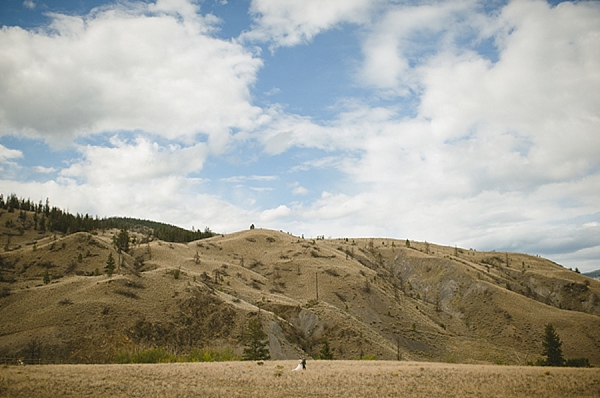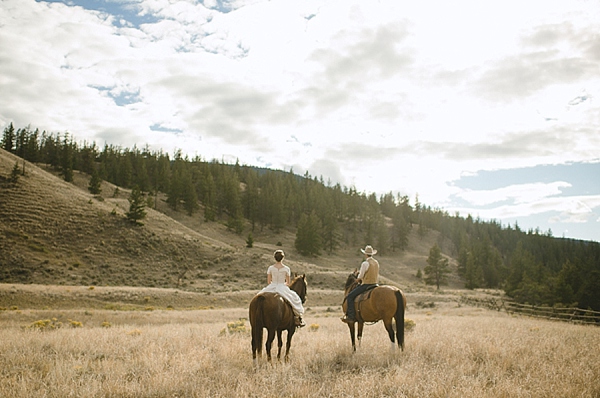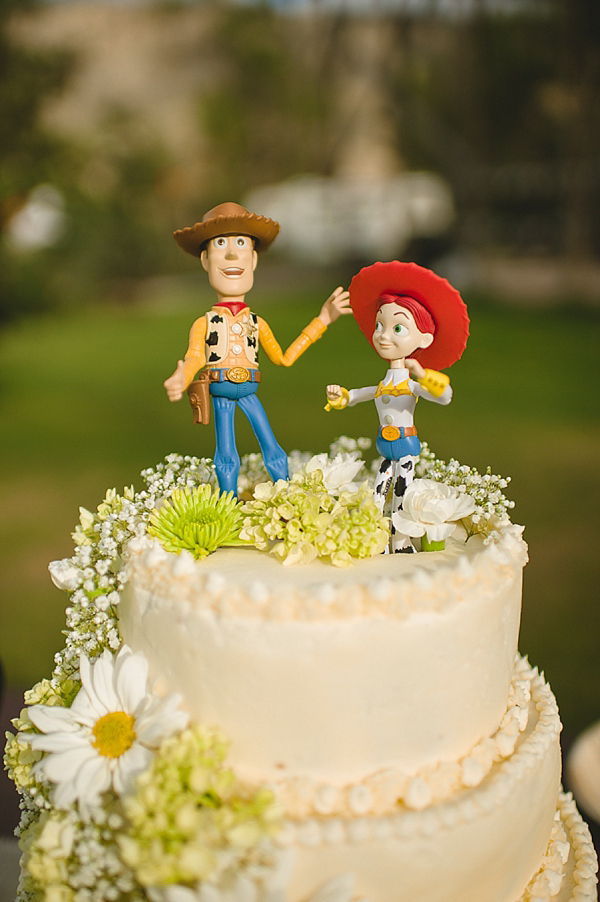 "I made most of the decorations myself in the months leading up to the wedding. A few good friends took care of dressing the venue with flowers on their day off, other strung the lights etc and my brother took care of co-ordinating things on the day.
I cut and sewed all the bunting which decorated the hayshed for the reception. My father and I collected and cleaned all the jars and the quilts were sources from flea markets and vintage shops. A good friend then lent us their collection of deer antlers for the reception tables to add that rustic flare."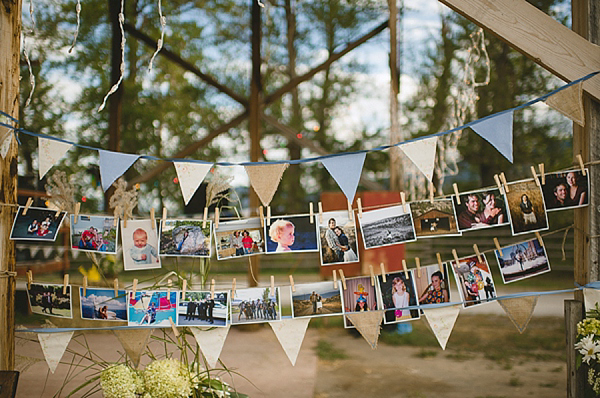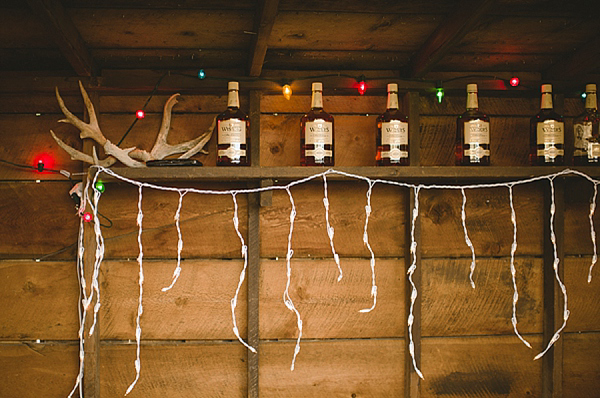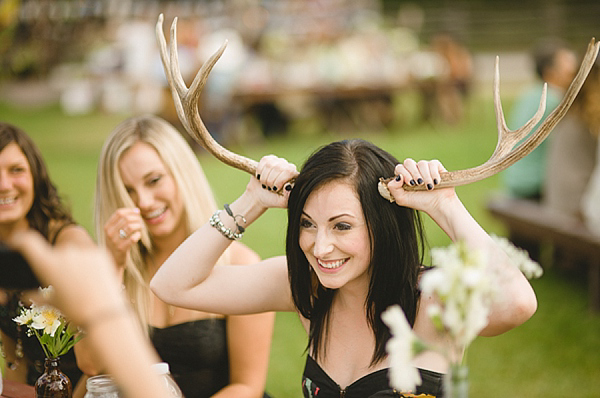 "The burger feast we enjoyed for our wedding dinner was provided by our dear friend, Chris, who has since then come to be our chef at our new guest ranch which we purchased shortly after the wedding."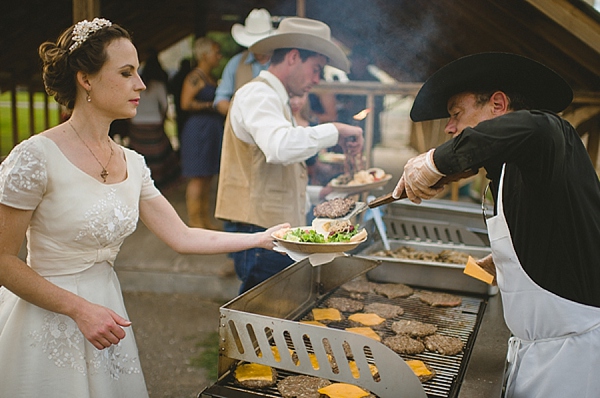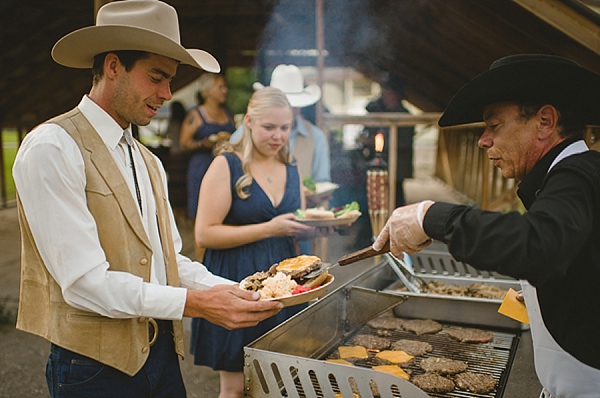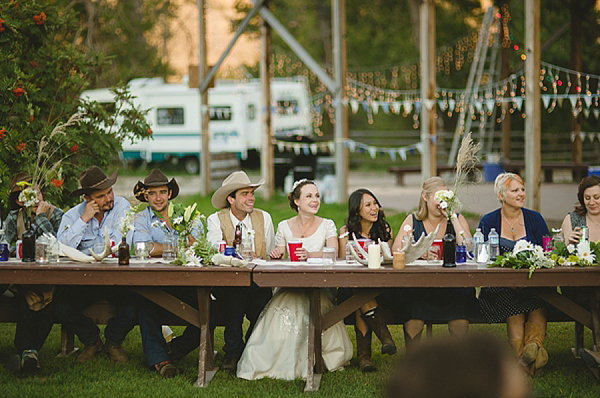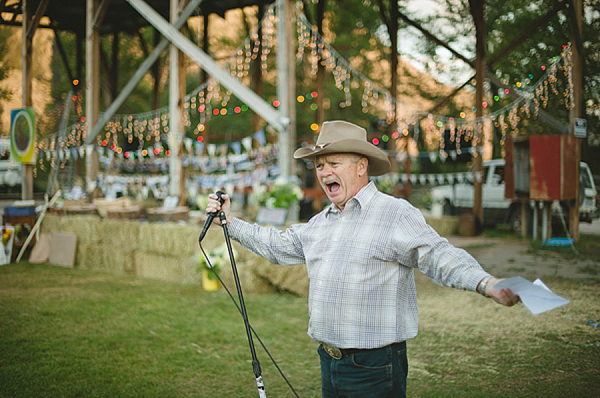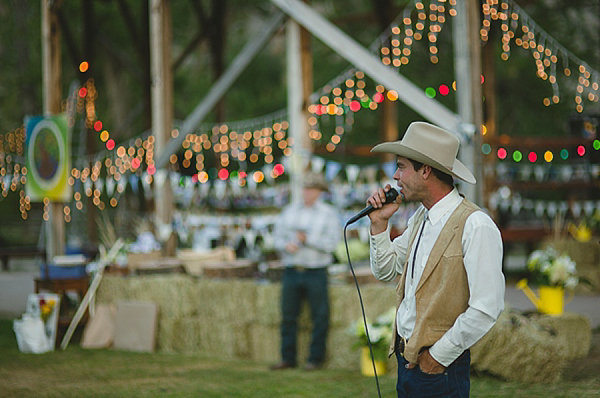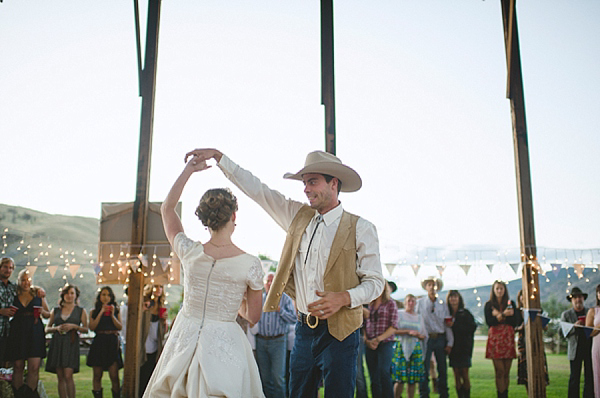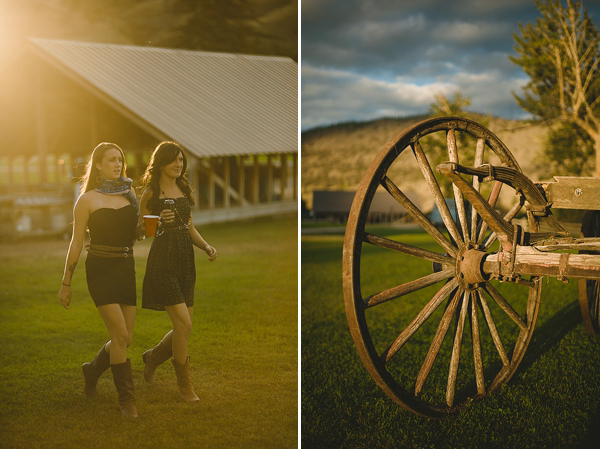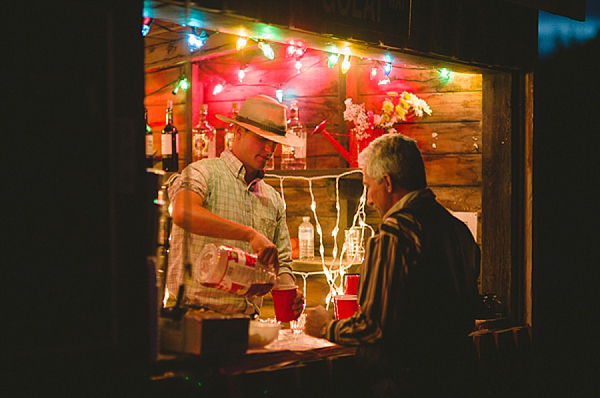 "We hired a local rock band, fronted by another friend of ours, and they did an awesome job of keeping people on the dance floor well into the night with classic rock covers. Best decision we made for the wedding, hands down.
Our first dance was to our long-time favourite song: "Wrapped Up In You" by Garth Brooks played with a killer rock twist by our band. It was my favourite moment of the reception, just floating around in my husband's arms."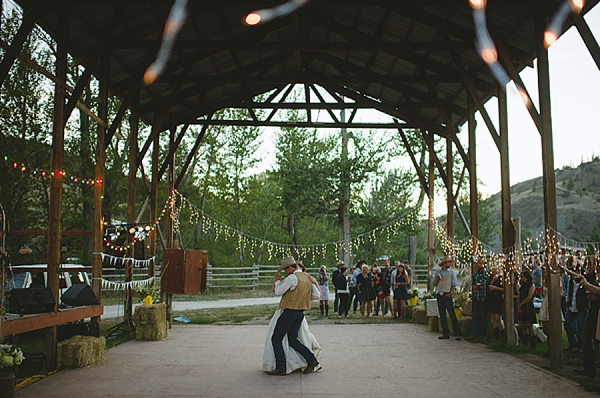 "It is so hard to pick just one moment that was our favourite – The night before the wedding, we all gathered around a campfire playing guitars and singing our hearts out, then there was my brother's amazing speech.  One of my best friends holding my hand during the carriage ride to the ceremony was also so precious, and of course our first kiss.  Walking into the reception everyone cheering with raised glasses in the air!  But the truly best part was during our portrait session, when we could finally be alone as newlyweds and we rode through the mountains hand in hand."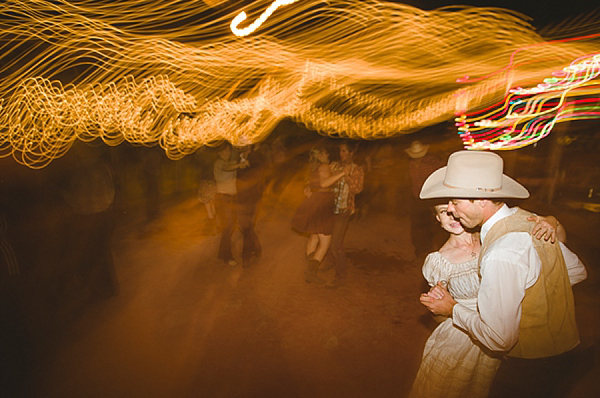 Words of Wedded Wisdom…
"Perhaps I may have started getting ready a little bit earlier just for that added relaxation time, and perhaps picked a slightly bigger space to get ready in as our cabin barely fit all us women but it was cozy and the love was bursting out of the woodwork.  Other than that, all the little imperfections of the day are what make the day ours and ours alone.
The day will have imperfections and those imperfections are more beautiful than anything well planned. Things will go missing and be found days later. Things may be forgotten and never make it out at all. The camper van you asked to be moved days prior may end up being the background of your favourite wedding photo.
Your dress may get stepped on and rip at the seam and your mother may appear with an emergency sewing kit and dental floss to help you mend it. You may almost accidentally step in horse dung as your approach the reception – but if you make the day yours, however yours may be, well then…you can own these moments with great pride and when you look back at the day they may just bring a great big smile to your face. Remembered to breathe and let yourself feel whatever it is you are feeling in that moment on your day and most importantly let people help you, they truly genuinely want to help in any way they can."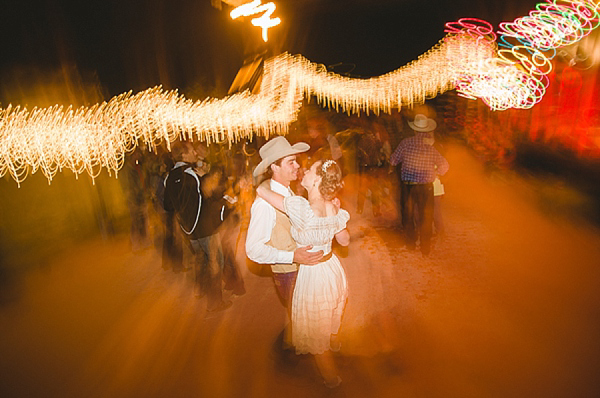 What can I say, except this is an absolutely beautiful wedding, which I've enjoyed immensely preparing, reading about and soaking up all this beautiful imagery.
Thank you so very much Bryan and Amber for sharing your wedding day with our readers, I'm so thrilled that your photographers Cole and Jakob chose to submit your wedding, and Amber, I truly do love your dress, it's incredibly beautiful and suits you perfectly and all the details of your wedding seem to just ooze your personality – I love how you and Bryan have stayed true to yourselves in creating your wedding and celebration of how much you love one another.
Have a beautiful sunshiney afternoon everyone,

With much love,
Annabel

Photographer – Nordica Photography
Venue – Hat Creek Ranch in Cache Creek, British Columbia, Canada
Brides Dress – Original 1950s Vintage via My Smitten Vintage 
Brides' shoes – already owned by the bride
Bride's accessories – Twigs and Honey headpiece + Gracefully Vintage earrings + vintage family necklace
Grooms Suit – Woo Vintage + vest from O'Lear Studios + cowboy hat from Master Hatters
Bridesmaids – Own choice of navy dresses + cowboy boots
Flowergirl + pageboy outfits – Family
Flowers – Family
Cake – Family
Favours – vintage horse shoes
Additional Styling –
Rings – Ravens Refuge
Catering – Big Barranch