Happy Monday morning lovelies, such a beautiful day up here in Whitby, the sun made the most majestic appearance from behind the pretty hillside this morning, so beautiful!
I've chosen a suitably glorious wedding to share with you on one of the last days of sunny September.  Rob and Pippa's wedding took place on 18 May this year, with a ceremony at St Mary's Church Brighton, the couple's parish church, followed by a reception at Birling Manor, East Dean.  Their photographers, Sacco & Sacco, felt these photographs would sit within our hallowed wedding blog pages and I'm so delighted they did too.  Pippa's wedding style is so pretty and whimsical, everything from those delightful flowers in her hair, to that charming little knitted cape.  I also love the whole laid back English country garden vibe about this day…

"We had quite a traditional wedding in some respects with a church
ceremony and a sit down meal with speeches followed by dancing, but we
felt it was important that both us and our guests felt relaxed
throughout.
There were some nostalgic and whimsical
elements to the day with inspiration taken from some of my favourite
childhood books: Swallows and Amazons for the table centres and Winnie
the Pooh for the quotes."
Love My Dress – Photography Copyright (c) 2013 – Sacco & Sacco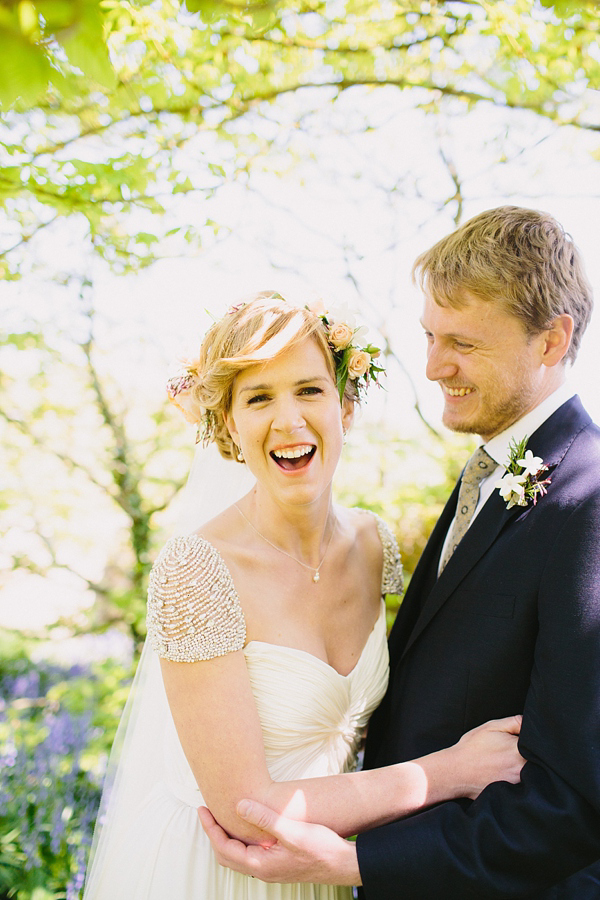 "We'd been together for five years when Rob surprised me with a
proposal at the top of Mt Scenery, a volcano on the island of Saba in
the Caribbean. It was just the two of us in this tiny overgrown space at
the summit surrounded by mist and lush green cloud forest, 3000ft above
sea level."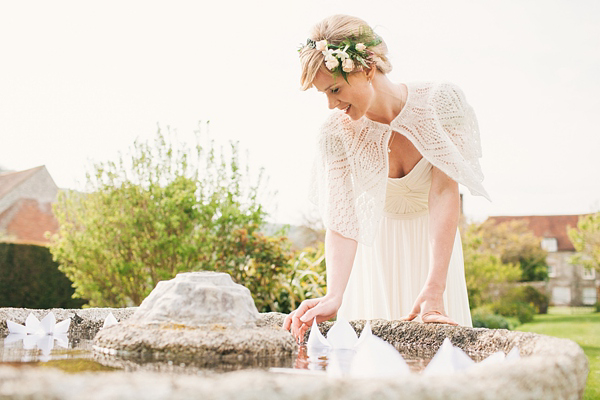 "I guess subconsciously I'd assumed that when the time came
it would be a rather more romantic affair and I would look like a
princess, but instead it was like a scene from Indiana Jones and I was
an out of breath ball of sweat with my top tucked in my bra! It was a
pretty magical setting though, miles from civilisation with just the
sounds of the rainforest and hummingbirds for company.
Getting back down the 1000 or so steps on the descent was interesting as the shock had turned my legs to spaghetti!"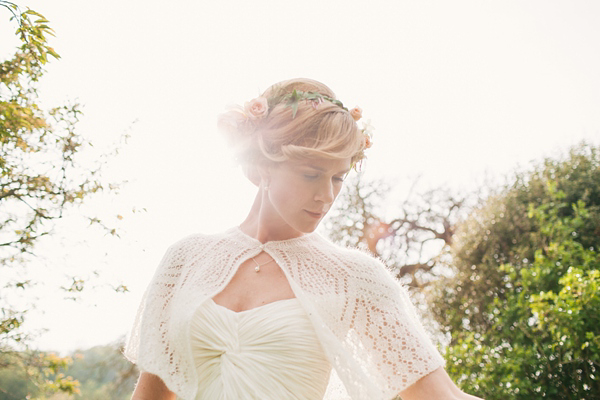 "In contrast to our engagement, Rob and I were both keen to
have a traditional English country wedding. Having both been raised in
the South of England, this seemed like the natural thing to do. We
didn't set upon any specific themes, but it was important to us that the
day felt honest and personal, and a reflection of our personalities.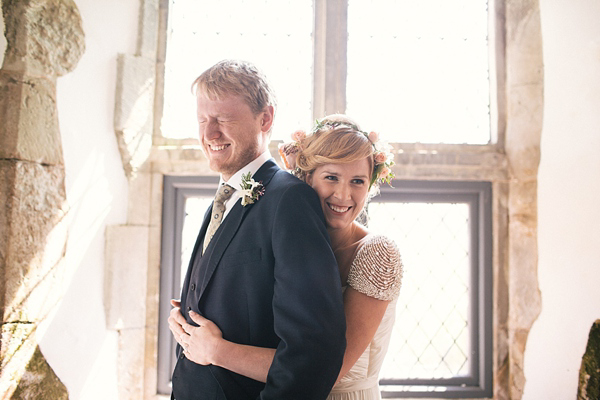 "I wore two dresses on the day. For the ceremony, I wore the the 'Olivia' gown by Reem Acra and later for dancing during the ceilidh, I wore the'Beams of Light' dress by Catherine Deane for BHLDN.
Finding my ceremony dress wasn't easy. Whilst I was so
excited about the flowers, stationery, DIY and pretty much everyone
else's wedding attire, I put off looking for my ceremony dress until
quite late in the planning because I was weirdly dreading it!
I knew I'd
find it difficult to find exactly what I wanted. All the bohemian
nymph-like dresses I was drawn to were sadly less than flattering on my
broad swimmer's shoulders, but I knew I wanted something comfortable and
unstructured so I could feel relaxed on the day."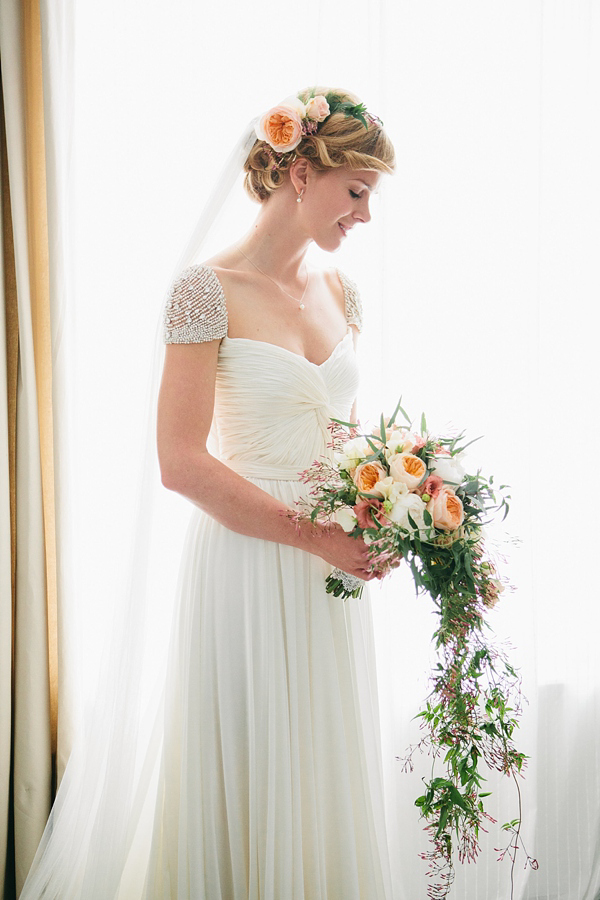 "I'd
never heard of Reem Acra, but when I first saw the 'Olivia' dress, my
heart actually started beating faster! It was elegant, structured in the
right places, and the miles of gathered silk charmeuse meant it moved
like something from a dance sequence in an old Hollywood film. 
I
was heartbroken as it was out totally of my budget so I spent the next six
months with increasing desperation trying to find an alternative and
put it out of my mind. In the end and with very little time to spare I
just decided to bite the bullet and go for my dream dress.
I knew it
would mean I'd have to economise in other ways and sell it after the
day, but looking back I'm so glad I went for it… it was unbelievably
comfortable, needed no alterations and it made me feel like a film star
for the day!"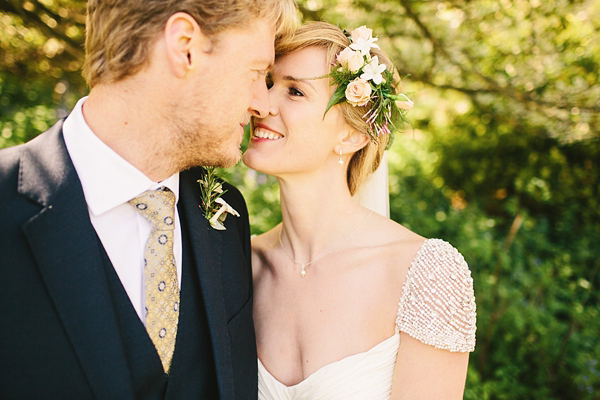 "My silk/mohair cape was hand-knitted by a very kind and talented
lady who knits to raise money for Cancer Research. I found the knitting
pattern online and someone put me in touch with her. I didn't even meet
her in person until after the wedding, but her skill and unimaginable
patience has given me the most beautiful future heirloom which I shall
treasure.
I don't wear much jewellery so hadn't given a lot of thought to
wearing any on the day. I actually made my necklace whilst sitting in
bed at around midnight the night before the wedding! I couldn't sleep so
I got out my pliers and made a simple pendant with some of the spare
beads that came with the dress. It was good to focus my mind on something and settled my nerves!"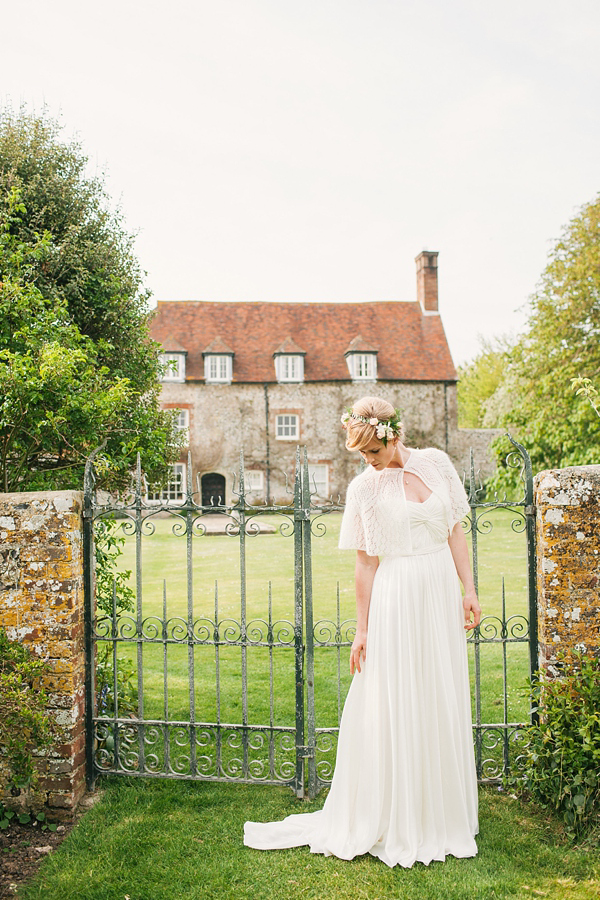 "The flowers were provided by Florian of Hove.
We were fortunate enough to win the majority of our wedding flowers in
an Interflora competition, where our Tortoise & the Hare themed save
the date photo won a public vote! We only entered on a whim after my
sister texted us to tell us about it, but we're so glad we did and it
enabled us to have the most stunning flowers."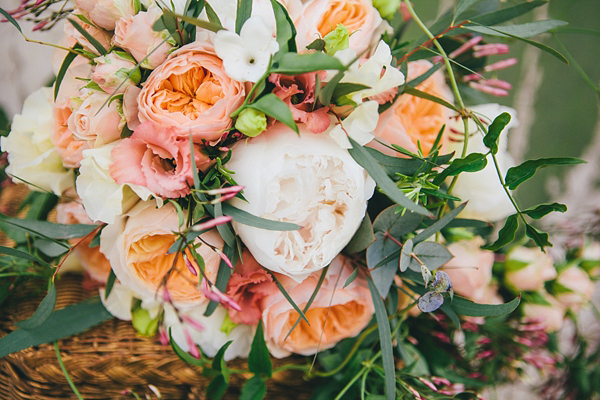 "The
flowers were such an important part of the day for me, having grown up
in a very green-fingered family with parents and grandparents who worked
hard creating and maintaining their beautiful cottage gardens. I was
looking forward to planning these more than any other part of the
wedding and even our May date was partly chosen to coincide with the
availability of the  flowers I love most: peonies, jasmine, sweet peas
and lily of the valley. 
When I first stepped inside Florian's boutique, I knew that the owner Carrie would
completely understand the style I had in mind. As well as beautiful
seasonal flowers, the shop is a treasure trove of vintage jars and
bottles, wooden crates, antique frames and chests.
We
wanted the flowers be soft and representative of an English garden in
shades of peaches, cream, coral and green. Carrie combined my favourite
flowers with roses, stocks, rosemary, eucalyptus and wax flower to
create stunning bouquets for myself and my bridesmaids to capture this
spirit."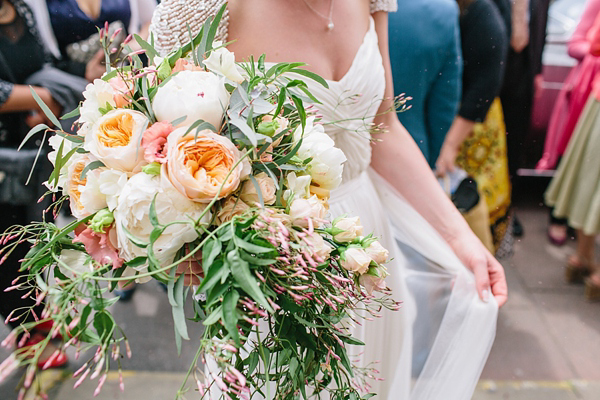 "It was a stroke of luck that I found my Valentino shoes
in a sale at 70% off, I wasn't looking for designer shoes but I came
across them whilst dress hunting at a sample sale and thought the bows
on the front were amazing! I'm intending to get them dyed another colour
so I can get more wear out of them because I love them and they're so
comfy.
I changed into more practical nude suede wedges from Dune for the ceilidh."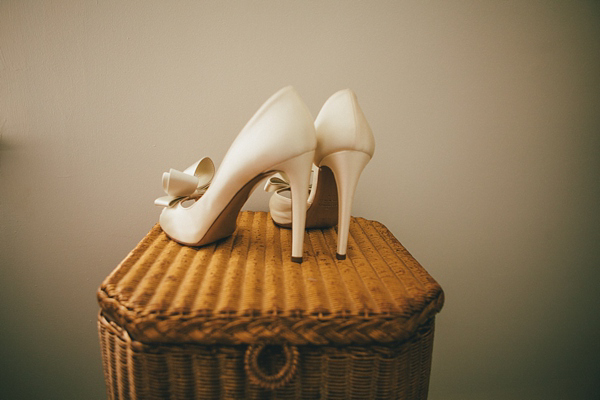 "Although we didn't have an event planner, we're very lucky to
have a number of very creative and talented Brighton friends who added
immeasurable value and character to the day, including our friend Emma
Norris from design and props company Dusty Cupboard. Our friend Charlie of
CharlieBear Creations,
and a costume designer, did a great job supplying and putting up the
draping, and also custom made several fantastic 3 metre high flags
especially for us.
 I'd been passed down beloved
old hardback copies of the Swallows and Amazons books that originally
belonged to my uncles in the 40's & 50's. I couldn't bring myself to
use those exact ones in the table centres, so I bought second hand
copies off eBay. I also found the little wooden sailing boats on eBay
and I was able to have them personalised so I could give them as gifts
afterwards. I made the flag table names out of wooden dowel rod and
coffee-stained calico fabric.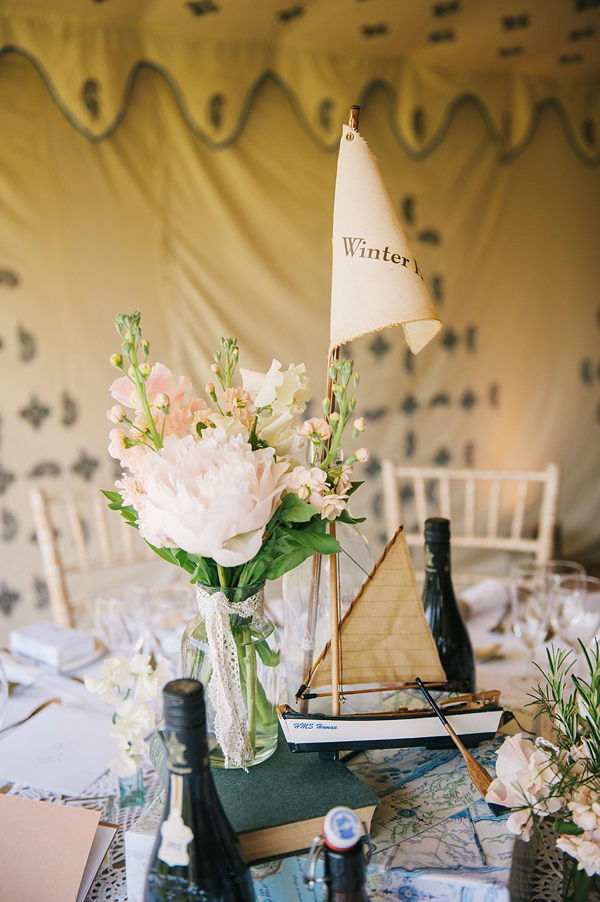 "My bridesmaids lent their amazing talents to the planning and I
really couldn't have done it without them. My sister, Corrie, designed
our bespoke stationery for us and my close friends Emma and Stevi with
whom I went to Uni, made the awesome wedding signage and altered the
usher's suits and bridesmaid dresses. I found simple ivory dresses on ASOS,
which Stevi doubled up to make more substantial and she made gorgeous
embroidered belts and matching bags. The cardigans were from Monsoon."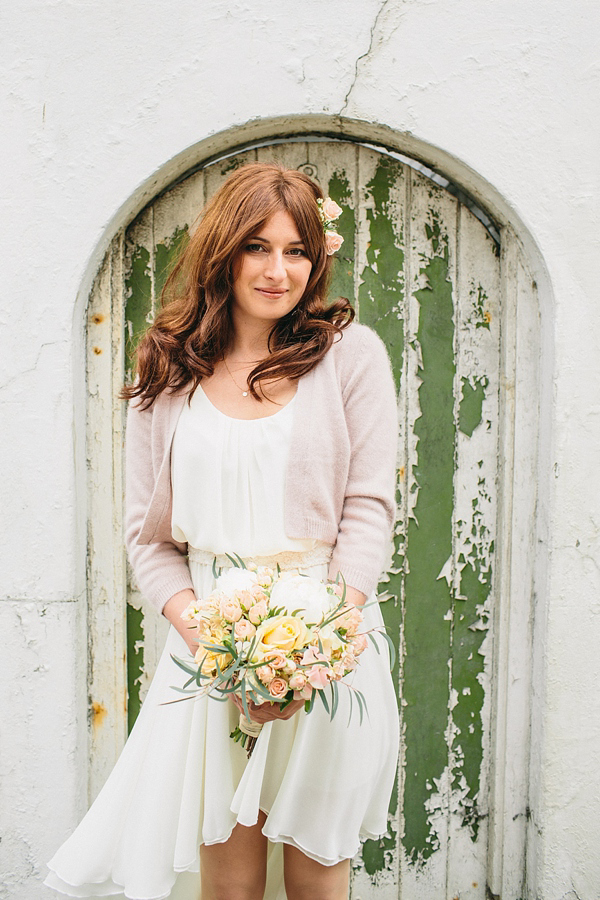 "My mum made the adorable flower girl dress for my little niece who
stole everyone's hearts on the day by leading us up the aisle."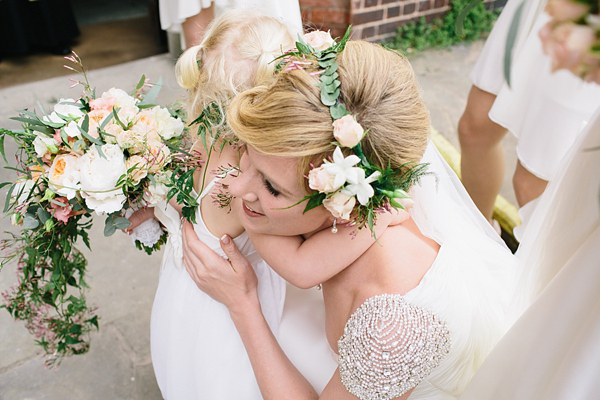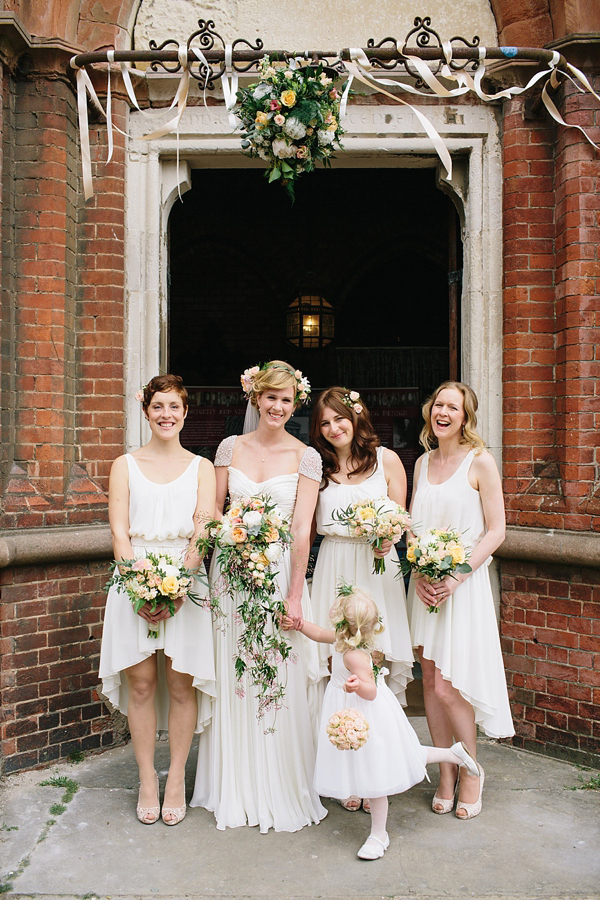 "Rob and I fell in love with Birling Manor
as soon as we saw it. It's a beautiful little sheep farm in East
Sussex, about a 40min pretty drive along the coast from where we live in
Brighton. It has beautiful views of the Sussex countryside where we
often enjoy going for walks, so we felt instantly at home and connected
with the place.  The owners were so friendly, relaxed and
accommodating, only taking bookings for one wedding a weekend and
allowing access in the days before to set up which was a massive bonus.
We decided we really wanted both a marquee for the day and an indoor
space for the evening and this venue allowed the best of both worlds
with the beautiful garden and Grade ll listed hall. We decorated the
hall and then screened it off until the evening so that it was a
surprise for the guests. I really liked the idea that different spaces
would be revealed and used for different parts of the day so that it
felt like a little journey."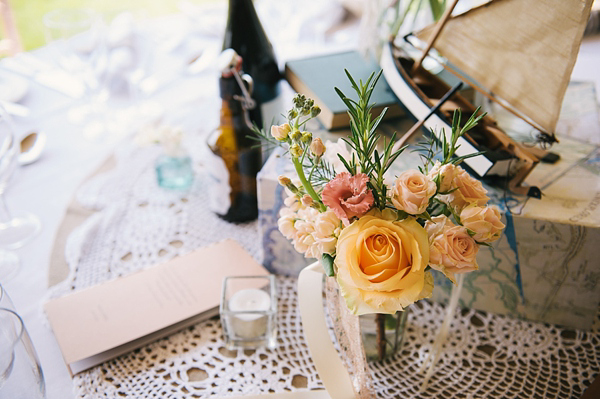 "After trying on lots of suits which didn't quite fit, Rob
decided to go for a made to measure option from Gresham Blake in blue
mohair. The tailor was really helpful and guided us through the full
process of selecting cloths, linings, details and cuts and ensured Rob's
suit was a perfect fit. Truth be told, I'm a bit gutted he doesn't have
to wear a suit everyday as he looked so darned hot!
After
spending hours of a time trying to find a shirt that properly fitted,
making trips to London, considering having one specially made, etc, Rob
eventually found the perfect shirt in Next in Brighton. Given that he
spends his days in t-shirts, we had no idea how difficult buying a
decent fitting shirt could be..!"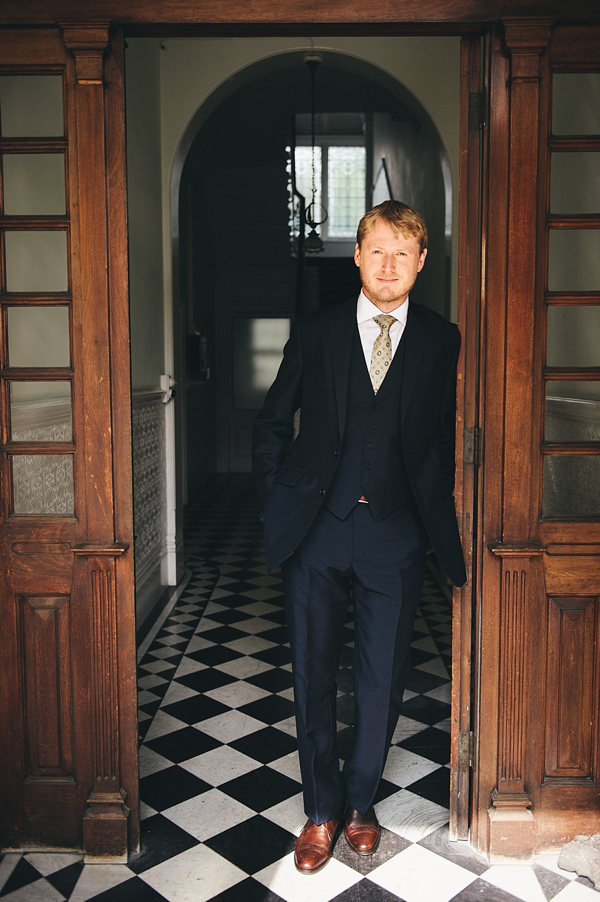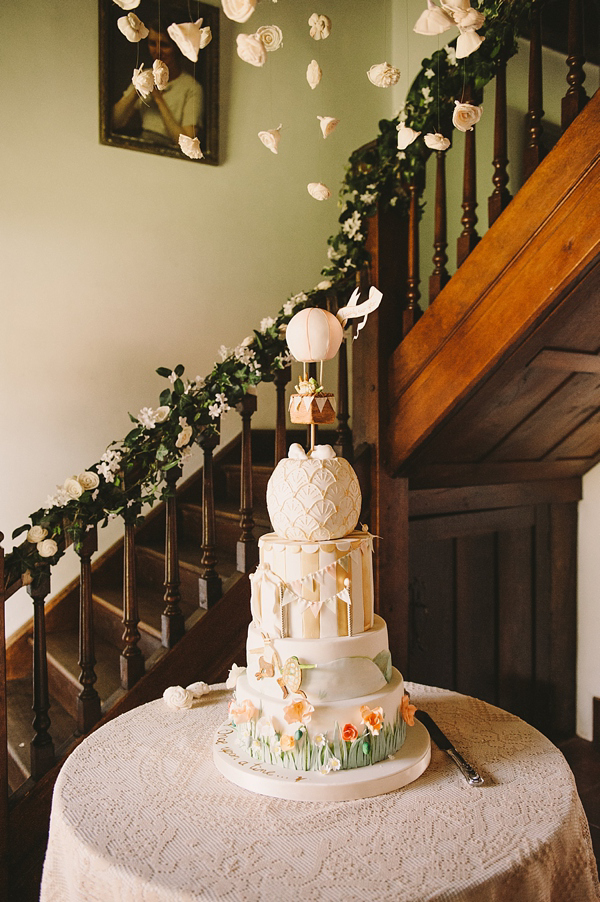 "We were torn between having a very classic, pretty wedding
cake or having something quite off the wall and comical. Rob's original
suggestion of a 'Marriagasaurus' wedding cake with the bride and groom
in its mouth was eventually vetoed, probably for the greater good.
Although we intended to economise on the cake, we were eventually won
over by the exceptional creative talents and enthusiasm of Sada Ray at
the Flutterby Bakery in Hove. Her design was a fabulous whimsical
creation which played on the Tortoise & The Hare theme from our save
the date cards and also incorporated a nod to the Brighton Pavilion and
our love of festivals. My jaw hit the floor when I saw it for the first
time – it was a work of art and we nearly rebelled against cutting it!
The
Marriagasauras made a sneaky appearance around the back of the cake
too, as a surprise for Rob! We opted for a Madagascan vanilla sponge
with a Chambord buttercream filling which tasted as good as it sounds."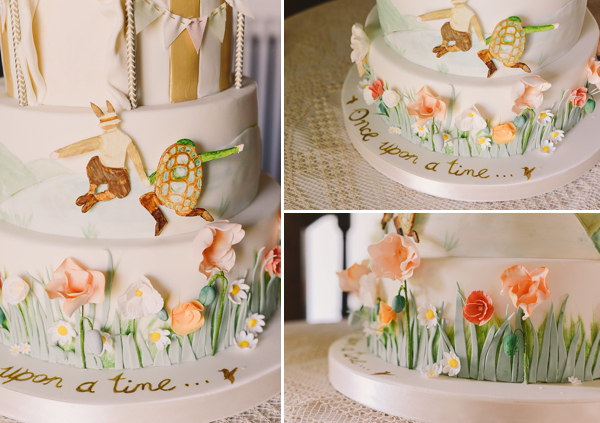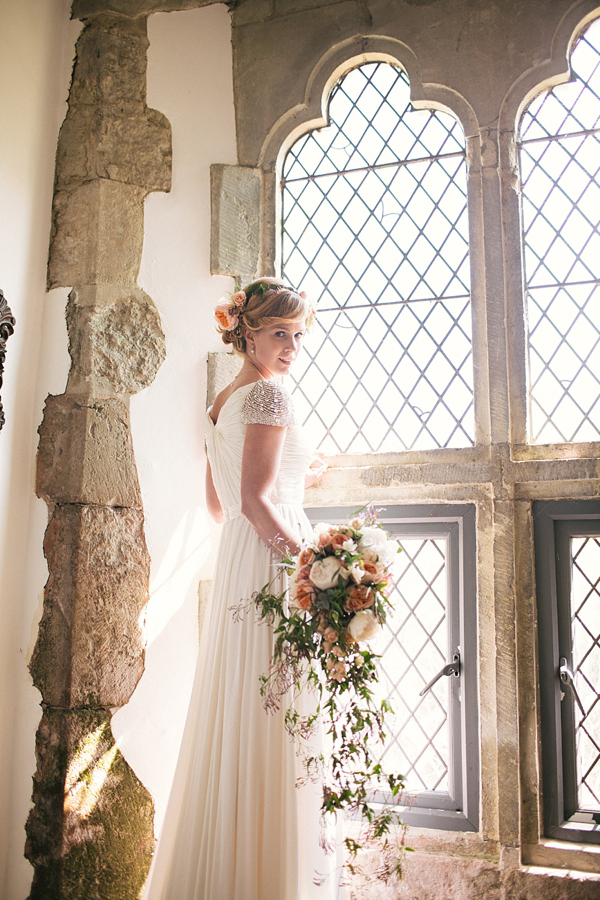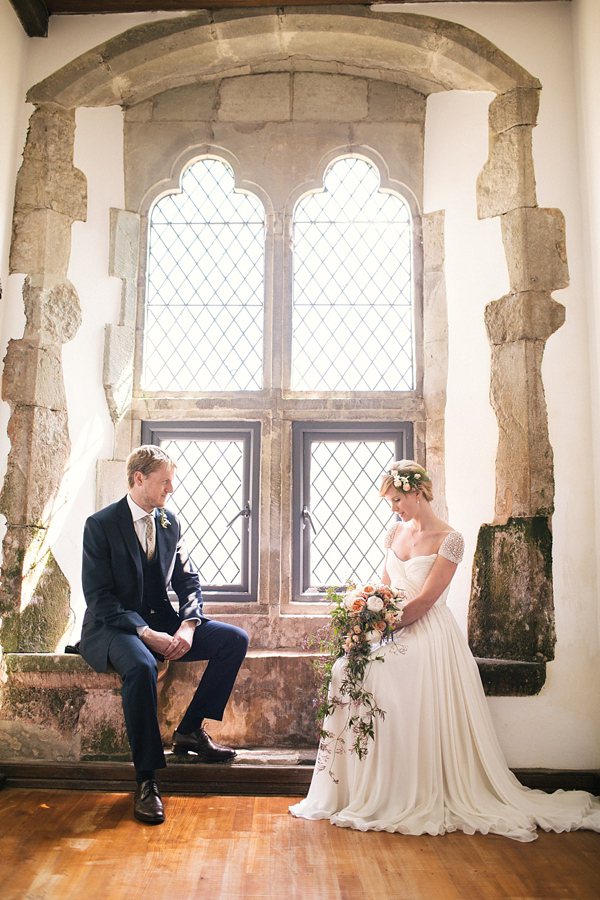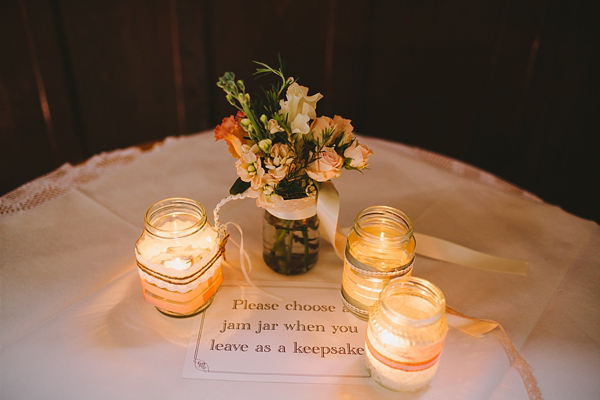 "The wedding photography was captured by the wonderful Sacco & Sacco
and we felt so blessed to have found them! Jayne (Sacco) is an absolute
pleasure to be around and always made everyone feel very comfortable
and relaxed, whilst being unobtrusive.
Jayne's photography is infused
with her empathic good nature. She is brilliant at catching all the
details and the special moments between the bride and groom and guests,
as if she'd known them all personally for years. I could go on about how
talented she is, but I think the photos speak for themselves!"

"I'm hopeless at hair and makeup and as the service was quite early in the day (11.30am) I knew I'd need help doing both.  I
roped in assistance from a lovely friend and MAC make up artist Bebe
Newson and my local hairdresser, Kiefer Cooke, which enabled me to relax
on the morning of the wedding."
Kiefer came to the
rescue after another hairdresser let me down 2 weeks before the wedding,
which actually turned out to be a blessing in disguise. He knew
instinctively what I wanted and what would suit me, plus he was calming
to have around as we knew each other, so I wasn't stressed about
anything on the day. He used a special technique which literally
involved sewing my hair into place with a needle and thread! It stayed
perfectly in tact all day and survived the night of ceilidh dancing,
although it was pretty amusing working out how to remove it back at the
hotel at the end of the night!"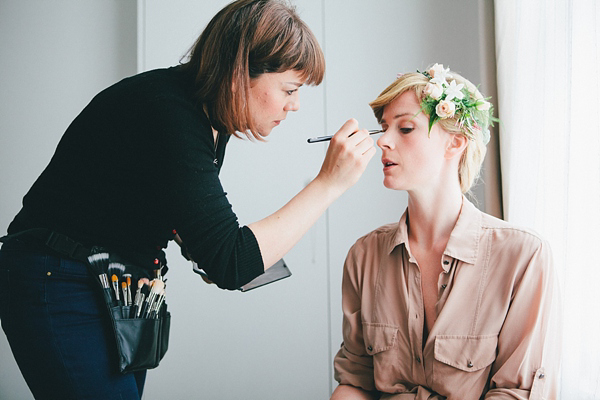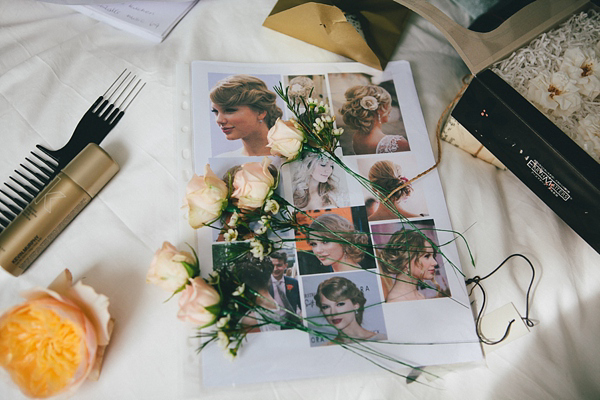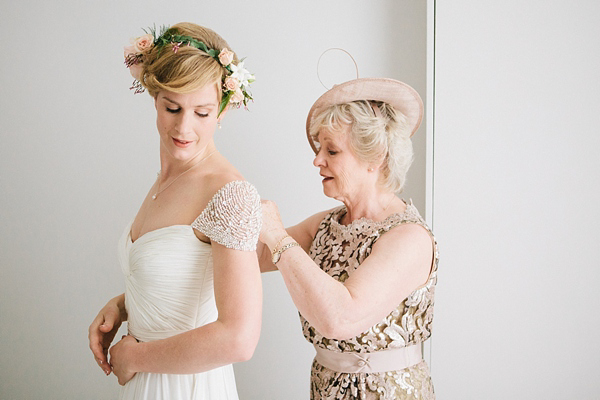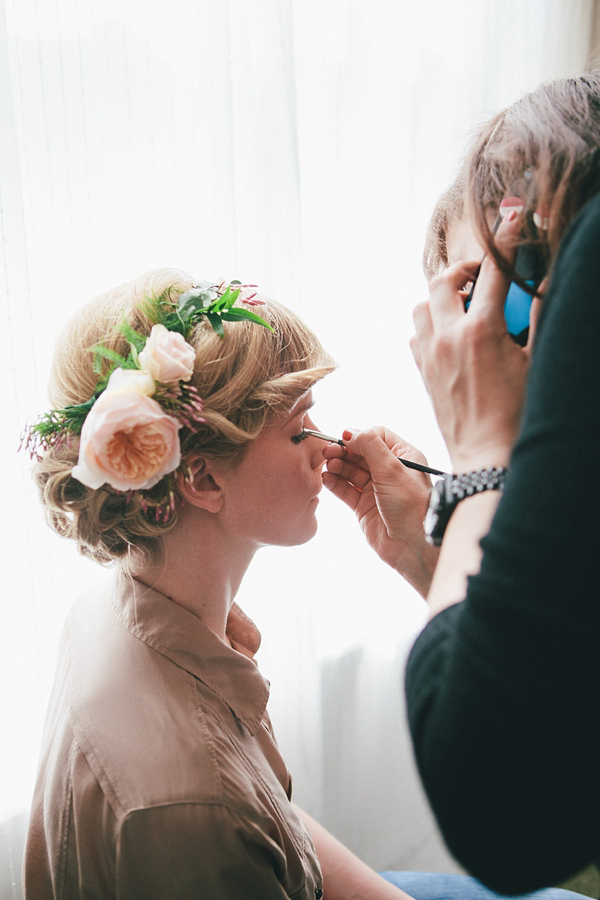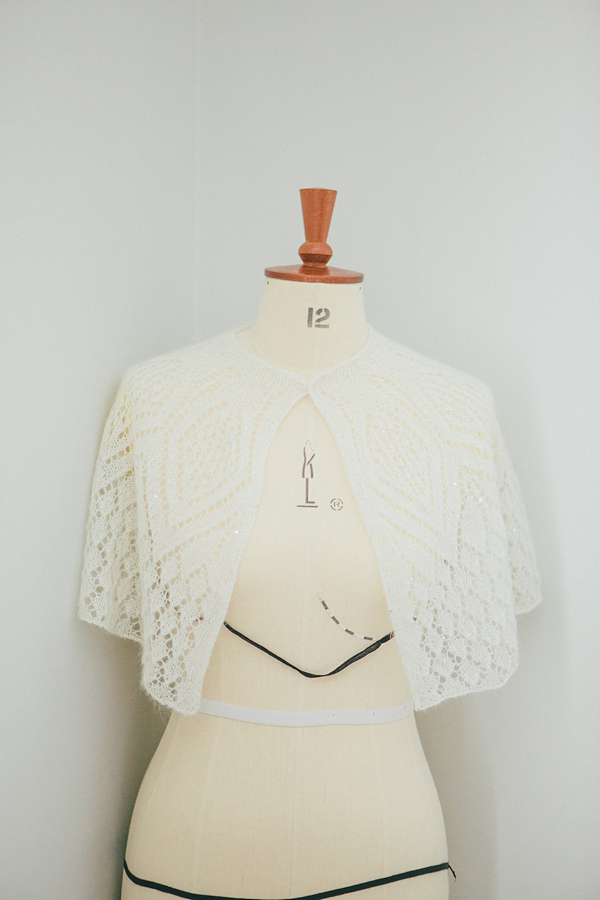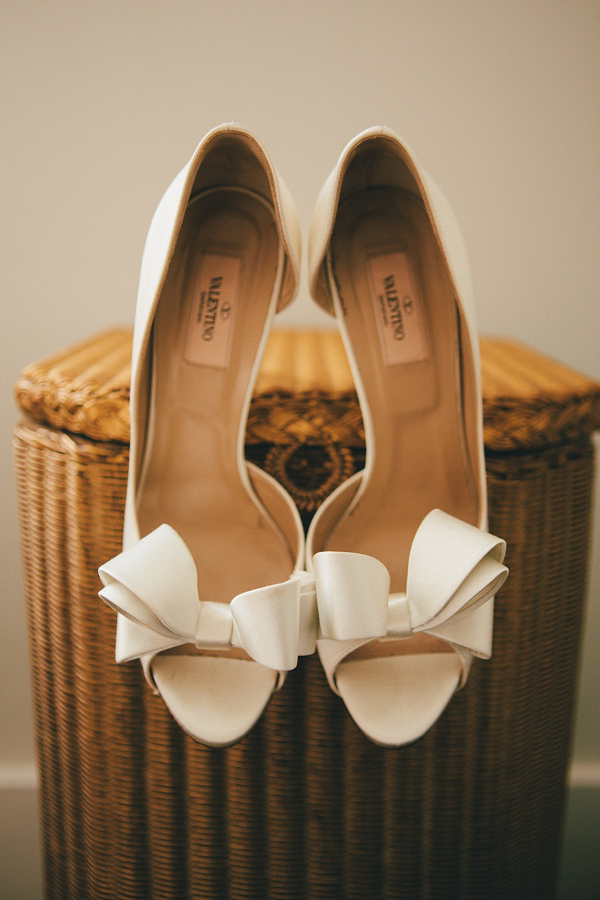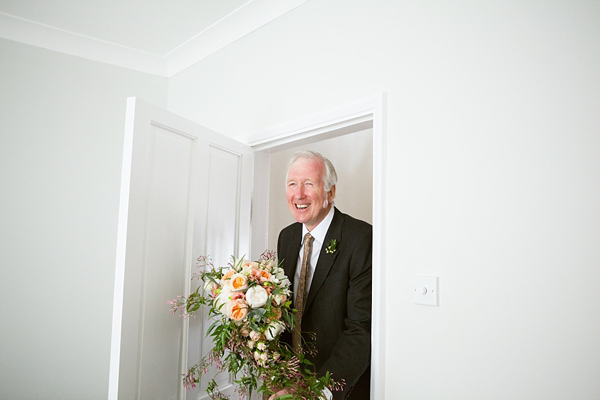 "On the day, my wonderful dad walked me down the aisle of our
parish church of St Marys to the impressive sound of the Bevington
organ. The interior of the church is breathtakingly beautiful, I think
it's definitely one of the hidden gems of Brighton and it felt so
special to be able to exchange our marriage vows there.   As a contrast
to the organ, a friend sang Joanna Newsom's version of Ca' the Yowes to
the Knowes by Robert Burns as we signed the register. The song is
special to us and hearing it sung a cappella in the acoustics of the
church brought goose pimples!"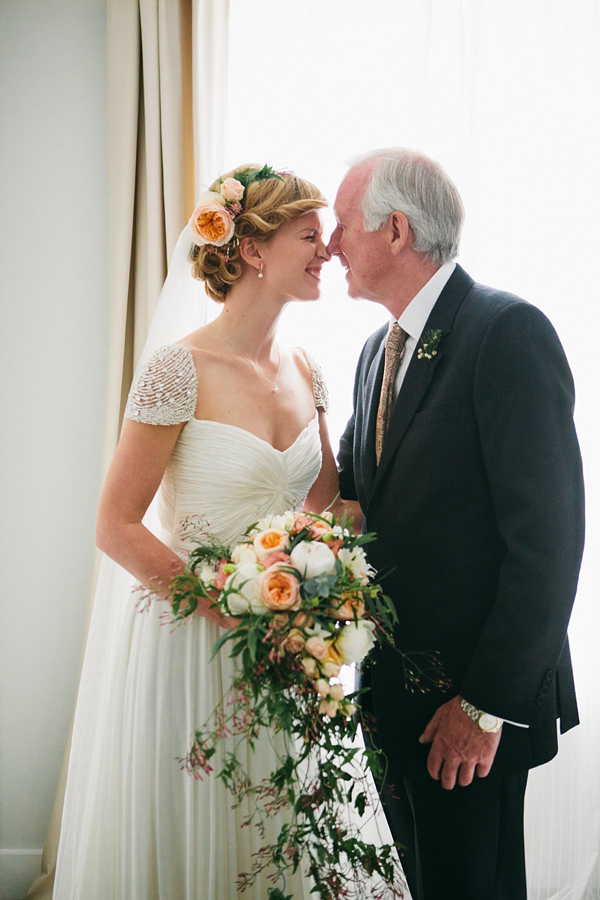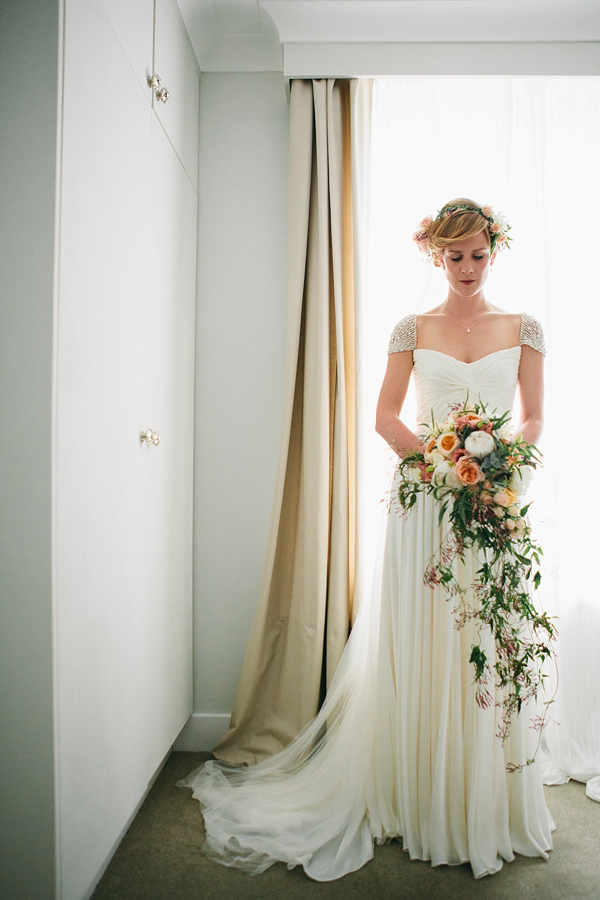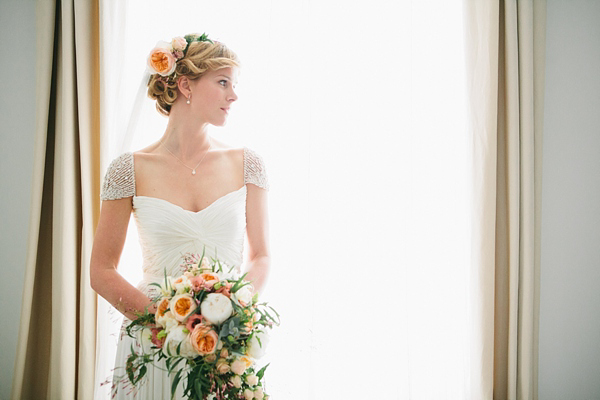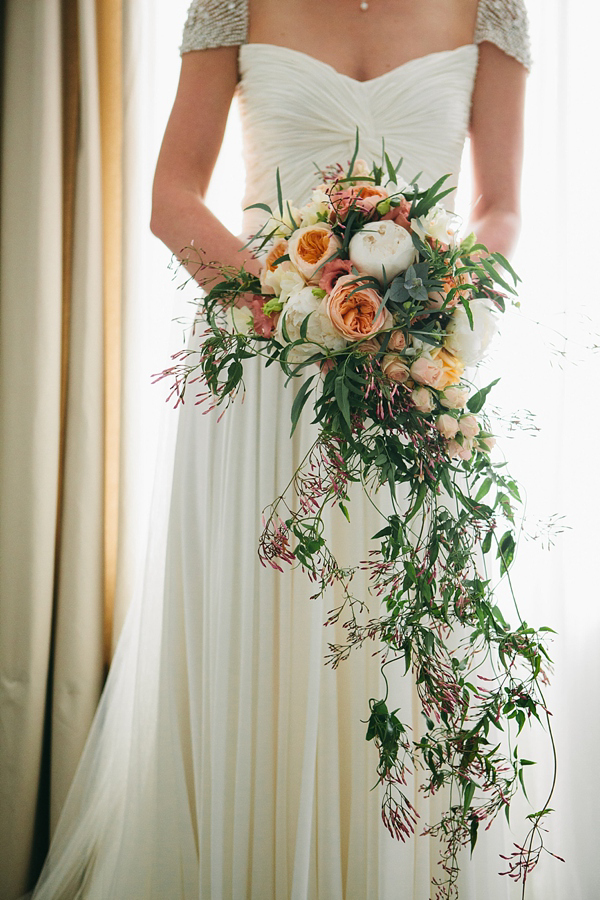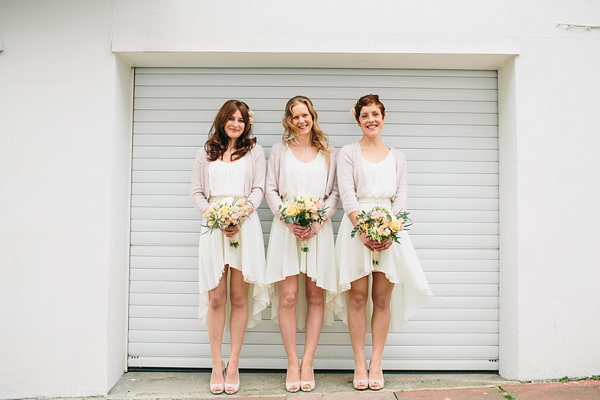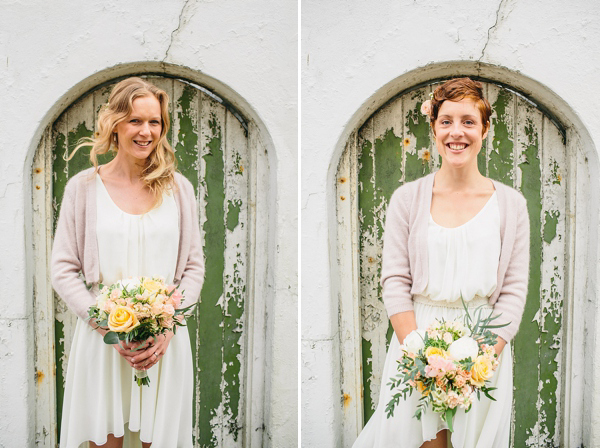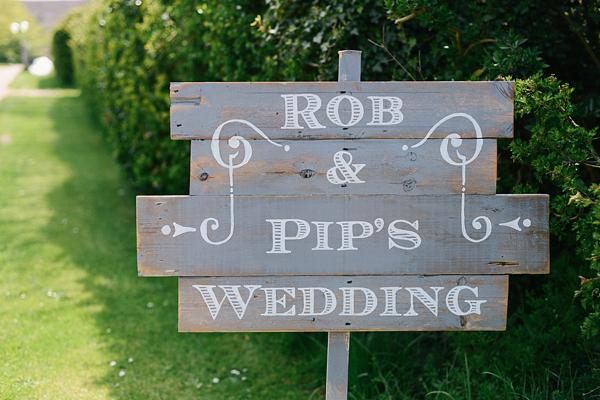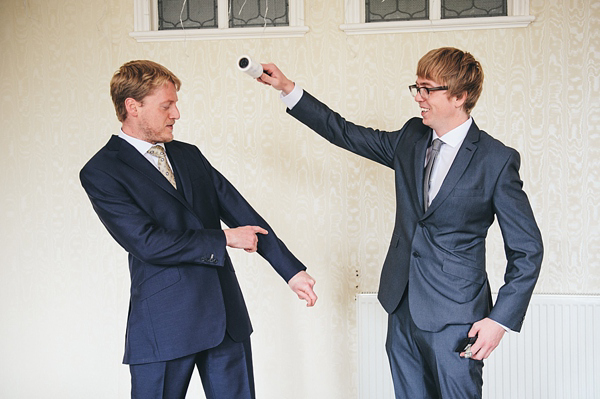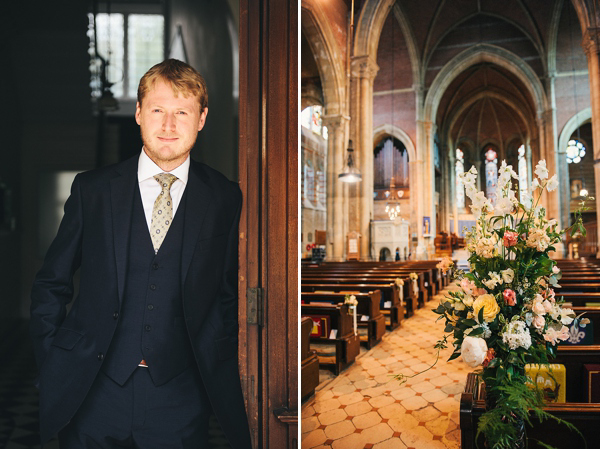 "A friend made a wooden arbour to serve as a backdrop for our
vows at the church which I decorated with ribbons and Florian dressed
with flowers and foliage. The focal piece at the reception was a floral
chandelier which hung from the centre of the marquee. It completely blew
me away when I saw it! Carrie worked so hard to create something
spectacular and the flowers surpassed all my expectations.
We
were able to save on budget by doubling up the pedestals and pew ends
from the church as table centres at the reception venue alongside sweet
pea stems  in old medicine bottles I collected from eBay.
To
save money, I also decided to undertake the floristry in the hall
myself the day before the wedding using ribbon, ivy and gypsophilia on
pre-made hoops to hang from the lights. It was slightly bonkers but
something I really wanted to do. I had a couple of practise runs at home
in the lead up so I knew how long it would take, although I hadn't
taken into consideration that I'd be recreating the 7 displays whilst
10ft up a ladder, which was interesting! I was in my element, but I did
have to rush straight to my manicure appointment with black nails and
ivy sticking out of my hair!"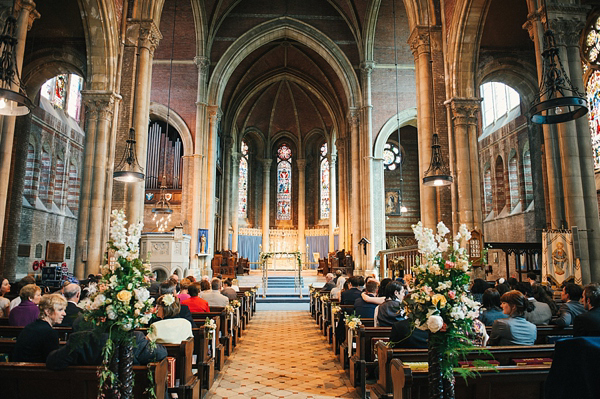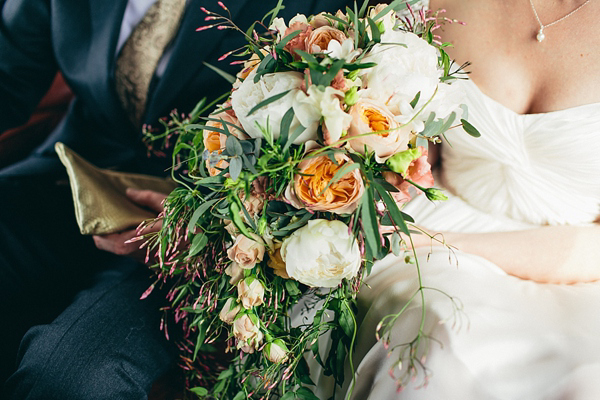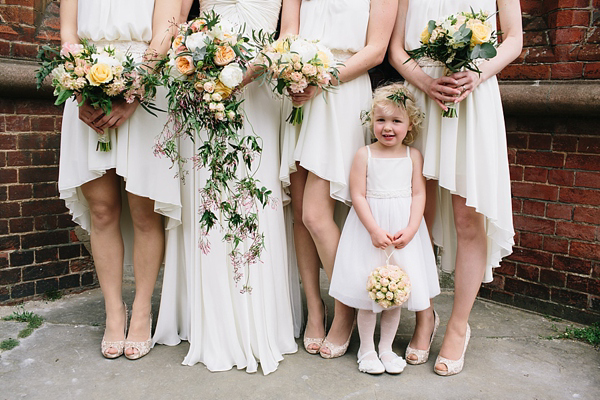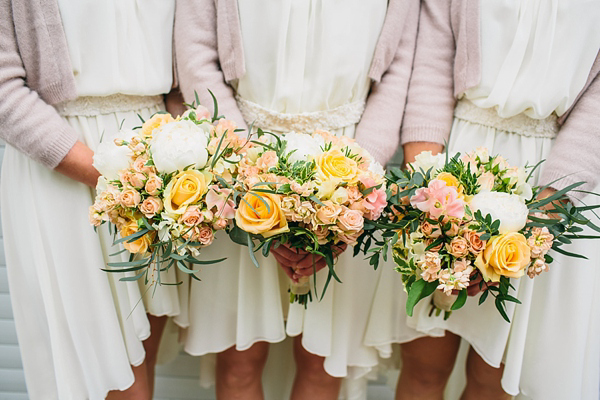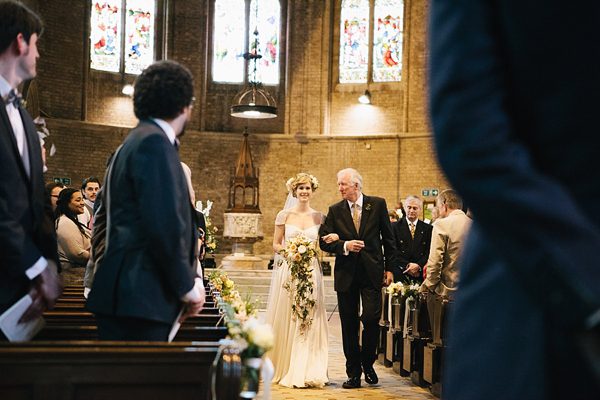 "I wanted to wear a veil for the church ceremony but didn't want to
take away from the detail of the dress, so I chose a plain silk tulle
Augusta Jones veil which I purchased from White Mischief Bridal in Henfield."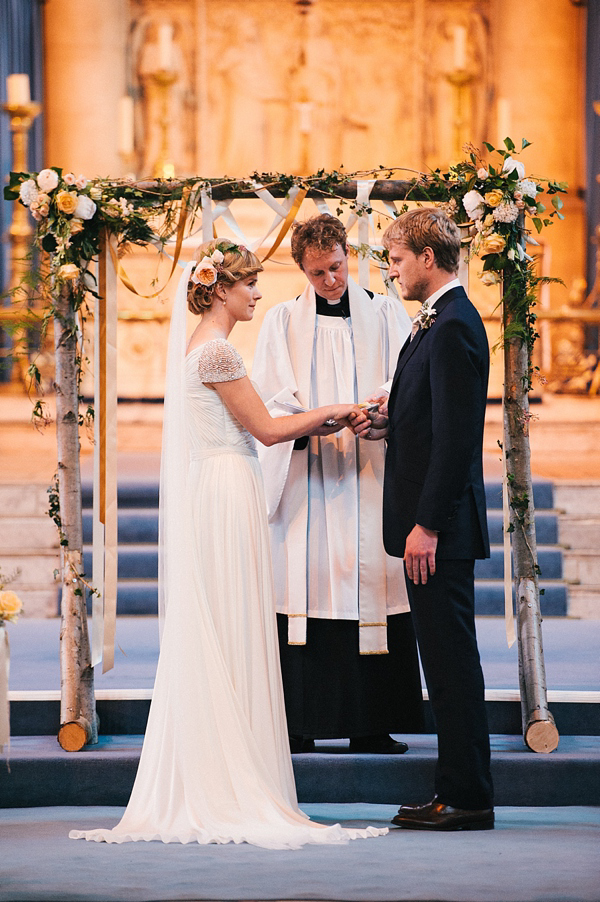 "We had two readings; Colossians 3 v 12-15 and Paul's letter to
the Philippians 4 v 4-9, the inspiring words of which were used as the
theme of the address and continued to resonate throughout the day.  An
extract from the reading; 'Finally, brothers and sisters , whatever is
true, whatever is noble, whatever is right, whatever is pure, whatever
is lovely, whatever is admirable – if anything is excellent or
praiseworthy – think about such things.'"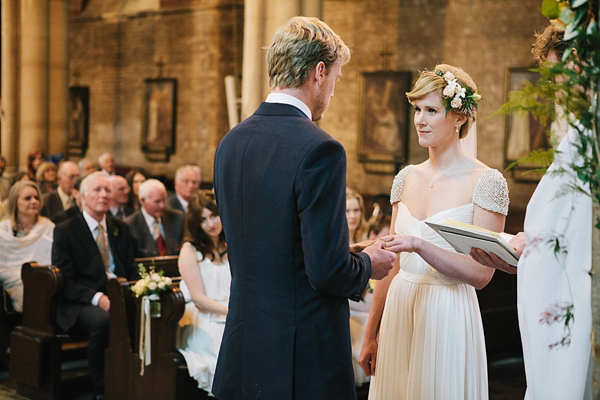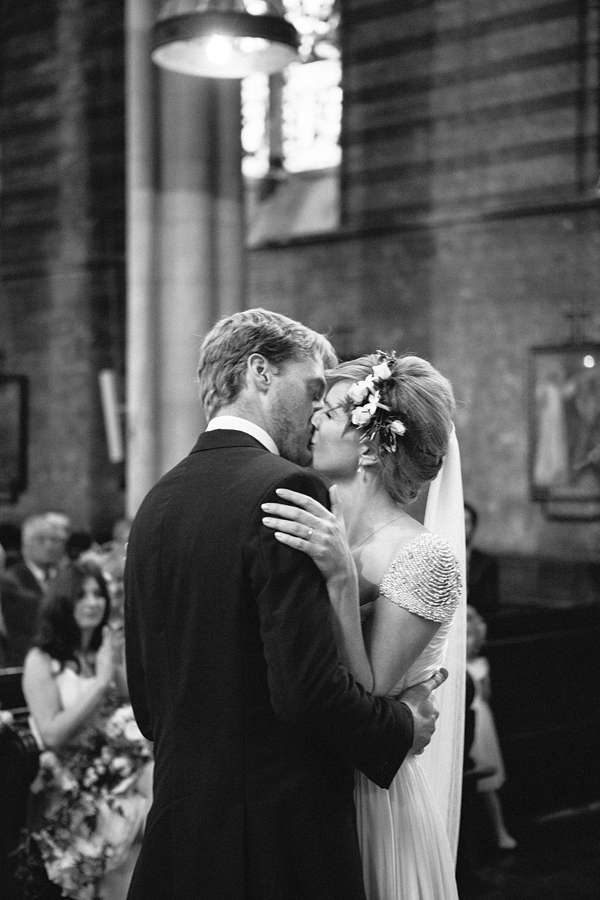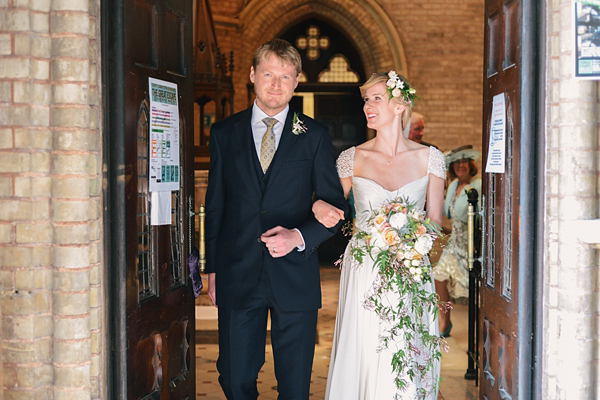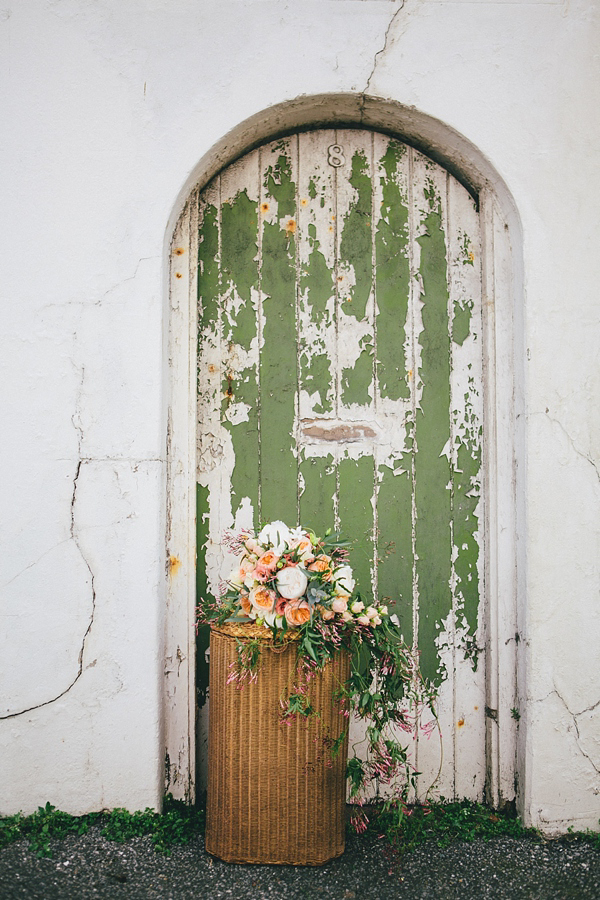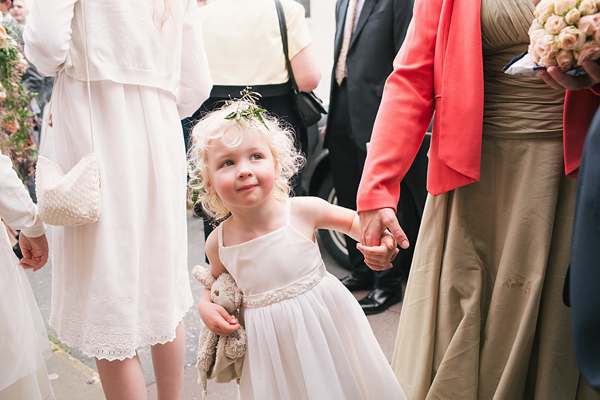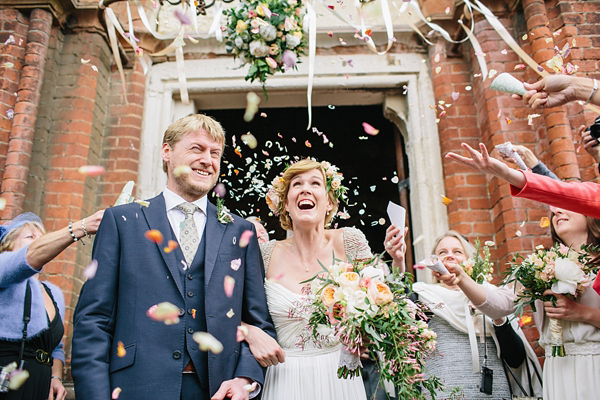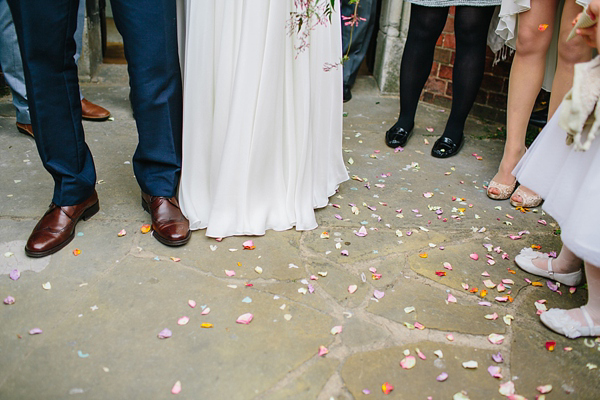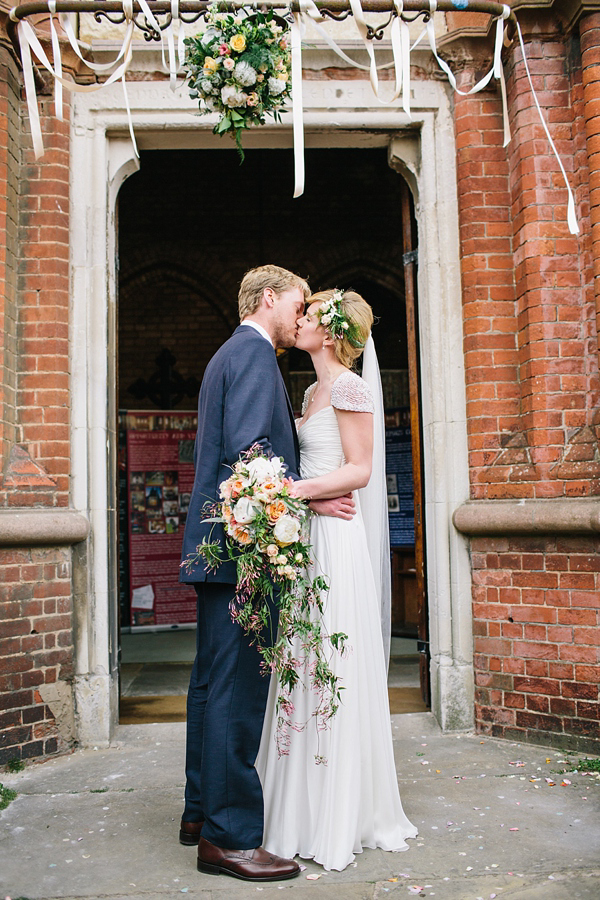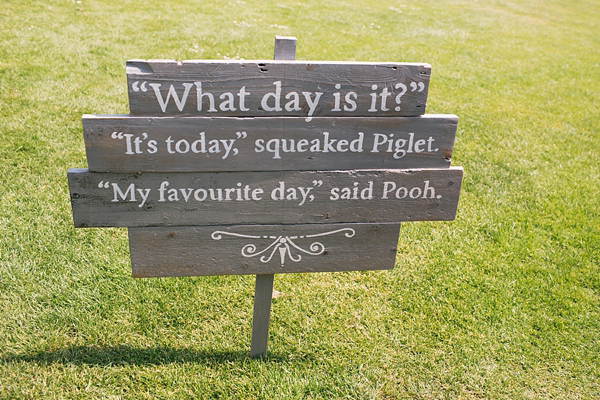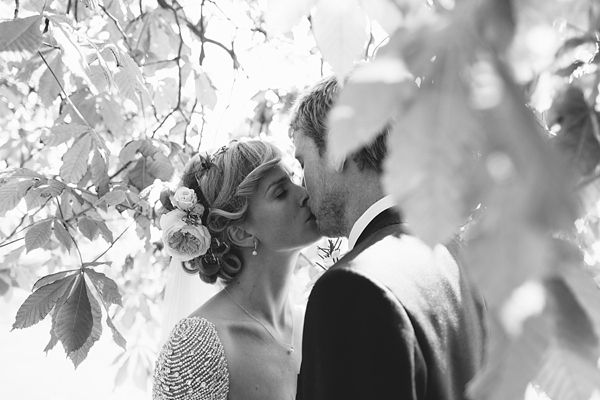 "The marquee was provided by The Arabian Tent Company.
The service from start to finish was exceptional, and the marquee
itself was stunningly beautiful. We were familiar with the tents and
knew we wanted one from the start as we had friends who worked for the
company. You can choose different linings, but it was the Cornish Cream
interior which I'd coveted and created a spectacular backdrop to the sit
down meal."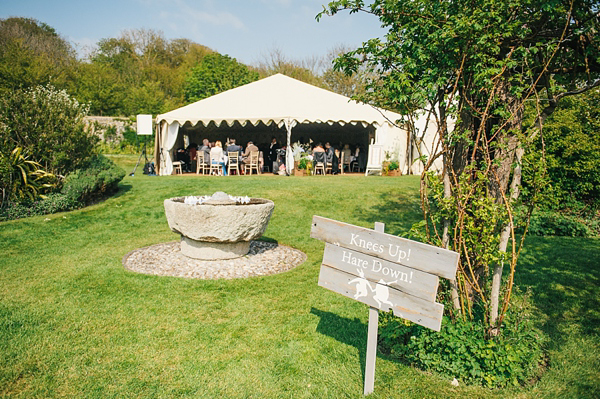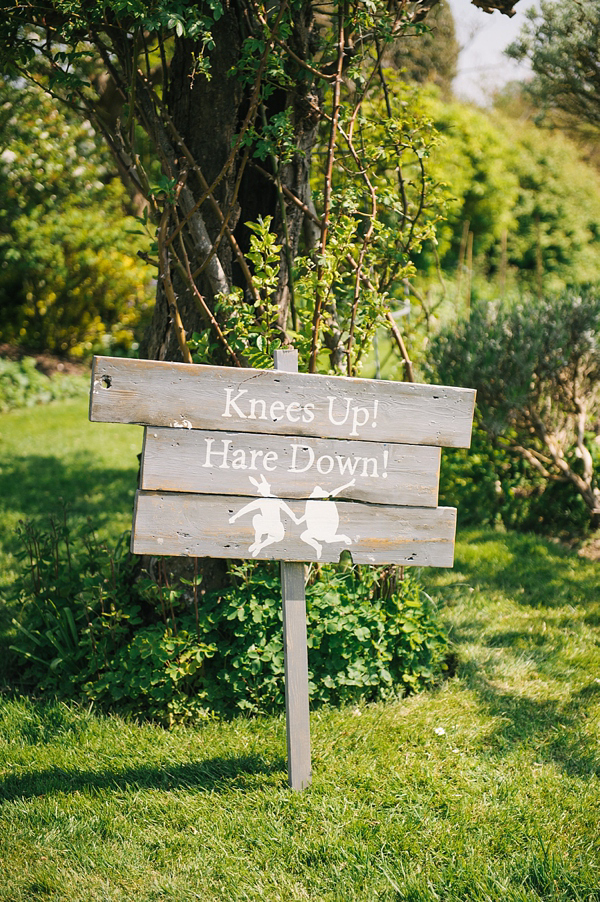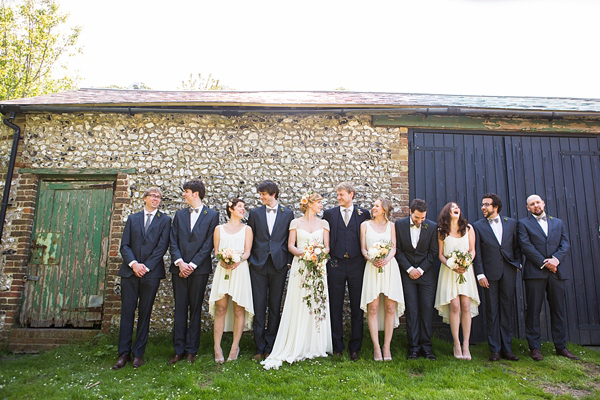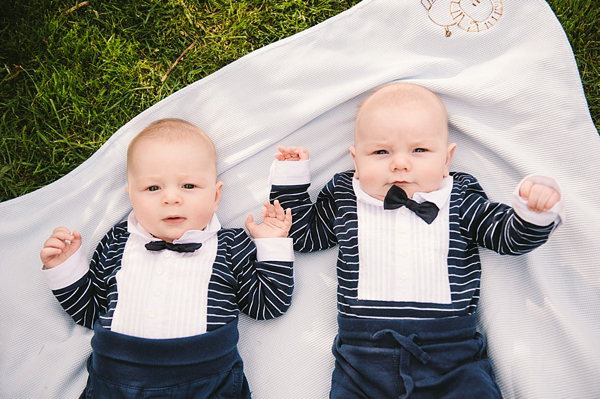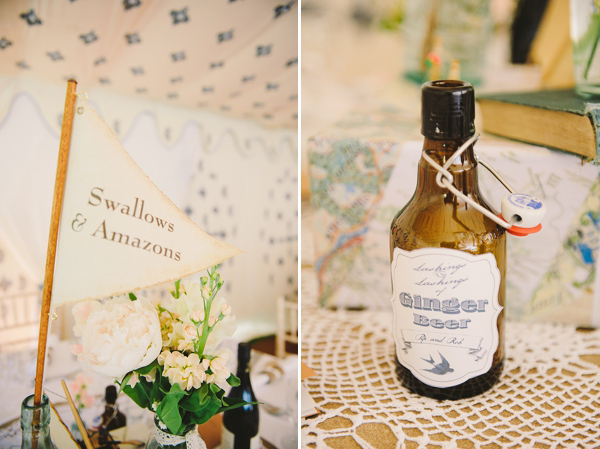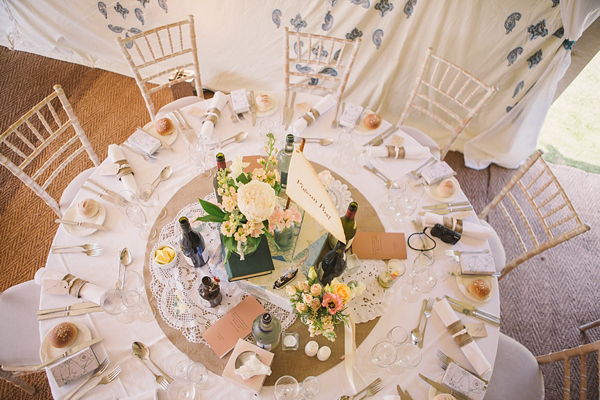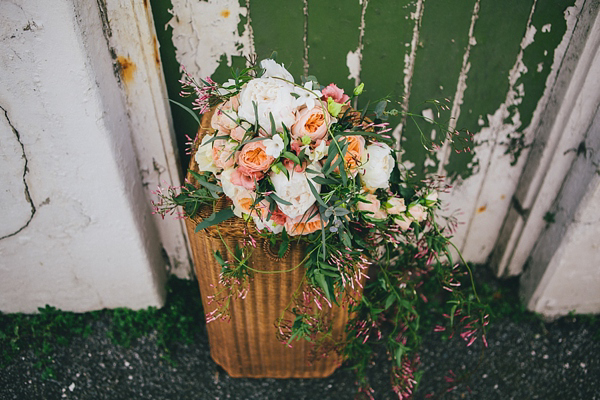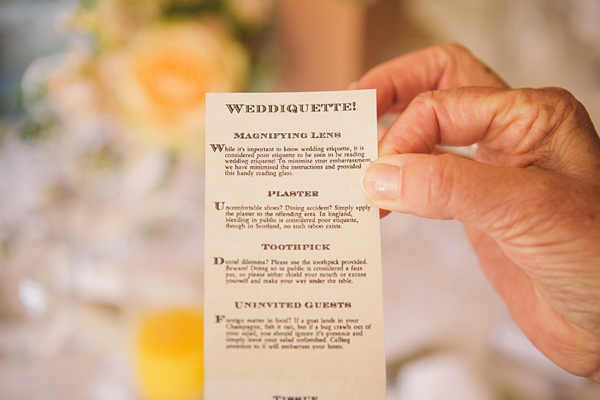 "We thought it'd be a good conversation starter to provide
the guests with a Wedding Survival Kit, complete with various essential
items such as a toothpick, mint, chapstick etc, and set of
tongue-in-cheek 'Weddiquette' instructions. The key problem with these
wedding favours was what to store them in; it was finally decided that
80 large matchboxes needed to be bought, emptied and decorated, which
Rob undertook himself with good humour!"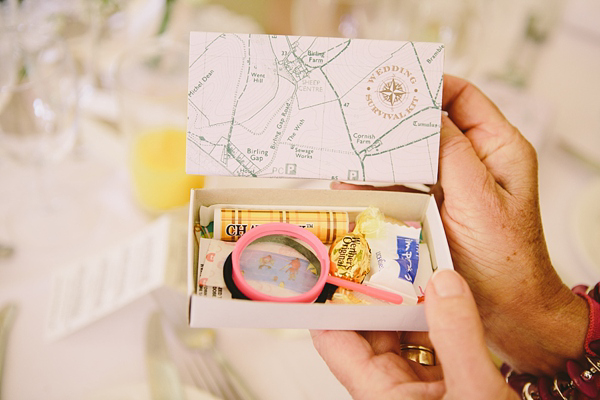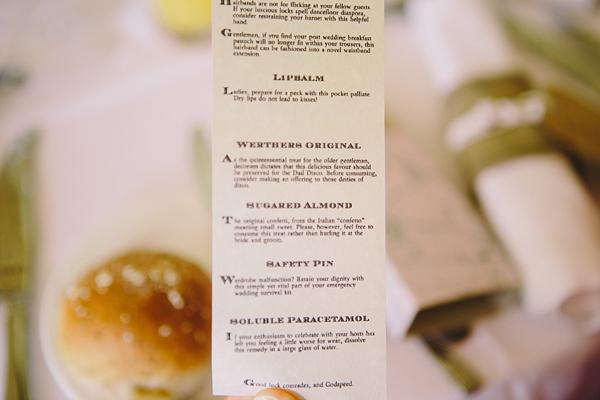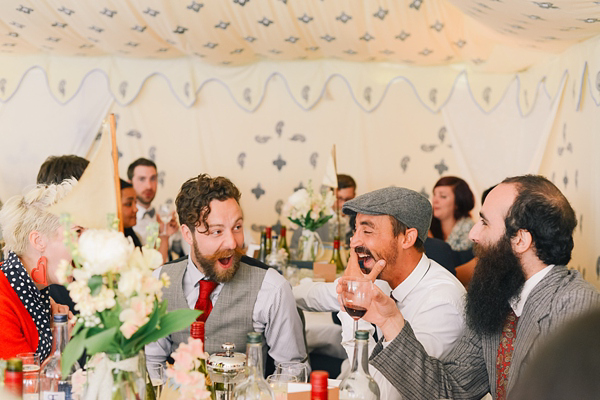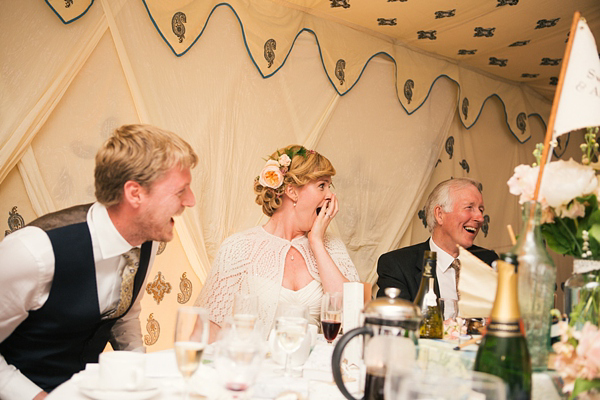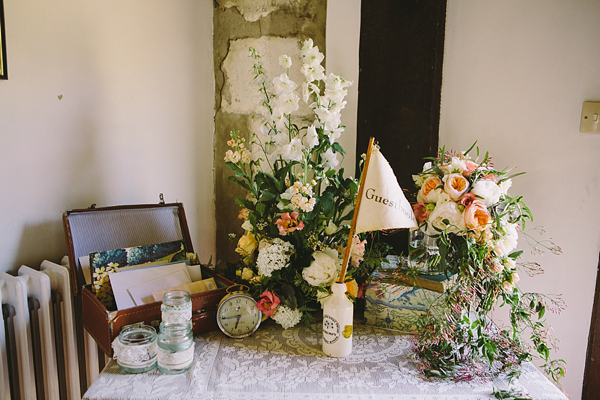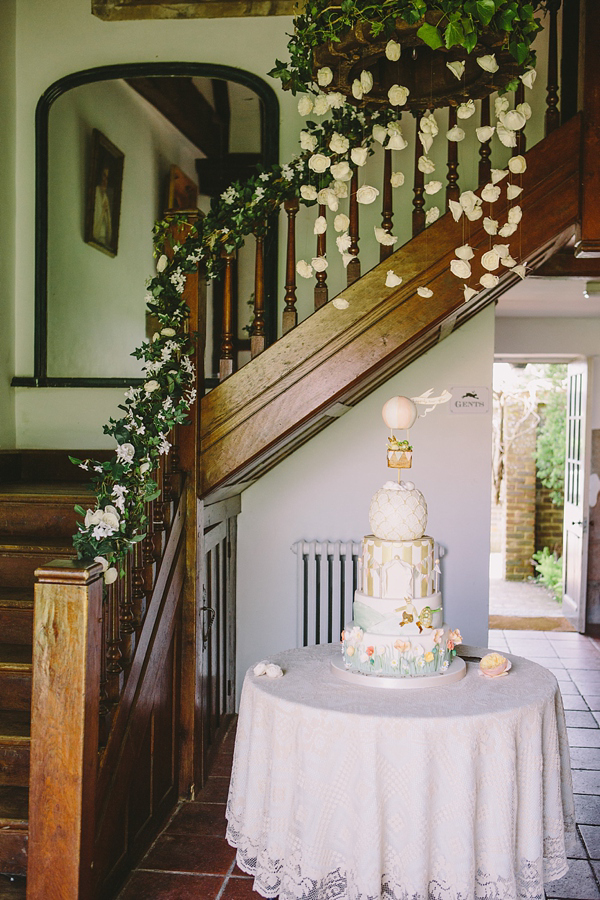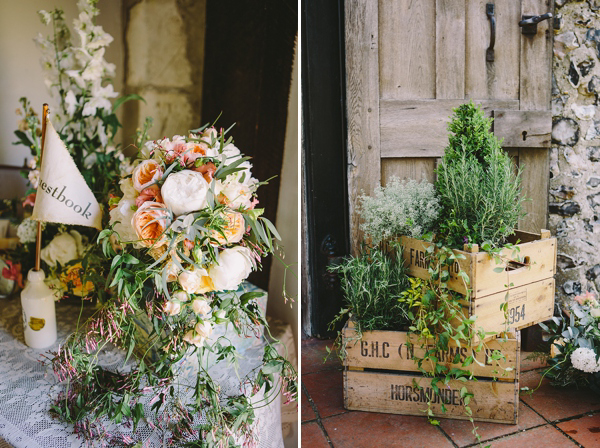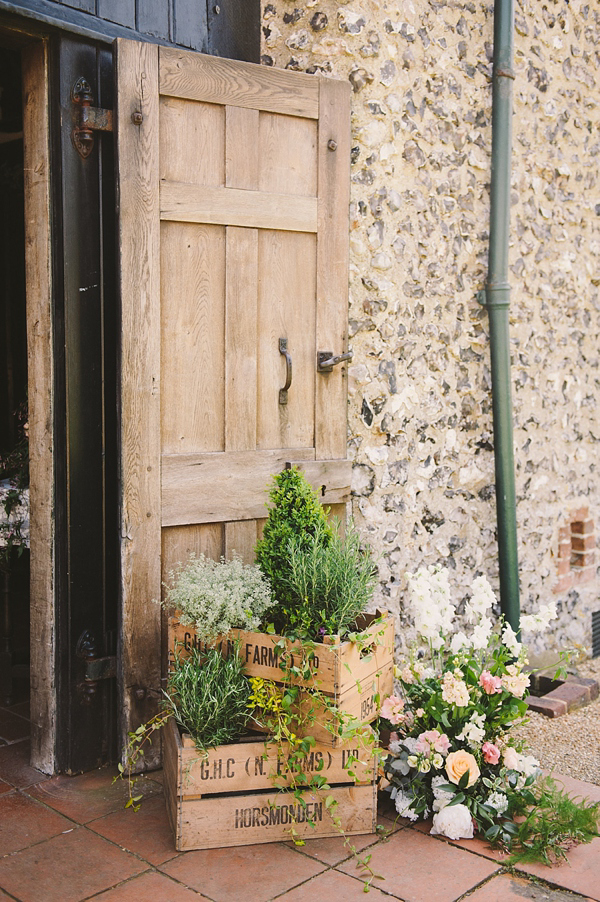 "The main entertainment for the evening was bluegrass and hoedown,
provided by the awesome Cut a Shine. We first experienced Cut a Shine at
the Secret Garden Party festival, long before we were engaged. We loved
the timeless spirit of a good old fashion barn dance, and vowed that if
we were ever to get married, we would try to book them and recreate the
experience. We really didn't want anyone else so we were pretty lucky
to be able to book them and they didn't disappoint!"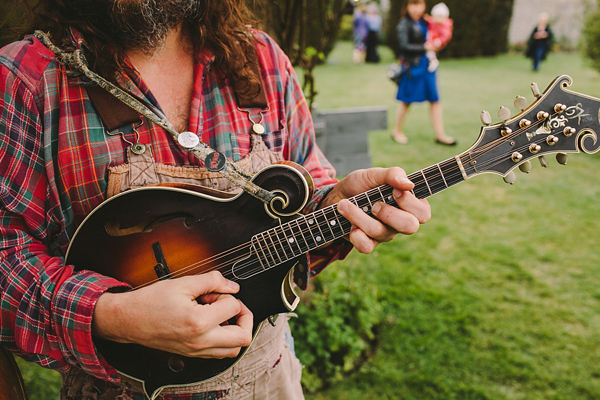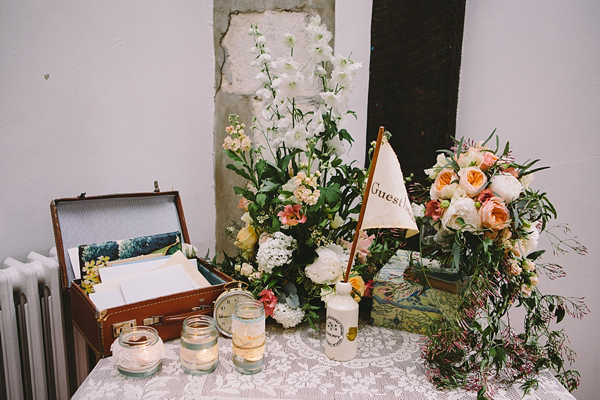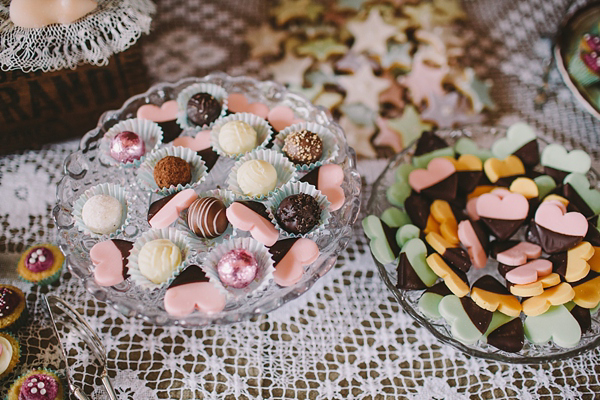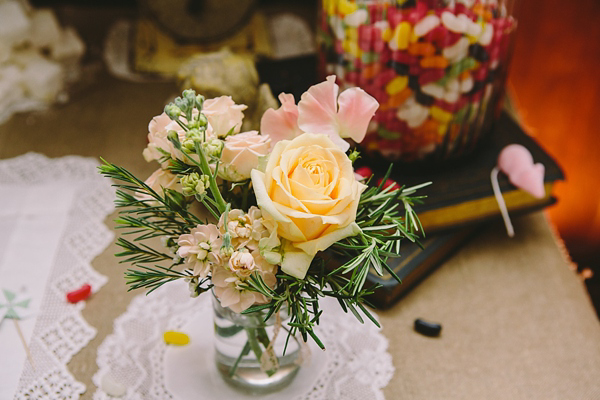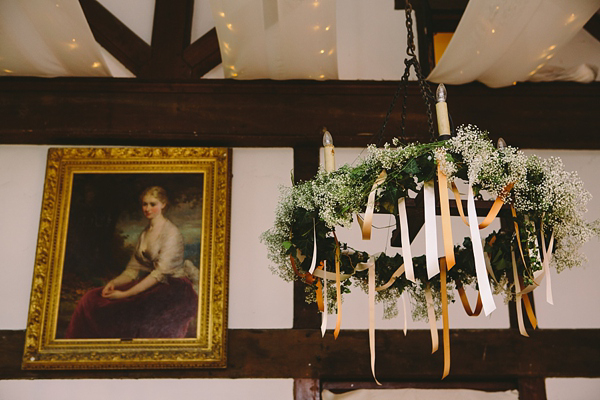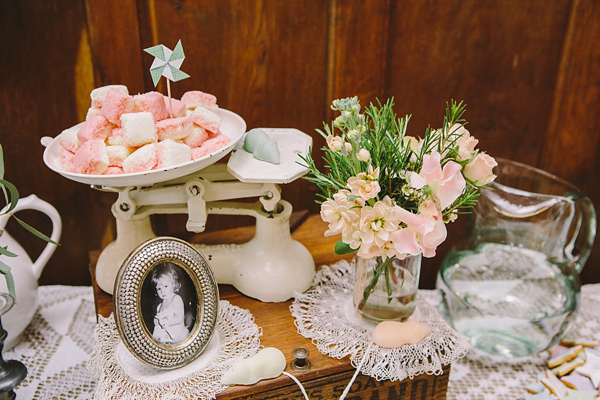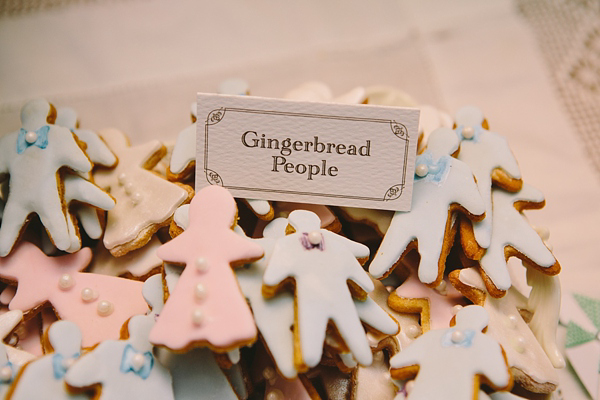 "My mum put an enormous amount of effort into creating an incredible
sweet table using my grandmother's lace tablecloths, doilies and old
crockery amongst other things she'd gathered together. Friends and other
family members contributed homemade treats for people to nibble on
during the barn dance including lemon-meringue marshmallows, pistachio
meringues, pecan tassies and gingerbread men. We were very spoiled
indeed!  The marshmallows are available from Sweet."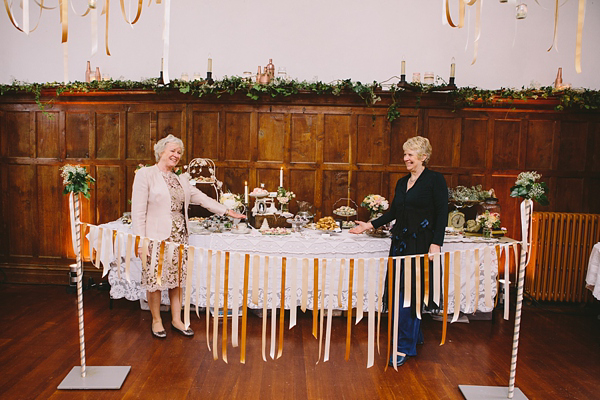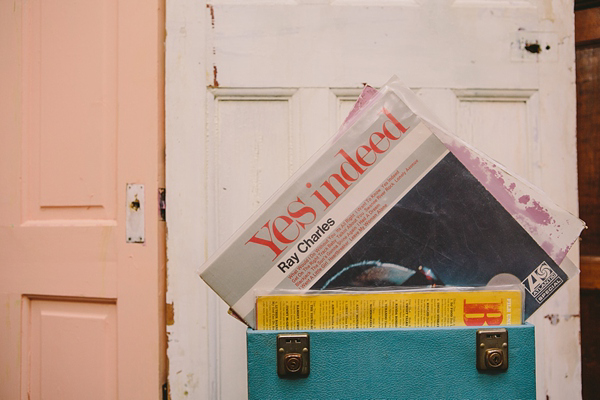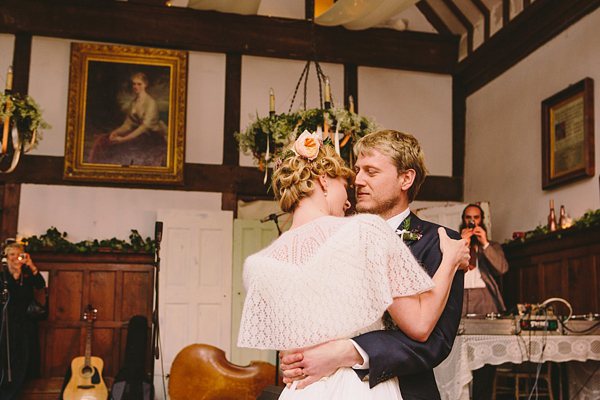 "I really really couldn't choose 1 favourite part of the day, I
loved every second! I have to mention the speeches as one of my many
highlights though; my Dad, Rob and his brother (the best man) had
everyone roaring with laughter throughout. Friends are still talking
about them now.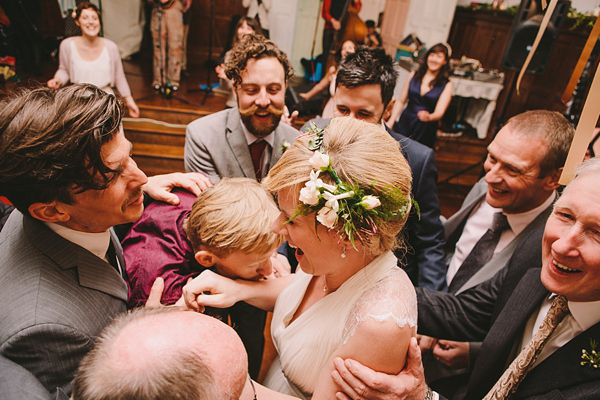 "I came across my short ceilidh dress by accident whilst drooling over everything on the BHLDN
website early on in the planning. There was something a little bit
Marilyn about it, and the pretty lace back made it unusual. I knew I'd
want to let my hair down on the dance-floor in the evening whilst still
feeling like the bride and I loved it so much I couldn't resist ordering
it even though we hadn't even booked a date yet!
We danced our first dance to You Send Me by Sam Cooke."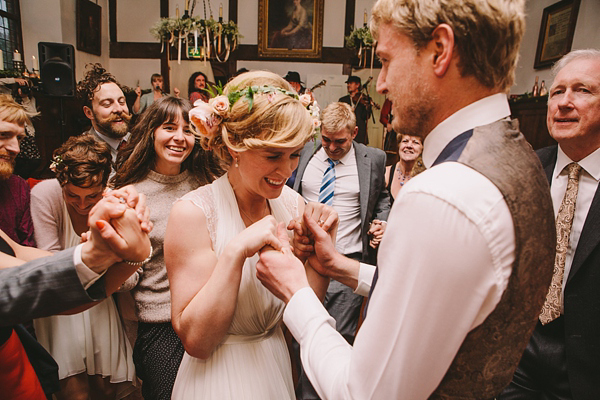 Words of Wedded Wisdom…
"There
are certain things that can't be organised until nearer your wedding
day. For everything else try and start early! Doing wedding DIY can be
enormous fun and add personal value to your wedding, but try and do what
you can early on in your engagement because wrestling with it under
pressure in the fortnight before can take some of the enjoyment out of
it. And enter competitions!  You never know!
Set up a wedding-only email
address so you can keep wedding-related matters together and separate
from your normal life! It also means your inbox won't get bombarded by
marketing emails long after the wedding.
If I could change anything, I'd have tried to talk to every guest on the day, especially those
that had travelled a long way. The day was such an incredible whirlwind,
I was worried I didn't get to speak to some people as much as I'd have
liked, but I think every bride feels this way! 
Finally, Love my Dress
was a great source of real wedding inspiration and full of some
fantastic DIY ideas. The hard part was choosing which ideas not to
incorporate because I wanted to use them all!"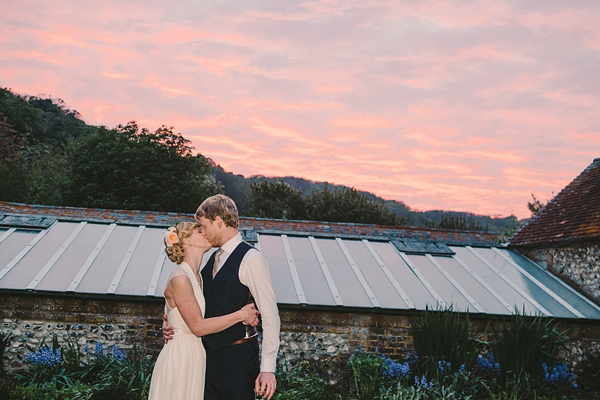 Breathtakingly beautiful and such a gorgeous way to start the week. Thank you so much Sacco & Sacco and huge congratulations to you too Rob and Pippa.
What do you love most about this wedding? You can see more literary inspired weddings here, as well as more on Reem Acra, BHLDN and Spring wedding inspiration too.  If you love this colour pallette, you can explore more pretty peach weddings too.
What do you love most about this beautiful day, how has it inspired you?
With much love,
Annabel

Photographer – Sacco & Sacco
Venue – Birling Manor, East Dean + marquee by The Arabian Tent Company
Wedding Dress – 'Beams of Light' dress by Catherine Deane for BHLDN + the 'Olivia' dress by Reem Acra
Veil/Headpiece – Augusta Jones veil which I purchased from White Mischief Bridal in Henfield
Brides' shoes - Valentino + Dune wedges
Bride's accessories – necklace made by the bride
Grooms Suit – Gresham Blake + Jones Bootmakers shoes
Bridesmaids Dresses – ASOS + New Look shoes
Flowergirl's dress – made by the bride's mum
Flowers – Florian of Hove
Cake – Flutterby Bakery
Car – Tudor Grey, 1964 Bentley S3 was provided by Sovereign Car
Additional Styling – Dusty Cupboard + CharlieBear Creations
Rings – Exclusive Jewellery in Brighton   
Catering Company – Super Event + Oakfield Farm
Hair and make-up Artist – Bebe Newson
Venue Styling on the day – Dusty Cupboard + CharlieBear Creations
Ceilidh – Cut A Shine Hoedown Collective