Morning all! Happy Halloween holidays to all of you taking a little time off work this week to enjoy the festivities with your family and friends – I'm still trying to recover from the Dracula Museum experience in Whitby yesterday – yikes!  The apple bobbing and hot chocolate breaks were fun in between the pumpkin carving and blood curdling screams coming from the children when they watched Ghostbusters though – hehehe!
This morning's wedding is from one of my favourite wedding photographers ever, Mr Tom Ravenshear (you can see many other weddings that Tom photographed on Love My Dress here).  Tom was present to photograph the beautifully laid back but incredibly stylish wedding of Vicky and Scott, on 6th July this year, at the Pumphouse Gallery in Battersea, London.
Photography Copyright (c) 2013, Tom Ravenshear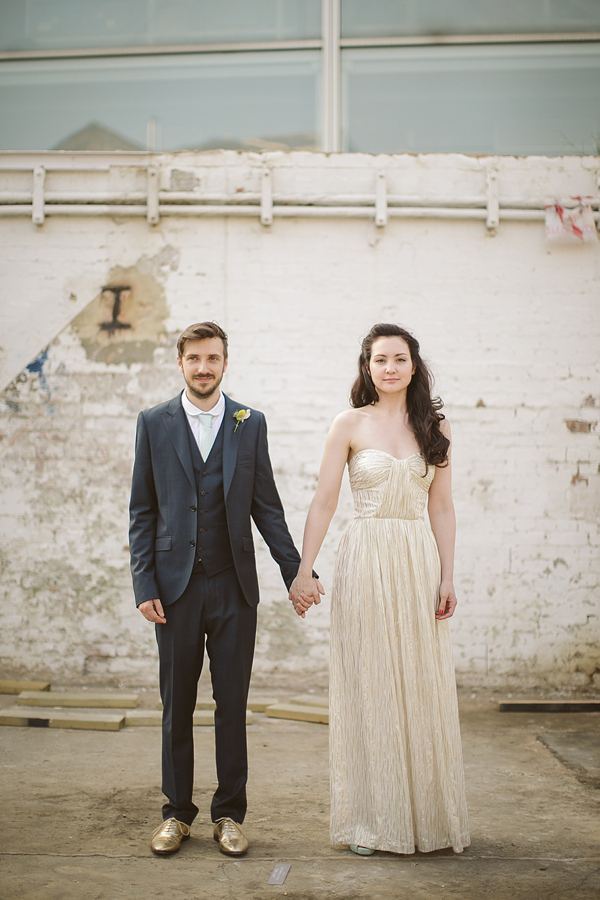 I adore how this couple chose to do it their way, a non-traditional
gold dress, a fabulous pair of gold shoes for the groom – a focus on the
food and expert catering from those talented food masters over at Street Kitchen…

"I like mint green, Scott wanted gold
shoes so that created a loose colour scheme. The venues dictated the
rest of the style quite a bit. As the buildings were very different we
made an  effort to blend the two, styling the clean and pretty park
set gallery with industrial tin baths and vintage crates whilst
adorning the bar with fresh bright flowers."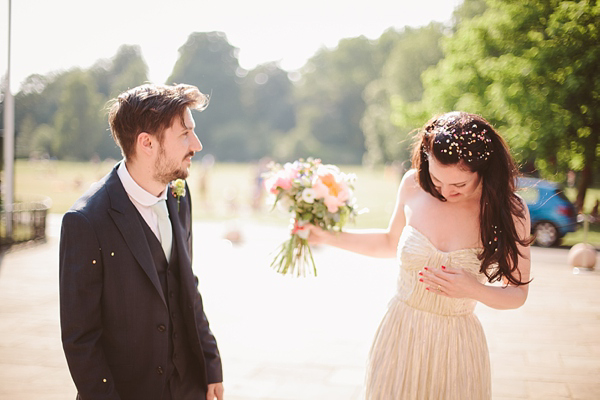 "We got married at the Pumphouse Gallery.
It's lovely; a bright clean gallery space that's still intimate in the
middle of beautiful Battersea Park. There was no charge for bringing our
own drinks and snacks and no insistence on using approved caterers to
provide champagne and canapés. Instead we filled a load of jars with
cocktails on the morning of the wedding and loaded them into an old tin
bath with plenty of ice. To nibble on we filled paper bags with
delicious Joe and Sephs popcorn, (two flavours, Goats Cheese and Black
Pepper and Caramel Macciato and Whiskey!) . After post ceremony
cocktails and popcorn (and a short, impromptu row on the boating lake
next to the gallery) we all walked through the park to the Doodle Bar.
It's
got a different feel to the gallery, a bit dark and industrial. The
drinks are good, the walls are all chalkboards and there is a ping pong
table ,but one of the biggest draws of the bar was the fact that Street
Kitchen are based in the same building."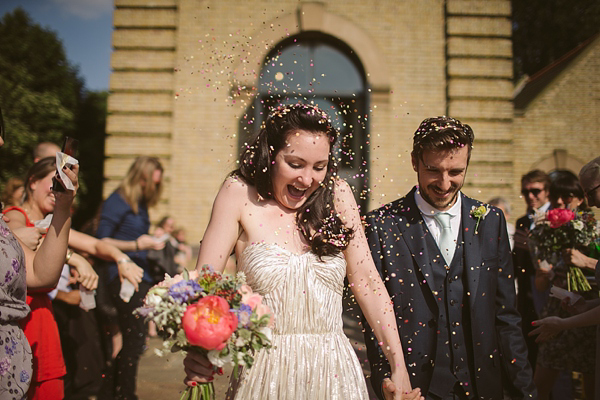 "We'd been together for eleven years before getting married. The
proposal was not a big or public gesture, just the question in a hotel
room on the first morning of a holiday in New York. It was a nice thing
to have a week together afterwards, time spent away from real life just
to be excited, alone before anyone else knew.
It would be years before
we actually did the deal, turns out these wedding things cost money!"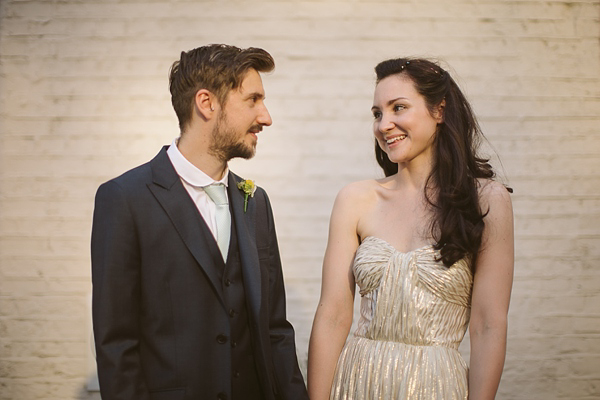 Everything was always going to be pretty simple and we were quite
set on what we wanted and happy to source everything and organise
ourselves. There was quite a bit of last minute logistical issues; our
family were amazing on the day; mixing cocktails, ordering 12kg of ice,
driving everything to both venues and setting it all up, the list is
endless and we're super grateful to them all!"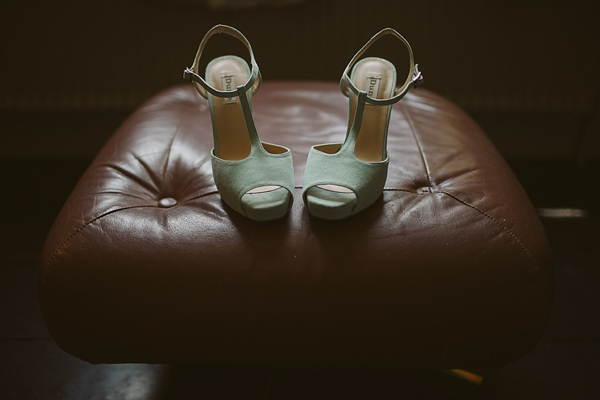 "We didn't have much stationery, only some simple screen printed
tickets we designed for guests to get into the bar. In lieu of paper
invites we used Appy Couple.
Super cheap and easy it allows you to create an app for guests to
download to their phones with all the information they will need about
the wedding as well as the ability to RSVP,  message us and each other,
view the menu etc."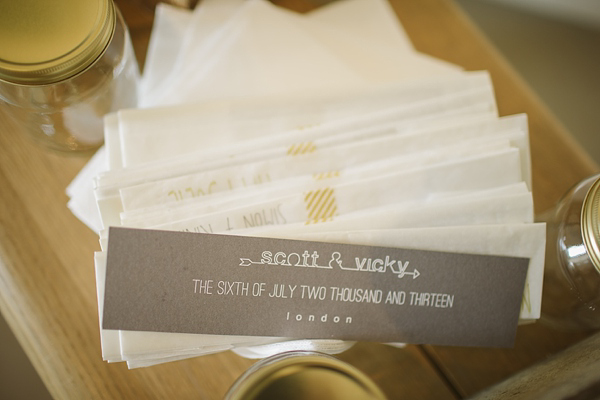 "My friend Ellie Neal is a trained florist and she provided all
our flowers. A couple of weeks before the wedding Ellie, my sister and I
took a 4am trip to the flower market where I ran around pointing at the
blooms, shouting highly technical floristry terms like 'ooh I like
those big round ones' and 'those fluffy stick things'! It was super fun.
Then it was up to Ellie to go back the day before and arrange
everything. She did an amazing job."
"I always intended to buy a dress that wasn't specifically a wedding
dress,  the day was going to be quite relaxed and I wanted to feel
comfortable.   I was also open to different colours and shapes so didn't
want to limit myself to bridal collections. I found Erin Fetherston's
Monique dress on Pinterest I think. It was simple, not too big or fussy
but with a bit of gold to add some glamour!
I ordered it online which
is a little risky but I was happy with it and it only needed shortening
and taking in a bit. A friend put me in touch with Russell Philip Peek, a
fashion stylist who was fantastic and altered it to fit perfectly in
just a couple of days."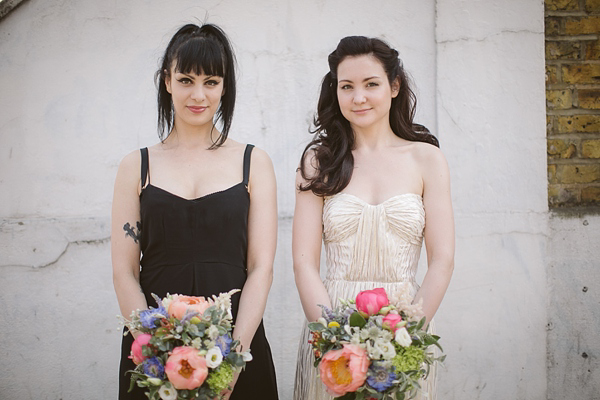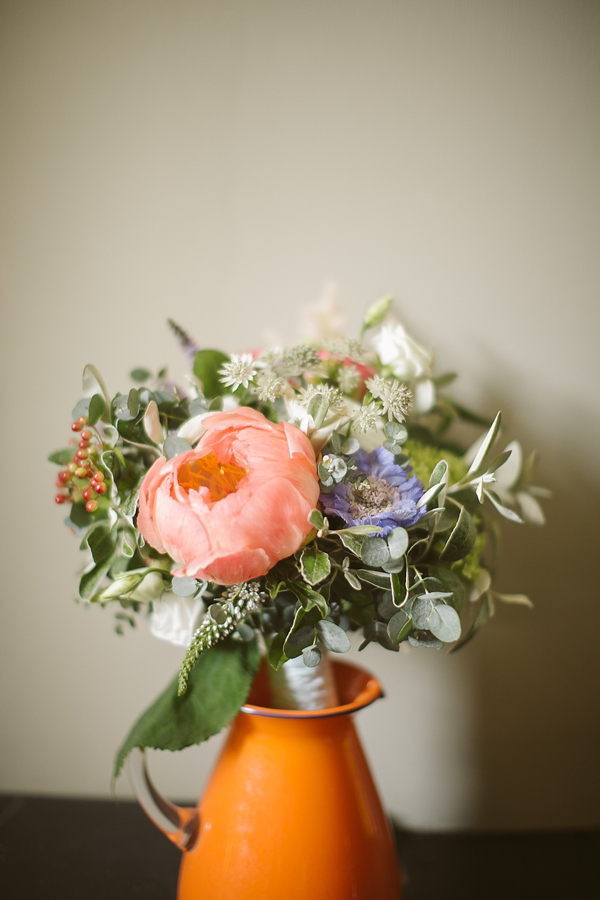 "Our ceremony was very short, we said few words but kept it
honest and sincere. To be honest, I hadn't put much thought into the ceremony itself, I worried
about the venues and the drinks, spent hours looking at pictures of
pretty flowers and dresses but I didn't really focus on the 'looking at
his face and saying lots of super emotional words in front of a room
full of people' bit!
So it was all pretty overwhelming really, but
lovely, definitely my favourite part of the day."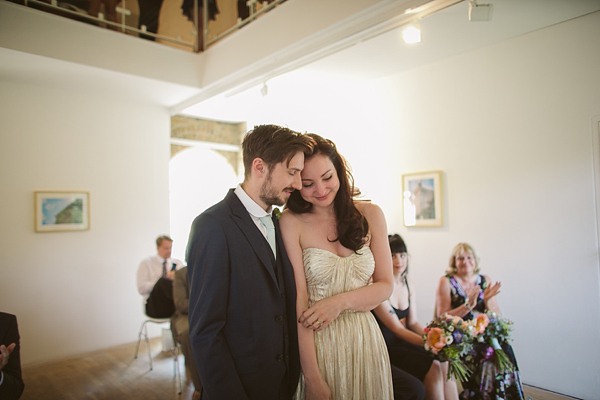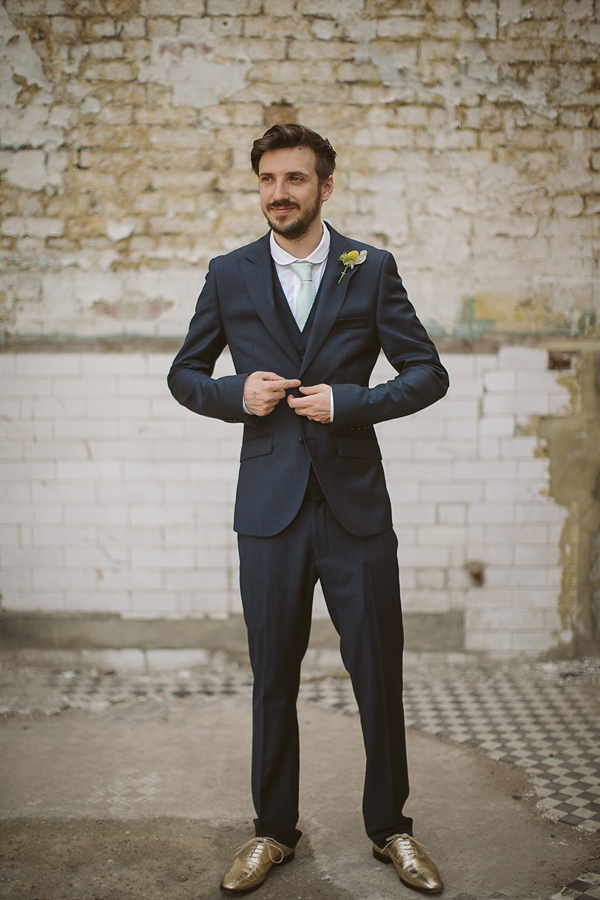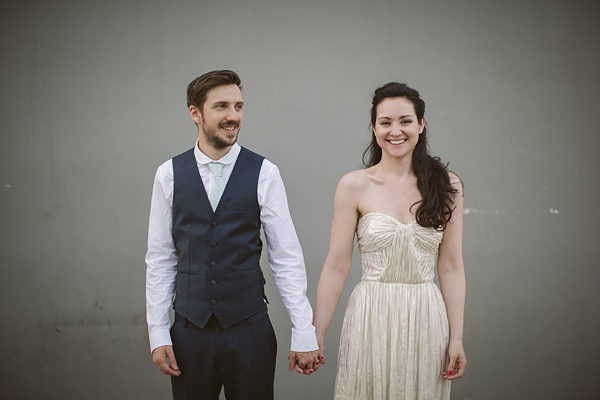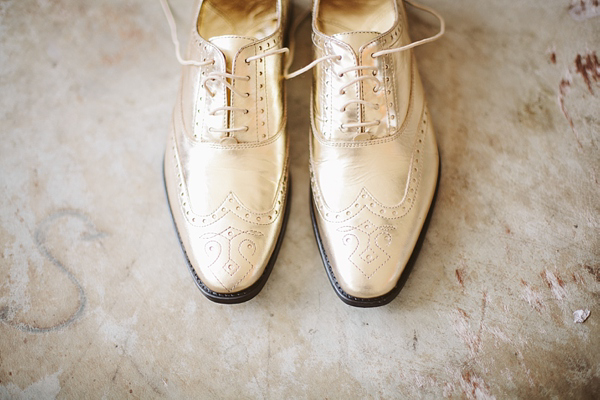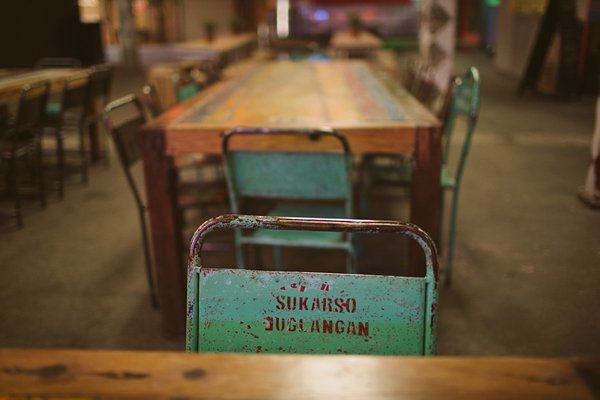 "So its almost fair to say that both venues were chosen because of their close proximity to Street Kitchen,
the providers of food for our guests. They serve simple but delicious
bistro style dishes in take away boxes out of a vintage air-stream
trailer in the city as well as from 'the hatch' in Battersea.  They are
housed in Testbed 1, the same arts and events space where Doodle Bar is
based, everyone was able to grab a drink from the bar, collect a boxed
meal from Street Kitchen and then just pop themselves down wherever to
eat, drink and chat."
"We bought a few bits like an old tin bath to put the jars of
cocktails in and some paper straws, everything else, like all the vintage
milk bottles and tins for displaying flowers, was taken from our flat."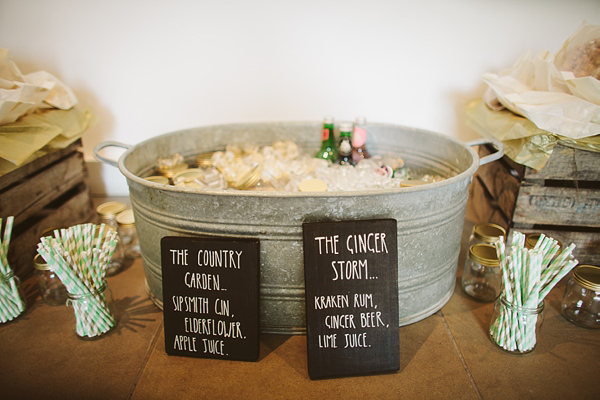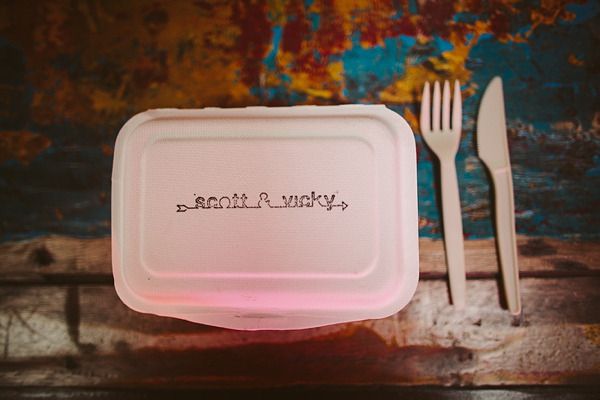 "We didn't have a cake – just tarts! Pecan and Whiskey, Bakewell and Mayan Spiced Chocolate, all provided by the amazing Blackbird Bakery in South East London."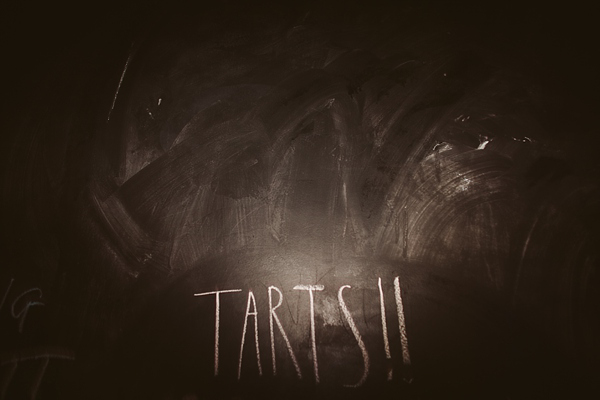 "We made a custom cake topper by scanning our
bodies in 3D (in our wedding outfits) at home then used a 3D printer to
create a little version of ourselves to sit on our tarts."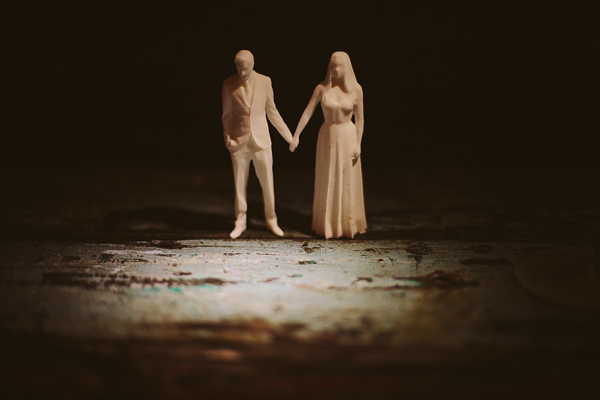 "Tom Ravenshear
is the man responsible for our wedding photographs, he is really very
good!  We chose Tom because his images had a quality that instantly
resonated with us. His use of light was fantastic, the settings were
lovely yet unusual  and through each set of images he captured the
character and emotion of his subjects and the day.
When chatting with Tom before the wedding he invested a lot of time in getting to know us
and really listening to our vision of the day. Tom was inspirational and
a pleasure to have at our wedding."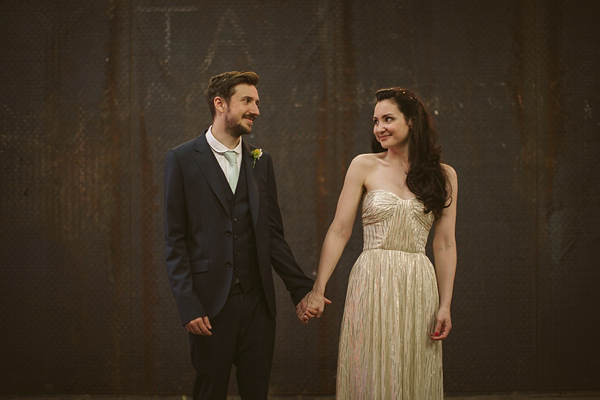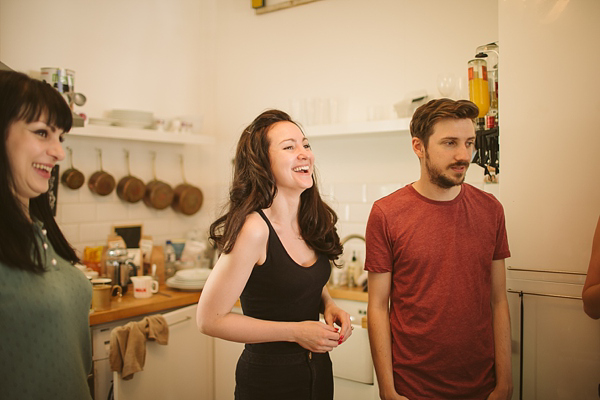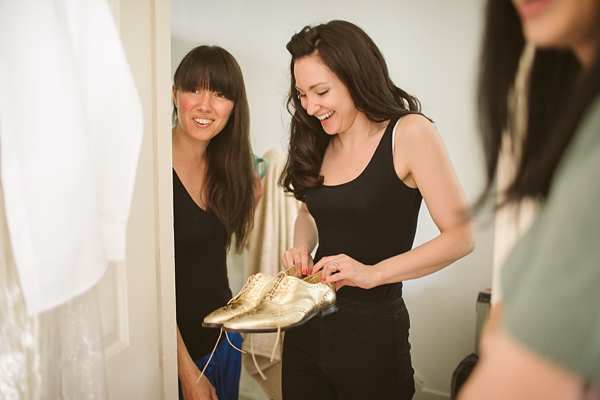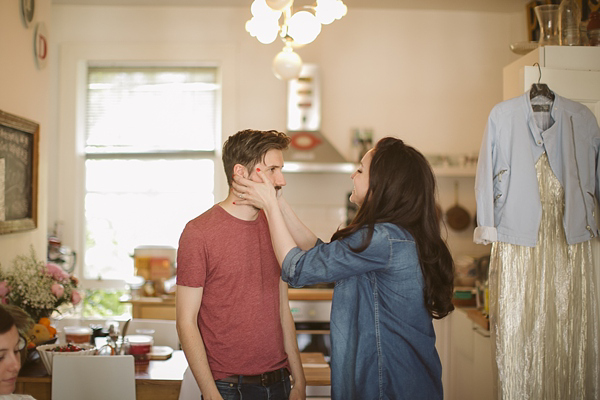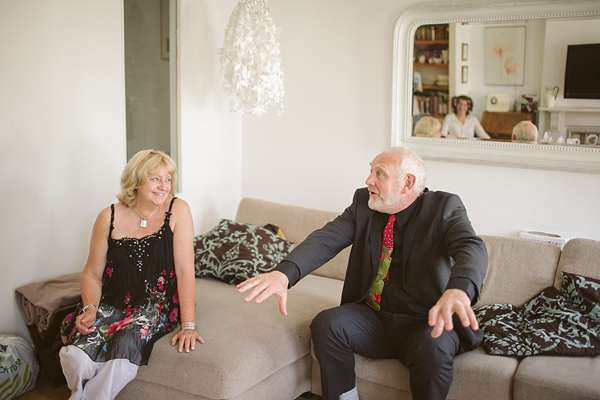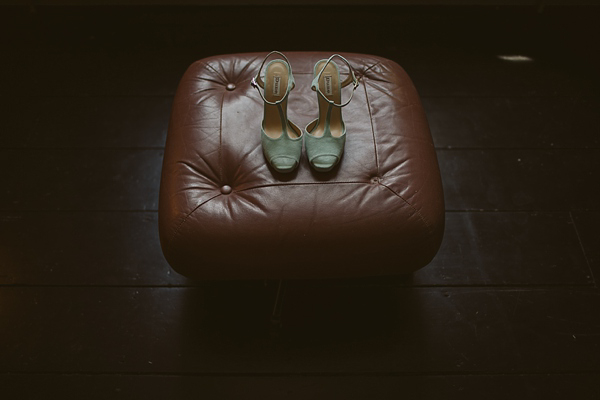 "I did my own hair and make up. I had considered doing it in a
different way, creating a vintage look or something more glamorous but
in the end decided that it was ok to just look like me."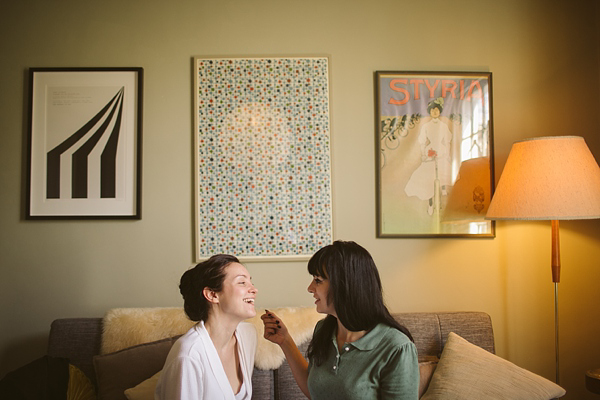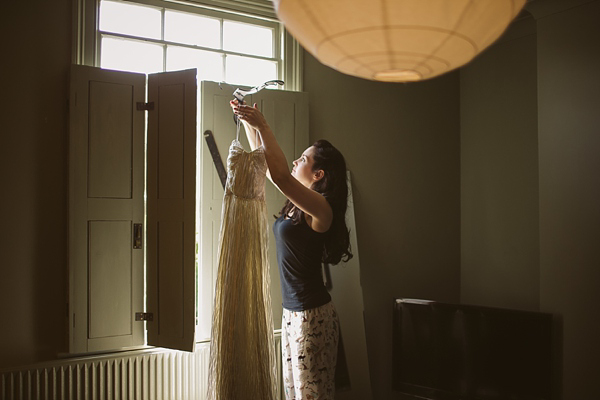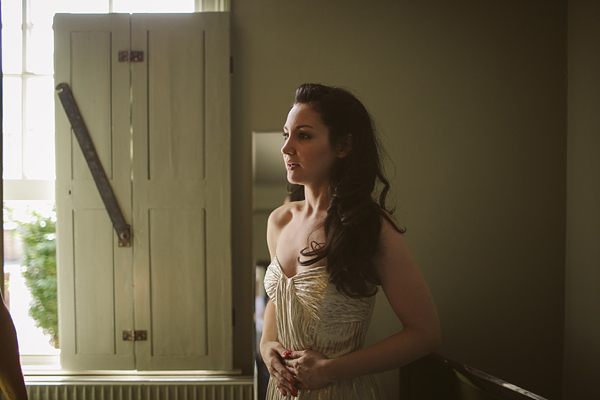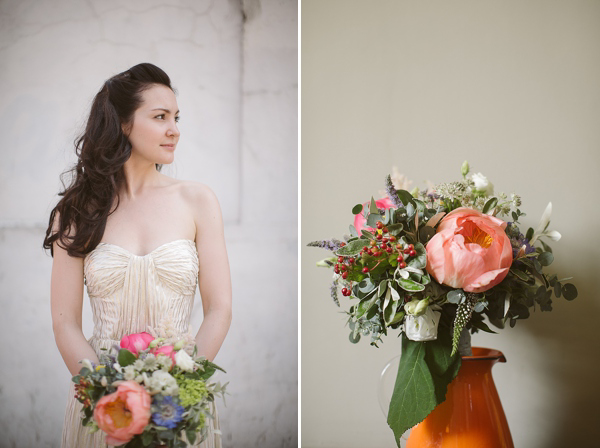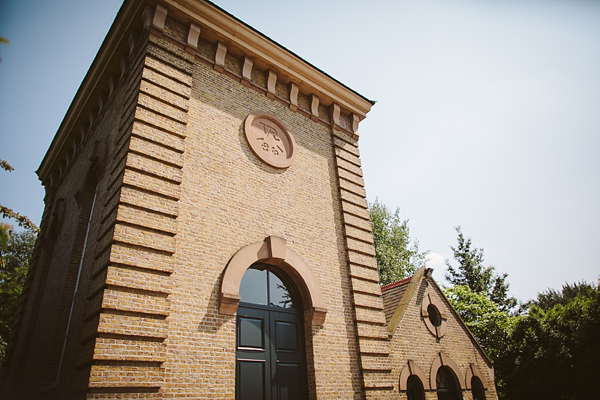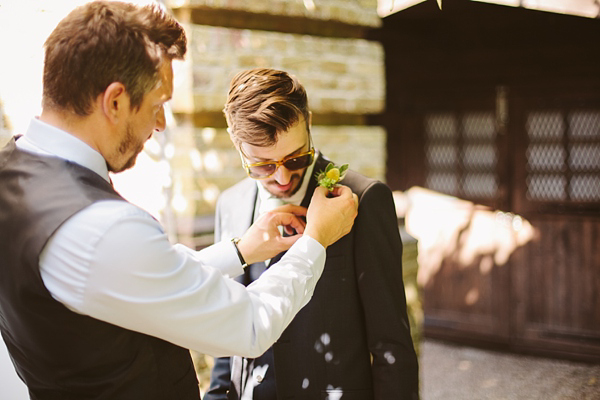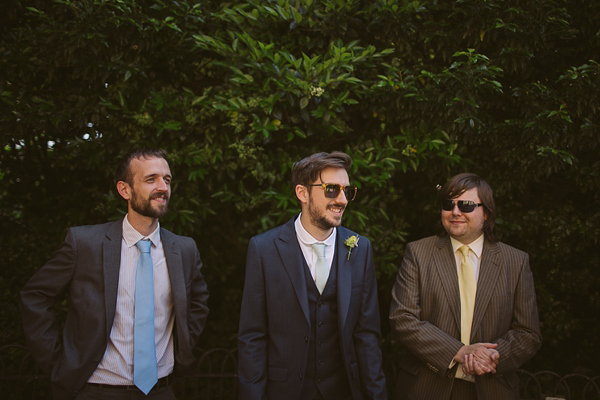 "My wonderful dad walked me down the aisle. I walked in to 'All I
Want Is You' by Barry Louis Polisar. I think it was played a few times
before I actually came in! We didn't rehearse the ceremony at all so
there were a few hiccups but it didn't matter."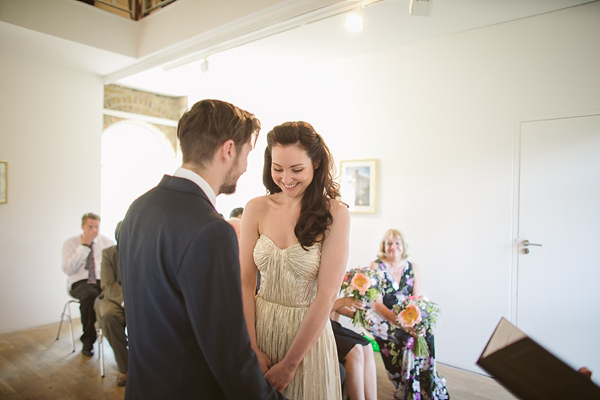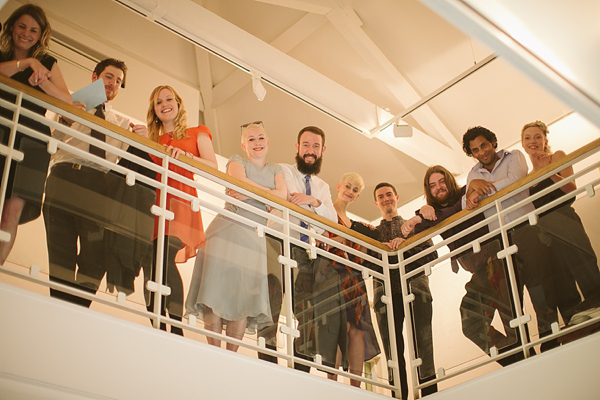 "Scott modelled his ring digitally and then 3d printed it and had it
cast in gold. Its covered in clusters of tiny skulls, something I
roughly sketched on small piece of paper and used to propose to him back
in New York. 
I went with a very simple gold band, I did consider
something chunkier and more contemporary but adore my engagement ring
(Scott's late nan's) so chose something small and plain to sit beside
it."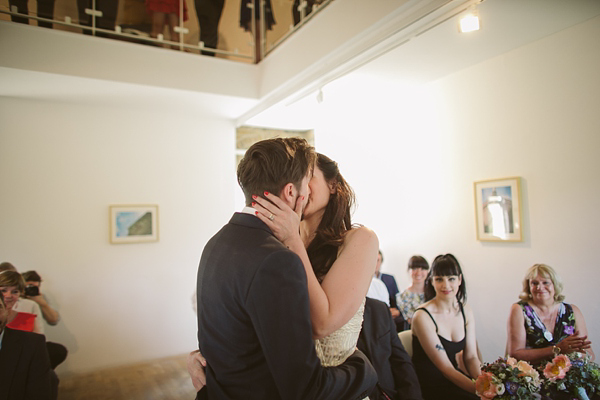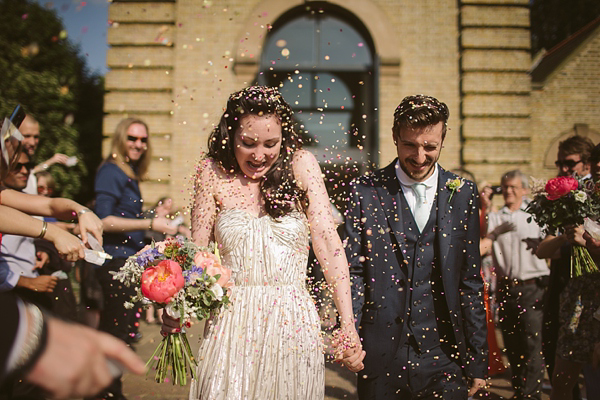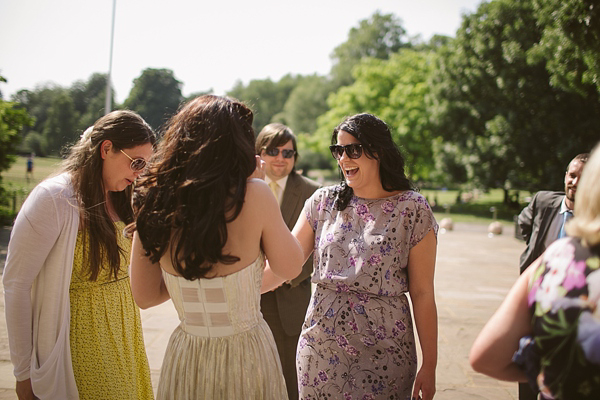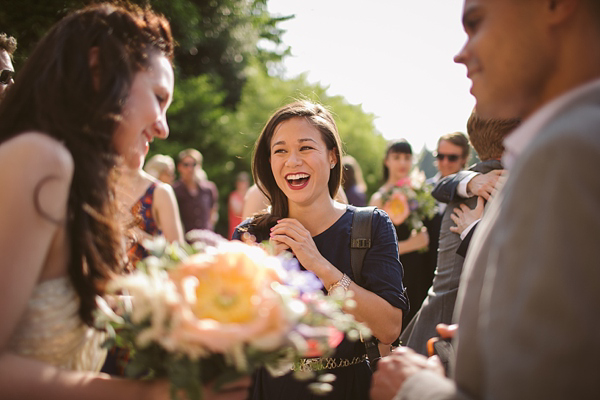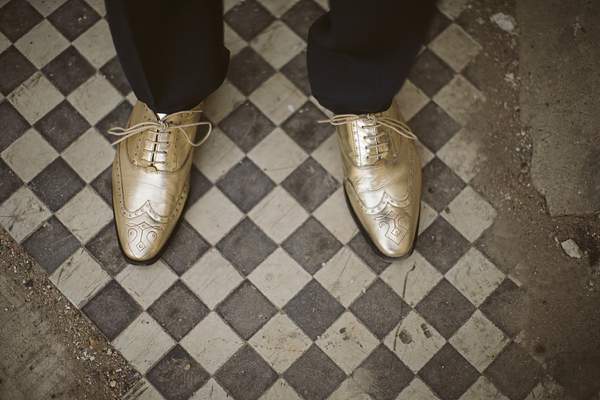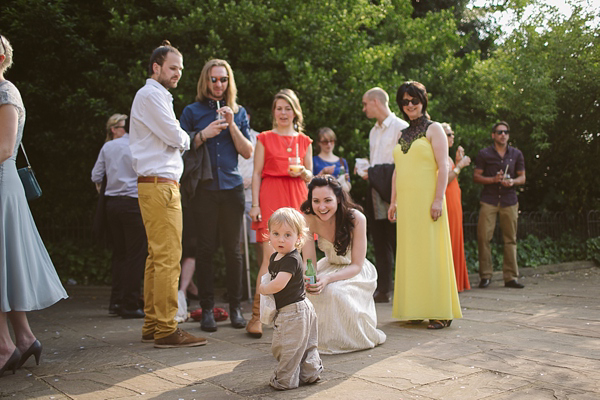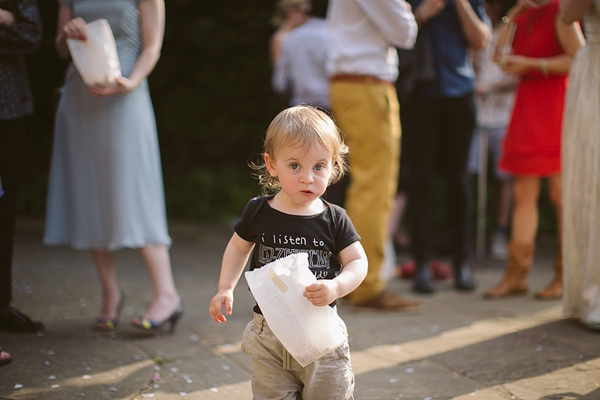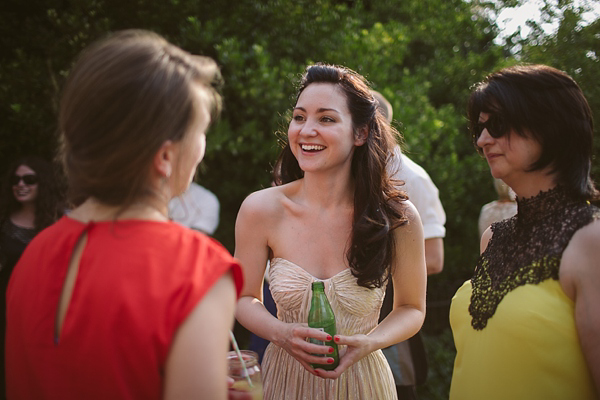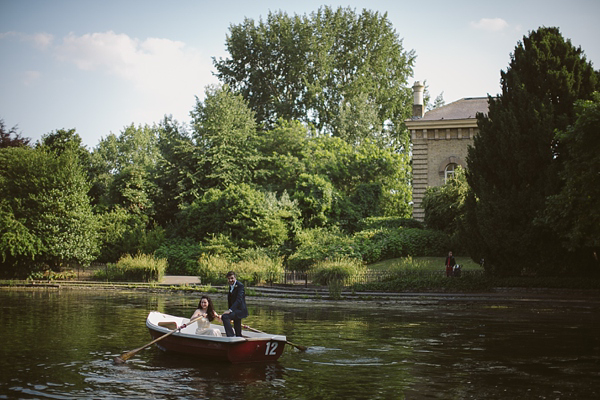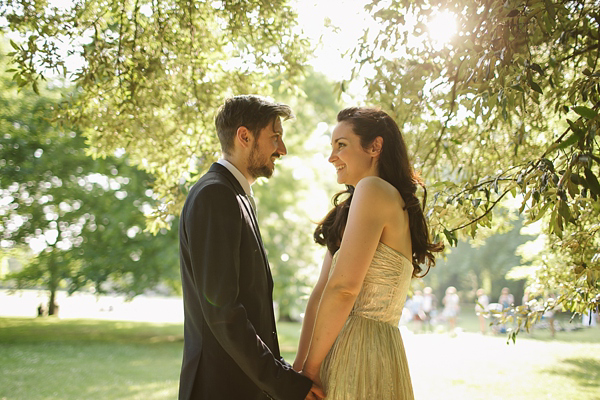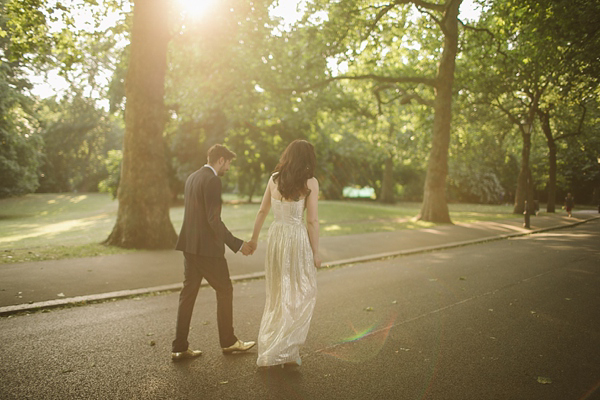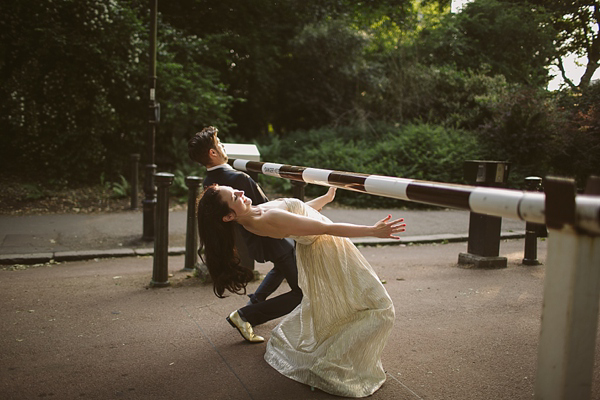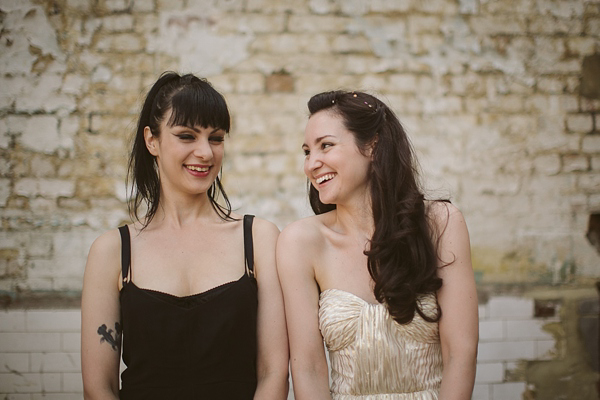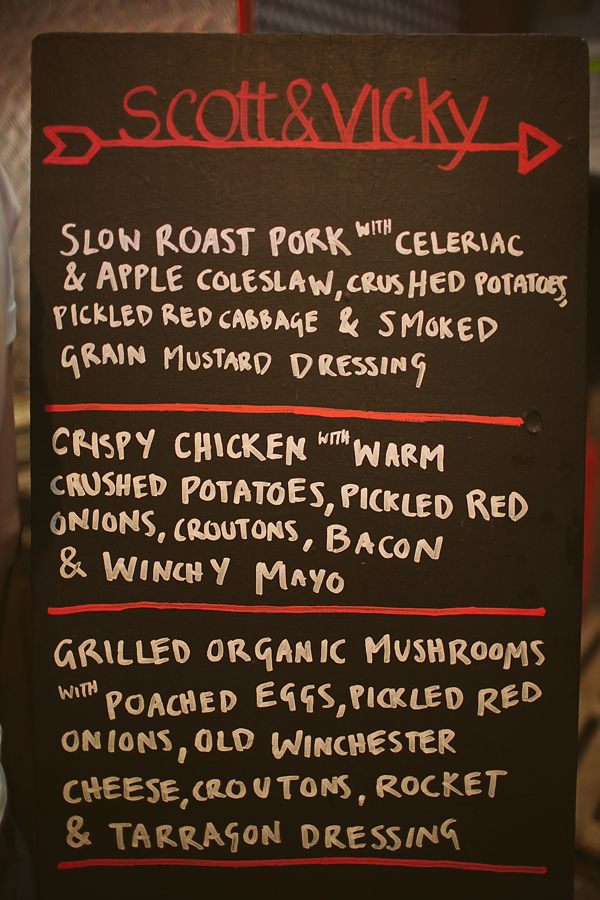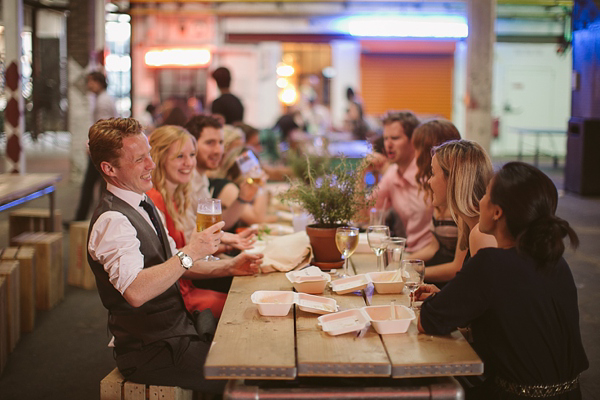 "We didn't have any set entertainment, unless you count the table football and ping pong table!"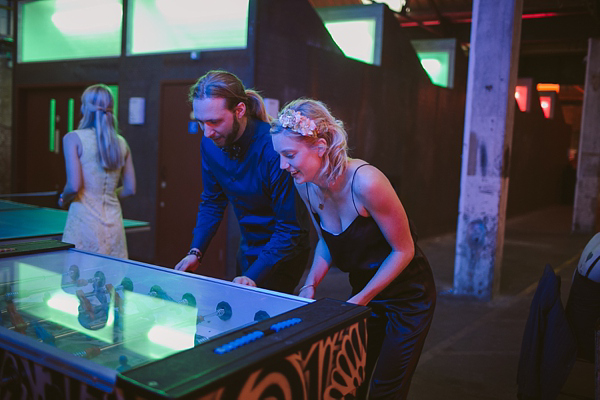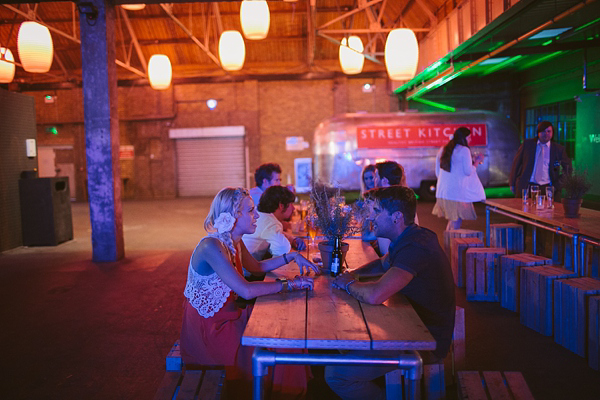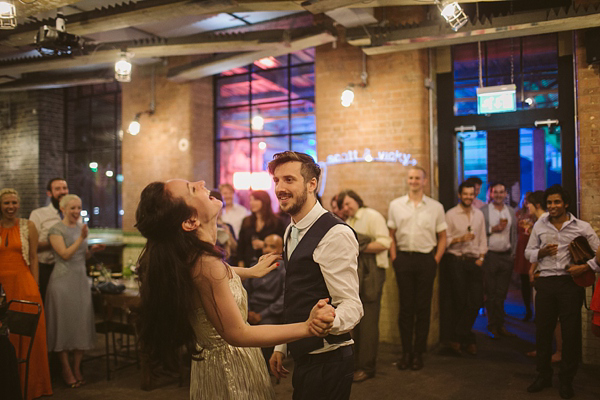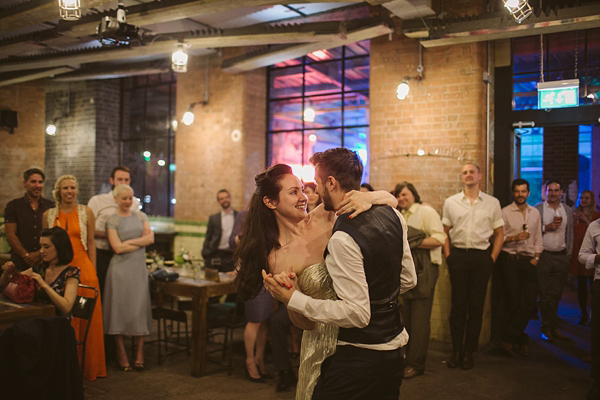 Words of Wedded Wisdom…
"Relax, enjoy it, it's a lovely thing!"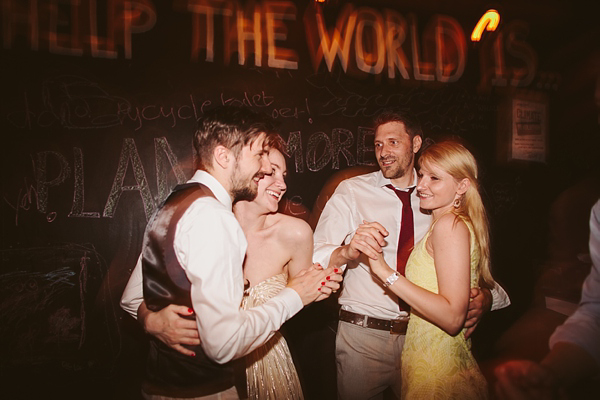 What a super gorgeous and stylish day – absolutely love that the whole affair was so laid back and relaxed and looked so effortlessly stylish.
I'm a huge fan of photographer Tom Ravenshear's work – you can see more from Tom via his website or via these features on Love My Dress.
Will you be incorporating a touch of my favourite metallic shade gold in to your wedding day, and how? Perhaps a beautiful gold dress like Vicky?
With much love,
Annabel

Photographer – Tom Ravenshear
Venue – Pumphouse Gallery, Battersea, London
Bride Dress – Erin Fetherston's Monique gown, with alterations by Russell Philip Peek
Brides Shoes – Dune, Highbury Peeptoe Platform Sandles
Grooms Suit – Topman + Sheriff and Cherry shades + Ted Baker shoes
Bridesmaids – own dresses
Flowers – friend of the bride
Cake – Blackbird Bakery
Catering – Street Kitchen
Stationery – Appy Couple