Good afternoon lunch time lovers, we're sharing three weddings today – three of the lovely last few weddings we'll be sharing in 2013 infact.   These particular images were sent in by photographers This Modern Love and they feature newlyweds Linden and Gearoidin who tied the knot on 8 June, 2013 at St Mary's church in Ardmore, followed by reception just across the road at The Beechill Country House Hotel in Derry.
"When we first got engaged I bought one or two bridal magazines but quickly realised the best place to get inspiration and ideas were from wedding blogs like Love My Dress.  I knew I always wanted a lace dress and to have a relaxed but elegant feeling to the wedding with soft muted colours.

Photography Copyright (c) 2012, This Modern Love
"But the real inspiration came from a black and white picture of my mum and dad on their wedding day which is framed in a gorgeous distressed silver embellished frame.  This picture just exuded classic romance and timeless elegance and everything flowed from there.
Everything turned out better than we could have hoped.  We spent a lot of time organising all the details, which turned out better than imagined."
"Linden and I met just after finishing our A-levels through a mutual friend.  We got together properly in the September before I left to go to university in Newcastle. We have had alot of long distance stints in our relationship, which was hard but so worth it.  And we spent a small fortune on Easyjet flights to and from Belfast in our first year!  Then Linden came to study in Newcastle as well as Northumbria Univerity.   We've lived together since 2010.
Linden's engagement idea was amazing; unbeknown to me, he (being an IT wizz) created a website detailing all our relationship together, with pictures of our travels and holidays etc.
We were engaged for eighteen months before we we got married."

"We chose our venue, The Beechill Country House Hotel, after looking for somewhere in NI for 5 months.  We got engaged in December 2011 and live in England, so we searched the internet for months for the perfect venue and stumbled on Beechhill.  It had everything we had hoped for and more.  It is set in a beautiful plot of woodland, the hotel itself is a large country residence which is renowned for its food. 
They have their own marquee, which was number one on our wish list.  We wanted a blank canvass to decorate and set out our theme.  We rented the hotel out for the weekend and the majority of our family and friends took up all the rooms.  It worked out wonderfully, as we had a relaxing meal on the Friday to meet and greet everyone.  There was a pianist playing as we ate in the conservatory. 
The church was literally across from the hotel, so Linden and his grooms men and all the guests walked up the driveway of the hotel and across the road to the church.  My God father drove me and my dad to the church and after the ceremony we all walked down the lane in the sun, it was exactly how we imagined it.  Relaxed and joyful."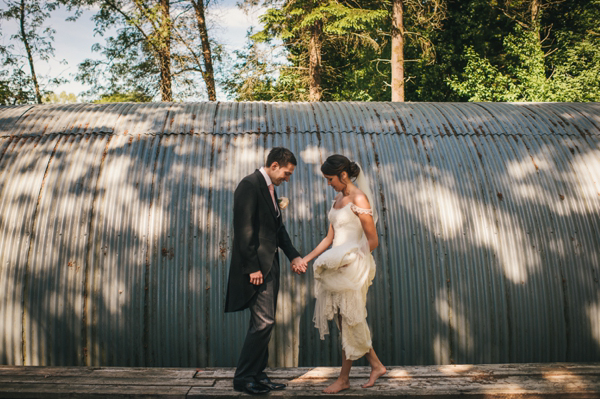 "My dress was by Joanne Ferguson, of Joanne Ferguson Designs in Newtownards.  I had never seen lace like it before.  I worked with Joanne to develop a truly bespoke dress that fitted like a second skin.  Jo and I designed the straps to soften the look.  I love how the dress is timeless, it looks like it could have been found it in an old  trunk in a French chateau but equally it could be an extra dress from a shoot at Downton Abbey or even a more modern variation of Kate Moss' dress.  That was my favourite thing about it."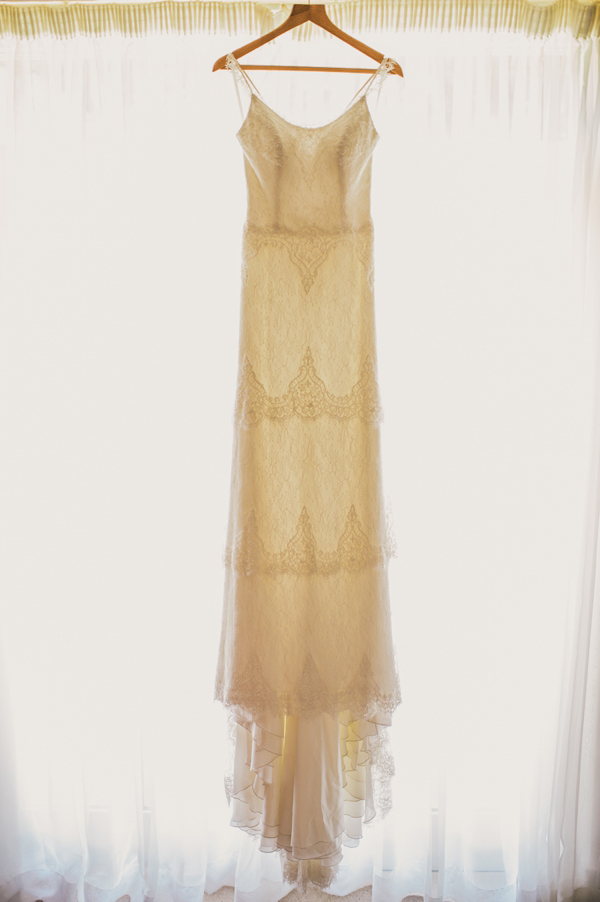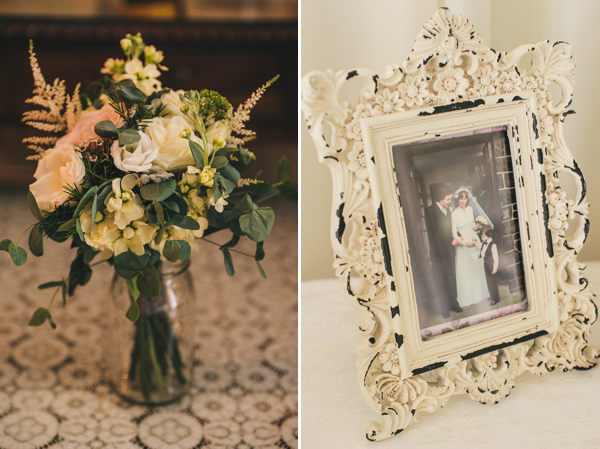 "I had two veils.  As the dress was so stunning and ornate I wanted a simple veil which just added an ethereal touch to the dress without taking the attention off the dress. My mother however had always imagined me walking down the aisle with a veil over my face.  I didn't want to let her down so I had a second elbow length veil which covered my face and when we went into the vestry I took that smaller veil off and left the lovely long veil with the lace embroidered trim on.  It worked out perfectly and my mum was happy!"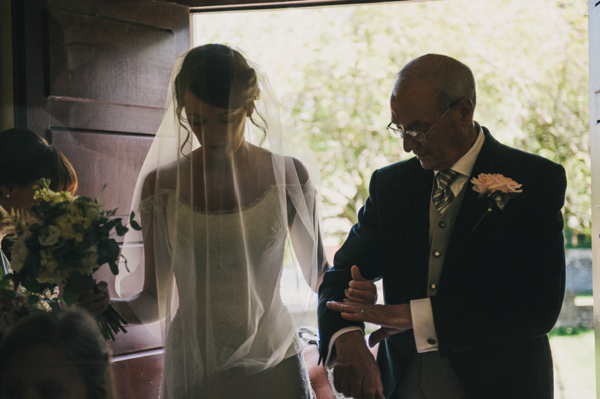 "The bridesmaids decided to veto my ideas for their dresses. My initial colour palette was olive green, which is difficult to pull off.  After much mutiny, I decided to buy the dresses without consultation and shipped them back to Belfast for the girls to try on! Thankfully they all loved the dresses, which I got from John Lewis.
The flower girl dresses were from a wonderful quintessentially French children's brand called Cryillus. One of my sisters lives in France and recommended the mail order website.  We were thrilled with the soft pink dress and classy bow.  My niece wore little dusky pink ballet pumps and a pink flower clip.  I bought her a silver heart pendant to wear too."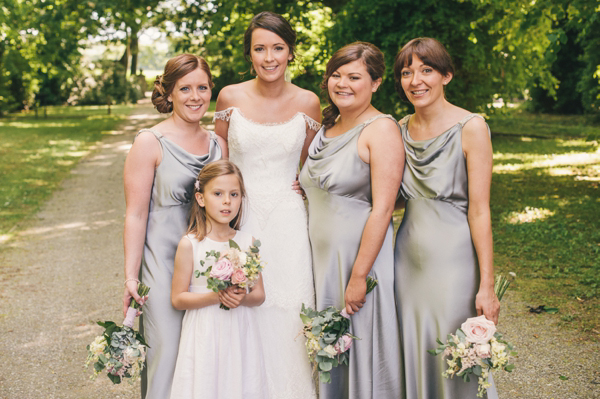 "Our flowers were supplied by The Stables Flower Company, Jil Peterson was recommended to us by our wedding planner and stylist Grace & Saviour.  The florist was super.  She was very patient, on our first consultation I brought literally 50 or 60 different cut outs from wedding blogs and magazines for inspiration. 
On the day of the wedding when I saw the flowers that the first time I cried that day.  I am not a big girly girly into flowers but Jil captured exactly the theme, textures and colours I had hoped for."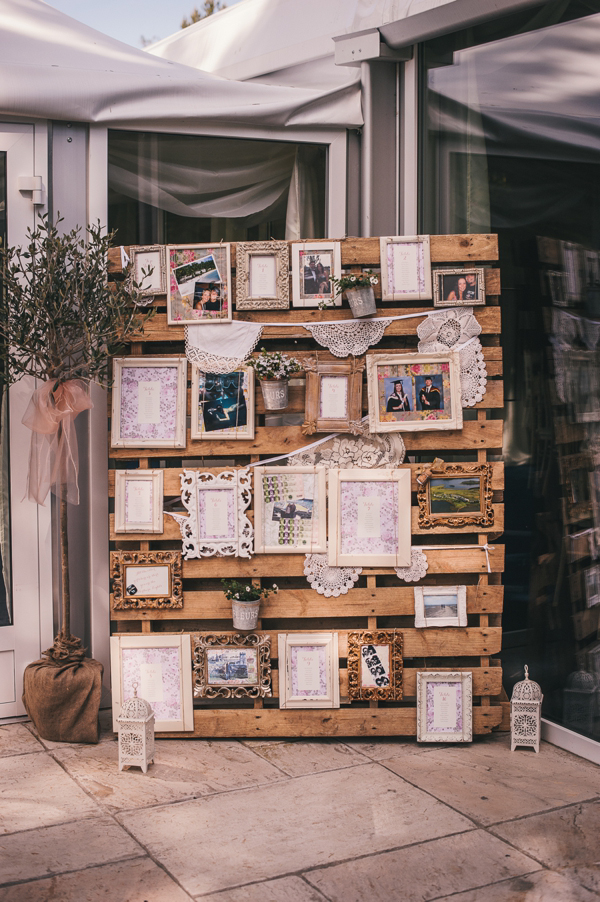 "Our photographers were This Modern Love.  We were thrilled with our choice of photographer from the start. Tim is a magician with the camera and his wife is an administrative wiz. It was a real pleasure planning the wedding with them, their enthusiasm for all things wedding was infectious.  One the day Tim was fabulous, so many guests came up to us to comment on how subtle yet energetic he was.  We paid for the package of getting ready up to the first dance but Tim stayed until past 11pm and then had to drive the whole way back from Derry to Belfast.
What was wonderful about Tim's style is it is so relaxed.  We were quite nervous about the one to one pictures but Tim put us at ease and it was great fun.  I was even climbing up and jumping off wooden benches during the one to one pictures!"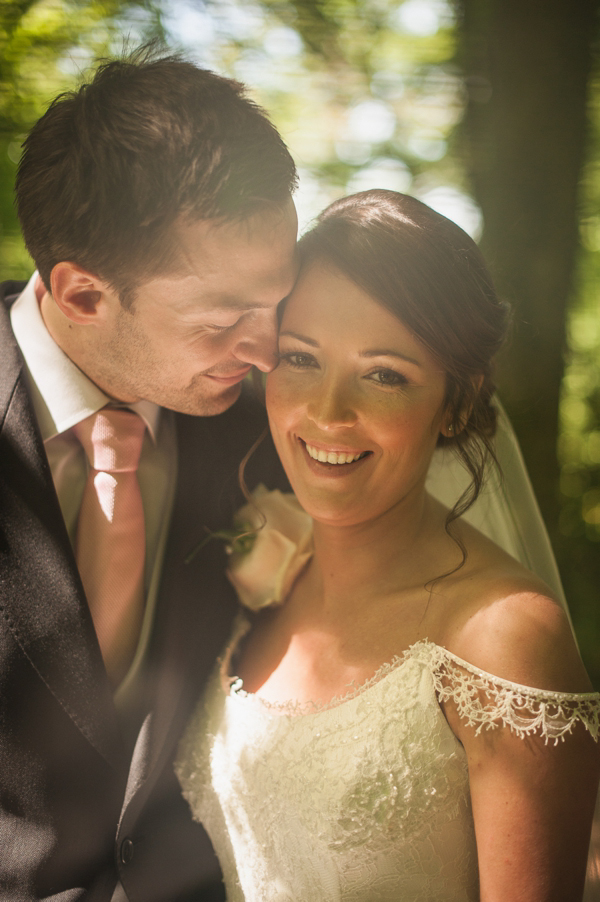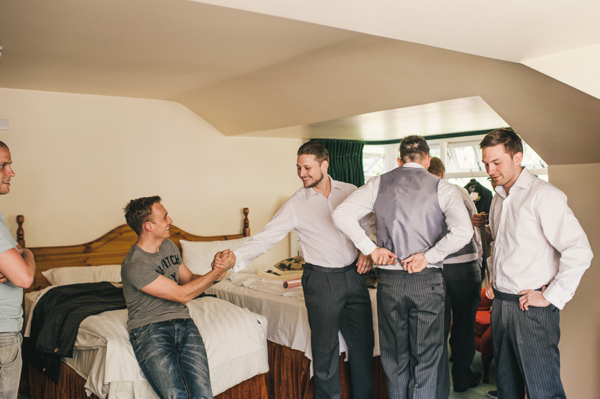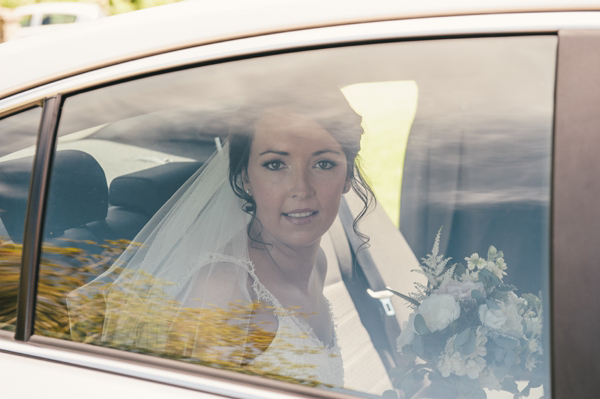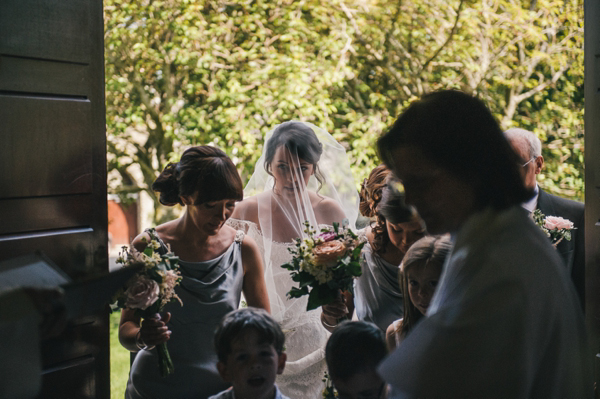 "My favourite memory was arriving at the top of the altar, I had been very nervous at the wedding rehearsal the night before but on the morning I couldn't wait to get up the aisle to see Linden.  Linden said he liked the anticipation of waiting for me to arrive at the Church. Also I loved getting ready with the girls which was great fun and the day hadn't even started."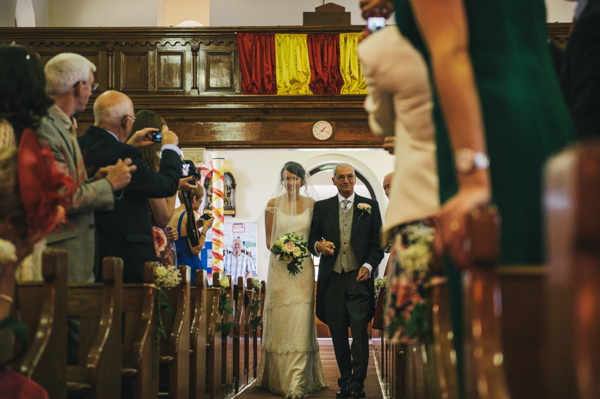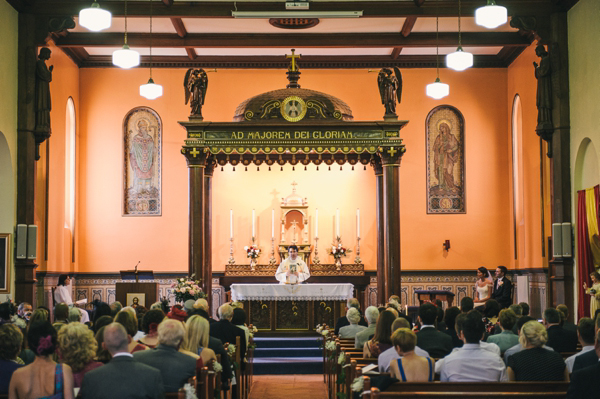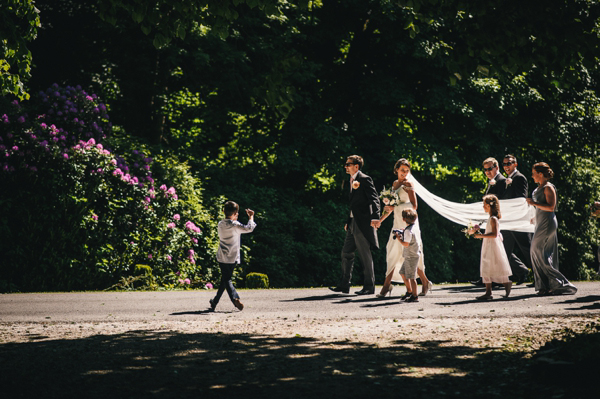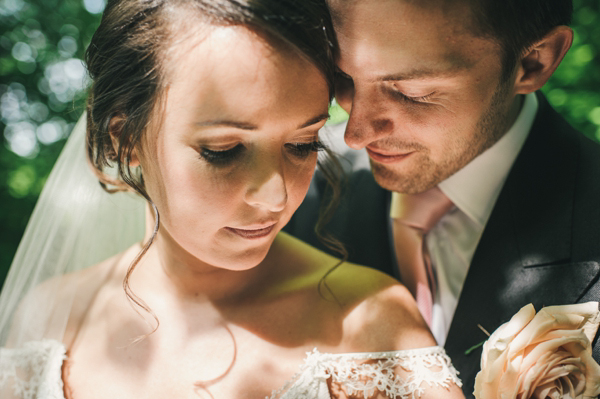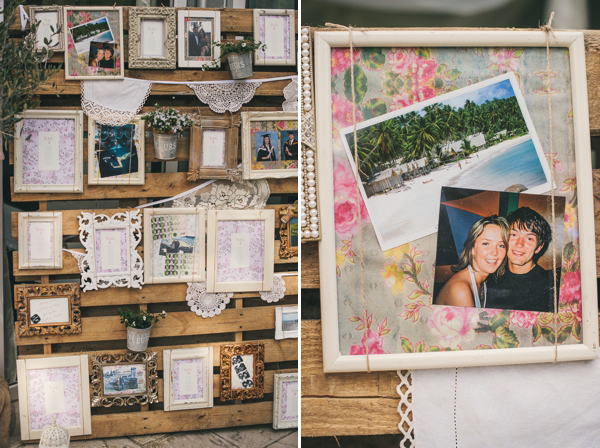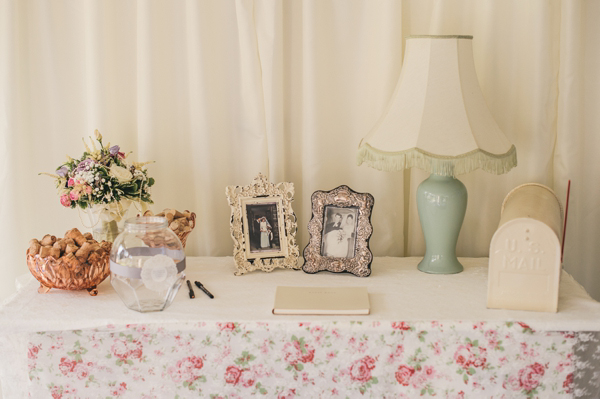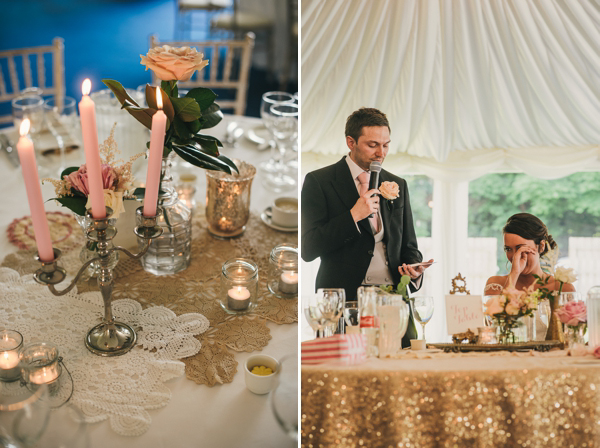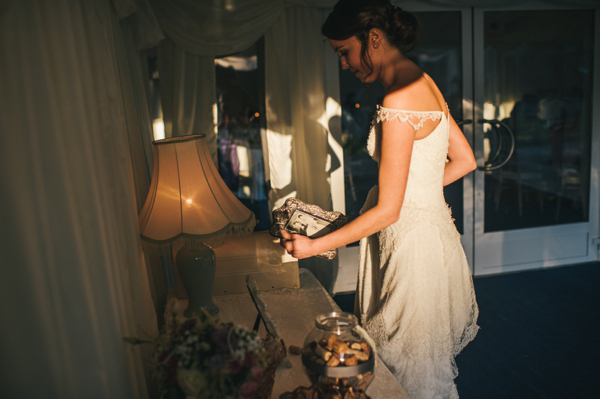 "We had The Groove Robbers, a band from Portrush who play together every week in Portrush.  They had a great mix of music and everyone was up dancing all night. I felt bad the next day as I didn't get to speak to too many people as I couldn't tear myself away from the dance floor.
Our first dance was to Josh Ritter, who we both love and have seen in concert a few times.  The song was romantic but upbeat, so nice to dance to and the lyrics were special to us."
Words of Wedded Wisdom…
"Enjoy the planning stage, it is stressful but it is so much fun.  It's a great time to work together as a team.  Remember to take time out and enjoy being engaged!
Get a large binder to keep all your ideas, inspiration, schedules, to do lists etc and take it with you to all wedding-related appointments.  Relish the excitement of the few days before the wedding itself, when all your hard work comes together and you are just bursting for the day to arrive.  I wish I could have bottled that excited anticipation.
The day itself is a culmination of months of planning and daydreaming.  Really soak up the day, if you relax and enjoy yourselves, your guests will too.  And remember if something goes wrong it is extremely likely that no one will notice but you, and who cares because you will just have married the love  of your life!"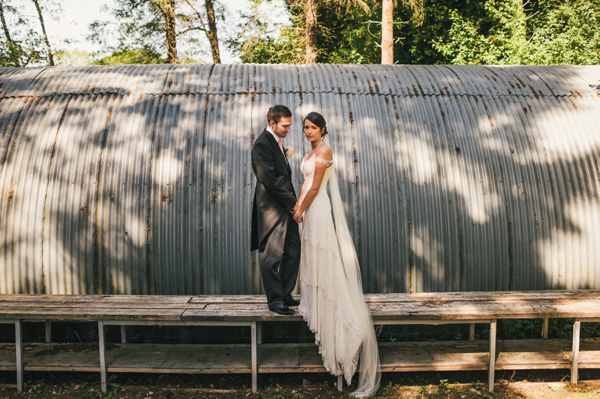 Huge thanks to This Modern Love for sharing these beautiful wedding photographs.
Reader, you can see more Irish weddings and brides wearing Jenny Packham if that takes your fancy this Thursday lunch time.
With much love,
Annabel
Photographer – This Modern Love
Wedding Planner & Stylist – Grace & Saviour
Venue – The Beechill Country House Hotel
Wedding Dress – Joanne Ferguson Designs
Brides Shoes – Jenny Packman
Bride's accessories – the bride's mums diamond stud earrings
Grooms Suit – Hired via Ludlow
Bridesmaids – John Lewis
Florist – The Stables Flower Company
Page Boys – Cryillus
Flowergirls – Cryillus
Cake – The bride's sister
Entertainment – The Groove Robbers
Rings – Harriet Kelsall in Cambridge
Stationery – Family member
Hair Stylist – Dyanne Sweeney
Follow Love My Dress® on Google+