Morning lovelies! Not long now until we can all (I hope) take a lovely break over Christmas.  With just nine days to go we're focusing on sharing the last of our real weddings for 2013, before we take a break for a few days over Christmas.
This morning's beautiful Lake District wedding was sent in by Sally Thurrell of Sally T Photography, who was asked to photograph James and Rebecca as they tied the knot on 21st September this year at Seatoller House. The couple had a legal ceremony on the Wednesday, before the images you see here today were taken, at the Lowthian Chambers in Edinburgh, Rebecca's favourite place, with just their parents as witnesses.  I adore the very laid back and informal nature of this day, Rebecca' sweet gypsophila flower crown and her dress by Minna with that delightful Peter Pan collar detail.  Designer Minna Hepburn specialises in bohemian inspired bridal wear with a focus on eco-friendly design and production techniques.
"The thought of going to a wedding dress shop brought me out in a cold sweat and it was something I wanted to avoid as far as possible. Living in Luxembourg also had the potential of making finding a wedding dress a difficult process. However, I came across Minna and her vintage inspired handmade dresses on my first visit to Love My Dress and I knew straight away that she would be my first port of call"
Photography Copyright (c) 2013, Sally T Photography
"James took me to Appledore in Dorset for New Year's Eve so that we could go kite flying on the beach and decide on our next adventure in life.  James proposed on Woolacombe beach on New Year's Day 2013.
Our venue, Seatoller House in the Lake District, was the first place that we both thought of – it has a huge family connection for James – his great grandfather and great great uncle first stayed at the house nearly 120 years ago and family and friends continue to stay at the house every year. 
Seatoller House doesn't have a marriage licence and ours was actually the first, and possibly the only  wedding to take place there. However, this was the place where we wanted to celebrate with friends and family."
"We had tipis in the paddock in front of Seatoller House and the backdrop was breathtaking.  The tipis were provided by our friends David and Kate Lowe of Special Event Tipis who set up their own tipi business following their own wedding in a tipi in 2011. The tipis were incredible and really blended into the surroundings – we couldn't recommend a tipi wedding or Special Event Tipis more!"
"We especially loved having so many family and friends together which is so rare with us both living abroad. The day passed so quickly and I sometimes have to remind myself that it actually happened. It is amazing to be able to look through the photos and relive it all again."
"We wrote our vows ourselves but hadn't practiced them and it got to the part where we were to exchange rings and we had forgotten all about the rings! Hilarity ensued as Hugh, James' best man, struggled to find them in his suit pockets which were full of all sorts of different things including twine which was brought out first – typical farmer!"
"My dressmaker, Minna, the most beautiful woman I have ever met, was so friendly and accommodating.  All it took was one visit to her studio in South London (in the attic of a church) with my mum and two bridesmaids.   From the very first e-mail the whole process of having a dress made for me was incredible. Although based on an existing dress, by the time I walked down the 'aisle' it had been altered significantly with the result that Minna asked whether she could add the 'Rebecca' dress to her collection!"
Wow, what a compliment!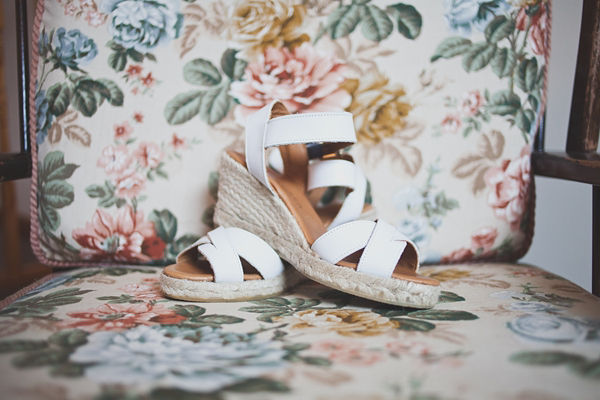 "I didn't want to detract from the beautiful lace of my dress so kept jewellery to a minimum wearing only my Victorian antique engagement ring and pearl earrings."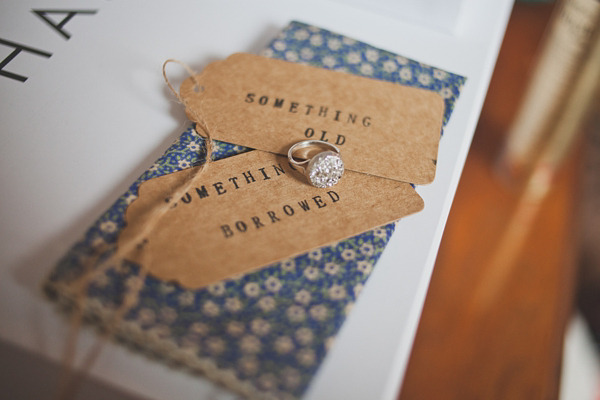 "I wore a gypsophila flower crown in my hair – it was the perfect complement to the dress."
"My brother is a very talented musician and he played my favourite nocturne by Chopin to accompany me walking down the 'aisle' (grass bank!) with my father. The main complication was working out how to get a piano into the garden at Seatoller House!
The ceremony was written by my close friend Sam who is a marriage celebrant in Sydney, Australia. She wasn't able to come to the wedding as it was just too far for her to fly with her young family, but due to the incredibly personal and beautiful ceremony – read by our close friend James Gifford, who came from Botswana for the wedding – it really felt like Sam was there.
We had two readings; the words to I Love You Because sung by Jonny Cash (because we're big fans) and These I Promise by Mark Twain read by close friends Rory Hoare and Claire Foy respectively."
"My two oldest and closest friends were my bridesmaids; Kate and Lisa. I've known Lisa since before nursery school and the three of us were at primary school together. Again, finding a dress had the potential of being tricky with me living abroad, but the colourful floral dresses from Hobbs were perfect and they looked beautiful – almost like sisters!  The girls also wore French Sole ballet flats.
"Our flowers were grown for us by Fiona Barrett at Briarigg House in Keswick, near to Seatoller. It was really important for us to have locally sourced and in season wildflowers, but had no special requests in terms of species or colour. Fiona was amazing and despite the weather's best efforts to decimate Fiona's garden in the days leading up to the wedding, we loved walking around the garden with Fiona the day before the wedding with a pair of secateurs picking all the flowers.
The bouquets and button holes made by Fiona were beautiful. I would never have thought about adding blackberries and brambles to the flowers on the tables!"
"Not having much occasion for wearing a suit living in the bush in Botswana for the past 7 years off and on, James bought his Reiss suit in Air Force Blue on the same day I found my dress; it was a successful day in London! By the time the tailor was finished with it, it fitted him like a glove and he looked incredibly handsome.
Due to the informal and laid back nature of our wedding, James' best man Hugh and our fathers didn't wear matching suits but all wore matching Liberty print ties handmade by Stagmade on Etsy."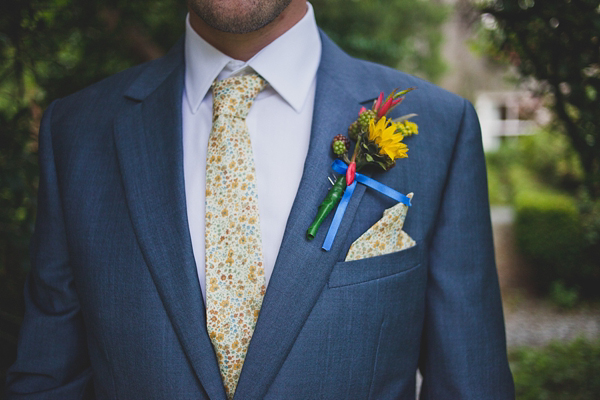 "James and I were very laid back about our wedding but knew we wanted to incorporate all the different places that we've lived which have played a big role in our relationship."

"Our photographer Sally Thurrell was incredible. Booking her was the first big decision that we made in February after loving her photographs. Our first skype conversation with Sally to 'meet' each other just confirmed how perfectly suited we were and her enthusiasm throughout the whole wedding process was infectious. She made us both feel very comfortable in front of the camera and her photographs of the day are incredible: such special memories"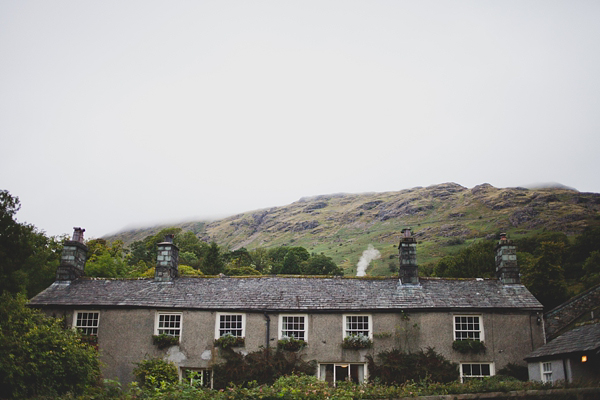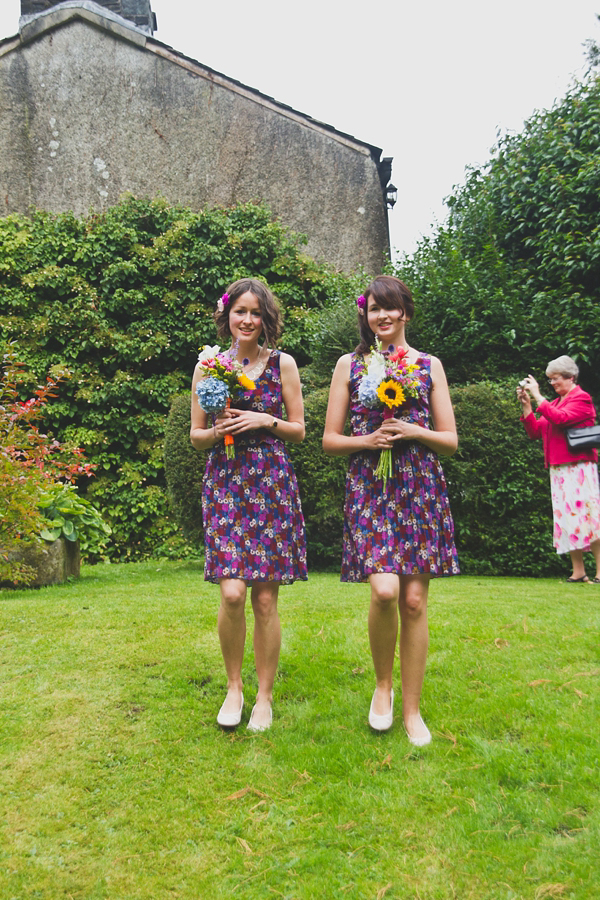 "My mum also dried lavender for my flower girl, my niece Hannah, to give to everyone as confetti."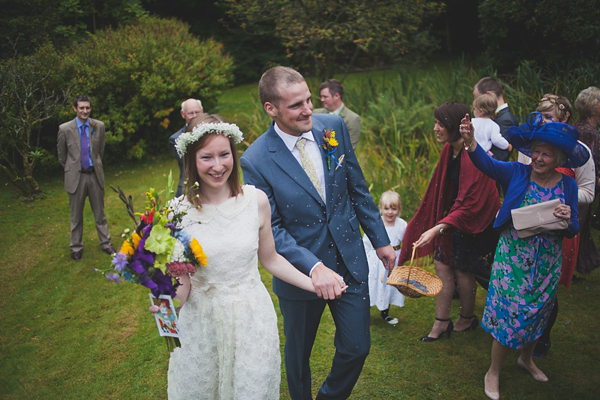 "Our wedding cake – a traditional fruit cake – was made by our mothers and was delicious! James' mum made the bottom tier which we ate on the night of the wedding.
The top tier has been frozen in accordance with tradition and the middle tier was a Simnel cake – my favourite cake! James iced all three in the week leading up to the wedding – I'm not sure many Grooms can say the same!"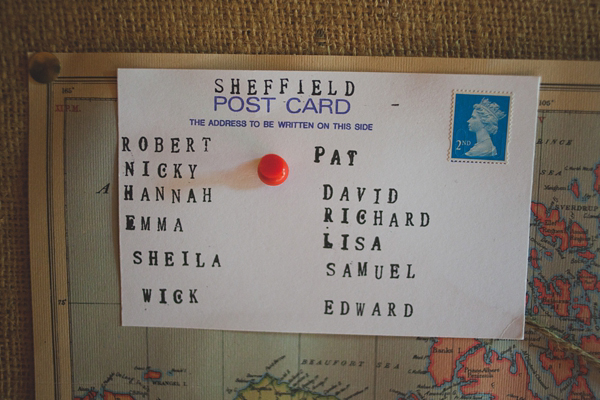 Our wedding favours were wire bead keyrings made to order from a guy in Maun, Botswana, where we have lived on and off for the past 7 years.  The tables were named after those places but we also tried to bring something from a lot of them: instead of champagne we had Crémant from Luxembourg; my parents went to a vineyard in the Moselle to source the wine which they drove all the way to the Lake District. My mum made the table cloths from traditional African print material – the whole day was a splash of colour!
We even had a zebra skin on the dance floor – James researched zebra in the Makgadikgadi in Botswana for 4 years!"
"We danced the night away first with a ceilidh followed by a playlist made up of both our favourite songs and songs suggested by friends and family. Our first dance was 'Your Love Gets Sweeter', Finley Quaye."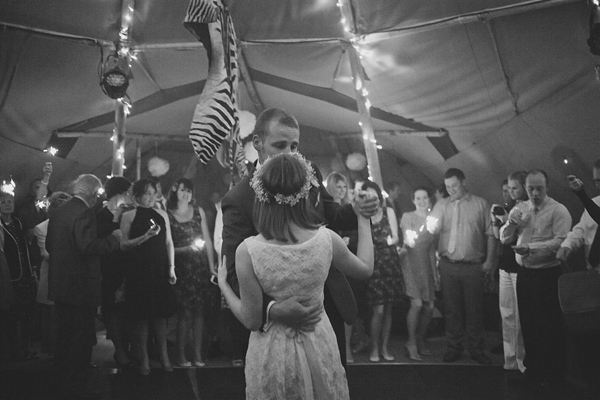 Words of Wedded Wisdom…
"Don't listen to the horror stories about wedding planning and ignore the people that go a bit crazy as soon as the words bride or wedding are mentioned. We found the whole process stress free and we thoroughly enjoyed planning a day which was everything that we wanted and reflected us both as a couple; everybody commented on this in particular and how much fun it was."
A huge thank you to the very lovely Sally T Photography for once again sharing her work on Love My Dress, and congratulations to you both Rebecca and James, you both look amazing gracing our pages today and I've loved reading about your wedding.
Lovely ladies, you can see more from designer Minna here on Love My Dress or by visiting her website. You might also want to see more from photographer Sally T on Love My Dress, as well as weddings held in the Lake District.
I'd love to see some sweet words and feedback about this wedding in the comments below.  Are you planning a wedding in the Lake District or might you be tempted to look up a Minna design now, or have beautiful buttonholes and bright flowers like Rebecca and James?
Annabel
Photographer – Sally T Photography
Venue - Seatoller House in the Lake District  + Special Event Tipis
Brides Dress – Minna
Veil/Headpiece – Gypsophila flower crown by Fiona Barrett at Briarigg House
Groom's Attire – Reiss
Bridesmaids – Hobbs dresses + French Sole ballet flats
Flowers – Fiona Barrett at Briarigg House
Cake – Made by the mums
Catering Company – Colin Moore Traditional Butchers
Follow Love My Dress® on Google+