Well hello Wednesday afternoon! How on earth did you come around so quickly?  We're not complaining however, especially not when you bring gifts like Joanne and Luke's fabulous 60's and 70's inspired whimsical wedding. Readers – I think you're going to fall head over heels for Joanne's pretty dress, floral headpiece and infectious smile.
Joanne, a Fashion Grader/Marker for Karen Millen tied the knot with her beau Luke, a retail manager for a games brand on 15th August last year at  The Royal College of Physicians on Queen Street in Edinburgh.
"Luke and I are really into music, and have a really eclectic taste however a few of our all time favourites are best know from the late 60's and 70's, such as Led Zeppelin, Bob Marley, Neil Young, The Doors, Joni Mitchell etc, so the music by these people and the eras in which they are from was a big influence on the style of wedding we had."
Photography Copyright (c) 2014, Anna Cairns Pettigrew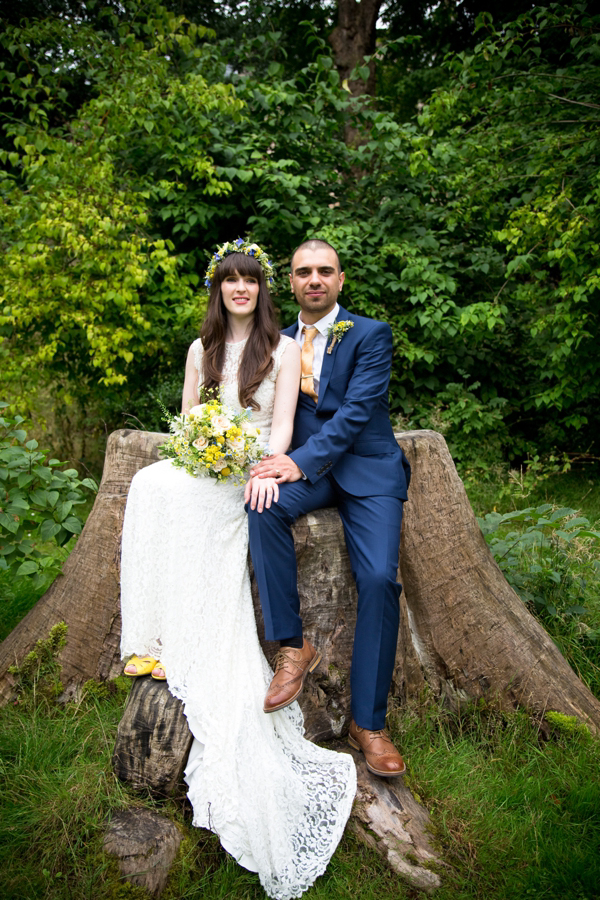 "We of course wanted the day to feel special but we also really wanted it to be really easy going, relaxed and fun for us and our guests. With yellow and green being our favourite colours and with daises being my favourite flower we took inspiration here to have bright colours and wild flowers. So with that and our music influence we ended up with elements of 70's bohemian while keeping the day elegant and special.
We also thought that having the ceremony in Edinburgh centre would be ideal as we really fancied just going to a local restaurant afterwards to keep the day relaxed and with the Fringe festival being on during this time that the city would have a lot of atmosphere around it. So after lots of searching in the city, we found The Royal College of Physicians, which is just stunning!! We chose the Cullen Suite as it's a Georgian town house room that over looks the Firth of Fourth to Fife. It's a beautiful pale blue and white airy room, the perfect size for our wee wedding of 32 guests."
"At the time we got married we had been engaged for five and a half years. Luke is from Kent and I'm from Fife, Scotland. I moved down to Kent to study Fashion at UCA in August 2006. During this time I started working part time for Gamestation to help support my studies. It was then on a work night out in Jan 2007 that Luke and I met. He was working in the other branch in the same town, and we ended up becoming friends for a couple months before we got together in March of that year.
We spent that first year going to gigs, getting to know each other, spending time together with our families and going on holiday, before finally moving in with each other. Then a day shy of a year of together Luke proposed. He asked me at our home in Kent – I needed a bit of convincing as I didn't think he was being serious at first, however he assured me he was, and the next day we went to an antique jeweller in Rochester and picked a ring!! Since then we have been lucky to have spent lots of time together, go a few trips, and make ourselves a lovely wee home. We finally set a date during Spring 2012 for the August 2013."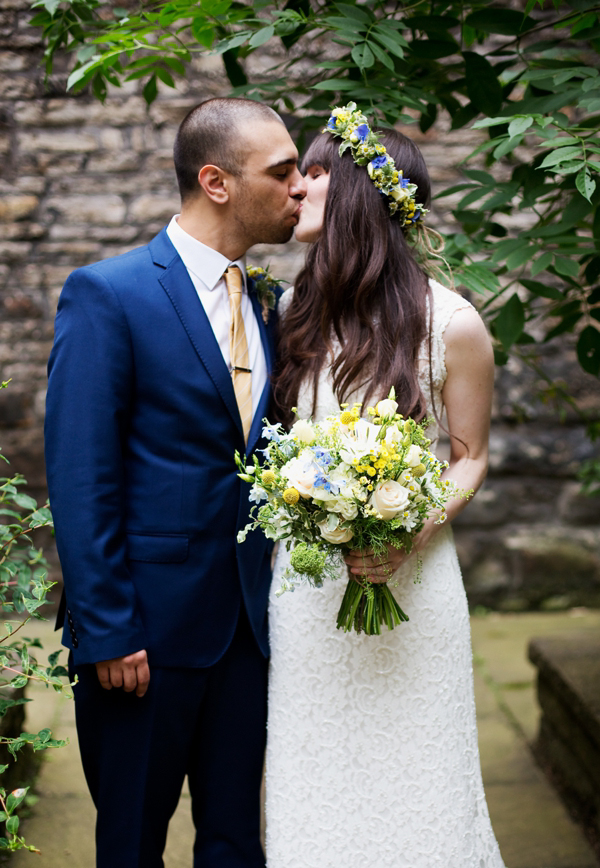 "I had three wedding dresses (I'm honestly not a diva!).  My main dress that I wore for the majority of the day was from Phase Eight.  Then just before the wedding meal, I changed into an original Edwardian tea dress that I purchased from Hope & Harlequin.  Very late on in the evening of the reception I changed into a beautiful wee lace and tulle dress from Karen Millen – though sadly our photographer had left by then so I have no official photographs.

I wasn't really sure what kind of wedding dress I wanted before I started looking, all I know was that I definitely didn't want a big dress, but possibly something shorter, vintage, or vintage inspired – I wasn't even sure if I wanted an actual wedding dress or not!  So with a couple of friends I decided to go shopping in London, heading to John Lewis so I could see a range of styles that suited our budget. Amongst the selection I picked up was an elegant, all over lace, full length wedding dress by Phase Eight, that had a train.  As soon as I tried it on, it made me feel beautiful and I loved that it was vintage and bohemian inspired in it's design."
"Decision made, I was so happy and loved my dress! Knowing that I'm not always the most traditional of girls, my Mum was thrilled when she found out that I had chosen a full length gown.   Having made my purchase, I stopped looking at wedding dresses, but I was at a vintage wedding fair in London looking for a head piece when I found this little Edwardian tea dress from Hope & Harlequin, that I tried on as I fell slightly in love with it at first sight.  It fitted perfect, so I thought I would buy that one too!!
As I was in love with both of my dresses, I decided that the Edwardian one would be ideal for after the ceremony when we are heading out in Edinburgh city centre as I wouldn't need to hold up the train.  The simple lace one felt so special and bridal which I loved and when else can you wear a train! And the Edwardian one was so original and fun and also fitted into that bohemian vibe that I love so much."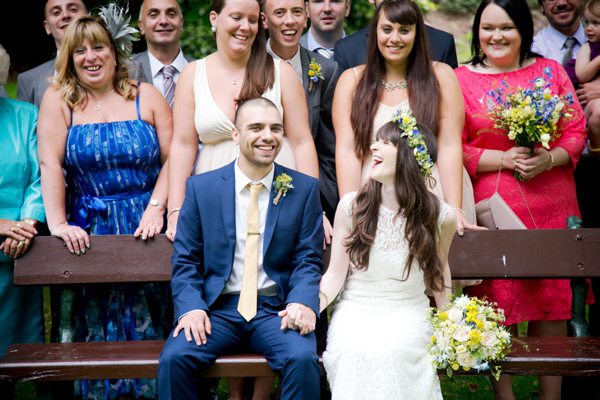 "I had thought of going for some kind of head piece but really loved the idea of having fresh flowers in my hair so our florist, Erin from Narcissus Flowers in Edinburgh, made me the most beautiful floral crown. She used my favourite flowers daisies and made sure there were a lot of yellow and green in there for a really natural summer rustic look – and of course a few thistles to represent my Scottish heritage."
"I really wanted flowers that were wild looking, almost like they had been picked out of a field, I also knew that I didn't want anything uniform or formal, but a fabulous mix of fresh flowers with lots of colour and texture. Luke and I aren't the most formal of couples, so we wanted something that represented us – something fun, and fitting for the occasion. I knew I definitely wanted there to be daisies as these are my favourites and for my bouquet for there to be yellows and a bit of greenery.
I adore rustic and bohemian style, so when searching I kept this in mind. I came across a florist called Narcissus not far from the venue which looked ideal, and when I went to meet with Erin from the store she knew exactly what I was after for the bouquets and buttonholes, and immediately started sending me over bloom images so she could put together all my favourites. We also wanted to make sure that there was a few thistle in there, which were just beautiful, and she also put in a little blue into the girls bouquets to match the buttonhole and then a muted tone of blue in mine to tie them all together, and as mentioned before Erin also made me the most amazing flower halo for my hair! I loved the flowers we had; they were elegant, summery and wild!
"I really loved the idea of my three bridesmaids wearing different dresses and in different colours. Again we wanted a fairy relaxed wedding and wanted the girls to be comfortable and suit all their different styles and shapes. So I picked a colour for each of them that I knew would suit there skin tones and match the flowers, and I decided to have lace dresses so that they would all tie in nicely together and with me. The girls all helped me search through ideas and had a lot of input in the decisions, this was tricky at times as I was in Kent, Nina and Lee in Fife and Gail in Australia. 
So my cousin Nina is in a yellow dress by Almari from House of Fraser, Lee's pink dress is be Ben De Lisi for Debenhams  and Gail's blue dress is from Oasis."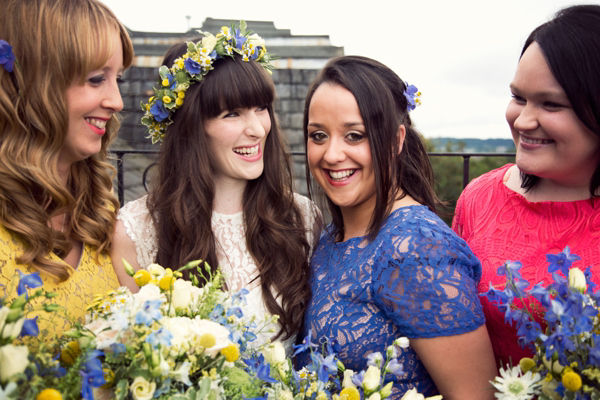 "I asked the girls to pick their own shoes so that they were wearing something comfortable and their own style as long as they were a neutral shade so not to distract from the amazing colours of their dresses.  So they were bought from different places including Marks and Spencer's and Debenhams.
I also gave each of the girls a personalised initial bracelet as part of a thank you gift the day before the wedding. These are really simple silk thread and silver and are from Oliver Bonas Other than that I was happy for them to wear whatever accessories they liked as long as they were effortless."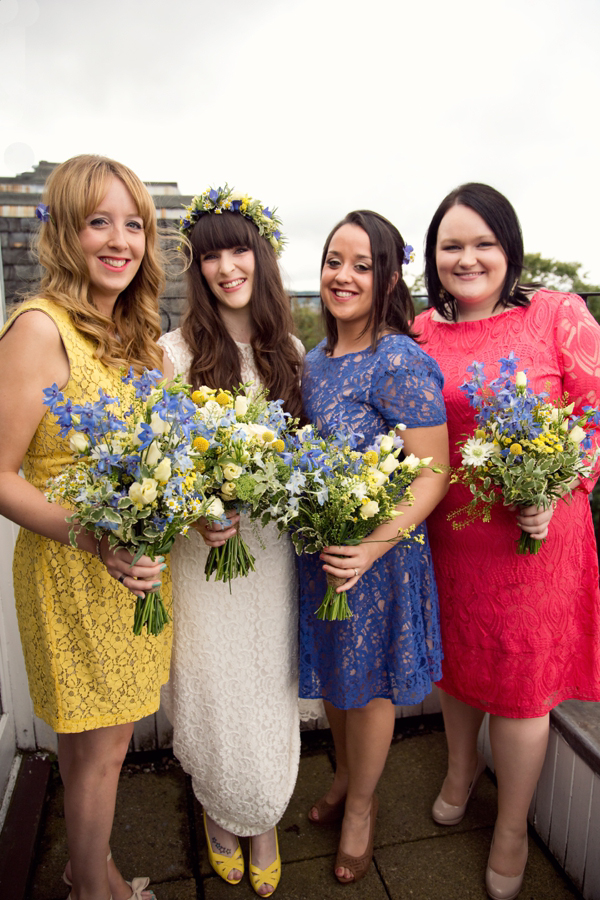 "Luke is usually very casually dressed and wanted to wear something sharp but didn't fancy wearing a black or grey suit. He also wanted to stand out a bit and he wearing something different to his best men, so when looking for something he liked we came across this sapphire blue suit from Burtons Menswear.
He instantly felt good wearing it, the colour really suited him and the blue with his tan shoes really worked. With yellow being one of our main colour inspirations we searched for some vintage looking ones for all the boys, which we ended up finding in Next. His tan belt is from Rokit on Brick Lane.  He also wore a pair of beautiful leather brogues by Peter Werth.  He looked incredibly handsome on our wedding day, he always does to me but it was lovely seeing him looking so sharp."
"Our wedding cake was made my Mum's friend Alisa Reddick. We wanted a simple cake, nothing over the top so to tie in with the flowers we had chosen we decided to go with a daisy cake, but for the daises to look as though they were cascading down the cake. I had seen a cake online that I really liked so I printed off the image to give to Alisa and let her do her magic. Not being fans on fruit cake we went with each of our favourite kinds of cake, so we had chocolate and lemon! She even created the peony roses out of icing!"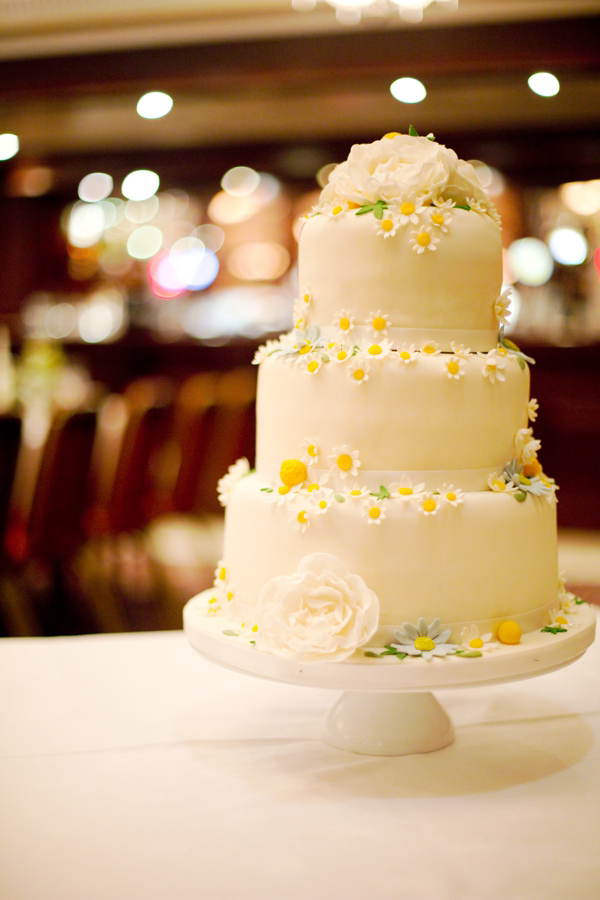 Those yellow peep toe shoes of Joanne's are from Dune by the way!
"We did a lot of searching to find a photographer that we really liked and who we thought would suit our wedding. We wanted relaxed, modern and fun photos and when we saw Anna Cairns Pettigrew's website we thought she looked perfect! Her portfolio online is beautiful, feminine, relaxed, had a vintage appeal but above all they looked fun.
When discussing our plans with Anna she was really friendly, attentive and professional. As part of our package we got to do an engagement shoot so we could all meet, get to know each others styles and ideas and to help me and Luke in front of the camera. We are not the most photogenic of people but Anna really helped us to relax and get into the shoot. We absolutely love these photos, they are so creative and unique and Anna was able to really able to take our interests and make something so fun."
"By the time the wedding came along we felt much more at ease with being photographed and Anna helped to keep us feel really relaxed on the day. We like impromptu style images and moments caught where the subject is unaware – and we felt that Anna captured this style really well.
The style and colours of our wedding where emphasised by the style of Anna's photography, and on the day she was very professional, easy going, was able to see the moments that would make fabulous photos. We are thrilled with our photos, and would recommend Anna to anyone looking for personal, beautiful and modern photos. We can not recommend her enough!"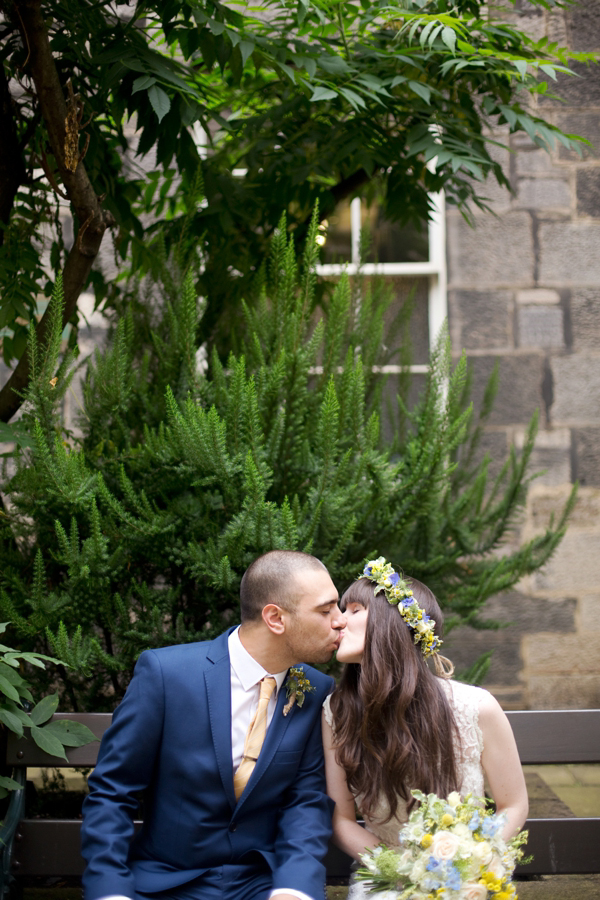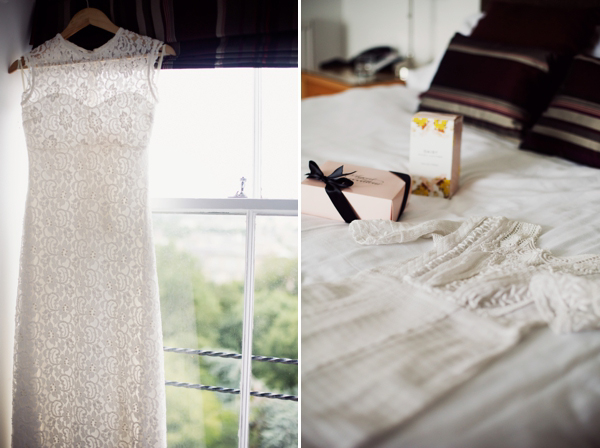 "One piece of tradition that I really wanted to stick with was the something old, new, borrowed and blue so I wore a delicate gold ring with a coral stone that was my Gran's, I had my wedding dress as my something new, I borrowed my mum's simple gold bangle with a wee love heart on it and my dear friend Amy had given me a fabulous blue garter from Agent Provocateur as a present just before the wedding."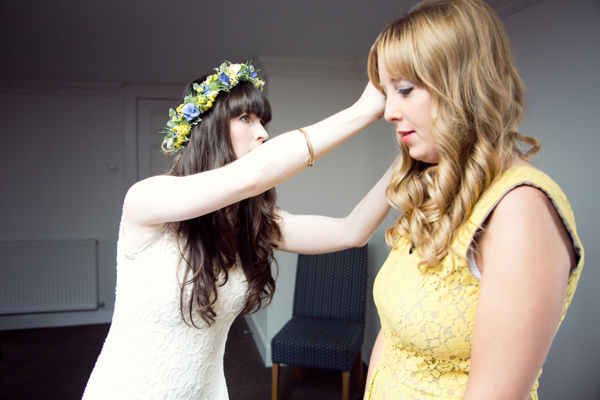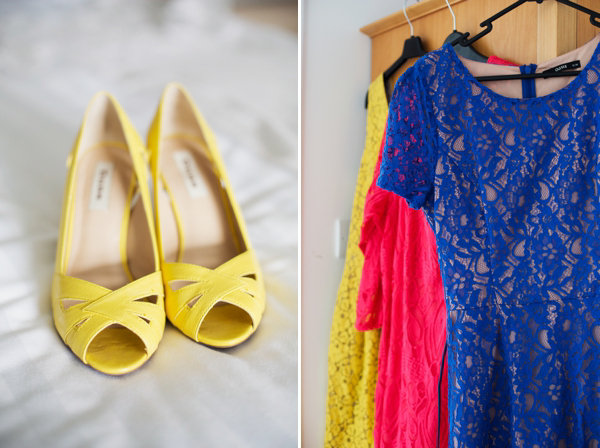 "My dad Chris gave me away. Walking along to the venue with my dad was such a wonderful moment, we are exceptionally close and I love him and my mum dearly.  The sound of Neil Young's 'Harvest Moon' played during my entrance. Luke and I love Neil Young and this song is one of our absolute favourites."
 "With me being from Fife in Scotland but having lived in Kent for seven years, it was really important for me to get married near home. We were looking for somewhere intimate as we wanted a small ceremony with our immediate family, but we also wanted something slightly unique, relaxed but elegant. As we decided to go with a humanist ceremony, this meant that there was no restrictions on where we could choose to get married as long as it was performed by a registered celebrant. 
With this in mind, we wanted to write our own vows to each other so that we could tell each other exactly why we were getting married. We were able to have a really personal and intimate wedding. Writing the vows was quite enjoyable; I think I found it harder to write down what I wanted to say than Luke did – he is a bit more expressive in his writing than I am – I tend to stick to facts and am not the most creative writer!  We ended up with really lovely words to say to each other and share in front of our families."
A few lines of Luke's:
'I promise to love, laugh, cry as we make this life ours.
I promise to be me as long as you stay you.
I love you so much, im so happy im marrying you.
A few of mine to Luke:
I promise to be faithful and help us create a fantastic marriage
I promise to hold your hand always, and to be your best friend.
I promise to always make our house a home'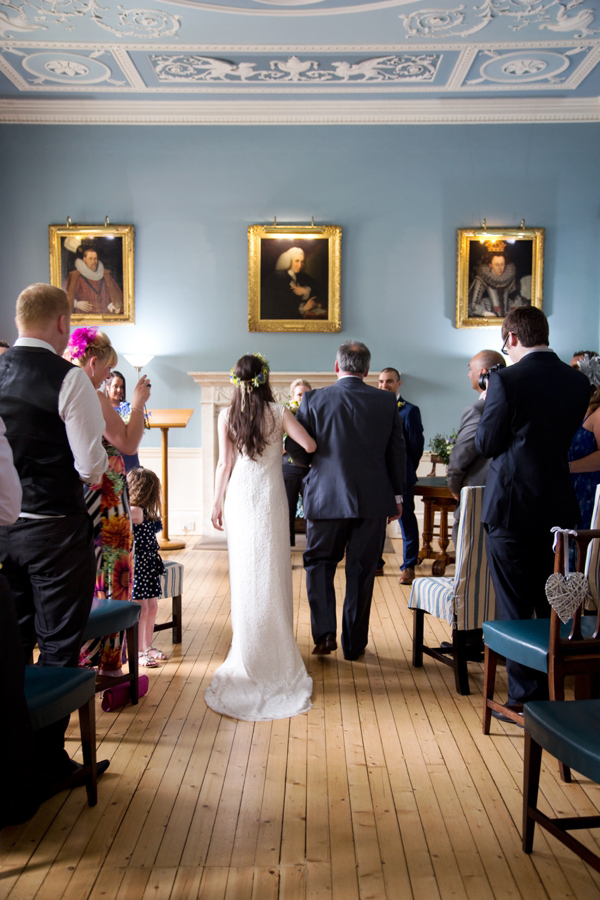 "We went to Kaizen Antiques in Rochester to get our wedding rings. I knew I wanted just a simple yellow gold band inspired by my gran's wedding ring. Something delicate, fine and timeless. The jeweller made mine to order. Luke wasn't entirely sure what he wanted so was looking at several ones in the shop we he spotted a vintage Russian wedding ring, three bands, yellow, white and rose gold interlinked together. When he tried it one it was the perfect fit so he took it as a sign it was meant to be."
"We had two readings, one of which Luke's sister Katie read for us, and the other my mum Mary read. We chose these readings as we wanted something simple that summed up our feelings. We love each other loads but we aren't really overly soppy people so when we saw these readings we felt they were honest and said all we wanted.  Our readers were 'He and I', by Lang Leav, and a poem by Anne Campbell

You are the trip I did not take; You are the pearl I could not buy; You are my blue Italian Lake; You are my piece of foreign sky
You are my Honolulu moon; You are the book I did not write; You are my hearts unuttered tune; You are the candle in my night
You are the flower beneath the snow; In my dark sky a bit of blue; answering disappointments blow with 'I'm happy! I have you!'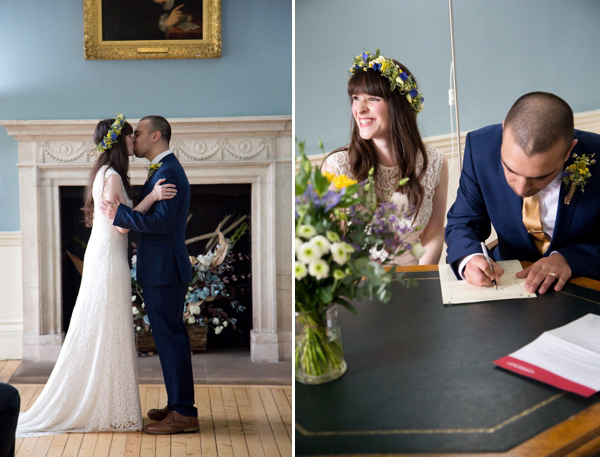 "After the ceremony we had a drinks reception and then some photos in the Queen St gardens before walking round to The Bon Vivant restaurant on Thistle Street, Edinburgh for our wedding meal and drinks. This is a stunning, small and atmospheric restaurant, where we stayed for the remainder of the evening drinking fabulous wine.
The restaurant put together an ace menu with loads of different flavours and they even hired a blues and jazz DJ to play for the whole evening to help us create that cool, relaxed vibe.  We then had a formal reception two days later on the Saturday 17th August at The Dean Park Hotel in Kirkcaldy, Fife. We chose Kirkcaldy as it is my home town so very close for a lot of my family and friends."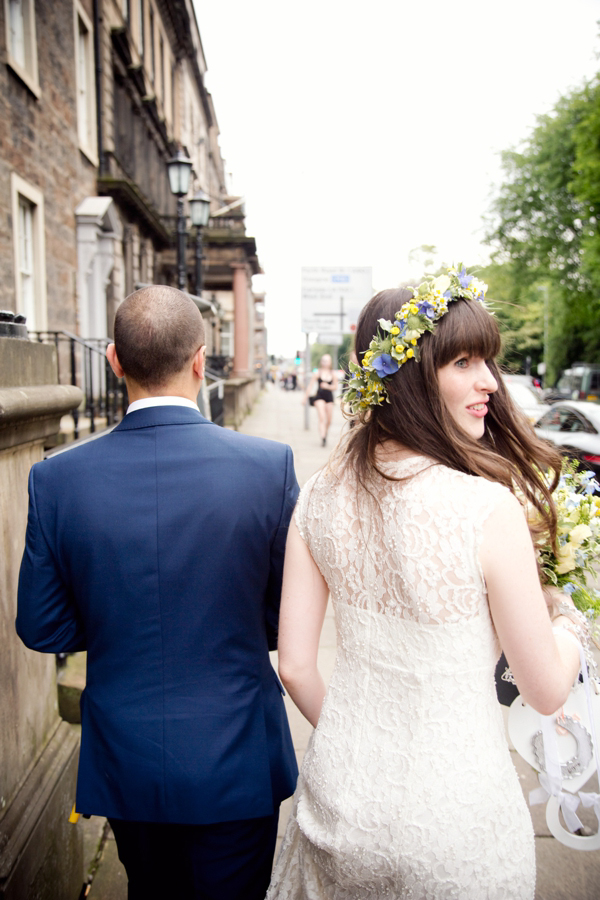 "Of course we had a number of guests travelling from Kent and the South East England coming up for the wedding, along with my bridesmaid from Australia, friends from Germany and Cousin from Austria, so we wanted somewhere easy for people to stay. We also knew that the Dean Park Hotel lounge bar would stay open well into the morning so those who were not ready to finish celebrating at 1am were able to continue partying until the very wee hours.  It was at the hotel that we aso had the speeches, the cake and first dance so that all our friends could be apart of our wedding. This was really important to us as we have so many dear friends and amazing family who we couldn't imagine not celebrating with."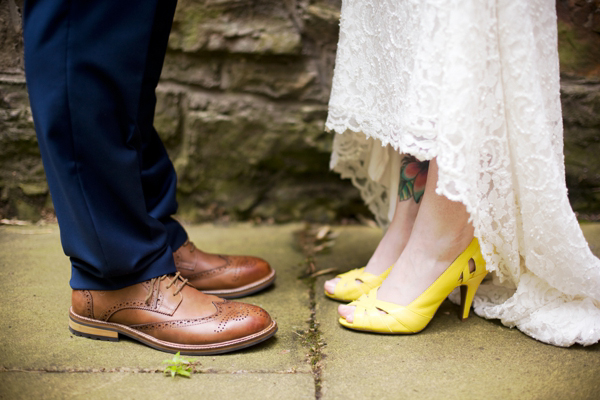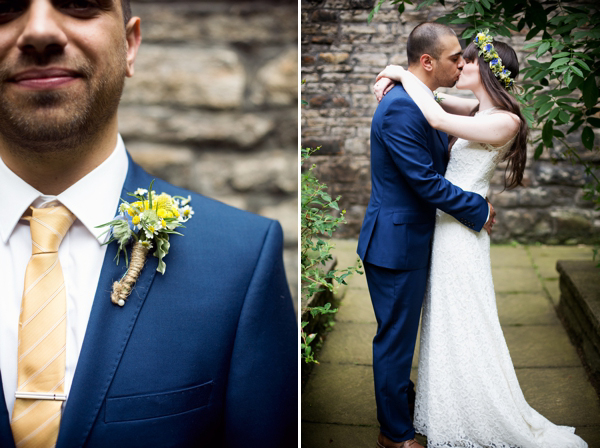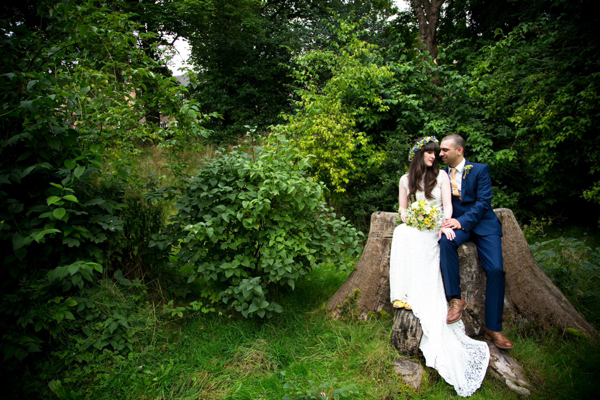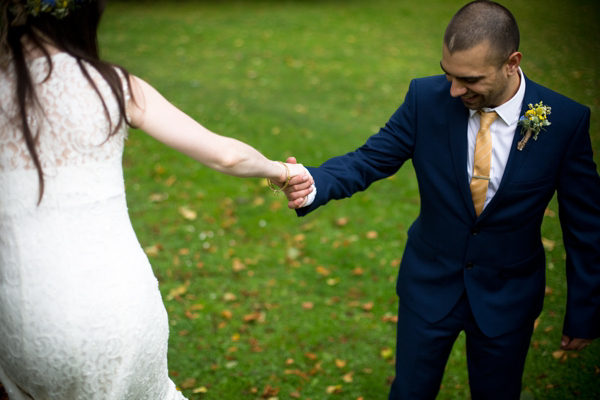 "Our wedding meal was at The Bon Vivant, Edinburgh, where the chef put together a delicious menu for us. We had tapas for every table to start, with a mixture of black pudding, chorizo, bruschetta, Serrano ham, chicken liver parfait and chutney with bread and oils. The mains were Roast Grouse, Pan Fried Coley, Roast Belly of Pork or Parmesan & Sun Blushed Tomato Omelette. Followed by Chocolate mouse and chill sorbet, Vanilla Panna Cotta or selection of cheeses with chutney.
All served with the fantastic wines. The food was outstanding, and the service fantastic. This was the first wedding party The Bon Vivant had done, the evening was organised by the manager Ben who was so helpful, attentive and gave us a fantastic evening."
"For the reception, we wanted to continue that feel of wild hand picked flowers, and I was inspired by seeing lots of images of bunches of flowers being displayed in large jam jars instead of vases. I came across Reed Designs, and after a few email descriptions for what we were thinking we went to meet her at her home to discuss in detail. Owner Jacqui instantly came up with ideas that would work for us, and she had the most extensive flower knowledge which helped us understand what seasonal blooms would be available that would fit within our budget."

"From then on we, my mum and Dad, neighbours etc all starting collecting jars of all different shapes and sizes, even down to spice jars to help us get a massive selection so that we could make these amazing displays of all sorts of flowers running down every table, ranging in all different heights and shapes.
Jacquie choose the most beautiful blooms and arranged them all on the day at the venue while me, Luke and my Dad where putting out all the other decorations. When she was finished the room looked full of wild flower. Jacquie was a pleasure to work with and so creative."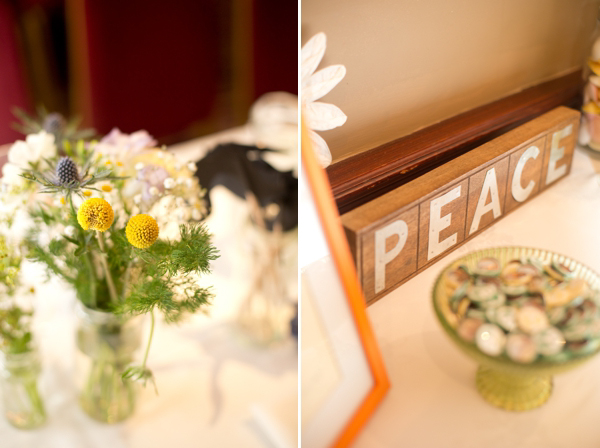 "We hand made all our stationery including the save the date cards, invites, name places, table plans etc.  We used swing tags for a lot of this, we had our thumb prints on the RSVP tags, and hand tied it all with twine. Hand making all this did take a lot of time, but we really wanted to add as many personal touches as we could, and it also helped us to stick to a budget.
The wedding favours on the day of the ceremony were for the women hand made fabric hang hearts, and for the men miniature whisky's with personalised labels with the wedding date on them, along with some love heart sweets, all in wee brown paper bags with hand drawn hearts on them, closed with mini pegs. At the reception all the ladies got freesia flower bulbs, and the gent's all go chocolate footballs (since Luke is a big Liverpool fan), all of which were tied up in vintage fabric parcels and string."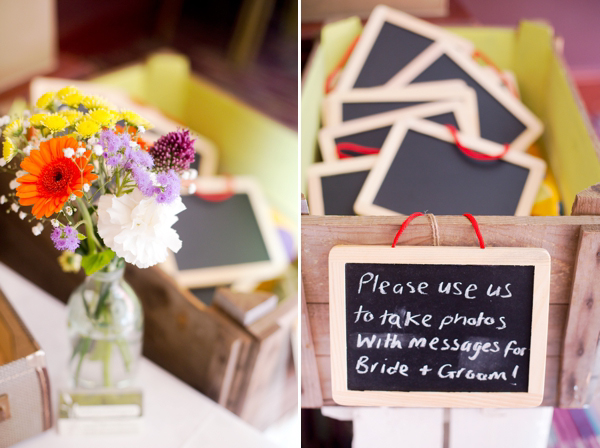 Words of Wedded Wisdom…
"Its you and your fiancé's day, so do what is best for you, you can't please everyone. I am an organised person so I found keeping a checklist of everything and the dates very helpful in my planning, however, there is always going to be things that never pan out exactly as you would like them, you have to try and stick to your budget, and if something isn't going to be possible, whether it's the venue, not being able to have chair covers, the favour bags aren't quiet right etc, you have to just let it go, there is no point stressing over something that can not change.
Everything will be grand on the day, and remember why you are marrying that person in the first place!"
"I used Love My Dress loads for inspiration – it's a fantastic blog, full of ideas and tips. I always loved to look at the real weddings section, as I found it really  helpful to see how other couples did things, and Love My Dress features so many different styles and budgets too which is great. We were lucky that we had a lot of help from my mum and dad when paying for the wedding but we were on a tight budget so using Love My Dress to keep us on track was really helpful."
What a beautiful day – Joanna, you radiate with happiness! Congratulations to you both – and happy (nearly!) six month wedding anniversary to you 🙂
Readers, if you love Joanne's bohemian style, you can see other similar weddings via these links; 1960s, 1970s, bohemian – and you can also see other brides wearing original vintage Edwardian wedding dresses here.
I'm off to flood our Pinterest boards with images of Joanne's flower crown!
Love Annabel
Photographer – Anna Cairns Pettigrew
Venue – The Royal College of Physicians, Edinburgh
Brides Dresses – Phase Eight, Hope & Harlequin and Karen Millen
Brides' shoes – Dune
Groom's Attire – suit from Burtons + shoes from Peter Werth
Bridesmaids – House of Fraser + Ben De Lisi for Debenhams + Oasis
Flowers + Floral Crown – Narcissus + Reed Designs
Cake – A friend
Additional Styling –
Rings – Kaizen Antiques
Stationery – The bride & groom
Follow Love My Dress® on Google+