As I was preparing this particular feature, I had a great sense that bride Charlotte and I would get on like a house on fire.  Firstly, everything about her incredibly elegant wedding day style completely stole my heart, not least her delicate dress – a gown so perfect for Charlotte, it looks as though it was designed just for her.  Or her Edwardian style floral crown, a work of art in itself, crafted by the inimitable Miss Pickering. I just felt 'at home' amongst these photographs – as though I had been there all along, soaking up the romantic and dreamy summer wedding day atmosphere.  And isn't that a sign of great photography?  …images that sweep you along into a fantasy adventure – a day dream as real as if it were a beautiful memory stowed away safely within the precious vaults of your memory – great work M&J Photography.
Charlotte, a Research and Development Scientist at a Neurotechnology company in Cambridge and Harry, a Junior Research Fellow in French at Worcester College, University of Oxford, celebrated their life long commitment to one another on 20th July last year, with the most graciously elegant wedding at Catharine's College chapel, Cambridge, followed by a reception at Emmanuel College, Cambridge.
"Our favourite part of the day was by far the service. Getting married to the person you love is the most wonderful thing ever, and I am so excited for Love My Dress readers who are planning their special day at the moment. Having a wonderful and beautiful celebration afterwards on the day is of course good fun, and exactly what you want to do, but the party does not stop after the wedding day; the ceremony is the start of a life-long celebration."
Photography by M&J Photography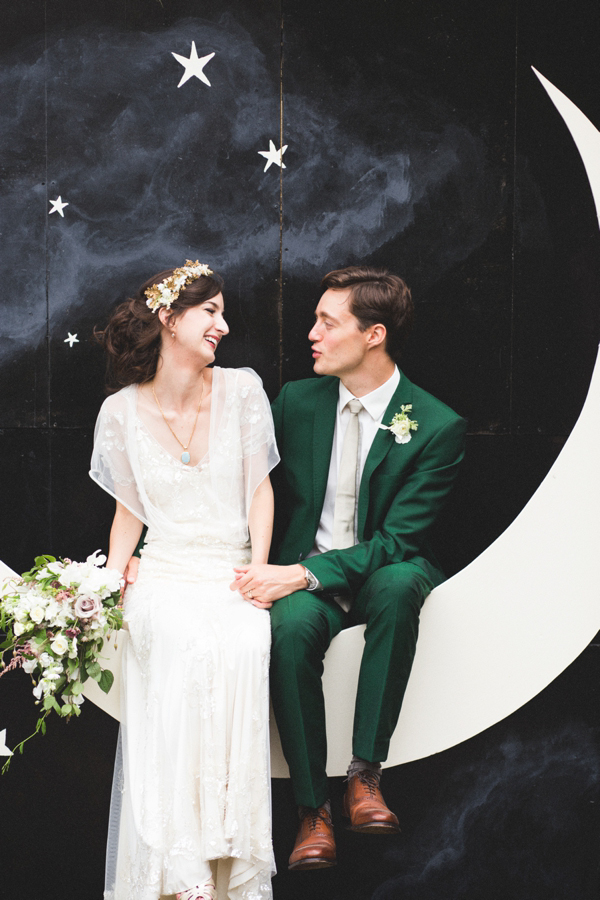 "We met when we started our PhDs at Cambridge University; we were both affiliated to St Catharine's College and had our first conversation at a drinks party there. We got engaged at our home in Cambridge, and then went for a picnic of fish and chips and champagne by the river to celebrate. 
We were engaged for nearly two years before getting married, but apart from booking our main suppliers and venue, we organised the wedding in the eight months leading up to the wedding.  We sourced most of our suppliers either through wedding blogs, especially Love My Dress, or friends."
"For the order of service front covers I drew a picture of Harry and me sitting on a vintage-style moon, with the words 'From this day forward'.  We also used the moon image for our wedding invitations."

"The long engagement gave us lots of time to look at wedding blogs and gather ideas for our day. There are so many wonderful real weddings and ideas on blogs like Love My Dress that we initially felt overwhelmed with all the options for celebrating our marriage. I liked the idea of a rustic barn wedding, although when we sat down and thought about what was meaningful and important to us, this did not fit. I think an important part of the planning process was taking a step back and recognising what was meaningful to us, and where and how we feel most relaxed."
"Once we started doing things everything naturally fell into place though. We didn't really have a very set theme, but chose things we liked. I wanted the wedding day to be relaxed and fun, and to have personal family touches. For example, we used my Grandma's table cloth for the cake table, and all of our family helped with the day in some way. I did not stick with one rigid colour scheme throughout the whole day, but rather had a colour palette of our favourite colours: ivory, gold, duck-egg, pale pinks, raspberry, and burgundy."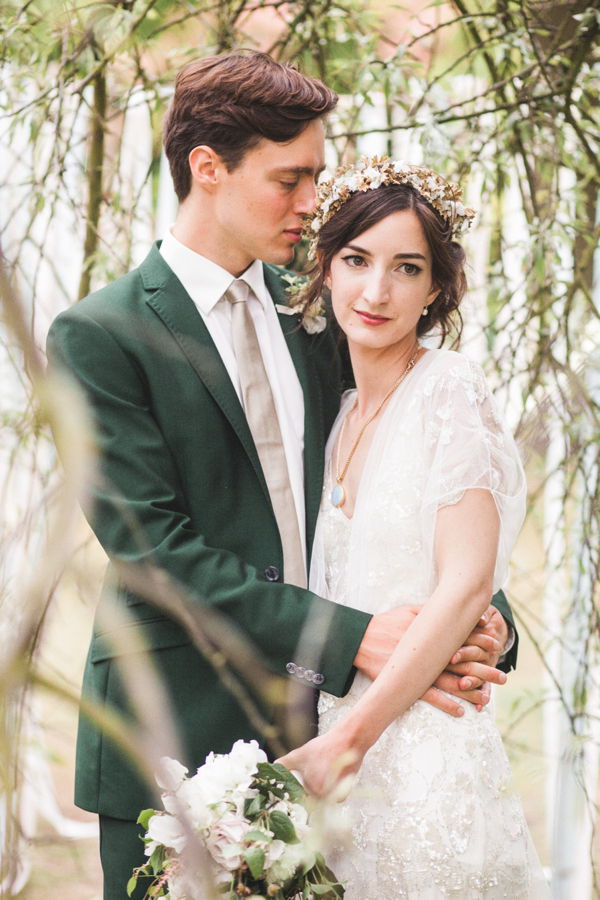 "We hired an event planner to do an 'on the day' service when we found out that we could not set up at the reception venue the day before as expected, as they had another event booked for the Friday (tip – get everything in writing at the time of booking!). We booked Sian of Elysian Weddings and Events, and we both feel this was the best decision we made when organising the wedding."
"We still planned our wedding and made all the decorations and details ourselves, but Sian helped to liaise with our suppliers on the run up to the wedding and transformed the venue on the day. Sian learnt all of our plans and details and spent lots of time with me before the day to create detailed notes on every aspect of our wedding day. Her organisational skills were exceptional, and she also thought of and resolved several issues that we had not foreseen."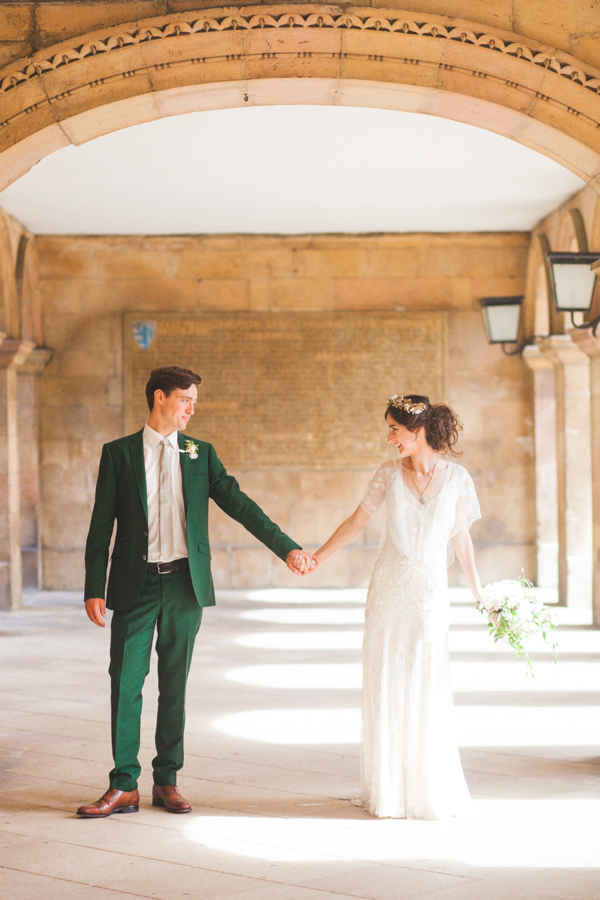 "We had several last minute problems arise, such as roads being closed near to the venues making deliveries and collection difficult. Sian sorted everything out without us having to worry at all. On the day itself Sian was discreet and enormously efficient, making sure that everything was exactly as we wished."
"Sian also packed everything down, and made sure everything was collected, and even took the flowers to my parents the next day so we could use them for a garden party. Handing over everything to Sian meant that we could focus on getting married and allowed us and all our family to relax and have a wonderful weekend."
"I had always thought I would wear a veil, but because the dress was so detailed and floaty, I decided to have a headdress instead.  Our wonderful florist, Miss Pickering, made the most stunning headdress for me. I wanted something that looked similar to a waxed Edwardian style headdress, but made of real flowers and leaves."
"Miss Pickering had a book of vintage tiaras that provided inspiration, and she rose to the challenge of making it for me. It was beautiful and unique, made of individually wired leaves painted gold, delphinium flowers, and lily of the valley. It was a true work of art and I loved wearing it."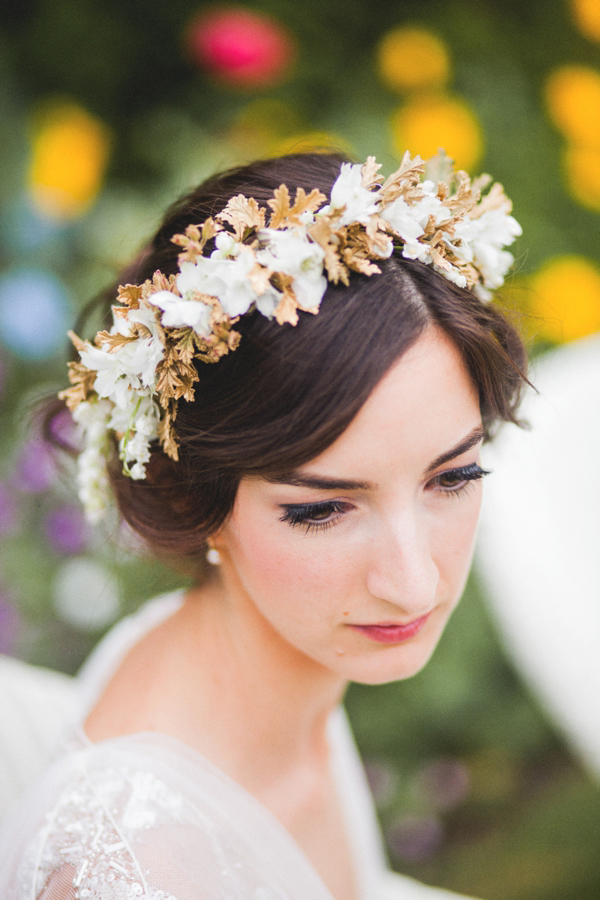 "I purchased my dress from the Jenny Packham flagship bride boutique in London.  I loved dress shopping! I am such a girly girl and choosing my dress was something I was very much looking forward to. I spent nearly a year looking at websites and blogs in order to narrow down which shops I wanted to go to. I knew I wanted a dress with sleeves, which was a little bit different."
"I was really impressed with the following shops I went to, for their range of dresses, their service, and the advice I received, and they are well worth a visit if you are still looking for 'the one': Jenny Packham,  Temperley London, Morgan Davies of Islington, Blackburn Bridal and Luella's Boudoir."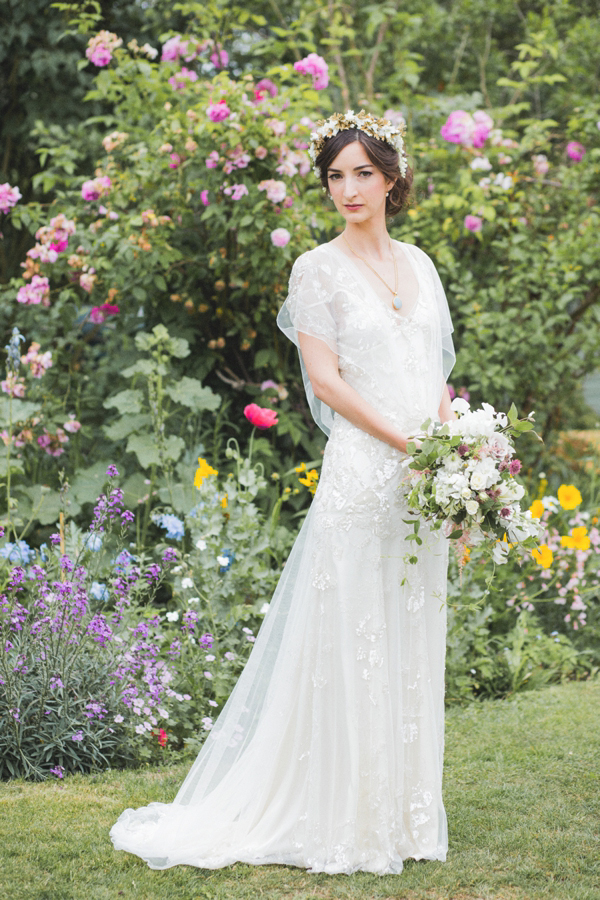 "I loved planning and making decorations for the wedding day, especially the projects that we worked on together with family and friends. We also hired extra props from Kate at Vintage Style Hire, such as deck chairs and picnic blankets."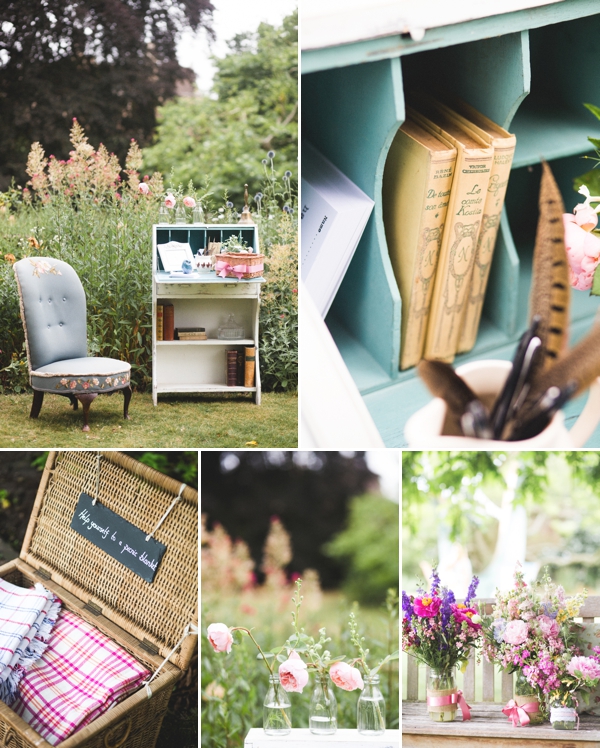 "Kate from Vintage Style Hire has so many pretty things to hire for events, and she also gave us lots of brilliant ideas for our wedding too, such as the 'secret to a happy marriage' postcards.  Kate is such a lovely person, and was so enthusiastic about all our wedding details, if you are looking for help with styling or ideas have a look at her website."
"I had seen the Jenny Packham Azalea dress from the 2013 collection online, but not had the chance to try it on as it was not stocked at any of the shops I had been to. I nearly bought another Jenny Packham dress, but had the feeling I should go to the Jenny Packham flagship store, just to be sure."
"I went with my Mum and as soon as I tried on Azalea in the changing room I looked in the mirror and knew this was the dress I wanted to wear to marry Harry. I loved the softness of it. It is such a pretty ethereal dress, with almost fairy-like floaty sleeves. I also loved the vintage, bohemian vibe of the dress, and I felt completely comfortable, relaxed, and very special in it."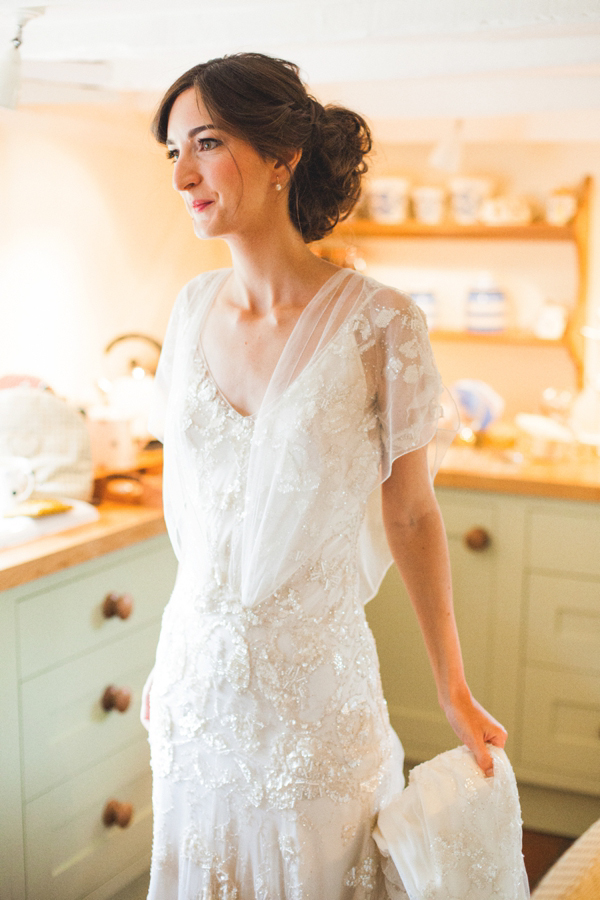 "I wore gold leather shoes from Rachel Simpson, the style was 'Ginger', and they fitted with the vintage feel of my dress perfectly. They were also extremely comfortable, and I have worn them a great deal since the wedding too."
"The service at Rachel Simpson was also fantastic, as I had a shoe disaster in that the first style I ordered looked wrong with my dress when I tried them on at the first dress fitting, and they went above and beyond to make sure I had the perfect shoes in time for my second dress fitting."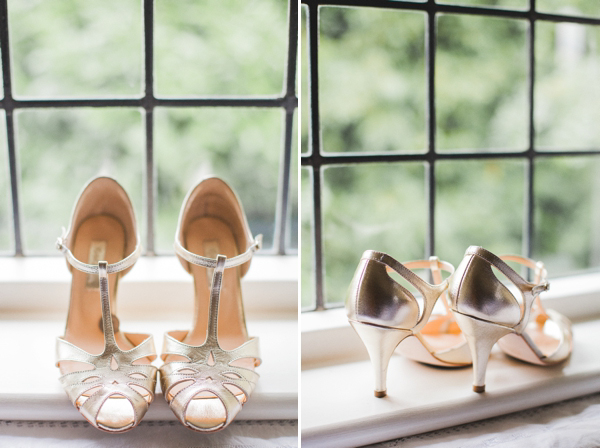 "I had admired Simone's, aka Miss Pickering, work before we got engaged, so immediately knew she would be out florist. She has a really natural style, and a brilliant eye for colour. Simone did an amazing job of interpreting my brief. I wanted the flowers to look relaxed but elegant, and to have elements of raspberry pink in them. We were overwhelmed by her service, kindness, and talent. Because of her, choosing the flowers was one of the things we both enjoyed most about wedding planning.
I wanted a trailing bouquet inspired by those popular in the 1920s and 30s, but more natural in style, and smaller. Simone used small flowers, so as not to overpower the delicate detail of my dress, in soft colours apart from some little touches of deep raspberry. It was divine!"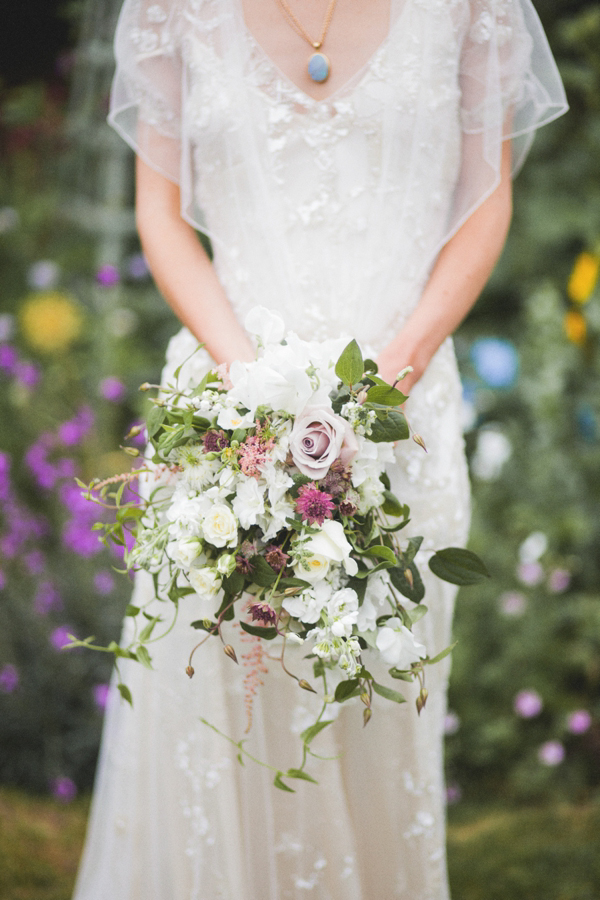 "As we were not allowed confetti at the chapel or reception venue we made flags for everyone to wave after the ceremony at the chapel. These were cheap and simple to make, but very effective."
"The most special thing I wore on the day was a blue opal pendant that belonged to my Grandma, and I put it on a gold chain leant to me by one of my Aunts. My Grandma sadly and unexpectedly passed away a few weeks before our wedding. The day she had the stroke, Harry and I had been going to visit her for afternoon tea to update her on our wedding planning progress. She had got out her pendant ready to give to me, but we arrived just too late to talk to her on the day. My Grandad gave the pendant to me, to wear at our wedding, the day after she passed away.
It was wonderful to have something of hers to wear on my wedding day, and I am so thankful that I at least got to plan my wedding with her. I also wore pearl earrings from Pia Jewellery."
"Our marriage ceremony was held at St Catharine' s College chapel, Cambridge. This was really special for us, as we met through the college, and had our first conversation meters away from the chapel.  Our reception was held at Emmanuel College, Cambridge. We wanted the day to be as relaxed as possible for all our guests, so it was important to us that the ceremony and reception were a short walk from each other, and that there were lots of accommodation options a short walk away too. Emmanuel College was in an ideal location, and it is stunningly beautiful.
Often Cambridge/Oxford  Colleges are perceived to be formal and stuffy, but Emmanuel College were happy to provide the exact day we wanted – we were able to do something completely different from their standard package, and they were happy to accommodate every single one of our requests. Colleges can be booked by any member of the public, and are often excellent value for money, so I would urge anyone looking for a venue in Cambridge or Oxford to take a look at the Colleges to see what they offer."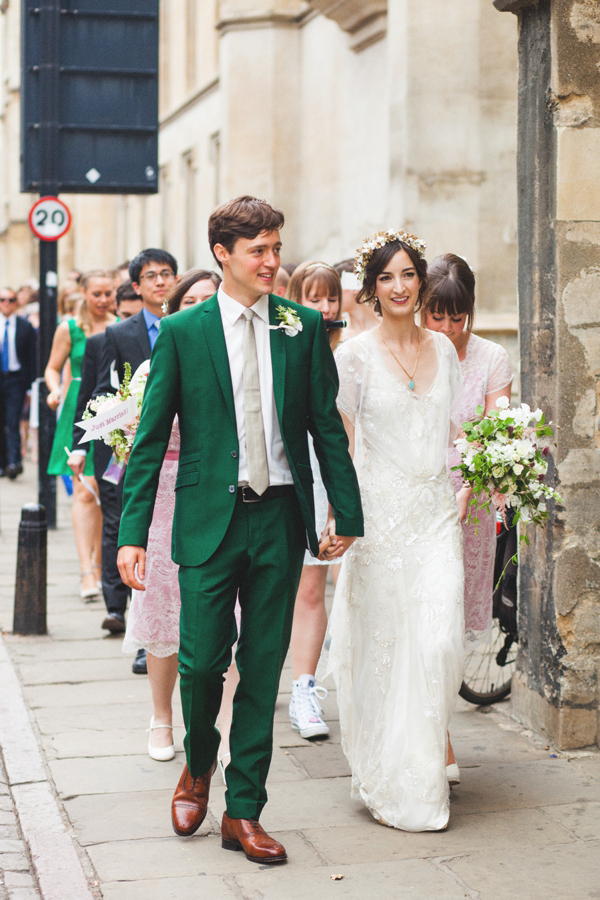 "Instead of using it as our first dance we had 'our song' played as the recessional at our ceremony on the harp and flute. It is 'Walk the Road Together' by Kate Rusby, the lyrics are perfect, and for us encapsulate what marriage is about: 'All the way through wind and rain, I'll never deceive my heart again, hand in hand, across the land, we'll walk the road together."
"We didn't want to spend a great deal on wedding favours, so made plum jam and apple chutney using plums and apples from our garden in Cambridge. We make jam and chutney every year, so it was nice to give a gift that people would associate with us. The jars also made a lovely feature displayed on a cart that we hired from Vintage Style Hire."
"The dining room at Emmanuel is so beautiful, so I wanted to keep the tables fairly simple by not having side plates, candles or menu cards. The venue provided the tablecloths and we bought white lace runners to go down the middle of the tables from H&M, which my mother-in-law sewed together to make them long enough.  We hired white banqueting chairs from Rosetone Events"
"We bought the gold numbers from Posh Graffiti which were leant up against the flower arrangements as table numbers. We collected the vintage glass vases from charity shops and markets, and bought the bud vases from Cox and Cox, for Miss Pickering to put the table arrangements in."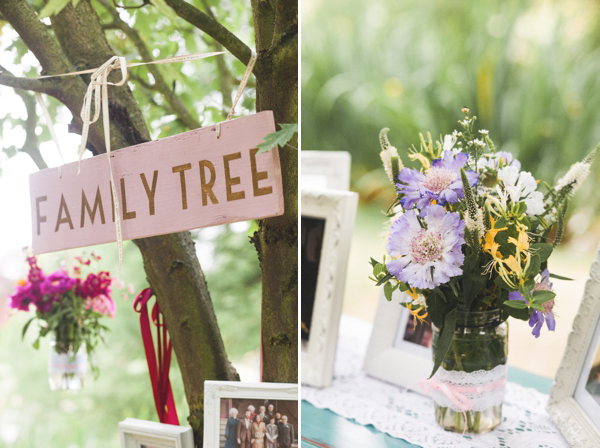 "We had a stunning three tiered cake made and hand-painted by Natasha of Nevie Pie Cakes.  Natasha painted flowers and foliage on the cake which were inspired by our wedding flowers. The cake was a true work of art, and it was also delicious (we had chocolate and lemon sponge)"
"Natasha is incredibly talented, and the person to go to for your dream wedding cake!  As the cake was going to be on a large table we asked Miss Pickering to put some flowers on the top of the cake to add extra height."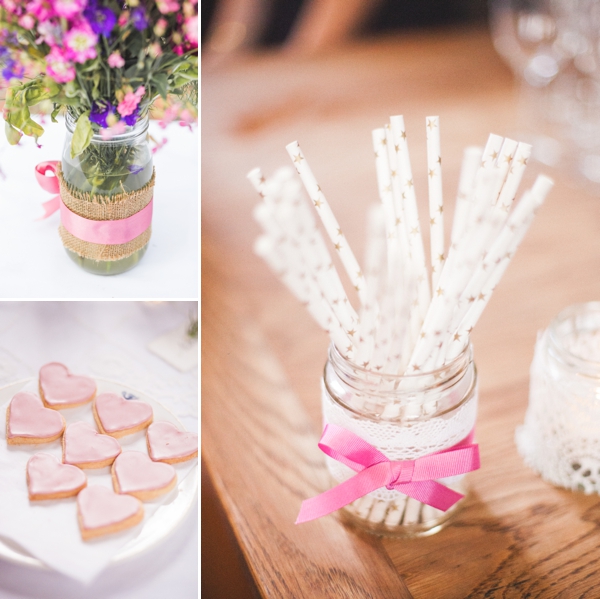 "We spent a great deal of time looking for a wedding photographer. M&J Photography stood out because of the quality of their pictures, and the emotion and atmosphere they had managed to capture.  They sent us some examples of their work, and when Harry looked at the pictures they made him cry (he is the soppy one!)."
"We booked them straight away, and we are so pleased we did. Morgane and Jonny are the sweetest people ever, and they were a delight to have at our wedding. They are highly organised and professional, and the service they offer is definitely value for money. On the day, they were both so discreet; most people did not even notice they were there. They did not interrupt the natural flow of the wedding day, and captured many special and natural moments. We did have a few formal family shots, but these were completed in about 15 minutes."
"Harry and I hate posing for pictures, and we are not very photogenic, but we felt very at ease with Morgane and Jonny. The pictures themselves are stunning, and we are thrilled with them. We would not hesitate to recommend them to other couples."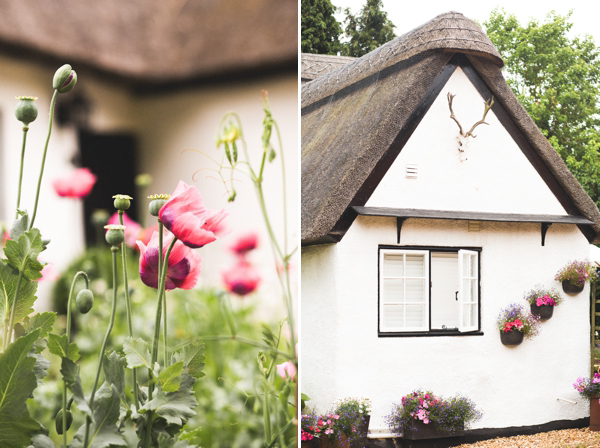 "I booked Cassandra from Love Your Hair and Katy from Make up by Katy after seeing their work on Love my Dress. Cass and Katy are a dream team! It was really important to me that I looked natural, timeless, and like myself on the day. Katy did a great job of creating a natural make-up look, whilst making me feel very special too.  I wanted my hair in a relaxed soft up do that would complement my 20s/30s style headdress, whilst not being too obviously 'vintage'.
Cass did a fantastic job and waved the front of my hair, whilst making the back very loose and whimsical. Katy and Cass were also an incredibly calming influence on the morning of the wedding. They worked out a getting ready timetable, and made sure we were ready without any stress or panics. Cass even helped me get into my dress. It was just the relaxed morning I needed, and I cannot thank them enough."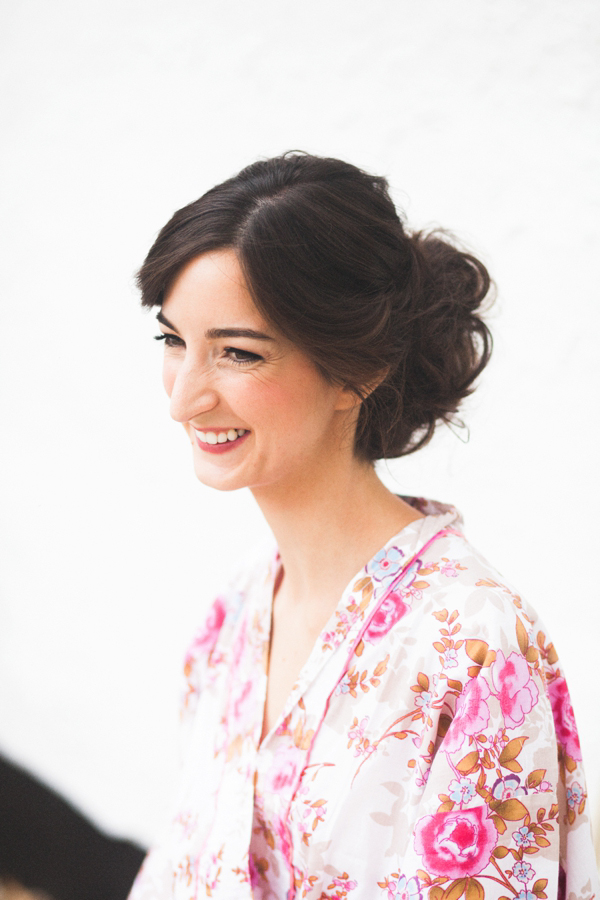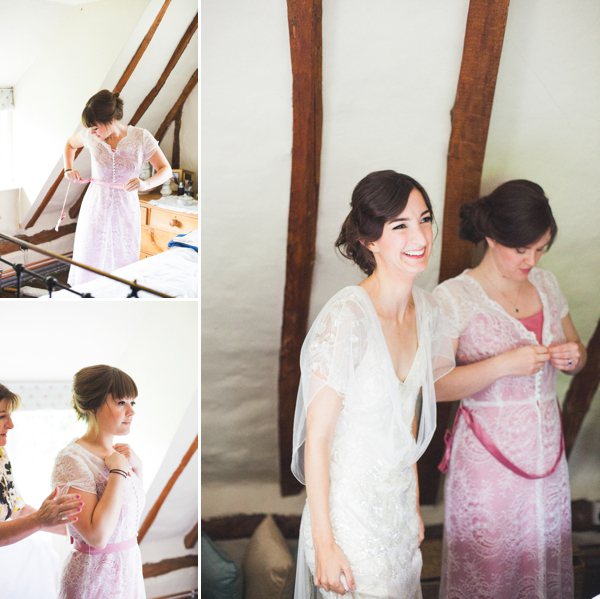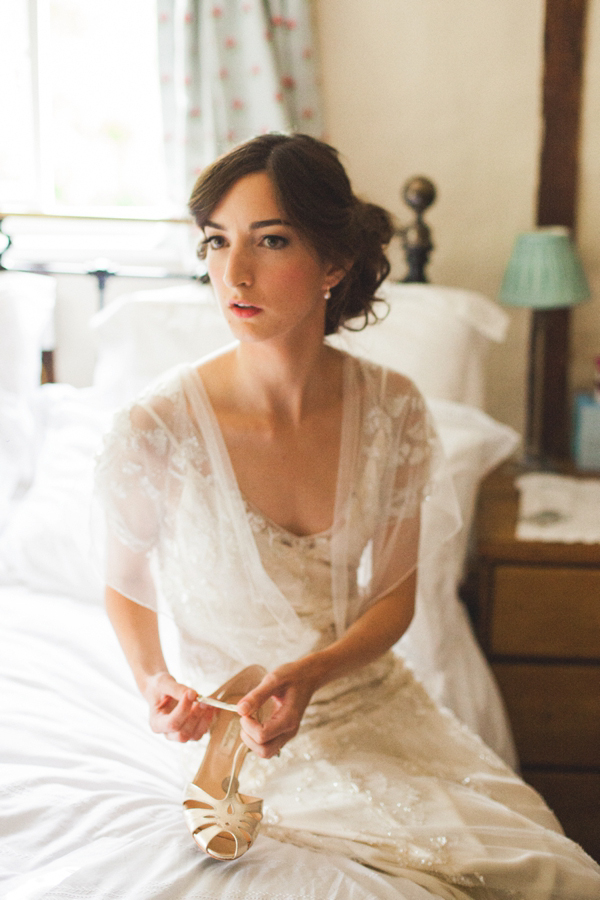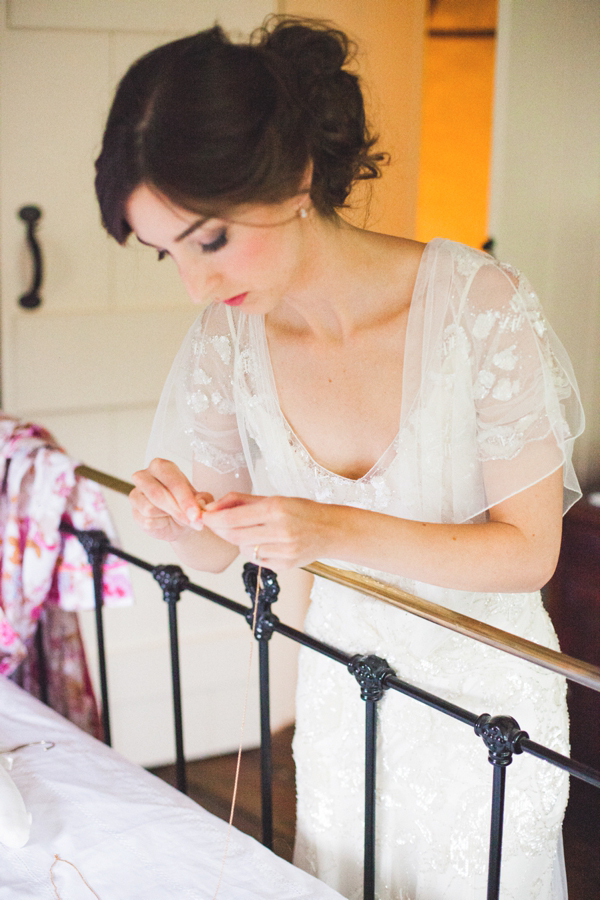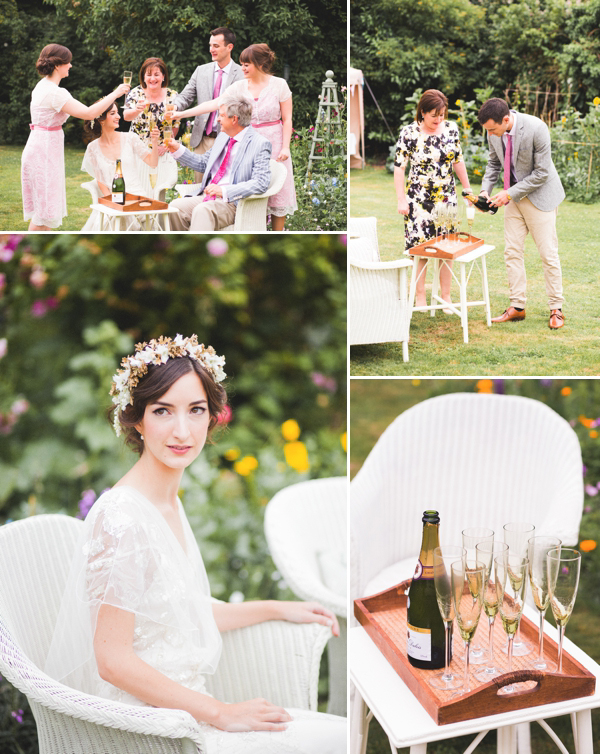 "Finding bridesmaids dresses was one of the most difficult challenges of the wedding planning. I wanted to wait until I had found my dress before sorting out bridesmaids' attire, as I felt the style of the bridesmaids dresses should fit with my dress. This meant we started looking for bridesmaids dresses the December before the wedding, so funnily enough there were not many dress options on the high street, and I did not like any of the ones we found either.  I knew I wanted the girls to have pretty dresses with a vintage vibe, with sleeves.  The added complication was that my sister hates shopping so asked if she could wear the same as my other bridesmaid. Finding a dress that we all liked, that fitted both of them, in the winter, proved challenging.
By April I was getting anxious, so we went to visit Melanie at The Wedding Workshop in Ampthill, based on a recommendation of a family friend. If you know what you are looking for and cannot find it for either a wedding dress or bridesmaid dress I cannot recommend the Wedding Workshop enough. Melanie listened to what we were looking for and then drew a picture that was exactly the dress I wanted. We were able to choose the fabrics we wanted, and the end result was perfect, and made to a high standard. The girls had several fittings and both felt comfortable on the day."
"We saved money on transport by hiring 'posh taxis' to take me and the bridal party to the ceremony, as no one was going to see us in the cars. After the ceremony we walked through Cambridge from St Catherine's College to Emmanuel College, which was really fun. Harry and I led the parade, and we had a flautist walk behind us playing jubilant folk music."
"At first, Harry wanted to wear a suit he already owned, but I thought it was important that he should feel as special on the day as I was going to in my dress. We went shopping together, and the first suit he tried was a racing green suit from Tiger of Sweden, at Selfridges, London. I think he had a 'the one' moment in his suit, the same way I did with my dress. We bought it straight away!
Harry's gold tie was by Dolce & Gabbana, which we bought online at Mr Porter. His brown brogue shoes and ivory shirt bought from Charles Tyrwhitt.  We let the best man and groomsmen choose their own outfits. The dress code was jacket and trousers, and the message went round to dress for a garden party. All the boys looked perfect, and wore things that reflected their own style"
"We had a 'first look' in the garden at St Catharine's. This was a slightly controversial decision, but we are so glad that we did it like this, and would encourage any other couples thinking of incorporating untraditional elements into their day to not feel bad about doing what feels right for you. We both felt that we should both arrive together as equals to get married, and having a private moment before the service was really special."
"We walked down the aisle to Gabriel's Oboe played on the organ and Irish flute. The music was beautiful, and entering the chapel together to get married with all our loved ones there was a magical and emotional moment. I felt incredibly emotional, and was not sure how I would make it to the end of the aisle, but before we arrived at the altar, the music came to an end as we had been walking so slowly. 
This could have been perceived as a disaster, especially as I had made us all practice walking down the aisle for several hours the week before (!), but in fact it totally lightened the mood and we all laughed. This goes to show that if things do not go to plan it can actually create a magical and memorable moment."
"We said the traditional church vows, as they covered everything we wanted to say perfectly. 
During the service, the St Catharine's College Girls' choir sang 'A New Year Carol' by Benjamin Britten (as a reference to our new beginning as a married couple), and Vater Unser (an arrangement of Our Father) by Arvo Pärt. The girls sounded like angels singing from the balcony above the congregation. We also had one of the organ scholars from St Catharine's college, play in the service; he played the best jazzed-up version of Sing Hosanna ever! Our other hymn was Be Thou My Vision."
"We booked musicians Colm McGonigle & Orláith McAuliffe through a friend to play the Irish harp and Flute in the chapel. They are both extremely talented, and were very accommodating, learning our processional and recessional, and also playing whilst we signed the register. Orláith then played the flute as we processed from the Chapel to Emmanuel College for the reception.
As my Dad did not 'give me away' it was important to us that he was part of the service. We asked him to choose a reading and he selected Corinthians 1:13, which I know is a common reading for weddings, but it was beautiful to hear the words being read to us by my Dad immediately after we had said our vows. Our second reading was 'Us Two' by A.A. Milne, read by my sister and her husband, who gave a fantastic performance! I have always loved Winnie the Pooh, and I had once read this poem to Harry which had made us both cry. It perfectly sums up the friendship element of love."
"My engagement ring is a family ring, and so is Harry's wedding ring. Harry bought me a very special sparkly antique wedding ring from Berganza in Hatton Garden. They have lots of beautiful antique engagement and wedding rings, at a range of prices, and their service is also very good."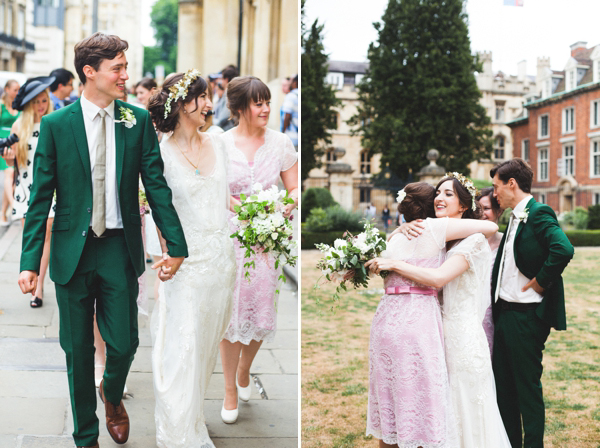 "I loved making the garden table plan; it was very easy, but effective. We bought plant pots and painted them a duck-egg colour, and I painted a gold number on each pot to represent a table number. We wrote our guests names on blackboard seed markers, which went into the appropriate plant pot once we had put in a plant. Stepladders hired from the Vintage Style Hire were used to display the pots. Guests loved looking for their names, and it looked really pretty in the garden. Another nice thing about this table plan is that we now have all of the plants in our garden, and we can re-use the seed markers.  We also ended up with an extra table plan outside the hall to remind everyone of where to sit, that I made out of a piece of wood I painted."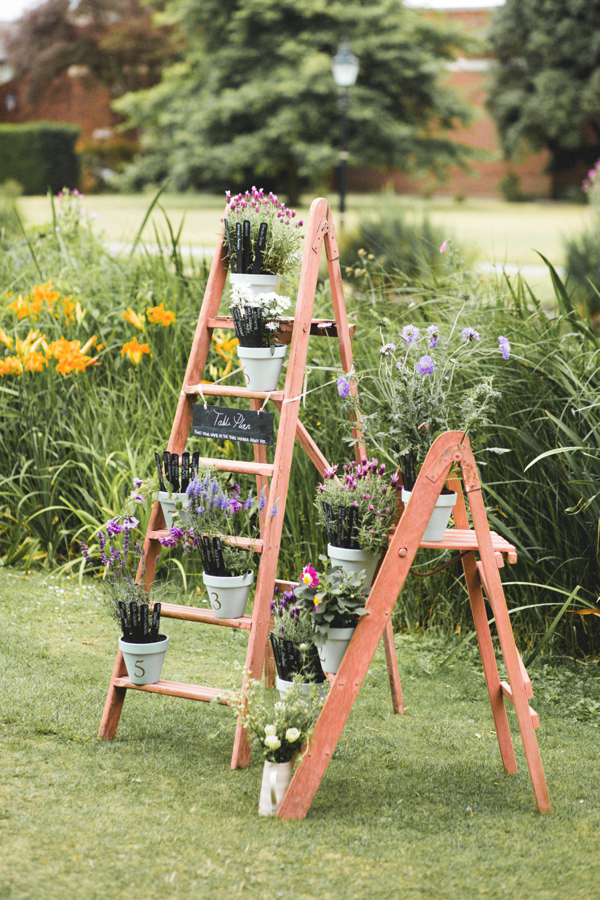 "The flautist and harpist who played during our ceremony played lively folk music during the garden party at Emmanuel, which helped to set the scene. My sister organised games for the garden party, which included challenges for Harry and me, and also team challenges for all of the guests (Jess made up a game called 'Wedding bingo', which involved filling in boxes if you had done activities with either the bride or groom). These were a lovely surprise for us, and everyone enjoyed watching them and taking part. We also bought lawn games such as quoits and croquet which stayed in the garden all day for everyone to play."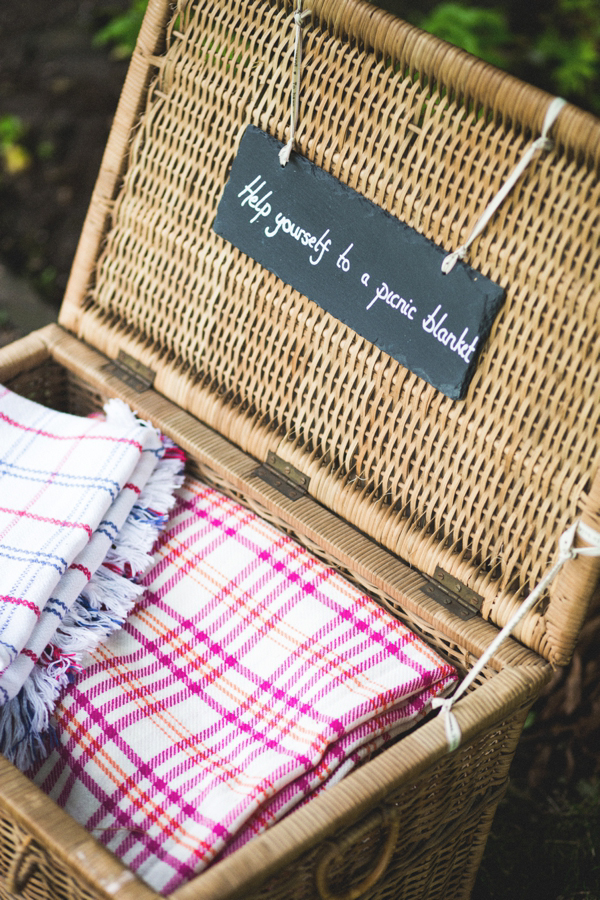 "Our guest book table was in the garden and was a desk we hired from Vintage Style Hire (with added props from around our house).  Instead of a guest book we made postcards which said 'The secret of a happy marriage is….', for guests to fill out. We got a mixture of hilarious, thoughtful, and profound replies – all of which we will treasure."
"The catering was all done by the team at Emmanuel College. We chose the food to reflect the kind of thing we usually eat and cook at home. The catering team did a fantastic job, as everything was delicious and beautifully presented. Indeed, the food far surpassed our expectations, and was much commented upon by our guests.
Instead of canapés on arrival at Emmanuel we had a full afternoon tea in the garden, with vintage crockery hired from My Pretty Tea Party, and deck chairs and picnic rugs hired from Vintage Style Hire, for guests to sit on. It was important to us that guests were not hungry as the wedding ceremony was over lunchtime."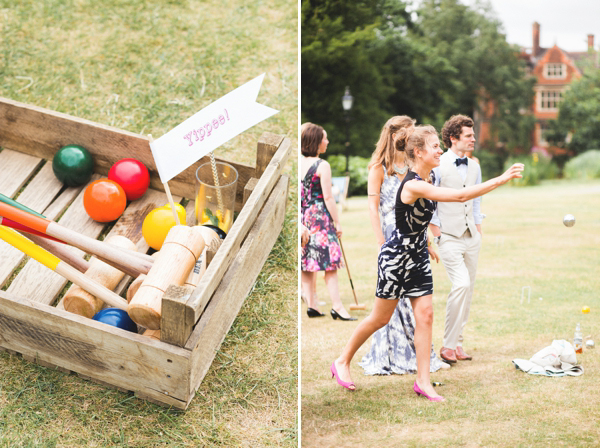 We put my old bike at the entrance to the gardens of Emmanuel College with a 'Welcome' sign attached to it that I hand painted using a piece of old floorboard, emulsion and gold enamel paint. Everyone put their cards in the basket, and we put out an old apple crate for gifts.
Harry's mum made 40 meters of bunting from old lace doilies given to us by family and bought from EBay. It was so pretty! We also made fabric strip backdrops using lace, gold ribbon, and lining fabric to go between trees and behind the afternoon tea table. Family wedding photographs were hung from a tree, along with a 'Family Tree' sign I made and jam jars of flowers. We hired a table from Vintage Style Hire to go in front of the tree with more flowers, and pictures on.
Before everyone entered the hall Jo Malone Red Roses room spray was spritzed (by our wonderful event planner, Sian). It made the room smell divine! Another bonus is that we now have it at home, and the scent reminds me of our wedding."
"I spent a great deal of time looking for pink and white striped napkins to hire for the hall, and could not find anything nice at all. In the end I bought fabric and decided to make the napkins. This turned out to be a bigger task than I thought, and I am very thankful to my mother-in-law and several friends who hemmed them all for me.
I know worrying about napkins is very 'Bridezilla', but I absolutely loved the end result, and have used the napkins since the wedding too. The napkins were simply folded and the name card and a sprig of rosemary were placed on top of each one.
"Nobody sat at the top table in the hall, again to keep the day feeling relaxed. We instead decorated it with two large arrangements of flowers that Miss Pickering put in brass urns we had bought, as I wanted to have some touches of gold throughout the day to harmonise with my headdress. The flowers in the hall were beautiful.
We had several personal touches in terms of catering. Harry's Granny made redcurrant and port jelly with redcurrants Harry's mum grew, that was served with the lamb main course at the dinner. One of my friends made heart shaped biscuits that were served with the coffee after the meal. In the evening we served the cake along with fruit tarts, as Harry loves pastry, and later on we served our favourite cheeses and port (including, appropriately, Cambridge Blue).
We prioritised food and drink in our budget, and provided free drinks for guests all day. It was nice to treat our guests, and thankfully the reasonable bar prices at Emmanuel made this possible."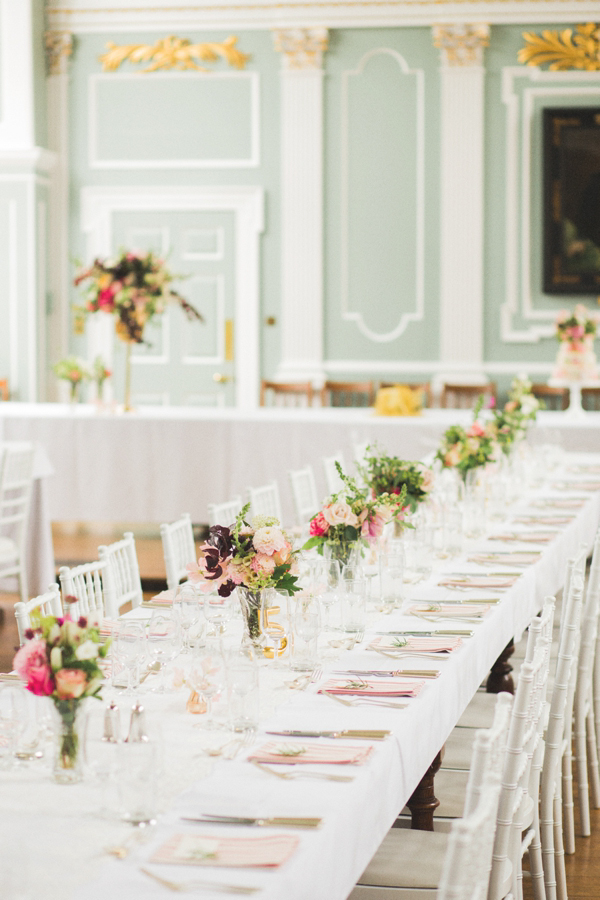 After dinner I gave a speech, and we ended it by leading everyone in singing a song that is traditionally sung at get-togethers with my family – it is 'The Twelve Days of Christmas', which I know is an idiosyncratic choice for July, but it is such fun with all of the actions. It made the meal feel like a proper family party, especially as my sister played on the keyboard for us.
We knew we wanted a ceilidh for our evening reception as we love them and it is a great way to get everyone up dancing and mingling. We booked Ceilidh Generation on the advice of a friend, and they were fantastic. Every single person got up and danced!  We had a six piece band for the ceilidh, with a caller, and then a disco later in the evening, which Jonathan of Ceilidh Generation provided. We gave him a playlist to stick to, which meant we got to dance to all our favourite songs.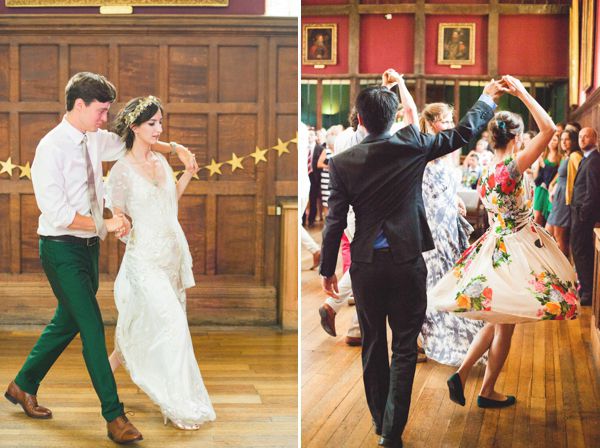 "We had friends who cut out 100s of gold stars (using automatic card cutting machines) which we strung onto gold thread to go along the hall and behind the band. I also made lanterns for the hall by sticking lace to jam jars."
Words of Wedded Wisdom…
"One thing we both identify as a minor regret is not having our photographers stay until the end of the night. We are lucky that we have some talented family members who have got some lovely shots of the end of the evening, but it still would have been nice to have had some more pictures of our sparkler farewell, the venue lit up with candles in the evening, and the bouquet toss. If you can afford it, go for the whole day option for photographs!
It is very easy to look back now and give words of wedded wisdom, but at the time of planning I know I would not have taken all my own advice! However, my tips are as follows; Look after yourself! No matter how organised you are, or how much help you have, the run up to your wedding will be busy and stressful. Make sure you eat well and get lots of sleep, and if you can possibly bear it, try to take a break together from the wedding planning."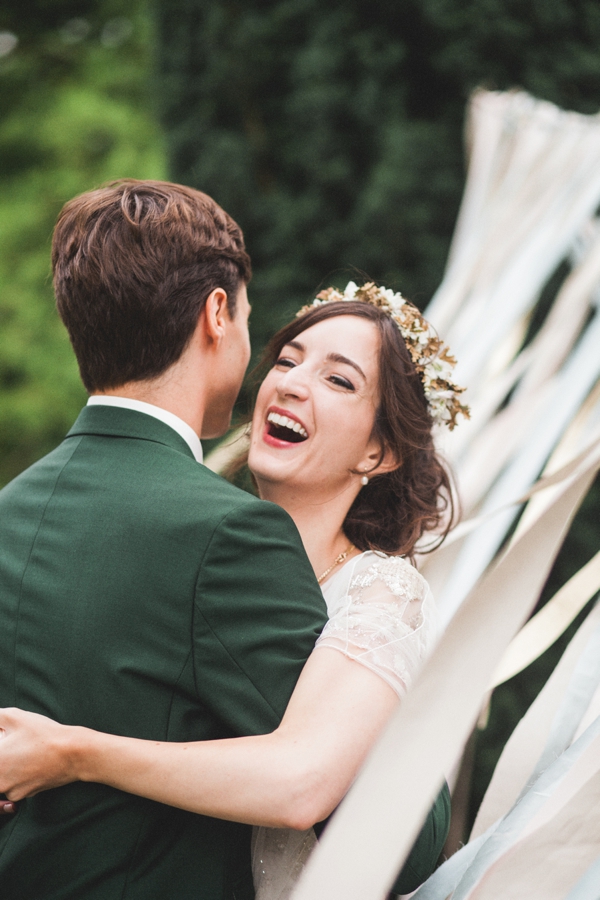 "Accept any and every offer of help.  Have someone who knows your wedding inside out to be there on the day, who is not a member of your family or the wedding party. This can be a super-organised friend (we all have them), someone who works at your venue, or if you can manage it, an event planner. This will mean you can relax on the day and not have to worry about anything.
Do not compromise on the things that really matter to you.  Book suppliers whose style you really like, and then trust them to come up with something great within certain parameters.
We booked a crèche service to help entertain and look after babies and toddlers during the service and the reception. It was really important to us that all of our guests, no matter how young, could have a fun day. It was nice that the all the parents could relax and enjoy themselves too."
"I loved Love My Dress. I found most of my suppliers through the blog, and really enjoyed the inspiration, and community feeling. Overall, everything about the blog is brilliant – and I would like to thank you for all your help with my wedding planning!"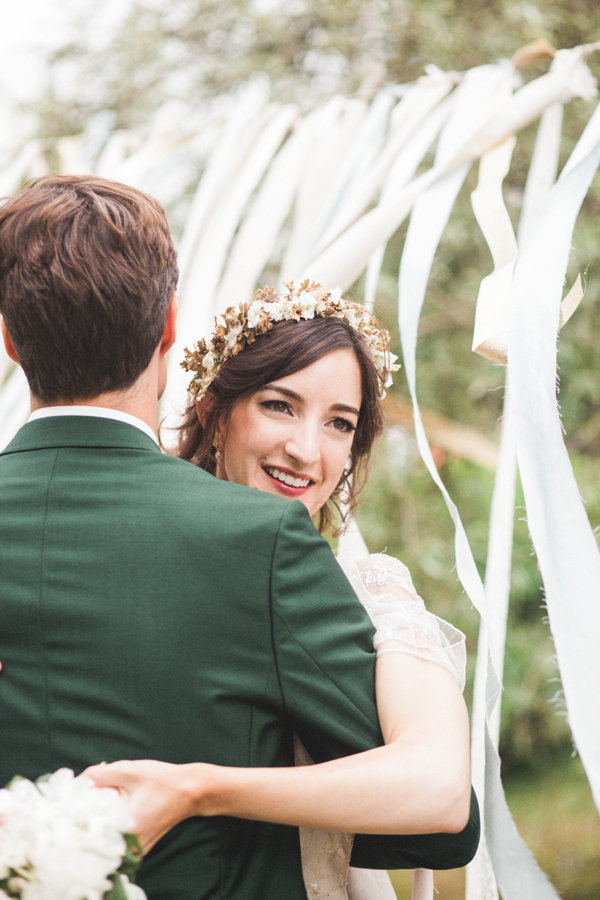 Why, it's our absolute pleasure Charlotte!  Oh my, where to start?!  I'm so touched by your kind and encouraging words about Love My Dress, and am thrilled that you were able to source so many of your suppliers and seek so much inspiration from these pages – thank you so much!
Huge thanks to the incredibly talented Jonny and Morgane of M&J Photography for asking  us to share these beautiful wedding photographs with our readers.
I may just have to go and start this post from the very beginning all over again right, I love it so very much.  Ooooh yes – I probably ought to add that the fabulous vintage style moon prop at the start of the feature was made by Harry himself, and painted by Charlotte – then used as a photobooth prop towards the end of their wedding.
Love Annabel
Photographer – M&J Photography
Wedding Planner/Stylist – Elysian Weddings and Events
Venue + Catering – Catharine's College chapel + Emmanuel College, Cambridge
Wedding Dress – Azalea by Jenny Packham
Veil/Headpiece – Floral Crown by Miss Pickering
Brides' shoes – Ginger by Rachel Simpson
Bride's accessories – blue opal pendant
Groom's Attire – Tiger of Sweden suit + gold tie via D&G at Mr Porter + Charles Tyrwhitt shirt
Bridesmaids – The Wedding Workshop
Flowers – Miss Pickering
Cake – Nevie Pie Cakes
Entertainment – Colm McGonigle & Orláith McAuliffe + Ceilidh Generation
Favours – plum jam and apple chutney
Additional Styling – Vintage Style Hire
Rings – Berganza in Hatton Garden
Stationery – Illustrated by the bride, made by the bride and groom
Hair Stylist – Love Your Hair
Makeup Artist – Make up by Katy
Vintage crockery hire – My Pretty Tea Party
Follow Love My Dress on Google+