In our final feature for the day, Susannah and Neil are sharing their wedding photographs following their Autumn nuptials held on 7 September last year at the charming Kent wedding venue of Nettlestead Place.  This is a charming and delightful country pub wedding with lovely touches and a dress by our favourite design duo, Belle & Bunty.
"We decided that as we live in such a beautiful area we should keep our wedding local. It was also important to us to not be tied into the usual wedding packages, and try and make the day as personal as possible.  Our ceremony venue was Nettlestead Place which is very near our home in Kent.  It is a private house with stunning gardens that look out over lovely countryside, and the ceremony room is a 13th century undercroft.  This is lovely intimate room and we knew it would offer the kind of atmosphere that we wanted.
I loved the contrast between the two halves of our wedding:  a grand historic house as a backdrop to our ceremony, followed by the informality of a country pub – it suited us so perfectly."
Photography Copyright (c) 2013, Shaw Shots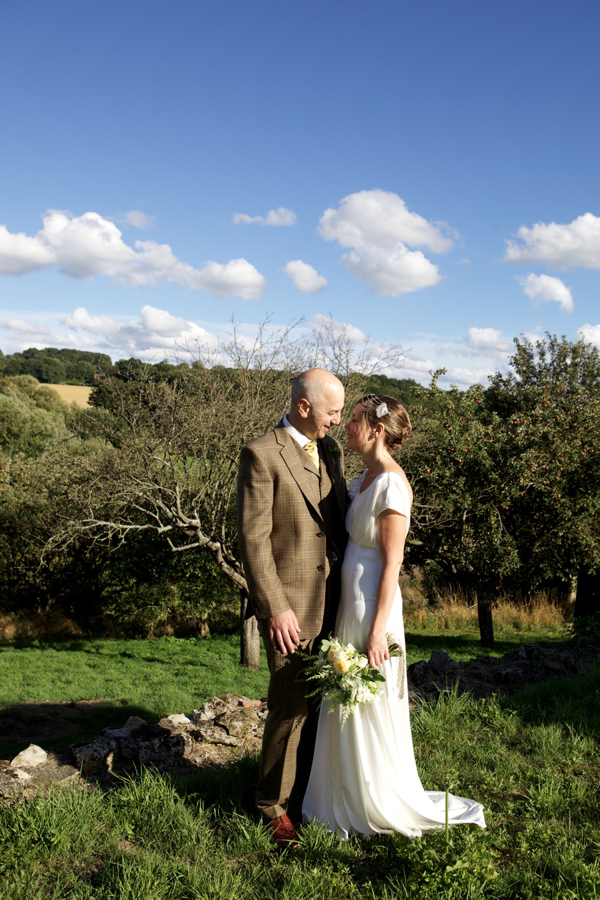 "Neil and I met at work and had been together for nearly ten years when we got married.  As Neil has been married before, getting married again wasn't as important to him as it was to me but he understood that it is very important to me so we knew it would happen one day.  Just before Christmas last year, we had a very cold day out in Brighton and bought a gorgeous ring together that I had spotted a few months before. 
I had to keep checking with Neil that it was in fact an engagement ring and not just a really nice Christmas present!  Despite thinking he wasn't fussed about getting married again, I would say that Neil ended up being more enthusiastic than me and he loved the whole process.  We were engaged for just over 8 months before the wedding as I didn't want to spend years in anticipation of just one single day, so we set a date quickly."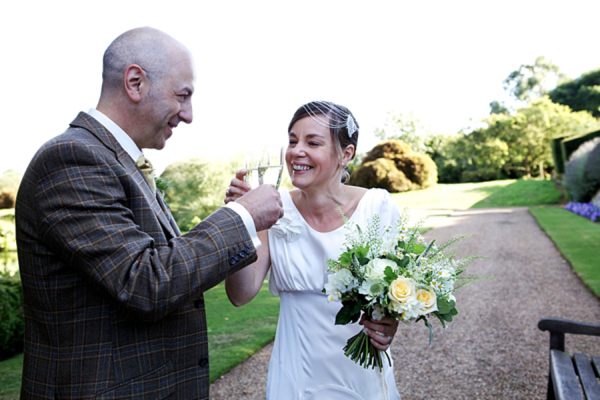 "We knew early on that not all of the traditional elements of a wedding were appropriate for us.  This led us to our venue decisions, and then the venues in turn (especially the pub) dictated the style of the day.  Everything else grew from there. 
Nettlestead Place enabled us to justify a certain level of glamour and sense of occasion, whereas the pub encouraged more of a rustic theme, which was very easy to style once I had the basics in place. Wherever possible we tried to step off the whole wedding bandwagon and use local independent suppliers.  As time went on, I realised that it was also possible to do a lot of things ourselves which we both enjoyed."
"I wore the 'Belle' dress by Belle & Bunty, purchased from Frou Frou Bridal Boutique in Tunbridge Wells.  When I found Frou Frou, I knew I had found the shop for me because they had a totally different attitude to wedding dress shopping.  I knew I didn't want a generic strapless dress (that seemed to be all that most boutiques offered) because strapless simply doesn't suit me and makes me feel uncomfortable.  However I knew what I DIDN'T want more than what I DID want! 
I originally picked out the Willow dress by Belle & Bunty and it was Nicole at Frou Frou who suggested the Belle.  I was amazed at how flattering the cut was and how the gorgeous heavy silk flowed around me, and I knew I had to have it.  I did wobble a lot afterwards, mainly because suddenly the Belle was everywhere and I thought it wouldn't be wow enough, but I realised that it was only in the world of wedding blogs that it was so popular and of course no-one at my actual wedding had ever seen anything like my dress ever before."
"I didn't think the dress needed much accessorizing, particularly as I had already chosen a glamorous hair decoration.  Also, I don't normally wear lots of jewellery so I kept it simple with diamante earrings from Accessorize and a delicate sparkly tennis bracelet that Neil bought me many years ago.  Later in the evening I changed this for an art-deco style cuff bracelet, again from Accessorize, which everyone thought was more expensive that it actually was.
I didn't wear a veil either, but I did choose to wear a headband.  This was my biggest wedding extravagance – the Emmy Double Fan Drape.  It was a brave decision to go for this instead of a classic hair band but I took the advice of Helena at Frou Frou (these ladies know what they're talking about) and went for it. 
I am so glad I did because it is a beautiful piece that complemented the slight 1930s feel of the dress, and people really noticed how unusual it was."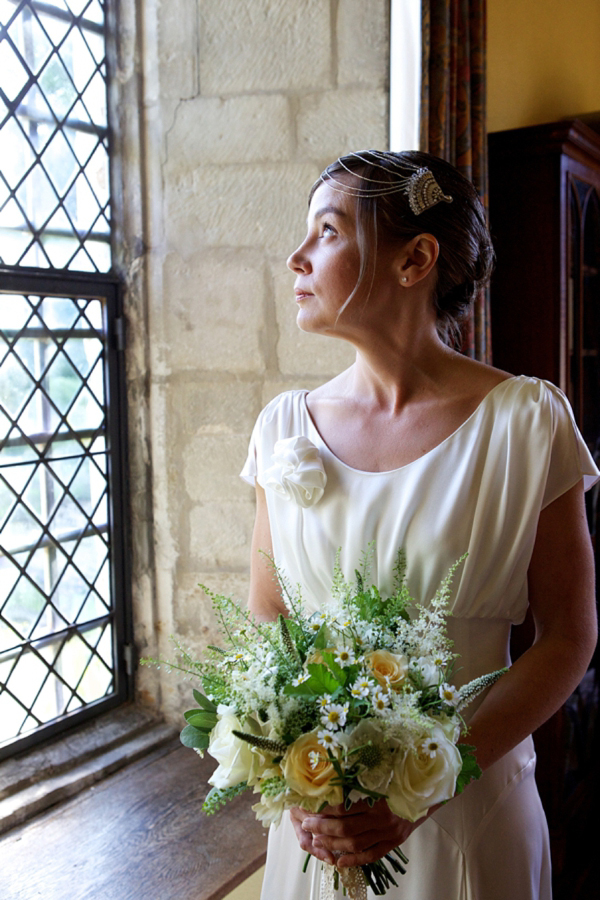 "I found my shoes very early on, when we stopped for a cup of tea and cake at the Lily Pie Cafe, whilst looking at wedding venues.  The tea room had a vintage boutique upstairs and the perfect wedding shoes were there waiting for me.  They are 1920s vintage and fit me perfectly as well as suiting the style of my dress."
"The vintage motorcycle and sidecar that we hired via Classic Bike Hire was quite possibly the highlight of my day.  We didn't have far to travel between venues but we thought we should do it in style, especially as we both ride motorbikes in normal life.  Riding away from Nettlestead in the sidecar with everyone cheering behind us was the best feeling in the world and I will remember it forever."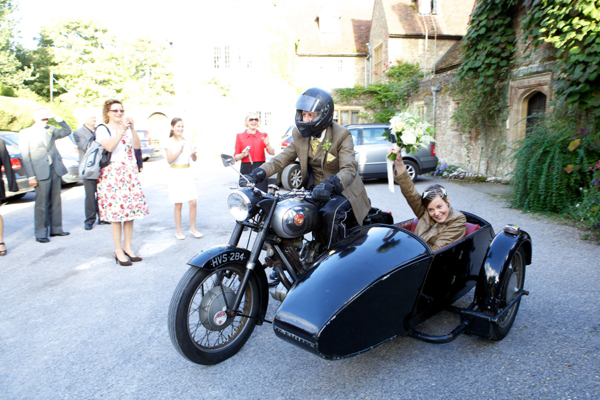 "For the main cake at the reception venue, I always knew I was going to make my own wedding cake.  I know fruit cake is not very fashionable but we both love it and by choosing fruit cake, I could make it in advance.  This took the pressure off, and then I iced it in stages, a couple of weeks before the wedding.  I had no idea what decorations I was going to do until the day before, and in the end I used sunflowers I had picked from Blooming Green and some ribbon I made from spare silk cravat fabric.  
I think the cake was the DIY aspect of the wedding that I was the most pleased with; I know it doesn't look exactly like a professional one but seeing it on the table knowing that I had made it was very special.  Luckily it did taste great as well as looking good!"
"My bridesmaids were my sister Victoria and Neil's niece Ayla.  To keep the day fairly relaxed, I didn't want traditional bridesmaids dresses but I knew it was always going to be difficult to dress two such different girls.  After a few false starts the perfect dresses were found (believe it or not) in the Florence & Fred sale at Tesco!  The quality was amazing and absolutely no-one believed me on the day. 
To give them more of a weddingy look, I ordered silk waist sashes in the same colours as the boys' ties, so this brought the look together without there being an obvious colour scheme." 

"Neil's suit was from Gresham Blake in Brighton.  Originally Neil looked at having a separate tweed jacket and trousers, but nothing seemed to quite work.  Next we considered bespoke suits, but these were prohibitively expensive so we scoured the high street looking for the right thing.  However, like the bridal boutiques, most high street shops seemed to offer only one kind of mens formal suit so we took a day trip to Brighton (where we thought there might be more diversity) and spotted the perfect 3 piece off-the-peg in Gresham Blake.  Neil loved the whole process of buying his suit possibly more than I enjoyed buying my dress, and he intends to wear it again as much as possible!I really wanted Neil to wear a cream shirt to soften his look but finding cream, slim fit shirts was harder than you might think.
After not looking very hard, he was ready to give up and go with white but I went a (teeny) bit bridezilla and insisted on cream as I knew that cream would work so much better, especially with my dress.  Charles Tyrwhitt online came up trumps and they were delivered in less than 24 hours – perfect!"
"For our reception, we chose the restaurant in our local village pub, The Walnut Tree in Yalding.  In terms of décor, the pub is already beautiful in a country pub way, so it only needed some finishing touches to turn it into a wedding.  This made it a lot less intimidating for me than having to work with a blank canvas.  We have eaten there several times and the food is delicious. 
Food is very important to us and we really didn't fancy the idea of standard wedding packages and mass produced generic menus.  On such an important day we wanted everyone to eat something lovely.  We worked closely with the chef to come up with a seasonal menu that was a little different from standard wedding fare, and this paid off because we had so many compliments from our guests. 
Our menu was pear, walnut and blue cheese salad to start, red mullet with ratatouille to follow and apple and blackberry crumble with custard for dessert."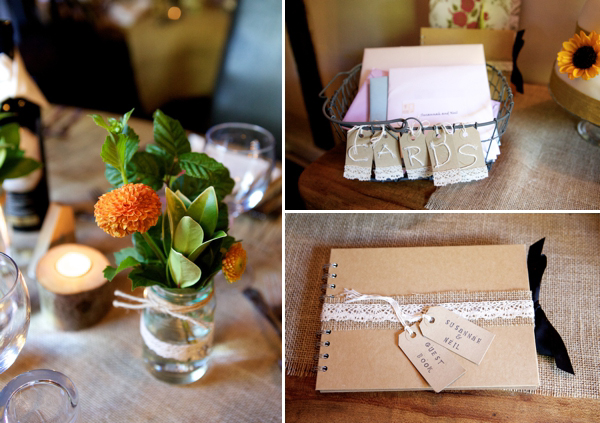 "The Walnut Tree is a traditional Kentish country pub so it didn't need a lot to make it look pretty.  We made hessian table runners to give a rustic feel and arranged the flowers on these, along with candle holders that Neil made from local logs.  The favours were small jars of chutney made from our own allotment produce, and these doubled up as place names.  Making the chutney was a labour of love, as we were doing it on one of the hottest weekends of the year but like everything else we made it was so worth it because people are still complimenting us on it now, and some people are even asking for top ups!
As the Walnut Tree is only a small pub and could not close the evening before, I had to reluctantly hand over the actual venue decorating on the day to the staff there.  However I need not have worried as they grasped the job with enthusiasm at every stage, and truly made my wedding vision come to life."
"For the bouquets & buttonholes we used Florist in the Forest by Katherine Craft, again recommended by Frou Frou!!!  I loved Katherine's natural, wildflower look and her use of home grown flowers wherever possible.  As we had no particular colour scheme, we chose simple white & cream flowers with lots of silvery greenery.  Due to the seasonality of home grown flowers, I didn't have any specific flowers in mind and left it to Katherine to create something stunning. 
The bouquets exceeded my expectations and everyone commented on the beautiful natural styling and fabulous scent.  Neil was keen to incorporate scent into his buttonholes so they featured rosemary & sage as well as fresh hops to make a link with our local area and our venue."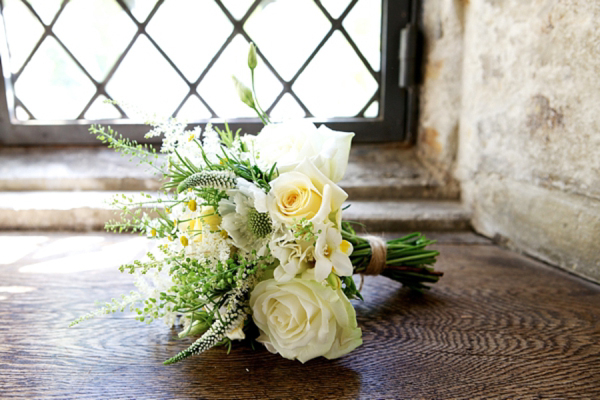 "I decided that formal flower arrangements would look out of place at The Walnut Tree so I opted to do my own small jam jar arrangements and scatter several of these on each table.  Most of the flowers came from Blooming Green, a pick-your-own florist near to where we live, and these were supplemented by beautiful sweet peas, cornflowers and greenery from my parents garden. 
I collected and decorated the jars, and the day before the wedding my mum and my sister did a perfect job of arranging the flowers."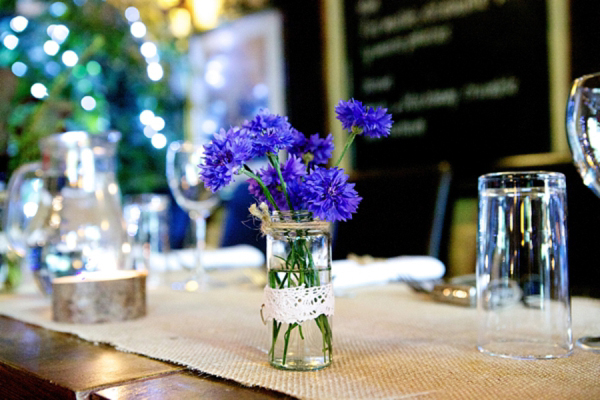 "I knew I didn't have time or creativity to design stationery so we bought lovely invitations from Hello Lucky.  For everything else, it was a DIY effort in a general 'rustic' style.  I bought lots of cream crochet lace from Ebay, plus an enormous roll of hessian, brown luggage tags, brown paper and then just used it all everywhere – I think it came together OK!"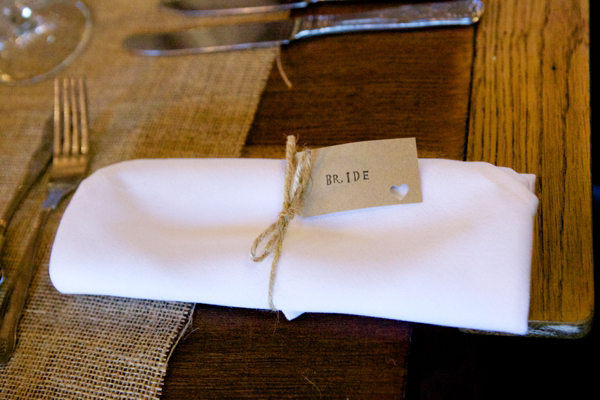 "We hired Olivia Shaw from Shaw Shots to take our photographs.  This was via a recommendation from the bridal boutique – they recommended another photographer who was unavailable, so she in turn recommended her friend Olivia.  I was totally sold once I checked out her website and we decided that it was worth splashing out for photos that we will treasure forever.  On the day, Olivia worked so hard for us like a little photography ninja; wearing all black she was slipping unnoticed between our guests and really bringing out the best in everything and everyone.  Each photo captures the mood of the day in a way I could never have imagined possible."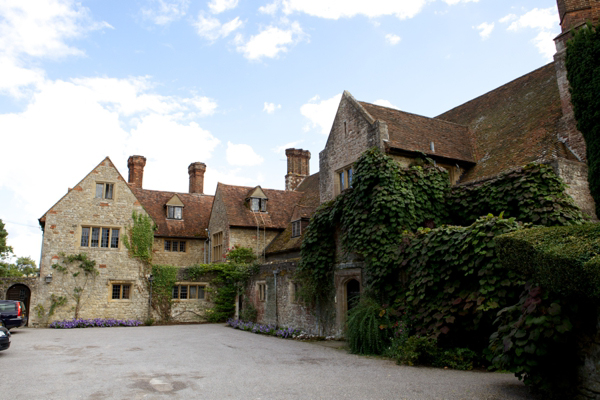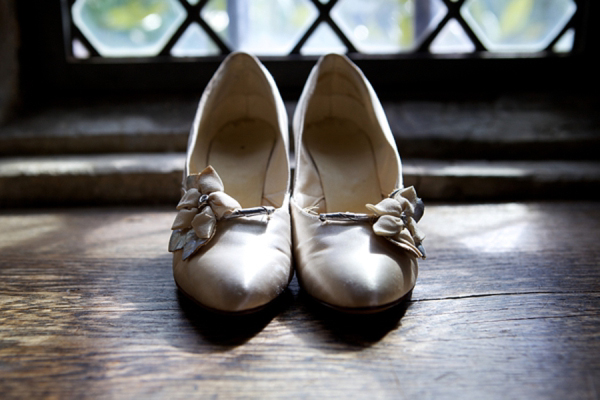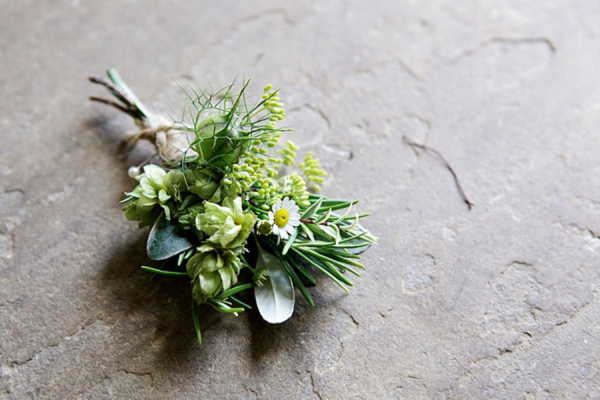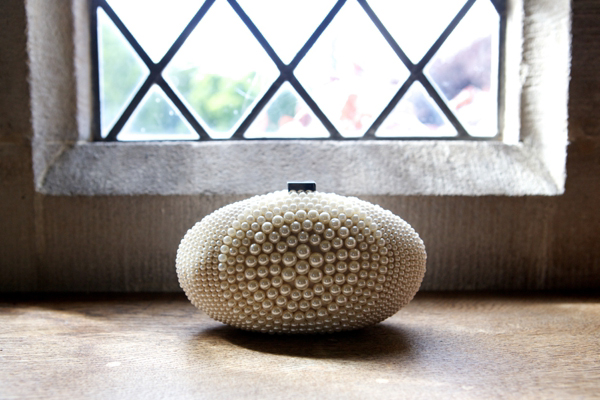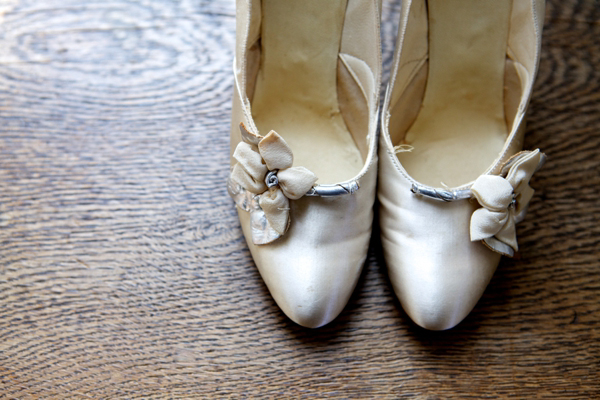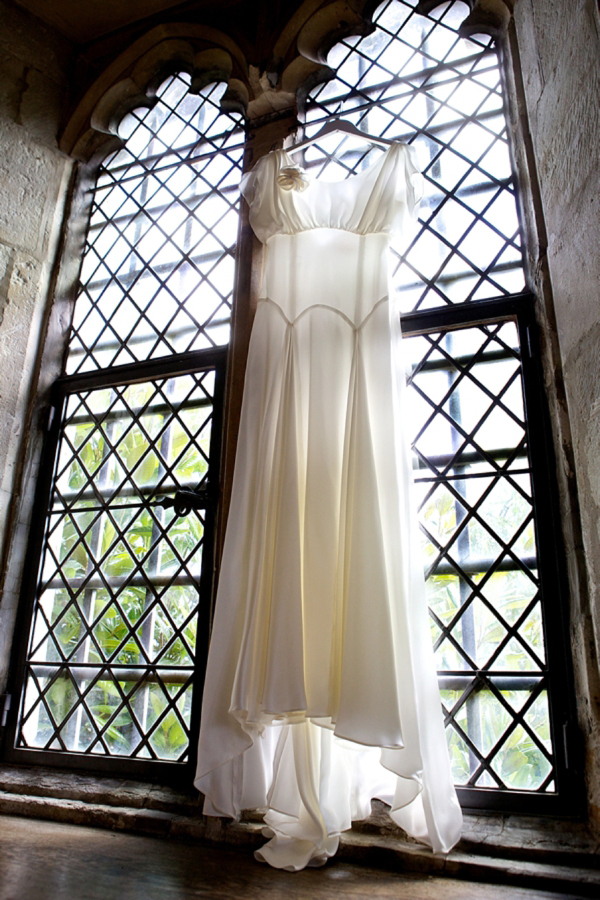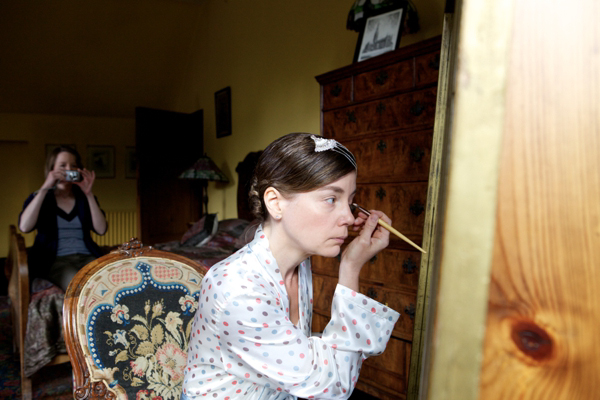 "I decided early on to do my own make-up, to keep things from getting too bridal or fancy dress.  I spent a lot of time researching great products and I did a lot of practicing to make sure I could do my look easily and quickly on the day.  It would probably have saved a lot of stress to have my make-up done for me, but I am proud of what I did and it was another DIY aspect of the day, which was important to us."
For my hair, I used my normal salon Eden Hair & Beauty in Yalding.  We like to keep a local theme!  Maggie was amazingly enthusiastic and did a great job of motivating me to grow my hair long enough to wear it up, which showed off the gorgeous open back of my dress.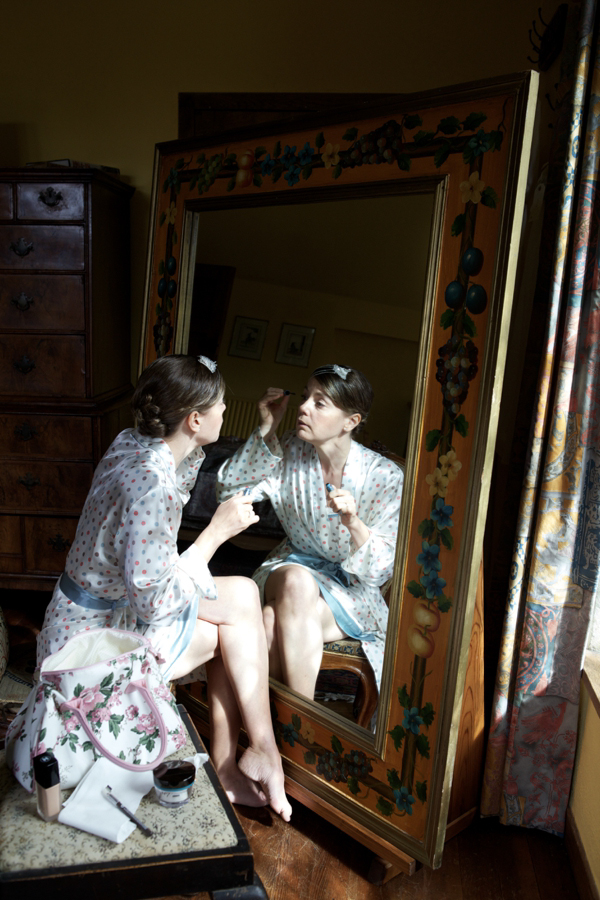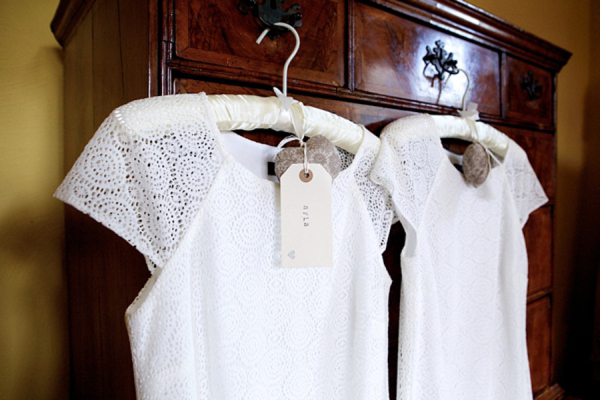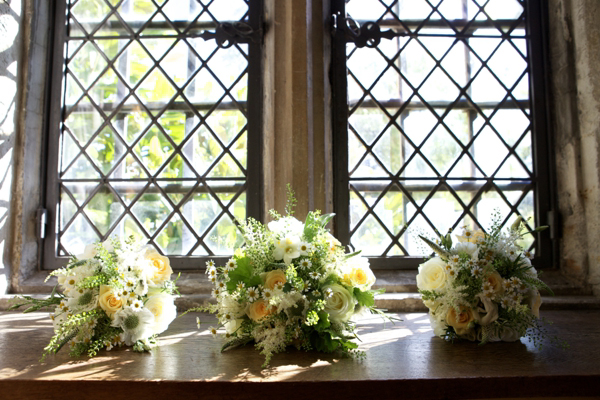 "Neil's two sons performed dual roles of Best Men and Ushers.  They looked very handsome in blue suits by Baron John and brown River Island shoes.  We wanted them to have good quality, stylish suits that they would feel comfortable in on the day, but it was also important that they could wear them again for any formal occasions they may have in the future.    Like most teenage boys or young men, they rarely do formal 'dressing up' so I was blown away by how good they looked. 
We chose Neil's younger son Lewis to do one of our ceremony readings.  He is such a shy young man so I was shocked and so pleased when he said he would do it for us.  This was a memorable part of the ceremony and Neil was so proud of him."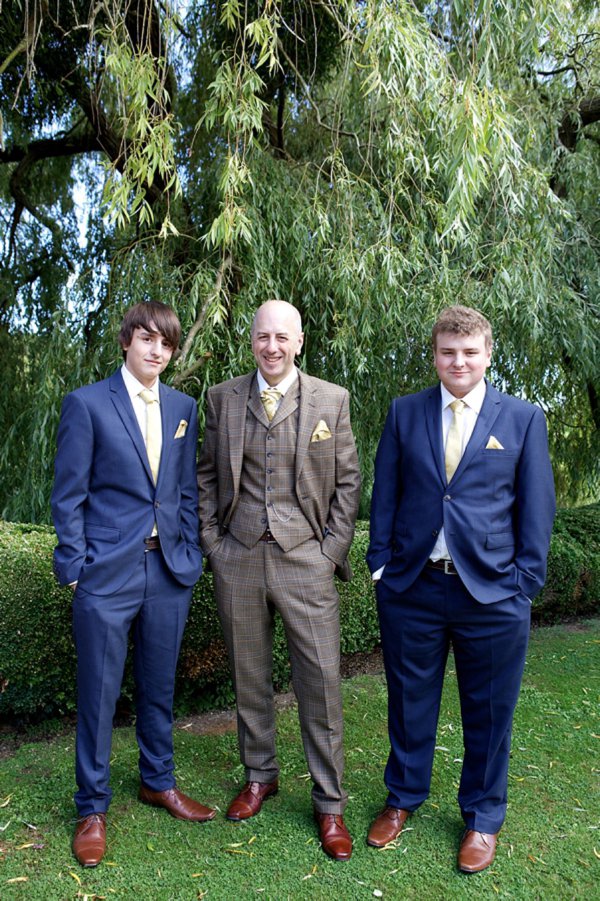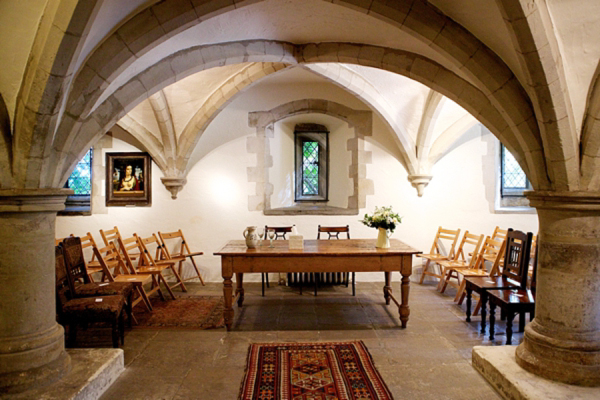 "My father gave me away, we walked down the aisle to the sound of my absolute favourite piece of classical music 'The Arrival of the Queen of Sheba' by Handel, which was beautifully played by Cancionero (medieval minstrels as above).
We are a pretty un-soppy couple and don't have a song or a clue how to dance so I was never bothered about the whole first dance thing.  However, Neil loves the John Martyn song 'May You Never', so he asked the band if they could play this for us.  They learnt it especially for us, including an amazing violin solo, and we did a little shuffle to that.  It has now definitely become our song and I can't even think about it, let alone listen to it, without getting transported back to that moment and thinking of our wedding day."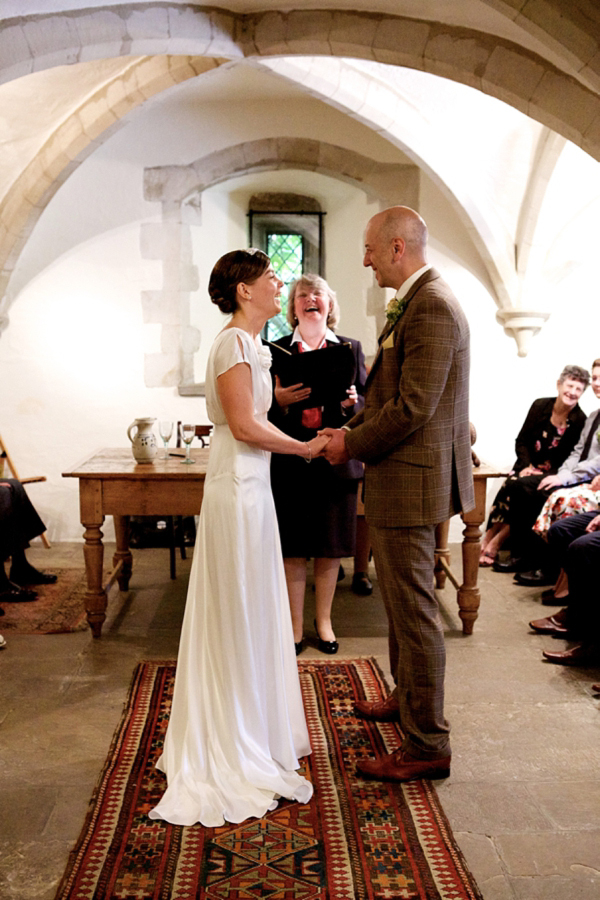 "My engagement ring is from Gold Arts in the Brighton lanes – this was simply my favourite ring as I loved the delicate simplicity, clean cut diamond and slight nod to 1920s/1930s style.  For my wedding ring, I chose a platinum ring with beading and facets that sparkle in the light.  I saw this style on holiday in the Cotswolds and thought I would never see it again but luckily spotted it in an ever better version at Toulson Jones Jewellers of Tunbridge Wells.
Neil has two wedding rings which is not bad going for someone who is not into jewellery!  Both of them are cobalt, which he likes the idea of as it sounds techy, so he has an ornate, two-tone one for 'best' (his actual ring I married him with) and a plainer one for when he's at the allotment or fixing the motorbikes."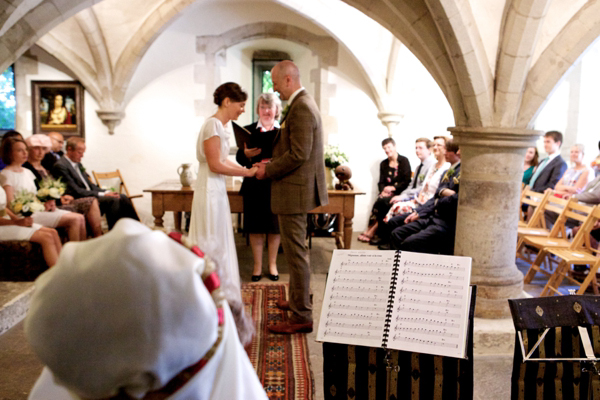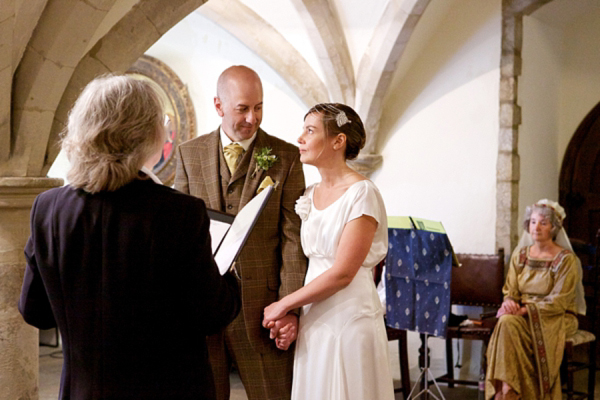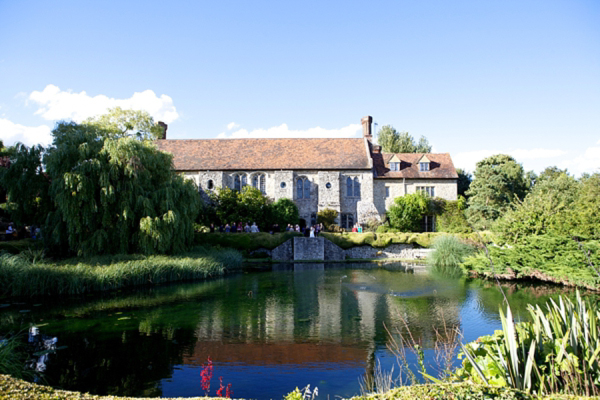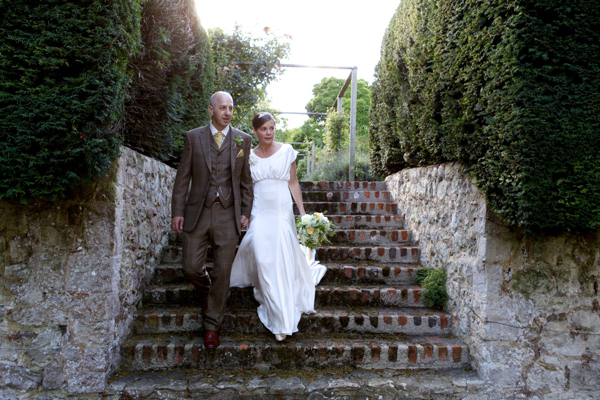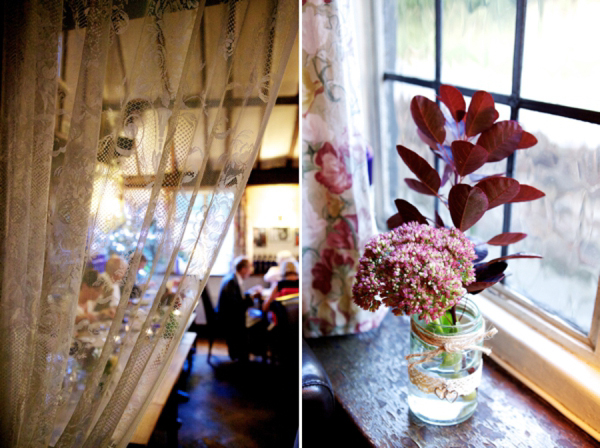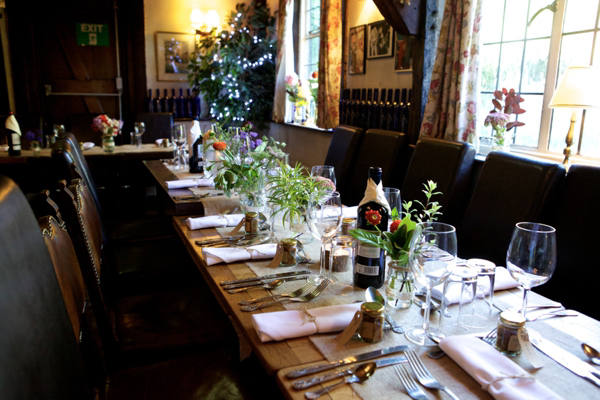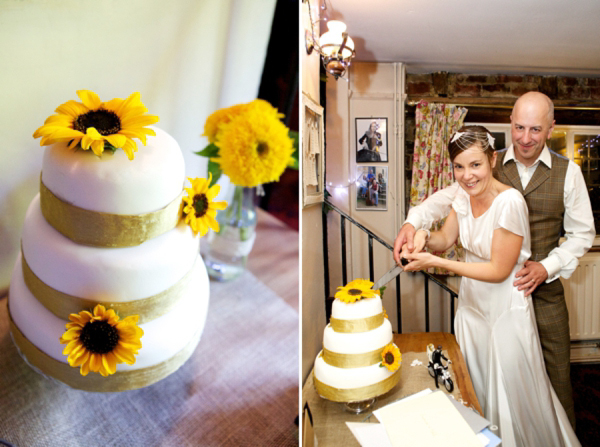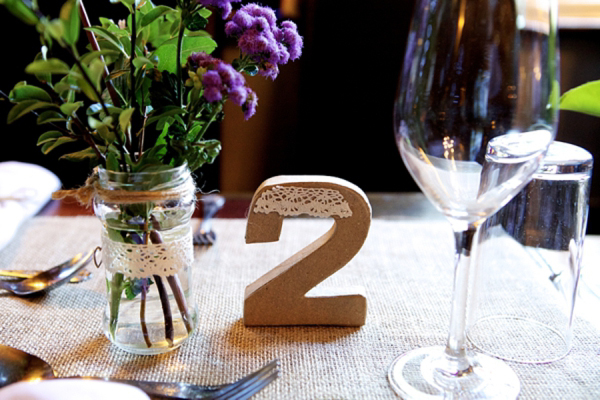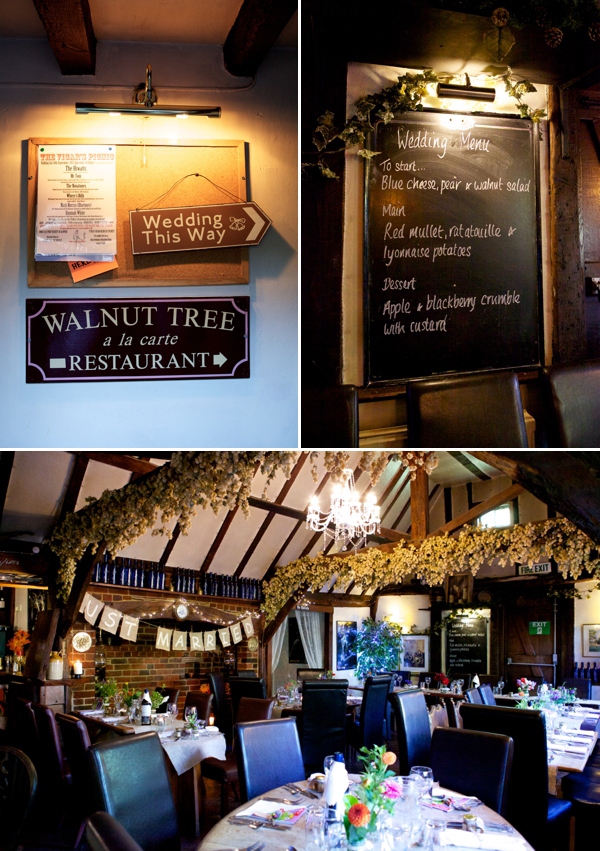 Words of Wedded Wisdom…
Spend money and effort on the things that are important to you as a couple.  For us, it was a gorgeous venue, delicious food, fantastic music and a great set of images that tell our wedding story.
Don't be afraid to be different from people's standard wedding expectations.  Choose the things that you like or believe in, and if you don't want it, don't have it.  On the day, you will have the most amazing time and you will not care about one single thing, because all the hard work has been done and the day has a momentum all of its own."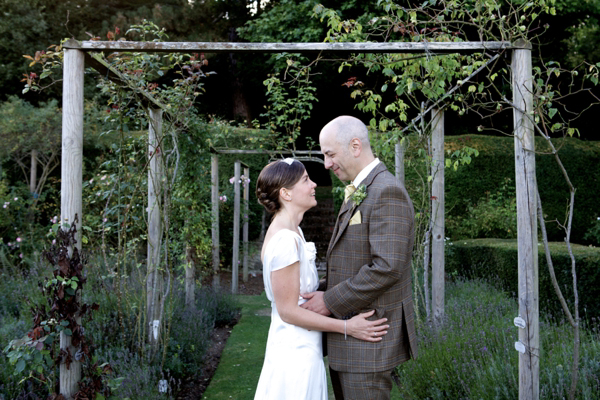 "Don't worry about life being an anticlimax after all the excitement; normal life with your new husband is the best feeling in the world.  On your wedding day, some strange kind of magic happens and everything I had worried about for 8 months just didn't matter.
Apart from the sidecar, my favourite part of the day would have to be the ceremony:  it was informal, relaxed and more fun than I expected.  I wish I could do it all again without being so nervous, so that I could enjoy it more!
Finally, I loved visiting Love My Dress – I was encouraged to go my own way and not be afraid to be a little less conformist.  I love the way that the blog features a variety of wedding styles & sizes, different family situations & less conventional venues."
I do love a good country pub wedding – they are so down to earth, fuss free and there's something so humble about them.
Congratulations Susannah and Neil, you look like you had the most perfect day possible.  Huge thanks also to Shaw Shots for sharing these images.
Brides, we adore Belle & Bunty dresses – do we have any other Belle & Bunty dress fans out there?
Love Annabel

Photographer – Shaw Shots
Venue – Nettlestead Place Kent + The Walnut Tree pub
Brides Dress – Belle & Bunty via FrouFrou Bride
Veil/Headpiece – Emmy Double Fan Drape
Brides Shoes – original 1920s vintage via Lily Pie Cafe
Grooms Suit – Gresham Blake + Barker shoes + Cravat
Bridesmaids – Florence & Fred sale at Tesco + shoes from Debut at Debenhams & Next      
Venue floral arrangements – Blooming Green Flowers styled by the bride
Bouquets  – Florist in the Forest
Flowers – bouquest by Florist in the Forest + venue flowers styled by the bride using Blooming Green
Cake – baked by the bride + cupcakes by Vintage Rose Cupcakes
Transport – Vintage motorcycle & sidecar via Classic Bike Hire
Rings – Gold Arts + Toulson Jones Jewellers
Stationery – Hello Lucky
Hair Stylist – Eden Hair & Beauty
Follow Love My Dress® on Google+