Well we're back folks! And sorry for the unplanned down time yesterday – some routine maintenance turned out taking rather a lot longer than we had anticipated, but it's all good and we've been saving something so very lovely and special for this morning to make up for it.  Hollie and Davide's lovely wedding took place on Saturday 17th May last year with a ceremony at the couple's local church, Our Lady of the Rosary in Shotley Bridge, followed by a reception at Snods Edge Village Hall, both in County Durham.
Hollie is a Visual Merchandiser for M&S, and David is in the process of opening an Italian bakery called Olive Stone. The couple also travel up and down the country at weekends selling their renovated furniture and quirky vintage interior finds. Hollie says "our parents have always encouraged us to do what we love, so we keep ourselves busy doing just that!
I couldn't adore this wedding more – the images by  photographer Sally T are so touching and offer a veritable wedding feast for the eyes!
Photography Copyright (c) 2014, Sally T Photography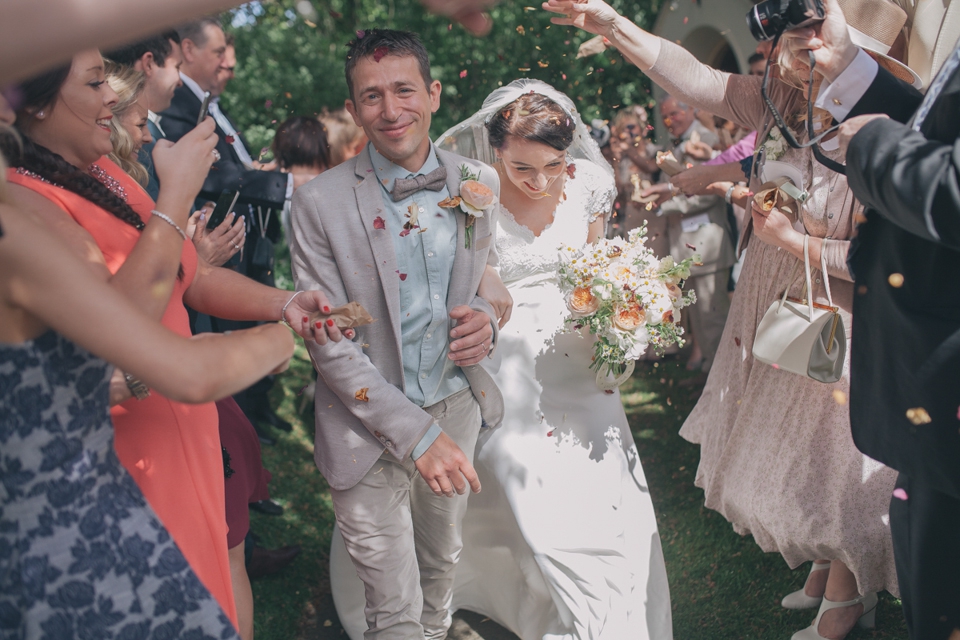 Being a creative lady, Hollie was constantly inspired by many things when it came to planning her wedding – she attended The Wedding Institute's wedding Fair in Saltburn, that's probably when her creative juices were completely flowing meeting inspirational people, with a mutual love for the same ideas.
"I actually met Annabel at the fair, where I purchased a copy of her book, 'Style Me Vintage Weddings'.  I adores all eras when it comes to vintage and fashion, and the dream was to have a traditional wedding that encompassed everything that we both love in this regard.  A small country village hall wedding, with lots of bunting, homemade goodies, furniture, and most importantly incredible food."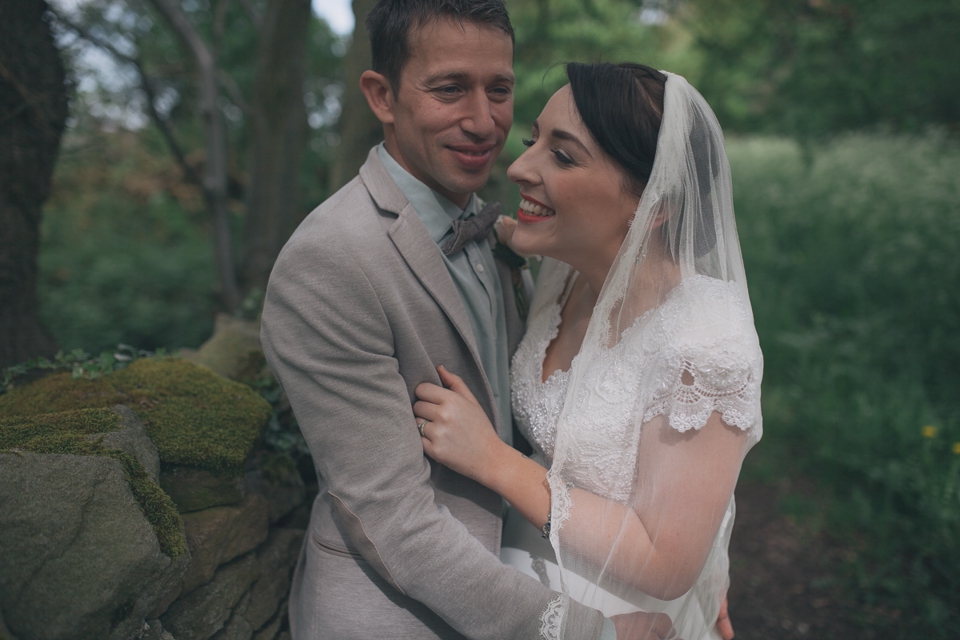 "We both wanted a very intimate reception but location meant everything to us too – Snods End Village Hall is in a picturesque spot with just a couple of houses and surrounded by fields. It was so still and quiet – well, that was until the music started! The local hall volunteers were incredibly supportive and excited to hold our reception there. The hall provided a blank canvas enabling us to do everything we pictured. Our creative buds were buzzing when we first visited!"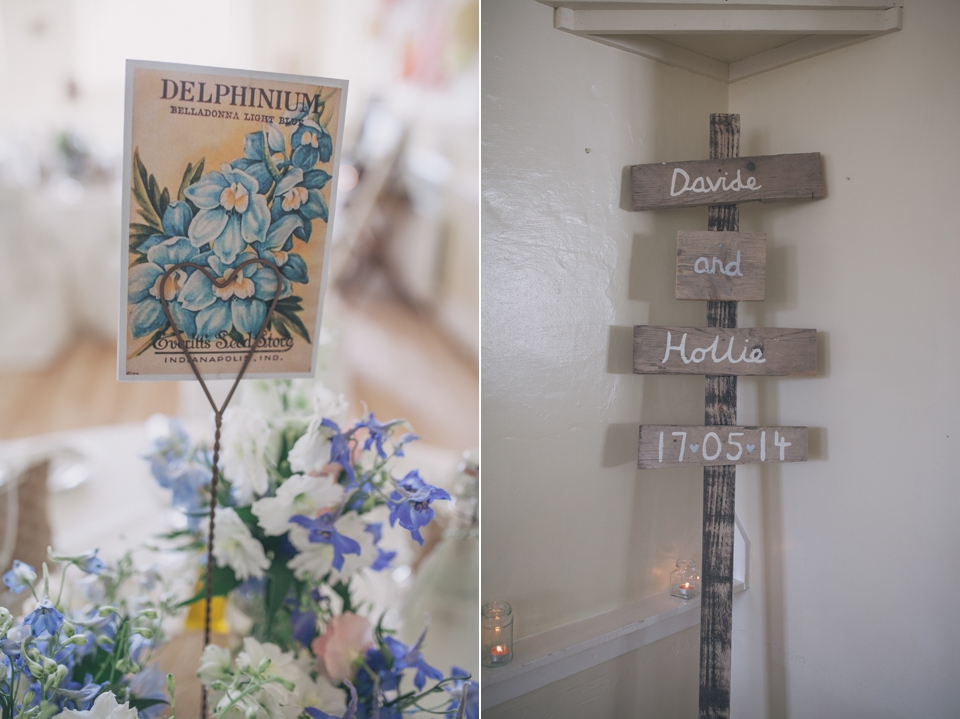 "My mum Joanne and I went on a wonderful shopping trip to Edinburgh and that's when we discovered the perfect bridesmaid dresses in H&M, of all places! They were a beautiful antique rose colour, one shoulder strap Grecian style dress. The design perfectly suited each of my bridesmaids.
The bridesmaid shoes were cute and simple nude ballet pumps from Topshop."
"A close friend of the family supplied and created the floral displays for our wedding. Paula of Wild and Wonderful Flower was an enormous help to us. She supplied us with all the linen for the wedding and chair covers.  We wanted simple wild flowers with stunning scents and that is sure what we got.
Paula, Kay and the team at Florist – Wild and Wonderful Flowers  went above and beyond to create the most stunning day for us and we will all be forever grateful."
"Davide's suit was a beautiful stone coloured suit from Zara. We opted for light colours for the suits, as it was a spring wedding, and Italians do sure pull of a spring coloured suit!   The beautiful tailored pale green shirt was from Reiss. Bow ties were decided upon for the groom, the groomsmen and the fathers, as they are classic and lot more relaxed looking and stylish – plus, you can find some fantastic bow ties on the high street in all patterns and materials.  Davide's was from River Island and the others were from H&M.
Davide's shoes were John Rocha and he absolutely loved them! They were beautifully detailed with the mint green laces."
"My wedding dress was vintage and I bought it at The Wedding Institute's Wedding Fair in Saltburn. It was everything I had imagined – cap sleeved, lace embroidered detail to the bust with a beautifully long trail. When I saw it hanging from an old wooden beam, I thought to myself, 'that is what I have to wear when I marry Davide!'.
 It was simple and classic, and I just had to try it on. It turned out to be a perfect fit – so to me, it felt like it was always meant to be 'the one'."
My veil was silk with a Chantilly lace trim from Faulkner and Carter. Beautifully delicate and timeless."
"I designed and printed all the stationery for the wedding. At university I studied Fashion Communication and Promotion, so it felt like my student nights spent glued to Photoshop all over again.  I created a floral wreath motif and used that throughout all of the stationery.  Our family loves gardening and the outdoors, this was where I gained most of my inspiration.  The order of services probably took the longest amount of time but it was worth it in the end.  I attached a floral handkerchief to the back of each for all those happy tears too."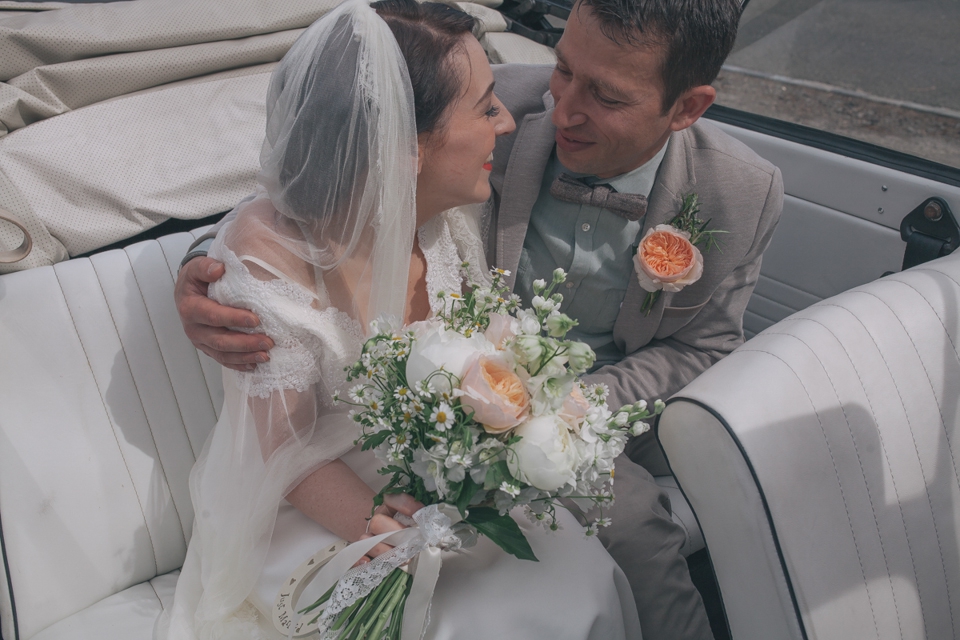 "Our table plan was very country garden orientated and we were very proud of it! Davide made small chalkboards and attached them to thin pieces of wood, which were then pushed into silver buckets. I then wrote every guest's name on a old dolly peg and that was slotted onto the thin piece of wood. It was very effective, and some people took their peg as a souvenir.
The table names were prints of old seed packets – linking with the name of the table and the name places were made from recyclable cardboard garden plant pots, which we filled with pebbles and moss."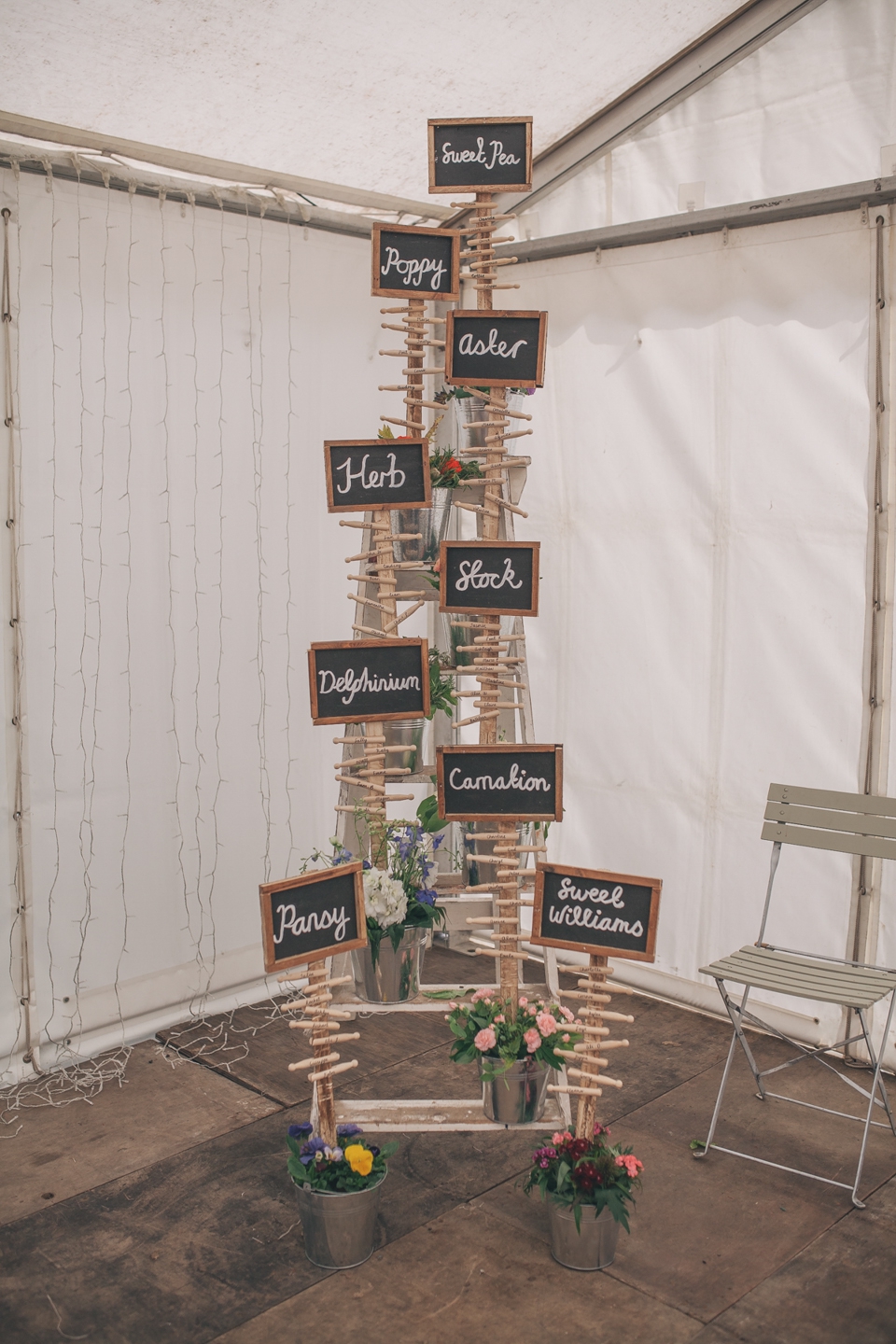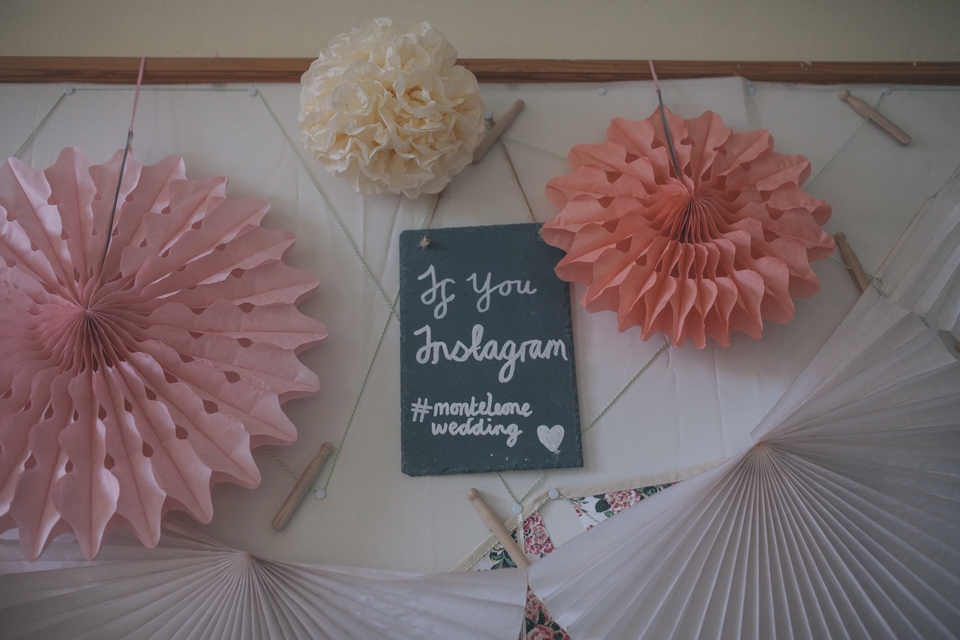 "Our photographer was the incredibly talented and special Sally Thurrell.  Where do we even start?! Sally captured the day in such a marvellous way. It was overwhelming when we received an incredible parcel with insta-shots and a USB full of imagery that would perhaps even move someone who didn't even know us! We are both shy people and can get rather embarrassed getting our photo taken. Yet Sally put us at ease and was not only a fantastic photographer but also an instant, lovely friend.  She was with us through the whole planning wedding journey. 
The day went over so quickly, so to be able to sit back and look at how special it was through Sally's photographs is overwhelming and moving for us both.  We feel enormous pride when we show everyone our wedding photos and tell them how special and creative Sally is."
"Davide is Italian and moved to England with his brother, Filippo, who has a fabulous second hand shop in an old church in Dipton!  I visited the shop every weekend when I travelled home from university, having a passion and hobby for renovating furniture. I became good friends with Filippo, but one day when I visited the shop, I noticed Davide with his bright blue eyes and big smile – I was in love.  It took a while for the both of us to pick up the courage to do something about it. But Davide did, making and delivering delicious pizza. He baked his way to my heart basically! The next thing we were dating and it was perfect. Within a couple of weeks we confessed our love for each other. "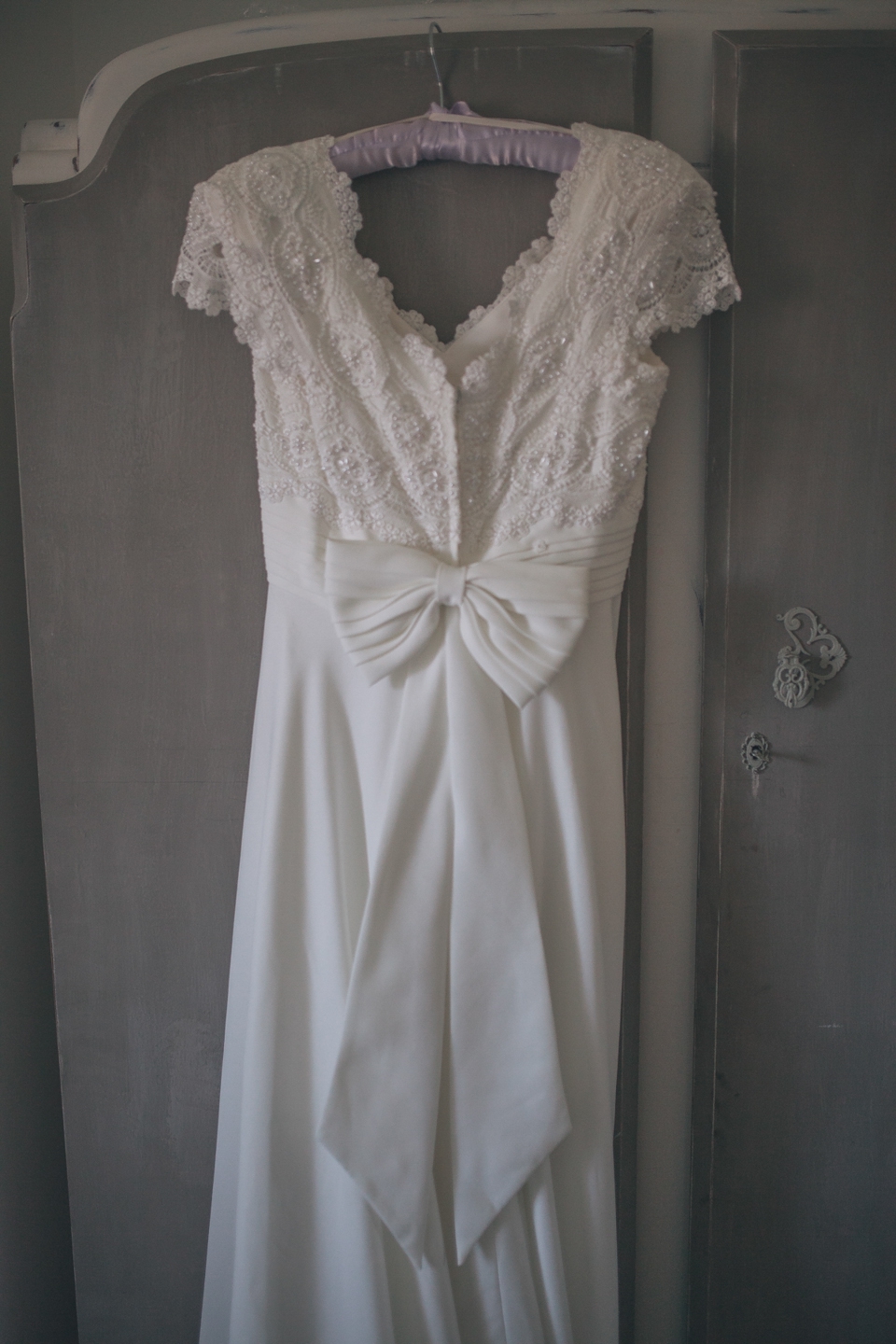 "My bracelet was extra extra special – it belonged to my Great Grandmother and was so elegant and perfect.  I was very close to my Great Grandmother, Doris and it was an honour to wear a piece of her jewellery on the most special day of my life – Doris had always loved a good party and wedding and like me too, she loved fashion and would have been pleased to know the pieces of jewellery she purchased many years ago are still fashionable and still being worn today.
On a birthday trip to the Cotswolds, I bought my beautiful little homemade purse, with a row of pearls shaped into a heart on the front."
"We continued renovating furniture together but we were struggling for storage. My Grandma, parents and Davide's houses were filled to the brim. We then stumbled over a wonderful property that was big enough for the five of us and had a big workshop. It was fate.  We all moved in but just a few days after the big move, my Grandma was rushed into hospital with meningitis.
It was a terrible shock and brought the entire family together.   From that moment, we knew that life wasn't going to be the same, it made us all stronger as a family. Teaching Davide and I how precious life is.  My Grandma, Doreen, made a full recovery. Luckily the property had extra living space downstairs, giving Grandma a whole wing to herself. As a close knit family, we care for Grandma, keeping her happy with plenty of cups of tea.  We are like the five musketeers – we adore each other so dearly."
"A couple of months later, to be specific on the 25th December 2012, Davide proposed to me in front of my parents and Grandma. It felt like such an unbelievable finish to what had been a very tough year.  We both wished for a Spring wedding so planned to wed in May 2014, g iving us just short of a year and a half to plan the most magical day."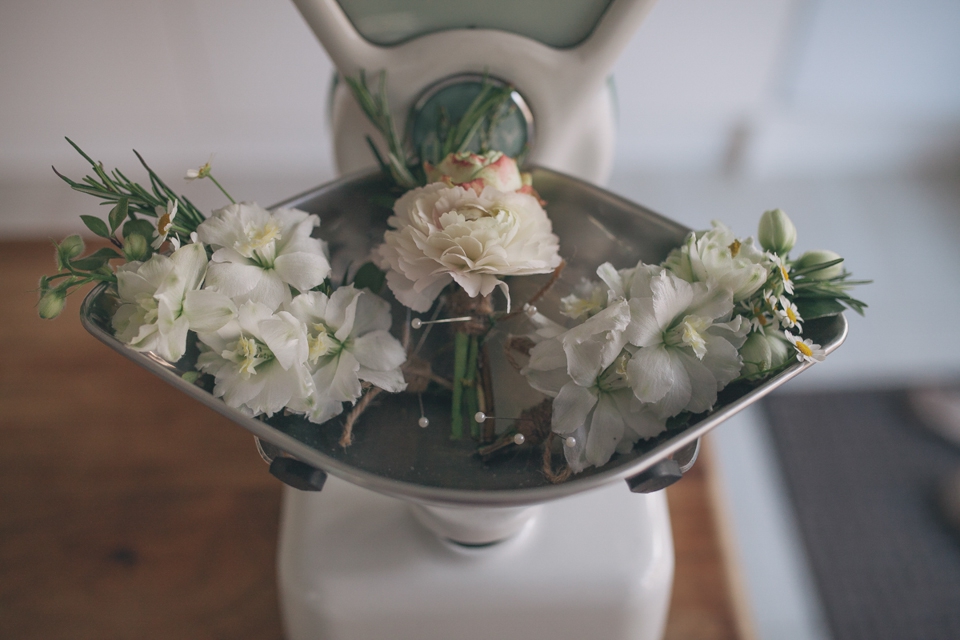 "My bridesmaid got a personally chosen vintage handbag suited to them. Inside each bag was a bridesmaid survival kit;
'There's a shot for a thrill, sipes in case there are any spills
Mint spray to keep bad breath at bay,
Paracetamol for the next day, and, 
A plaster to keep blisters away.'
They drank the shot in the campervan on the way to the church! Just to take the edge off and to settle those excited butterflies!"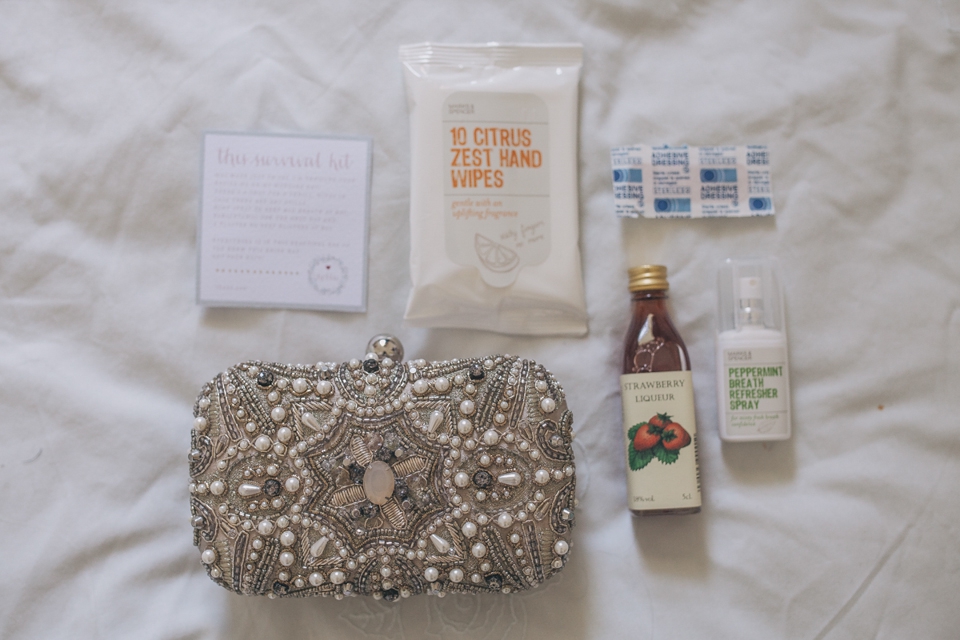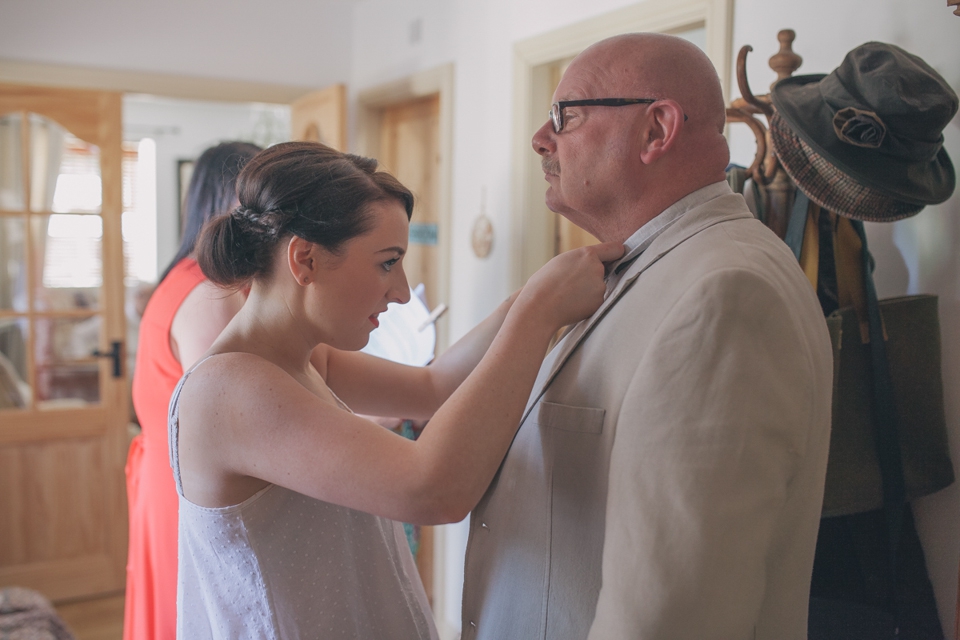 "The bridal party hair was styled by Joanne Hepplewhite aka Hannah from Gary Hedley Hairdressing, Burnopfield. Joanne has been our hairdresser for many years now and we were thrilled that she was able to come to our home and style our hair so beautifully.  With the pan au chocolat's and prosecco flowing it was a very special morning with all the girls – and of course my Dad!  
Each bridesmaid had a different hairstyle to suit the length of hair. My chief bridesmaid, Lottie had a roll up, Emma had a full plait, Katy had a balerinal bun and Nicole had a low bun.  I decided that I would have an 'up-do' as I planned to dance all night and didn't want my hair in the way!
My make-up was applied by Kate Moodie – a trainer for MAC Cosmetics."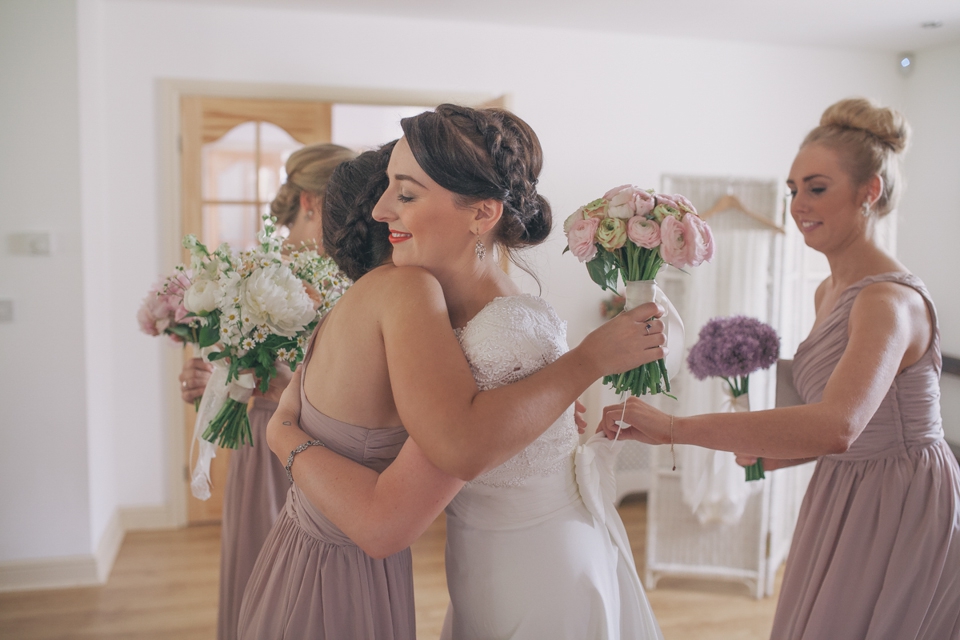 "The bridesmaids each had a different floral bouquet.  Lottie had elegant peony roses, Emma had romantic ranunculus, Katy had charming allium and Nicole had sweet margareets. Uniquely emulating each one of those wonderfully special ladies.
My bouquet draw a tear to my eye, it was just exquisite, everything I could have possibly wanted. Each flower in the bouquet meant or represented something important to me. Juliet David Austen Roses, stocks, delphiniums and margareets. It was wildly beautiful!"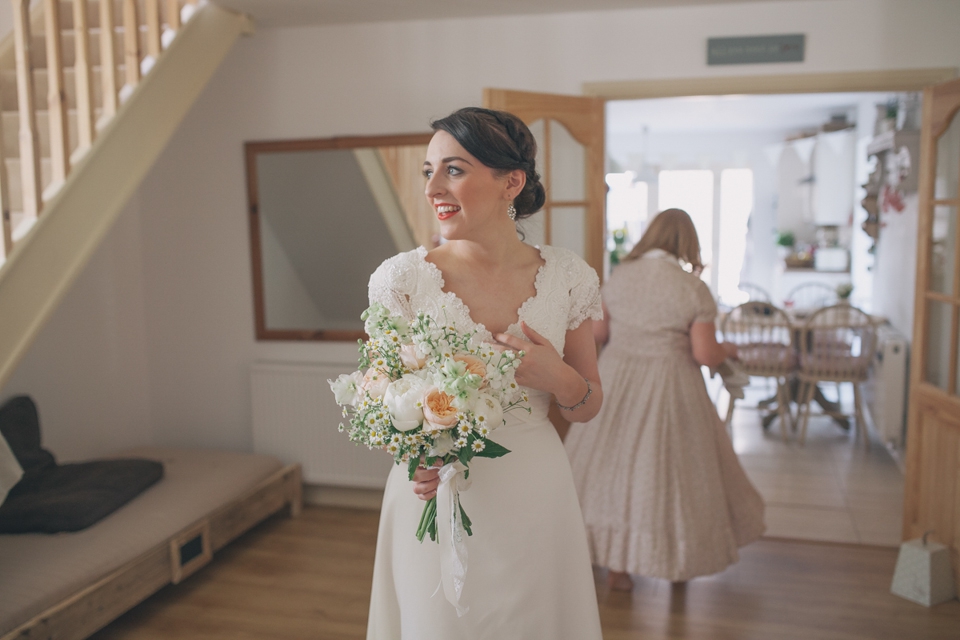 "My Dad, Derek walked me down t he aisle to 'The Wedding March (Wagner)',  Performed by the sensational Aurora Strings –  an extremely talented string quartet who also performed during our wedding breakfast. When they play and in the silence of the church it gives you goose bumps!"
"We had a traditional Catholic ceremony – Davide had added pressure with speaking his vows in English, but he wowed everyone and received a spontaneous round of applause when he had finished! It was just perfect! 
The readings delivered during our ceremony were all done so by family members. One of the most touching was the reading from the First Letter of St. Paul to the Corinthians, read by my Stepbrother, Matthew. Not only is it my favourite reading, Matthew has a surprise to the congregation as he had learnt the reading in Italian too.  There wasn't a dry eye in the church and rightly so, Matthew received an overwhelming round of applause!  It was a particularly emotional reading for my family, as it was also read at my Great Grandmother's funeral. A great acknowledgment for 'our Doris'."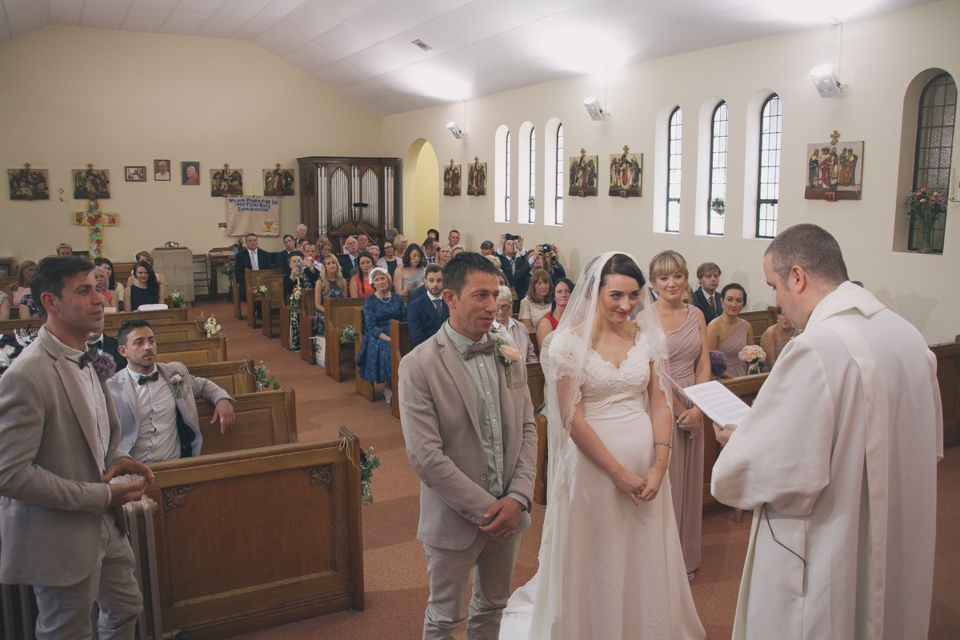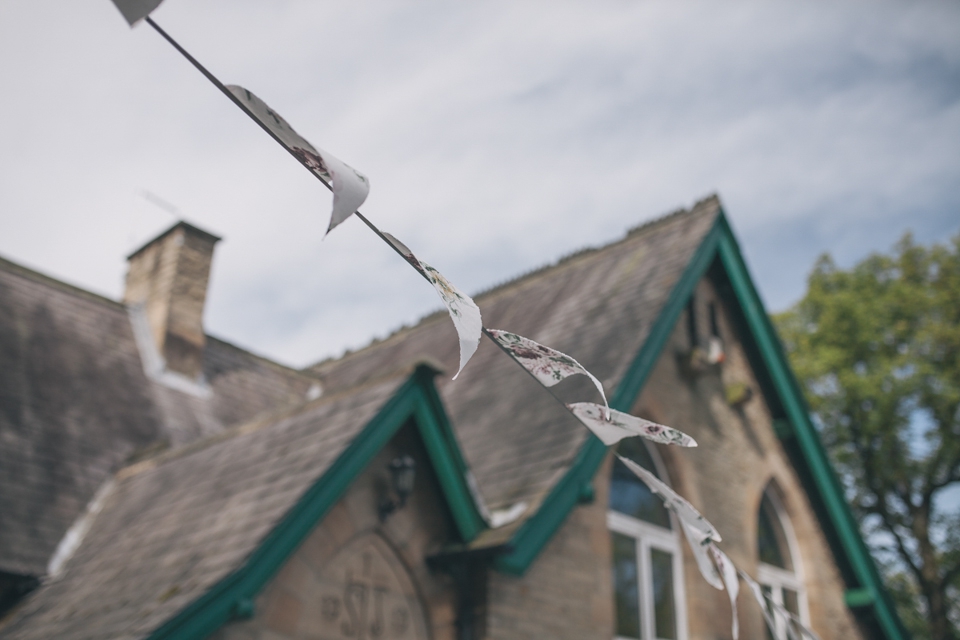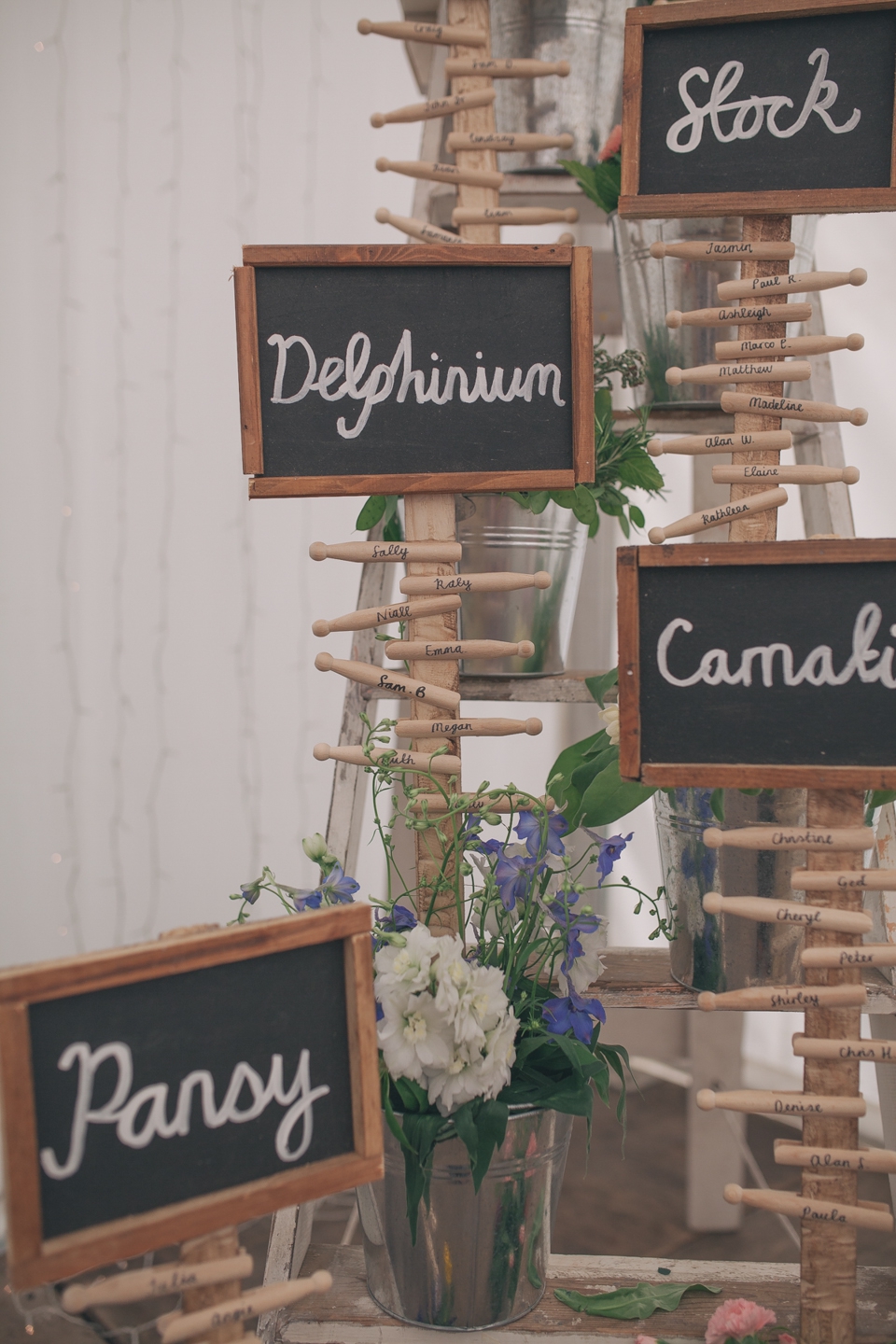 "Each table was named after a wild flower, we had sweet pea, poppy, delphinium, aster, pansy, sweet Williams, stock, herbs and carnation. So we had jam jars of all shapes and sizes filled with the corresponding flower as the centerpiece."
"My Mum purchased an large old milk churn to arrange flowers in for the church. We had beautiful delphiniums and tall flowers. Sat alongside the milk churn was an old rusty watering can that we picked up from a car boot sale in Hexham! Attached to each pew was a little jam jar of flowers. We wanted to create a quaint country atmosphere and we achieved that with such beautiful garden flowers.
With all the flowers we mixed deliciously scented herbs, using mostly rosemary, sage and mint! It was a great way to add scent to the room and tantalise your taste buds."
"Food is extremely important to both Davide and I, so on our wedding day we wanted to include all our favourite cuisines at different parts of the day. For our wedding breakfast we had our wonderful friends, Giacomo and Paolo owners of Michelangelo's to cook up an Italian feast! We had our favourite dishes. To start we had ricotta and spinach ravioli with sage and butter, simple but ever so tasty. For main courses we had an option of seabass or chicken and both were scrumptious! The whole team were outstanding and worked very hard, it went seamlessly well! Their main aim for the day was to make sure that Davide and I had the most extraordinary day.
For the evening reception we showcased British and French cuisine. With an option of crepes  from Monsieur Crepe and/or hot beef and pork sandwiches from Rowlands Gill Caterers."
"We both love cake and it was difficult for us to just choose one cake. So instead we decided to have a table filled with lots of our favourite desserts!  Finding the right person to make such tasty desserts was very important to us and we sure couldn't wait to test all of the delicious cakes!  Sara of Sara's Kitchen is an extraordinary lovely lady who worked exceptionally hard to pull of what was the most mouth-watering array of desserts anyone could have ever seen.
We had the British trifle VS the Italian Tiramisu, a summer berry bundt and a peanut butter chocolate cheesecake just to name a few!"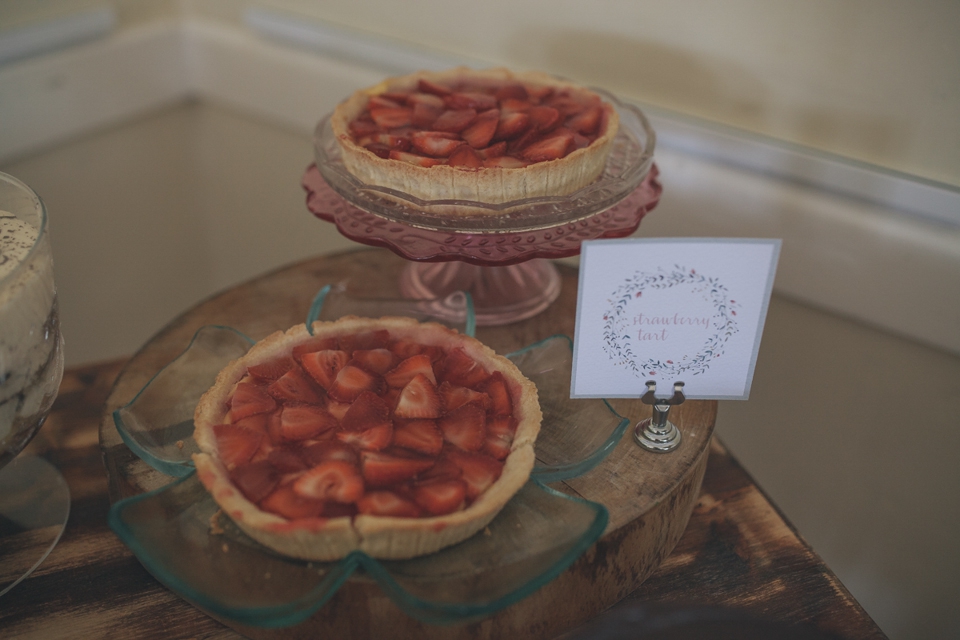 "For our wedding cake we selected white chocolate and raspberry after sampling Sara's delicious cake our choice was made instantly. And we simply decorated the cake with some pink peonies and it looked delightful. In the renowned words of Julia Childs, 'A party without cake is just quite simply a meeting', and with the cake from Sara's Kitchen it was one hell of a party!"
"When it came to venue decor, we wanted miss-match everything, exposed wood, plenty of bunting, twinkling lights and special little personal touches.  We literally transformed the village hall, 'it was unrecognisable', in the words of the village hall volunteers.  
Almost everything that was at our wedding was created and sourced by us; I made hundreds of meters of bunting as well as chair covers and table squares. Furniture was built by Davide, including a fabulous cart.  My parents bought all the crockery, glassware and cutlery and chalkboards were made by Davide, and then written on by me. It was a team effort and our vision really paid off.
The backdrop to the top table was curtains of twinkle lights that I had sourced from work and with the help of my Auntie and Uncle." 
"We had been debating on all sorts of ideas for wedding favours, as we wanted them very unique to us! But personal to each person.  Each person's favour was different and unique to them – they received an antique or vintage item. We collected them from antique shops, fairs and second hand shops.  The favours themselves were placed inside a personalised bag with a little card explaining his or her chosen favour.  The response from all our guests was very humbling; they explained they had never experienced a wedding like it!"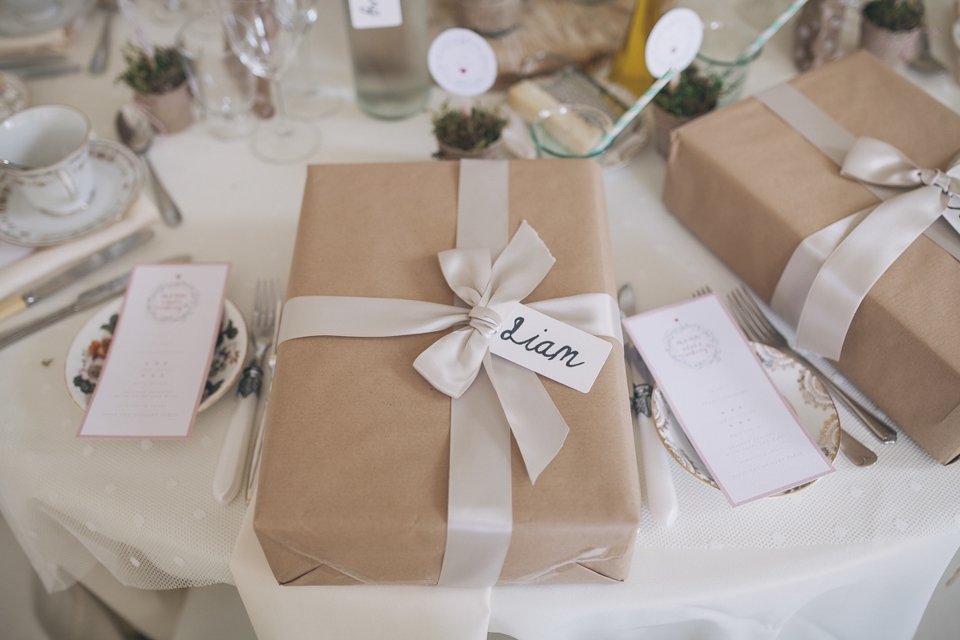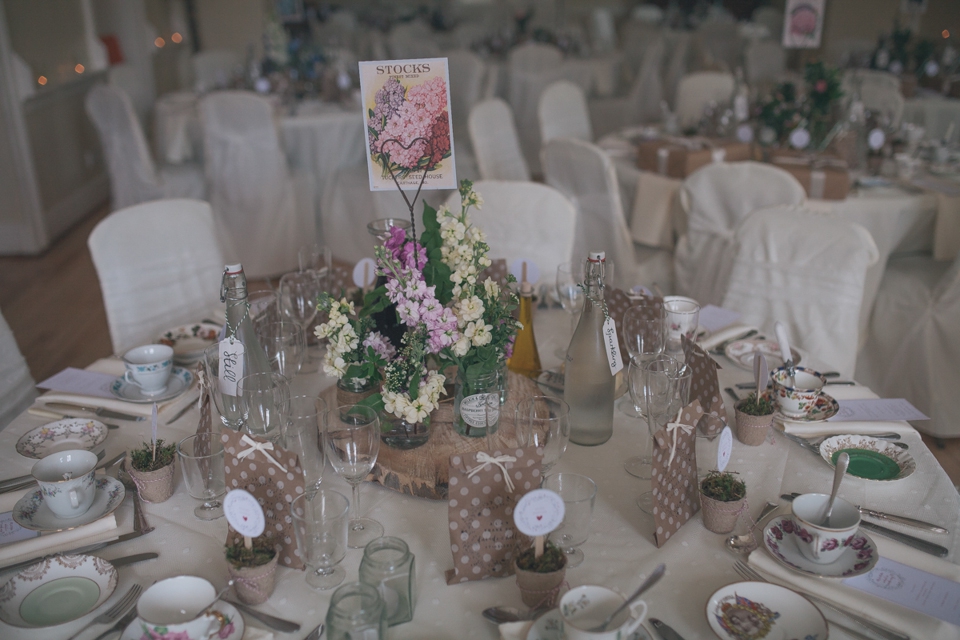 "There were many moments that contributed to it being the best day of our whole lives. For me, there was a moment when you're sat in the church and I caught my Mum's eye and we both knew what each other were thinking (as always) – that it actually was happening! For both Davide and I, the other extraordinary moment was when everyone just completely let their hair down, just after the wedding breakfast. Everyone was just ready to dance, drink Prosecco and be completely merry!"
"Our first dance was to 'I Will Wait' by Mumford and Sons, performed by the Shakedown Band. We wanted an upbeat song that meant something dearly to us. Mumford and Sons was the first concert we went to together and we have the fondest memories of that time. That it was only fitting to get up and do a good ol' jig! It sure got the crowd going and one of the most special moments was when the bridal party and the parents joining us on the dance floor. After that, the dancing just didn't stop! There was dance-offs, laughter and shoes off, a sign of a massively successful celebration!"
"For the evening reception, we had the best band going – the astounding The Shakedown Band – they got the party started and nobody stopped dancing all evening!  
Richard is a work colleague and friend of mine, and after hearing and experiencing them performing at a function, I knew they had to be ones performing at the wedding. Not only are the nicest gentlemen, they are so gifted in what they do.  Everyone was so astonished by the amazing performing, all our guests keep on getting in touch with us to find out when they will next be performing!
Our first dance was 'I will wait' by Mumford and Sons, performed by The Shakedown Band; it's a moment we will never ever forget. It was supercalifragilisticexpialidocious! We will forever cherish this remarkable band and the fantastic evening they created!"
Hollie also included this information about her parents in the questionnaire we asked her to complete, which I thought was so touching,
"My Mam and Dad were just as always remarkable. We would be lost without them. They are two of the kindest and giving people you will ever meet! They worked so hard to make it the most successful day for us.
My Mum and I have a relationship like no other. She is my best friend and we know each down to the last breath. She is a saint and an inspiration. Always putting everyone else's needs before her own. Not only has she supported us and put so much of her time into making creations for our wedding, she has cared for my Grandma and others around her, for her whole life. It is just her unbelievable humbling nature. Our wedding wouldn't have been as successful if it hadn't been for my parents. In the immortal words of Audrey Hepburn, 'the best thing to hold onto in life is each other'. This just couldn't be truer – thank you Mum and Dad."
Words of Wedded Wisdom…
"Enjoy the day, everything will fall into place. When you wake up on your wedding day, relax, it will be perfect as everyone is working so hard and wants to it be sensational just for you both.
PLAN PLAN PLAN. It is never too early! Trust me."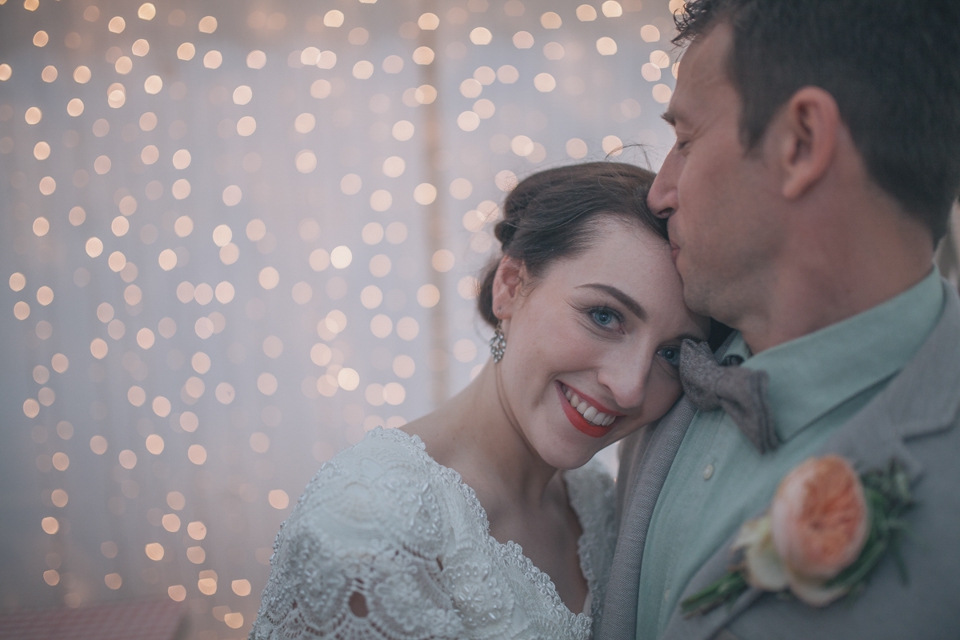 Just an unbelievably gorgeous day with so much love and passion behind the sharing of the day itself – my huge thanks to you both Hollie and Davide.
Readers, do take a moment to explore the website and blog of photographer Sally Thurrell – a firm favourite with our North East based brides.
Is there anything you love the most about this charming wedding?
Have a beautiful morning everyone,
Love Annabel xx
Photographer – Sally Thurrell
Venue – Our Lady of the Rosary in Shotley Bridge + Snods Edge Village Hall
Wedding Dress – Vintage, discovered via The Wedding Institute
Brides Veil – Faulkner and Carter
Shoes – Vivienne Westwood Melissa peep toes
Groom – Zara suit + Reiss shirt + River Island bow tie
Bridesmaids – H&M + Topshop shoes
Florist – Wild and Wonderful Flowers
Cake – Sara's Kitchen
Transport – Brooklands Wedding Cars
Entertainment – The Shakedown Band
Rings – Michelle Oh
Caterers – Michelangelo's + Monsieur Crepe + Rowlands Gill Caterers
Stationery – Made by the bride
Hair Stylist – Gary Hedley Hairdressing, Burnopfield
Makeup Artist – Kate Moodie (MAC Cosmetics trainor)
Follow Love My Dress® on Google+