Good morning beautiful lovely blog readers, I'm interrupting my prepared introduction to this feature to bring #ShareTheHonestLove to your attention – an emotional reminder of why it matters to not get swept away with wedding planning and focus on what's really important.  It's really important to me that our content reflects this message for our readers – it's why I wrote this, this and this too.  It's also partly why I really love these particular wedding photographs that I'm sharing this morning, that is, aside from the fact that they were taken by my friend and colleague, London documentary wedding photographer, Nick Tucker, someone whose work I find exceptional.  Nick was chosen as the photographer for the wedding of Mr and Mrs Connal, who tied the knot on 5th October last year (happy anniversary guys!) and celebrated at The Yard in Shoreditch.
I love how Nick has captured the emotion of the day – the warm embraces, smiles and tears – images like this can truly make me feel as though I was almost a guest at this wedding. I've always felt that great photographers tell a wonderful story through their images and for me, these photographs tell a beautiful love story.
"Our photographer was Nick Tucker – Nick is an amazing photographer and such a nice guy. It was really lovely to have a photographer who we got along with, didn't add any stress to the day and who we were confident would take some beautiful images."
Photography Copyright (c) 2014, Nick Tucker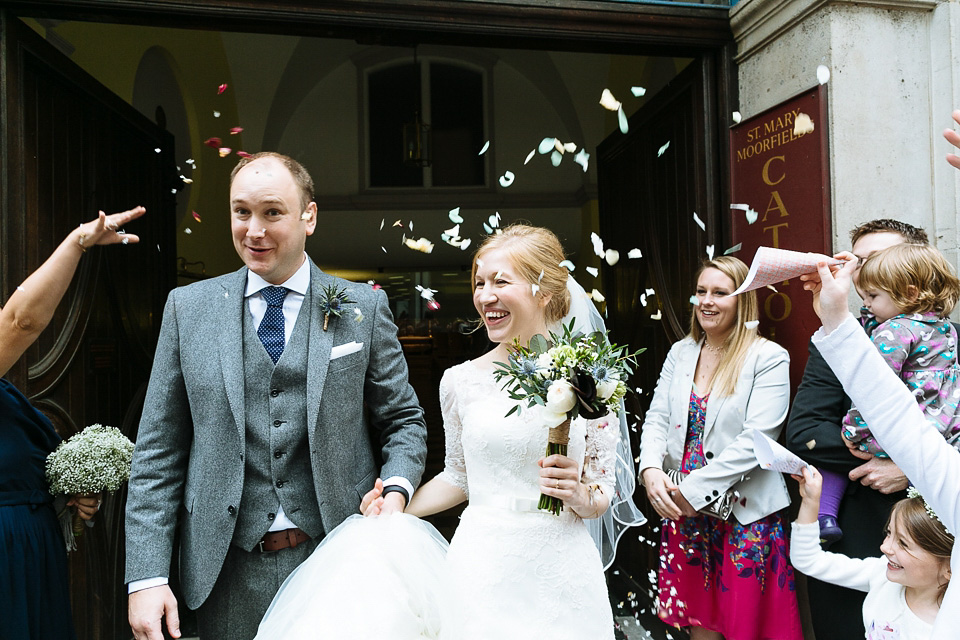 "Early on in the planning of our wedding, we both came up with a few words that represented what we wanted from our day.  These were 'fun', 'relaxed', 'beautiful', 'yummy' and 'personal' – everything else flowed from there. We didn't really want a theme as such but we seemed to end up with a loose theme of a 1920's tea party with lots of bits and bobs made by me, as this seemed to link a lot of the things we both love together – afternoon tea, tea in general, gin and tonic and 1920's style, Japanese culture."
"We chose our venue, The Yard in Shoreditch, because it was such a blank canvas and we could personalise it to make it very special to us. We didn't really want a theme as such but ended up with a loose theme of a 1920's tea party as it linked a lot of the things we love. We had cocktails served out of vintage teapots , vintage cups and saucers on the tables and the cheese course was served on vintage cake stands. We gave the mother of the bride and mother of the groom a tea ball from Freud as their gift and our favours were Earl Grey and Lady Grey tea."
"When we met we bonded over a love of Japan and Japanese culture as I had recently visited Japan and Duncan had a big trip planned. Ancient Japanese legend promises that anyone who folds a thousand origami cranes will be granted a wish by a crane.
I folded 1000 origami cranes out of a book of English poetry for our wedding and created a crane chandelier to sit above the bar area and strings of cranes for above the dining area, cranes were also used as name cards, hung on trees and used as decorations around the venue."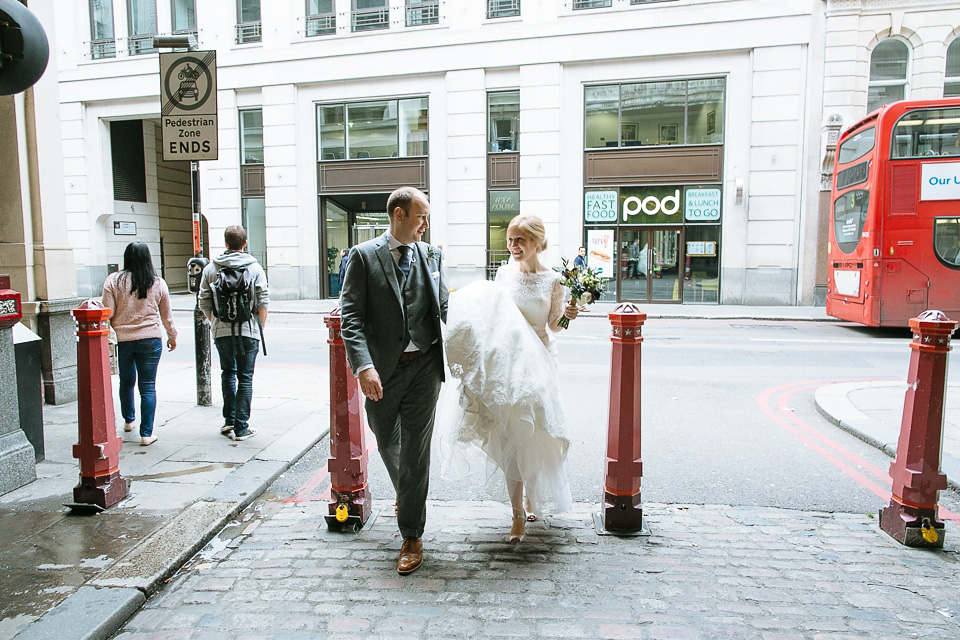 And I think that's my #ShareTheHonestLove shot for this piece right here….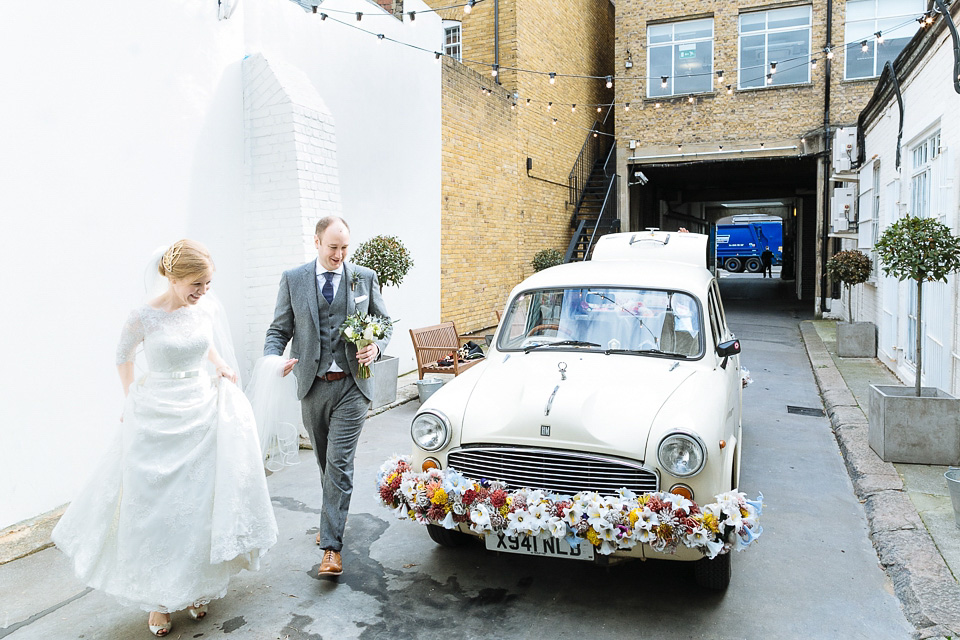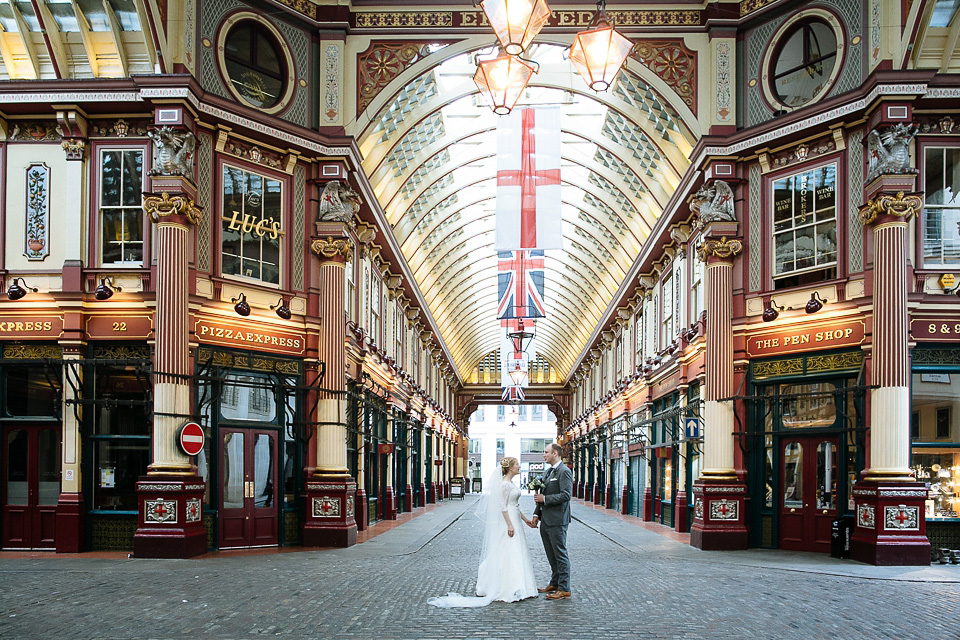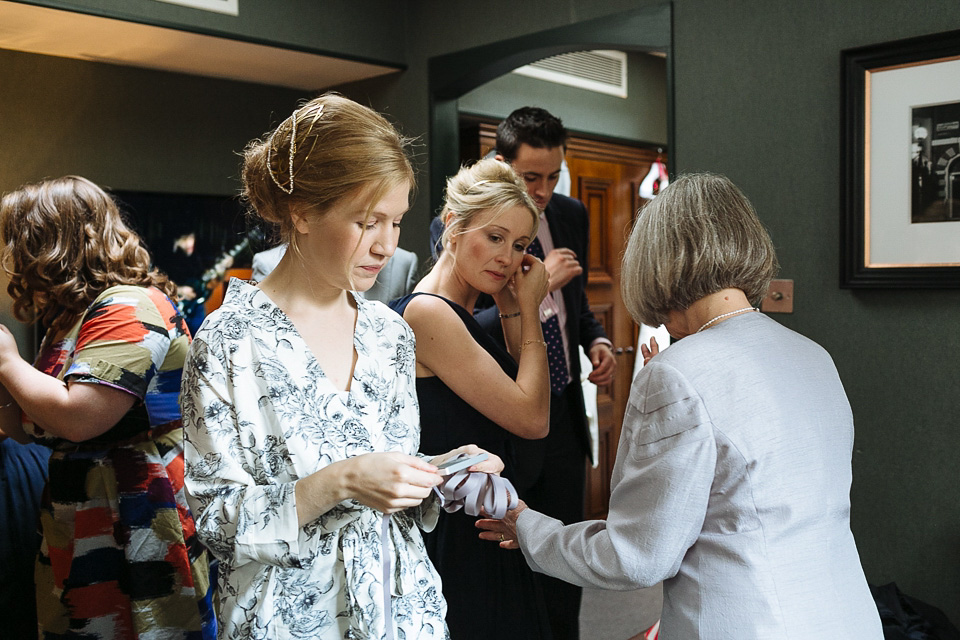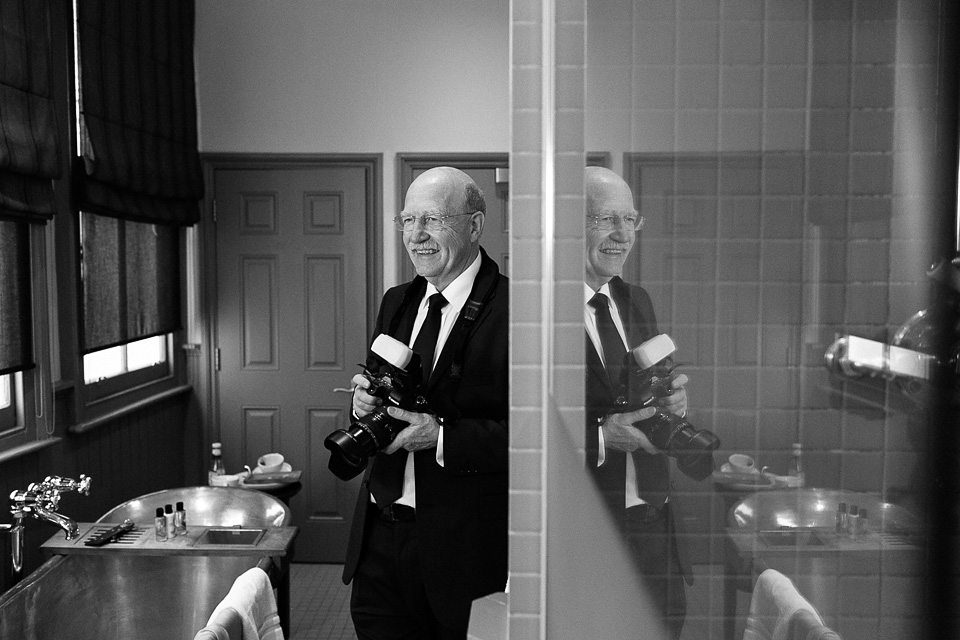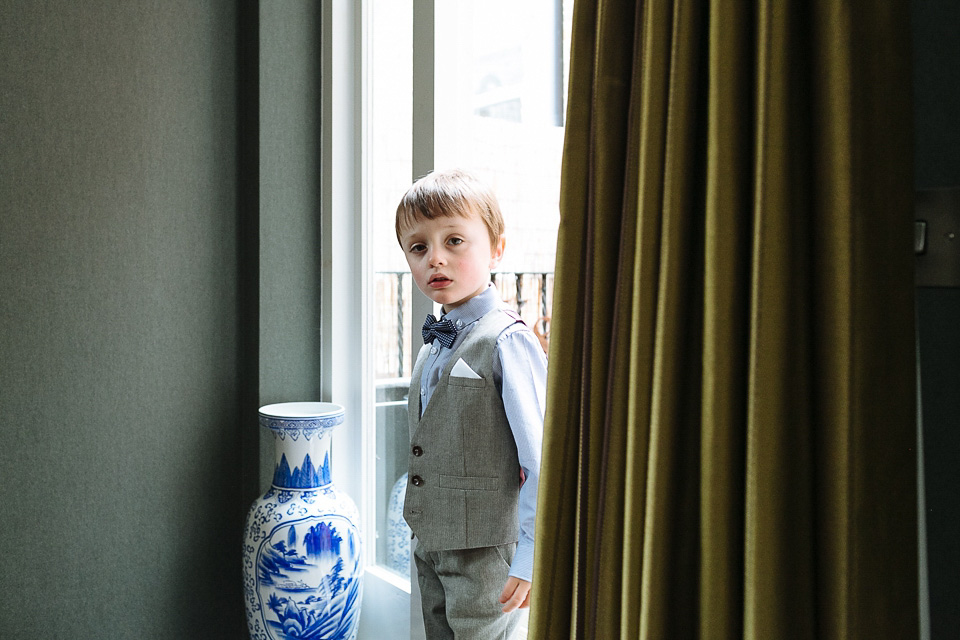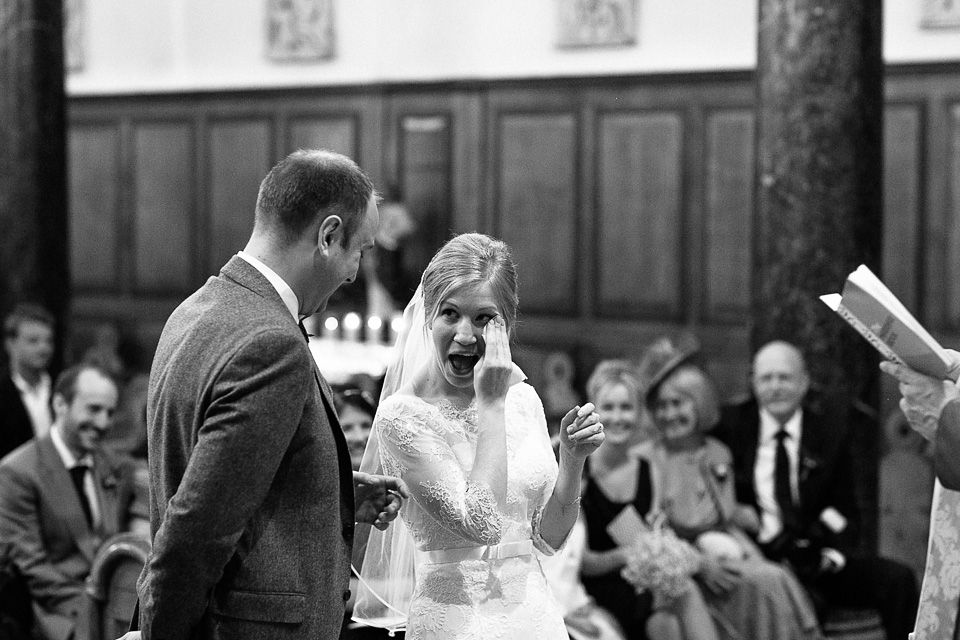 "Our rings were from Ruberg Jewellery on Camden Passage in Angel , London. We chose the rings because of their simple and beautiful design and because Ruberg can provide assurances that all their diamonds are conflict free and also wholeheartedly support the call for ethically sound gold supplies."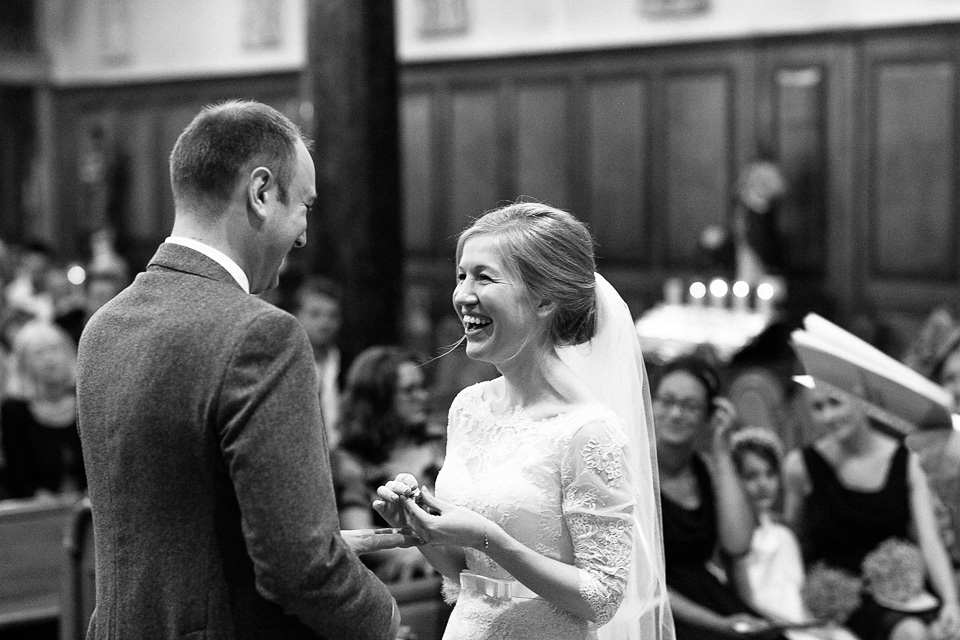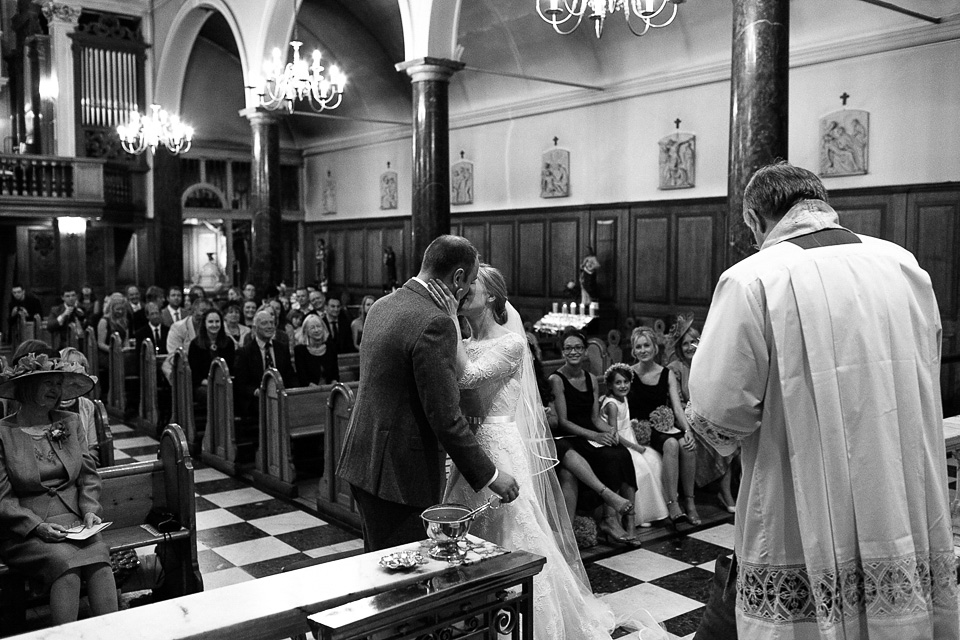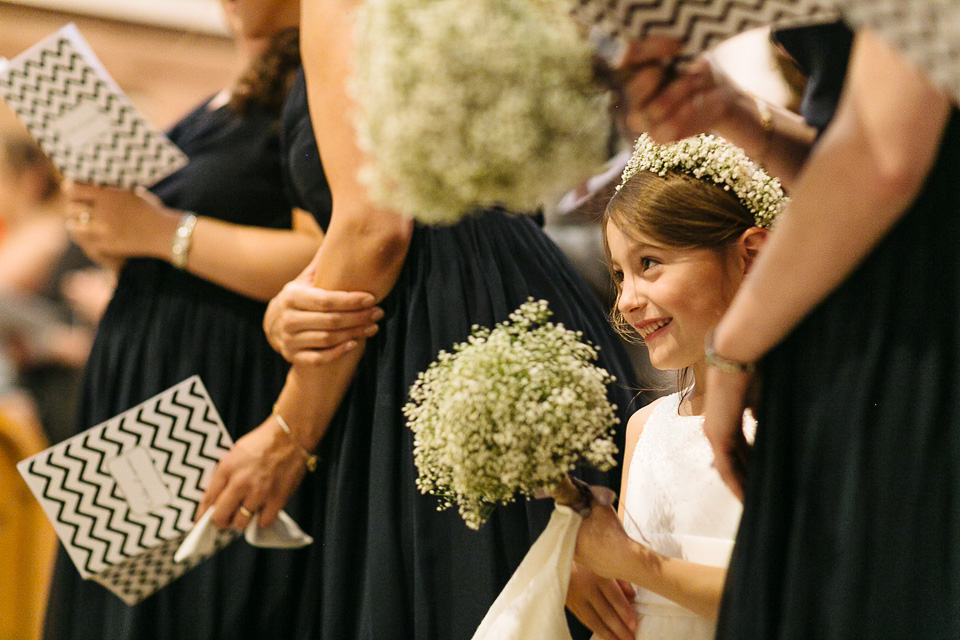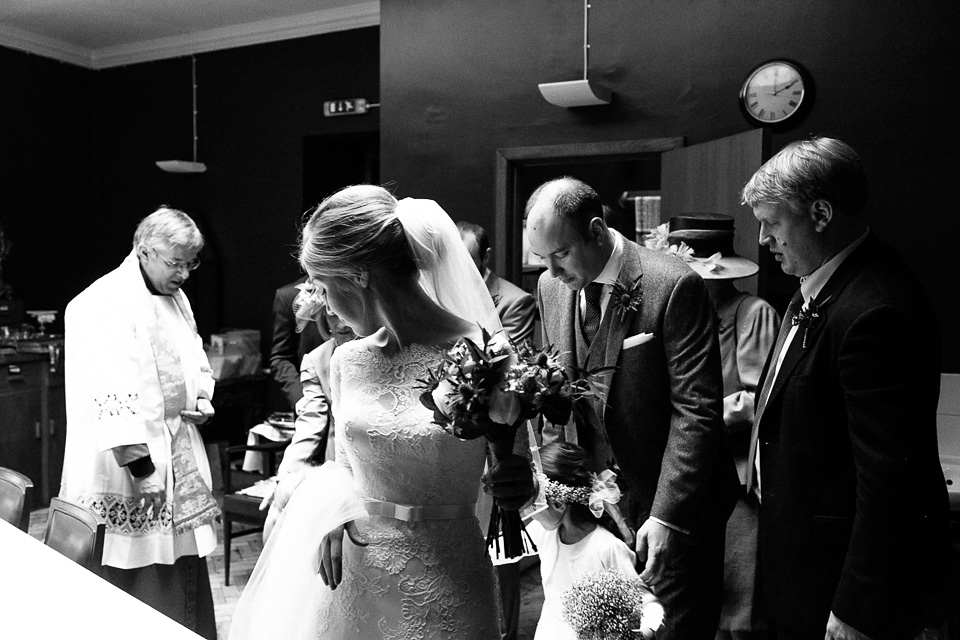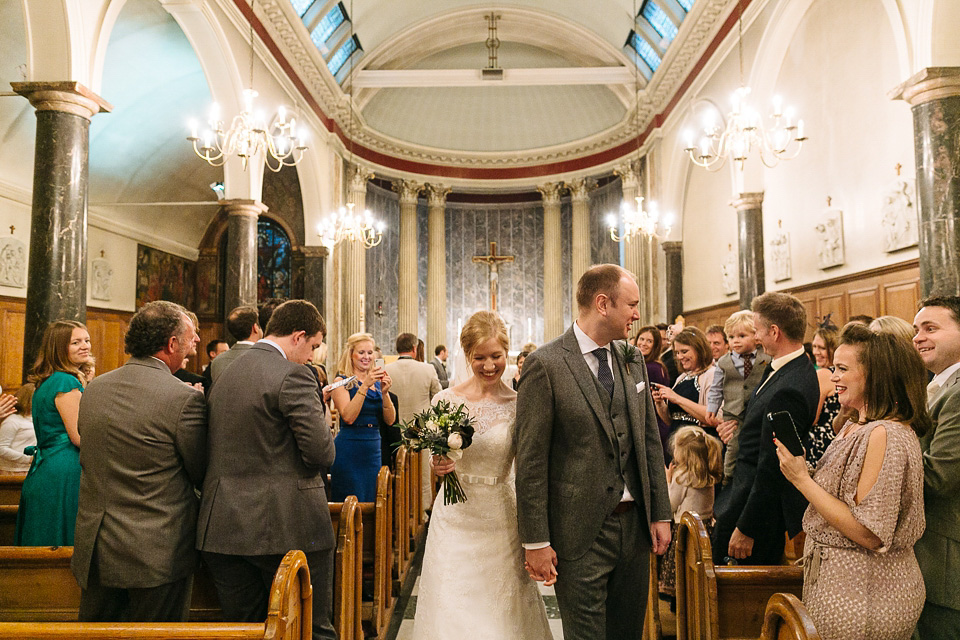 The brides bouquet, the flower girls headband and the button holes were all by Jam Jar flowers
All of the other flowers on the tables, around the venue and the bridesmaids bouquets were purchased from D.G wholesale flowers at New Covent Garden Market and arranged by the bride and friends.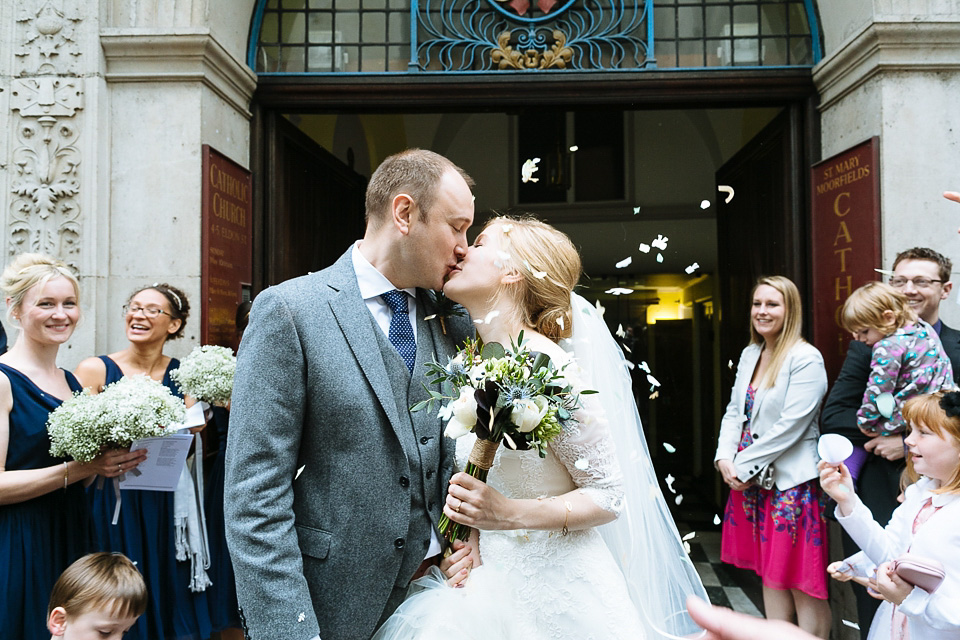 "We hired 6 olive trees to separate the large expanse to the venue, on these we hung origami cranes and boxes of sweets with 'eat me' labels. We provided milk bottles of juice with 'drink me' labels and bags of cookies and sweets as the children's canapés."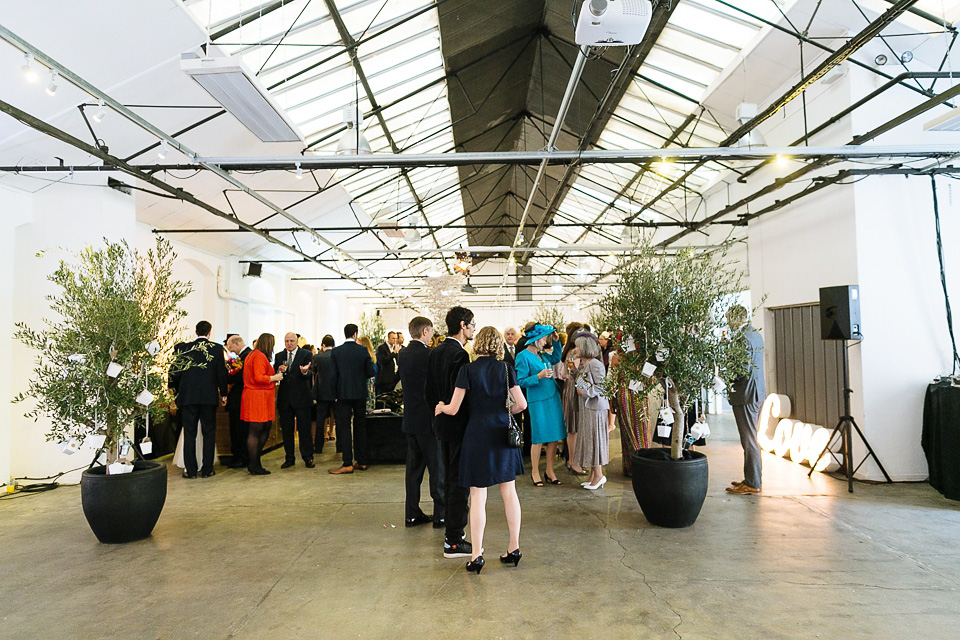 "We tied a round white balloon to the back of all the children's chairs, with hindsight I probably should have attached a weight to them all as well, as quite a few of them were on the ceiling by the end of the night. Balloons were from bonbon balloons."
"Our catering was provided by The Disappearing Dining Club – who supplied canapés, a sit down meal and our evening food.  We provided milk bottles of juice with 'drink me' labels and bags of cookies and sweets as the children's canapés."
"We also had 'Lick Me I'm delicious' nitrogen ice cream – and it was delicious! Charlie was really lovely and helpful and accommodating to what we wanted – they can even make bespoke flavours for you!
And finally, food we, we also had bags of Joe & Sephs popcorn and takeaway style boxes of sweets saying 'eat me' tied to the trees for guests to help themselves to. Takeaway style cardboard boxes were from Pipii.  Sweets were from 'A Quarter Of'."
"Our wedding favours were loose leave Earl Grey tea for the men and loose leaf Lady Grey tea for the ladies, these were in brown paper bags with white polka dots, fixed together with a bride or groom sticker and with a brown paper luggage tag label. We also provide activity packs for the children, including bubbles, a pad of coloured paper, stickers, colouring crayons and a punch out animal sculpture to colour in."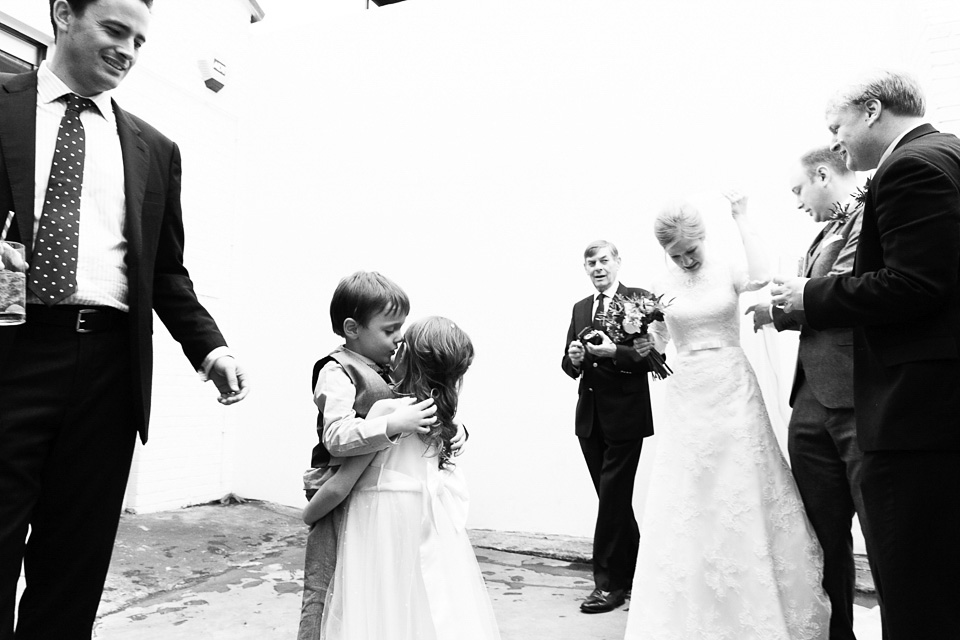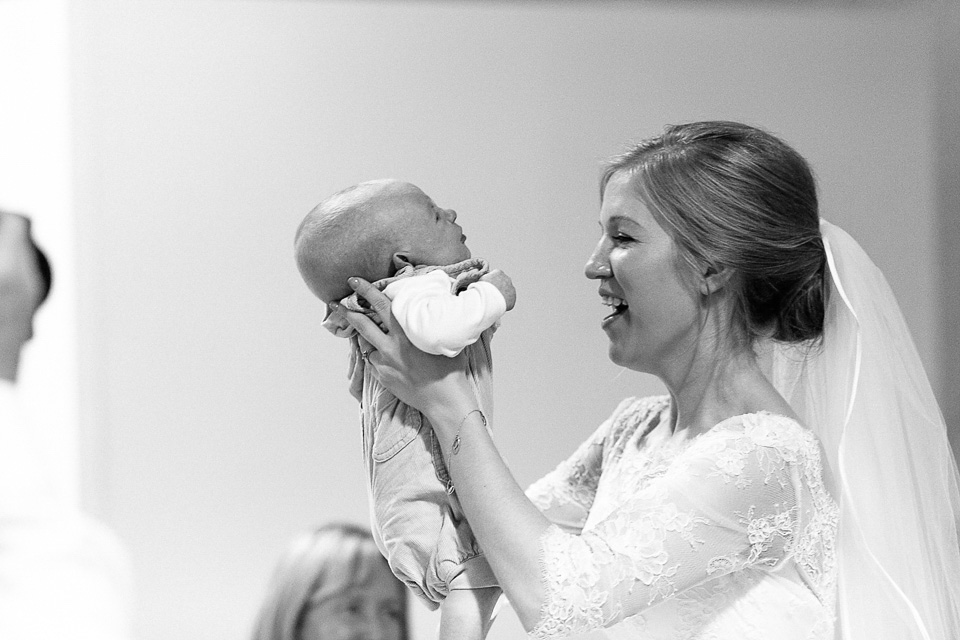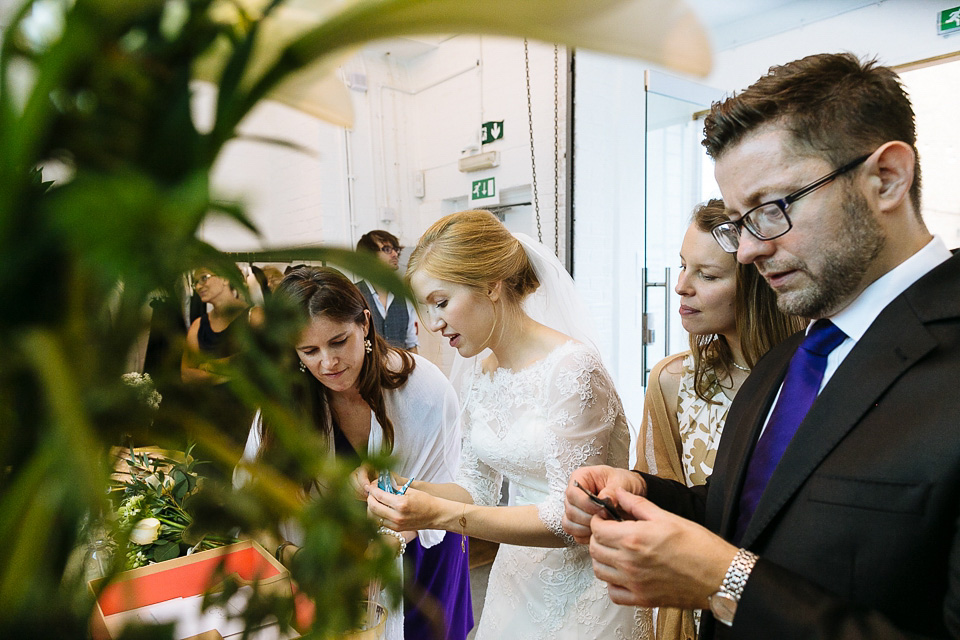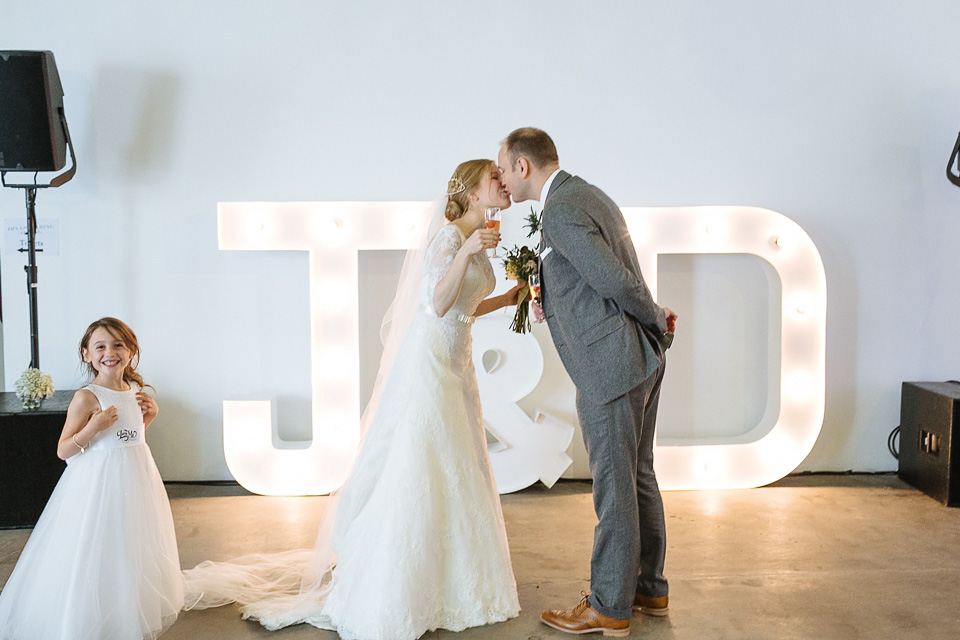 "Each place setting also had a 'Duncan and Joie' beer mat which I design and did the artwork for.  Beermats were printed by D2D print. We also used the beermats as our 'save the date', we had a stamp produced with the save the date details and stamped in on the back to the beermats.
Duncan also loves films and so we projected black and white films of Fred Astaire, Ginger rogers, Marilyn Monroe etc. onto one of the walls in the bar area."
The couple danced their first dance to 'They say it's spring' by Blossom Dearie – a personal favourite of my own….
Words of Wedded Wisdom…
"We went for dinner the night before with our families and had decided beforehand that from that point bon we weren't to worry or stress about anything to do with the wedding, it meant we really enjoyed our day and didn't let anything that wasn't quite right bother us."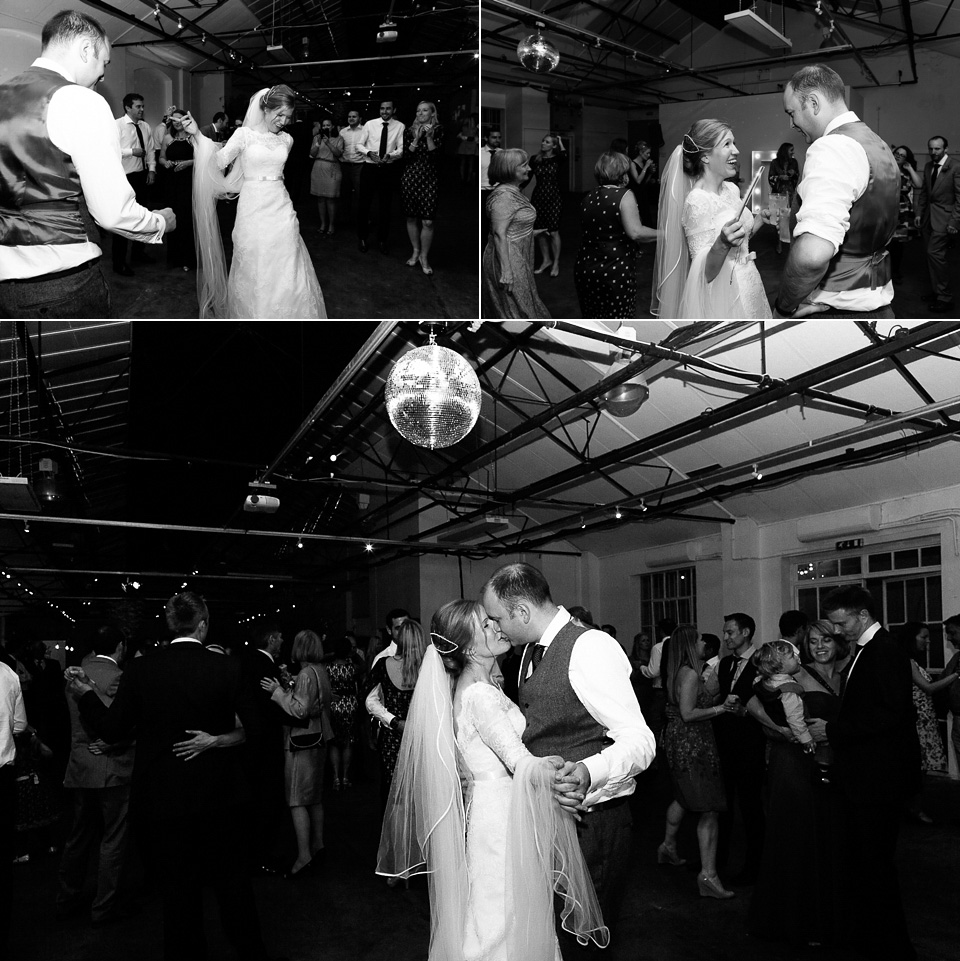 Huge thanks to Nick Tucker for sharing these images today and Mr and Mrs Connal, I really hope you had the loveliest 1st year wedding anniversary.
I'm off to #ShareTheHonestLove!
Annabel xx
Photographer – Nick Tucker
Venue – The Yard in Shoreditch
Dress – Justin Alexander from Angelica Bridal (Camden Passage, Angel, London)
Veil – Angelica Bridal
Brides Shoes – Jimmy Choo
Accessories – bracelet made by the bride + belt made by the bride & brides mother
Grooms Suit – Hackett
Bridesmaids Dresses – Jenny Packman for Debenhams + New Look shoes
Flowergirl Dresses – John Lewis
Page boy – suit + shirt from Next + Ebay bow tie + Converse trainers
Florist – D.G wholesale flowers at New Covent Garden Market
Cake – Made by the mother of the bride
Rings – Ruberg Jewellery
Transport – An Indian Hindustani taxi from Kushi Cars
Stationery – DIY by the bride
Catering – The Disappearing Dining Club
Hair Stylist – Emily Kent @ The Wedding Hair Company