I'm so happy to be sharing images of this beautiful wedding jewellery from the award winning Rebecca and Harriet of Chez Bec with you today.  Chez Bec are an absolute delight to work with, and clearly as generous as they are a lovely, because they're offering all our readers a chance to save 30% off their order by simply quoting 'LOVEMYDRESS' at checkout.
There are some stunning gowns featured in this shoot too – each of them were supplied by bridal boutique Isabella Grace in Tunbridge Wells – sister company to Chez Bec.  They include dresses from designers Naomi Neoh, Eliza Jane Howell, LM by Lusan Mandongus and La Sposa.
"For Chez Bec's collection of 2015 wedding jewellery and accessories, we've really tried to give our brides what THEY want. Our Penelope range, which includes the headband in the Poppy meadow, was a result of the design that we created for the Love My Dress winner from our giveaway earlier in the year! We made matching pins, a vine and bracelet. We've also extended our floral range and painstakingly added beaded details to their centre, which can be seen in the jewelled Bella flowers (we've also taken a step outside our ivory comfort zone… this was not an easy step!)."
Photography Copyright (c) 2014, Claudine Hartzel
The ladies and designers behind the Chez Bec brand are Rebecca and Harriet and it is Harriet who I caught up with to talk about their new collection and these very feminine and elegant photographs…
"The House Meadow, which played backdrop for our shoot, is a beautiful wedding venue in the heart of Kent. Limited to just 12 special weddings a year, there is a barn that can accommodate the vows and the party, but there's also a huge plot that is absolutely perfect for a marquee or tepee etc, as well as a gazebo over the lake where vows can be exchanged.
It's completely idyllic, and such a blank canvas for couples to create their own personal vision (not the one that some restrictive venues say they can have). You also get full access for the whole weekend, providing plenty of time for all those DIY touches that a morning is simply never long enough for."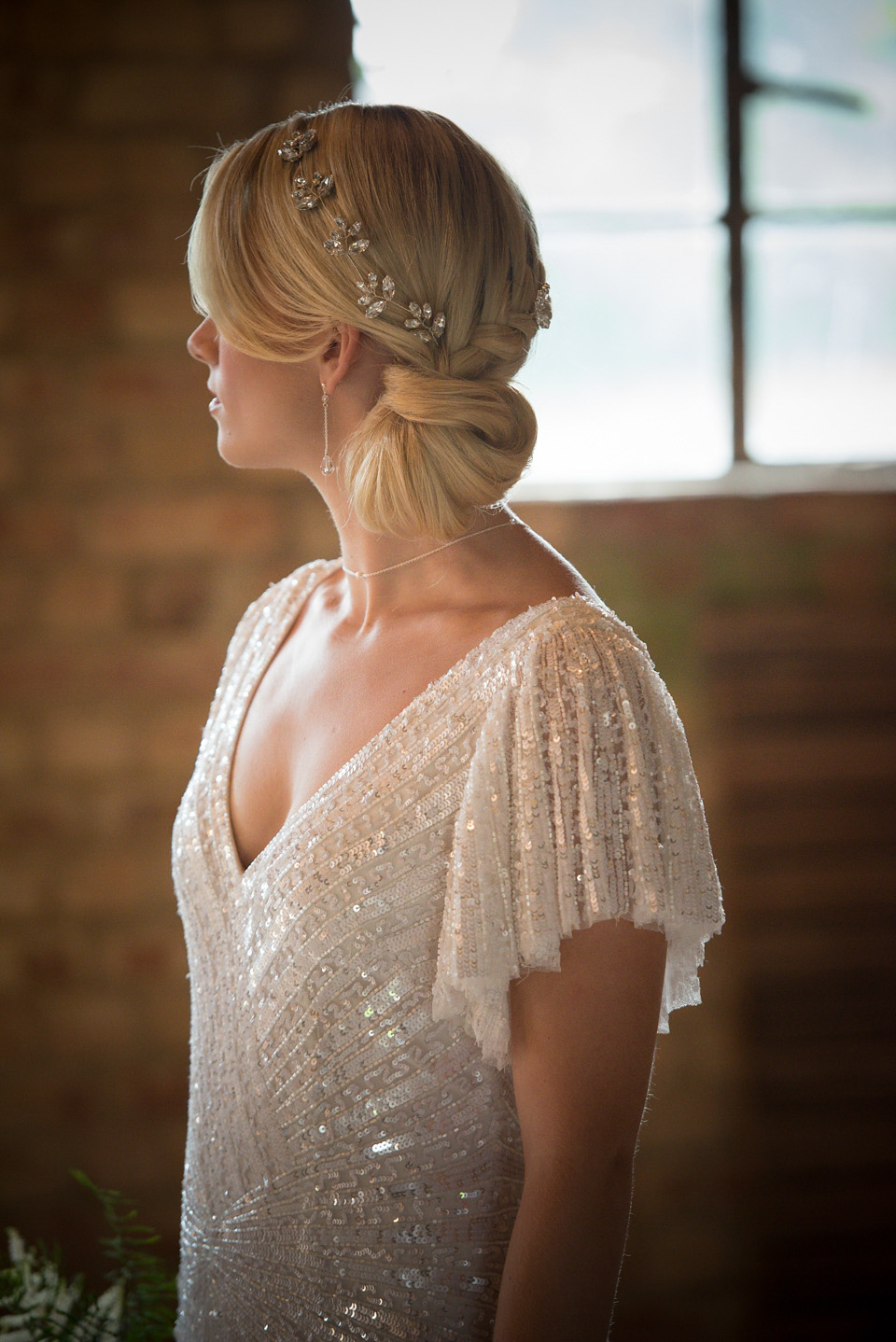 "Isabella Grace, our sister company and award-winning boutique, came to the shoot with a boot packed of the prettiest of pretty dresses and veils by Naomi Neoh, Eliza Jane Howell, LM by Lusan Mandongus and La Sposa. We were able to pick each for a distinct look and pair it with the perfect accessories and styling."
"Lara Crudgington, our Make-up artist, created three looks – For the autumnal wild meadow shots, she wanted model Sophie's makeup to have a slightly bohemian feel to it to tie in with her hair, accessories and her dress – taupe smokey eyes, bronzed cheeks, Bardot-eqsue lips and accents of gold on her inner eyes."
"Our last shoot was a floral delight, and we loved the bouquets, but this time we wanted something more in keeping with the surroundings – very organic, very muted, but also a very accessible price point. Lara at Darling & Wild's brief was pretty vague – 'crazy and organic' for one bouquet, 'floral stuff' to dress the boat and swing, 'something with peach in' to go with our the Naomi Neoh shots, and finally a very specific request 'gypsophila.'"
Love My Dress brides love gypsophila 🙂
"The hair was styled by Liz Bower at Simply Beautiful Wedding Hair – she's one of the most talented hair stylists I've met. You can send her a picture of Keira Knightly with a bob and Edwardian styling, and somehow she interprets it exactly how you meant with your blonde model who has much longer hair!
We had four different hair looks – the first look was a combination of the contemporary braids of the season and a classic chignon, the second was a soft, wavy, mix of Marilyn Monroe and natural with a boho vibe.  The third was a very loose, romantic knot with gently waved hair, softly draped back and pinned at the nape, and our final look was a take on a Edwardian up do, and it was the perfect contrast to the softness of the Naomi Neoh dress."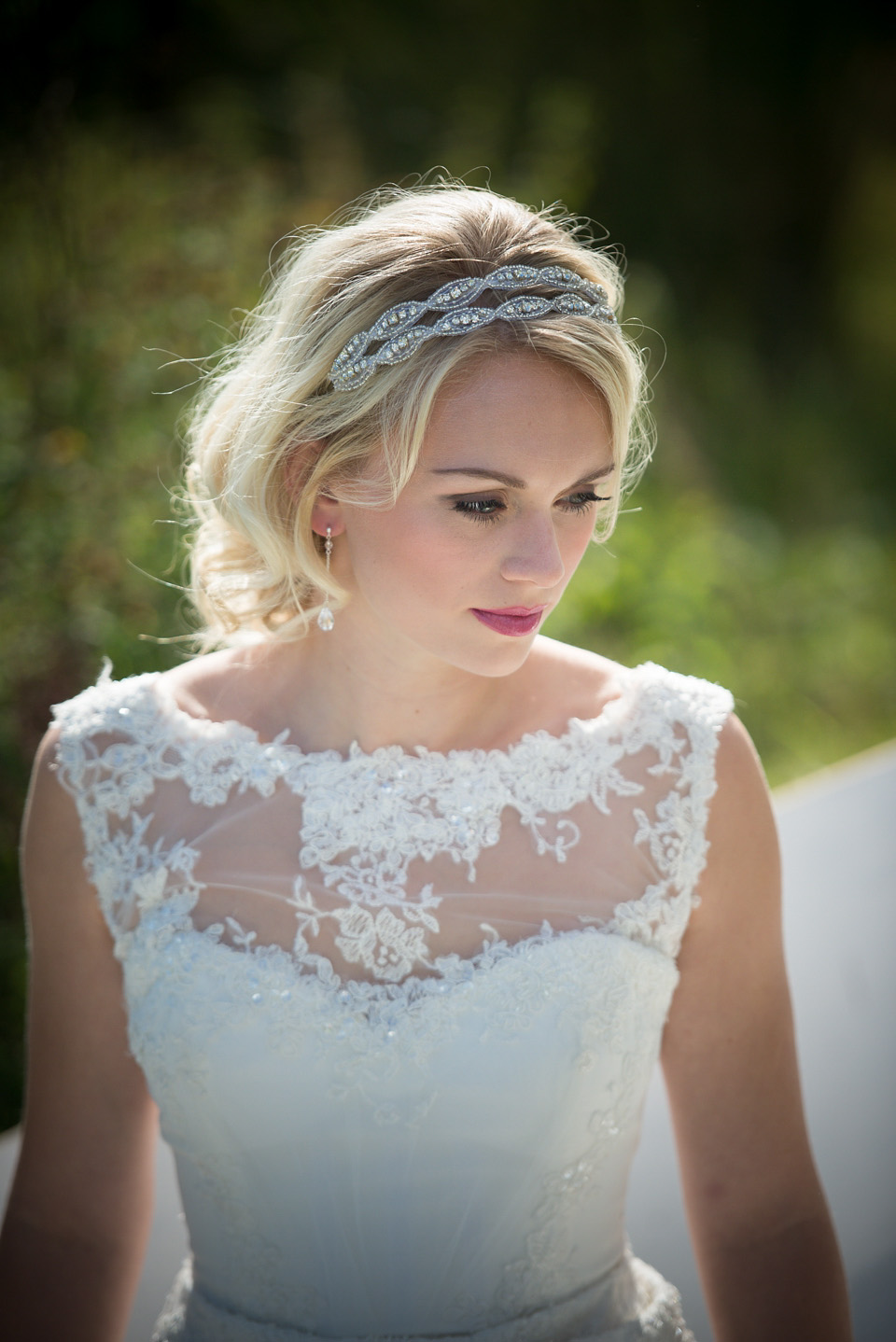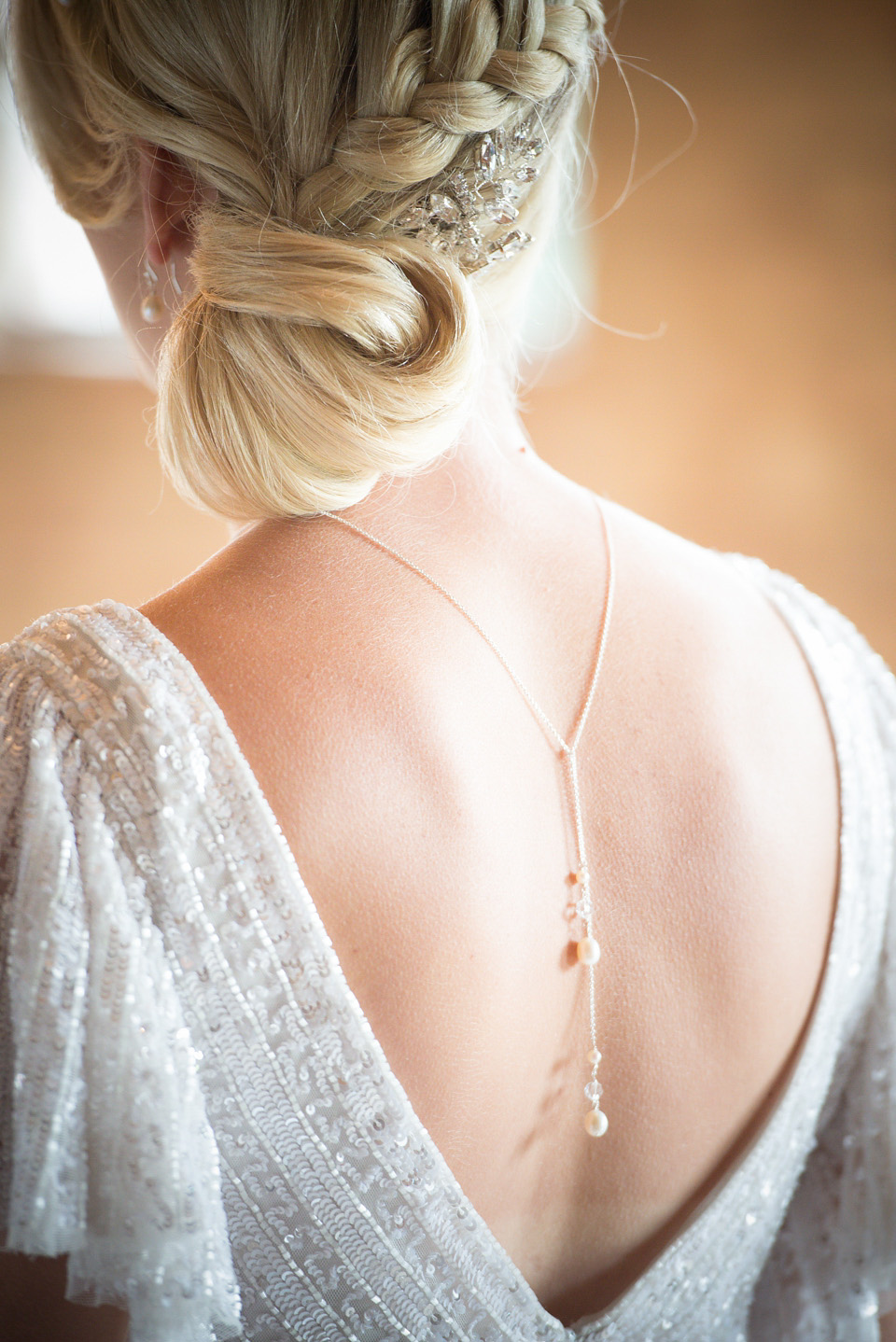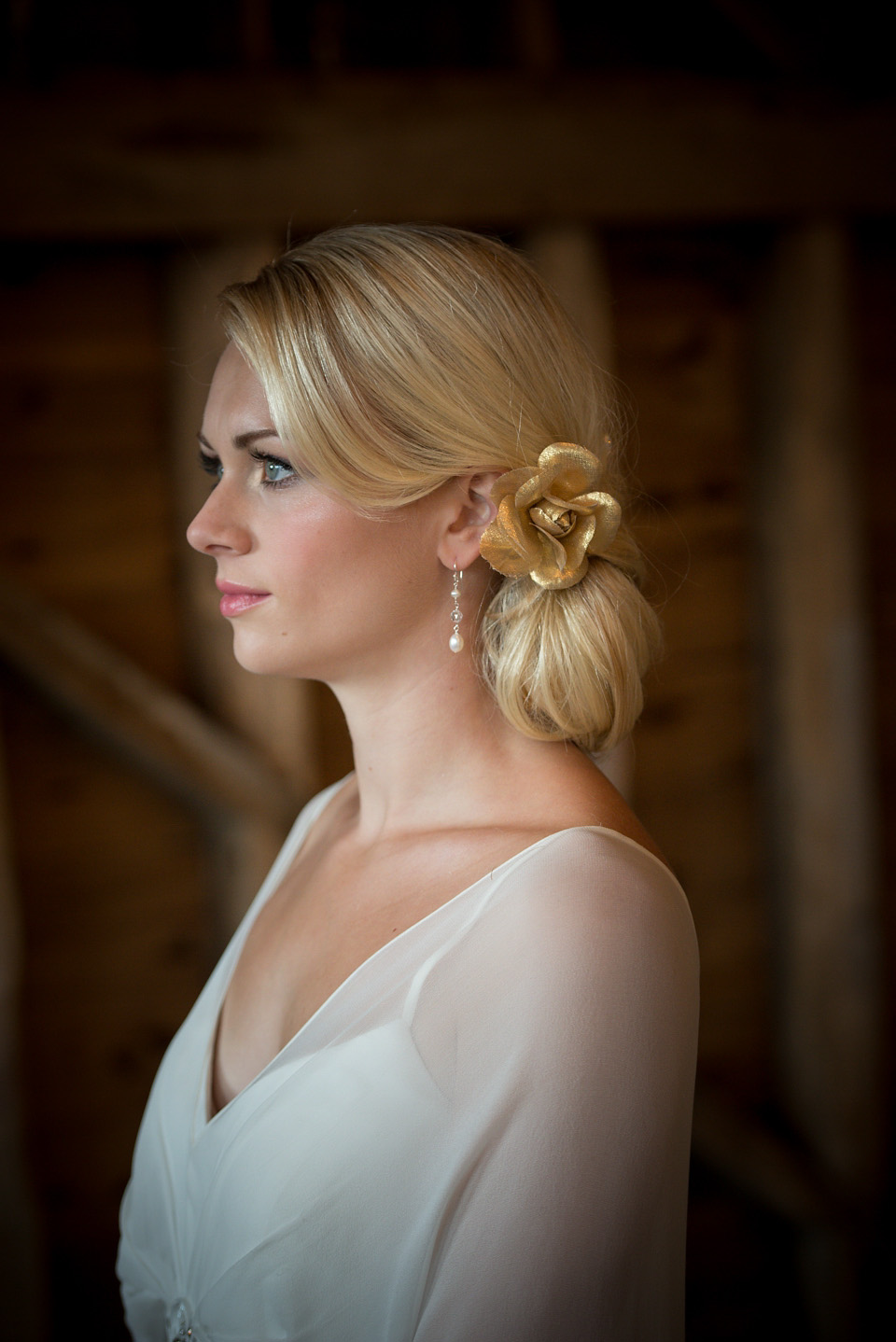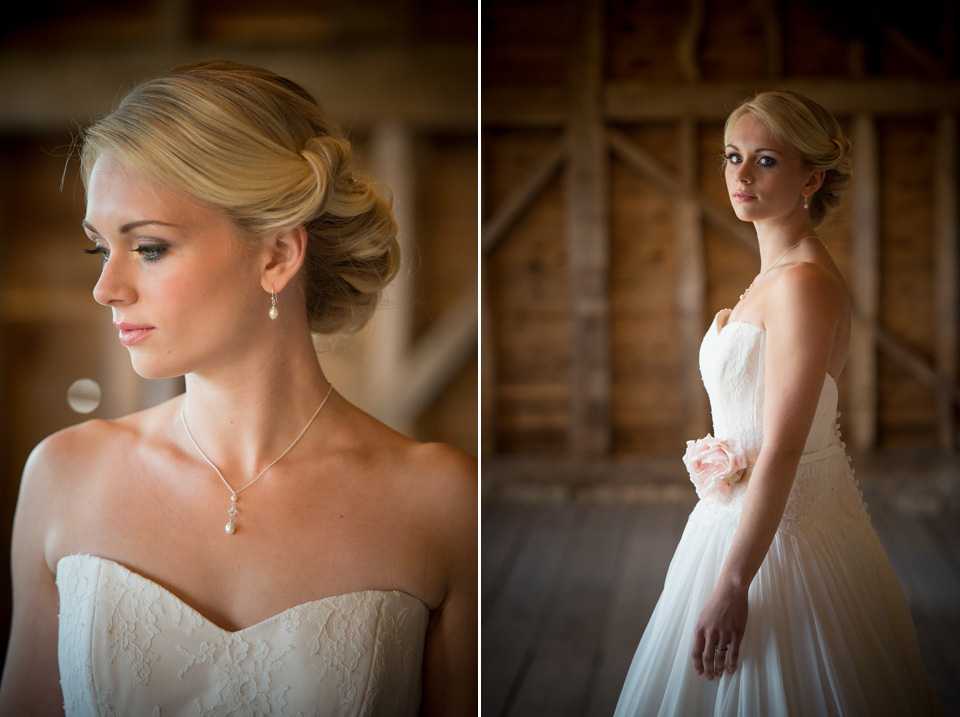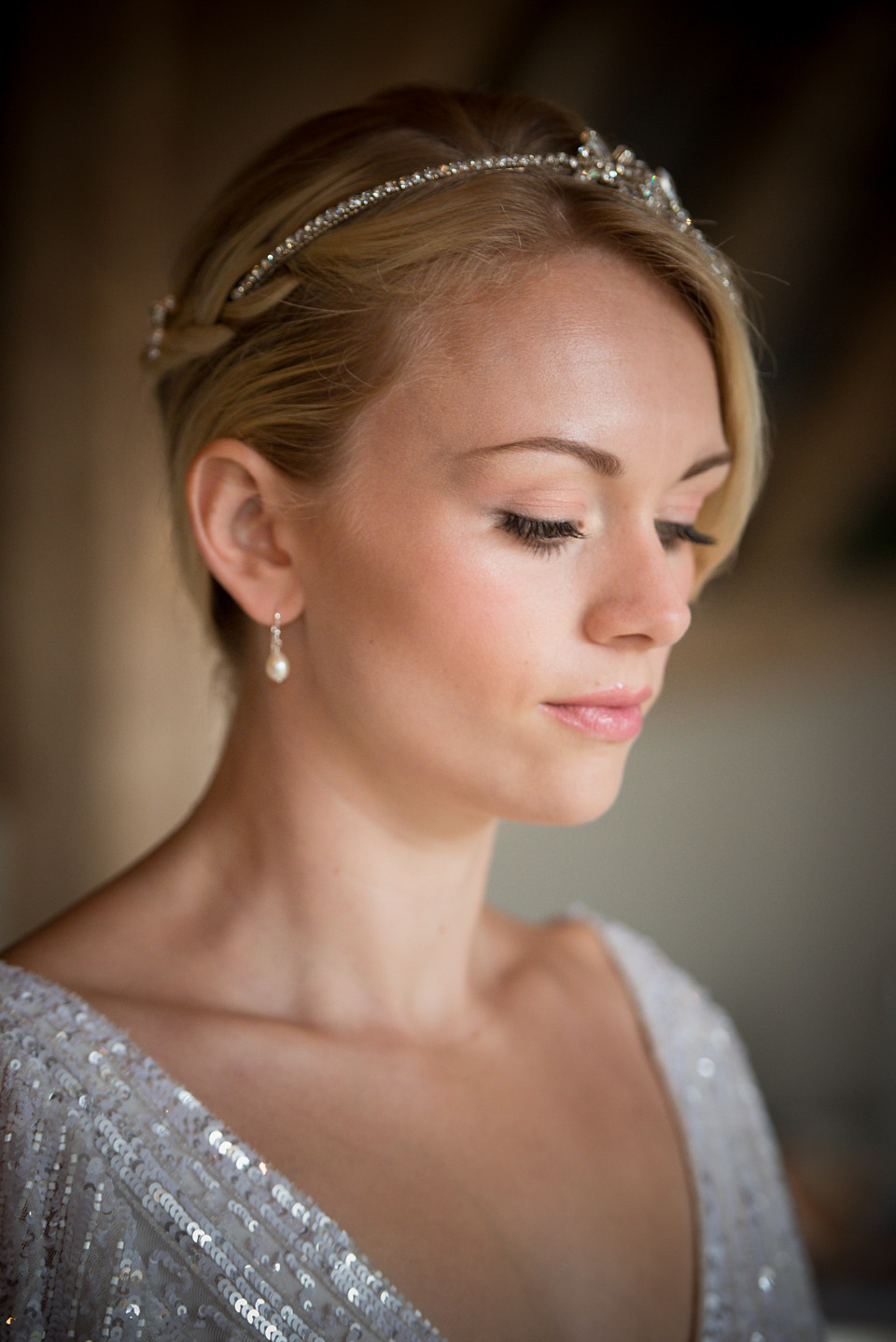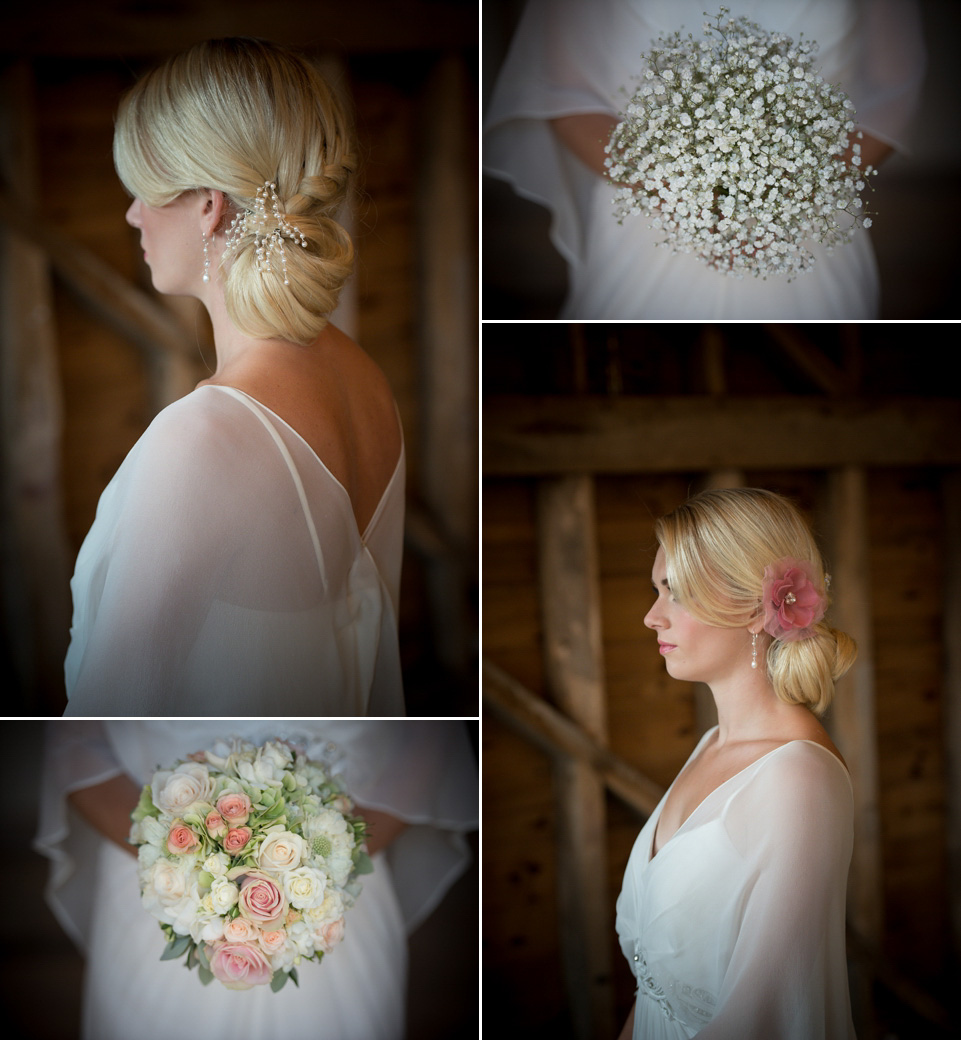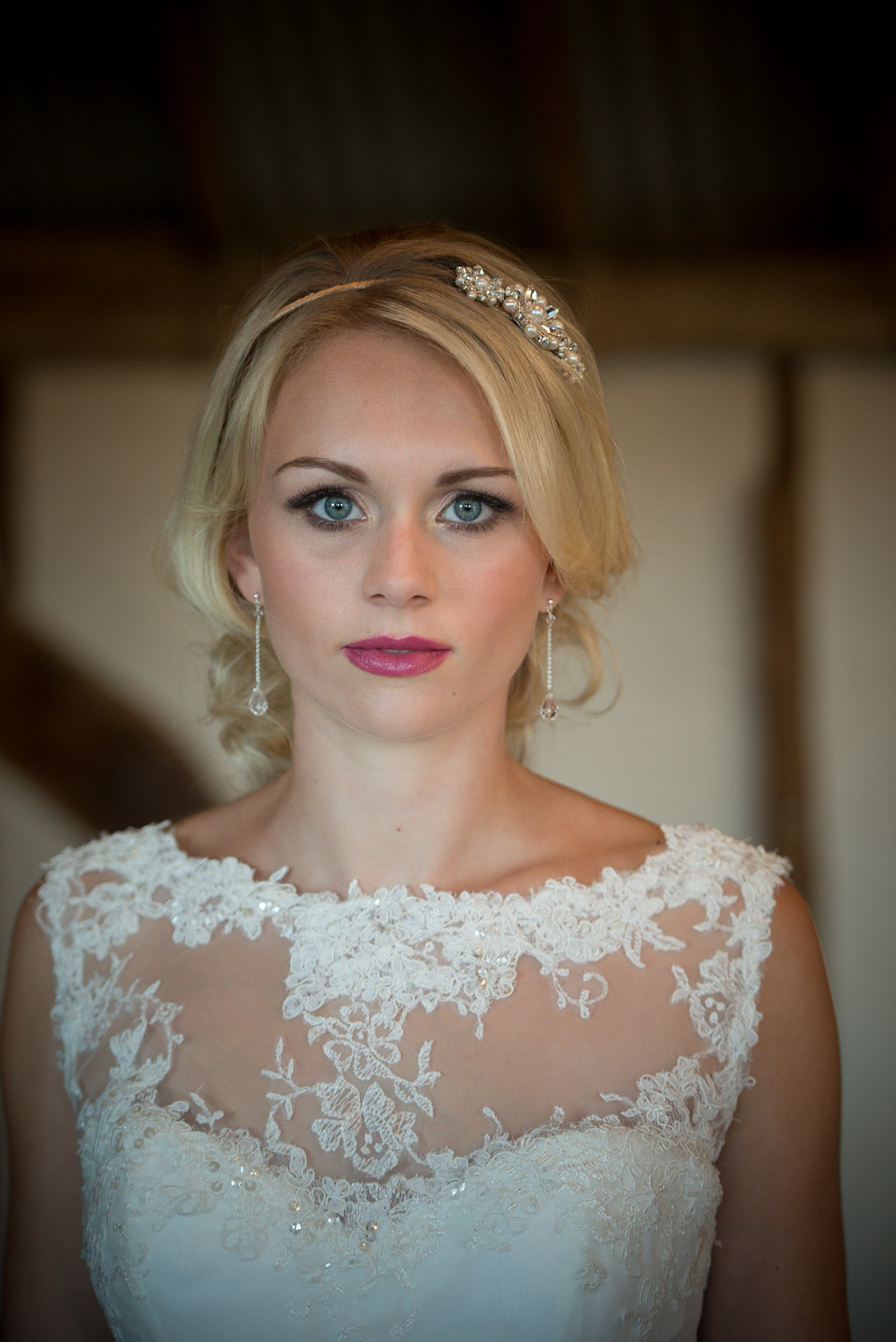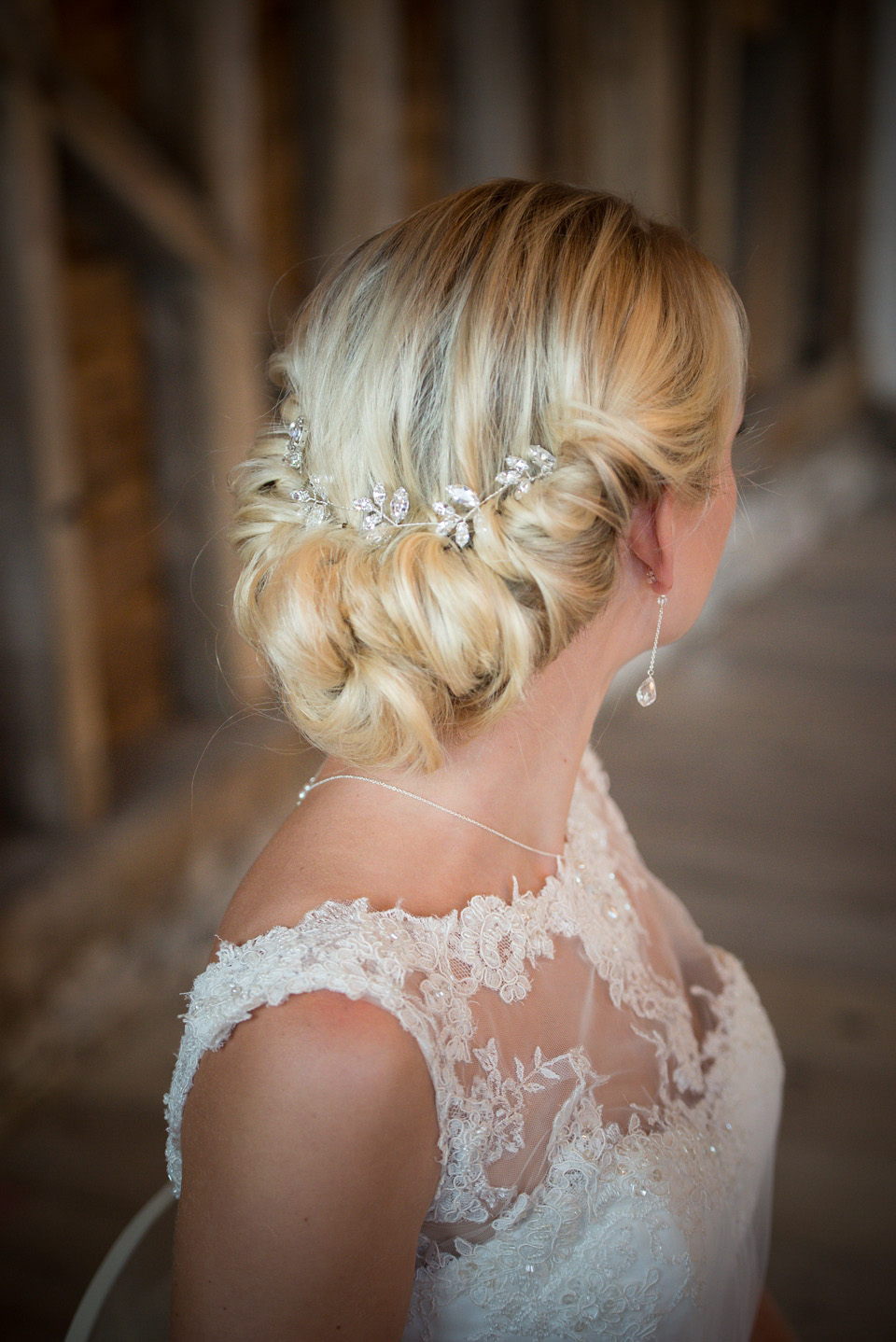 "Our Pandora Backlace has been hugely popular this summer, so we added matching earrings and a bracelet, and created our second back lariat – the Blossom. It's shorter, sweeter, and at £44 significantly less money.
And pins. Pins, pins and more pins! Because they offer utter versatility, and there has not been a day that I've not had an order for some. So – more choice so that more brides can find the perfect look for them."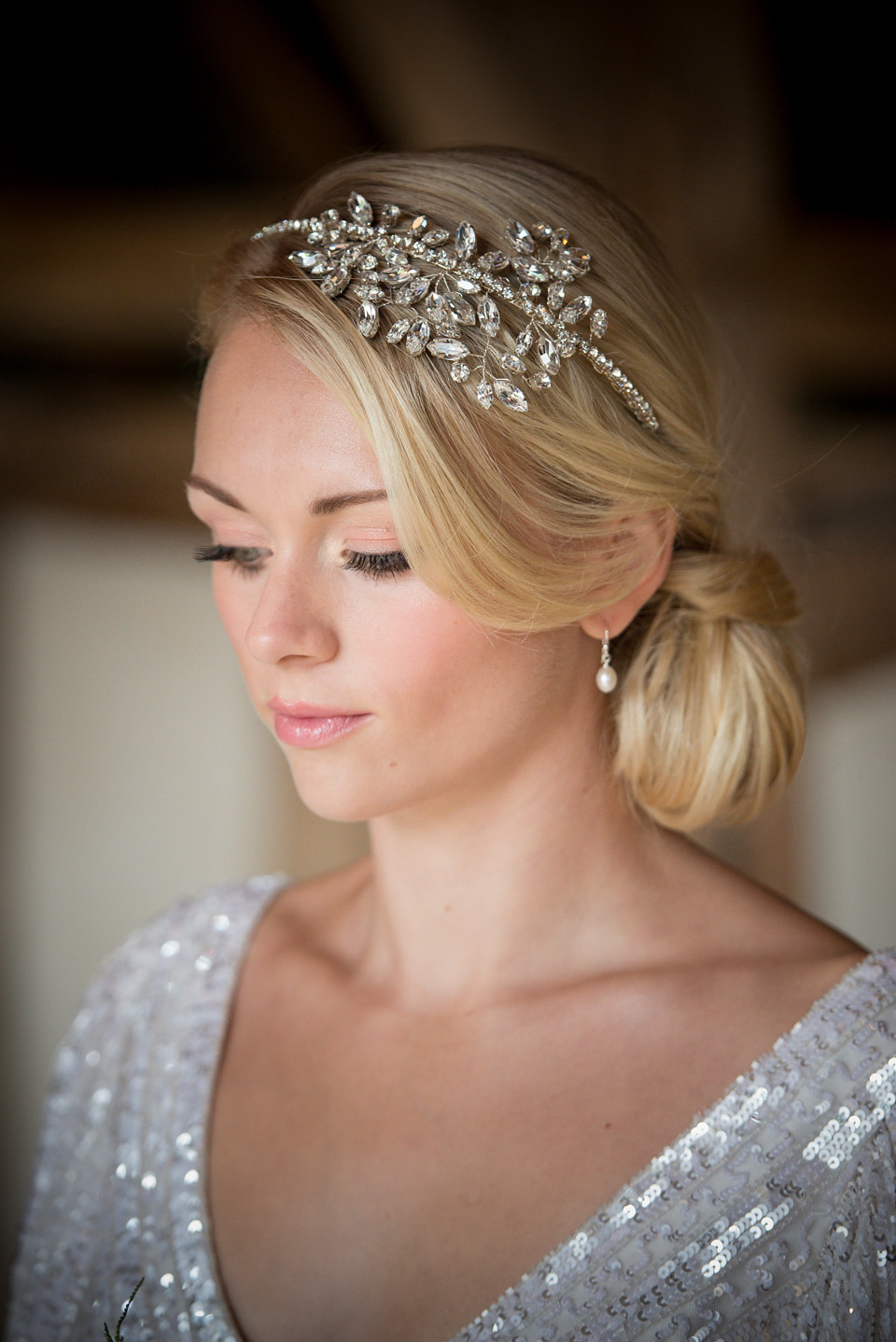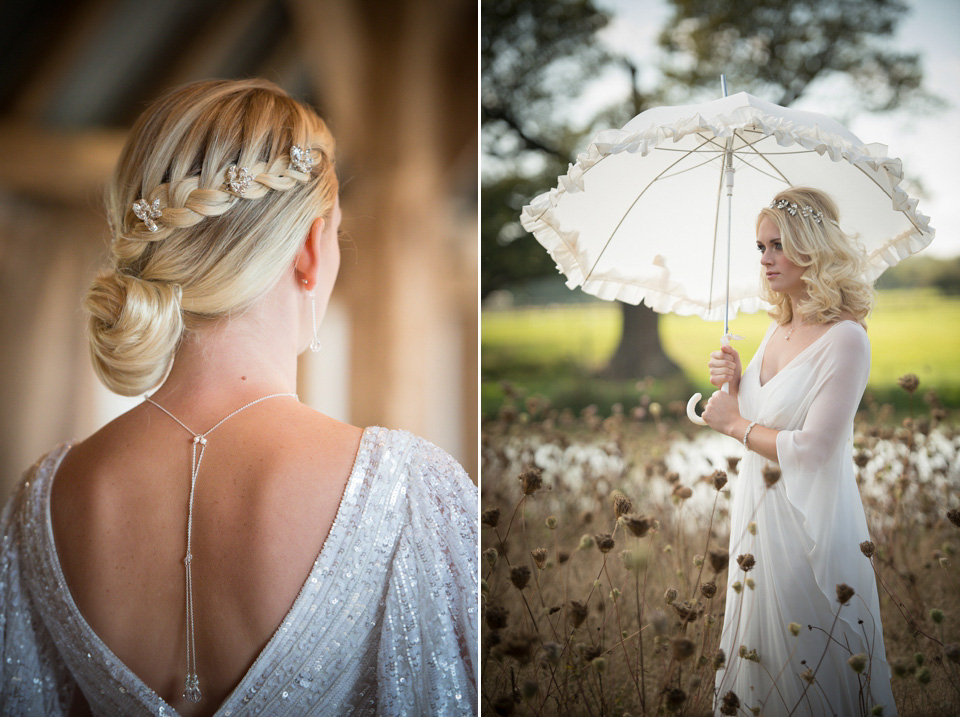 Congrats to the Chez Bec team – these images are beautiful, just beautiful! To find out more, visit chezbec.com.  And don't forget ladies, you can save 30% on your Chez Bec order by using the code LOVEMYDRESS during checkout.
Happy shopping!
Love Annabel xx
Credits
Photography – Claudine Hartzel
Accessories – Chez Bec
Dresses – Isabella Grace, Tunbridge Wells
Hair – Liz Bower at Simply Beautiful Wedding Hair
Make-up – Lara Crudgington Make-Up Artist and Hair Stylist
Flowers – Lara at Darling & Wild
Venue – The House Meadow, Biddenden, Kent
Prop Hire – Let's Enjoy The Little Things