Good morning! Doesn't Monday come around quickly? I hope you've all had a nice weekend, that you were able to catch up on this heartening blog post, and that you're ready to embrace the beginning of another week, and I very much hope that Love My Dress can assist you on your way.
Annabel always chooses such lovely weddings to share first thing on a Monday and this is no exception. Documented by photographer Richard Skins, this is the wonderfully whimsical wedding of Rosalyn, who works for the Discovery Channel, to charity worker Neil.  The couple tied the knot in July with a ceremony at Puddletown Church, followed by a reception at Herrison Hall, both in Dorset.
"Neil and I wanted a laid back feel to our wedding day, with lots of colours and garden flowers and a real 'homely' feel.  We had drinks in my parents garden (complete with chickens and ducks!) in between the ceremony and the reception, which included homemade cider from the apple tree in my parents garden.
We loved the style of our photographer Richard Skins, as soon as we came across his website – it is really colourful and natural."
Photography Copyright (c) 2014, Richard Skins Photography
"Neil and I met on the Mountbatten Internship Programme in New York. We were flat mates for a year and only realised how close we had become and that we were more than friends once we got home to the UK.  A year later, we moved in together in London (both getting jobs in London after NYC took a while – I moved up from Puddletown and Neil down from Sheffield).  
Neil proposed to me in Paris after being together four years on a surprise trip. I thought we were going to Sheffield for a weekend (many people were in on it) and because the train leaves from St Pancras, I had no reason to think anything was suspicious until he pulled out our passports and tickets for the Eurostar instead. We were engaged for just over a year before we got married."
"I couldn't  find a dress that I wanted in any normal bridal boutique.  I wanted something elegant but simple – I'm not one for lots of beading or bling etc. I got a lot of inspiration from Laure de Sagazan but the designs were out of my price range so in the end, I had a bespoke design created, with my input, by Sampling Studio.  I sourced all the fabric myself.
I wanted my dress to be elegant, and something that I knew I would be comfortable in (i.e dancing in the evening).  I thought having light sleeves would give it something a bit different too. I have never been a fan of the strapless wedding dress design, as I feel with these type of designs (depending on the day!) that you can either end up spilling out of it or that the dress can be too gapey."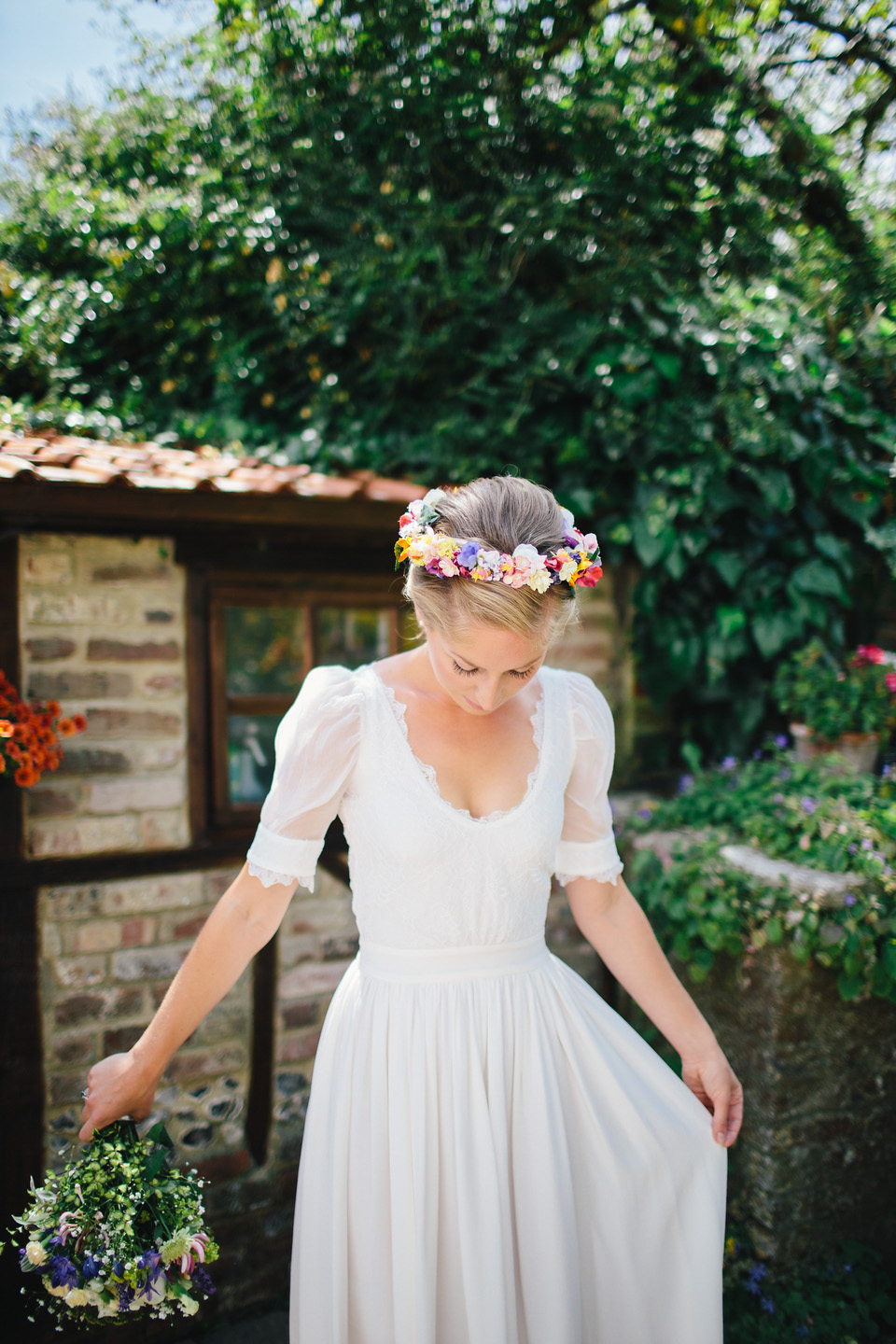 "A friend of a friend made my head piece. She loves to make them on the side, they are stunning"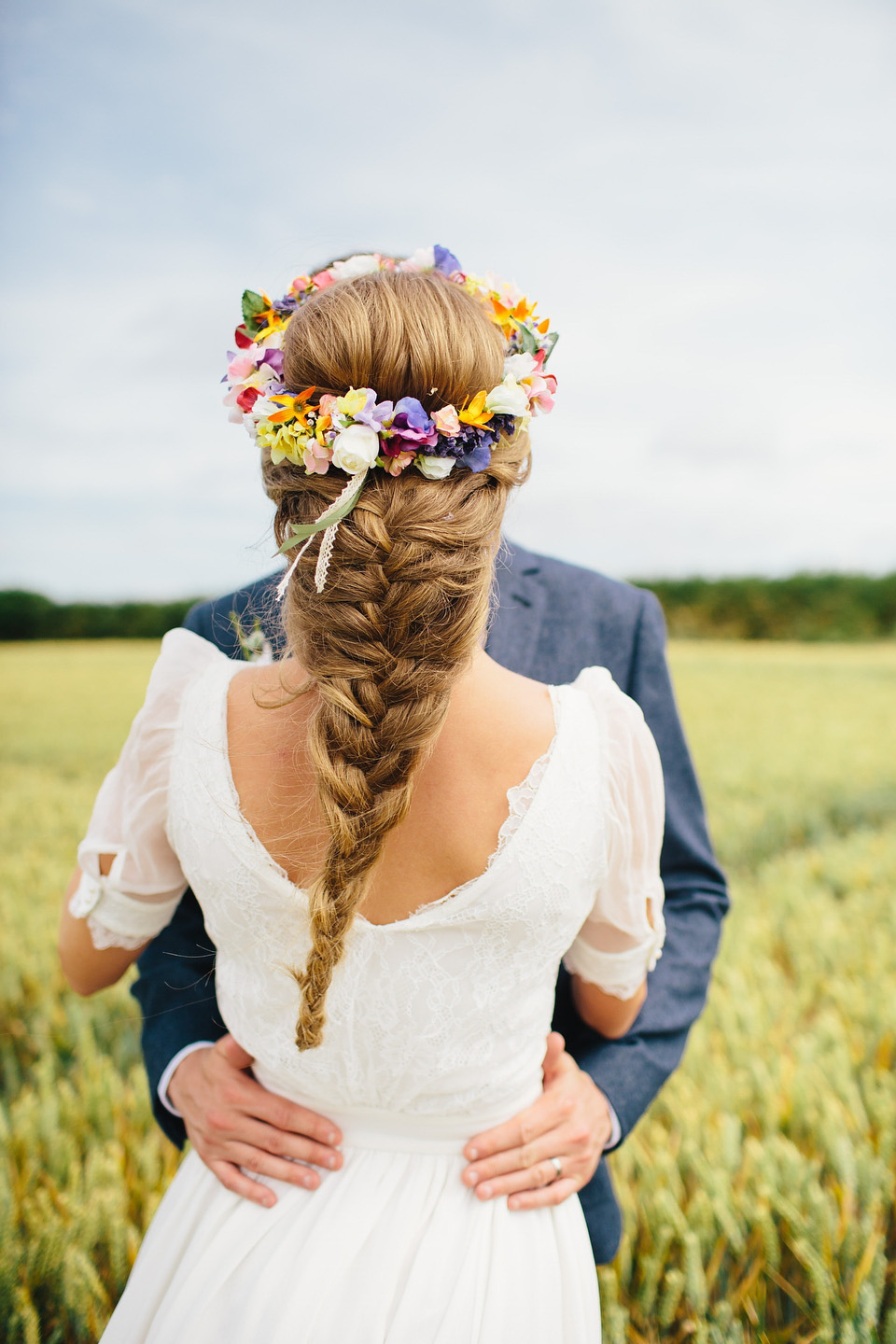 Rosalyn's shoes were purchased from Steve Madden Shoes, her hair and make up was by Dorset based Sian Stone, and her look was completed with elegant pearl earrings.
"I always wanted my bridesmaid's to be in something a bit different from one another. I really struggled at first but as soon as I came across Sohomode.  I placed the order that day – I fell in love!"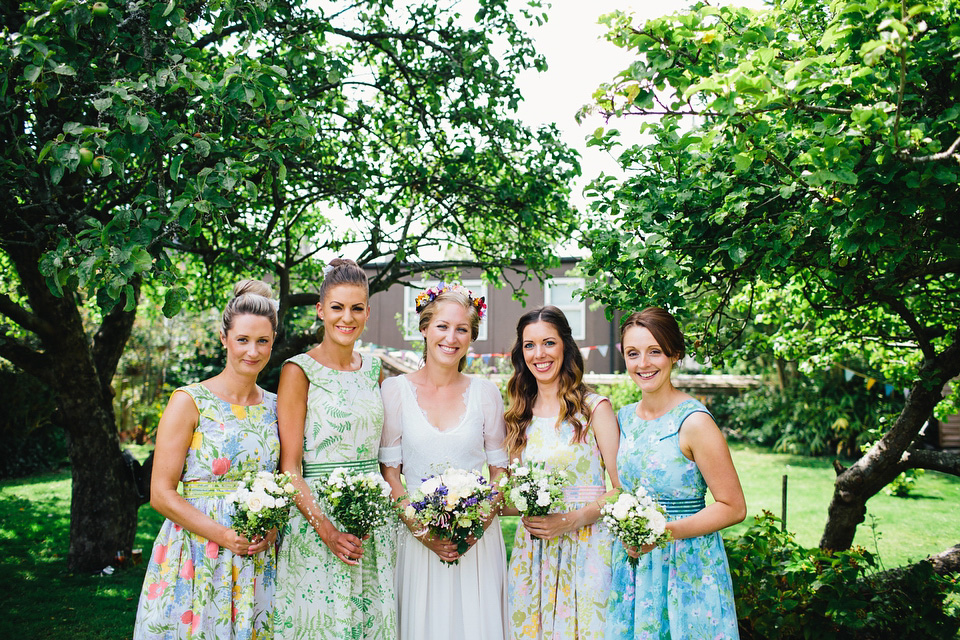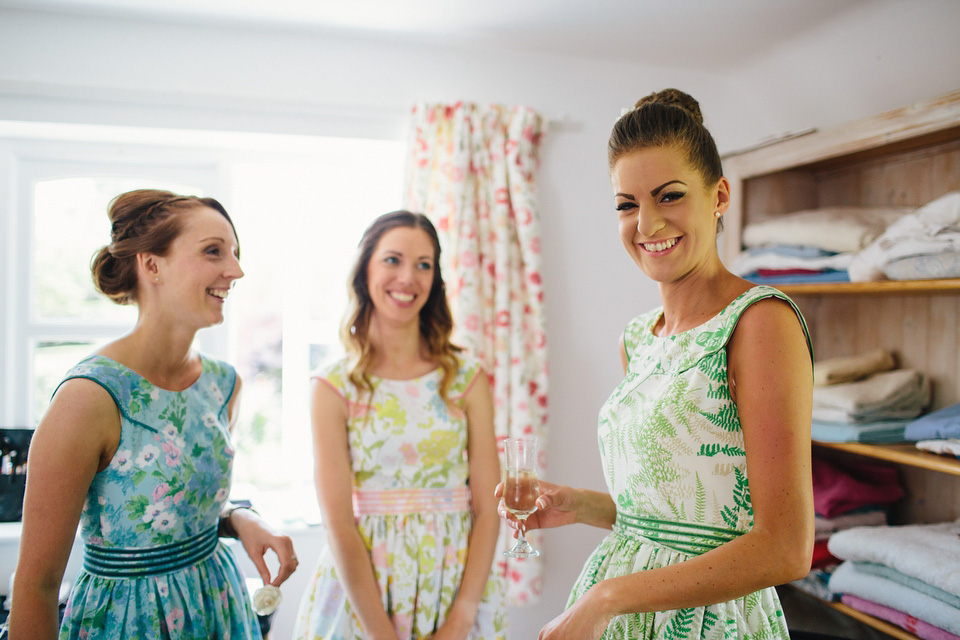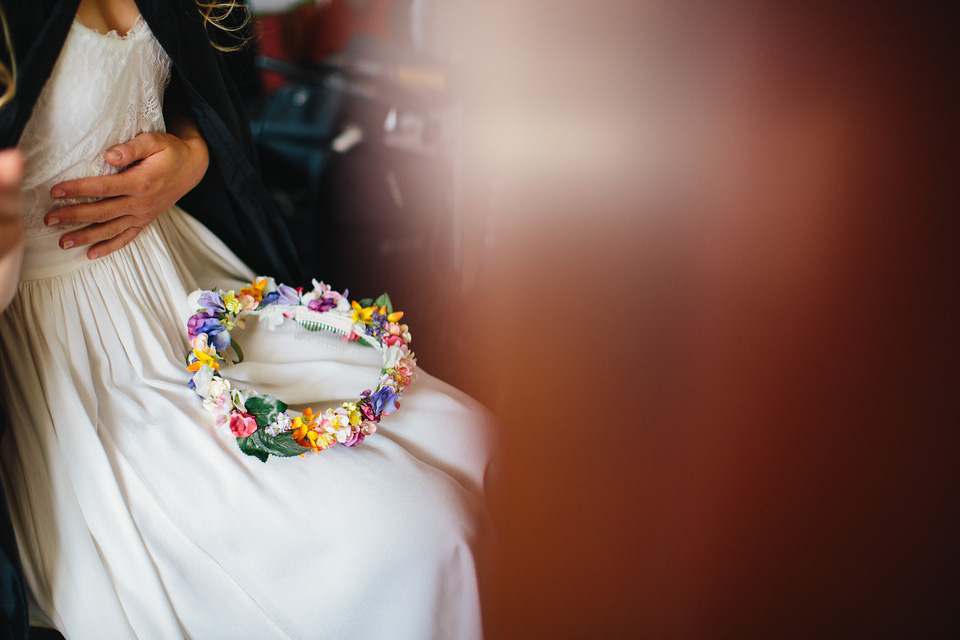 "The flowers were from the local WI woman's group. All the flowers were sourced from local gardens. The women in the village did the church and arch and an old friend in the village made mine and my bridesmaid's bouquet.
She made my mother's 32 years ago, using the same cuttings from a plant she has since her own wedding. My mother and Neil's mother created the flowers for the tables using the flowers from the W.I.."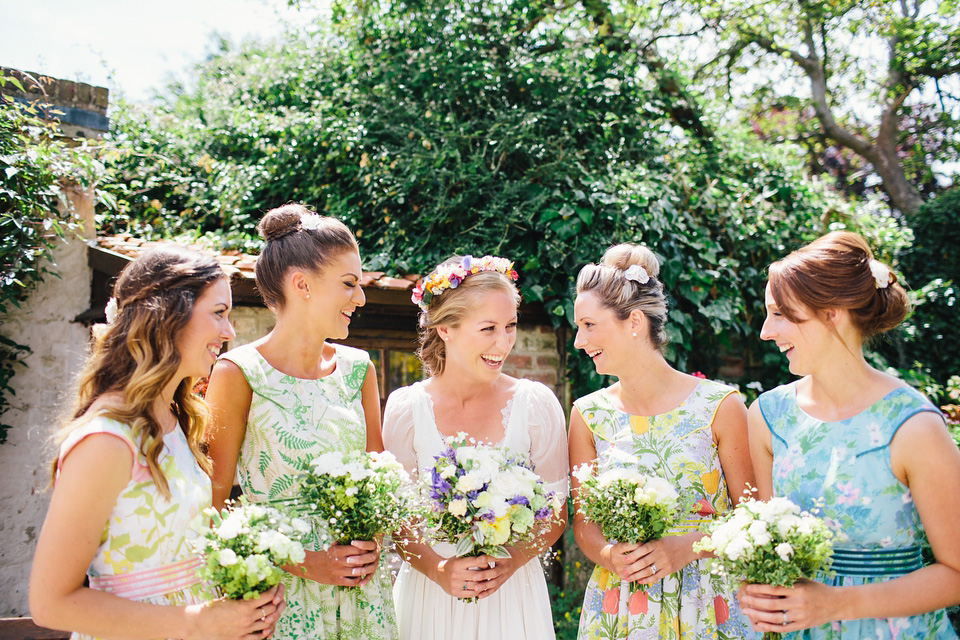 Neil's suit was from Topman's vintage range, his tie from the fabulous Suit Supply and button hole from Etsy.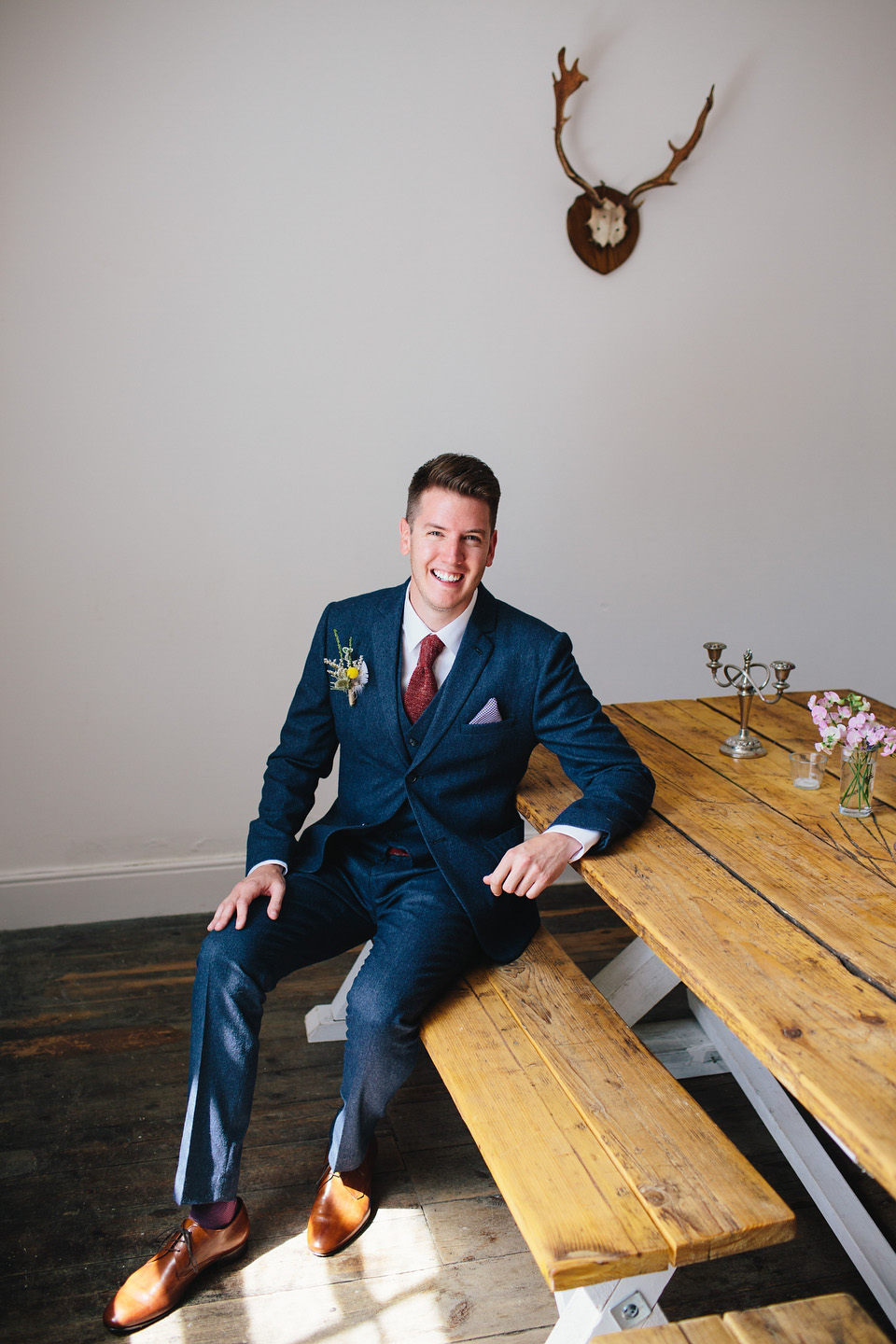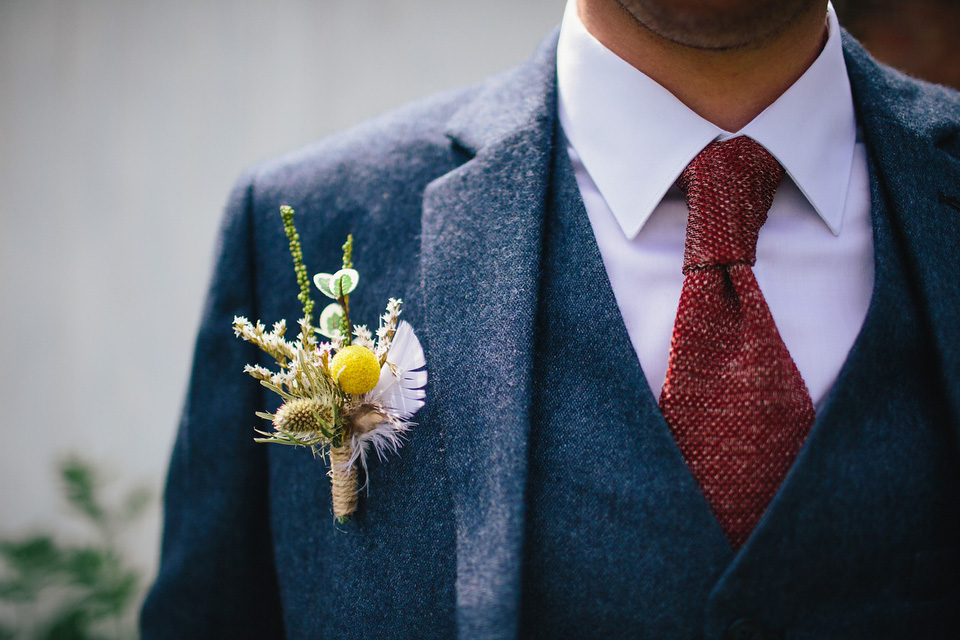 "We did all the stationery ourselves. For the order of service I bought some lovely textured brown paper from Paperchase. For the name places we made polaroid's of all our guests. It got everyone talking and giggling about their photos. We tried to use photos of memories that we had with that particular guest. We used Polaroin to create them. Our invite and thank you note were also polaroids to keep the theme running throughout."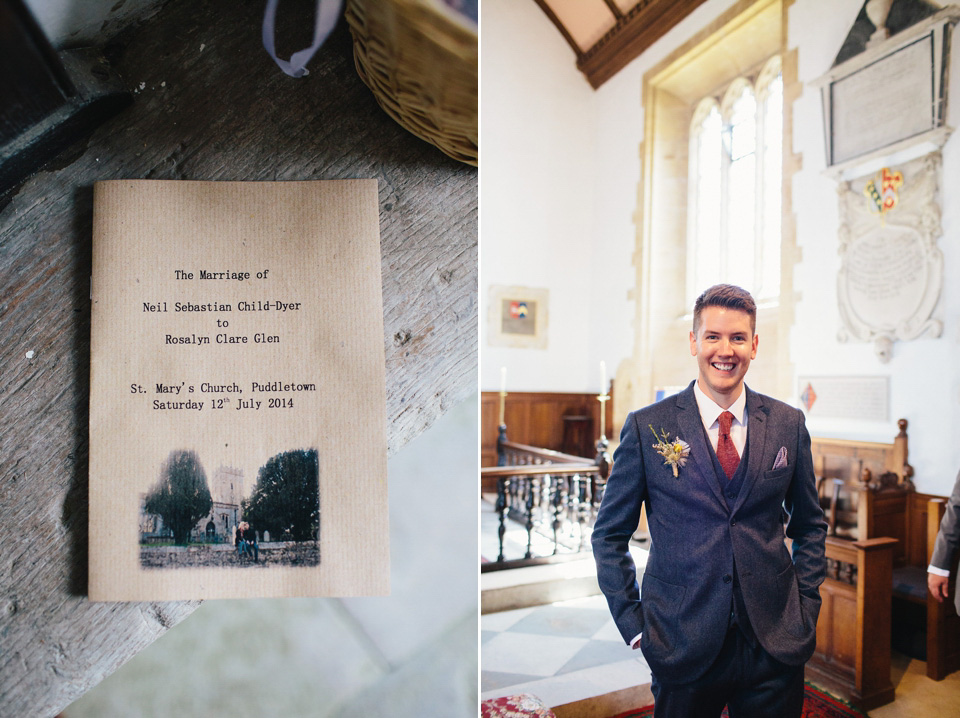 "We didn't really want a religious wedding but the church was so historical and beautiful and in Puddletown!  Puddletown Church  is next door to my parents  house (they share a garden wall with the churchyard).   The church is where Thomas Hardy played the fiddle and is over ten century's old. We then went for drinks in my parent's garden as the bells were ringing."
Rosalyn was 'given away' by her father Giles and they walked down the aisle together to music with childhood memories for Rosalyn;
"I loved Anne of Green Gables growing up so walked down the aisle to piece of music from this."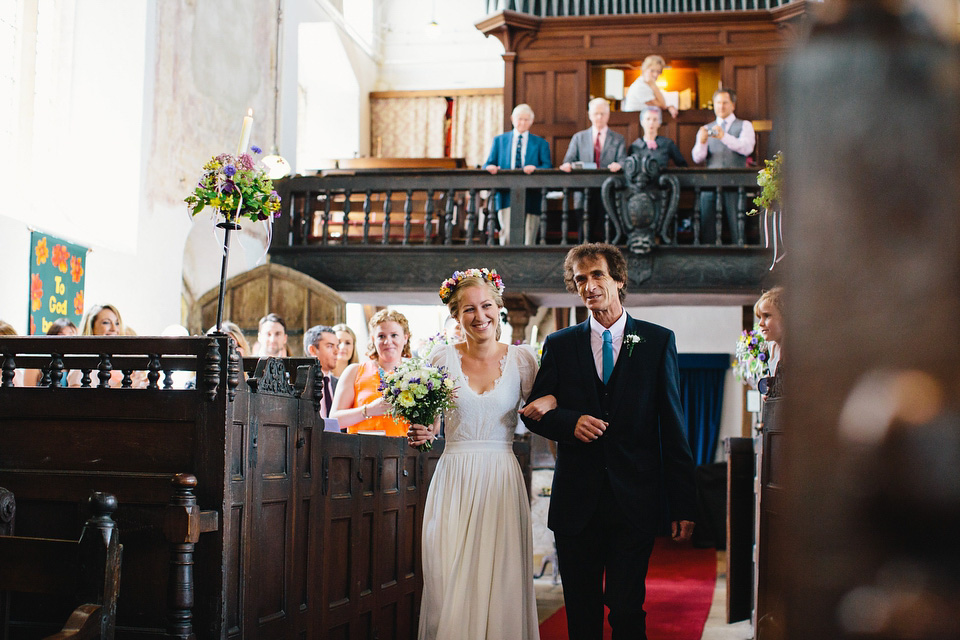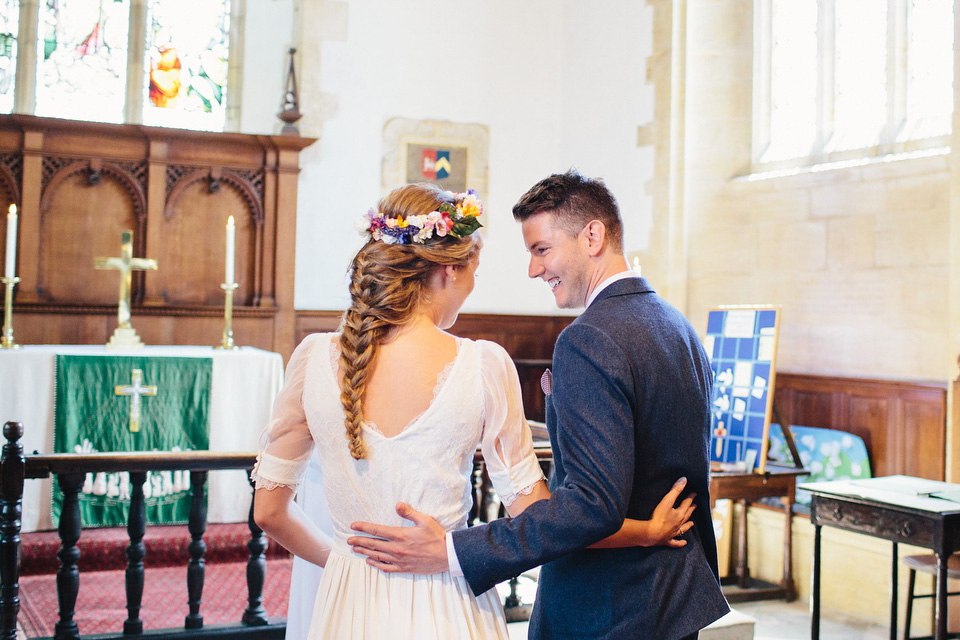 Being big fans of Bob Dylan, the couple chose 'Wedding Song'by Bob Dylan for a ceremony reading by Neil's father…
Wedding Song, Bob Dylan
I love you more than ever, more than time and more than love
I love you more than money and more than the stars above
I love you more than madness, more than waves upon the sea
I love you more than life itself, you mean that much to me.
Ever since you walked right in the circle's been complete
I've said goodbye to haunted rooms and faces in the street
To the courtyard of the jester which is hidden from the sun
I love you more than ever and I haven't yet begun.
You breathed on me and made my life a richer one to live
When I was deep in poverty you taught me how to give
Dried the tears up from my dreams and pulled me from the hole
Quenched my thirst and satisfied the burning in my soul
The tune that is yours and mine to play upon this earth We'll play it out the best we know, whatever it is worth What's lost is lost, we can't regain what went down in the flood But happiness to me is you and I love you more than blood.
You turn the tide on me each day and teach my eyes to see
Just bein' next to you is a natural thing for me
And I could never let you go, no matter what goes on
'Cause I love you more than ever now that the past is gone.
Oh, can't you see that you were born to stand by my side
And I was born to be with you, you were born to be my bride
You're the other half of what I am, you're the missing piece
And I love you more than ever with that love that doesn't cease.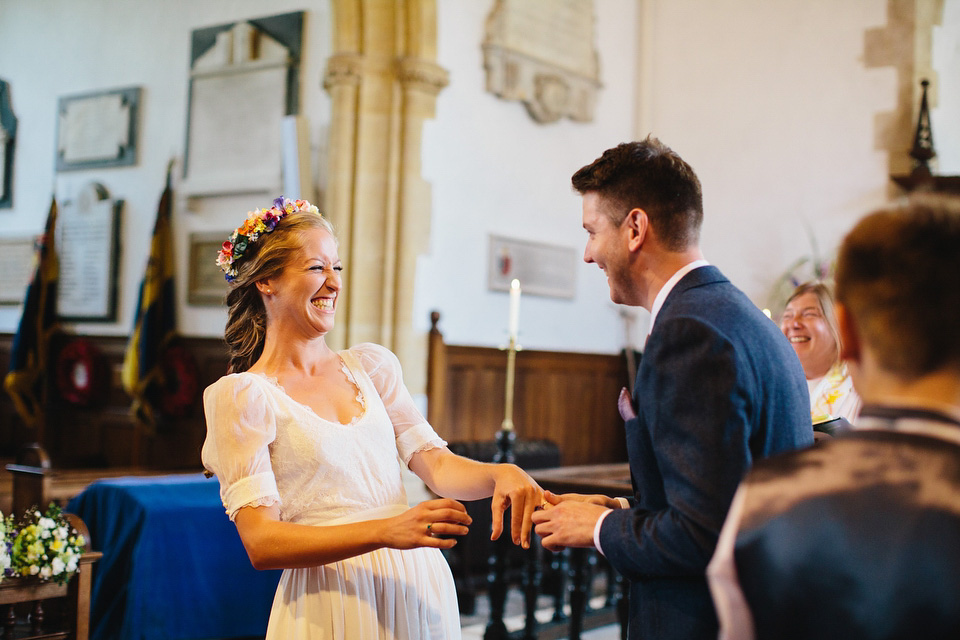 "We went to Heath Diamonds, they made my colleagues ring so it was a good recommendation. I got my engagement ring here so it made sense to get our bands too. It was lovely choosing the exact emerald and setting I wanted for my engagement ring."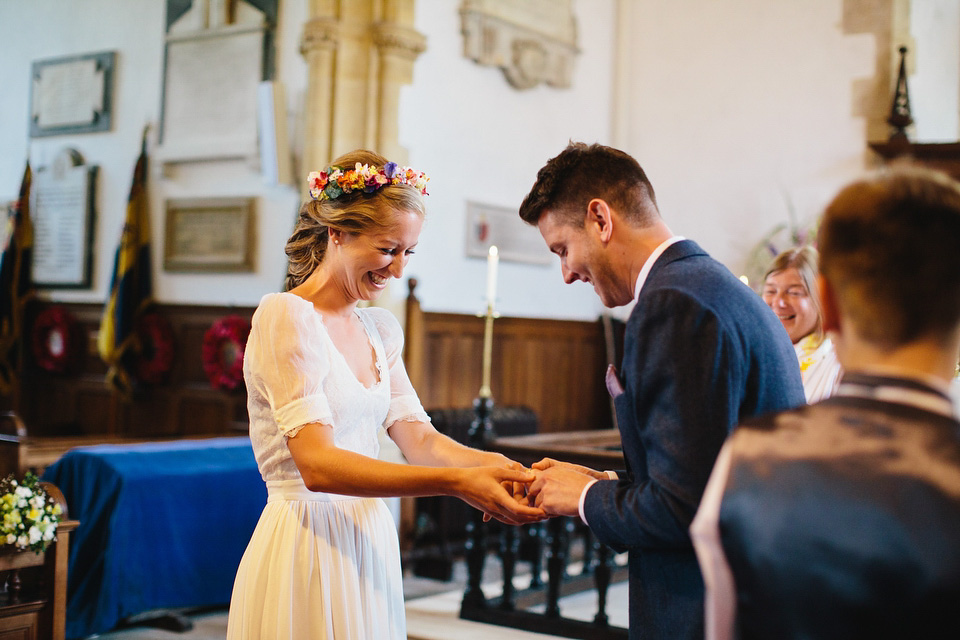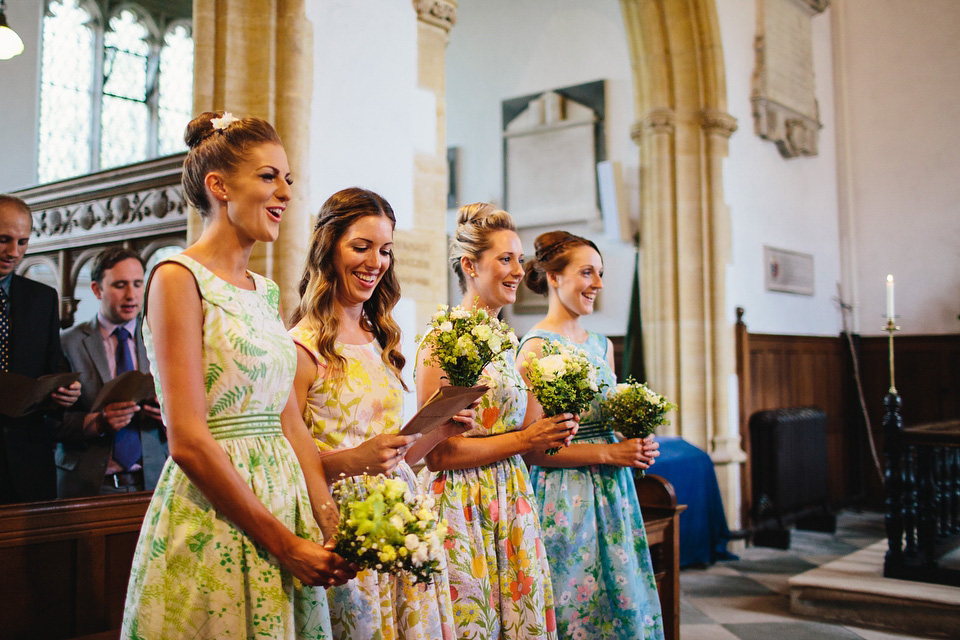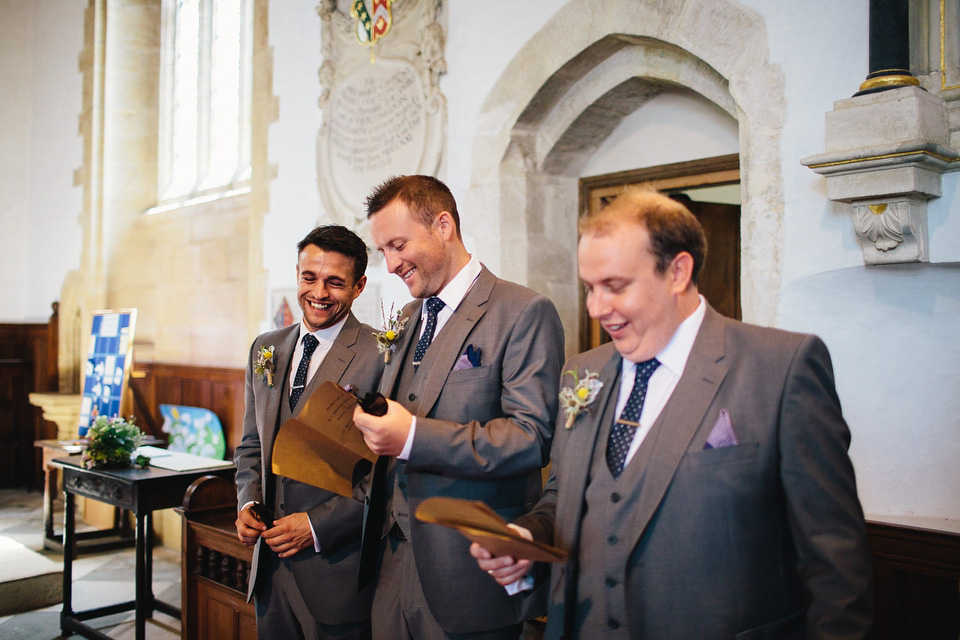 "My favourite part of the day was standing at the front of the church saying our vowels. I was so nervous for this part but we were in our own little world up there and it felt amazing."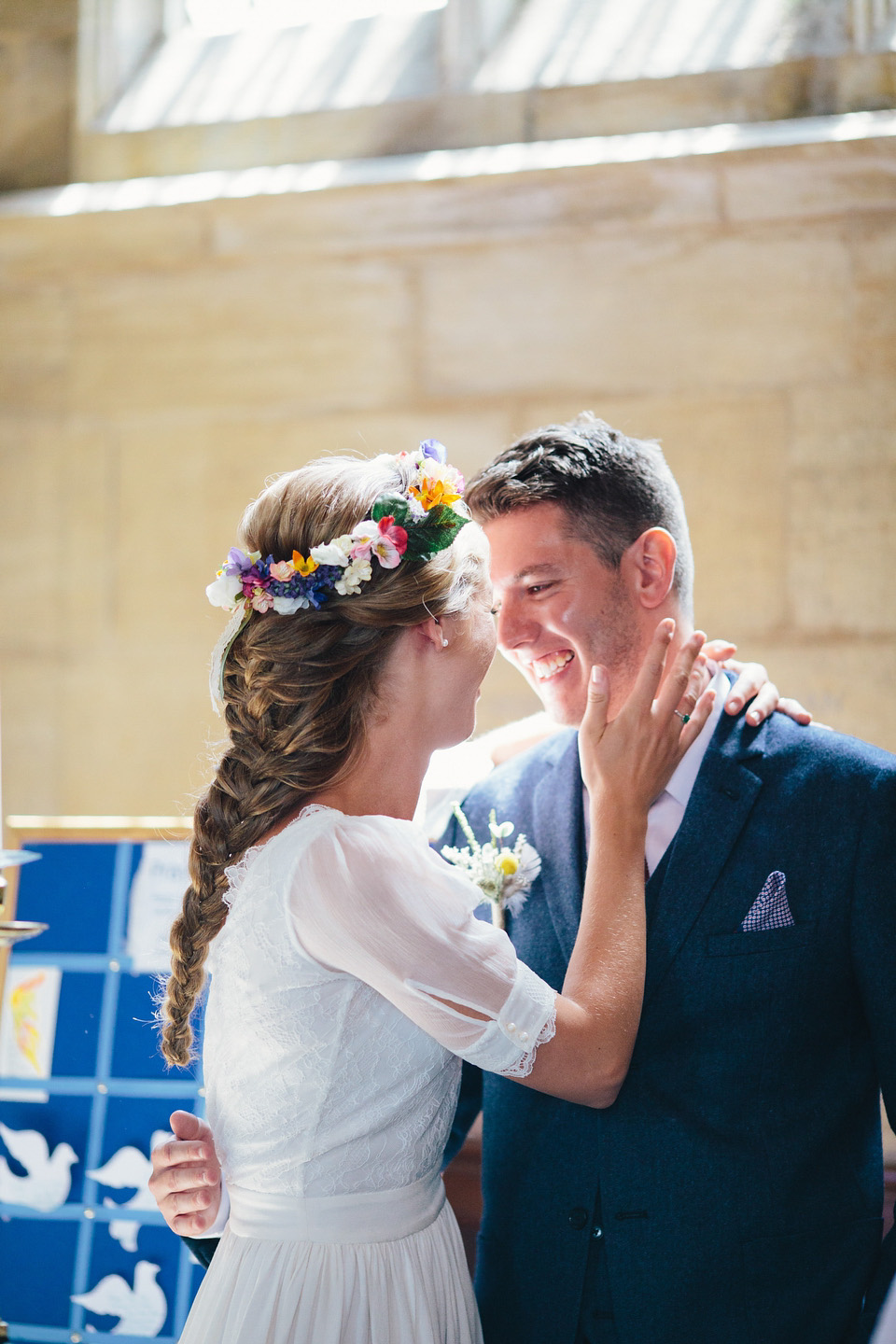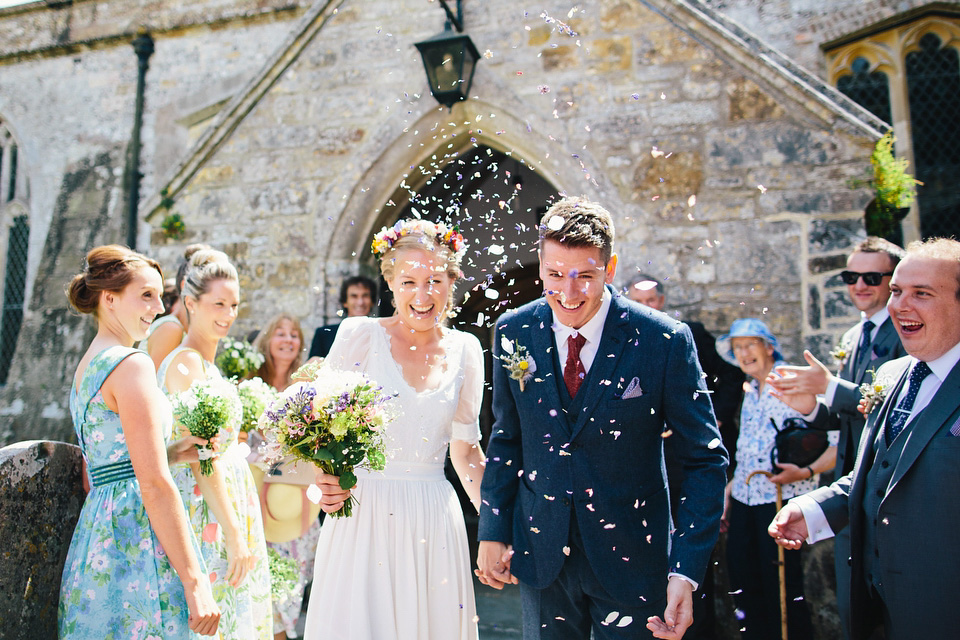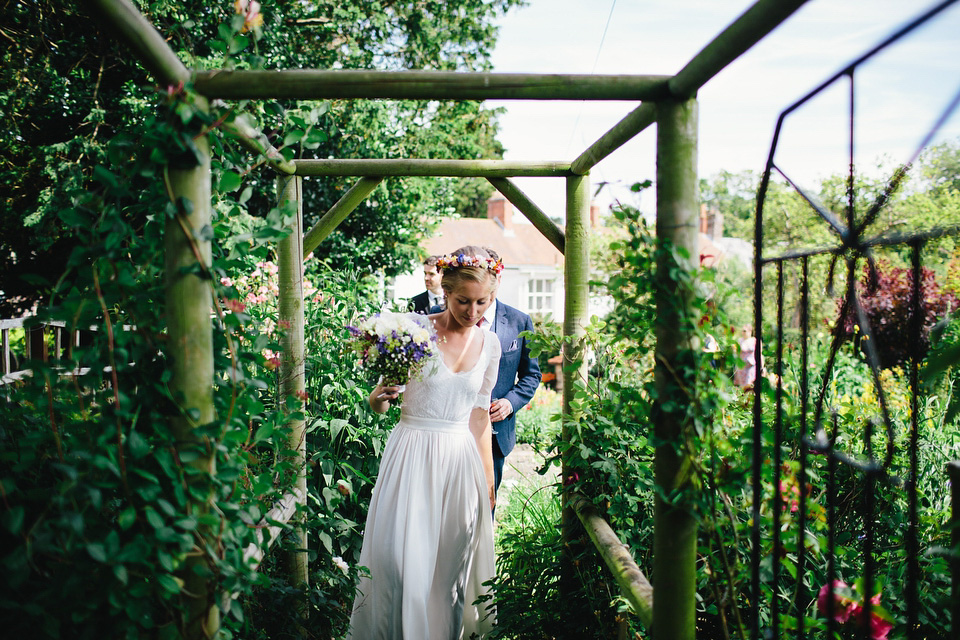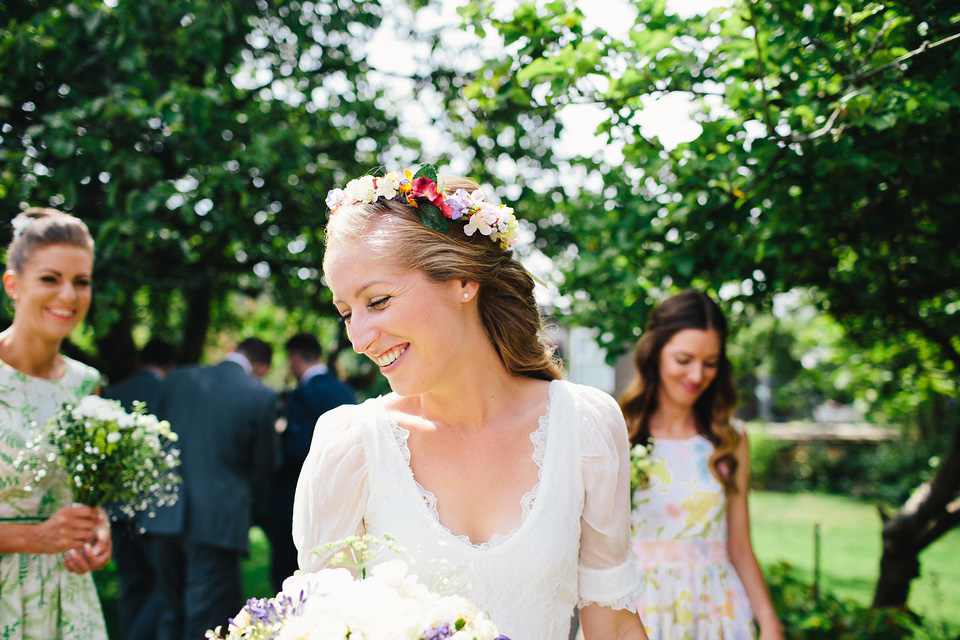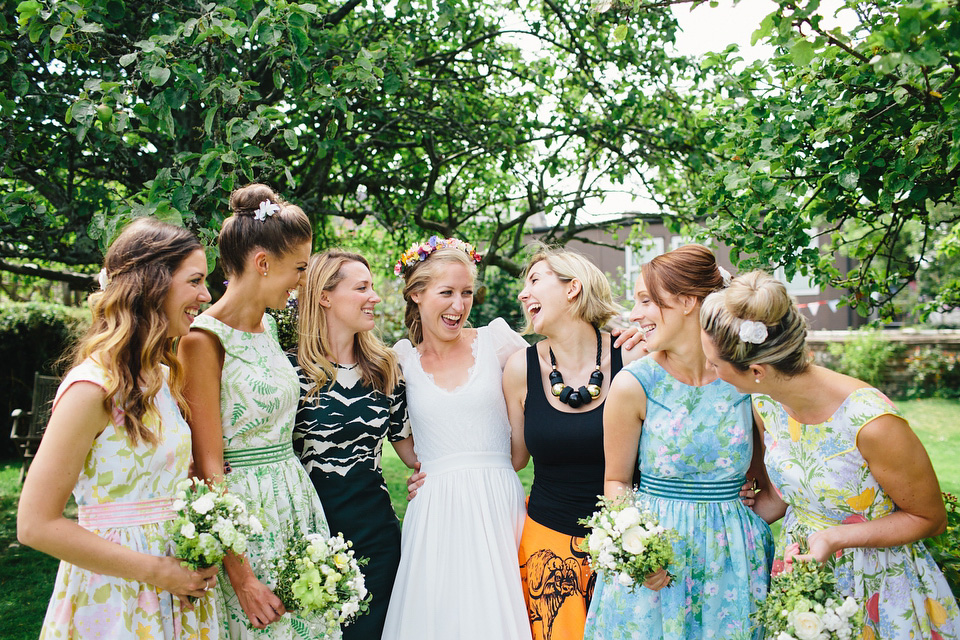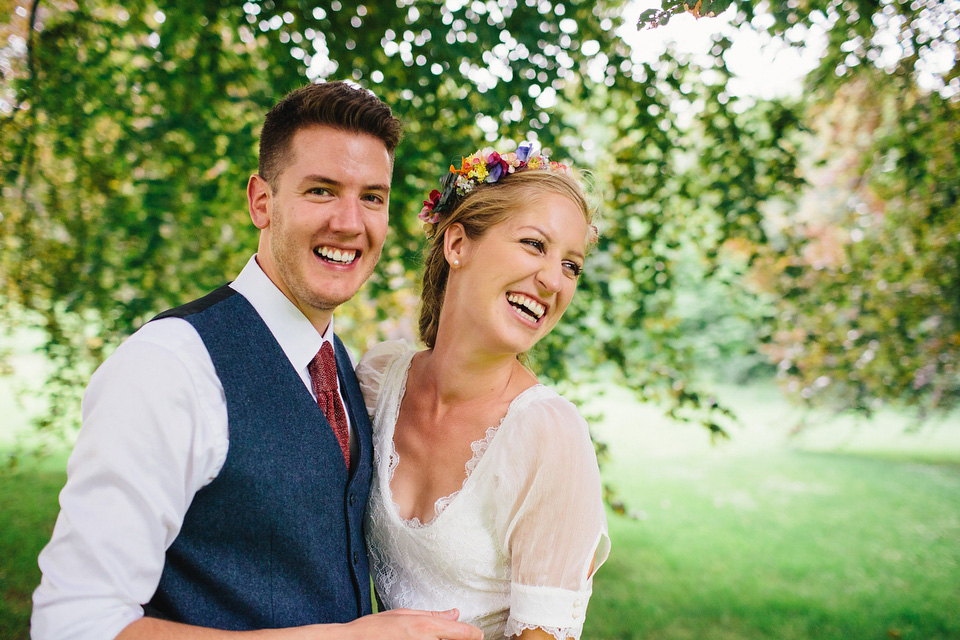 "When I was growing up, my Dad had an old Rover 100 which we used to go on classic car rallies with and he used to drive my friends and I to our school discos in – I was very upset when we sold it. As we were planning our wedding, my dad saw a very similar one in the village up the valley and left a contact number for the owner.
The owner was thrilled to drive us on our wedding day – just as he had done his daughter the previous year."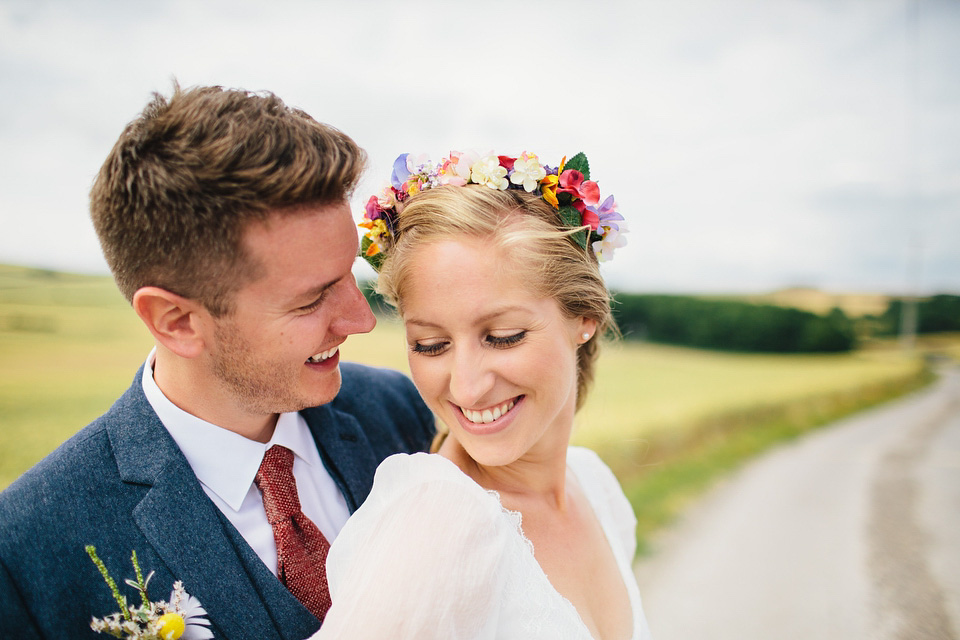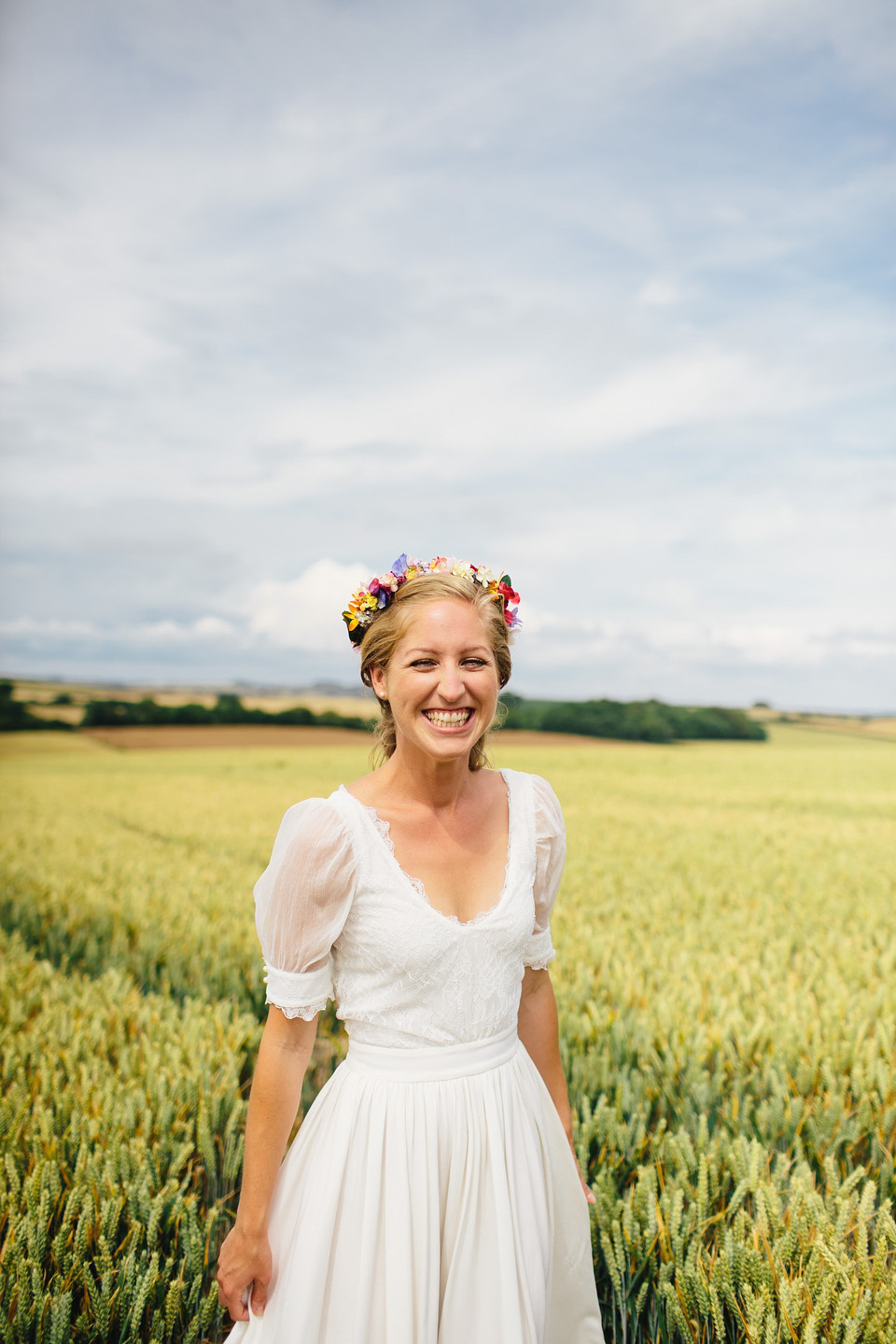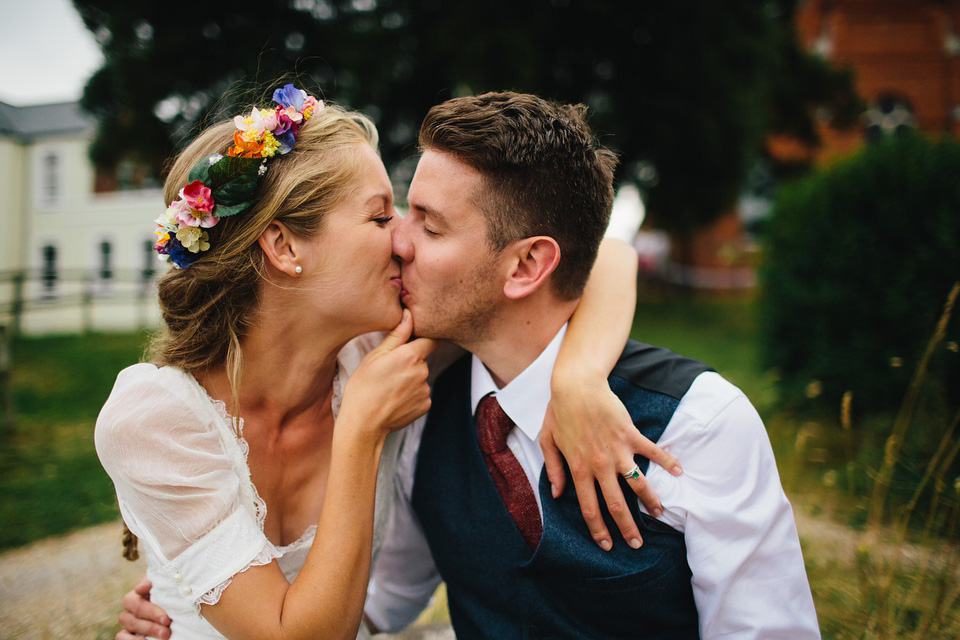 "We had the reception at Herrison Hall which is an old ball room where my parents go dancing.
We kept the decor of the venue really simple as the hall is beautiful already with all the wooden beams etc. We had a few fairy lights and some flowers."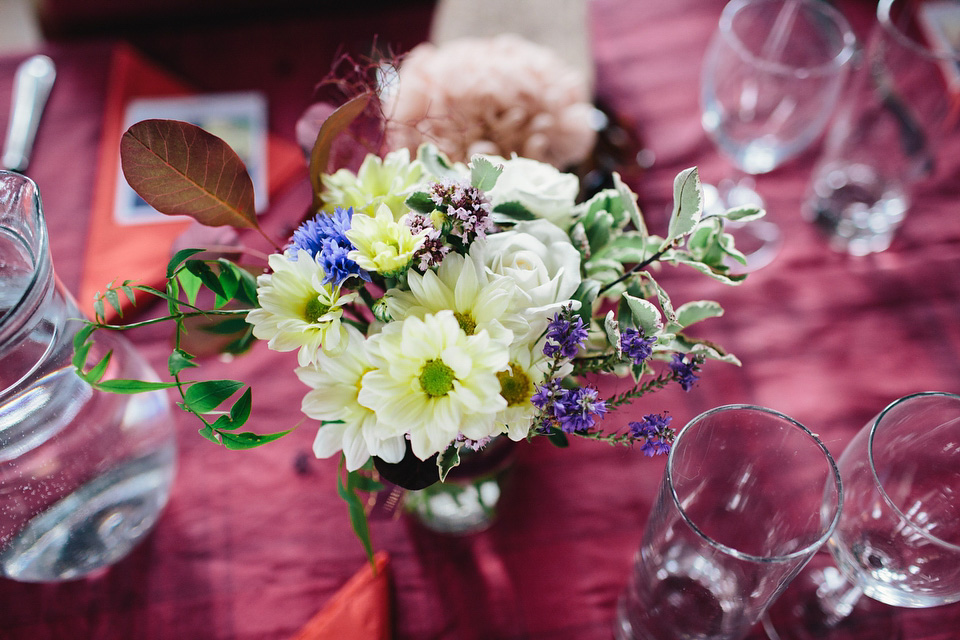 "We decided not to do favours – we felt that people always forget them and that they are an extra expense that we just didn't need. We felt the polaroids we created for everyone to identify their seating positions were something nice for our guests to keep from the day. We printed out an extra one for them to write a message on to go in a box. We loved reading through these afterwards, some made us laugh out loud, and some made us cry!"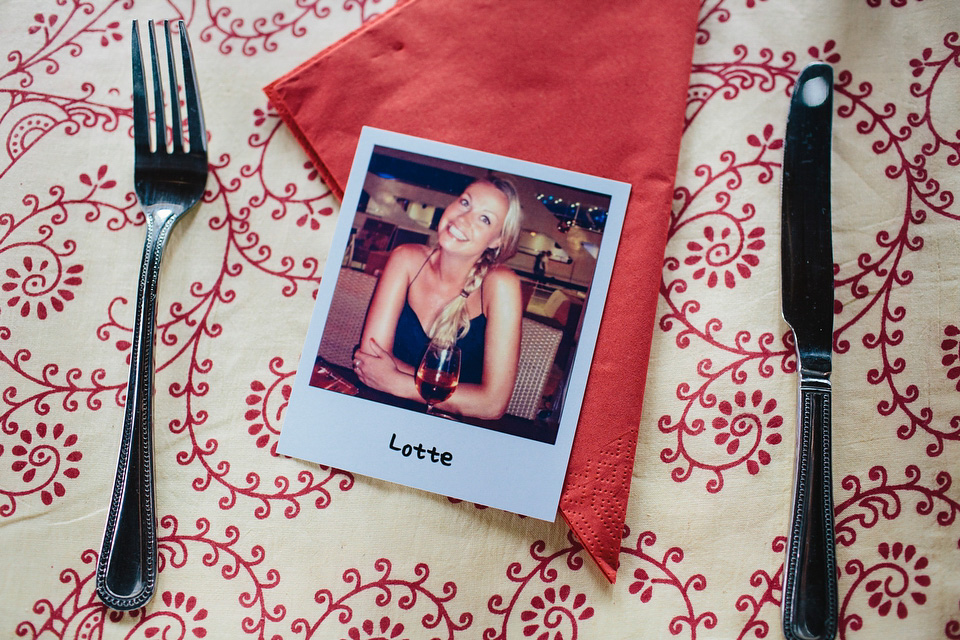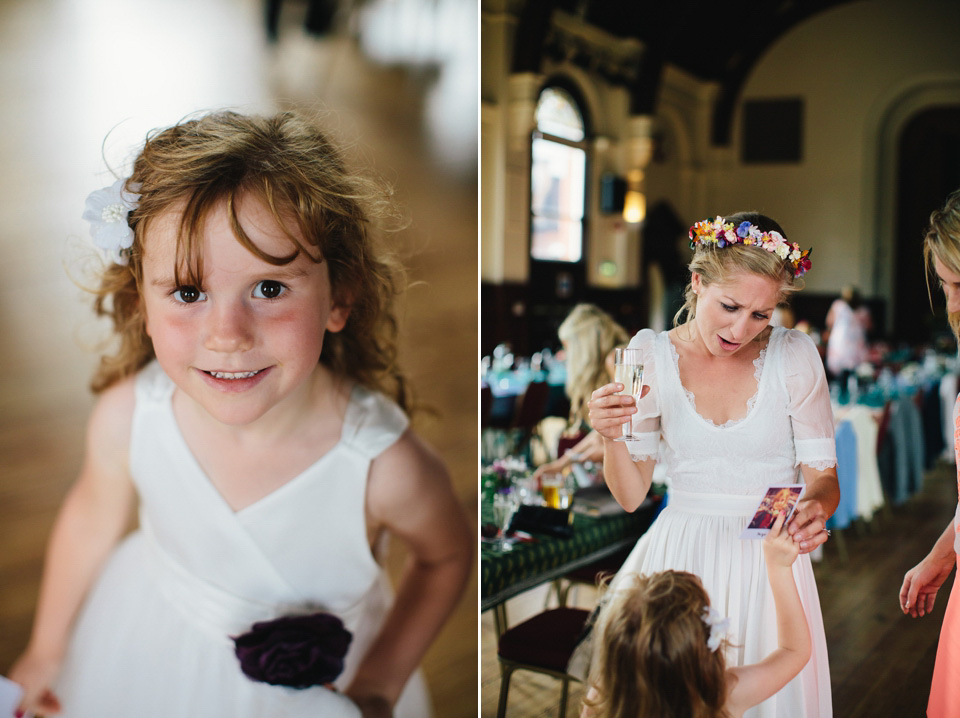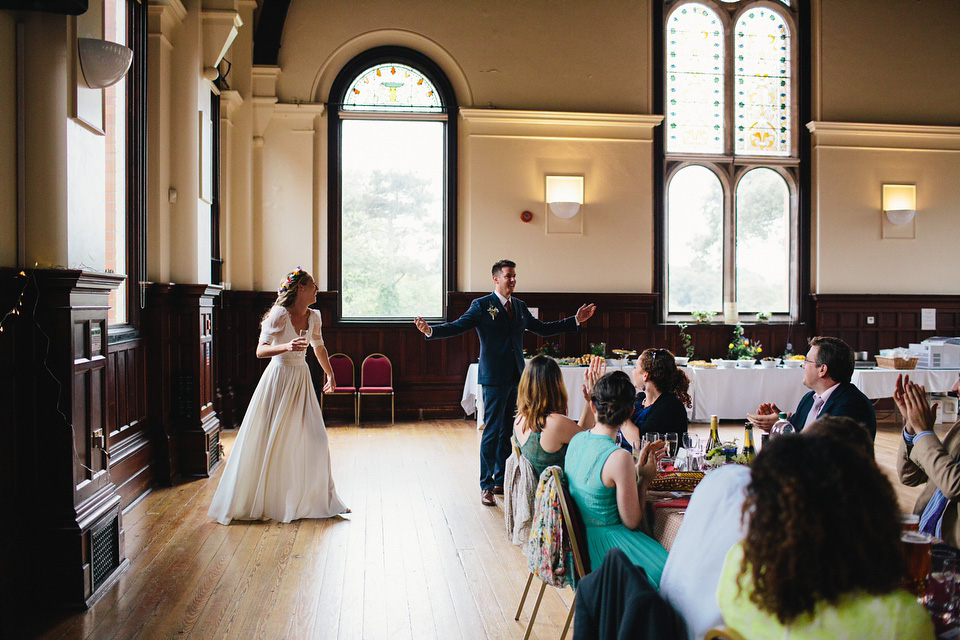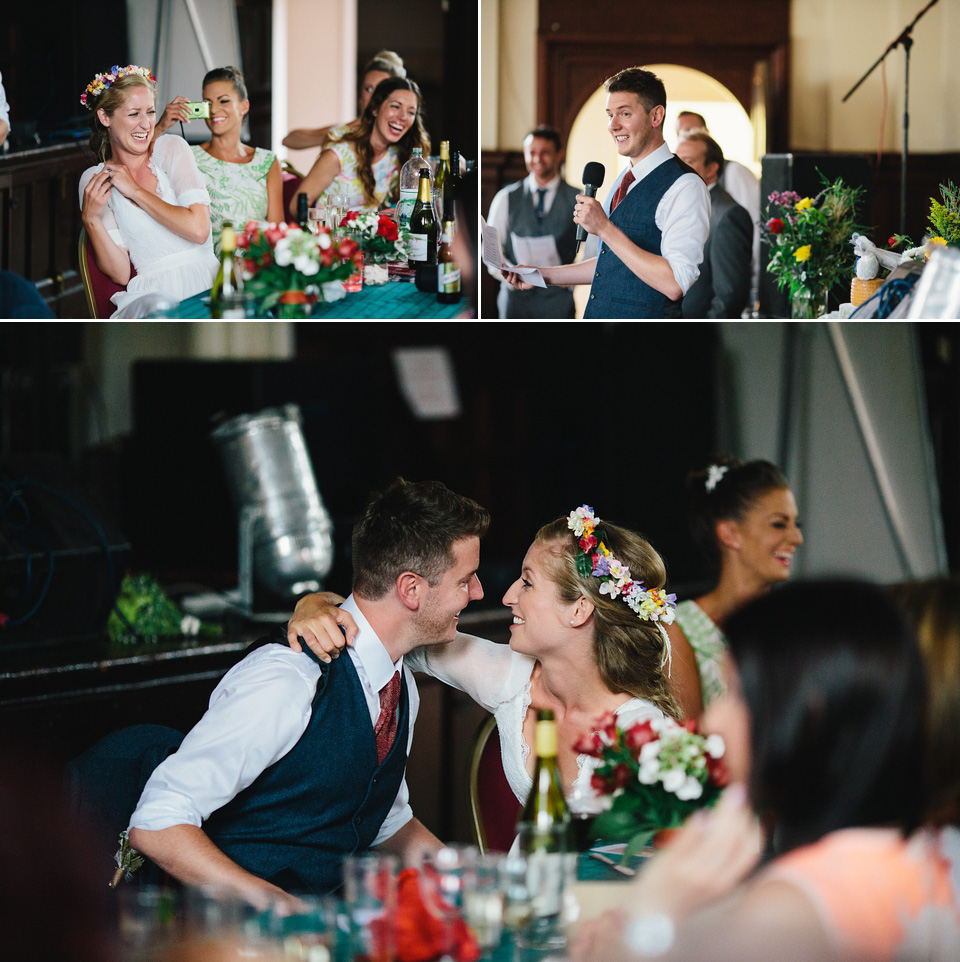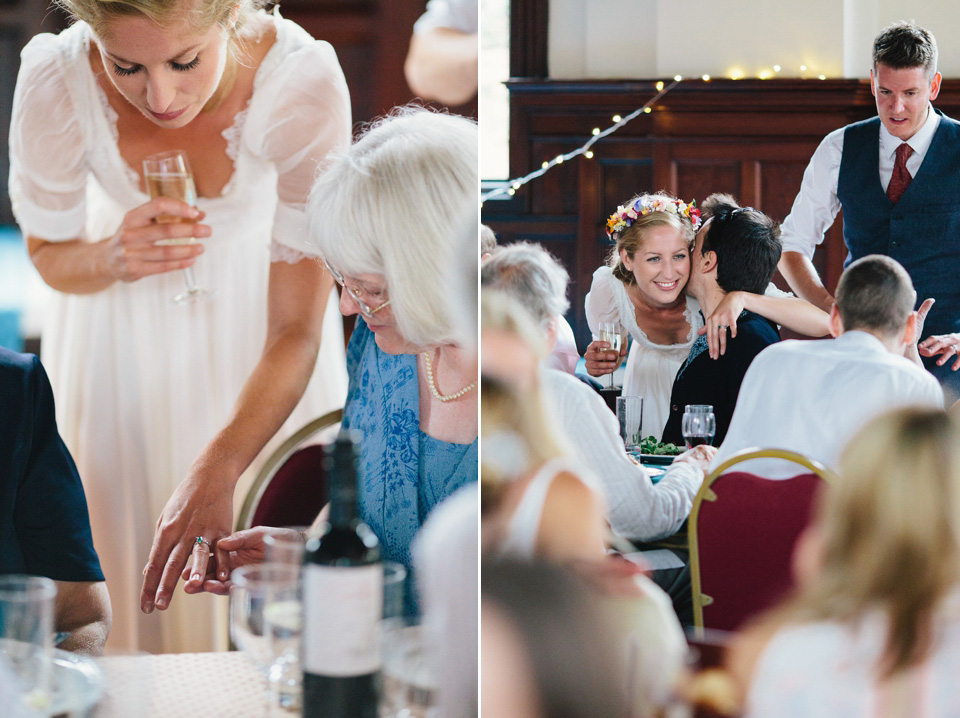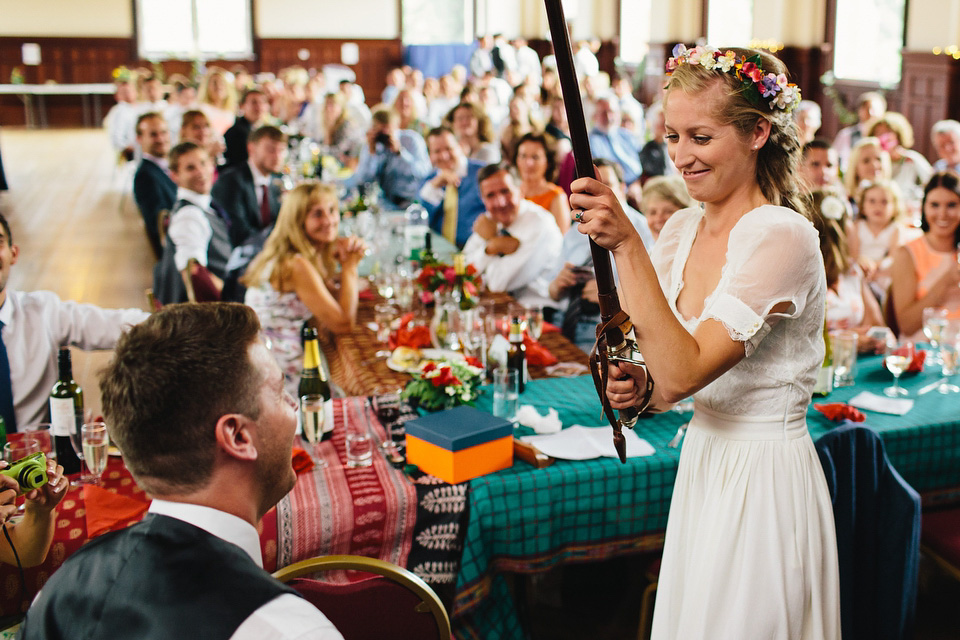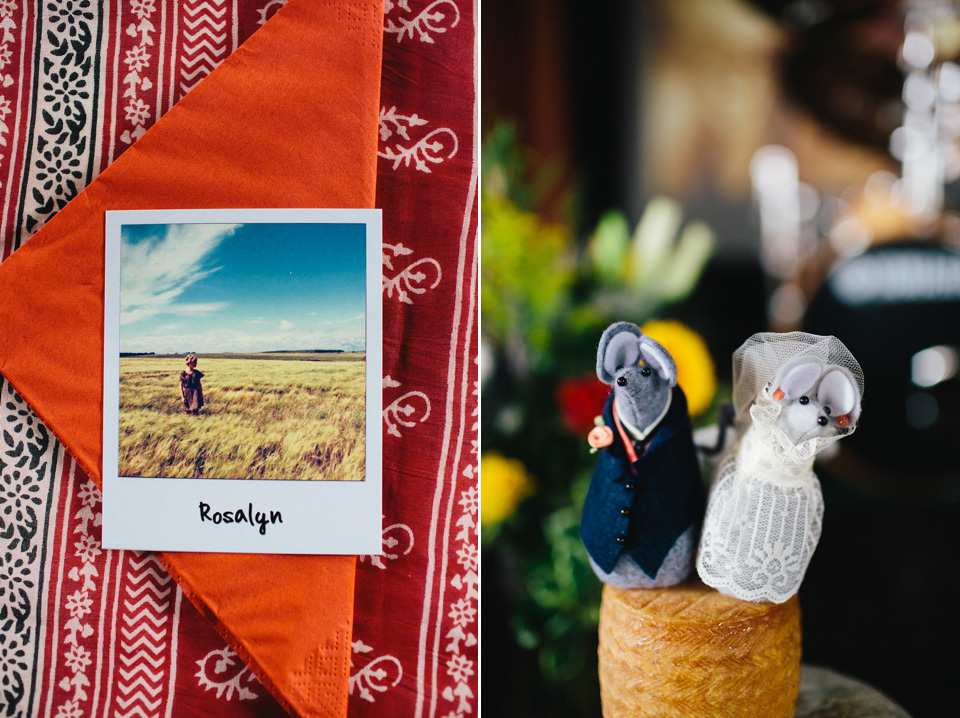 "We always wanted cheeses rather than a cake and so went to the Waitrose in Sheffield and talked through our options.  It was nicer to choose the cheeses ourselves – going for some local Sheffield ones too for a touch of home for Neil."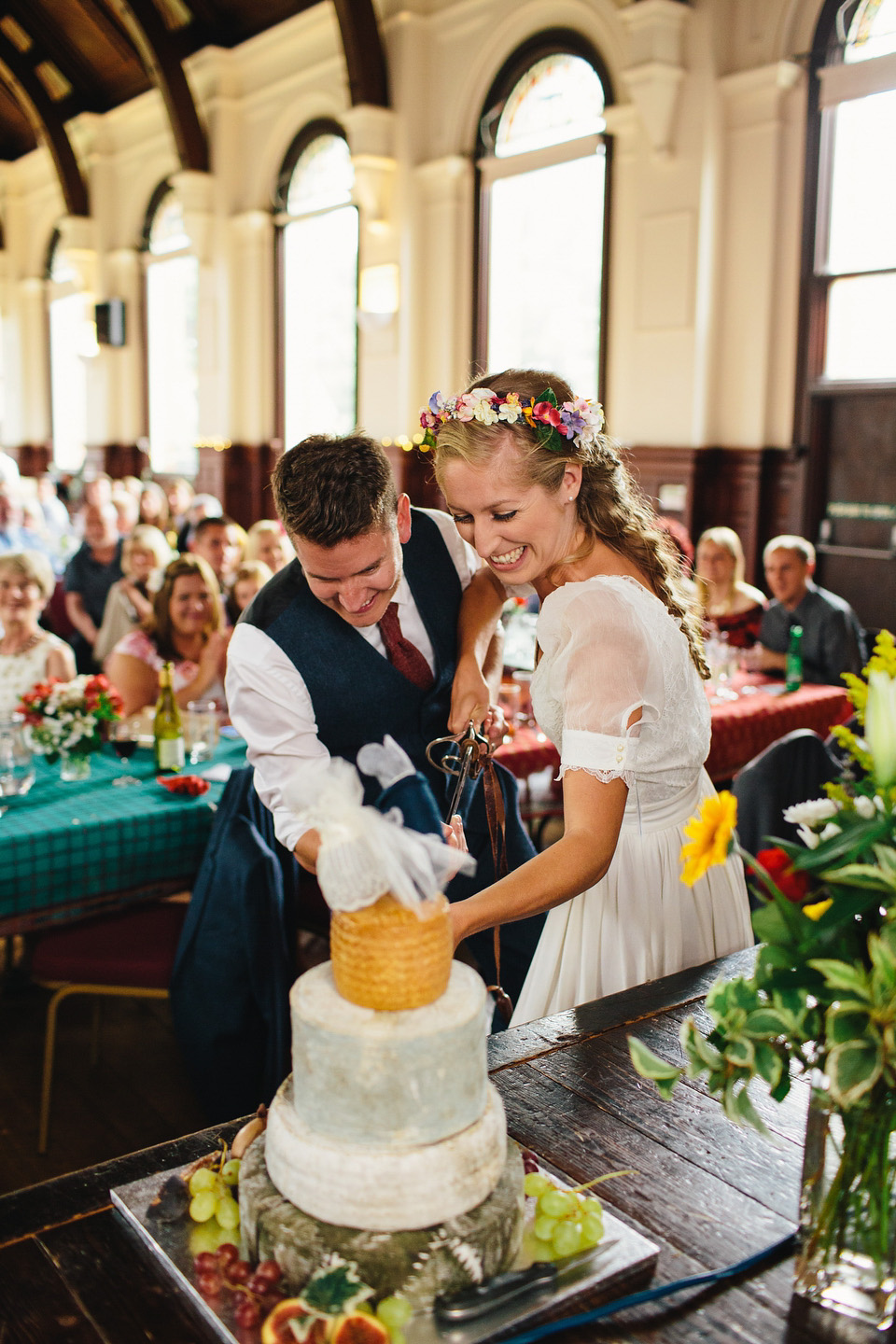 "For Entertainment, we booked 'Howling at the Moon' – they are local and we loved that they have a fiddler in the band!
For our First dance we chose 'Efterklang: Modern Drift' just simply because we both love it."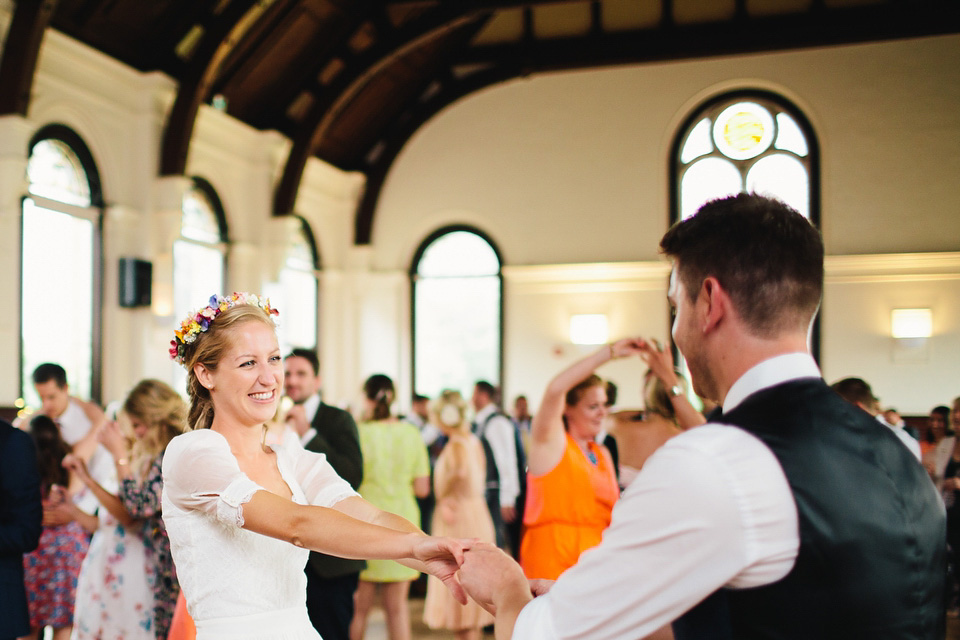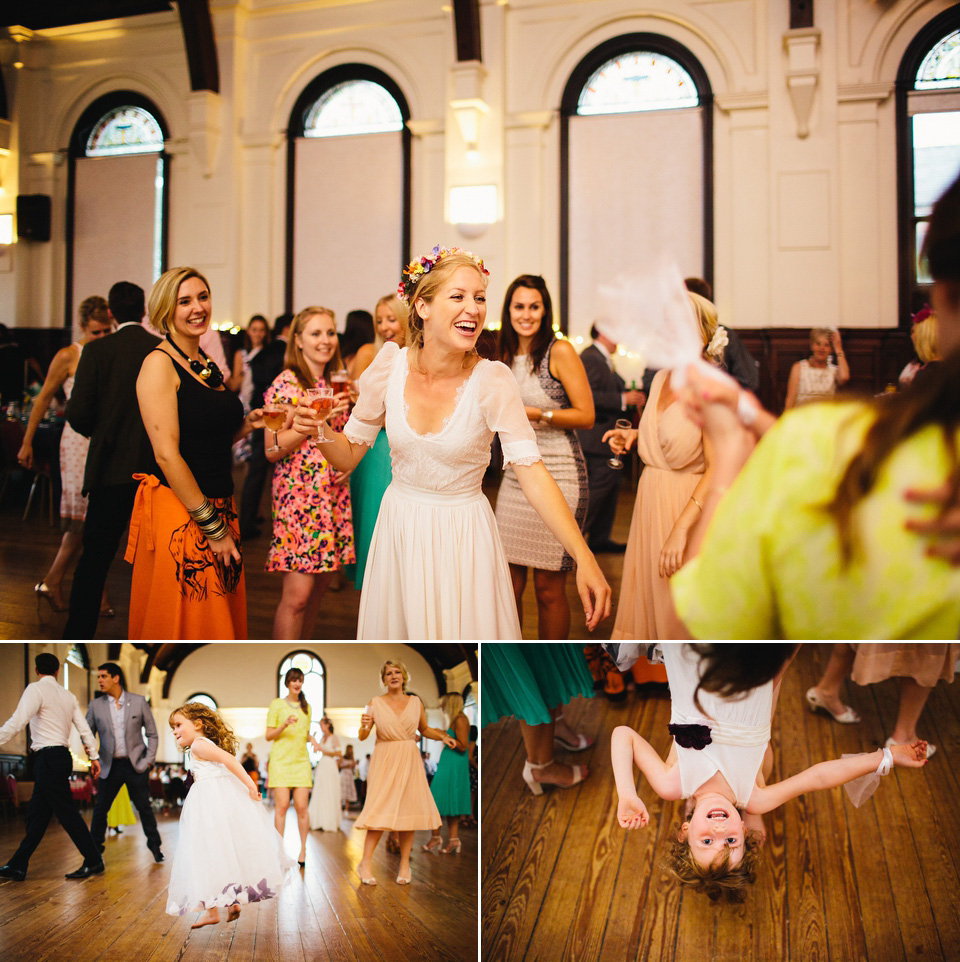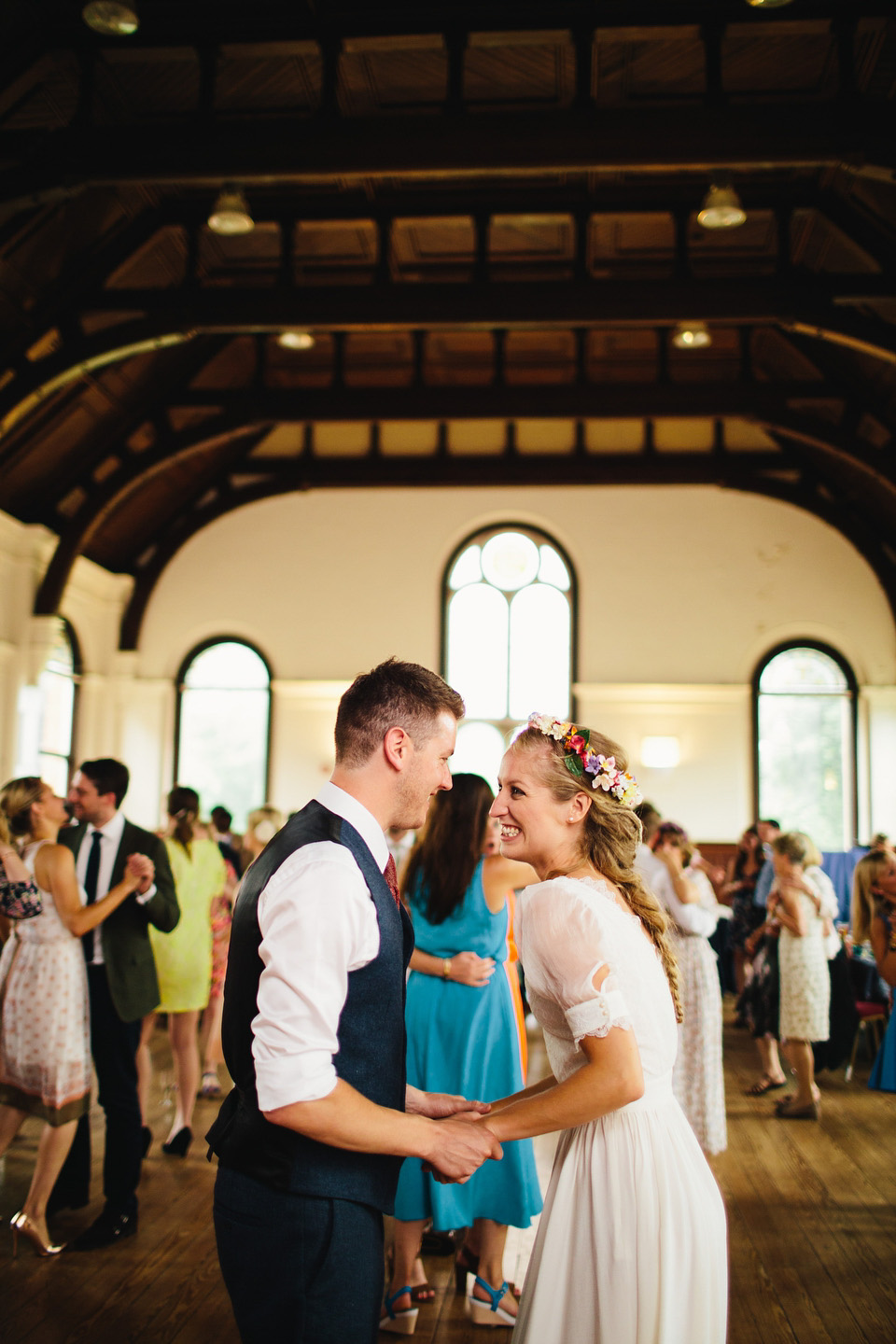 Words of Wedded Wisdom
"Don't get worked up about the little things as they really don't matter.  And keep things as simple as you can."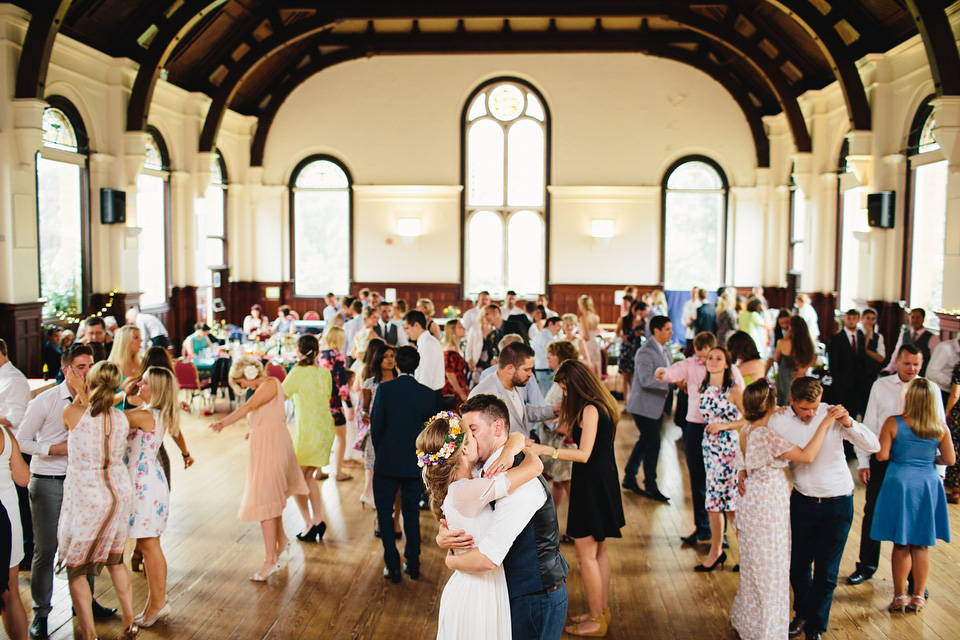 What an absolutely beautiful day, and how uplifting are these photographs?  Annabel and I would like to thank photographer Richard Skins for sharing them with us all, and congratulate Rosalyn and Neil on their marriage and beautiful, inspiring day.
We'd love to know if you, our readers, have been inspired by this wedding, and how?
Much love, Rebecca x
Photography – Richard Skins Photography
Ceremony  – Puddletown Church
Reception Venue – Herrison Hall
Brides Dress – Sampling Studio
Brides Shoes – Steve Madden Shoes
Brides Hair and Make up –  Sian Stone
Bridesmaids Dresses – Sohomode
Grooms Suit – Topman
Grooms Tie –  Suit Supply
Buttonholes –  Etsy
Flowers – The Women's Institute
Rings –Heath Diamonds
Cheese Wedding Cake – Waitrose
Polaraid Place Settings – Polaroin
Catering – Frome Valley Catering  + Purbeck Ice Cream
Entertainment –  Howling at the Moon