Good morning darling Love My Dress readers – join me on your commute or tea break this morning would you, while we are transported back to the golden age of glamour for this most elegant of 1920's inspired affairs.
The wedding of Evelyn and Giuseppe on July 19th last year at Steinbachhof, Vaihingen is a feast for your eyes. It oozes glamour from every gorgeous photograph. I loved flicking through each elegant photo by the very talented Die Hochzeitsfotografen – Angelika + Artur. There is a real fairytale feel to their beautiful work.
"We love the 20's. It's such a special and glamorous era. This inspired  our wedding  day theme. We choose pastel colours for our German / Italian wedding."
Photography by Die Hochzeitsfotografen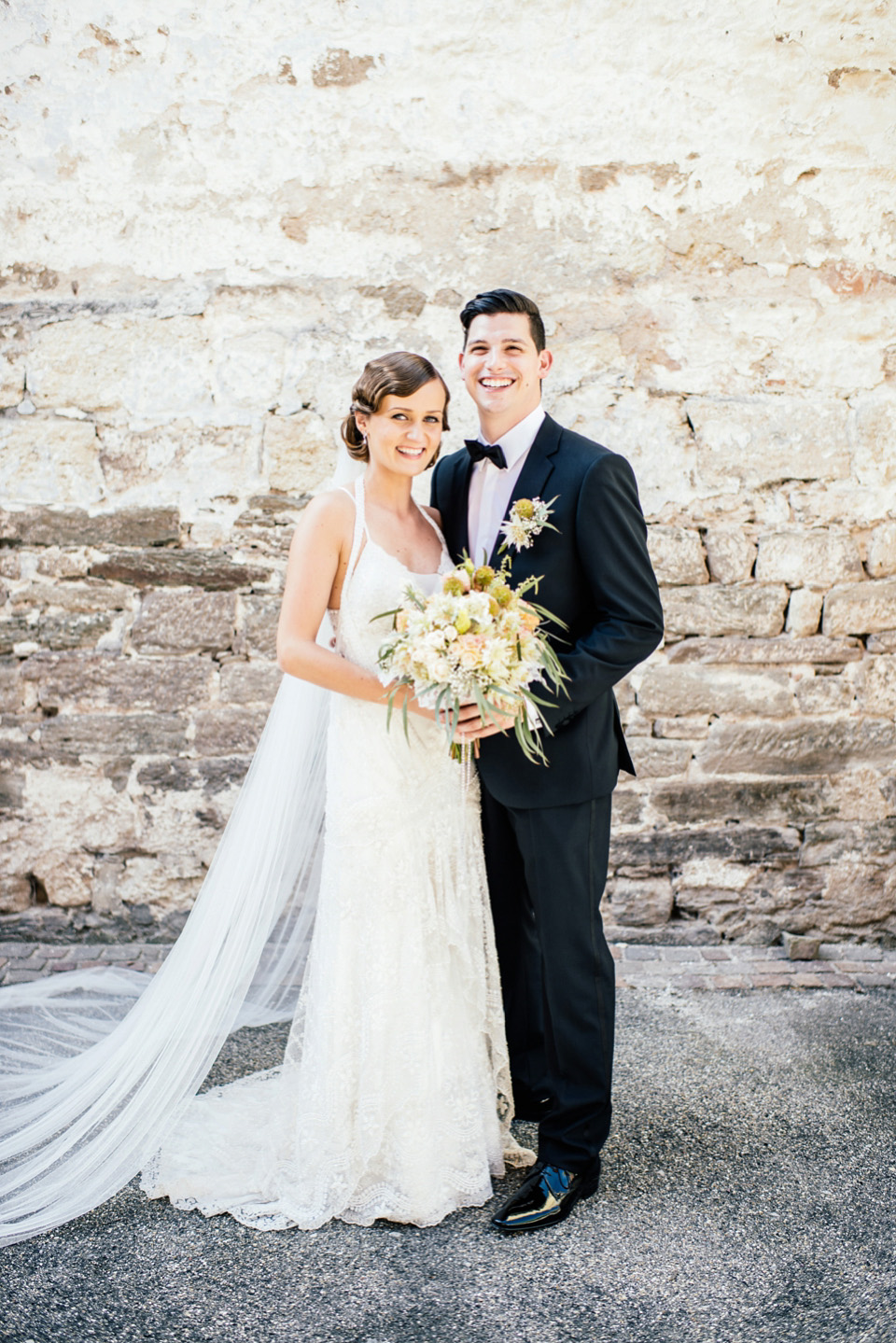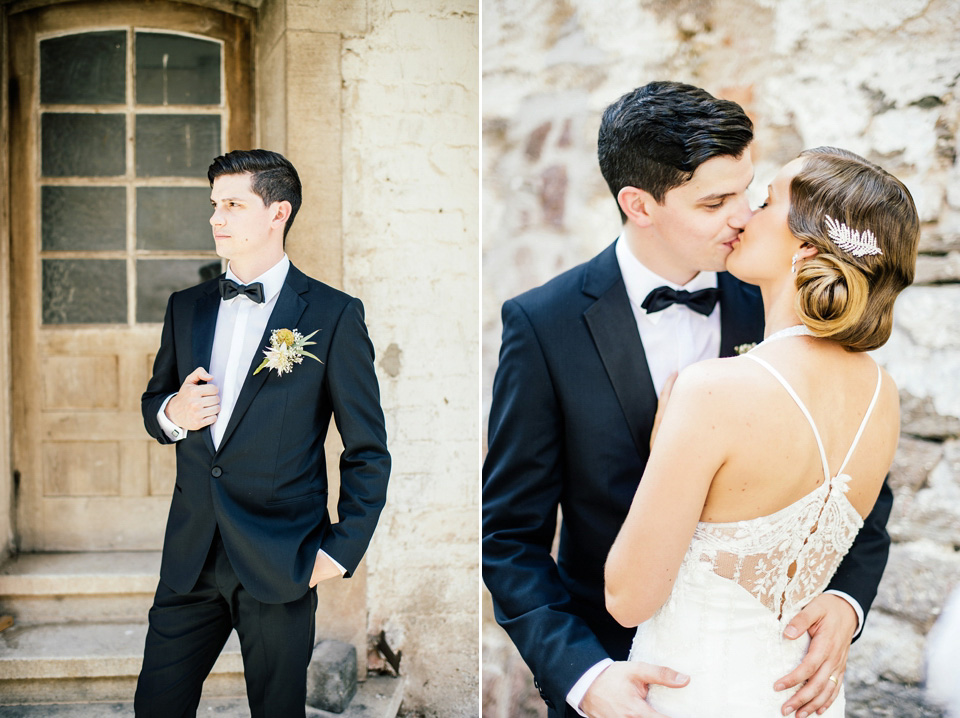 Evelyn choose a stunning YolanCris dress which she found at DA VINCI Brautmoden in Stuttgart that perfectly matched their 1920's glamour themed day.  I've said this before too, but I really am a veil girl, it just seems the perfect finishing touch. Veils are so exquisite and make for stunning photographs as you can see.
"I choose this beautiful dress because I wanted it to be different and just something special. I tried many dresses including the classy 'princess dress'.
My veil was a soft silk tulle, very simple but suitable to my exceptional dress."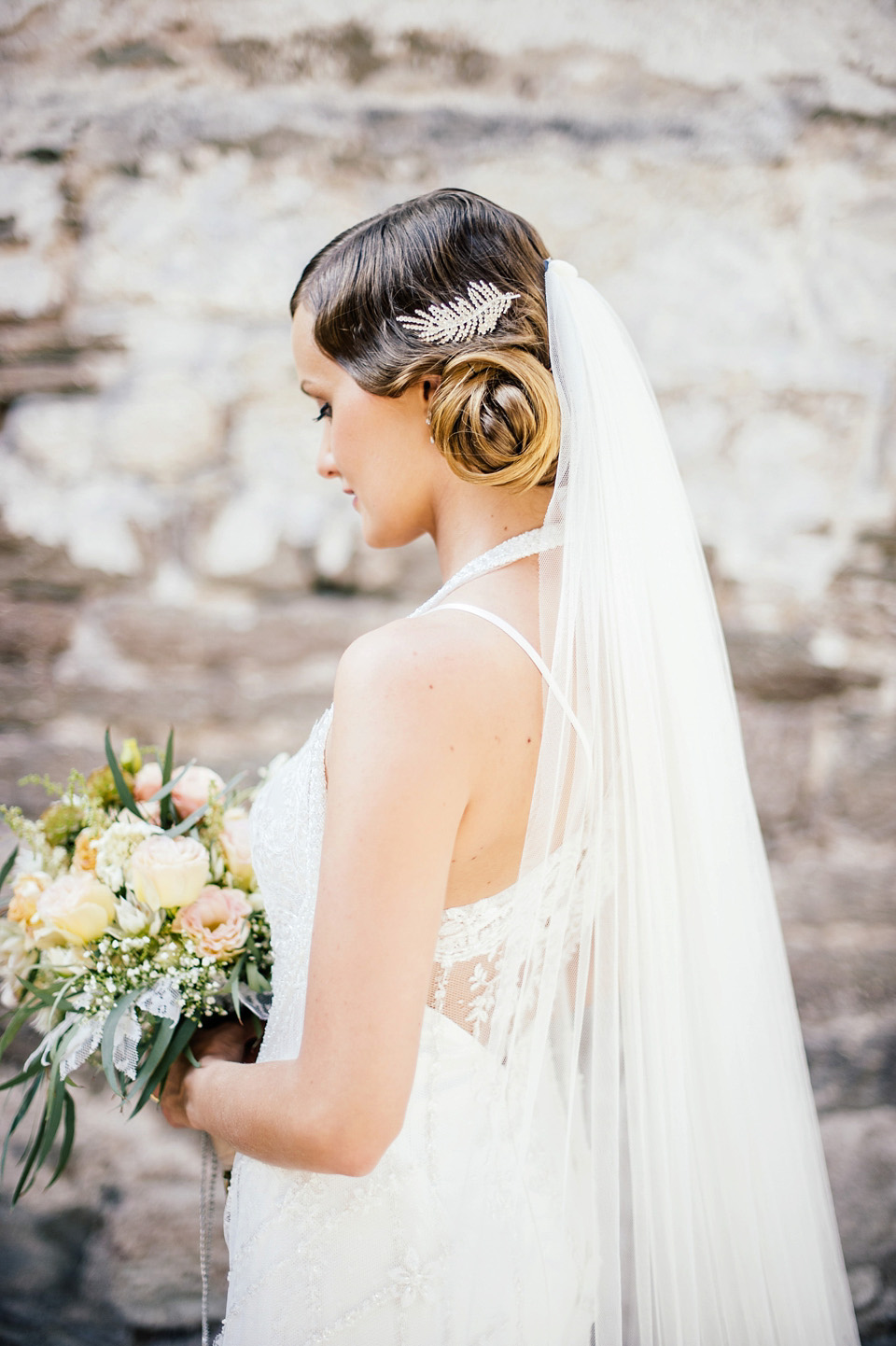 These images from Die Hochzeitsfotografen are truly stunning, they tell the story of Evelyn and Giuseppe day beautifully. They really captured the glamour of the day and the love this gorgeous pair share.
"For our photographers we did not have to look far. We knew immediately that it should be Die Hochzeitsfotografen – Angelika + Artur. We love their style and the naturalness in their pictures. Both are so professional and cater to every need. We got good advice and had a lot of fun with them."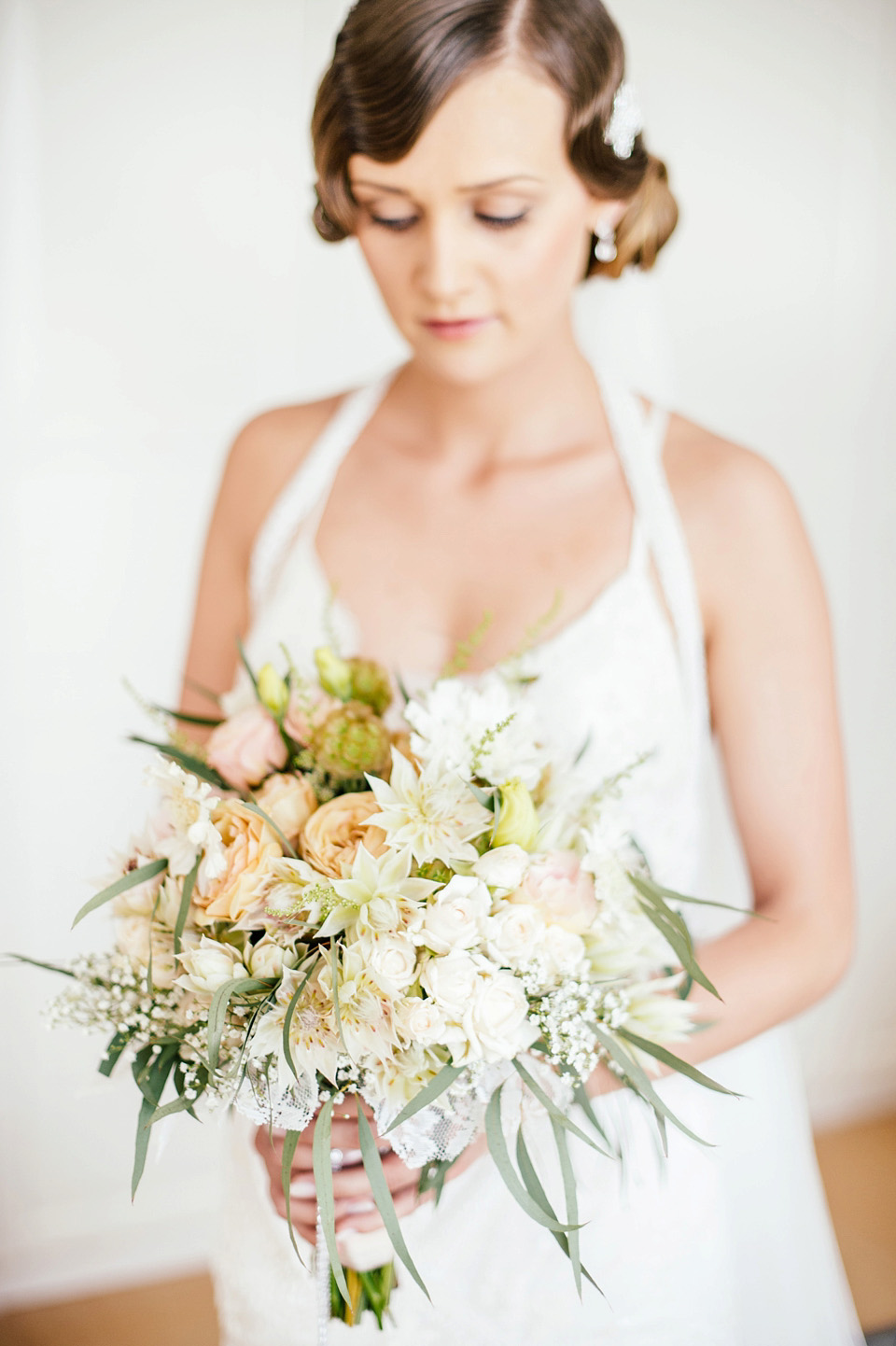 Evelyn went for the less is more approach with her jewellery, as her dress was so stunning she didn't want to take anything away from it. Evelyn tells us how even the perfume she loves fit perfectly into the theme of the day.
"I chose Coco Chanel, I like this scent very much. I was impressed that even my chosen perfume fits into this time."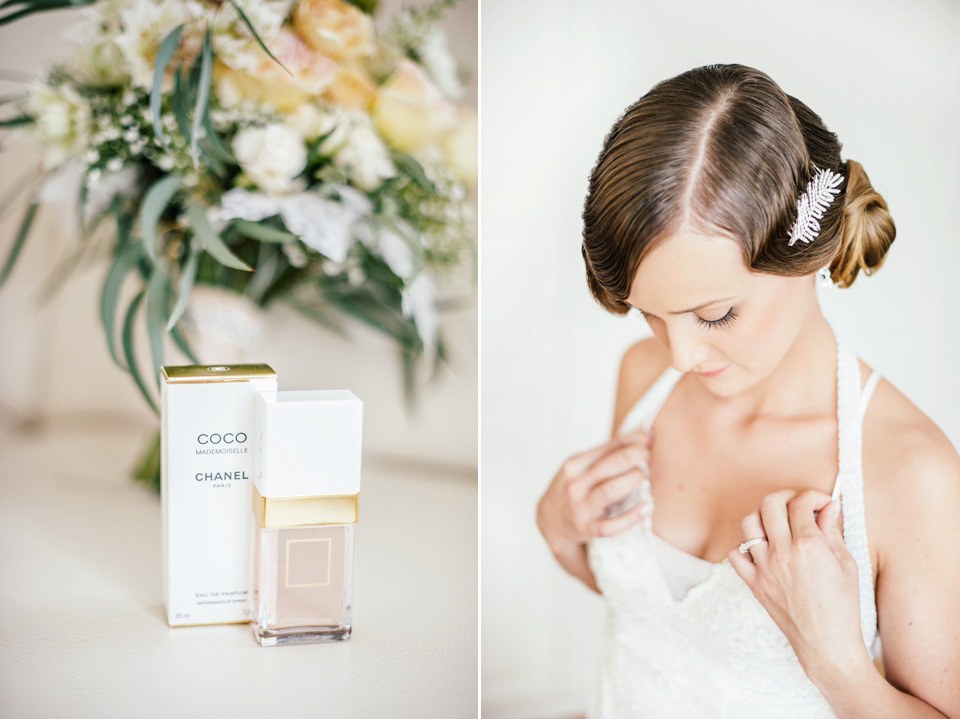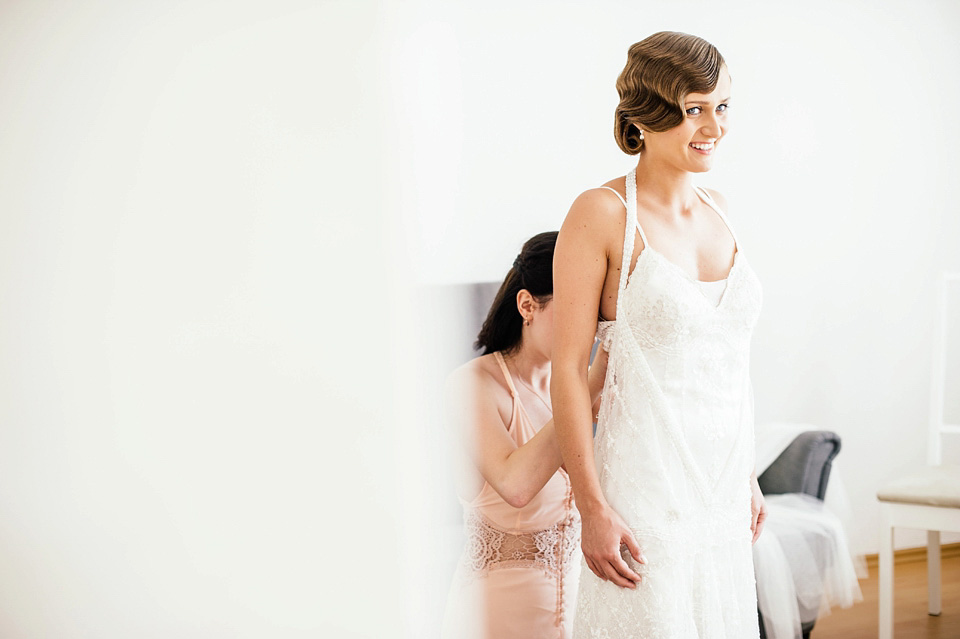 A touch of sparkle makes every wedding day that little bit more exciting doesn't it ladies? Well this lovely wedding is no exception. Evelyn chose a stunning pair of glittery silver Ivanka Trump shoes to finish off her glamorous look.
Giuseppe looked very handsome in his Huge Boss tuxedo that complimented his Bride wonderfully. To finish of his look Giuseppe wore black patent shoes, a bow tie and braces.
"Giuseppe worked in a bar as a bartender where we met for the first time. I was a guest and we fell in love. Unexpectedly at home Giuseppe got down on one knee and proposed. We were engaged two years before we got married."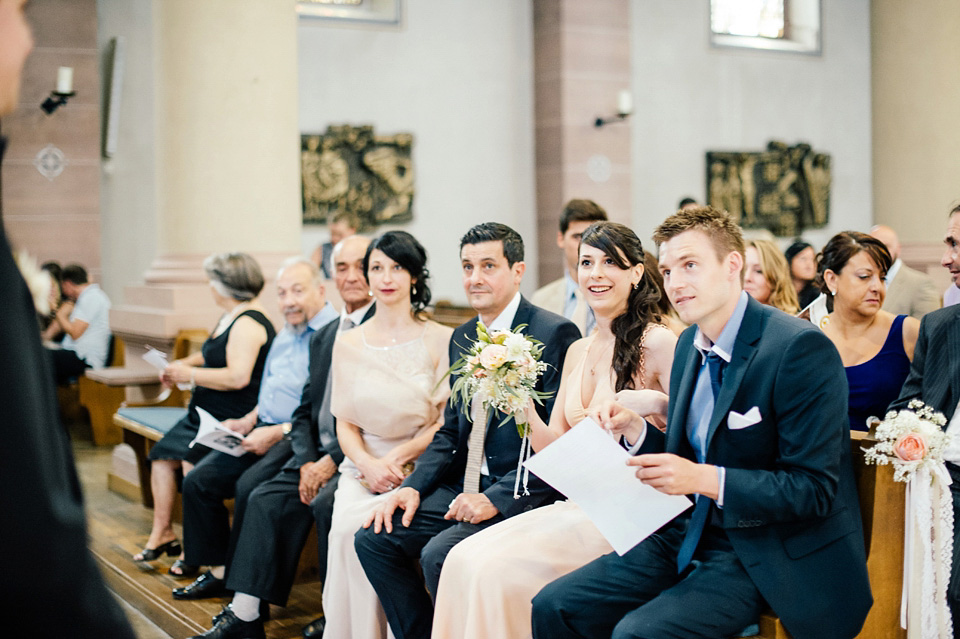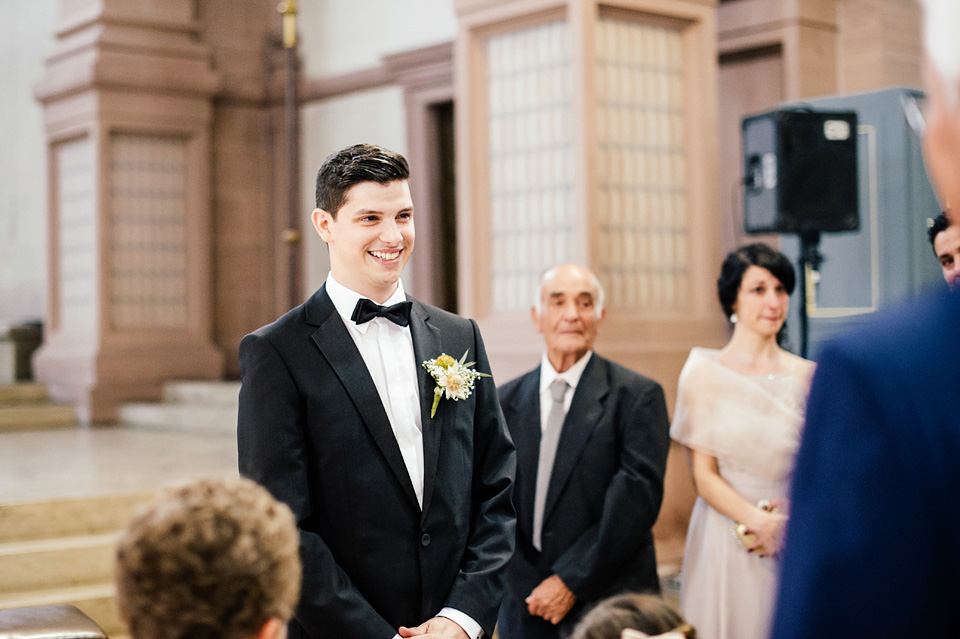 I'm in love, what a wonderful bouquet. Flowers for me really add that wow factor to any wedding day.
"I was thrilled when I saw my bouquet by Still-leben and the great arrangements of flowers. I had a loosely tied bouquet with less flowers."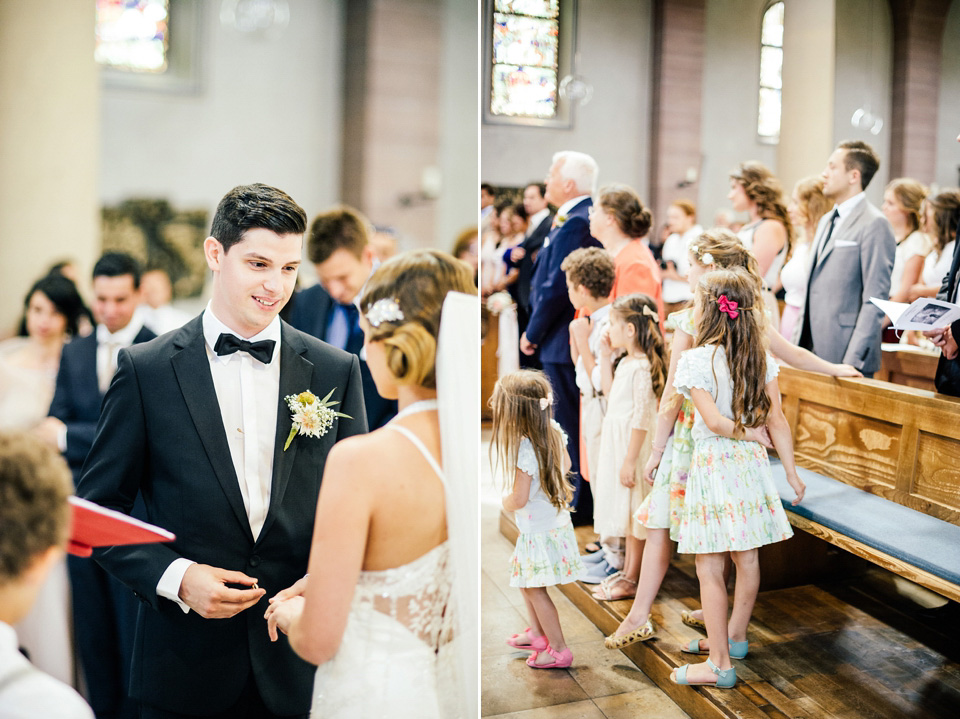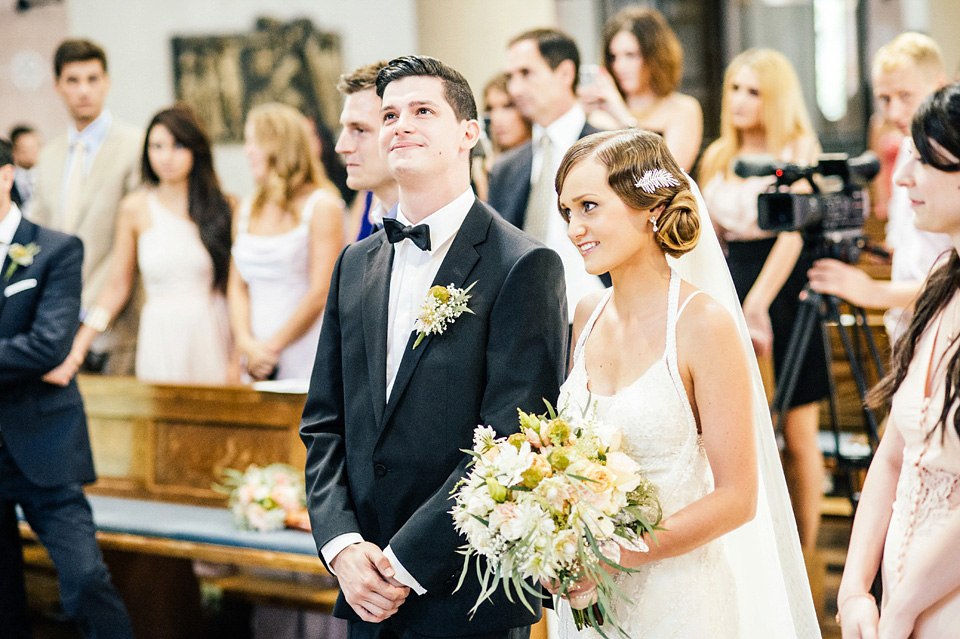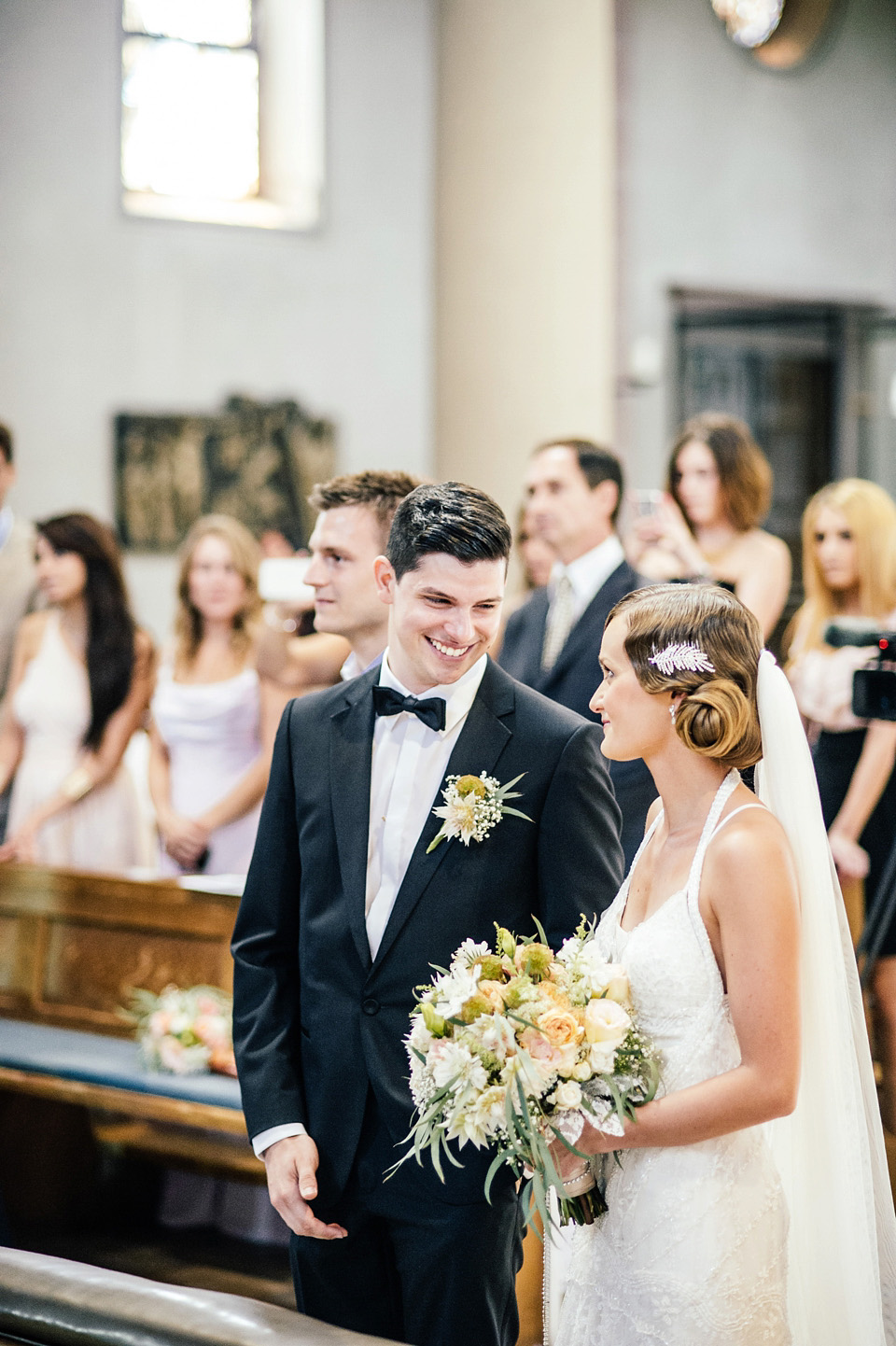 "We chose Steinbachhof, Vaihingen as our venue as it is near our residence. It is idyllically situated in the countryside and has a special flair through the vineyards. We felt very comfortable here. Especially the children, they had their fun outdoors.
Because it was a traditional mix with modern barn we had less decoration. We only hung huge pompoms at the pier."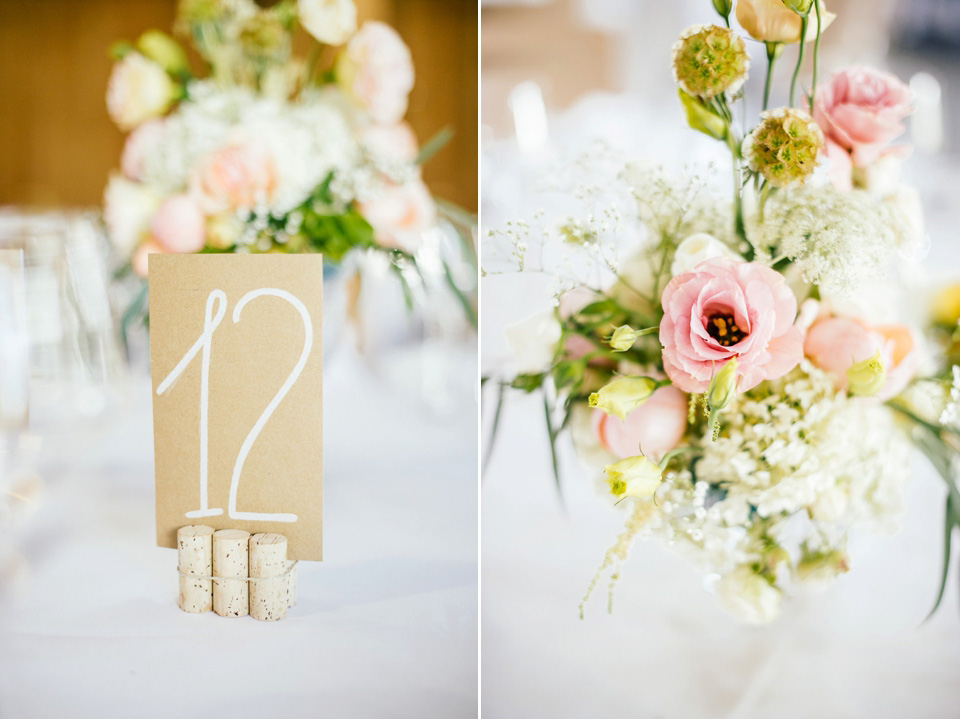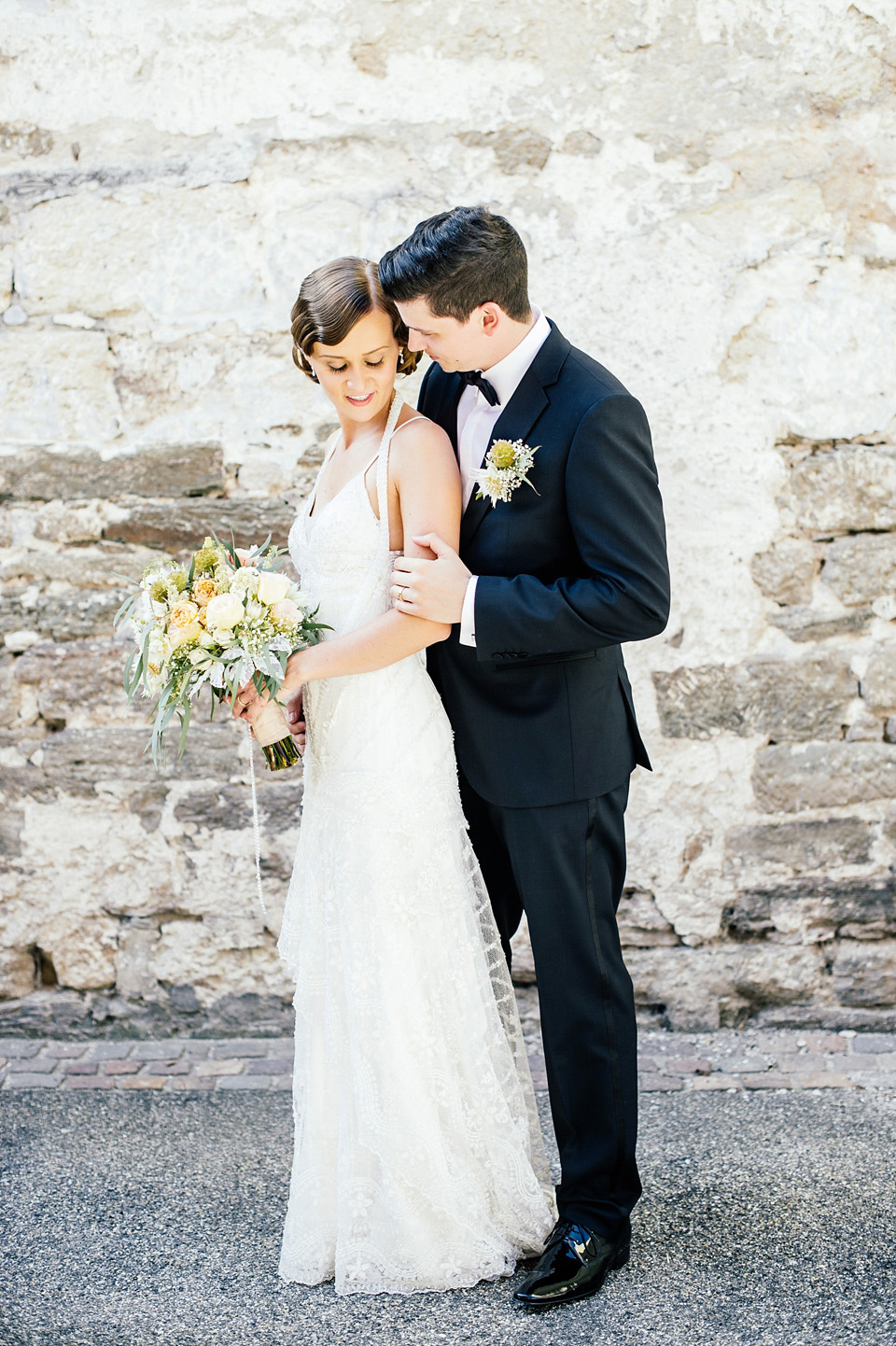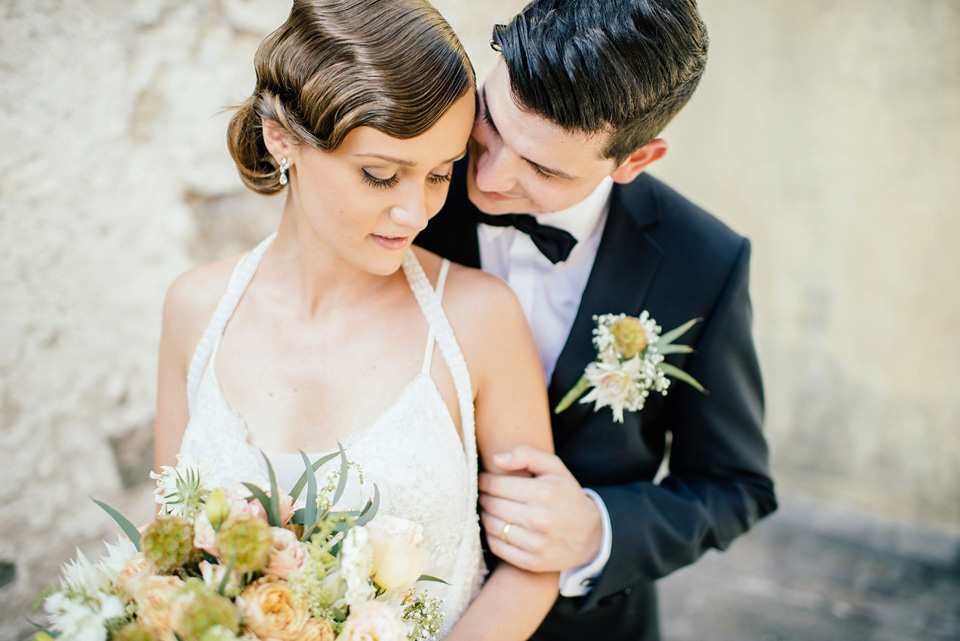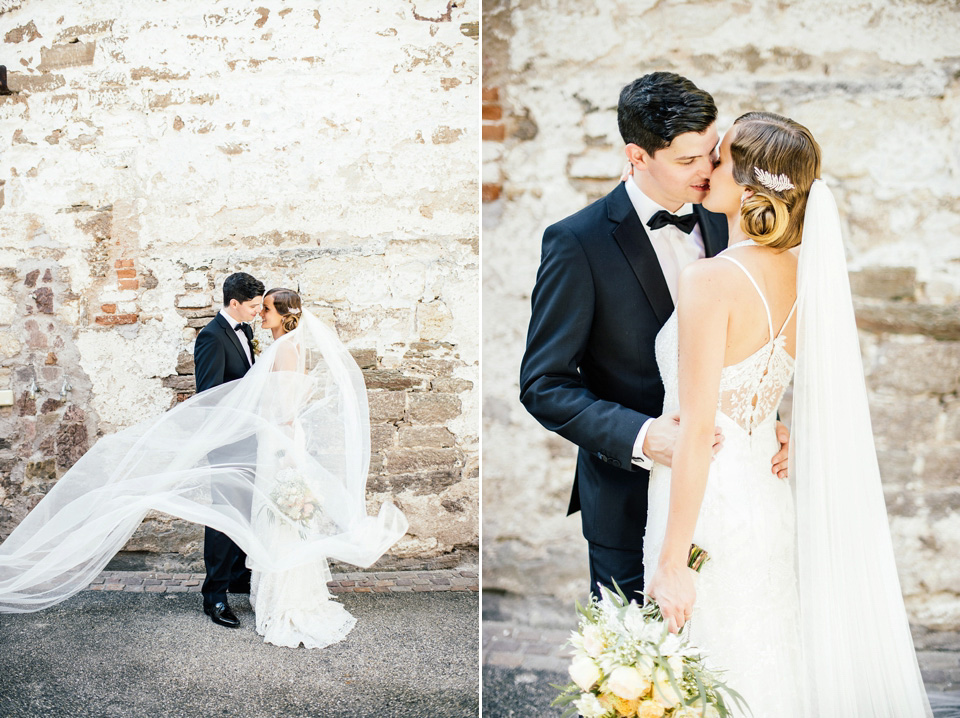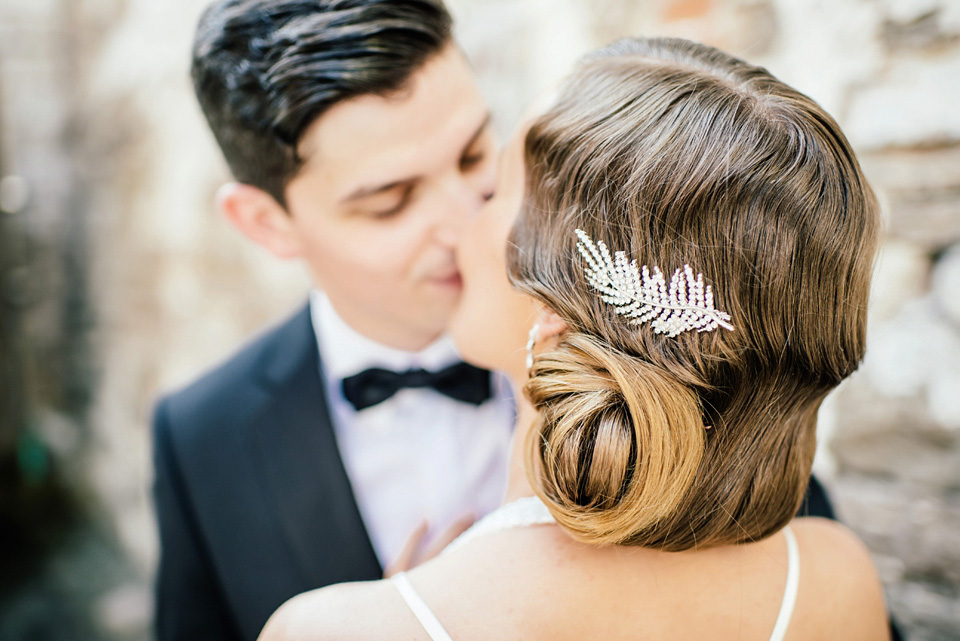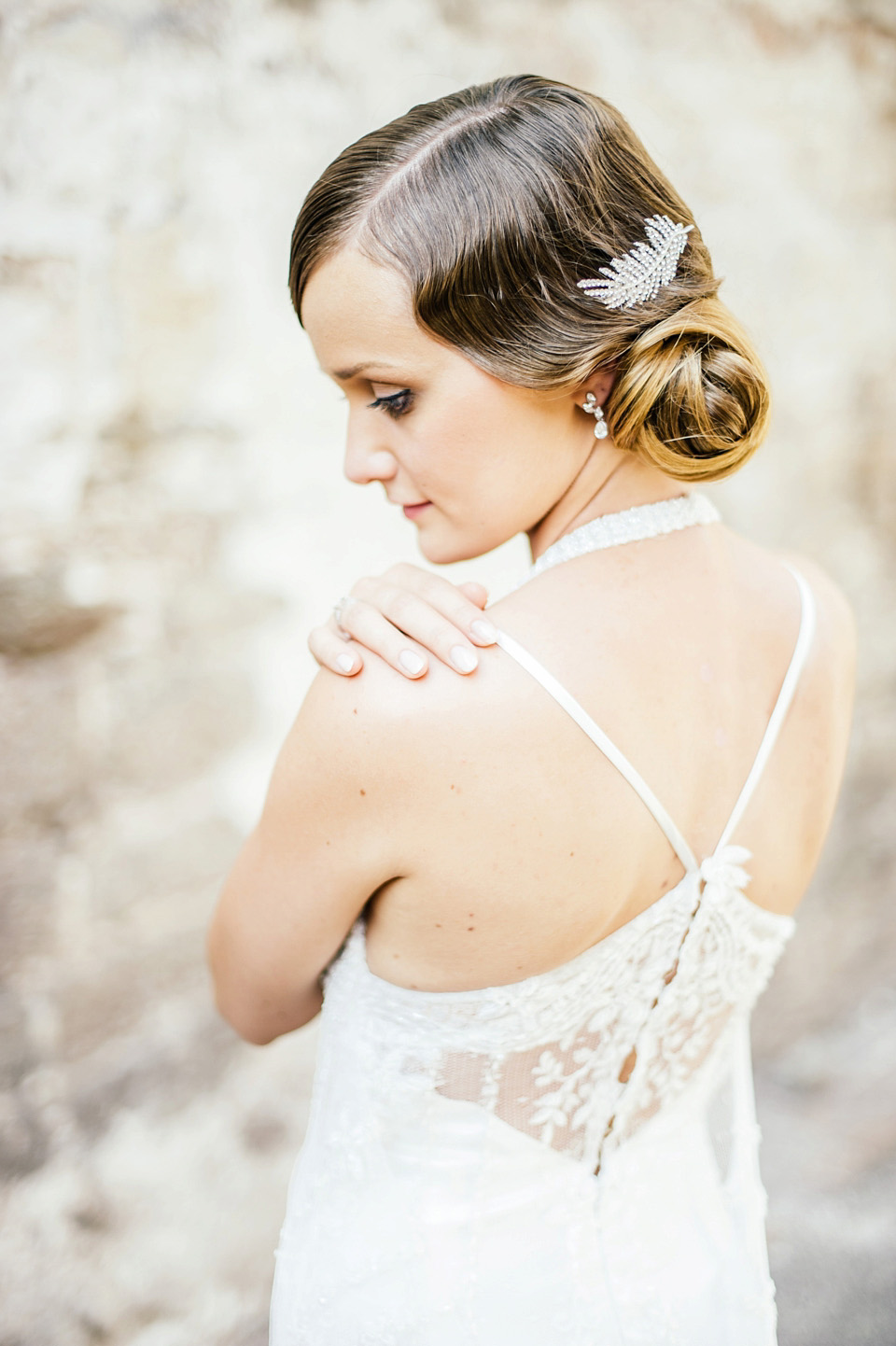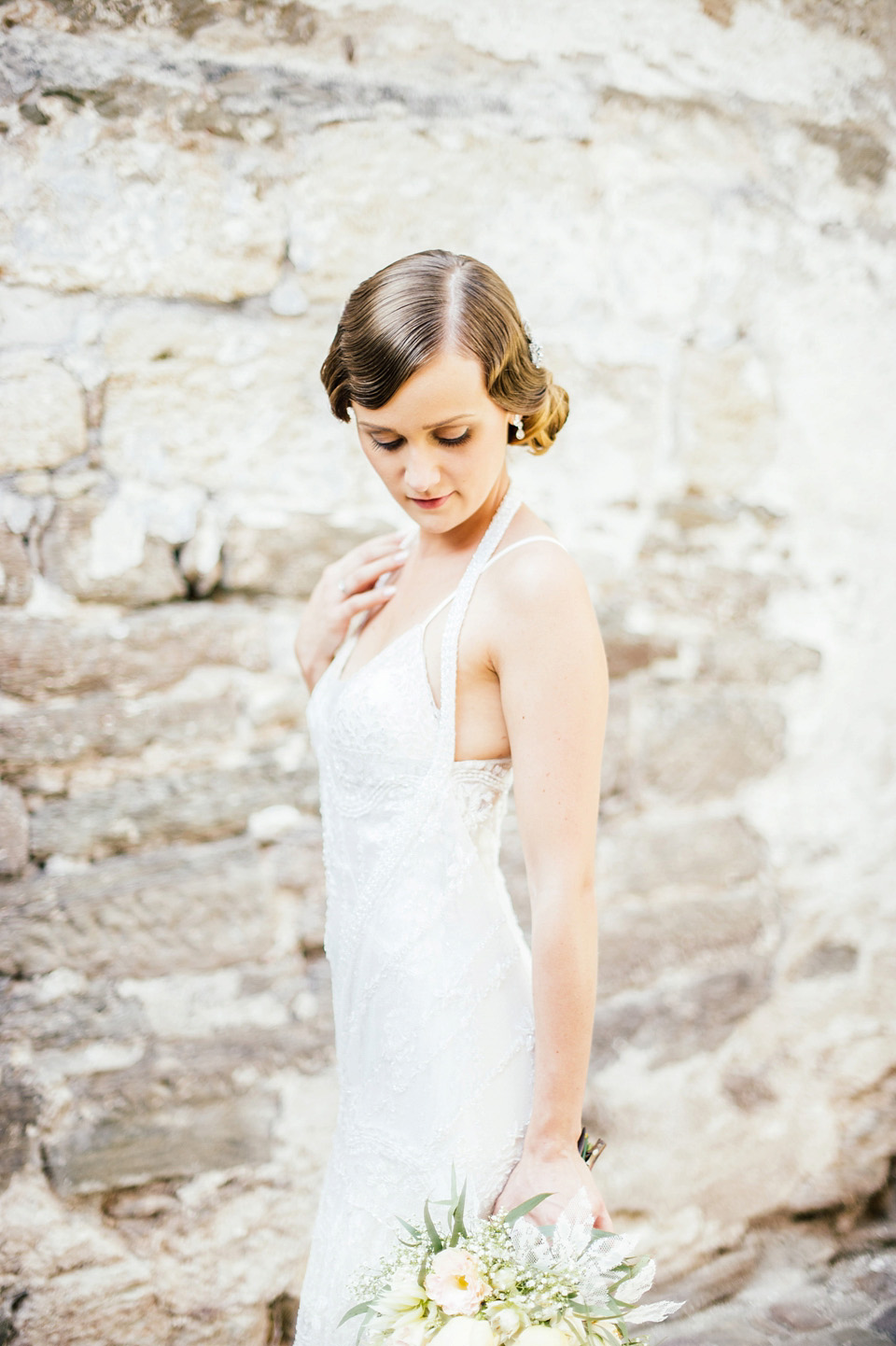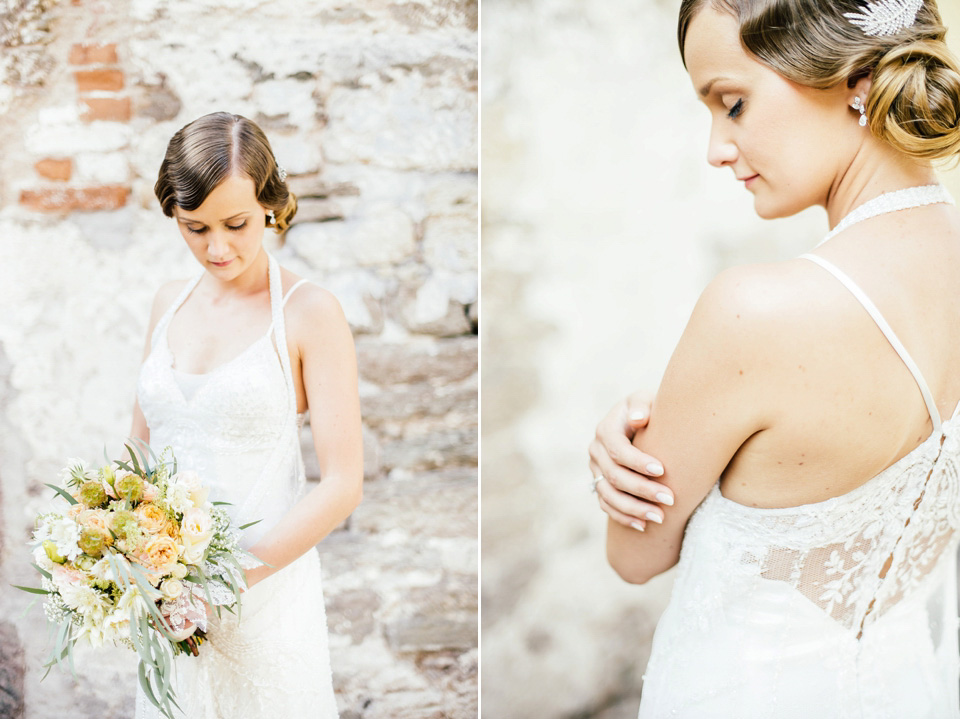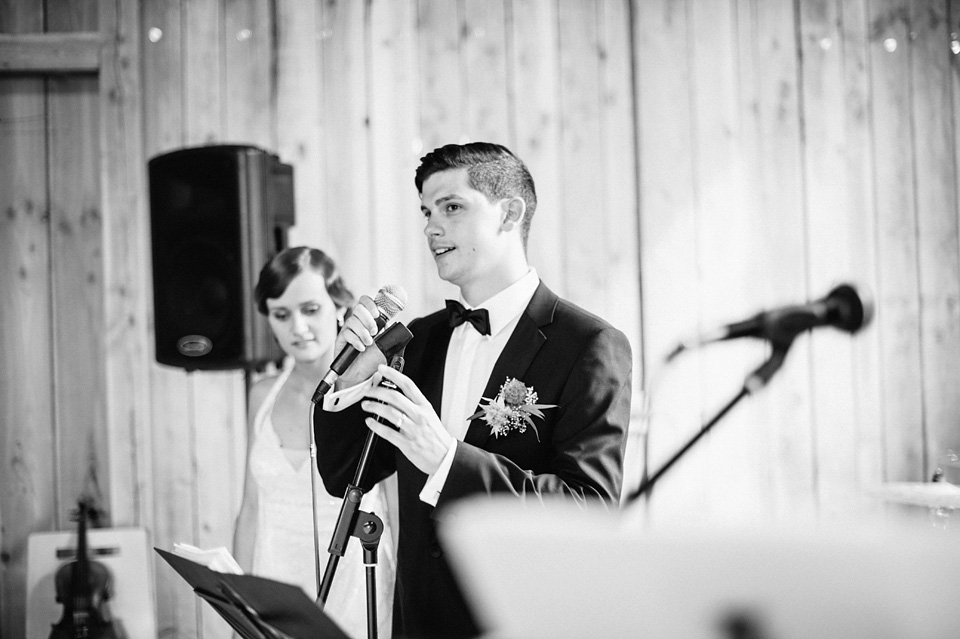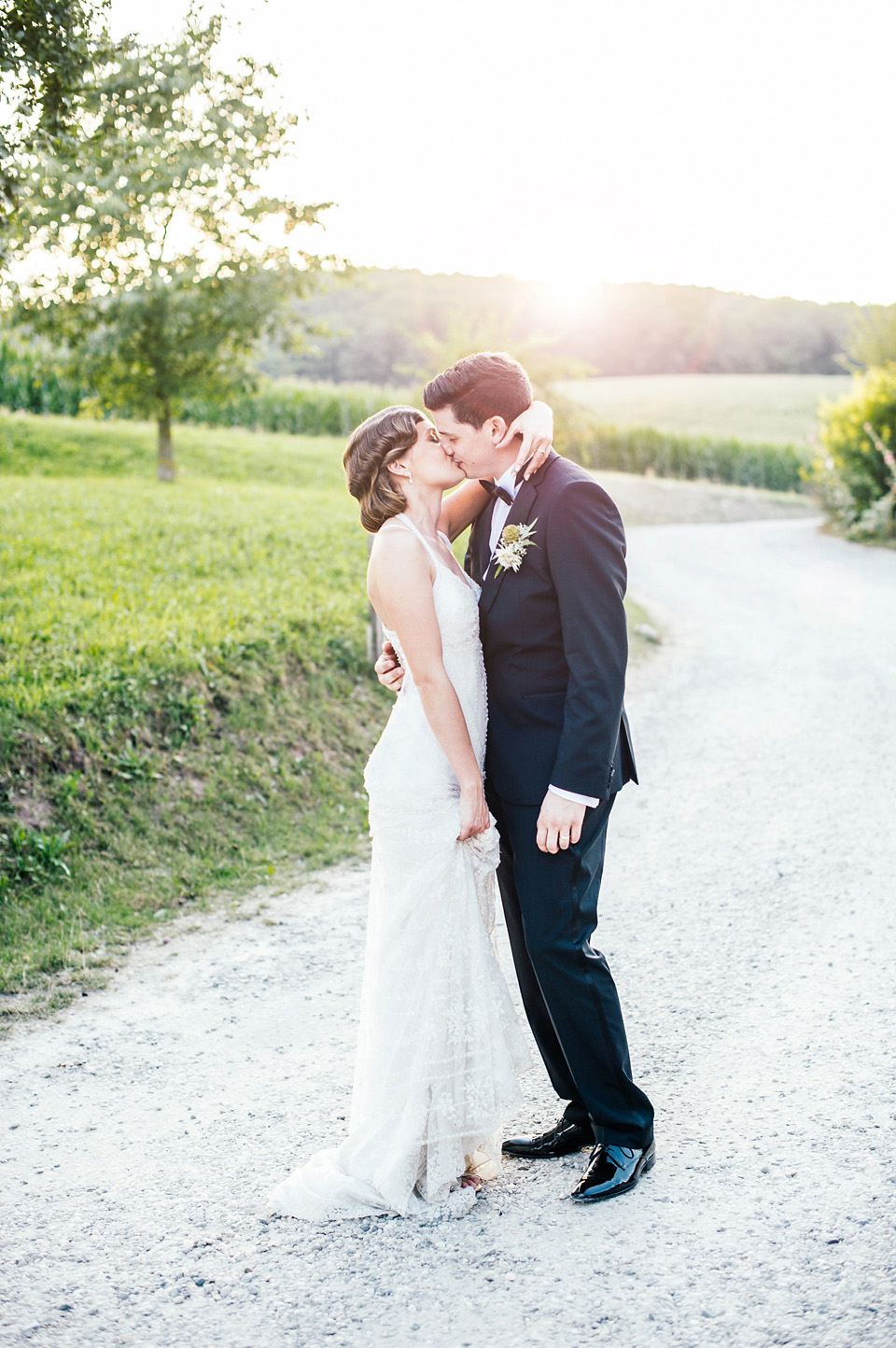 Music really helps to set the tone on your wedding day and can transport you and your guests to a bygone era. For their first dance Evelyn and Giuseppe chose a Russian waltz 'Gramofon' by Eugen Doga. They also received a surprise from Giuseppe's Family, which was an Italian folk dance group. It looked like a lot of fun!
"Live music was important for me because I am a musician myself. Similar music from the 20's was played by Rhythm and Tunes – Jazz, Charleston and Swing."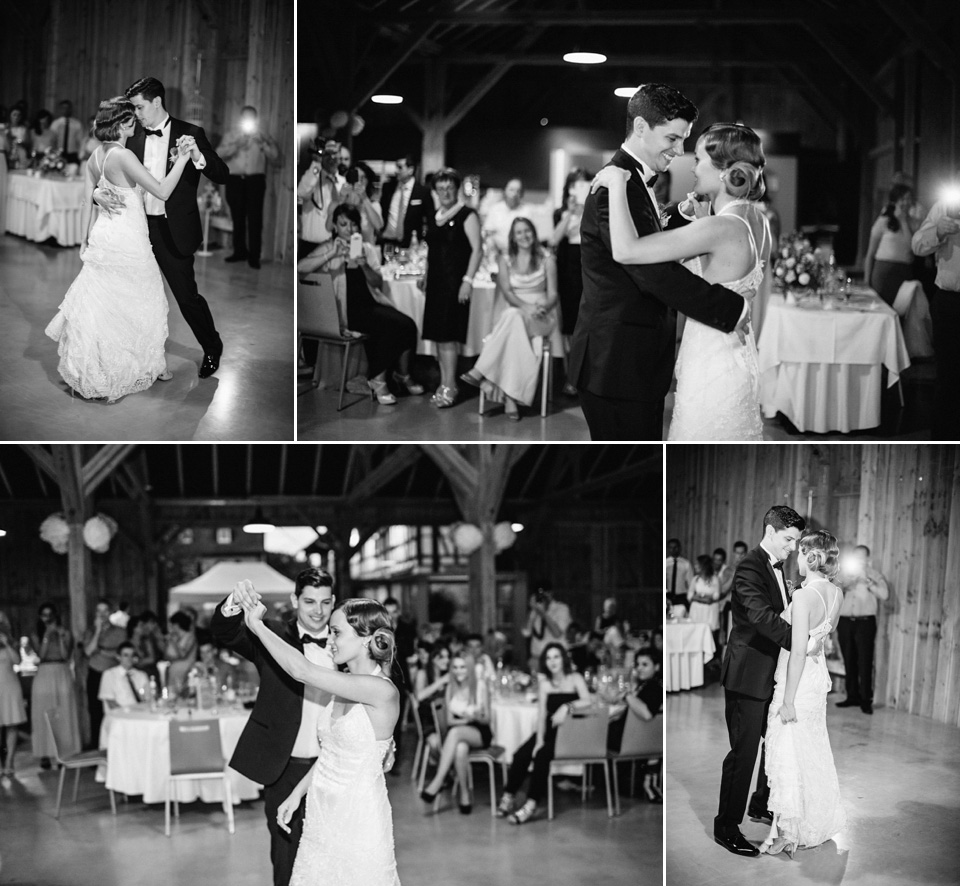 Words of Wedded Wisdom…
"My biggest advice – Take enough time for the planning stage!"
This is Love My Dress style elegance personified – glamorous through and through.  Our love and congratulations to Evelyn and Giuseppe, and a huge thank you to Die Hochzeitsfotografen – Angelika + Artur for sharing Evelyn and Giuseppe story through their beautiful images.
If you adore the 1920s style, you can explore many more exquisitely styled 1920s weddings here.
Enjoy the rest of your day everyone,
Love Christina x
Photographer – Die Hochzeitsfotografen
Venue  – Steinbachhof, Vaihingen
Wedding Dress – YolanCris from Da Vinci
Shoes – Ivanka Trump
Bride's Scent/perfume –  Coco Chanel
Groom – Hugo Boss
Florist – Still-leben
Cake – Tortenschneiderei
Entertainment – Rhythm and Tunes
Rings – PM Design
Catering – Adler Am Sschloss
Stationery – The Bride
Hair and Make-Up – The Brides Friend