Happy Wednesday, I hope the week is treating you well so far! With the week rushing by, what better way to take some time out than by grabbing your beverage of choice and poring over the amazing images on our wedding blog today that have been captured by Solen Photography. The couple in the spotlight today are the lovely Cheryl and Scott. College sweethearts, they had been together 11 years before they tied the knot in a humanist ceremony at Seton Collegiate Church in East Lothian, Scotland on May 2nd, 2015.
Some of you may remember that a few weeks back Annabel shared this image of a bride who asked her grandmother to be her bridesmaid. Today's groom asked his Grandad to be his best man, it's such a lovely thing to include older members of the family in special roles! Cheryl and Scott's day is filled with love and laughter with a good dose of style (check out Cheryl's handmade net veil) and some really cool DIY, just the kind of wedding we love here at Love my Dress.
Photography by Solen Photography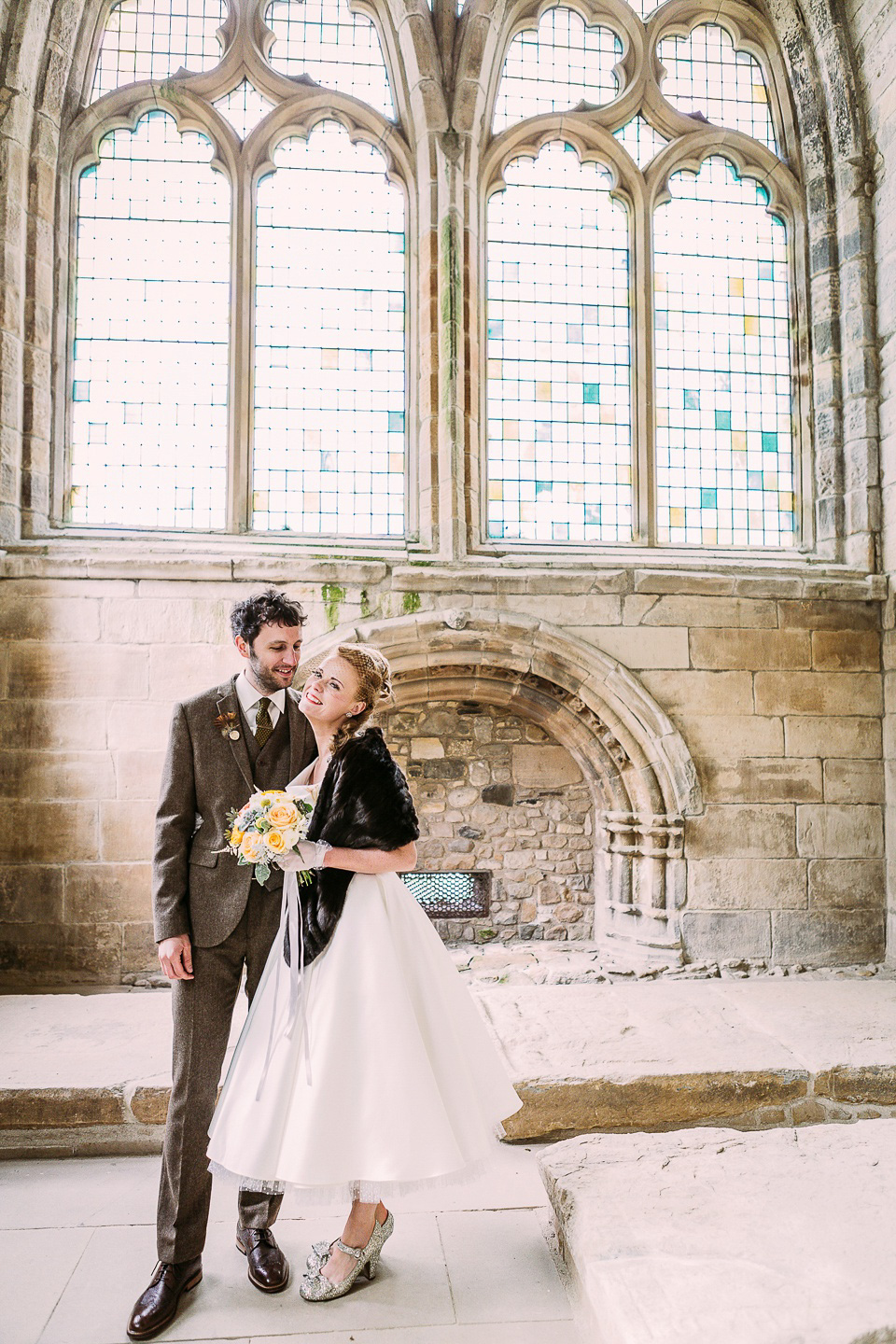 "We both like an eclectic mix of colours. We decided mustard would be a good colour to incorporate into the wedding. It ended up being the colour of the bridesmaid dresses but we didn't have a colour scheme or style in mind, instead just mish-mashing things together. We loved both venues, they were local and we were delighted we could have a humanist ceremony in a church."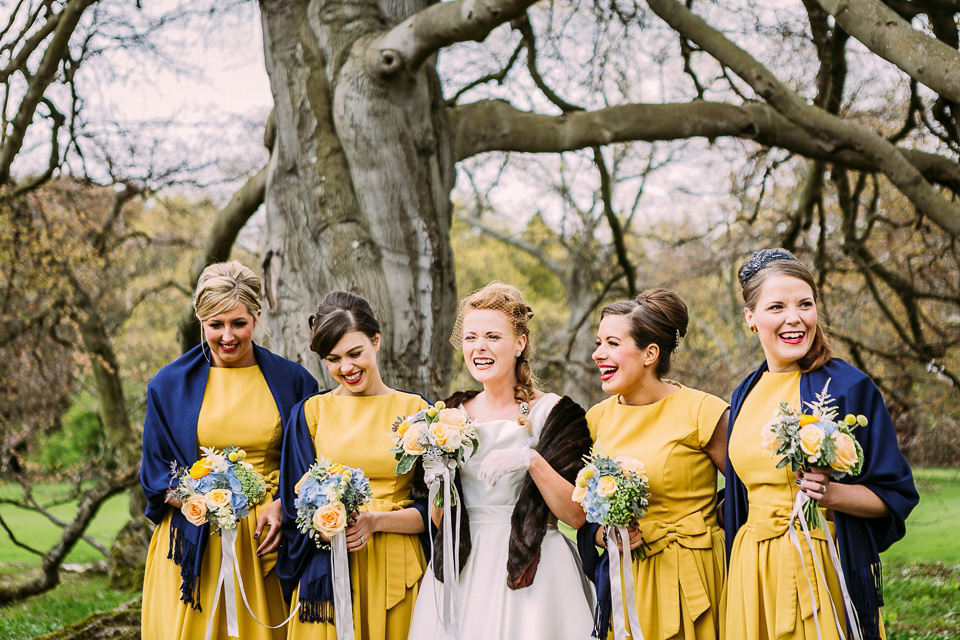 Cheryl's amazing dress was designed by Lou Lou Bridal. With just a few changes, courtesy of old school friend Emily, it was transformed into the dress Cheryl had envisioned at the beginning of her dress search.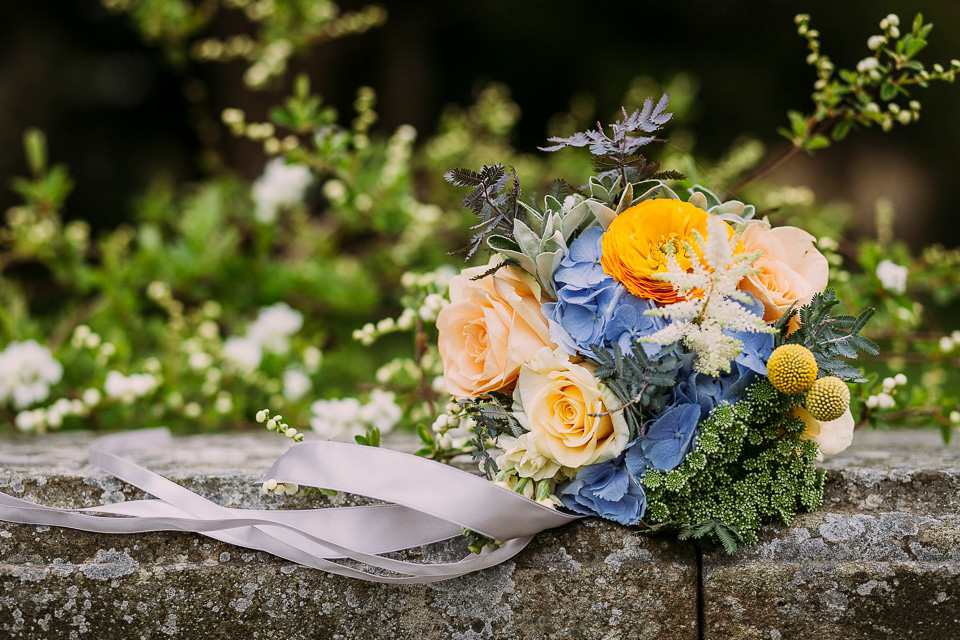 I absolutely love the brown birdcage veil and faux fur stole that accessorised the gown, not to mention those gorgeous sparkly Red or Dead shoes! The final detail was an antique brooch bought at a flea market in Leith, used as a clasp in her hair.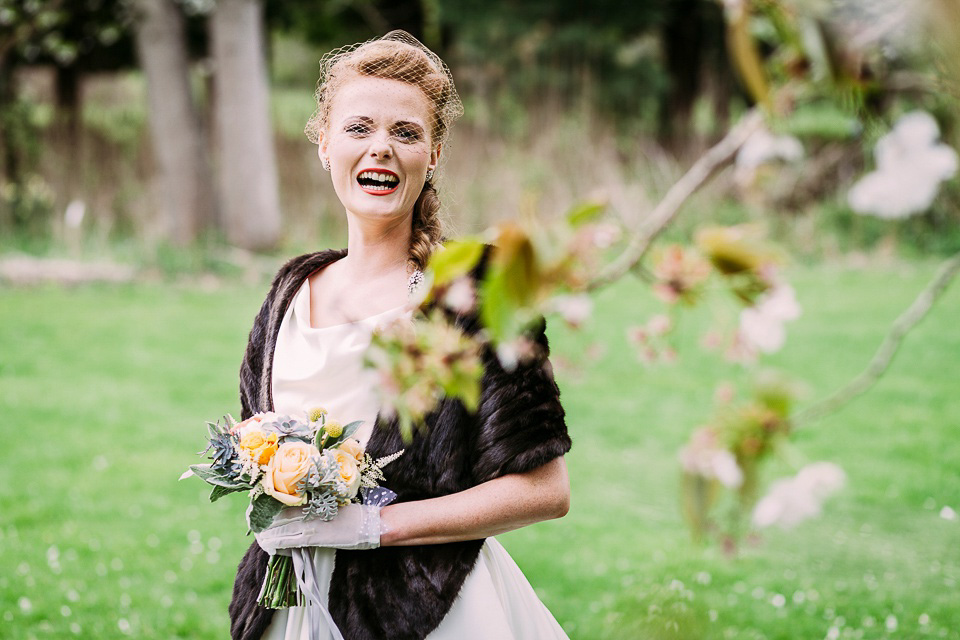 The couple got the wonderful Solen Photography to capture the splendid images lighting up your screen and they could not have been happier with the outcome.
"Solen was amazing, we did a pre wedding shoot as Scott and I don't like getting our pictures taken. This really helped, Solen makes you feel so comfortable and we got some lovely photos too. We were overwhelmed with the amount of shots Solen captured throughout the day, she missed nothing and caught lots of happy moments and all the finer details too. We wanted our photos to be relaxed and natural and this is exactly what we got. I would highly recommend Solen to anyone, she is such a lovely, genuine and talented lady."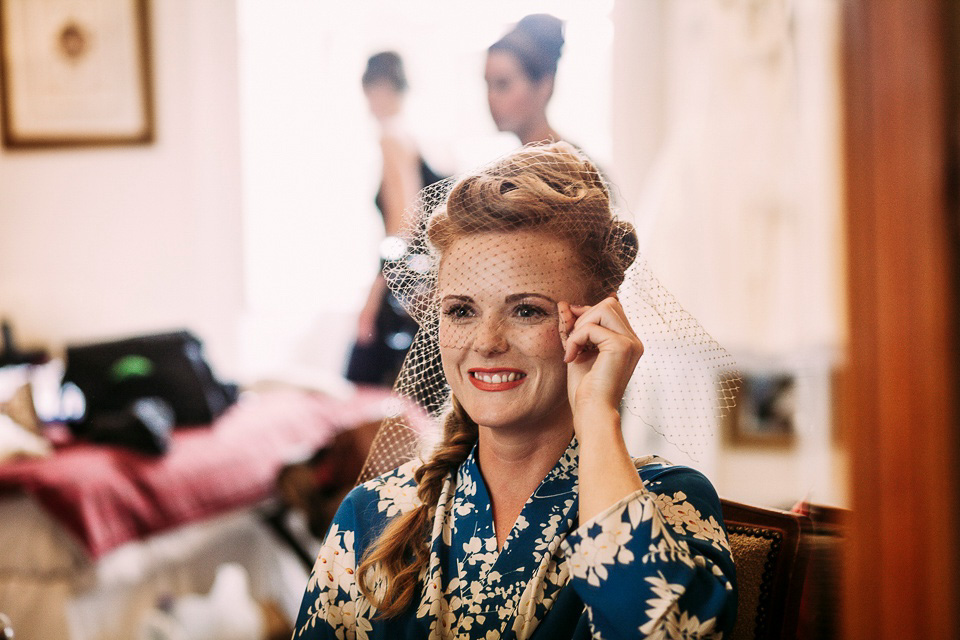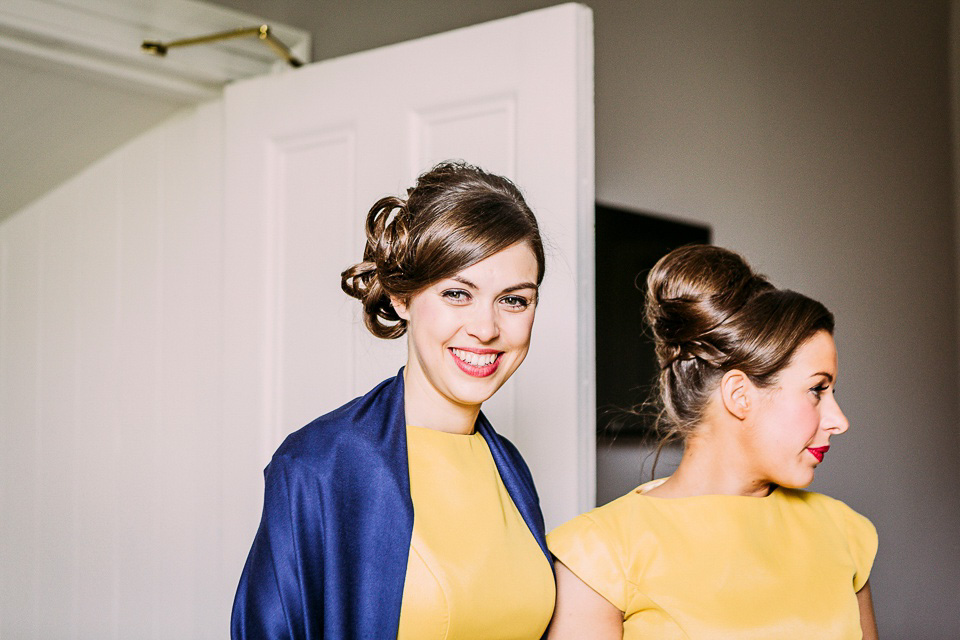 I adore when bridesmaids wear a pop of colour. The mustard yellow and navy combination is perfect for springtime and with a slight 50s nod, the bridal party compliment the bride and groom beautifully.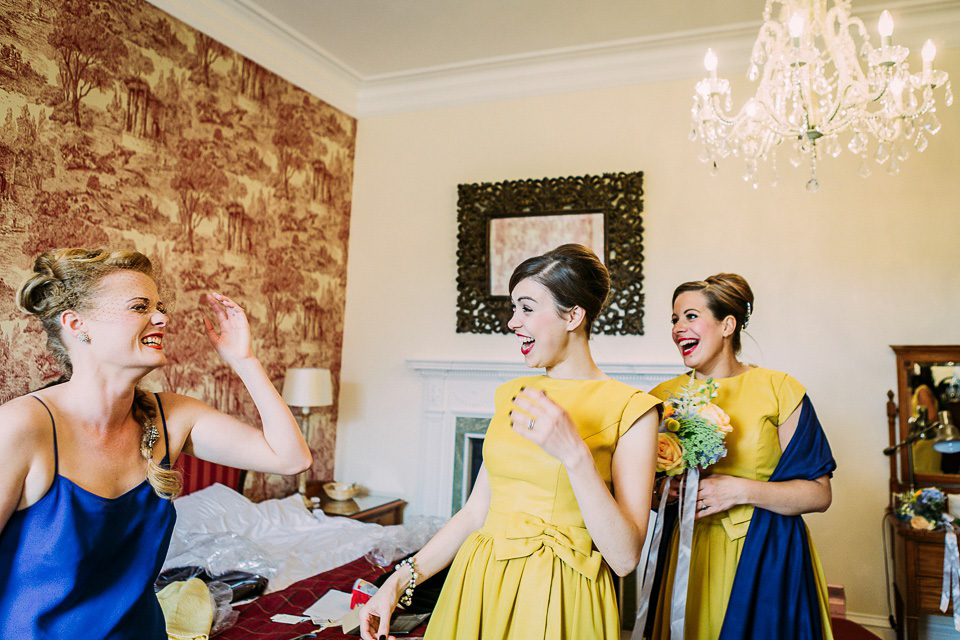 "Choosing the right dress was the hardest part for me. I loved the fit of my dress and the satin fabric, the style was very classic and most of all comfortable. I felt it need a few tweaks though so Emily cut the dress from ballerina to tea length, cut pockets in, made a polka dot underskirt and added a bow and buttons down the back. It looked like a completely different dress but it was perfect for me in the end."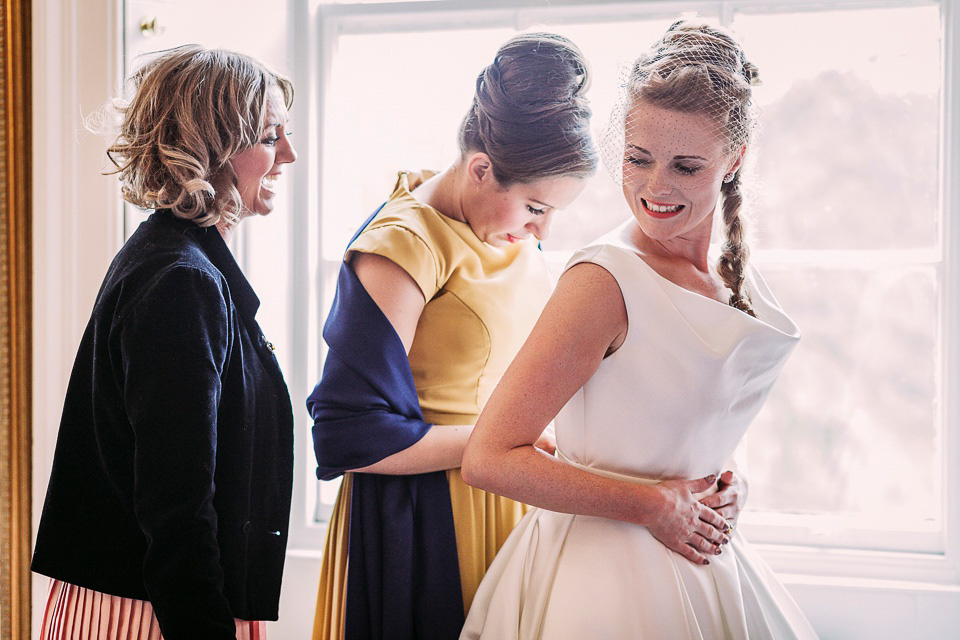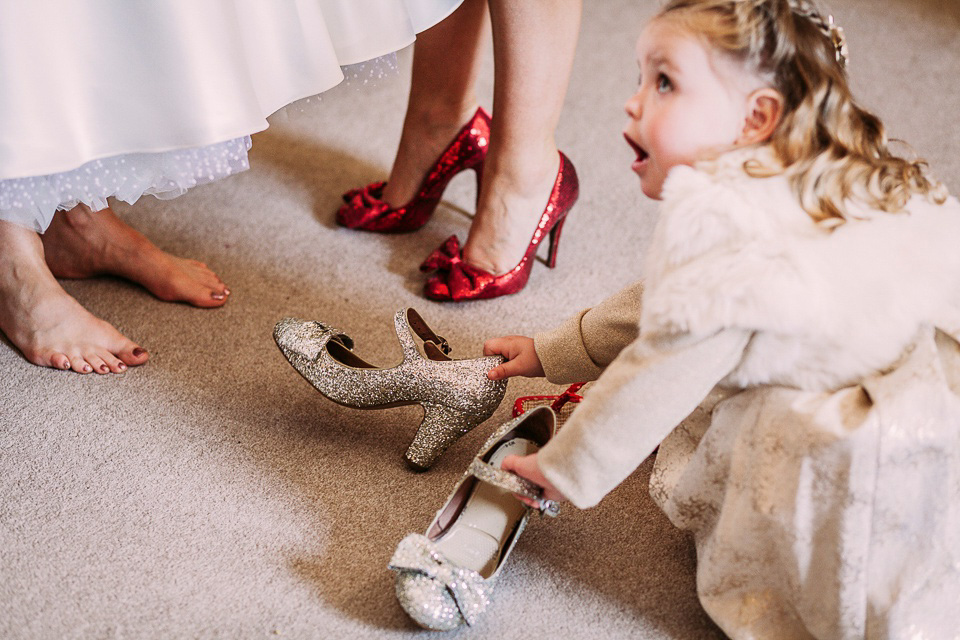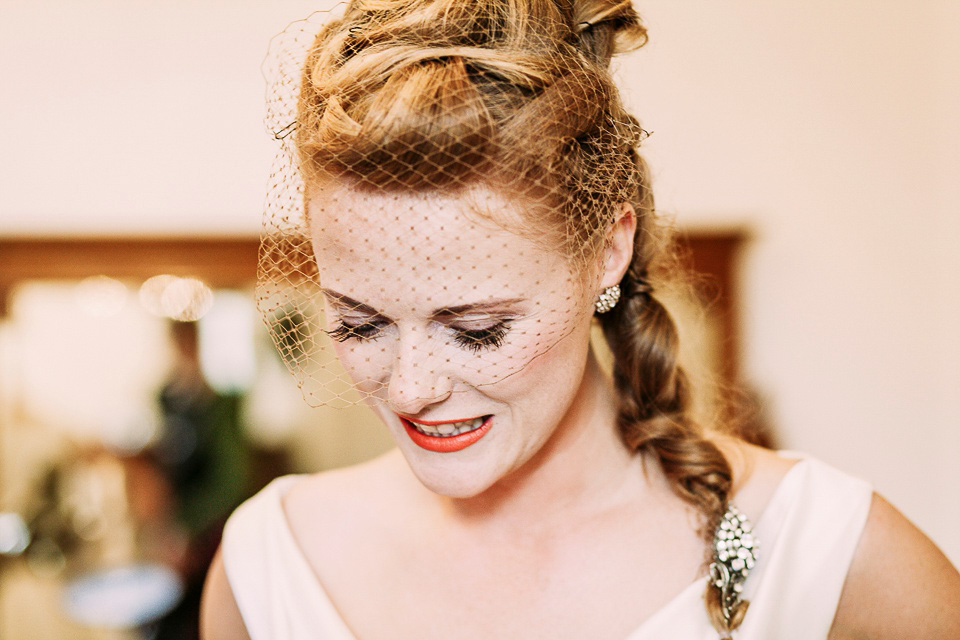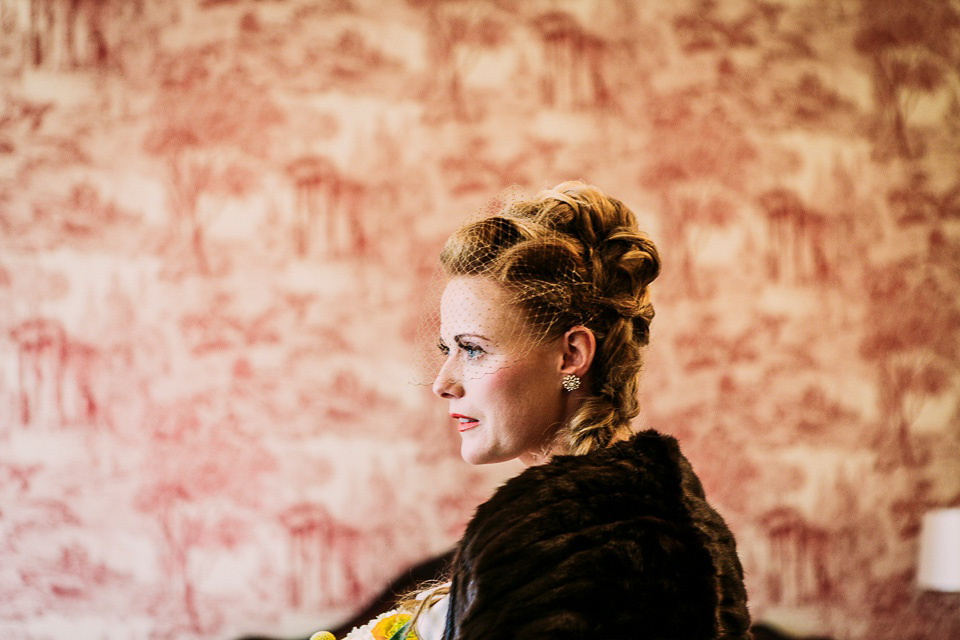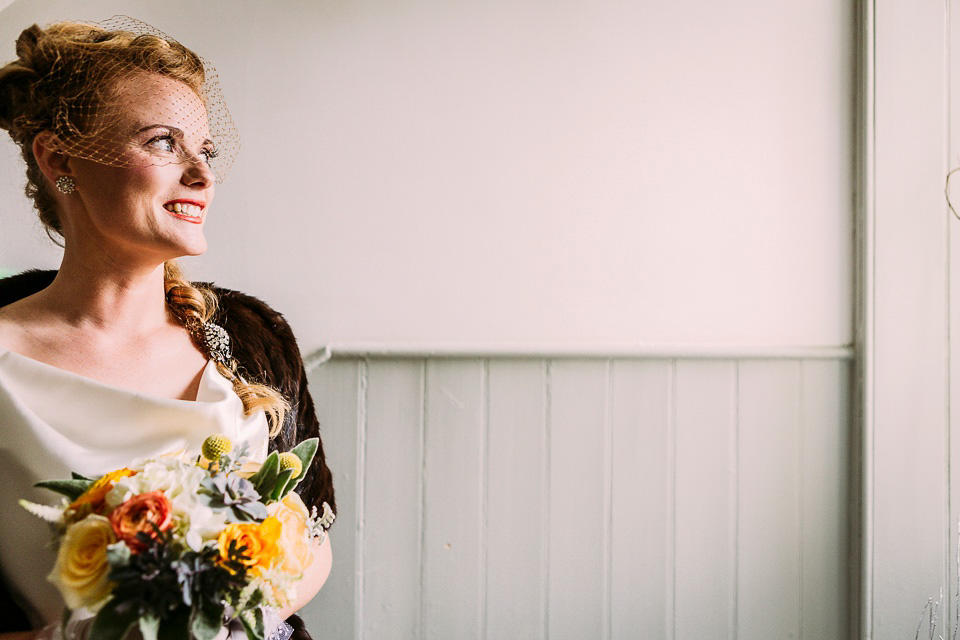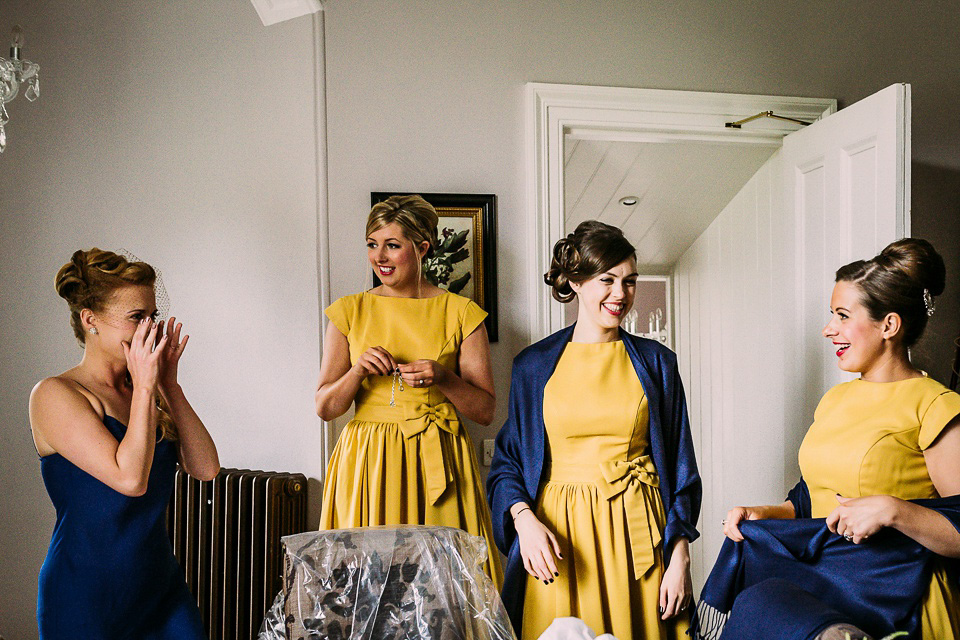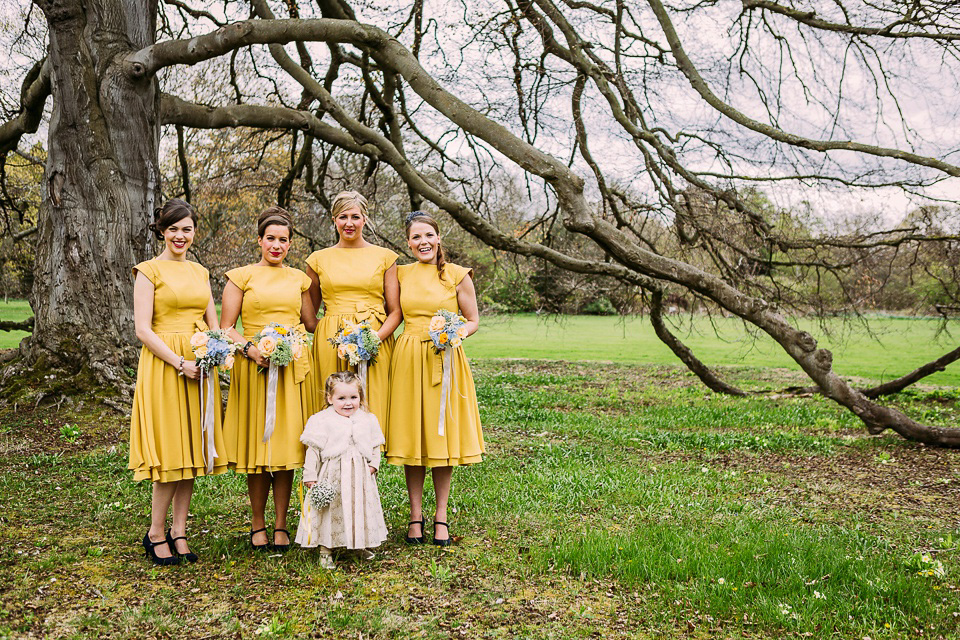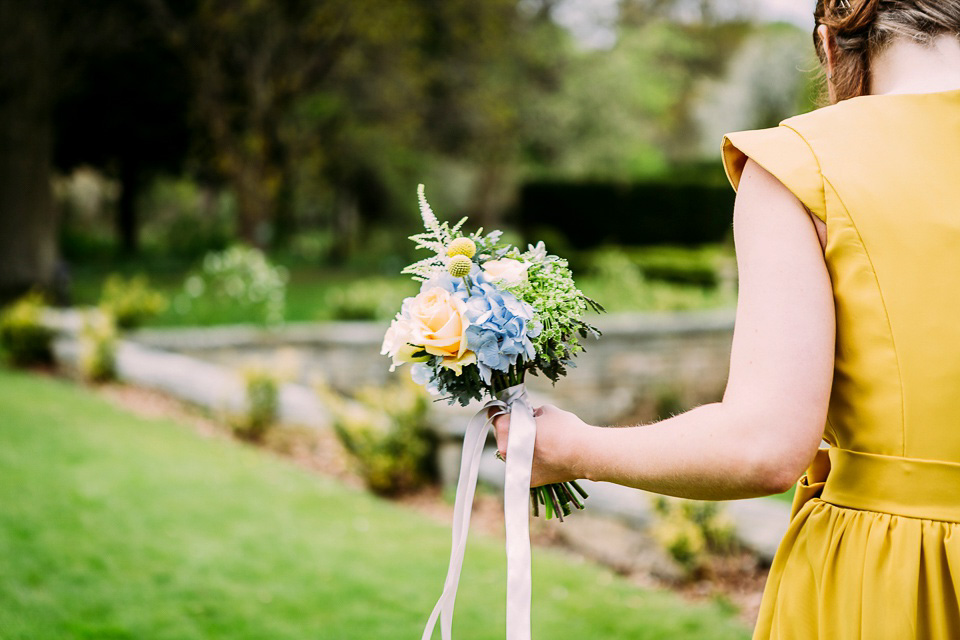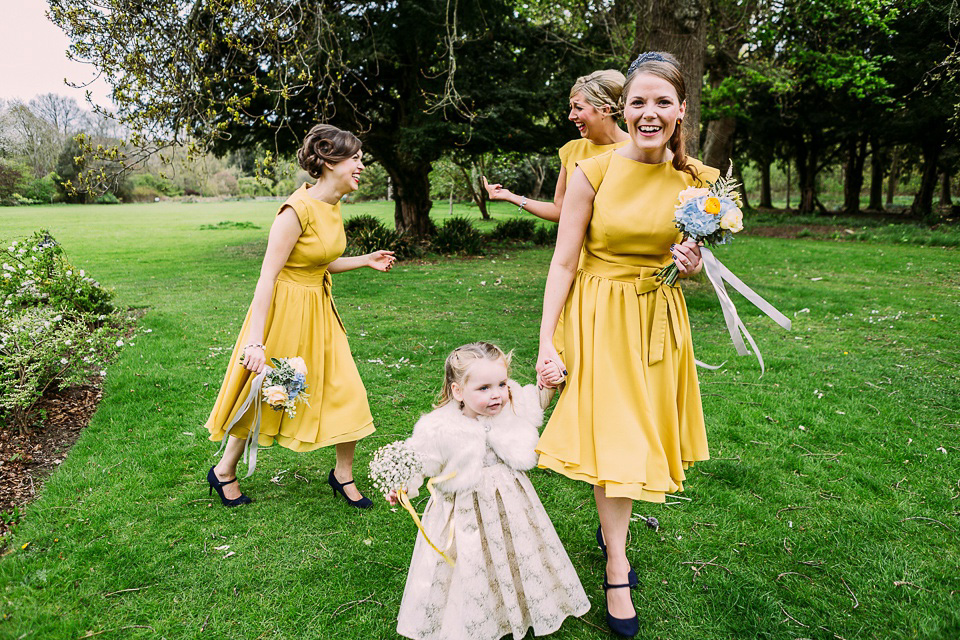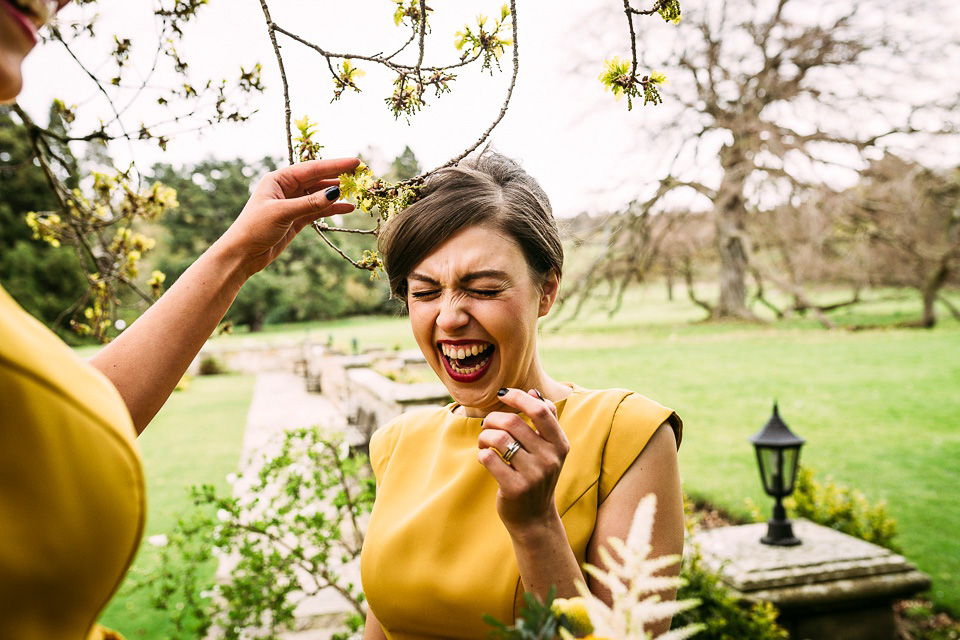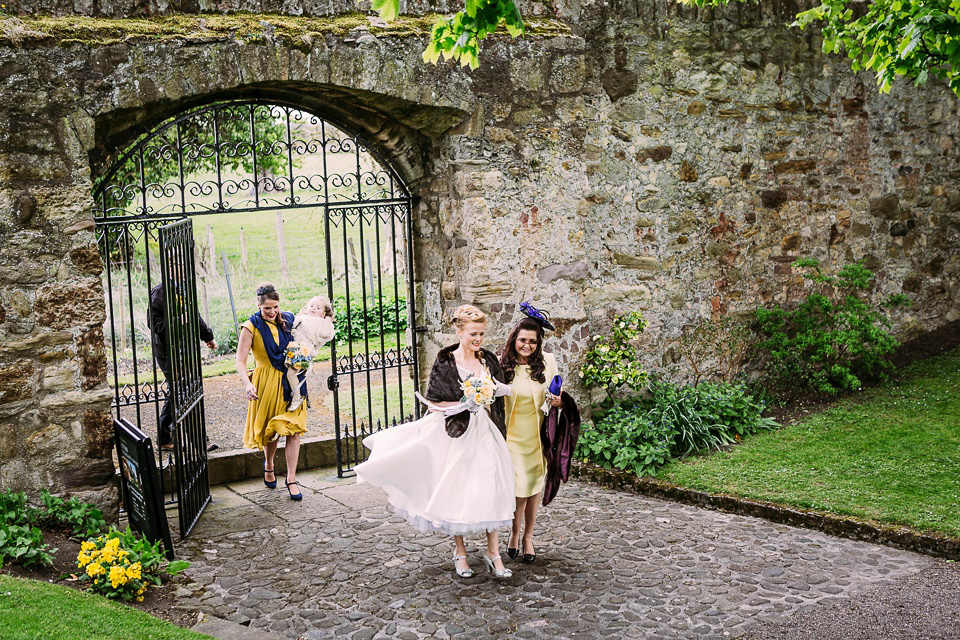 Scott proposed in 2013 while they were out walking their dogs so it was fitting that friend and artist Lynsey Jean Henderson painted an image of the bride and groom's dog Ruby, to be used as the cover image of the wedding invites and stationery.
"Walking into the church with my mum Jean, just before getting married was one of my favourite moments, it's so lovely having all your friends and family together in one place. We chose the instrumental version of 'Bitter Sweet Symphony' by The Verve as our processional song, they are a band we listened to a lot growing up together. Our vows were about us being friends and being there for one another, sharing the story of how we met and our engagement. We also drank from a Quaich to symbolise our two families coming together."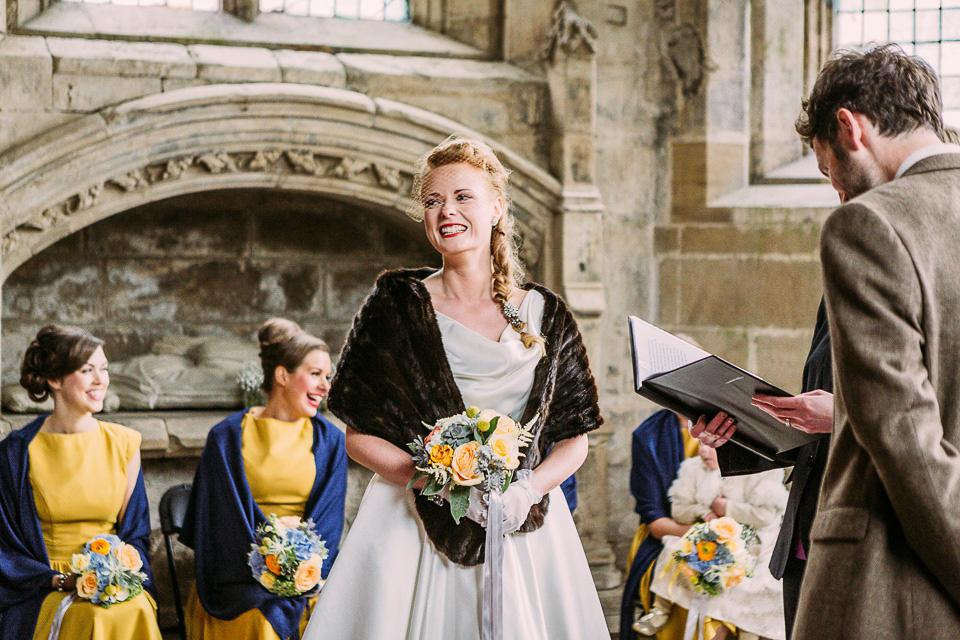 "Kirstie Downie (no website) dressed the venues with lots of lovely flowers. We kept it really simple and wild looking for the church. I asked for a succulent in my bouquet so as I could plant it and keep it after the wedding. We talked about mustards, greys and blues and Kirsty put together the most wonderful arrangements."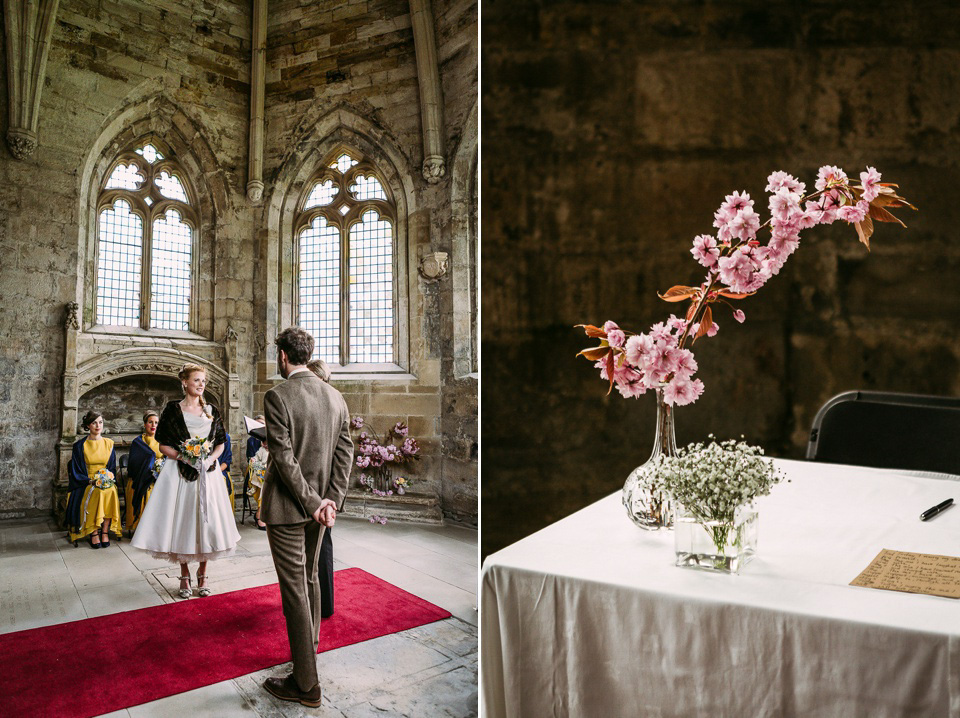 "My mum read the Irish Blessing and two boys from my after-school club wrote a poem for us. Once we were married the children from the club played 'Eye of the Tiger' on brass and sang '500 Miles' by The Proclaimers. Two girls also danced some highland dancing in the garden of the church."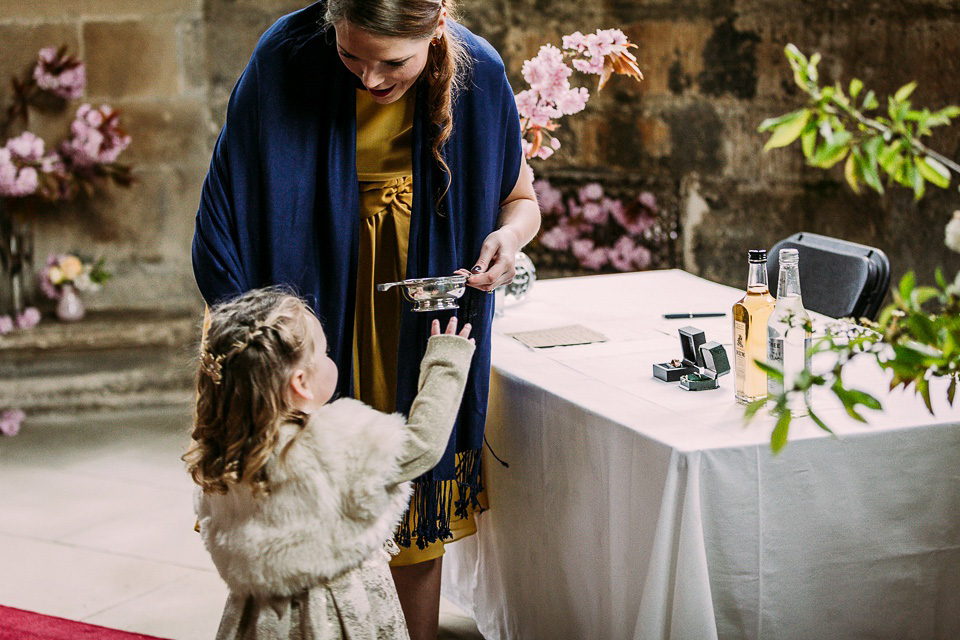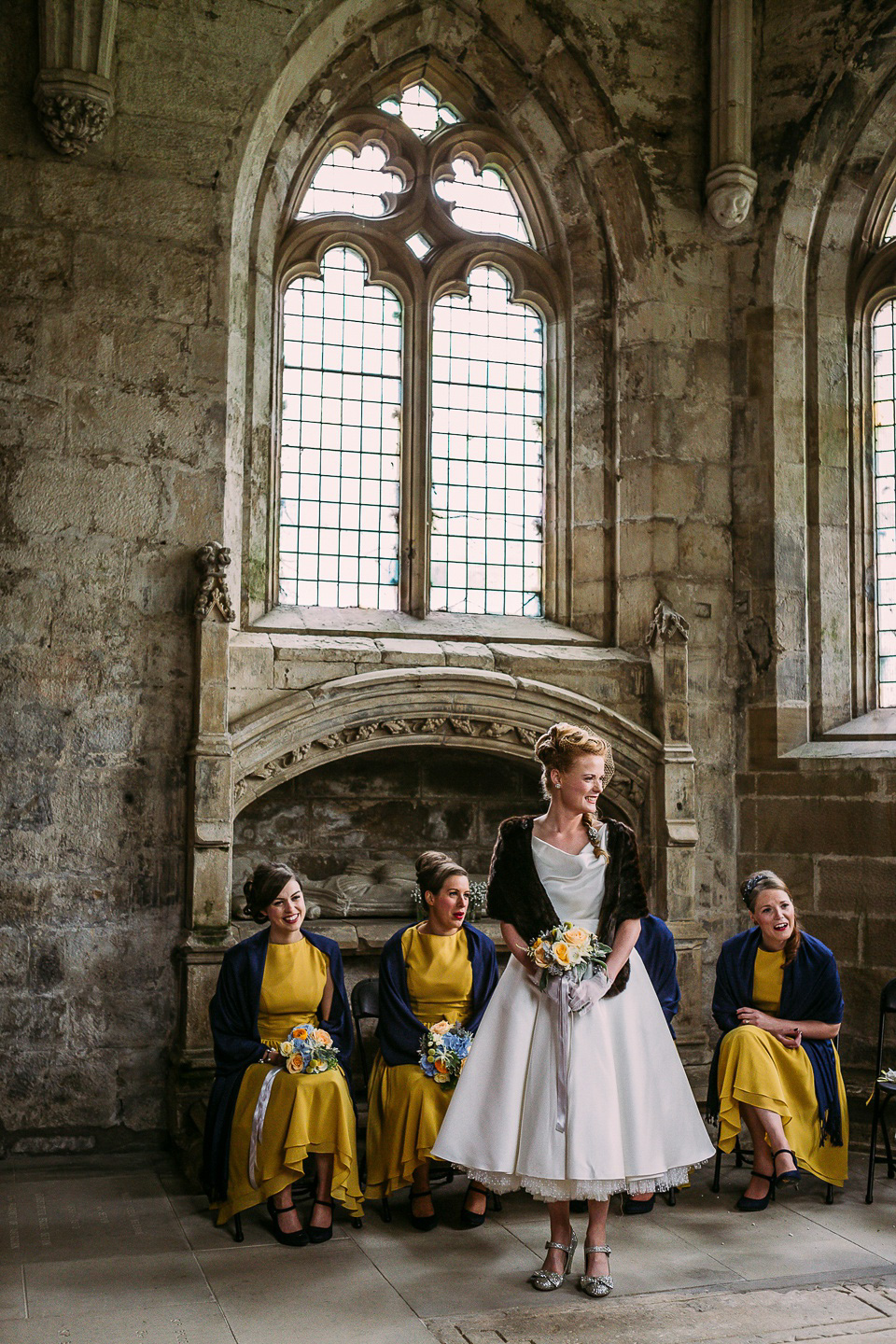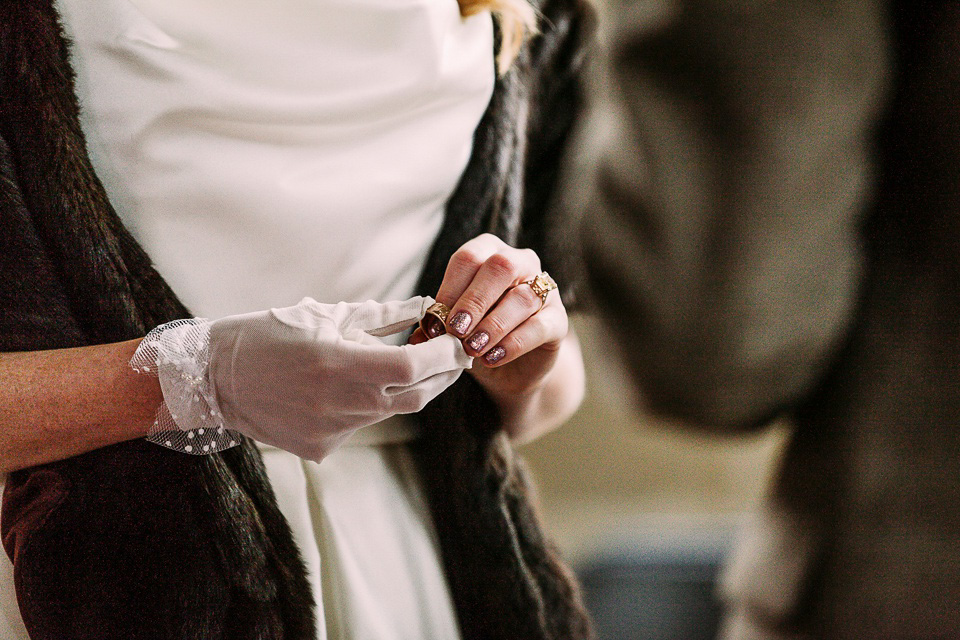 "I chose a citrine engagement ring. I loved the colour and that it's a Scottish stone. I thought I would have to get a wedding ring made to fit the unusual shape but I was very lucky and my wedding band was in the window of Goodwins and it was a perfect fit."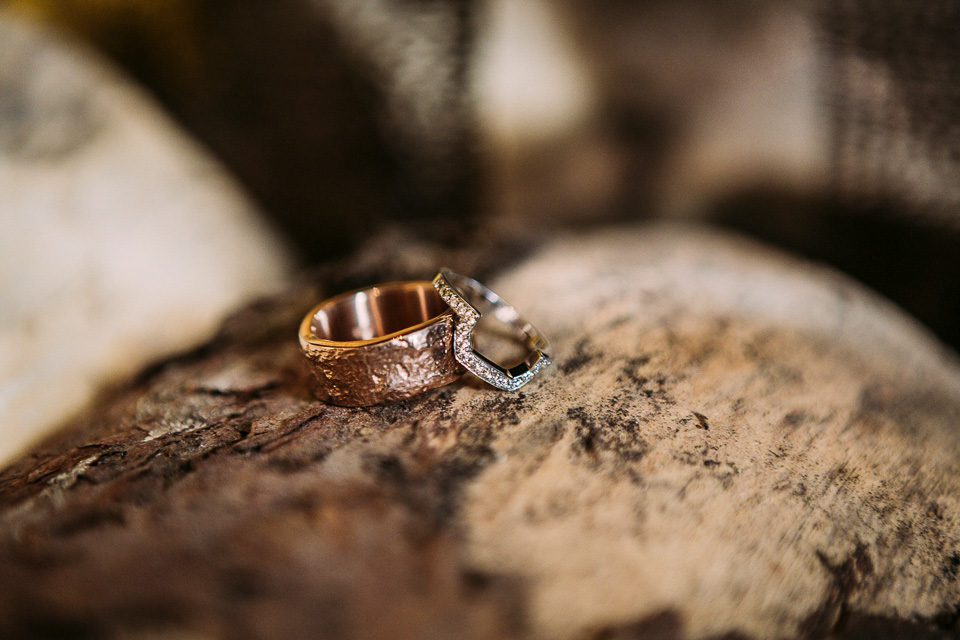 Scott and his Grandad both wore buttonholes from a local artist made from pheasant feathers and a stag's antler. The groom's tweed suit is from Topman.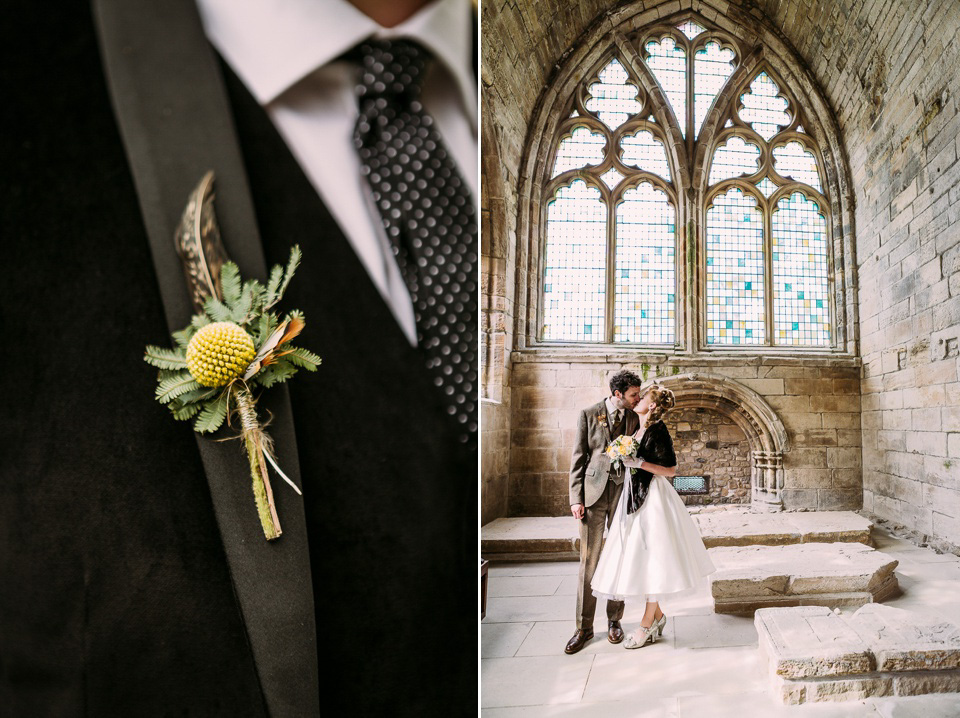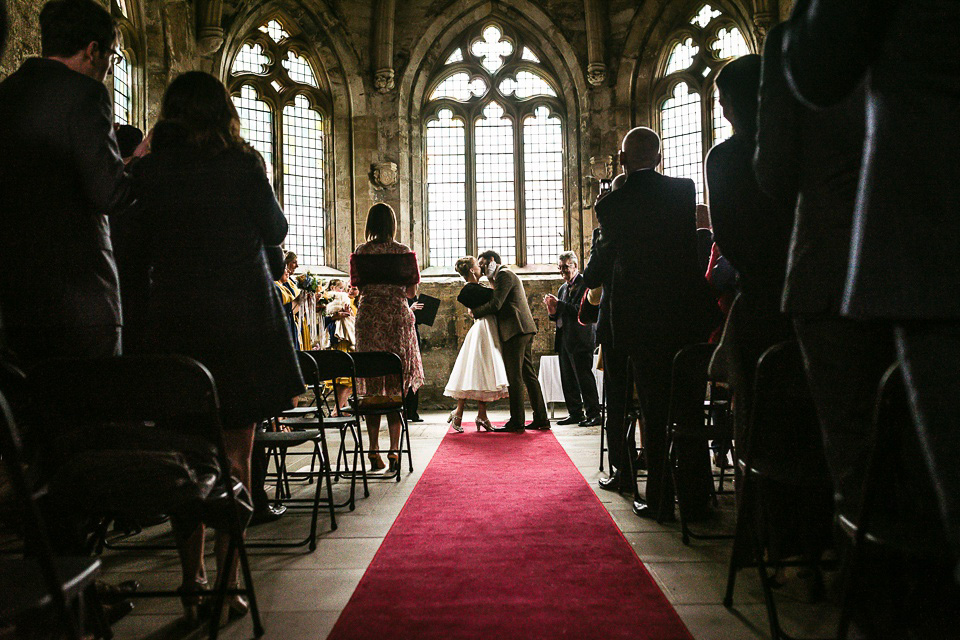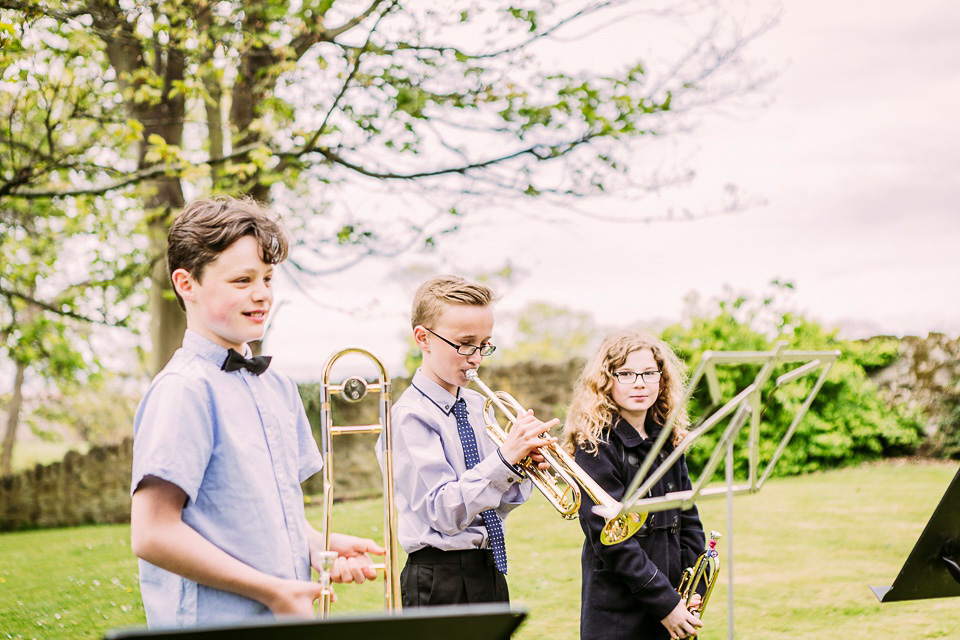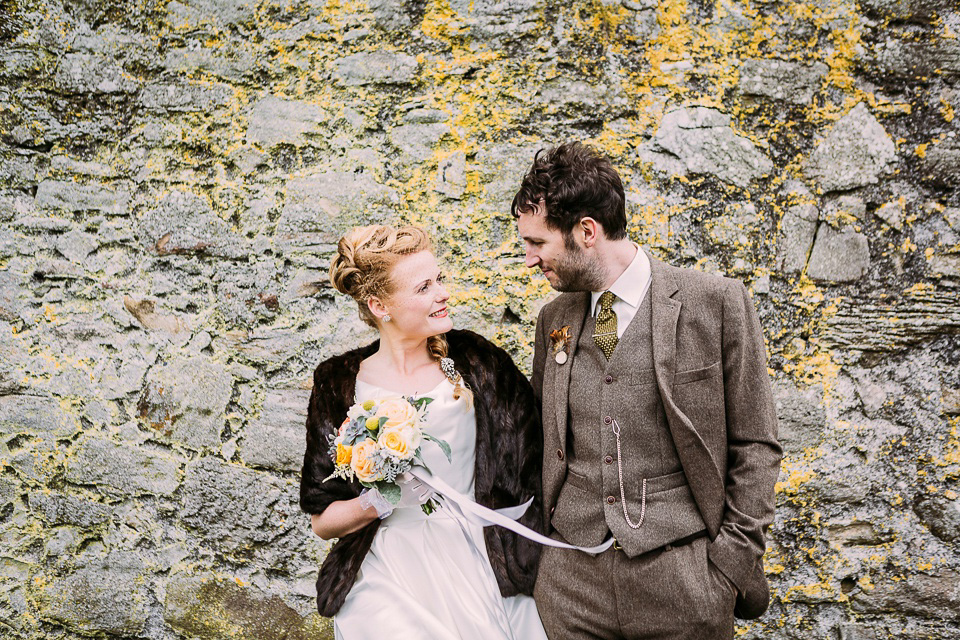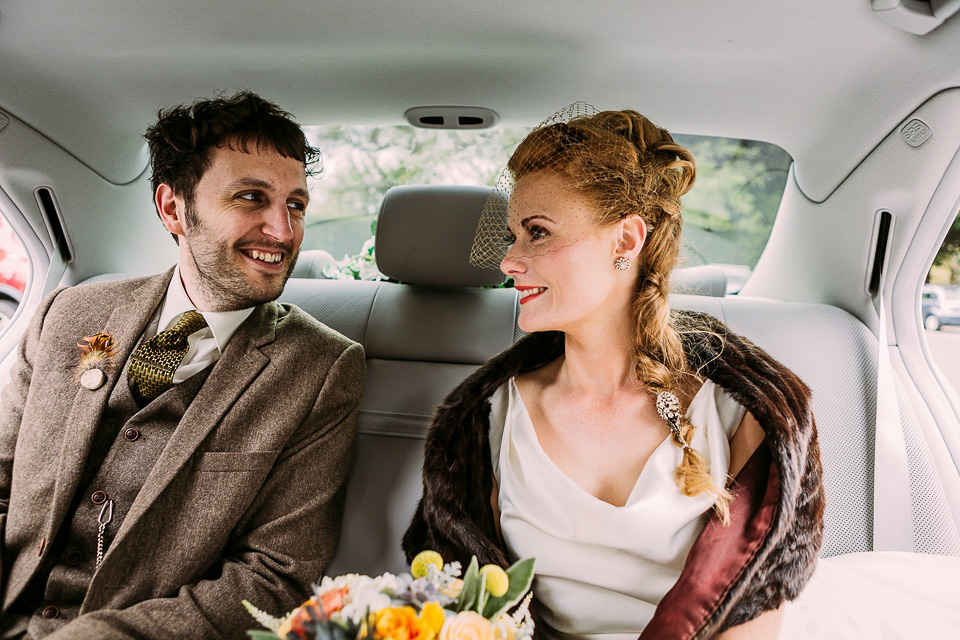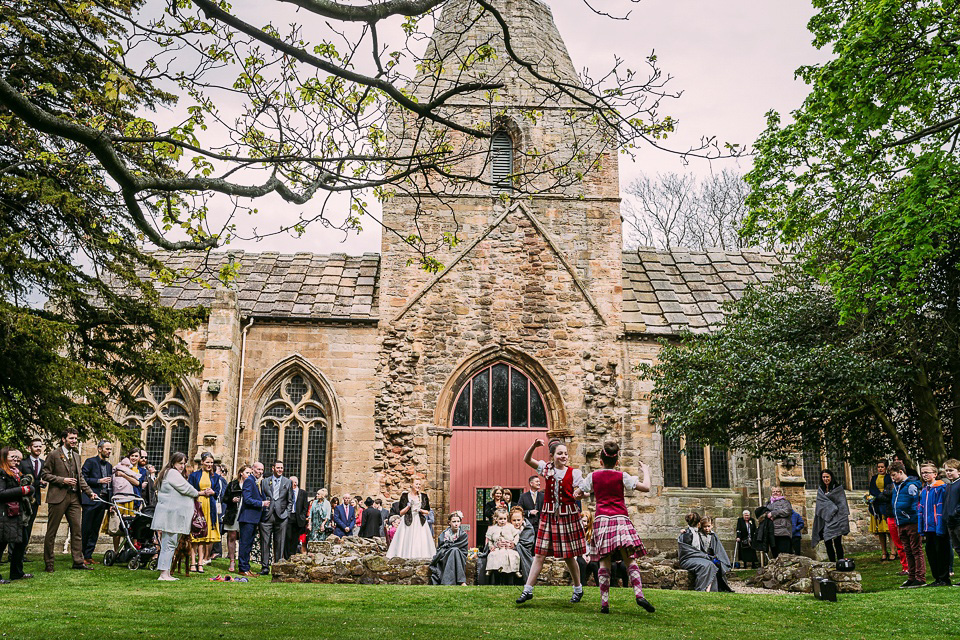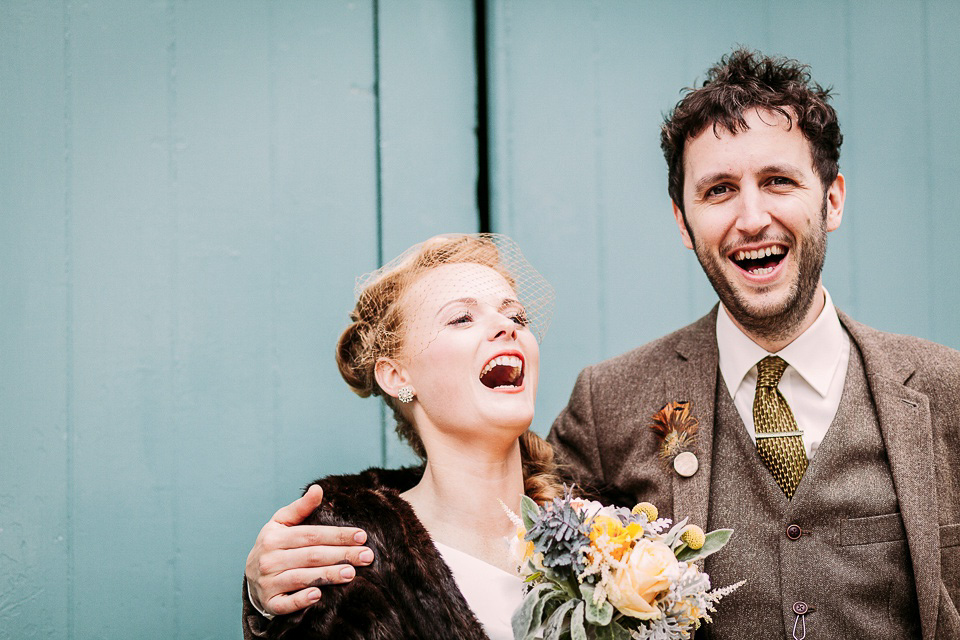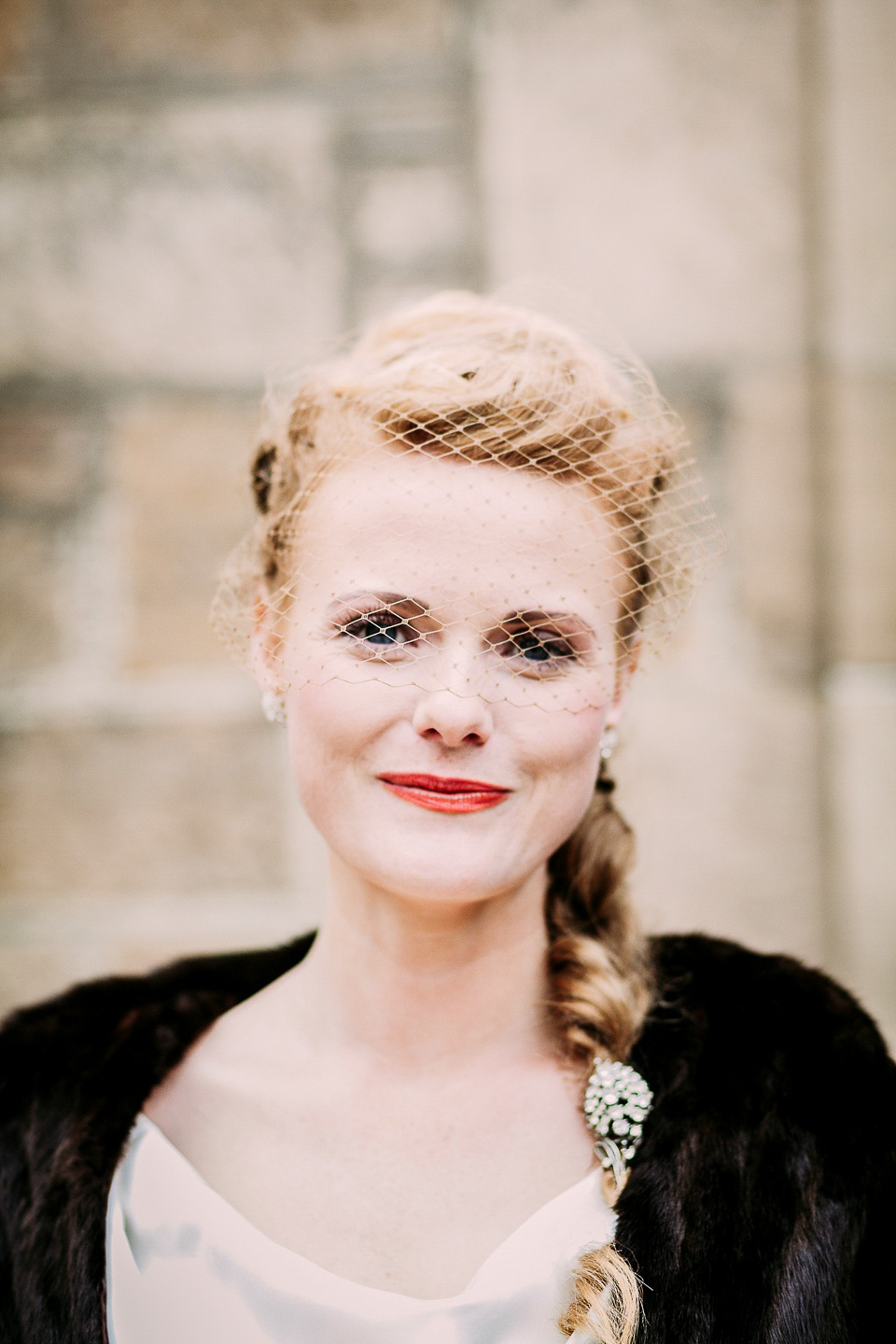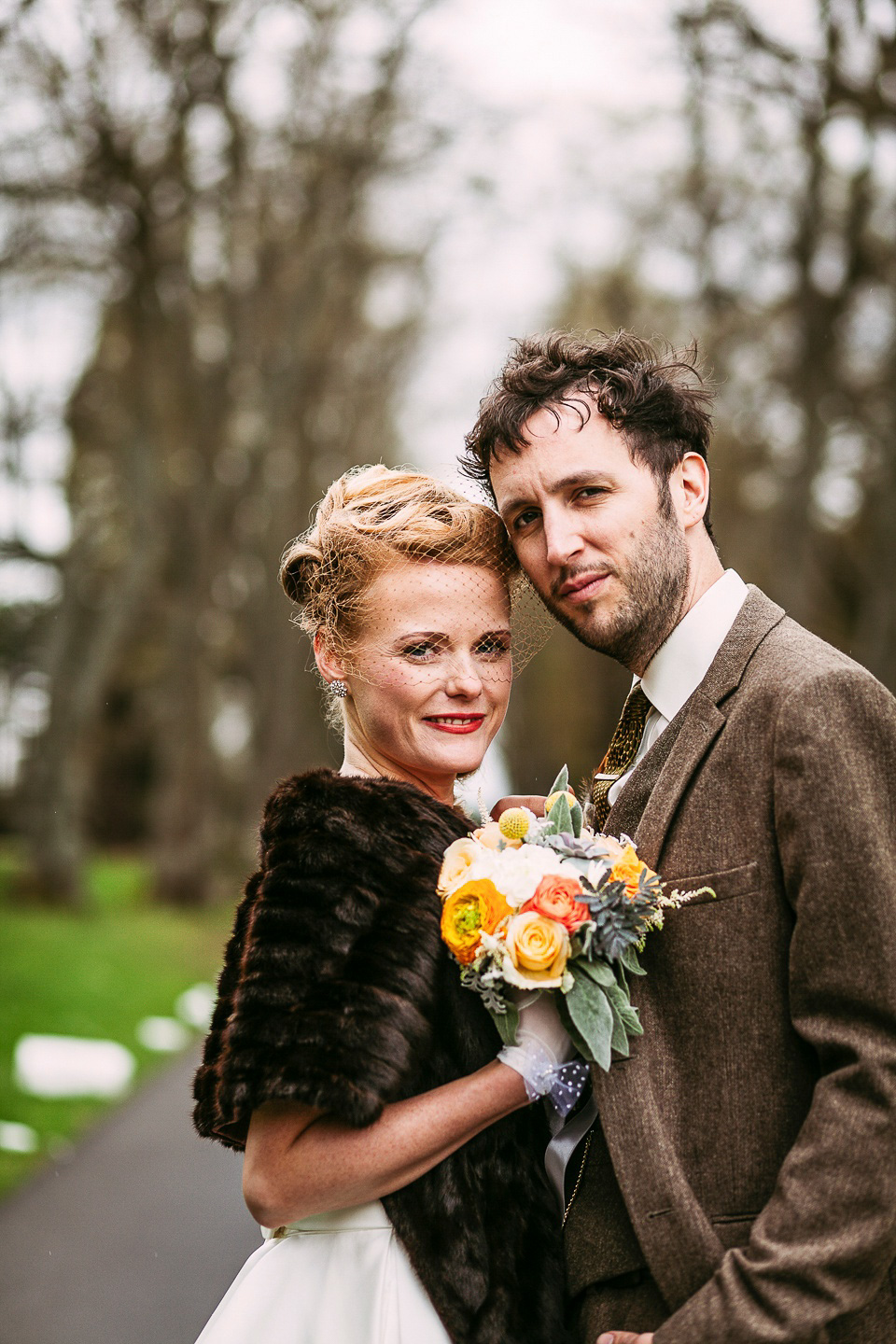 Instead of a guest book, Scott and Cheryl asked their guests to write messages on old records with chalk pens. Their friend Kerri made rose bath bombs and IPA as favours and evening guests were given homemade coconut creams.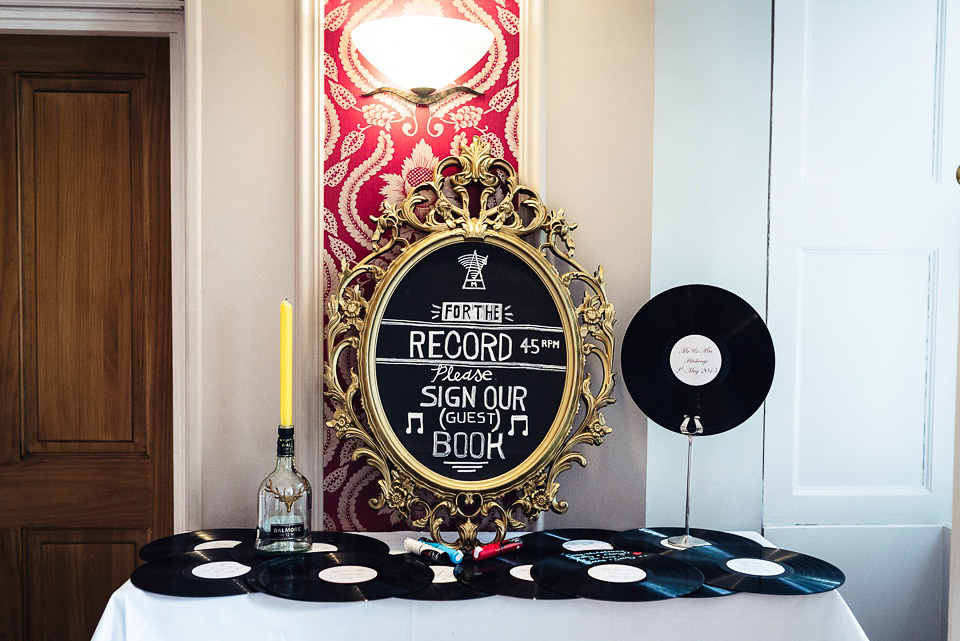 "Scott and I did a lot of DIY the week before the wedding. Scott made a lot of signs to show folks were to go when walking to the church. I made children's goodie bags with toys, bubbles and other things to keep them amused during the speeches.
We bought lots of old books from the local junk yard and folded them into different shapes, framed lots of photographs of family who have passed, including my father who passed 11 years ago, this was a nice way of including him in the wedding."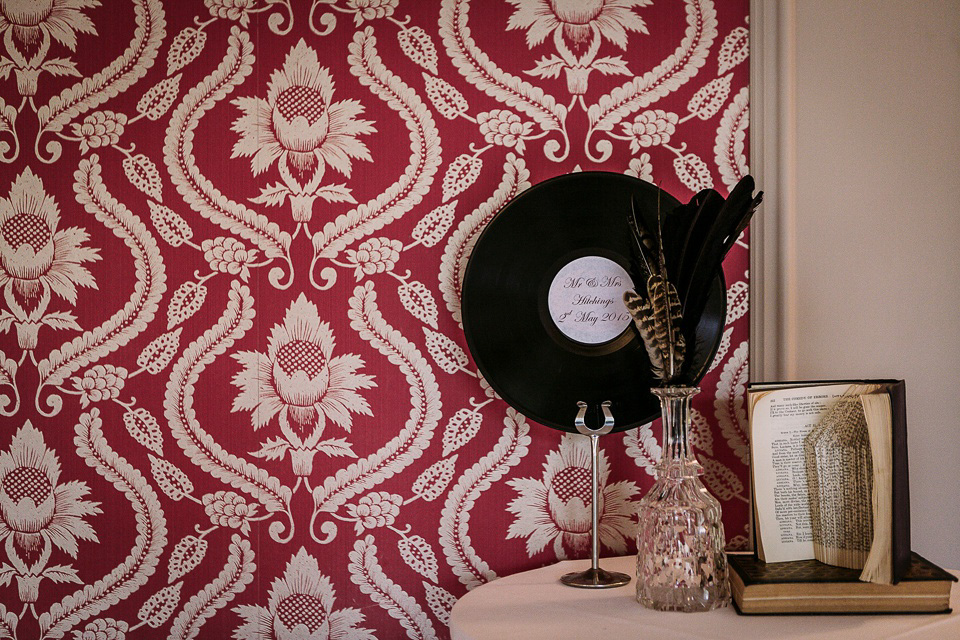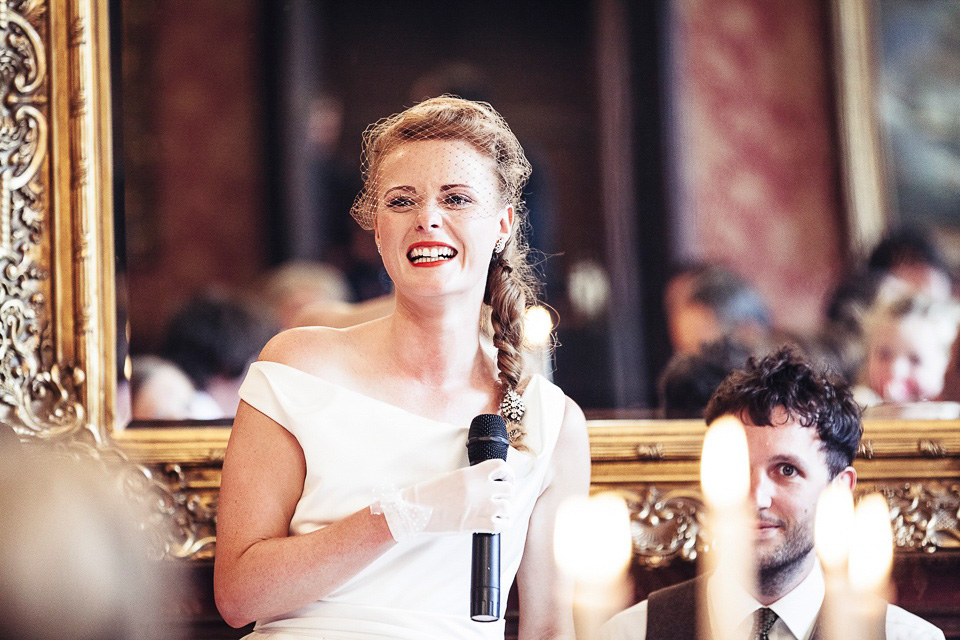 The couple opted for a dairy-free cake made by Cakes by Suzy, a highly recommended friend of a friend. They also provided a selection of Sicilian pastries for folks to eat too.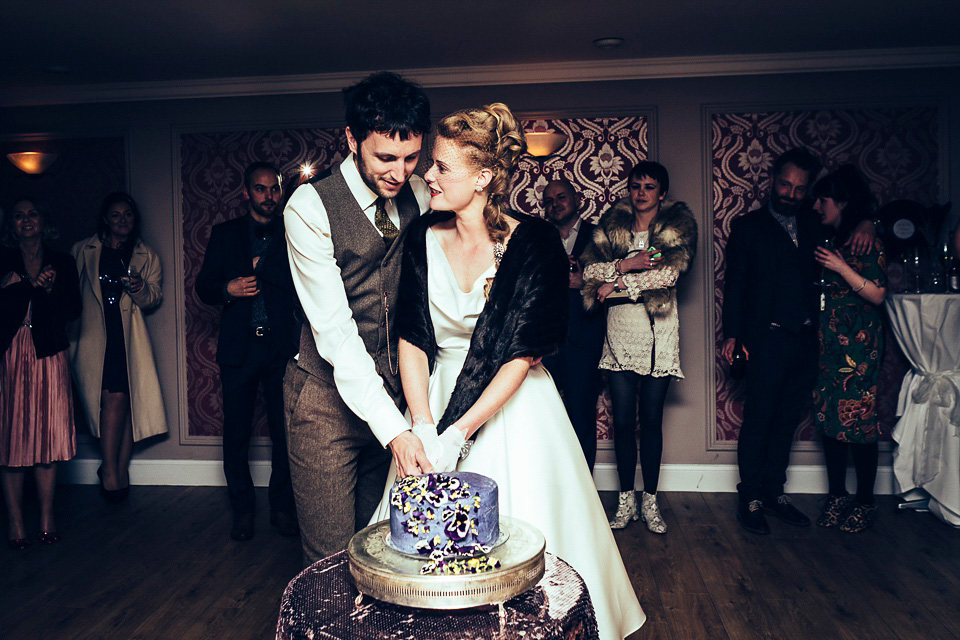 "We were very lucky that we have some very talented DJ friends. They played a great mix of music that all our friends and family could dance to and it was great to have them involved. Our first dance was to 'Baby It's You' by The Beatles."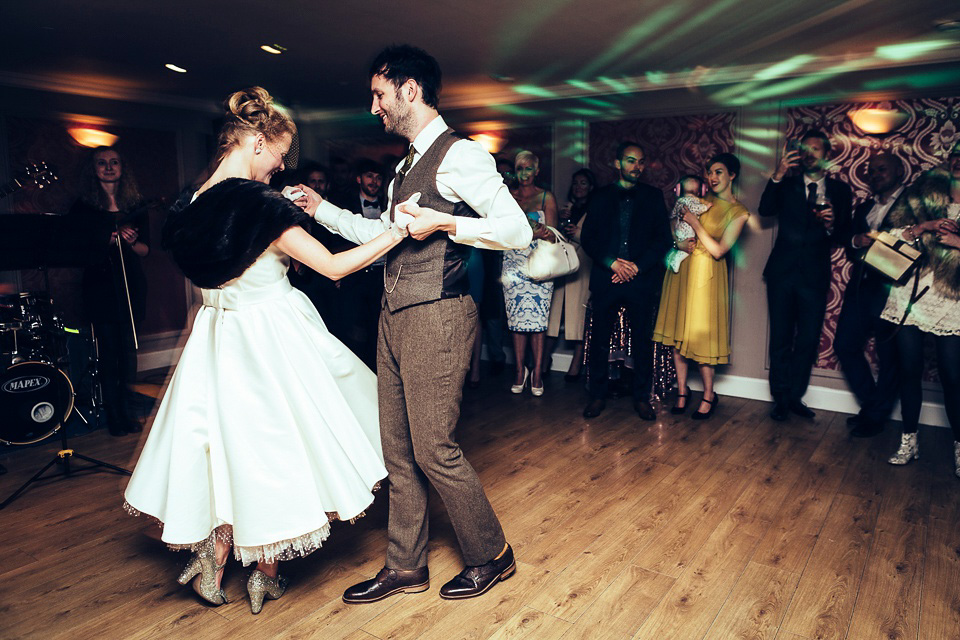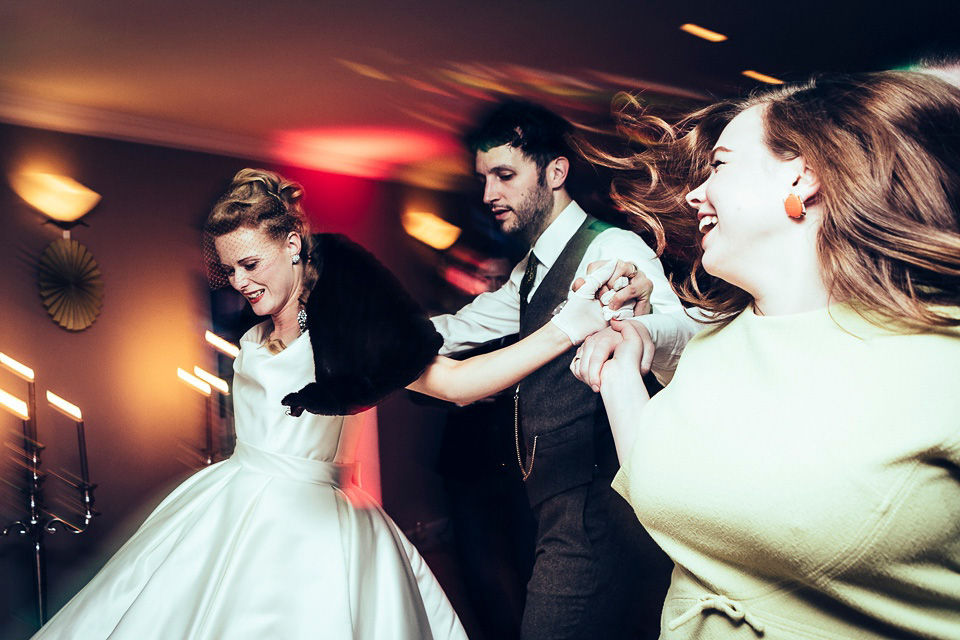 Words of Wedded Wisdom
"Take a moment to sit back and look around the room and take everything in. Someone told me this and it was great advice as the day goes too quickly. My only regret is not getting a video of the day.
Originally we had booked a vintage bus but the week before the wedding it broke down. We ended up ordering local taxis and mini buses. We didn't have the fancy bus but it didn't matter in the end!
Get as many of your friends and family involved in the wedding as it makes it more personal and special and brings everyone closer together. Do whatever you both want to do and don't let others change your mind. It's your big day!"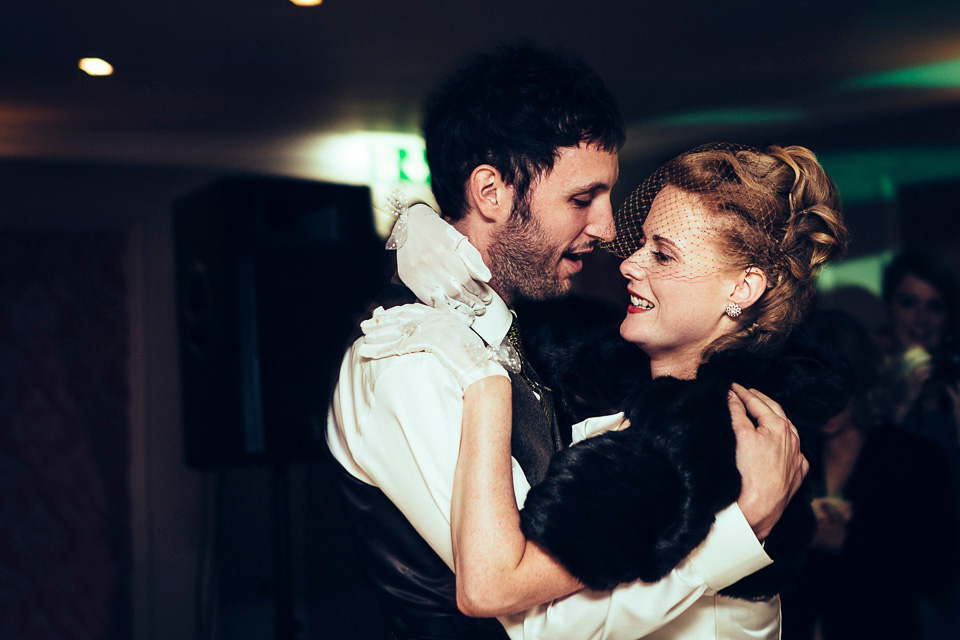 Thank you very much to Cheryl and Scott for sharing your wedding day with us. Also huge thanks to photographer Solen, the images of this wedding are so beautiful, her blog showcases much more of her gorgeous style.
Love Caoimhe xx
Photographer – Solen Photography
Venue – Seton Collegiate Church + Carberry Tower, East Lothian, Scotland
Wedding Dress – Lou Lou Bridal from The Bridal Studio, Dollar + Altered by Emily's Tailors, Edinburgh
Veil – Fabric from eBay
Shoes – Red or Dead
Accessories – Debenhams earrings
Bride's Scent/perfume – Pomegranate Noir by Jo Malone
Groom – Topman
Flowergirls –  Monsoon
Florist – Kirstie Downie
Cake – Cakes by Suzy
Entertainment – Céilidh band, Kylestrum & DJs Laura Davey, Scott Lawie and Paddy McMaster
Rings – Goodwins, Edinburgh + Shelia Fleet, Orkney
Stationery – Illustration by Lynsey Jean Henderson
Hair Stylist – Lynsey Taylor Pittman
Makeup Artist – The bride with help and advice from Cat Baillie