Happy Friday folks! There is so much to love about today's industrial, 1930s inspired, city wedding captured by the wonderful Rebecca Douglas. Our couple planned every detail of their big day together, from the dreamy dresses, to the DIY flowers and handcrafted décor and the results are truly spectacular. Helen, an architect, wed Caeli, a public sector worker, on the 3rd of July 2015 at Stoke Newington Town Hall followed by a reception at West Reservoir Centre, London.
This wedding was photographed by our Little Book For Brides Wedding Directory member, Rebecca Douglas, and is yet another wedding to add to our collection of married couples who met online.
"We were inspired by the 1930's and Helen's love of modern and industrial design. We knew we wanted an urban wedding in London, as the city is really important to us and the natural choice for bringing our families from Yorkshire and from Florida (USA) together."
Photographer Rebecca Douglas is a member of Little Book For Brides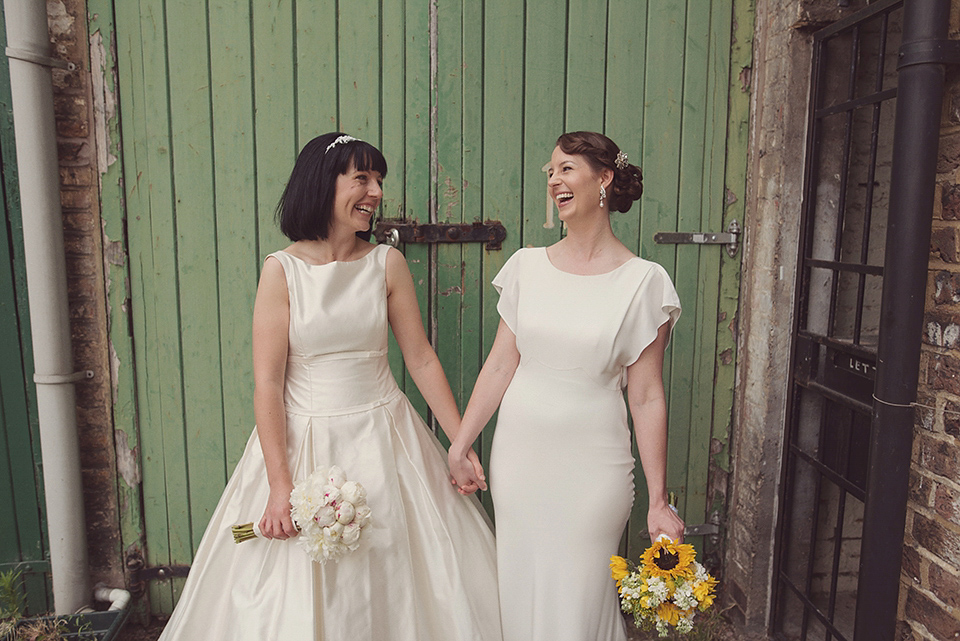 "We knew we wanted a 'shell' space that we could make completely our own and choosing West Reservoir Centre was the 'anchor' decision that then helped to shape the rest of our choices. It's a restored 1930s era ex-water pumping station. It's so airy and stylish and we loved how calm it is overlooking the lake."
Helen and Caeli both looked stunning in their carefully chosen gowns from Blue Bridal and David Fielden respectively. I love the way that the two dresses complement one another so well. As Caeli explains, this was no easy feat…
"Right from the start, we knew that the dresses would be the biggest challenge – how do you do two dresses well? Not only did we need to find gowns that we loved, it was important that they did not match or clash in style or colour.  This also meant that the material had to be of the same quality. In light of this, we decided to go wedding dress shopping together (rather than surprise each other)."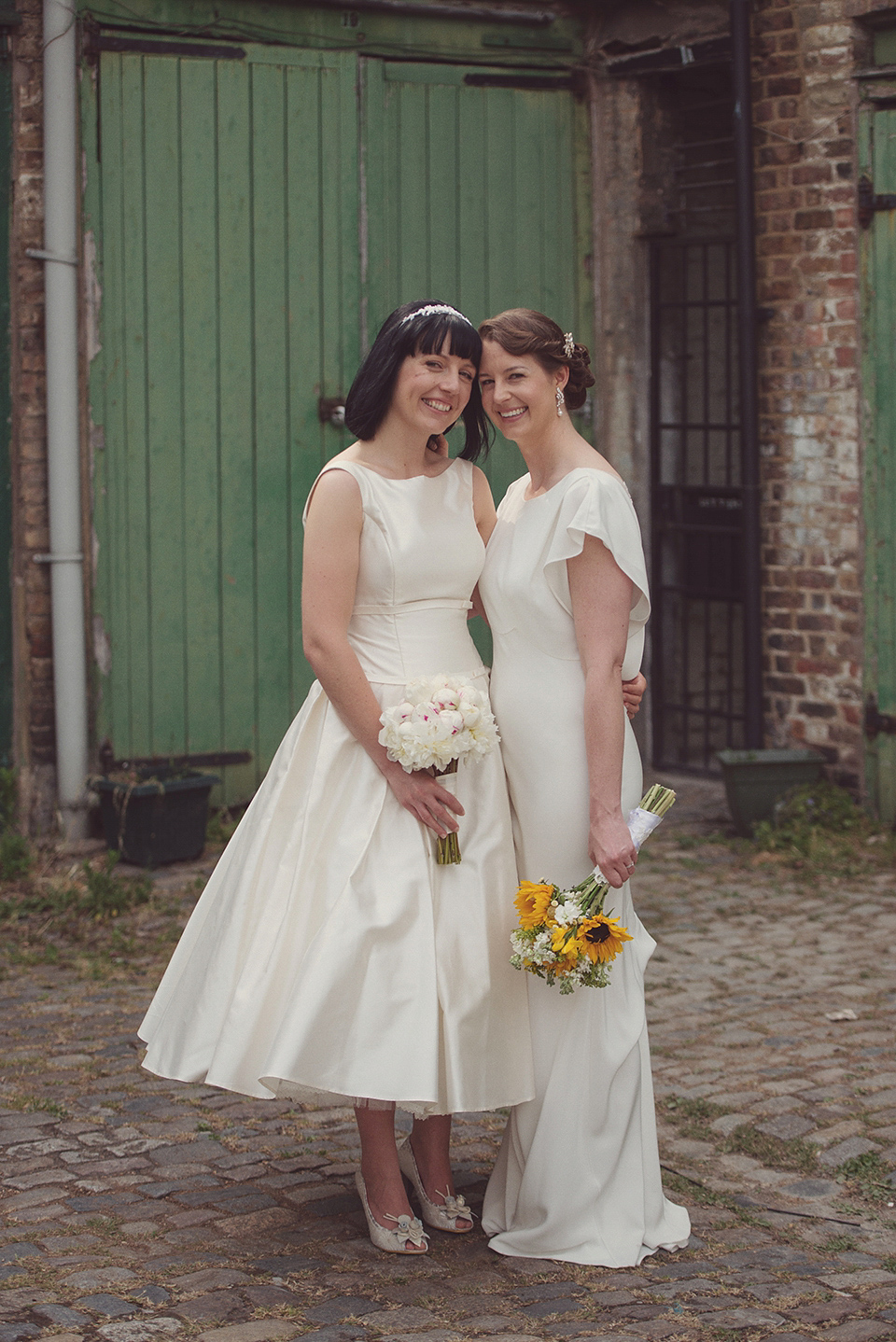 "I fell in love with my David Fielden gown straight away and Angelica Bridal sold it to me as a sample – happy days! I was so pleased when I found it as I had been really struggling to find an elegant 1930s inspired gown."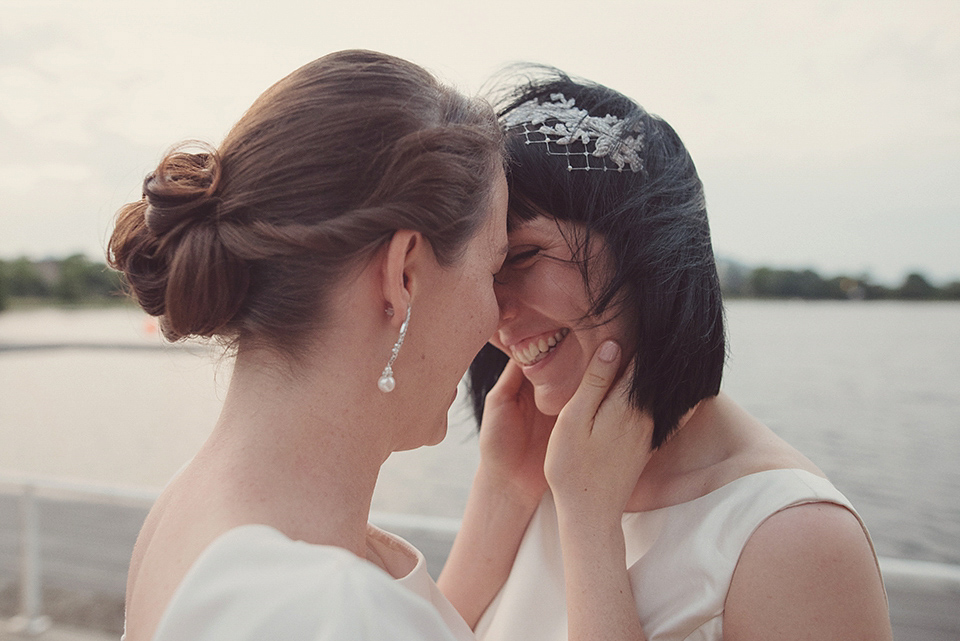 Our couple were very pleased with their choice of photographer and it's easy to see why – I couldn't stop smiling as I was putting this piece together. Each photo by Rebecca Douglas is so full of joy, it's infectious!
"Choosing Rebecca Douglas as our photographer was hands down the best decision we made. It's clear that she loves what she does and her photos are AMAZING – they really capture the true emotion of the day. She was so lovely to work with in the build-up and, best of all, she was wonderful on the day itself – she captured everything without being obtrusive and brought this positive, bubbly energy that made the group photo shoots fun rather than a chore.
Rebecca has a great eye for light and creative shots and really put us at ease in our photo shoot which felt natural and intimate. On top of it all, she even stayed until the end of the evening to capture our fireworks exit (which failed spectacularly due to a massive thunderstorm) and captured the most amazing photos in the rain. We have loved working with Rebecca and were so happy she was our photographer."
"Helen and I met through online dating. My subscription was about to end but I decided to go for 'one last date' with Helen as her profile was hilarious. Helen mentioned how much she loves design, so my suggestion for our first date was the Geffrye Museum. We met at 10:30am and the date carried on all day – and we really feel that we fell in love with each other that day. We got engaged just over a year after we met, in January 2014, and married 18 months later.
For our engagement we decided we both wanted to experience proposing and being proposed to, so we had two proposals 24 hours apart."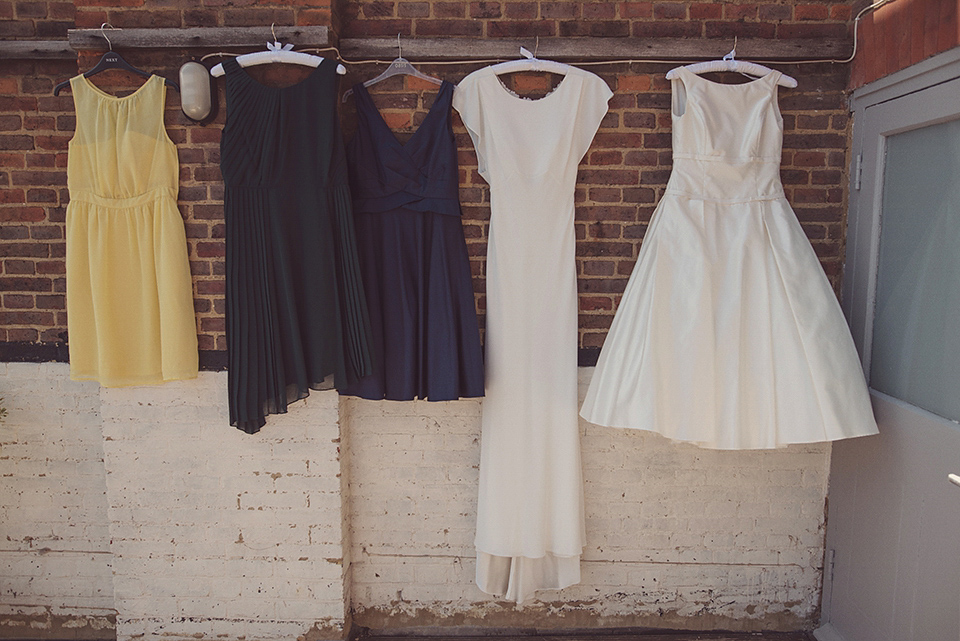 With help from a friend, our couple arranged all of their own flowers which they purchased online through Triangle Nursery.
"We did our own flowers and made a massive saving. Pinterest was invaluable for inspiration and helped us decide what to get. We sourced our flowers from Triangle Nursery, who we would recommend to any brides DIY-ing their flowers – they were absolutely brilliant!"
"We wanted our flowers to have a natural, wild and summery look. We chose Baby's Breath, and a variety of wild looking yellow and white flowers and greenery. Sunflowers are both of our favourite flowers and we partly chose to hold the wedding in July so they'd be in season.
We needed help with some of the flowers and Helen's friend Amy stepped up and did a great job of arranging our bouquets and the buttonholes. Helen opted for a bouquet of pure white peonies (which we went to great lengths to source!)."
Continuing the 1930s theme, Caeli wore an Art Deco style hair slide purchased from the V&A Museum gift shop.
"Helen wanted a tea length 1950s inspired silhouette so that she could wear some cool shoes (which she purchased from Irregular Choice). At the same time, she is not a 'vintage' gal and didn't want to feel like she was in costume. We bought her Blue Bridal gown second hand on eBay. It was a true find and a serendipitous example of something being on eBay at the right time!"
Helen paired her gown with a 1950s inspired lace detail headpiece purchased from January Rose Boutique.
"Both of our gowns were altered by the wonderful Satish of Elite Alterations. She completely transformed Helen's dress and reshaped it so that it fit her beautifully! She helped to create our dream dresses at an affordable price."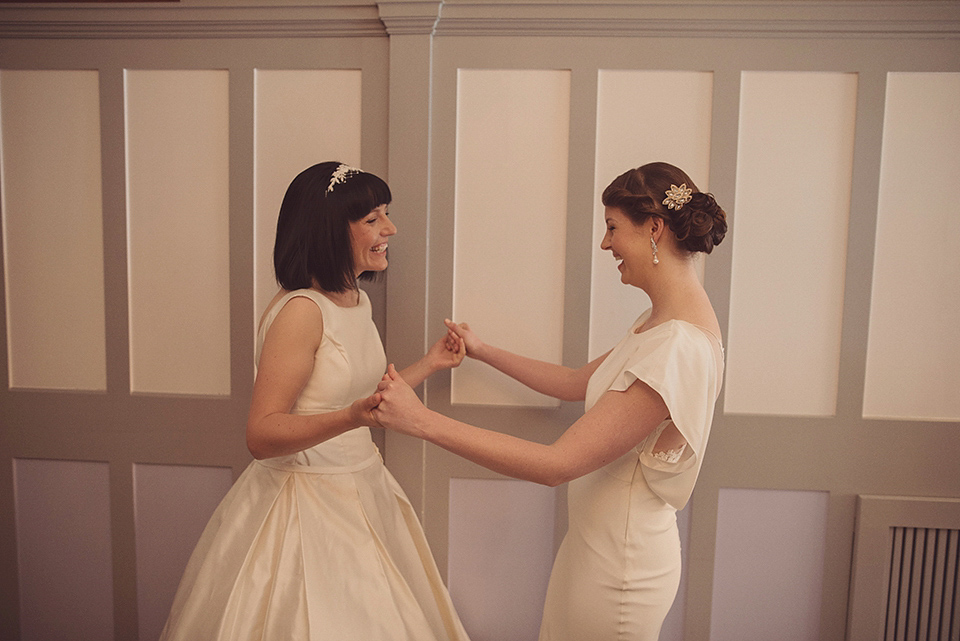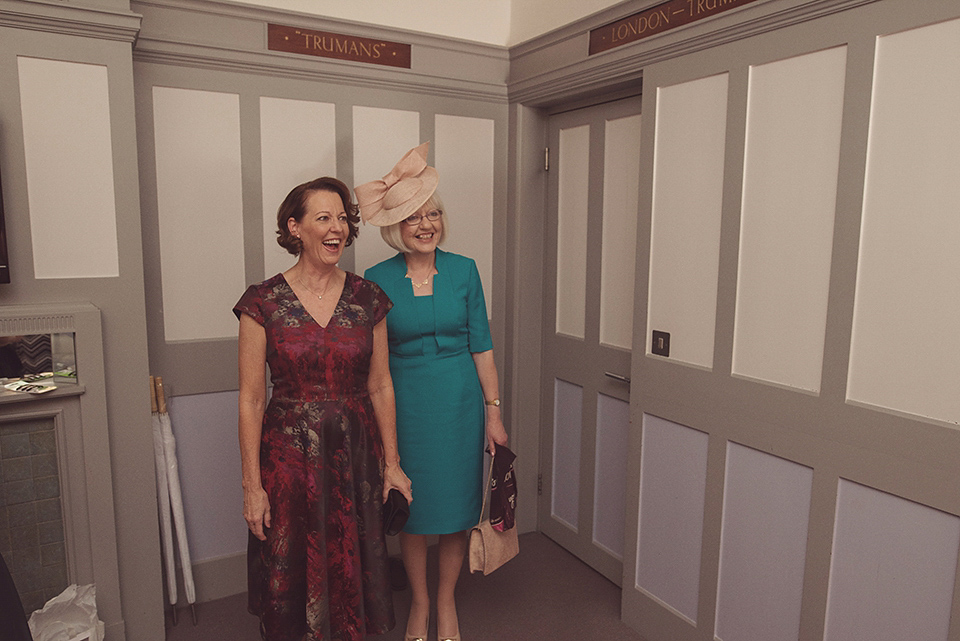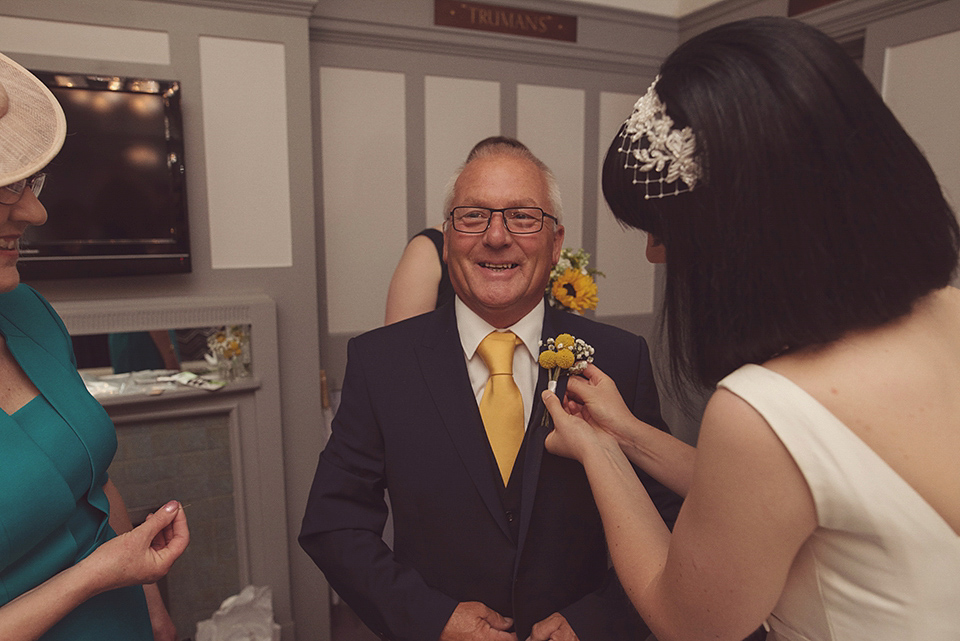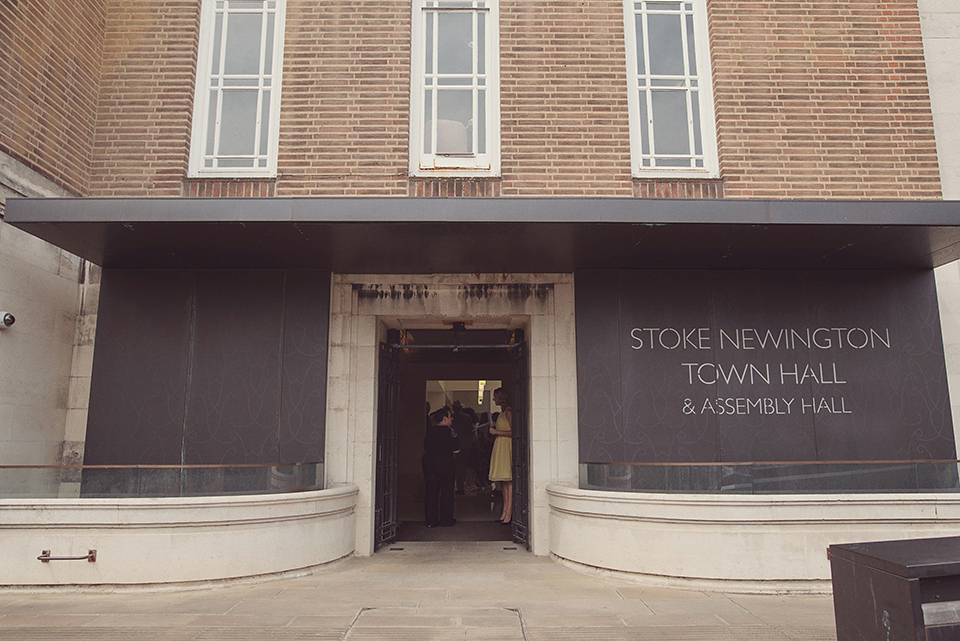 "As an American and a Brit, we also had to negotiate a lot of different traditions. We did this in a subtle way; the Order of Service was done as a 'Southern' US style fan like you'd have at church, the canapes were scones with clotted cream and jam and mini-peanut butter and jelly sandwiches, the table names were half-British and half-Floridian flowers, and so on. We had a rehearsal dinner and an American-style ceremony, doing the legal bit a few days before"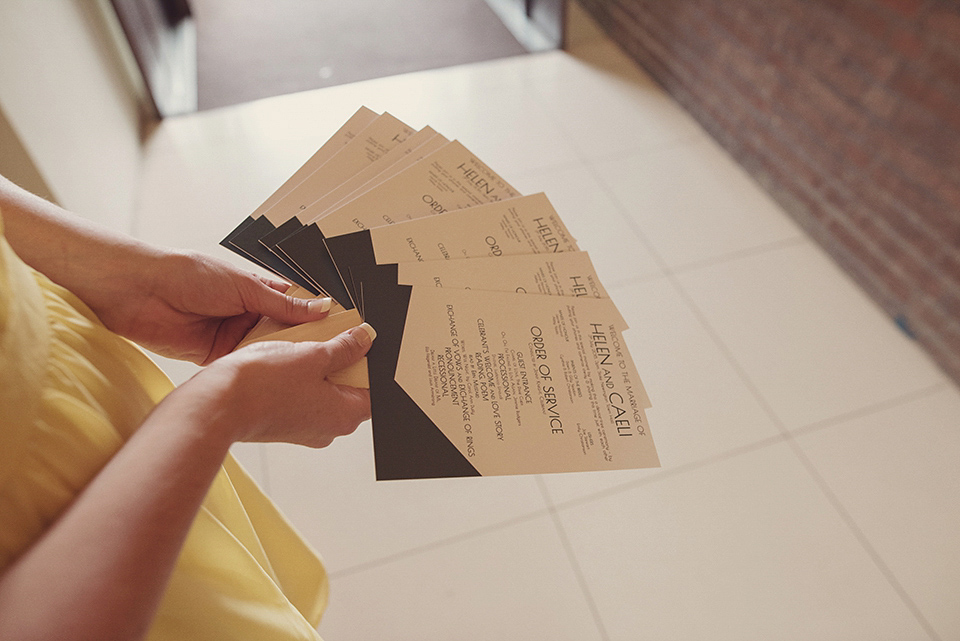 "We held our ceremony in Stoke Newington Town Hall, which is a local landmark for us. It is also a 1930s building, so fit with the feel our wedding. As soon as we saw the beautiful dome we knew it'd be perfect."
"We walked down the aisle separately, each with our fathers, so that we both had a special 'here comes the bride' moment. We walked down the aisle to 'Divenire' by Ludivico Einaudi, the song that I learned and played for Helen for my proposal to her."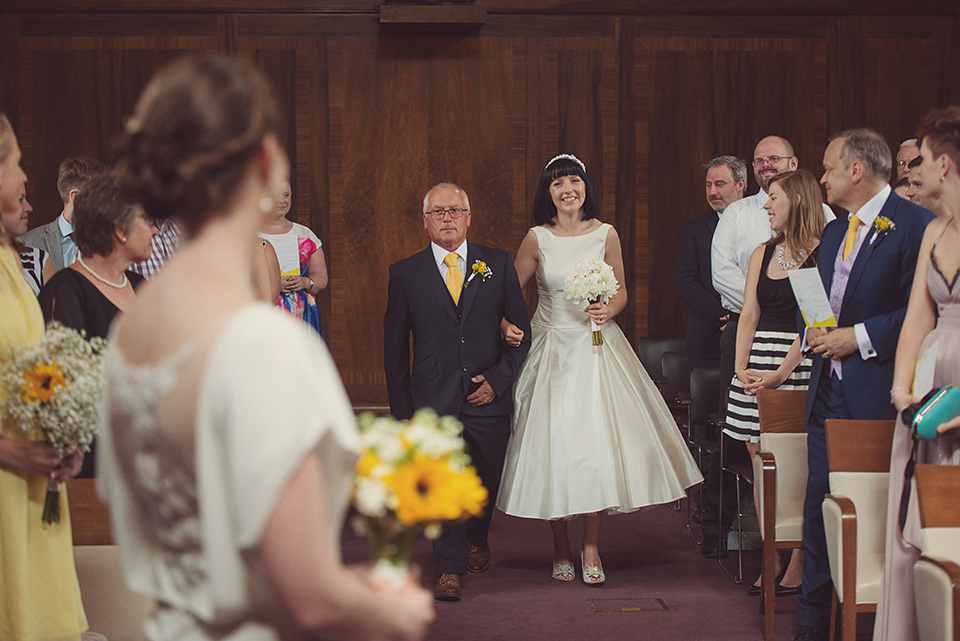 "We had huge amount of input into the ceremony, which we wrote with our wonderful celebrant, Jenny Knight. We wrote our own vows and had one reading 'Words, Wide Night', a poem by Carol Ann Duffy. We chose it because this was the poem Helen used it in her proposal to me."
"My favourite part of the wedding was the ceremony. It was the whole reason I wanted a wedding – to proclaim publicly my love for Helen and have this witnessed by all of our family and important friends. We loved how personal and romantic our ceremony was."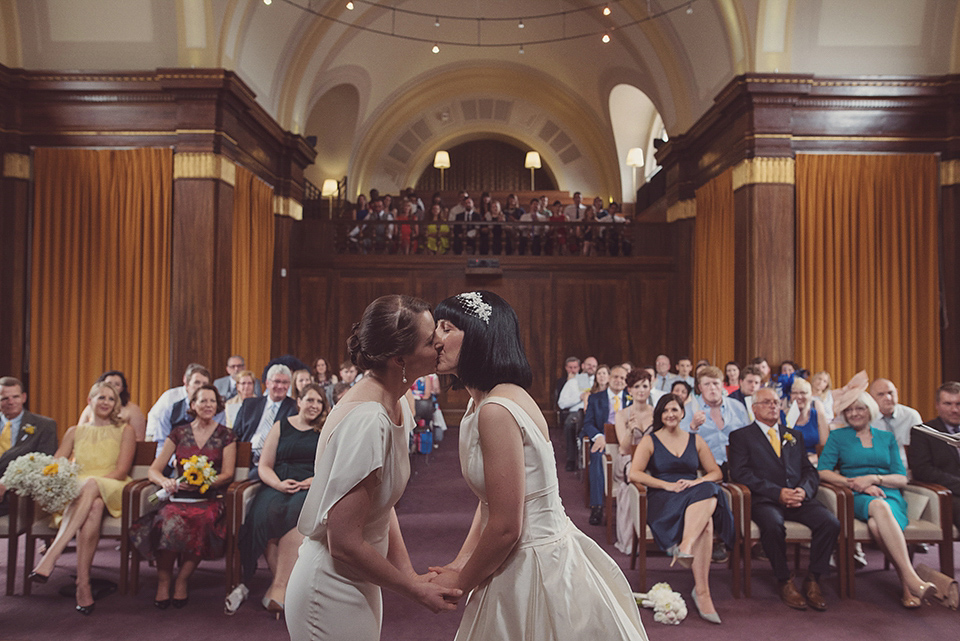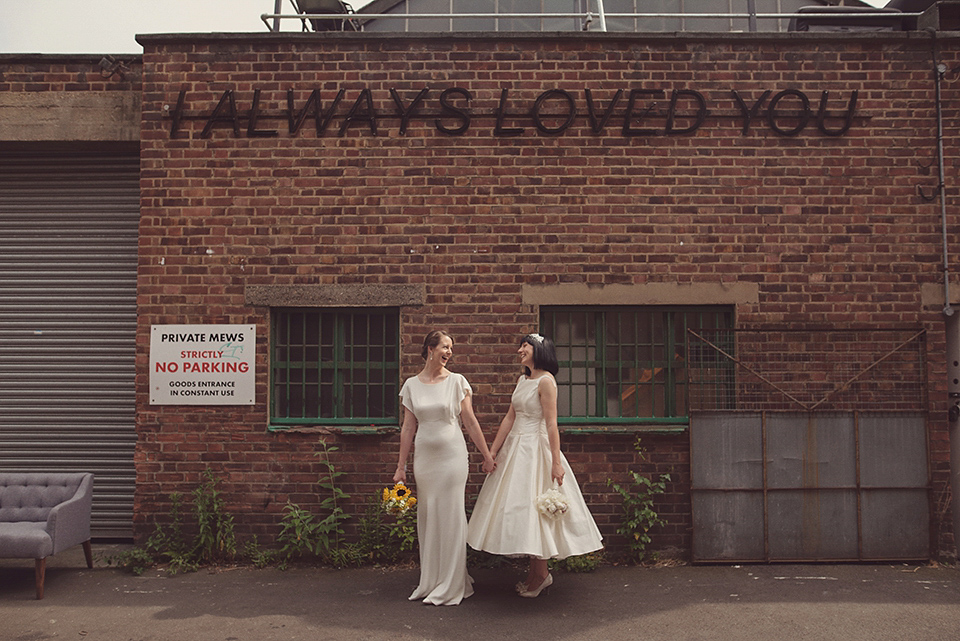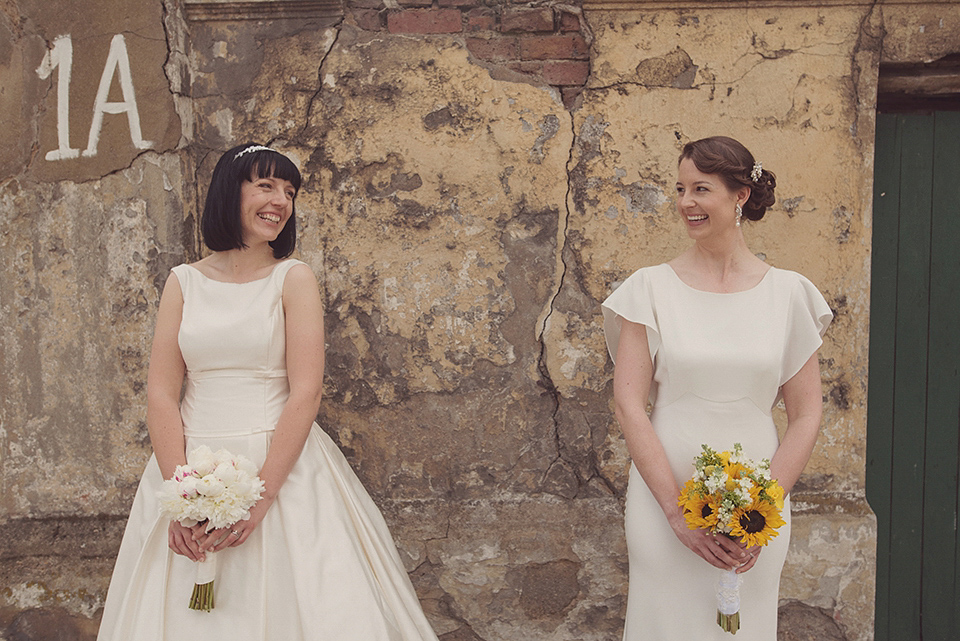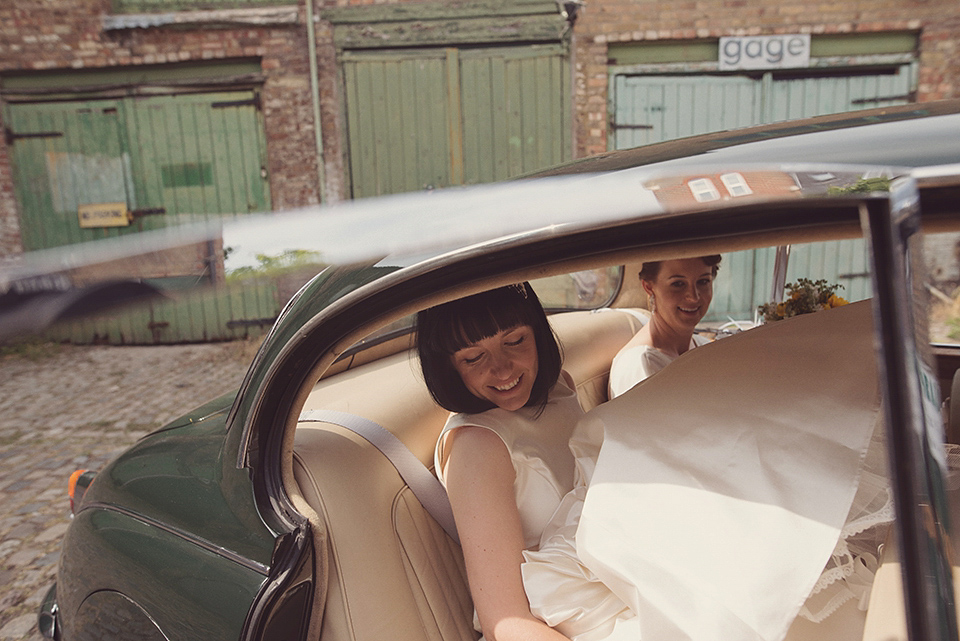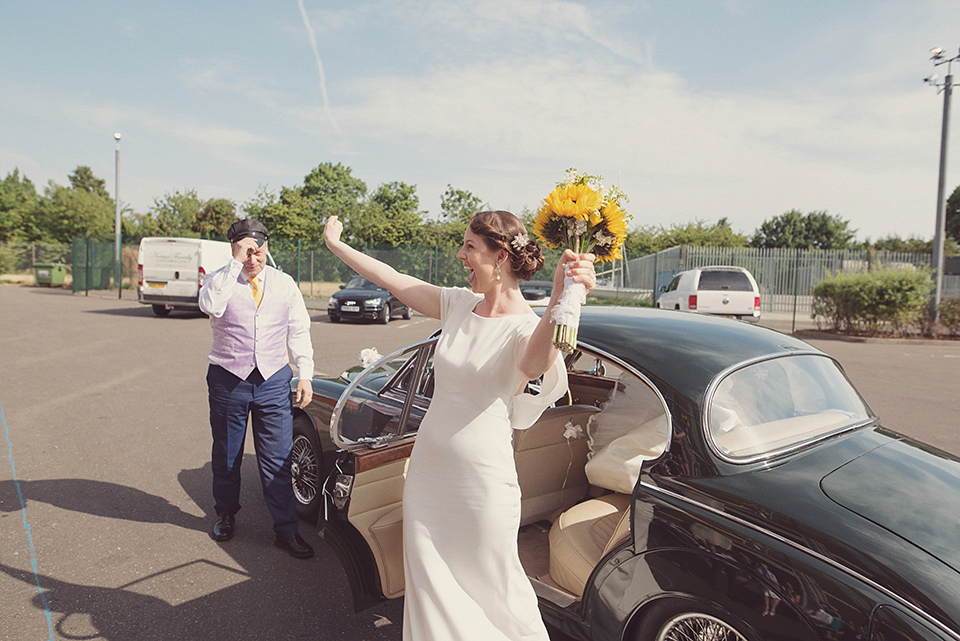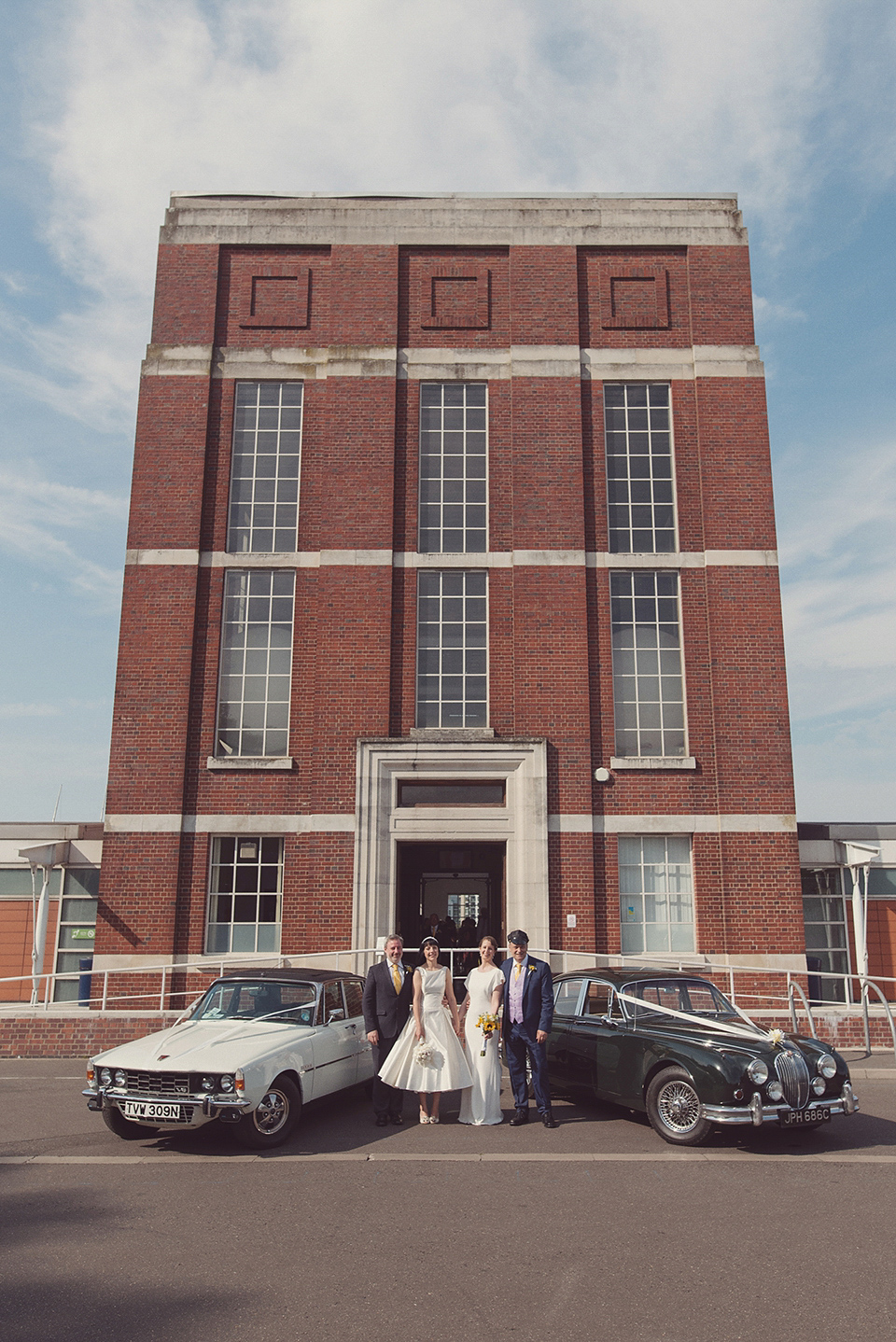 Our crafty couple created much of the décor themselves using their combined skills…
"We decorated West Reservoir Centre in yellow and grey predominantly, with copper and teal accents. For our table decorations, we saved glass jars for months for our flowers and painted them in yellow and copper over two long bank holiday weekends – we both loved how they turned out. We had about 60 of these jars in the end, to which we added another 30 unpainted mason jars borrowed from a friend who had bought them for their wedding."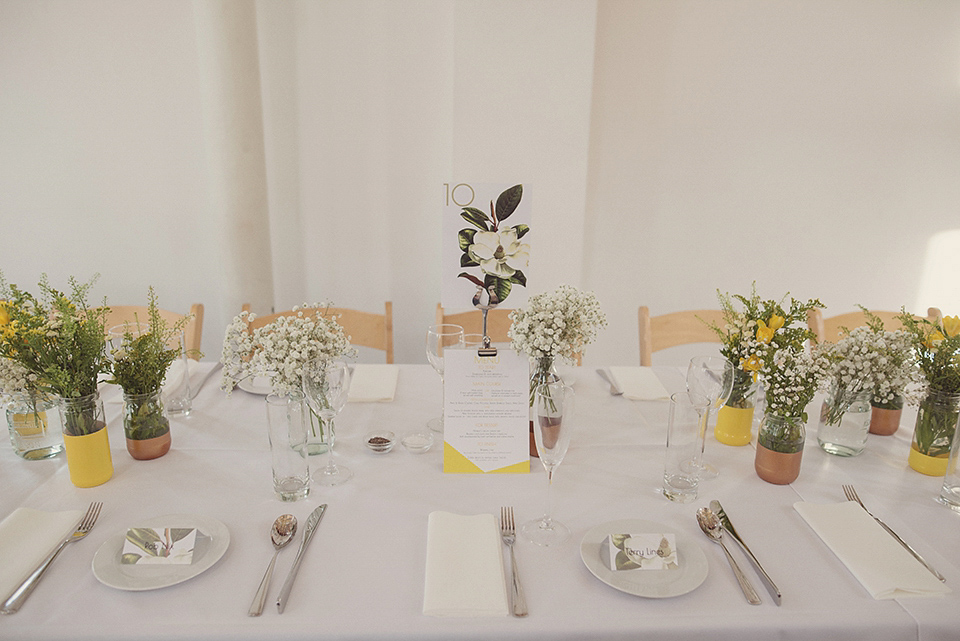 Our couple designed all of the stationery themselves including a beautiful table plan featuring vintage, botanical drawings of flowers from Britain and Florida, in a nod to their backgrounds.
"Our wedding breakfast was catered by the excellent Norma's Pantry. After our photographer, this was the best supplier decision we made – the food was absolutely delicious, and not just for a wedding! We loved our summer menu and they worked with us really well to develop it."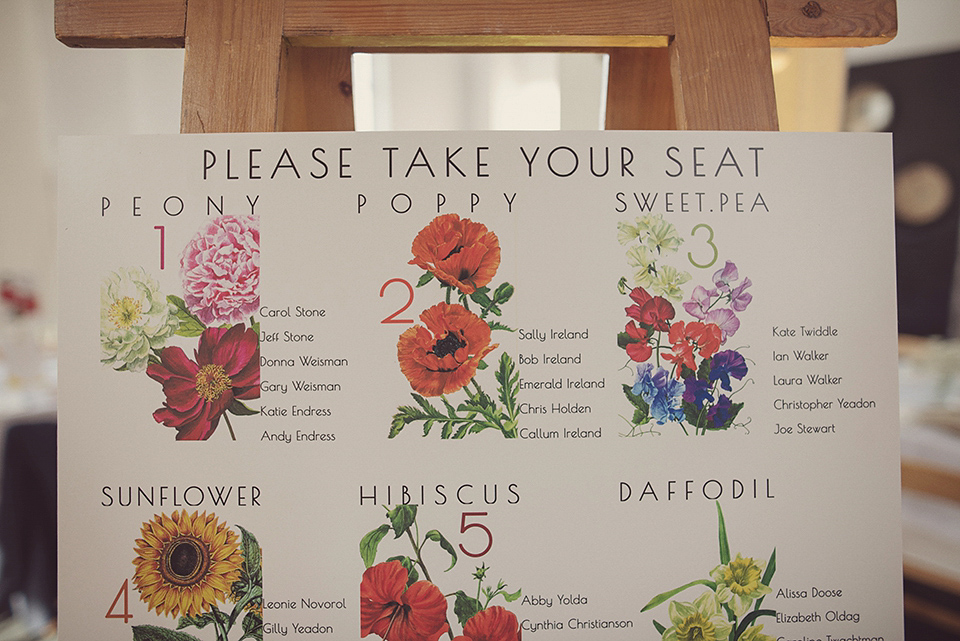 "One of our favourite things was our large pickle jars which we filled with fairy lights and looked like fireflies as the night got darker. We also hung festoon lighting and used uplighters on the columns."
"For the bar area, we made a table out of old scaffold boards and poles, which is now our dining room table at home! We painted papier mache B A R letters yellow and grey and did a special bar menu using the graphics of the craft beer company we bought all of our beer from.
We attached a grid of yellow and grey envelopes to a white canvas for our guest book, and supplied cards for people to write and seal. It was a fun way to make the guestbook a visual decoration rather than just book sitting somewhere on the side."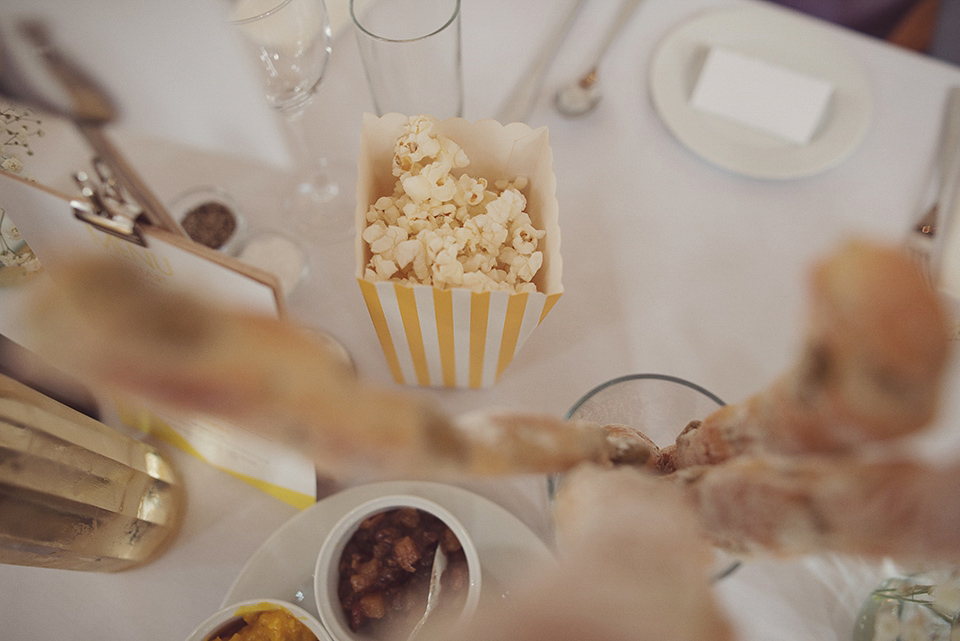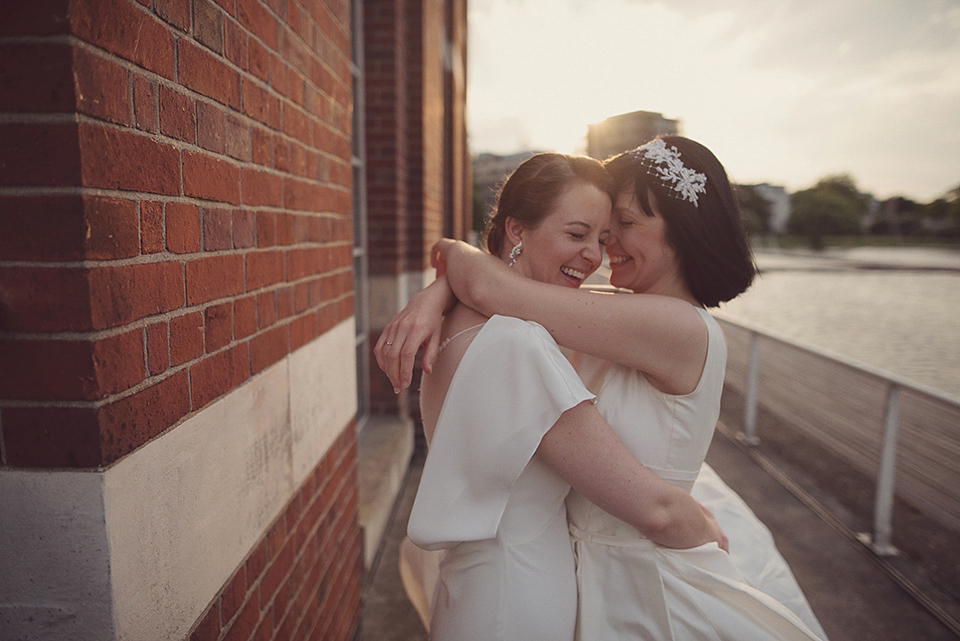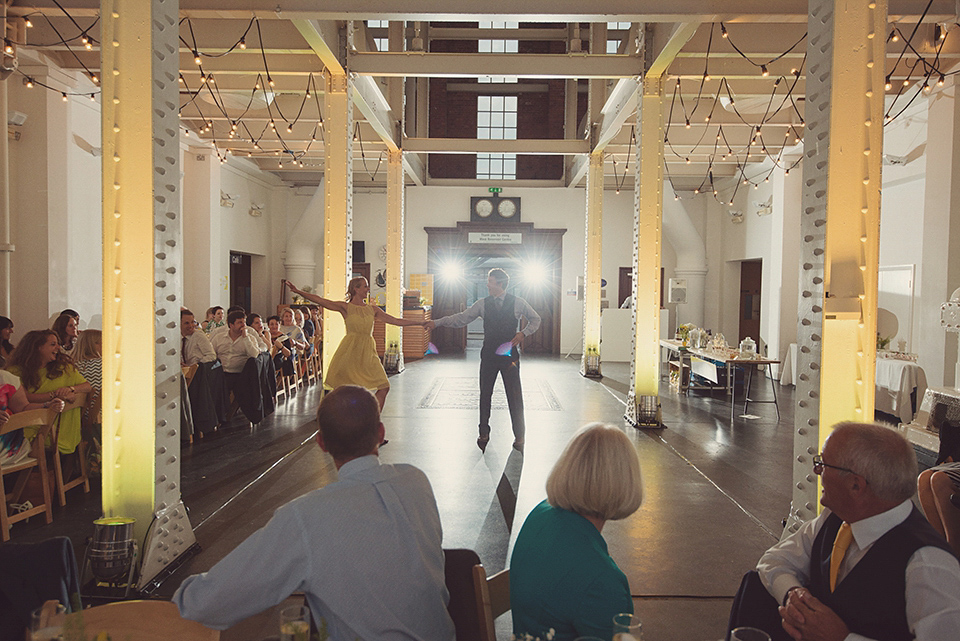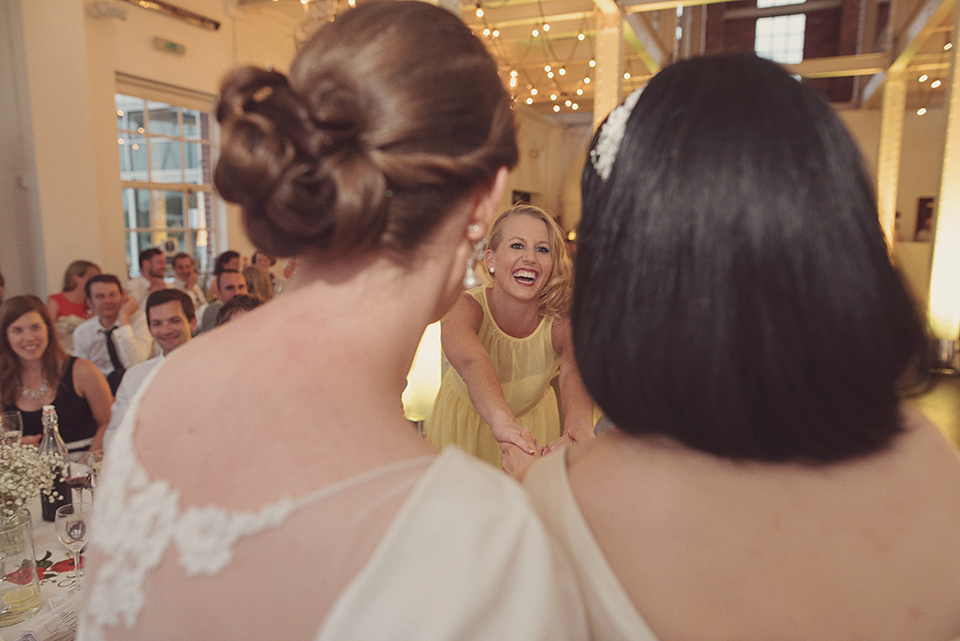 For their evening entertainment, Helen and Caeli opted for a disco. I love the super romantic reason behind their first dance…
"Our first dance was 'Can't Help Falling in Love with You' by Elvis Presley. For our second date (which was in December, and the day after our first date) I made my grandmother's American-style Christmas cookies for Helen. Helen loved the idea and brought mulled wine and Santa hats and it was amazing. I had made a playlist of Christmas song favourites, and decided to take a risk and add this song in as well because I love it and it somehow felt right. It played around the same time as our first kiss and has been a very special song to us ever since."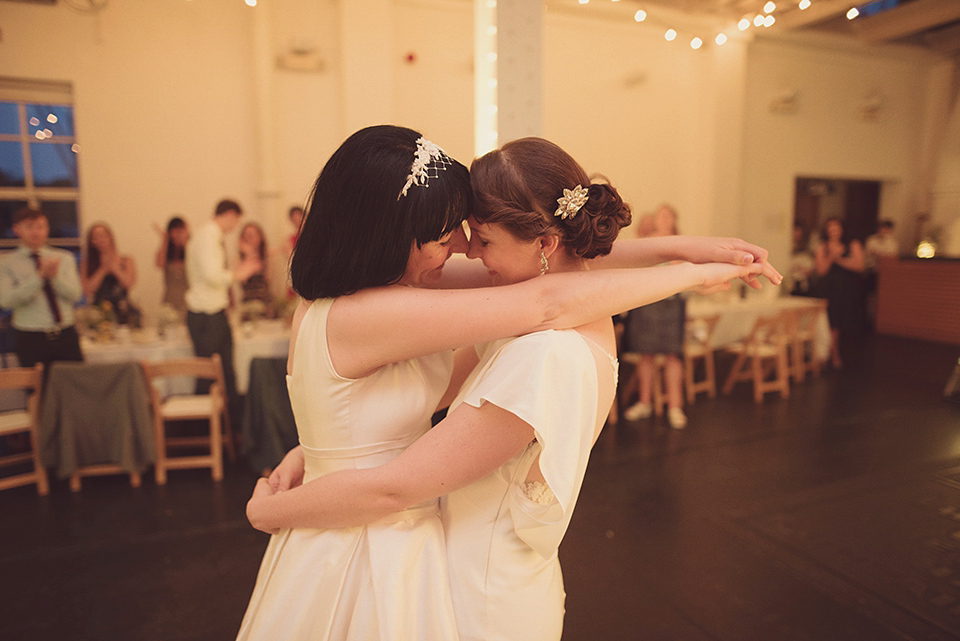 Words of Wedded Wisdom
Plan your wedding together
Be honest about your strengths and plan your wedding accordingly
Do what will give you the least stress on the day
Trust your instincts with suppliers
Be as ambitious and 'crazy' as you like!
Your budget is completely determined by several key decisions, after which there is no going back
Confirm, confirm and triple confirm with your suppliers
Agree your vision for your wedding at the start, and make it your touchstone
Lots of things don't go right on the day – and you won't care
Have a 'wedding week', especially if you have lots of guests from afar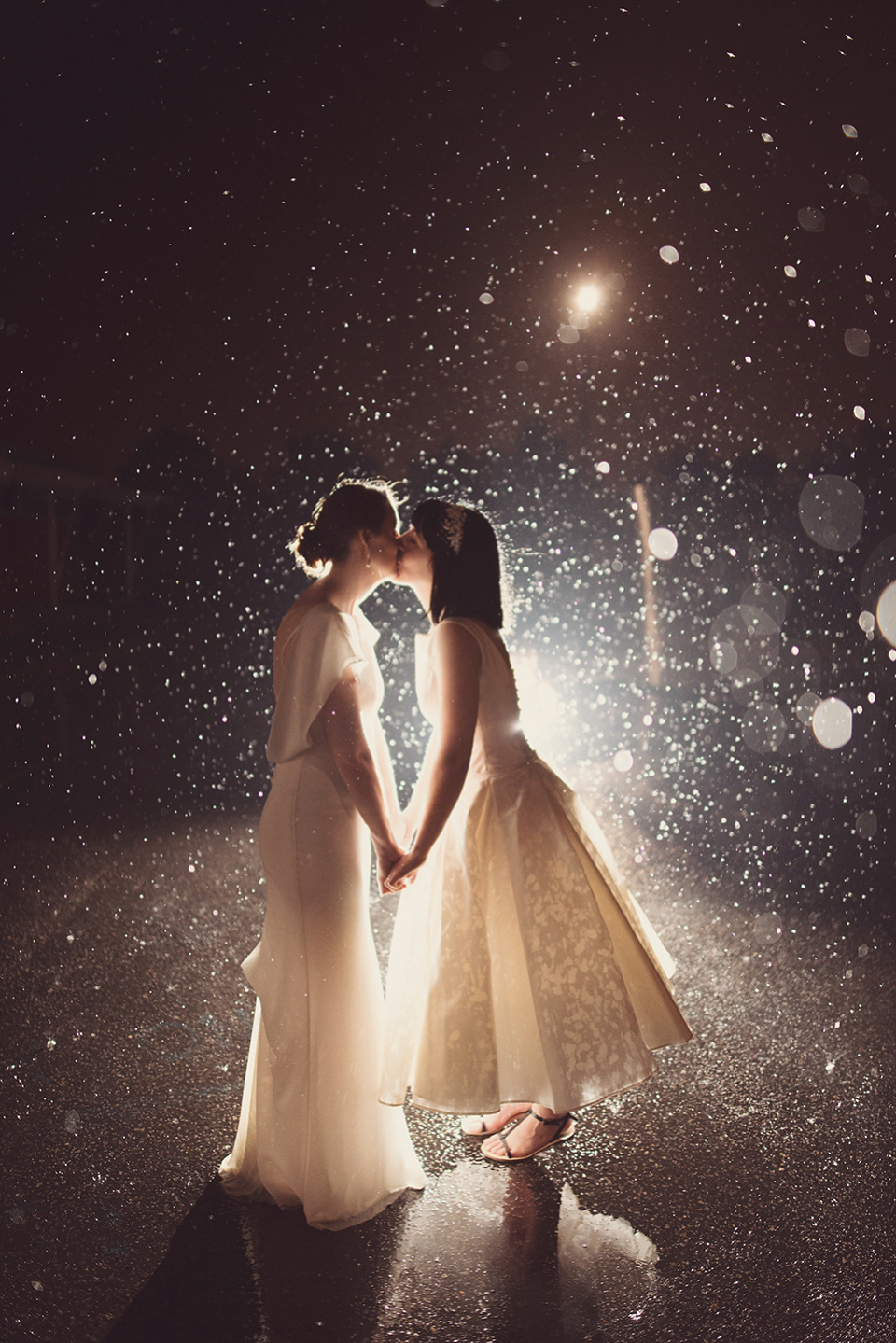 Great 'Words of Wedded Wisdom' from our wonderful couple! The advice above is actually an abbreviated version of Helen and Caeli's advice – we'll be sharing an extended 'Words of Wedded Wisdom' feature with the full set of advice on Monday lunch time (23rd November 2015). I highly recommend taking a peek – our couple has some extremely useful insights into wedding planning. A huge thank you to Rebecca Douglas for these beautiful images and to Caeli and Helen for sharing the details of their big day. To see more 1930s inspired wedding please follow this link and you can find other industrial style weddings here.
Have a great weekend lovely people!
Annora x
Photographer – Rebecca Douglas
Celebrant – Jenny Knight
Venue – Stoke Newington Town Hall followed by a reception at West Reservoir Centre
Wedding Dress – Helen: Blue Bridal purchased second hand on eBay + Caeli: David Fielden gown, from Angelica Bridal, alterations for both dresses by Satish of Elite Alterations
Headpiece – Helen: January Rose Boutique via Etsy + Caeli: V&A Museum gift shop
Shoes – Helen wore Irregular choice shoes. Caeli's kitten heels are from Rainbow Club via John Lewis
Accessories – Caeli wore art deco style earrings from Luxe Deluxe via Etsy
Bridesmaids – Monsoon dresses + shoes from Dune
Florist – Flowers purchased online from Triangle nursery and arranged by the couple with help from friends
Cake – Lovely Cakes by Laura
Transport – 1968 Jaguar MK2 + a 1974 Rover P6, hired from the Classic Car Club
Catering – Norma's Pantry
Stationery – Created by the couple
Hair & Makeup Artist – Mel Kinsman and Eric Perrin