Welcome back to a new week lovely people, thank you so much for stopping by. I hope that your visit to Love My Dress, and hopefully, Little Book For Brides too, will inject a sense of excitement, pleasure and all-round loveliness into your day. Lets waste no time in getting started with this week's very first real wedding feature.
Today's wedding was submitted by a photographer whose work is new to Love My Dress; Paul Santos was commissioned to document the wedding of Primary School teacher Fiona to Engineer Craig on Saturday 25th July 2015 at Brinkburn Priory in Morpeth, Northumberland. And I think he did a most beautiful job. But first, I'd like to share this charming little film created by Richard at RL Film Co.
Film by RL Film Co.
[fve]https://vimeo.com/134789493[/fve]
"After trawling through lots of wedding magazines and websites for ideas, we decided that we loved the vintage rustic style weddings with lots of hessian and lace. We wanted to add a splash of colour throughout the day. So we included hints of blue and peach in the flowers, bridesmaid dresses, the suits and even our dog Luna's collar and lead. A big draw to Brinkburn Priory was the fact that it is exclusively yours for three days. This allowed us to make a weekend of it and we had close friends and family at the venue for a pizza and prosecco party the night before our wedding."
Paul Santos is a member of Little Book For Brides®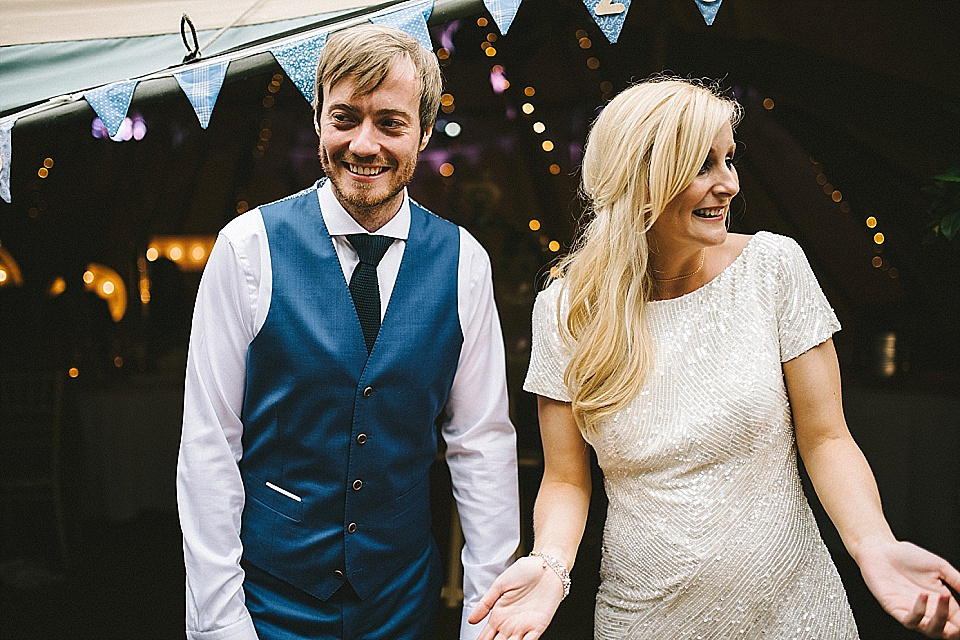 Fiona wore the beautiful Loretta gown by Eliza Jane Howell, which she purchased from Kathryn Trueman Bridal in Morpeth.
"I always thought that I would want lace for my wedding dress. After trying on lots of dresses, including lace, I hadn't found that one that I loved. I felt very bridal in some of the dresses but I just didn't feel myself. I like beaded dresses and after trying on my dress, not only did I feel lovely, I felt comfortable and like me. I particularly loved the cowl neck back detail and I felt like it set the dress off nicely.
I liked that it had a small floaty train, allowing me to feel like a bride but not hindering my ability to dance!"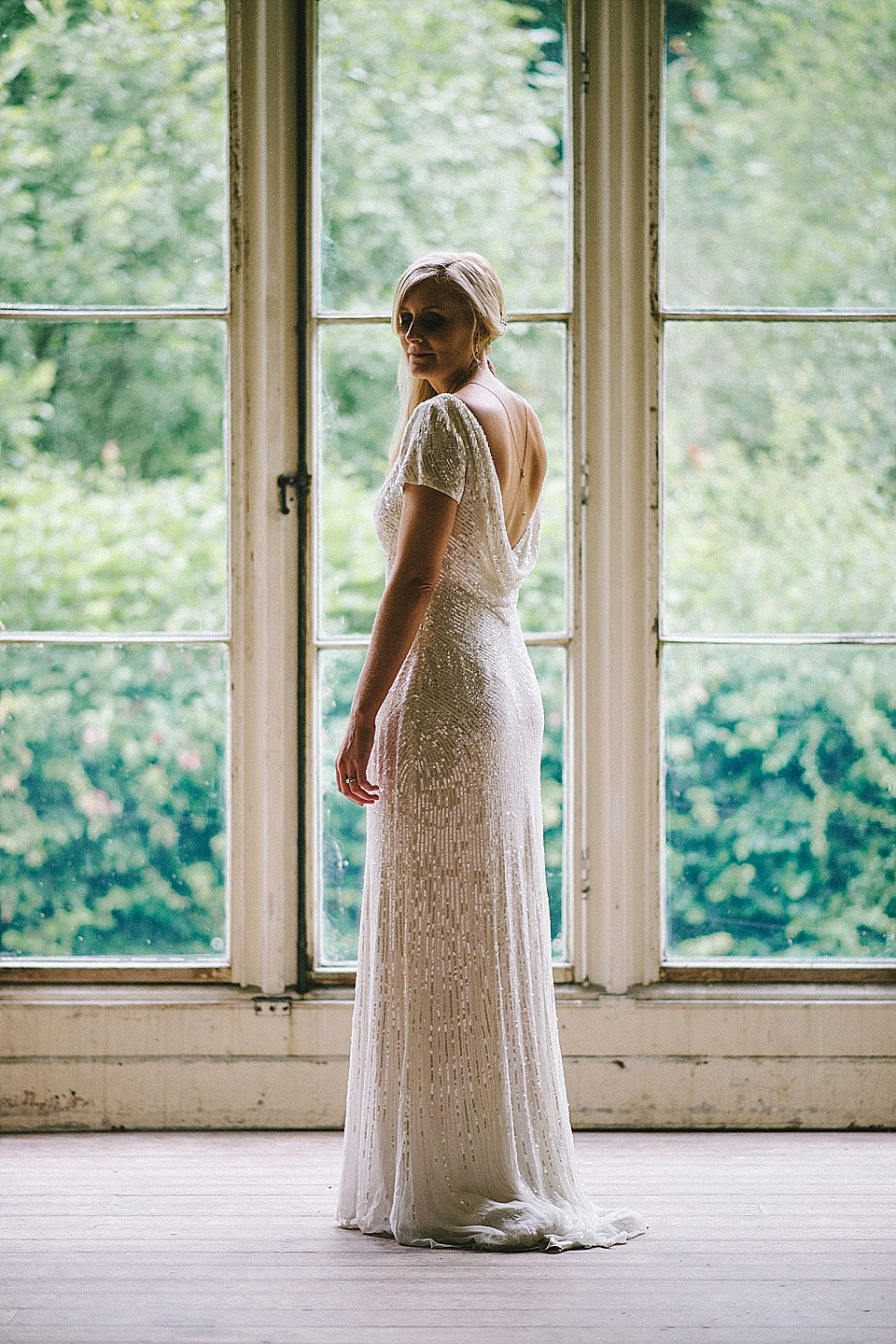 "My back necklace was from the Hedgehog Project on Etsy. With my dress having a cowl back, I wanted to wear a back necklace. After searching high and low I found this lovely shop. They create your necklace to whichever size you wish to fit your dress."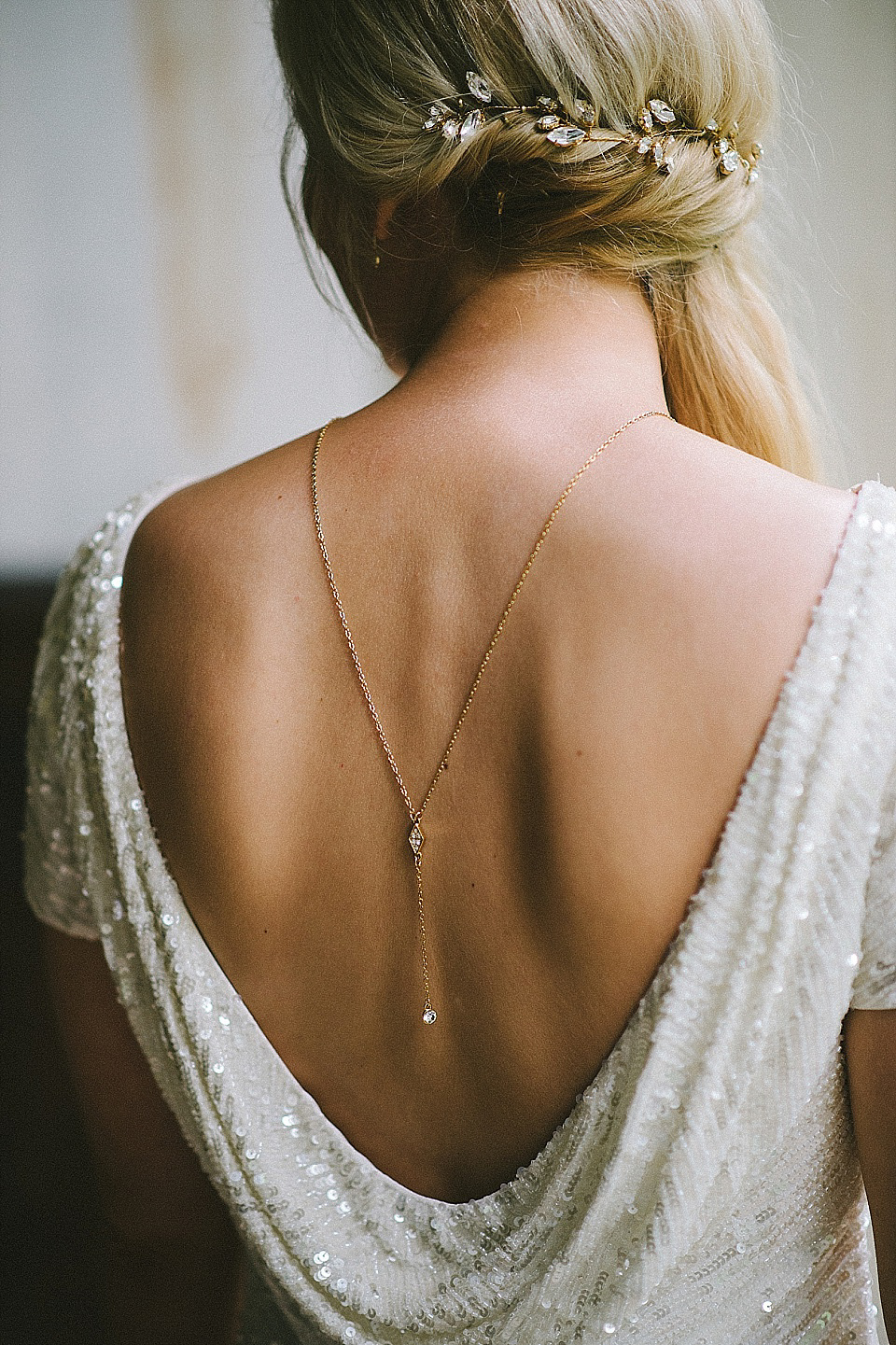 Headpiece by our Chez Bec
"We bought crates of prosecco and hired a vintage pizza van called Scream For Pizza. Loved ones, pizza and prosecco was a perfect way to kick off our wedding weekend. We were also able to spend the Sunday after our wedding relaxing with our family at the venue. We had a big family Sunday dinner, provided by the caterers and finished the day with the old classic Pictionary. The cherry on the cake was that it was completely dog friendly. Our day wouldn't have been complete without our French Bulldog Luna."
"We visited Brinkburn Priory on a wet and rainy day in September last year. However, the weather did not dampen Brinkburn's beauty. As soon as we drove down the country path leading to the venue, we knew that it was the place that we wanted to get married. It was so peaceful and secluded down by the river, it really did feel magical.
We loved the simplicity of the White Room, allowing us to add colour and really put our own touch to the room. The tipi was so cosy and inviting with the open log burner roaring. It was totally different to any of the other venues we had seen."
"We met eleven years ago whilst studying at college – we were both seventeen. We met through mutual friends and we've been two peas in a pod ever since! After 10 years together, Craig popped the question whilst on holiday in Majorca. He organised a sunset hot air balloon flight and a romantic cliff top meal, topping it off with asking me to become his wife.
Whilst visiting Brinkburn on an open day, we noticed that there had been a cancellation for a year to the day that we got engaged. I thought it was fate. Without hesitation, we booked the date."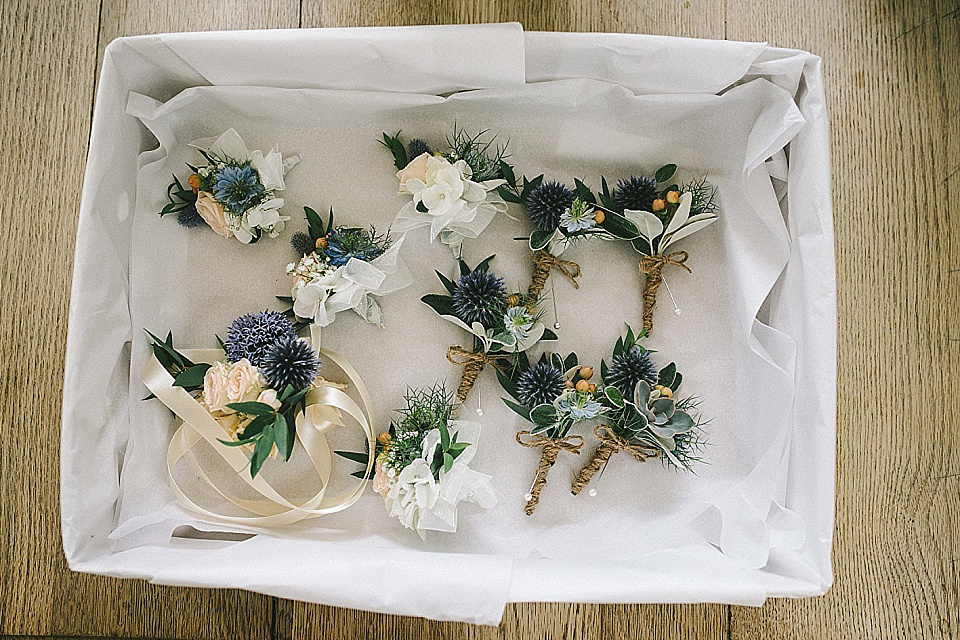 "Our florist Christine from Lavenders Blue was just fantastic. We chose her as she knows the venue well and really understand the look that we were going for. She created beautiful floral arrangements capturing the vintage but rustic style that we were going for. She used splashes of blue and peach to bring colour and detail to the flowers.
Her hanging garlands in the White Room were just beautiful and she even produced a large display that she arranged on an old vintage bike for us. She scattered fresh peach and blue petals on the tables to give a romantic feel to the day. Christine also provided hessian and lace table runners to compliment the flowers.
We were over the moon with what she produced."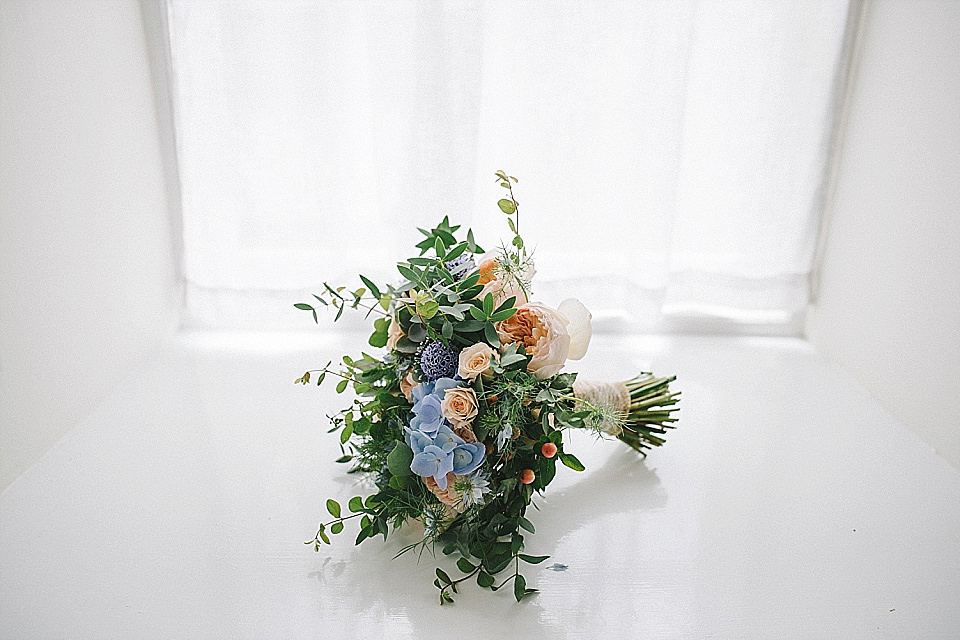 "Our makeup was done by an old school friend, Christie-Leigh Galloway, who is a professional makeup artist. She made our whole wedding party feel relaxed and at ease whilst we were getting ready. We wanted natural looking makeup and she created this look beautifully. We all felt very glam and pampered.
A nice touch was that my cousin, Vicki Wilson, who is a professional hair dresser, styled my hair. It was a lovely gesture and made the morning even more special, having someone I care about helping me to get ready for our big day."
Fiona wore the beautiful gold T-bar design that is 'Ginger', by Rachel Simpson.
"I wanted shoes that were firstly comfortable, but also shoes that I would wear again. It seemed like such a waste to buy a gorgeous pair of shoes to only wear them once. That is why I decided to go for gold. They suited the style of my dress and I loved the ballroom dance shoe look. They were certainly great dancing shoes."
"I wasn't sure about wearing a veil. My mam asked me to just try one on as she thought that it would complete the look. After some gentle persuasion, I tried on a one tiered cathedral veil and I absolutely loved it! It looked great in the photos too! It just shows you that mothers are always right! Purchased from Kathryn Trueman Bridal."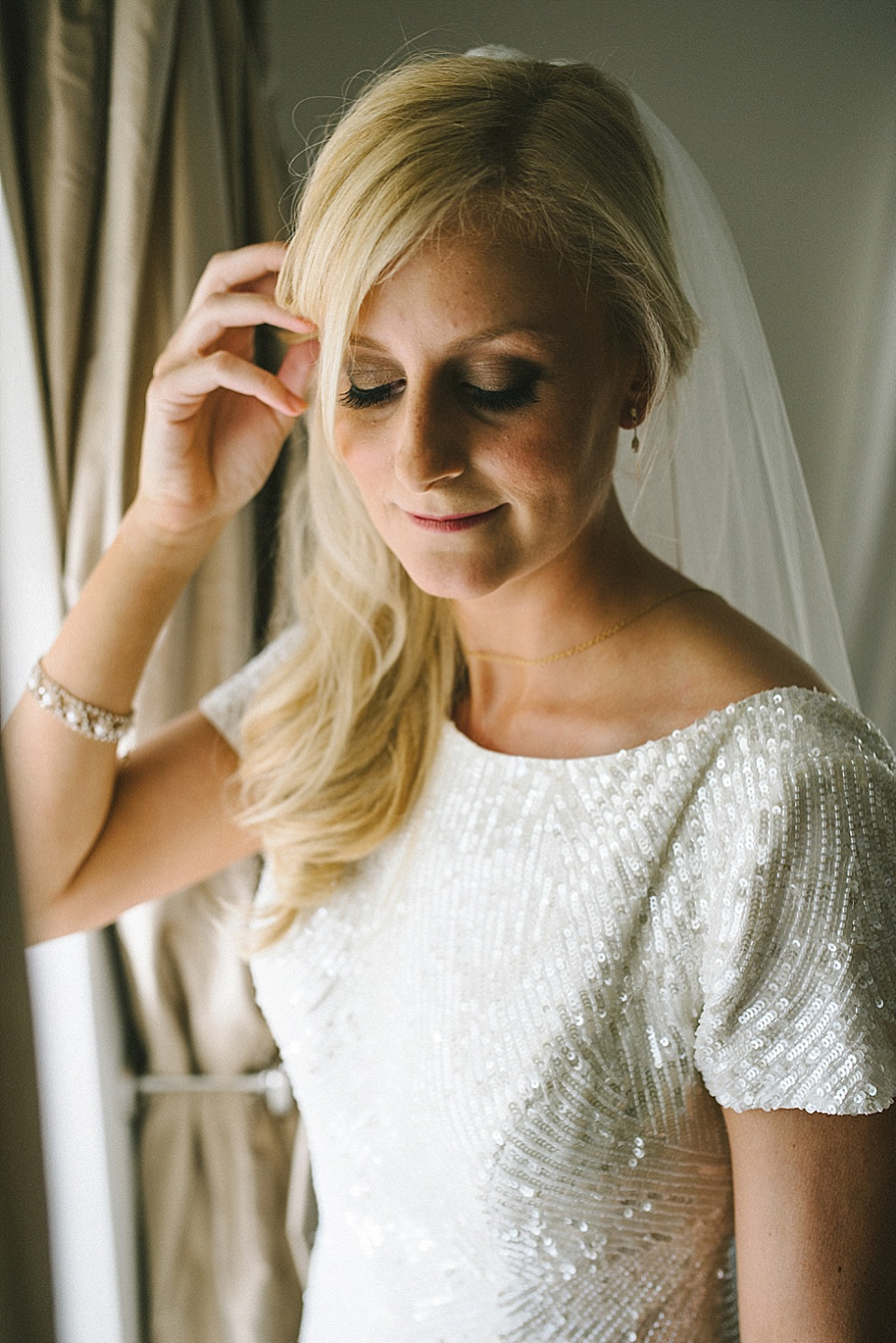 "Craig's suit was a made to measure suit from Jules B. Craig has had suits over the years for special occasions but he has never had a made to measure suit, so he thought he would treat himself for our big day. He liked the ideas of being able to incorporate a liberty print into his suit jacket and waistcoat to create something a little bit different."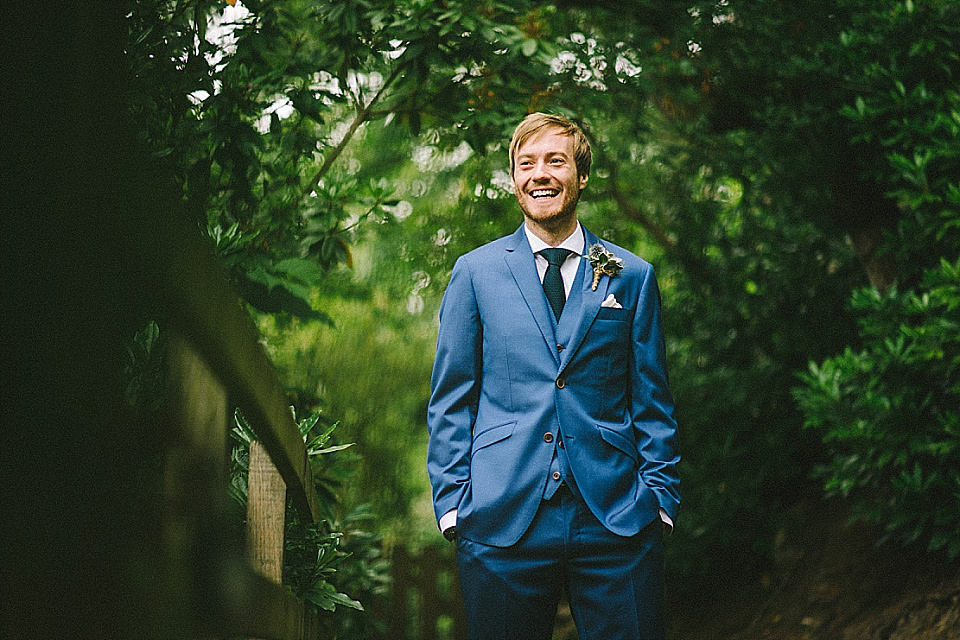 "Jules B provided a great service and Craig couldn't have been happier."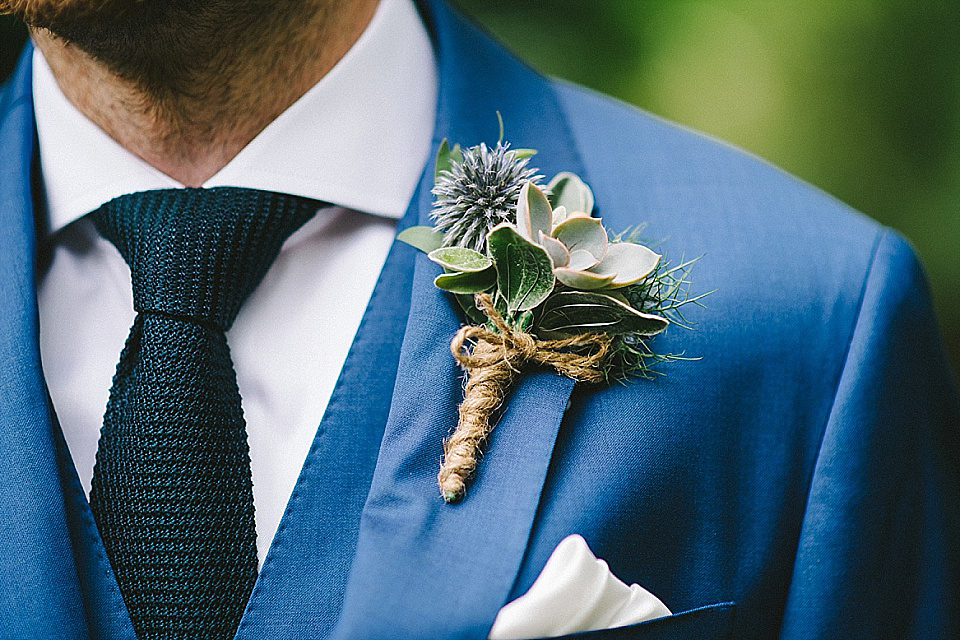 "My Dad walked me down the aisle and this was such a special moment for us both. When he saw me all ready we were both so emotional, he couldn't even speak! My Dad has always been there for me and to have him by my side on my big day meant everything."
"We thought that it was a lovely touch that you could choose every element of your ceremony and tailor it to your personalities. We wanted to include both our families and we thought a lovely way to do this would be to include a candle ceremony. It involved both mothers lighting candles to represent each of our families and then we both took our families' candle and lit one large candle in the middle to represent the creation of a new family.
Marriage, for us, is all about being a family so this opened our ceremony beautifully. We also made personal promises to each other that we chose, making our ceremony personal and meaningful."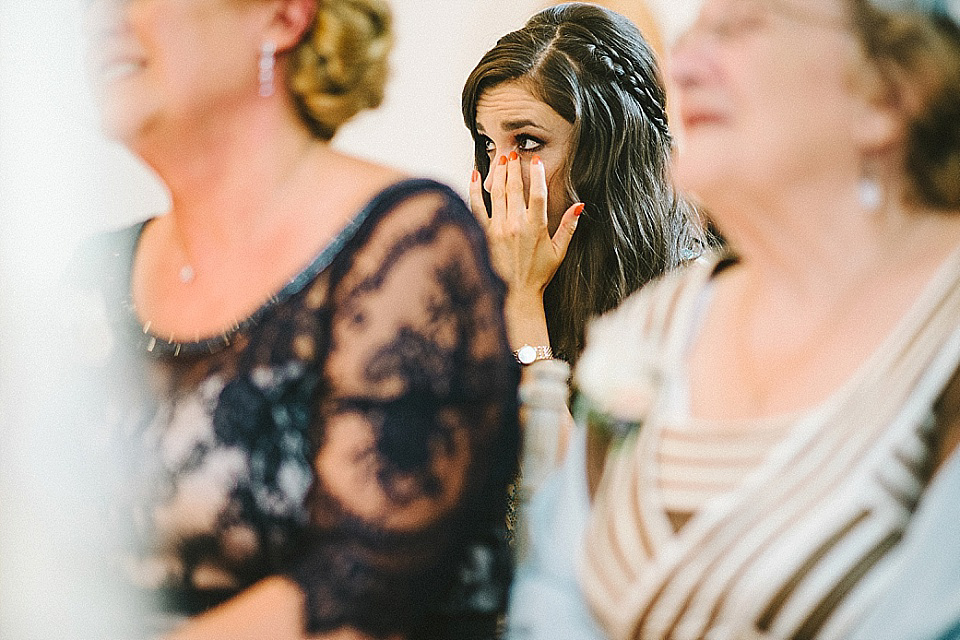 "We asked my sister Deborah to do a reading during our ceremony. We wanted something light hearted and something that wasn't too soppy as that isn't us. We searched the internet and came across the reading 'He never leaves the toilet seat up.'
We loved the humour and sentiment of this reading but it was quite funny as Craig actually does the opposite and always leaves the toilet seat up! So we tweaked the reading slightly to suit us. It certainly got some laughs during the ceremony and Deborah read it beautifully."
"We heard acoustic guitarist Jess Avison for the first time at The Botanist in Newcastle. Her voice is so soft and we loved her acoustic music. We hired Jess to sing during our ceremony and canapé reception.
Jess Avison sang a song by Ella Henderson called Yours, as I walked down the aisle. We both loved the words of this song and Jess sung it so beautifully. As soon as I heard her singing I had emotional butterflies in my tummy – she really created a lovely atmosphere."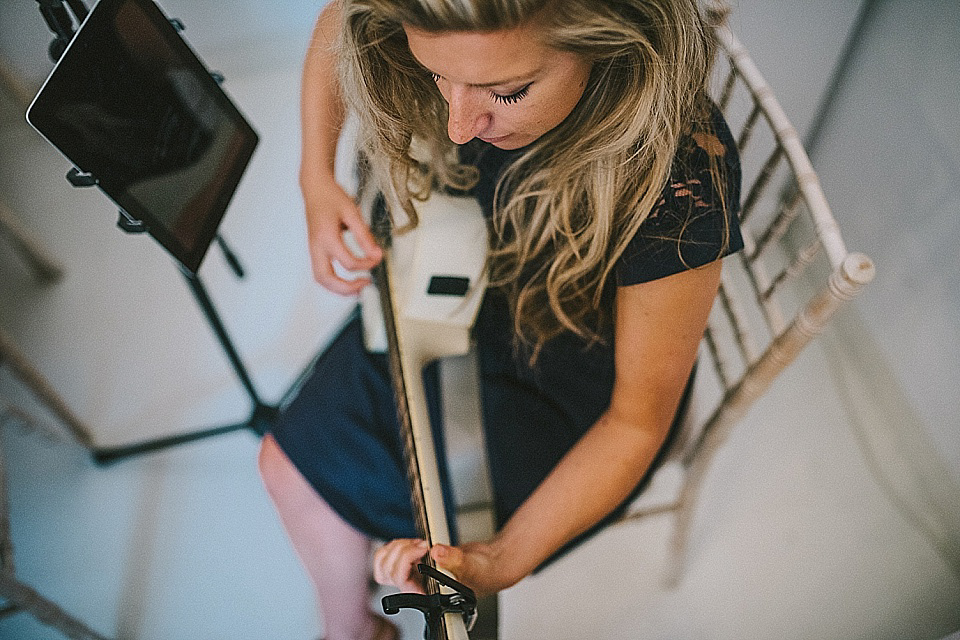 "Craig bought my engagement ring from Rox in Newcastle. They made him feel very welcome and helped him to understand the ins and outs of diamonds. Because of this, it was the first place we visited when wedding ring shopping. I wanted something simple and delicate and Craig wanted something more chunky. Rox had it all and we both walked away with our wedding rings after our first visit." 
"The best part of the day for me was just after the ceremony when we were waiting to go out to see our guests. We called each other Mr and Mrs Jeffrey for the first time and had a giggle together. Craig complimented my dress and how beautiful I looked and I felt like it was a lovely first 5 minutes spent together as husband and wife."
"Craig's favourite part of the day was seeing me walk down the aisle with a smile on my face. I had spinal surgery 10 weeks prior to the wedding and he said that just seeing me well and content made him so happy."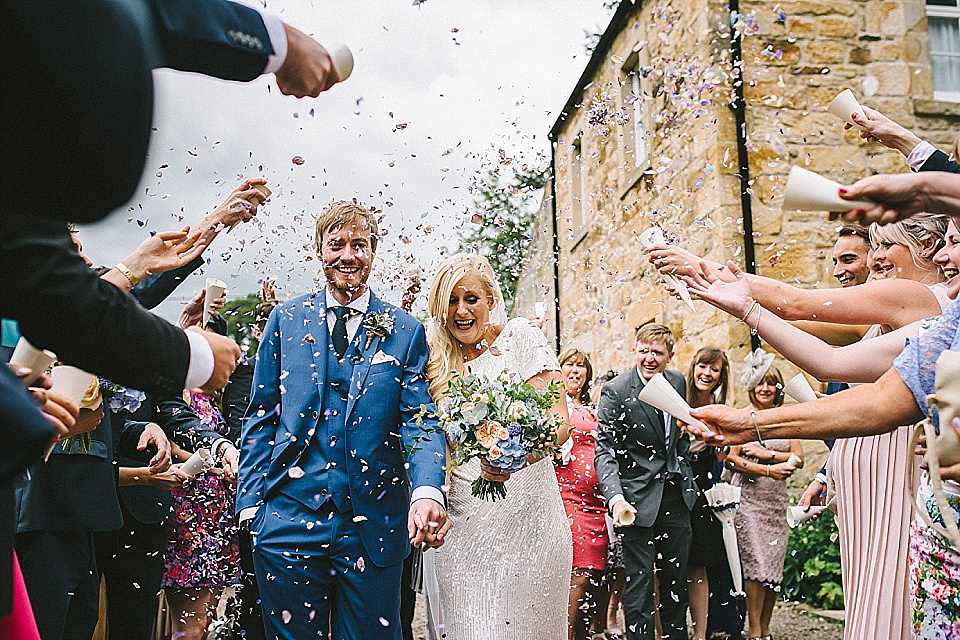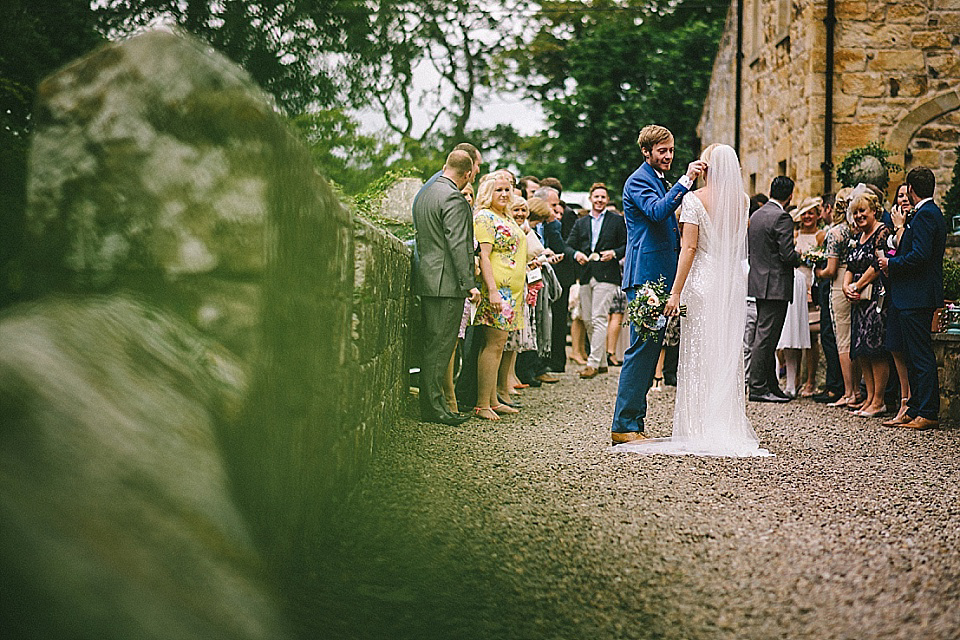 "All of the Groomsmen's suits were from Next. We wanted blue suits to co-ordinate with Craig's suit and Next provided a good range of 3 piece suits to choose from. We liked that you could mix and match, which meant that we could get the same suit to fit all shapes and sizes."
"I'm not keen on the traditional bridesmaid dress look and wanted something a little bit different. I also wanted the girls to feel comfortable and happy in what they were wearing. I am a regular shopper on ASOS and I spotted the bridesmaid dresses whilst browsing. They were a similar style to my dress in terms of the sleeves and the beading and I loved the bright blue and peach colours. The girls really liked them too and they looked gorgeous on them both.
I bought both my bridesmaids earrings and a bracelet to wear on the day. They were both from accessorise and they had hints of blue to match the colour scheme."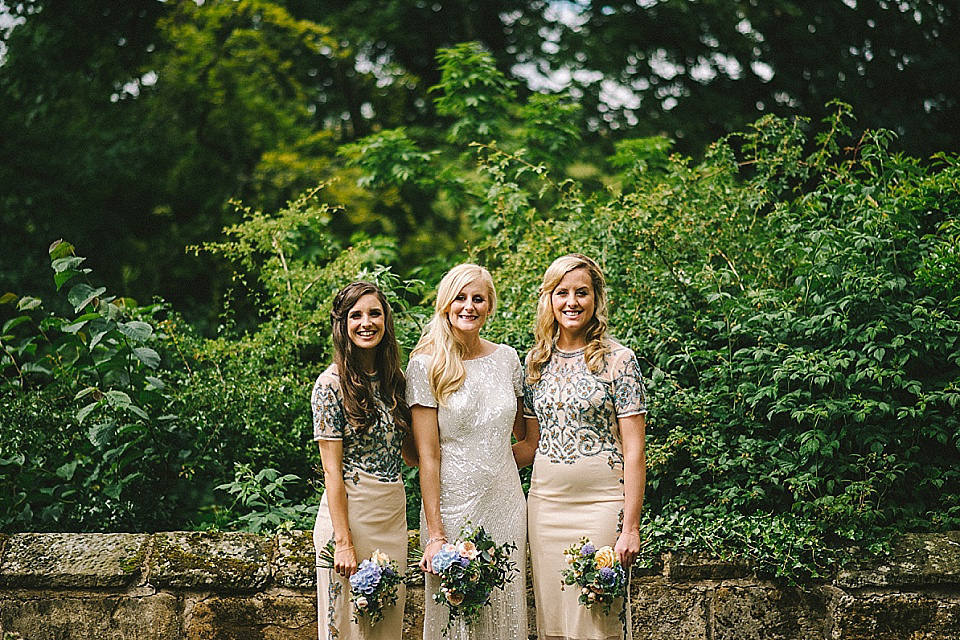 "The girls' shoes were by Roland Cartier and I purchased them from Debenhams. They added a bit of sparkle to the bridesmaid's outfit."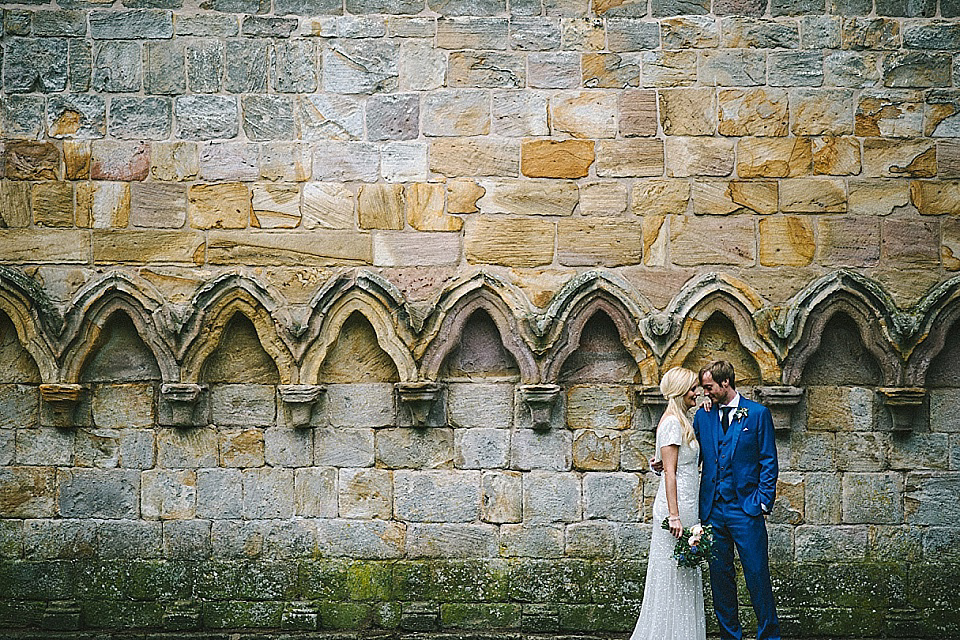 "I love yellow gold and wanted a hair accessory that was simple but elegant. I came across an image advertising Chez Bec. It featured a bride wearing my dress with a diamante hair vine in her hair. I loved how it could be worn with a range of different hair styles but unfortunately it was silver.
The girls at Chez Bec were just fab! I contacted them and they created a custom order using yellow gold. It was just what I was looking for."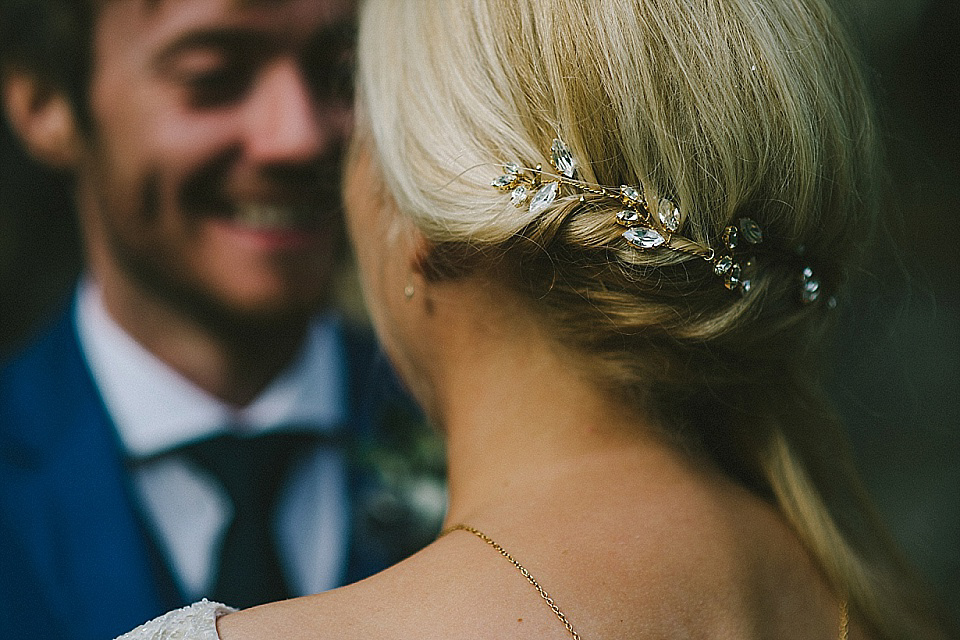 "Our photographer Paul Santos was absolutely brilliant! We could not have asked for a better photographer. He was so relaxed and discrete throughout the day, this was just what we wanted. He came to our house a few days before our wedding to discuss, over a cuppa and biscuits, how he works and the look that we wanted. We wanted a few formal shots but mainly natural photographs that captured people having fun.
He certainly delivered and we feel that the photographs really portray the happiness and emotion of the day. We found ourselves saying, when did he take that snap? We didn't even notice he was there. Even in torrential rain, he managed to find some gorgeous light to get some great photos. There was not a closed eye or a double chin to be seen."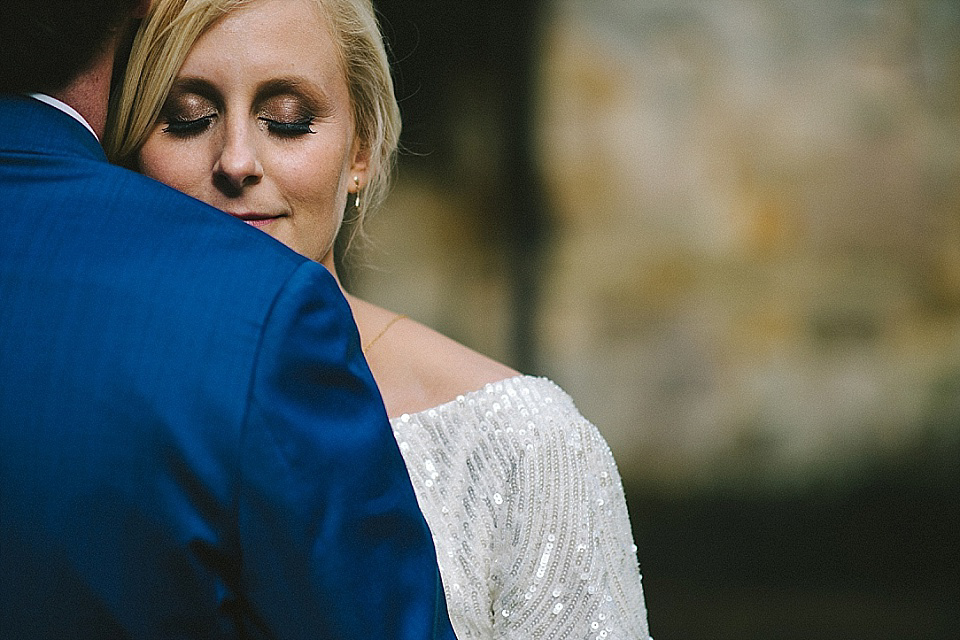 "We used Emma from Emma Bunting to decorate the tipi with hessian and lace bunting. We think it looked fab."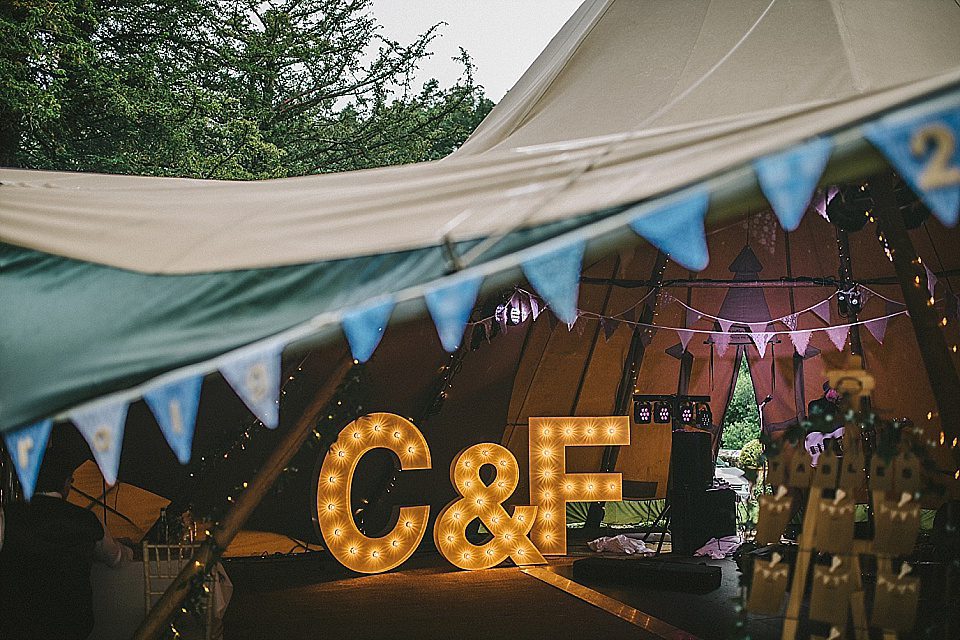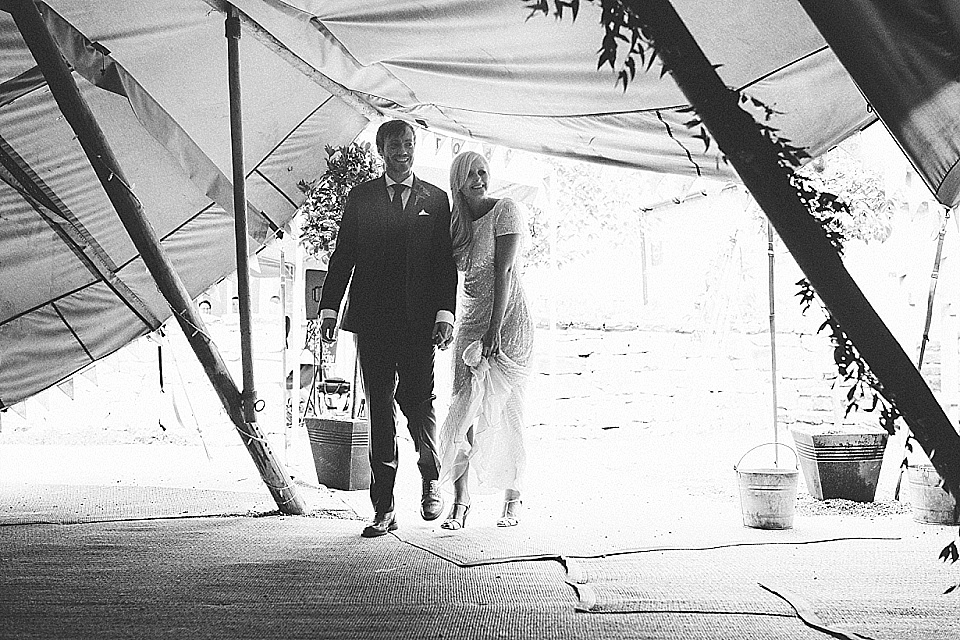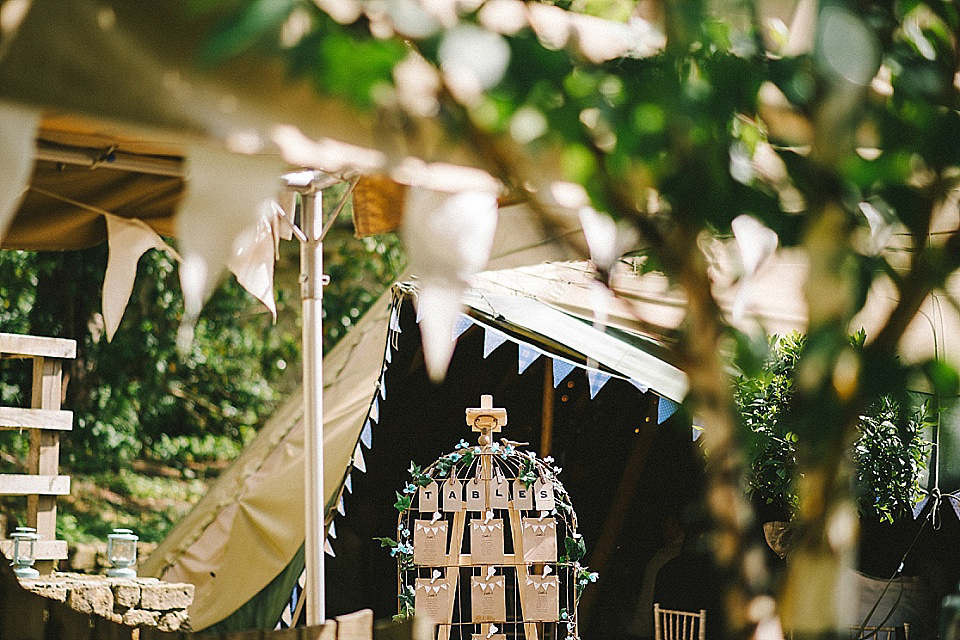 "We threw lots of ideas back and forward about our favours for the day. We really wanted something that people could keep to remember our day but also something a little bit unusual. Whilst enjoying an afternoon strolling around Tynemouth Market, we stumbled across The Spoon Man. This stall has anything that you could imagine made from vintage spoons. We thought this was a great idea and decided to go down the cup of tea route – after all there is nothing better than a good cuppa! The Spoon Man sourced vintage tea spoons for us and embossed them with the phrase 'Your're my cup of tea.' T
To accompany our tea spoons, we found heart shaped tea bags on Etsy. Every time we make a cup of tea with our teaspoons we remember our special day."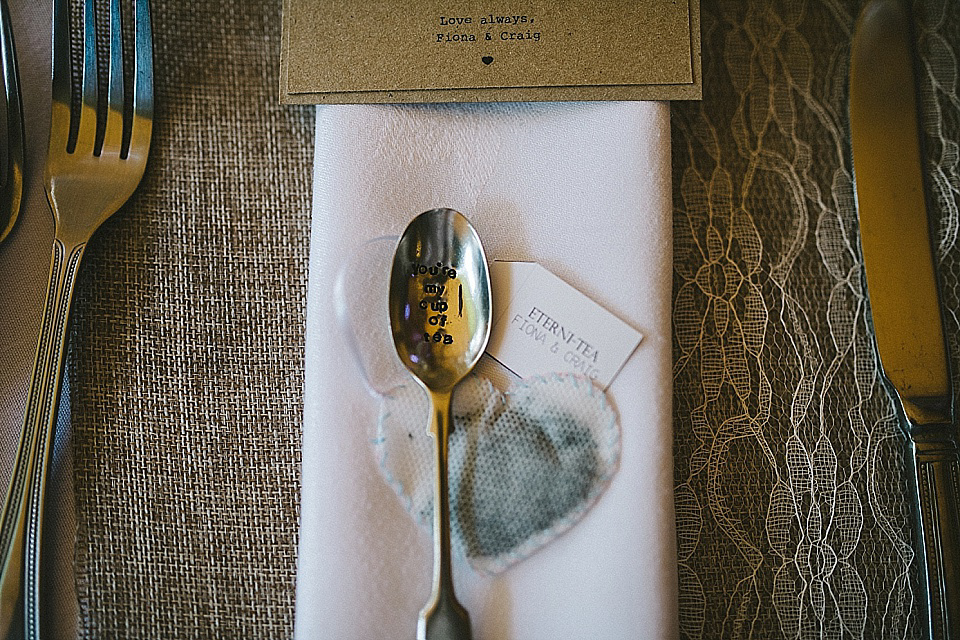 "We wanted to continue our hessian and lace theme with our stationery for the day. We got our name cards, menus, table plan and note cards from Etsy. They were made from brown card and decorated with hessian bunting."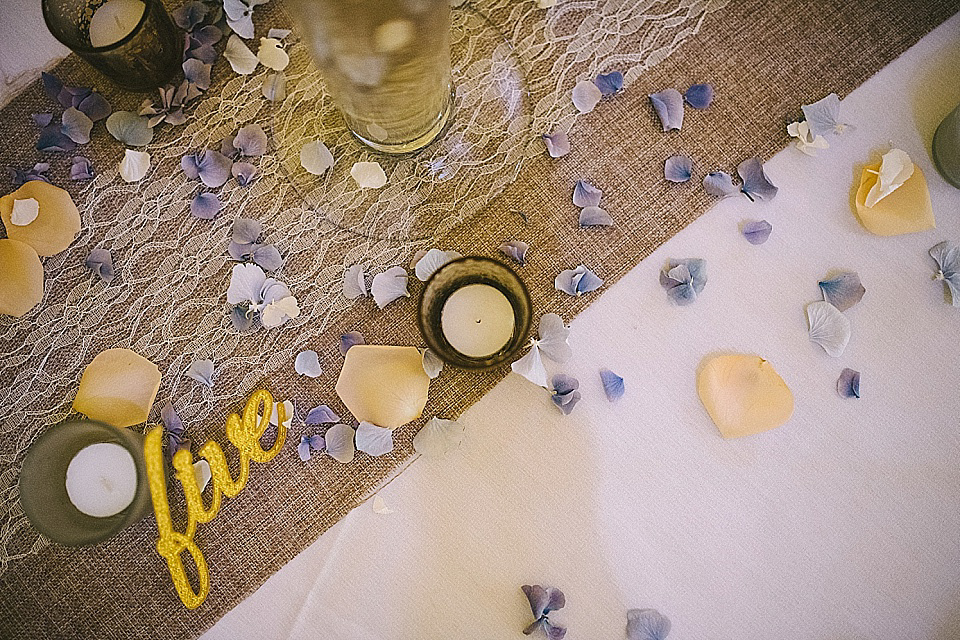 "Wilkins Fine Dining are the chosen caterers that Brinkburn use. We were invited along to sample wedding options with Neil, he made it very difficult to decide as everything tasted so good! We left feeling stuffed and satisfied that Neil would deliver a delicious meal on our wedding day. In the end we went for ham hock with piccalilli, daube of beef with horseradish mash and a lemon posset for dessert.
We were not disappointed! However, we both couldn't eat much on the day because of the excitement and emotions, not like us at all."
"For the evening reception, Neil provided a hot roast with all the trimmings. It was just what we all needed after a day of drinking fizz and beer, it went down a treat! Not only did Neil and his team provide fantastic food, they also came to the rescue with buckets when the torrential rain started to flow into the tipi! Caterer and rescuer in one!
Neil also came to the venue on the Sunday after our wedding to make a chilled Sunday dinner complete with a giant pavlova! He made it carvery style, allowing us to help ourselves and eat roast potatoes to our hearts content!"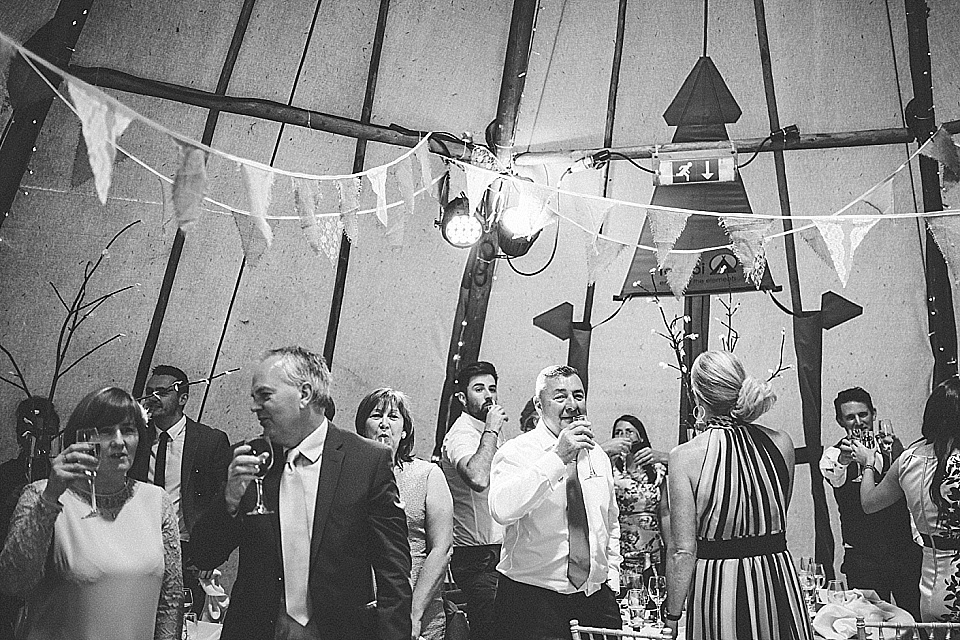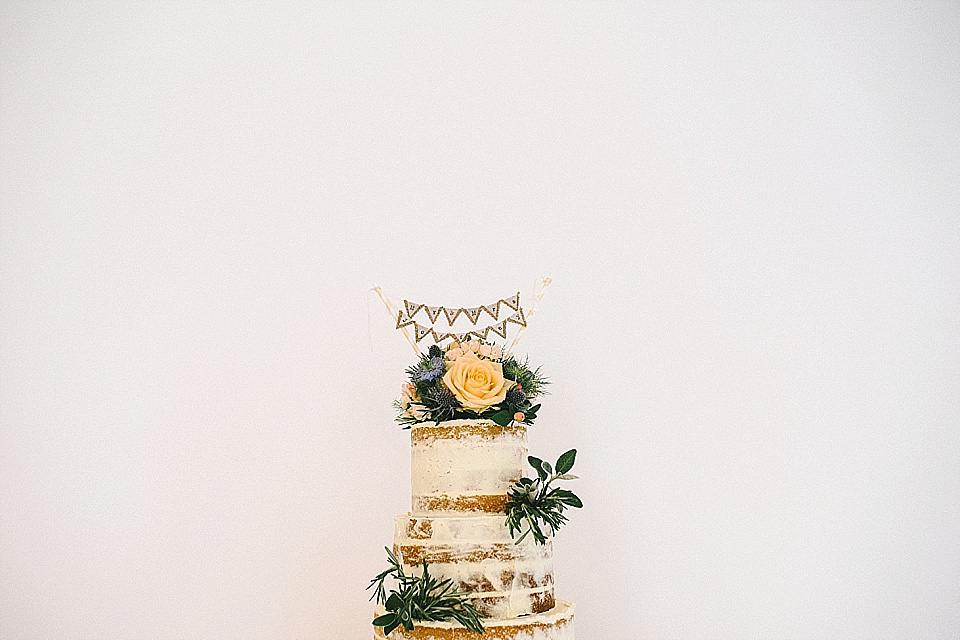 "After looking at a range of cake designs we loved the rustic look of a naked wedding cake. When we were at Brinkburn's open day, we met Dawn from The MasterCakeSmith. After trying lots of samples we agreed that her cakes were not only beautiful but they were delicious too! We went with a four tier naked cake decorated with flowers from Lavender's Blue and topped it with Mr & Mrs Jeffrey bunting from Emma Bunting.
It was so difficult to choose the flavours as they were all so tasty but after much deliberation and plenty of cake we went with summer fruits, victoria sponge, lemon and salted caramel. We had lots of eager visitors for days after our wedding to help us to finish our small mountain of cake."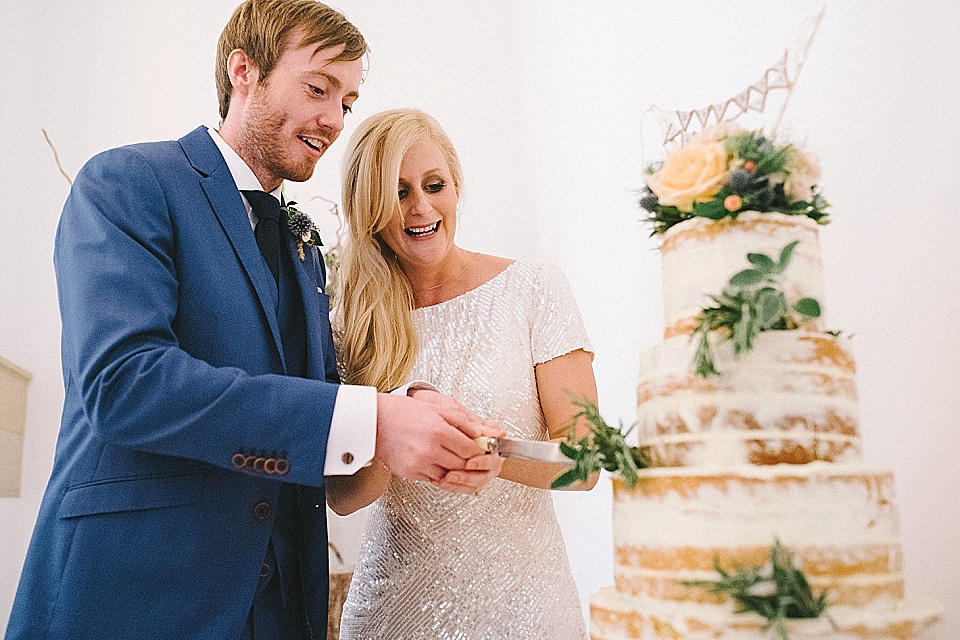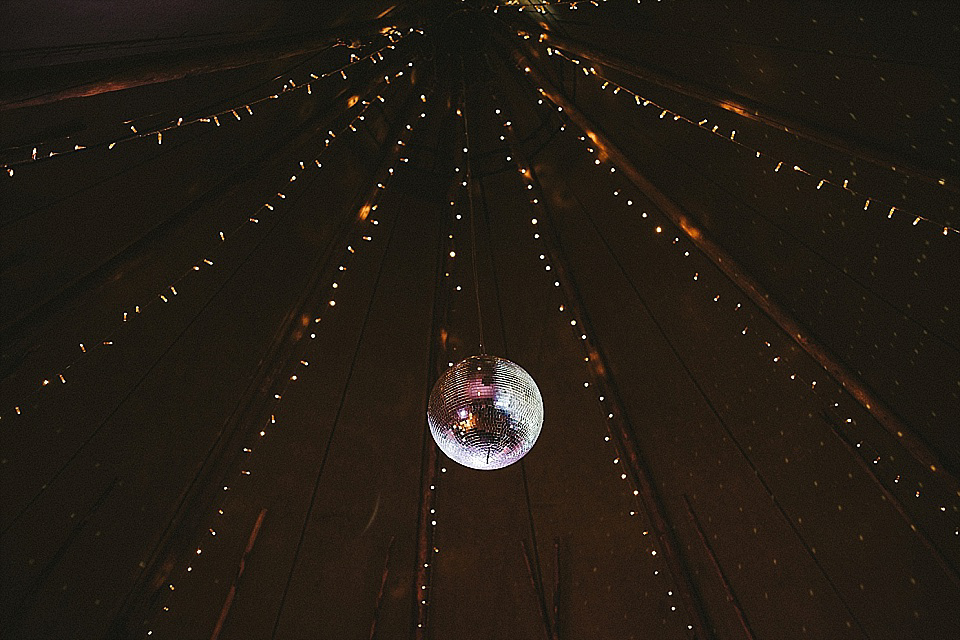 "Our first dance track was 'Grow Old With You' from the movie The Wedding Singer. It is quite a comical song whilst being romantic at the same time. We thought the words represented real life and love and made us chuckle too. Plus we are both not the best dancers so this song was perfect to shuffle along to!"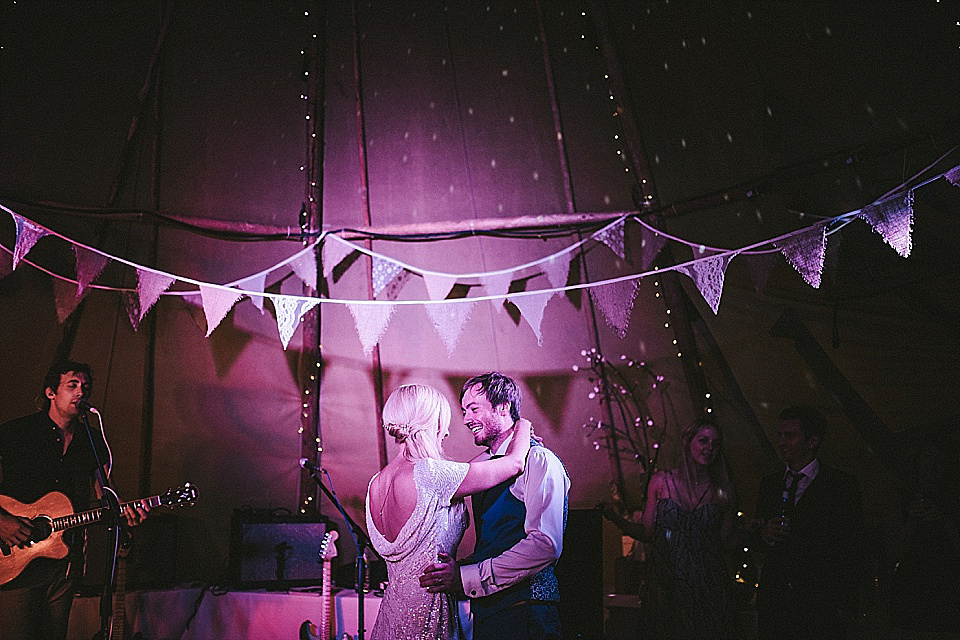 "We hired Southwest the band – they were modern, energetic and very entertaining. Everyone was very impressed. They had some impressive dance moves too! They certainly got everyone on the dance floor and kept the party going. We also loved that they learn a song of your choice for your first dance song."
Words of Wedded Wisdom
"The only advice that we would give to a Bride to Be would be to not worry about the small things that you can't control. Having surgery so close to the wedding made us realise that the most important things are that everyone is fit and well, that you are surrounded by the people that you love and that you get to marry your best friend.
We asked Paul our photographer for recommendations for a videographer as we didn't know where to begin. He recommended Richard and we're so glad that he did. Like Paul, Richard has a discrete style capturing moments without you noticing. He uses a small camera so it is not intrusive at all. We also met with Richard before our wedding, he is so easy to get along with and he really understood what we wanted from our wedding video. He chooses the music to suit the footage that he captures and we feel because of this, our video really tells a story, capturing tender moments, emotion and lots of laughter. We would recommend him to anyone without hesitation."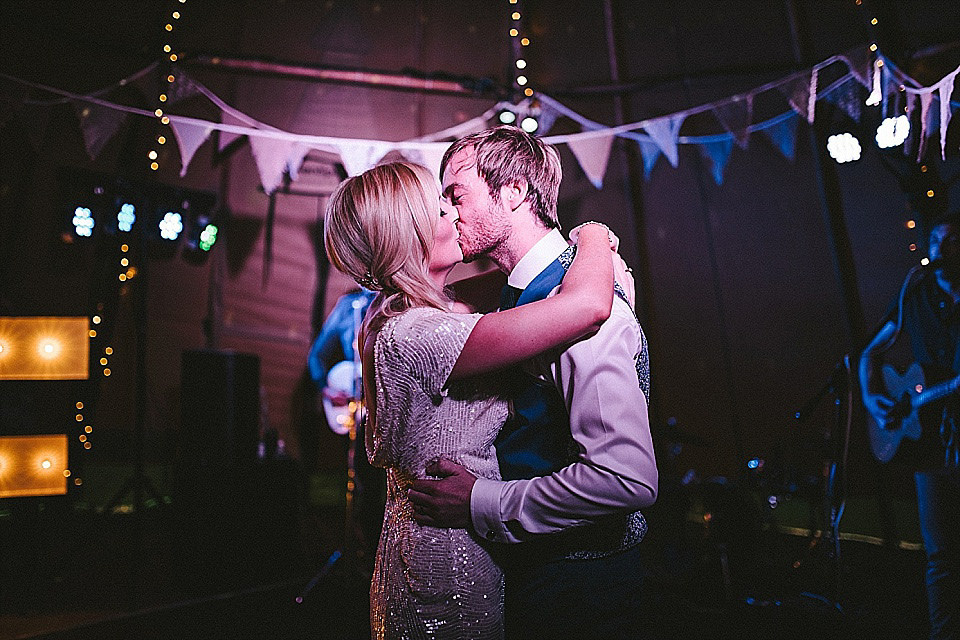 Laid back and effortless glamour, just exactly the kind of wedding I love to share on Love My Dress. Huge thanks to photographer Paul Santos for sharing his beautiful work, and many congratulations to you both too Fiona and Craig, it's such a pleasure to share your beautiful wedding on Love My Dress today.
Readers, if you love Fiona's dress, you can see more from designer Eliza Jane Howell here on Love My Dress.
Love Annabel xx
Photographer – Paul Santos
Film – Richerd leng at RL Film Co.
Venue – Brinkburn Priory in Morpeth, Northumberland
Bride's Dress – Loretta by Eliza Jane Howell via Kathryn Trueman Bridal
Veil – Kathryn Trueman Bridal
Headpiece – Chez Bec
Brides's Shoes – Ginger by Rachel Simpson
Accessories – Earrings H Samuel + Debenhams bracelet
Perfume – Marc Jacobs Daisy
Back necklace – Hedgehog Project on Etsy
Groom – Jules B + Grenson shoes +  Paul Smith belt & cufflinks
Bridesmaids Dresses – ASOS + Roland Cartier from Debenhams
Florist: Lavenders Blue
Cake – MasterCakeSmith
Entertainment – Jess Avison (guitarist) + Southwest
Rings – Rox in Newcastle
Company – Wilkins Fine Dining + Scream For Pizza
Makeup Artist – Christie-Leigh Galloway
Bunting – Emma Bunting