Hello folks and Happy Easter! I hope you are having a wonderful bank holiday Monday, whatever you're up to. I'm lucky enough to be enjoying a weekend away in the Somerset countryside with my lovely husband. In celebration of the long weekend, we are delighted to be sharing with you a beautiful, Scottish, Winter wedding featuring a flame haired bride, wearing a stunning, 1960s inspired gown by French designer Delphine Manivet.
Surrounded by their closest family and friends, Lizzie, who works in building conservation, married Nate, a freelance illustrator, on the 5th of November, 2015, at Lothian Chambers, followed by lunch at The Gardener's Cottage.
"There was no theme to the day or the outfits other than that everything should truly reflect us – laid back and informal with no compromises. We wanted a nonreligious ceremony which we could personalise with our own vows followed by a simple unfussy lunch with incredible food. We didn't want an evening party, instead we went and watched the fireworks from Meadowbank. We actually had a much bigger wedding planned and paid for closer to home but realised we weren't doing it for us, but for other people. We cancelled it and decided to run off to Edinburgh with a tiny group. It was the best decision we have ever made. We didn't compromise on what we wanted, or do anything because we were expected to or because it would make other people happy. We stripped the day back to all that was important to us – the moment we became husband and wife and having a fantastic meal with our amazing friends and family."
Photography by Caro Weiss
Find Caro Weiss in Little Book for Brides
Follow Caro Weiss on Instagram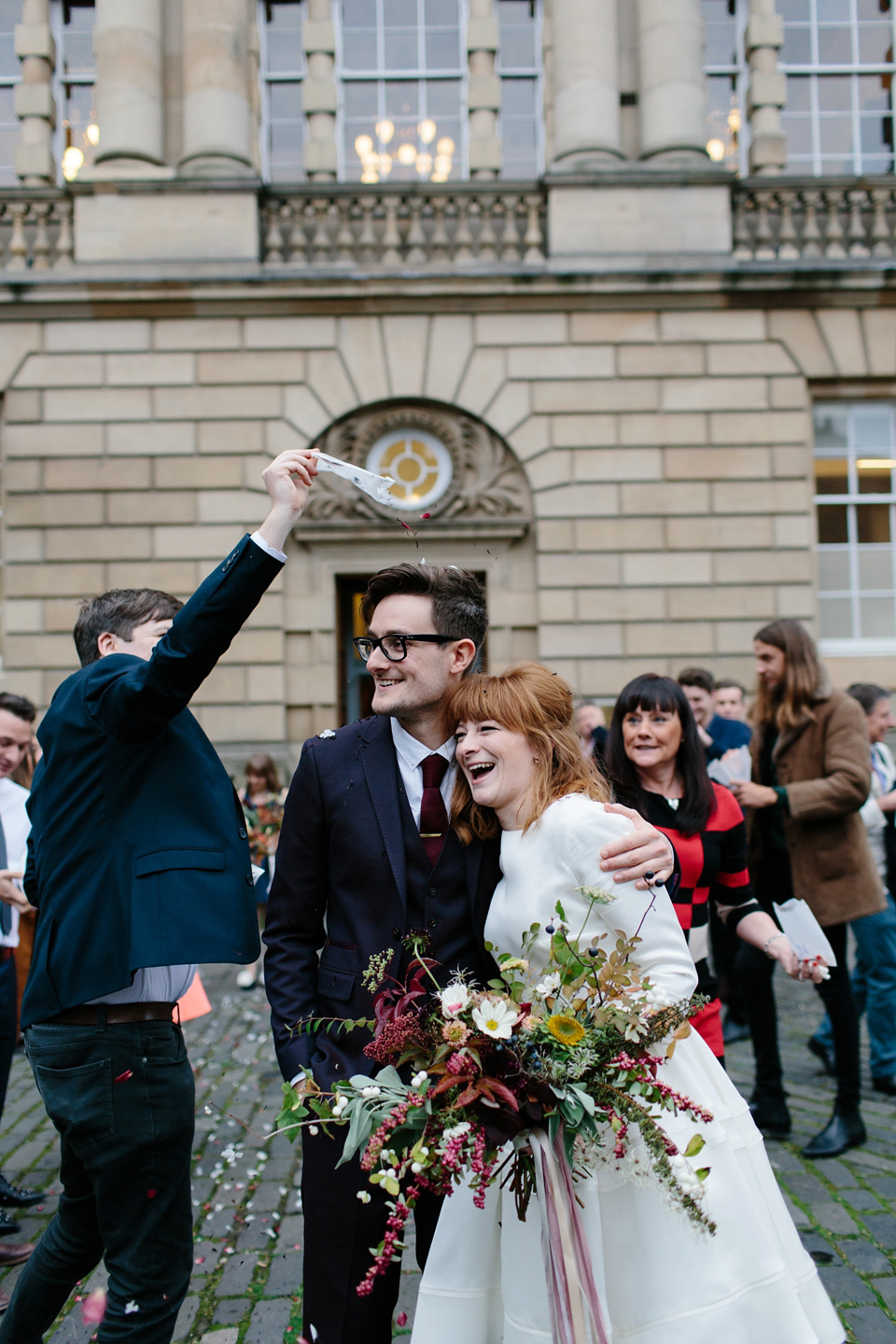 Lizzie and Nate's big day was documented by Glasgow based photographer Caro Weiss. Here at Love My Dress, we are huge fans of Caro, who you can find listed in our Little Book for Brides; a carefully curated directory of the best and brightest suppliers in the industry, handpicked by us.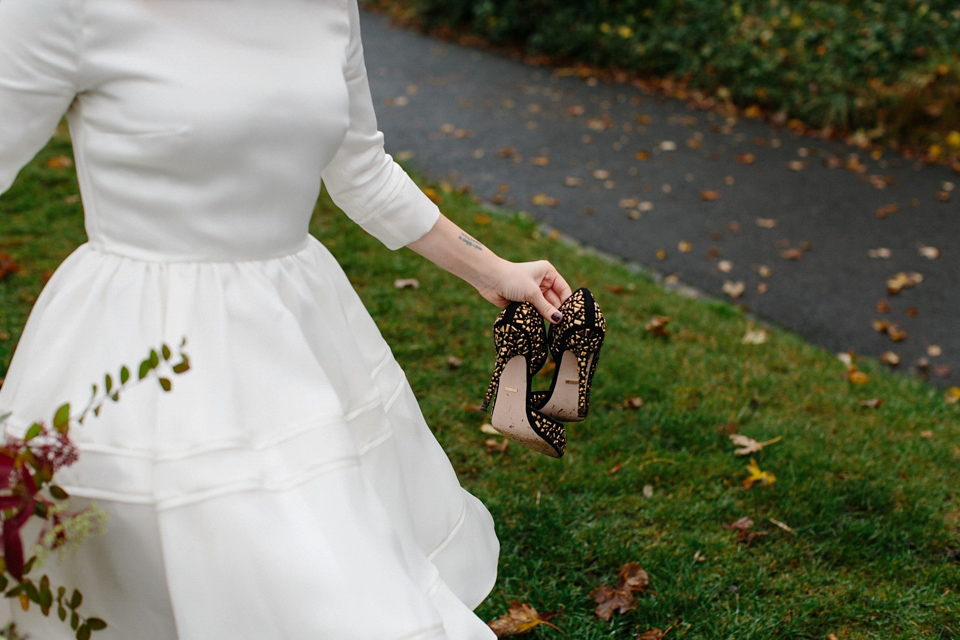 "I can't even begin to tell you how pleased I am that we chose Caro to take our photos. Not only are the photos incredible, but Caro, being a wedding master, was familiar with both our venues, and knew exactly where we had to be and when – she organised our guests and left me with nothing to worry about at all. I will definitely be begging her to journey to the south to take photos for any future big family events!"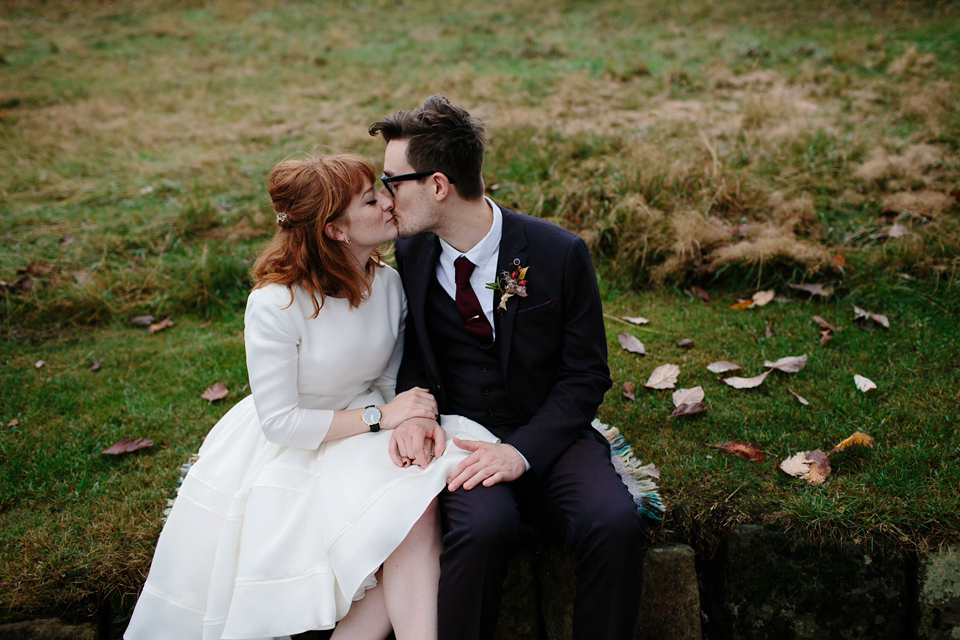 Our talented bride did her own hair and makeup, styling her lovely red tresses into a 1960's  bouffant, complete with a vintage inspired Accessorize hair slide.
Lizzie rocked sparkly, black and gold heels from Kurt Geiger and accessorised with a pair of Kate Spade earrings and a Larsson & Jennings watch.
"I love my Kate Spade earrings – I wear them to work now to upgrade a plain office outfit. My Larsson & Jennings watch was a wedding present from my husband. Nate took me to London a couple of weekends before the wedding to buy it and it was the most amazing chance to chill out."
Lizzie looked effortlessly chic in a 1960s inspired gown by Delphine Manivet, which she purchased from The Mews Bridal in Bristol. In a happy coincidence, I purchased my own Delphine Manivet gown from The Mews' Bristol boutique.
Like Lizzie, I was absolutely delighted with the service I received from proprietor Gail, and her lovely shop assistants. If you are looking for the perfect wedding gown, I highly recommend making a visit to one of The Mews' beautiful boutiques. The Mews specialise in French bridal couture and are the only stockists of Delphine's designs in the country.
"I wore the 'Alexis' by Delphine Manivet, which I purchased from the gorgeous girls at The Mews Bridal in Bristol. I saw the 'Alexis' dress online and fell in love with it, but dismissed it due to its designer price tag – I was determined not to spend a month's rent (or more!) on a dress. Instead, I had been scouring the high street for something that was appropriately special, unique and true to my style.
About three months before the wedding I hadn't found anything, and was feeling increasingly disheartened, when my mum phoned to say that The Mews had a sample of the 'Alexis' dress in my size and a free appointment the following Saturday."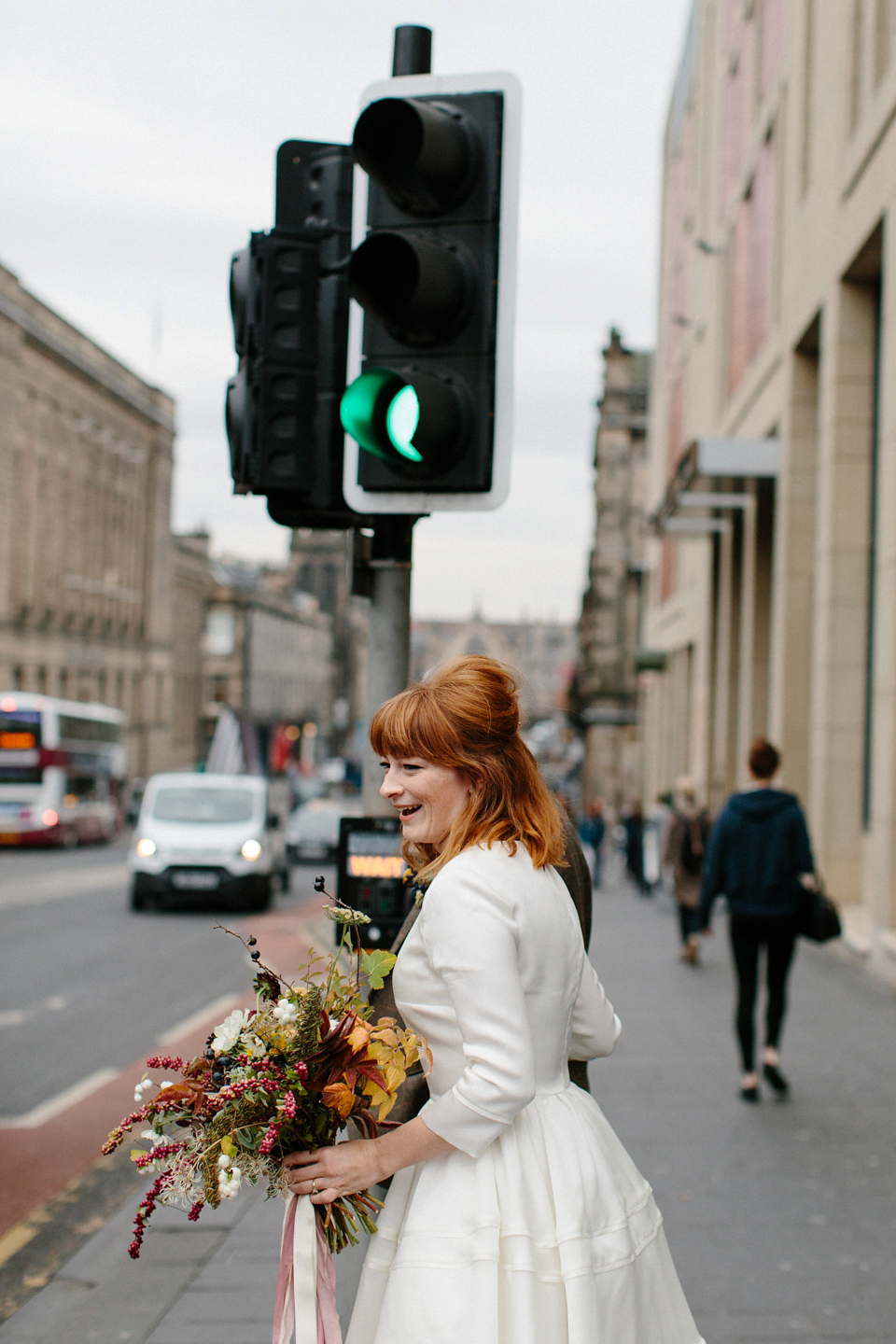 "I visited the ladies at The Mews and they were wonderful, managing to get the gown and have fittings in a crazily tight timescale."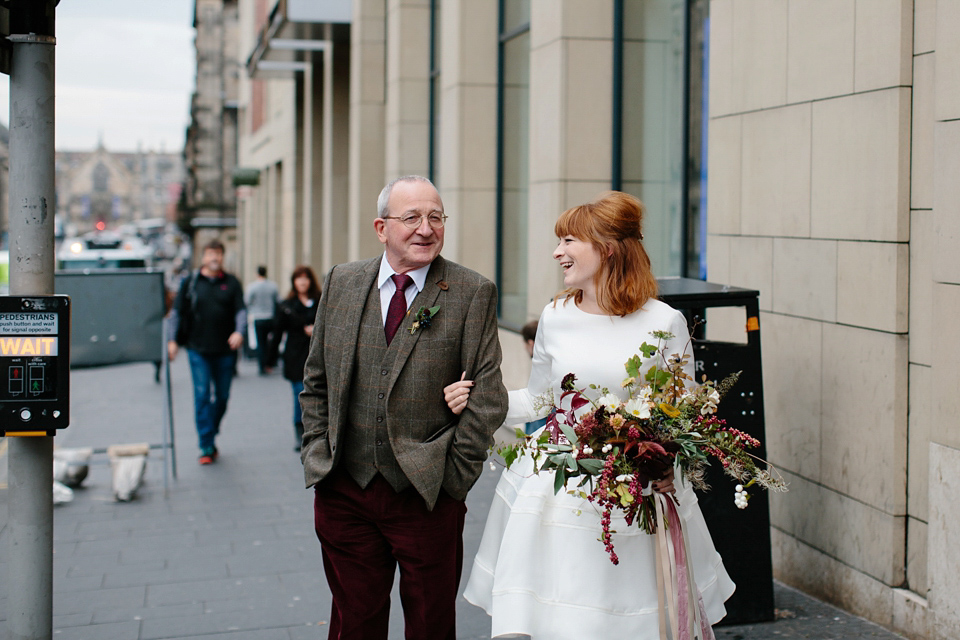 "I love how simple and elegant the dress is and I will never be able to thank my parents enough for giving me the best wedding present imaginable – my gorgeous 'Alexis' dress and all the confidence and relaxed comfort it brought me on that day."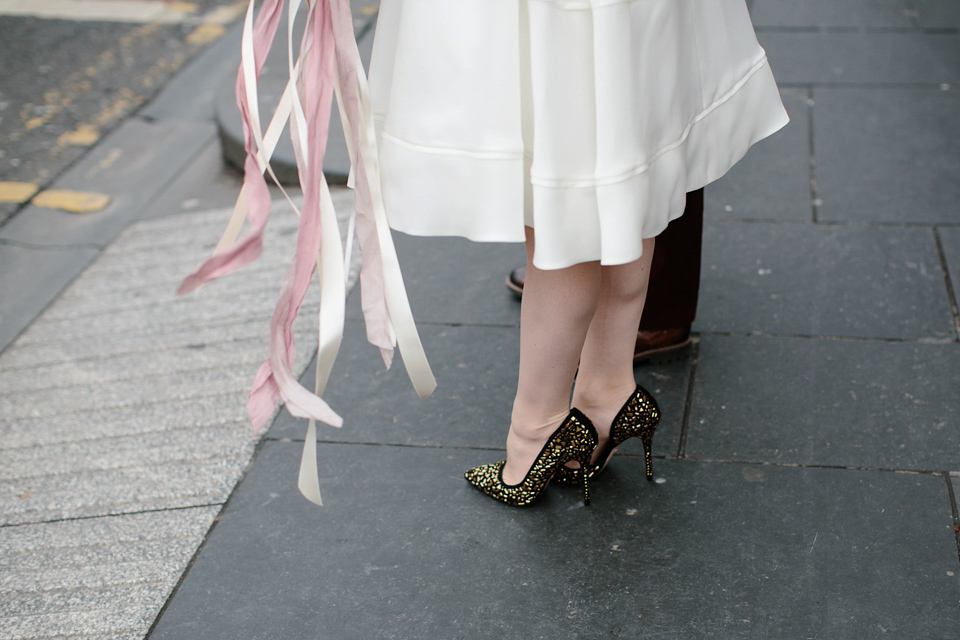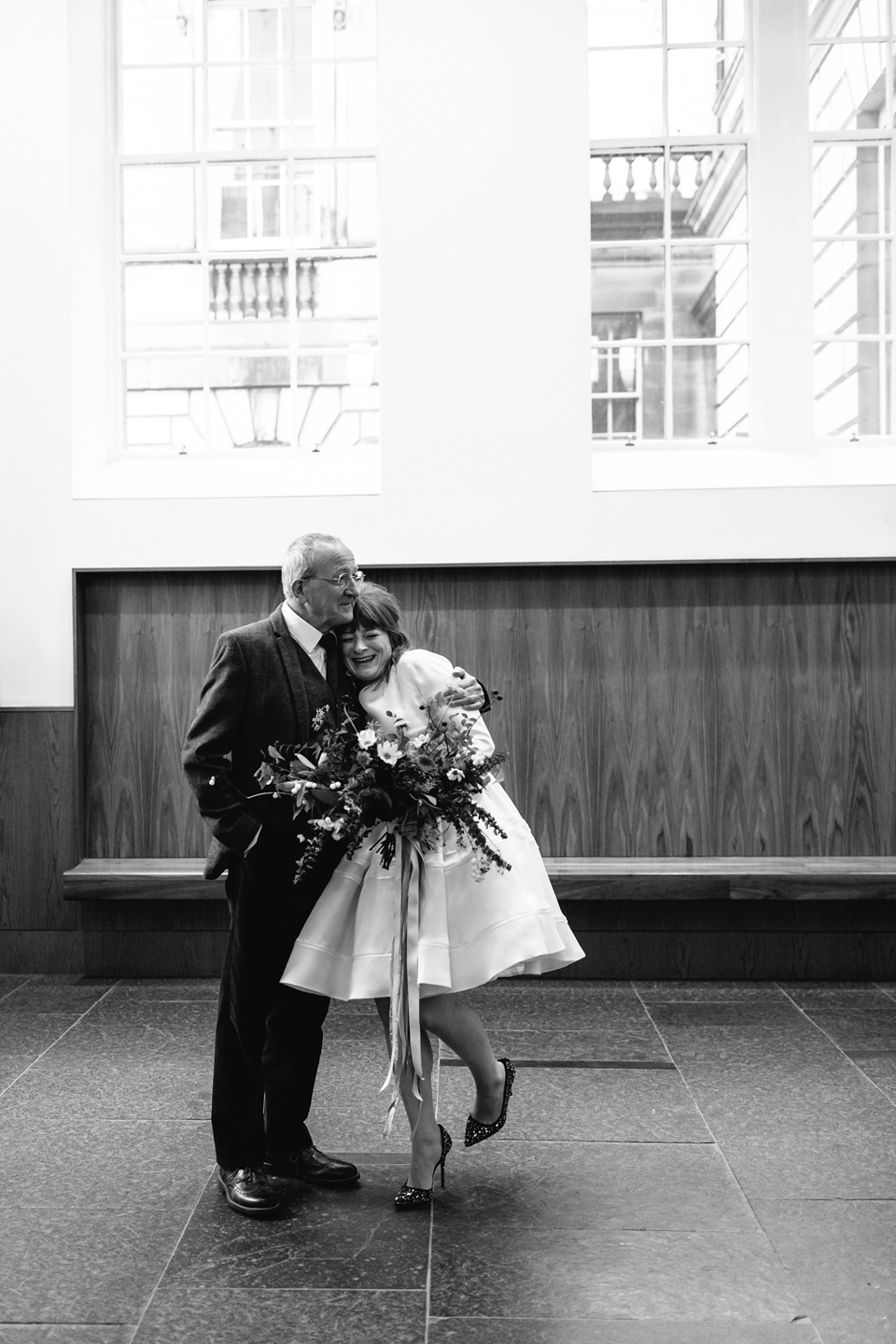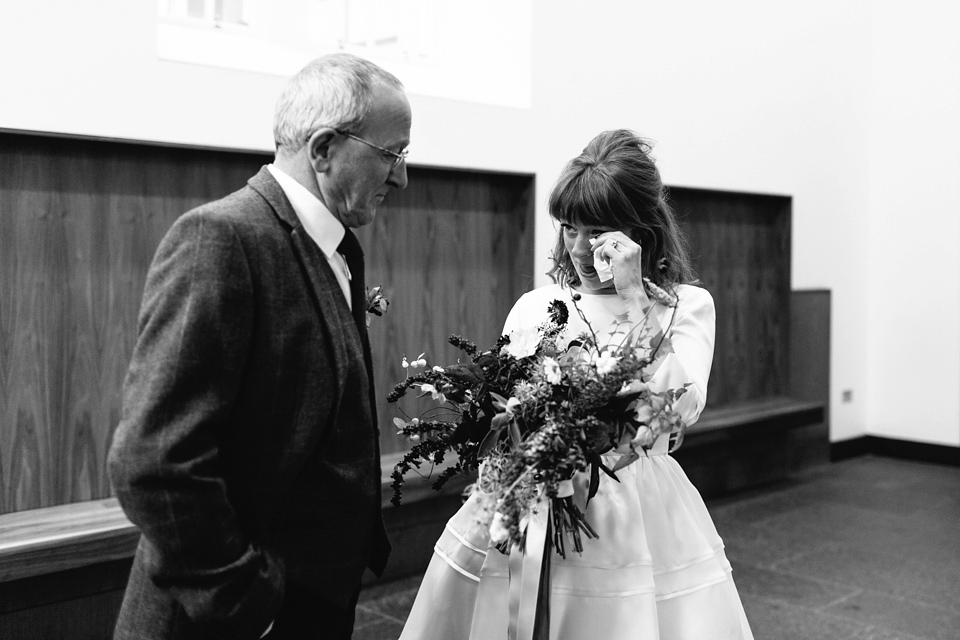 Meanwhile, Nate looked very handsome in a dark purple, three-piece suit and burgundy tie, both from Ted Baker.
"Nate accessorised with a 'Thunderbirds 3' badge. He found the badge on eBay and was incredibly pleased with it!"
"Nate and I met when we were volunteering for the National Trust, and had both just been dumped! We bonded over our mutual love of pubs, working hard and ant documentaries and within six months we were engaged. We knew we wanted to get married and so decided we would just do it! On the night we got engaged formally, we celebrated with a burger and champagne. We were engaged for two years before we got married."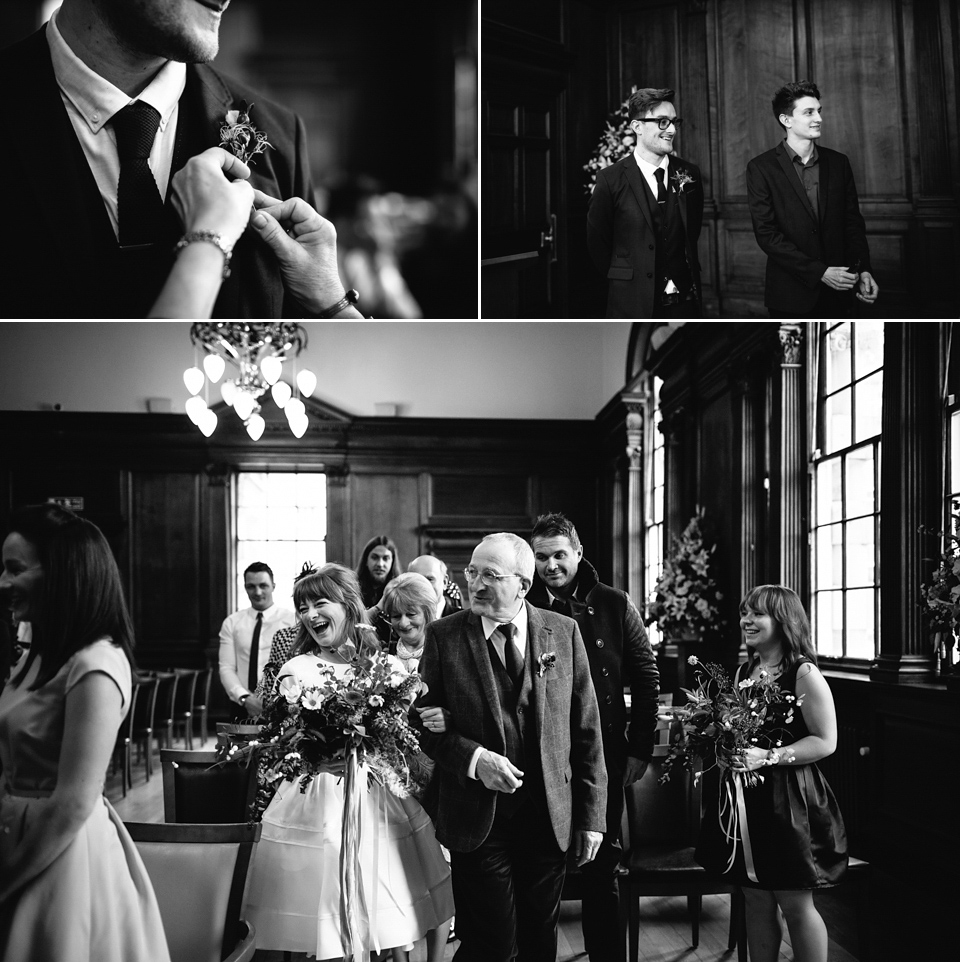 After getting ready at her parents' house, Lizzie walked across the road to the Lothian Chambers, where she walked up the aisle, accompanied by her father, to the sounds of 'I can see your tracks' by Laura Veirs.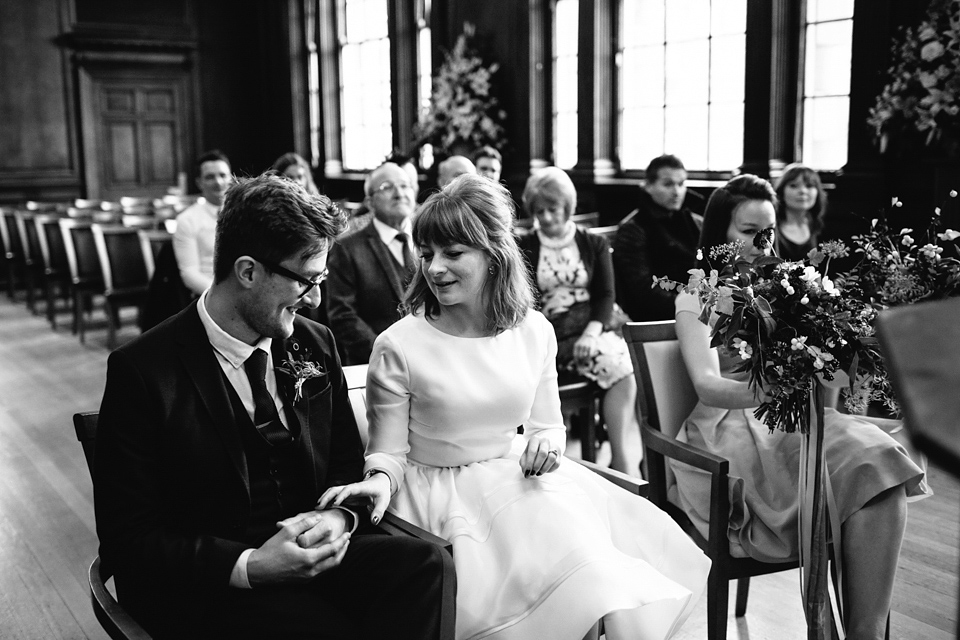 "Our guests were seated to the intro music to the shipping forecast and I walked down the aisle to the instrumental version of 'I can see your tracks' by Laura Veirs."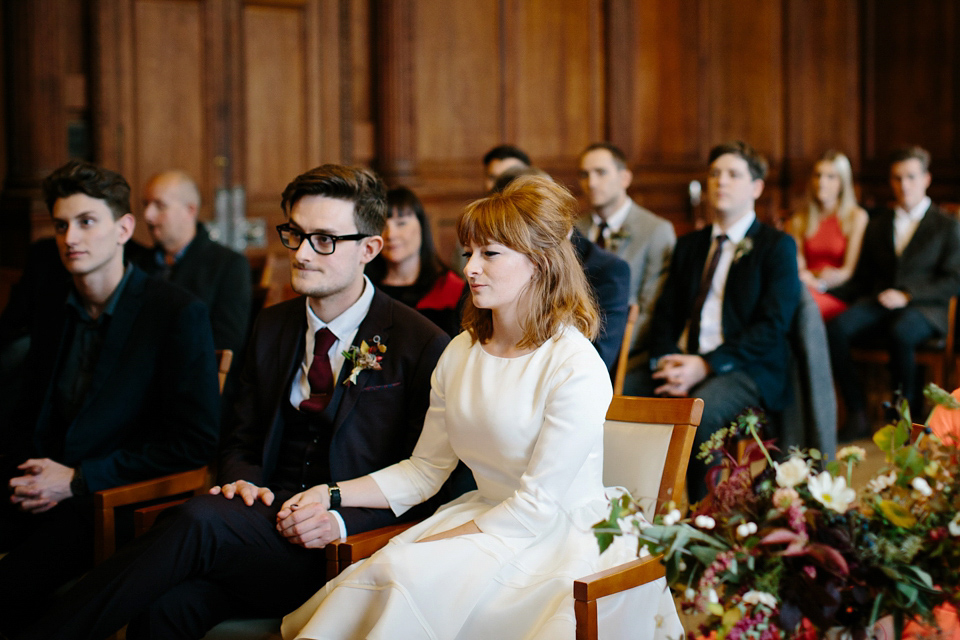 "We wrote the vows together, one evening in under an hour, and then went out for pizza to celebrate! We just wrote what felt natural and I actually managed to deliver the words without bursting into tears. We didn't want any readings in the ceremony, so this was our way of making it personal to us."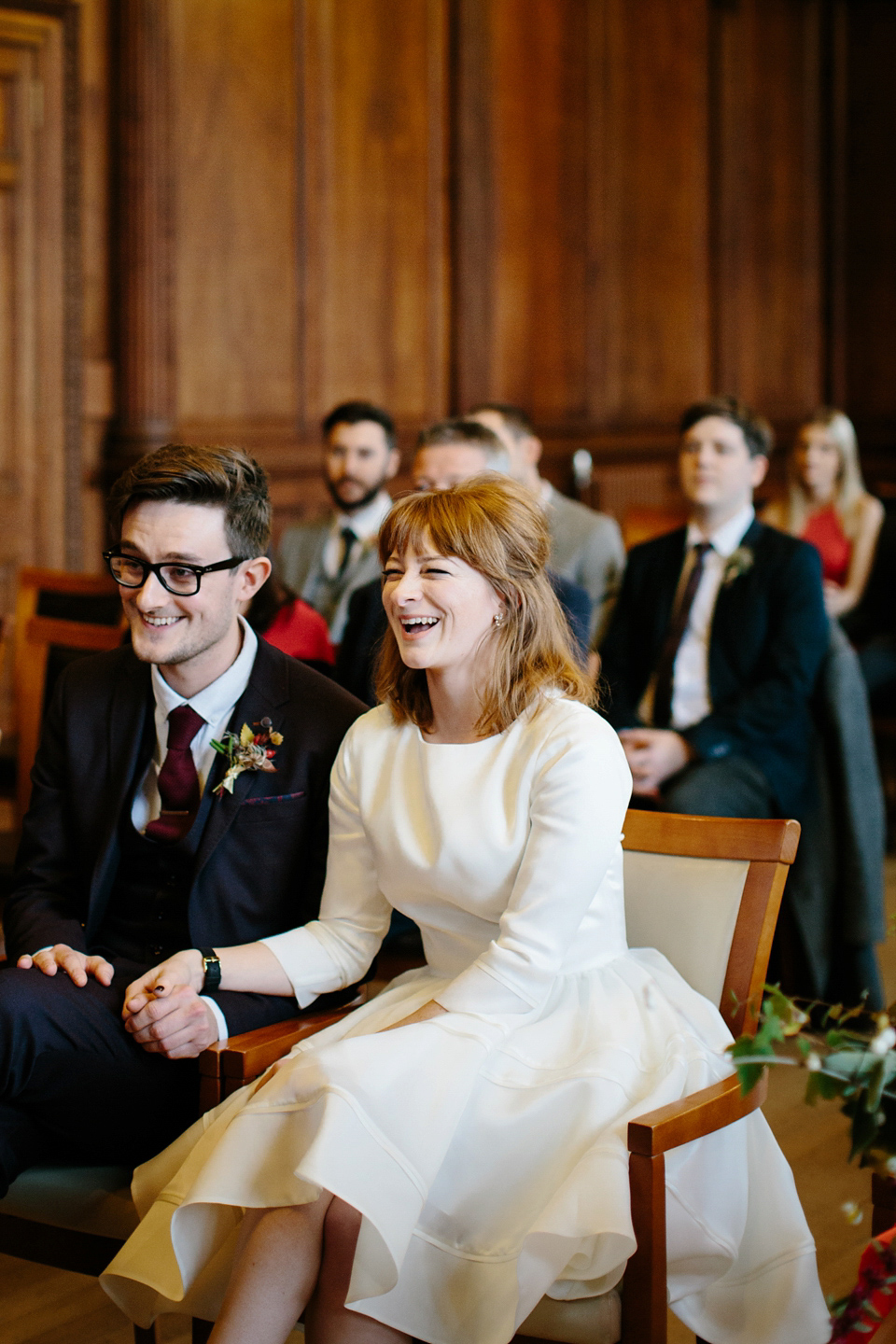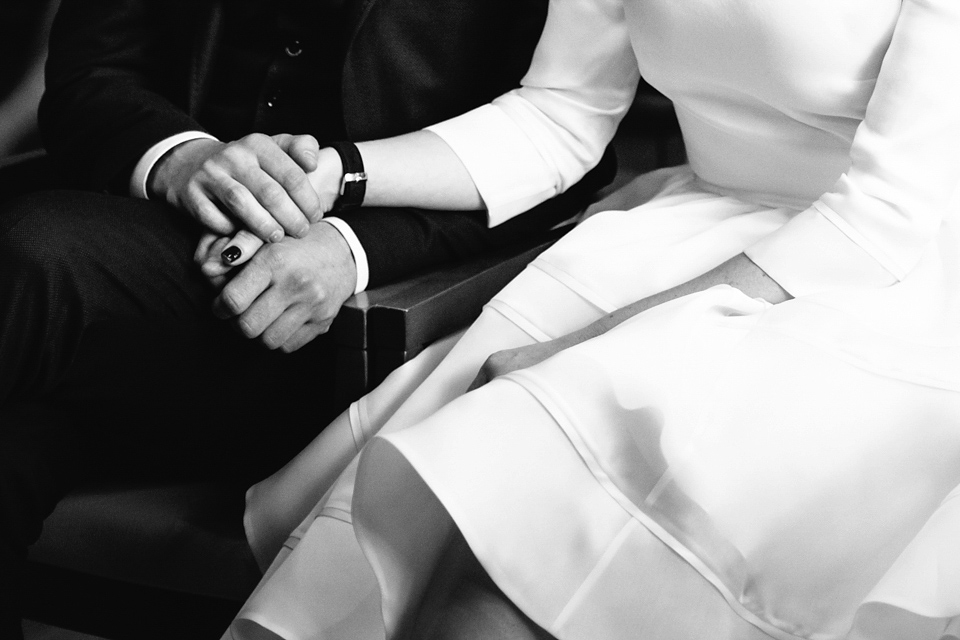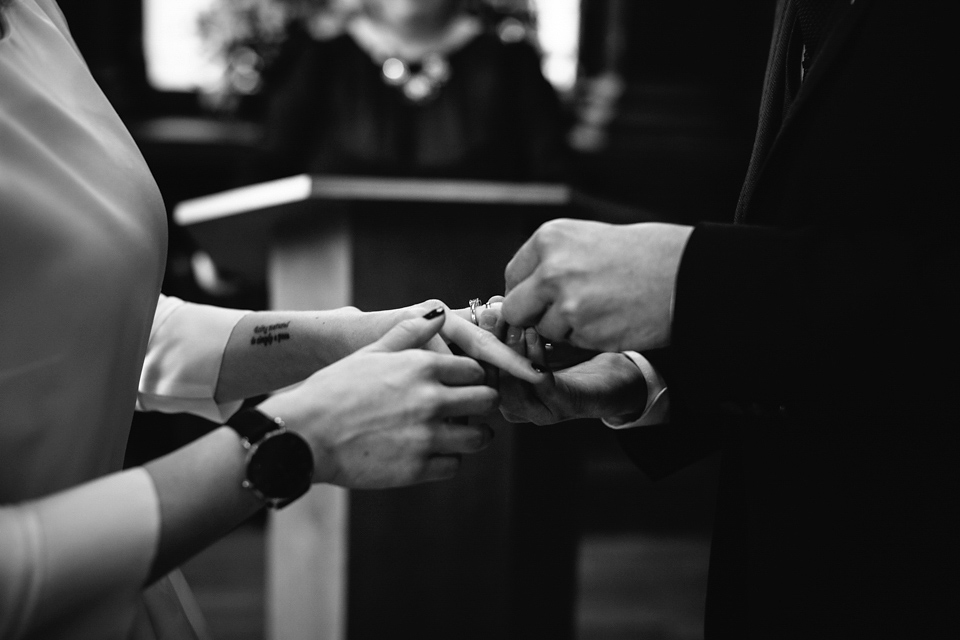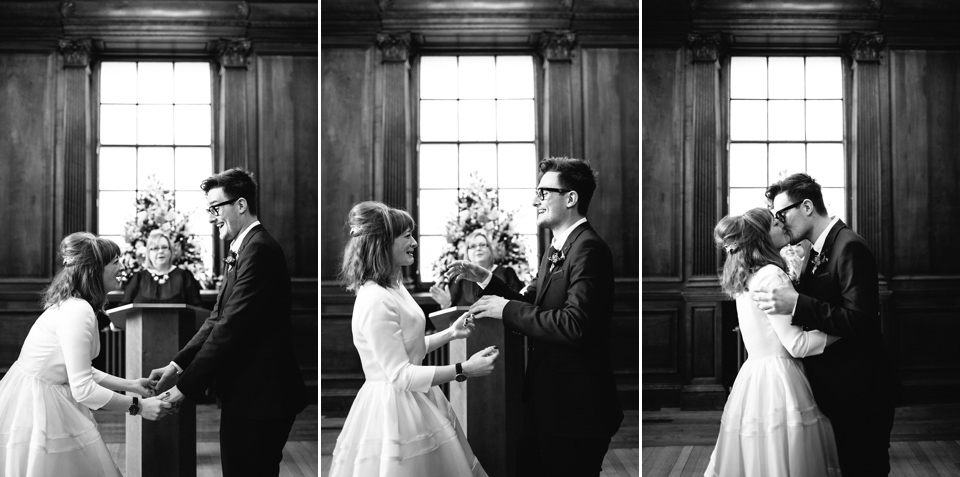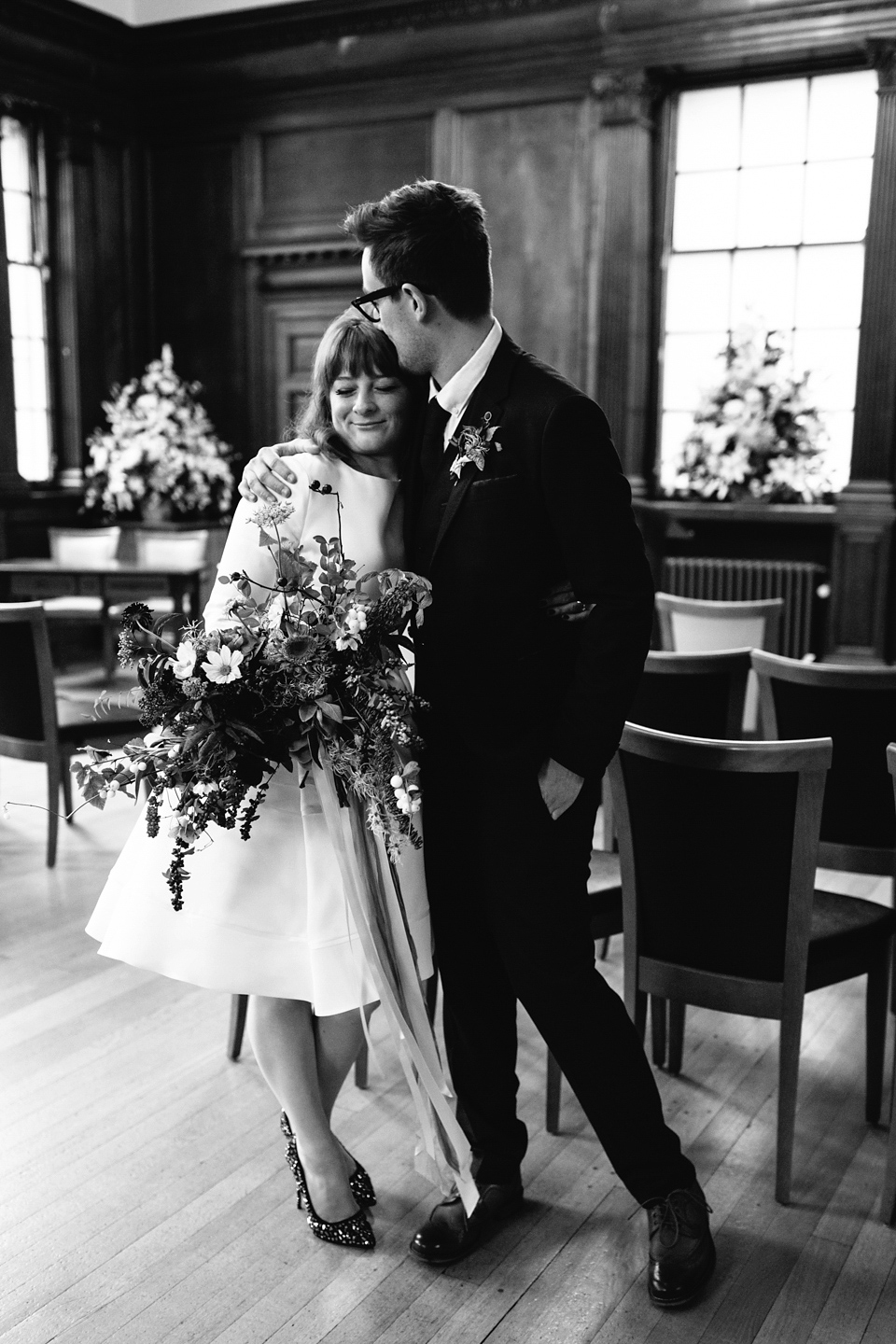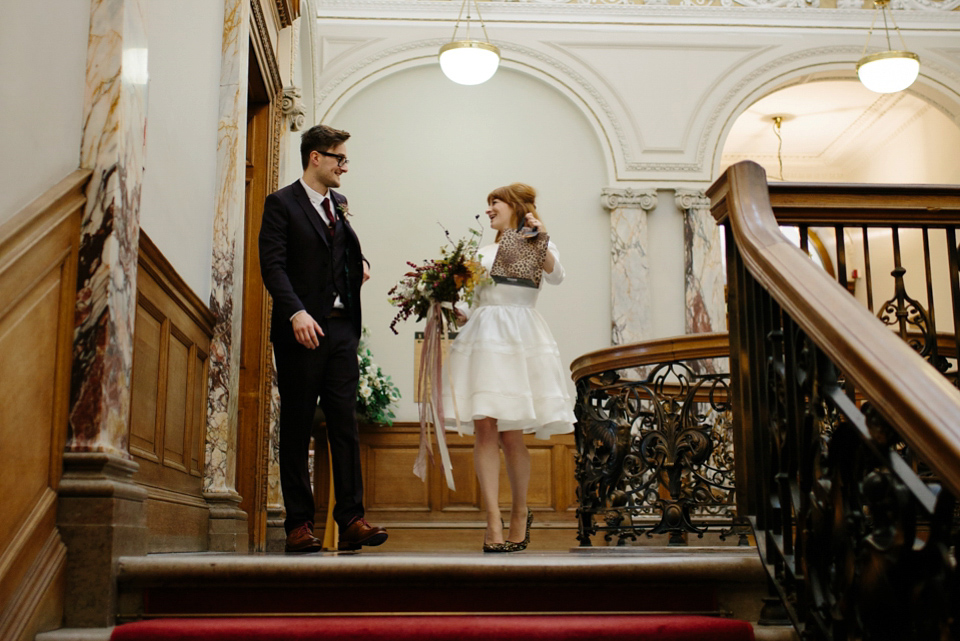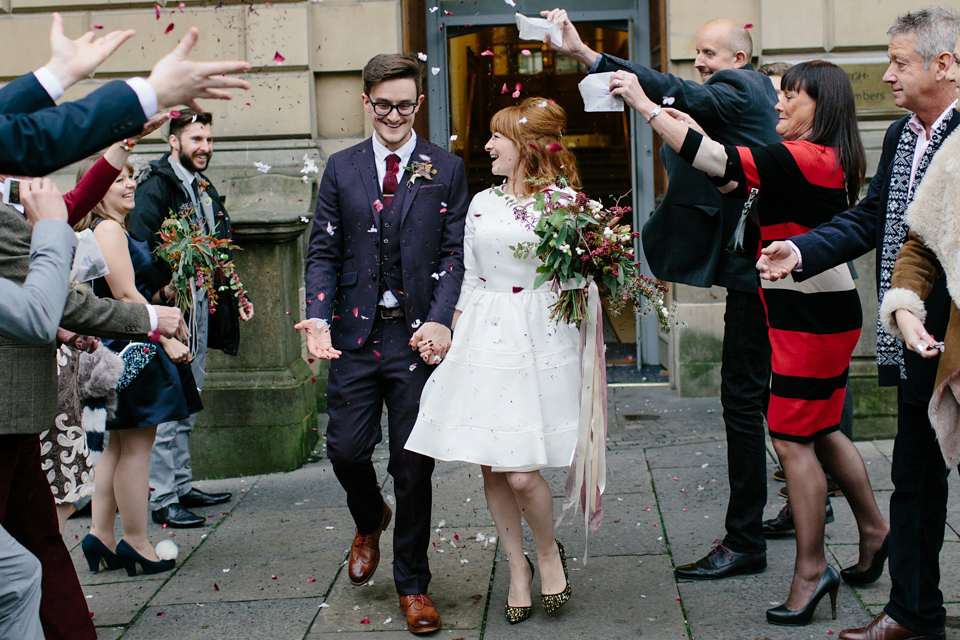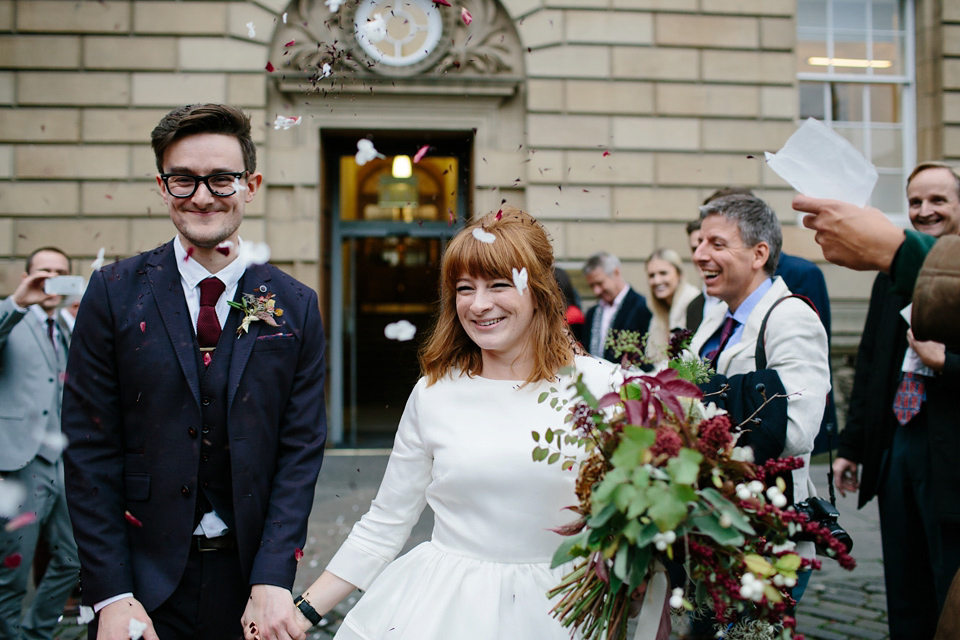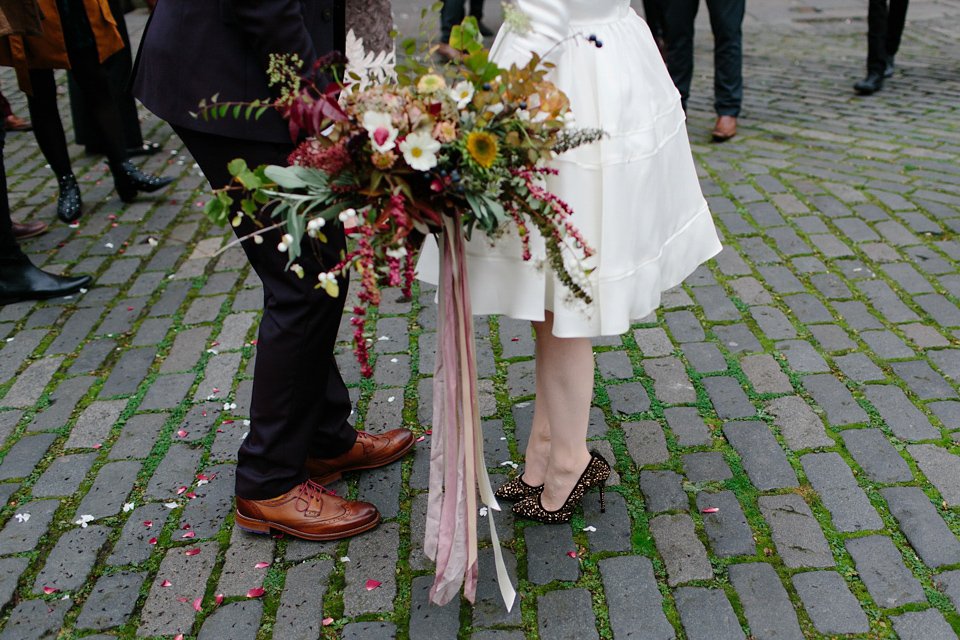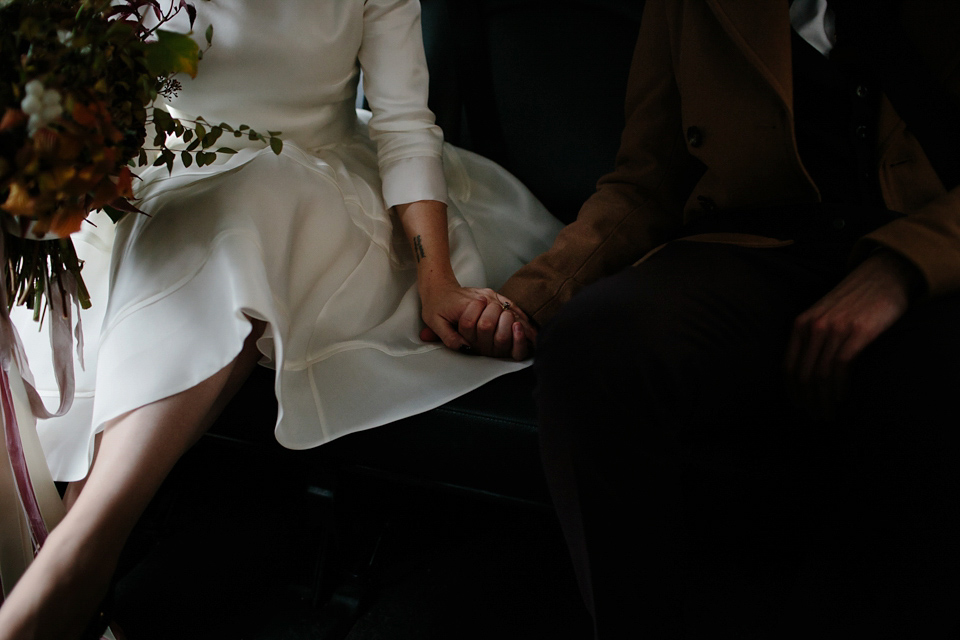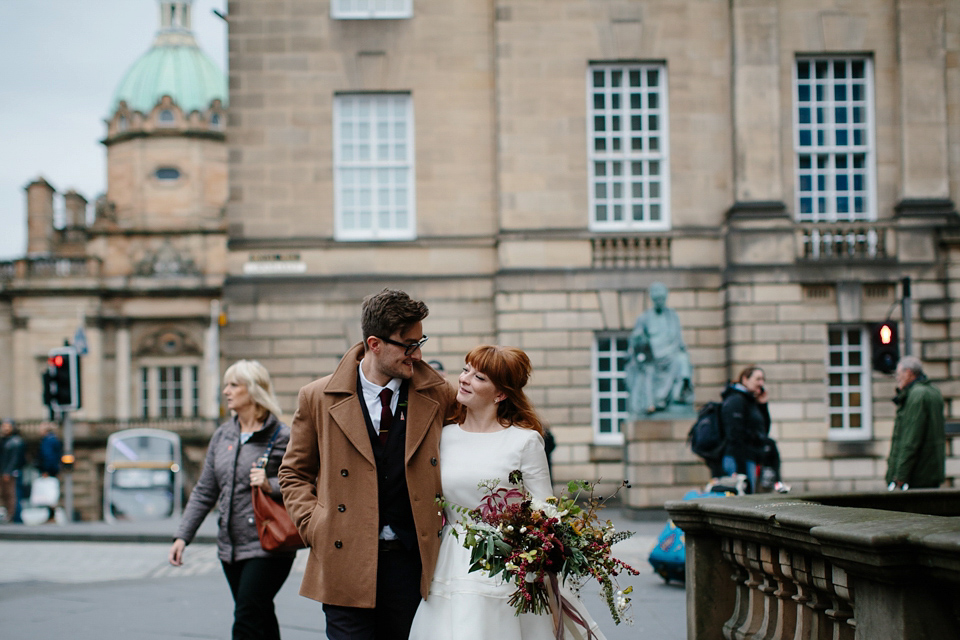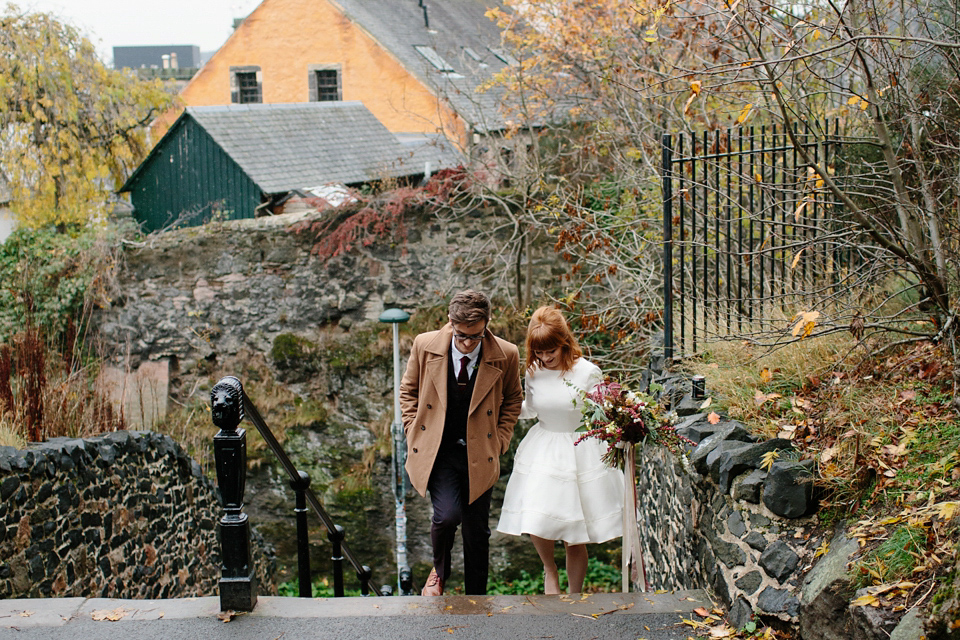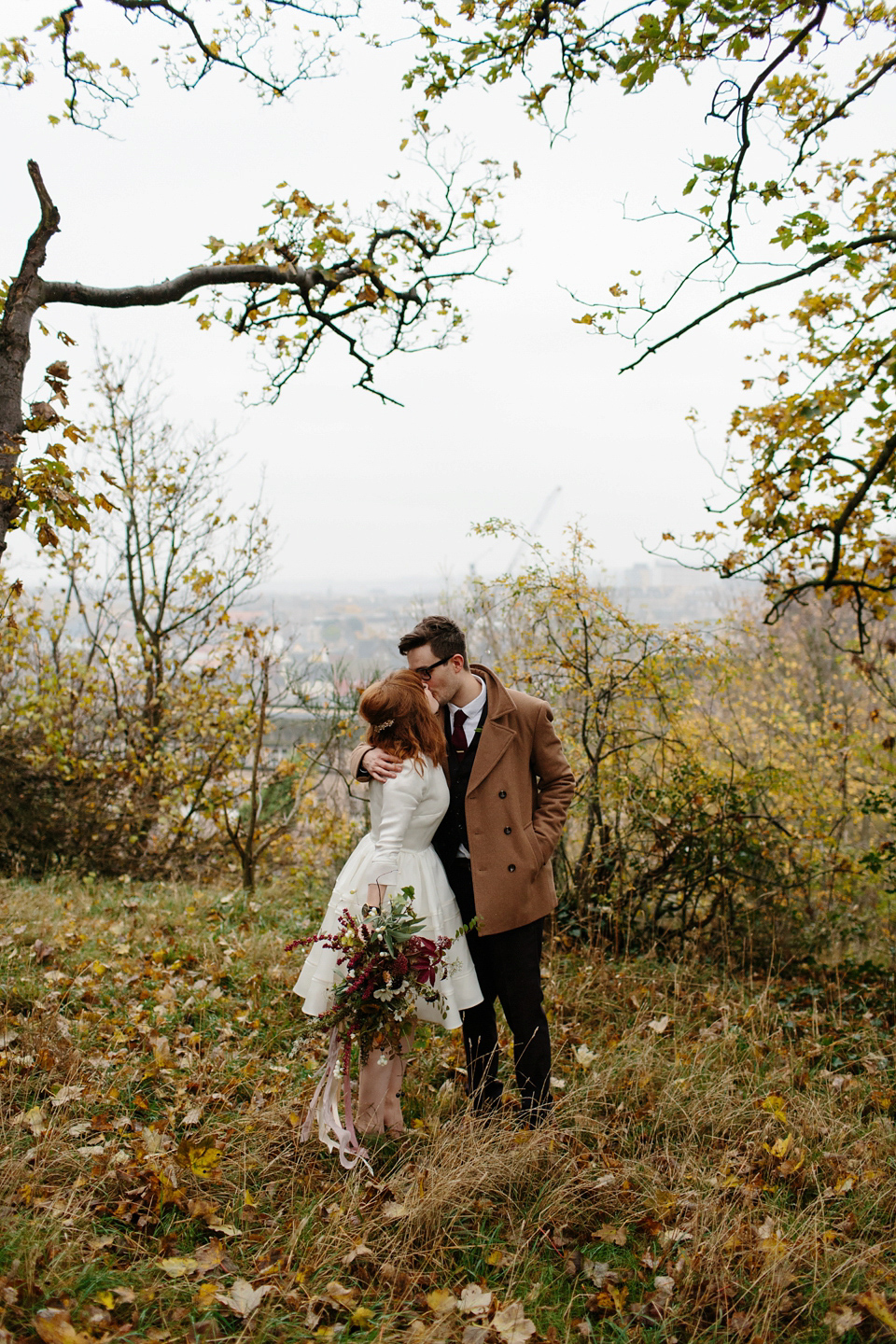 The couple's incredible floral arrangements were the handiwork of the duo behind Pyrus. I absolutely love the wild feel of the autumnal blooms, lovingly grown in Pyrus' cut flower garden.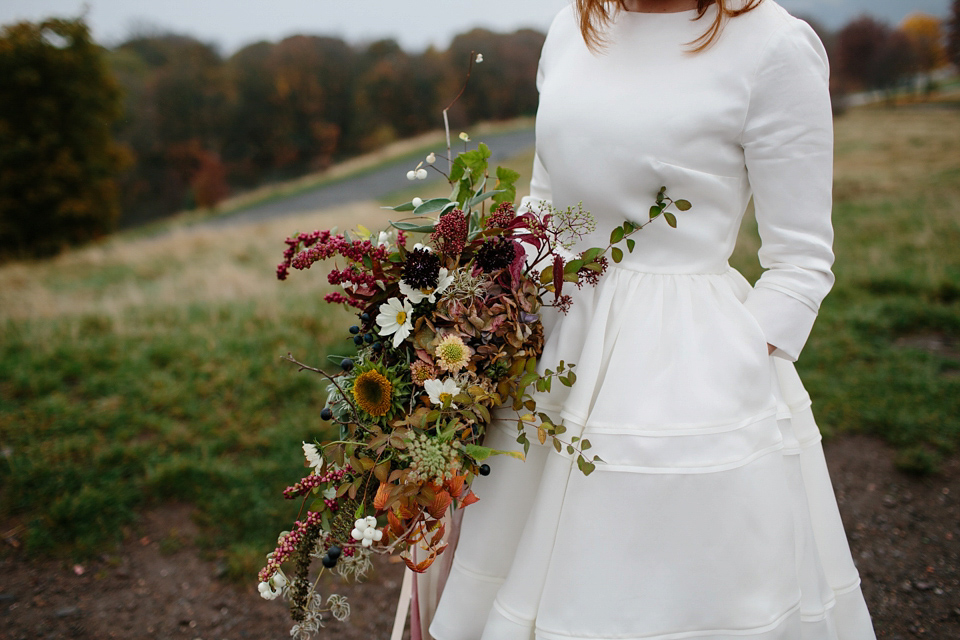 "The girls at Pyrus did all the flowers, venue decoration and button holes. The arrangements were beautiful, seasonal and ethereal and I was totally in love. I saw their work on Love My Dress and knew they would be perfect!"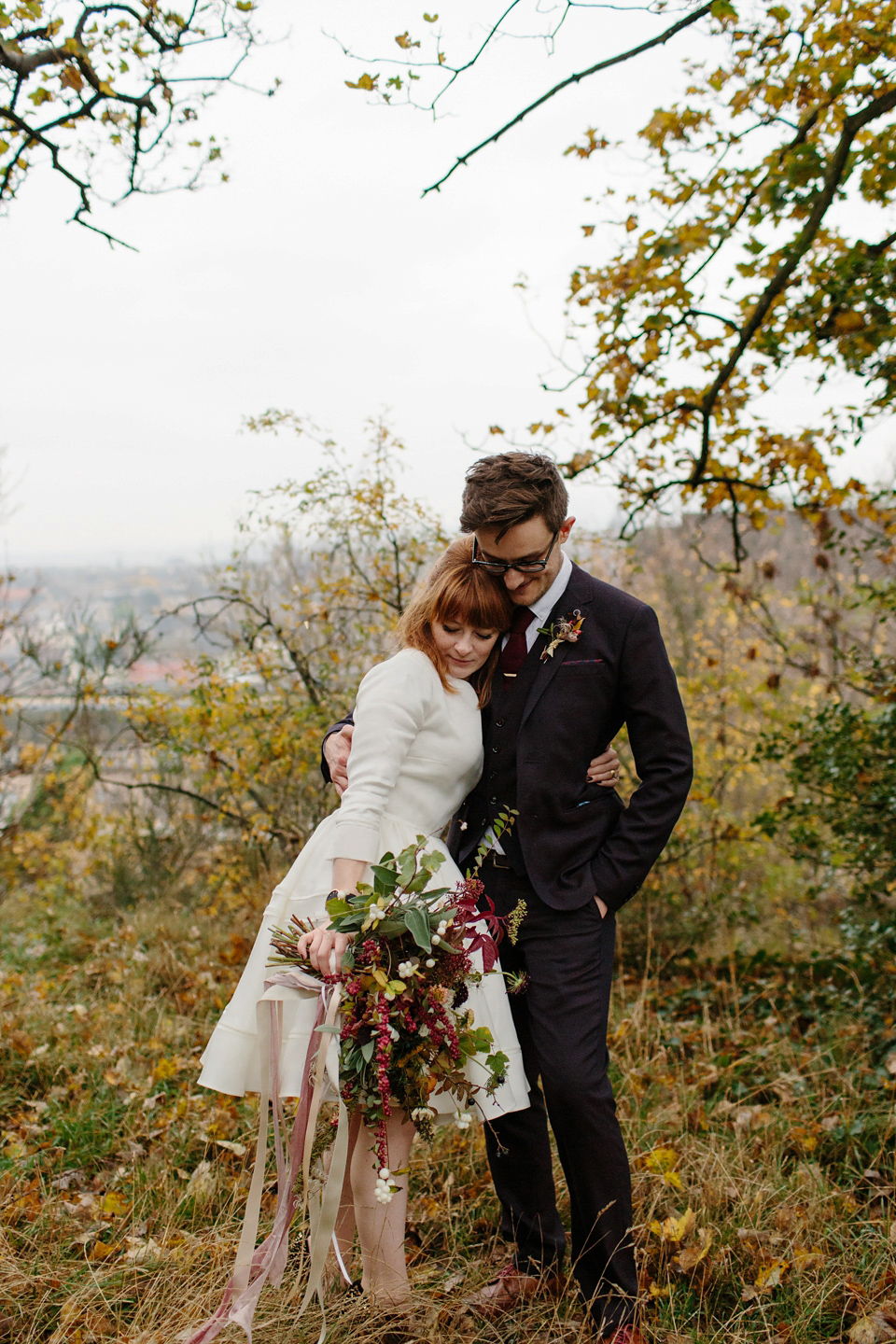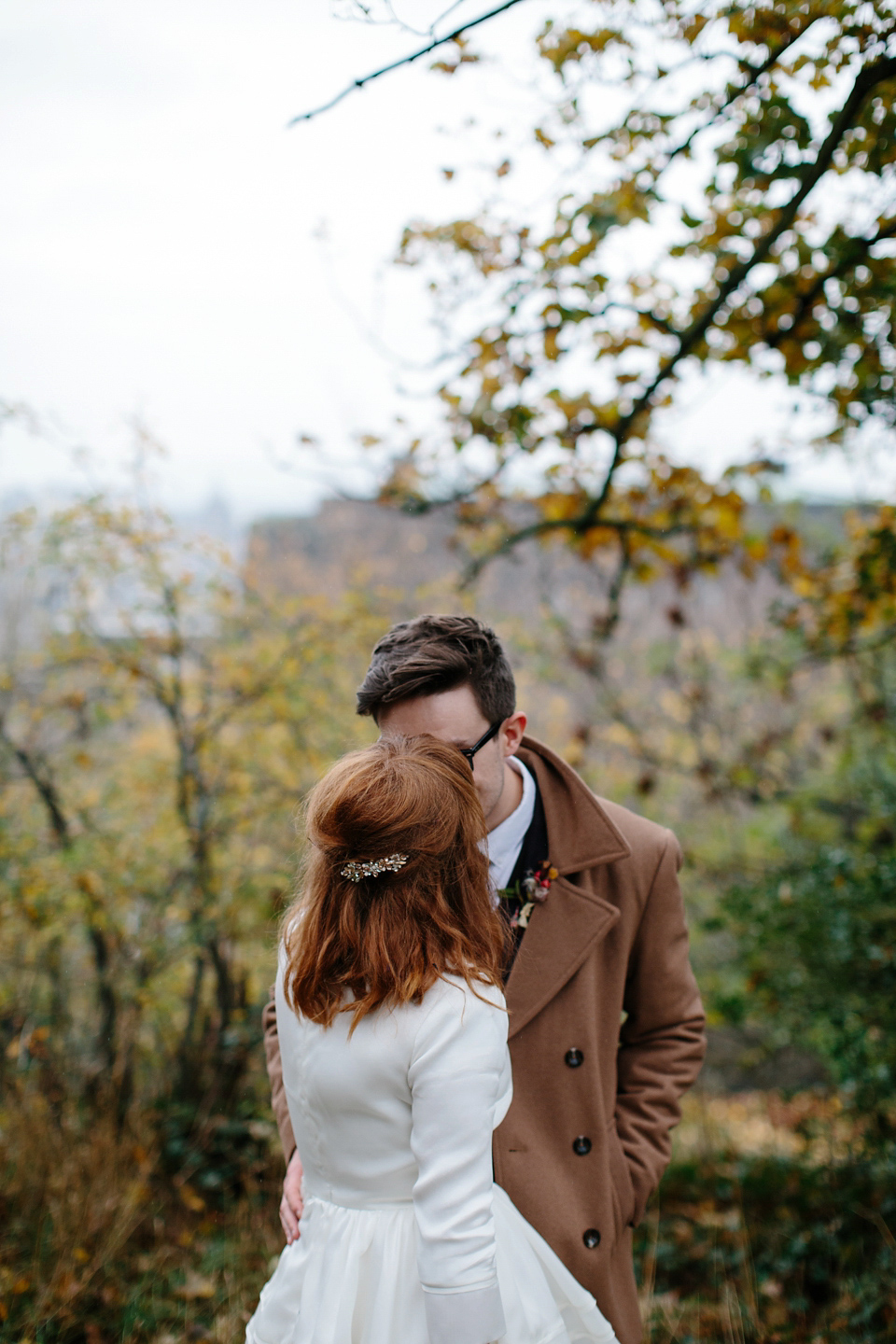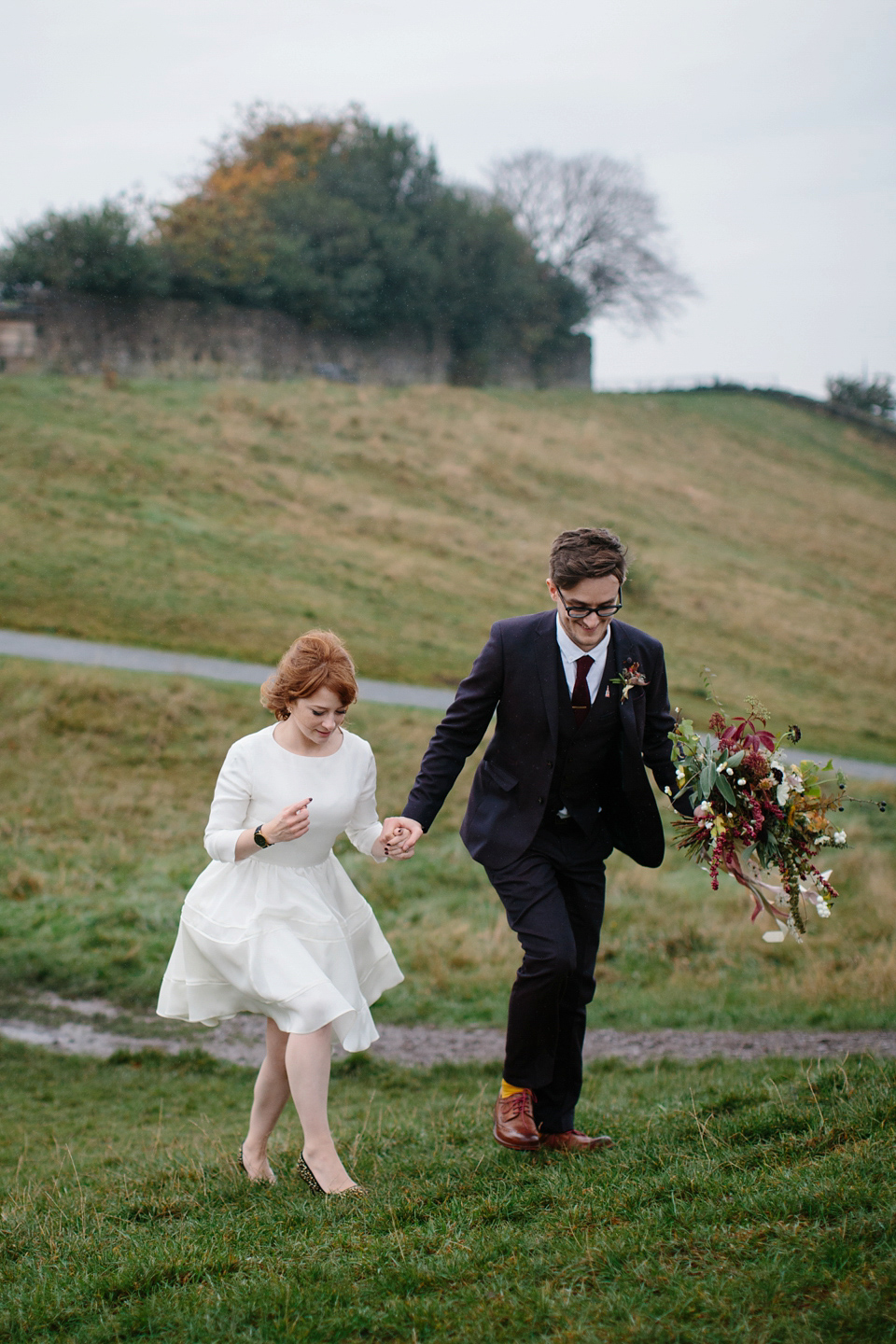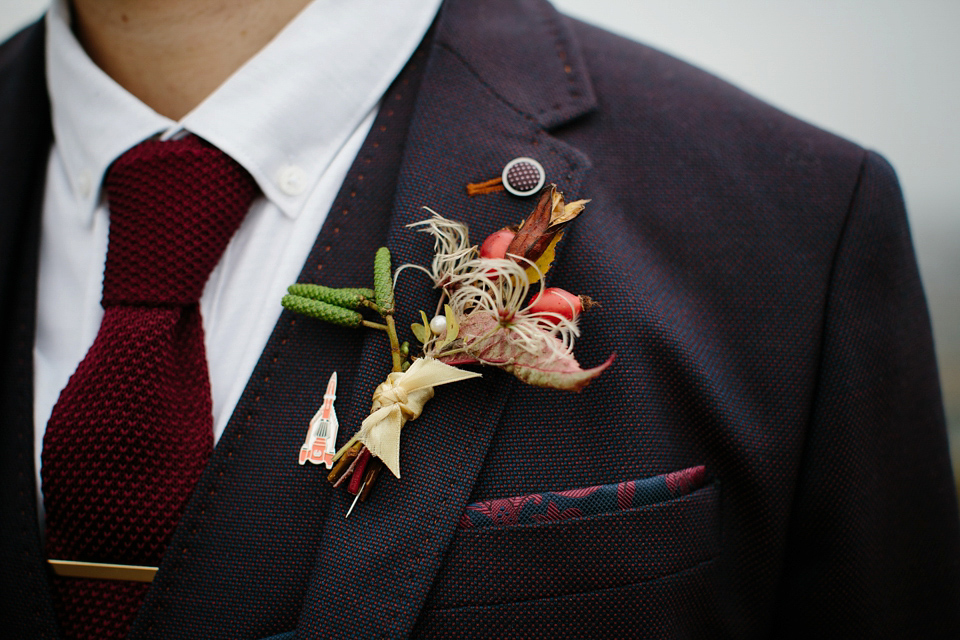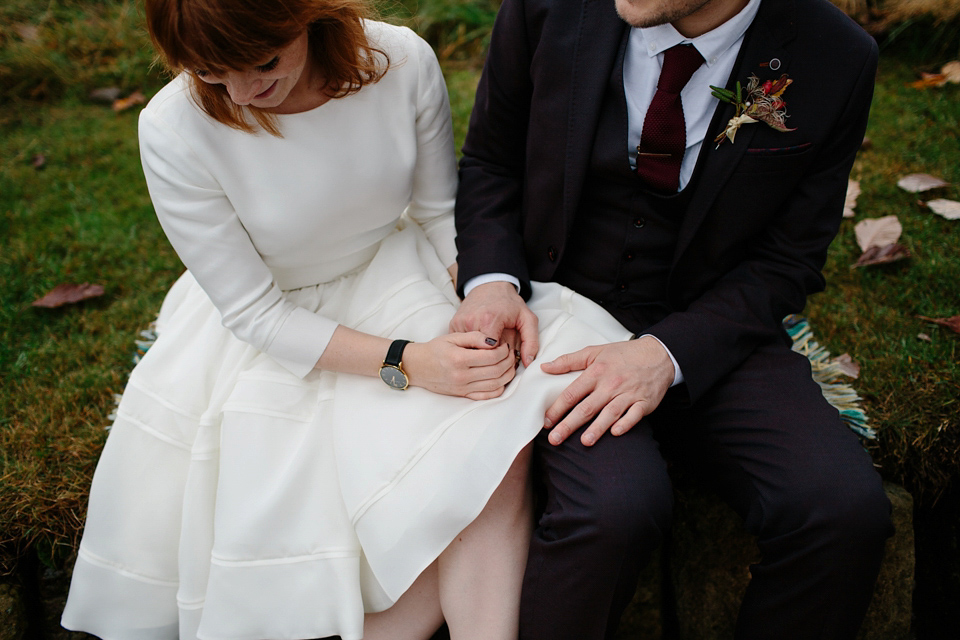 Following the ceremony, the wedding party travelled to The Gardener's Cottage where they enjoyed a relaxed wedding breakfast.
"The lunch at The Gardener's Cottage was absolutely amazing – we could not have hoped for a better venue and service. The atmosphere of the tiny venue was like being at home and Angelika and her team were lovely."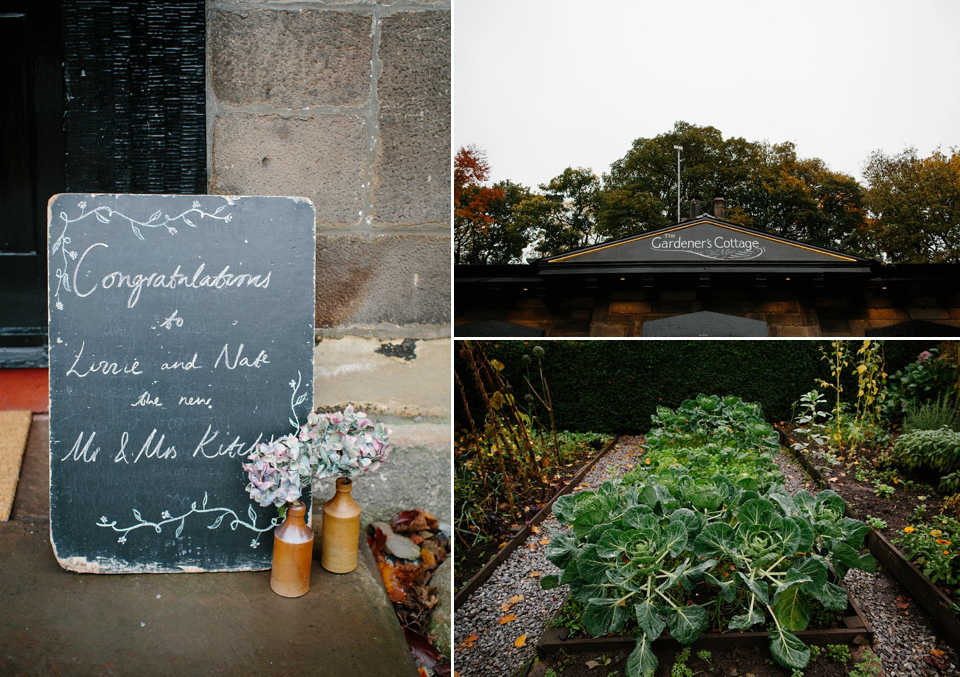 "We designed our invites ourselves, using a screen print by our lovely friend Joe. The seating plan, menus and table names (named after our cats Quinn and Kafka, and my bridesmaid's cat Meeko) were all illustrated and designed by our incredibly talented friend Harriet of Hello Harriet."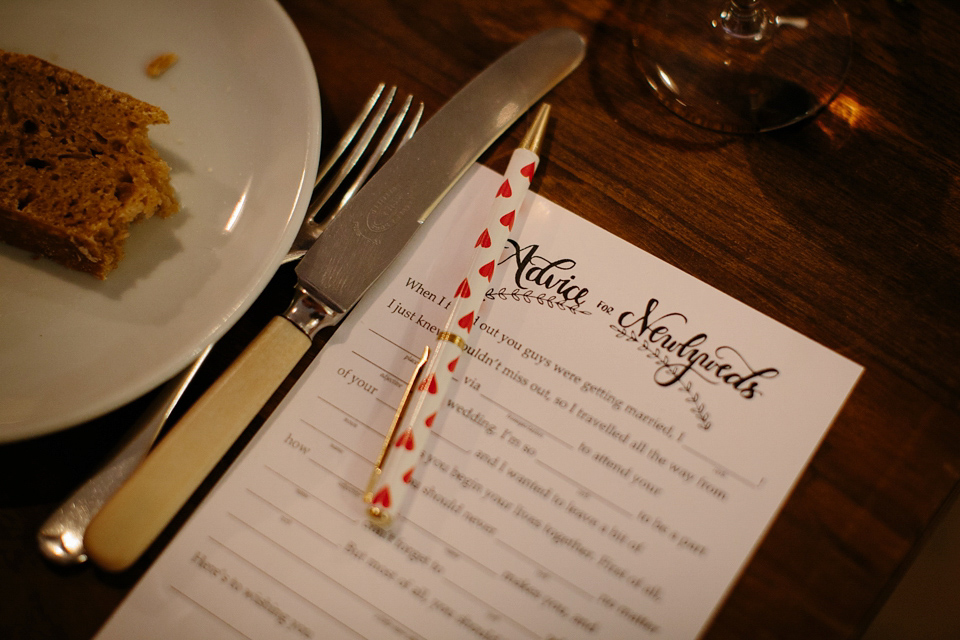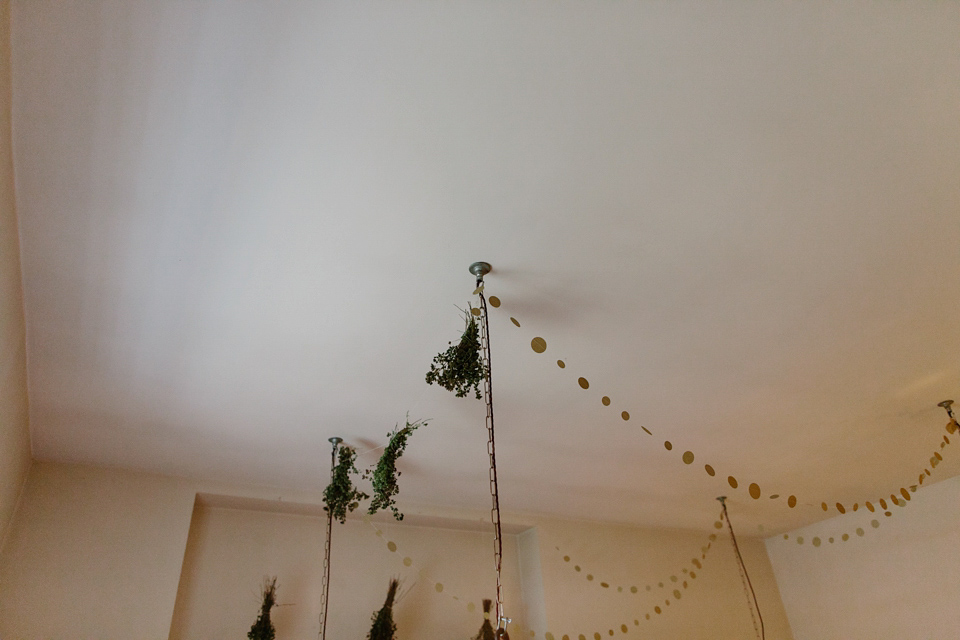 "I bought some copper frames to display the table name and menu in, along with some cut glass tea light holders, and then Pyrus garnished the tables with seasonal blooms and vines."
"Harriet (my bridesmaid), my mum and I made Christmas decorations as favours using air dried clay and gold leaf – I love how they turned out!"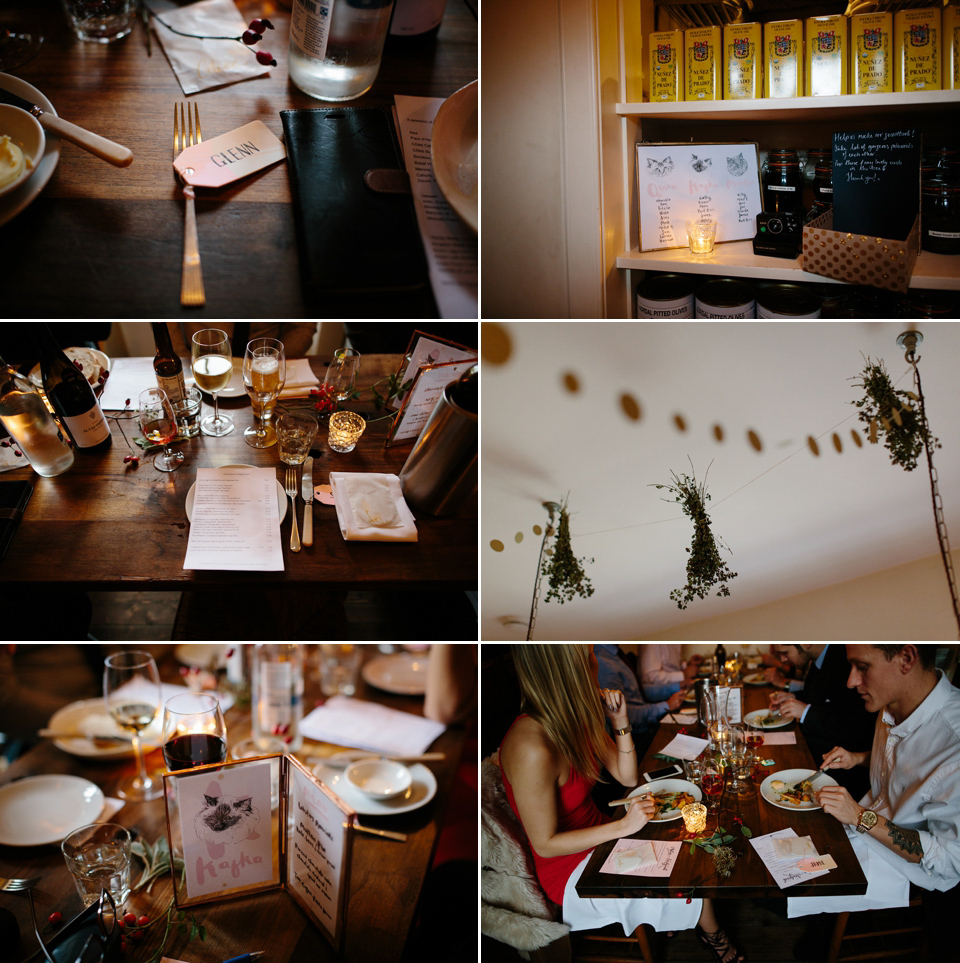 "We didn't want a party in the evening, so we chose to get changed into jeans and go and watch some fireworks in Meadowbank and then walk to the pub."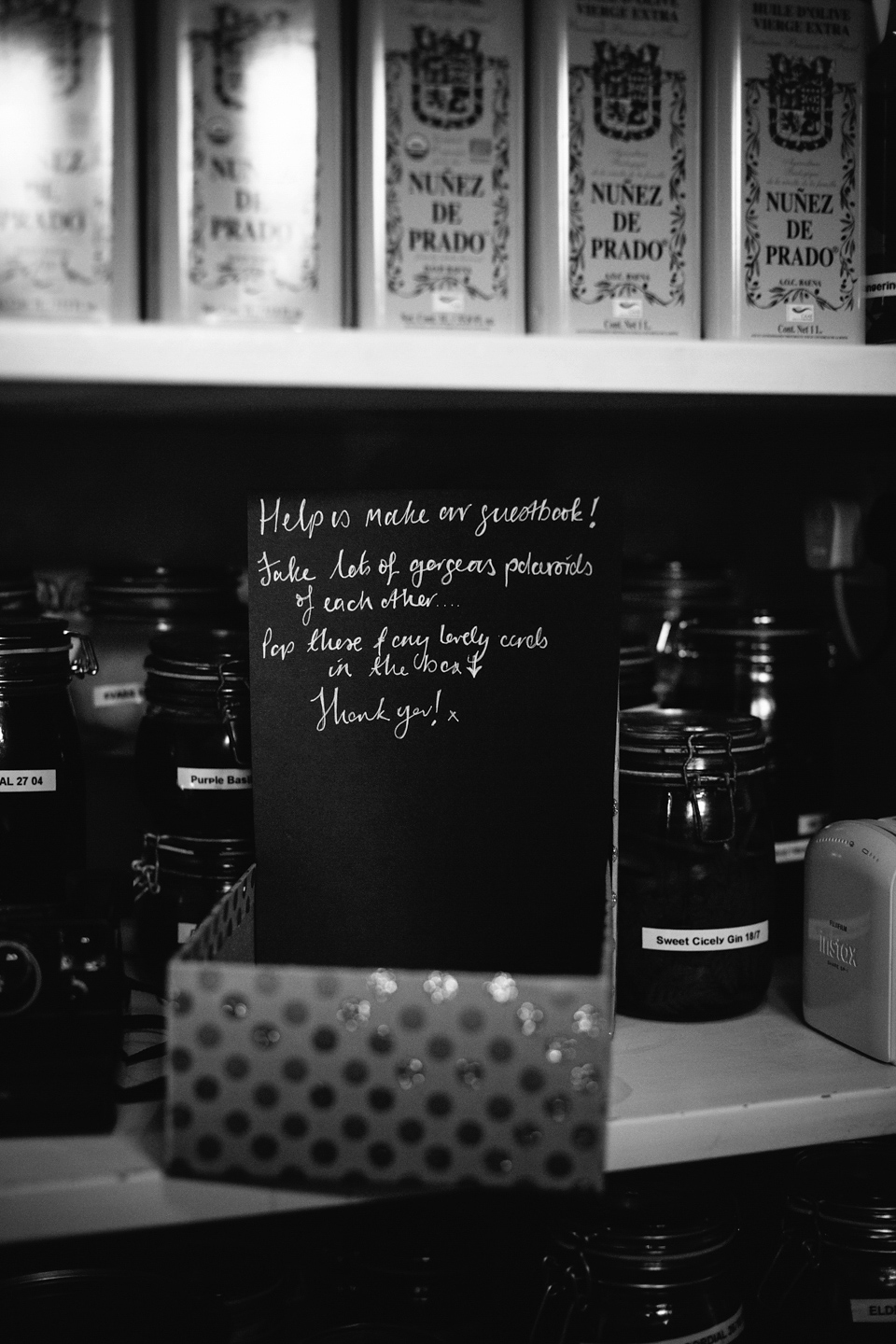 "The whole day was incredible – there is nothing at all that I would change, not even walking across Edinburgh in the rain for an hour with our friends because all the cabs were taken and the buses heaving on the way back from the fireworks. The most special part was the moment we became husband and wife, and having lunch with all our friends was the most joyful occasion of my life."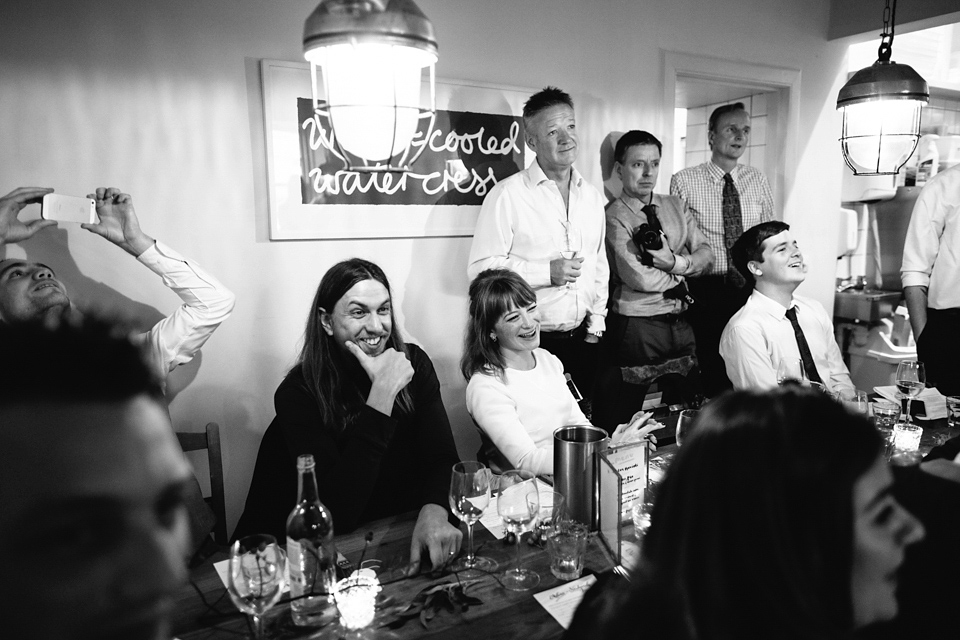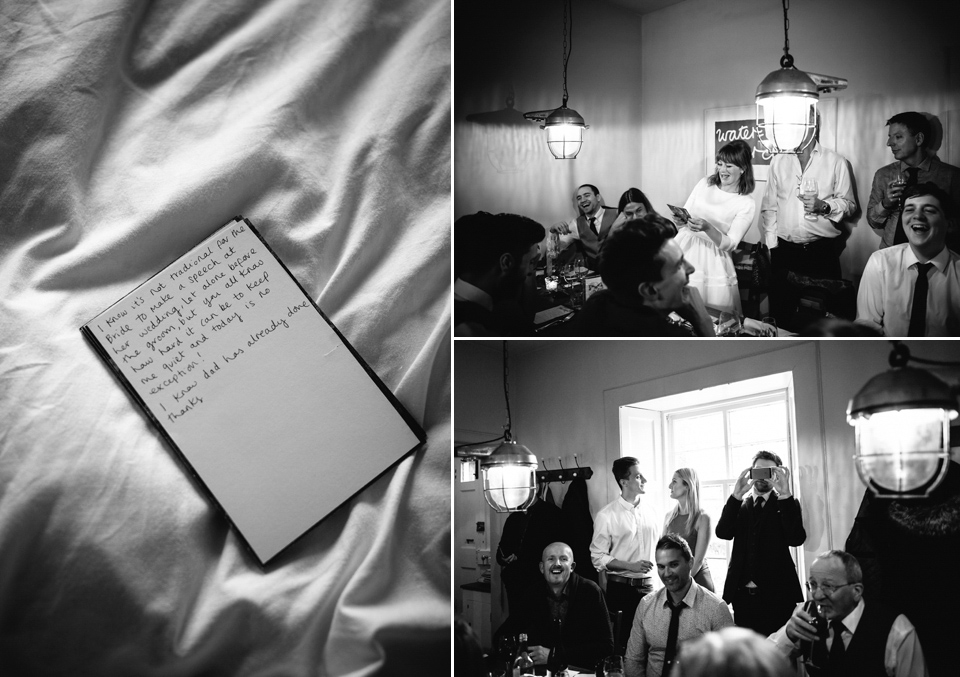 Words of Wedded Wisdom:
"Identify the aspects of a wedding and a marriage that are important to you and focus on those. Remember that your marriage is not this one day, it's your whole life and you should be honest to yourself about what that is.
Don't stress. Don't let Pinterest, your future mother in law, your colleagues or your great aunt let you doubt what you want to do. Don't let them tell you that you are being selfish – you are allowed to be selfish. It's your wedding!
I found Love My Dress very helpful during the planning process and generally checked the blog most days to marvel at the laid back glamour of the wonderful weddings featured. I particularly enjoyed reading about the Lovettes, blogging about the countdown to their own weddings and I often found myself relating to their feelings.
Also, because we were planning a wedding in Edinburgh whilst we were based in Hampshire I also relied on blogs like Love My Dress to lead me to the suppliers we wanted to use. I never met the photographer, florist or reception venue prior to the wedding day – except over Skype. Without each of these suppliers our wedding would not have been as gold star as it was and I am very thankful that Love My Dress led us to them."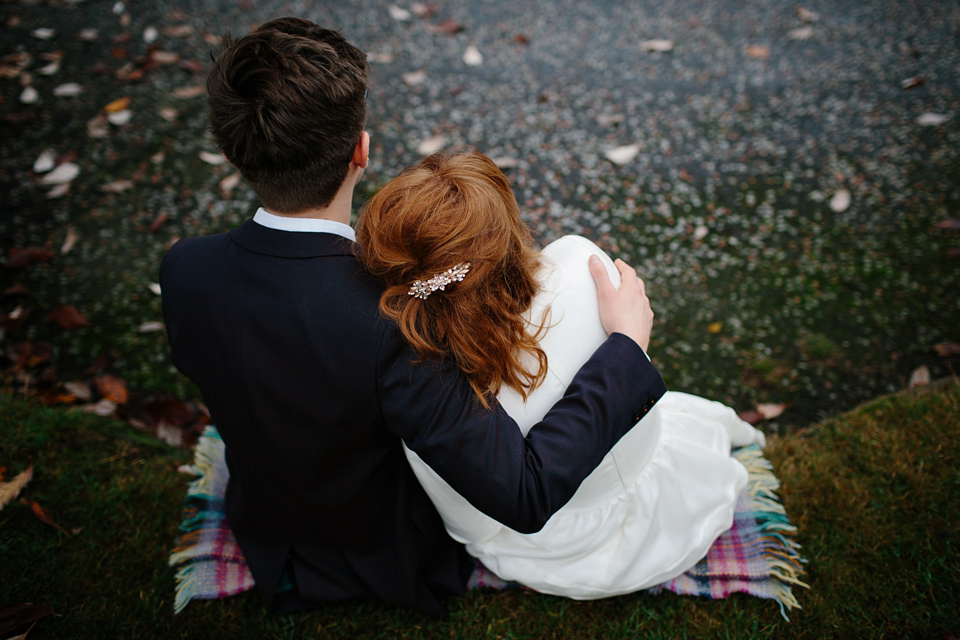 A huge thank you both to our happy couple and to Caro Weiss for these lovely images. If you'd like to see more wintry nuptials on the blog, please follow this link. You can find other lovely Scottish weddings here.
Have you been tempted to change your wedding plans completely? Or taken the plunge and re arranged your big day like Lizzie and Nate? We'd love to hear from you, in the comments section below.
Wishing you a great week!
Annora x
Photographer – Caro Weiss
Venue – Ceremony at Lothian Chambers, followed by lunch at The Gardener's Cottage
Wedding Dress – 'Alexis' by Delphine Manivet, purchased from The Mews Bridal, Clifton
Headpiece – Accessorize hair slide
Shoes – Kurt Geiger
Accessories – Kate Spade earrings + Larsson & Jennings watch
Bride's Scent/perfume – Pure Poison by Christian Dior
Groom – Ted Baker
Florist – Pyrus, Edinburgh
Catering – The Gardener's Cottage
Stationery – Invitations designed by the bride and groom; seating plan, menus + table names, illustrated and designed by Hello Harriet