Hi lovelies! How are you today? I'm mentally preparing myself for the massive Sunday roast dinner my fiancé volunteered me to cook for our friends this weekend whilst celebrating the decisively autumnal turn the weather is making. Before I start busting out my fluffiest sweaters however, let's take a little trip back to our fleeting summer for the delightful, folklore-inspired wedding of the ever so creative Emily and Dave. The bride, a Children's Illustrator and Designer, wed her husband, also a Designer, at Pennard House in Somerset on 11th June.
Emily looks absolutely sensational, and more than a little woodland nymph-esque, in her silk-skirted Tilly dress by Jenny Packham, bought from one of our brilliant Little Book for Brides members, the incredibly chic designer boutique of Carina Baverstock Couture.
"We both love being outdoors and I love folklore, forests and flowers, so we were eager to organise something with a garden/woodland theme. In terms of colour scheme, we were inspired by leaves, wood and dark vintage rose colours to contrast the lighter colours worn by the bridesmaids and the bride."
Emily designed all of the couple's rather gorgeous stationery and got it all created at Printed.com.
"We first met at university in Bournemouth when we were both studying for art degrees. Five years after university a chance meeting in Bristol led to a cup of coffee and six years later Dave proposed on the beach at Bournemouth. We had been living together for a while so we knew we didn't want a long engagement and decided to organise the wedding for ten months after we got engaged. I was worried that it was quite a short amount of time to organise everything, but in the end it was fine."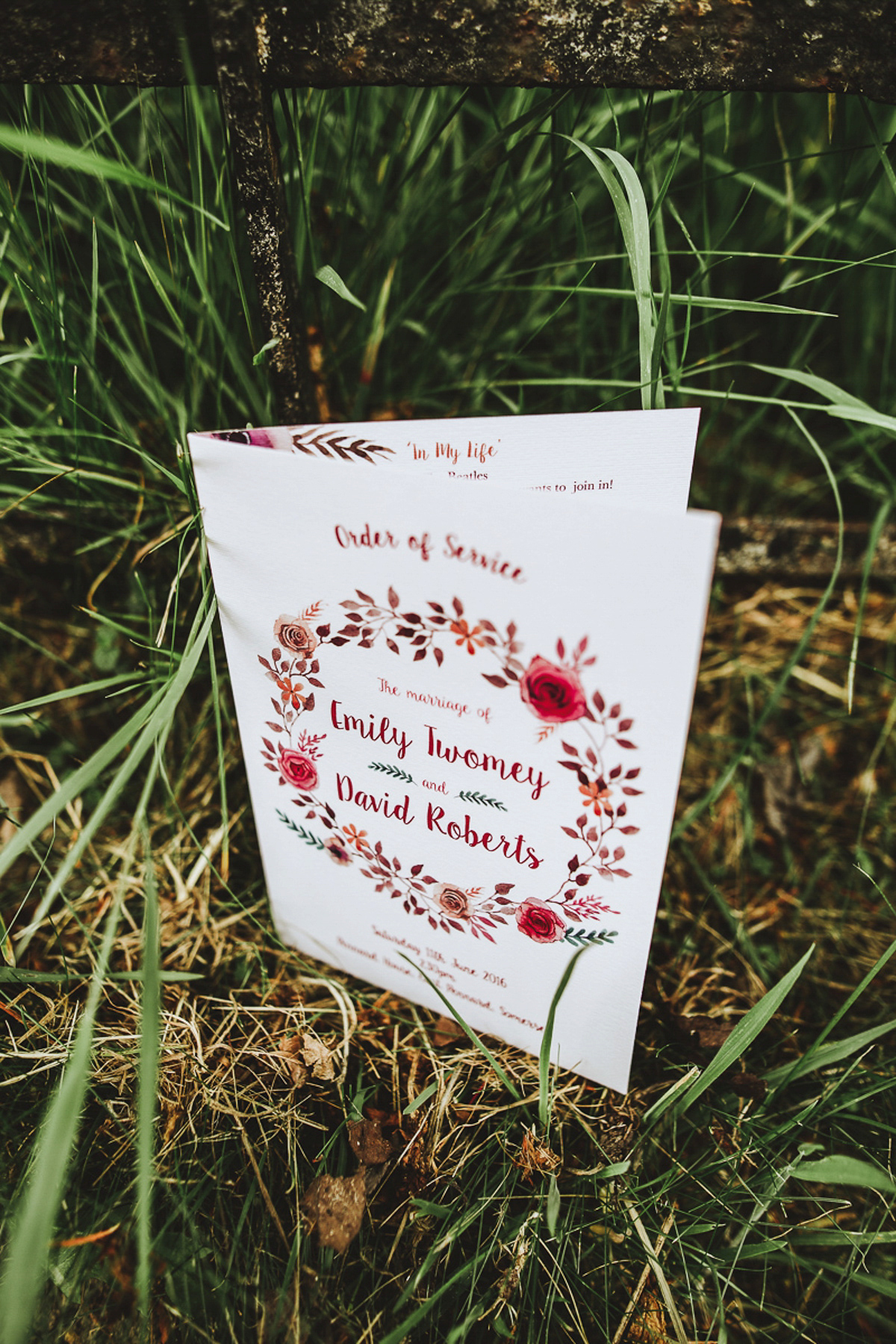 "I was looking for a vintage style, silk dress. I had seen Jenny Packham's dresses and always loved them, but they were out of my price range. However, a visit to a sample sale at Carina Baverstock Couture led to the discovery of my perfect dress on a sale rail. It wasn't my size, but my good friend altered it to fit perfectly. It was the first dress I tried on, so dress shopping was nice and easy."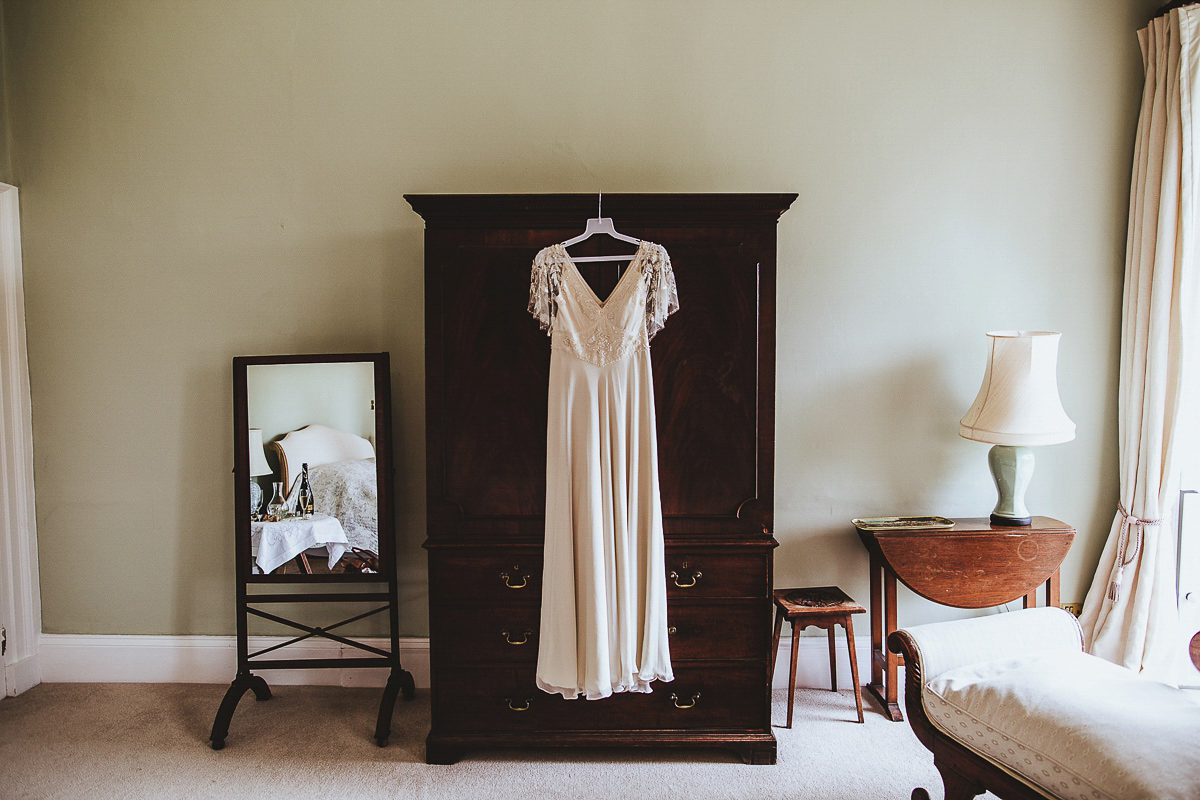 Jenny Packham's designs are truly beautiful, in fact when Annabel previewed this wonderfully creative lady's 2017 bridal collection on Instagram, you ladies were absolutely loving it and it's easy to see why.
Take a look at our feature launching the collection; it's positively oozing with free-spirited, gypsy-insired boho-glam goodness – all the billowy-sleeved, floaty fabric-ed inspiration you could ask for.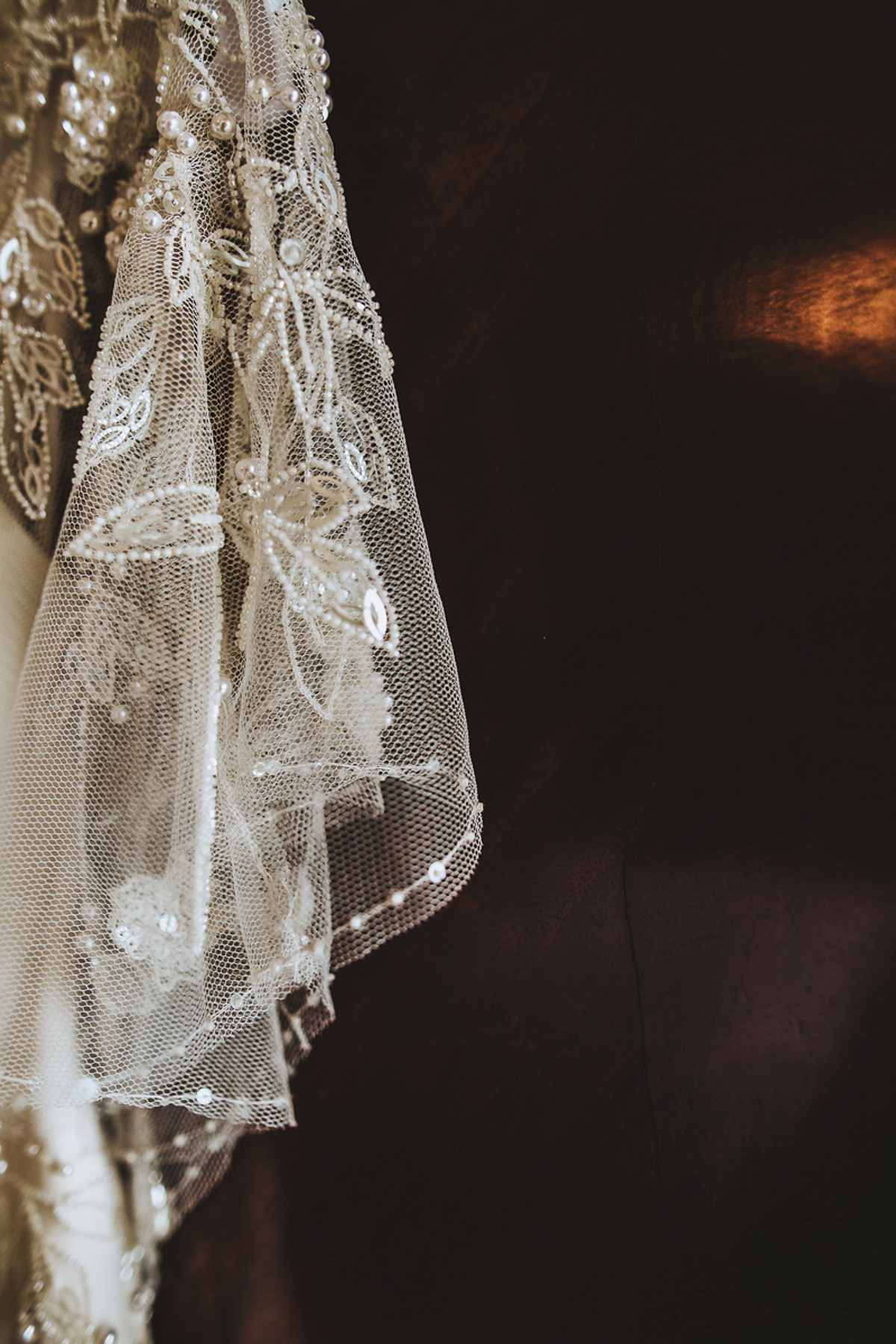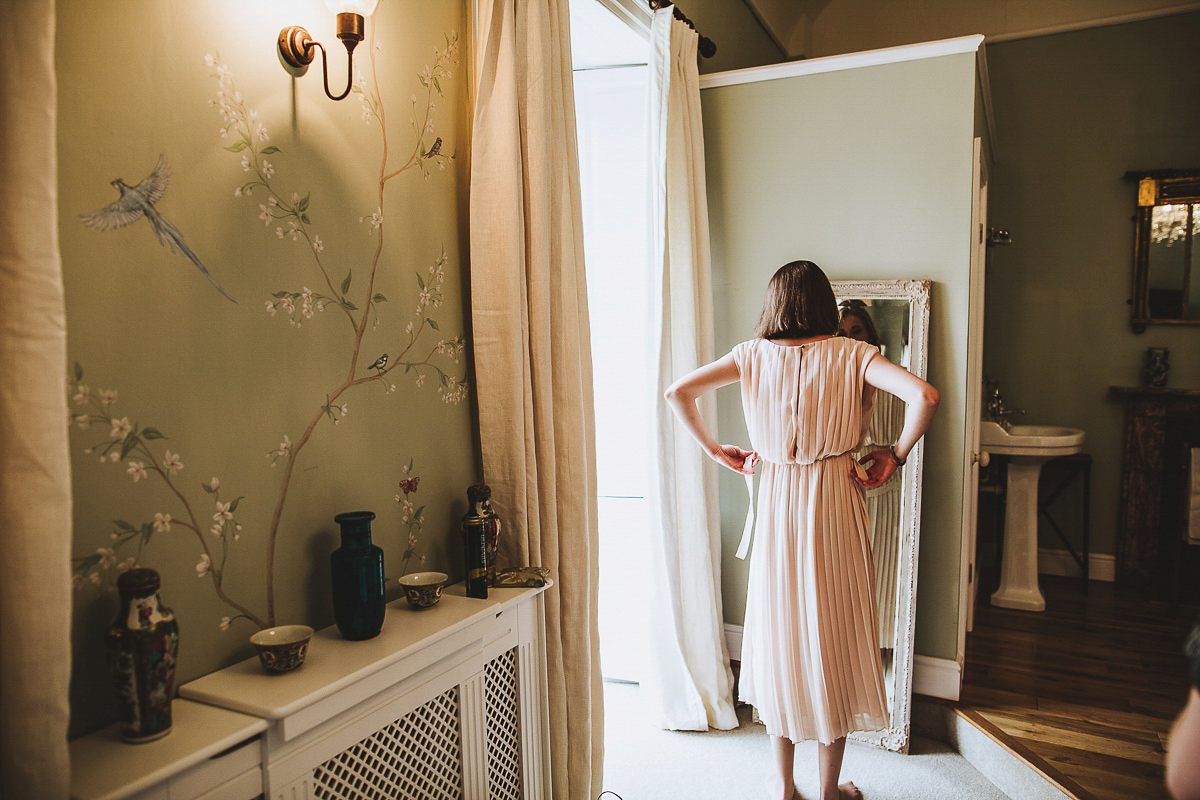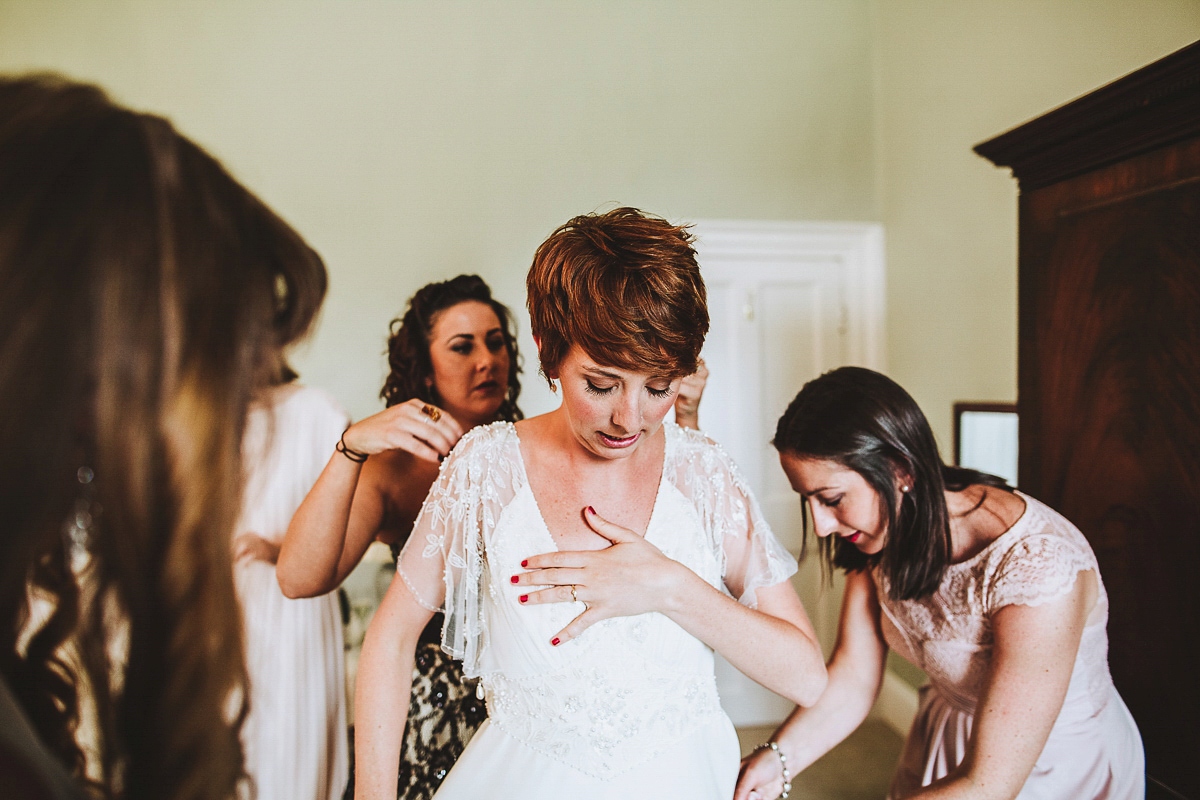 Emily chose to wear a bohemian dried flower crown atop her pixie-cut tresses, whimsically set off by the intricately detailed beading of her sleeves and a flowing veil borrowed from her maid of honour.
"My veil was the one my maid of honour wore to her wedding, so 'something borrowed'. I knew my dress would cover my shoes and I wanted flats so I could feel comfortable on the day. I found a lovely ivory pair in Debenhams for under a tenner! Because my dress was beaded and quite detailed I wore hardly any jewellery, just a pair of pearl earrings borrowed from my mum."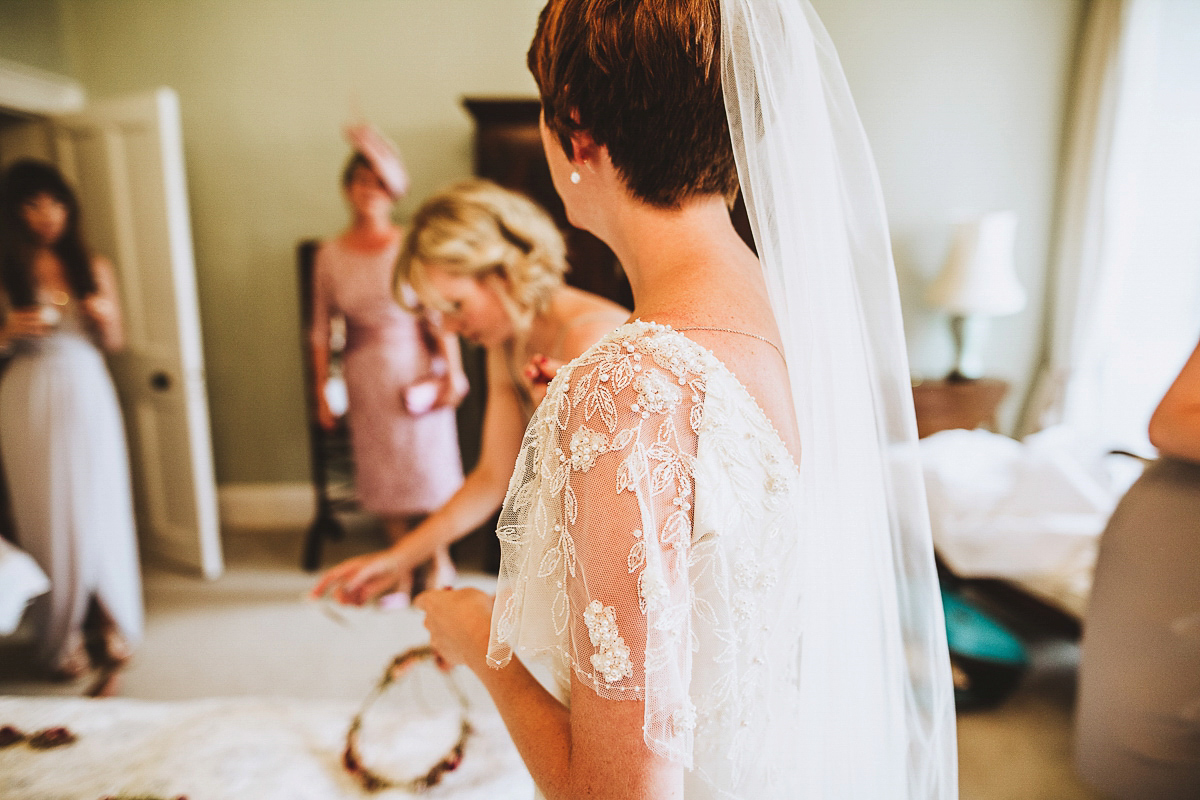 Emily's maids are a picture-perfect line-up in their gorgeous range of high-street gem dresses; the neutral colours really making those incredible blooms pop.
"I wanted my bridesmaids to feel comfortable, and as everyone is a different size and shape I was happy for them to wear different high street dresses. We agreed to keep the colour palette neutral and by chance three of them wore grey and three wore peach, so it matched perfectly."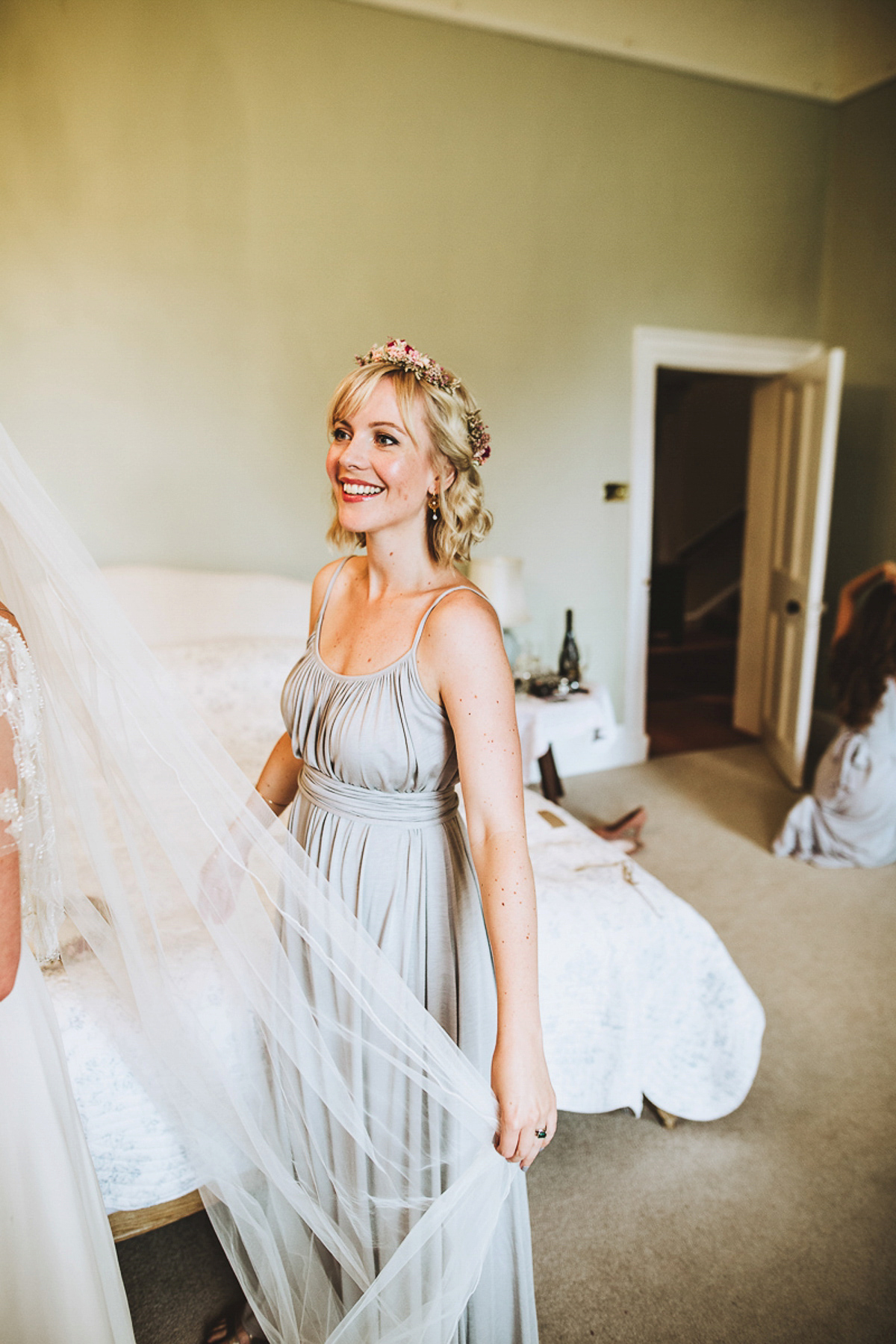 "To fit with the garden/floral theme, I ordered hair accessories from the Artisan Dried Flower Company. My bridesmaids wore a mixture of flower crowns and clips with red and dark pink dried flowers and I had a crown of white and dark pink."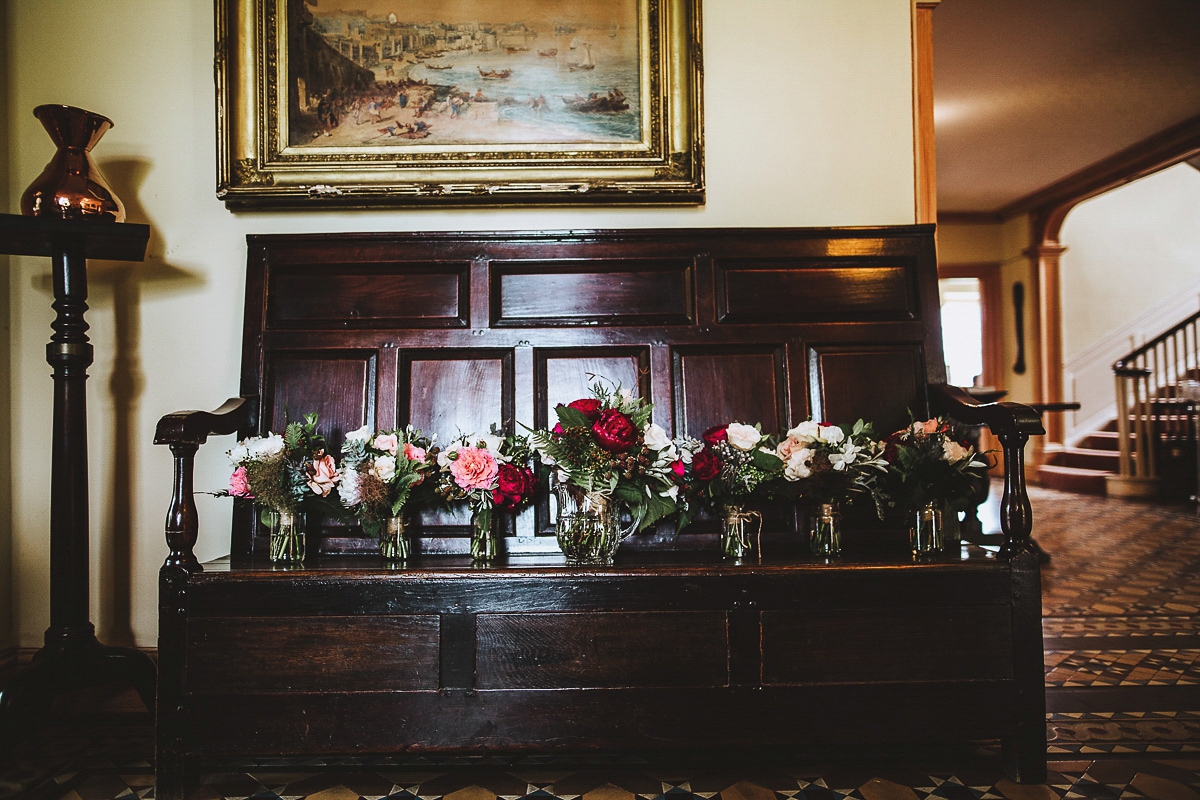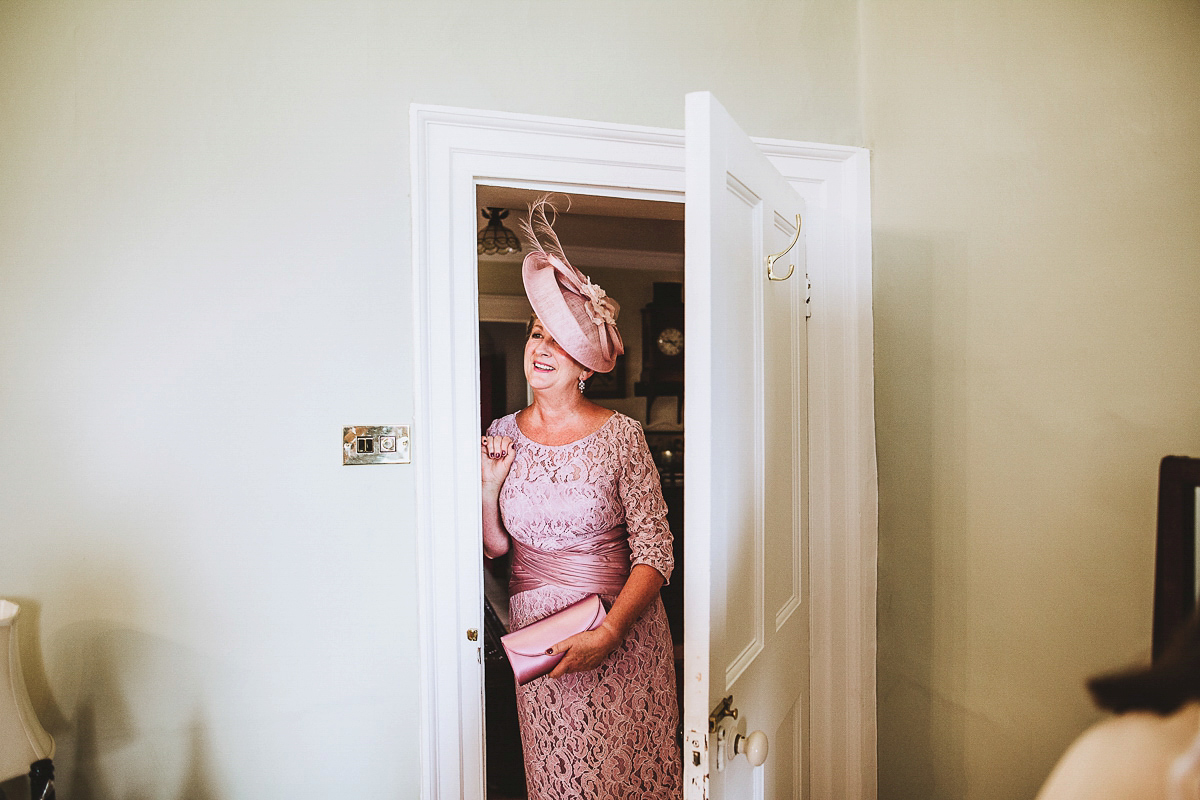 Pennard House is a stunning, family-owned country estate hidden in the rolling Somerset countryside. This Georgian Grade II listed Manor House, set in 130 acres of meadows, woodlands and apple orchards is the epitome of dreamy English elegance and it was love at first site for Emily and Dave. We are pretty chuffed that this most beautiful of venues is listed in our elegant wedding directory, Little Book For Brides.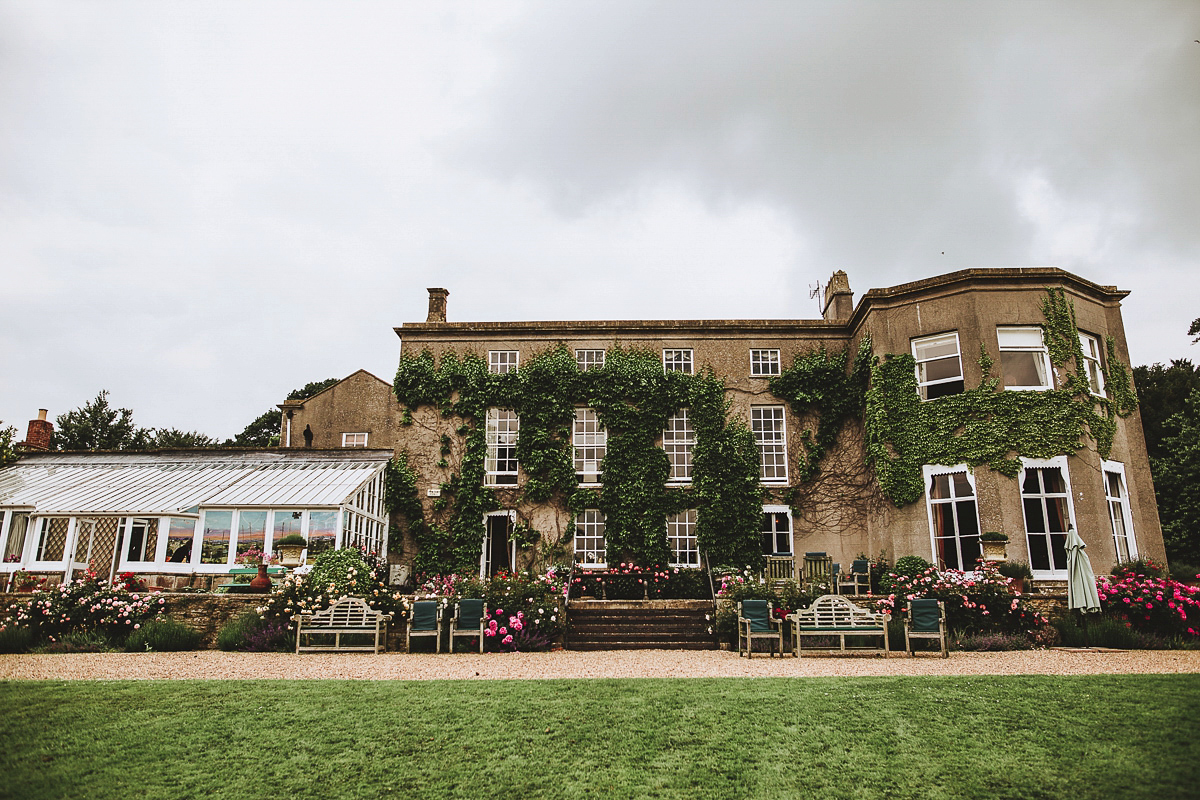 "I was looking for venues in my home county of Somerset and it caught my eye. When we visited the venue the roses in the garden sold it to me. Both the ceremony and reception were held at Pennard, and our families stayed on site as it is a B&B, so no transport was needed."
Groom Dave's deep red tie is a perfectly subtle nod to the floral colour scheme, set off beautifully by his blue Reiss suit.
Emily's dad gave her away, valiantly fulfilling this proudest of roles despite being soaked through after being hit by a rainstorm just before the ceremony. In fact the couple planned on an outside ceremony which had to be moved inside at the very last minute due to the inclement weather. Good old England!
"My maid of honour, Lucy, is a wonderful singer and sings with a choir in Bath, so a keyboardist and two of her fellow choir members joined her to provide the music for the ceremony. My family are Irish, so I walked down to 'She Moved Through the Fair' a traditional Irish folk song."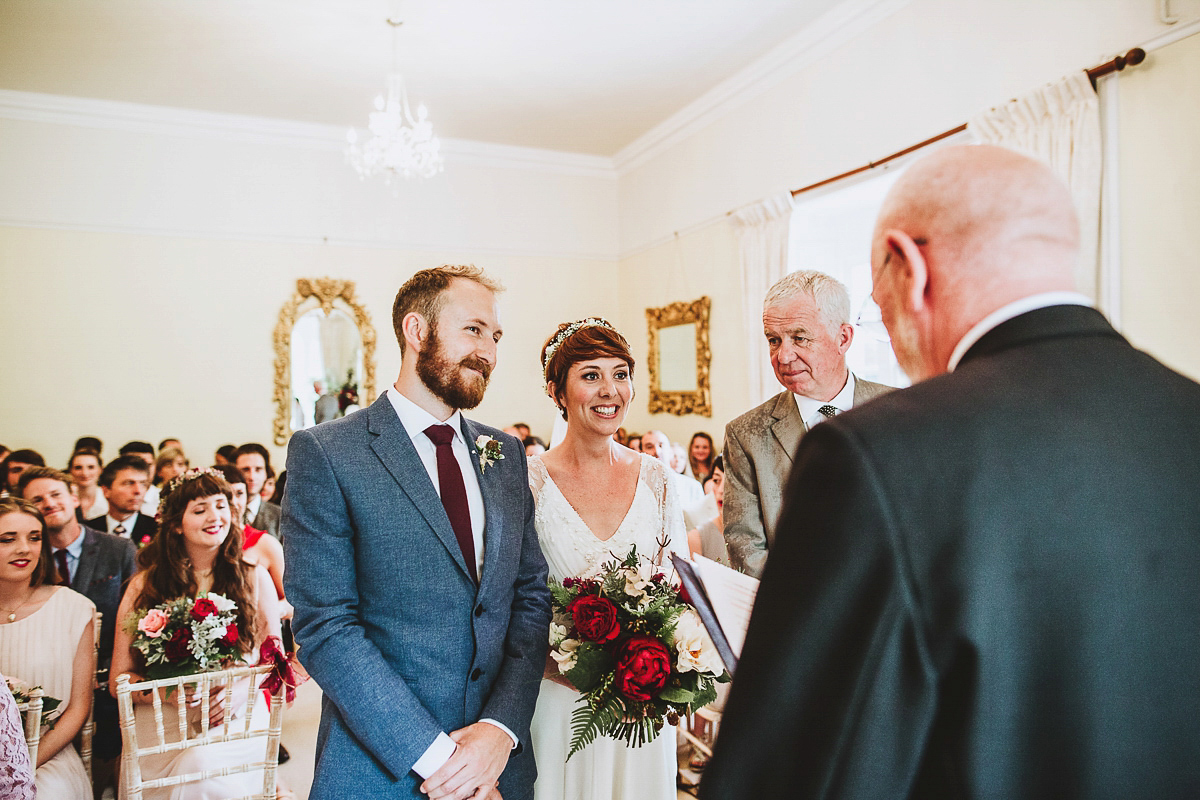 "We just used the standard vows. We were keen to make the ceremony last as long as possible, as I feel this part always seems to go so fast, so we had the maximum of three readings read by family members. My sister's advice was to have one wise, one fun and one romantic so we went with it. We chose an excerpt from 'The Art of a Good Marriage' by Wilferd Arlan Peterson, 'I Wanna Be Yours' by John Cooper Clarke and 'A Song of Spring and Autumn' by Francis Turner Palsgrave."
A much-discussed topic in our private Facebook group (if you haven't joined yet what are you waiting for?!) recently is husbands wearing wedding rings – the refreshingly modern outcome of which? You do you! He doesn't fancy one? No problem! Want all out matching engraved numbers? Lovely! Seriously, this wonderful forum is often my saviour when it comes to wedding-related questions, issues or simply as a place to share my sheer and constant excitement that my fiancé doesn't quite understand.
"Dave decided not to wear a wedding ring, so I went for a very simple ring to match my engagement ring. They were both bought from the same contemporary jewellers in Bristol, Diana Porter. My ring was by designer Maya Selway."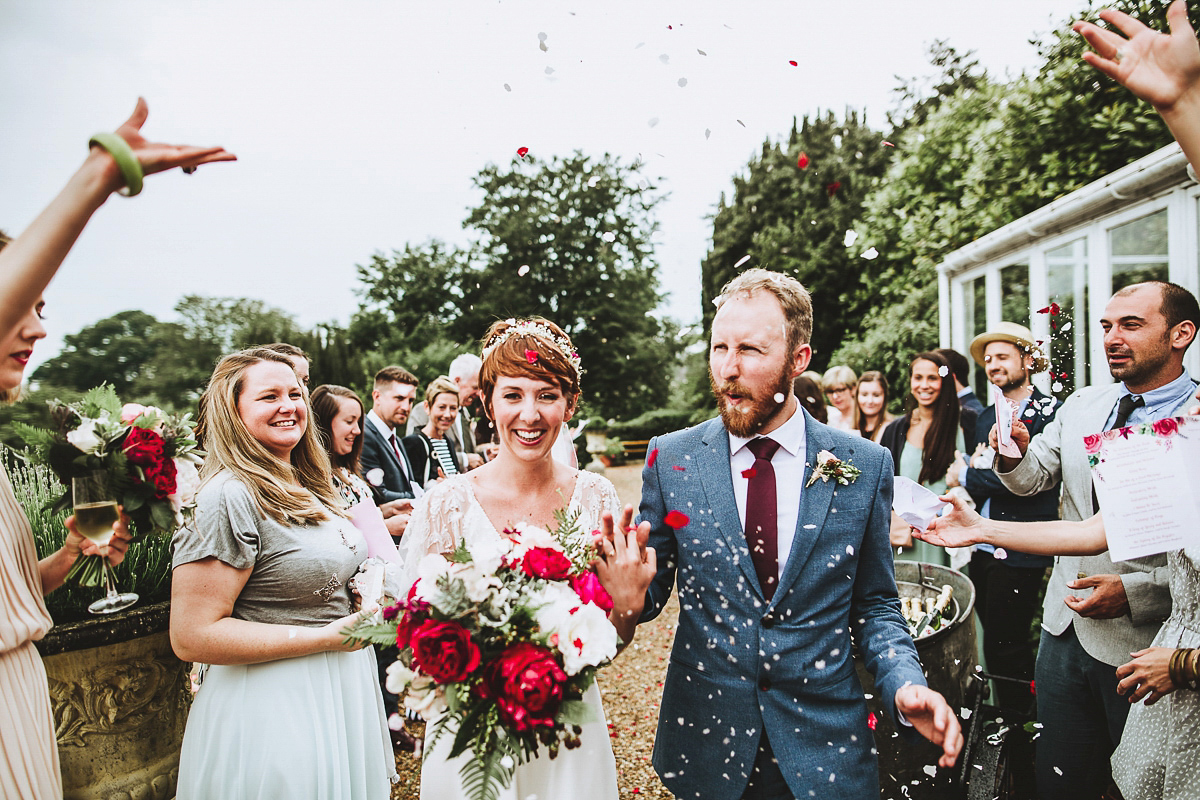 Emily and Dave chose to use the catering company linked to Pennard House; Caroline Gent Catering, who provided locally sourced tasty treats with plenty of herbs and vegetables grown in Caroline's own garden.
"We had canapés, a lamb main and then three different desserts as we couldn't choose a favourite! A lady at the W.I. in Taunton, my hometown, made our lovely cake. It was lemon with mascarpone filling and my mum covered it in flowers to match our theme."
I adore the velvety-rich tones of the couple's wedding flowers; the dark reds and luscious deep greens of ferns and foliage setting off the soft pink and cream of full, sumptuous blooms.
"My mum recommended a florist in Frome called Bramble & Wild. We met with the owner, Grace, and went through our woodland/garden ideas. She was fantastic and really got where we were coming from. We decided on two huge woodland displays that would sit on urns and trail down to the ground."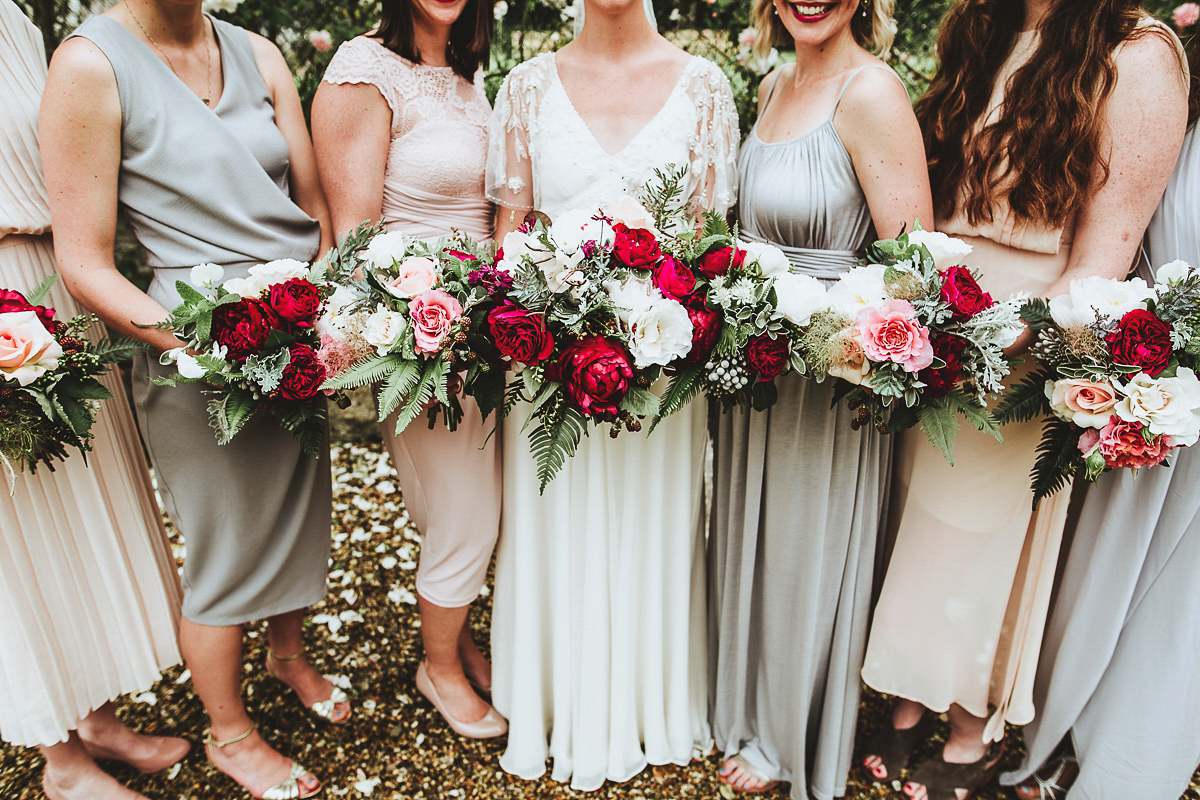 "Grace used her floristry knowledge to pick some amazing ferns, berries and twig foliage alongside beautiful large blooms and roses in dark reds, cerise and peach. They were so eye-catching on the day and everyone commented on them. She also made all our bouquets and buttonholes. All the roses she used were fragrant, so along with the roses in the garden at Pennard House, the day was very perfumed."
When it came to their search for a photographer, the couple knew this was one creative element they had to get absolutely right. Frankee Victoria Photography proved to be the perfect match and her natural, romantic style has captured so many smiles and super happy moments.
"Dave and I spent a while looking for a photographer as we knew how much we wanted a good record of the day. I loved the relaxed style of Frankee Victoria's photos and we both agreed she was the one for us."
"She was fab on the day with her assistant. She was very unobtrusive, and kept the group shots to a small number so that she could capture more natural shots throughout the day."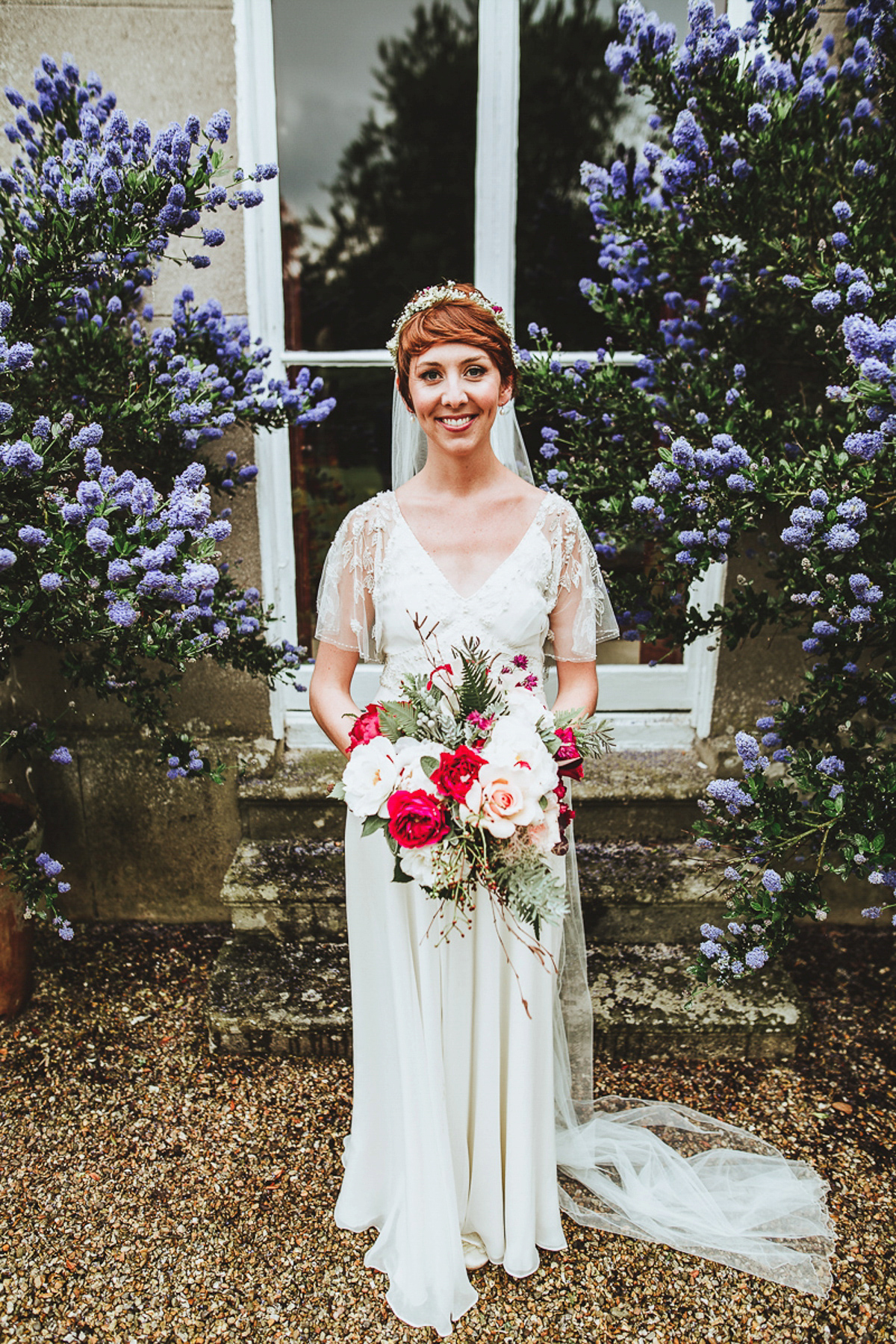 "Frankee had a great idea of making a sparkler tunnel, which produced some really fun images. We will treasure her photos for ever."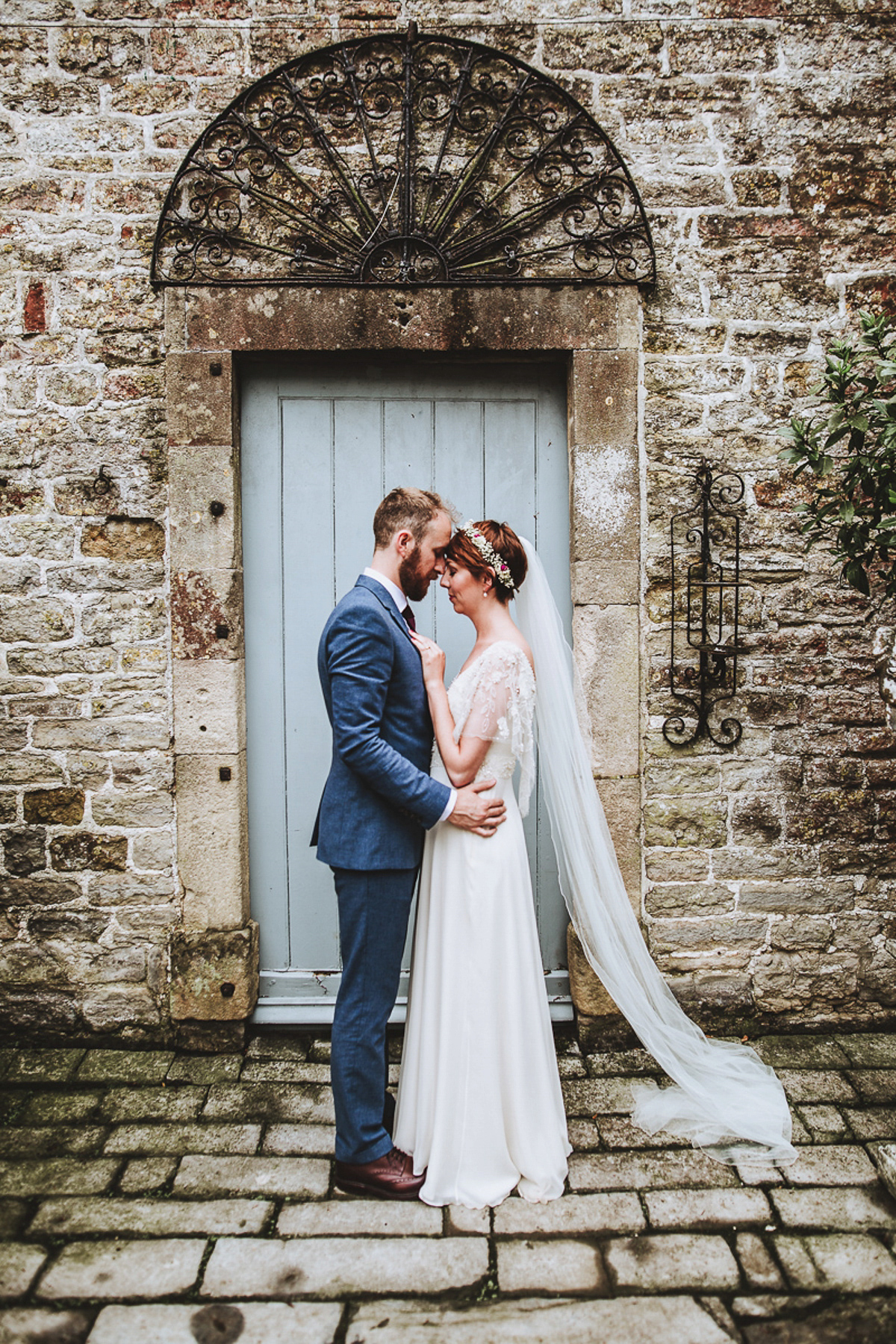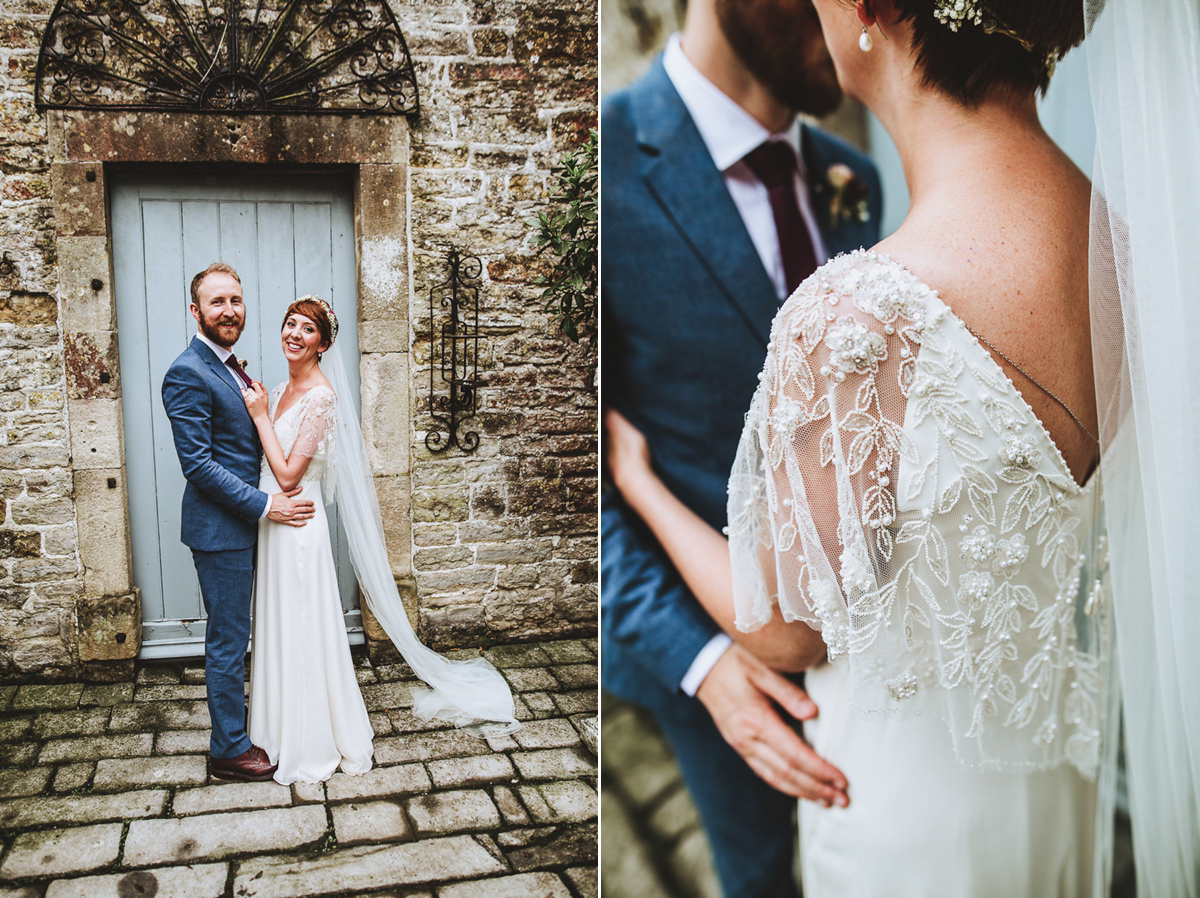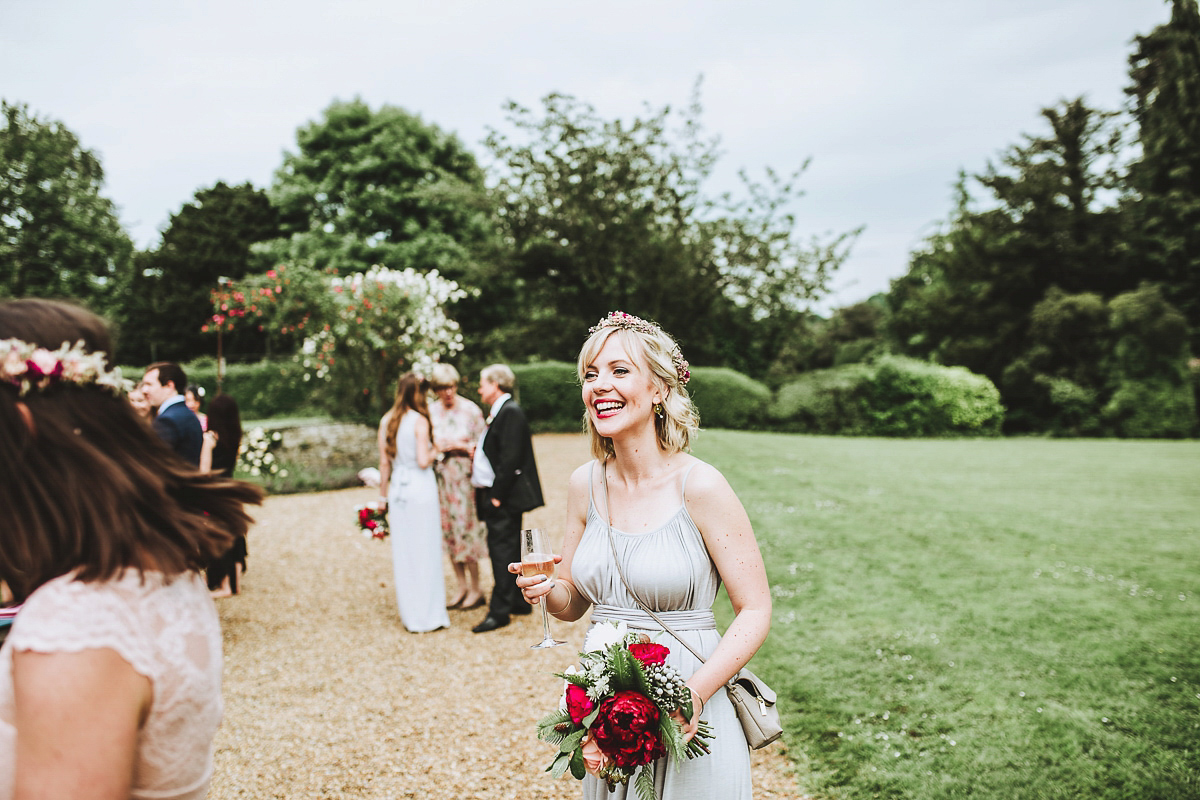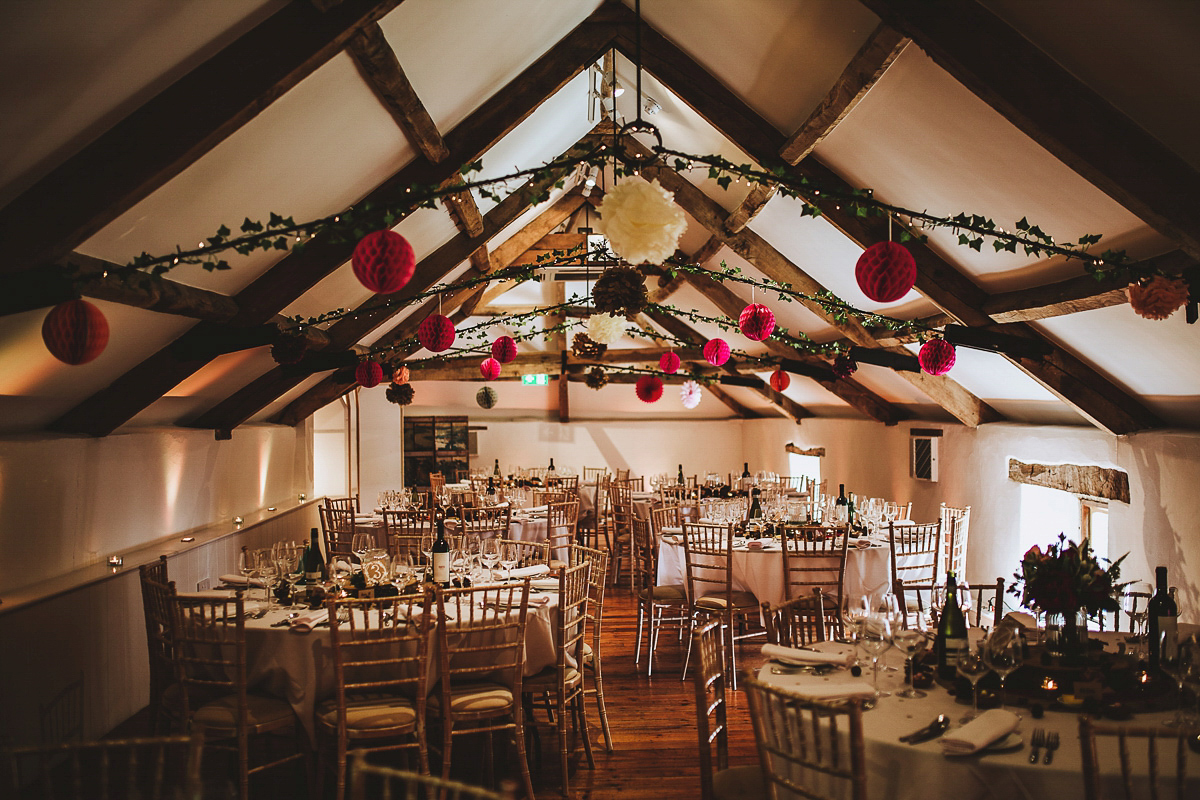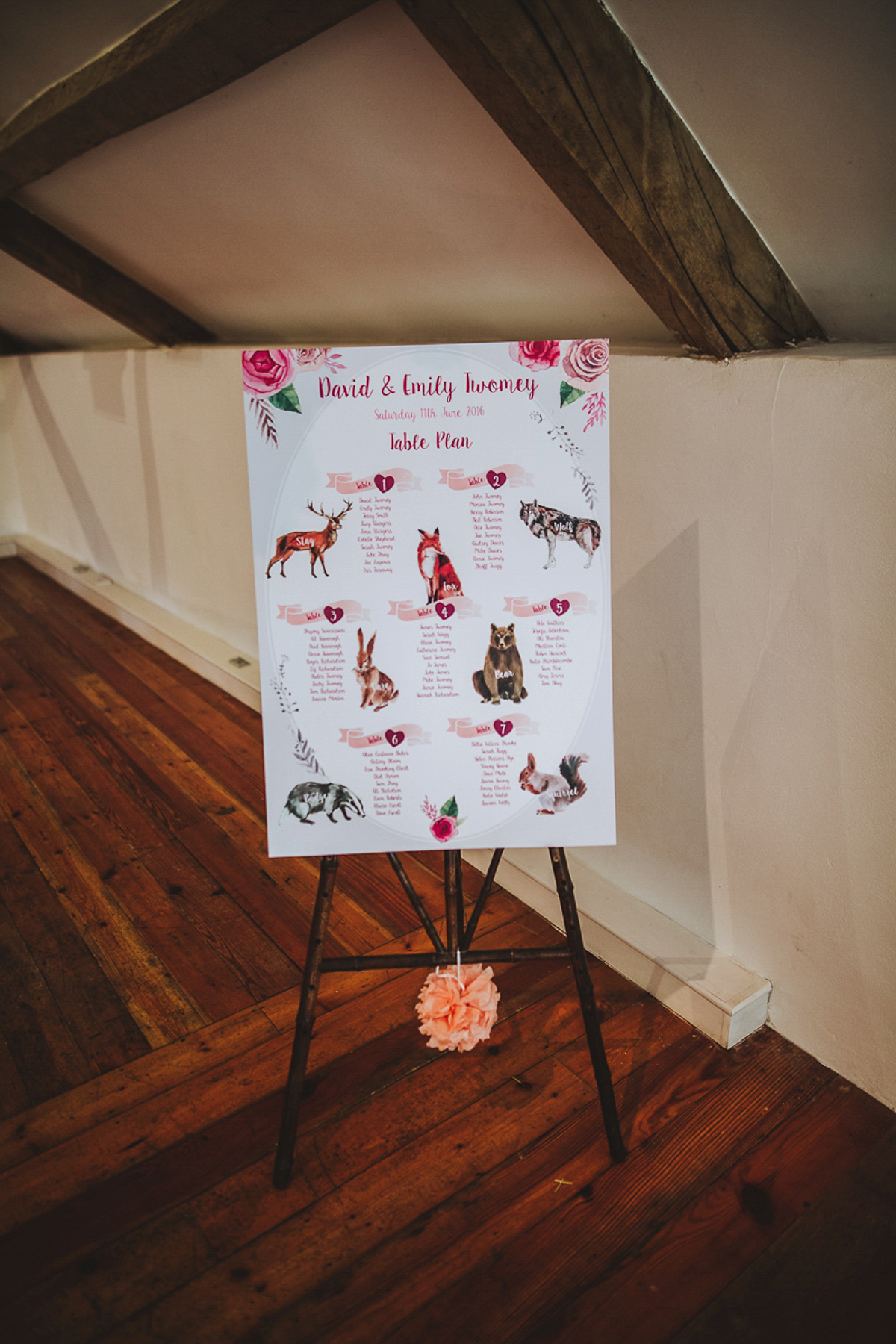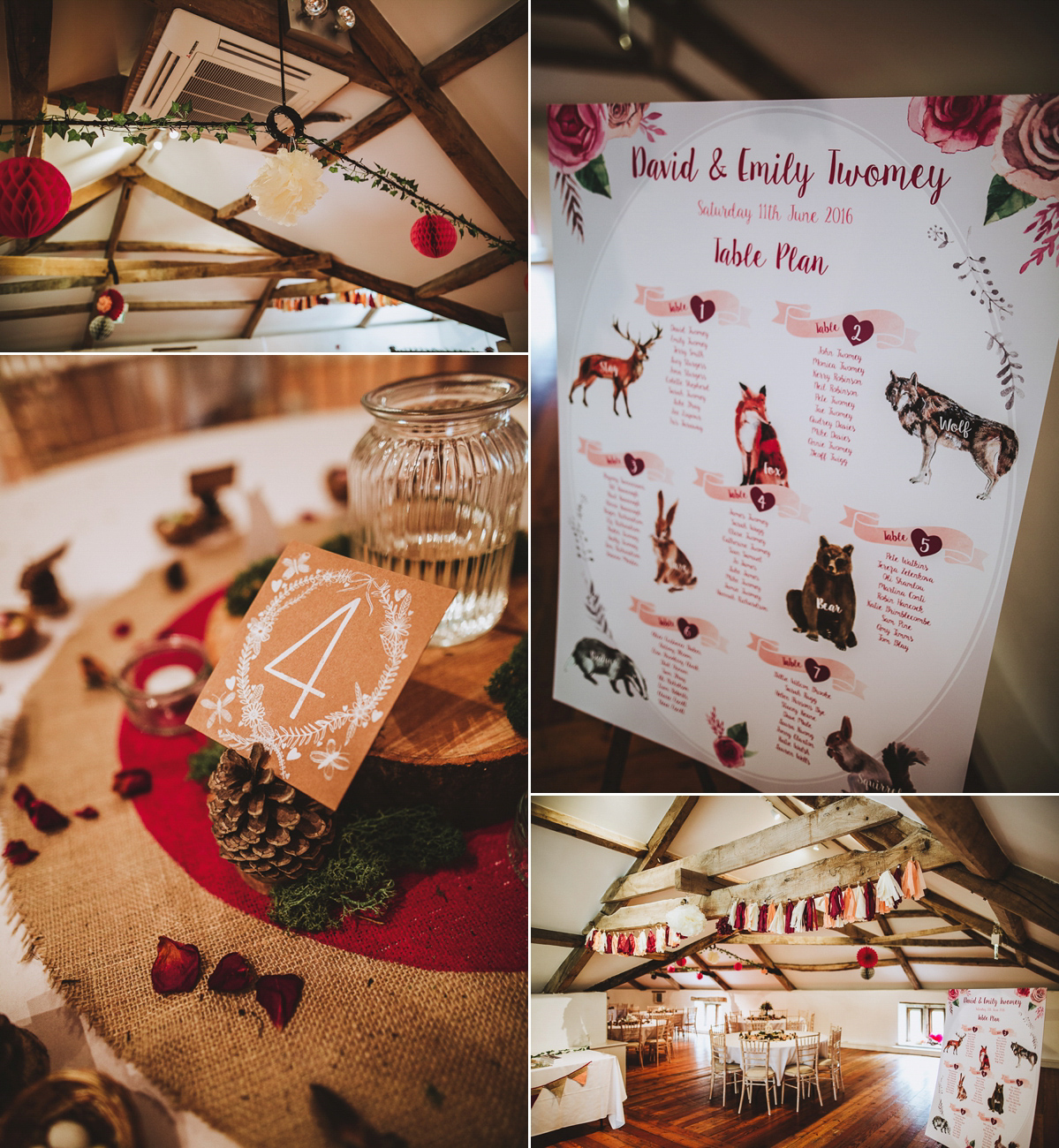 To complement their woodland theme, Emily bought tiny fake bird's nests from eBay and filled them with mini eggs (my fave!) as sweet favours.
"I hired props from The Prop Factory in Exeter. They deliver and pick up which meant we weren't stuck with lots of large decorations after the wedding. We hired a Buzz Wire and an Aunt Sally as well as vintage props like a Gramophone and light up bar lights. I also hired a pool table from Bristol Fun for Hire to add to the pub feel in the evening."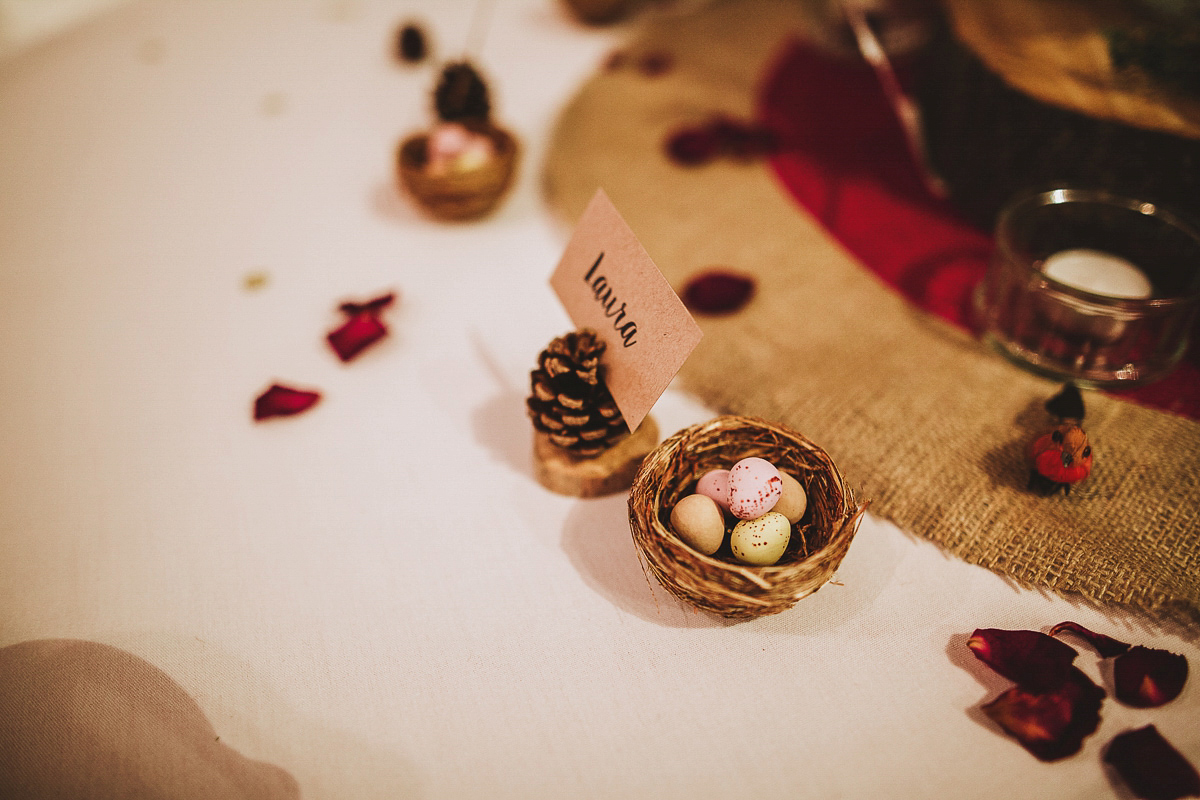 "Alongside The Prop Factory decorations we mainly used paper decorations. I made a lot of tassel bunting as buying it is quite pricey."
"I also bought lots of pompoms and pinwheels off eBay or sourced them from friends. For flower pots I painted large coffee tubs bronze and filled them with shop bought roses."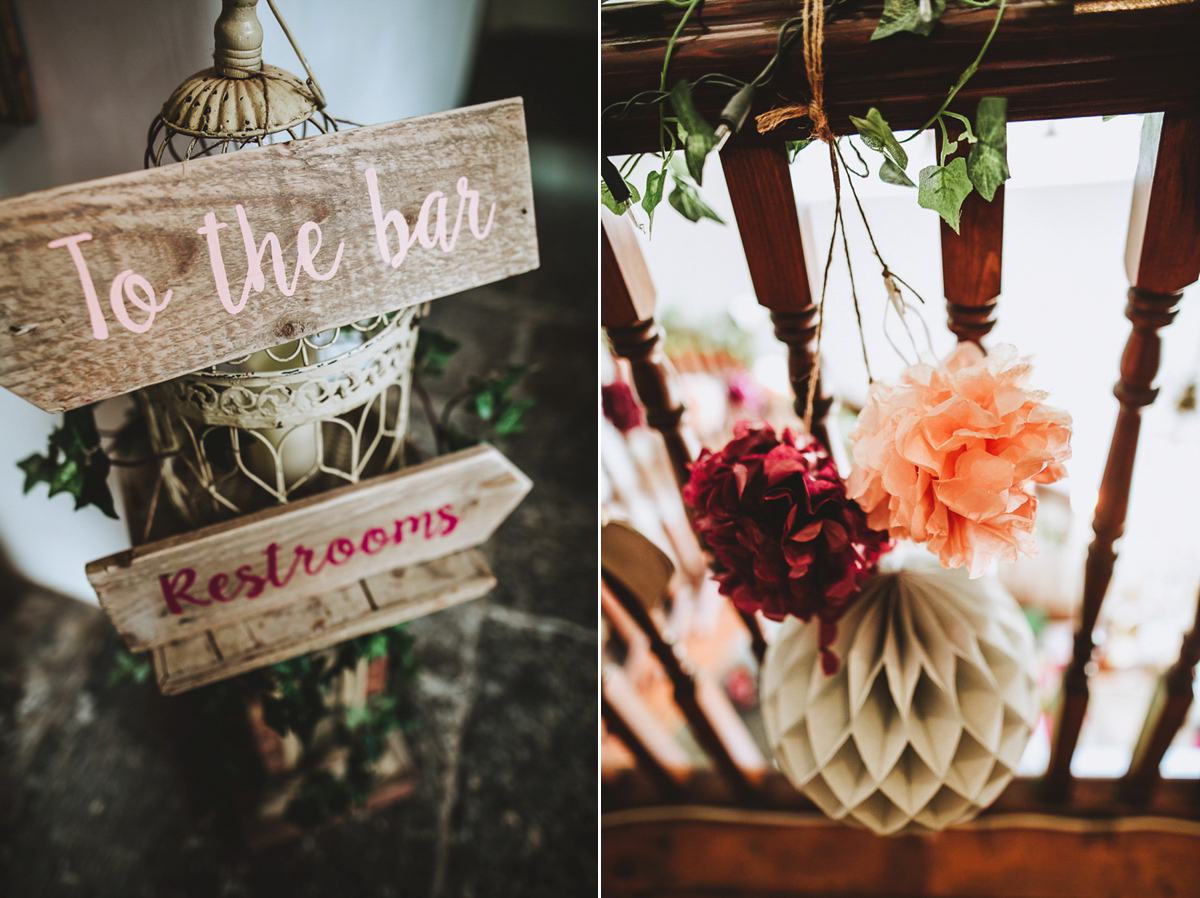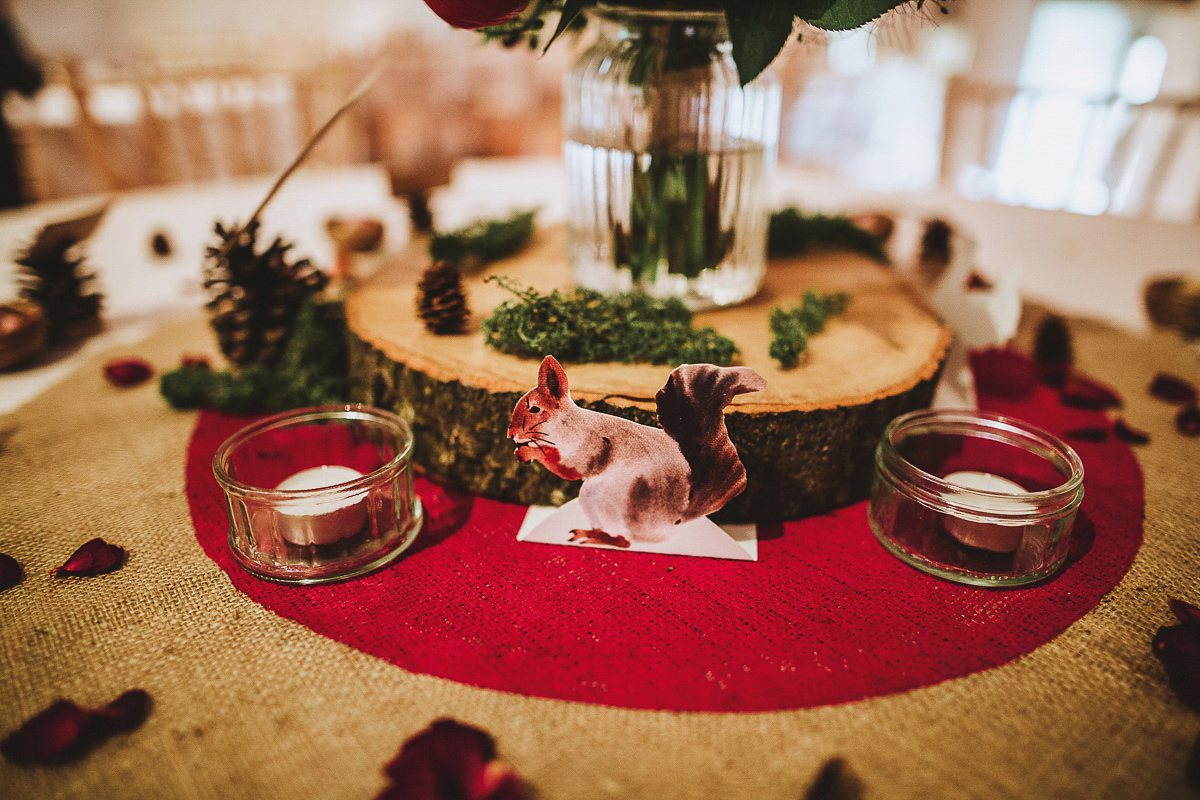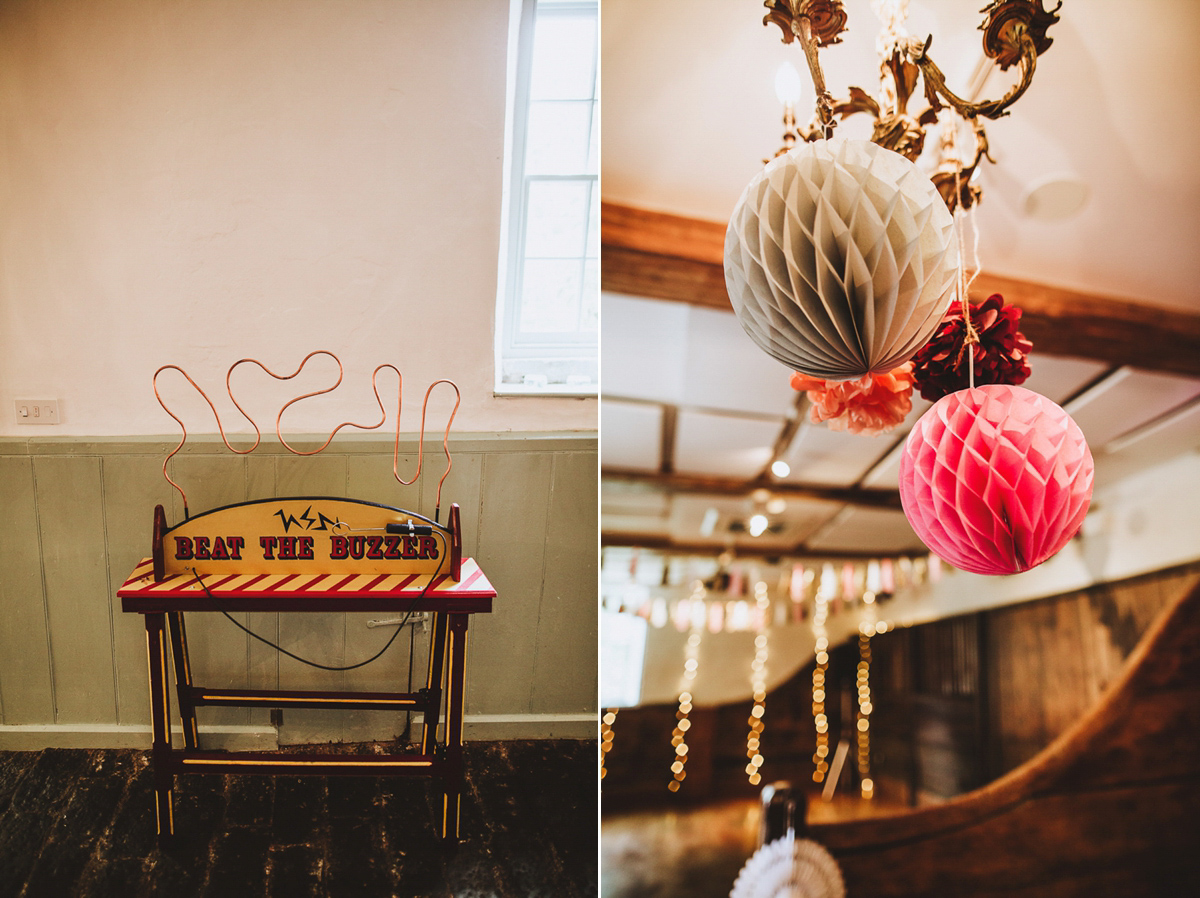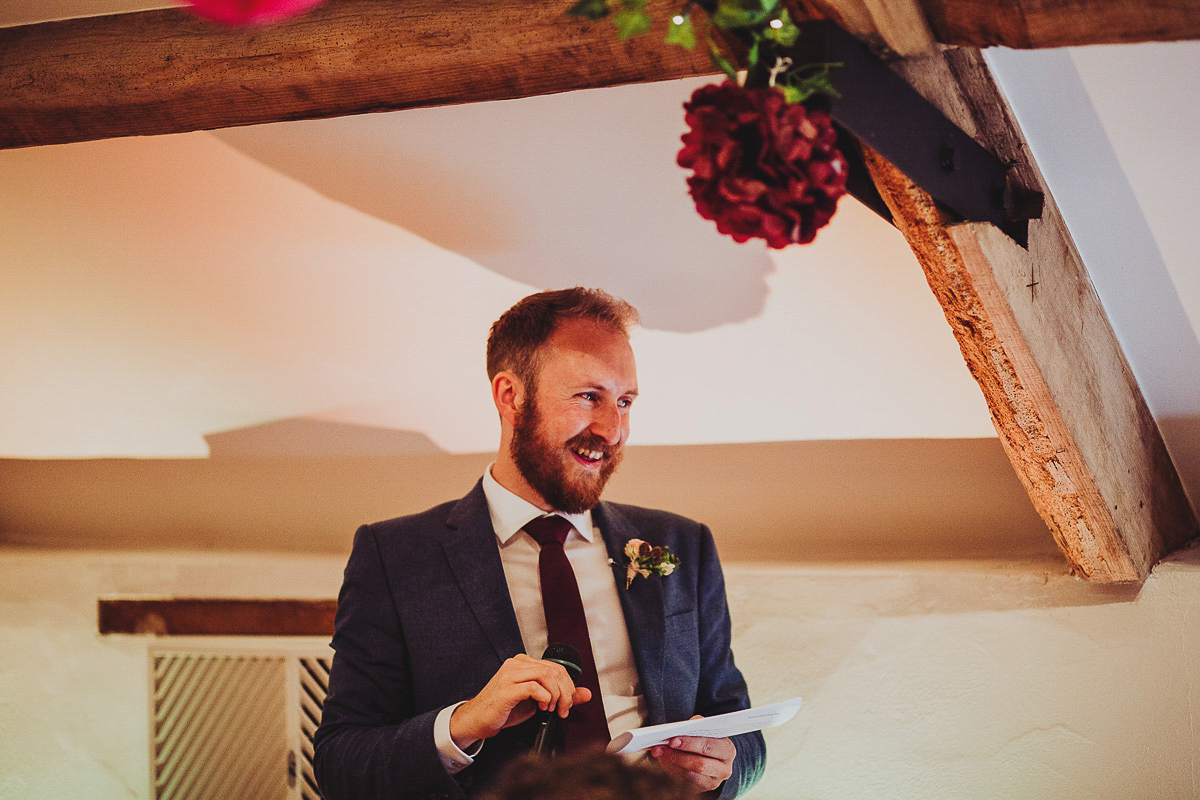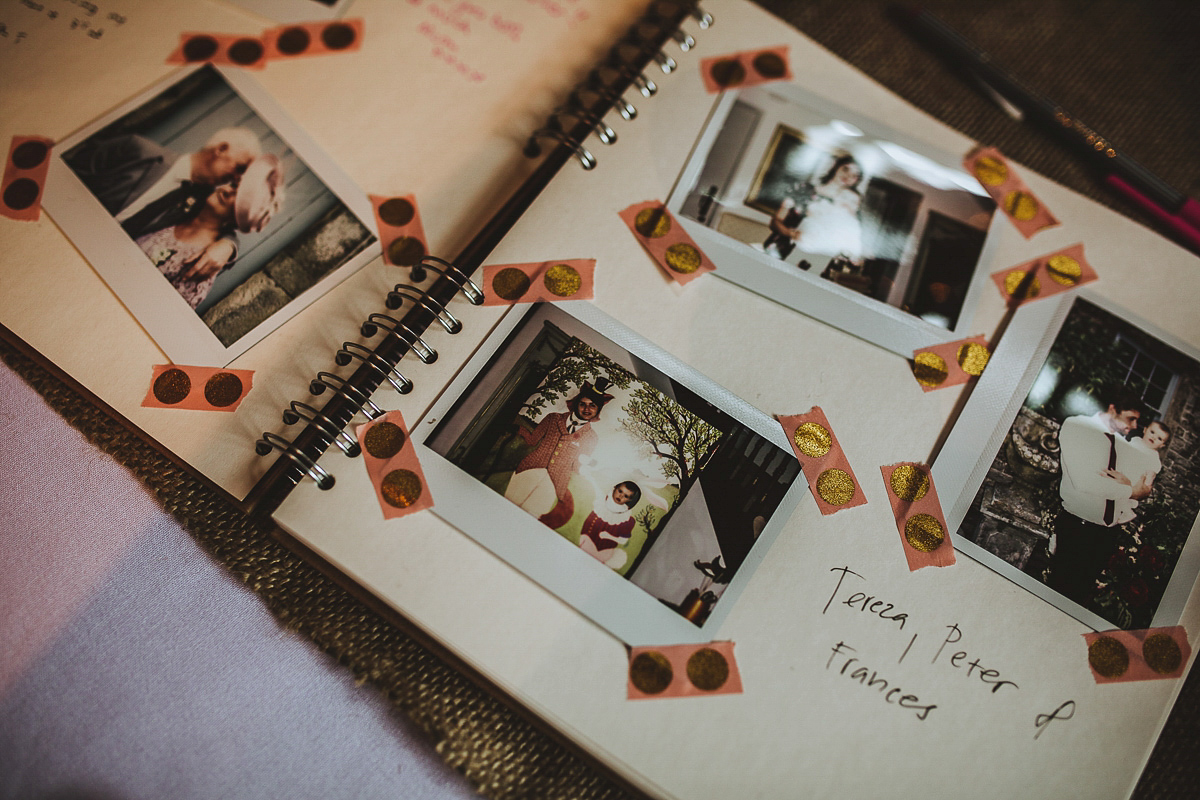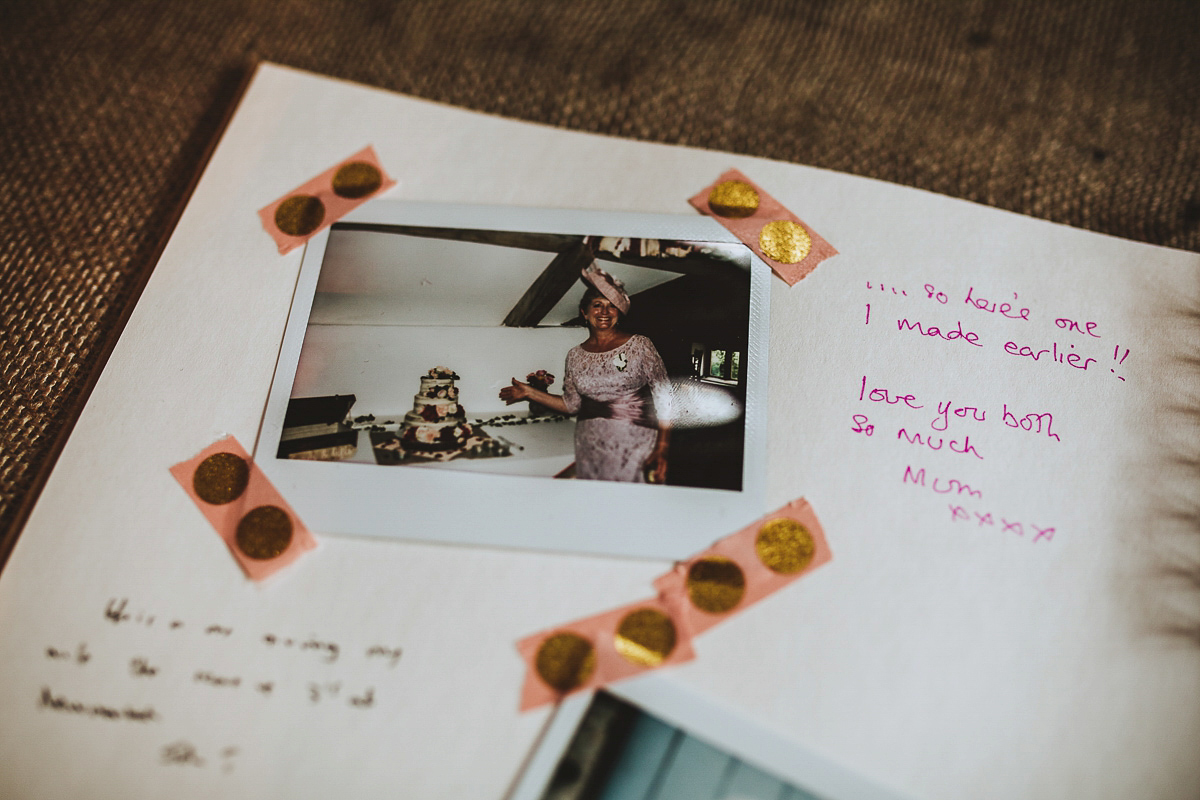 Finding a band to appeal to all of the age groups in their wedding party took a while but Emily and Dave eventually found Mr Jean, who played 70s music through to modern day tunes and were a big hit on the dance floor.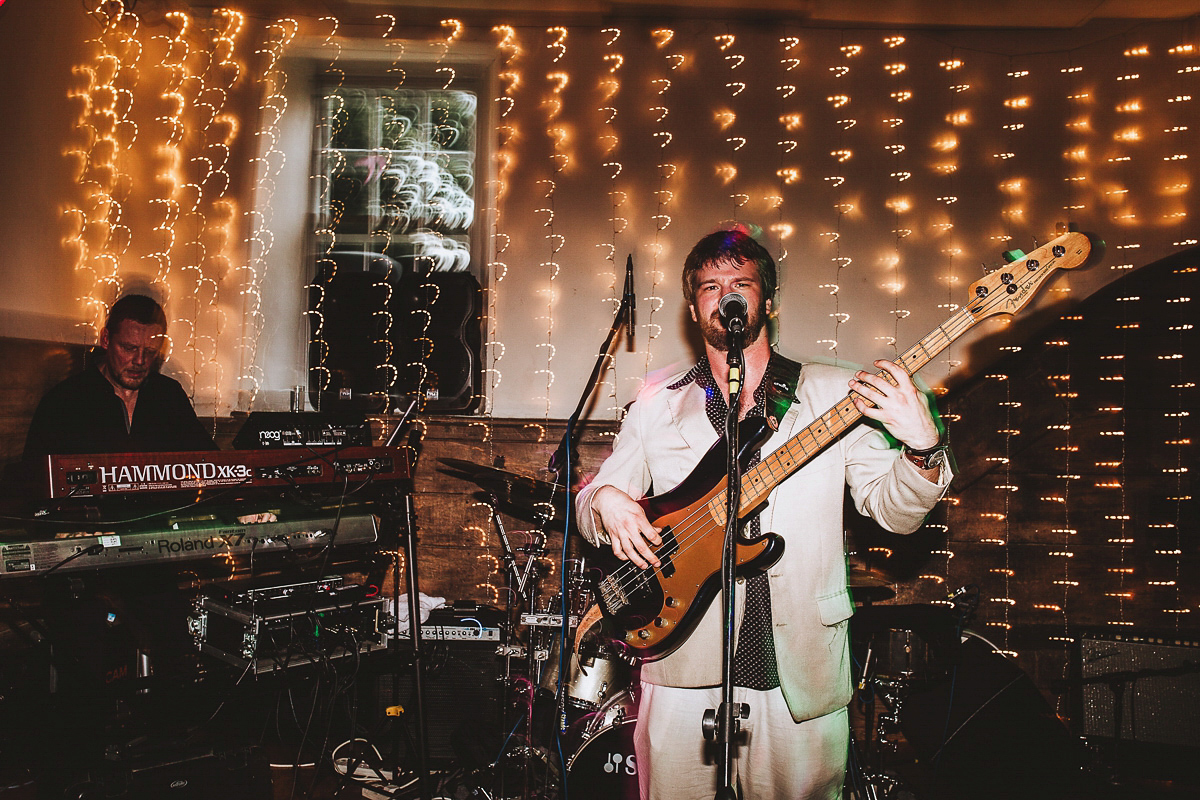 "I honestly enjoyed the whole day. I definitely relaxed a little more after the ceremony part was over. I loved dancing at the end and just having all our friends and family together in one place."
Words of Wedded Wisdom
"I would say try and get the big jobs ticked off early so you aren't rushing and stressing close to the wedding. I would also say that everyone has such a good day no matter how much effort you put in, so to not go crazy with tiny details.
I am quite a crafty person, so I think people assumed I would make lots of bits and bobs, but you want to find the balance so you aren't giving yourself too much work. It's worth paying for certain things to save you a lot of hassle.
Finally, enjoy the day! Everything is taken care of by suppliers and the venue on the day so you shouldn't worry about anything and just take it all in as it goes so fast."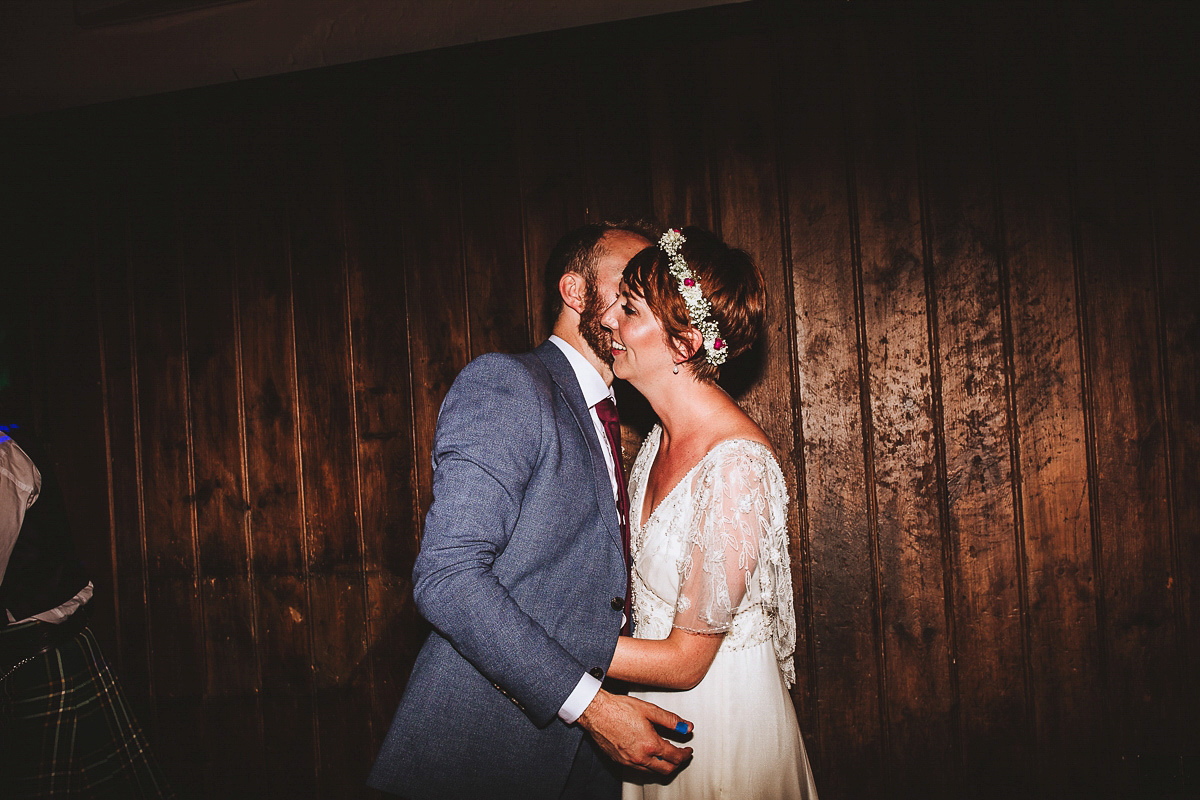 That just leaves me to say a very big thank you to the lovely Emily and Dave for allowing us to share in their gorgeous woodland inspired day and of course to extend our very heartfelt thanks to Frankee Victoria Photography for these achingly romantic images. If you can't get enough of Emily's stunning gown, take a look at more of our fabulous Jenny Packham brides.
Love, Em x