Oh I do love a winter wedding – especially one as colourful and opulent as today's.  Meet Sinead and Will, who married at Holy Angel's Church in Dorset on the 26th November 2016 and held their reception in Sinead's family garden, just a few hundred metres down the footpath.
"The styling of the wedding day was hugely important to me. I have always loved the vintage glamour of the 1920's and 30's, so that definitely played a role, especially in my own look, but for the venue we really wanted to include lots of seemingly disparate elements.  I love Christmas and I wanted the cosy grandeur of Hogwarts at Christmas – long banquet tables and masses of candles.  I'm also a huge Strictly fan, so we needed gold and sequins too."
Photography by Paolo Ferla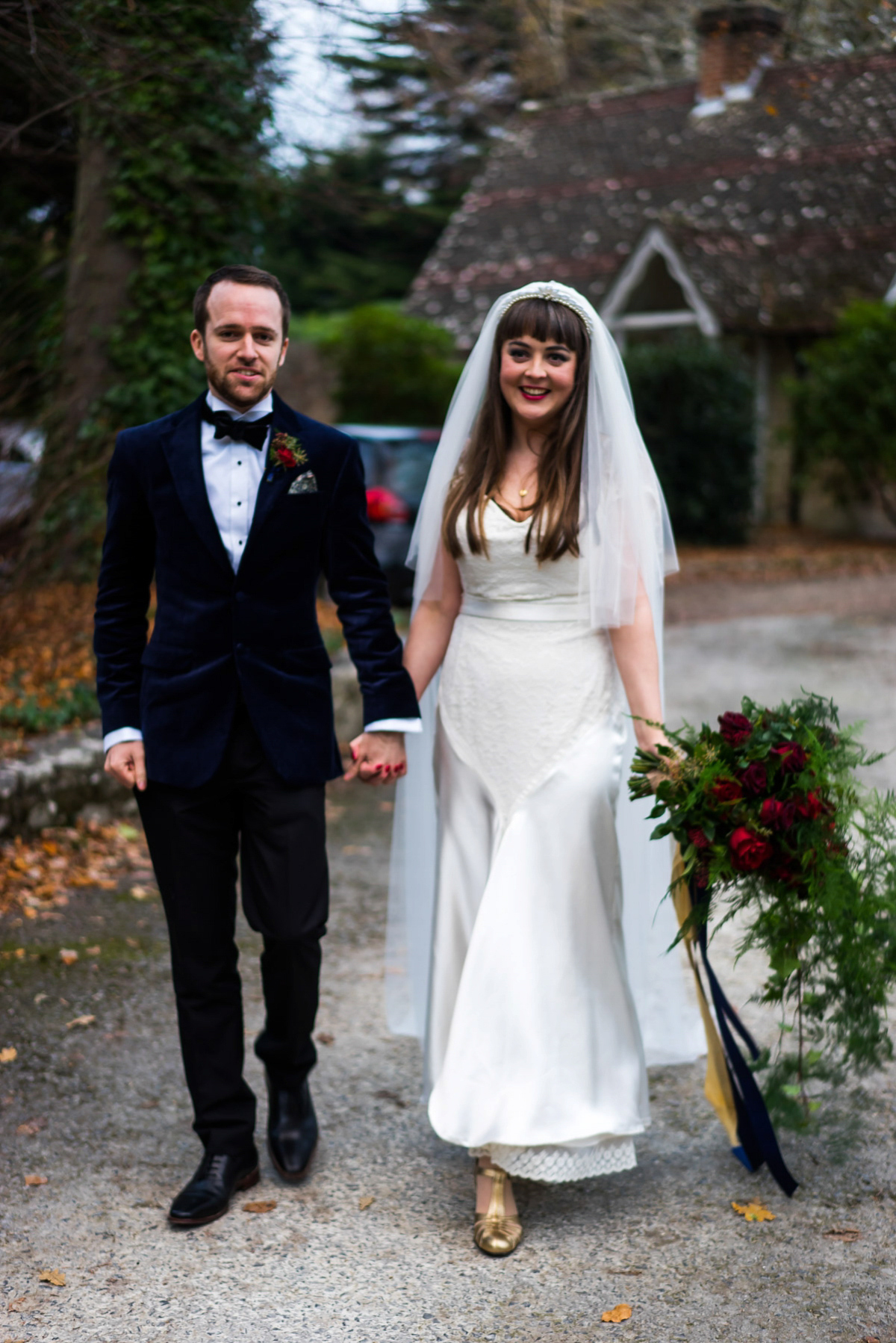 Sinead wore a stunning vintage gown from Elizabeth Avey which suited her perfectly.
"Elizabeth's boutique is the most wonderful treasure trove.  I was worried I wouldn't find anything to even try on as vintage dresses can size so small but Elizabeth curates such an amazing, inclusive collection.""My dress was even more special because it was made of two antique dresses that had been damaged beyond repair and so were combined to make mine.  I loved the silk and lace, the amount of detail, and the fact that it was a little bit sexy whilst feeling very traditional.  It was old and new, and completely unique, and I feel so lucky I found it."
Sinead's veil was made by Satish Mal, who also did her dress alterations.
"I loved that it felt light and ethereal.  I asked Satish to add a blusher and loved wearing this down the aisle as I liked the added romance and drama."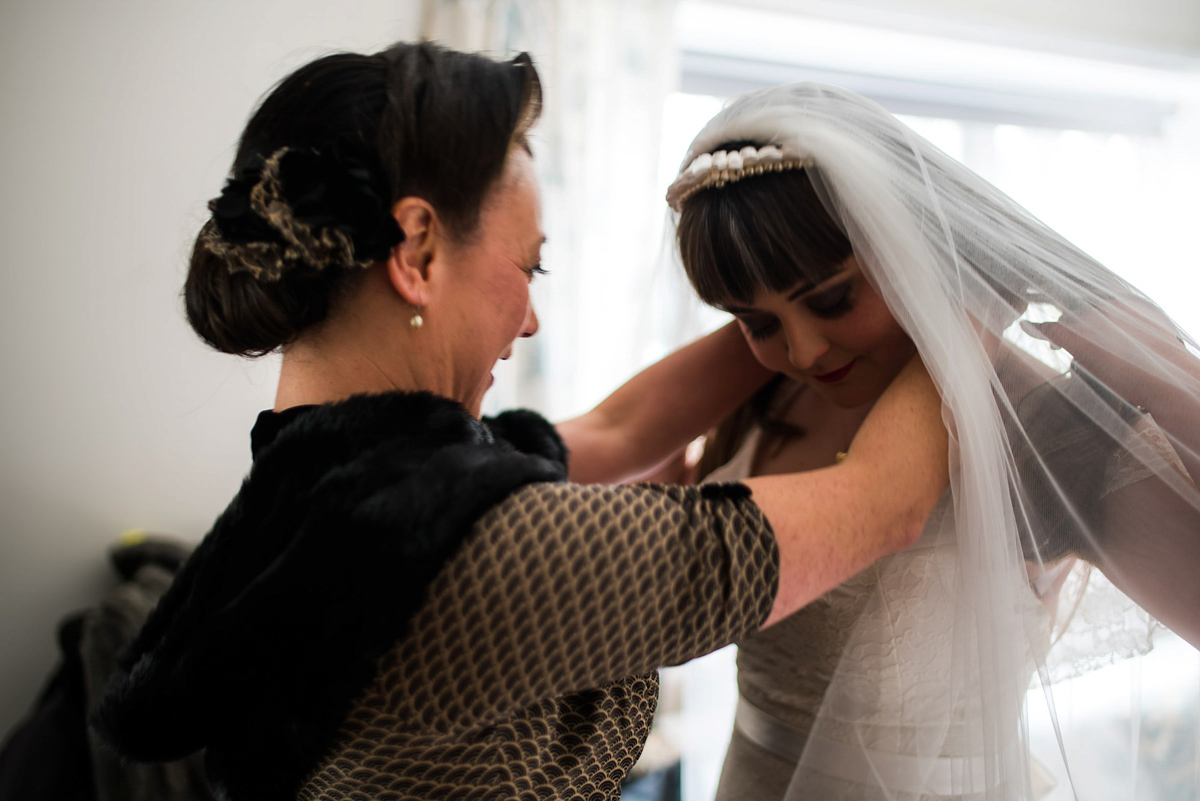 Sinead's shoes were from Revival Retro Boutique, while her tiara was from Etsy.
"I kept my accessories very simple.  My matron of honour presented me with my old, new, borrowed, blue on the morning of the wedding.  The 'old' was the gold locket my Great-Grandpa gave me when I was born, engraved with my name, and the 'new' was a delicate new chain."
"It meant a lot to me, to carry a memory of him through the day. The borrowed and blue item was a St. Christopher token, which I pinned to the underskirt of my dress."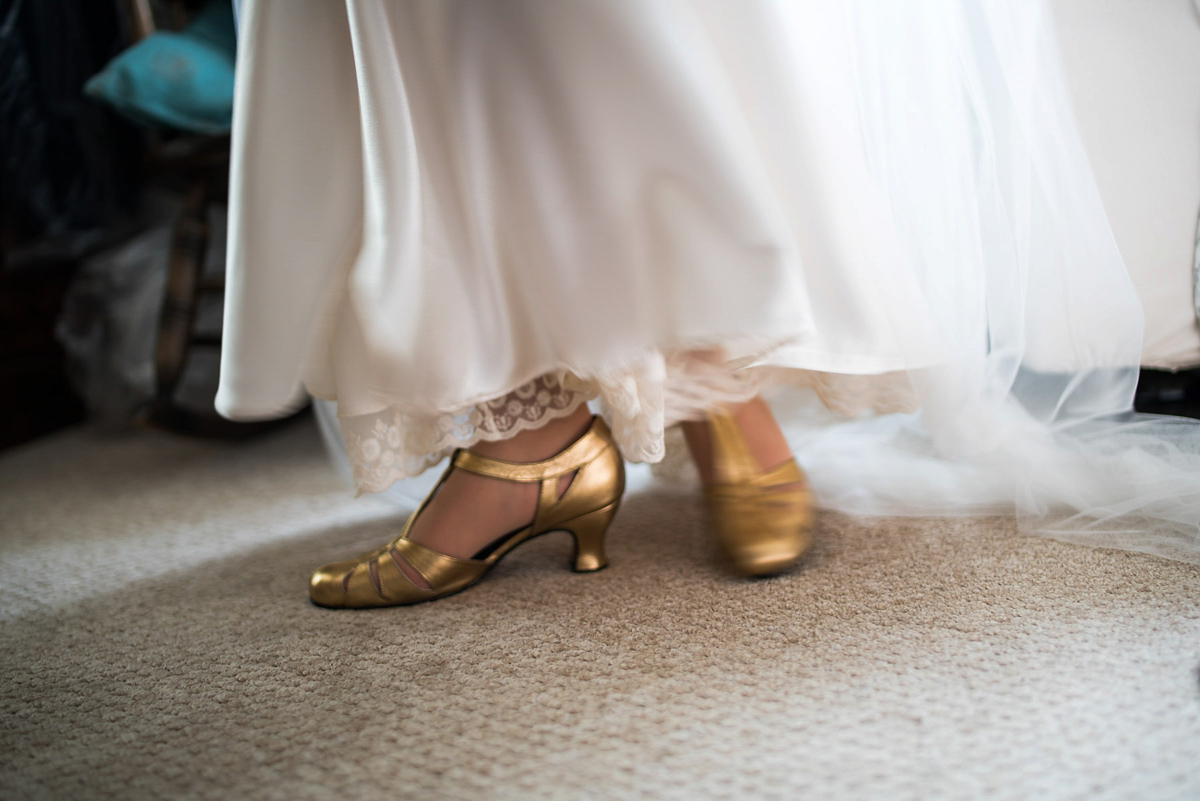 Vintage-style hair and make up was the work of the lovely Miriam King.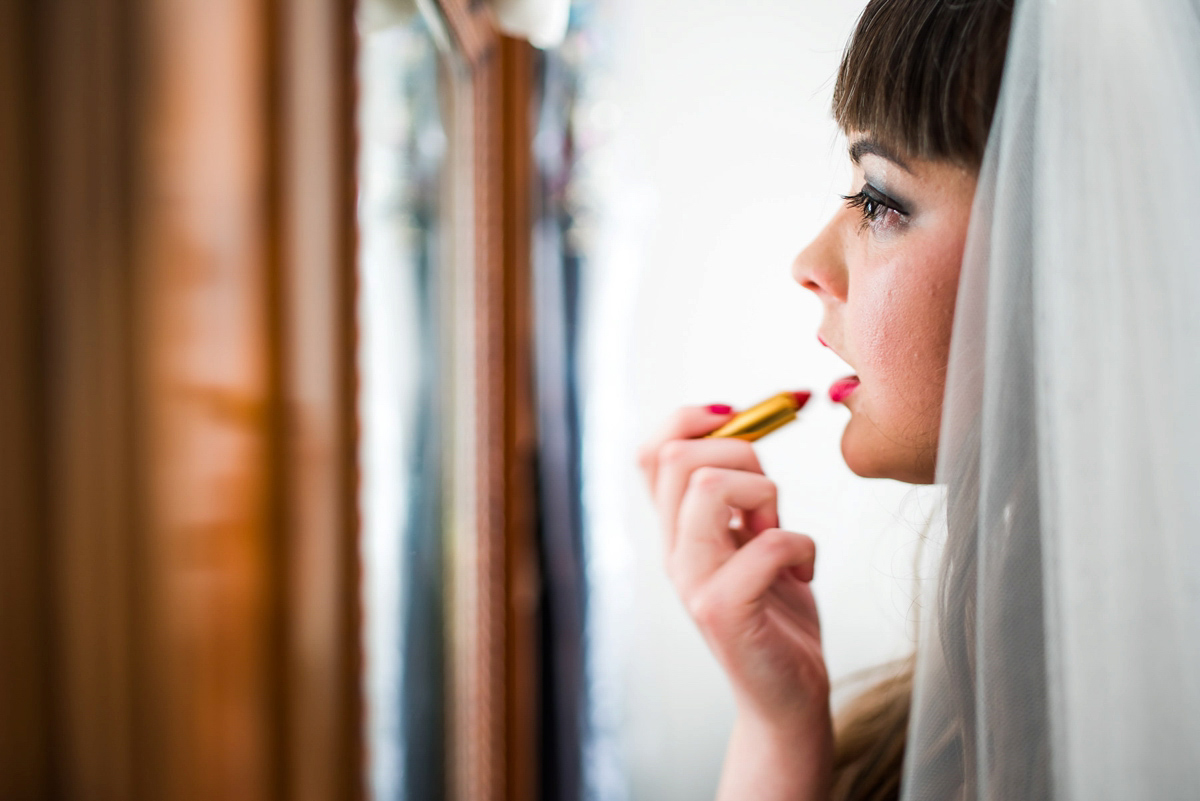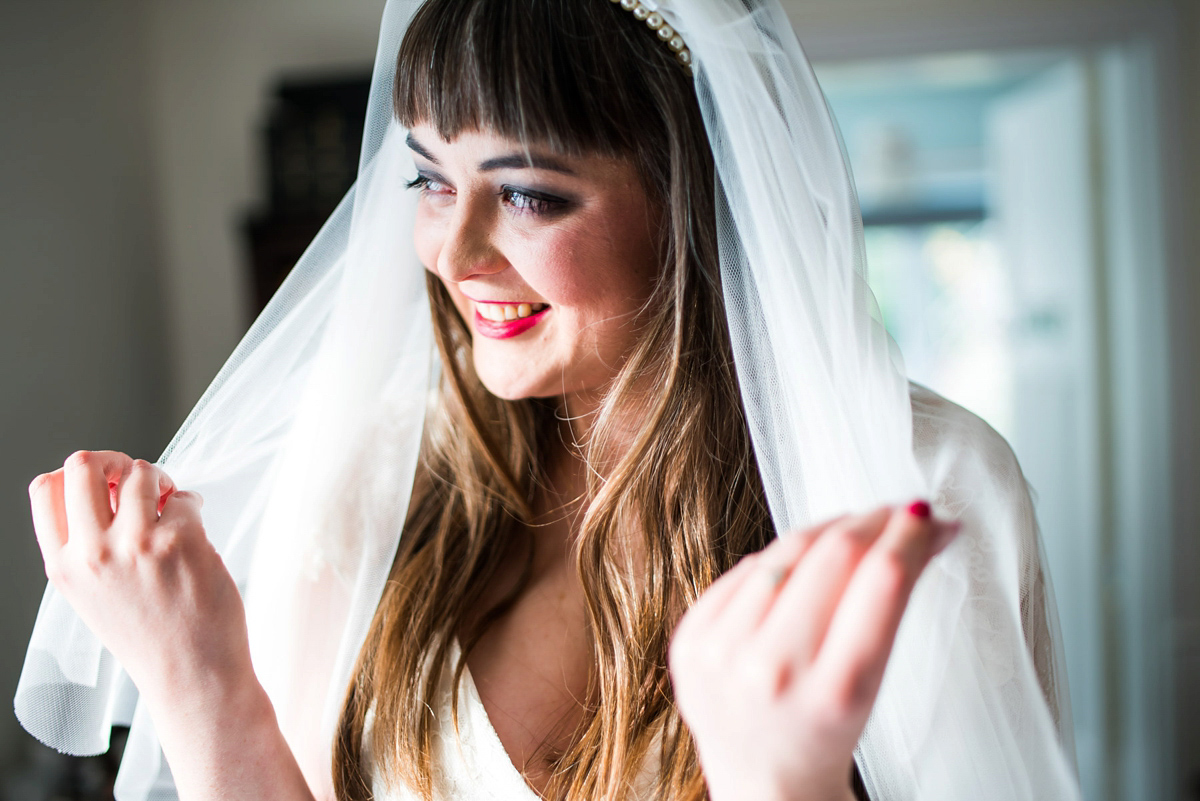 "Our bouquets and buttonholes were from Joey at The Wild Fox.  For me, the 1930's sweeping bouquets are the epitome of elegance and I couldn't think of anything that would better complement my dress than a full cascade of roses."
Will looked very smart in a midnight blue velvet jacket from Charles Tyrwhitt, which he wore with black dress trousers from Moss Bros and a dress shirt from Alexandre.
His black velvet bow tie was from Mrs Bow Tie, and his shoes were from Dune. He finished the look with a William Morris patterned pocket square from Etsy.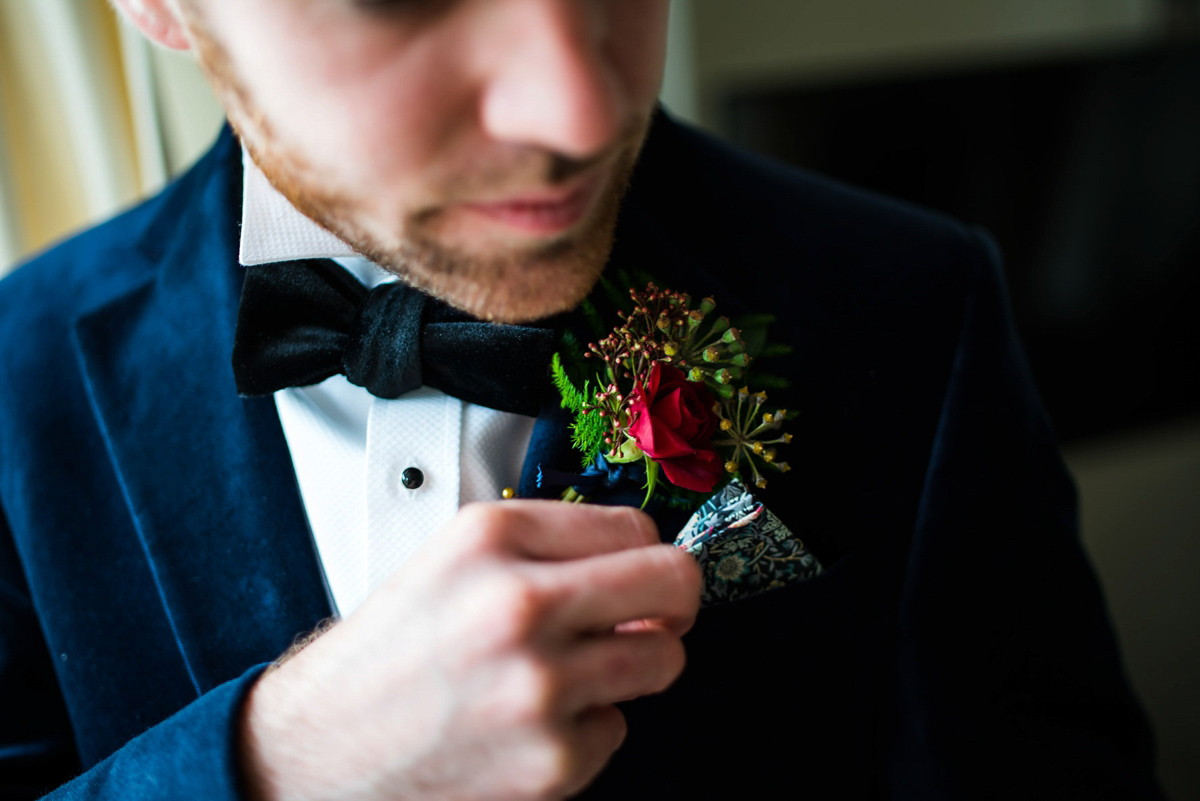 "Will's pocket square matched the insert of our wedding invitations and the dressing gown from Liberty that he gave me to wear while getting ready.  Although I'd seen his outfit in its parts before the wedding, I am so glad I didn't see the whole look put together before the ceremony as seeing him look so handsome at the end of the aisle is one of my favourite moments of the day."
Sinead had one adult bridesmaid, who looked beautiful in a dress from Virgos Lounge, as well as nine young bridesmaids, who all looked lovely in sequined drop-waist dresses from John Lewis, worn with faux fur muffs and black velvet capes made by family friend Lizzie Henderson.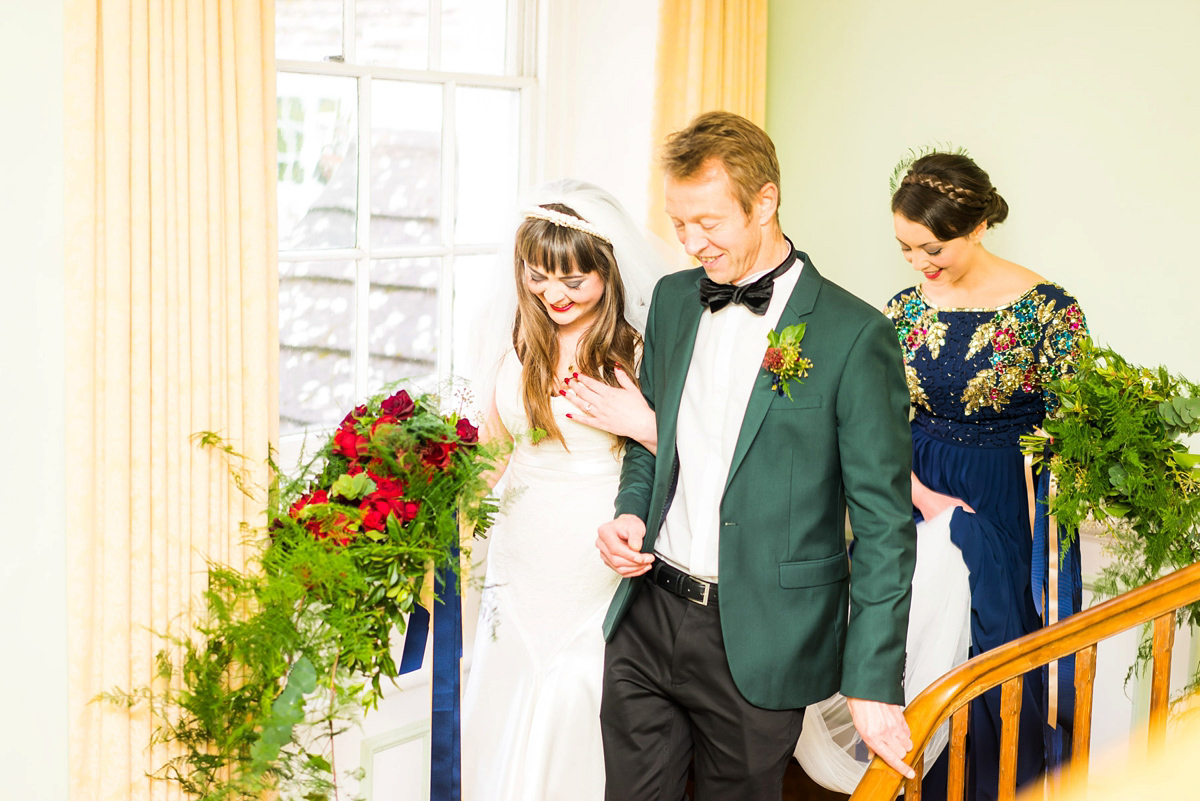 Will's groomsmen wore dark green tuxedo jackets from Topman with the same bow tie as Will.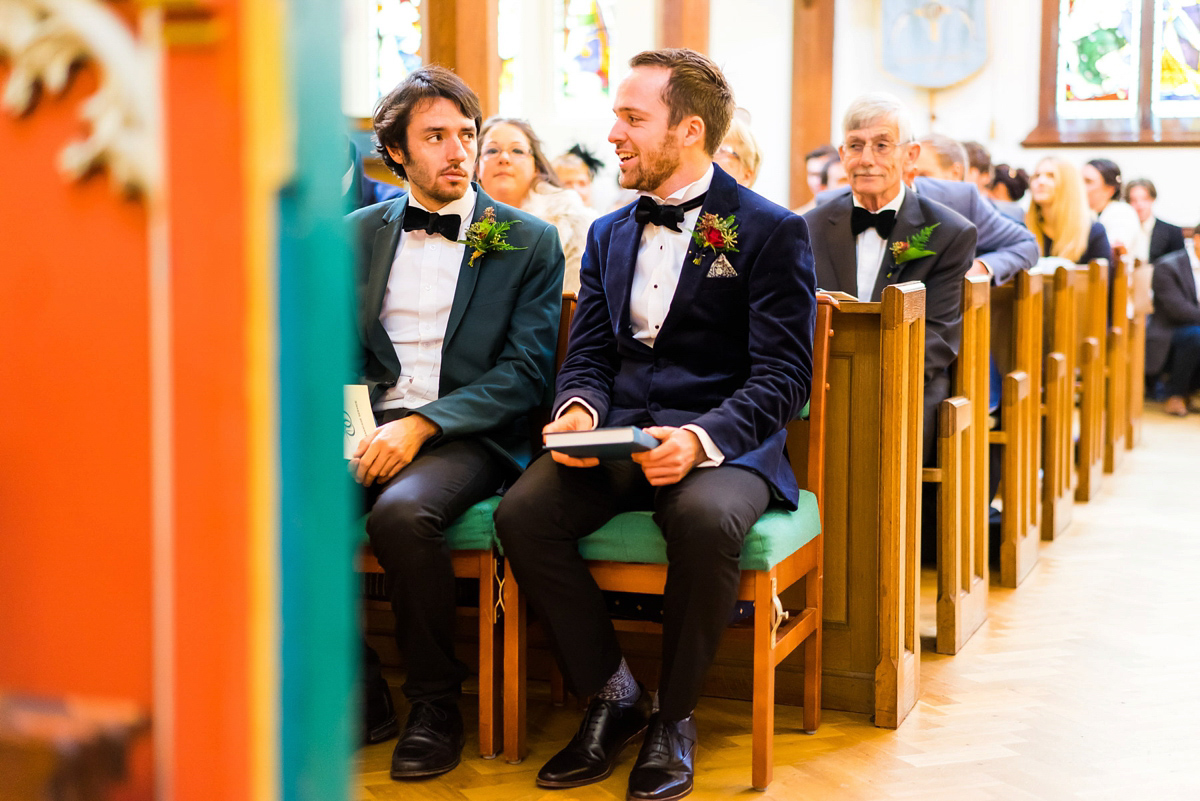 "My youngest brother and my godson were our amazing pageboys and they decided that they wanted to be soldiers, like the ones that guard the Queen.  My Nan made the jackets to their own design and they completed the outfits with wooden pop guns."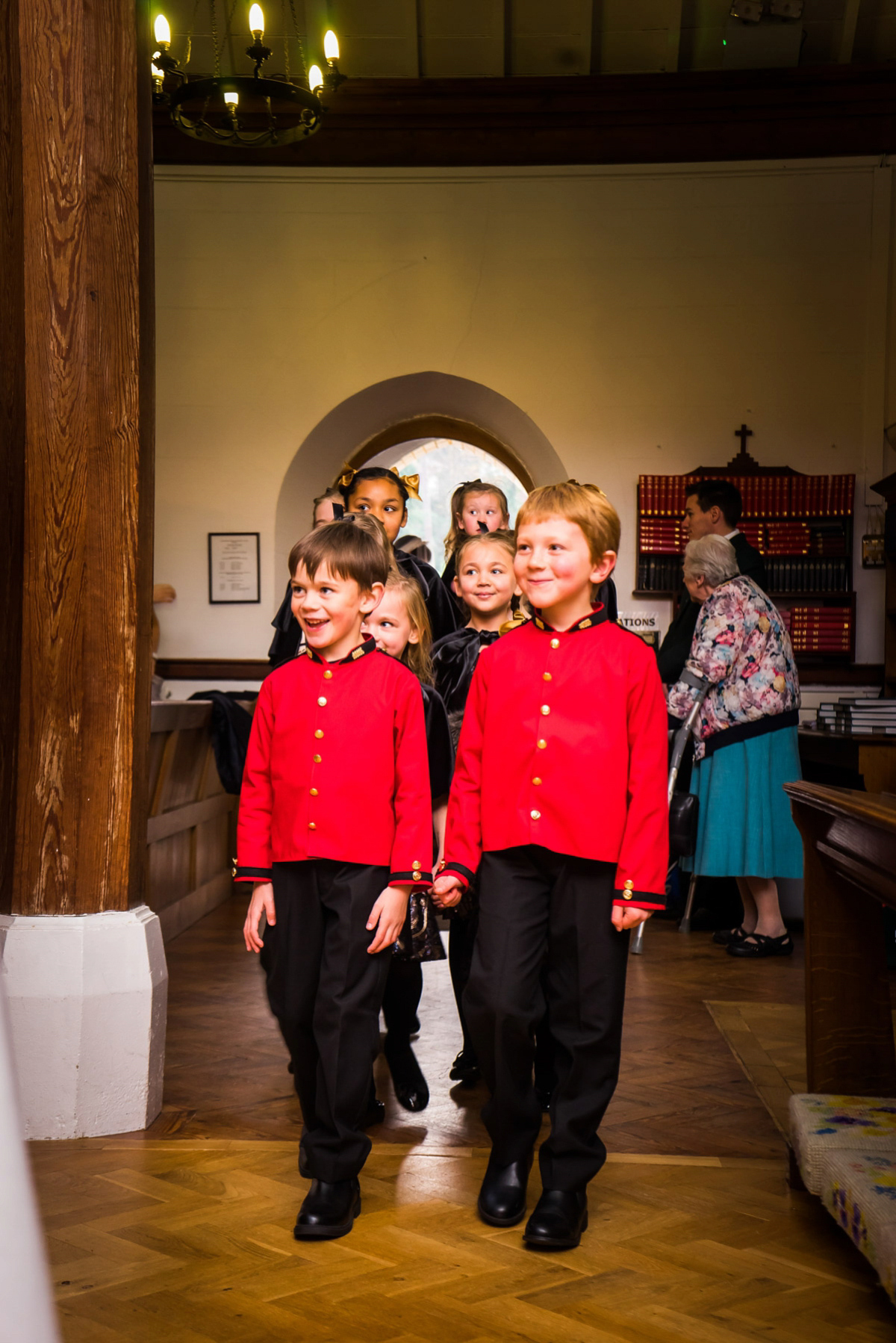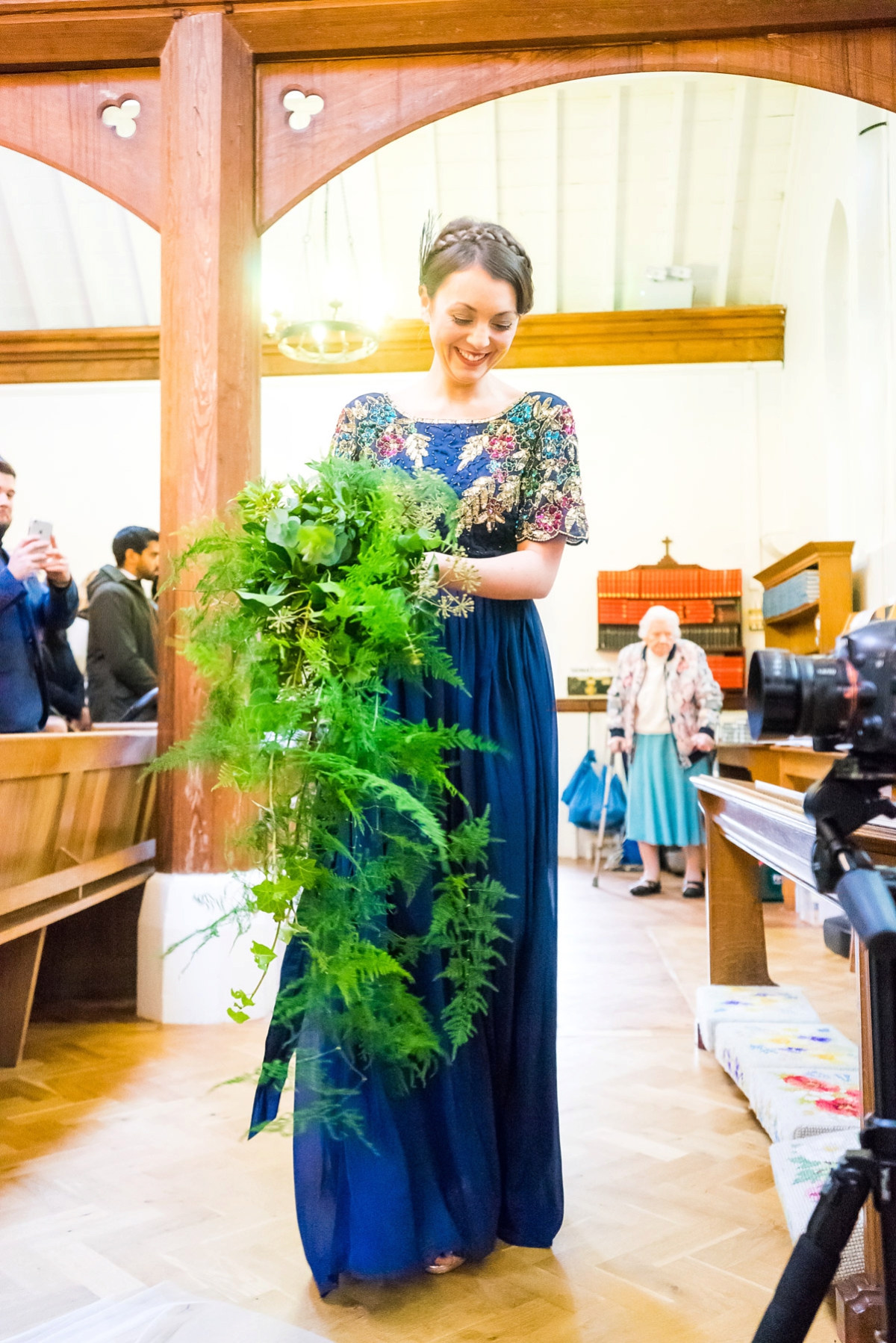 "My Dad accompanied me down the aisle, which meant a lot to me, as he doesn't like to be the centre of attention.  Neither my Dad nor I liked the idea of  being 'given away', but it was lovely to walk down with him and have his calm presence in the moments before we left the house."
Sinead and her Dad entered to the overture of Prokofiev's 'Romeo and Juliet'- terribly romantic.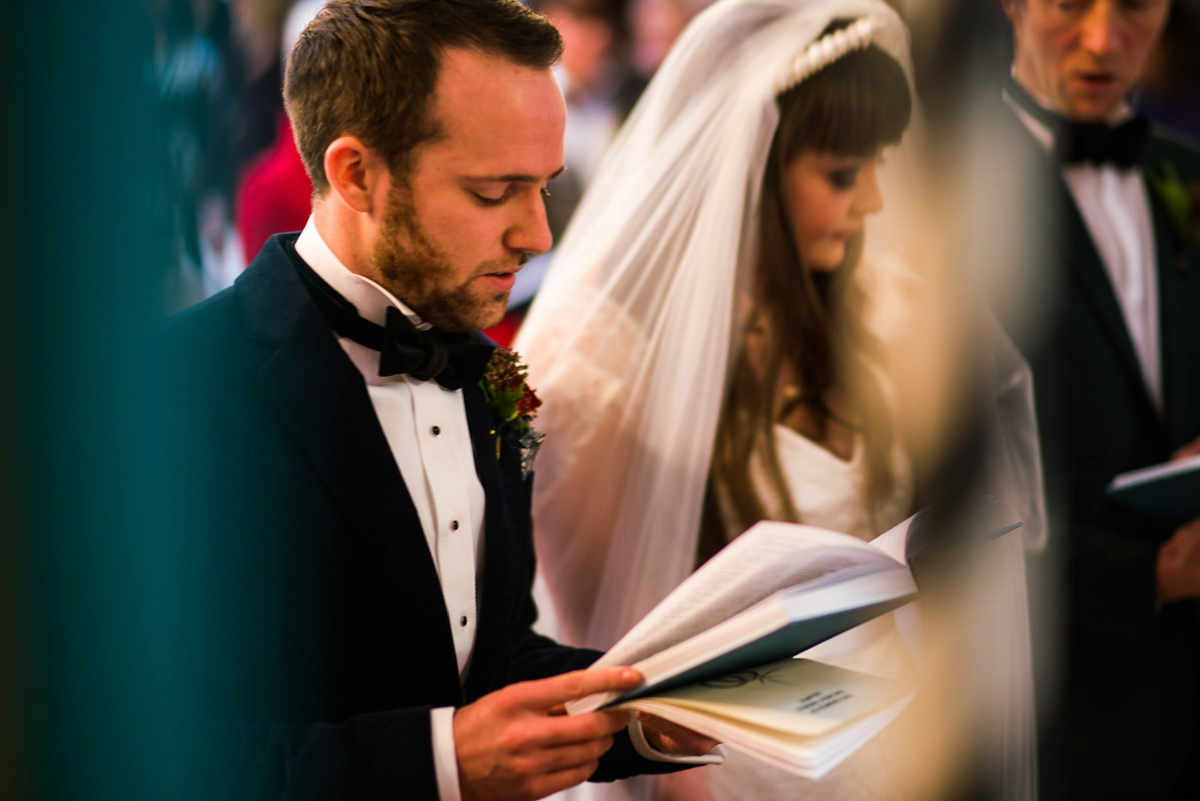 "We had a very personal ceremony.  My grandfather is a retired vicar who is still very active in the church and we asked him to take part of the service.  It was extra special because his parents married in the same church and it felt like we were carrying on a tradition that had gone quiet for a few generations."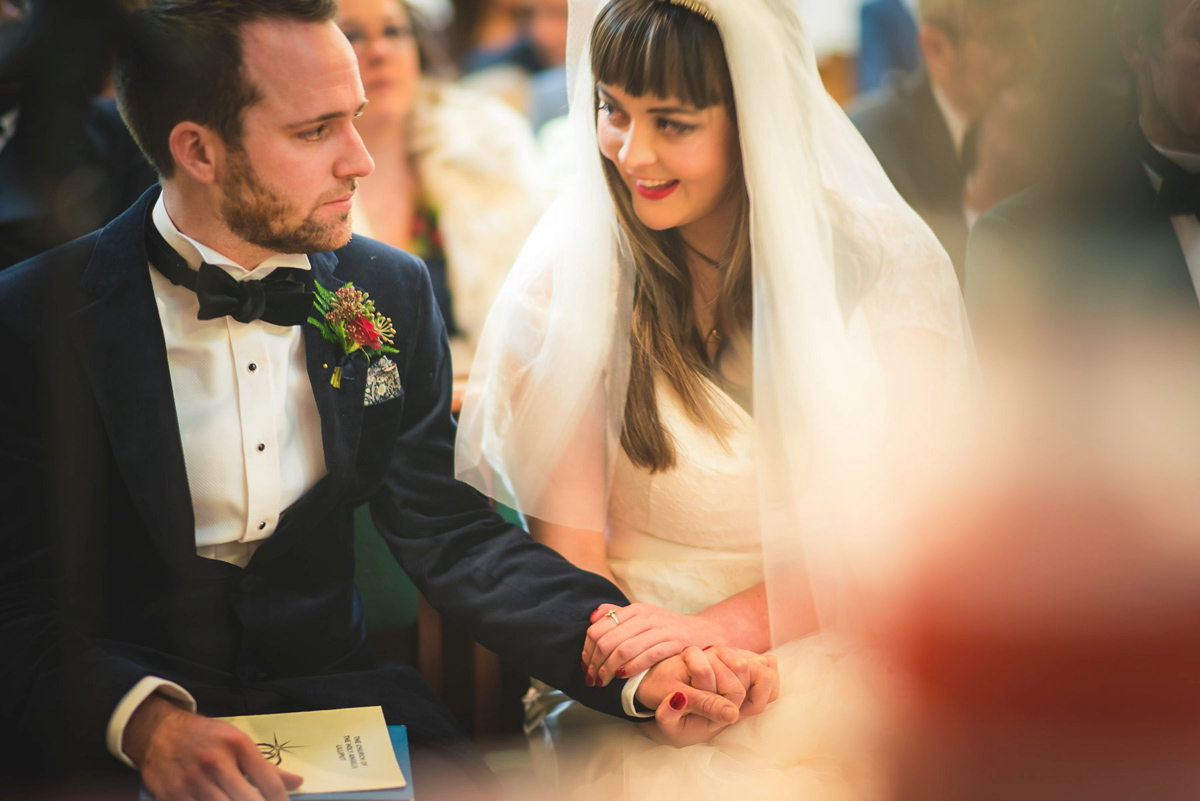 For readings, Sinead and Will chose Shakespeare's Sonnet 116 and 1 Corinthians 13 and Sinead's cousin May sang a version of The Beatles 'I Will' during the signing of the register.
"There are so many moments that could be our favourite, but the ceremony was very emotional for both of us.  After eight years together I wasn't expecting it to feel quite as momentous as it did, but it really felt special to make that commitment to each other legally and publicly."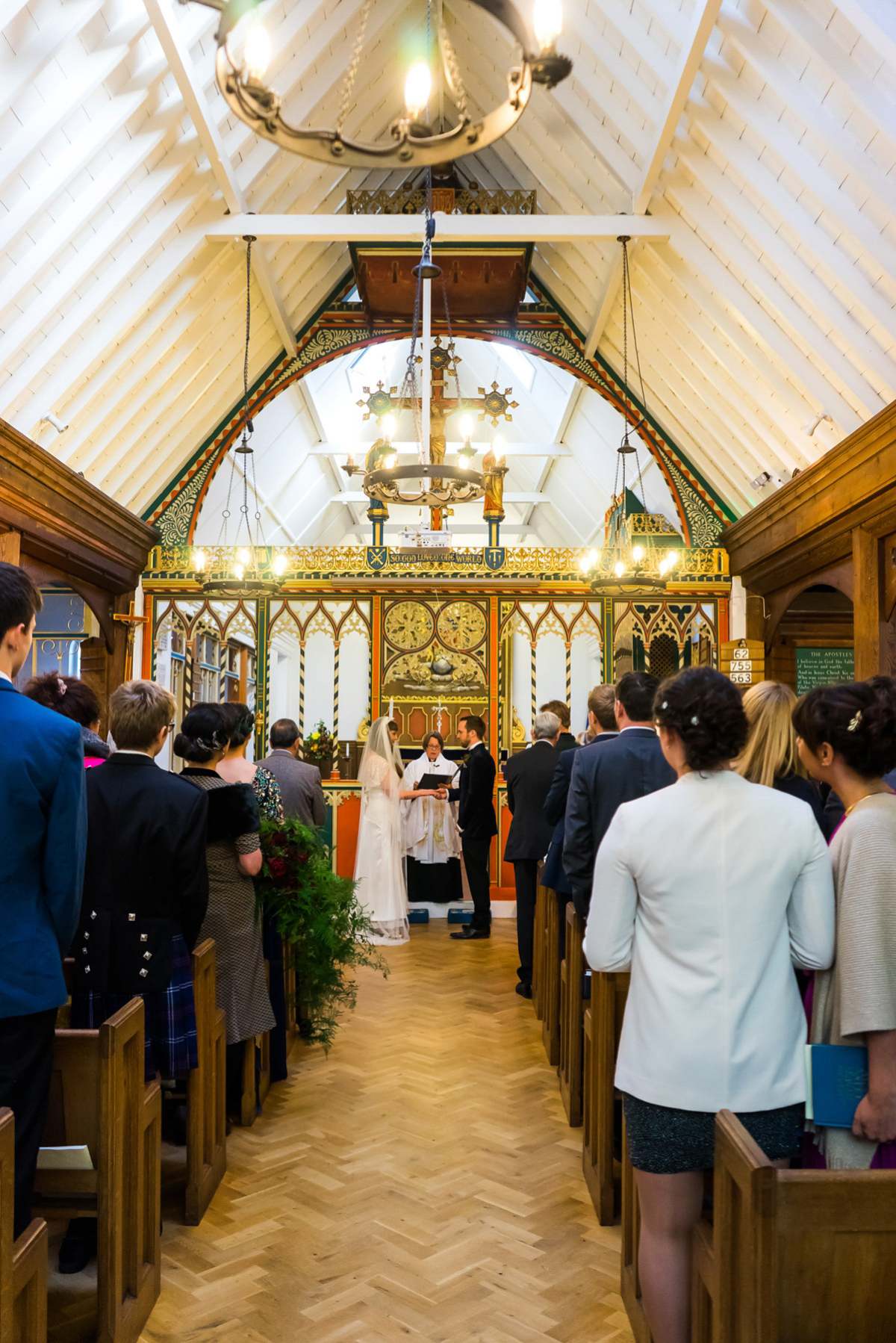 "My ring was made by Little Book for Brides member Nikki Stark, who designed me a thin, hammered, rose-gold wishbone band. Will also went for rose-gold, and had his made in Hatton Garden."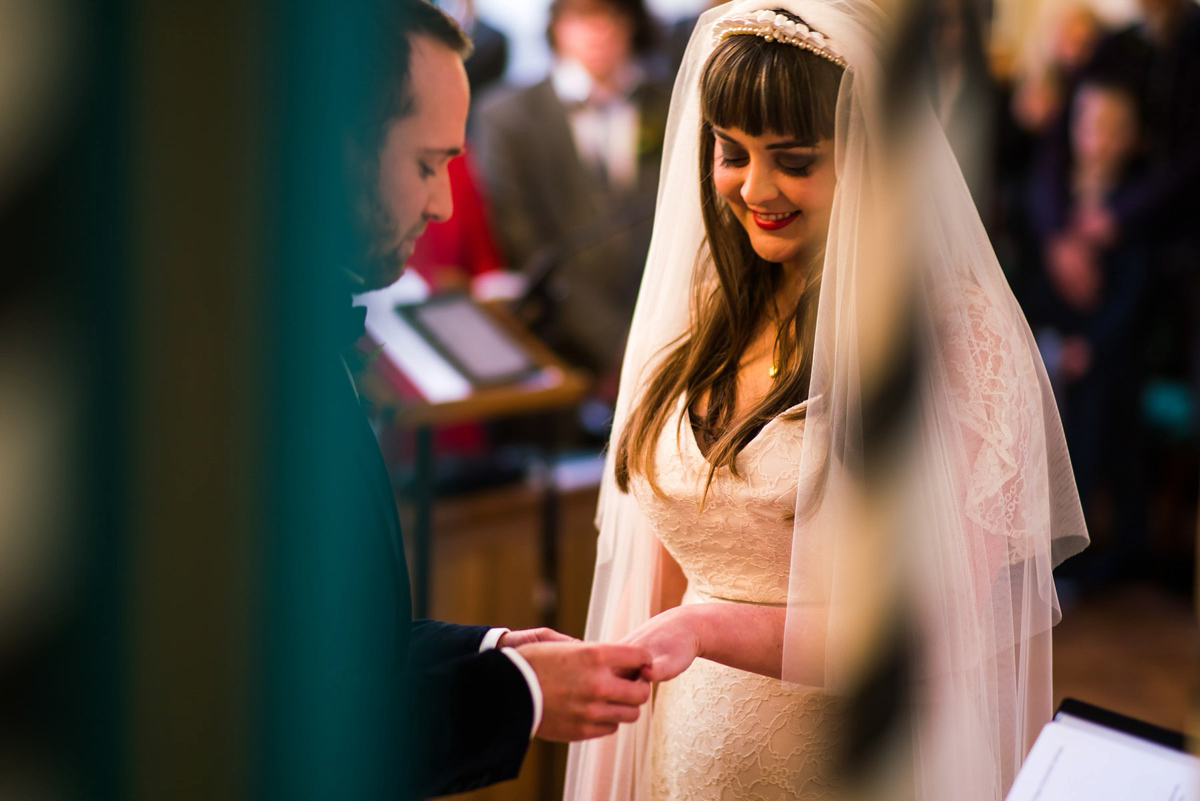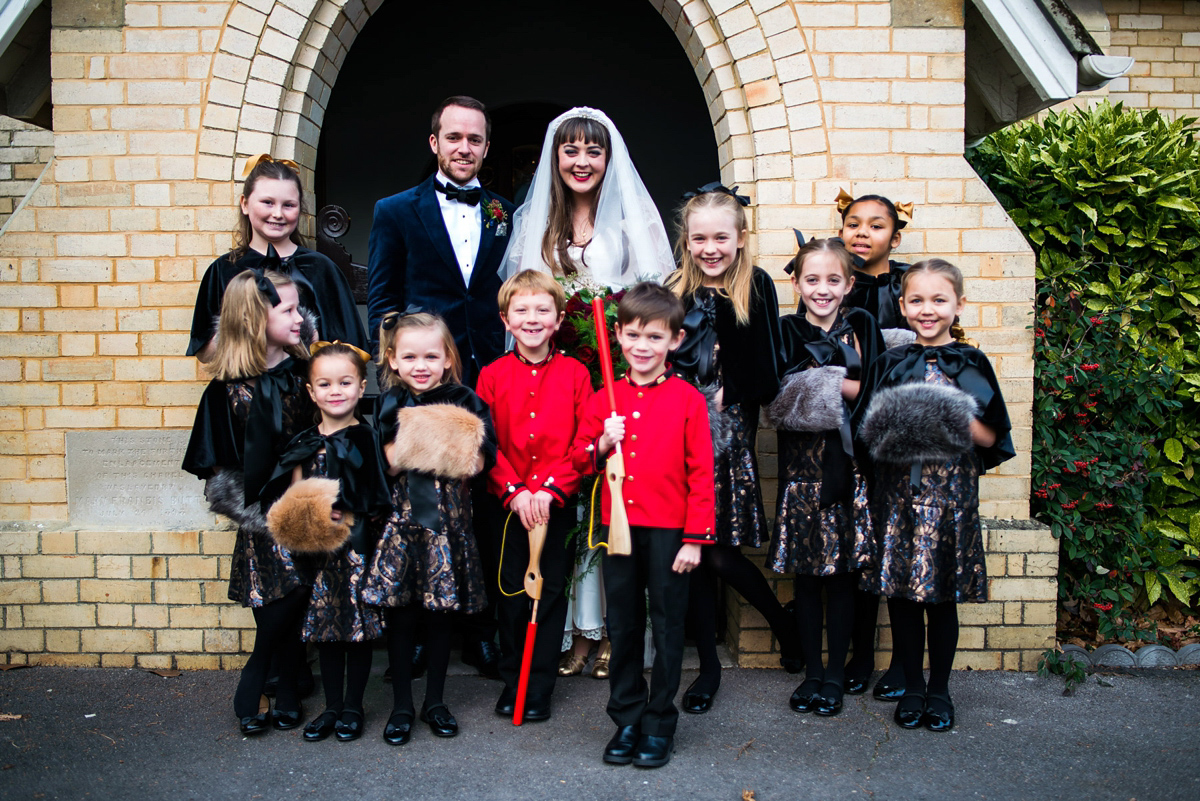 Paolo Ferla is the talent behind today's beautiful images.
"I knew of Paolo from University and I'm so glad we chose him, as he was an absolute pleasure to work with. He took gorgeous pictures and the quality of light he has captured in our dark winter wedding is everything we hoped for."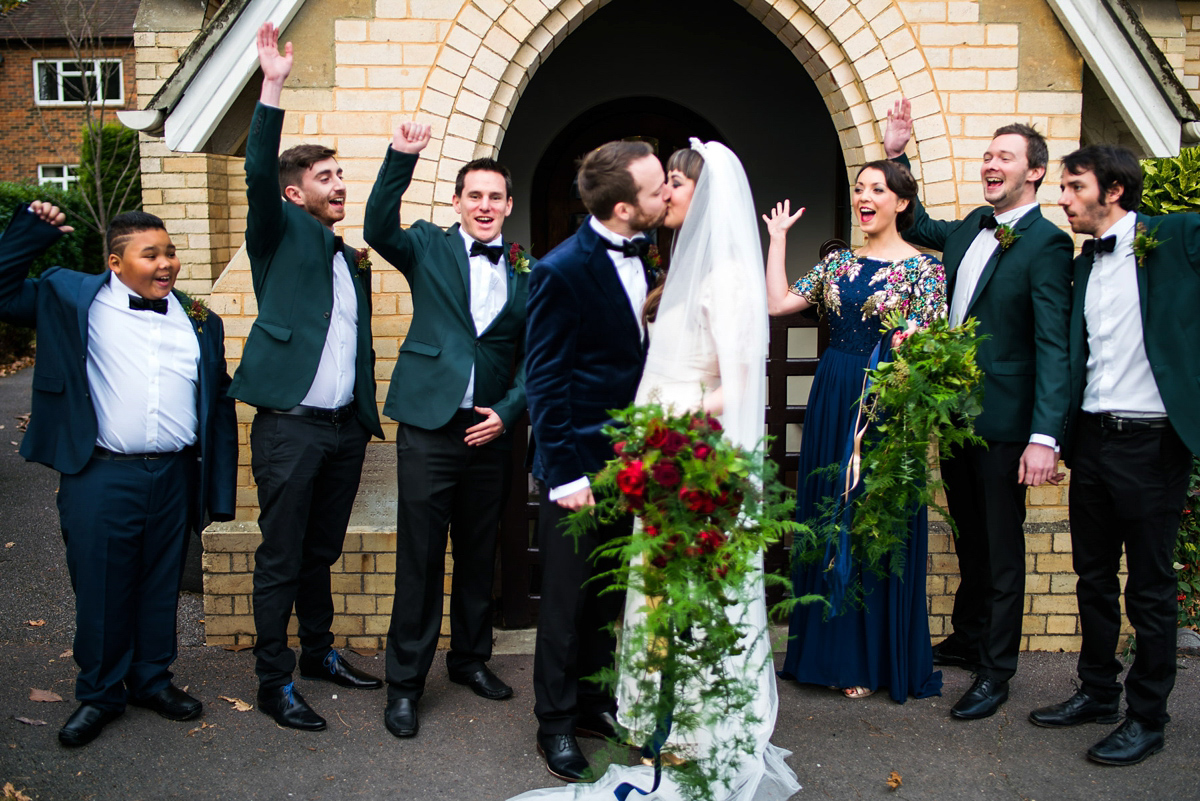 "We raced off after church for a few minutes of photos on our own.  On the way back Will produced two slightly melted Freddos (my absolute favourite) and it was the most surreal moment, sat quietly in the back of a car, eating our chocolate, married!"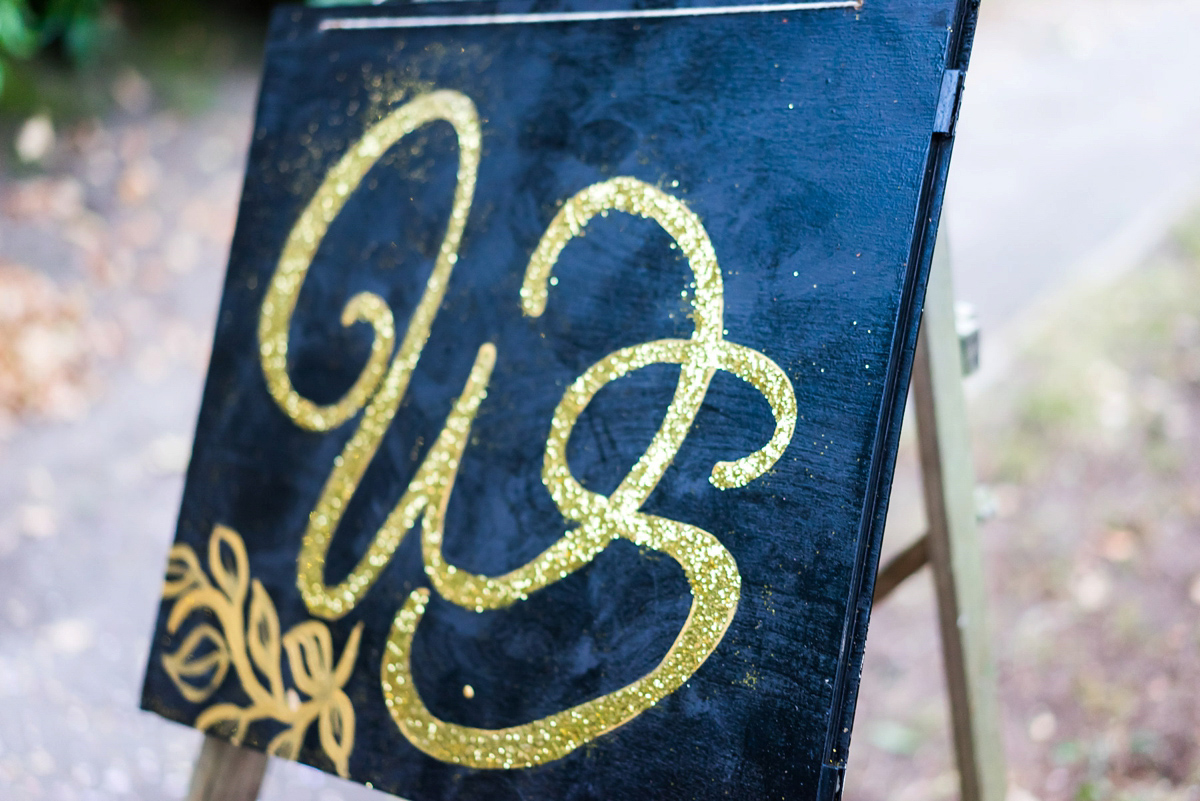 "The main colour palette of midnight blue and gold was complemented by as much vintage glassware as we could source from car boots and charity shops and we also collected enough vintage plates for all our guests.  We spray painted pineapples gold and made a nine foot ribbon wall, used ivy as table runners and bought beautiful paper roses to tie it all together. I don't think anyone could really envisage what I was planning until the day, but it all worked out beautifully and I was very lucky that Will trusted in my vision and supported it the whole way through."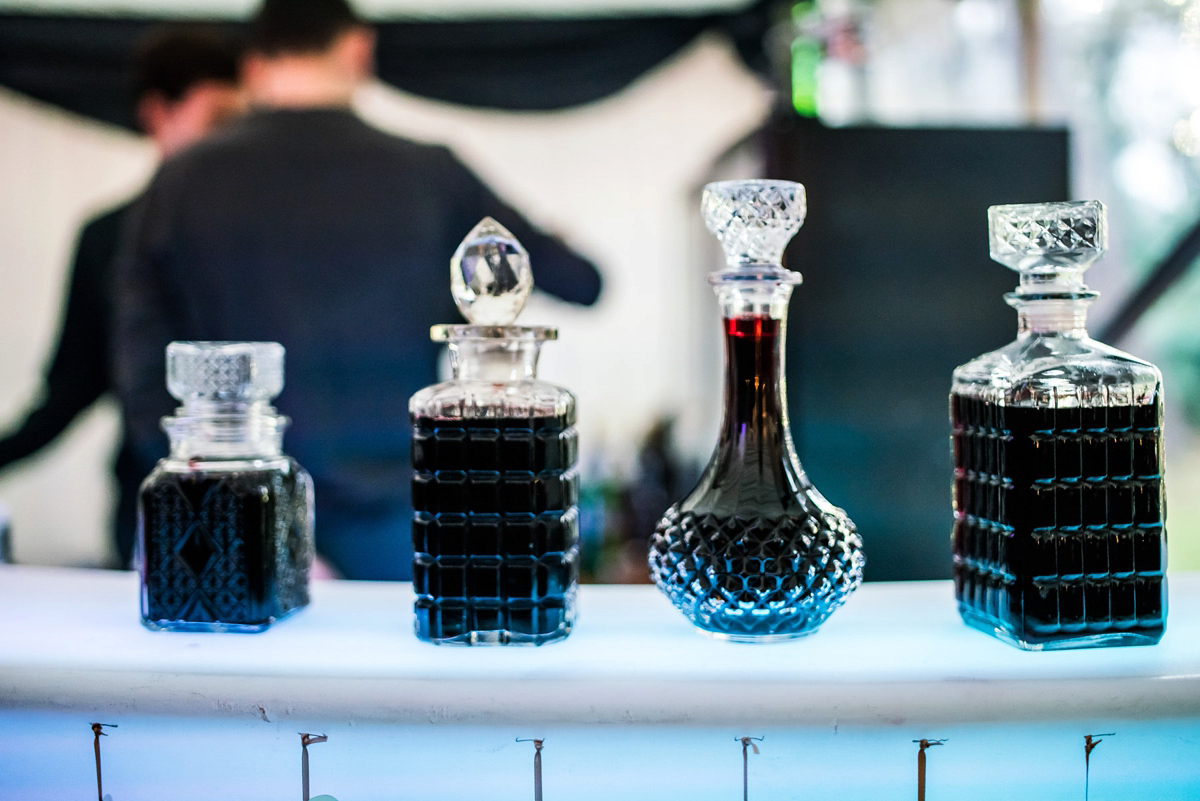 Sinead and Will hired an on-the-day planner, Charlotte Swain, to ensure everything went to plan on the day of the wedding.  Sadly we don't have any details for Charlotte, but this is a great idea, especially for a DIY wedding.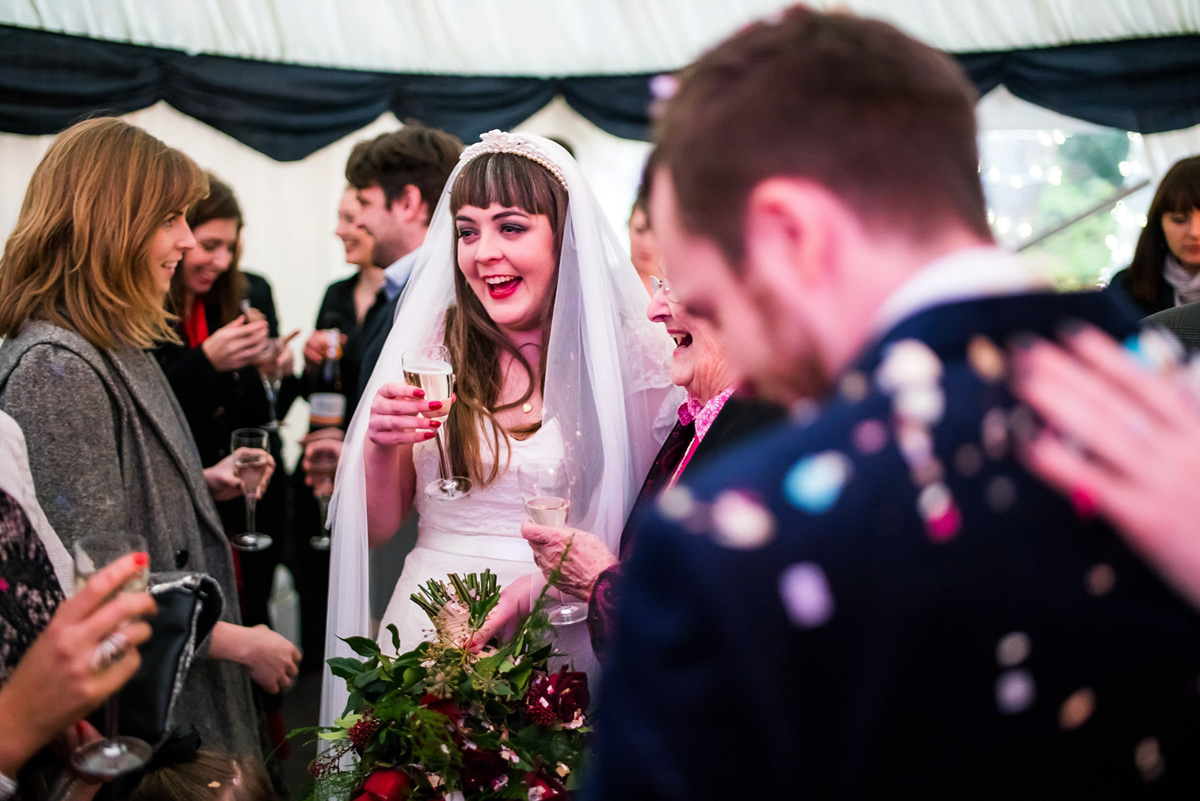 "Our marquee company (Oakleaf Marquees) were brilliant at facilitating all our requests.  With heating and a covered walkway to the house in case of rain, the marquee worked perfectly on what ended up being a dry but cold day. I loved the creative freedom it provided, and there were so many perks – especially spending time with family and having lots of time for set-up and take-down.  There is something so magical about getting married at home, and I feel very lucky that my family (who mean so much to me) were able to host us."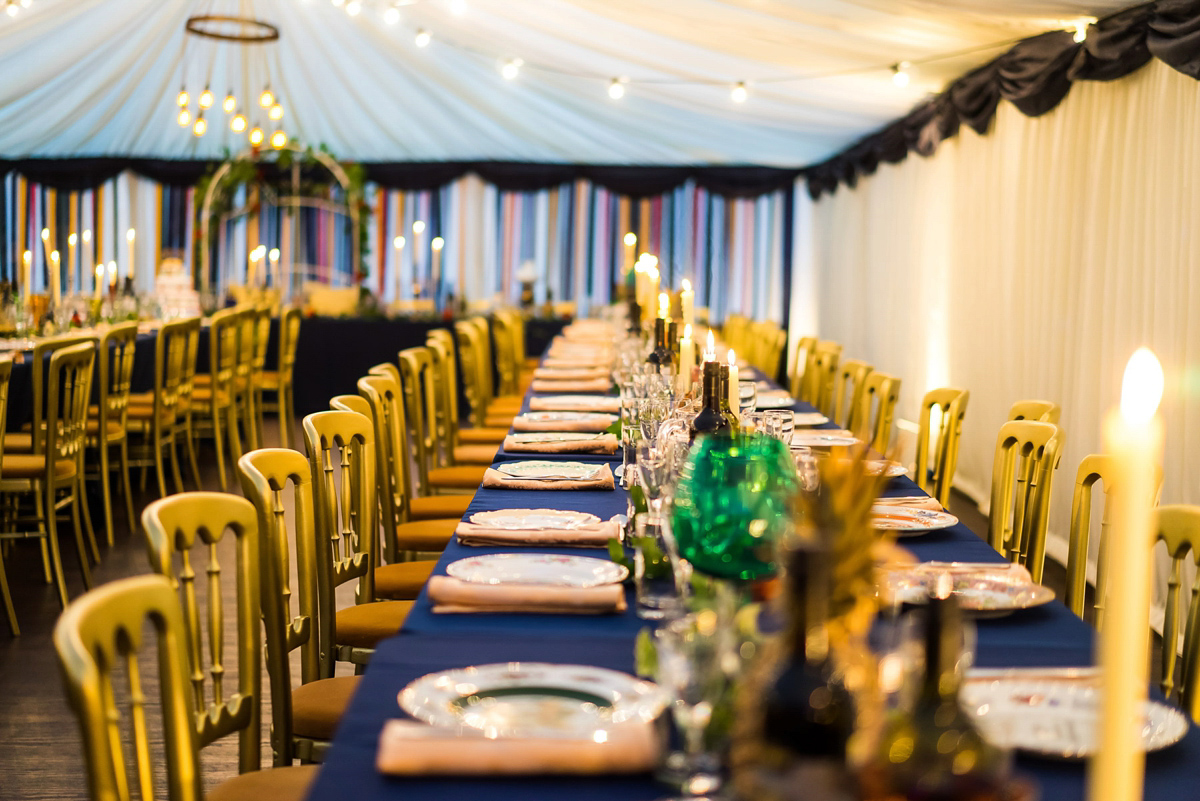 The reception catering was the work of Pieminister, while Will's sister in law made the beautiful cake as a wedding gift (Lynne's Cakes and Bakes).
"The team at Pieminister were beyond fantastic and everyone loved their food.  For canapés and our evening food, we did the food ourselves. We bought a huge cheese 'cake' from West Country Cheese, added paté, crackers and fruit, local chutneys and a leg of Serrano ham from Jamon Prive.  Dessert came in the shape of a cake table contributed to by lots of our talented friends."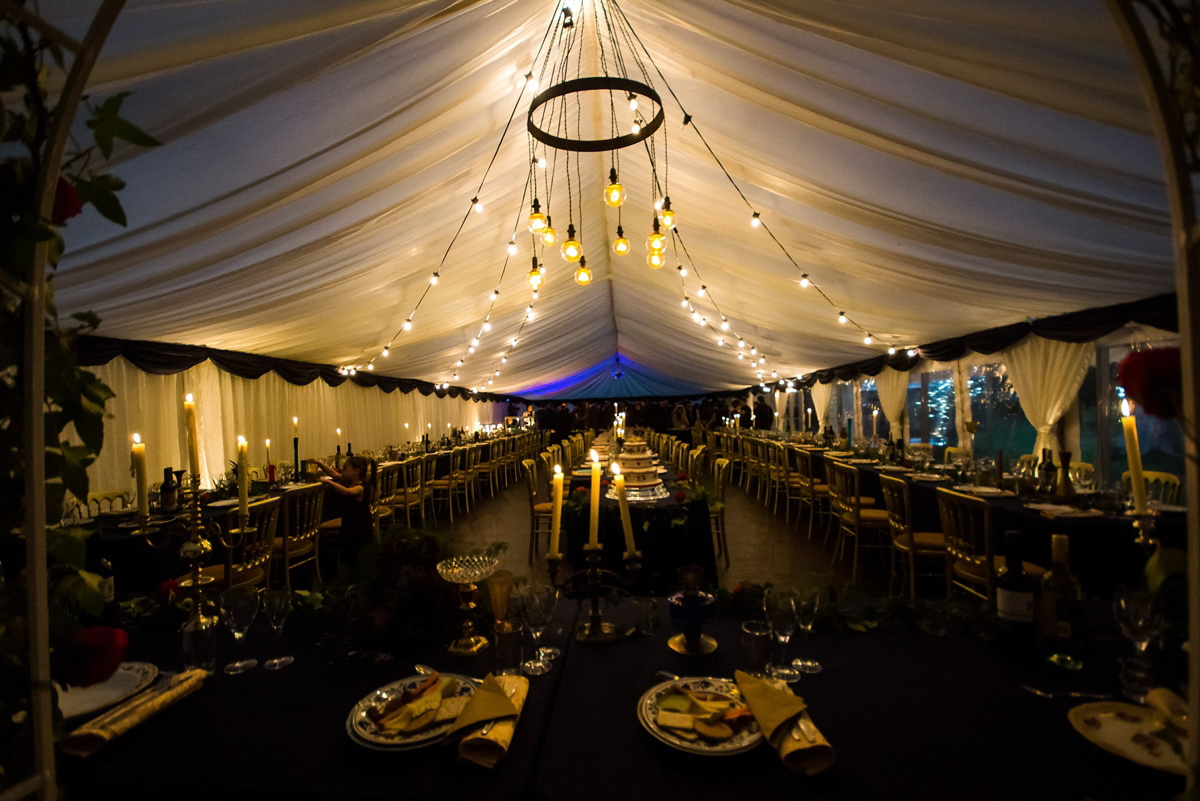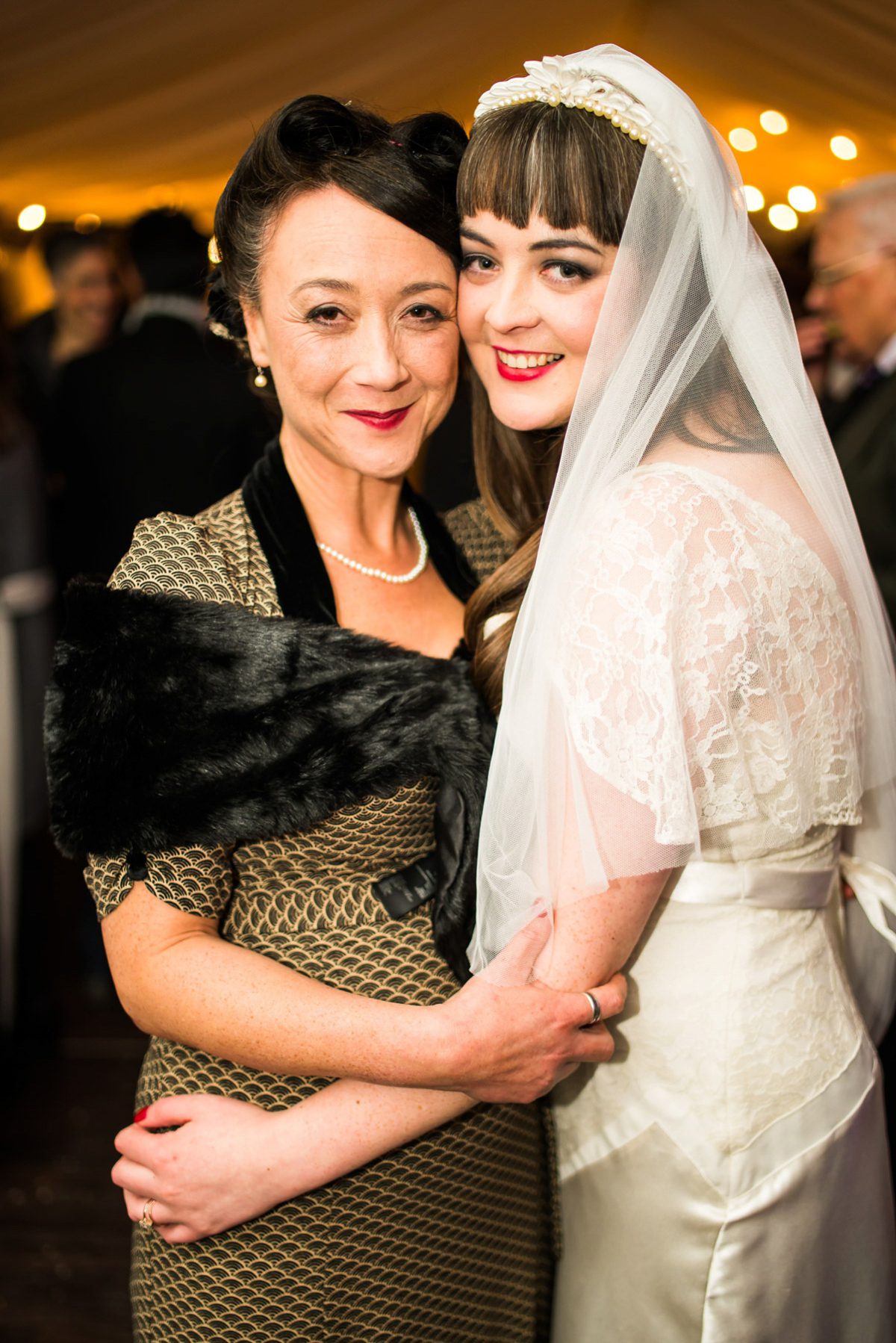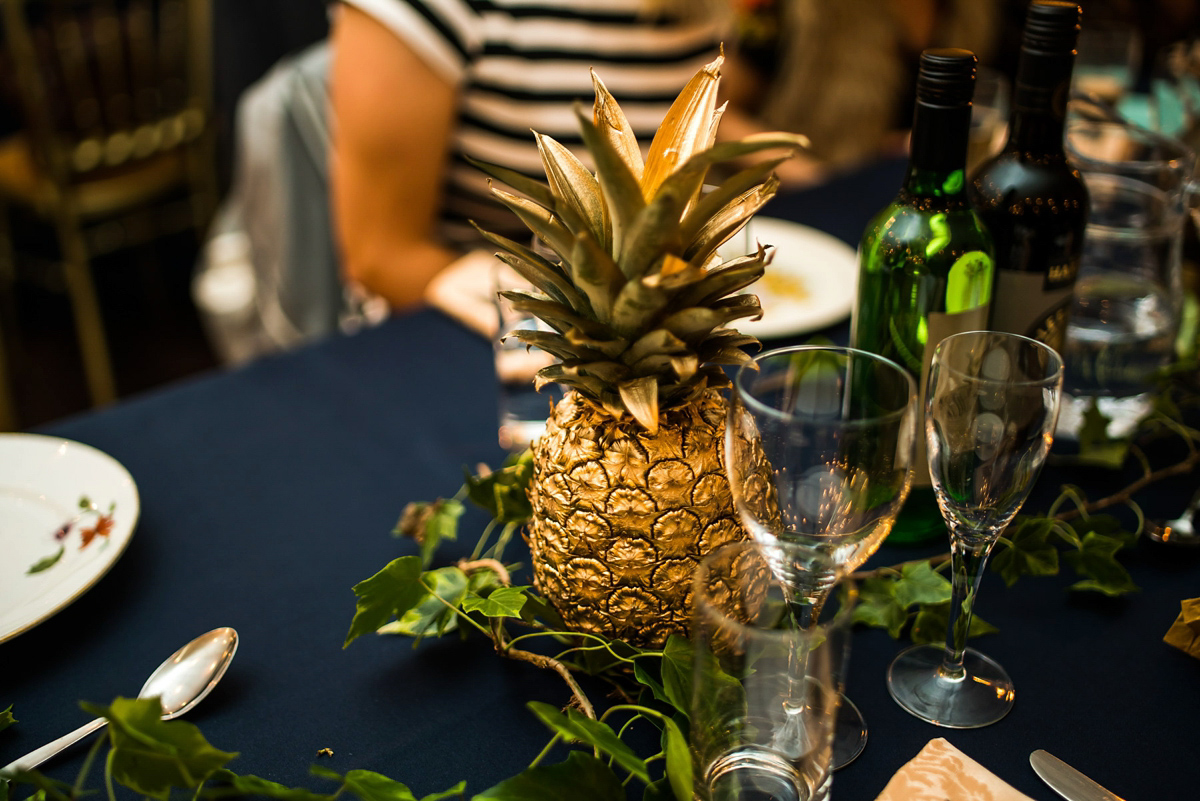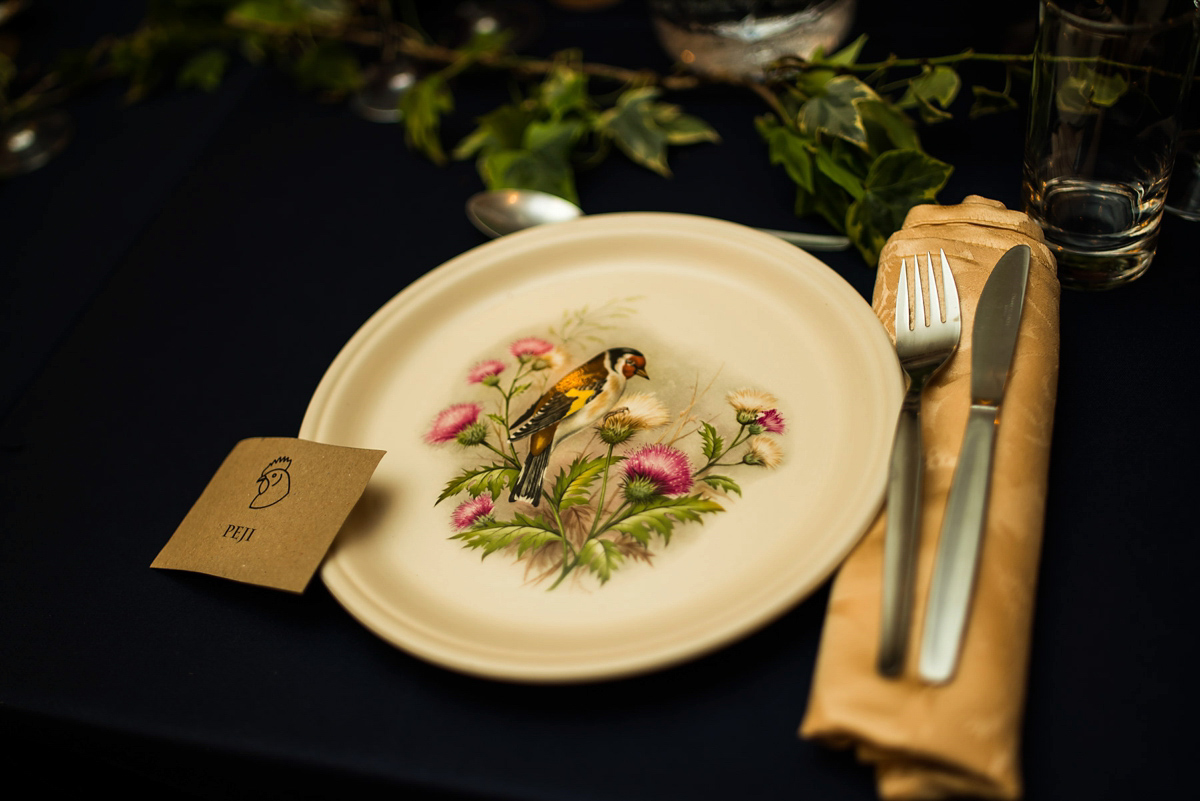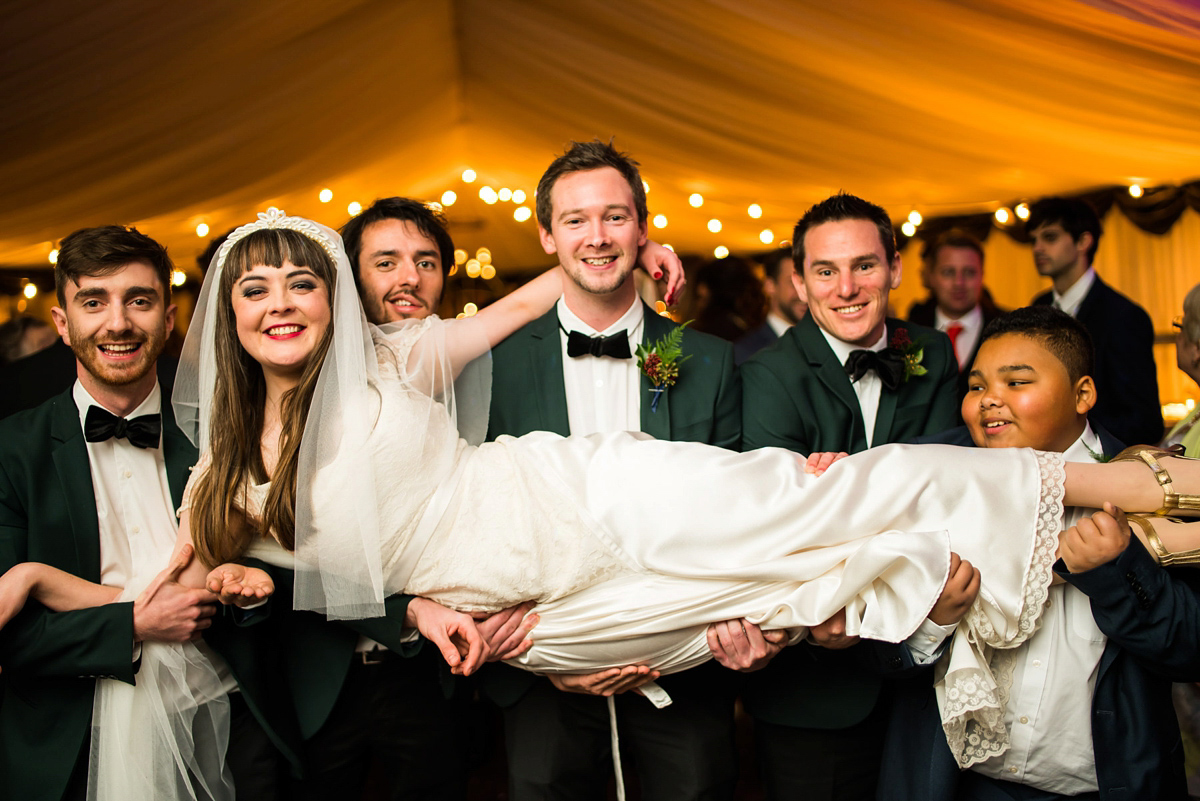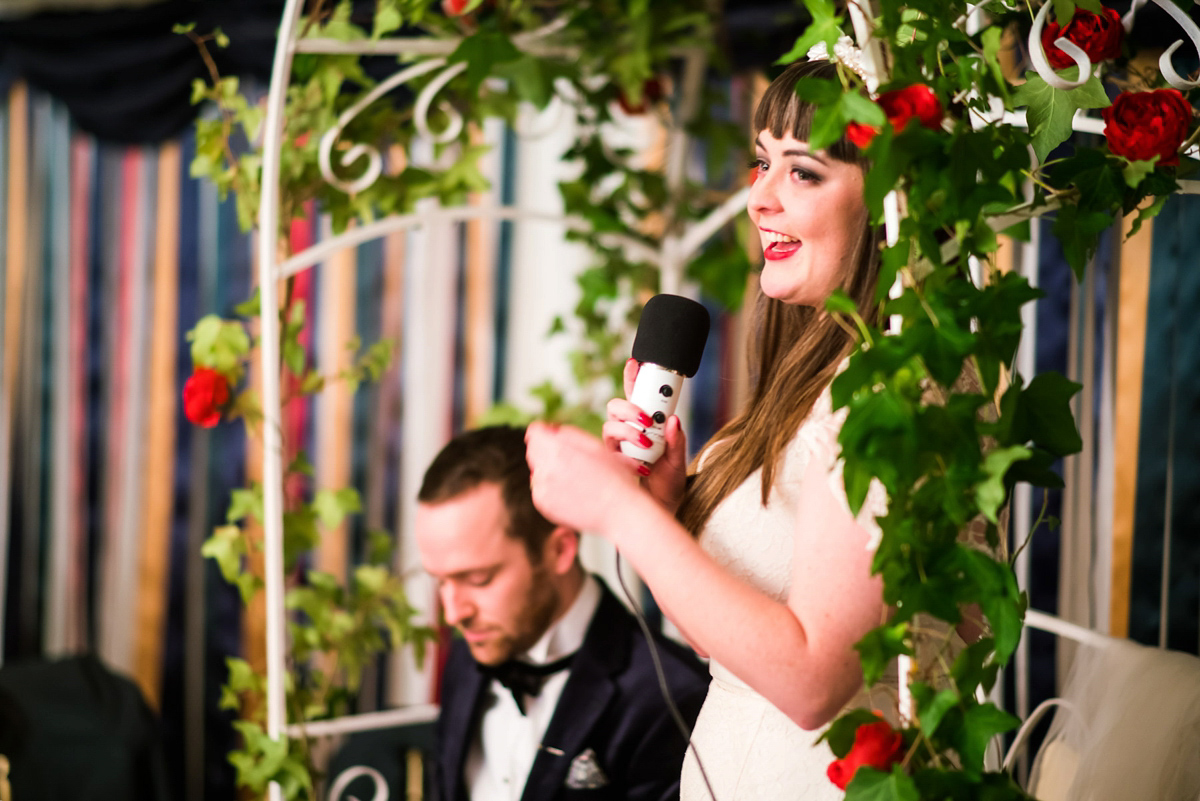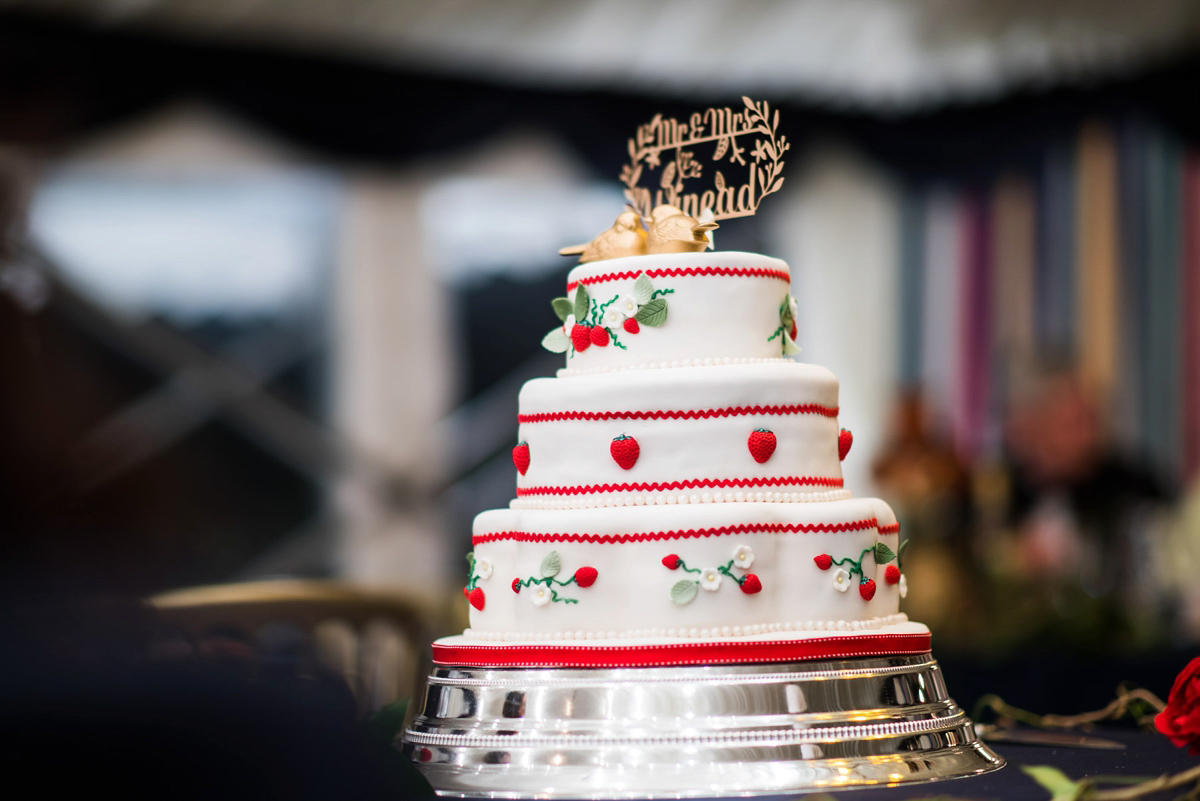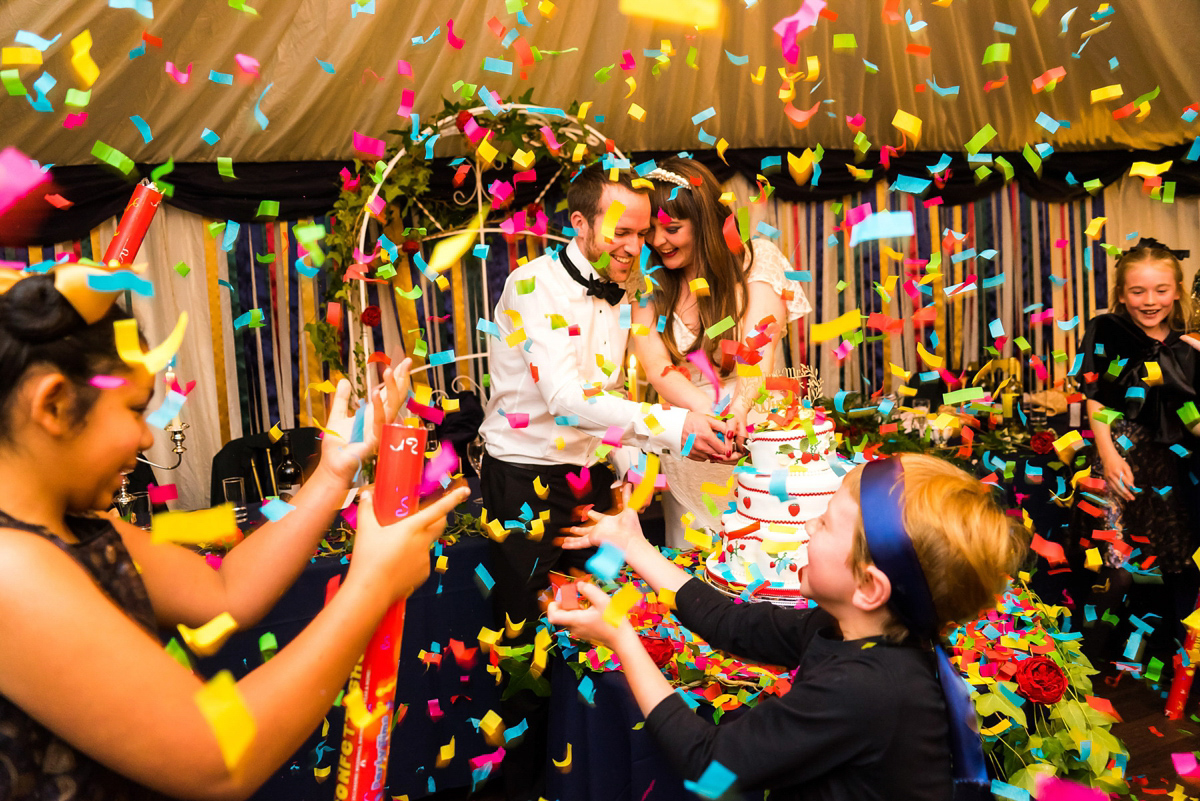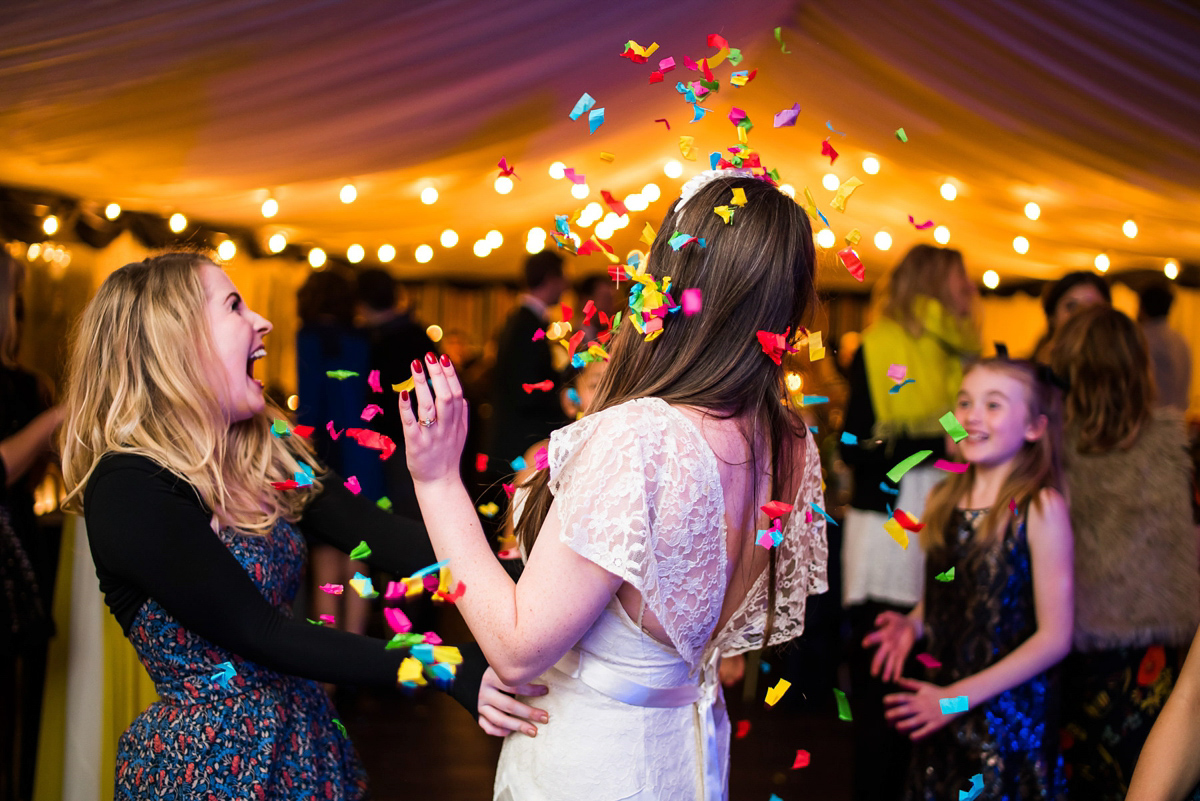 For entertainment, the couple chose the fabulous Mother Ukers, who do ukulele covers of classic tunes and learned Bowie's 'Let's Dance' for the first dance.  A friend's brother (weneedadj) then played into the early hours.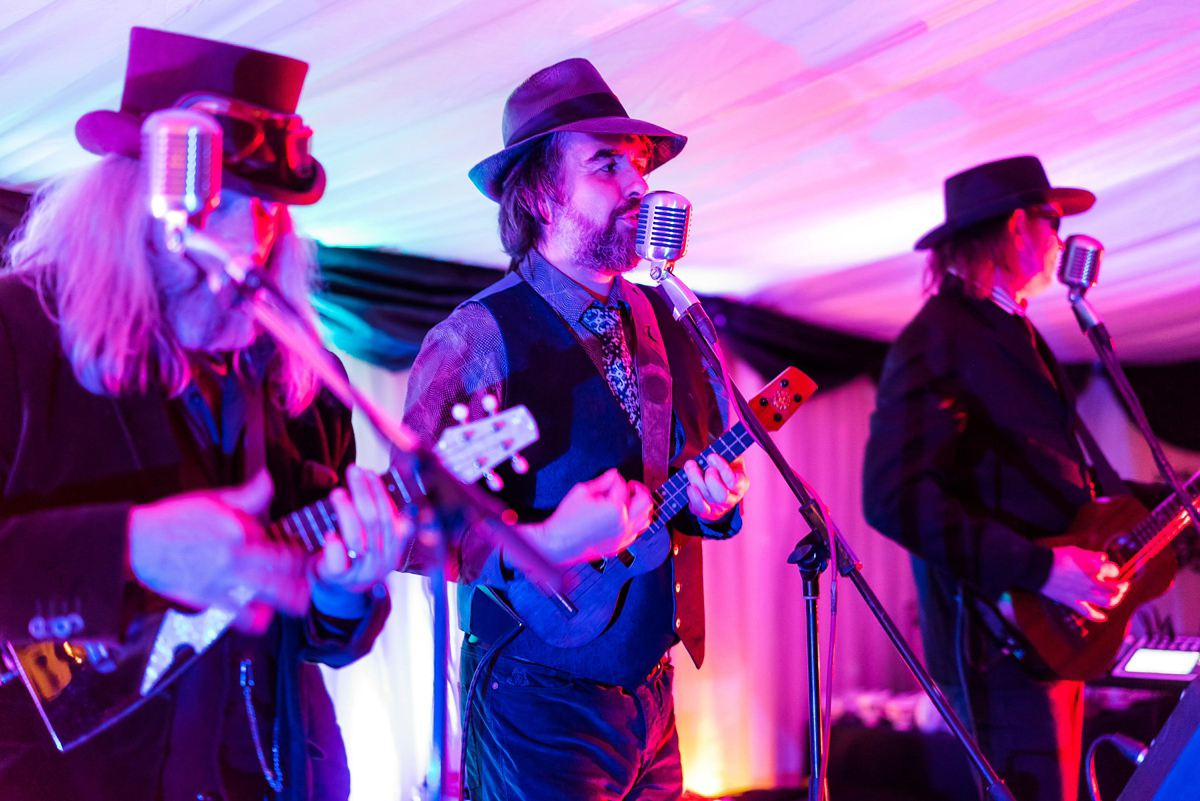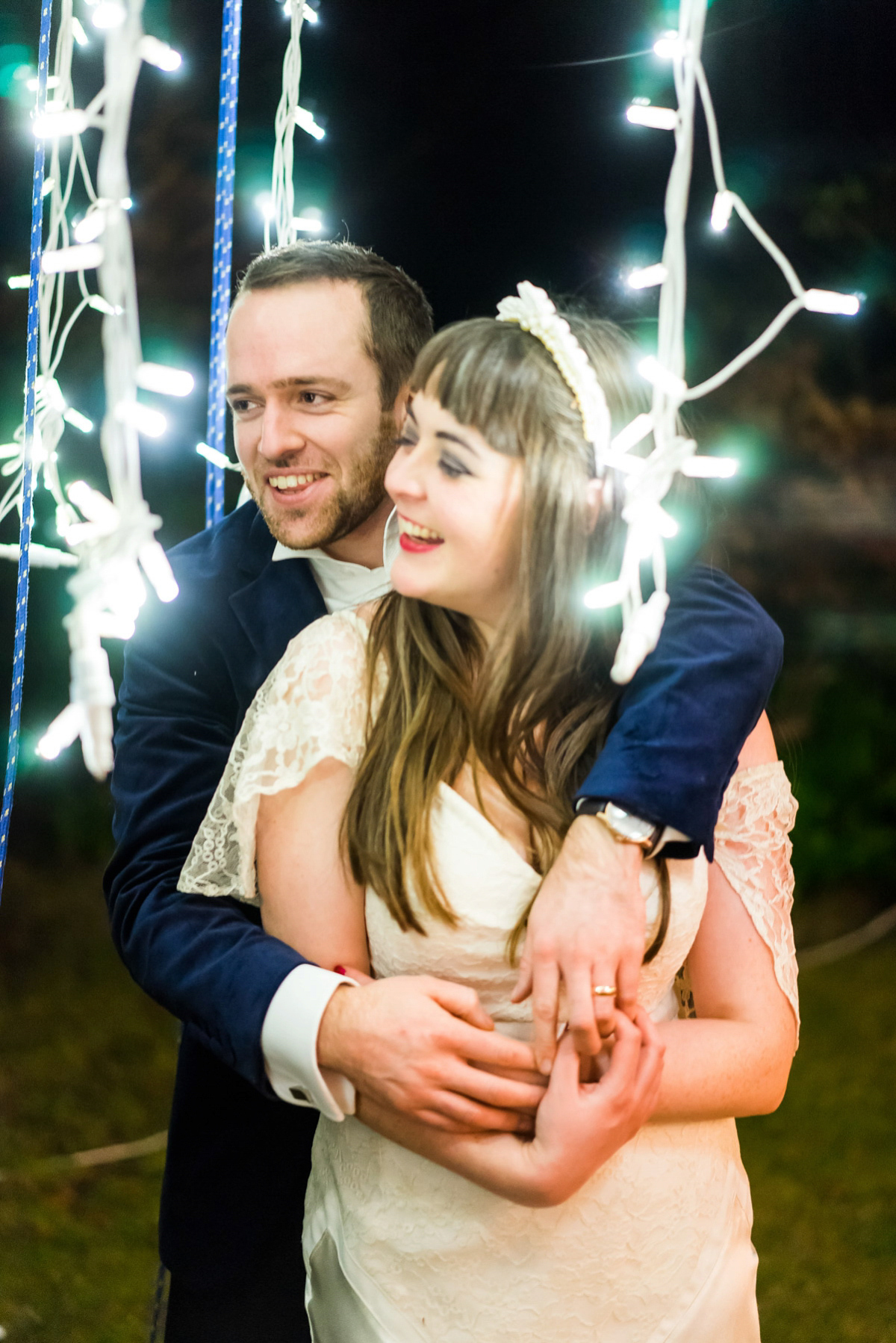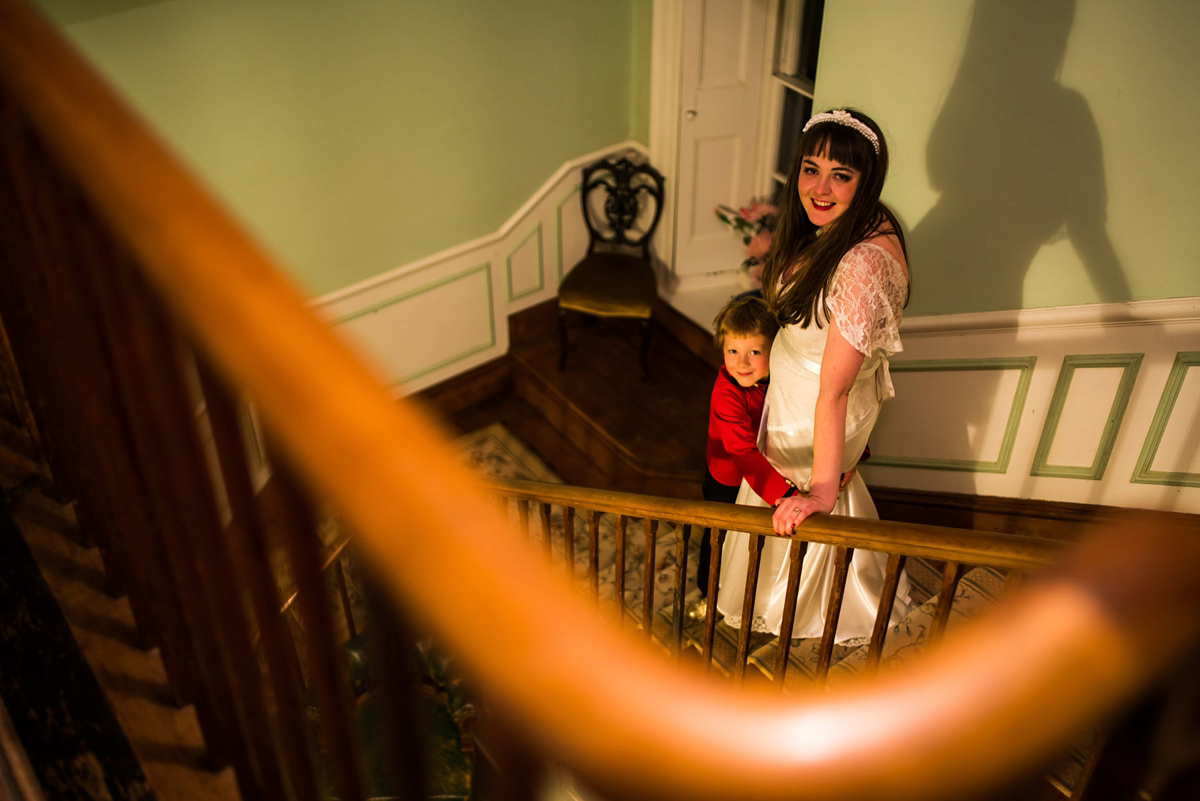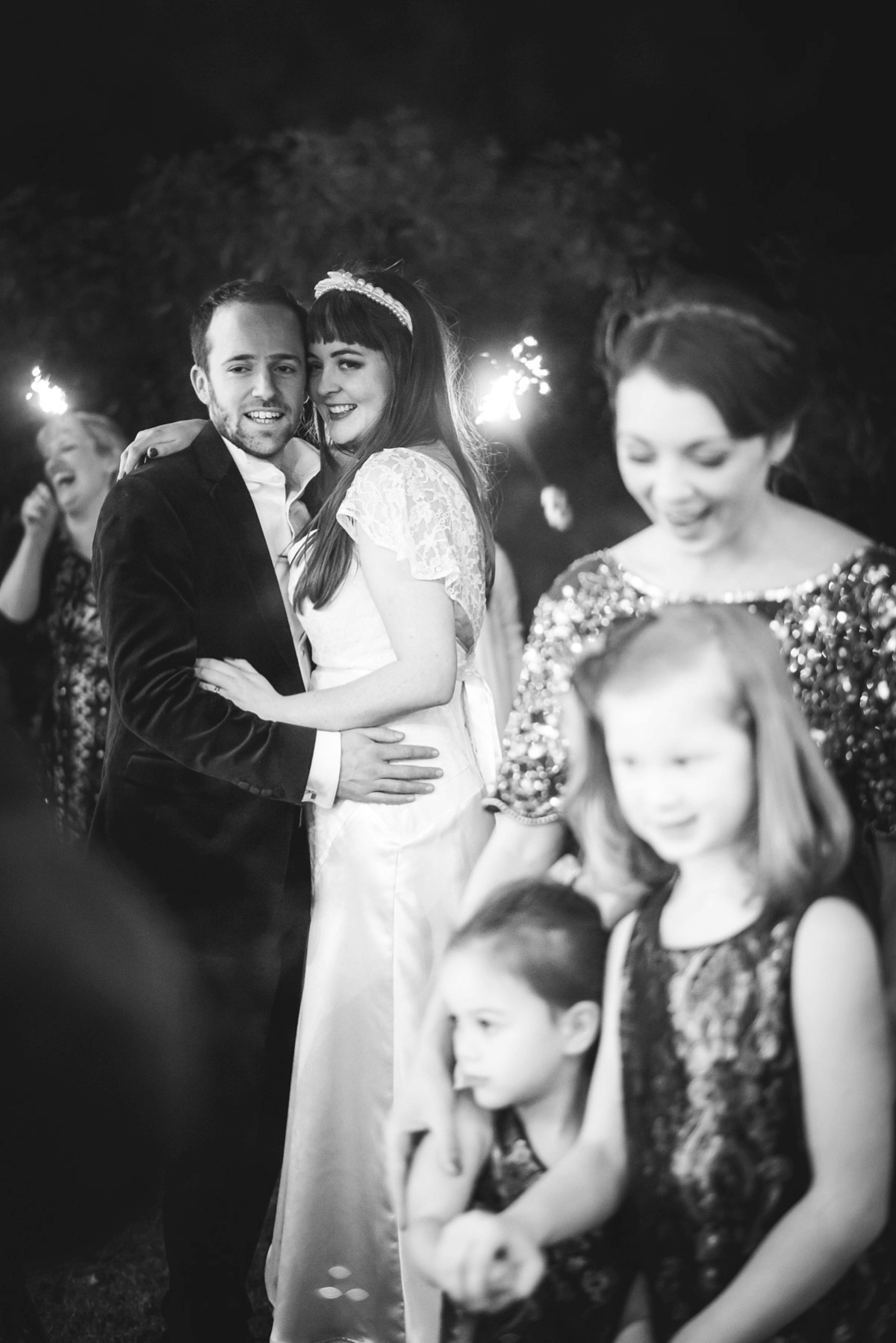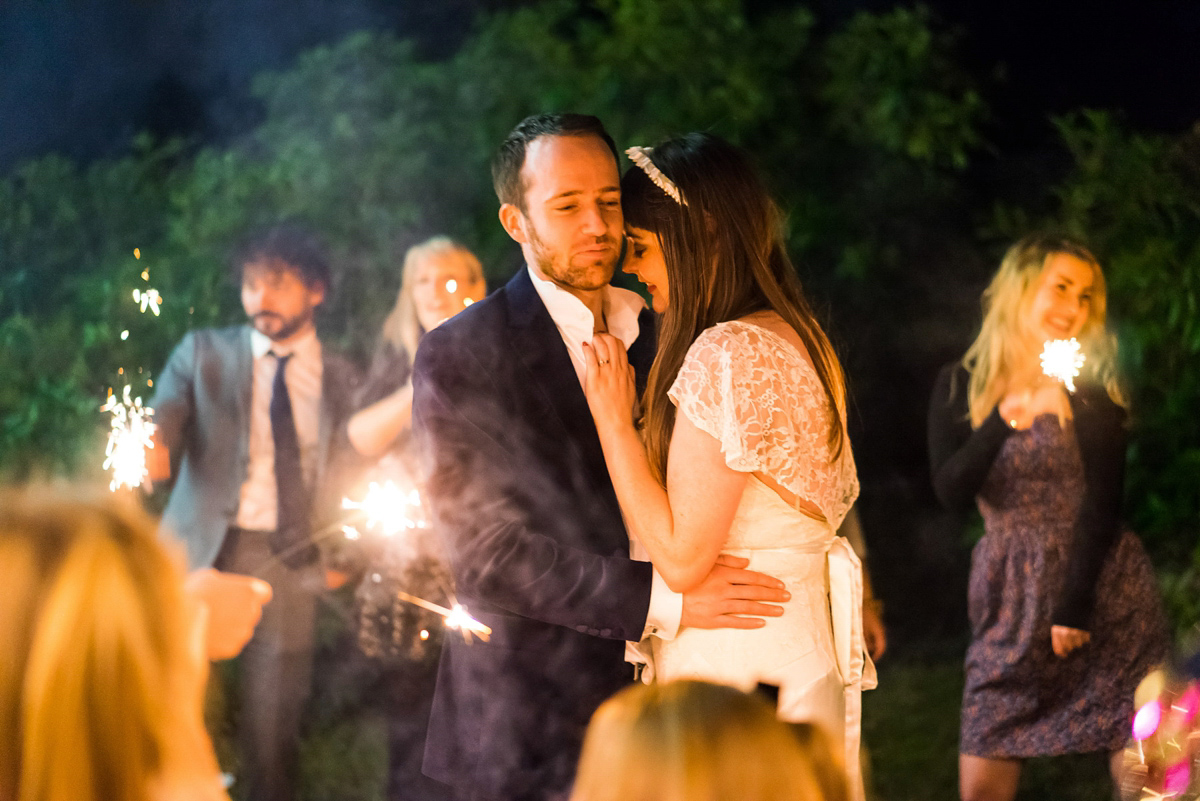 Words of Wedded Wisdom
"My advice is to embrace the planning.  If things get overwhelming, make lists and micro lists- towards the end we used the Trello app – you can colour code, assign tasks to each other, add due dates, etc.  This saved our sanity, but don't wish the time away, it's all worth it and you'll miss it when it's over."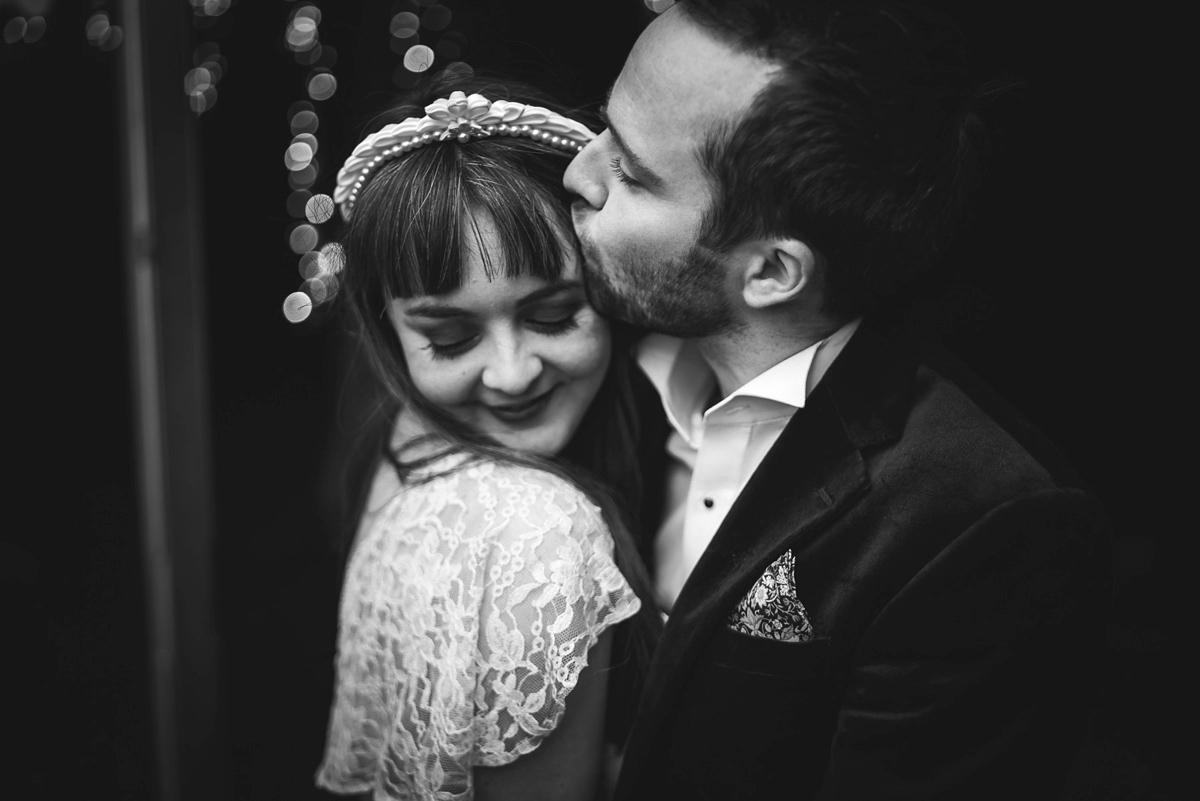 So many thanks to Sinead and Will for sharing their fabulous day with us and to Paolo Ferla for the wonderful photographs.  Does a cold and crisp winter day appeal to you?  Take a peek here for some more winter wedding inspiration.
Shona x