Love My Dress is responsible for an awful lot of my wanderlust with gorgeous weddings in Italy Greece and Australia to name just a few (not forgetting all those beautiful weddings on our own British Isles as well).  Today's stunning New Zealand based wedding has certainly done nothing but add to my wish to travel more.  Meet Sarah and Justin, who married at the beautiful Man O War Vineyards, Waiheke Island, New Zealand on the 30th December 2016, surrounded by family, friends and the most incredible scenery.  The day was planned by Nicole Paris of Weddings By Paris.
Sarah is a photographer herself, specialising in landscapes and documentary work and currently works as a studio manager at The Pool Collective- a collective of artists based in Sydney, Australia.  Justin works in private equity, buying small businesses and helping them to grow.
"Our inspiration was an article we saw in Lucky Peach Magazine about the wedding of one of the editors who had all of his closest friends and family over to his family's property for a big clam bake/BBQ family meal type event.  We wanted it to be as if everyone was coming over for a big BBQ, but in an incredible location with amazing wines. We also loved that it meant everyone would be holidaying on the island, making it more of a wedding weekend rather than just one day."
Photography by Thierry Joubert
Today's photographs come to us courtesy of Thierry Joubert.  I just love how he captures such wonderful expressions and all those little moments which whizz by so quickly on the day but are very much worth treasuring.
"Thierry was indescribably perfect.  He somehow managed to capture every moment of the day from early morning to the insane dancefloor, without ever commanding attention or getting in anyone's way.  He has the most beautiful nature and captured emotions and moments that are just priceless."
Sarah looked just beautiful in a two piece gown by Tatyana Merenyuk, which she purchased from Love Marie Bridal Boutique in Camden, New South Wales.  I adore the delicate lace and simple cut.
"I LOVED that it was two-piece and so easy to move and dance in; it was completely my style, super original and unlike anything else I had tried on.  Importantly you could also see my shoes (and shoes are my absolute favourite accessory)."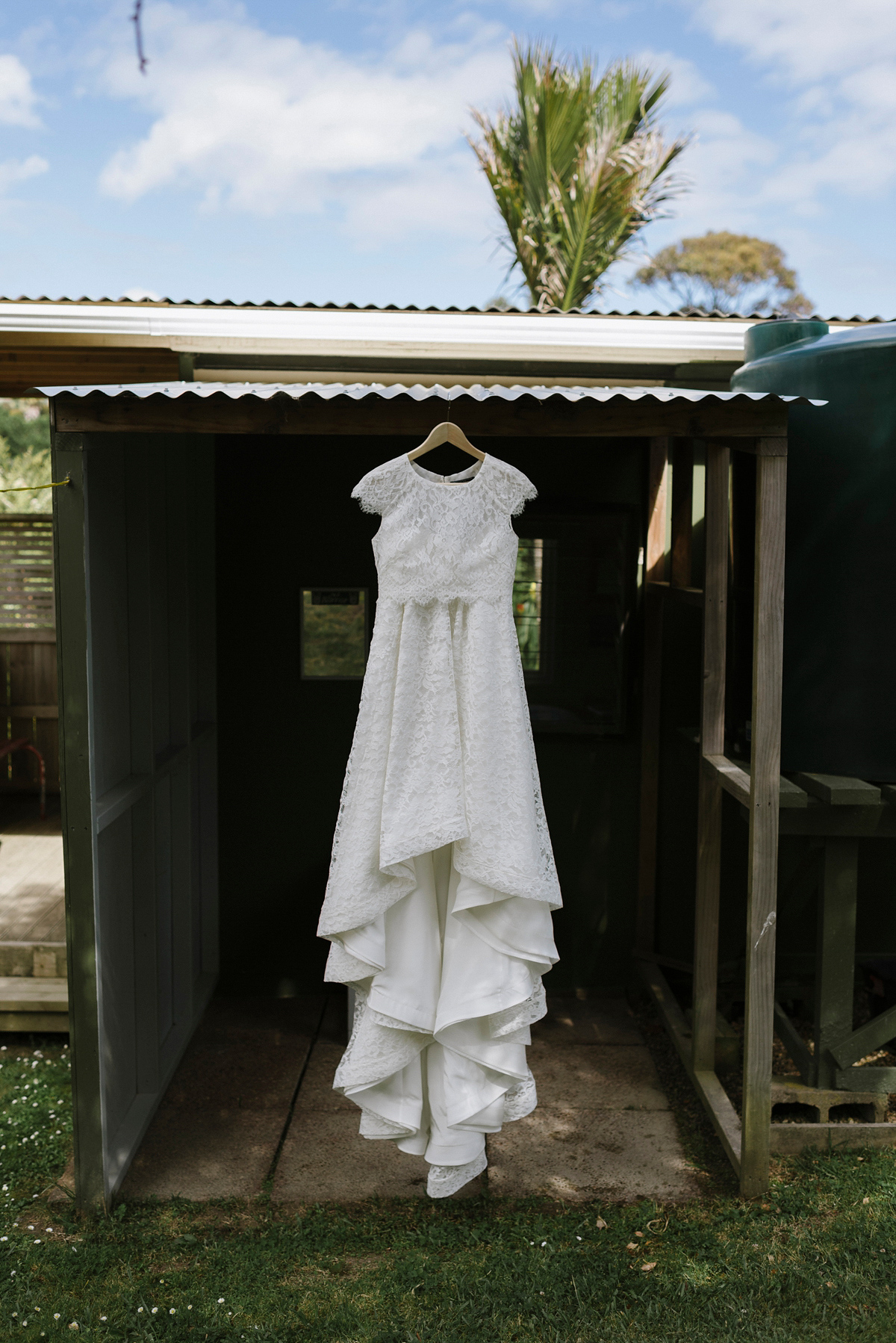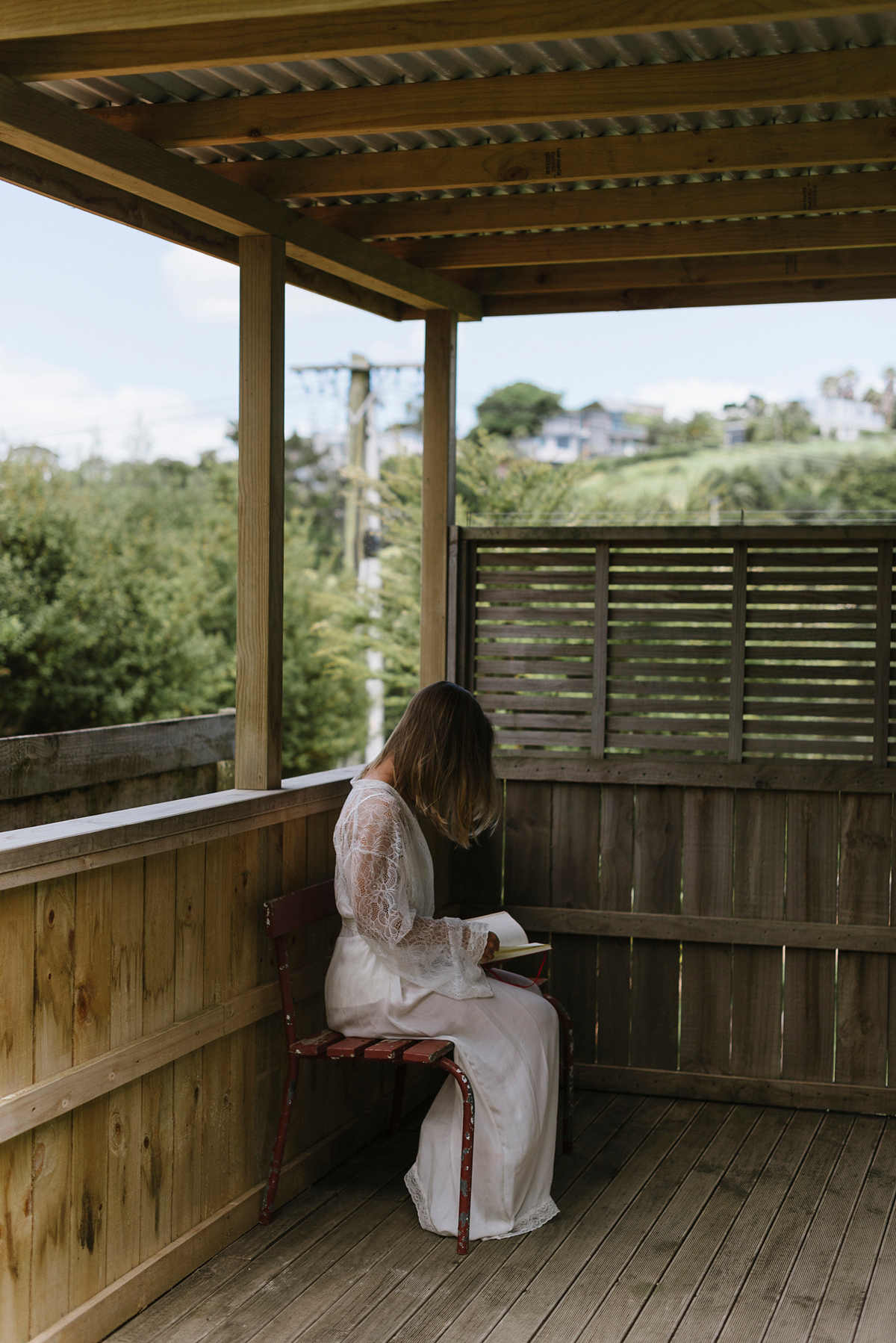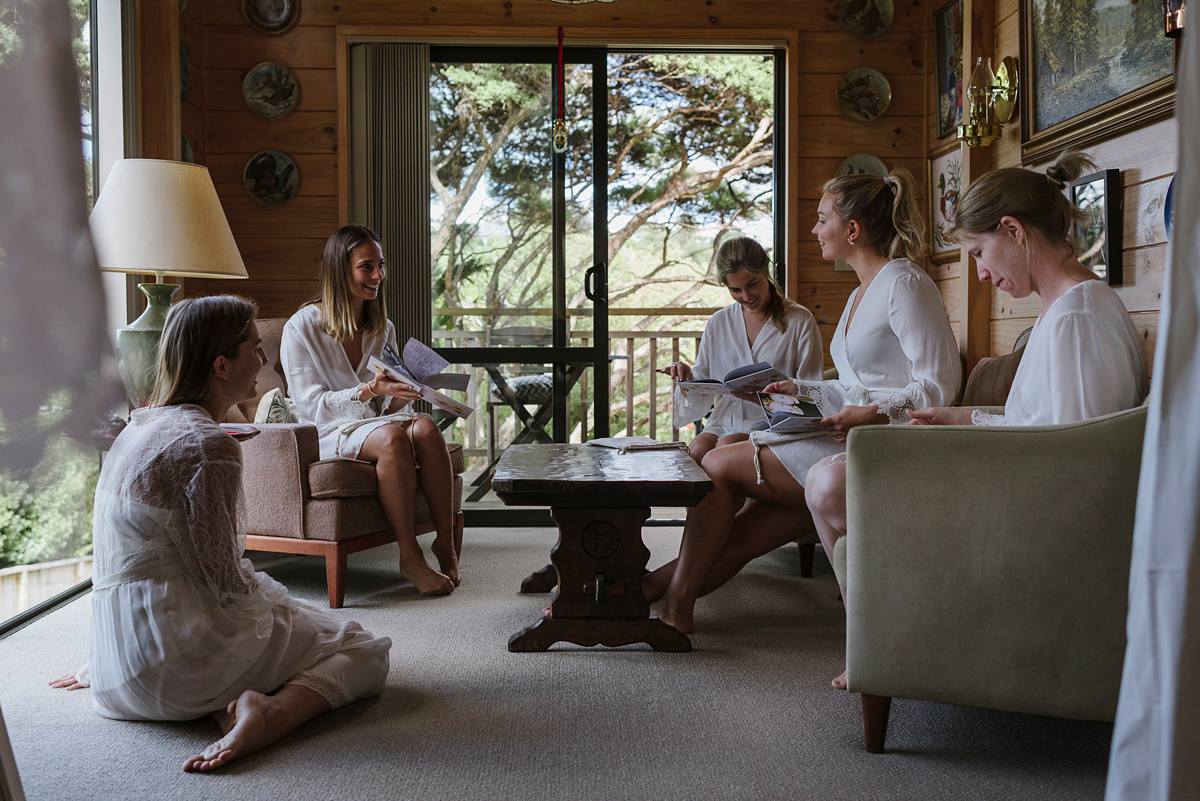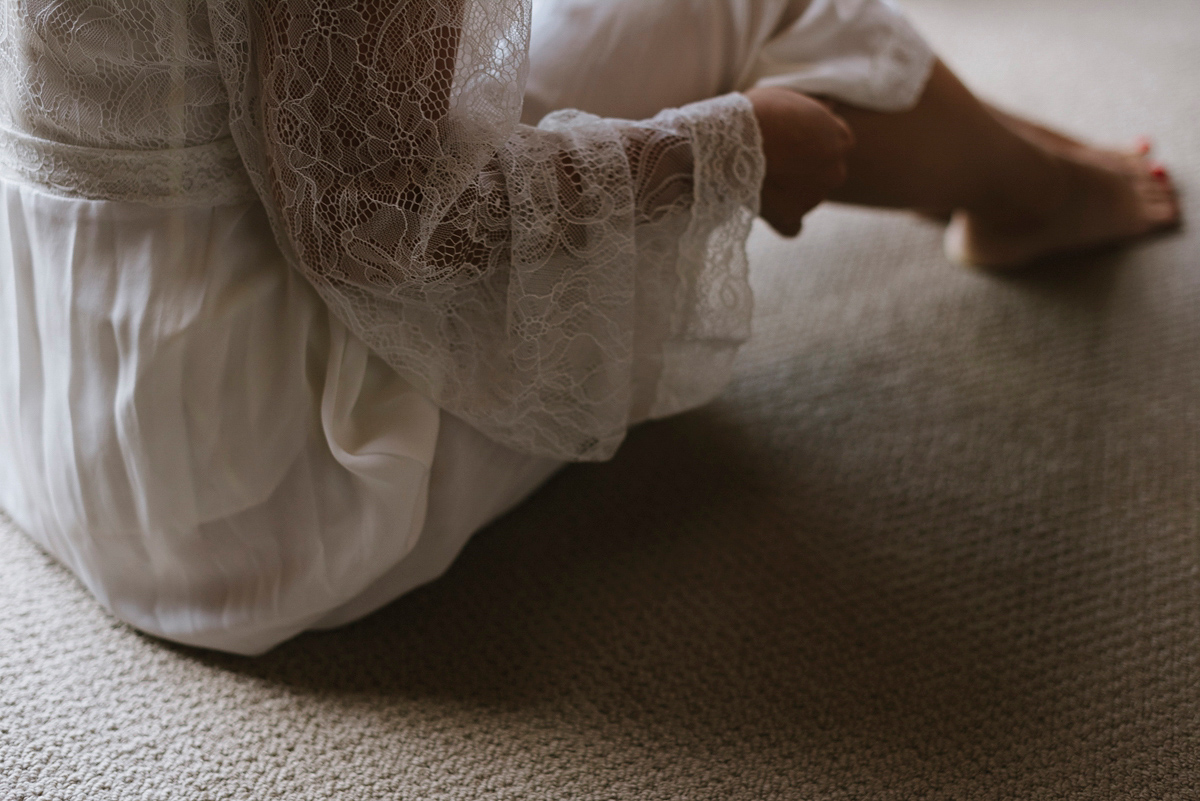 Hair styling was by Sarah Knight Hair and Makeup, while make up was the work of Amy Crawford at The Beauty Spot.
The four bridesmaids dazzled in different outfits in white and gold, purchased from Aje, worn with their own shoes, while the two flowergirls looked lovely in dresses from Seed and Cotton On.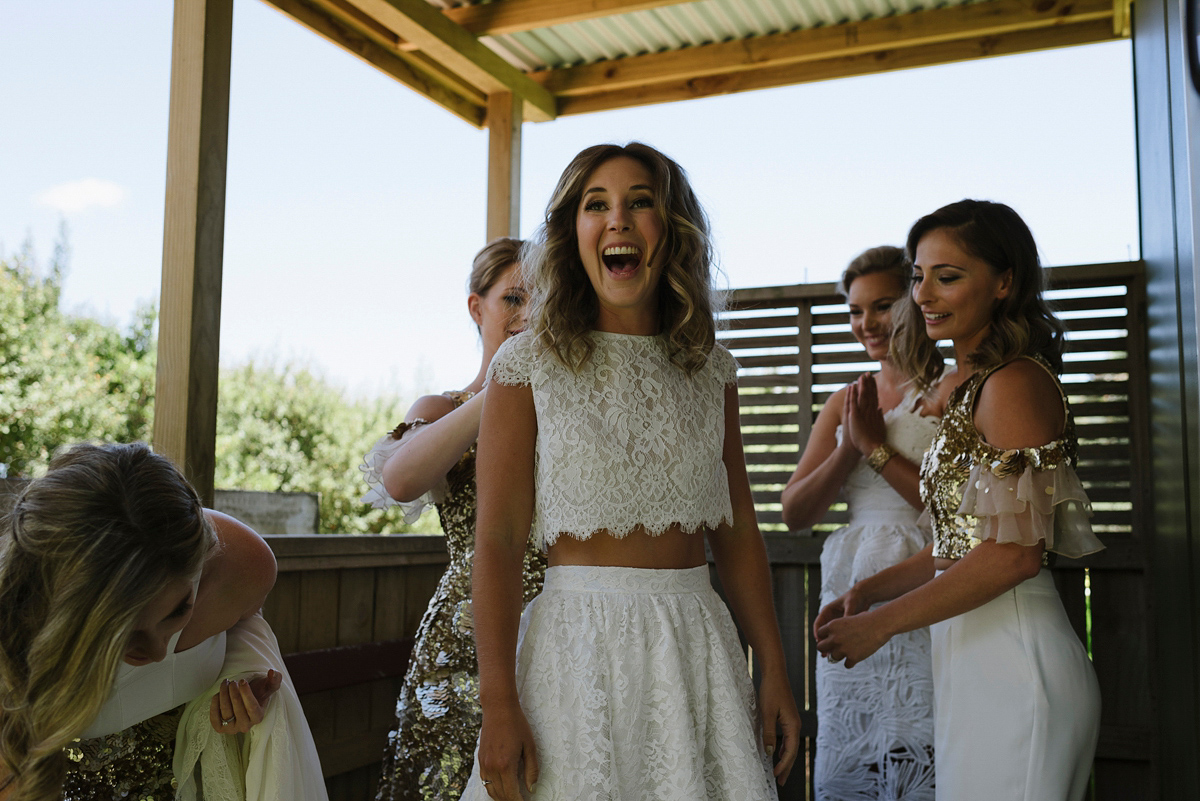 "My (Sarah) grandparents live on Waiheke and I've spend my whole life holidaying there; it is 100% my favourite place on earth.  Justin is also in love with it, so as soon as he proposed there really wasn't even a question to where we would get married."
"We chose Man O War Vineyards because they allowed us so much freedom with the day; we were able to choose what food we wanted and the vibe we wanted the day to have.  Also, have you seen pictures?  It is one of the most beautiful vineyards in the world and the wine is amazing."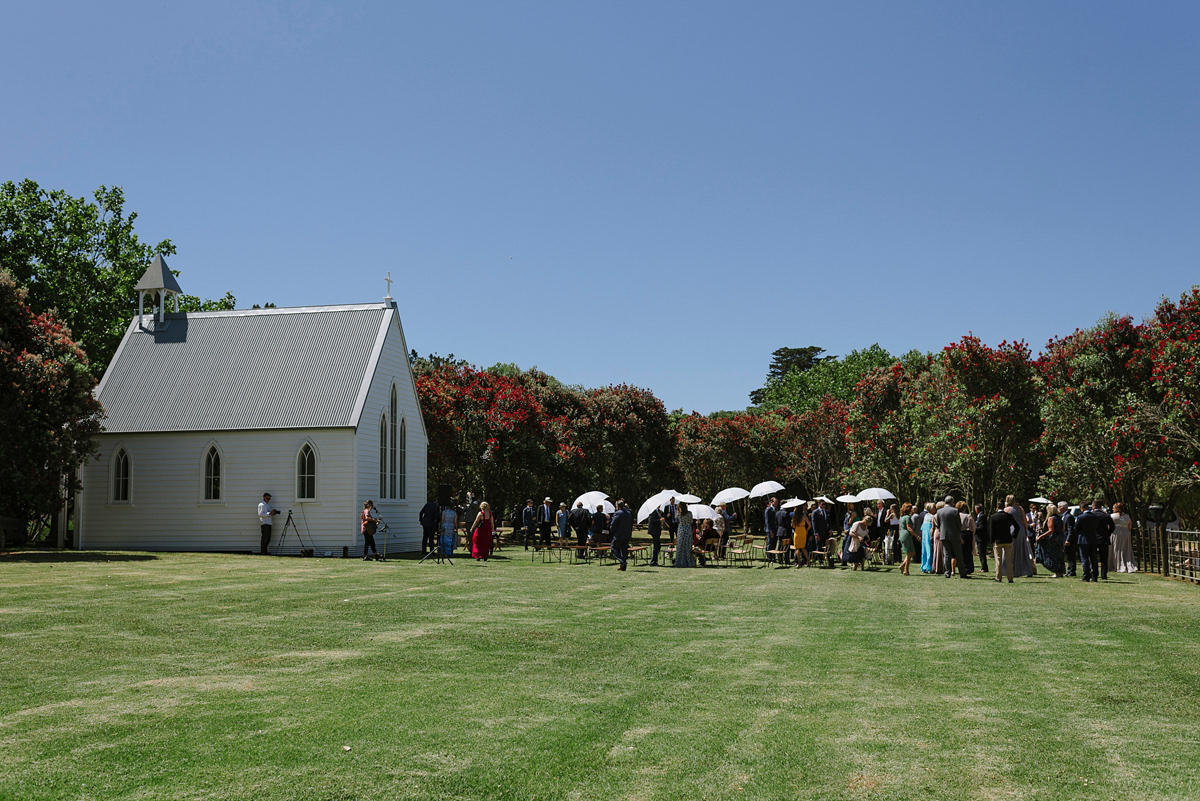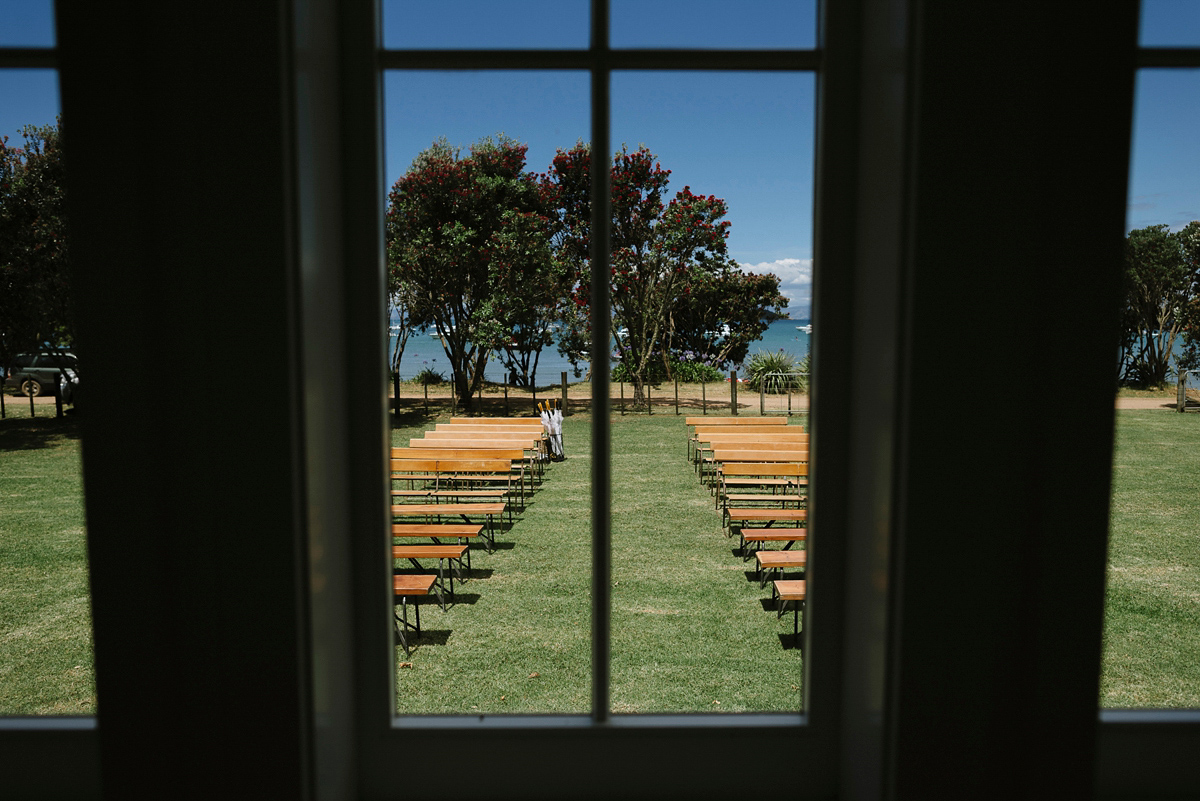 Sarah walked down the aisle with her Dad to a live version of 'How Long Will I Love You?' by The Waterboys, sung by musician Avya.
"Our celebrant Hilary was absolutely beautiful and drafted our vows after having a nice long chat with us.  She is an old family friend and it was so amazing to have someone who knew us facilitate this amazing moment."
The couple chose two readings- one, taking inspiration from 'The Little Prince' by Antoine De Saint-Exupery, and a letter that one of their closest friends (and one of Sarah's bridesmaids) wrote to them when we got engaged.  I love these unique ideas.
Sarah and Justin cemented the vows they had made to one another by exchanging wedding bands, which they purchased from Georg Jensen.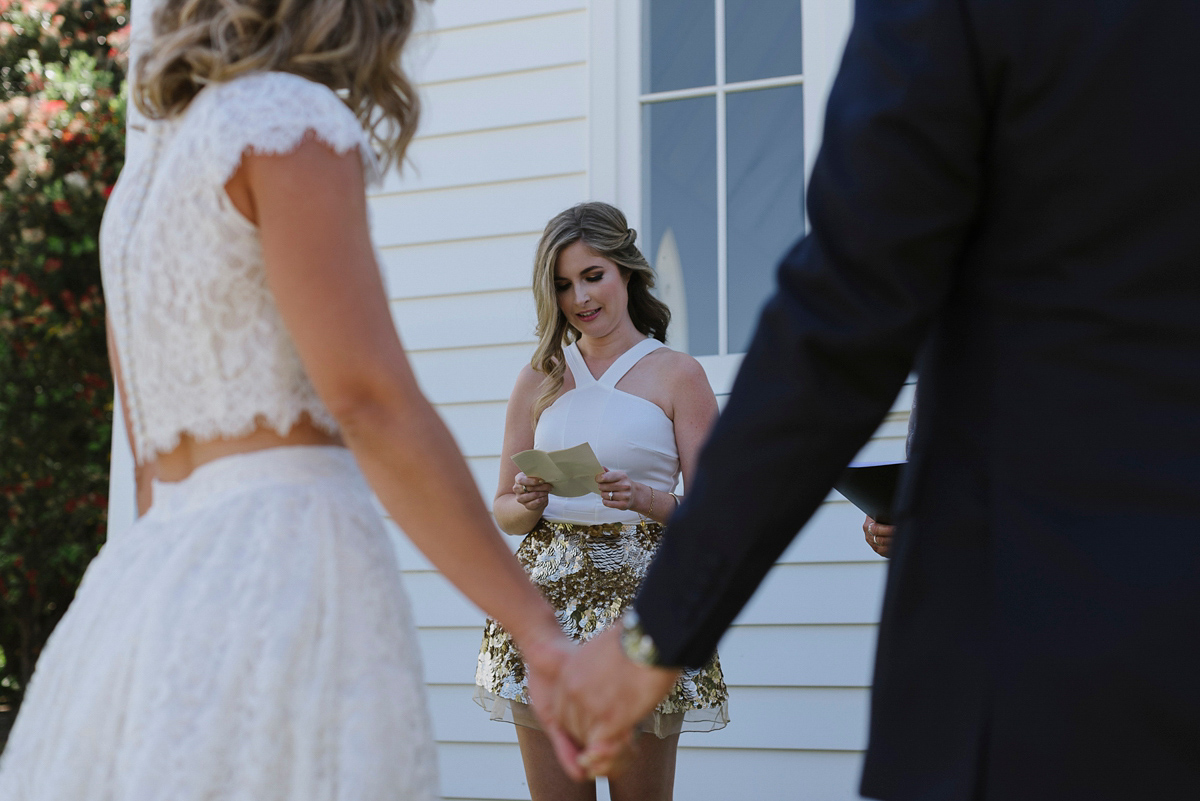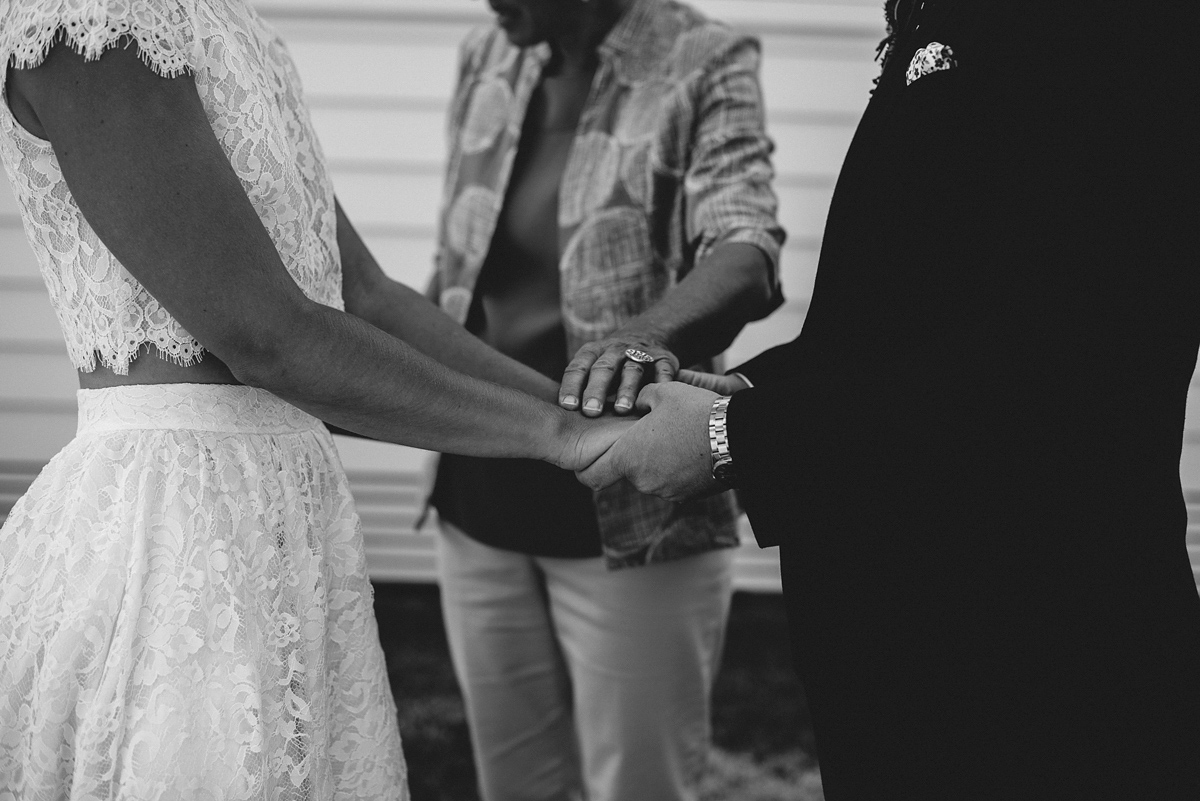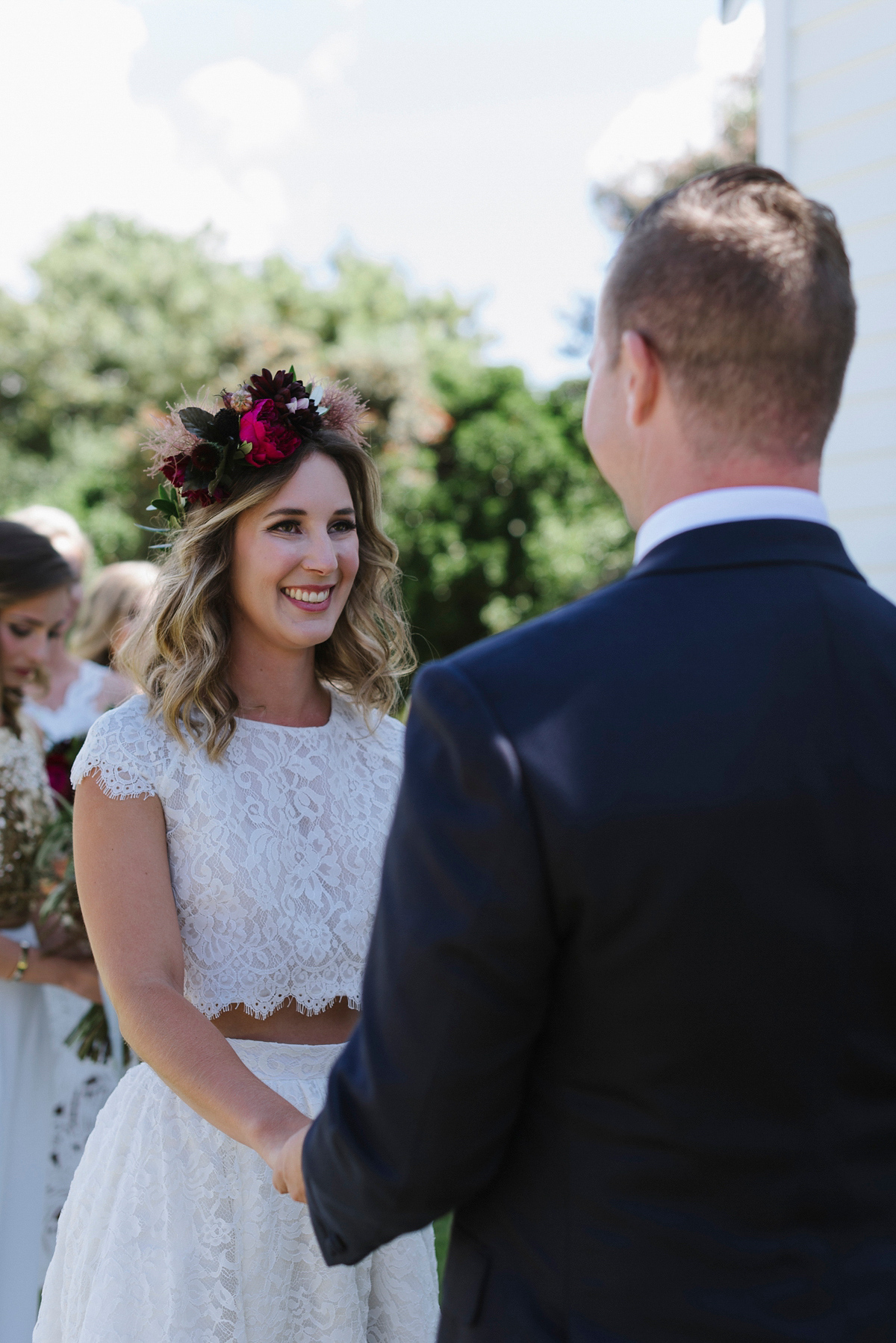 Justin looked very smart in a two-piece suit in blue by Tailor and Co., with accessories from MJ Bale.
"Justin proposed in July 2015.  At the time I was living in Bangkok and him in Yangon, Myanmar.  My school year was finishing up (I was a teacher), so I went home to Sydney for a few weeks to see family before going on to Myanmar.  When I arrived, Justin came to pick me up at the airport as he always did, then we got back to the apartment and there was all my favourite foods (that you can't find in Myanmar, he had gone to Bangkok to get them), flowers and candles everywhere."
"I assumed he was just welcoming me after living apart for six months but then he cracked some champagne and got down on one knee and finally the penny dropped.  After he proposed and I had said yes, he asked me to go and get an envelope out of my suitcase and it was filled with letters from our family and friends congratulating us.  It is the most romantic thing anyone has ever done for me."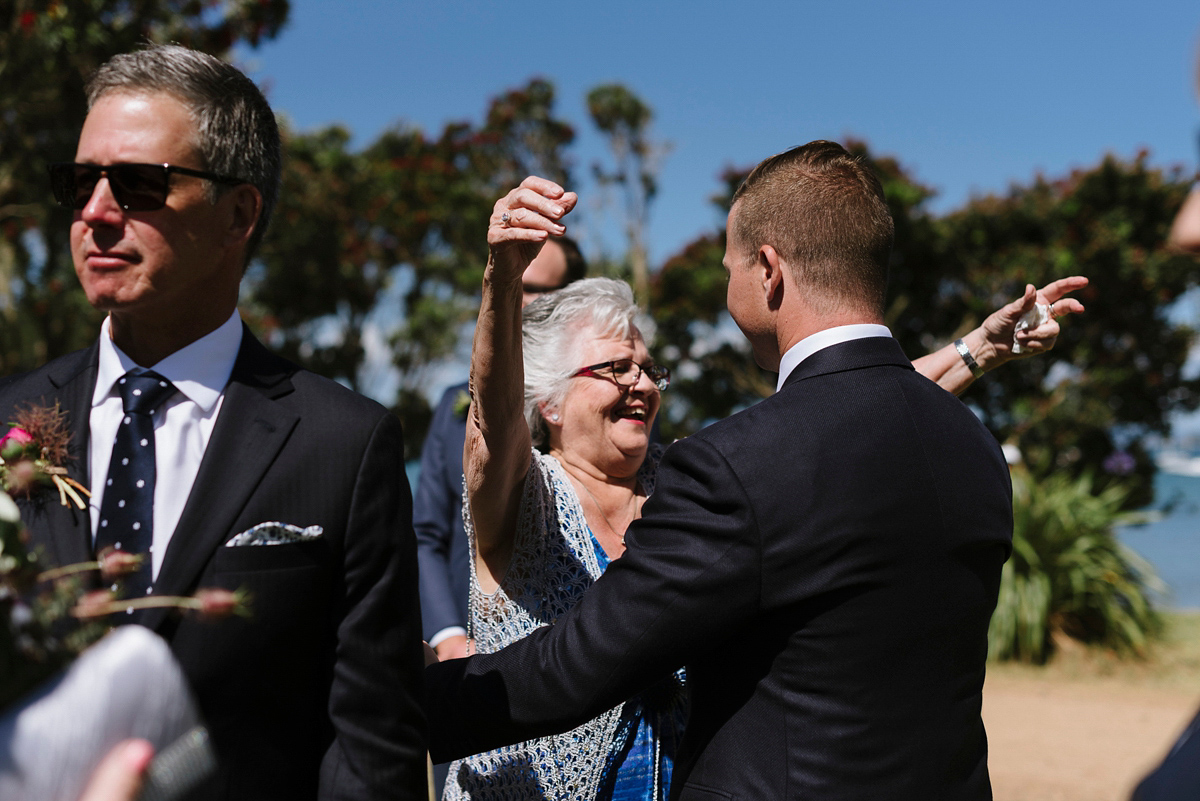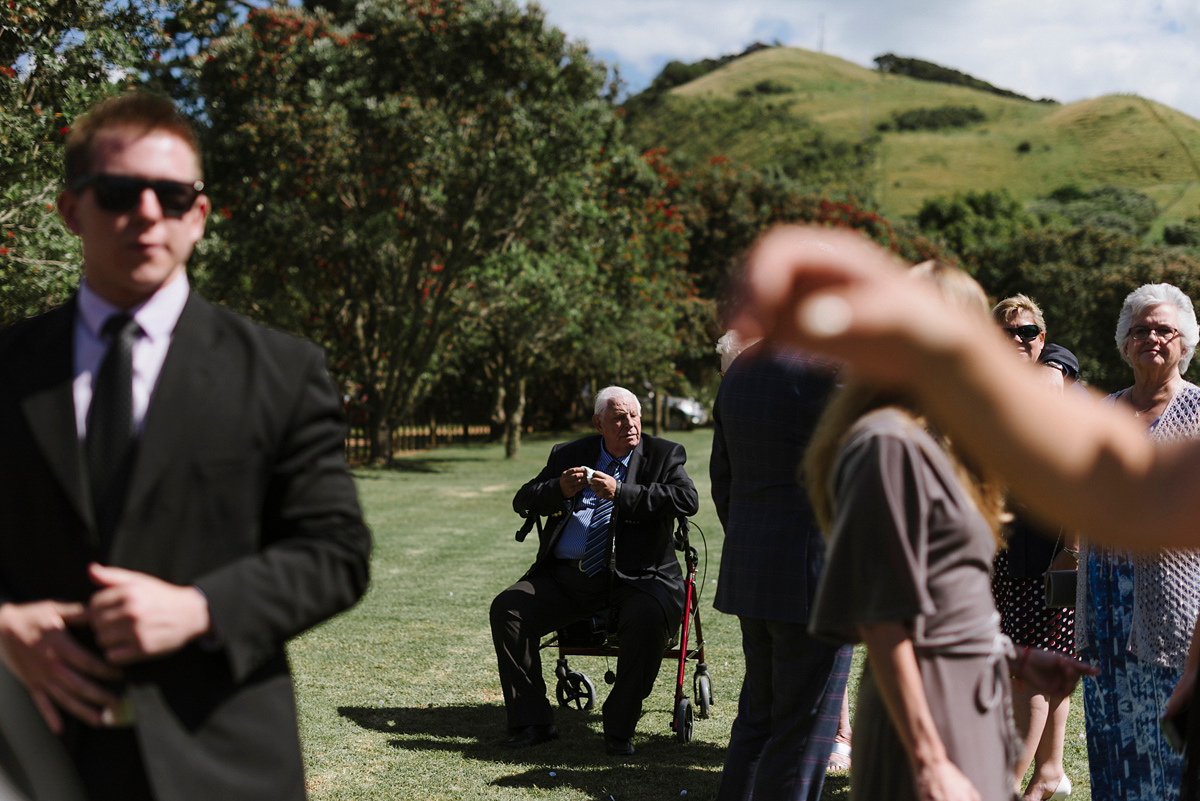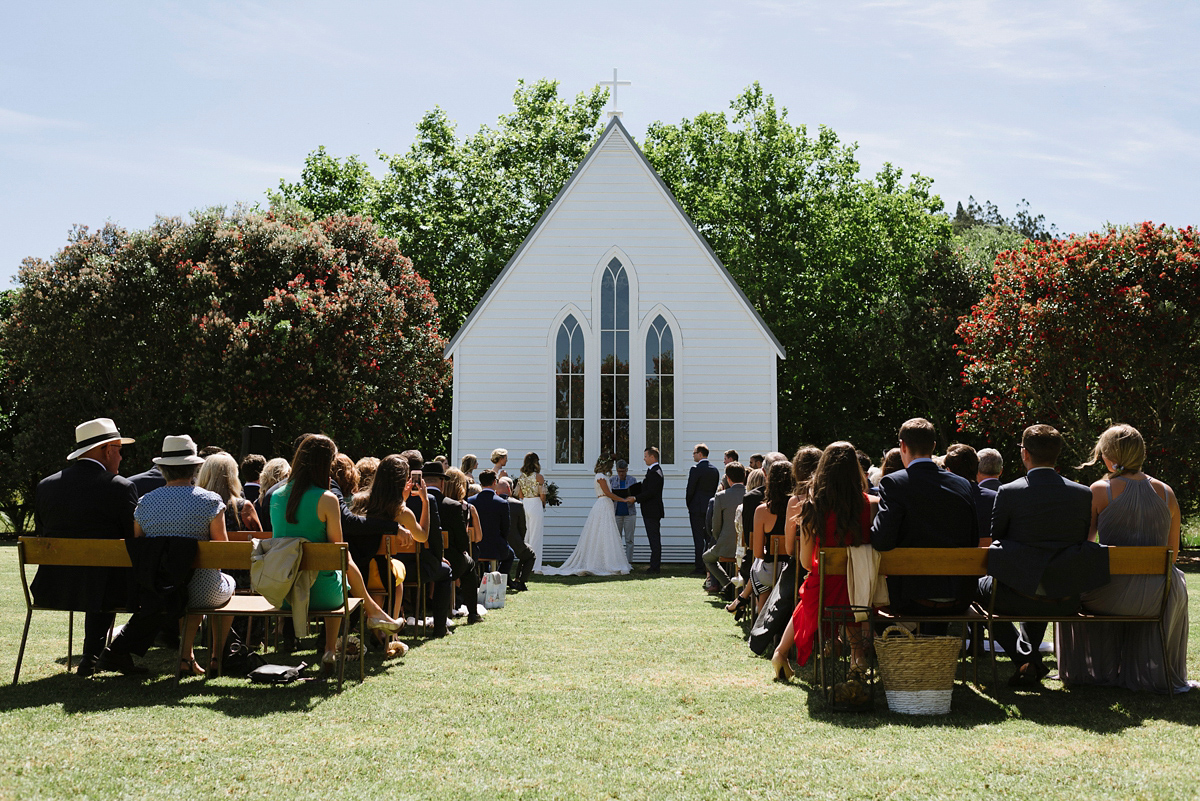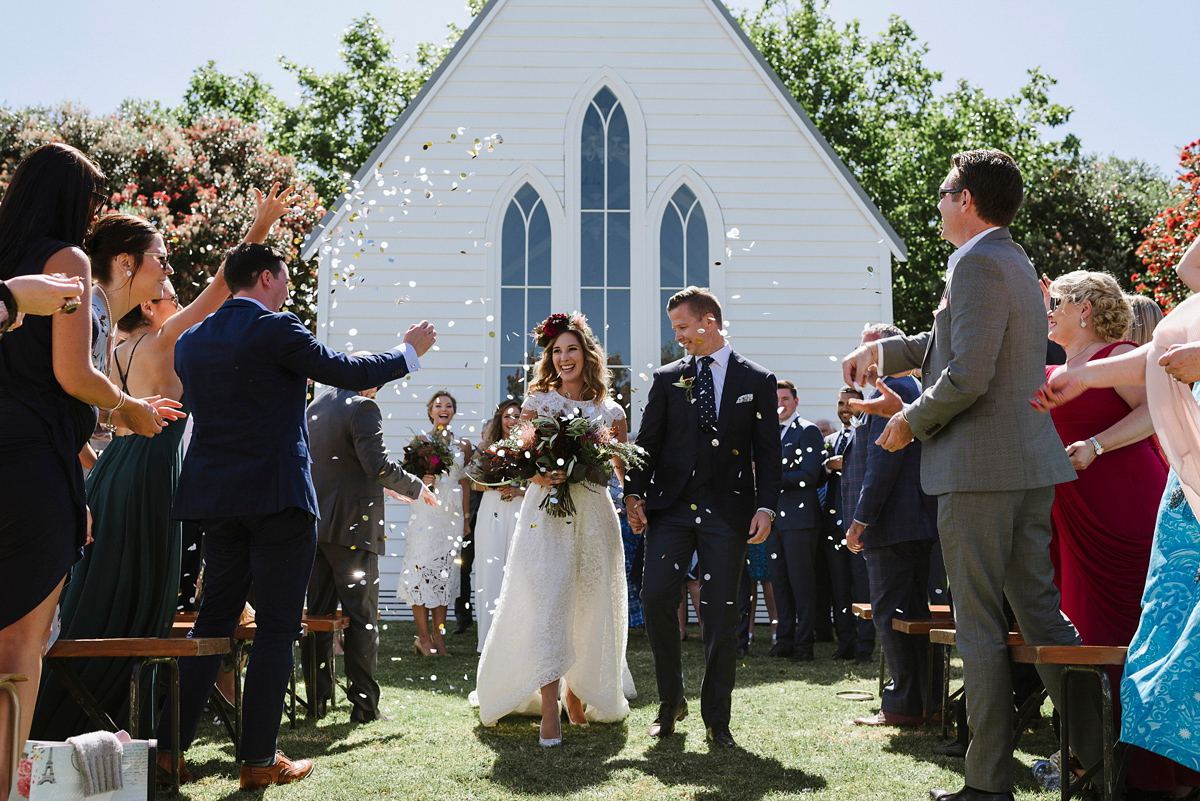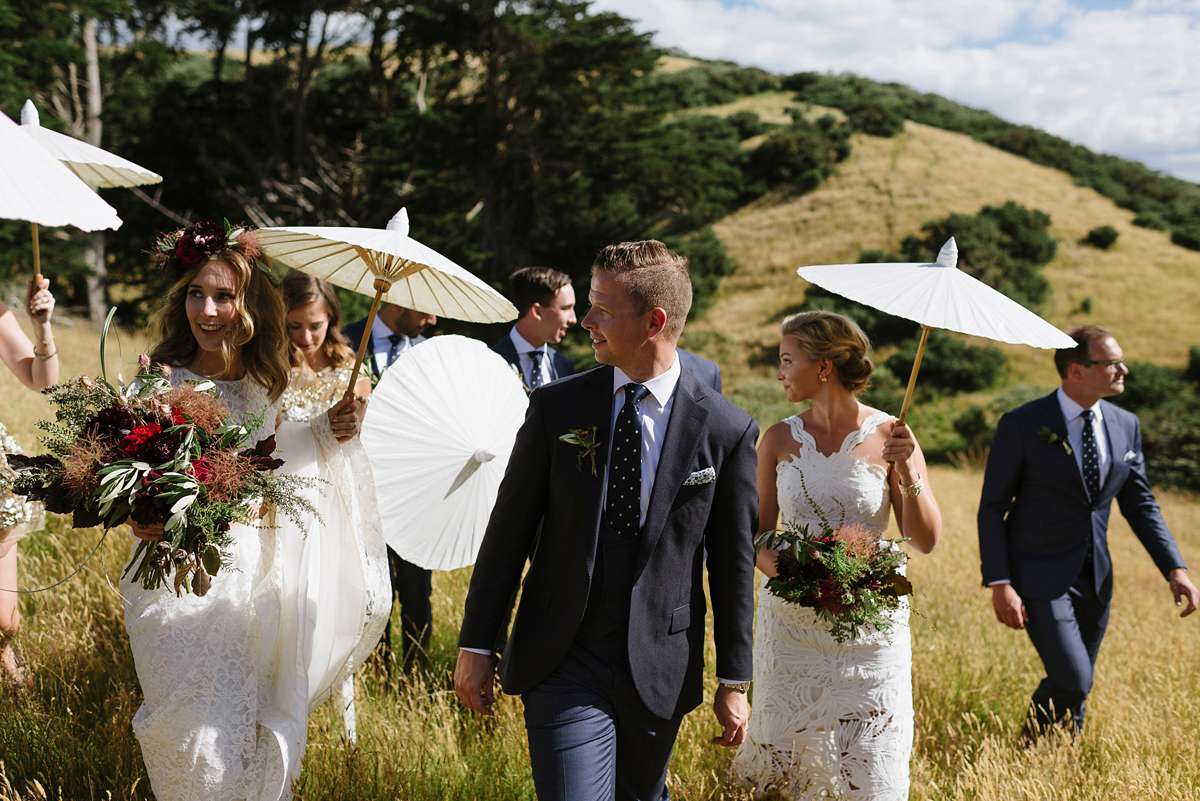 The beautiful blooms were the work of Wildflower Waiheke.
"The flowers blew me away.  I had briefed the florist with a very loose idea- I wanted native flowers and for them to not clash with the gold of the bridesmaids dresses, but found it hard to articulate exactly what I wanted them to look like.  She delivered exactly what I had been imagining and the moment I saw them was one of the only times I cried the whole day."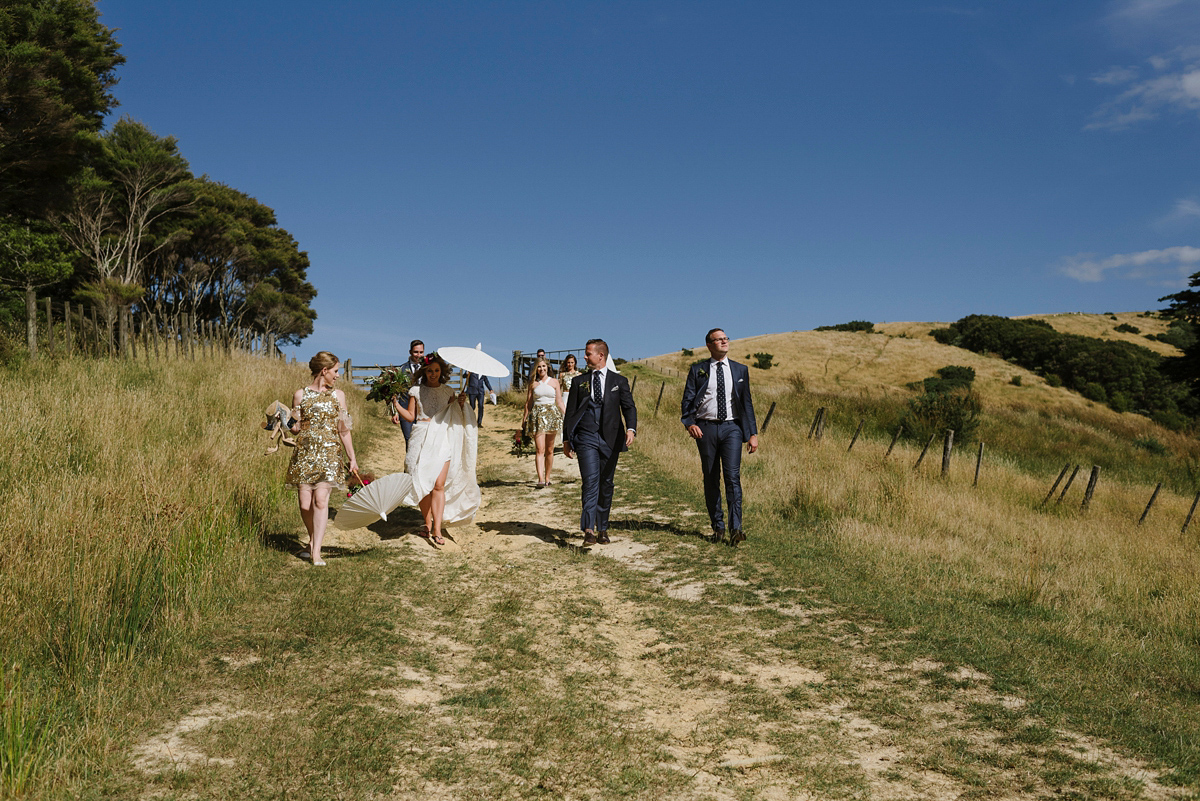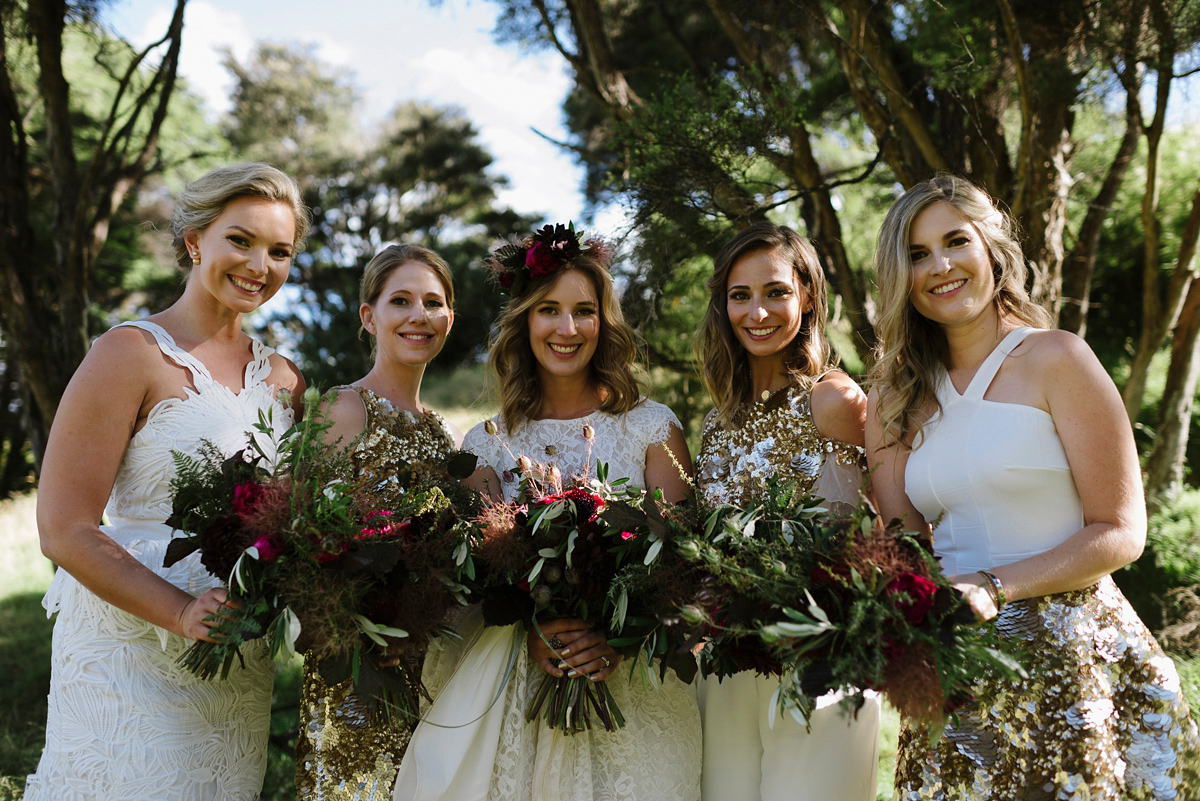 Sarah wore a rather spectacular pair of heels by Chiara Ferrangi, while in her hair she wore a dramatic flower crown, made for her by florists Wildflower Waiheke.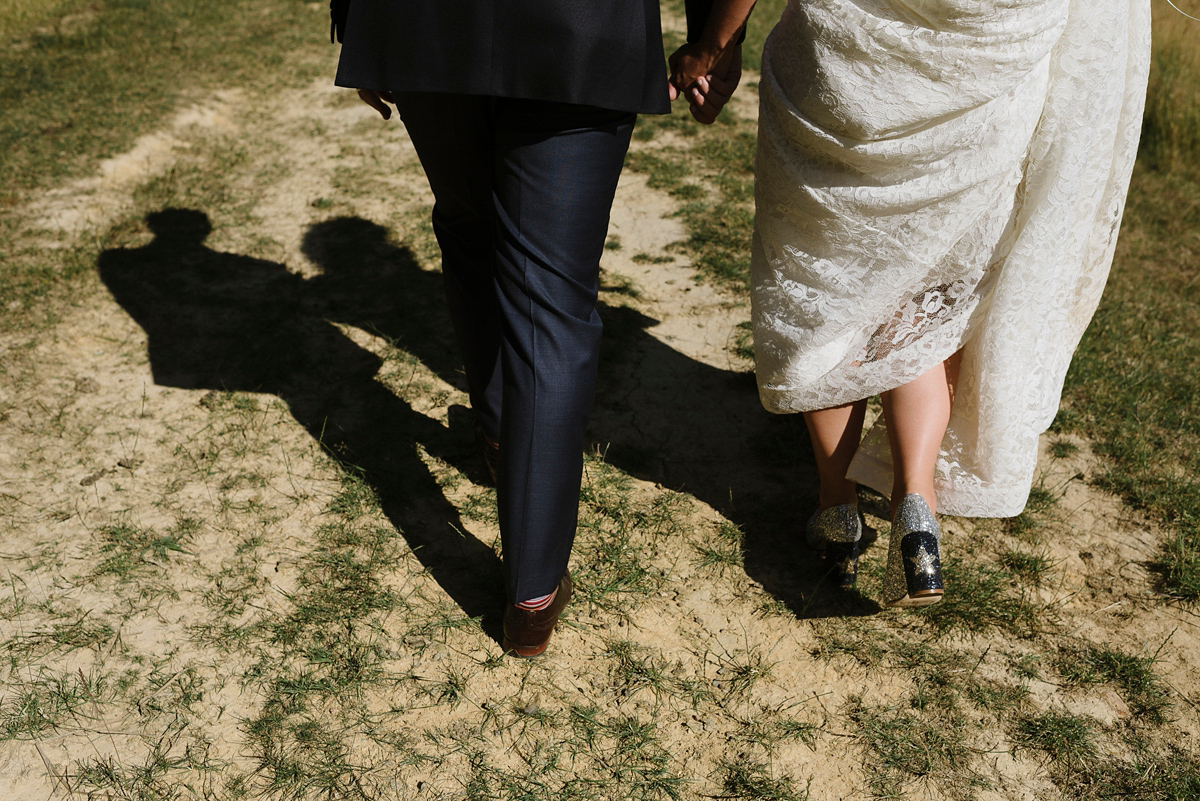 Venue dressing was the work of My Waiheke while the beautiful stationary was by Aeicha.
"The day was just so perfect that we were finding it impossible to pick one favourite moment so we boiled it down to any moment that we would catch one another's eye across the dancefloor, the garden, the table etc and we had this mutual feeling of 'how amazing is this?  We are surrounded by everyone we love, in one of our favourite places on earth, with incredible food and sun and wine and dancing'."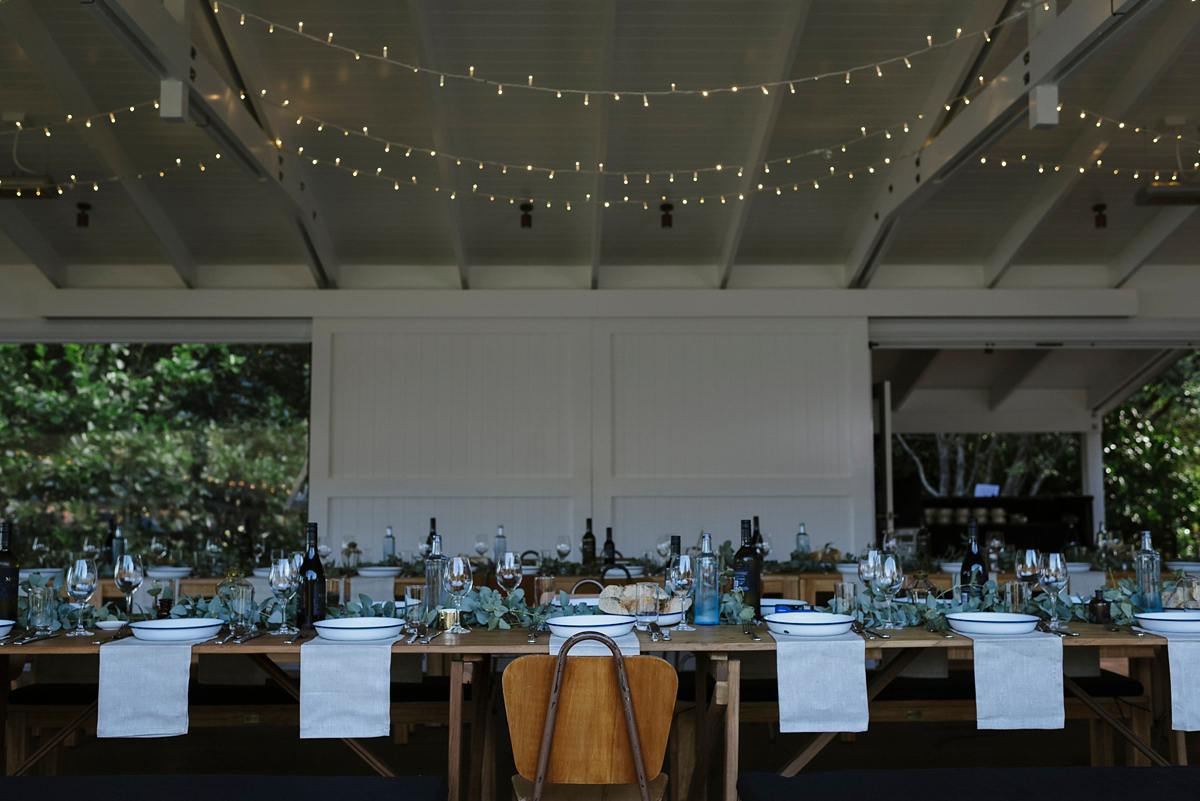 Catering was courtesy of the vineyard, while the Danish wedding cake was made by a friend of Sarah's Grandmother and decorated by her aunt, who also decorated Sarah's parent's wedding cake thirty years before.
"The Danish wedding cake has always been something we wanted to have, firstly as a nod to my Danish heritage, but also because it is delicious and great to share so it tied in nicely with our 'grazing table' style of dessert."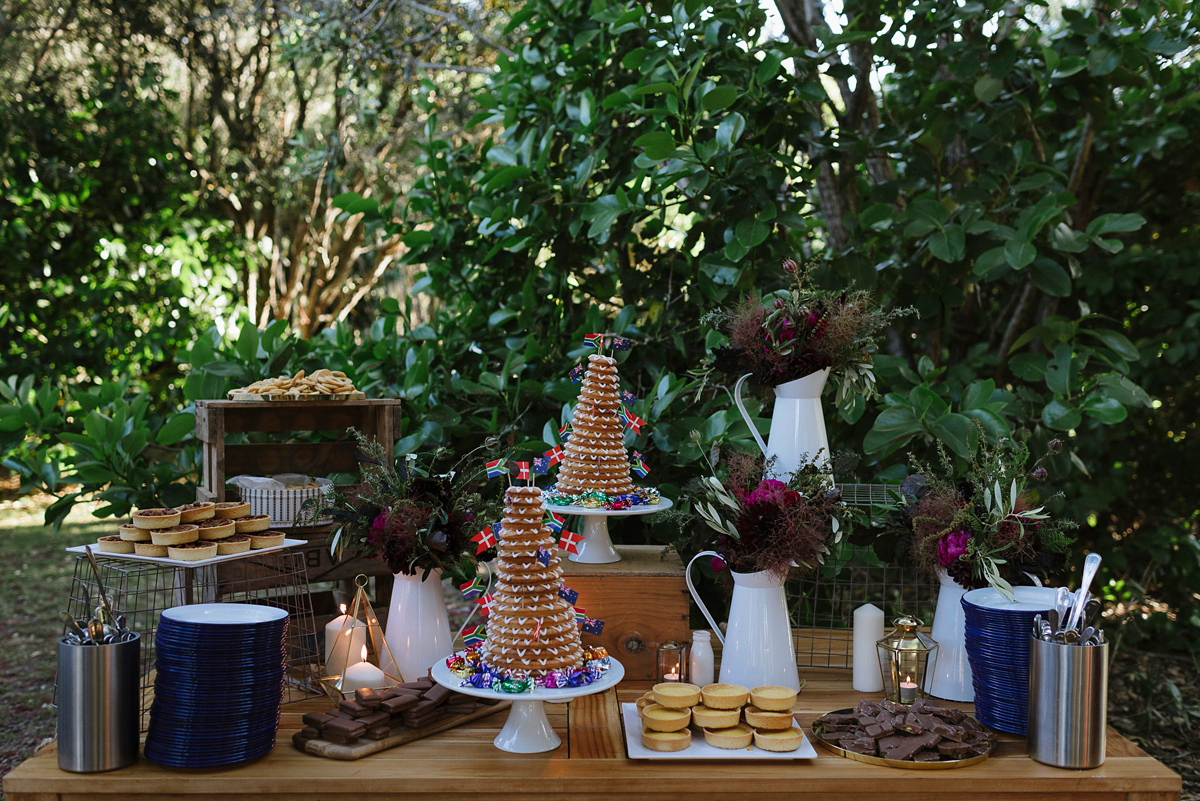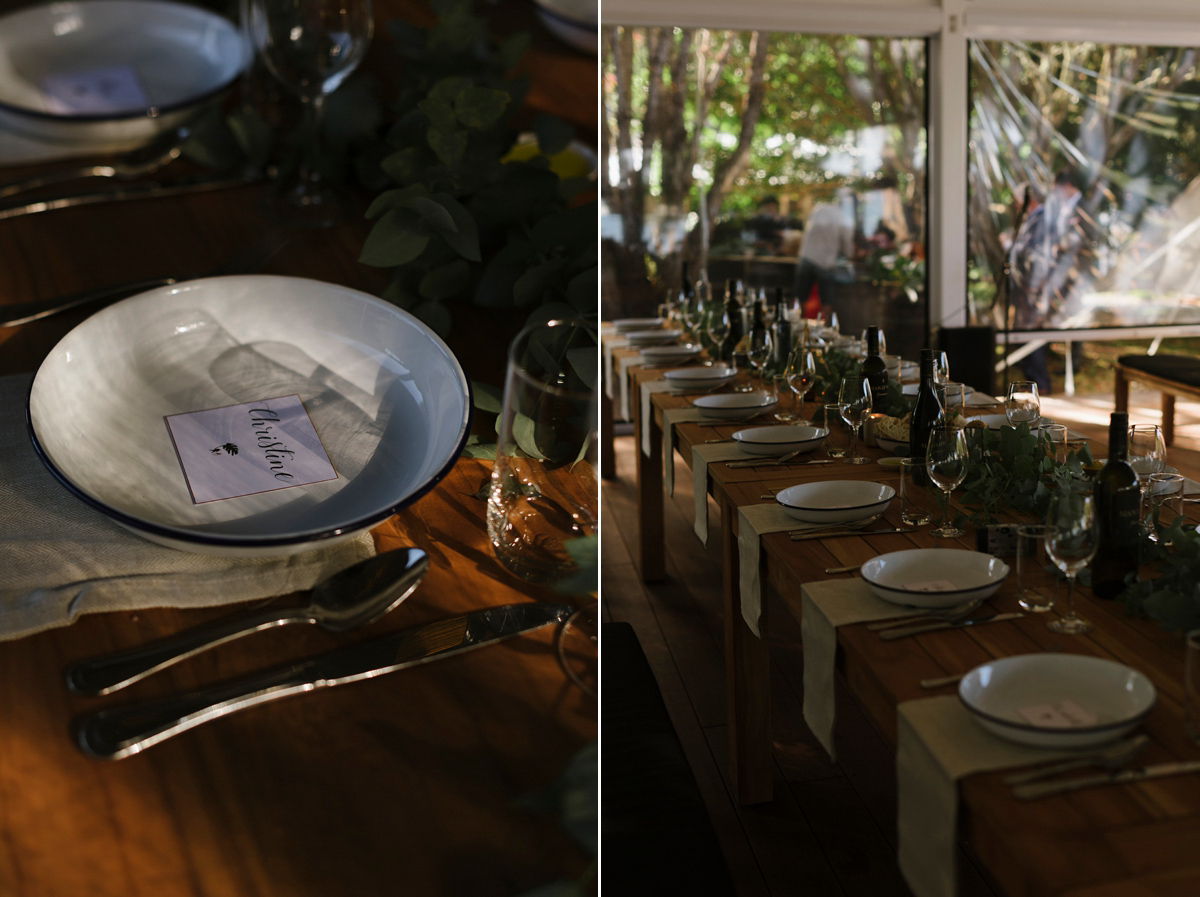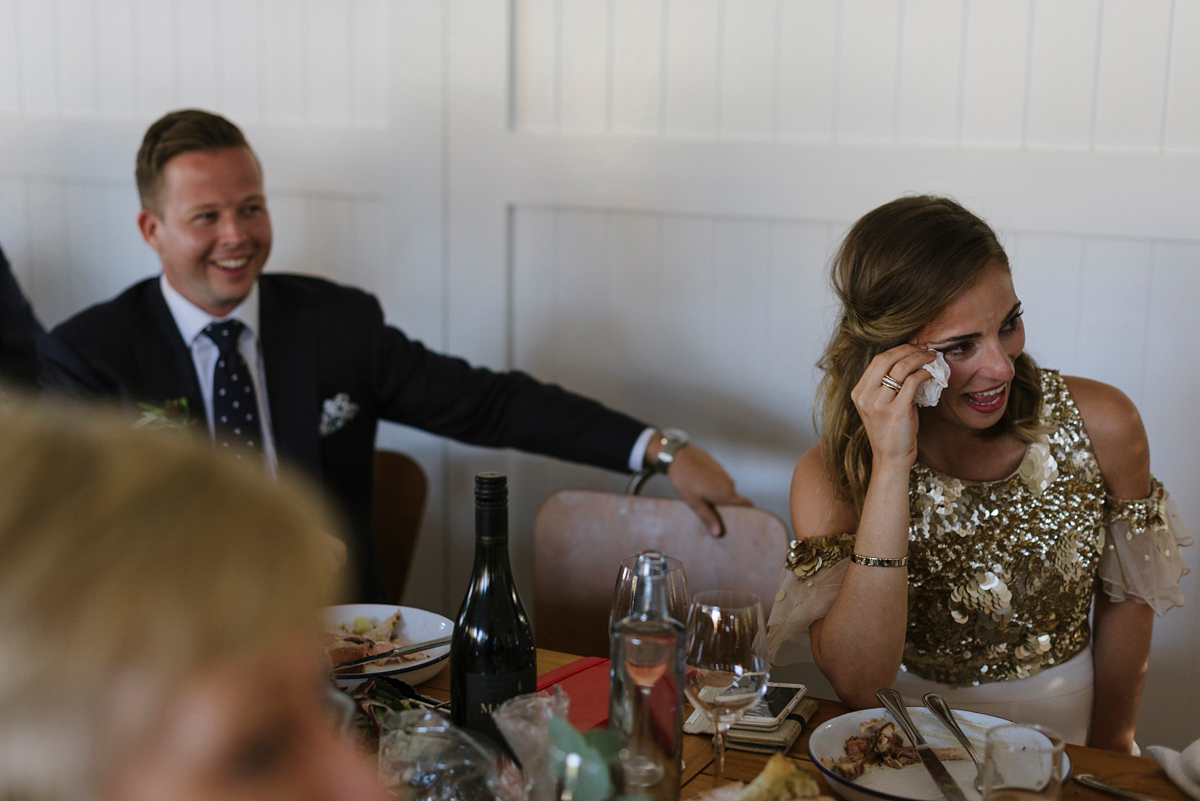 Evening entertainment was provided by Mix It DJ, who kept the dance floor full all night.  For their first dance as a newly married couple, Sarah and Justin chose 'I will follow you into the dark' by Death Cab for Cutie.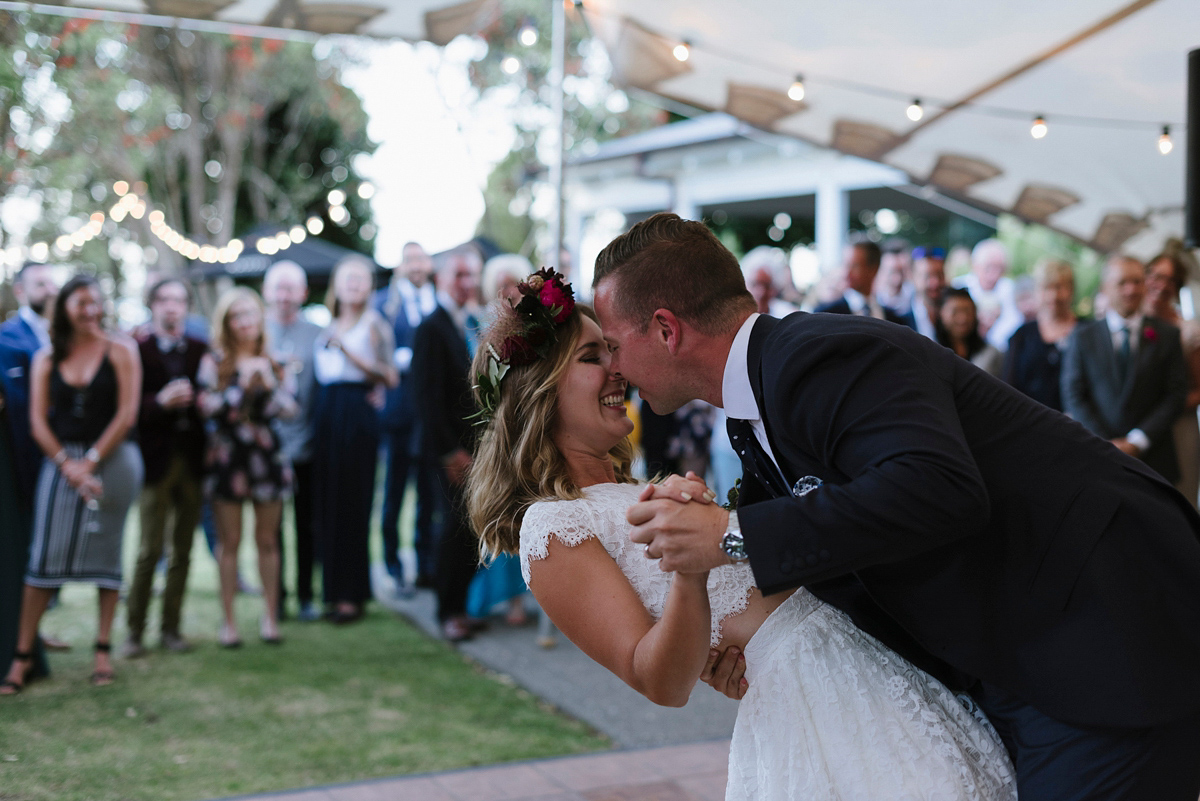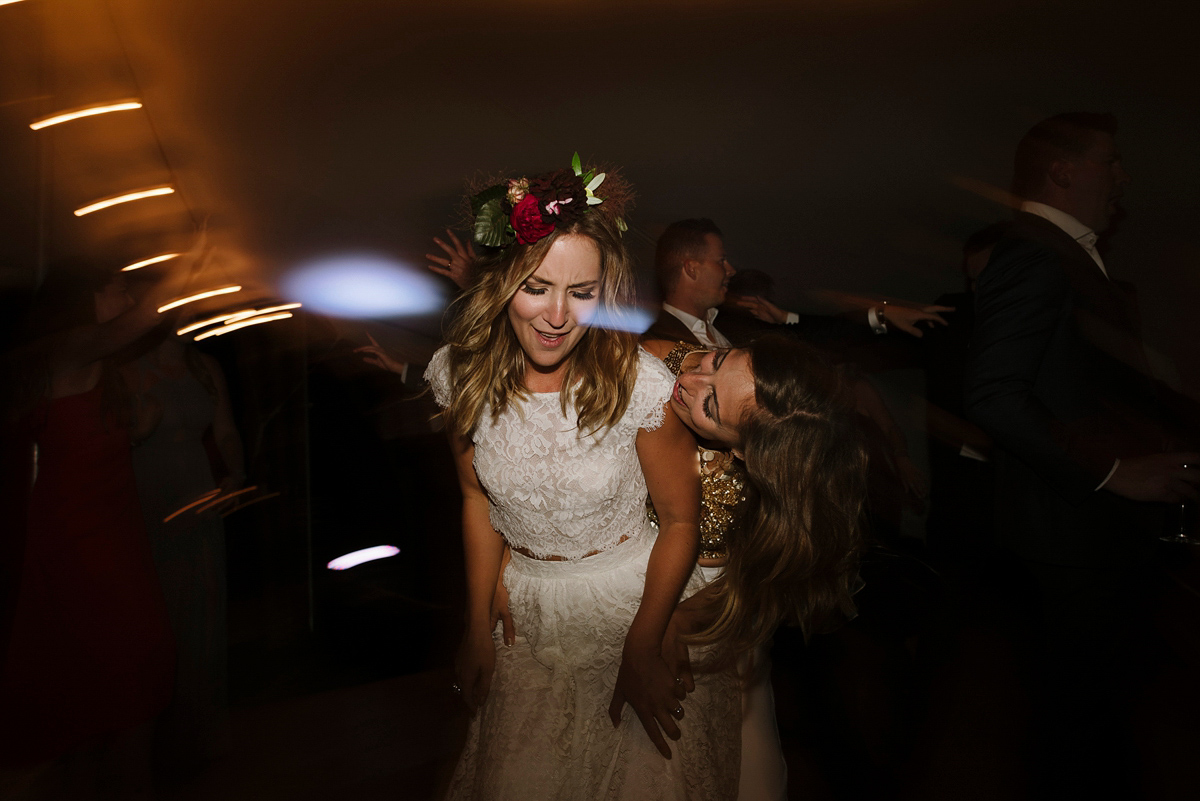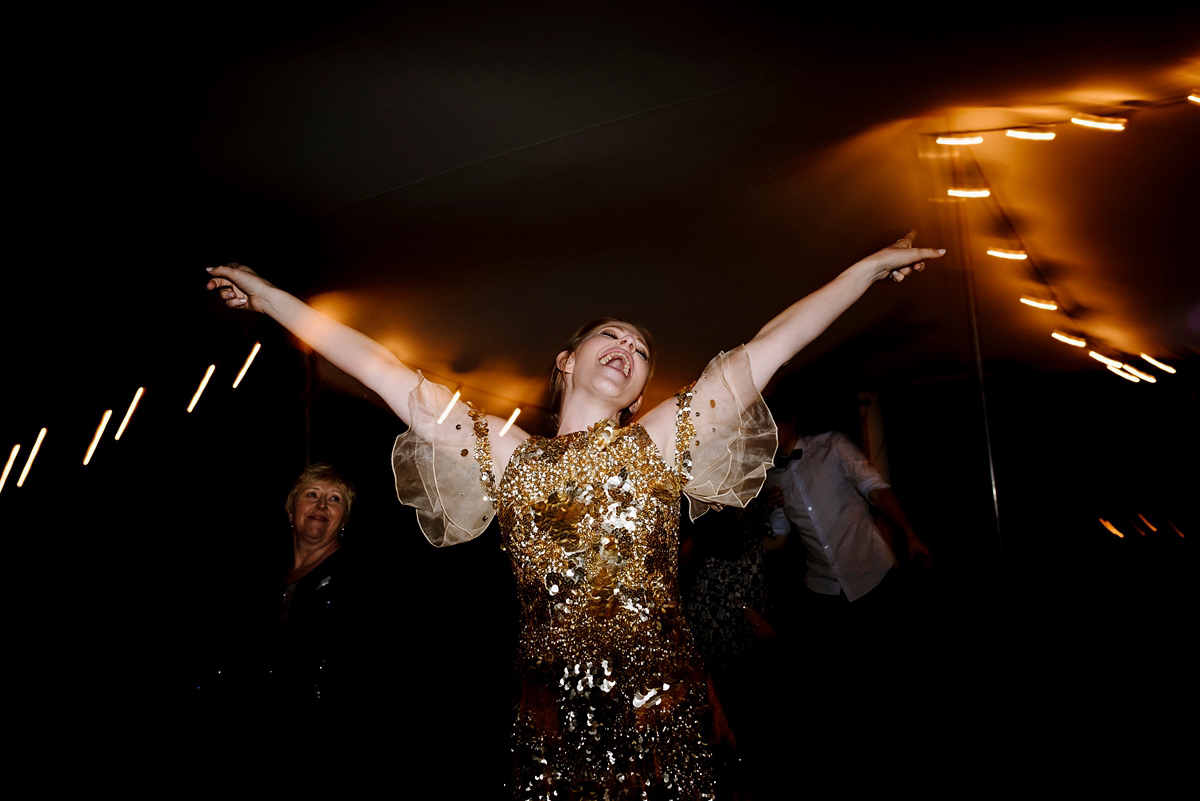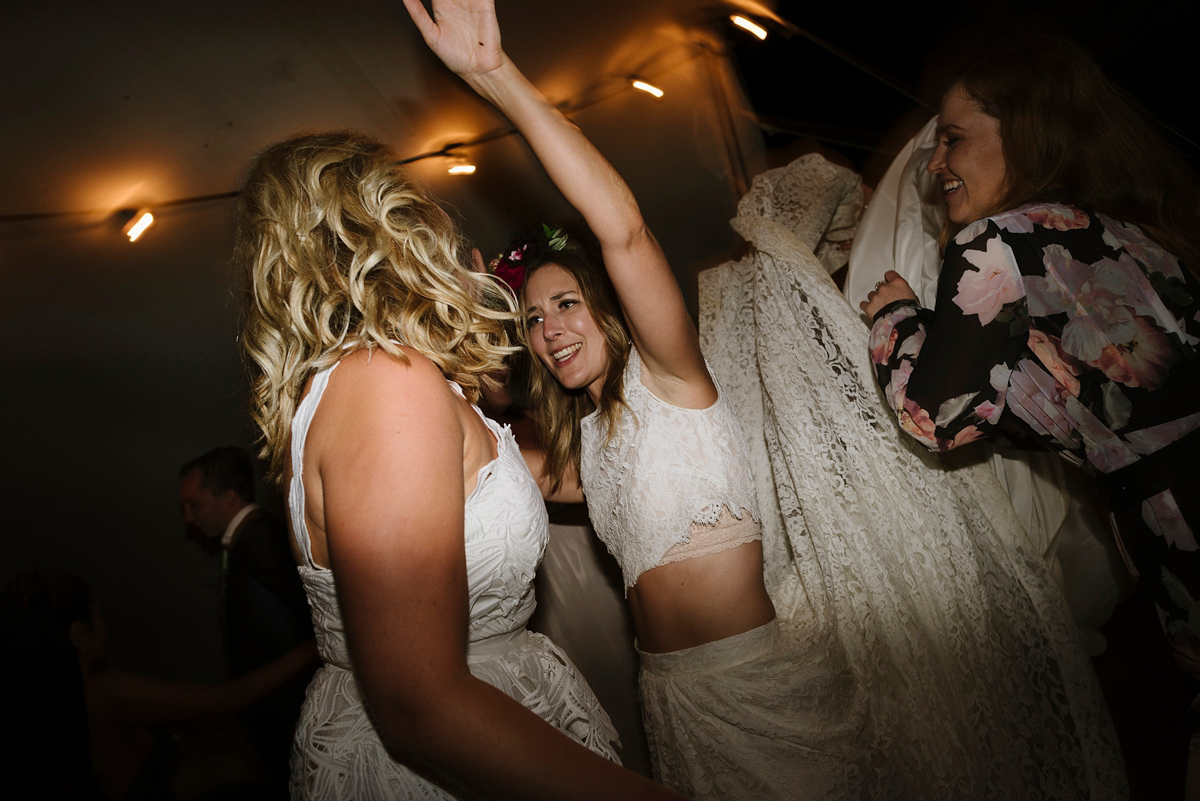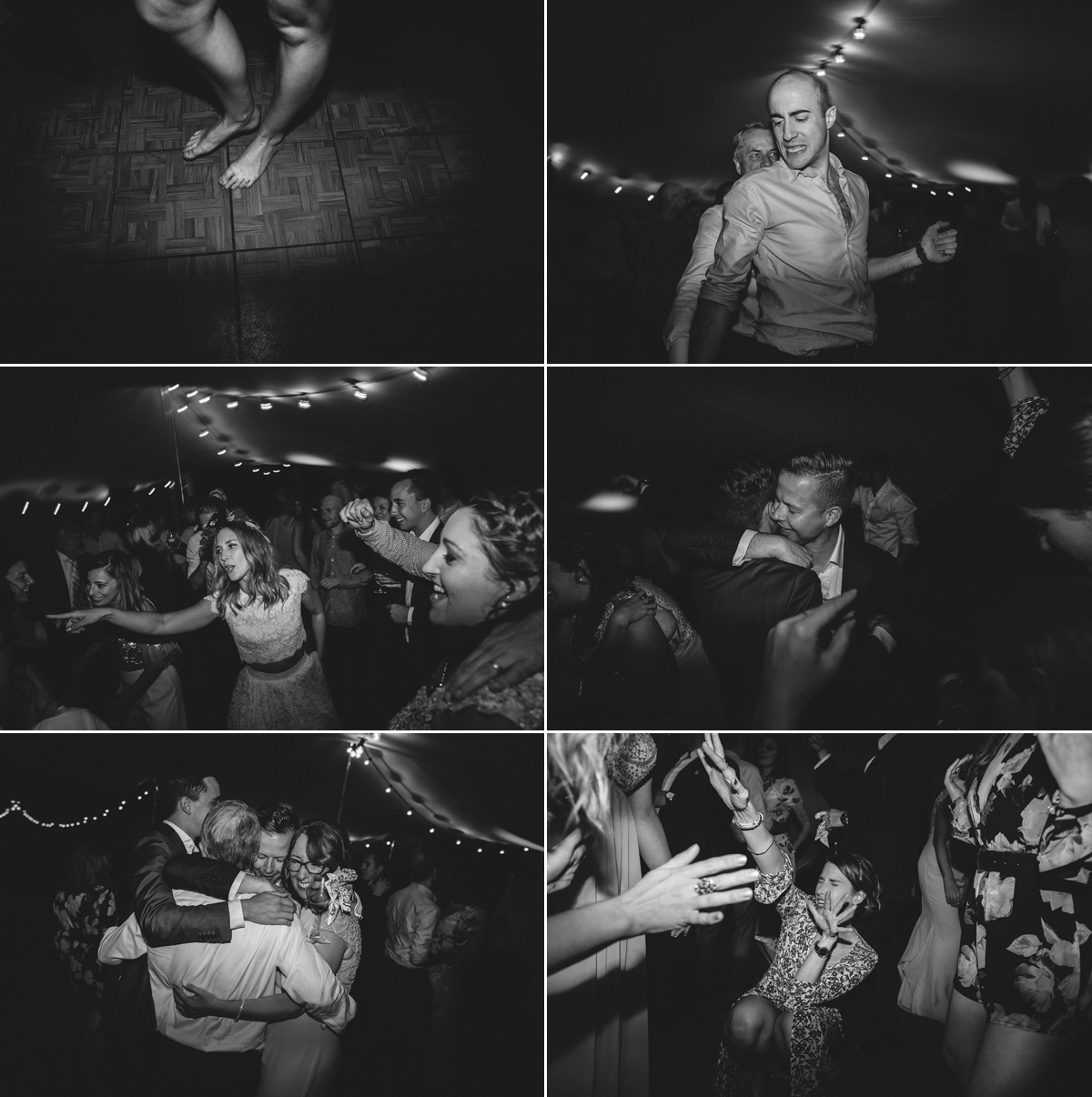 Words of Wedded Wisdom
"Relax and enjoy it and don't get caught up in the all the riff raff of peoples opinions- you need to make it your day.  On the day itself, it is so important to just let it all go and enjoy it for what it is, even if particular details might not be exactly as you had imagined."
"Finally, our celebrant told us to really pause throughout the whole day and take in our surroundings, remember the moments that we were in rather than letting it all rush by.  That was probably my favourite piece of advice."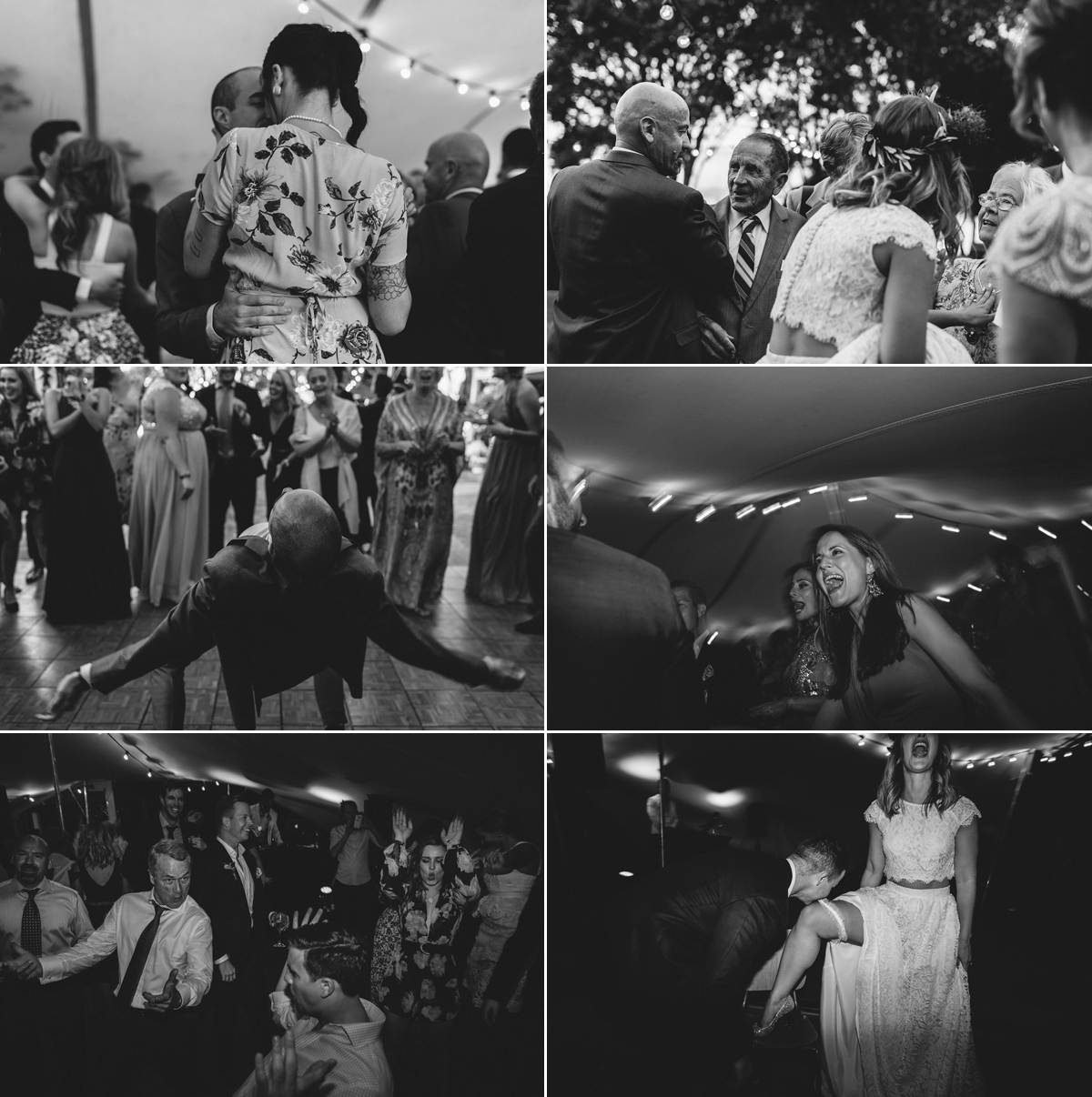 So many thanks to Sarah and Justin for sharing their gorgeous day, and to Thierry Joubert for these wonderful images.  New Zealand is now firmly added to my ever growing list of places to visit. For more of Thierry's work, have a look here and for more New Zealand weddings, have a look at this link.
Happy Sunday!
S x