As I write this I'm coming up to my two year anniversary as part of the Love My Dress and Little Book for Brides team. In that time I've seen countless beautiful, unique weddings featured and so many super-talented wedding suppliers showcasing their services on our directory.
So it's incredibly timely that today's couple, Jennifer and Matt, took inspiration from our beautiful blog and directory to create their own perfect wedding. So, let's meet the bride and groom; On 8 July 2017 museum curator Jennifer married Matt, who works in a bank, on the breathtaking Scottish coastline.
After a church ceremony at South Knapdale Parish Church, Achahoish they travelled to nearby reception venue Crear, Kilberry by Tarbert where they made the most of the clear summer weather and long, light evenings. With a simple colour palette of whites greens and berry red and swathes of foliage, the wedding day was full of personal, handmade touches and input from family and friends.
Film: Drew Gibson
Jennifer's instantly recognisable lace gown, fitted impeccably to hug her figure, is none other than a Halfpenny London design. We just adore designer Kate Halfpenny's designs and are so proud to feature her collections both on our Style Files and on Little Book for Brides. Jennifer looks the epitome of a relaxed bride in this creation with its statement back.
"Browsing Love My Dress, every dress I liked turned out to be Halfpenny London and I knew I was forming great love for them. Full disclosure: I owned three wedding dresses during our engagement. I tried on a lot of dresses in a lot of shops and then tried on Violet at Halfpenny HQ and loved it, but was going to a sample sale the next week. At said sample sale I panic-bought a dress on sale and was immediately plagued by doubts. Cue a few weeks of stressing but once I firmly made the decision to go back and buy Violet I felt so calm and reassured I was making the right decision."
Images by Mirrorbox Photography
"I ended up going to Ellie Sanderson in Oxford who got Violet in specially for me during a special Halfpenny London event, and I bought it from them without a second thought. I wore her with a blush slip and belt. I had all my fittings done by Chantelle at Shakespeare in Love at Stratford upon Avon who is an absolute dream."
"I knew I wanted a dress with a high neck and a belted waist. I loved that Violet had no boning or buttons or structure, I could just pop her on over my head and I was good to go. The heavy lace was a mix of simple and fancy, and I adored how dramatic the low back was! I also pretty much live in t‐shirts, so the sleeves are very me."Jennifer is also much-valued member of our private Love My Dress Facebook group (which you can join here), and found it a great source of support throughout her planning.
"I am a keen participant in the Love My Dress Facebook group which was a godsend ‐ like having 1,000 bridesmaids at your fingertips! We got a huge amount of tips from it for the little things ‐ drying confetti petals, personalised hangers, the hand-dyed ribbons for the bouquets, gifts for bridesmaids and so on."
"I was an avid reader of Love My Dress before we got married as I was heavily involved in my twin sister's wedding which happened just a couple of weeks after we got engaged. A few friends have had their weddings featured on the site in the past so I have always loved to read it. Like every bride to be, I loved the real wedding features and the detail that the brides give. The From the Heart pieces were extremely touching and reassuring during times of stress.
What really comes across is how much the Love My Dress team love the wedding industry and want to create a positive space that celebrates all weddings."
Oh my, Jennifer, thank you!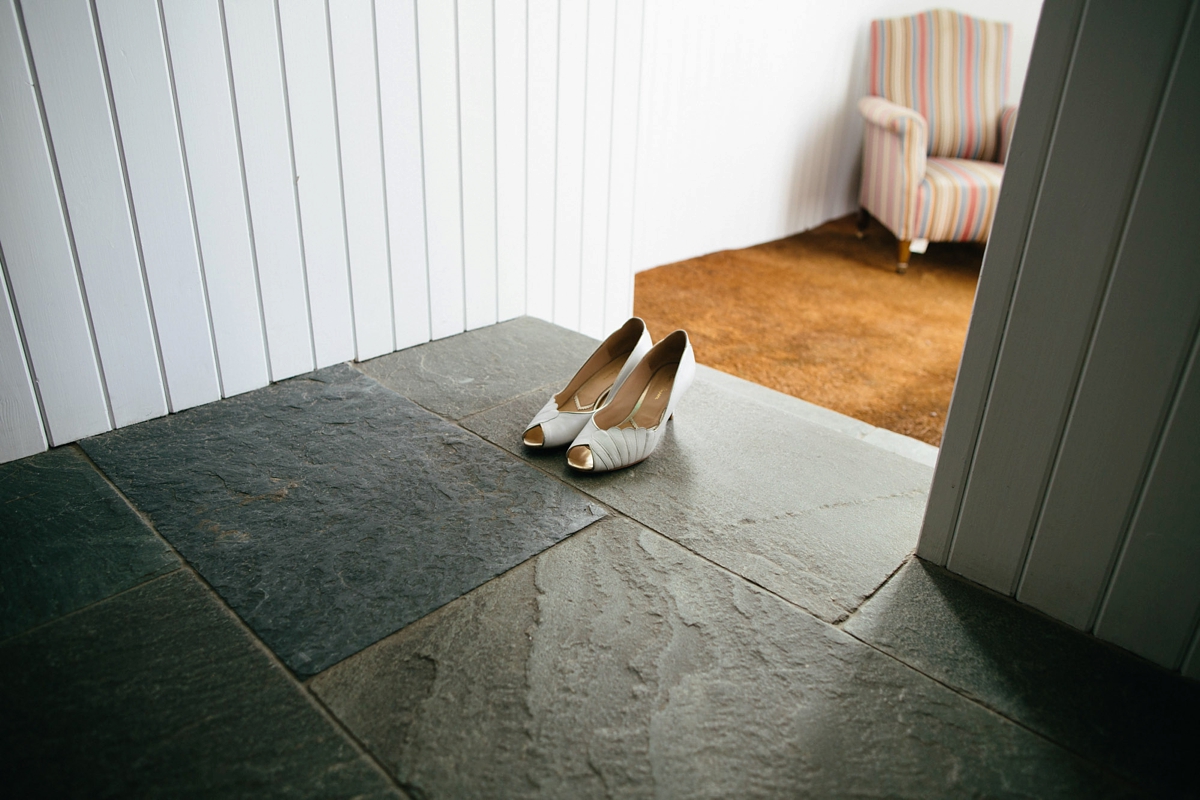 Worn with ivory Ada shoes and a clutch from one of our Love My Dress and Little Book for Brides favourites Rachel Simpson Shoes, Jennifer looks simply incredible. If your eye has been drawn by her pretty hair clip, you'll love to know that it's a Marie Canning design, another supplier whom the bride found on our blog.
"I wore a hair vine from Marie Canning, who I found through Love My Dress. It was made of blush chiffon petals and little ceramic flowers and looked like hydrangeas which were a big part of our table decorations. Marie's work is exquisite and I hope to be able to pass it on to family member in the future for their wedding day."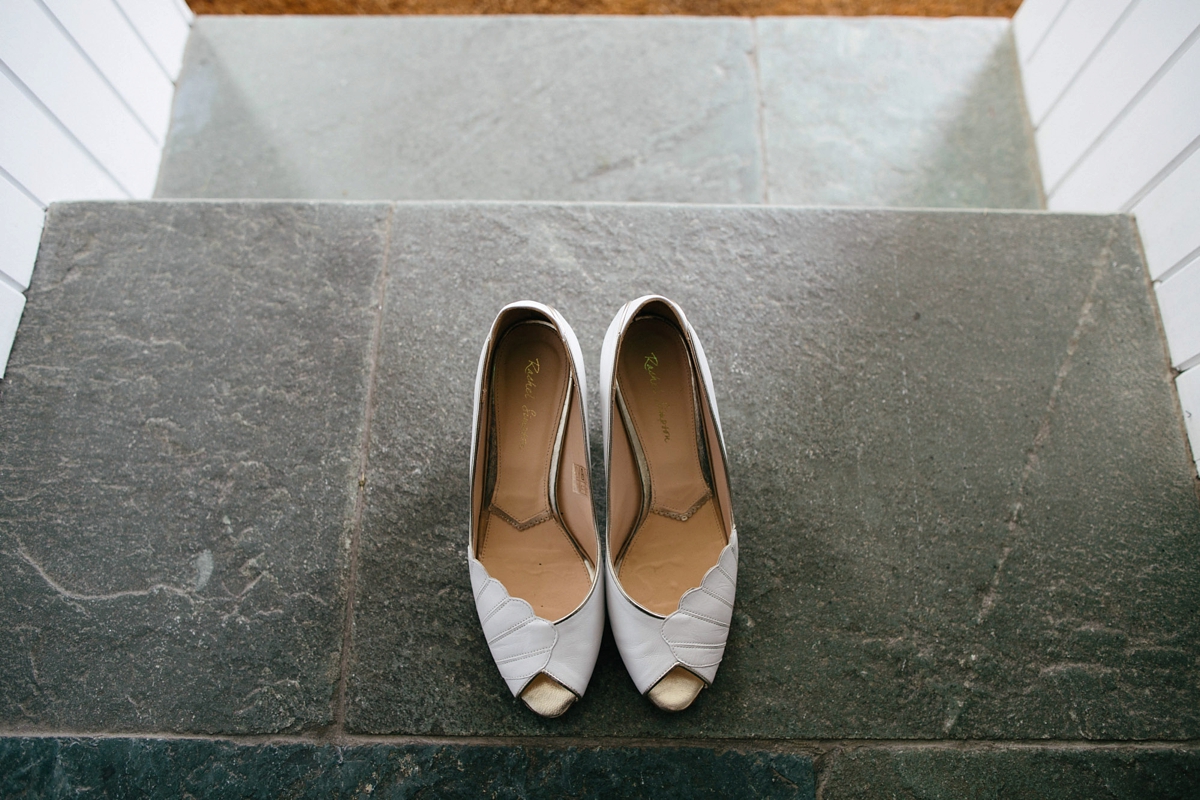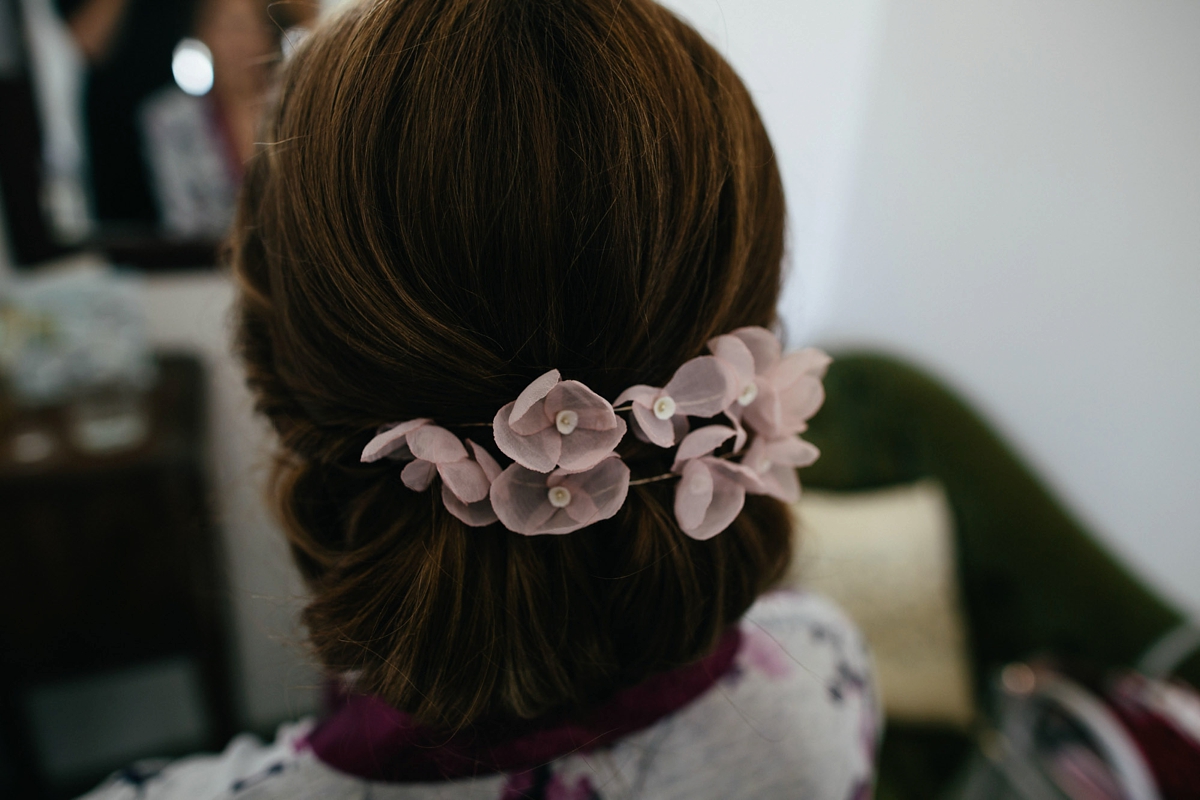 The bride wore a simple cathedral-length single tier veil for the ceremony and formal photographs, but removed it for comfort later. Why not consider doing this if you're unsure about the comfort or practicality of wearing a veil throughout the day? Similarly, her Rachel Simpson shoes were replaced by Clarks trainers for dancing.
One of Jennifer's great friends applied her natural, polished make-up and on a recommendation from a married friend, Nicola de la Mare styled her hair into this glorious up-do with twisted sections and soft ringlets to frame her face.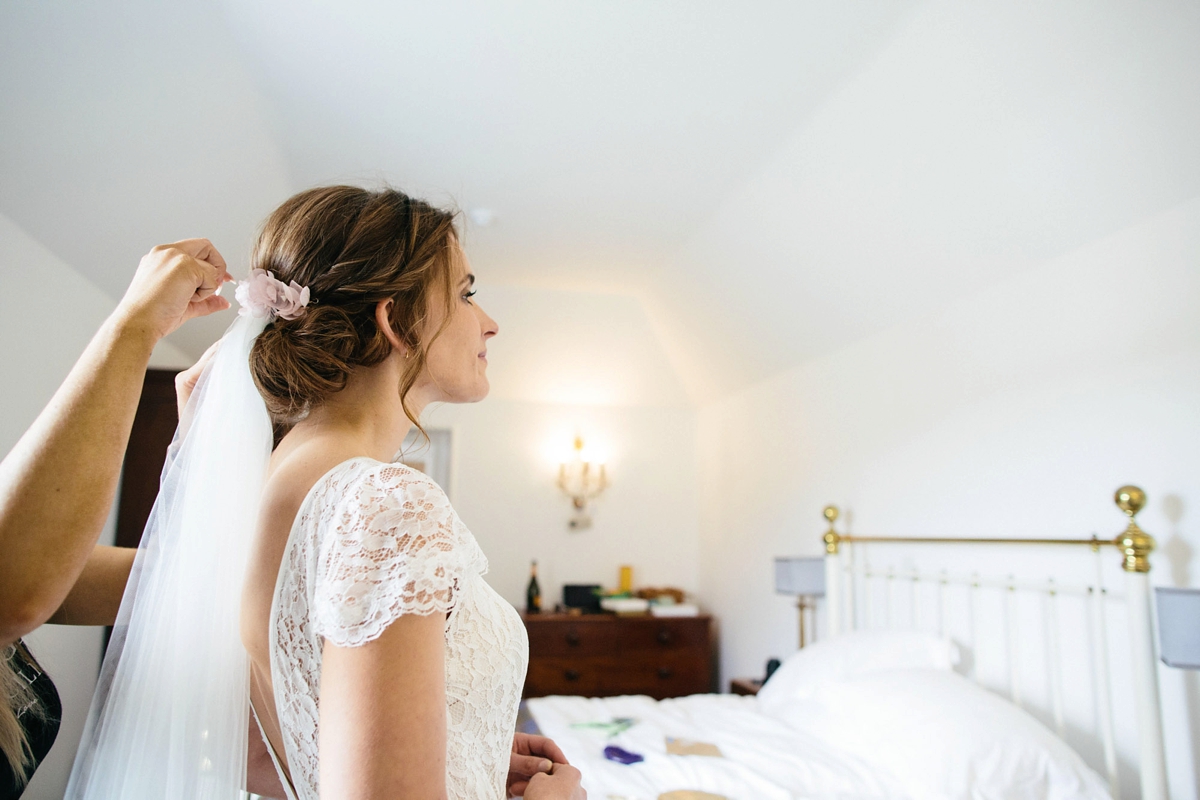 "Our hair was done by Nicola De la Mare who is based in Glasgow. Nicola was recommended to me by a friend whose wedding hair she did. I was very nervous about my hair, but Nicola listened and took in all my thoughts and even fitted me in for a trial at very short notice. Asking Nicola to do my hair was one of the best wedding decisions that I made."
"Our makeup was done by my friend Sonia who is a makeup artist and was also a guest at our wedding. Sonia is an incredibly talented makeup artist with the added bonus of being a great friend and an absolute hoot. It was fantastic to have her around when we were getting ready."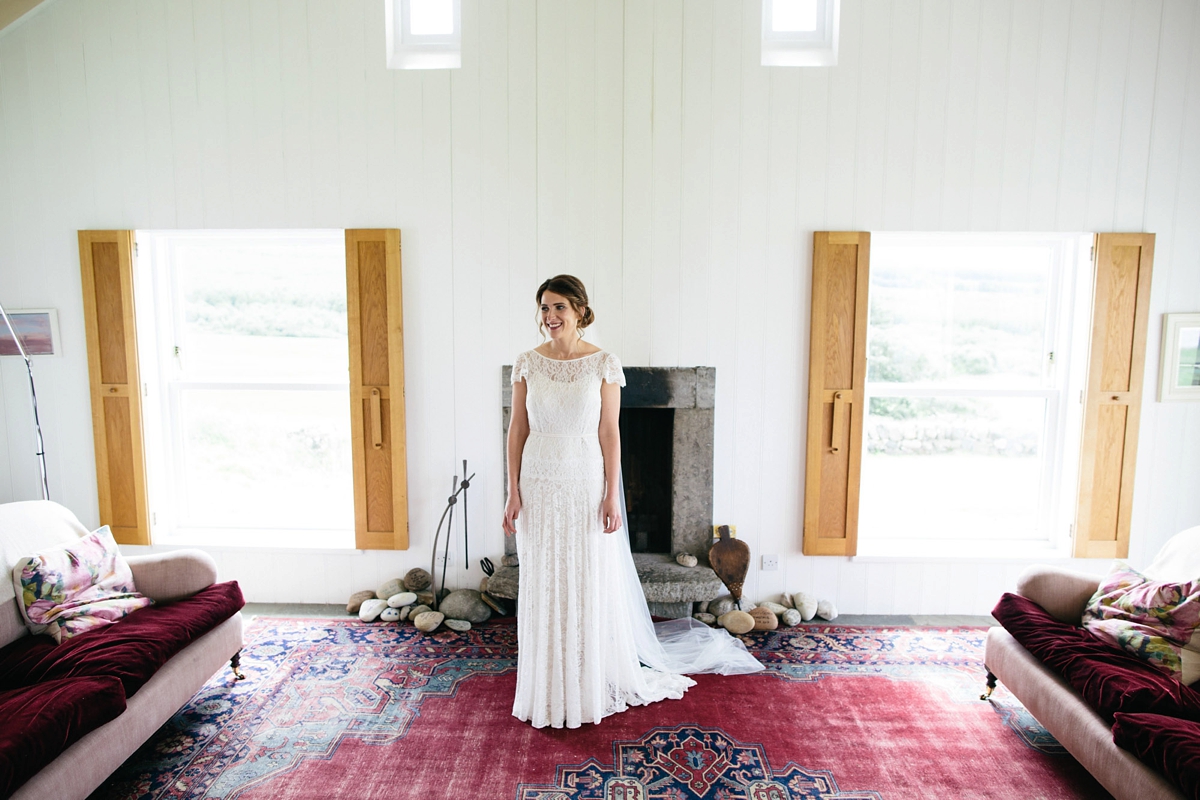 Jennifer's simple stud earrings by Alex Monroe were a gift from Matt for the day, whilst her mother-in-law Diana lent her a family ring of diamonds and a stunning sapphire which acted as her 'old', 'borrowed' and 'blue'.
"My sister-in-law Kathleen wore the ring at her wedding a few months prior to ours so it was really special to wear it."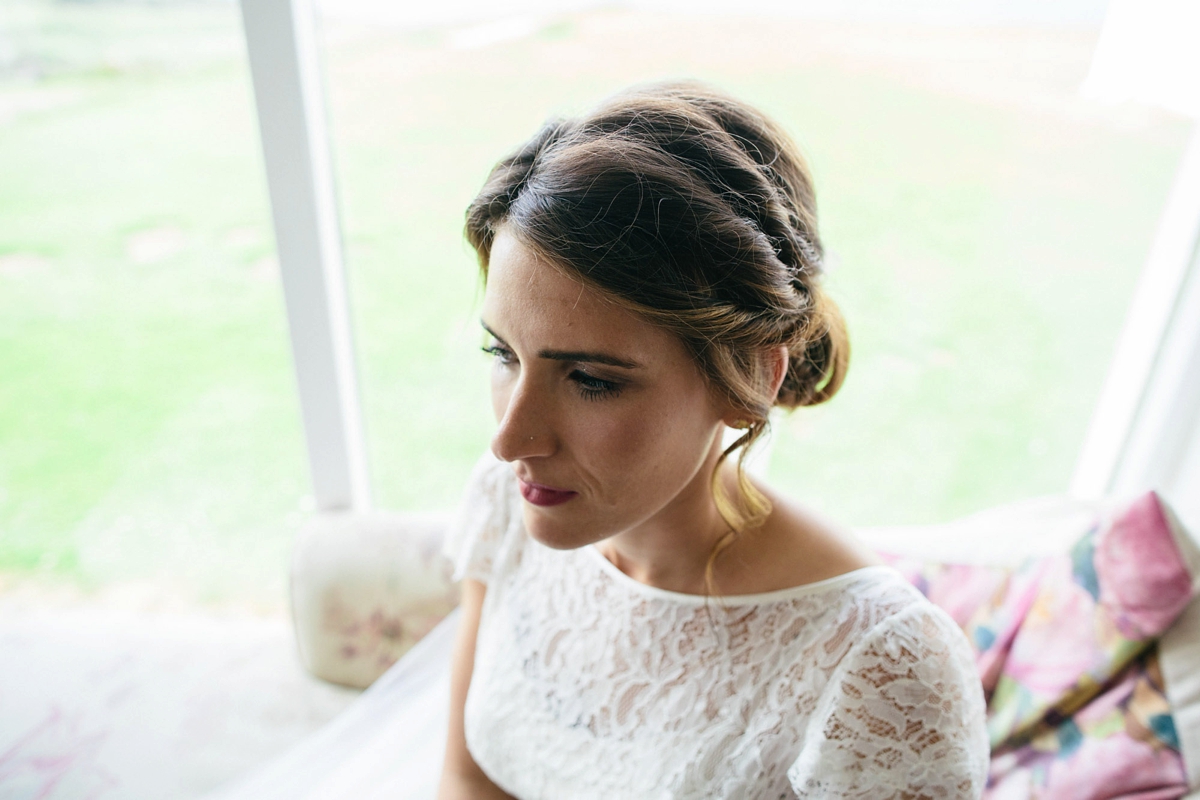 By the way, these beautiful invitations were designed by I Like Bagels, run by Dave who is an old classmate of Jennifer's. She made the rest of the stationery herself.
"Dave was fab to work with and found us a paper that was made of recycled beer hops that was a lovely touch. Crear print their own illustrated maps that we sent out with them too which our guests loved."
The blowsy bouquets with their fresh green foliage and rose and hydrangea blooms were given a Scottish twist with fresh red berries.
"Our flowers were done by a family friend, Veronica Mackay, who is a very talented florist. There was a little mishap with my bouquet in transit but my mum saved the day by spending the evening before our wedding at a local florist. I ordered some natural dyed silk ribbon to tie onto the bouquets from Kate Cullen, who did a batch to match the bridesmaids dresses."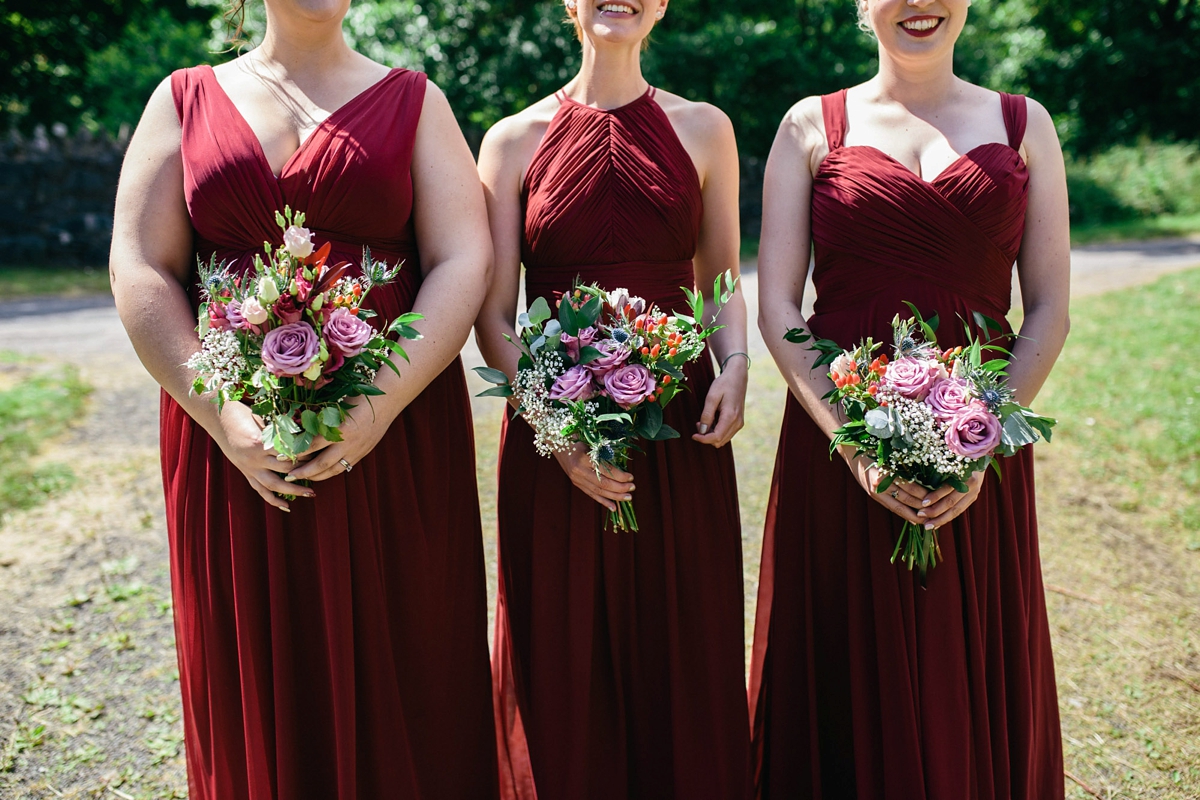 Jennifer's grown-up bridesmaids – her twin sister Amy and her two best friends – wore long, elegant burgundy Dessy gowns, picked to suit their own style and shape. The bridesmaids added their own shoes and Kate Spade earrings given to them by Jennifer.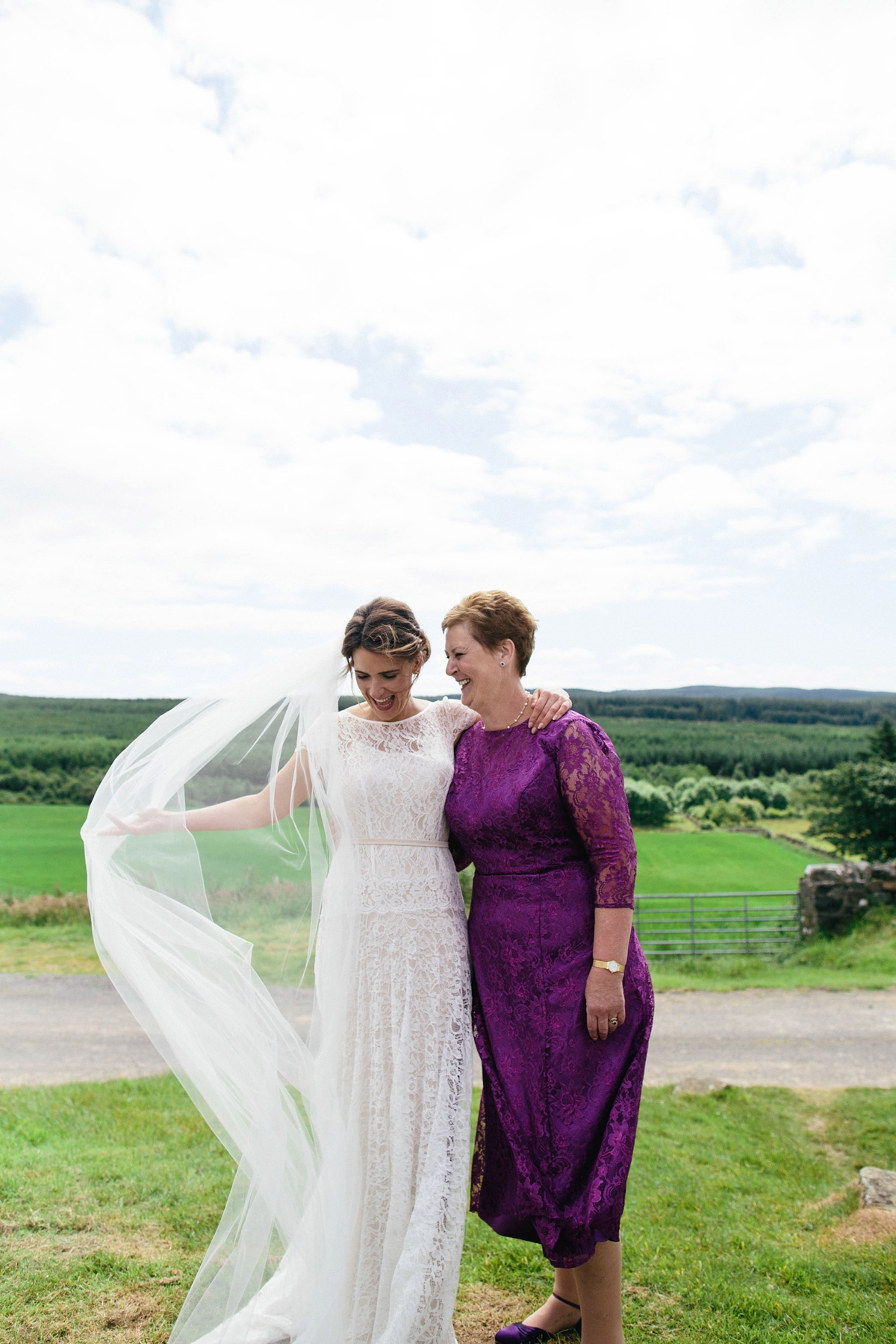 "Matt and I met in 2009 through mutual friends in a pub ‐ an old fashioned love story! We were together for a year or so but split up after work and uni put us in a long-distance relationship. We stayed in touch for a while but stopped talking when we both met other people."
"Later, we were both in London for work and went for dinner and decided to give it another go, embarking on another long-distance relationship between Swindon and Edinburgh. After about a year of being together we both relocated to Stratford upon Avon and we got engaged a couple of years later."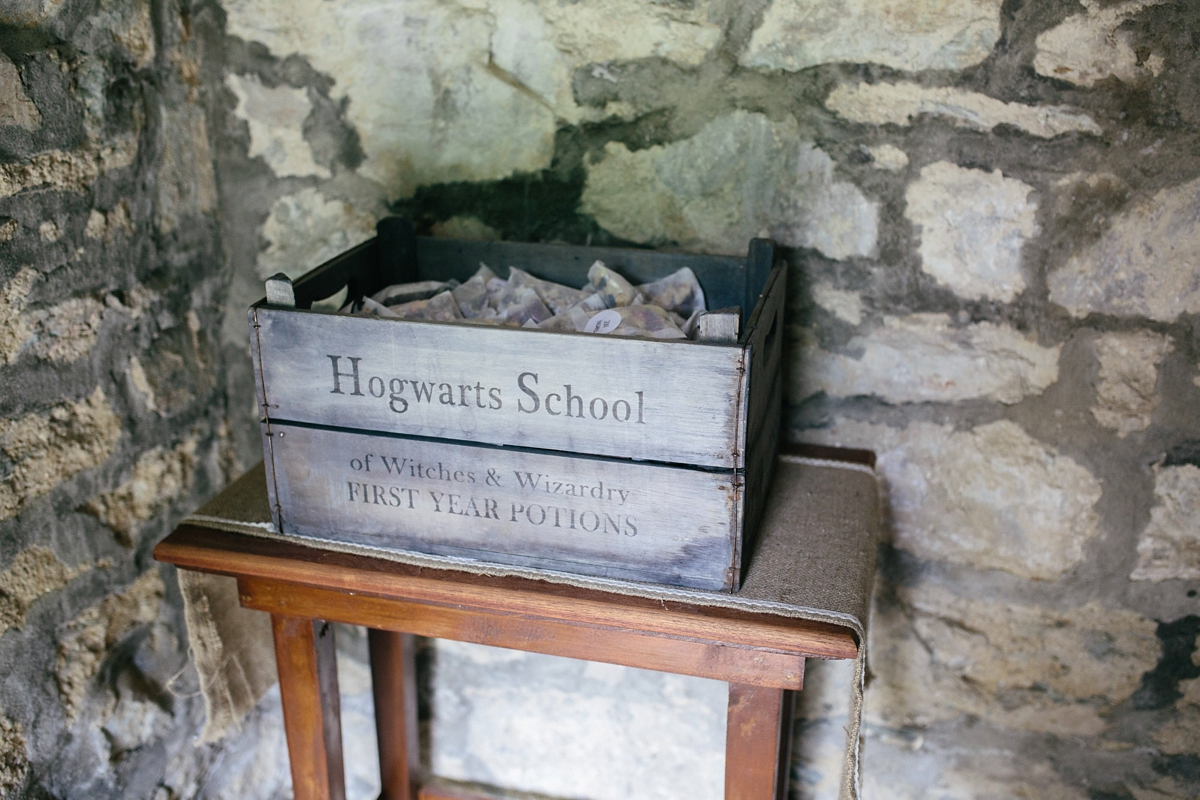 The couple were always keen to marry in Scotland, and had a clear idea of the kind of day they had in mind for their celebration.
"A friend from art school got married at Crear a few years ago and I'd always had it in the back of my mind. I showed Matt the website and he was sold ‐ it was the only venue we went to see! We knew we wanted to get married in Scotland right from the start, somewhere near the water ‐ Matt is Cornish and I am Scottish and we both really love being by the sea."
"Light and food were also very important to us. We wanted to turn it into a whole weekend affair and we ended up with a three day party as Crear allows you to have an exclusive hire from Friday to Monday. We knew that people would have to travel to attend no matter where we had it and Crear allowed us to host eighteen of our wedding party. We wanted to host our wedding like we host in our home ‐ with fun, generosity and lots and lots of wine!"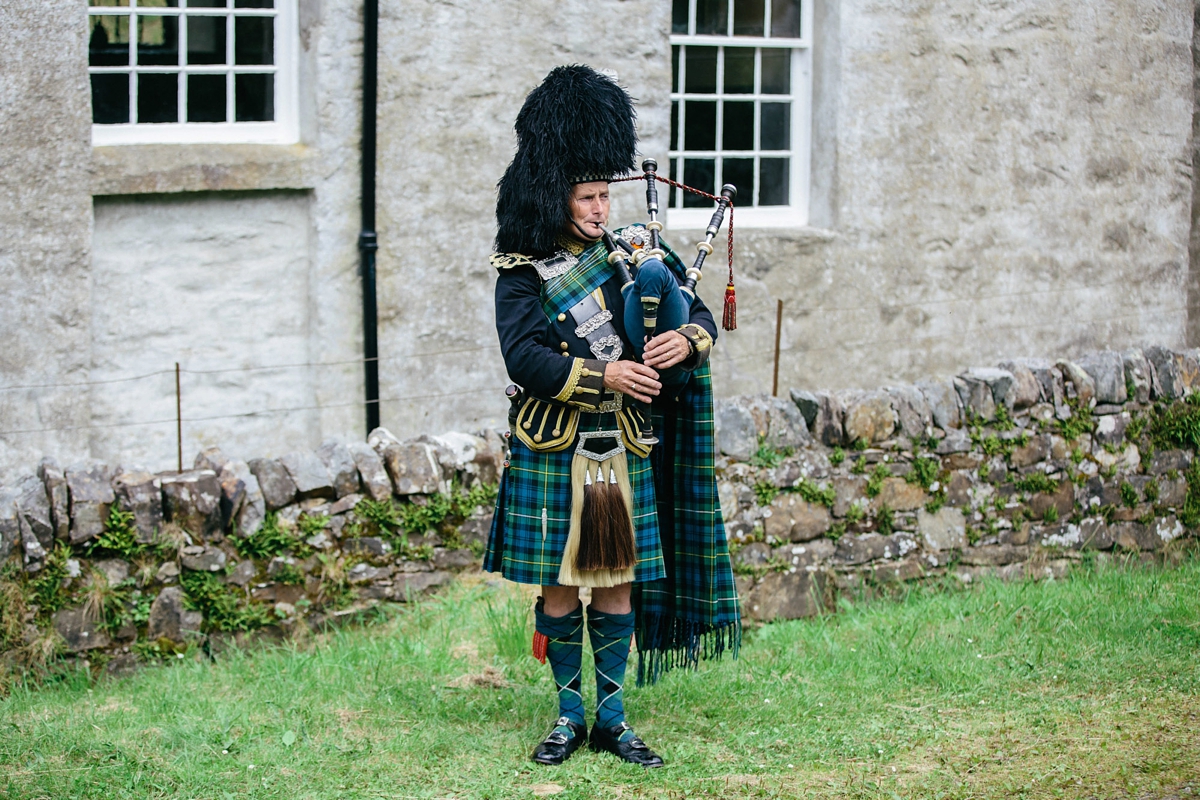 After getting ready at Crear, the bride was driven to the church by her uncle, where her other uncle, a minister, was waiting to wed her and Matt. The guests were played in by a piper, who also played later at Crear.
"My uncle Alistair drove me to our wedding in my dad's car ‐ it was so lovely to have both my dad's brothers involved in our day. Fancy wedding cars are in short supply in a remote location like Crear and probably wouldn't have been great on the windy roads!"
On the arm of her dad, Jennifer walked down the aisle to a rendition of the majestic 'The Arrival of The Queen of Sheba'.
"The minister for the church, David Carruthers, played the organ for us which was a lovely touch. I knew that the walk down the aisle was something I would remember for the rest of my life ‐ but it passed so quickly and I hardly remember it. My mum says one of the best parts of the day was when I gave my dad a huge hug at the end of the aisle."
It's wonderful how this couple have included their friends and family throughout the entire day, and they asked Jennifer's uncle Andrew, a minister, to marry them. He also helped the couple choose their vows, suggesting a version that were fairly traditional but with a few twists to suit the couple and their relationship.
Freely and willingly, I declare my love for you.
Freely and willingly, I commit myself to you to be your husband/wife.
I promise that I will love you,
that I will be faithful and loyal to you,
as long as we both shall live.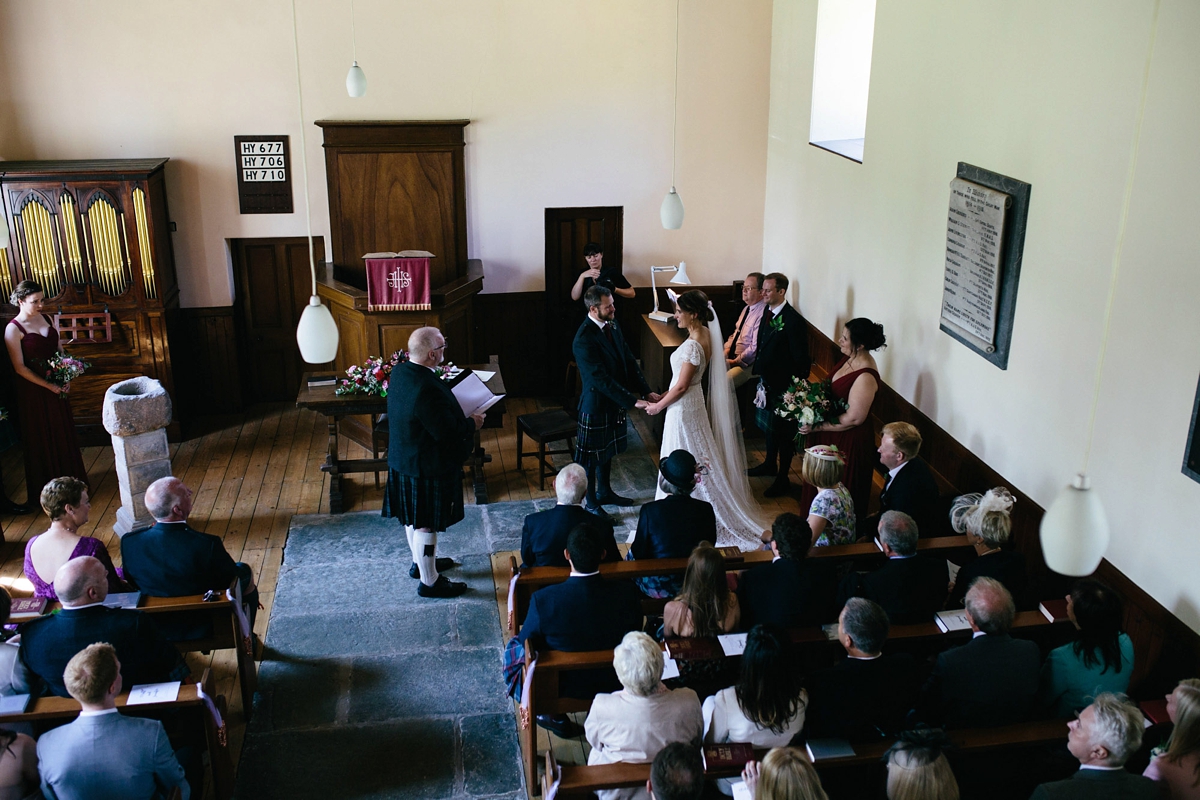 "We asked my mum Susan and Matt's sister Kathleen to read. Together, Kathleen and I picked 'The Lovely Dinosaur' by Edward Monkton which made everyone laugh! My mum chose her own readings as a surprise and she read 'Sonnet 116′ by William Shakespeare, which is very special as we live in Stratford upon Avon and I work at Shakespeare's Birthplace."
"We ordered our wedding rings from Wedding Rings Direct. Wedding rings were something that neither of us felt particularly sentimental about and did not see the point in shelling out unnecessarily for since we both wanted plain gold bands. They delivered great service."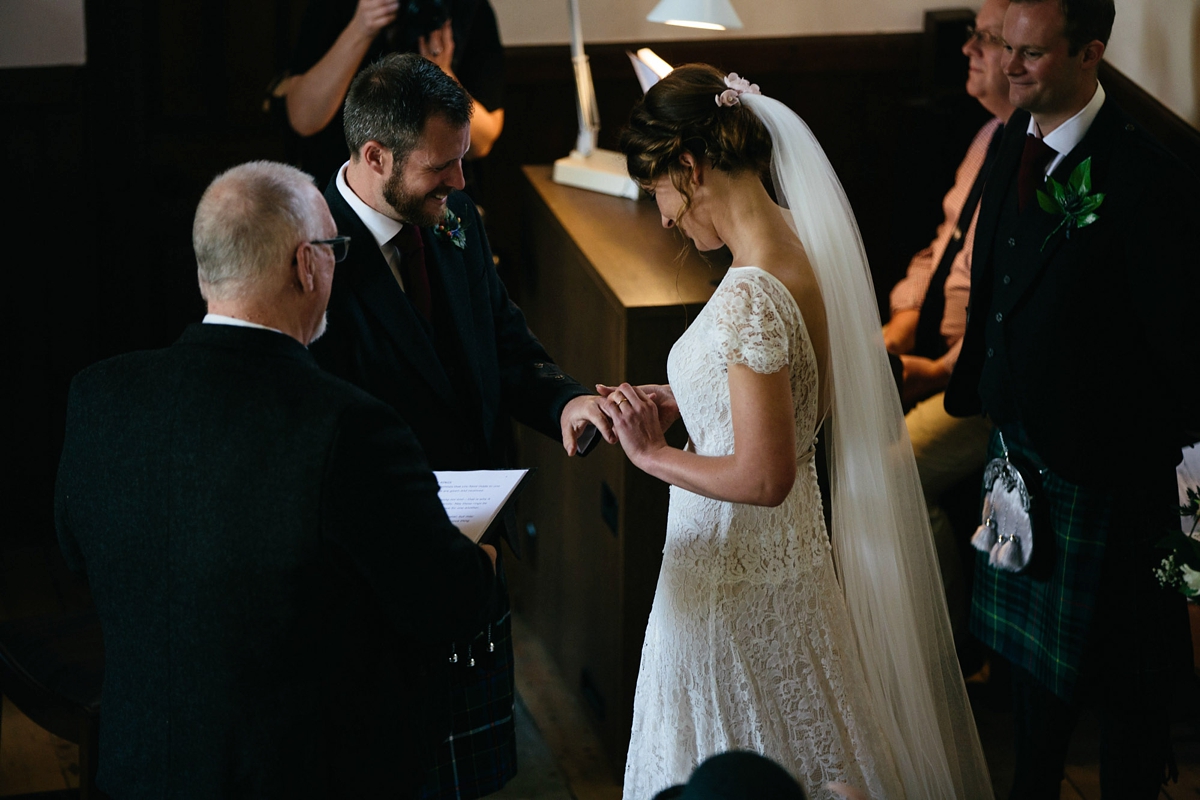 I just love the story behind Matt's outfit; he entwined his Cornish roots with his Scottish wedding for a wonderfully individual look.
"Matt wore a kilt outfit with a charcoal grey Holyrood jacket and waistcoat; he had the kilt made in Cornish Tartan by Georgian Dress Hire."
These photographs of the newly-weds on the windy, rugged beach are just superb, capturing the deep blue of the sea, the incredible mountains in the distance and also a sense of movement and drama. They're by Mirrorbox Photography, another team who Jennifer found on Love My Dress and who are valued members of Little Book for Brides.
"Once we had picked them we discovered they had done a number of our friends' weddings. We loved their approach; it was fun and full of light. As regulars on Love My Dress we knew that they consistently delivered an incredible standard of photos, and felt we could trust them. On the day Sam and Hannah worked like troupers. They blended into the background perfectly and we were stunned when we saw their final photos."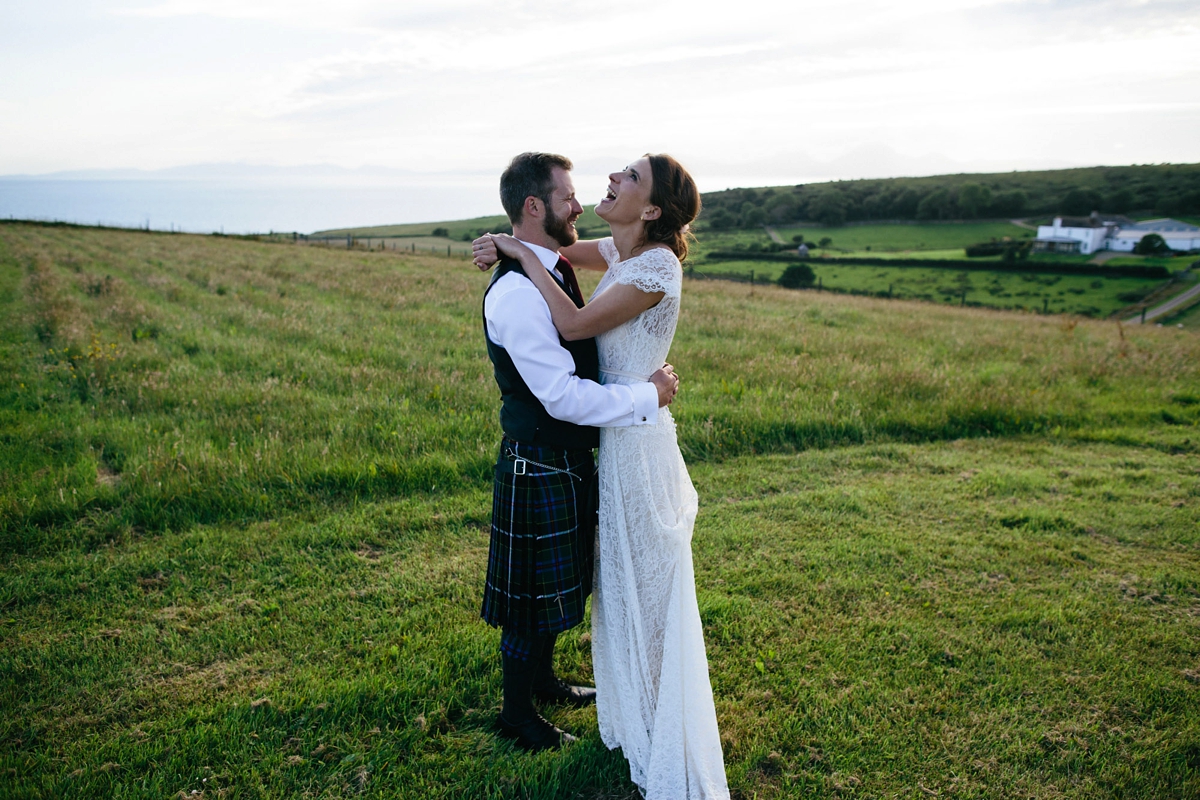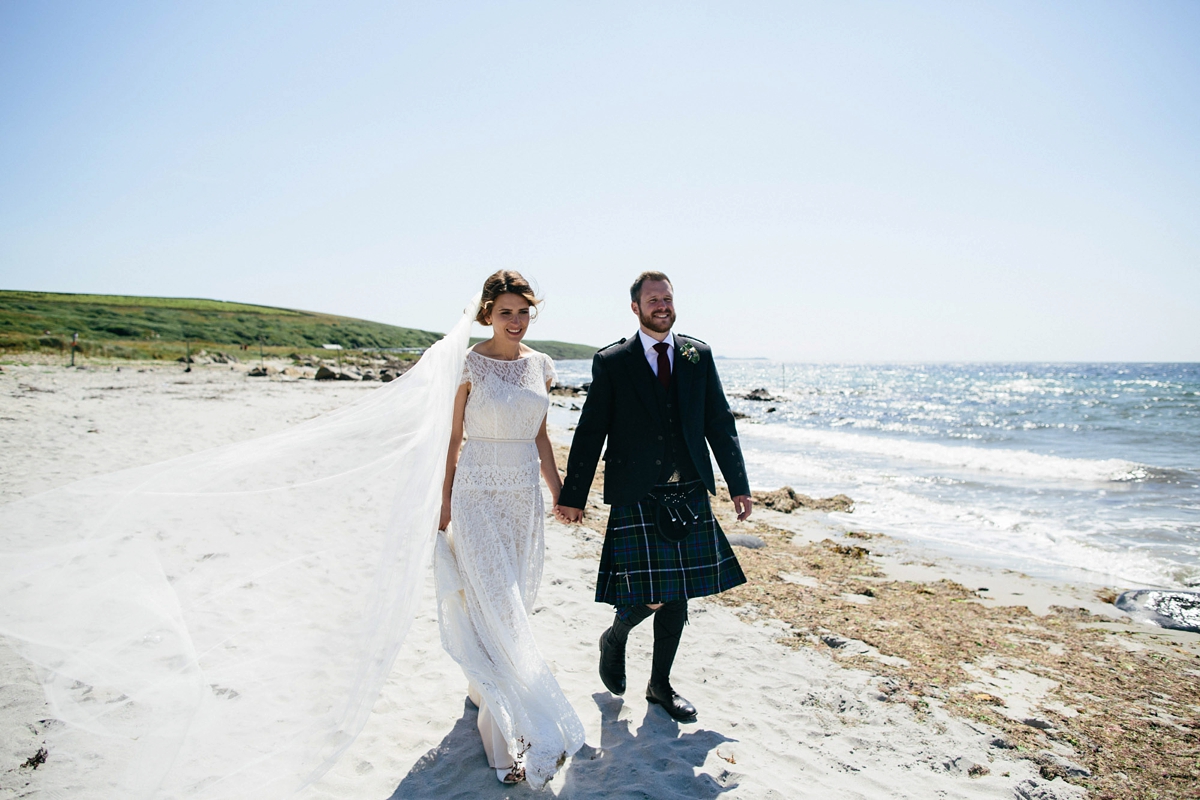 Back at Crear, the guests were able to fully soak-up the spectacular location and relaxed in the sunshine over canapes and drinks. The venue's light and airy interior is accentuated by the garlands of foliage, which Jennifer and her family created themselves.
"We didn't want to detract from the scenery and light! My brother-in-law lent us an incredible homemade, light up 'Mr and Mrs' sign and we spent the evening before the wedding hanging a mixture of foliage from the beams, roping in our wedding party to help. My mum spent the year before our wedding drying hydrangea heads from her garden and we put these up the middle of the table in antique medicine bottles we had collected."
"It poured the day before and the day after but our wedding day was stunning ‐ people got sunburnt! It meant that our guests spent a lot of time outside and the views came into their own. At one point in the evening the sun was setting on one side and a full moon was rising over a field of red deer on the other."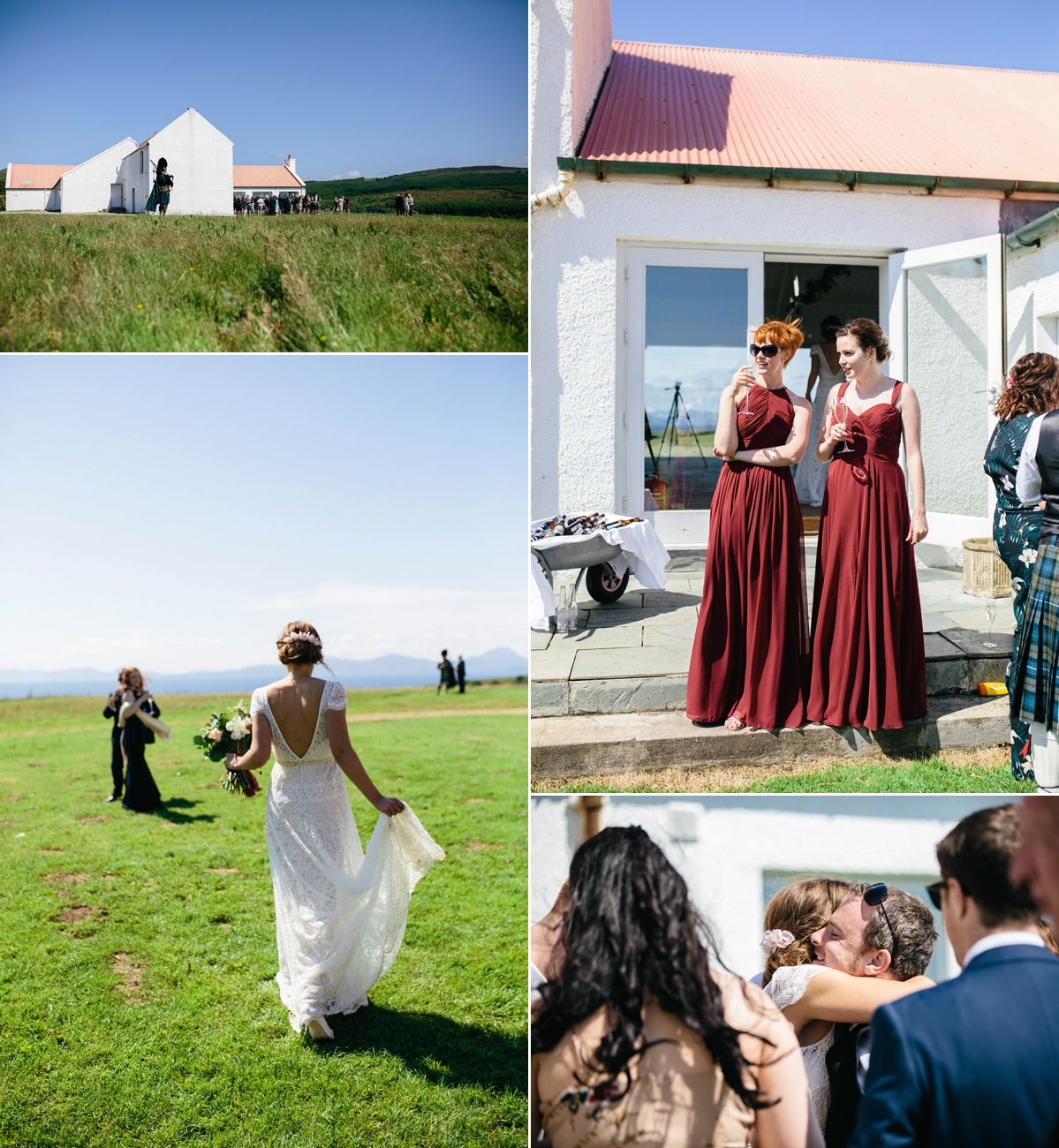 Food was an important element for the couple, and the Crear team delivered outstanding food for them.
"Crear is renowned for its food, especially its Beef Wellington. Food was important to both of us – we love to eat and cook. The catering team there absolutely delivered."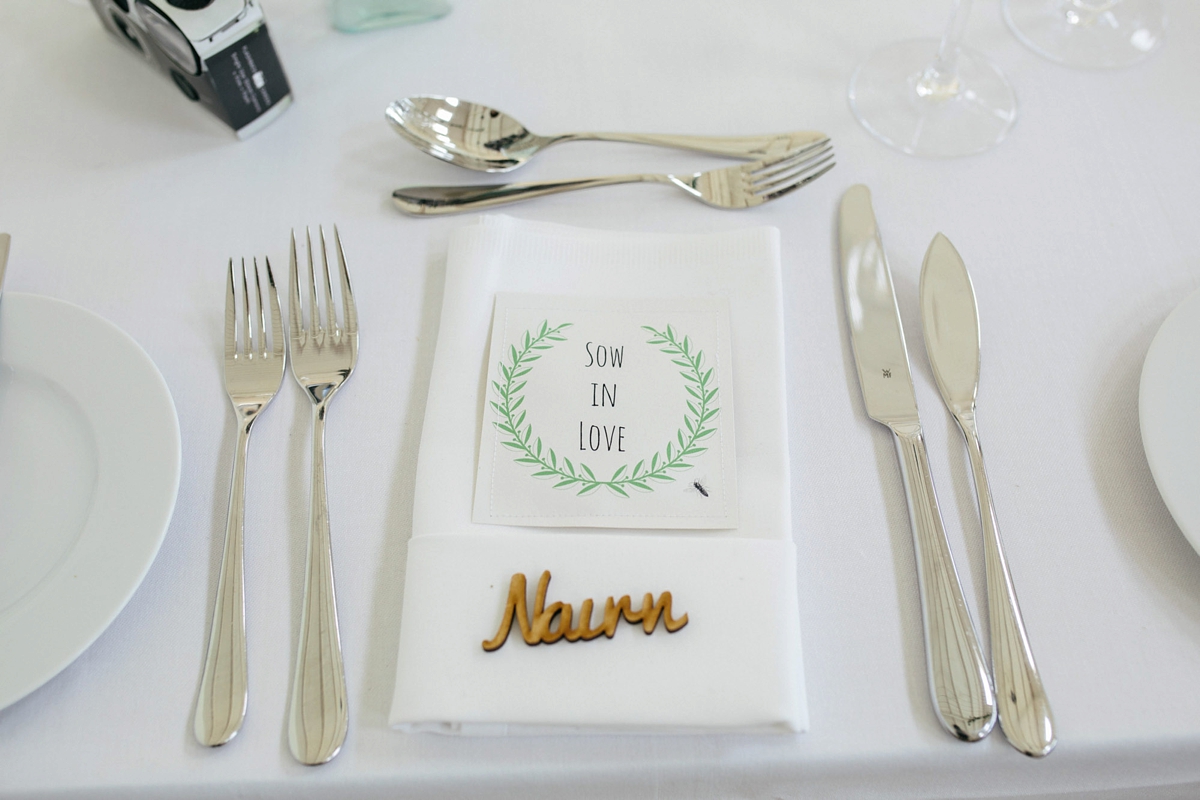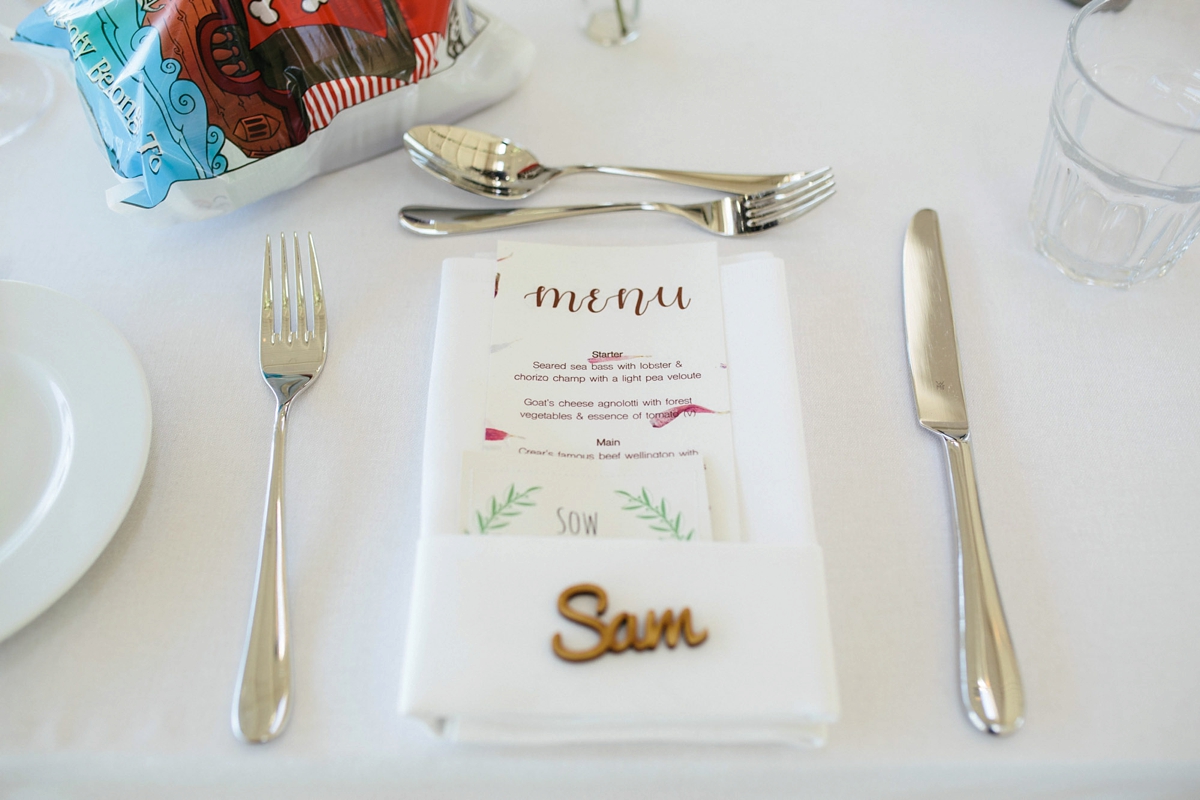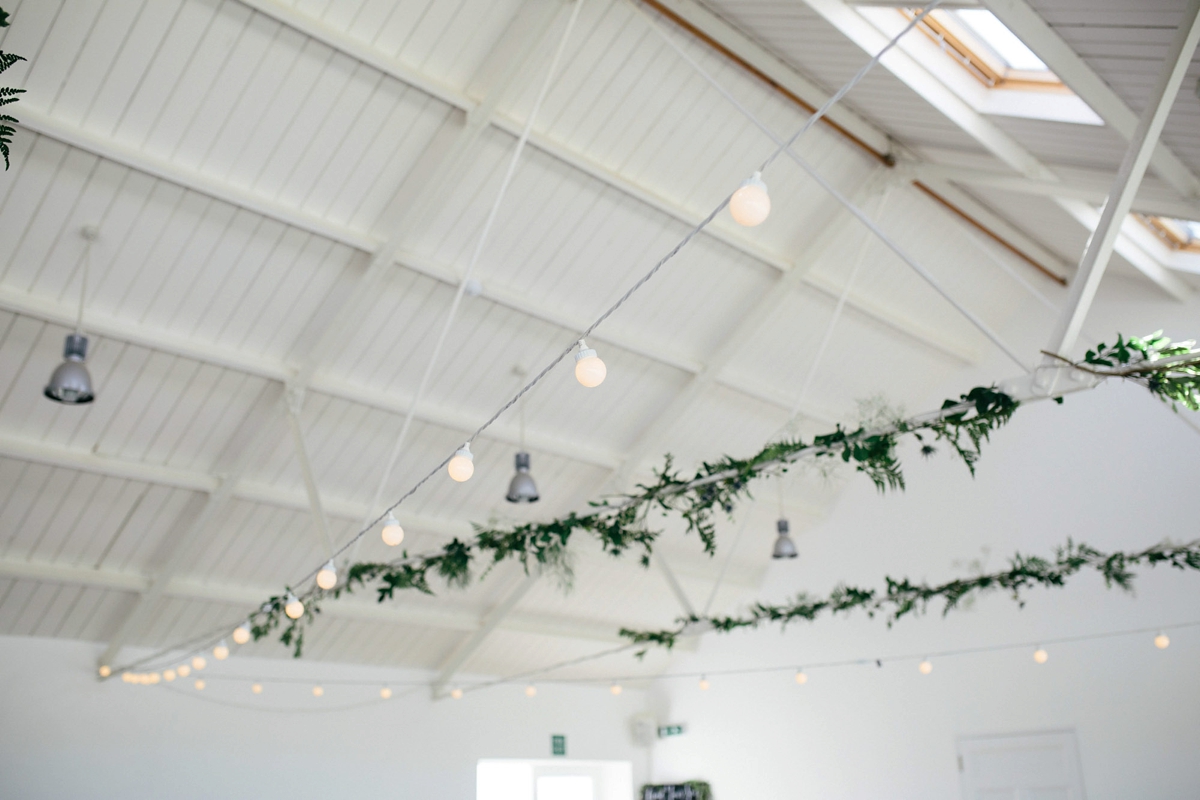 The bride and groom opted for three magnificent cakes – a mixture of sweet and savoury to suit all tastes – a Godminster cheese stack, a Marks & Spencer pork pie, and a tiered sponge cake, also from M&S. The fun personalised cake topper celebrating Matt's love of fishing was found at Etsy, and Jennifer and her family added fresh flowers the night before the wedding.
The cakes were served up with chutneys and pickles, as well as a hamper of bread sent by her bridesmaid Catriona's parents who run Woodlea Stables, for their evening buffet. Simple fare that is certain to go down well.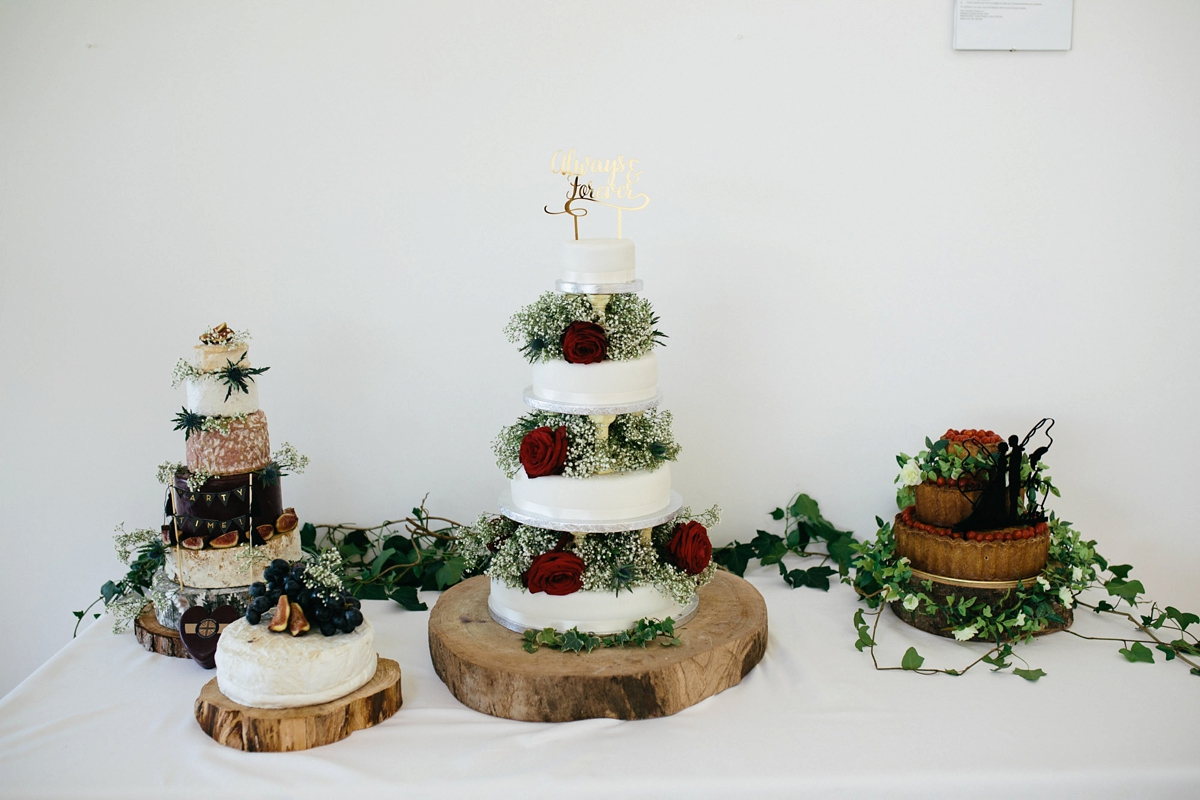 Breaking with tradition, the couple had speeches and cut their cake on the way to sit down for dinner. If you feel that your speakers may not enjoy their meal with the prospect of a speech looming, this is a great option and also a fantastic way to break the ice between guests.
"We decided to cut our cake on the way to sit at the table before eating so that we didn't interrupt the evening later or forget. We did our speeches before the meal too so that everyone could get their nerves out of the way."
"My twin sister and maid of honour did a speech. She's a lawyer and presented a case to the room for why we should be together, with evidence, and invited everyone to vote on whether or not we were guilty of being in love. It was a hoot and so great to have a woman speaking."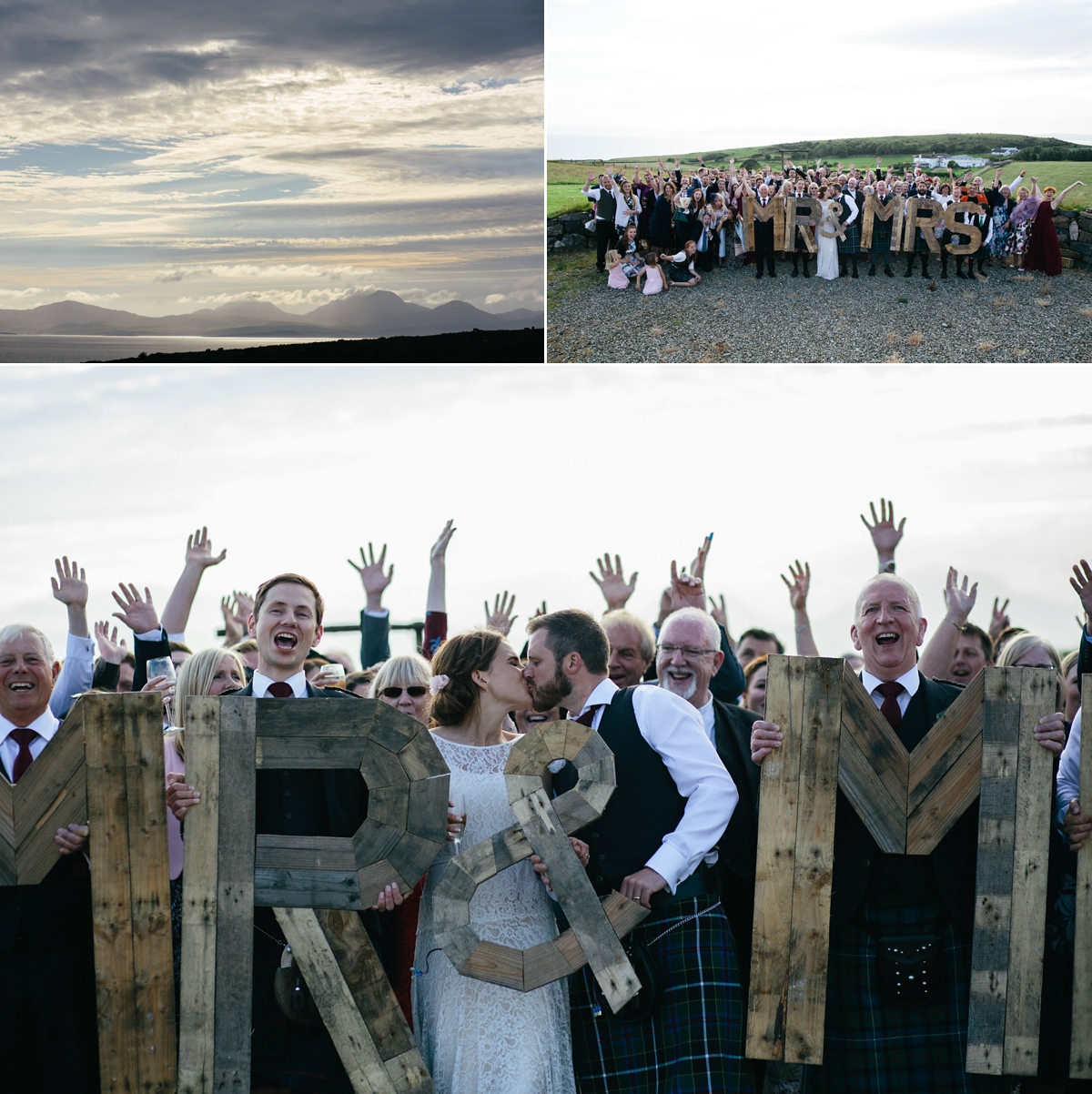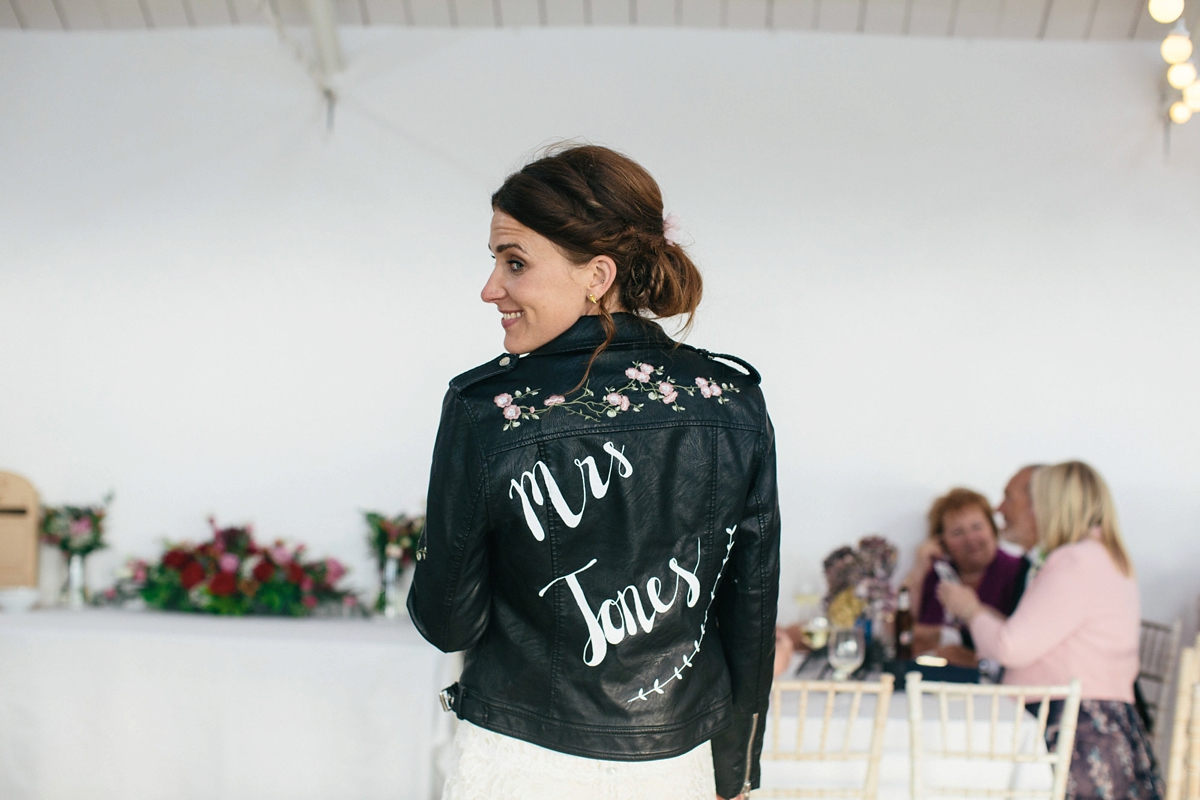 The guests were treated to some fantastic entertainment, including magical tricks from one of their guests and live music from Verona, who play a mix of ceilidh and covers.
"Verona delivered the perfect playlist that our guests danced their hearts out too ‐ the dancefloor was packed all night. There was a point during the evening reception that the band played 'Uptown Funk' and we just watched the entire room erupt and we just looked at each other and thought 'this is the best day ever'!"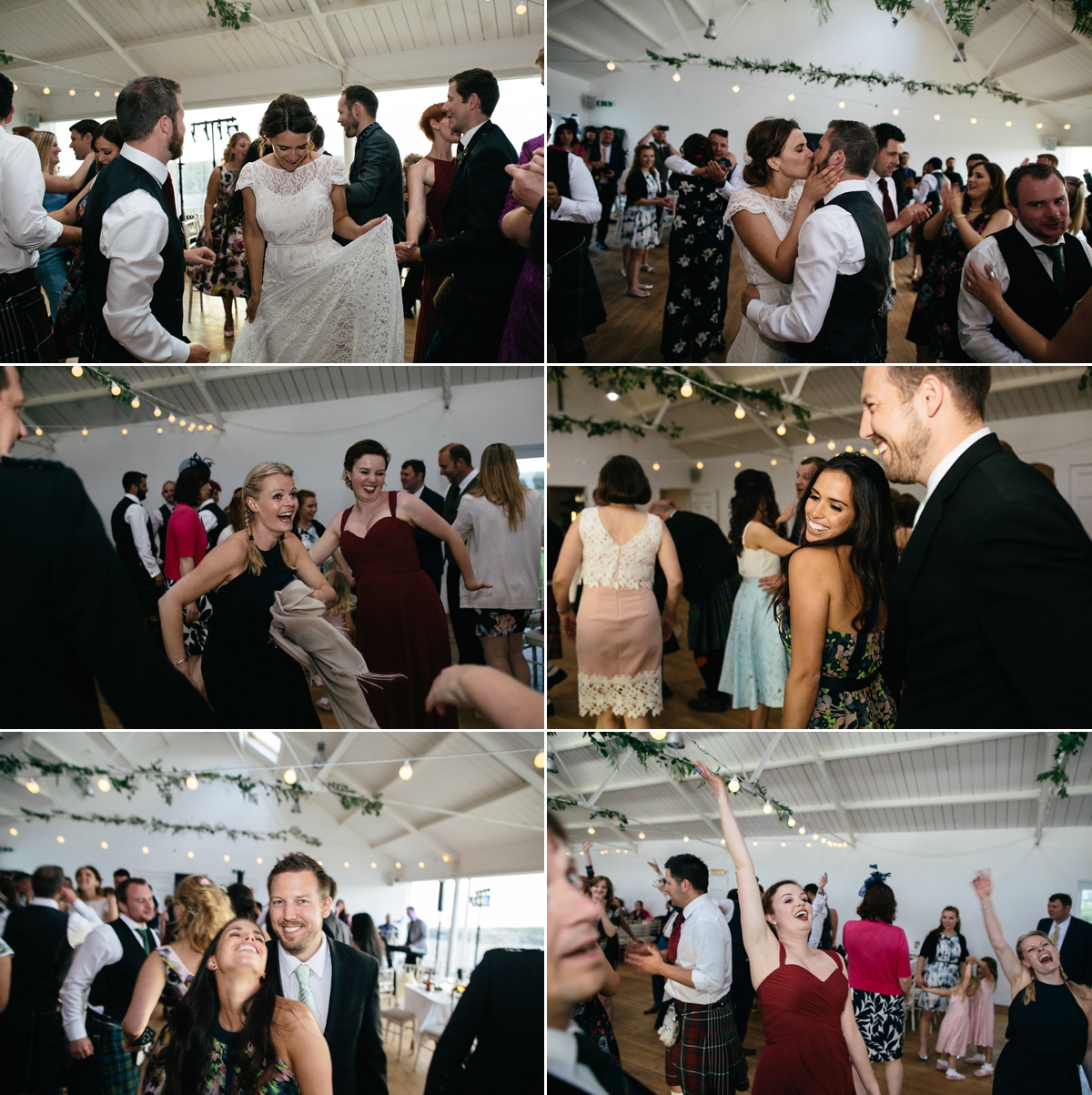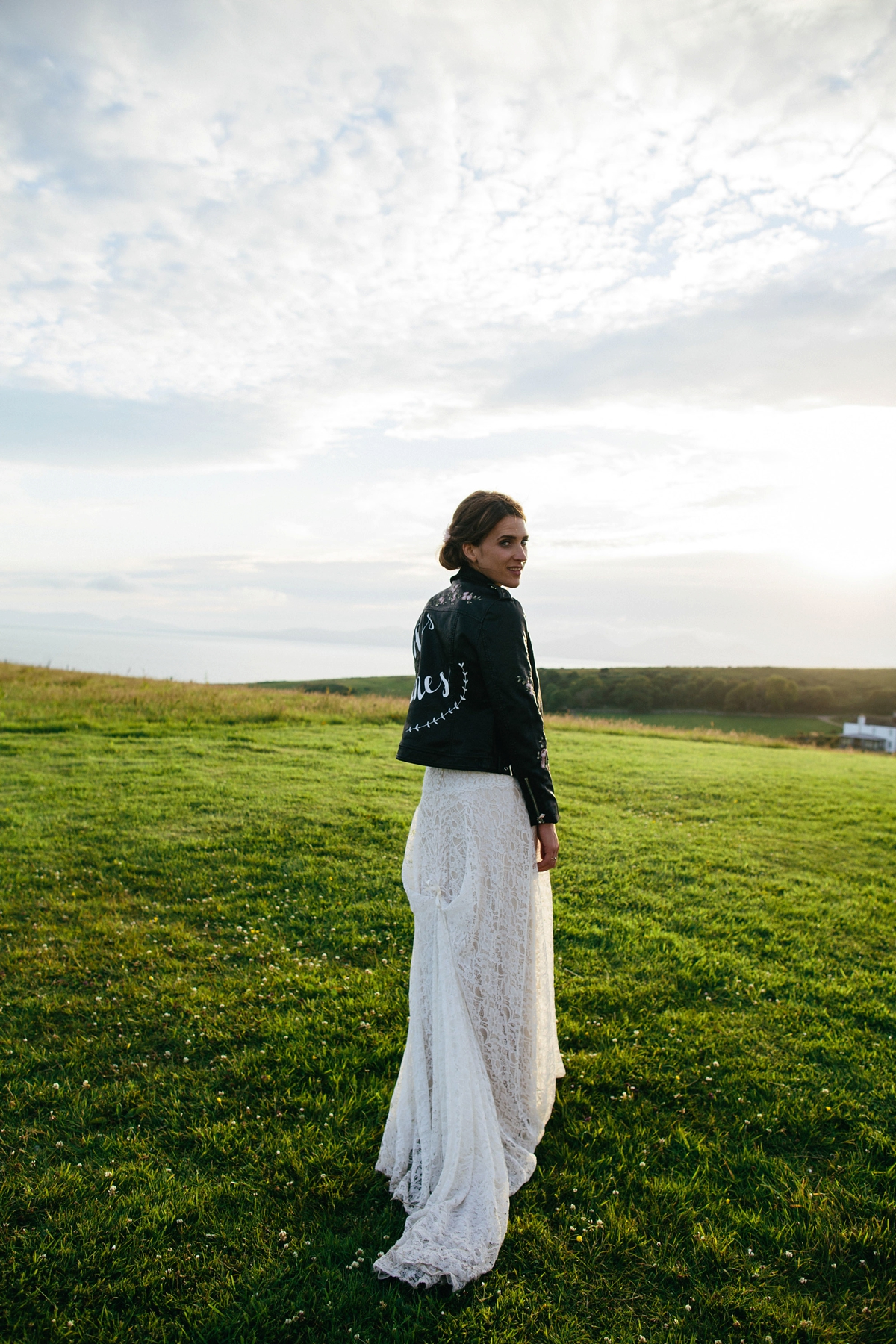 Words of Wedded Wisdom
"It's fantastic to have professionals employed at your wedding ‐ their knowledge and experience is invaluable. The weird thing about your wedding is you've never done it before and have no idea how to act. Having the professionals around who have been to so many weddings and can offer advice, tips and help on the day is an absolute godsend."
"Decide early on what are deal breakers for you and don't budge on them, and never ever tell anyone what you've spent!"
"Get group photos. I know not everyone likes formal family group photos and they aren't very trendy at the moment, but you get so few opportunities to take them with all your family members there together, and it takes five mins to rattle through them if you plan it. Also try to get a group photo of everyone at your wedding; our group photos are amongst our favourites."
"Take a moment on the day to step back and admire all your hard work. All the fun everyone is having, all the love in the room – that is because of you both and you should be very proud of yourselves."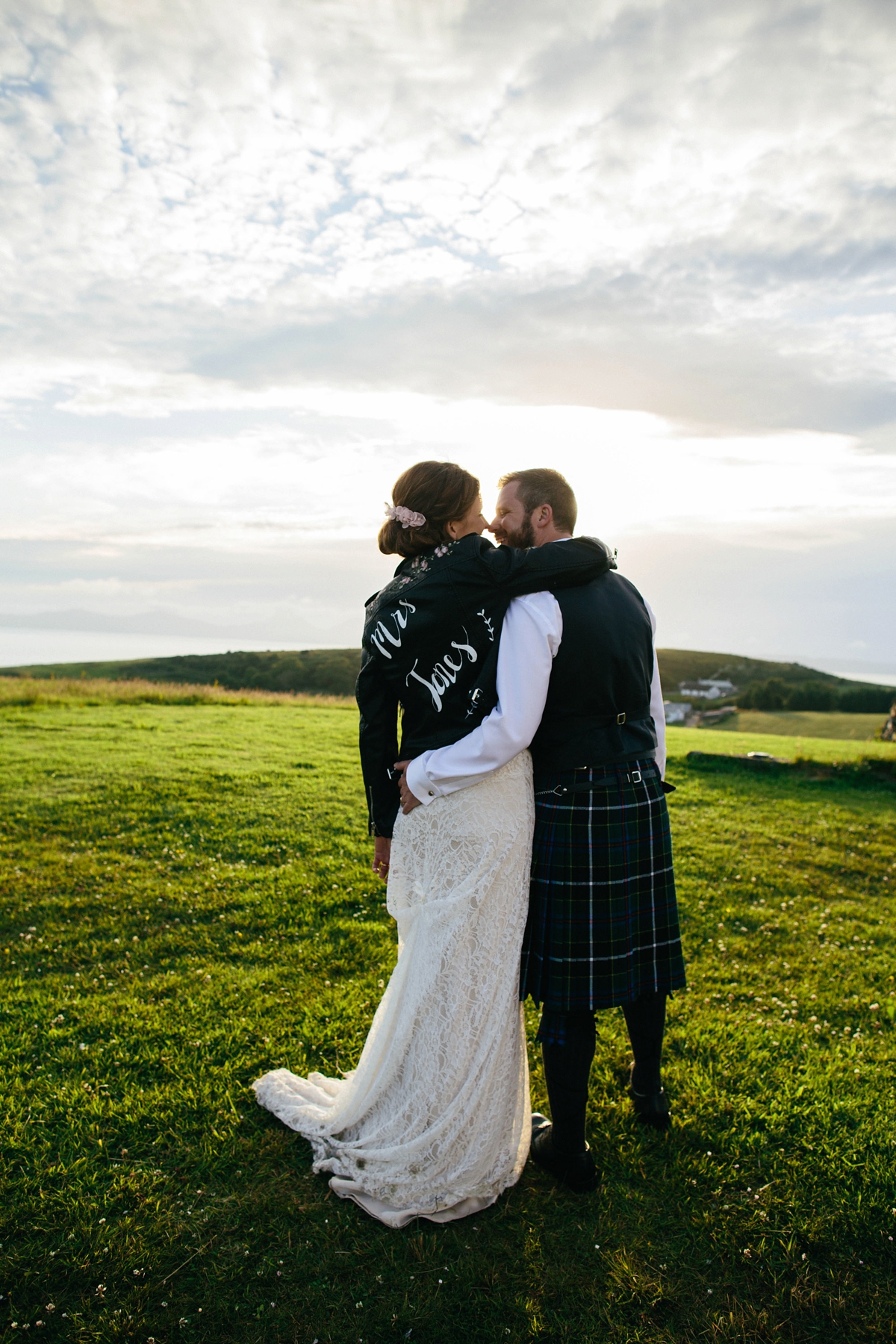 Wow Jennifer and Matt, what a beautiful day! You both looked incredible and it's such a pleasure to share all of the details that have made your day so lovely, including all of the input from your family and friends. Sending so many congratulations to you, and many thanks to Mirrorbox Photography too for your outstanding work. If you've fallen in love with Jennifer's Halfpenny London gown, please do take a look at our archives to see more brides in her designs.
Wishing you all a wonderful day,
Ele xx