If I had the chance to plan another wedding, one thing that would go straight to the top of my list would be a Couture Company dress. I found out about Couture Company just after paying for my own dress back in 2016, and I've been swooning over them ever since.
The wedding I'm sharing with you today features the stunning Emily in her exquisite Couture Company dress, and I'm sure you'll see why both Emily and I have fallen in love with their work. Emily and George met on Plenty of Fish so Emily and George, high five from one PoF marriage to another. Emily, a mental health practitioner and George, a fundraiser for a charity, chose London as the base for their wedding celebrations on 6th October 2017. Music is a big part of their lives, and they wanted this to be reflected in their wedding.
"I adored their individual and quirky designs and the fact they catered spectacularly for the curvier bride. The shop is an Aladdin's cave of gorgeous gowns.The dress I chose wasn't the one I thought I'd have but I fell in love with the old school glamour, the gorgeous drape, the galaxy-inspired embroidery and above all; the sequins! I felt it reflected my love of shiny things, and the shape and flow of the fabric was so flattering. I felt like a movie star all day. Jo and the team worked amazingly to fit the dress and were so accommodating."
Photography by Virginia Galiulina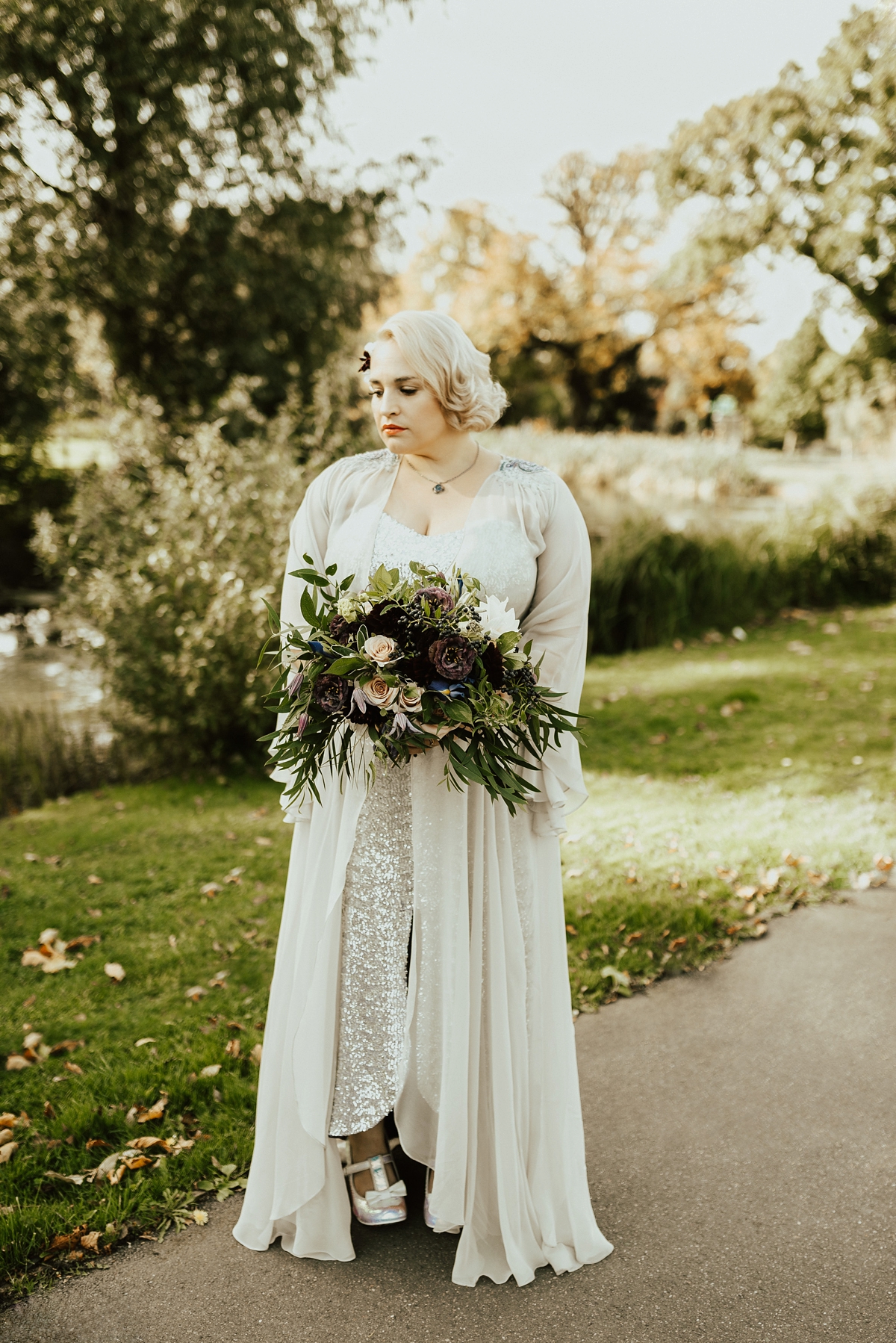 "Buying my dress was an absolute joy and I'm sad it's over. I'm hoping to get it altered so I can wear it again. Jo and the gang are miracle workers and big thanks to my mother and father who stumped up the cash and made it possible."
"We were keen to have a local urban wedding in areas we knew, we met and fell in love in the streets of London so it felt right to tie the knot there. Music was the theme running throughout the day, influencing our choice of readings and favours."
Emily and George chose venues that they know and love.
"We have many happy memories of walks in Clissold Park and Clissold House is very picturesque. We picked Galley London nearby after trying it out and really enjoying the food and meeting the friendly staff. We wanted to make sure the food was of a high standard and catered to our vegetarian and vegan friends."
"We tried out the Chapel Bar the year before for our engagement party and had a really fun party, so we knew everyone would enjoy it there. It has a late license and a big sound system which meant we could throw a proper party with plenty of dancing."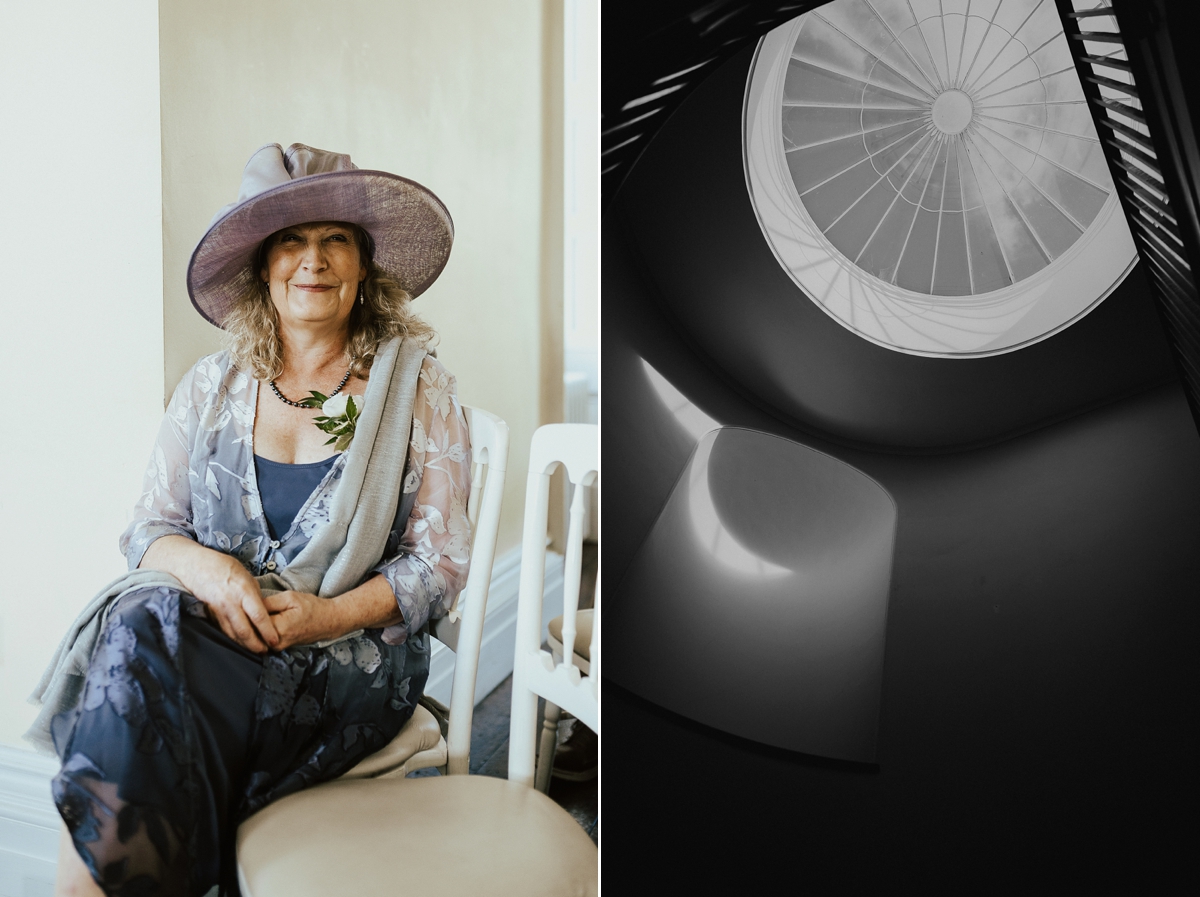 Emily and George needed a flexible and creative florist as they didn't have a lot to spend.
"Emma Da Sousa of Urban Flower Farmer was an absolute godsend. She listened to our brief, we did not have a large budget for flowers, this did not deter her and she managed to produce flowers that were beautiful, autumnal and affordable. She used foliage to create interest and I requested irises as my dear grandmother who passed away last year was called Iris."
"We reused the flowered at all the venues and encouraged people to take them home. Emma grows her own flowers too, which we loved!"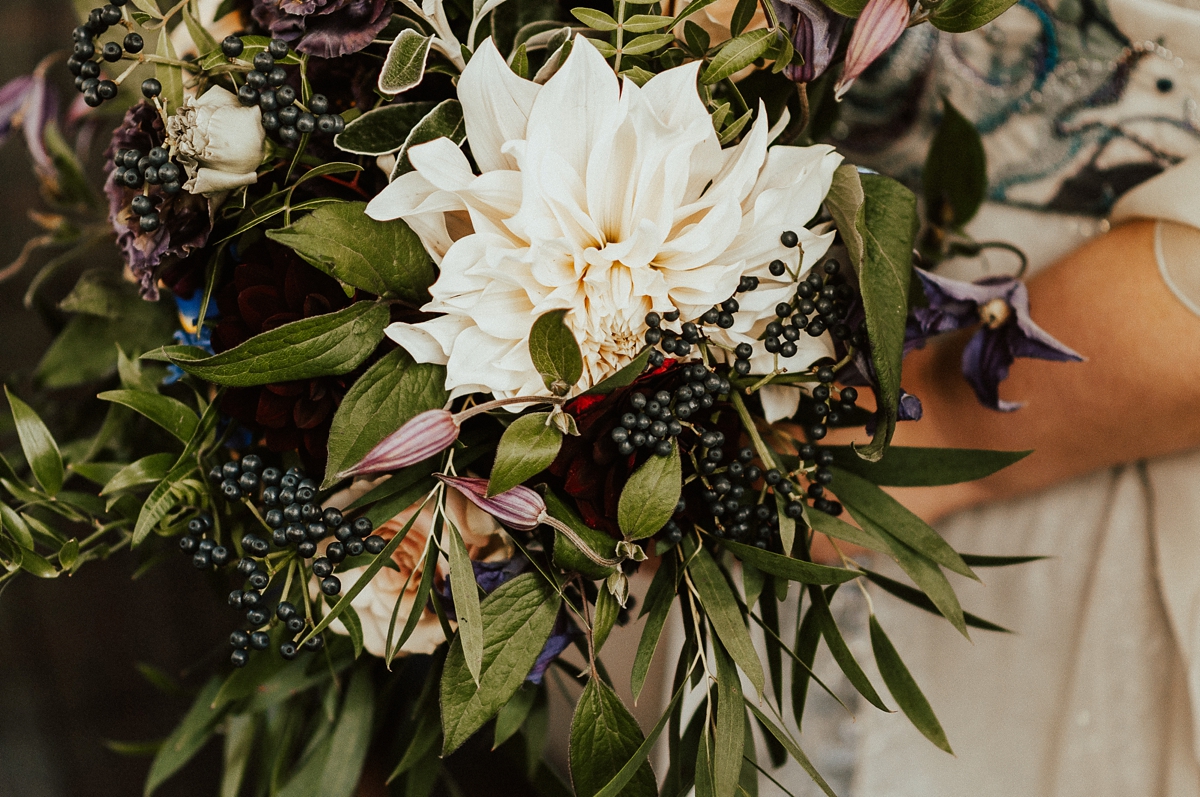 Emily's bridesmaids dressed in a variety of complimentary dresses from ChiChi London and ASOS.
"My ladies had different body shapes, sizes and needs (for example one was breastfeeding so many dresses were not suitable) so I tried to make sure they had dresses they liked and might wear again."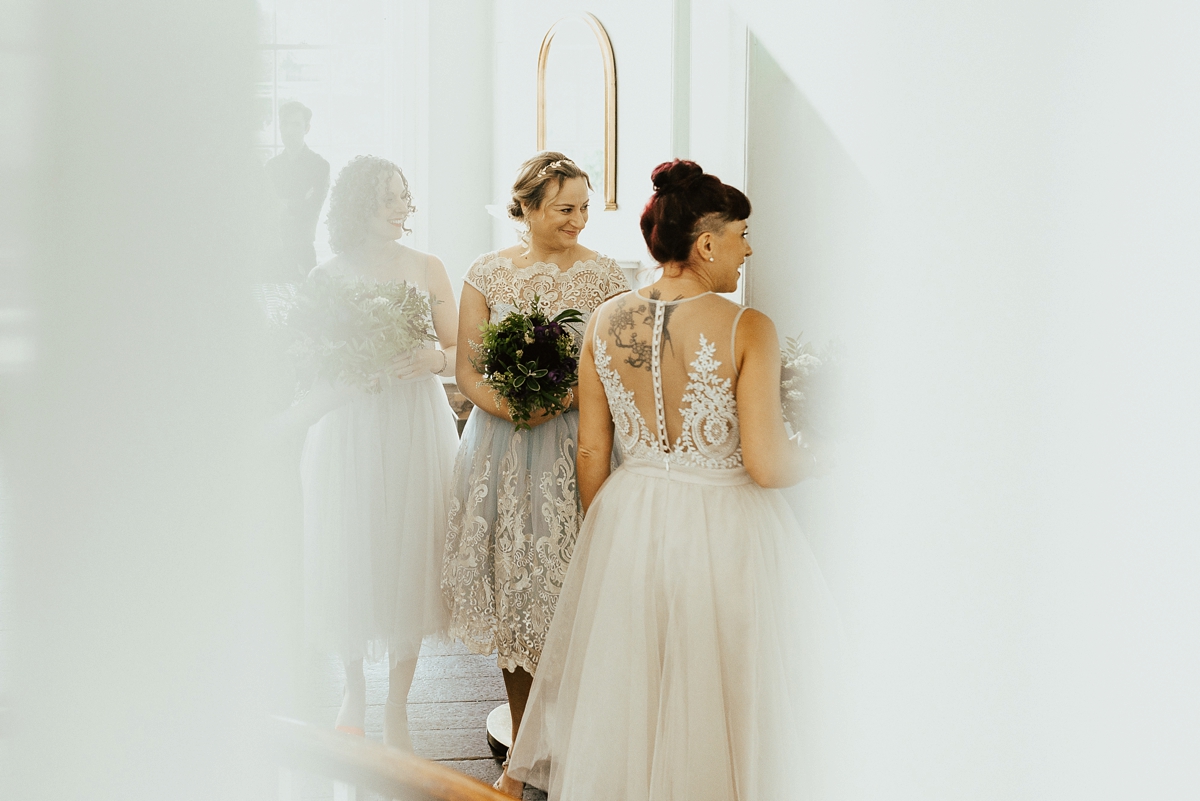 For her accessories, Emily chose to wear family heirlooms.
"I wore my mother's art vintage glass earrings and pendant for my something blue, and my grandmother's opal ring which she left me after she died as my something old."
Emily loves makeup and chose to do her own, but used Lydia Keen to do her hair.
"All day, people were complimenting my locks and she nailed the retro feel perfectly. She does my hair regularly so she has taken the time to get to know me and my ways, this was invaluable on the day- we'd planned it out and worked together to achieve the perfect look."
Emily walked down the aisle with her dad, John, to Staralfur by Sigur Ros, but it didn't go quite to plan…
"It was brutally cut short by George's brother who had been entrusted with cueing the music and panicked under pressure. Luckily this broke the ice and everyone in the room burst out laughing."
During the ceremony, Emily and George's friend Tasha read the lyrics to 'Something Changed' by Jarvis Cocker.
"We're both big fans of Pulp, and the lyrics were very appropriate, and neither of us had heard a pop song used at a wedding before."
George's dad did a reading too.
"George asked his dad to do a reading because he had just finished an Open University degree in English and so knew he would have plenty of inspiration to work from."
"He read a selection of wisdom and observations on marriage, in the form of quotes from a wide range of historical writers, thinkers and comedians – everyone from Woody Allen to Shakespeare."
Emily and George wanted their rings to be unique and memorable and used an independent designer.
"We both had gold rings moulded like twigs which I love. My engagement ring is a raw conflict-free diamond and moulded twig design. We found our designer, Vicky, on Etsy. She is based in Athens and is fabulous; the work was excellent and affordable. We wanted something a little different."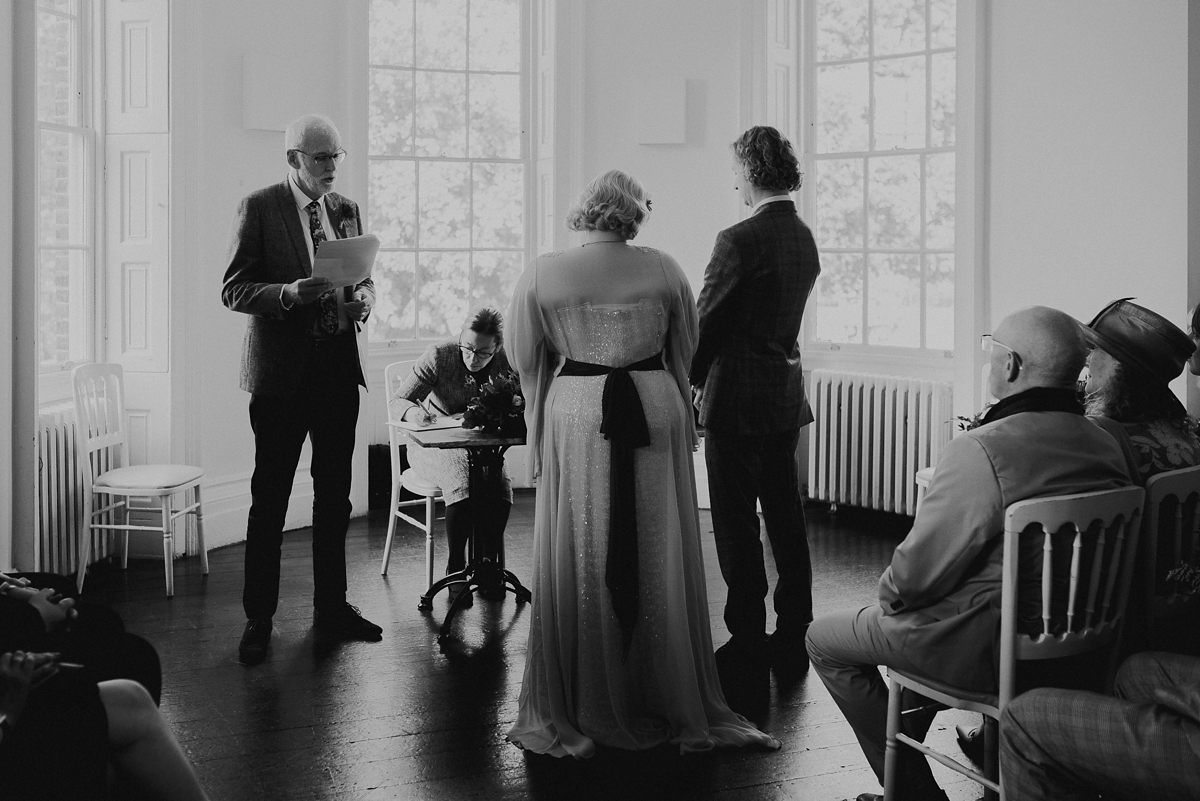 Emily said her favourite part of the day was immediately after the ceremony.
"Coming out into the sunshine, the release of pressure having said the vows, our pleasure in the day and being together."
"Everyone was smiling and joyful; we were able to talk to our guests properly for the first time and celebrate. The sun was shining and everything looked beautiful. The glass of champagne helped too!"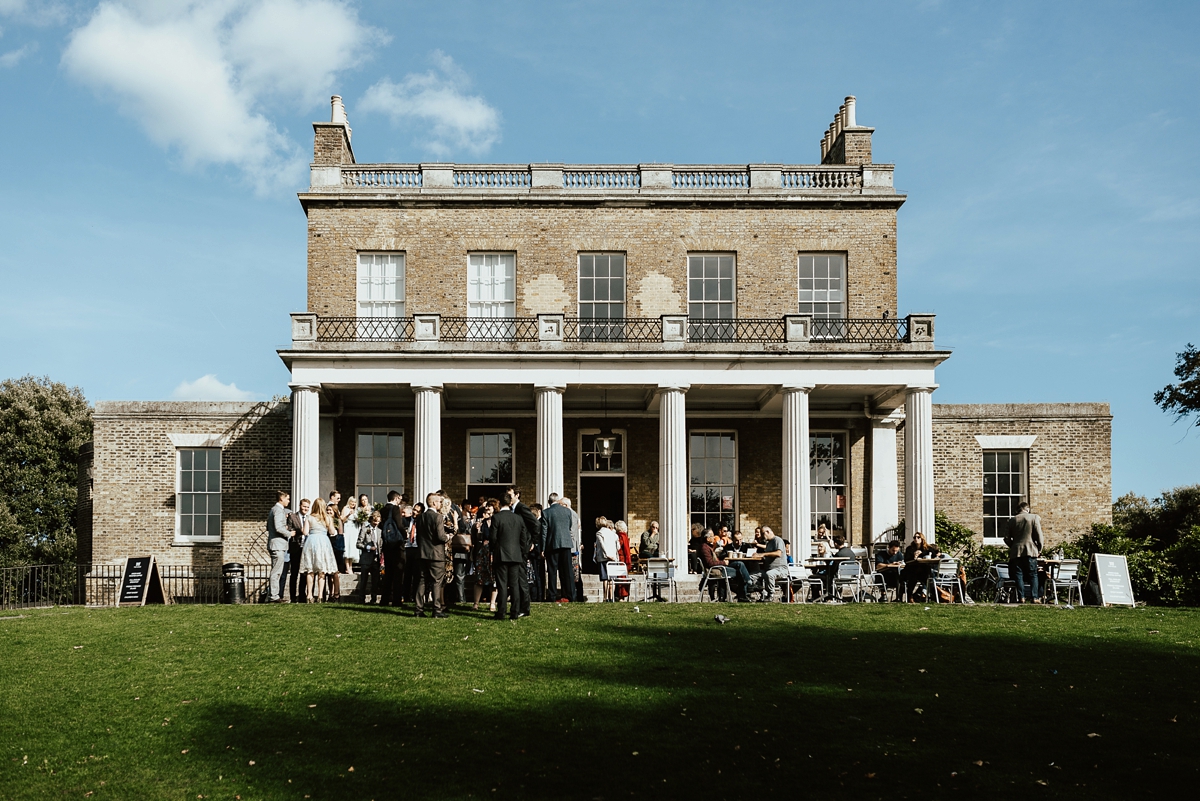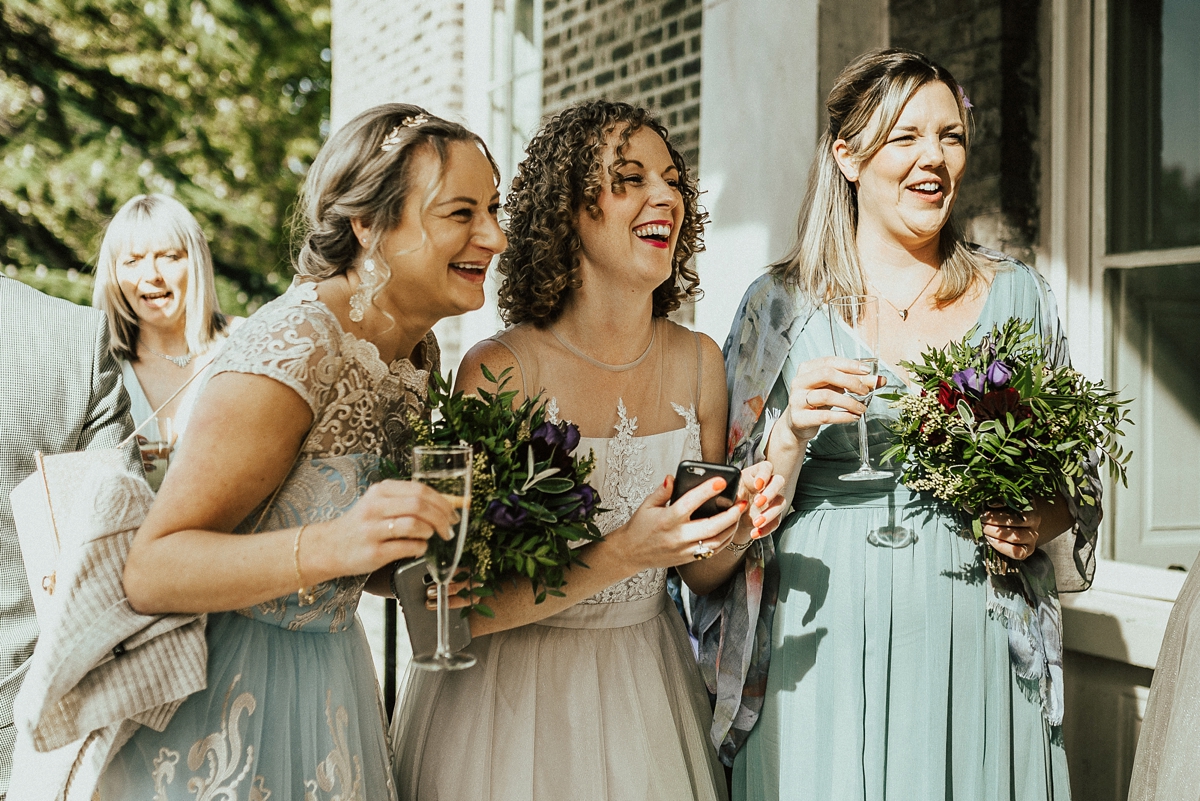 Emily and George chose photographer Virginia Galiulina after spotting her on Instagram.
"I loved the arty style of her photos and her editing was fabulous. She was a gem to work with, a lovely person and professional photographer. We adore the finished product."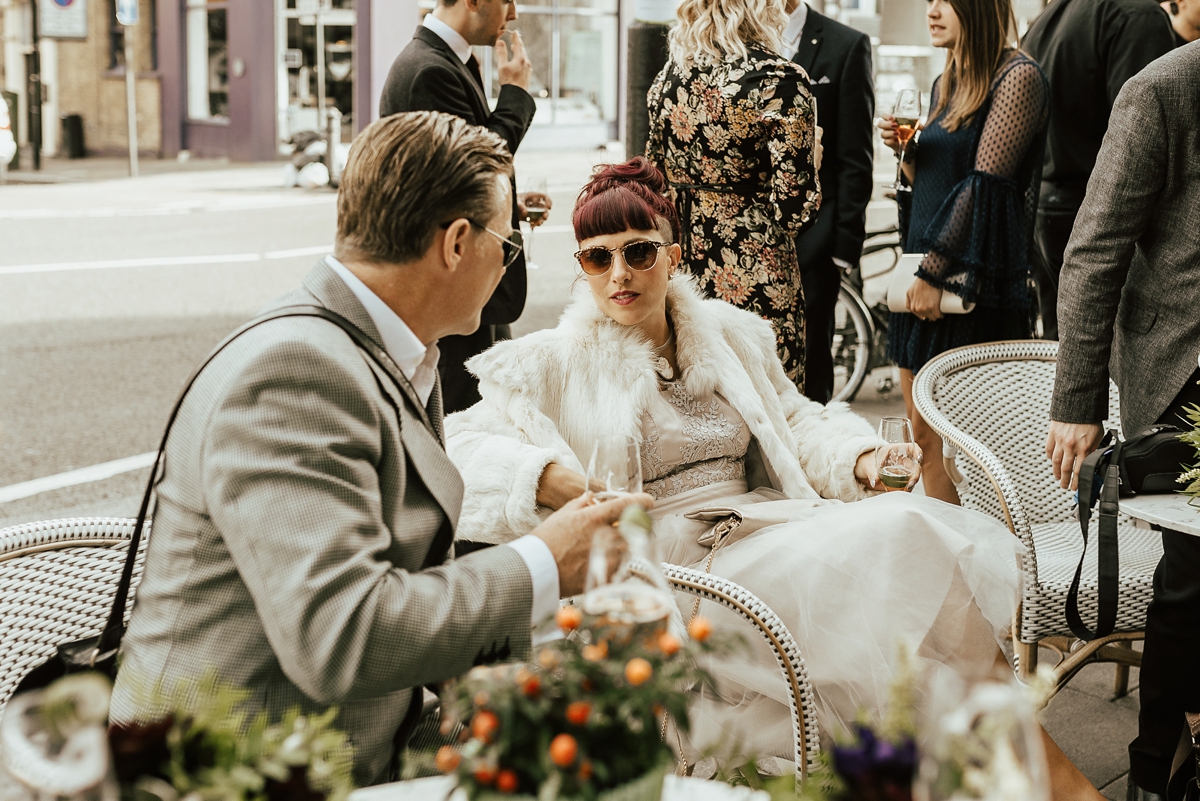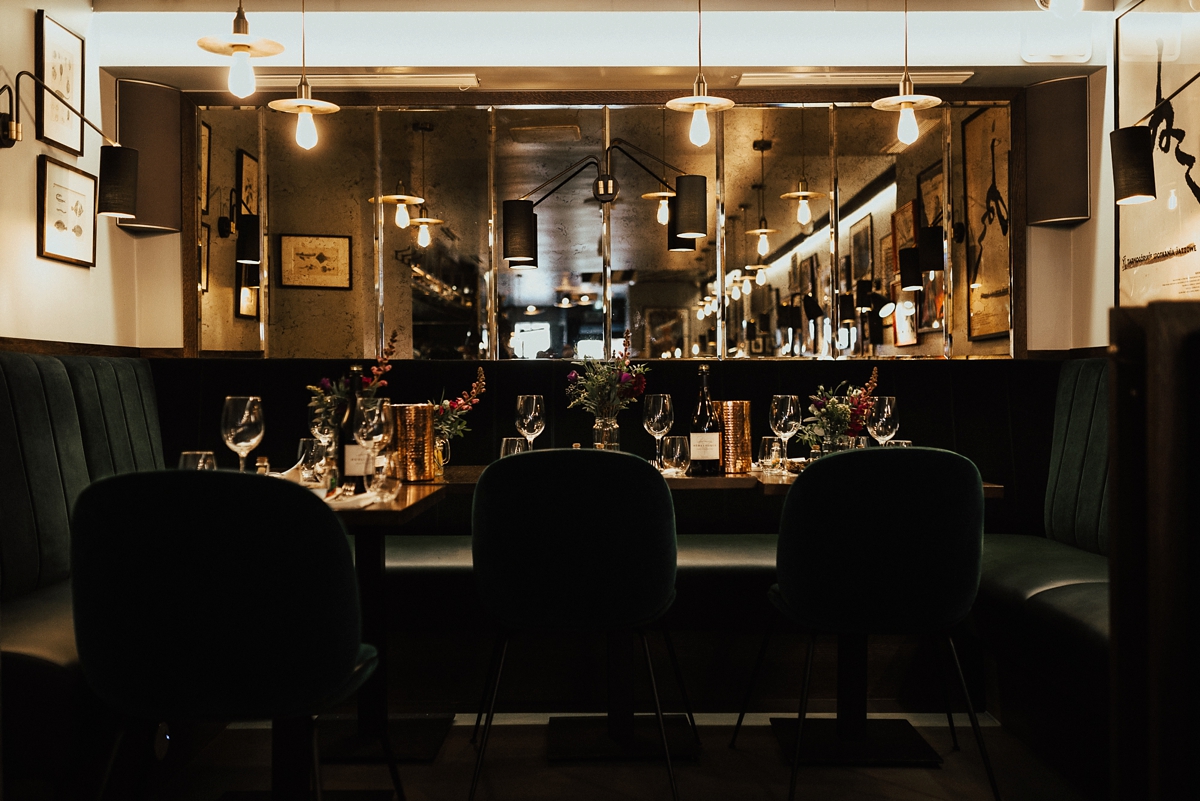 Lyrics later featured in the personalised wedding favours too.
"Music is a big part of our lives, and with the Galley restaurant serving predominantly seafood, we combined these two themes and left all our guests messages in bottles – the message being a lyric from that person's favourite song."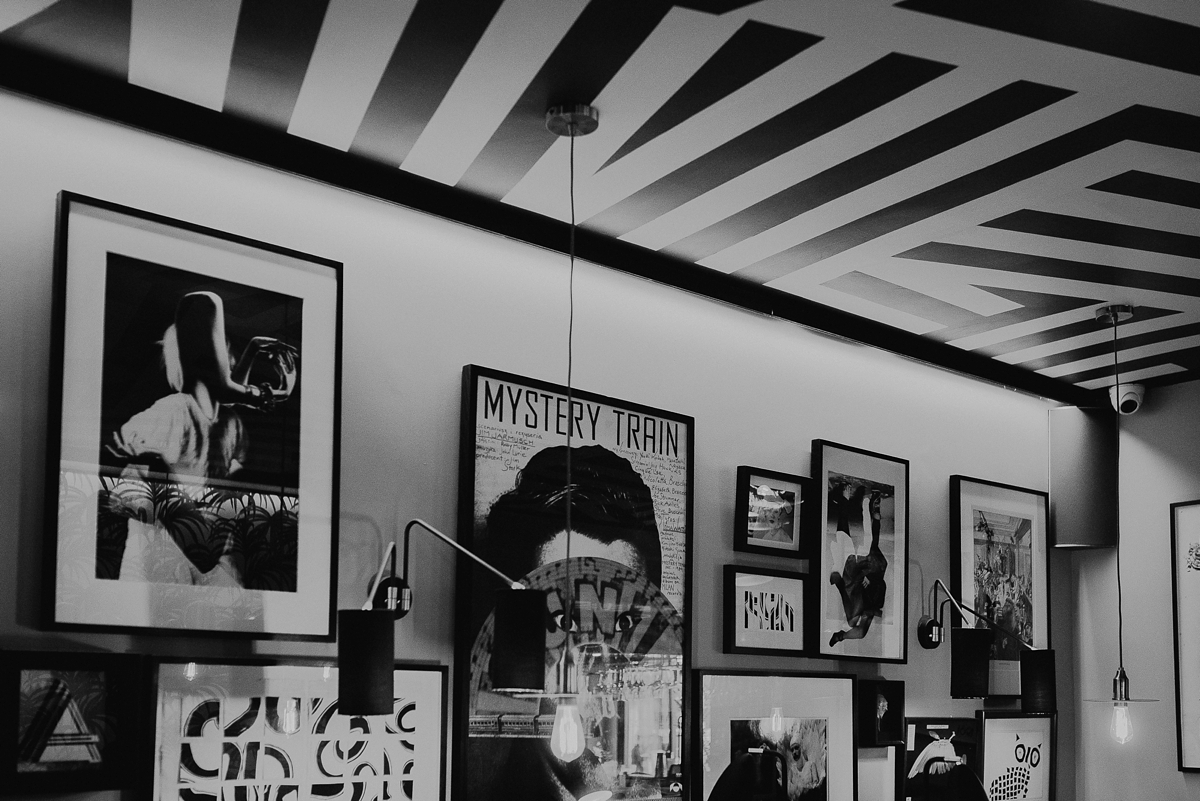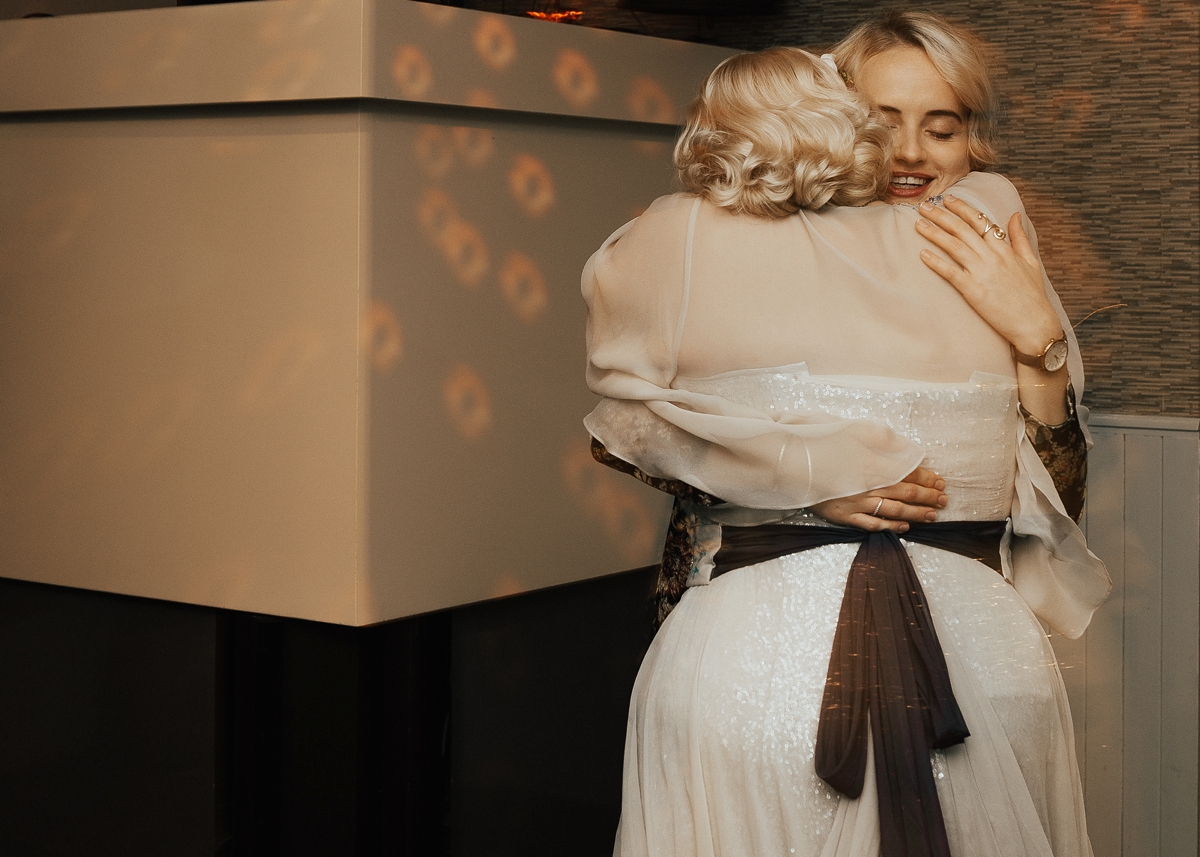 When it came to their evening entertainment, guests were in for a treat, with everything from 60's tunes through to UK Garage!  The couple had their first dance t0 Oasis, Slide Away.
"Our friend Matt, played a short vinyl DJ set of UK Garage music, with our friend Rory MC-ing. George also spent many hours compiling the perfect playlist with tunes through the ages, from the 60s, 70s, 80s, 90s and beyond. We had a strict policy of no Queen, no Proclaimers, no Dexys Midnight Runners."
"We both love Oasis and especially that song, and we'd never heard it used before in that context."
Words of Wedded Wisdom
"Try to enjoy the planning as much as possible; don't become overwhelmed trying to do what other people want, focus on what you want and what you can afford – your guests will enjoy it.
Don't overspend and cut your cloth according to what you have, because you probably won't notice things you may have wanted on the day.
Savour every moment on the day as it will go in a flash."
"Enjoy the whole experience as a couple, don't let it overwhelm your relationship – it's a celebration of your love, make it individual to the two of you.
And finally, I'd drink less and eat more later on so we could remember the evening more clearly. For guests coming from out of London, I would have booked them taxis in their own names with a very clear pick-up location, as it was confusing trying to explain the concept of Uber to older relatives who rarely visit London."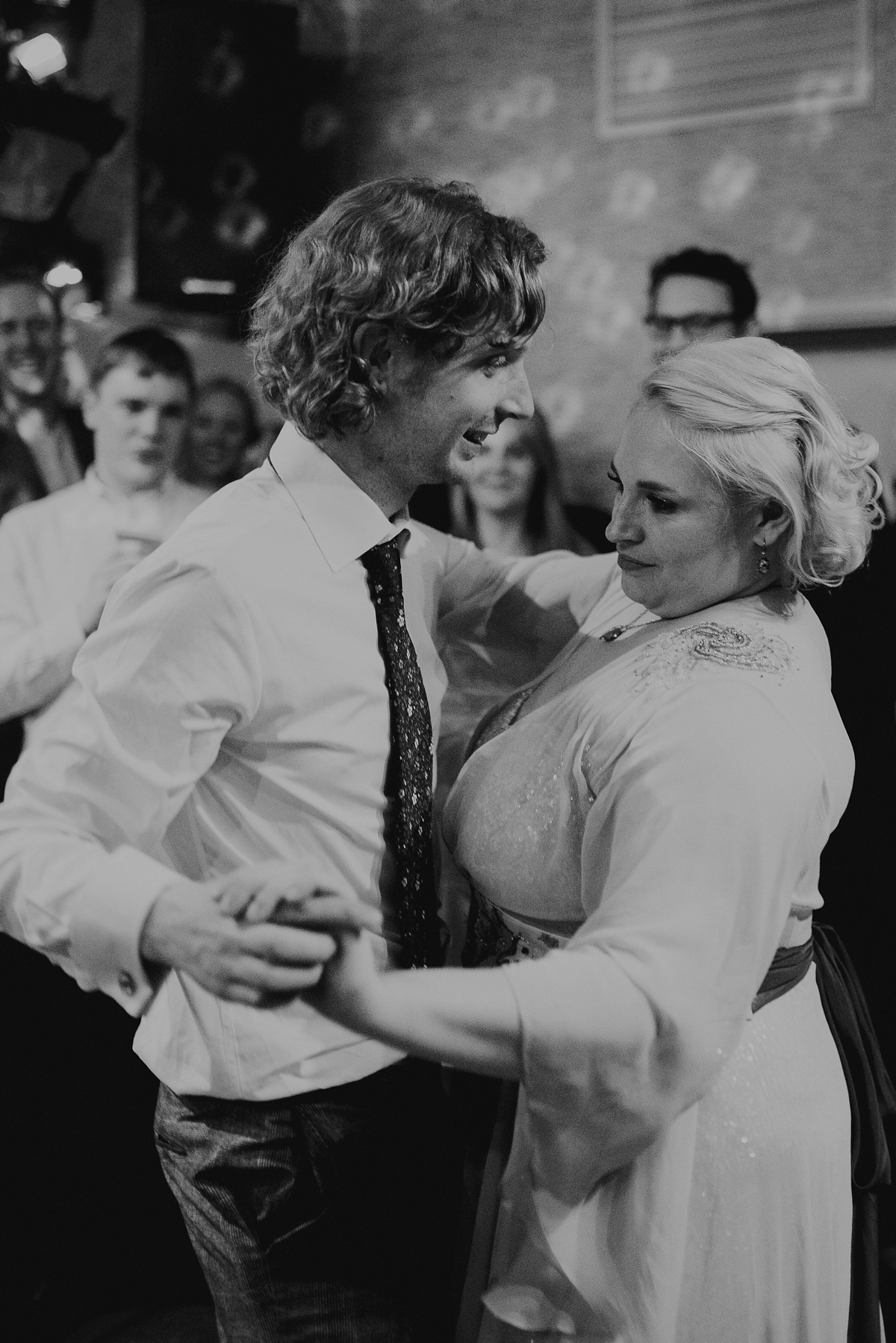 Thank you so much to Emily and George for letting us share your day, and to Virginia Galiulina for allowing us to use your wonderful photographs.
Sarah x