If you've got bits of glue stuck everywhere, random decor items filling up your home from local car boot sales, and having nightmares about how on earth you'll get everything done on time according to the colour-coded schedule, then I'll bet my life you're currently amidst prepping for your DIY wedding!
I urge you to trust me, and this delightful couple you're about to meet, that all the hard work really will all be worth it. Bride Leanne is a veterinary nurse and groom Nathan is a medical field engineer and they chose the 2nd of September 2017, a beautiful late summer's day, for their village hall nuptials that was all about their favourite things.
"We wanted a blank canvas in a beautiful location, which we could decorate ourselves and source amazing food and drinks to serve to our favourite people – overall we just wanted to have an amazing party! We fell in love with Dunham Massey Village Hall immediately and knew it was the venue for us. We wanted our day to be relaxed and not too traditional. We didn't have a set theme, but incorporated things in our day which we love, like gin, festivals, tequila, glitter, cake and good music."
Photography by Dan Hough Photography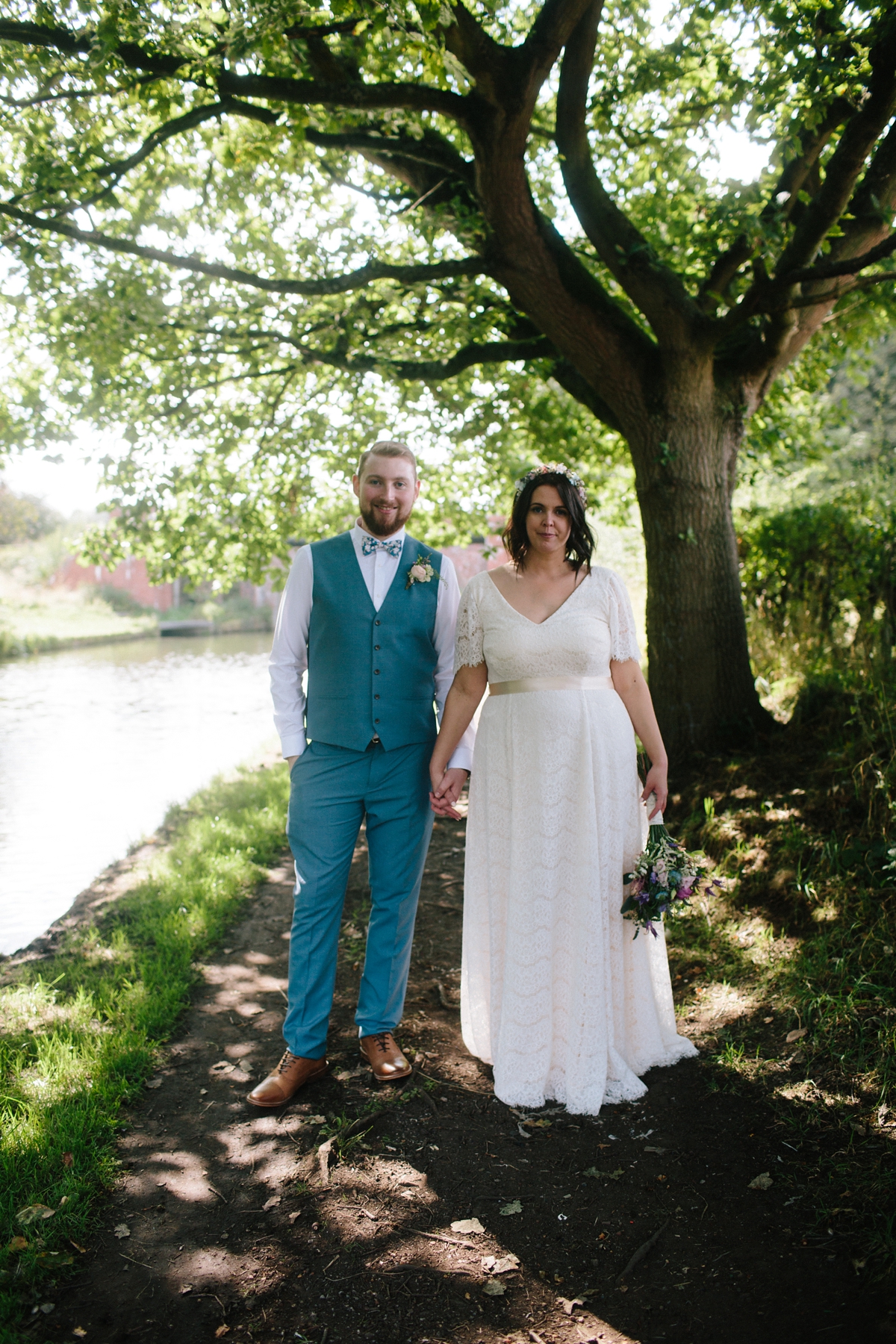 Leanne donned the very stylish 'Dahlia' gown by Kate Beaumont. She discovered Kate via this very blog and Pinterest – and the designer made a bespoke version of the dress to suit Leanne's gorgeous figure.
"I was a little worried about this part of the wedding planning process, being a 'plus sized' bride. I had seen Kate's designs on Love My Dress and Pinterest and there was one dress in particular that I couldn't stop thinking about – 'Dahlia'. I knew that the original design wouldn't suit me so I arranged to meet Kate, and after a little chat in her beautiful studio we decided on a bespoke version, which we knew would be perfect for me."
"The wonderful Andrea Pickford did our hair. I've known Andrea for a long time and she's such a talented girl and complete perfectionist. She did such a wonderful job and we all loved the finished look. Millie, my bridesmaid, did our makeup."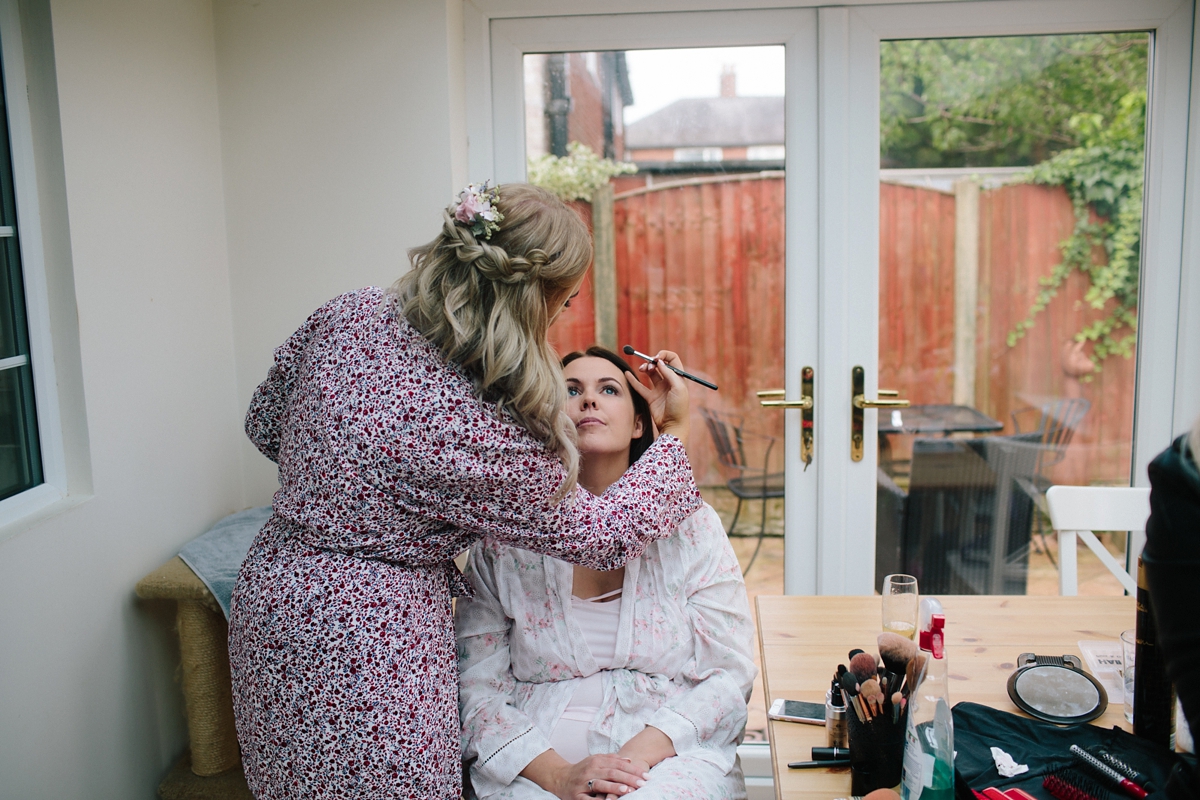 "I always knew I'd wear flowers in my hair as I'm a bit of a hippy at heart. And then I discovered Folky Dokey. I couldn't believe that the flowers were dried, they looked so perfect. I contacted Gez and asked for a floral headband for me. I wanted a mixture of colours, which were light but not too pastel. Gez hit the nail on the head and I couldn't have loved them more."
"My wedding gift from Nathan was the scent I wore on the day, which was Jo Malone. I wore Blackberry and Bay body cream and Earl Grey and Cucumber cologne. They are such fresh smells and work together perfectly. I love that they will always remind me of my favourite day. My shoes were gorgeous rose gold flats from New Look – I'm 5'10 so pretty tall and wanted to feel comfortable and dance the night away!"
"I loved the dressmaking experience and I got to take a few different friends and family members along to my appointments who also fell in love with Kate's dresses. We joked that I'd make a commission on any future sales! Kate is an incredible talent and just an absolutely gorgeous person. She made me feel beautiful just the way I am and I'll always adore her for that."
"Nathan and I met the old fashioned way; drunk in our local indie pub Friars Court. Nathan saved me from the grips of a toothless drunkard by putting his arm around me and pretending to be my boyfriend. Little did he know that the damsel in distress whose rescue he had come to was actually his future wife."
"Nathan asked me to marry him at one of our favourite places, Glastonbury Festival. It was at sunset; sat at the stone circle and it couldn't have been more perfect. We set our date for two years later, which gave us plenty of time to enjoy being engaged and plan. We also fitted in having a baby!"
Nathan's smart light blue suit was from Next and he added a beautiful floral bow tie from Mrs Bow Tie.
"My dad accompanied me down the aisle. It was lovely having him by my side and I could really sense how proud he was of my new husband and me. I chose to walk down the aisle to 'Blackbird' by The Beatles. It's one of my all time favourite songs and reminds me of Nathan who always plays it for me and Finn on guitar. We exited to Florence and the Machine's version of 'You Got The Love'."
"Our very good friend Faye gave a reading at our ceremony. I asked her to choose a reading which she thought represented us as a couple. She chose 'Love Is A Temporary Madness' from Captain Corelli's Mandolin. It's probably the reading I would have chosen myself. And she read it so beautifully – it was a really moving moment."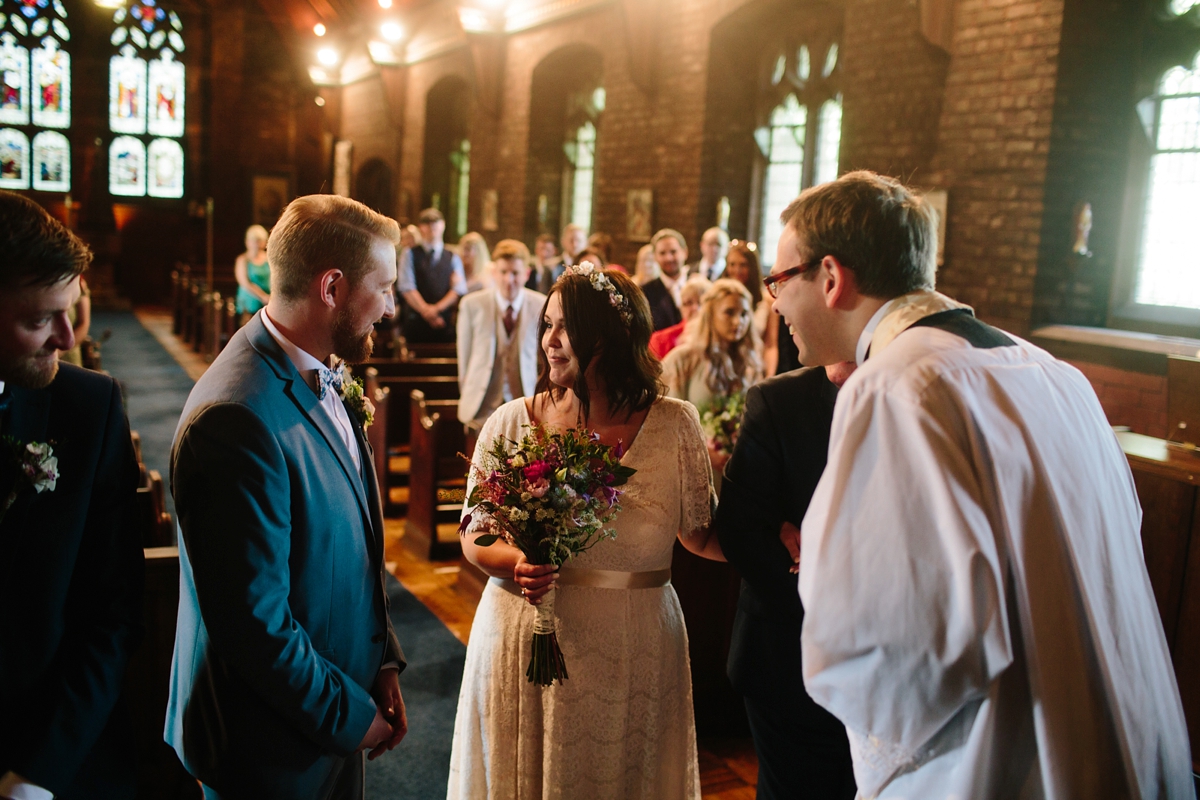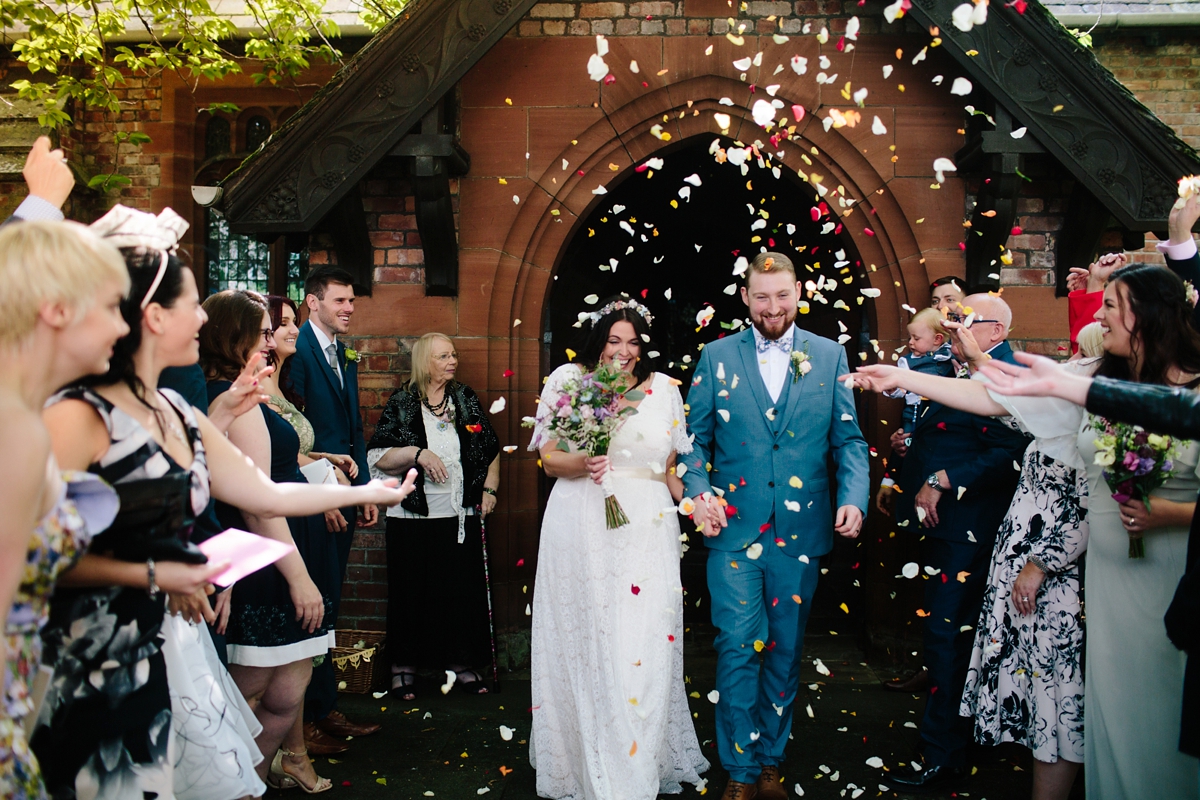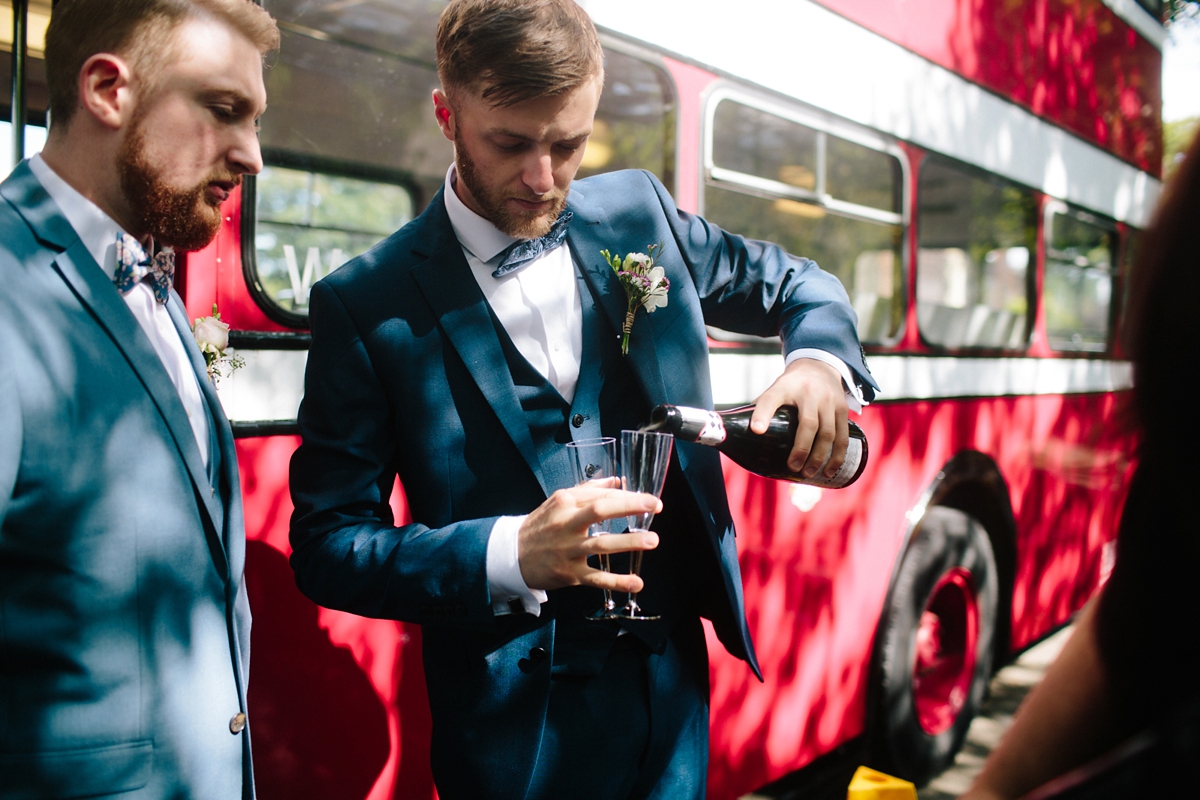 "My bridesmaids wore flat pumps from New Look,  dried flower clips also from Folky Dokey and I left the choice of dresses up to my wonderful maids. They chose them from ASOS and they were perfect."
For the florals, Leanne was keen for natural looking wildflowers in a mixture of colours – and her florist Charlie of Charlie's Flower Boutique totally nailed the brief.
"I actually knew Charlie as I met her through work as I looked after her dog Dex; she mentioned she was a florist. We arranged a meeting and had a chat and she knew exactly what I wanted. Charlie arranged the flowers in the bottles that we collected and set them up at the venue the morning of the wedding so they were a surprise for us."
"They looked even better than I had imagined. I actually cried when I saw the buttonholes and bouquets, as they were just so perfect. Charlie also made Hebe's beautiful flower crown and she saved the day as the confetti company I ordered from let me down last minute so she provided some additional flowers, which we turned in to fresh confetti. I don't know what I would have done without her!"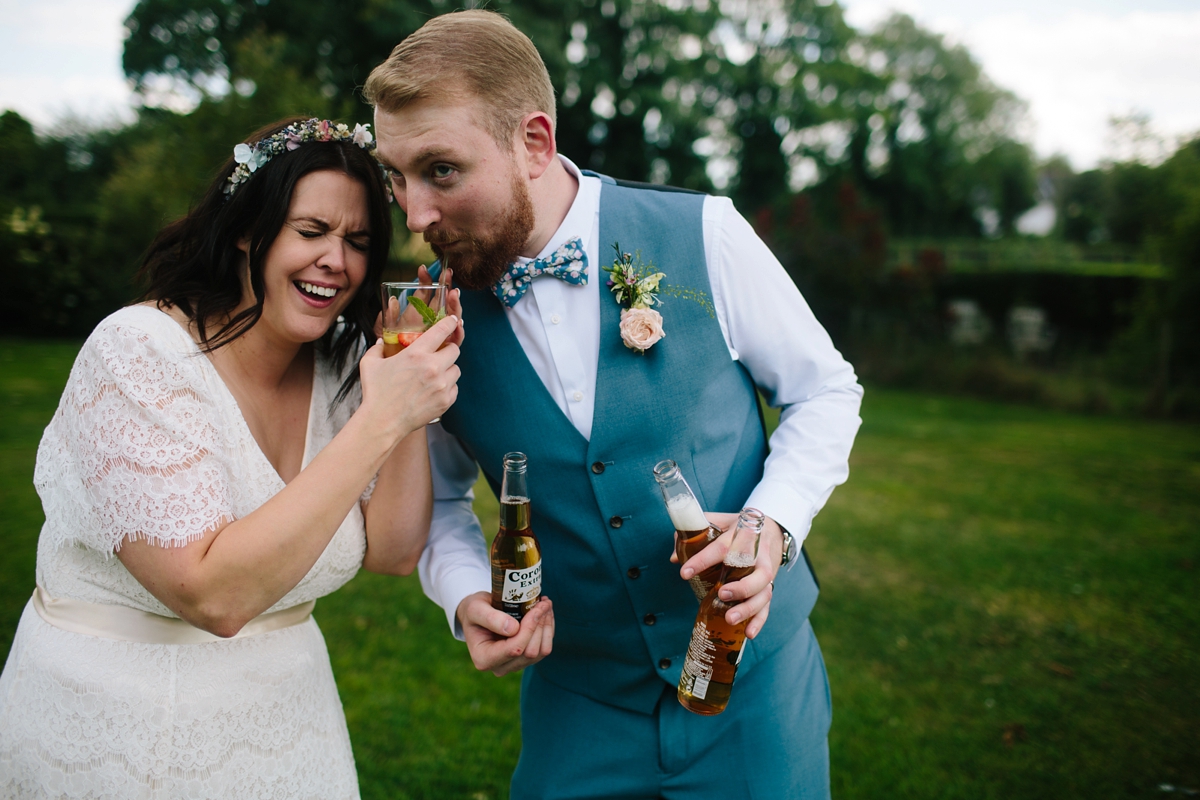 The couple arranged a date for an engagement shoot, which helped them feel comfortable in front of the camera, and get to know their photographer Dan of Dan Hough Photography.
"Where do I start with our amazing photographer Dan? I saw Dan's work on a wedding blog and couldn't imagine anyone else photographing our day. We didn't want loads of posed pictures, we wanted memories of the day, and how it happened with lots of natural shots."
"Dan and his lovely wife Laura were amazing on the day. So many people commented on how fab they were and how well they fitted in. And the photos, well they speak for themselves. Just wow."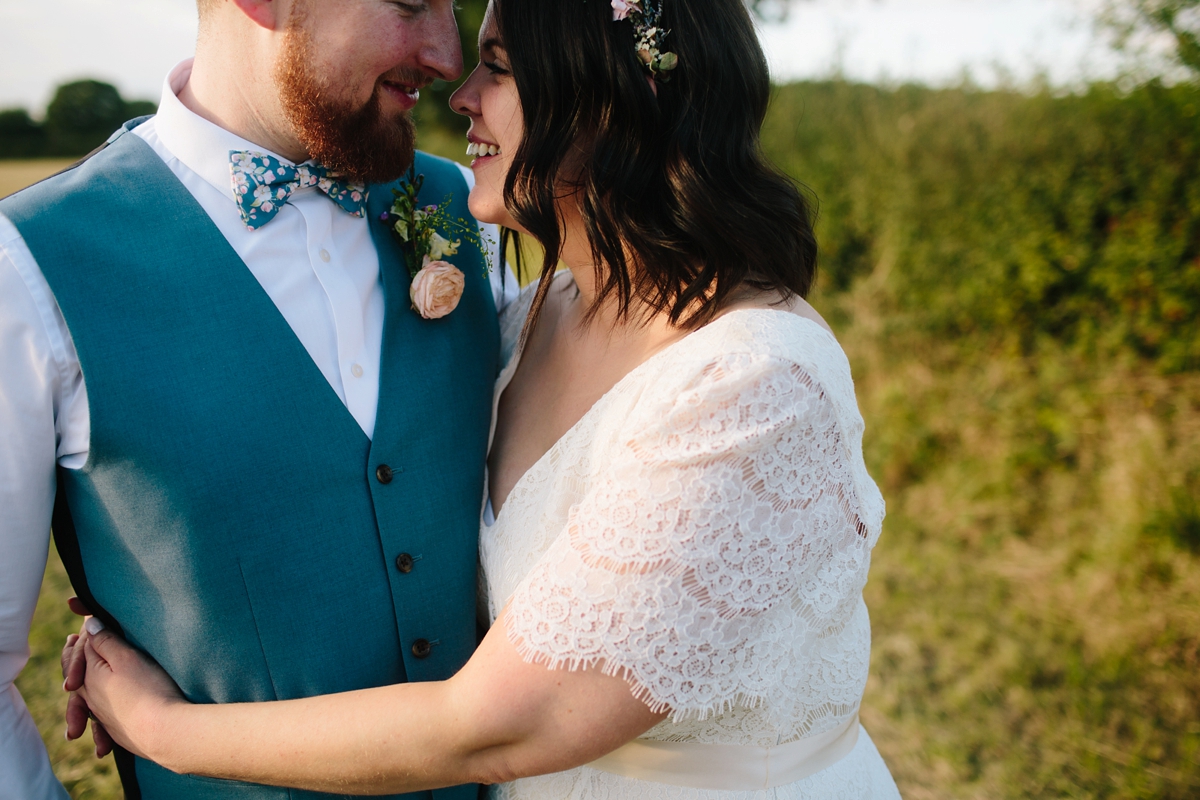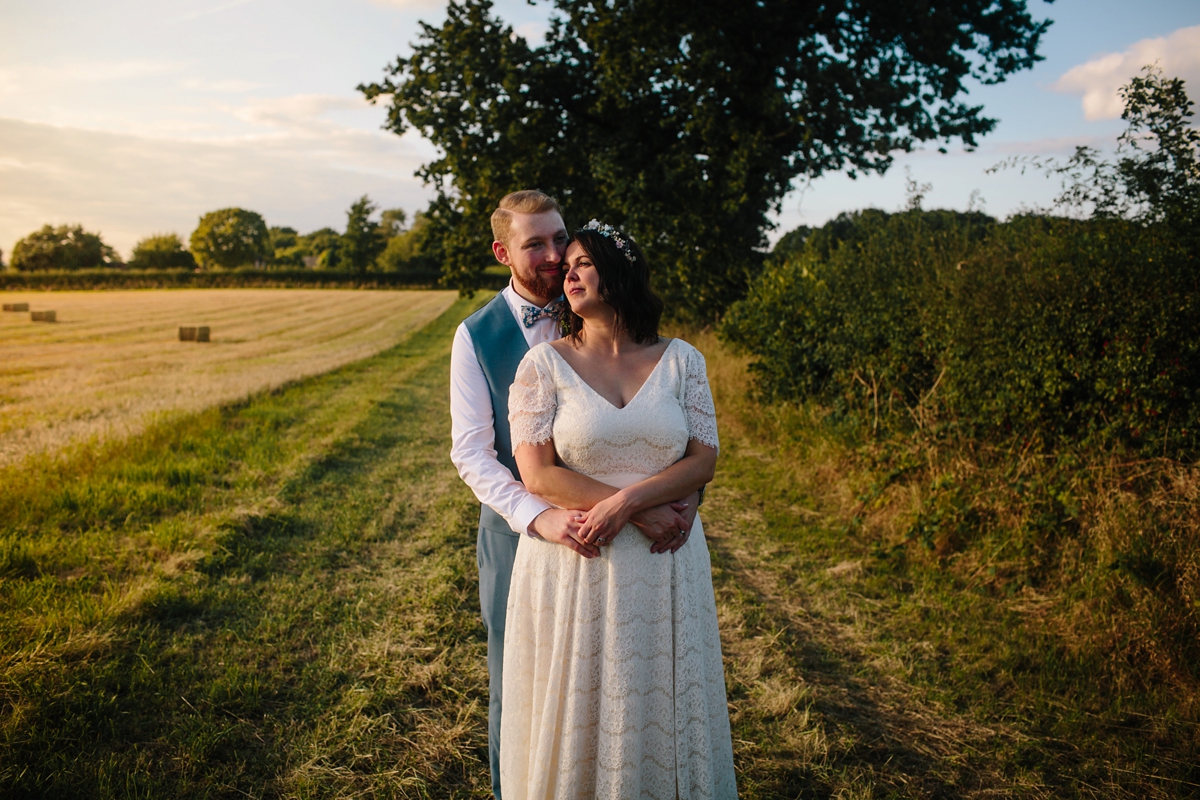 For the hall décor, Leanne and Nathan went with a mix of colours with pops of gold, and mixed aspects of modern and vintage décor for an eclectic feel – and enlisted the help of family and friends with the prep and set-up.
"The decoration of the hall was probably the biggest job! I think that although this was hard work it was my favourite part of the preparation. It felt so personal that we had done everything ourselves, and made us proud to have such amazing family and friends helping with our day."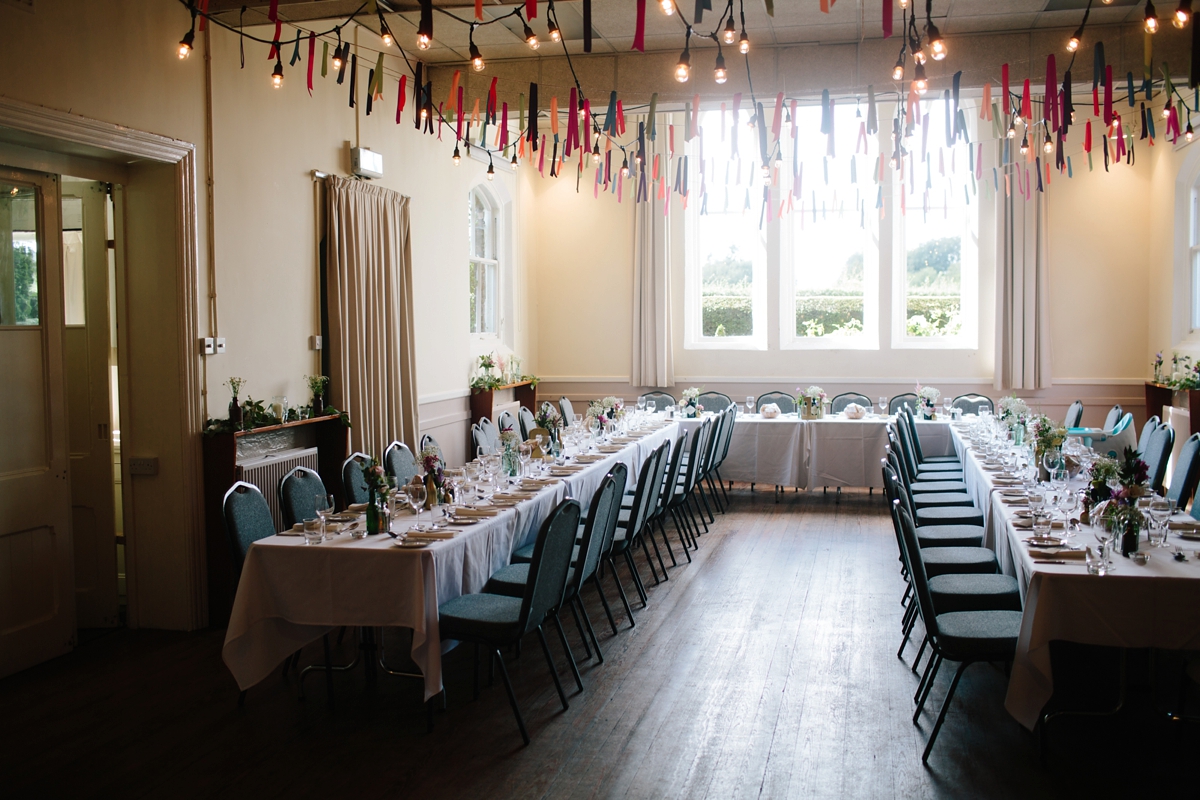 "Most of the décor was DIY – Nathan and I spent lots of time at car boot sales collecting old mirrors to make signs, pretty vintage bottles and gin bottles for flowers, as well as jam jars for candles. I used lavender and luggage tags as place names and sprayed large numbers gold for the tables. Our amazing friend Gill made metres of ribbon bunting as well as a ribbon backdrop for the dessert table. We hired our light up initial letters from Words to Glow (who were great)."
The favours for their guests were homemade bottles of black cherry wine (made by their friend Sophie's dad).
"We wanted something which people could really enjoy and remind them of our day. I read somewhere that the majority of wedding favours get left and that they are a waste of money. All of ours got taken home which made us very happy indeed."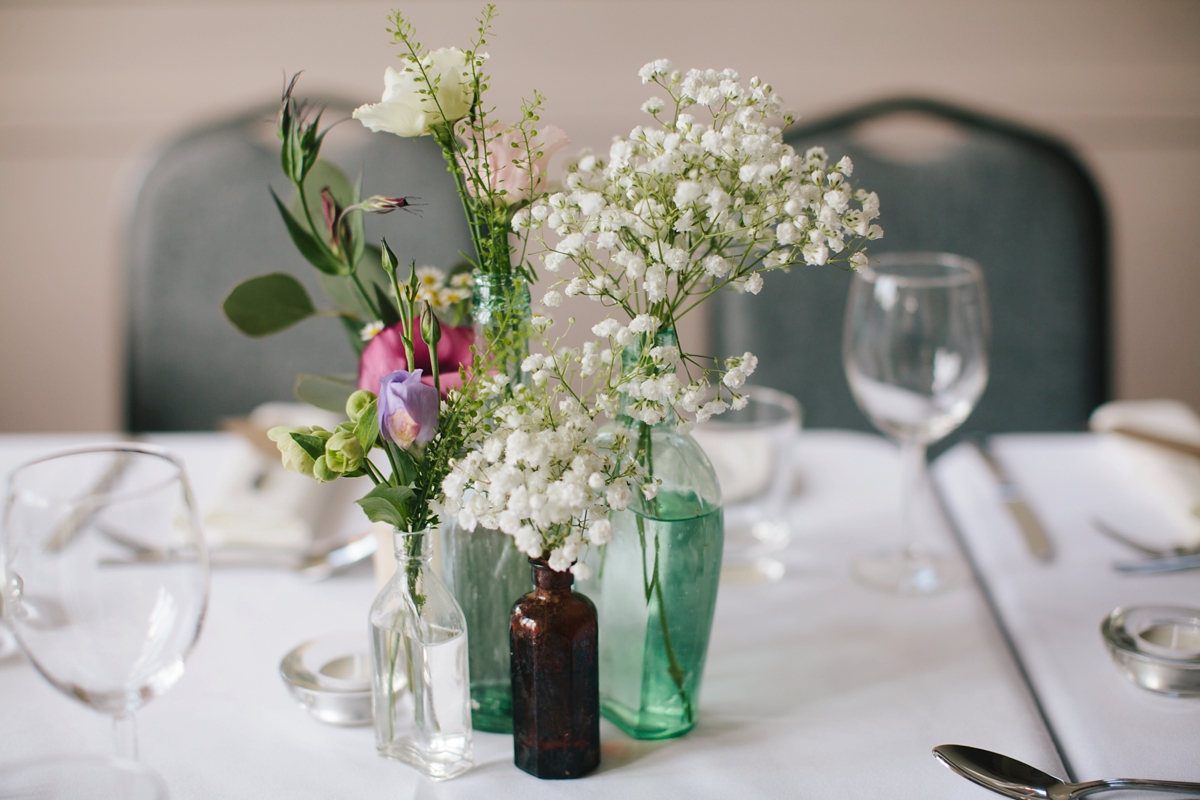 "Les, Nathan's mum, is an amazing cake maker, so it was a no-brainer to ask her to make our wedding cake. We knew we wanted a three-tiered semi naked cake decorated with fresh flowers. She made us weekly cakes so that we could choose what flavour we wanted. We decided that, because all of the cakes were so good, we'd have them all!"
"We decided on vanilla sponge for our actual wedding cake and a cake-themed dessert table with all of the other cakes and a mixture of other sweet treats, which went down a storm. People are still talking about them to this day!"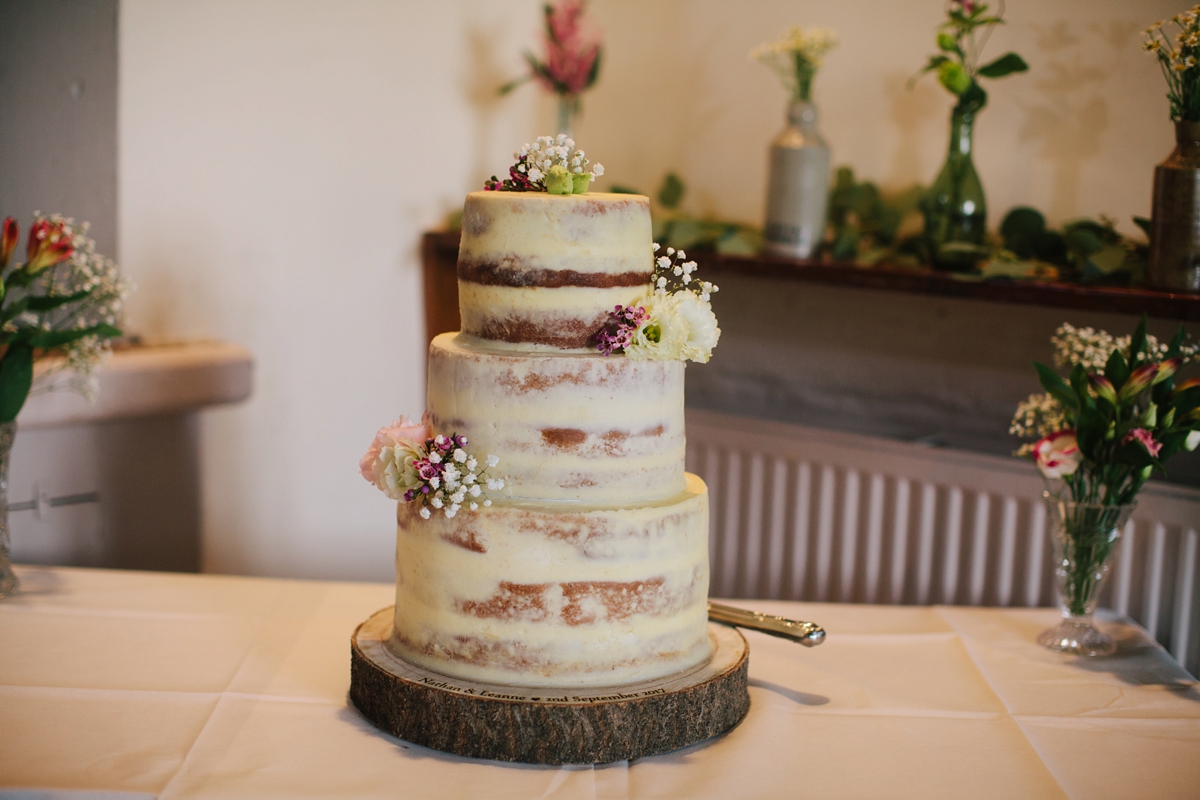 "My parents spend a lot of time in Anglesey and quite often eat in the golf club around the corner. They took us there one Sunday and the Sunday lunch was the best I've ever had. I asked Anne of Anne Wilson Cordon Bleu Catering if she catered weddings which she did – and booked her there and then. We wanted quite relaxed food and lots of it. We chose to have a selection of canapés while we had reception drinks; they were so good and just kept coming! We then had amazing roast lamb with all the trimmings for our wedding breakfast. This was followed by a trio of puddings, which included crème brûlée  brandy snaps filled with fruit and cream and a mini meringue. I think Finn ate 3 of these! In the evening we had bacon and sausage sandwiches as well as a selection of cheese and biscuits."
"We had At Your Service mobile bar hire provide us with drinks during the day and they then provided us with an evening cash bar. This was one of the best decisions we made. They were professional and provided very good value for money drinks packages."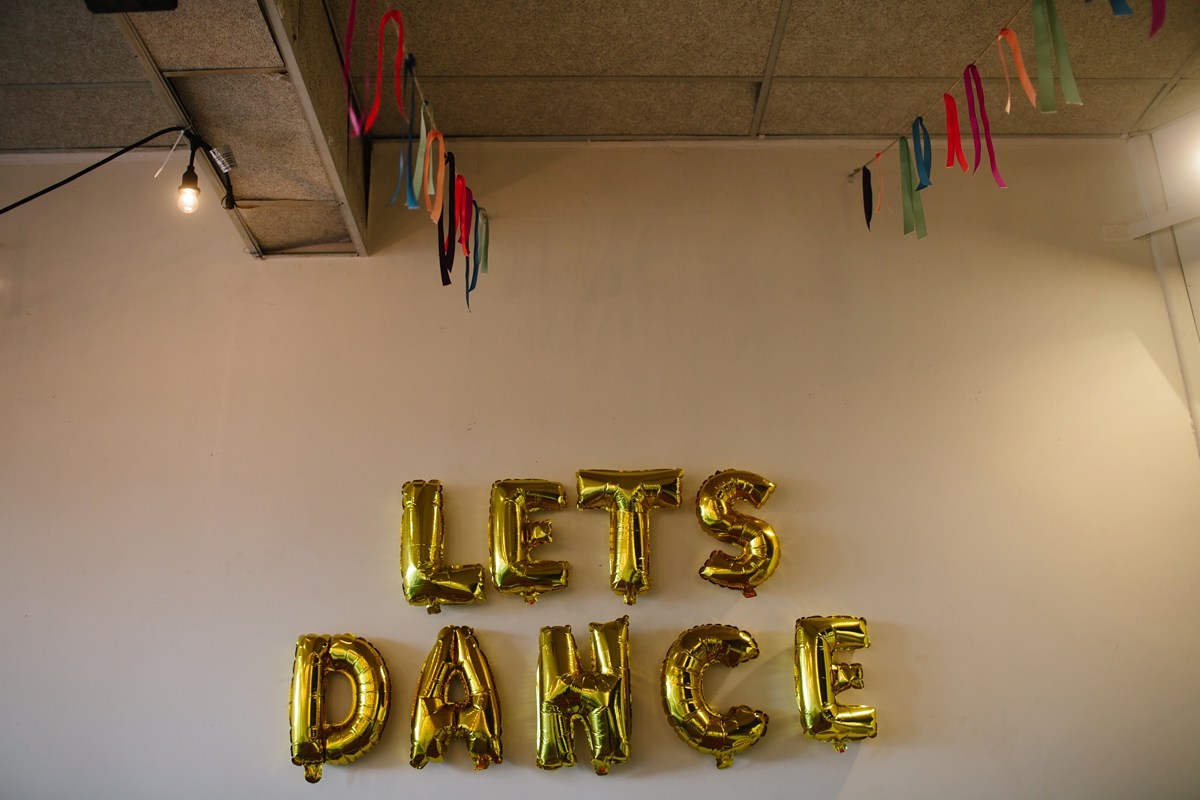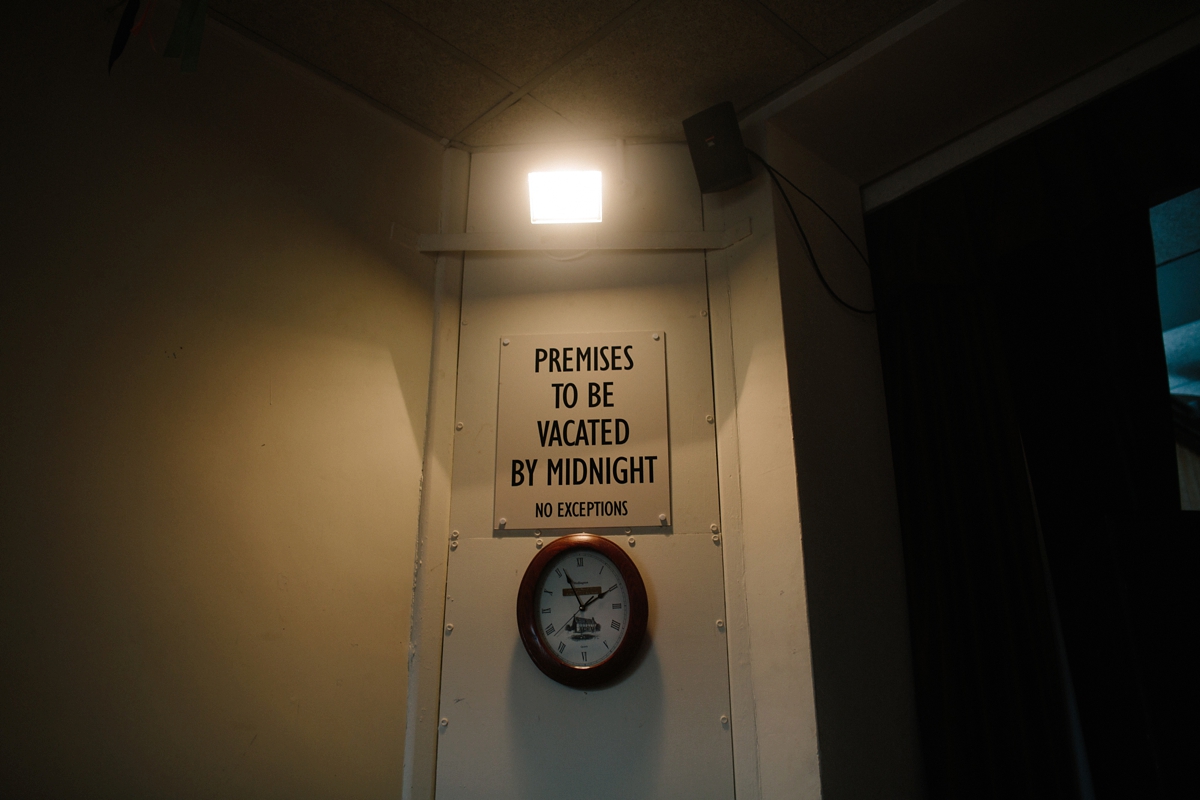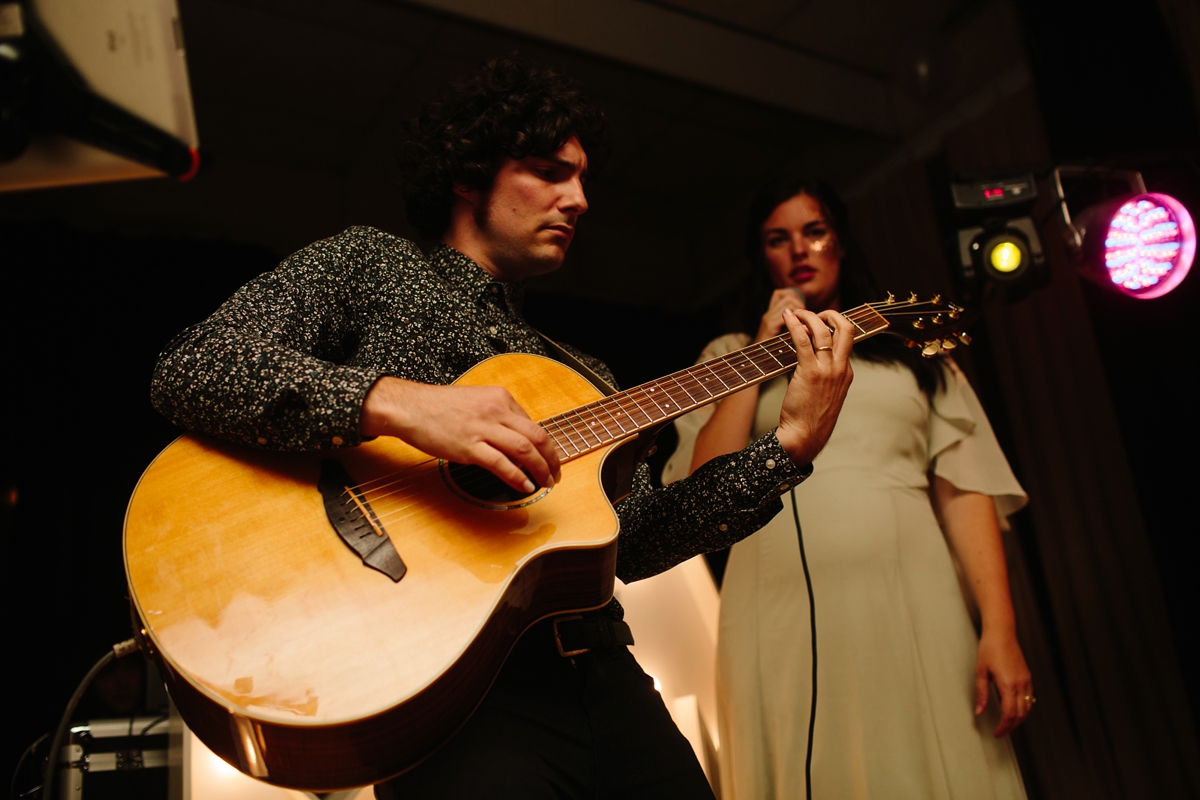 With music a huge part of their lives, the first dance song was one of the couple's most difficult decisions. They decided on David Bowie's 'Heroes' followed by 'Mardy Bum' by Arctic Monkeys; both very different songs which mean so much to them. And they filled their day with a range of tunes played by their cherished friends.
"My gorgeous maid of honour Hollie and her husband Joe played some songs before we had our first dance. The set list was a total surprise and they did their own take on some of our favourites. They were brilliant. Joe also played guitar in the church while the guests were seated."
"I'm so sad I missed it as everyone said that it was beautiful. Later on, our friend Craig of L&H Events put on an amazing DJ set. He included all of our favourite songs and the dance floor was full all night! He also captured some really good, yet slightly embarrassing, pictures and videos."
"I can honestly say that there is nothing that we would change if we did it all over again, for us it was perfect. There are so many parts of the day which we loved – here are our absolute favourites:
Seeing Nathan's face as he saw me for the first time walking down the aisle. The bus journey to the wedding reception with plenty of Prosecco and the best man's bottle of whisky! Seeing Finn after he woke up from a nap in a much better mood! Everybody loving the glitter and queing out of the loo to have Millie our bridesmaid 'Glastonbury" their faces.
Going off with Nathan after the wedding breakfast before the evening guests arrived for pictures with Dan. We got some time on our own and I'll always remember how beautiful the sun was and how happy I felt having a minute alone with my new husband. Non-stop dancing with Nathan and all of my favourite people."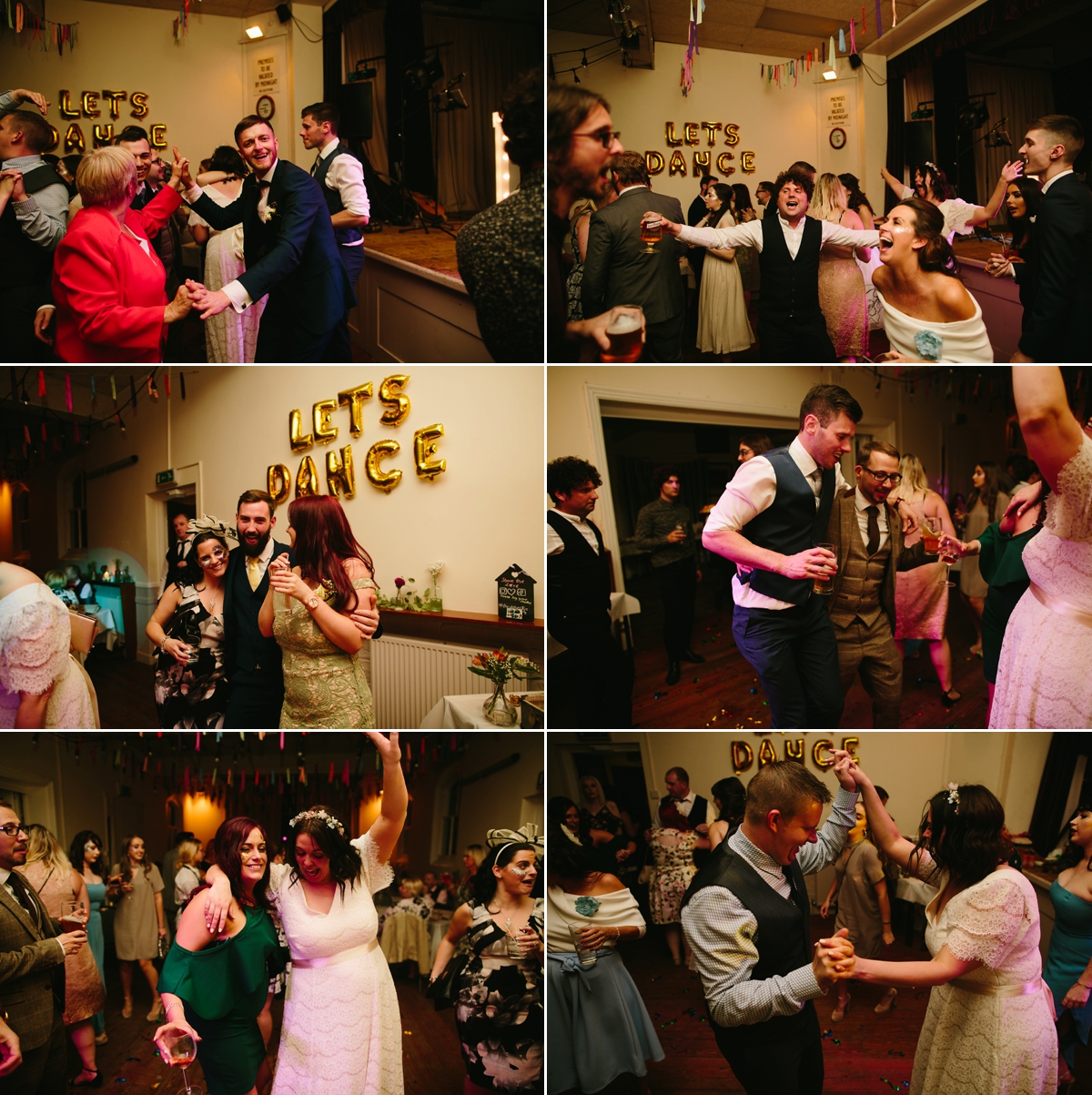 Words of Wedded Wisdom
"Do what feels right for you. It's your day and you need to be true to yourself and have the day that reflects you as a couple. So many people said to us 'this wedding is very you' and we couldn't think of a better compliment.
If you're doing lots of DIY, give yourself plenty of time because things take much longer than you think."
"Don't get too stressed during the planning stage. It will all be okay. Things will go wrong, we had a couple of hiccups but these are the things we look back on fondly. We still laugh about the random remix of Florence and the Machine blaring just before the ceremony began.
If you're having a wedding in a hall, get cleaners for the day after! They were such a huge help and reduced the (fuzzy headed) work load massively.
Drink water … there's a few 'hazy' memories which I put down to the extra tequilas after the best man's speech!"
Have you fallen for the stunning bride's divine dress? Take a look at these other Kate Beaumont brides and bridal shoots from the LMD archives – there's oodles of inspiration here for you lovely ones.
Thank you so much to Nathan and Leanne for giving us a sneak peek into your big day – and also to Dan for capturing each and every laugh, giggle, tear, and heartfelt moment.
Love Jo -xo-