Readers, I have such a gorgeous spring wedding to share with you today, featuring a beautiful vintage gown, the most vibrant flowers and two beautiful venues, all captured on camera by one of my favourite photography duos, The Gibsons.  I hope you love it too.
Meet Georgie and Chris, who married in May 2017 at Seton Collegiate Church in East Lothian followed by a reception at Georgie's parents' beautiful home nearby.  I absolutely adore a home-style wedding- there really can be nothing more personal.
Georgie looked beautiful in a vintage 1970's gown which she purchased from our Little Book for Brides member, Elizabeth Avey.  Alterations were the work of Satish at Elite Alterations.
"When I saw it I immediately loved its elegance combined with the playful twist in the polka dot lace.  It felt unusual but simple and I could move so easily in it and I didn't need anyone to help me go to the loo which was a bonus."
Images by The Gibsons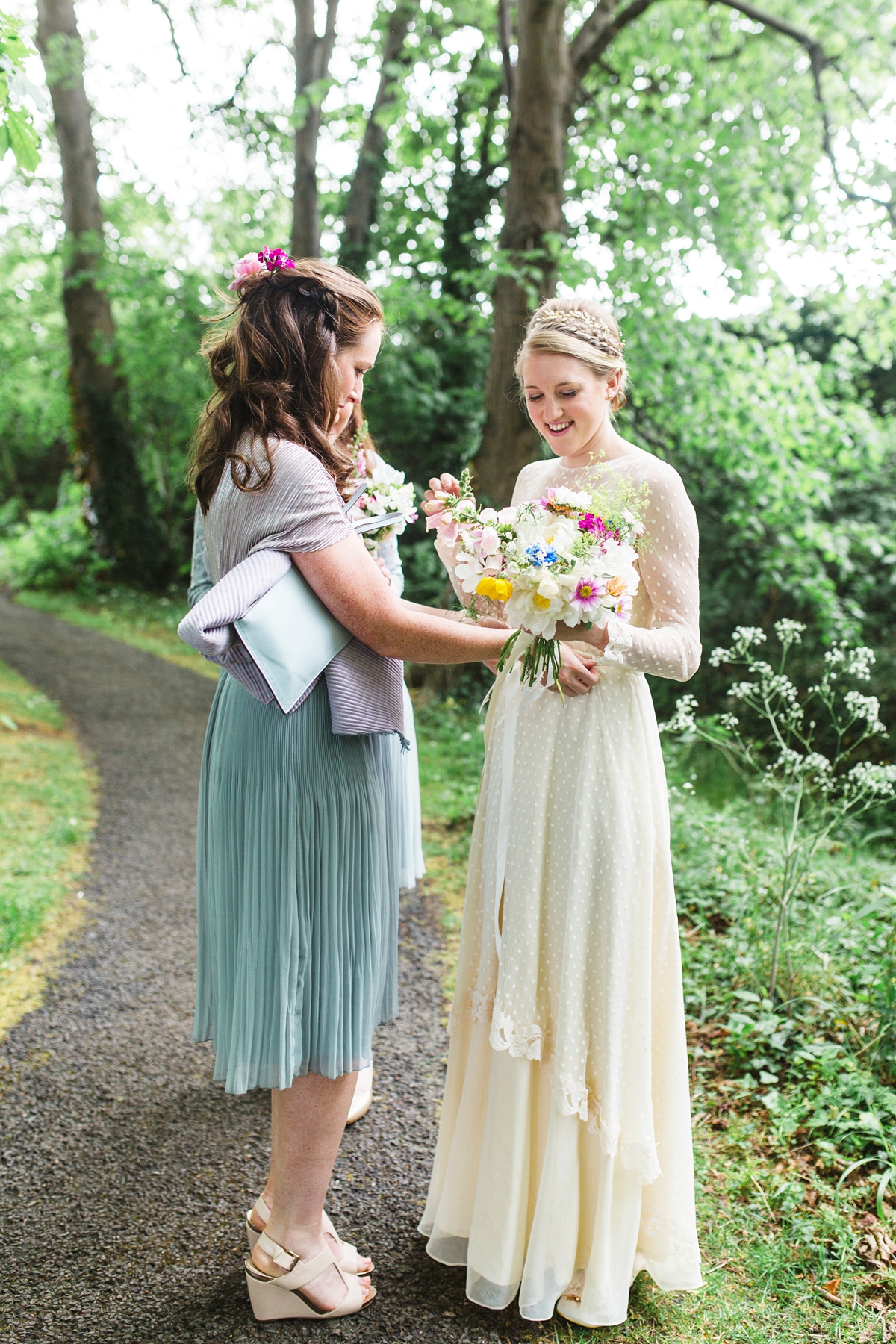 "I always wanted to get married somewhere personal.  Chris proposed on the beach in the bay nearby and it is a place that means a lot to us as we often spend time there on long weekends and holidays. I've also, always loved spring and our seaside location combined with the spring inspiration was a great backdrop for natural wild flowers and nods to the beach in smaller details."
Georgie wore her hair in a braided up do (the work of Kerry Lawson at AC Styling), to which she added a beautiful hair piece by Tara Bridal Accessories.  For make up she opted for a natural look by Karen Shields with soft pink lips and blush.
"Karen and Kerry work together quite a bit and are absolutely amazing at what they do.  I have incredibly fine hair and Kerry managed to magic it into the natural style I wanted with no need for extensions.  Karen is also amazingly talented; she understood the natural look I wanted perfectly."
The bridesmaids looked fresh and lovely in mix and match outfits from Zara (skirts) and Coast and Warehouse (tops), worn with fresh flowers in their hair.  I love how organic this mixed look appears.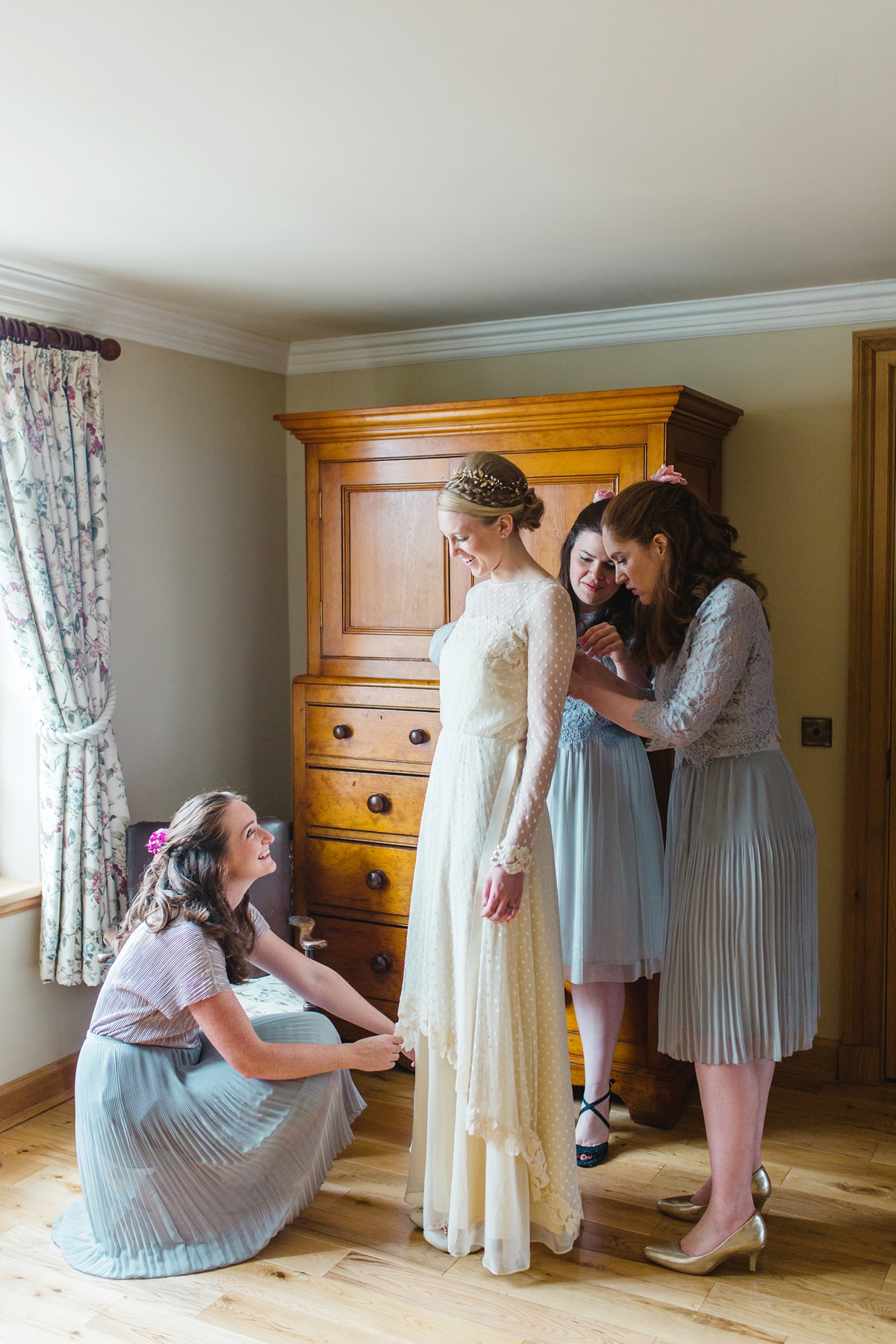 "Our florist was Dorothy at Forget-Me-Not Flower Farm.  She grows all her own natural flowers just down the coast and specialises in natural arrangements. "
"She did our bouquets and buttonholes and flower hoops for the reception and also supplied buckets of wildflowers.  My bridesmaids and I spent the Friday arranging them into jam jars and tins I'd collected and painted with chalk paint."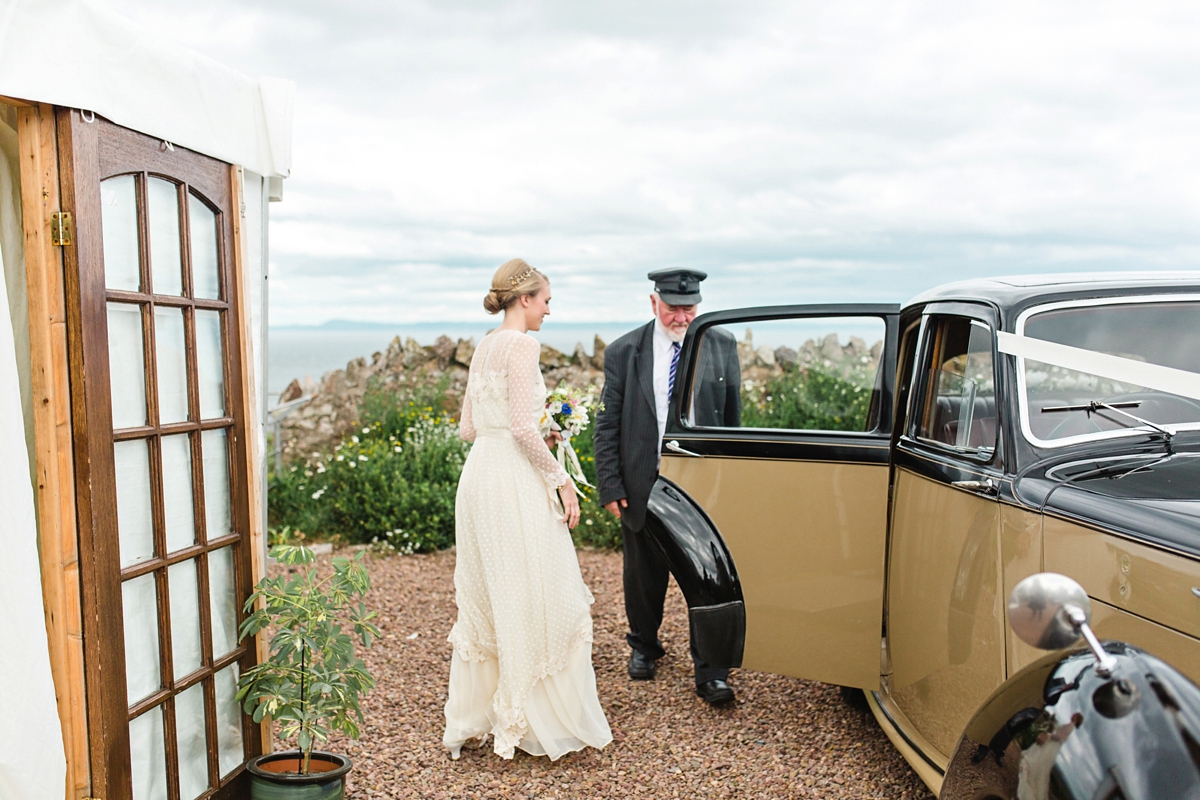 Georgie and her dad travelled to the ceremony in a beautiful car hired from Lothian Classic Wedding Cars and walked in to 'Here comes the bride' played on the ukulele by Georgie's brother in law.
"My dad walked me down the aisle.  Whilst I'm not strictly a fan of the whole 'giving away' tradition I will always cherish the memory of walking in together with him by my side; it was very emotional!"
"Our ceremony venue was Seton Collegiate Church.  It is amazing as a medieval church where you can have a non-religious ceremony if you wish.  Lesley who runs the weddings there is incredibly helpful and kind – a much needed support in the run-up to final preparations. We wanted to have a twist on the traditional and the church which has great acoustics.  Later in the ceremony one of my bridesmaids played the cello and some friends sang as we signed the register too."
The ceremony was led by Natasha Hood, an Interfaith celebrant.
For readings, Georgie and Chris chose extracts from some favourite books; 'The Time Traveller's Wife' by Audrey Niffenegger, 'Shantaram' by Gregory David Roberts and the E.E. Cummins poem 'I carry your heart with me'.
"Natasha was absolutely brilliant in putting together a personal and memorable service.  I am a big believer in mindfulness and Natasha even brought a few moments of calm reflection into the service.""The ceremony was probably the best part of the day. It was incredible to feel so much positivity in one place and to involve our friends and family in the ceremony as we said our vows."
"We bought our rings from E.C. One in London. They are a very friendly and helpful team and provided us with exactly what we were after – classic wedding bands that will last the long haul."
"Chantal and Scott (The Gibsons) were fantastic.  I initially loved their soft and romantic style and the combination of natural candid shots as well as more formal group shots.  Aside from their great creative talent, they were responsive and helpful in the run up to advise on what would work with timings and logistics and on the day itself they were indispensable."
"The photos they've given us are such an incredible way to remember things and alongside family shots they perfectly captured so many details and observed moments.  Needless to say, we would highly recommend them."
Chris wore a grey tweed three-piece suit from Reiss, while his groomsmen echoed his colour choices in grey three-pieces from Moss Bros.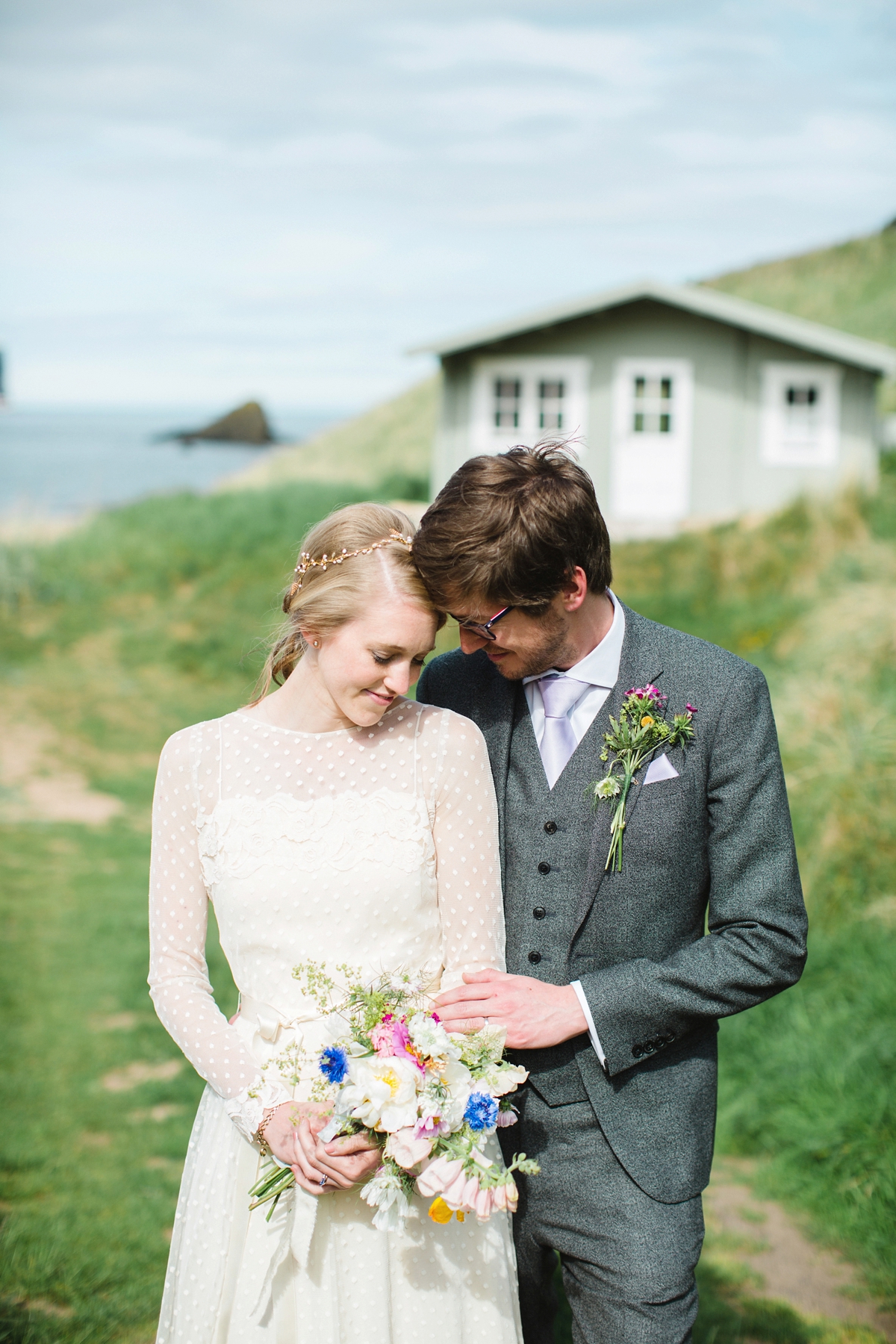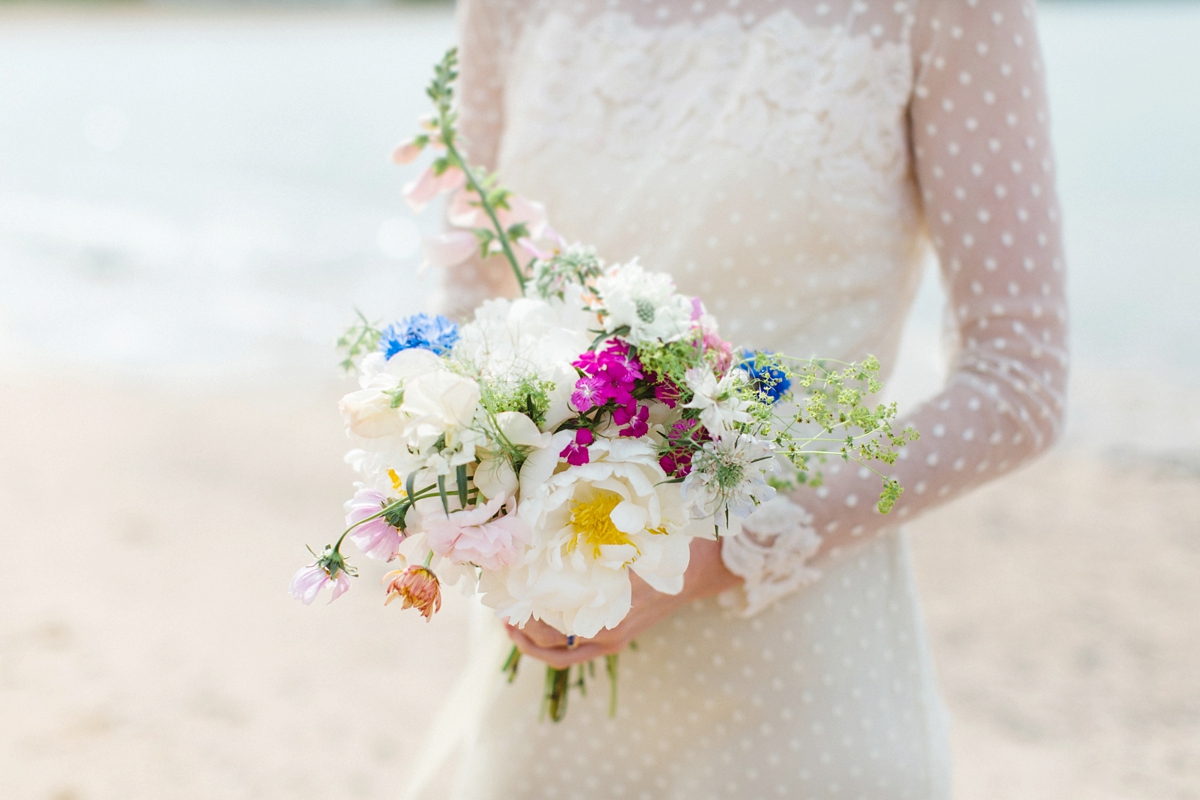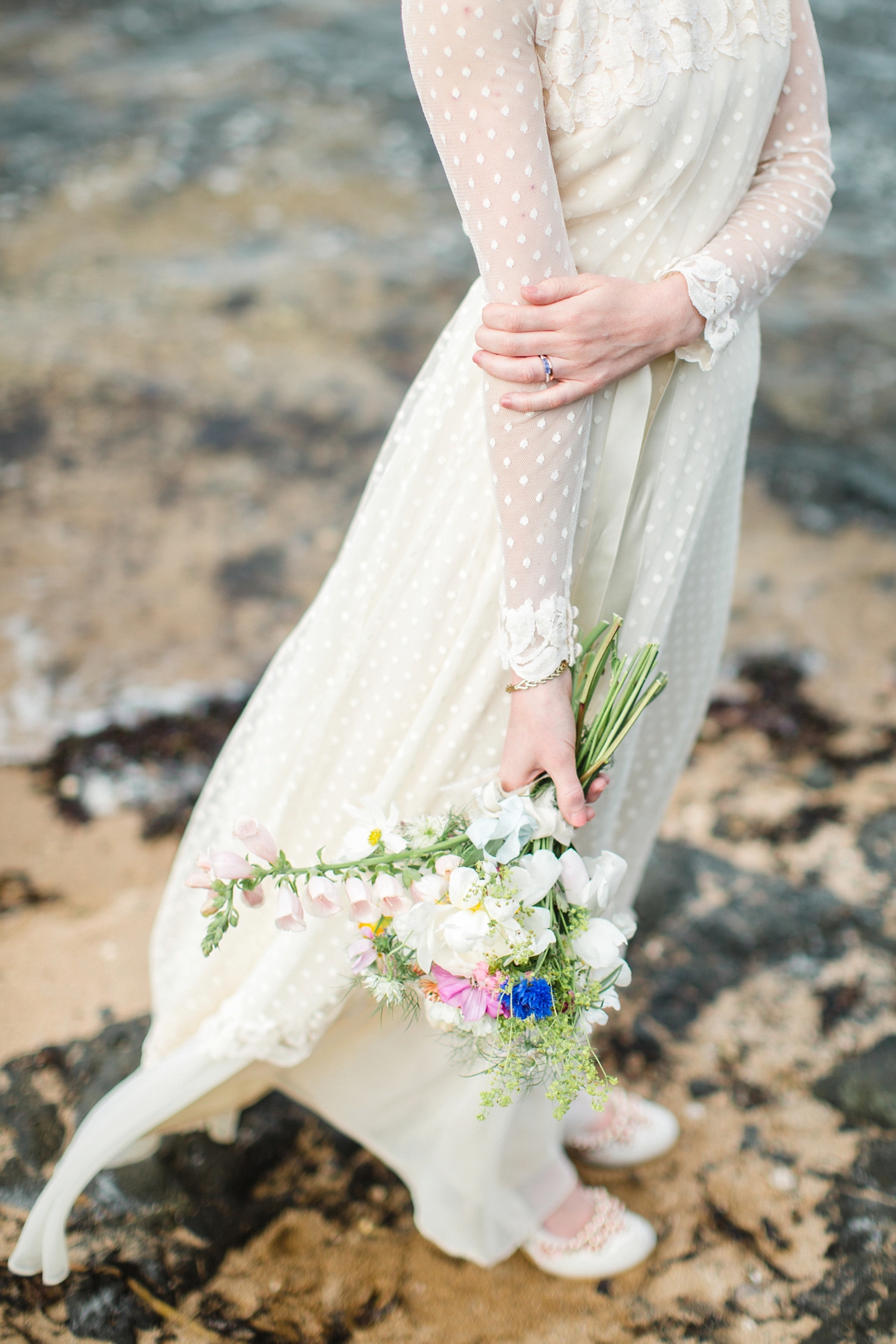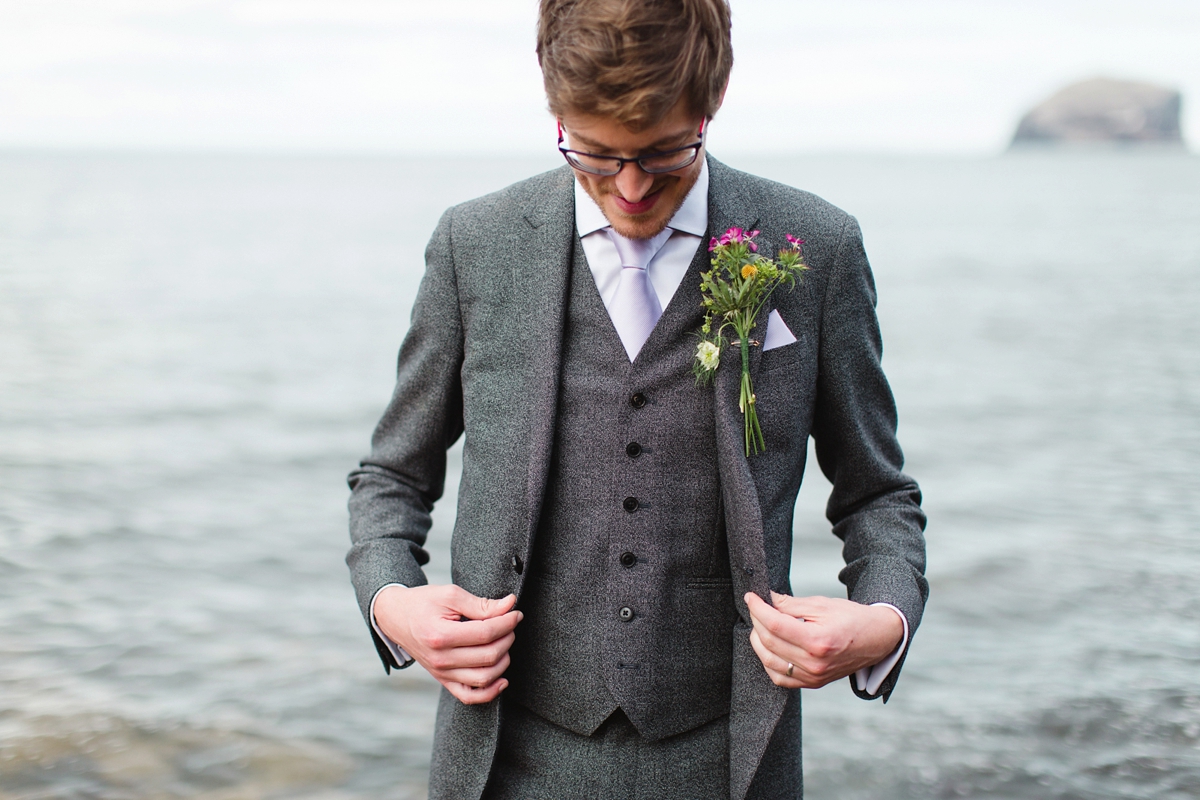 "When I was a teenager I worked in a local pub restaurant, The Garvald Inn.  The owners, Peter and Elaine, are a great team and so we went with them for our wedding."
"It was nice to know them personally and the food was great, including a giant cheese cake which disappeared very quickly!"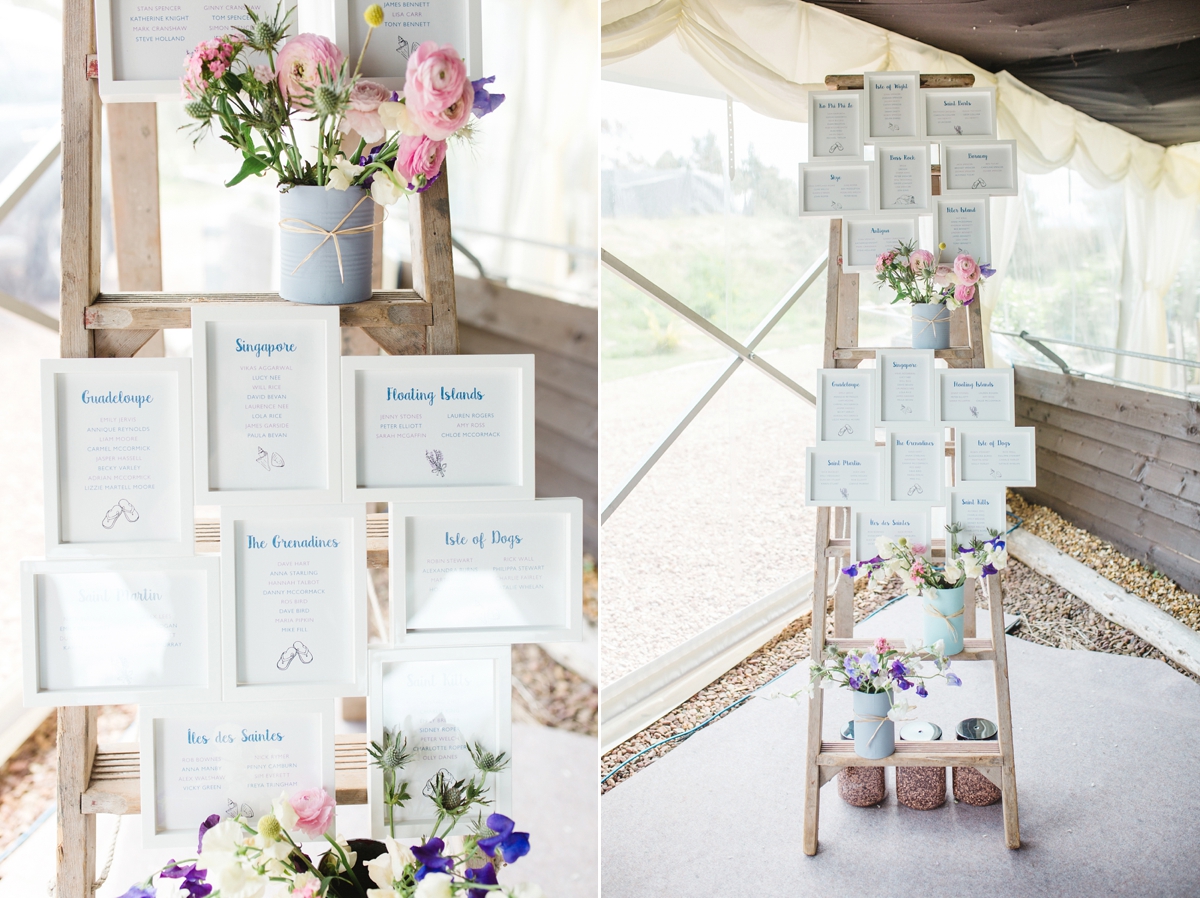 The cake was from Marks & Spencer and decorated by Georgie's brother and his girlfriend with edible flowers.  For favours, guests received a bag of Border Tablet, tied with ribbon and featuring a Trivial Pursuit card so that guests could quiz each other at the table should there be any lulls in conversation, a lovely idea.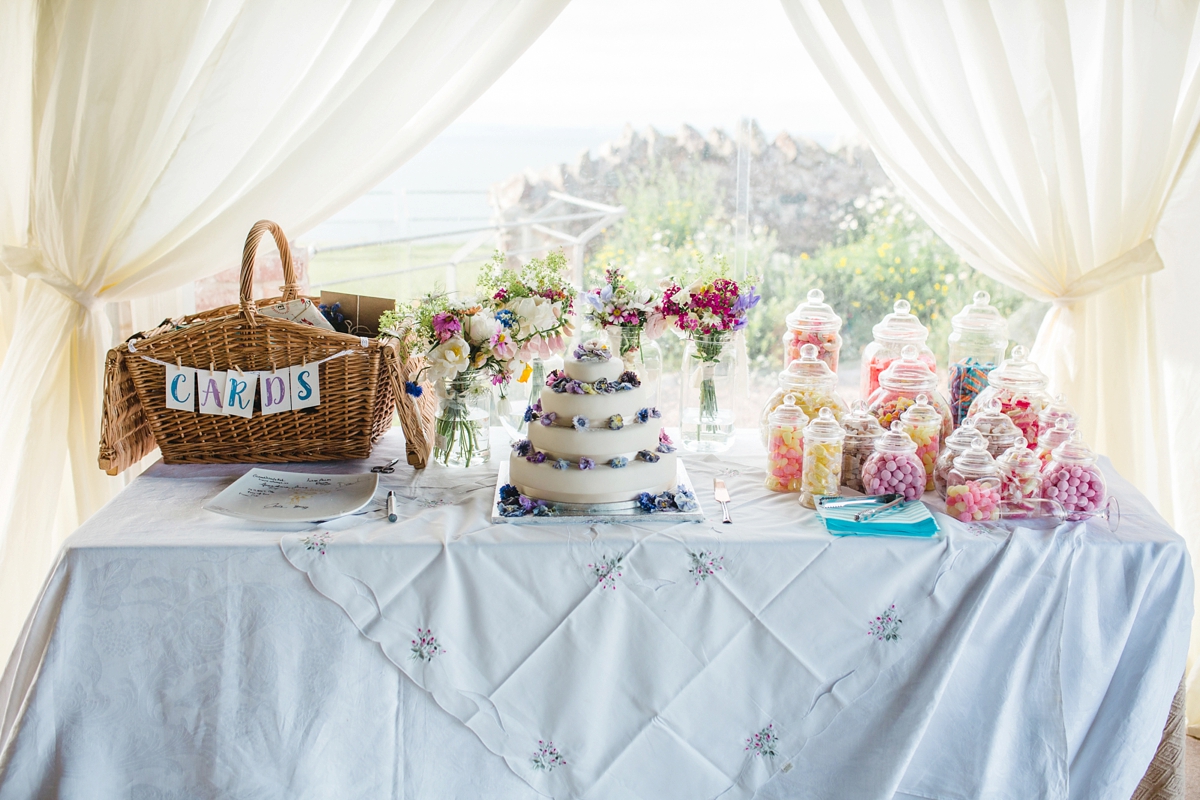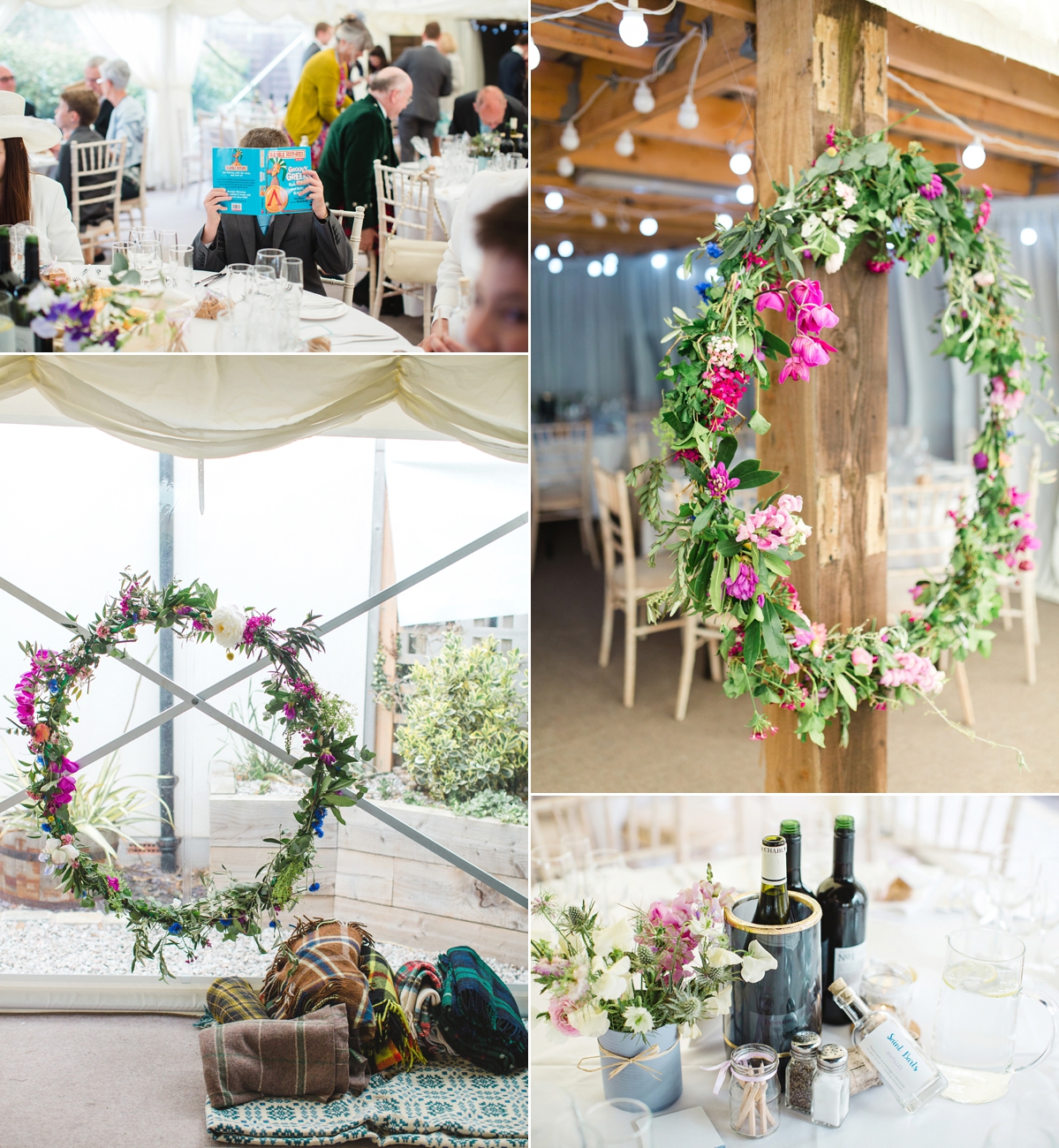 "We both love ceilidh dancing – it's a really easy way to get everyone no matter their age up on the dance floor and it's always hilarious.  I found The Sleekit Beasties through Music for Scotland and they were absolutely brilliant.  As well as traditional ceilidh dances they mix in modern covers and have a great set list.  By the end of the night we had to clear all the tables down the marquee away to make room for a giant 'strip the willow'."
"A very talented friend designed our invitations.  It was an amazing gift."
Words of Wedded Wisdom
"Think about what the most important part of the day is to you both and focus most energy on that.  Think of ways to personalise things that don't break the bank – and invest in the things you will remember forever.  Delegate different tasks to people around you who are eager to help too."
So many thanks to Georgie and Chris for sharing this stunningly fresh and vibrant day with us all.  If a wedding at home sets your heart aflame, take a look here for some more beautiful home-based inspiration- it can sometimes be the perfect location.  Similarly, if you just adore Georgie's Elizabeth Avey dress, take a look here for many more.
S x