Dear Readers, how are you? I'm feeling pretty sorry for myself right now, as I have a horrible, stinking cold, but this lovely wedding is certainly helping to take my mind off that right now.
It's a classic English countryside celebration – relaxed and rustic, and filled with glorious summer blooms. Importantly, too, our couple talk about the loss of a loved one, how they honoured his spirit throughout their day, and their strong sense of place and heritage in the village where the wedding was held. Meet Shona, who is an assistant in a consultancy, and Rich, a school master.
Film by Charlotte Palmer Photography
"Both Charley and her husband are amazing photographers and it was so kind of her to travel up with her little baby to capture the day on video the day goes so quickly that you feel like you didn't see anyone, or take in any of the emotions. As the bride, when you are talking to someone there is someone behind you trying to talk to you or get a photo with you and you just don't see the small moments that afterwards, watching back, mean so much. I would definitely recommend getting a video done…"
Images by Sharron Gibson Photographer
The couple celebrated their marriage on the 18 August 2018, with a ceremony held at St. Catherine's Church, Towersey in Oxfordshire followed by a marquee reception held at a friend's farm in Long Crendon. We begin with a fantastic short film shot on a vintage 8mm camera by Shona and Rich's photographer friend, Charley. Enjoy!
"Rich's close friend owns it and he used to spend summers working on the fields…All my siblings were christened at St. Catherine's. My grandparents and great grandparents are buried here, and recently my father's funeral was here. My mother grew up in the village and so it meant so much to her. Rich came from an army family so never had a set place for his 'roots' so it meant a lot to him how much this church is a part of our family."
Hair and make-up came courtesy of Gemma from The Bridal Stylists, who was a lovely, calming influence in all the hustle and bustle on the morning of the wedding. Shona wore her beautiful hair long and loose with a simple tulle veil (sadly no veil details supplied) and on her feet wore gold sandals from Dune.
"The pearl necklace I wore was my great grandmother's and worn by my grandmother on her wedding day, by my mother and both my sisters. I bought simple pearl studs to compliment it and Rich bought me a silver bracelet to wear on the day."
Shona's goddaughter Fliss wore a lace mini dress from ASOS, whilst her bridesmaid wore a dress from All Saints together with shoes from Kurt Geiger.
"I wanted to walk to the church, it's very close to my mother's and the village is so close-knit that everyone wanted to come out and cheer me into the church. It was so special for us to have the village all celebrate our day, like a typical old English village wedding!"
Shona wore a romantic empire line gown by Charlie Brear. The silk under gown was chosen at Perfect Day Bridal in Wiltshire, and later the ethereal and beautiful lace overlay was found on website Still White.
"Roddie was born at 11.4lbs so my body had changed dramatically, which meant buying my wedding dress was something I was dreading!…When I first tried on my wedding dress I was a lot larger (it was ordered in a size 18 and fitted down to a size 12 5 months later)…"
"When I was losing weight the look suddenly didn't seem right so I found the Charlie Brear lace overlay… I bought the lace overlay without ever trying it as I knew I would love it and I did! I needed to have a lot of alterations done but I found the most amazing seamstress, Verity Turner, who was incredible. She spent hours making the lace longer and the dress smaller. She made me feel special on the day, just as much as my Charlie Brear dress did."
"I had taken photos of this dress years ago, unknown to me!… The Voulaire lace overlay is just so beautiful! It has a train and makes you feel special. I was a princess for the day and not just a new mother! Verity Turner made a beautiful silk belt to complement the dress too…"
To help bring their day to life, Shona and Richard secured the services of event planners Littleton Rose, and they did an amazing job with the couple's wish for a rustic celebration.
The couple first met in October 2016 on a blind date, after a friend set them up! After three months they decided to try for a baby, and after 4 months together they made the decision to move from London to Devon.
"Before I met Rich I thought moving to the country was moving from Fulham to Barnes! …We were very lucky to get pregnant very quickly with our son, Roddie, who is now 8 months old and who was a key part of our wedding day."
"Rich proposed to me up in Scotland. I lost my father to cancer 3 years ago and he proposed to me on the River Spey, beside where I would always walk with my father as a child. Rich knew how much this meant to me; if my father couldn't be there to approve our marriage, he could be there in spirit. After Rich proposed, in the rain (not surprising!), three rainbows came out –it made a special moment magical… it felt like my dad had given his blessing…We got married a year later, almost to the day."
Shona was accompanied down the aisle by her younger brother, whilst a string quartet (no details supplied) played Canon in D by Pachelbel.
"My vicar, Rachel, was the Reverend on the day. Rachel did my father's funeral in that church 3 years ago and has seen my life change so much in those 3 years. I was single on that day, and 3 years later to marry me to the man of my dreams with our son beside us, meant so much to both of us."
"Rachel did special things in the service, which no one would pick up on other than me, and Rachel waited outside with me as she knew how nervous I was walking down the aisle. I couldn't have done it without her."
"Rachel never told us but she had had a bad relapse of her MS but had said she wouldn't have missed doing our wedding for anything."
Shona and Rich wanted their wedding reading to be lighthearted and fun, and so Shona's best friend Sarah chose the lovely I Like You by Sandol Stoddard Warburg.
"Rich gave me my mother's wedding ring on our wedding day. My parents were blissfully happy, they are what I think a happy marriage should look like, so my mother giving me her ring to have, meant so much to me. It symbolises a happy, long loving marriage to me."
[ADS-TOP-ONE-
"The church was my favourite part of the day and I always thought it was going to be the worst part of the day! I thought it was the formal part before the party! This is actually the only part of the day which is about both of you. I didn't really notice anyone else in the church other than Rich. It was so special to stand there and say your vows to someone you love. I never knew how special it would be, and how much I would love it, till I was there."
The exquisite orders of service were made by the step-mother of Shona's half-sisters and brother.
"The painting on the front is a picture my grandfather drew, which she sourced, and the quote on the back was a Scottish wedding blessing for my father."
[ADS-PRIMARY]
"My friends also bought me a locket of a picture of my father and put it in my bouquet so he could walk down the aisle with me. They presented it to me as I was getting ready! It was the only time I cried all day… it was so thoughtful and meant so much to me that he was there and that my friends knew how much that would mean to me."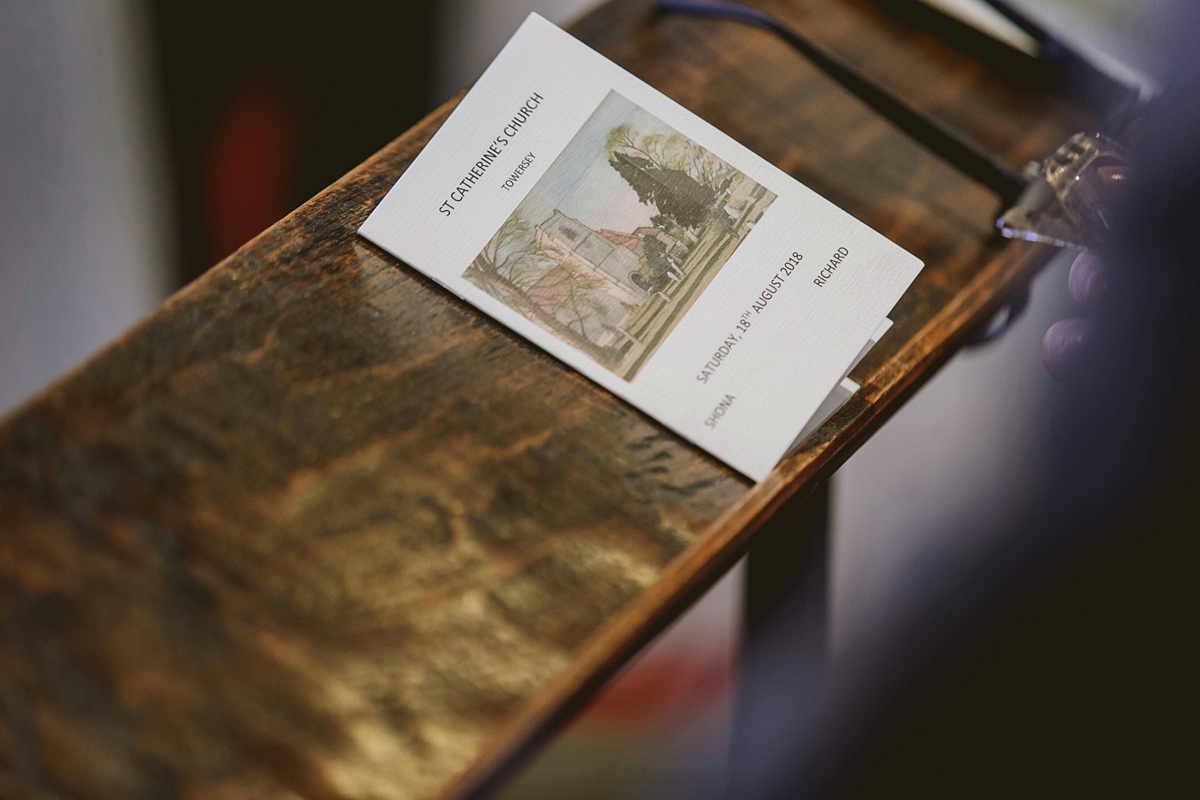 As a finishing touch, Shona added her wedding day fragrance, Jo Malone's Bluebell, which Rich bought for Shona on their first Christmas together, and is a favourite.
The flowergirls looked lovely in classic white lace and tulle dresses and silk flower crowns from Wild & Gorgeous. Shona gifted them pretty pearl bracelets, too, with a small silver plate engraved with their initials.
Foxglove Studio did the most incredible job with the wild and wonderful floral arrangements for the day, both inside and outside the church, and with the bouquets and posies, too.
We have photographer Sharron Gibson to thank for this magical array of touching and heartfelt images, and you can see another of her lovely weddings on our blog pages here.
"I had been recommended to use Sharron as she is an incredible natural photographer, and when I looked, I found out that she lived locally in the Buckinghamshire area, which was a great bonus. Sharron captures beautiful moments, not just staged group shoots."
"With the weather being so windy at the farm we didn't have many group shots but Rich and I don't feel comfortable doing 'staged smiling'. Sharron was just silently in the background taking really authentic moments and emotions throughout the day."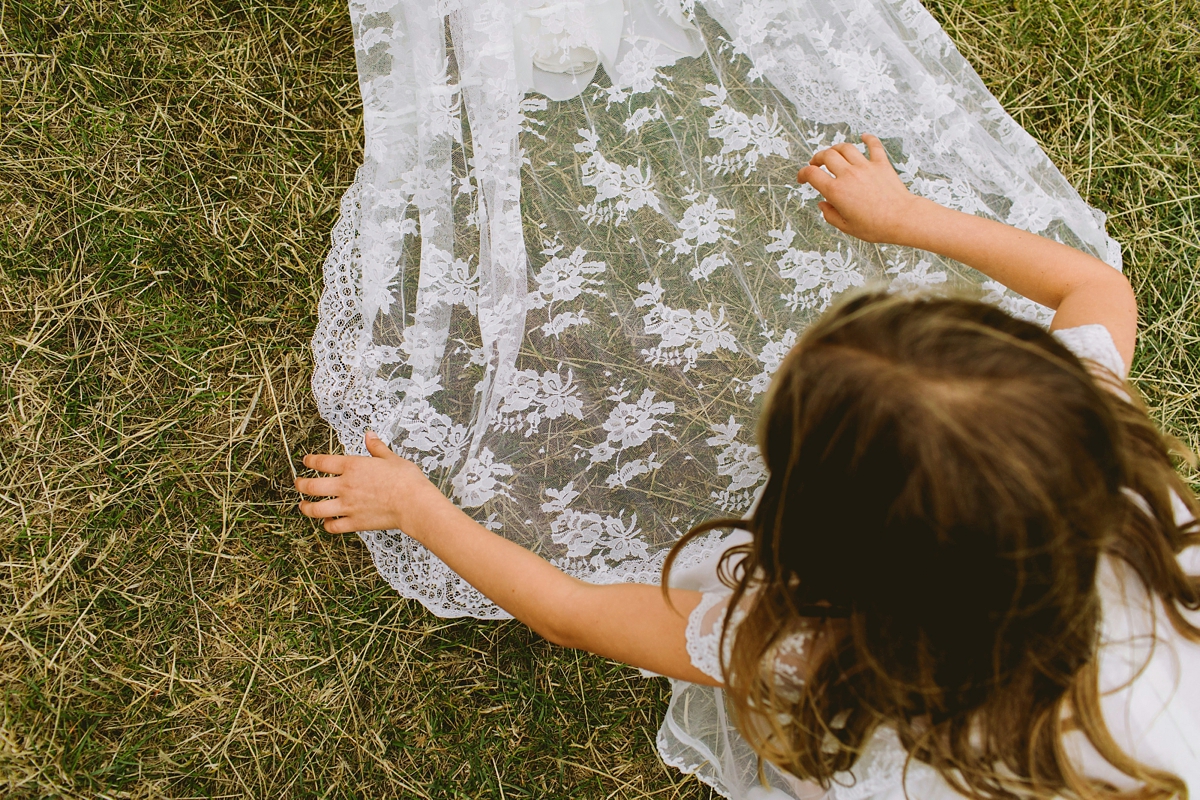 Rich's Best Man was his brother, Jon, who is a Major in the army and so wore his uniform, along with Master of Ceremonies, Tom.
Rich looked handsome in a classic morning suit he owned, and Shona gave him a pair of silver cufflinks with their son's fingerprints.
"Not that we needed reminding about him, as soon as they pronounced us 'man and wife' he screamed his head off! He made sure the attention was on him and not us!"
Outside there was a Prosecco van from Bubble Bros Ltd and an amazing boat bar, too! There was also rustic wooden signage and lots of hay bales dotted around for seating.
"
"We said our wedding was a 'baby-in-arms' wedding. Being a new mother, I know I couldn't leave my son so I wouldn't expect others to leave their babies. We got Freckles Childcare to help with two nannies, and had a little tent for them to play in with toys. It meant that there wasn't screaming children in the marquee when we were doing the speeches, and it meant people could have fun without their baby attached to them!"
"Inside the marquee I wanted a rustic large wooden bar with fun Bar lighting, and a gin bar with all my favourite gins (and a botanical selection of things to add to the gin!). All the tables had hessian runners and the flowers came out of wooden centrepieces…like a meadow. I didn't want any vases as that didn't feel right on a farm!"
There were also stunning lit hoops of flowers, moss and foliage hanging in the marquee, with all of the styling coming together beautifully to create a wild and natural feel.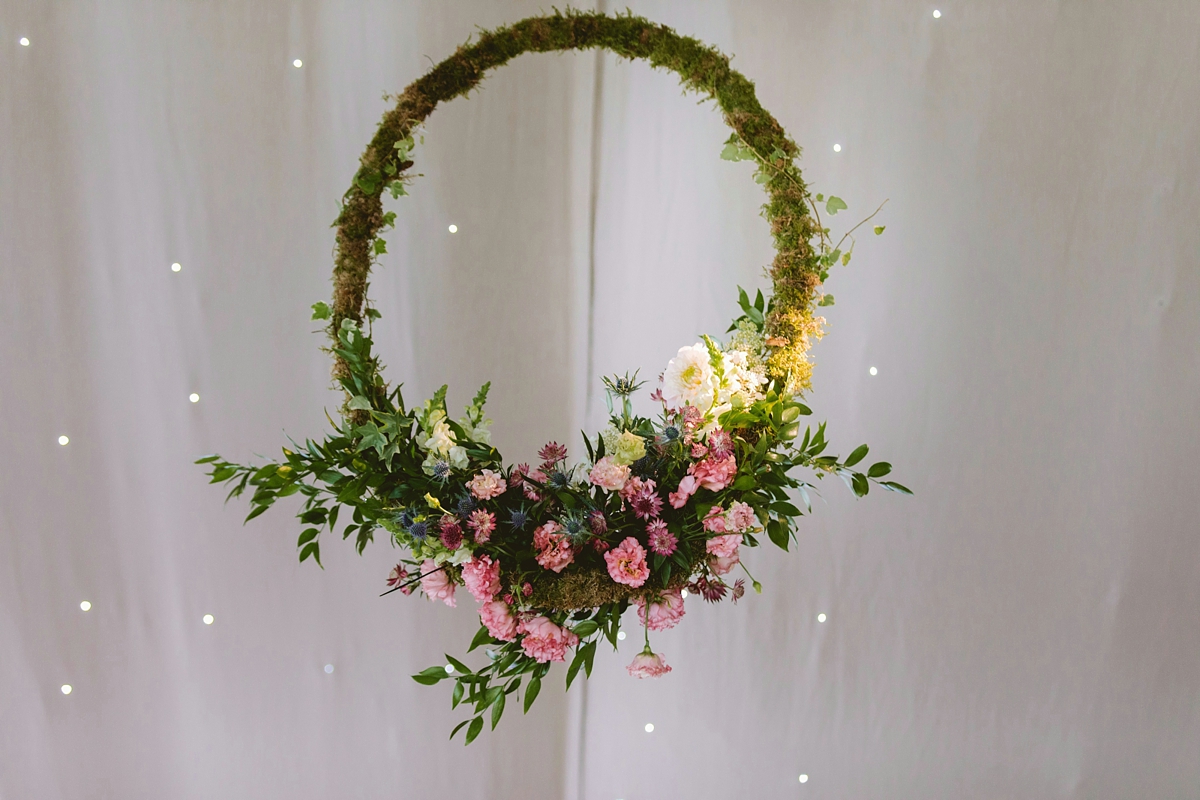 Following the ceremony, Shona and Rich took a drive in a classic Jaguar (no rental details provided), firstly to the local pub so they could enjoy a glass of champagne together before heading over to their reception (what a lovely idea!).
At their friend's farm, a wide expanse of open field was styled to rustic perfection, with milk churns filled with blooms flanking the marquee. Scottish artist Katy Hackney of Hackney & Co. created beautiful illustrations on the table plan and place settings.
"As I lost my father 3 years ago, I wanted his presence to be in every part of the wedding, mainly for me to know he was there. He was a proud Scot so the table names were all flowers found in Scotland, all the flowers all had thistles in them,the string quartet played Dire Straits as I signed the wedding register (his favourite band) and the wedding favours were donations, on behalf of every guest, to Cancer Research with the gift of forget-me-not seeds."
Instead of serving a starter at the dining tables, Shona and Richard instead opted to give guests extra canapes (10 each) as a more informal way to begin the meal, whilst enjoying drinks outside. Caterer Sarah Hollowell made delicious steak skewers, quail eggs and scampi. This was followed by rack of lamb, then Eton Mess followed by coffee and a cheeseboard.
"I worked in events for a long time… Sarah is by far the best cook I have ever met, I have had so many letters after the wedding talking about how they don't understand how lamb could be so good when mass catered! I didn't think food mattered but I was wrong, she set a wonderful tone. Everyone left feeling well fed and watered!"
After dinner and speeches, there were fun and games to be had – outside at a VW Campervan photobooth from Vintage Camper Booths, and back inside the marquee, live music from band The Dominos as well as a DJ. Shona and Rich's first dance together was to You've Got The Love by Florence and the Machine.
"This is the song we played to each other on our first Valentine's Day and it has always been our song since."
Words of Wedded Wisdom
"I only wanted a maid of honour and my godchildren to be my flower girls. I wanted instead all of my close friends to come around for a glass of prosecco beforehand so they could calm my nerves, and they could see me before the service. I didn't want a large 'bridal flock' but I still wanted my friends to be included."
"I was so bogged down in the detail, and got overly stressed about all the 'big show off gestures'. None of that matters on the day. The small gestures are the biggest. The Order of Service made by Sue, the petals picked by Rich's school gardener, Charley making a video for us, my locket and all the friends and family travelling to watch us get married."
"The amount of arguments we had over things in the run up which meant nothing now is crazy. Enjoy it. Enjoy planning it. Remember why you are getting married! People don't care, all they want is to see the people they love happy on their wedding day. (and they want to see the wedding dress –which really does matter!)."
"If you have any extra money I would really suggest having a wedding planner, even for the final part. It actually saved me my sanity to have someone helping me, and taking everything off my plate and just organising it. Lexi, our wedding planner, was our saviour –I didn't feel alone and I knew nothing would go wrong with her there."
"Also, I wish I had gone to each table to talk to everyone. We didn't and there are so many people who came to the wedding I didn't even see! Make time over supper, people don't want to take photos of you when they are eating so it is a perfect time to quickly thank everyone personally!"
Shona and Rich, thank you and congratulations. Shona, thank you also for so thoughtfully and honestly sharing the ways in which you honoured your beloved father all the way through the day. Many thanks to Charlotte Palmer for that incredible 8mm film, and Sharron Gibson for these gorgeous images.
Love,
Laura