I invite you to dive into this epic level floral inspiration sent in by the very lovely Krysta from For the Love of Weddings, and stay just as long as you need to.
And please, take your time to enjoy the elegant Autumn magic on this one. I'm really feeling the need to encourage everyone including myself to slow down and pause as much as possible at the moment because the seasons are passing us by at what feels like a rate of knotts! I'd like to thank Krysta, whose words are below, and her creative team for choosing to share these beautiful images on Love My Dress.
These gorgeous images were captured on location at Barns & Yard – an up and coming new venue nestled within the Malvern Hills. I encourage you to check it out if you are planning a barn wedding in the area.
Photography by Katrina Bartlam
"This styled shoot was very special to me as I witnessed an idea that had grown from a tiny little seedling in my imagination to a full-blown flourishing creative collaboration. It was, in every way, a dream come true. I feel so blessed to work with the kind and creative souls that I do and when we come together with a shared vision whereby work so tirelessly to bring to life, it feels like nothing short of magic."
"This Styled Shoot was located at brand new wedding venue, Barns & Yard, and was shot by one of my favourite wedding photographers, Katrina Bartlam. I adore the way Katrina works with light and on this cold yet sunny autumn day Katrina captured the abundance of colour, especially outside as the burnt orange and fading yellow leaves were reflecting off the water."
"This was an incredibly exciting collaboration for me; it's something I have wanted to execute for a long time now, and I was very excited to have India of Vervain Flowers on board. I am a huge fan of India's work; her unique sense of style and endless knowledge of flowers blows my mind every day."
"I took great care in selecting the right team of suppliers to bring this vision to life; it really was the most beautifully curated team effort, with all hands on deck and creative input from all of the experts on board."
"Whilst I always have a strong idea of how I want things to look, I think it is so, so important not to stunt anyone's creative process or input. I simply provide my chosen team with the brief and watch as the magic unfolds."
"It feels like such an exciting time for so many of the suppliers involved. The venue is of course brand new, owned and ran by two of the kindest and most passionate ladies, sisters in fact, that you'll ever want at the helm of your wedding space."
"The venue opened in March 2019, and I am excited to have booked the venue for one of my 2019 Autumn couples."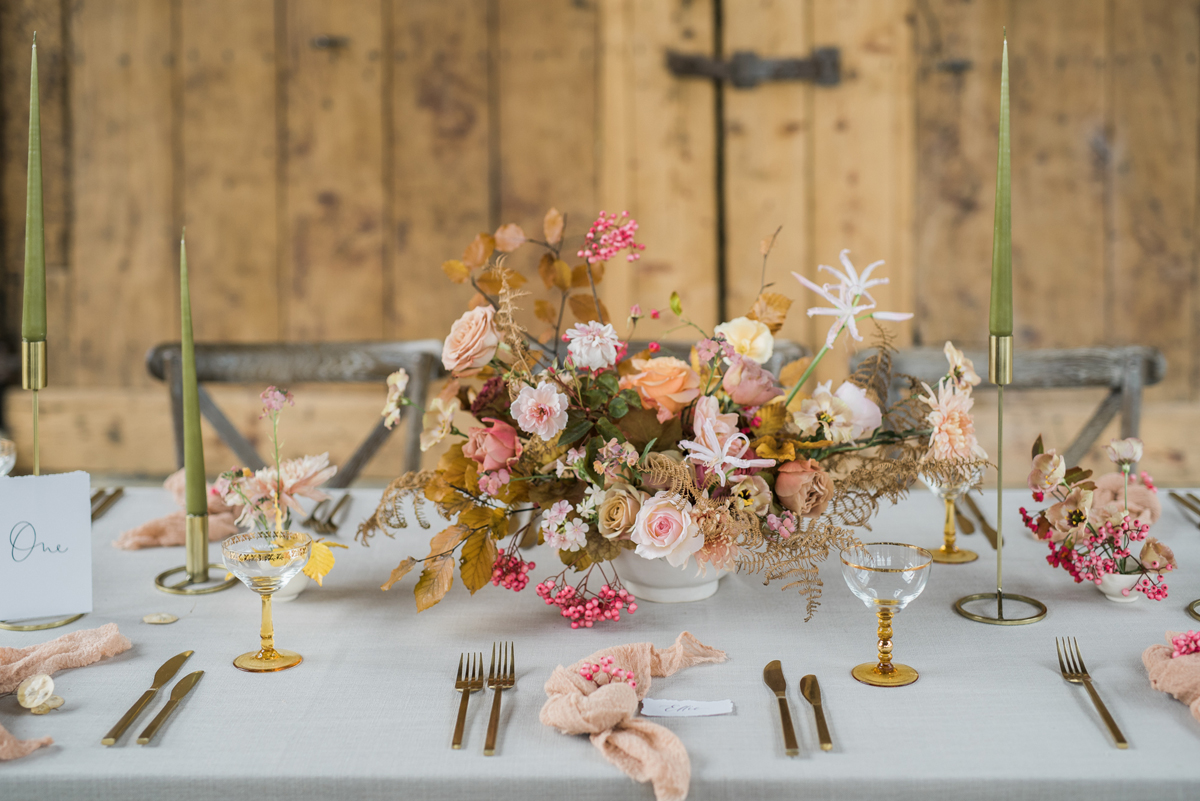 "We also feature two exquisite gowns from the beautiful new collection by Sienna Von Hildemar (and therefore two bridal looks; 'day vs night'). Sienna designed a bespoke wedding gown for one of my beautiful brides last year and I can't wait for that wedding to be featured on Love My Dress this year."
"We also included brand new collections of hair accessories and jewellery from Victoria Percival, plus stunning shoes from Victoria at Faber Novella. "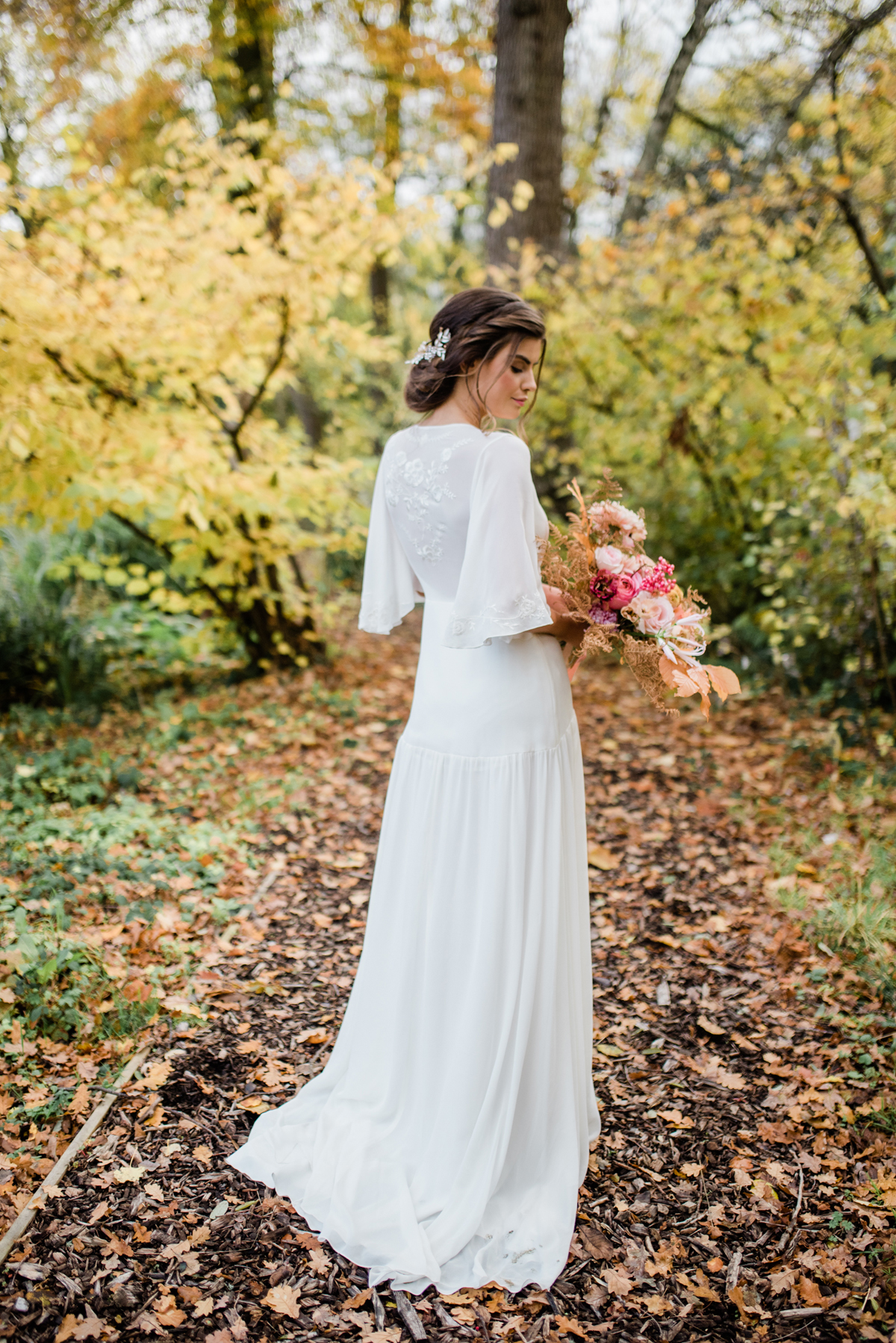 "I work with Amanda from Vintage Gold China on nearly all of my shoots and weddings; Amanda always goes above and beyond to source and supply the props needed. It was also very exciting to collaborate with brand new prop hire company, Luxe My Wedding. I am an especially big fan of their neon light signs."
"With regards to the overall concept, styling and design, I didn't want to fight against the beautiful existing surroundings. I also wanted to make use of the gorgeous lake, plus roaming acres of greenery and abundance of trees – especially those lining the drive of the venue."
"There is lots of beautiful natural wood, brickwork and limewash in the barn and this backdrop was perfect for a lighter, softer style."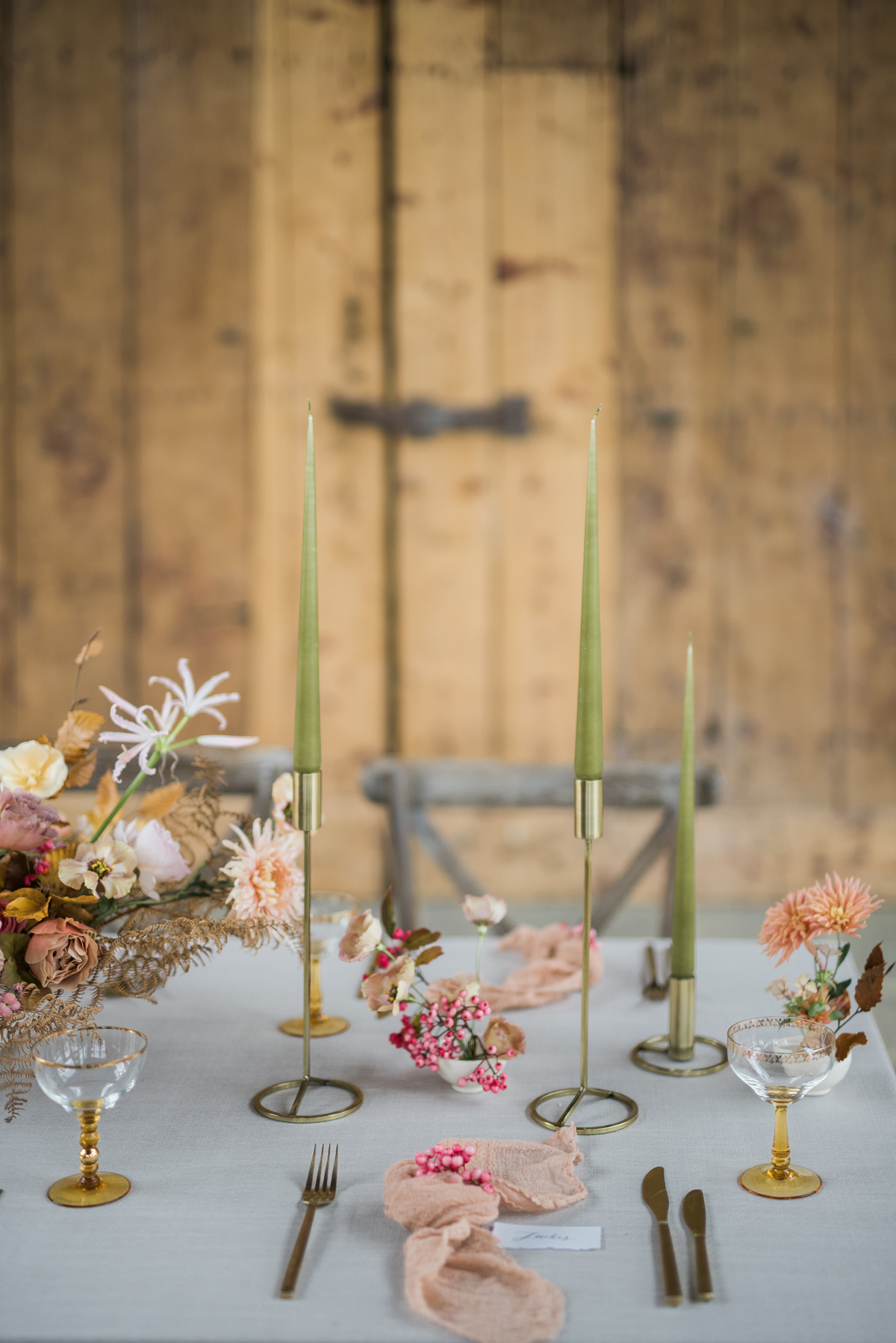 "This shoot has a pared back feel, with lots of natural tones and textures and a gentle softness to it. The colour palette focused on burnt orange, browns, soft pink and cream, textures of linens and silks, ceramics and muslin."
"I made sure to include space within the styling so that it was warm and inviting but not over cluttered, with an inherent beauty in everything."