I am incredibly excited to be sharing these images and film with you today. The designer behind these gowns is an artist I've been obsessing over for a good while now and for good reason.
Emma Beaumont is an unbelievably talented designer and bridal gown maker, who I first discovered through our former writer Holly's most chic and stylish wedding. Emma represents the level of independent talent I love to recommend to all Love My Dress brides.
Emma is in the process of joining our Little Book curated wedding directory, and as it happens, the photographer behind these images is already a member. And so it brings double the sense of pride and joy to be sharing this gorgeous collection of images with you. Reading through designer Emma's responses to my questions below, I resonate hugely with and am inspired by her passion for her craft and commitment to her artistry.
Film by Rachel Takes Pictures

+ Follow
(tip your screen sideways on your phone to best enjoy this film)
Before we dive in to that conversation, please allow me to share a little about this beautiful editorial shoot and collection of gowns; these images were captured by talented Cheshire based wedding photographer, Emmylou of Vanitas Life, at Tabley House, a fine Palladian home designed and built in 1761 for the Leicester family, who lived at Tabley for 700 years (and which also happens to be licensed for weddings and civil partnerships). I adore how Emma's modern and contemporary designs look so at home and so glamorous and sophisticated in the context of this historical and stately setting. Emma tells us more;
"I wanted to create a collection which had echoes of a bygone era, but would still be completely wearable today. Each dress has been individually crafted to showcase the diversity of design ability and creative skill within the studio and combine traditional dressmaking techniques with a fresh and modern approach – which is the very ethos of the Emma Beaumont brand."
Vanitas Life Photography

+ Follow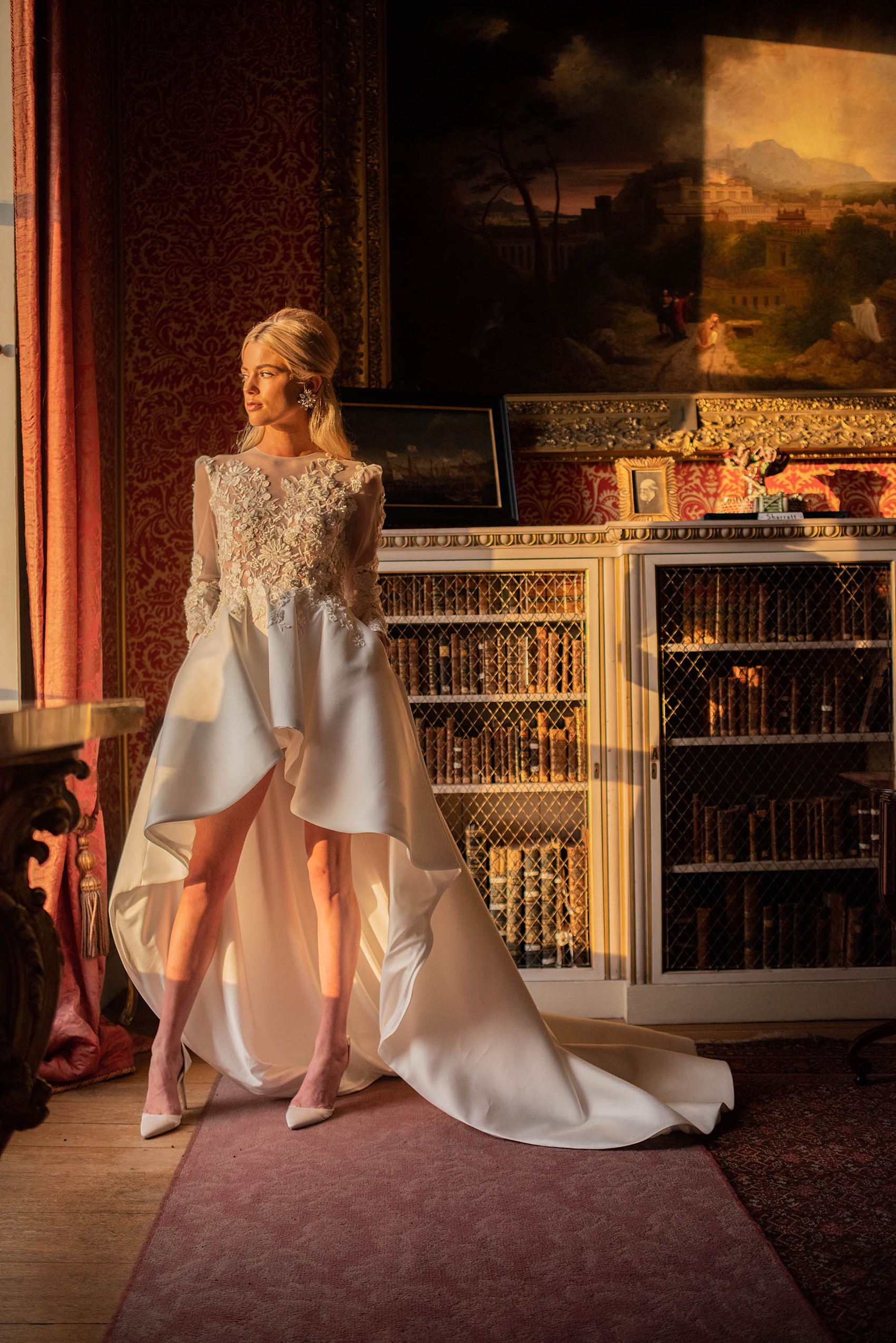 "The 'Tabley Collection', named after the beautiful venue these images were captured in, represent a timeless collection of classic couture silhouettes, heavily embellished with opulent and eye-catching finishes. The collection, our largest to date, consists of eight magnificent, heavily textured gowns and took hundreds of hours to complete using traditional couture techniques."
"Using floral embroidery to soften the dramatic crinoline structures, each gown boasts decorative features such as pearl beading, feathers, organza petals, ruffles, and handmade beaded tassels for a truly striking finish."
The creative team included filmmaker Rachel Takes Pictures (who created the film above), floral artists Fletcher & Foley, jewellery designer Jennifer Gibson, make up artist Sarah Dunn and hair stylist Vicky M.  You will find the full list of editorial shoot members at the end of this article, each of which is available to hire for your own wedding.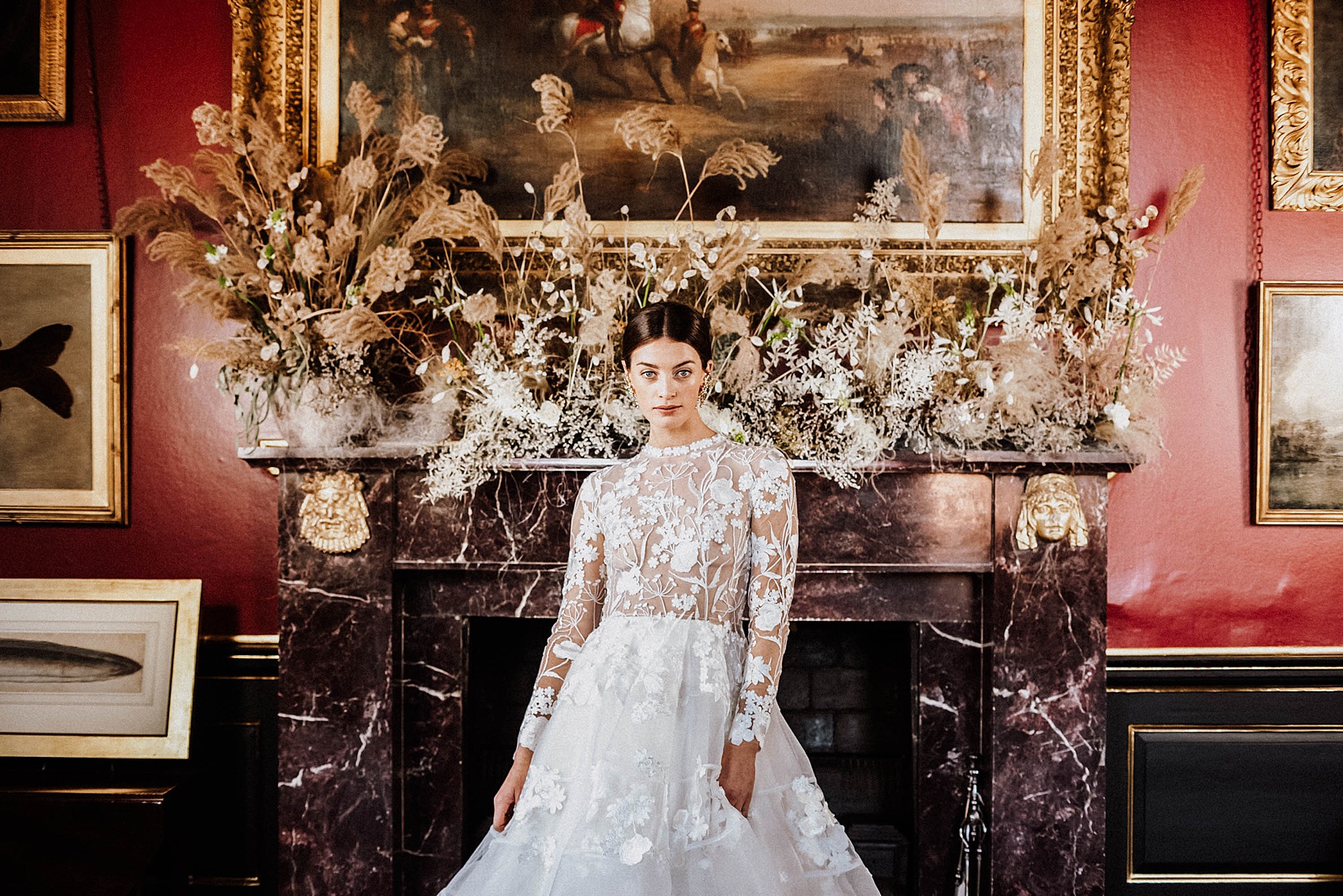 A Conversation with Emma Beaumont
Emma, please introduce yourself…
My Name is Emma Beaumont and I started my business around seven years ago. I turned thirty last year and I live in Knutsford with my little boy Maximums who is two and a half. My house is a two minute walk from my studio which I would also class as my second home. I started the business in 2013, with the help of my mum, Sarah.
Tell us how you started out in bridal fashion and what drew you to bridal in particular?
I started my business after university, I graduated from University of the creative arts in Rochester, Kent. I studied Fashion Atelier, a degree really focused on the couture techniques of sewing and learning the fundamentals of garment construction. Graduating with that knowledge I began sewing for friends and family. My first workspace was to the back of a nail salon, were I would often get women interested in having dresses made after coming into the salon.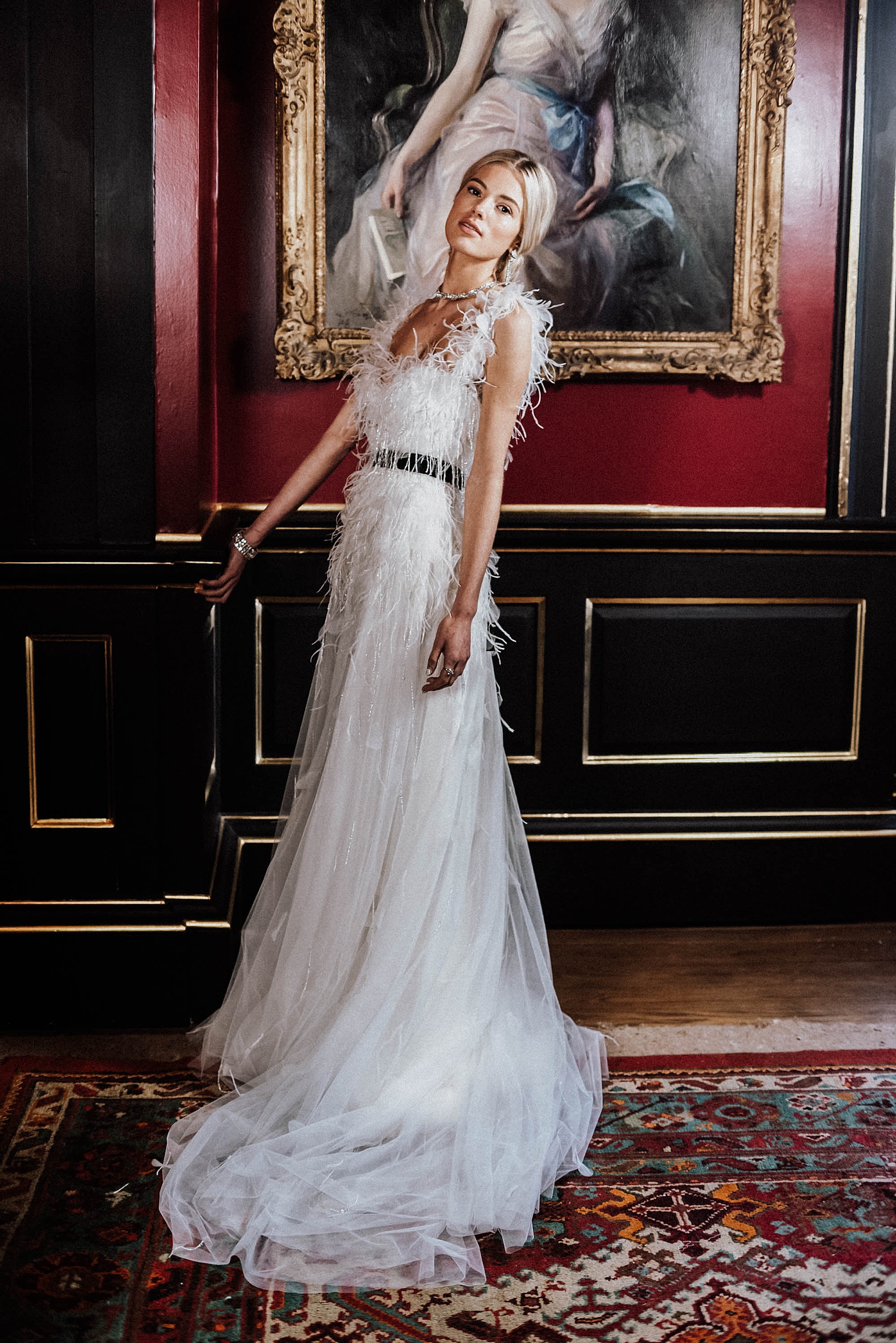 My mum also worked in bridal throughout my degree, I would help her at sample sales and became familiar working with brides. I would say the bridal bug really got me once I discovered lace. I love laborious handwork, texture and dissecting fabrics with bridal you can really explore and experiment with beautiful things to create something individual and unique.
I am not going to lie, it is tough, I am a workaholic. But when it's my son and I together I manage to switch off – something I never had the ability to before. He inspires me every day. Emma Beaumont
What do you love most about working in the bridal fashion world?
It wasn't just the beautiful dresses or the glamour that got me inspired, but the feeling when you see that person wear their perfect dress, looking exactly how they imagined. That is what keeps me going and working so hard, diving into the brides mind trying to capture exactly how the envision to look and bringing that to life. Sometimes it's not even the dress they can see, just the overall mood or essence of style they want to portray, seeing their face when you have brought it all to life is really quite special. Bespoke really is my passion.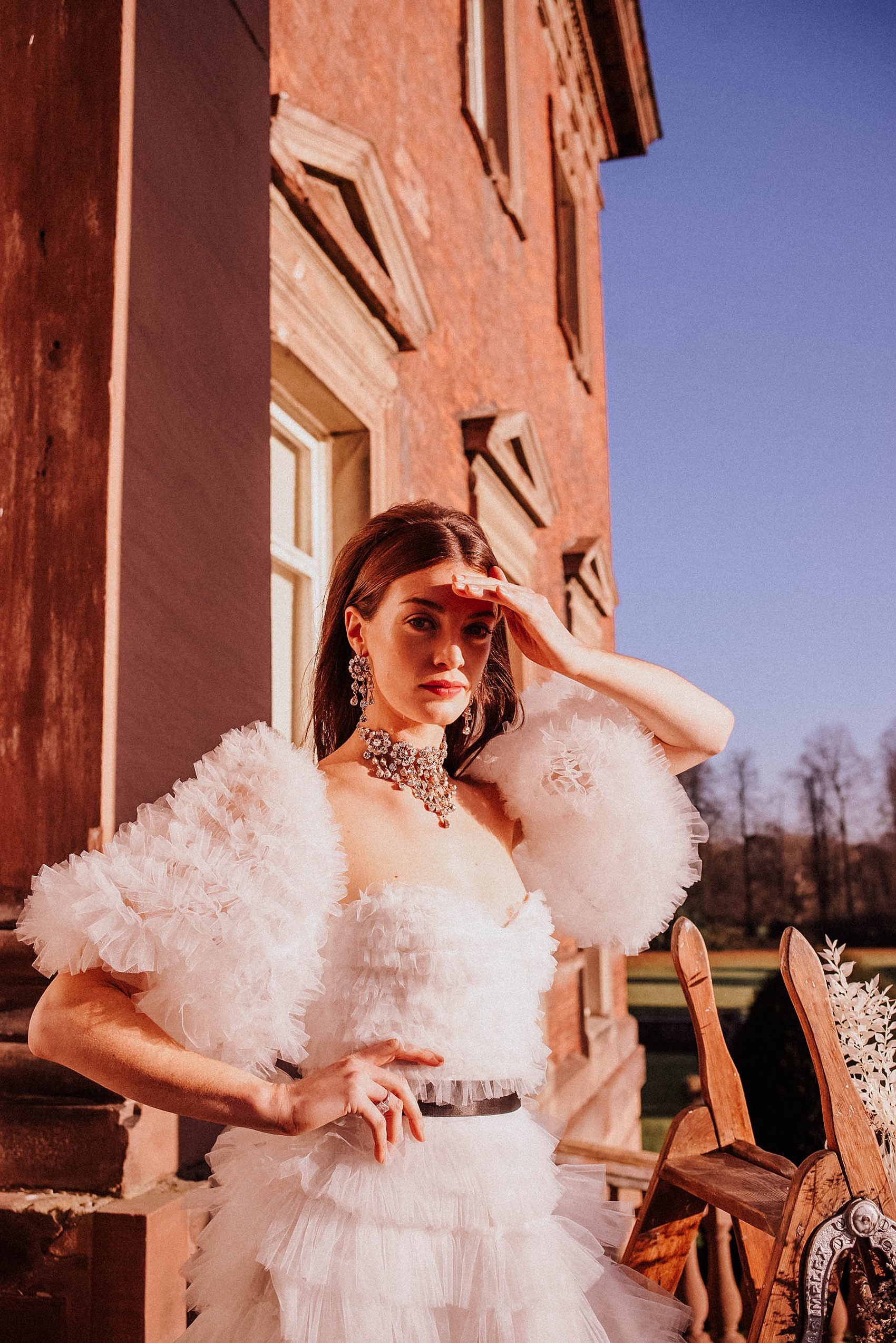 Can you describe your signature style?
In 2018, my signature style was a huge Mikado skirt with heavily embellished top, but it has moved on since then. I feel since then it's the intricate details that make my dresses stand out to others.
What do you think makes your brand so appealing to brides?
That each dress is bespoke and completely individual to them. From creating their own fabric, to design, everything really is completely unique and individual to each client.
And what makes it so special from a design point of view?
Everything is made in the U.K and our dresses never leave the studio. We take extreme pride in our hand finishes and personalised details. We do extensive prototypes of each dress to make sure it's perfect before each new design is made.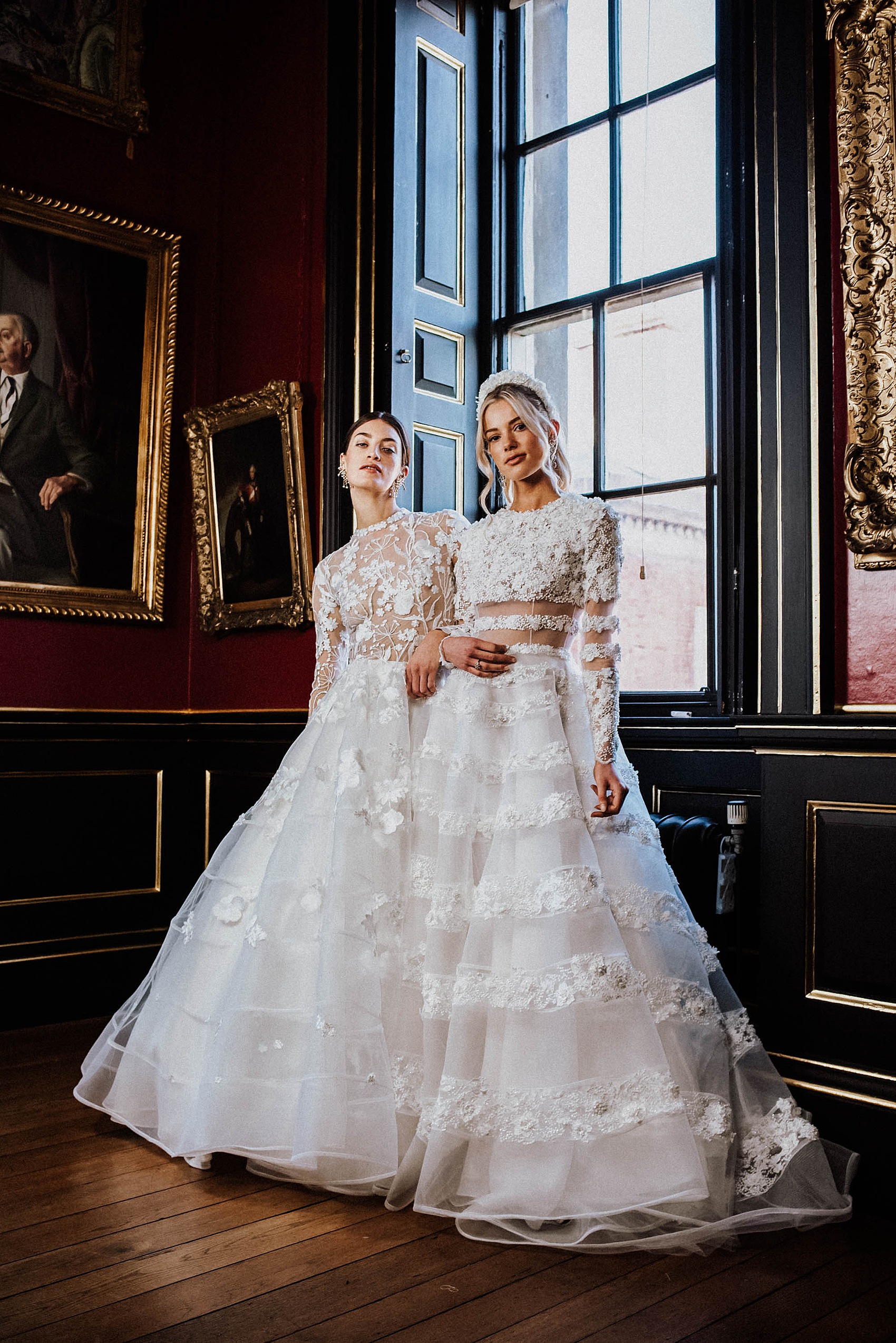 How would you describe the typical bride?
I definitely couldn't as each bride is so unique – they all just want to look beautiful and want someone to help bring their vision to life.
I have worked with every body shape out there and I feel it is important to understand that everybody isn't a size six and six foot tall. Emma Beaumont
Where do you start with each new collection – can you talk us through your process?
The fabric. I always start with the fabric or the texture and it really grows from there. There is a silhouette which I like to keep as under laying theme but then building onto that to create something really unique. The team and I will create different samples and prototypes and critique them together, developing together as we go.

Tell us about your latest collection and what inspired you to create it?
The objective of my most recent collection was not to get orders but rather to give an insight into what we can create from our studio in Knutsford and what is possible. I wanted to use really couture techniques of sewing into each dress, for instance hand applied feathers and handmade beaded teaselling form the texture all over one of the gowns, and gown scattered with tiny hand applied pearls at the centre of each flower.
I'd love to learn more about what your brand is doing to move towards more ethical and sustainable production – and why this is important to you?
It is the way the world is moving, we all need to be more conscious where things we buy are coming from. Each dress we make is created in the U.K, but I am conscious to do more research into what ethical fabrics are available and offer this alternative.
At the moment I have gathered a great selection of ethical fabrics from different suppliers. I approached my suppliers. I told them I have a demand and they have managed to source some incredible eco fabrics for me.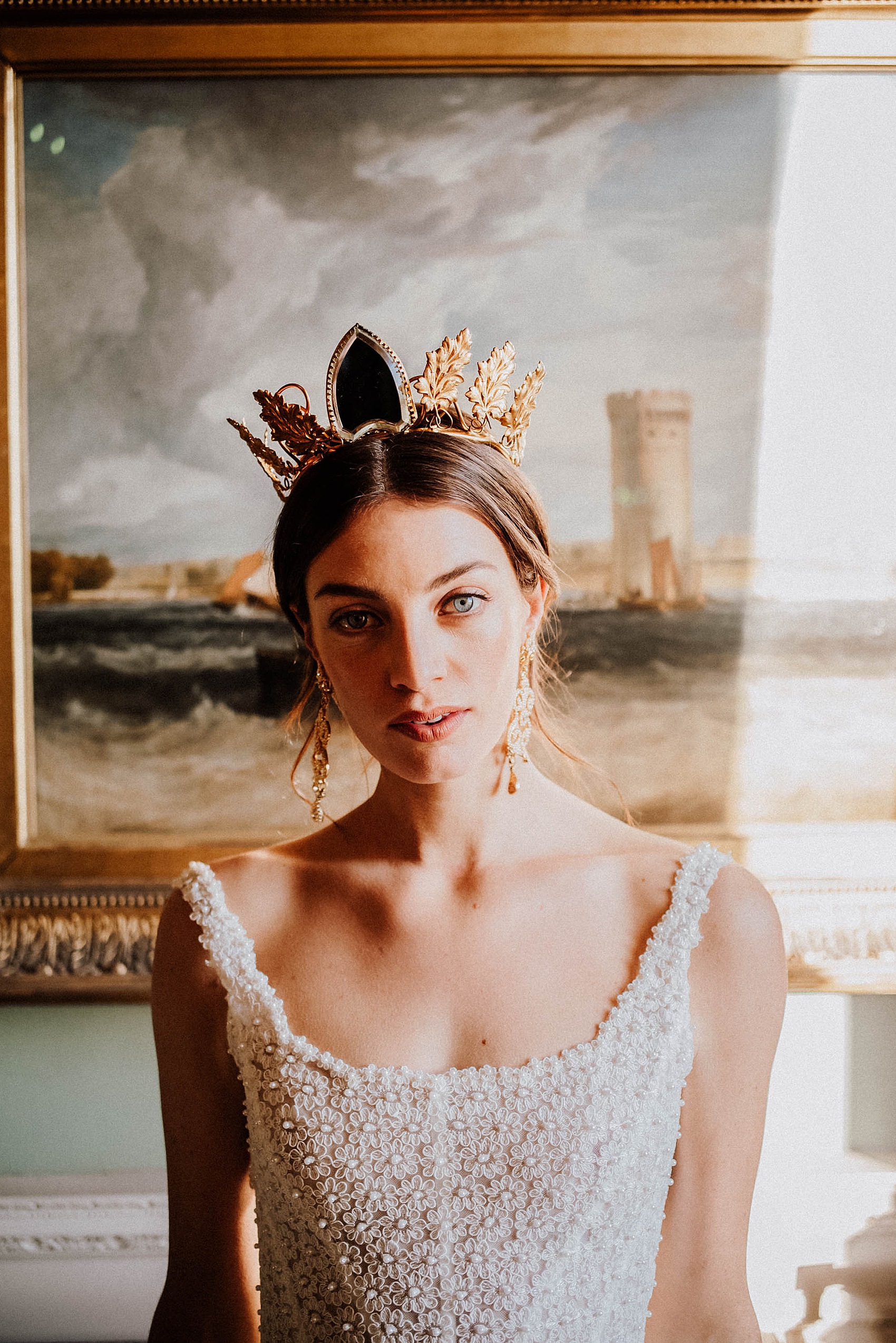 Do you have a favourite gown in this collection and why?
It is called the grace gown. It is the first one I designed for the collection, the bodice is covered in wildflowers and they cascade down a huge crinoline structure that is visible, I am obsessed with the volume and movement of the skirt and the soft flowers against the straight lines of the crinoline structure.
Would you say your designs are for a variety of body shapes?
Definitely, being predominantly bespoke I have worked with every body shape out there and I feel it is important to understand that everybody isn't a size six and six foot tall.
How do you balance your role as mum and business owner/designer?
I am not going to lie, it is tough, I am a workaholic. But when it's my son and I together I manage to switch off – something I never had the ability to before. He inspires me every day. I am so blessed to have an incredible network of friends and family around me to help too.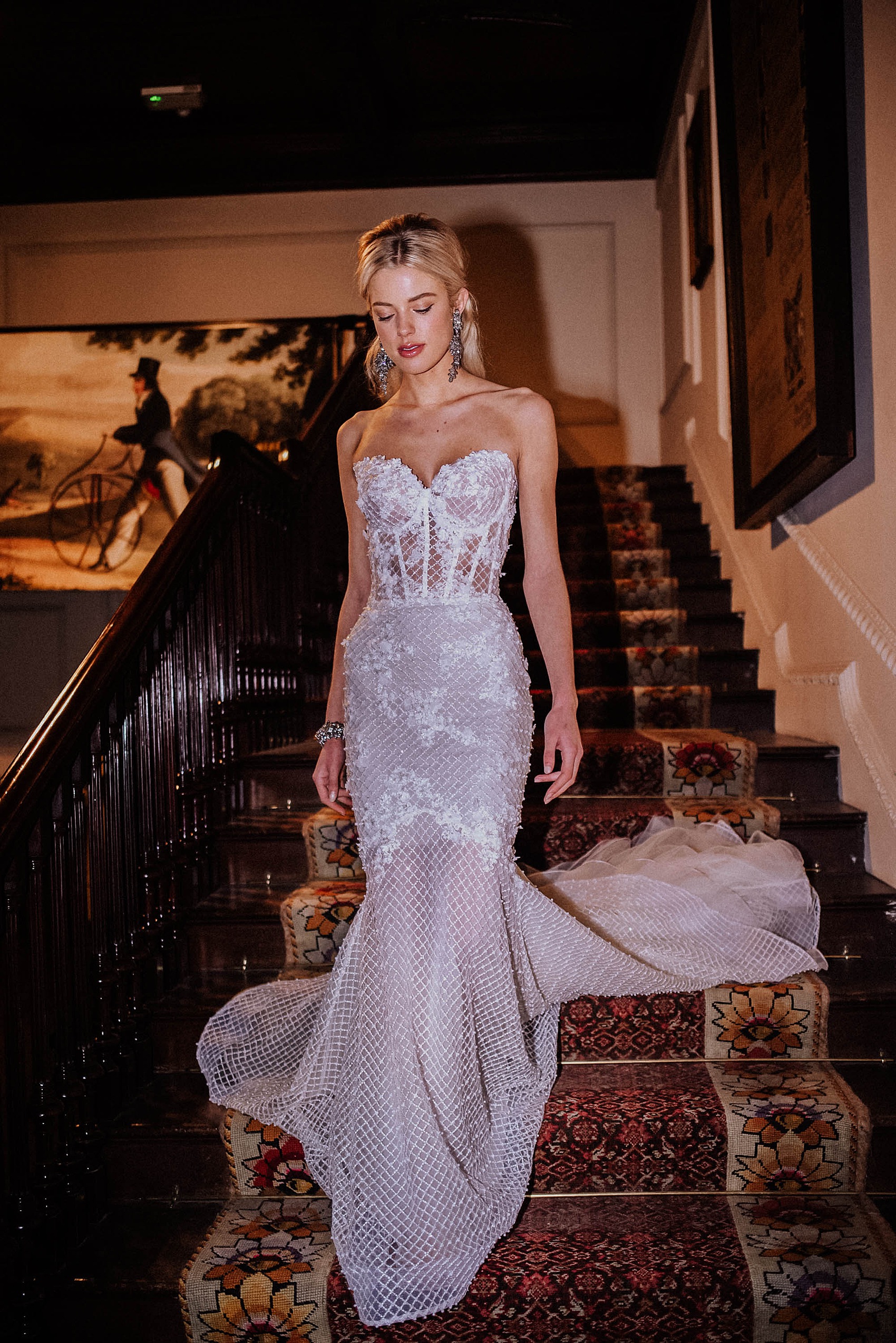 Can you share a bit about your work/creative space with us?
Over the past year we really have tried to bring some life to the studio. I love the space to feel like a work room and like each bride to see where the dresses are made and the girls at work when they come to each appointment. The fitting room has a huge mirrors and rails and rails of large fabric samples, you can hear the humming of the machines and girls working in the other rooms the place feels alive.
My office currently has a picture collage of all the brides from 2019 – it's inspiring for each bride to what we can create and they often love critiquing each dress and comparing it to their own.
What does an average day for a successful bridal fashion designer look like?
School run, coffee, team meeting, coffee, consultations, coffee, fittings, coffee, overseeing, the team – every day is so different.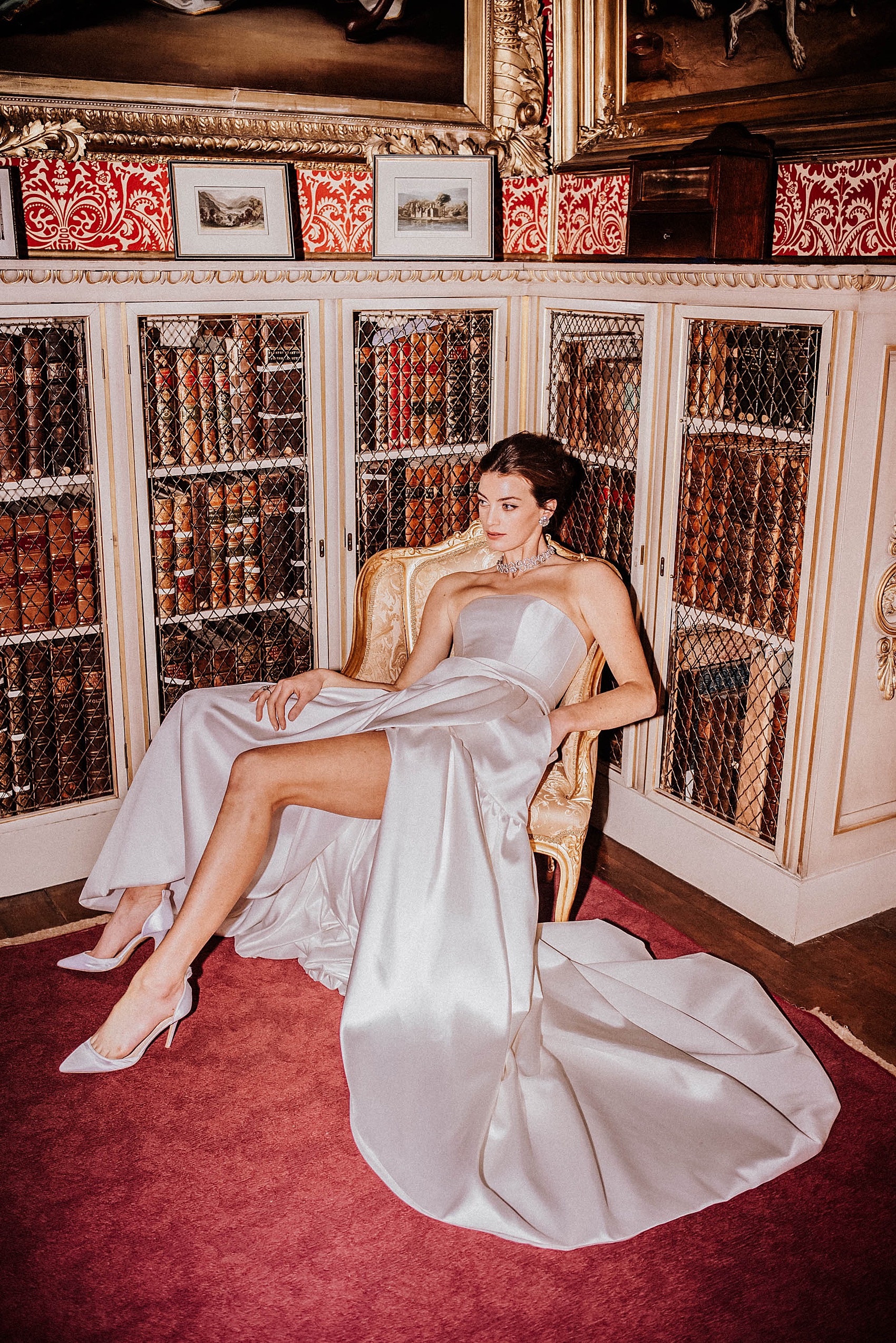 What would you be doing if you weren't running your own design business?
I would probably be thinking about how I could start my own design business.
What do you love most about working with brides?
No two brides are ever the same, each day holds a new challenge.
What's next for your business and brand?
I definitely want to work more into eco and sustainable fabrics. I currently have taken four girls into full time employment straight out of university, I believe sewing is a dying trade within the U.K and so many students lose their skill from design school through lack of jobs. I really try to encourage students to take on internships with us and gain knowledge of hand techniques, to grow the business even further and taken on more passionate creative's would be amazing.