We couldn't let the weekend slip away without sharing a beautiful wedding with you.
These images capture QC Analyst for a pharmaceutical company, Cecilia on her wedding day to Stone Mason Philip. The couple tied the knot on 22nd September 2020 at the very beautiful Borgo di Tragliata in Fiumicino, Rome.
"Thankfully we were able to go ahead with our original wedding date. There were lots of ups and downs with regards to Covid-19. We debated cancelling or postponing multiple times before eventually just deciding to go ahead with the wedding if it was possible. What would be would be."
"We feel our day was made all the more special as our guests moved heaven and earth to be with us on the day, most of them had to restrict their movements upon return to Ireland which for some people meant taking time off work or home-schooling their kids for two weeks."
"My shoes were Moda in Pelle Ilari in ivory. I wore a silver tiara that was custom made by Tilly Thomas Lux."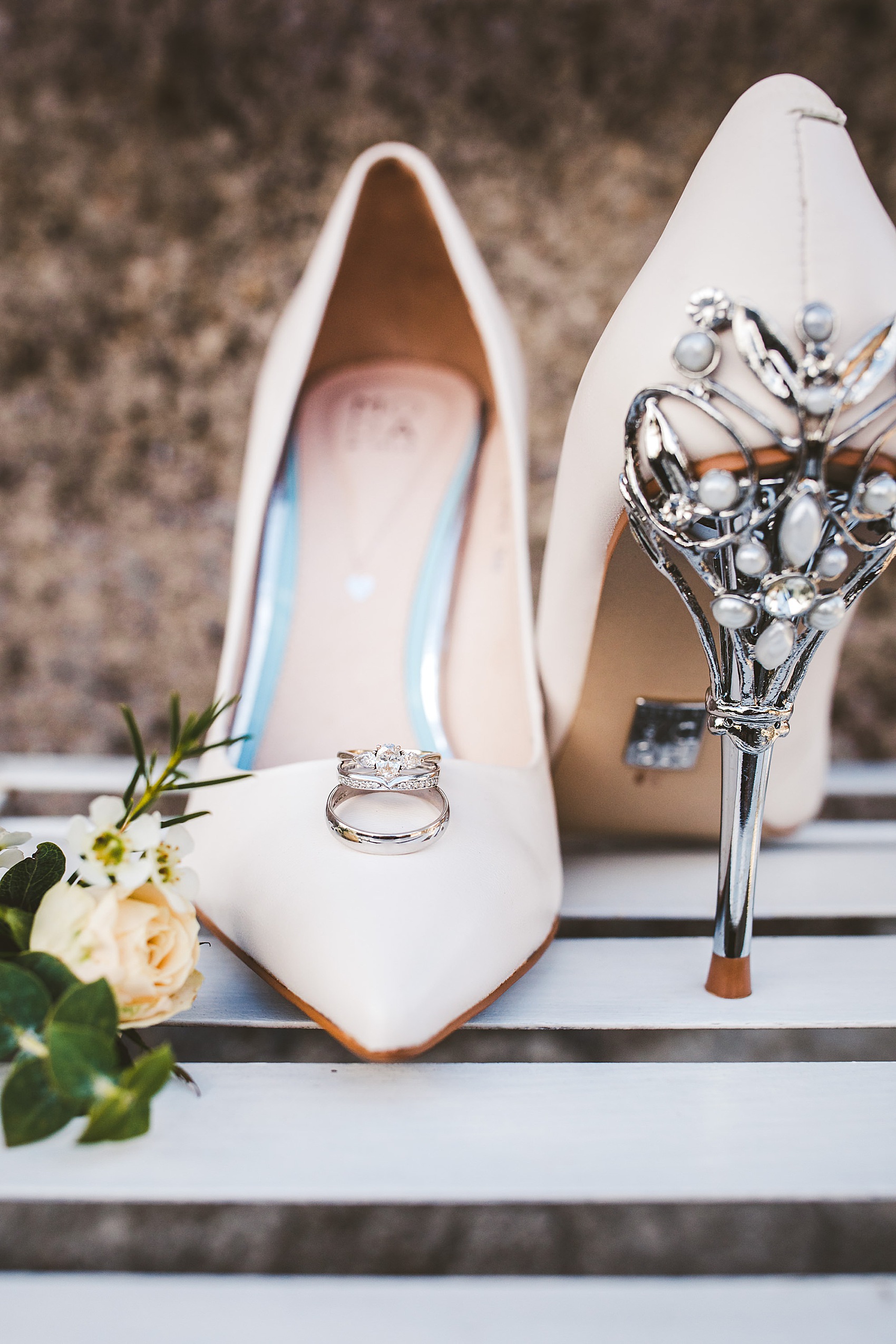 "Carolina Herrera 'Good Girl' was my scent – it's my favorite perfume and my bridesmaids and husband surprised me with it on the wedding day."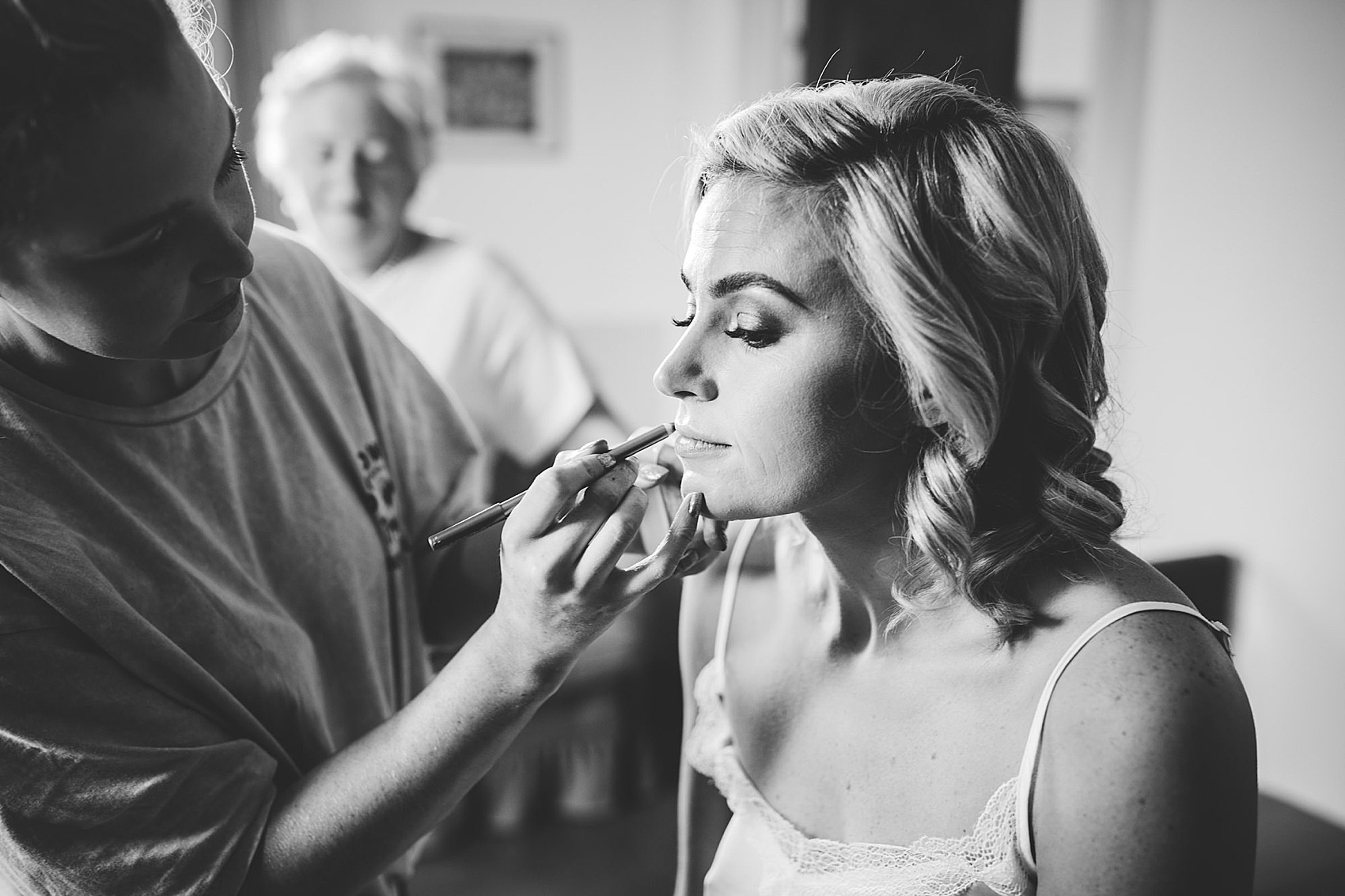 Cecilia looked absolutely knockout in the 'Hayden' separates by Rue de Seine.
"I purchased my dress in The White Gallery just outside Warrenpoint in Northern Ireland. They have stunning collections from amazing designers such as Rue de Seine and Rime Arodaky."
"I had visited a few boutiques prior to visiting the White Gallery but none had what I was looking for."
"I wanted something modern, bohemian and romantic for my wedding and the White Gallery did not disappoint. I would recommend it to any bride who what's something a little different."
"I loved everything about my wedding day outfit, I loved my veil, tiara and dress all together. I got a lot of my items last minute so I am just glad they all worked together.
"I did wear a veil as I had a church wedding. My veil was a cathedral length two tier veil which I purchased last minute in a vintage store in Monaghan called Dirty Fabulous."
"We chose Borgo di Tragliata for a number of reasons. Philip's mum had attended her niece's wedding there nearly 10 years previous and had always spoken about how special that wedding was, how beautiful Borgo is and how she would love to be able to go back some day."
"So when we got engaged in January 2019 we thought we had better check it out for ourselves."
"We had travelled to Rome a few years before and had loved our time there so we knew an Italian venue would be perfect for us."
"We visited Borgo in March 2019 and we fell head over heels in love, the location is gorgeous, the staff are so friendly, the food, the wine, everything was just perfect. So we booked our wedding that weekend and we are so happy we did."
"Christina from Borgo di Tragliata was our wedding planner. She was incredible and we never would have been able to pull it off without her help, guidance and support."
The groom wore a navy blue tuxedo from Louis Boyds menswear in Newry, Northern Ireland.
"Philip and I met in Summer 2013 in our home county of Monaghan in Ireland. My sister was actually seeing someone in Philip's village and we all met up in the local pub. We have been together ever since. We got engaged in January 2019 in Hoi An in Vietnam."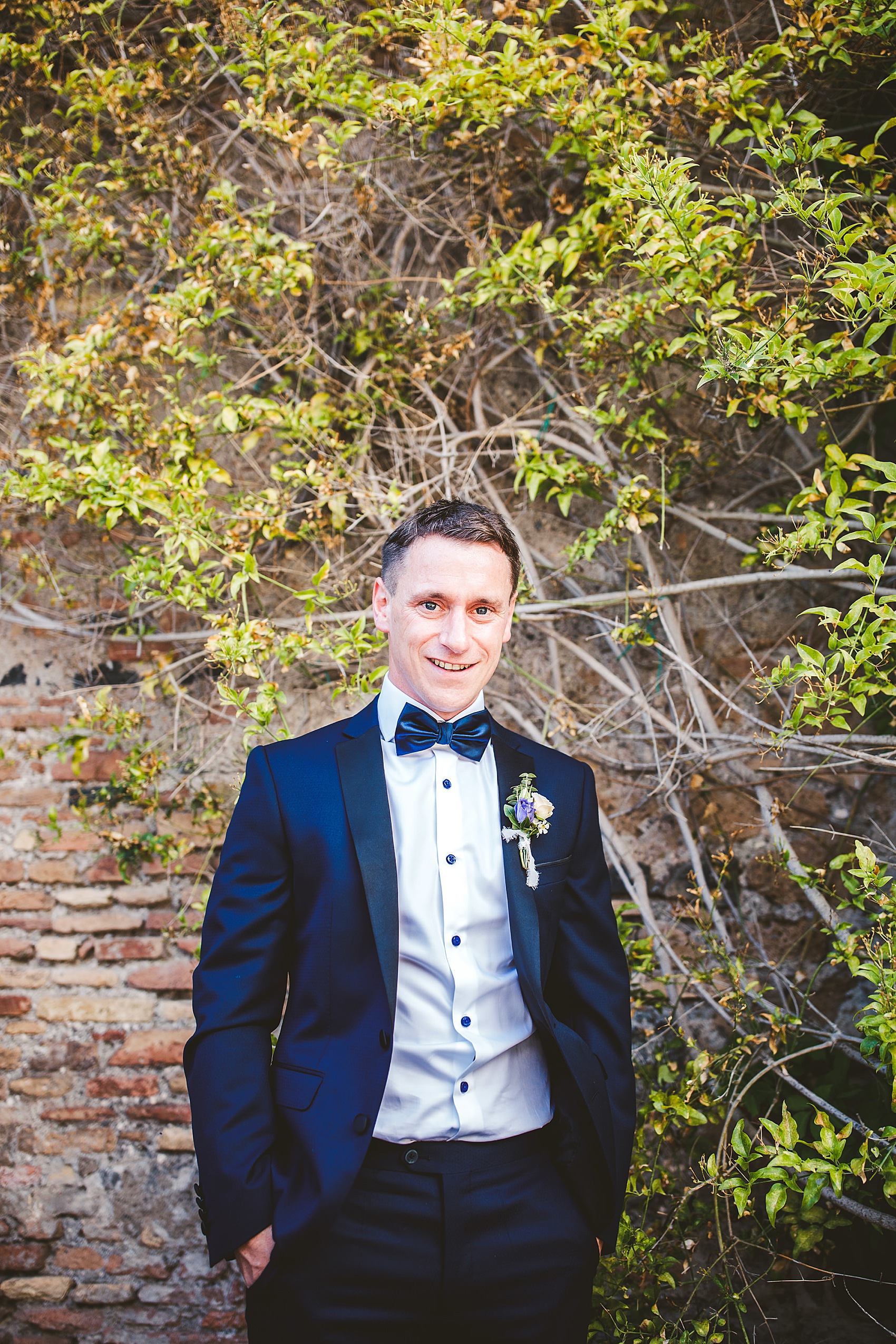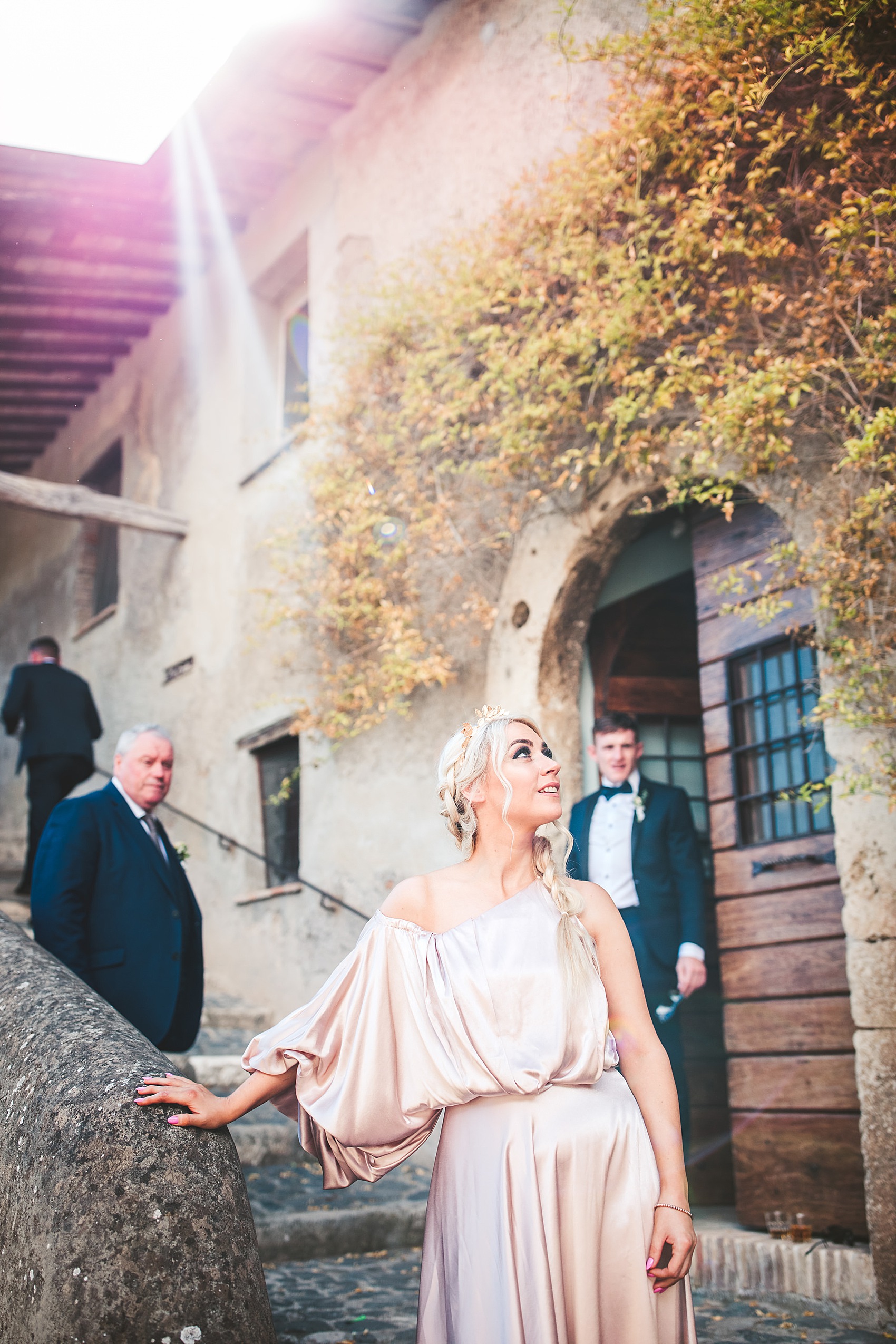 "My dad walked me down the aisle, to the sound of 'The one' – it's one of our favourite songs."
"Our ceremony was officiated by a local priest, Don Sergio."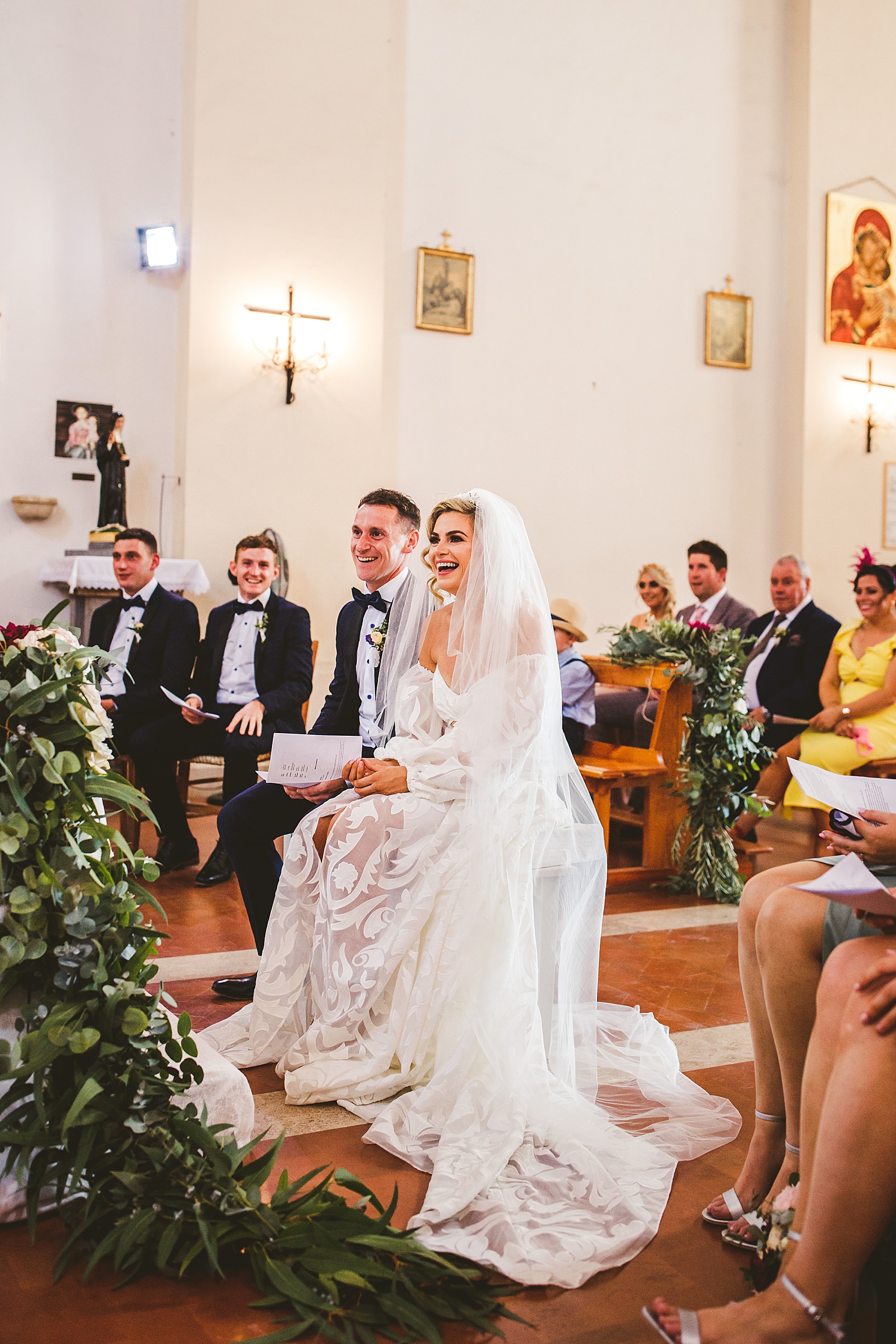 "We didn't tailor our vows, we just used the traditional vows."  
"We had two bible readings and a reflection.The reflection was an Excerpt from Captain's Corelli's Mandolin and was read by Hilanna McCrudden, my Maid of Honour. Captain Corelli's Mandolin is one of my favorite books." 
"Live entertainers Akira Manera supplied the music for the ceremony and drinks reception. They were incredible, they are so talented and performed the most moving ceremony music."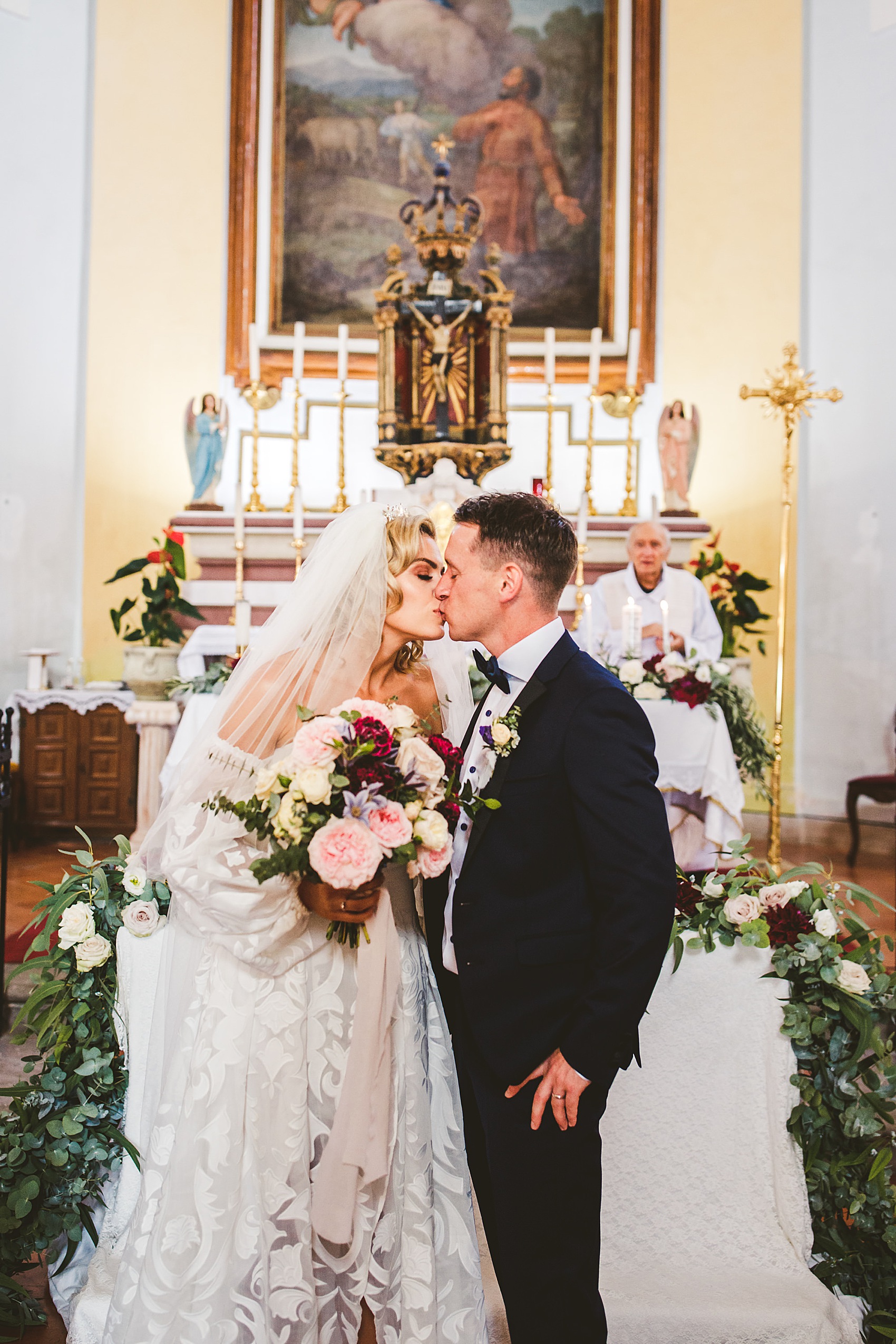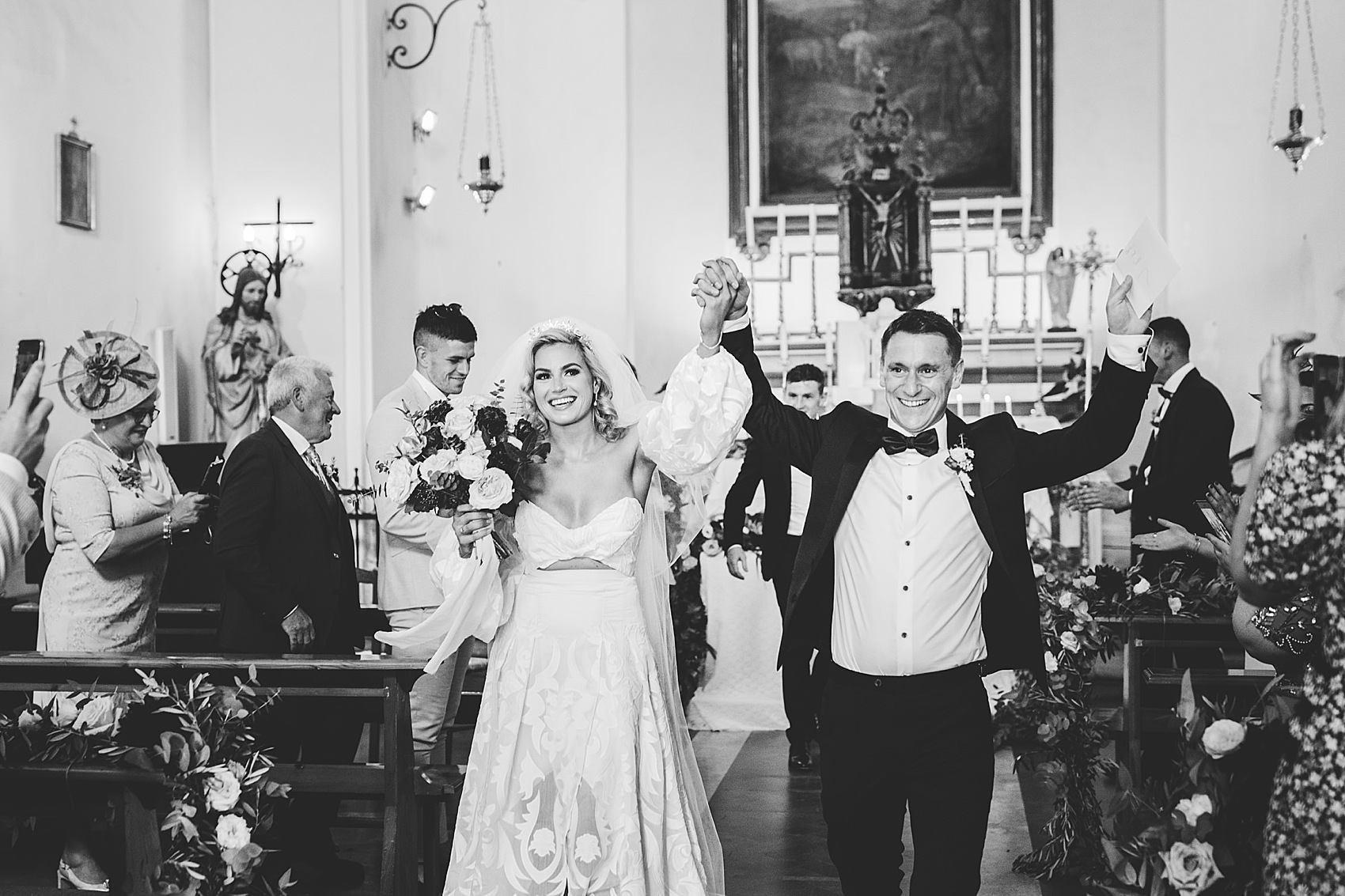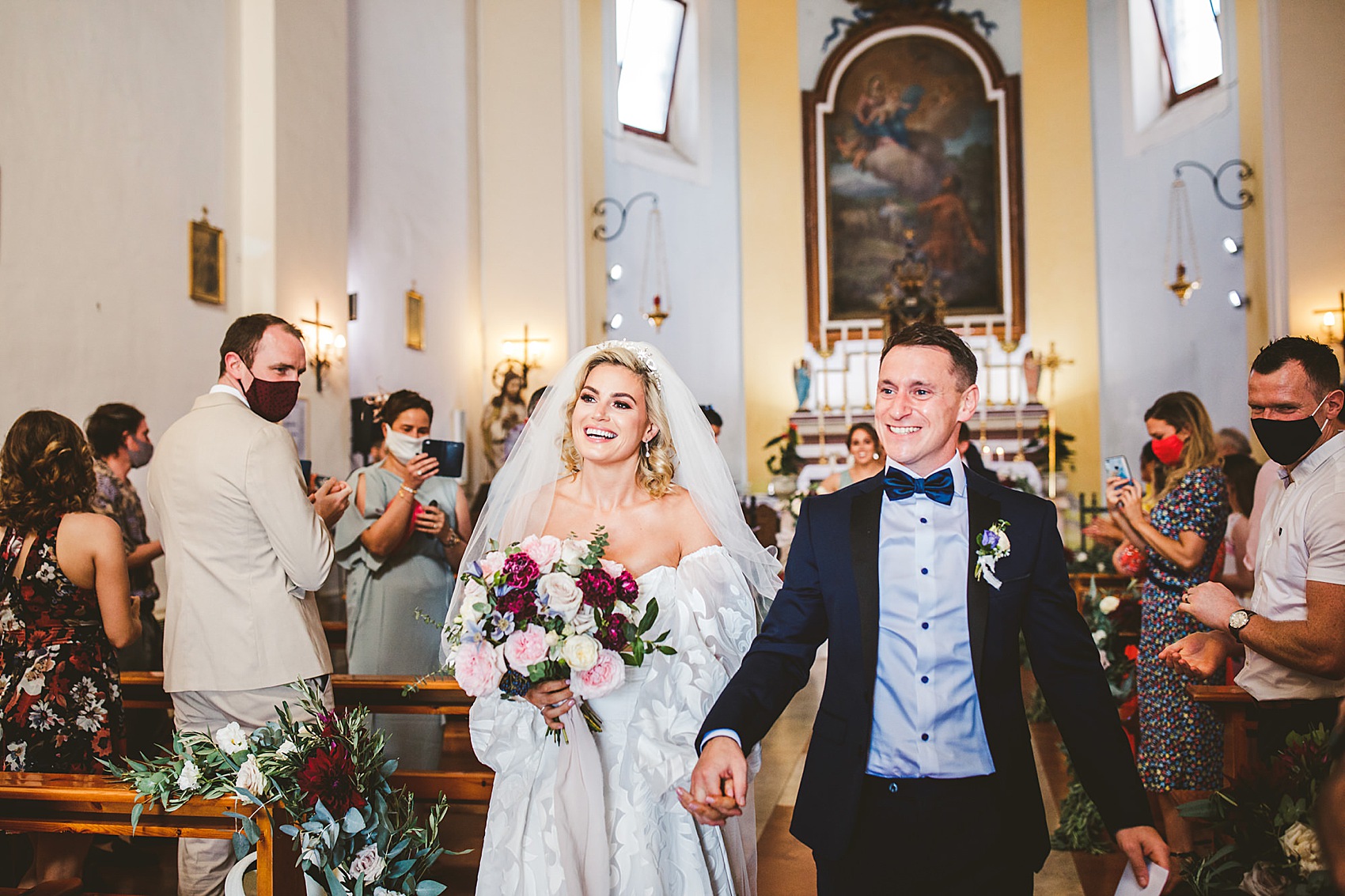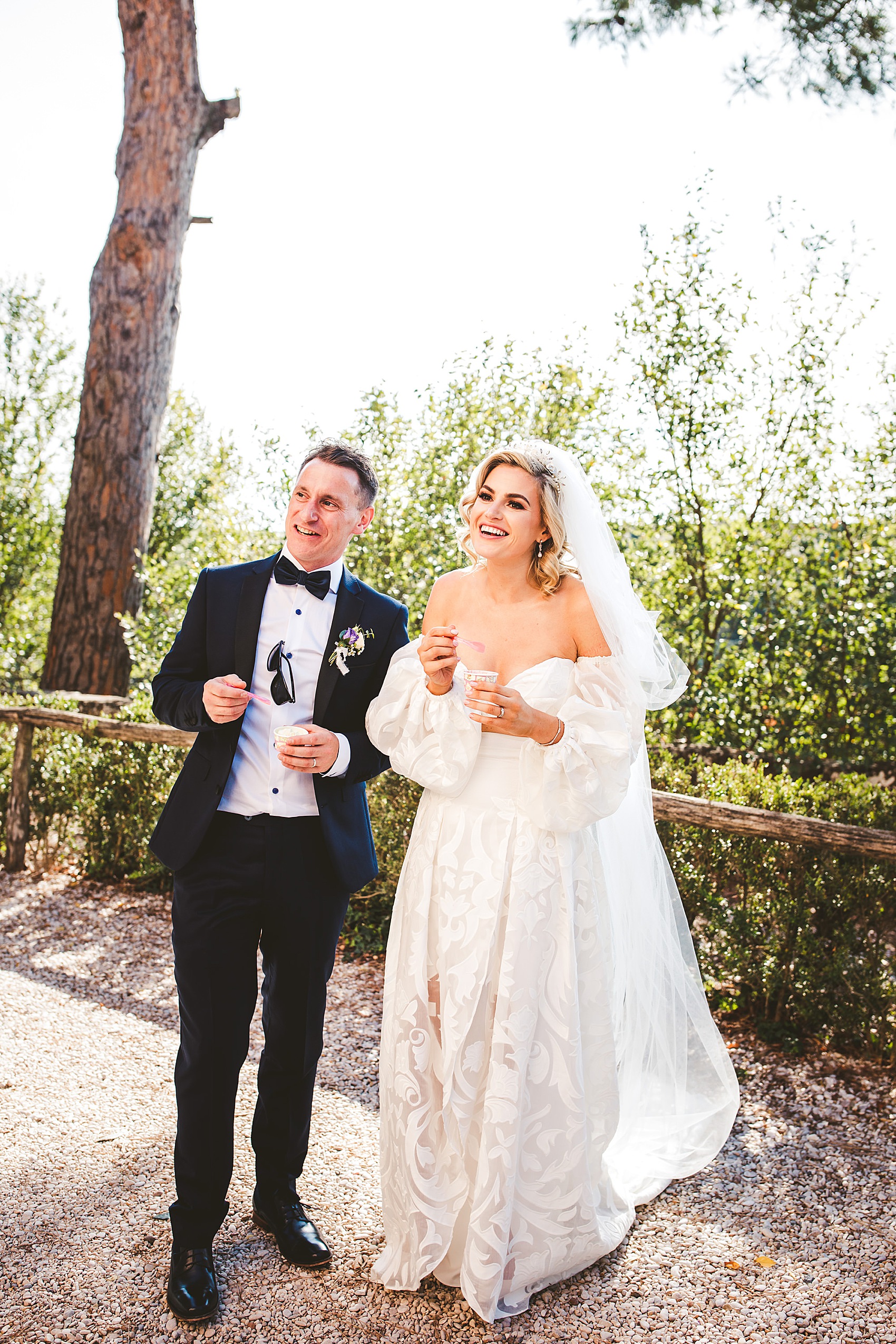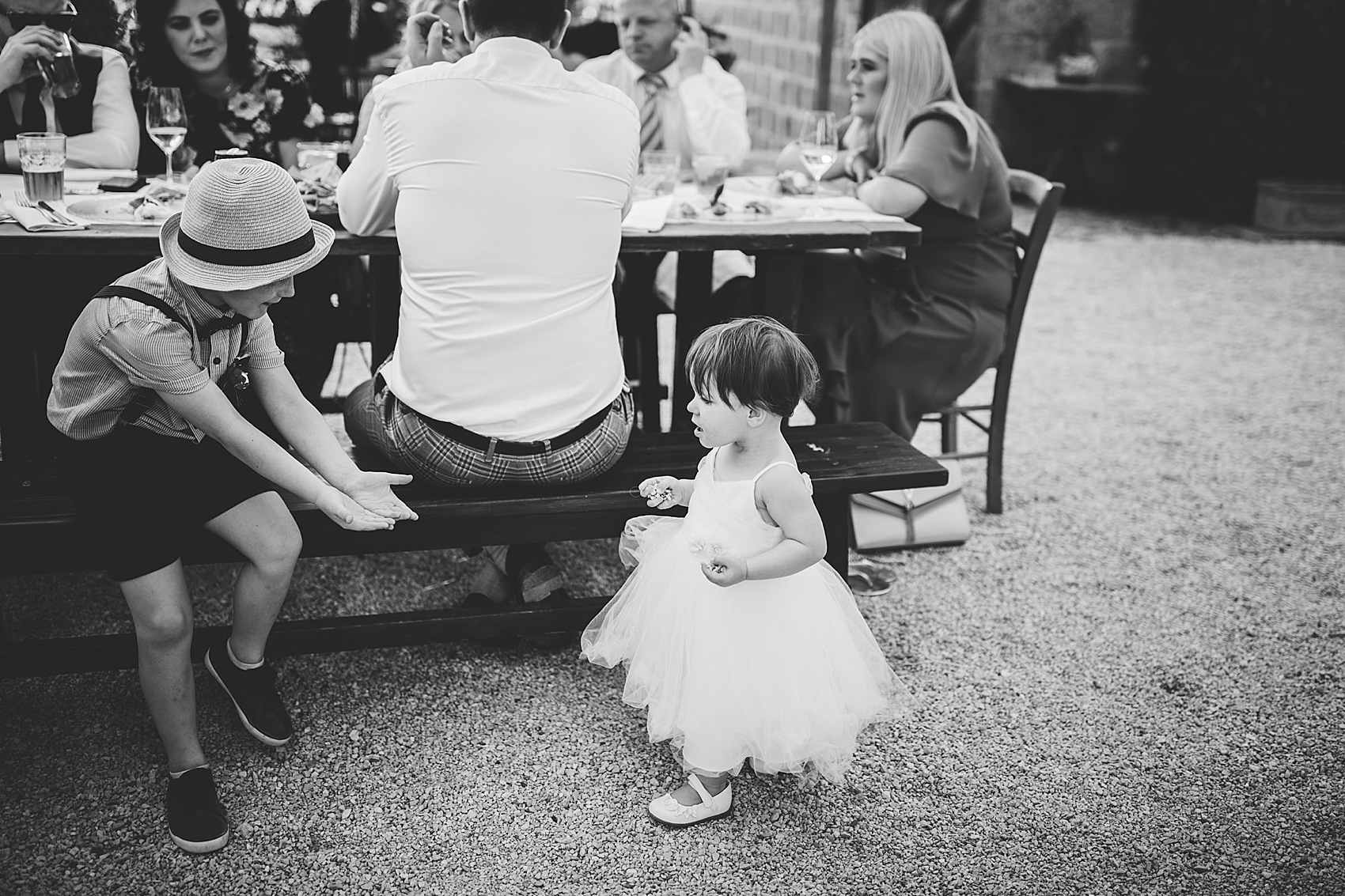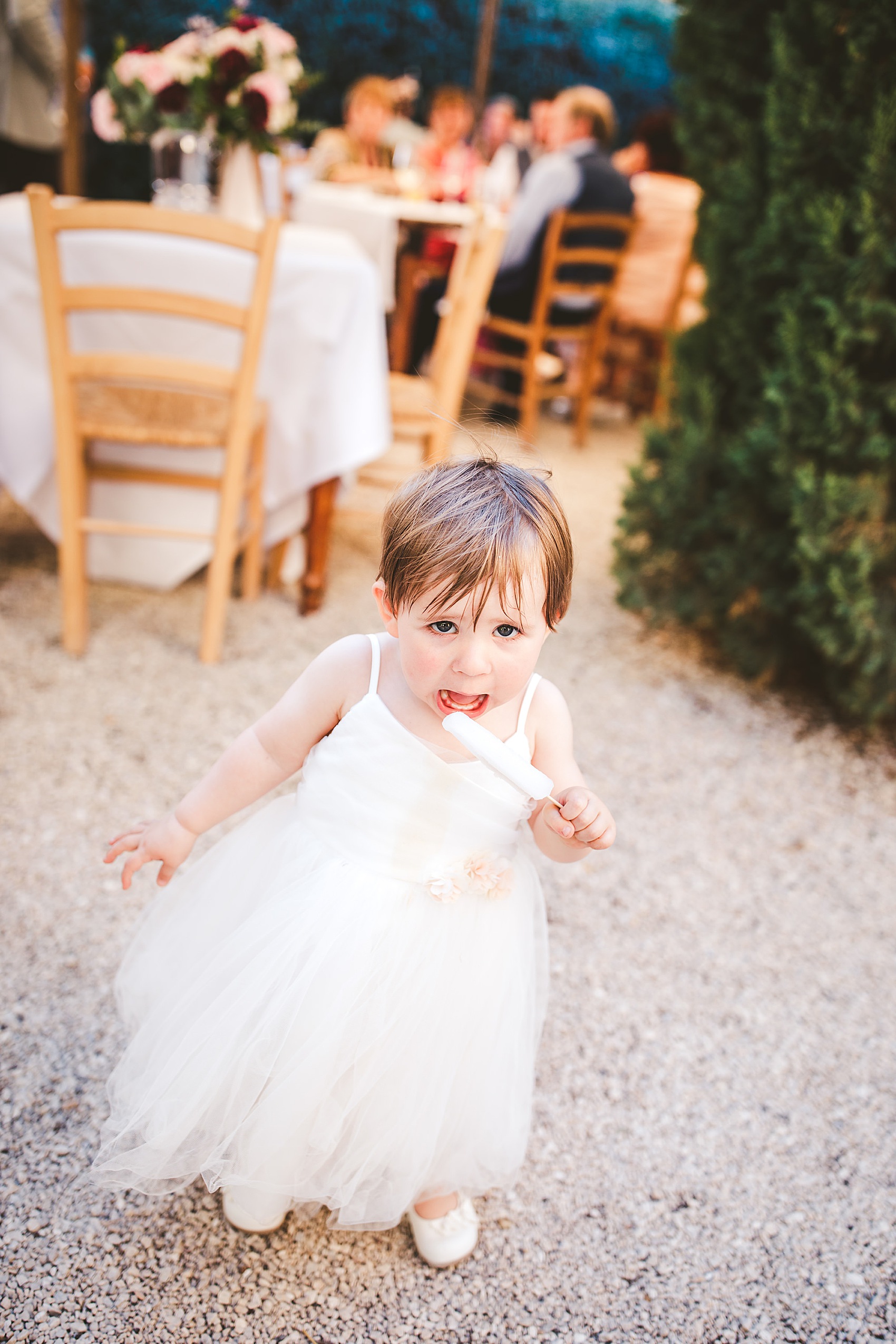 "We chose Peggy of Maison Pestea as our photographer because we loved her photographs, they are just so beautiful and we are so happy we did. Peggy is just a lovely person to work with, she is warm, friendly and professional."
"She made us and our guests feel so comfortable. My husband doesn't like having his photograph taken but Peggy's friendly, calm and unobtrusive way made him so at ease on the day."
"Peggy is truly gifted at what she does, she was everywhere and nowhere it seemed and she captured so many special moments and all the emotions of the day."
"We are blown away by the photographs in our gallery, they are stunning in style and quality and capture the spirit and the atmosphere of the day perfectly."
"We chose Fashion Video as our videographers as we really liked their emotive style of video and their stunning drone footage. They captured all the emotions of the day as well as the stunning natural beauty of Borgo."
"Umberto was fantastic during the wedding, warm, funny and helpful. He kept us smiling and laughing all throughout the wedding day. Since receiving our wedding video I have watched it everyday."
"I love it so much it brings me straight back to Borgo and I will treasure it and the memories we made forever."
"Borgo di Tragliata were extremely considerate and flexible. We didn't know our exact numbers for our wedding until the day before the wedding."
"We went from 120 guests to 60 as many of our older and more vulnerable guests could not take risk travelling."
"Borgo di Tragliata had assured us from the start that all Covid 19 regulations would be adhered to during our stay there, and they kept that promise."
"The staff wore masks at all times, the majority of the wedding was outside in open spaces and we were essentially in our own little bubble with our guests for the duration of the wedding."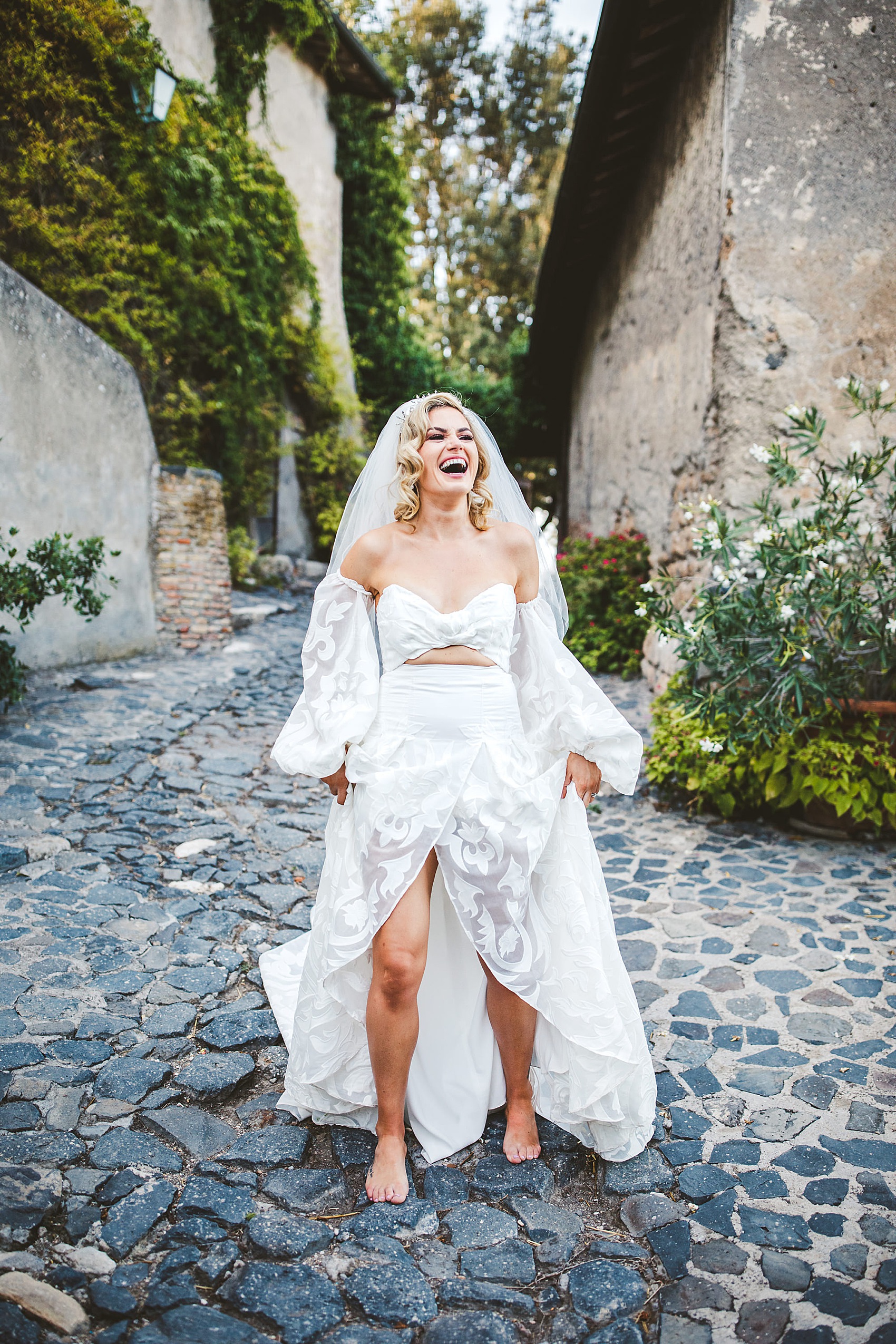 "At that time cases were much lower in Italy compared to Ireland and for us and our guests it felt like a welcome escape from the pandemic."
"We are beyond happy we went ahead with our wedding even with our smaller wedding party. It honestly was a fairytale week for us and our families."
"Was it exactly how I imagined my wedding? Not quite but it was perfect nonetheless and I wouldn't change a thing."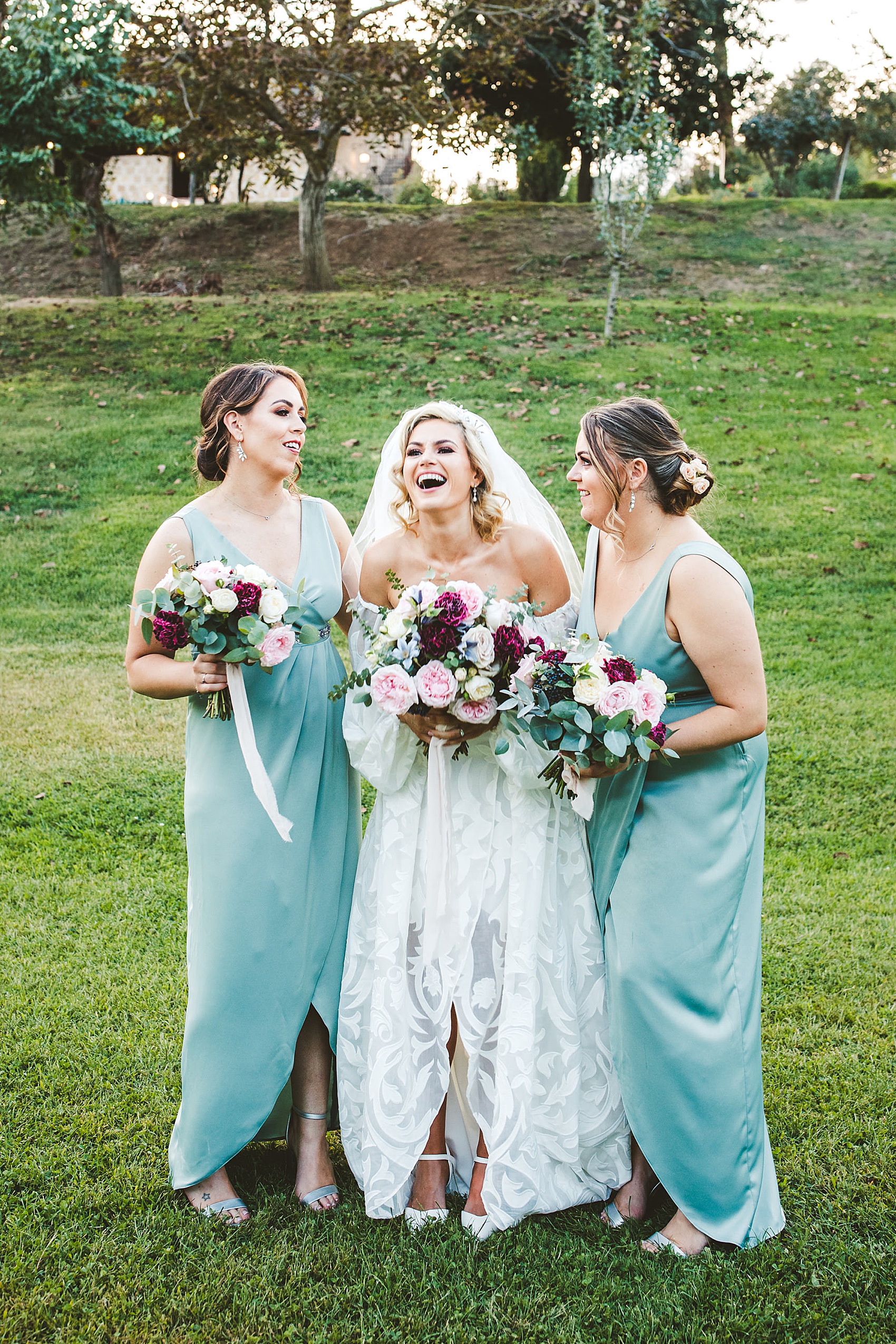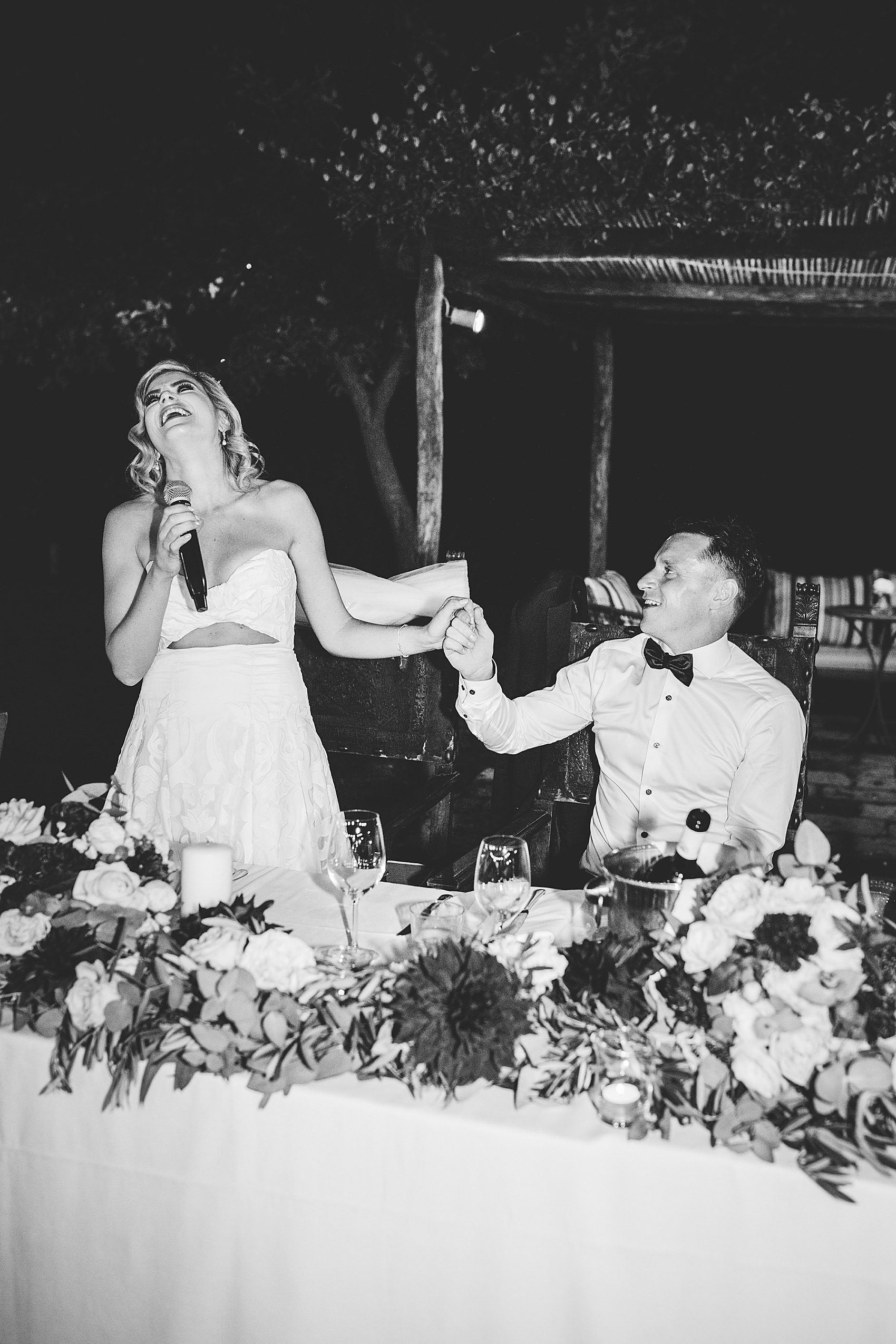 The evening celebrations were glorious and fuelled by good music provided by The Waistcoats.
"The Waistcoats played our reception and they were fantastic and had everyone on their feet dancing."
"We did a tiktok dance for our first dance. We only decided to try it an hour before the first dance because Philip's niece asked us to and we thought it would be funny. In fairness it was funny because we were so terrible at it. Our actual first dance was to Westlife "Hello my love"
Words of Wedded Wisdom
"My advice to other couples would be don't get hung up on the little things. I know it sounds cliche but as long as the people you love are by your side that is all that matters. We feel so lucky we were able to spend this time with our families."
"One of the reasons why we didn't postpone our wedding in the end was that Philip's mother sadly passed away before our wedding took place."
"You never know what time you have left with the people you love and if this year has taught us anything it's that life is totally unpredictable so enjoy all the experiences you can don't get hung up on everything being 'perfect' because life isn't perfect sometimes we just have to make the best of it."
"As many of our guests could not make our wedding due to Covid-19 we were able to splash out and have an open bar for our guests."
Such a beautiful day! You can see many more weddings in Italy here, more brides wearing Rue de Seine here and beautiful weddings that took place in the pandemic here.
Thank you so much Cecilia and Philip for letting us share your most beautiful day – sending love to you both.
Annabel x