Today's long-distance couple had their wedding day postponed not once, but twice due to Covid restrictions, but when an early evening ceremony slot became in December 2020, they jumped at the chance to get married.
This is one super-stylish micro wedding, and the timing made for some exquisitely beautiful sunset images with glorious London providing a spectacular backdrop to it all.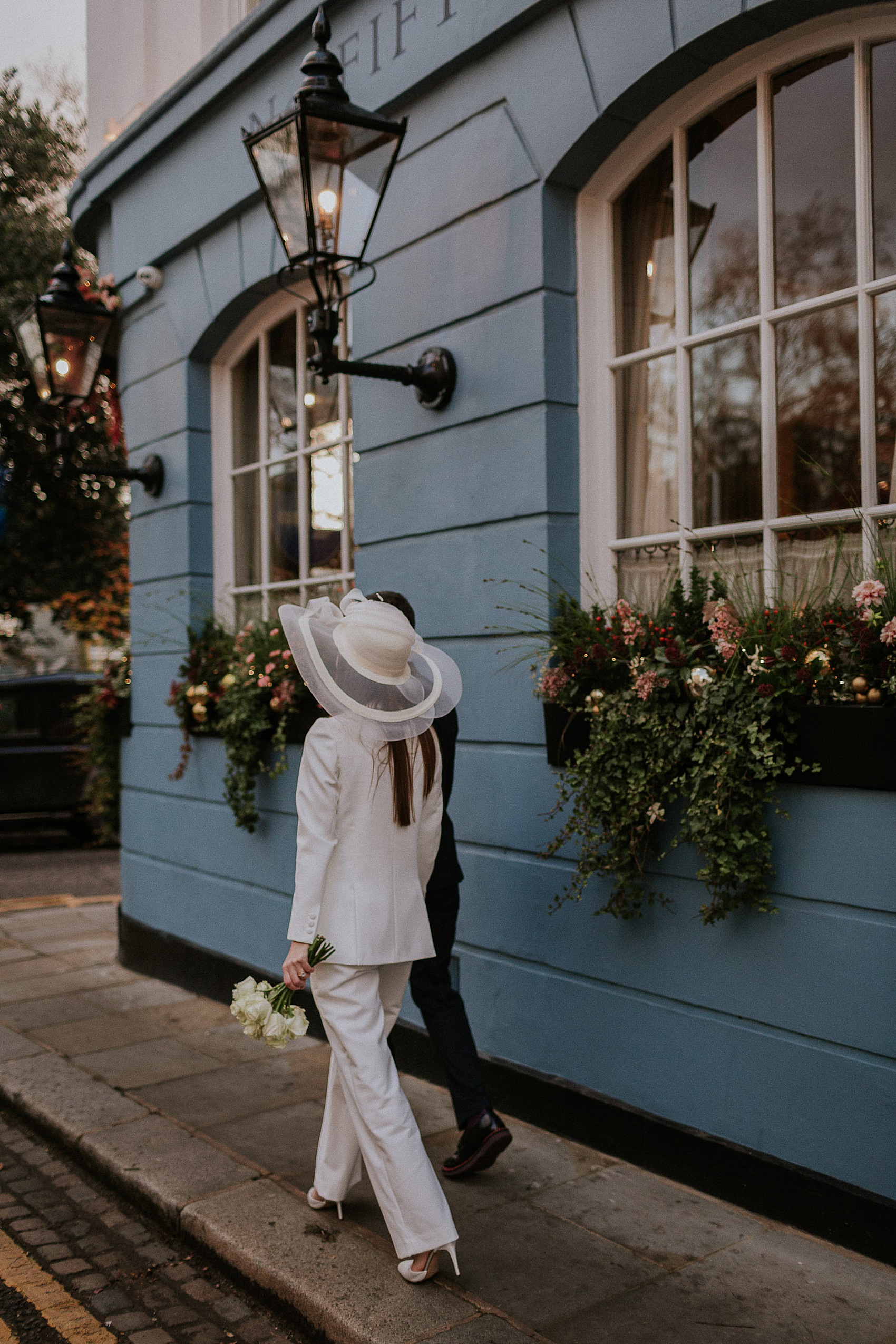 On the 6th December 2020, Property Development Executive Felicity married Aaron, a Marketing Executive in the magnificent Victorian beauty of Chelsea Old Town Hall, London. Afterwards they walked the short distance over to restaurant Medlar for a celebratory dinner in their private dining room.
"From our first discussions of what we wanted our wedding to be up until the last week, our plans changed so many times trying to keep up with the changing regulations that we lost count! We wanted to get married ASAP, our dates were cancelled twice due to sudden lockdowns, and there was always a rush to book the next available date."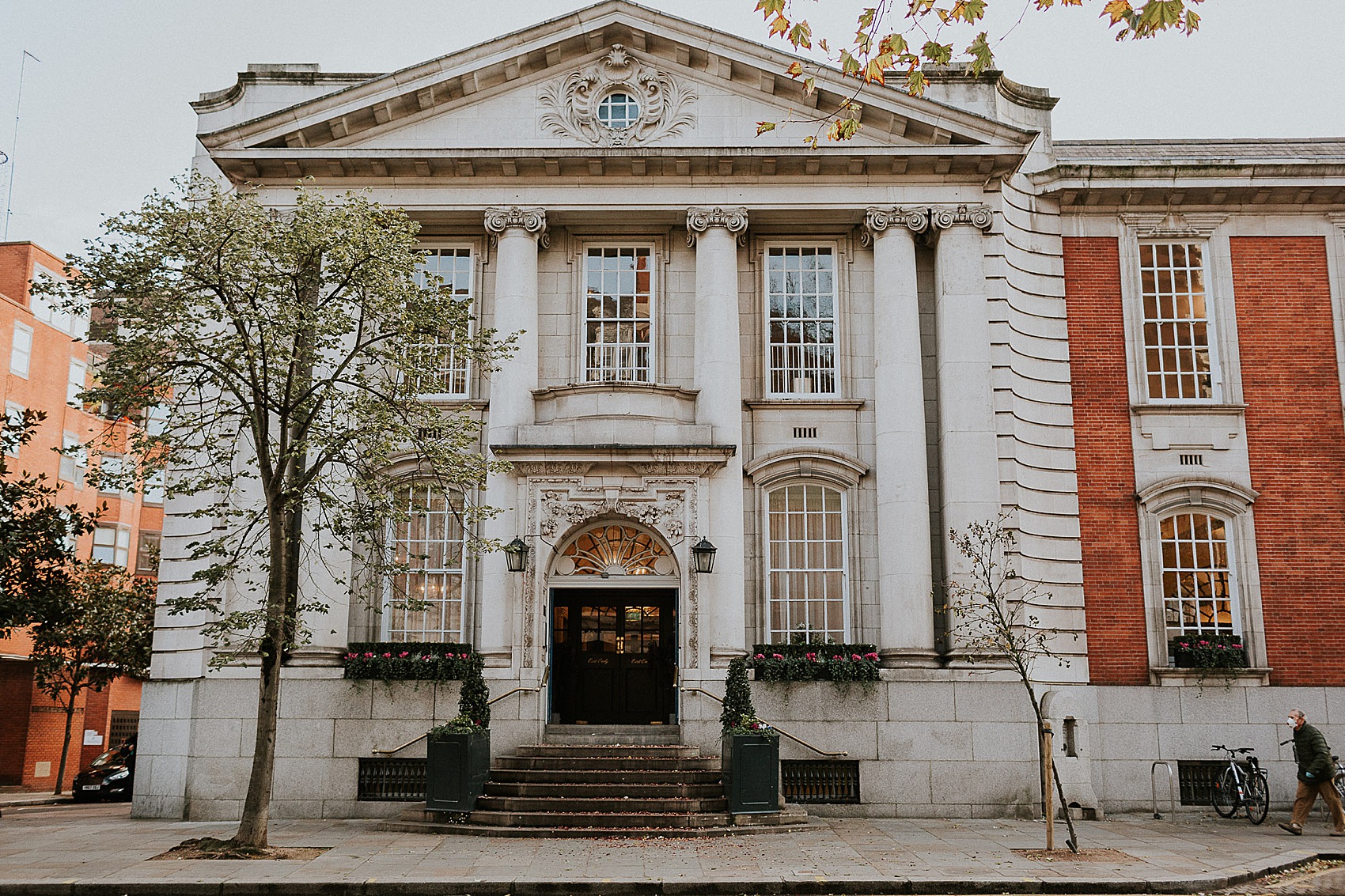 "There was such a backlog at the town hall, so in the end we ended up getting married on a Sunday at 5pm, probably the least desired slot pre-COVID!"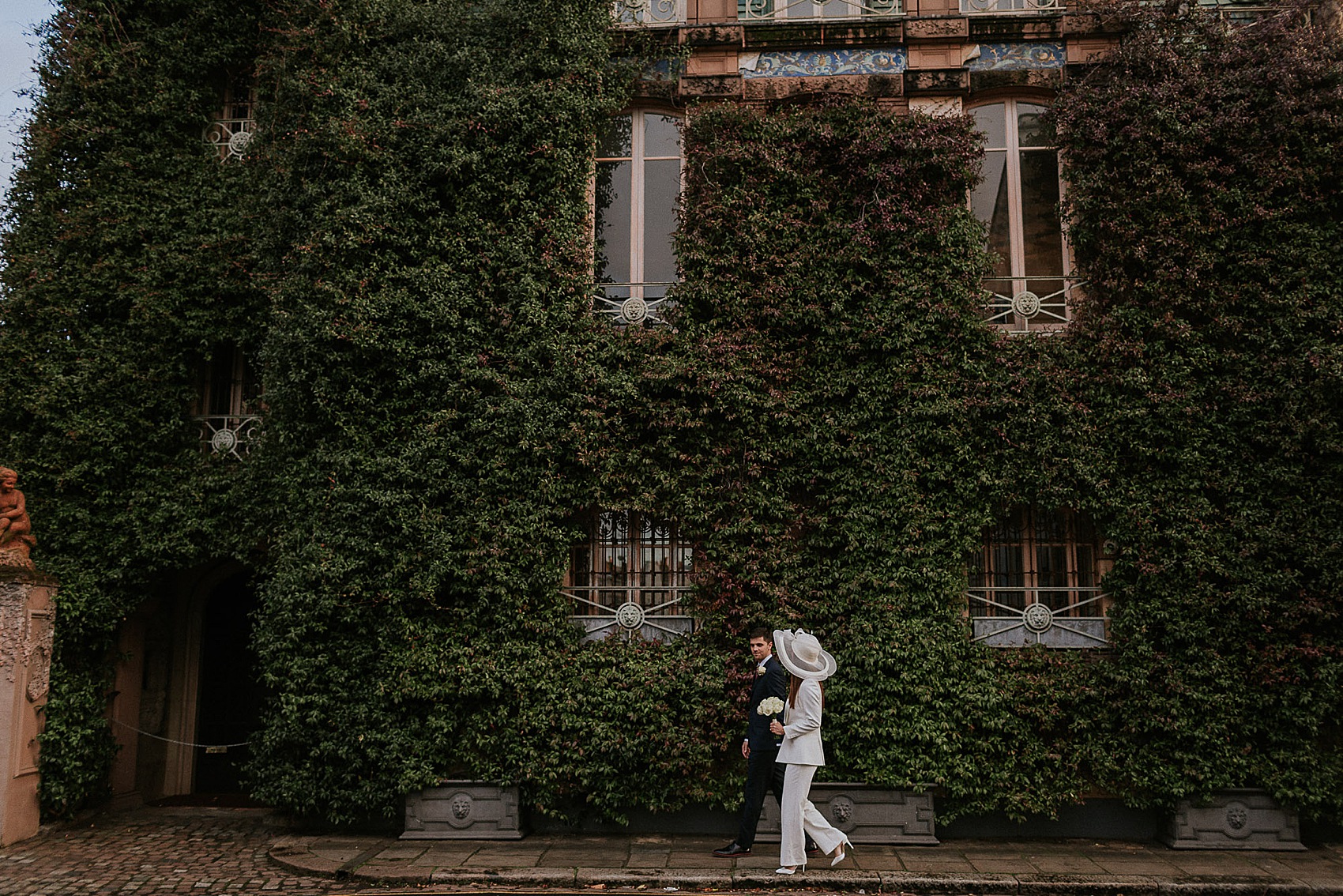 For her elegant bridal look, Felicity took inspiration from the iconic wedding outfit worn by Bianca Jagger, when she married Mick Jagger in 1972.
Felicity's own twist on this was an ivory jumpsuit worn with a tailored suit jacket, which she discovered online from Ivy & Oak.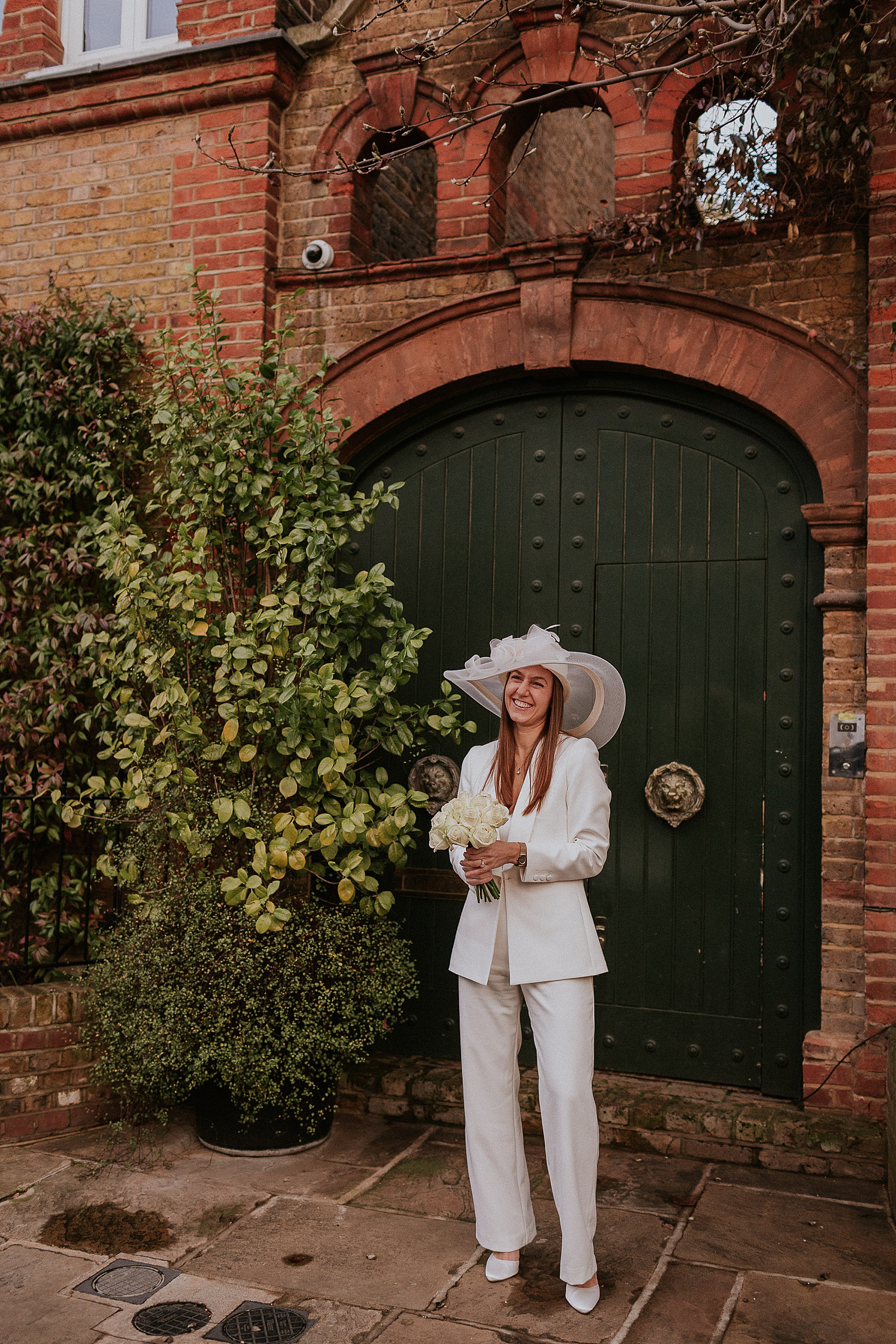 "I thought it was such a stylish look, perfect for a small London wedding, something a bit different and which celebrated the unconventional nature of the whole lead up and day. I also wanted to buy something which I could wear again."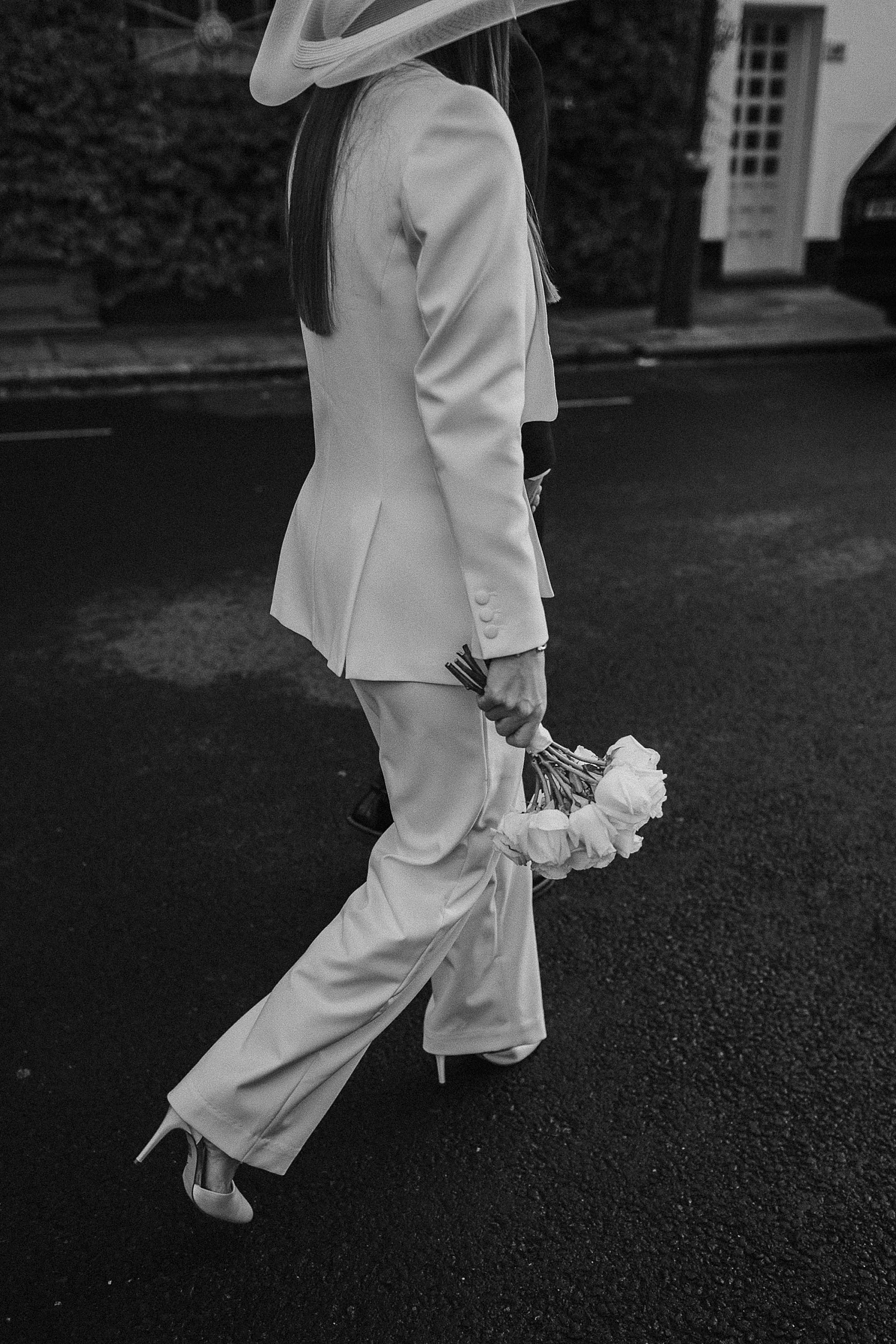 "I was so impressed with the quality of my outfit, the reasonable price, quick delivery, and love the ethos of the company around sustainability, quality and affordability."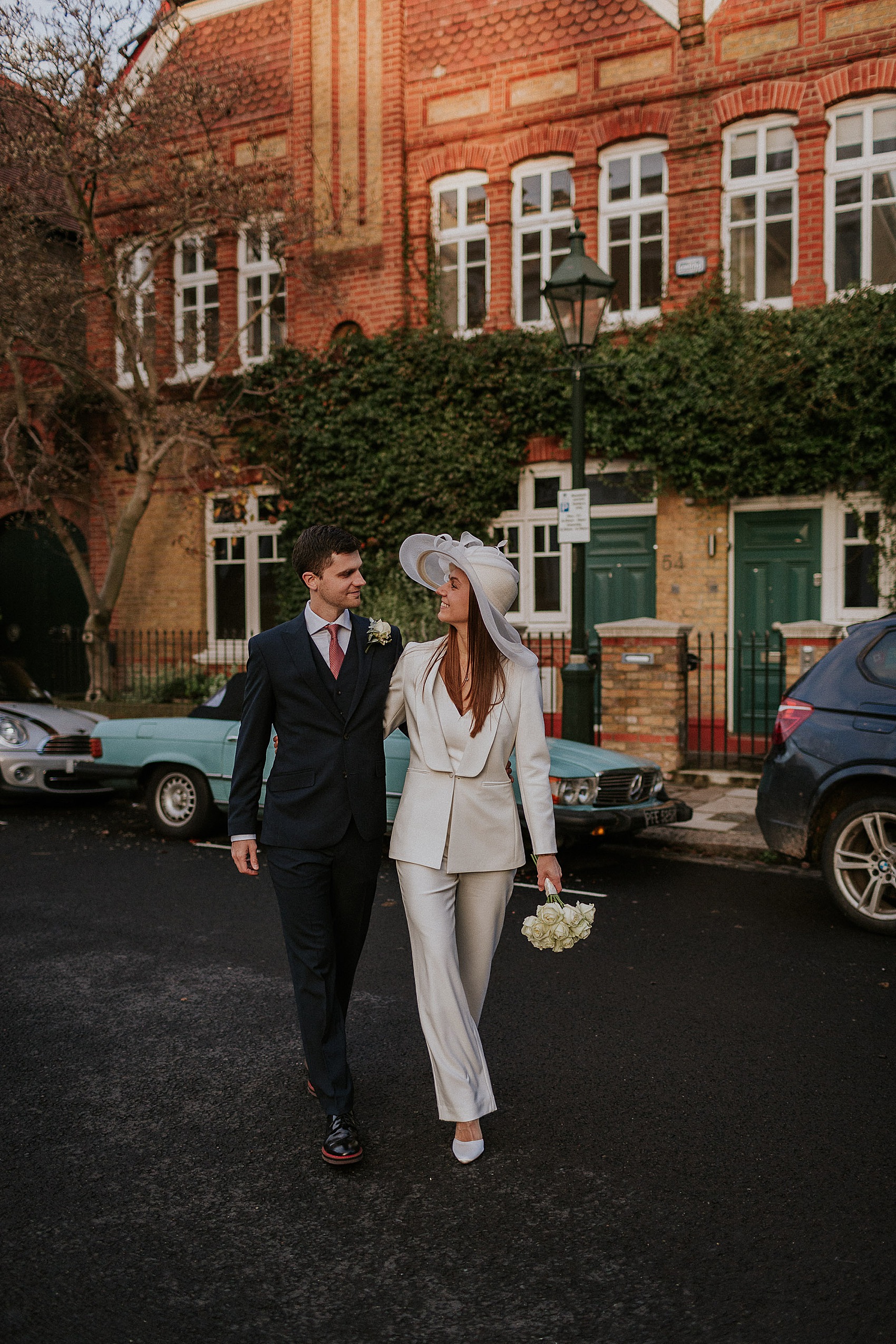 Felicity paired her suit and jacket with a wonderful wide-brimmed hat, which she rented from the friendly and helpful Hectic Hat Hire, a pair of ivory heels from Rainbow Club, chosen online, and her mother's diamond earrings and necklace.
"I was looking for something a bit different and fun. I am so glad that I wore the hat, I think it really brought the outfit together and gave it the wow factor. I was a bit unsure if I could pull it off, and was debating whether or not to wear it, but I'm so glad I did!"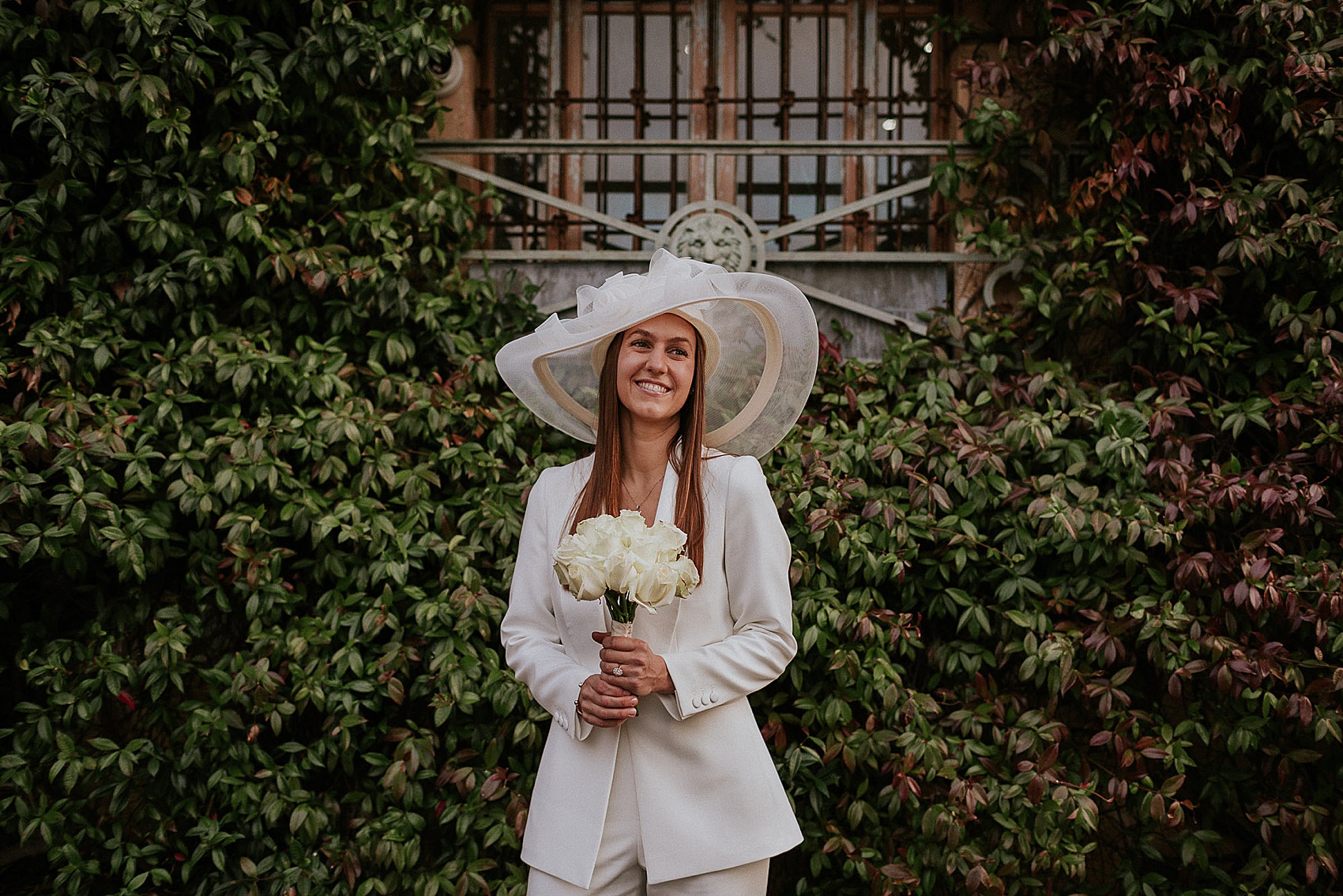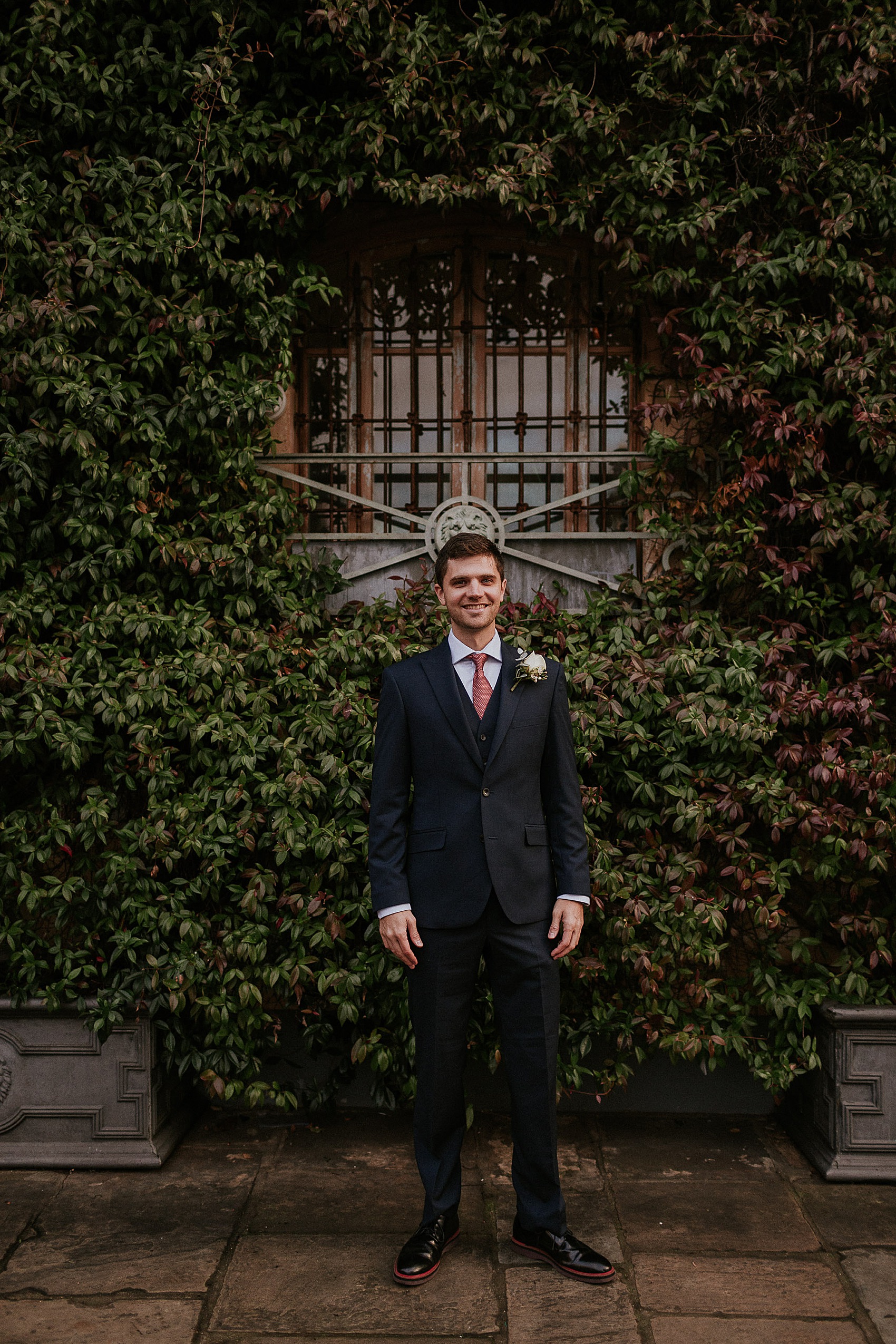 We have London-based photographer Maja Tsolo to thank for this breathtaking collection of images, capturing the last of the day's magical light over the city, and the intimate joy of Felicity and Aaron's celebration.
I always love how Maja reflects London so beautifully through her lens.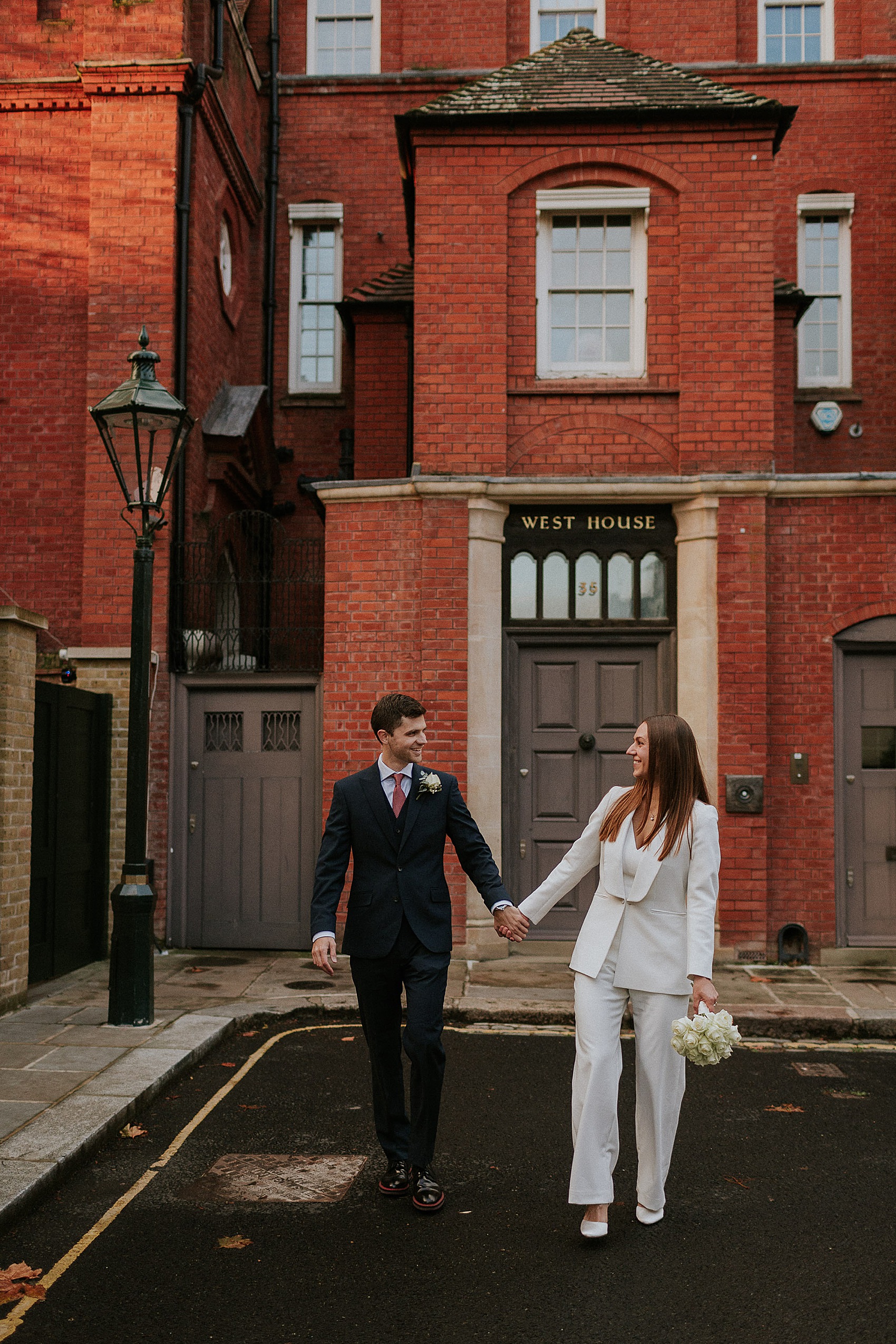 "We were recommended Maja through one of the venues we were looking at when we were hoping for a bigger event. We loved the portfolio on her website and the informal shots she had captured of couples."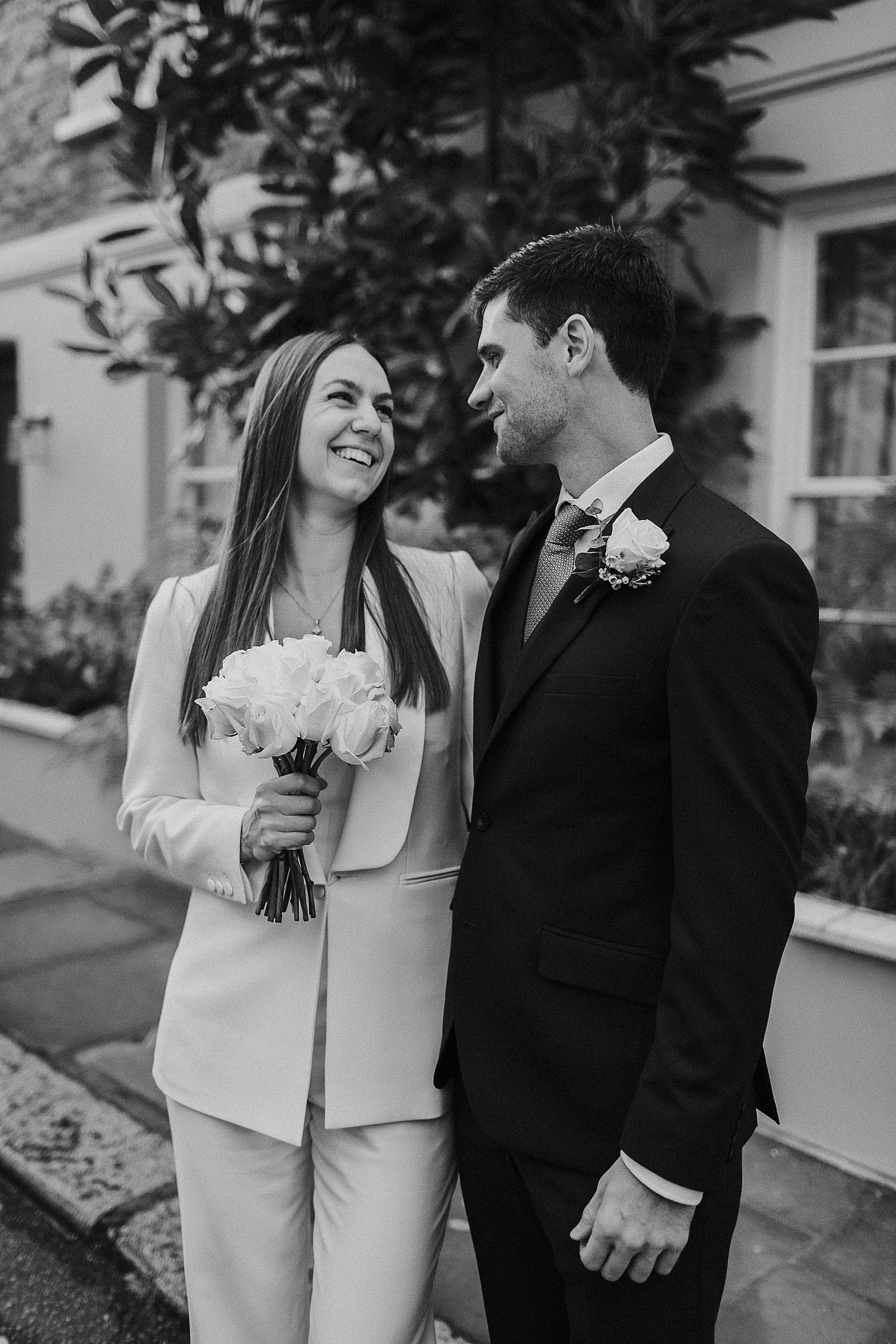 "She was nothing but a delight to work with, and great with regards communication. She made us both feel so at ease on the day being in front of the camera, which neither of us are used to."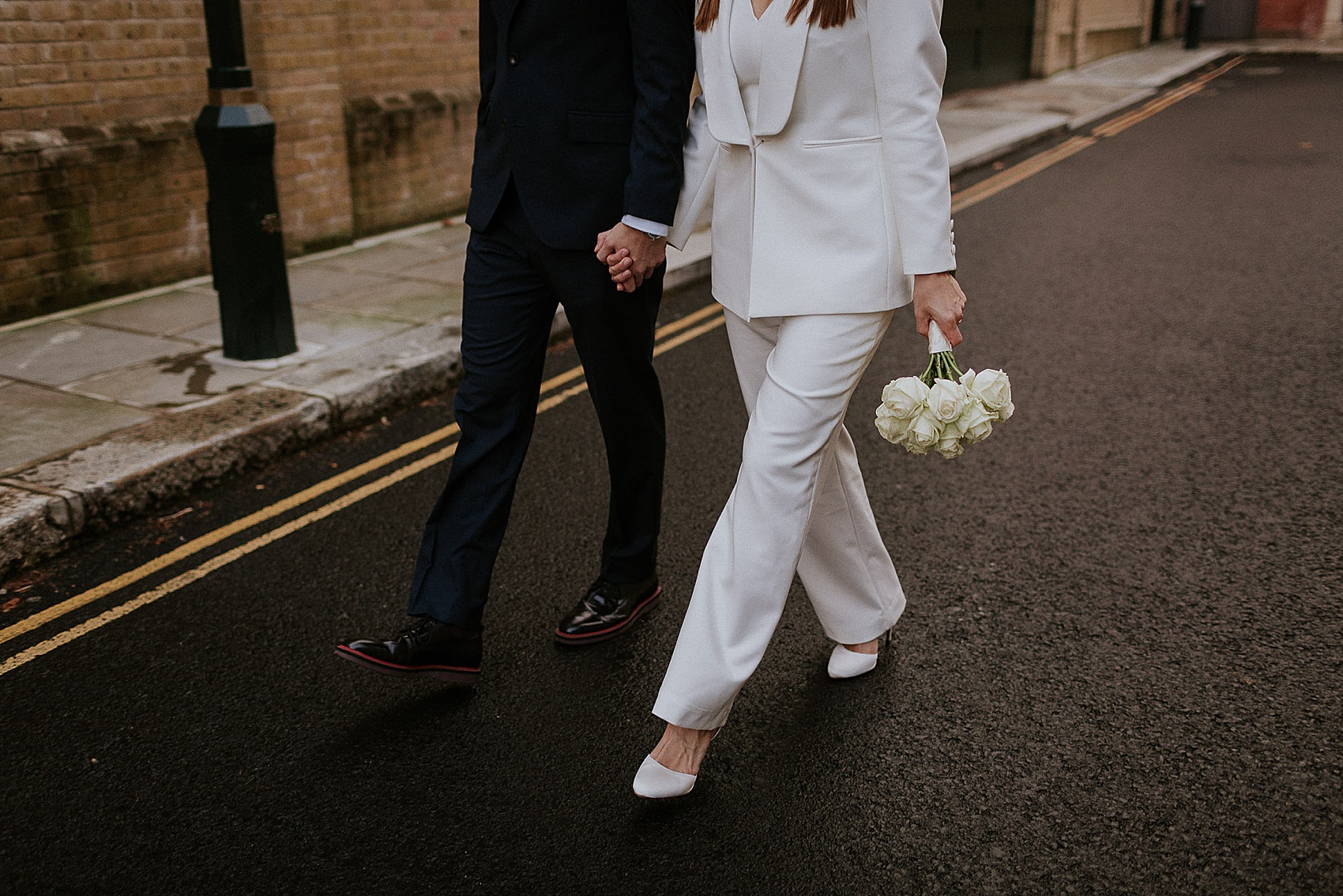 I've had so many beautiful bunches of flowers and bouquets from the lovely team at Clapham Flowers over the years, so was thrilled to see that Felicity's pretty posy of cream roses, and all the other flowers for the day were by the team.
"We wanted to support a local florist, so picked one close to where we live."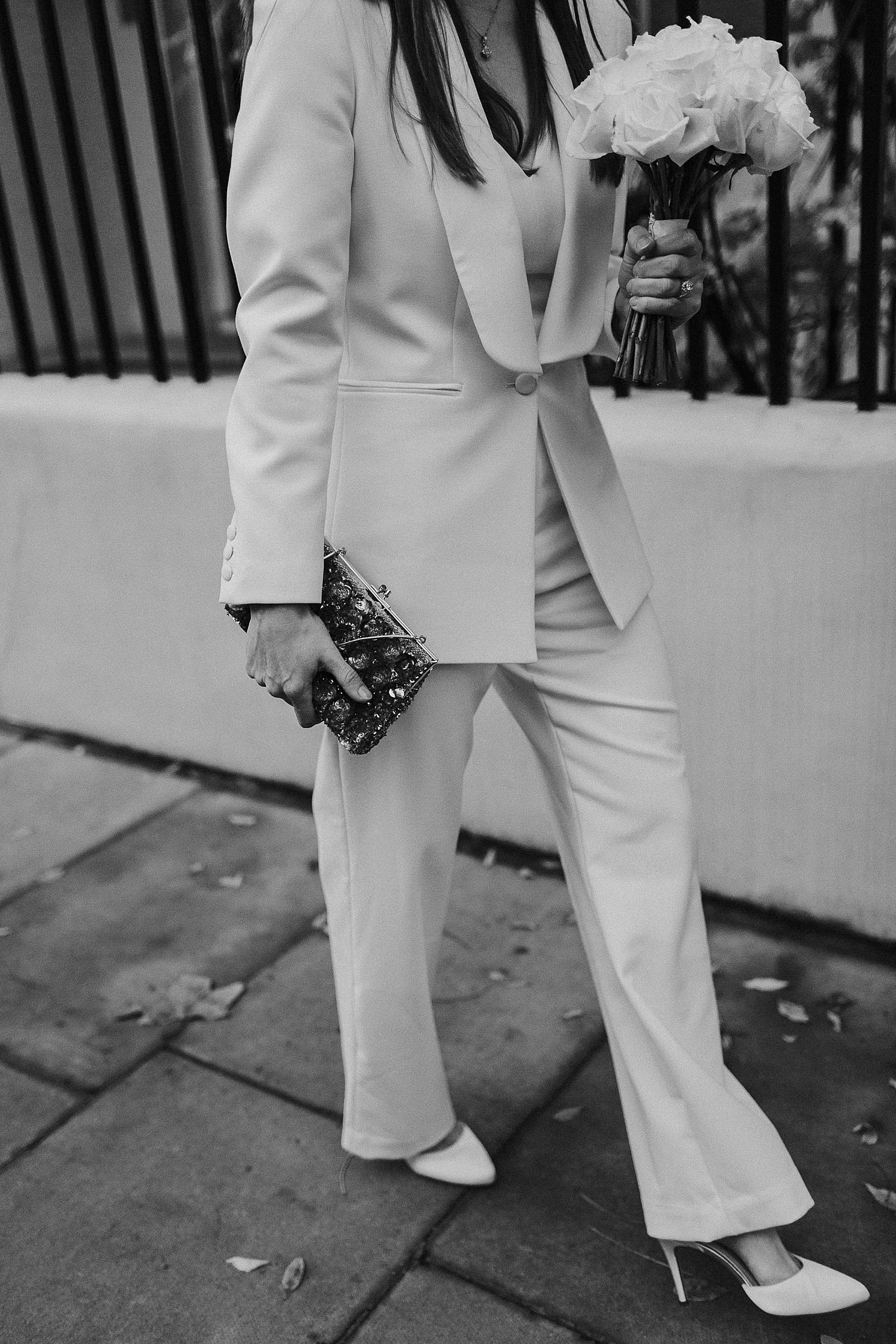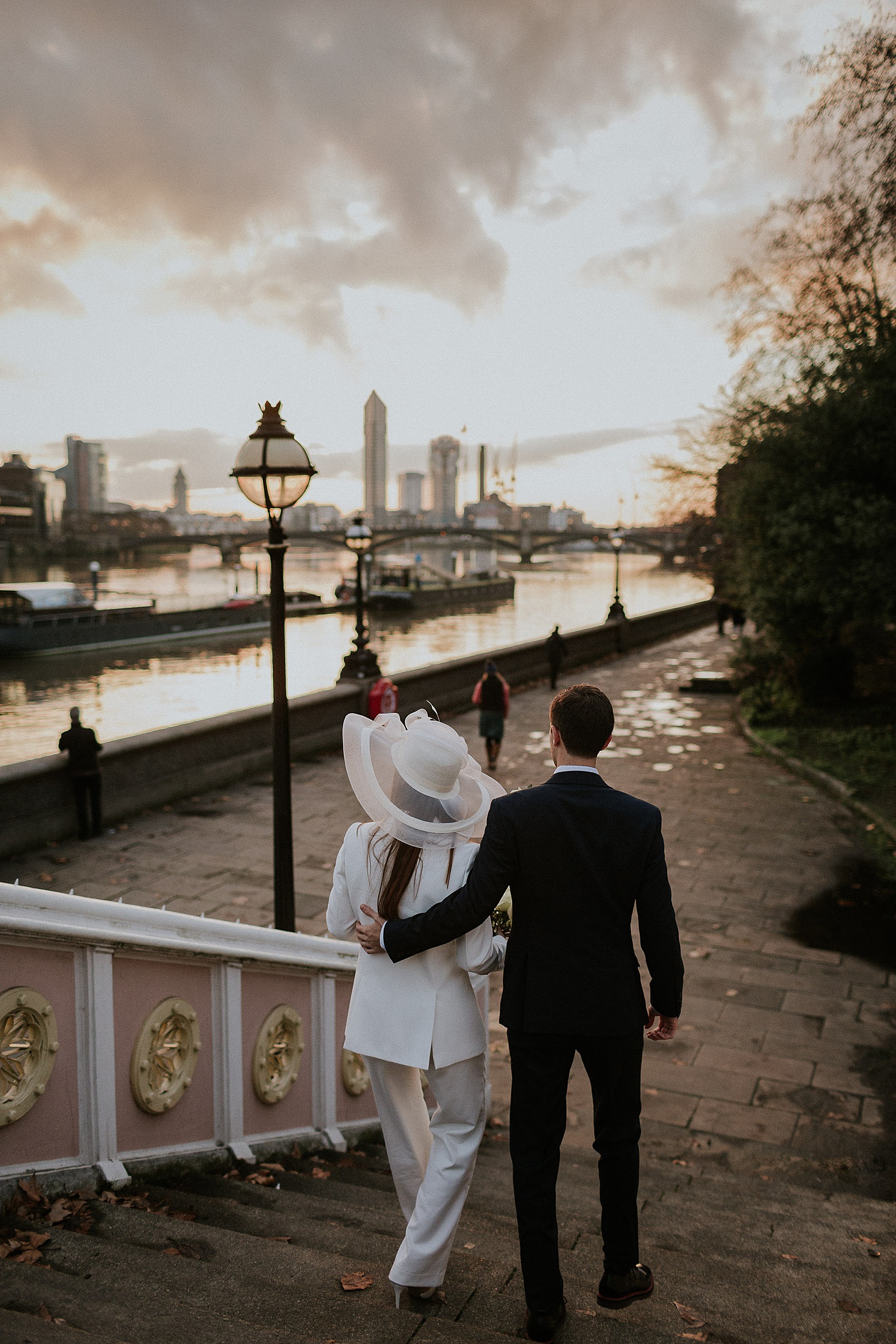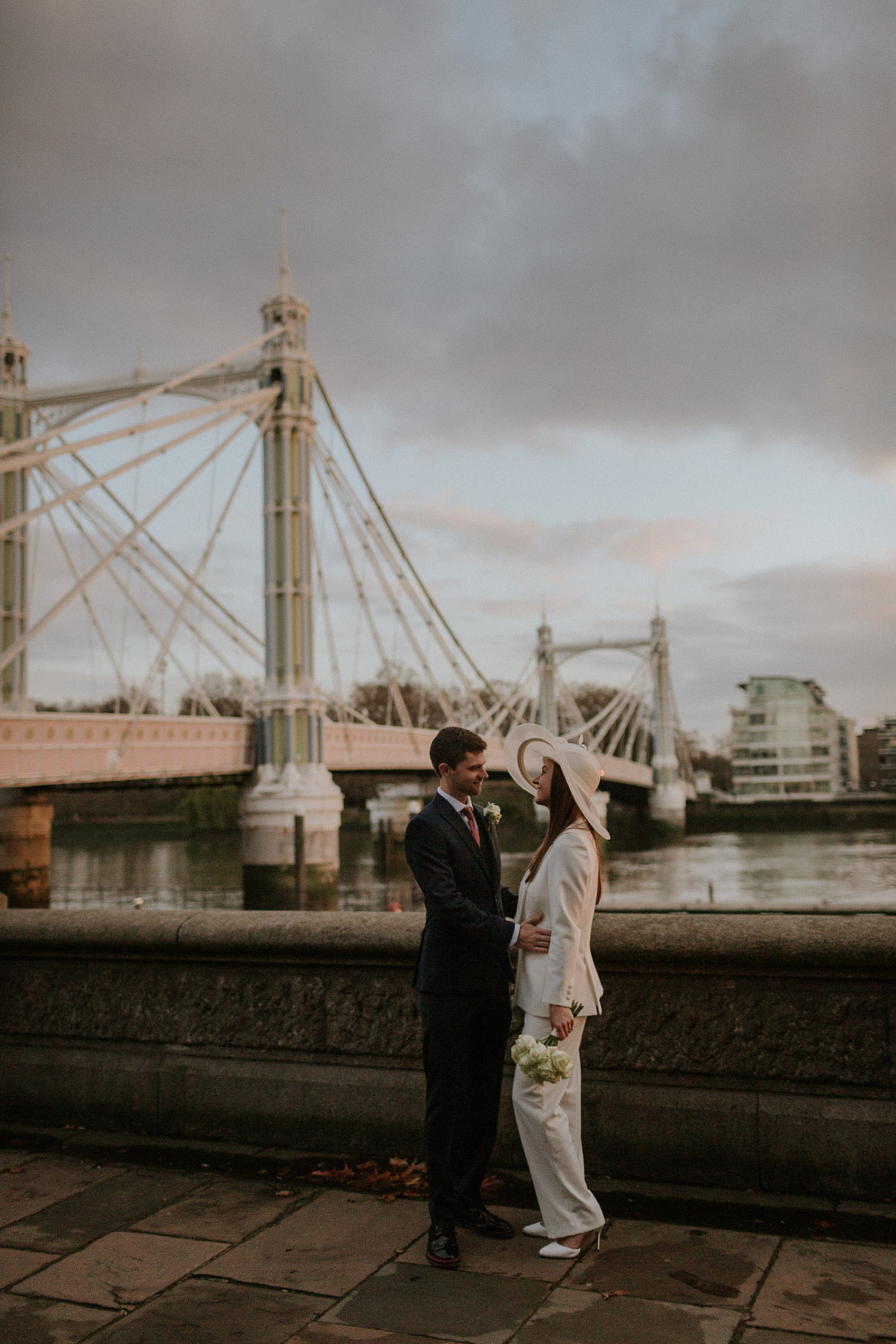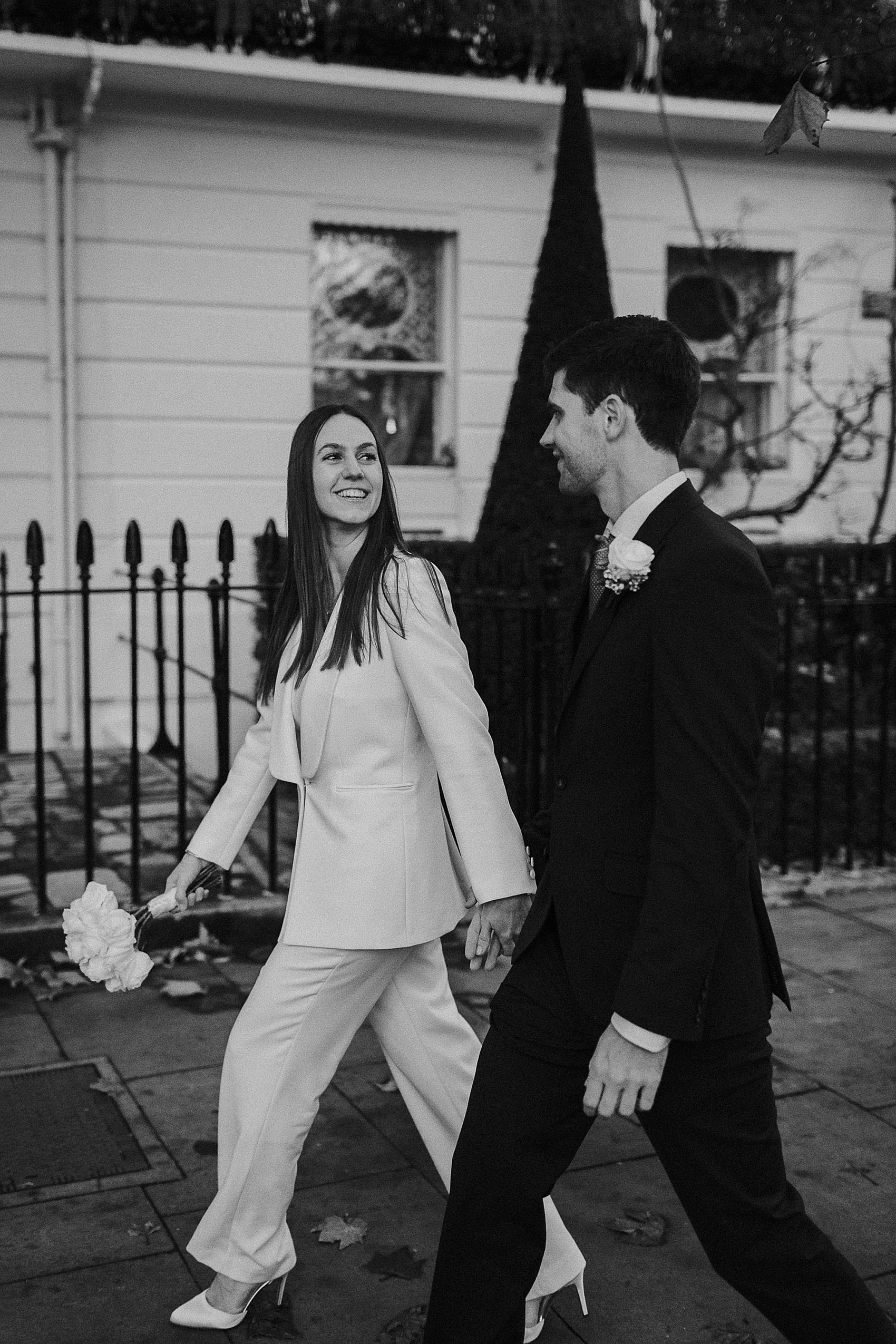 Aaron wore a cream rose buttonhole in his smart, three-piece suit from Marks & Spencer, and the couple walked along the River Thames at sunset and over to Chelsea Old Town Hall, where they walked down the aisle to At Last, by Etta James.
"Aaron is from the US and I am from London. We met at the dinner of a mutual friend on the second day of Aaron's arrival in London to work for a year. We had a connection the moment we set eyes on each other and started dating."
Due to COVID restrictions in place during December 2020, Felicity and Aaron were only able to have 6 guests with them during the ceremony, and unfortunately Aaron's loved ones in the USA weren't able to travel over for the wedding day.
"Although it was completely different to how we had originally imagined, we still had the perfect day and loved the unconventionality of everything. We also loved not having the pressure of doing a big do!"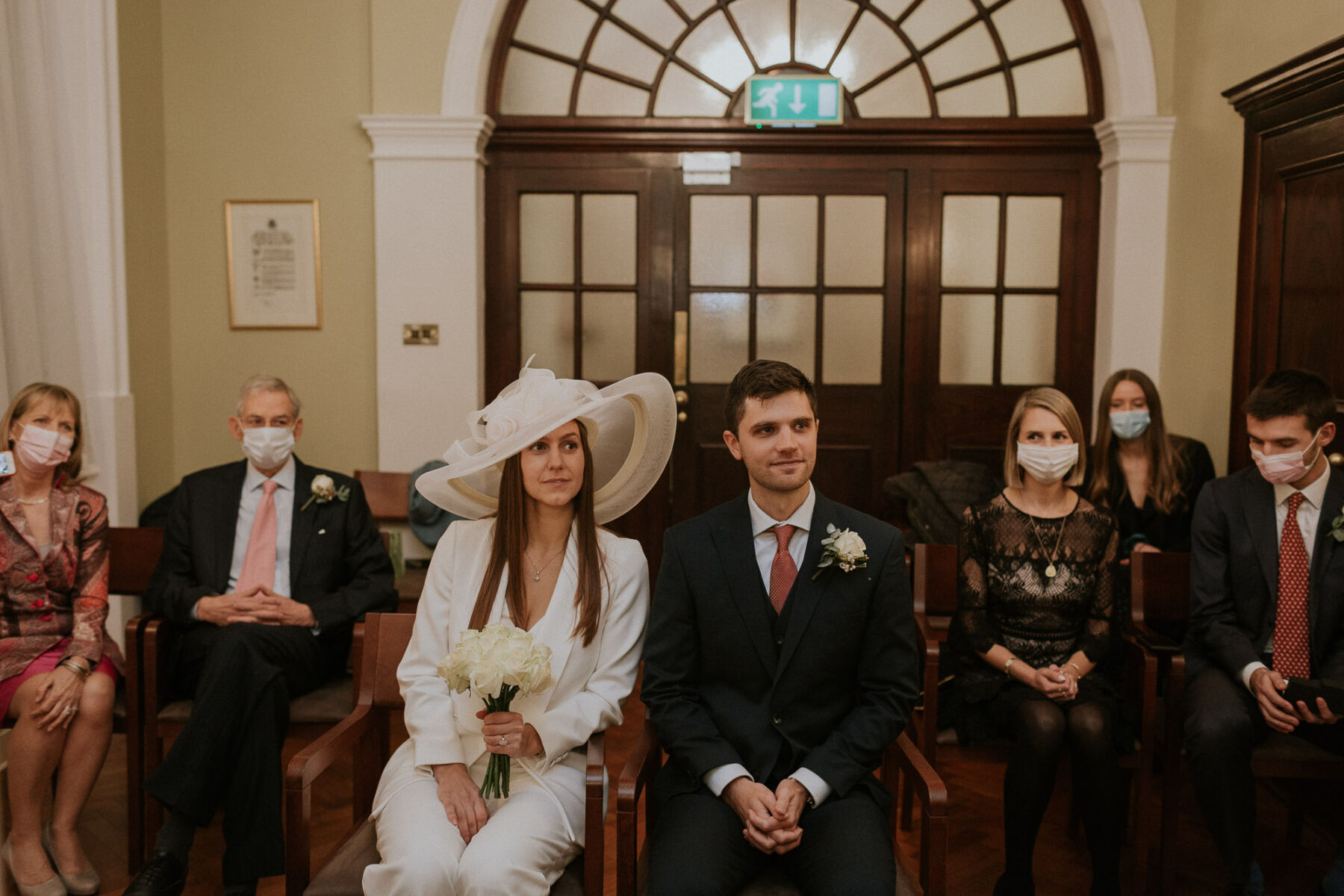 As they made their vows, Felicity and Aaron also exchanged rings, which they chose at Wedding Rings Direct on the recommendation of a family member.
"They offer an amazing online service, but we actually went into store, and the owner served us himself and was such a character, so experienced and extremely helpful. Would definitely recommend."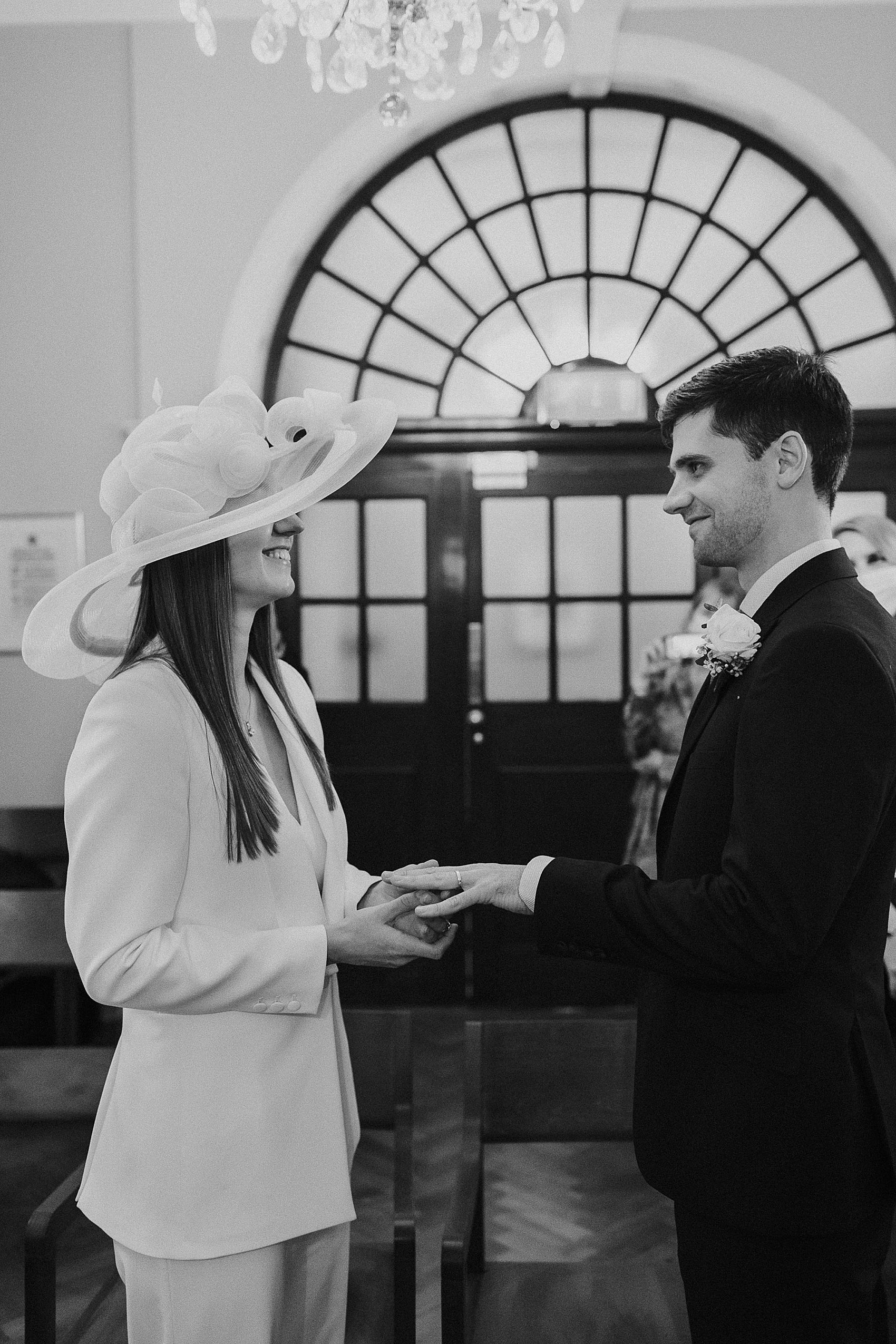 "Aaron ended up extending his work placement so we could be together. We got engaged three years after meeting, on holiday in Mexico just before the first Coronavirus lockdown in March 2020."
"Straight after, Aaron flew back to the US and I flew to London, and sadly we spent the first seven months of engaged life living apart."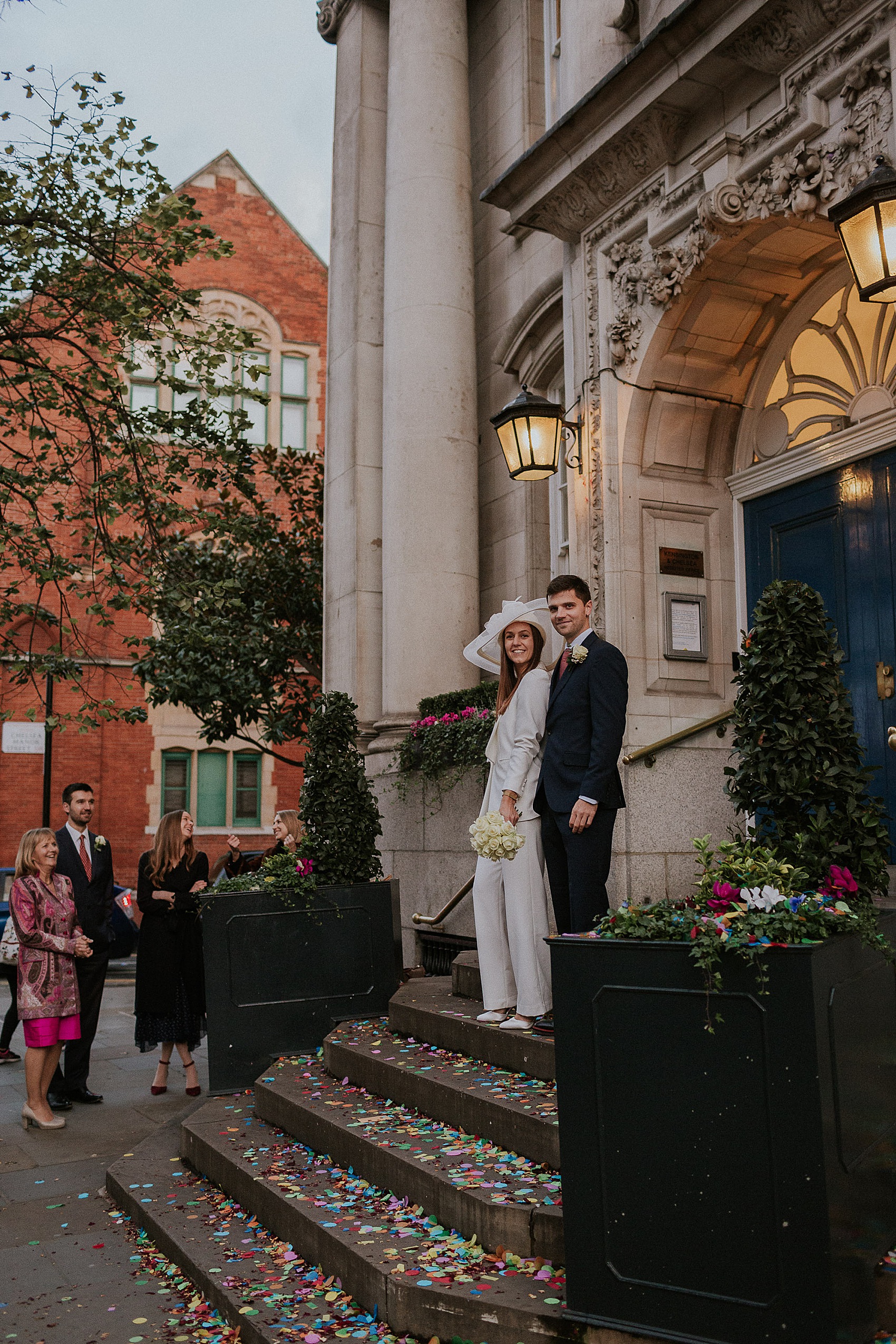 After the ceremony, the newly married couple walked out onto the steps of the town hall, and made the short walk over to restaurant Medlar for an elegant, candlelit reception.
"At that time you could have 15 guests for a reception inside, so we took advantage of that. This was only announced very close to our new date so it was a last minute rush the week before making all the arrangements."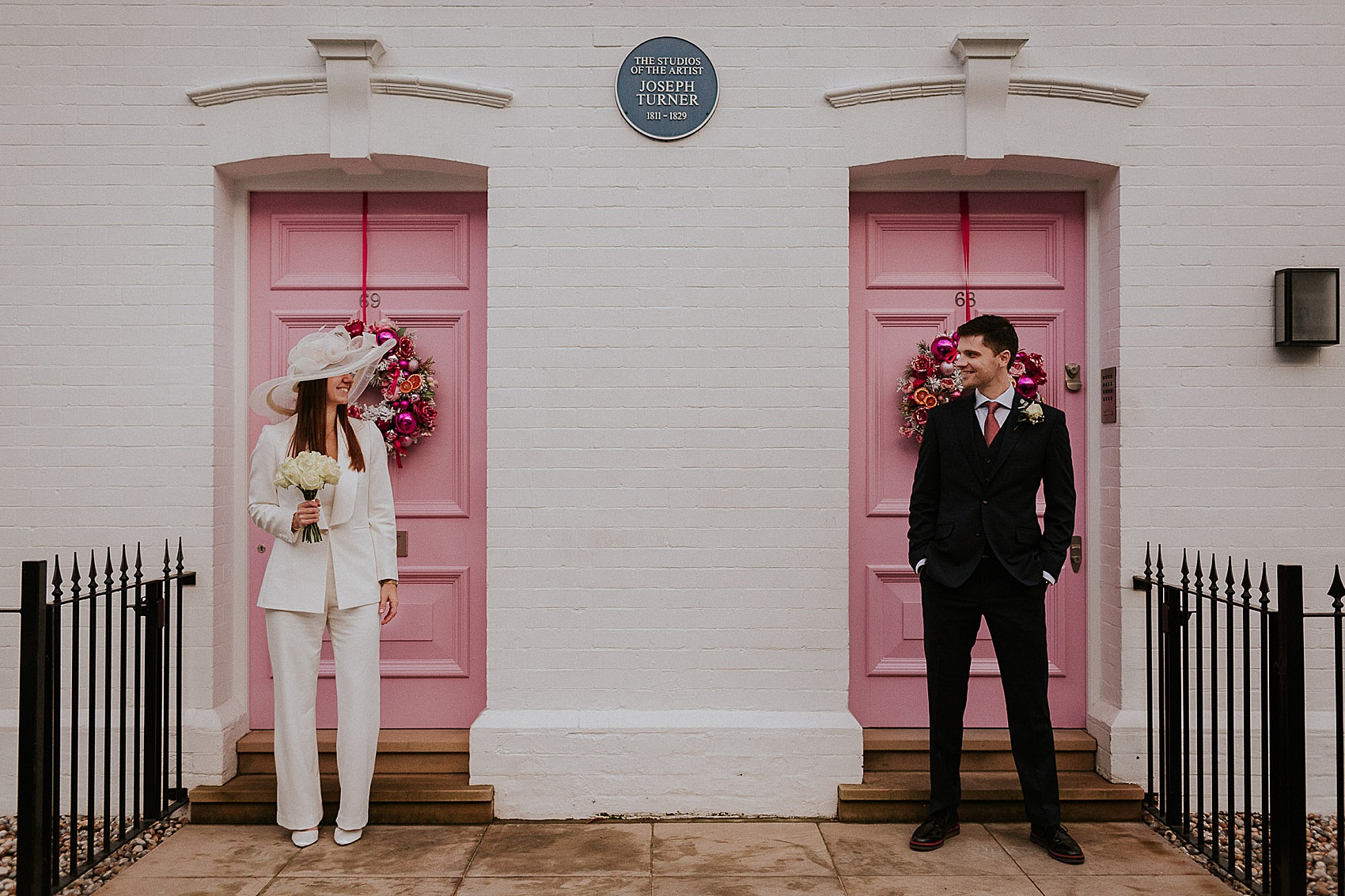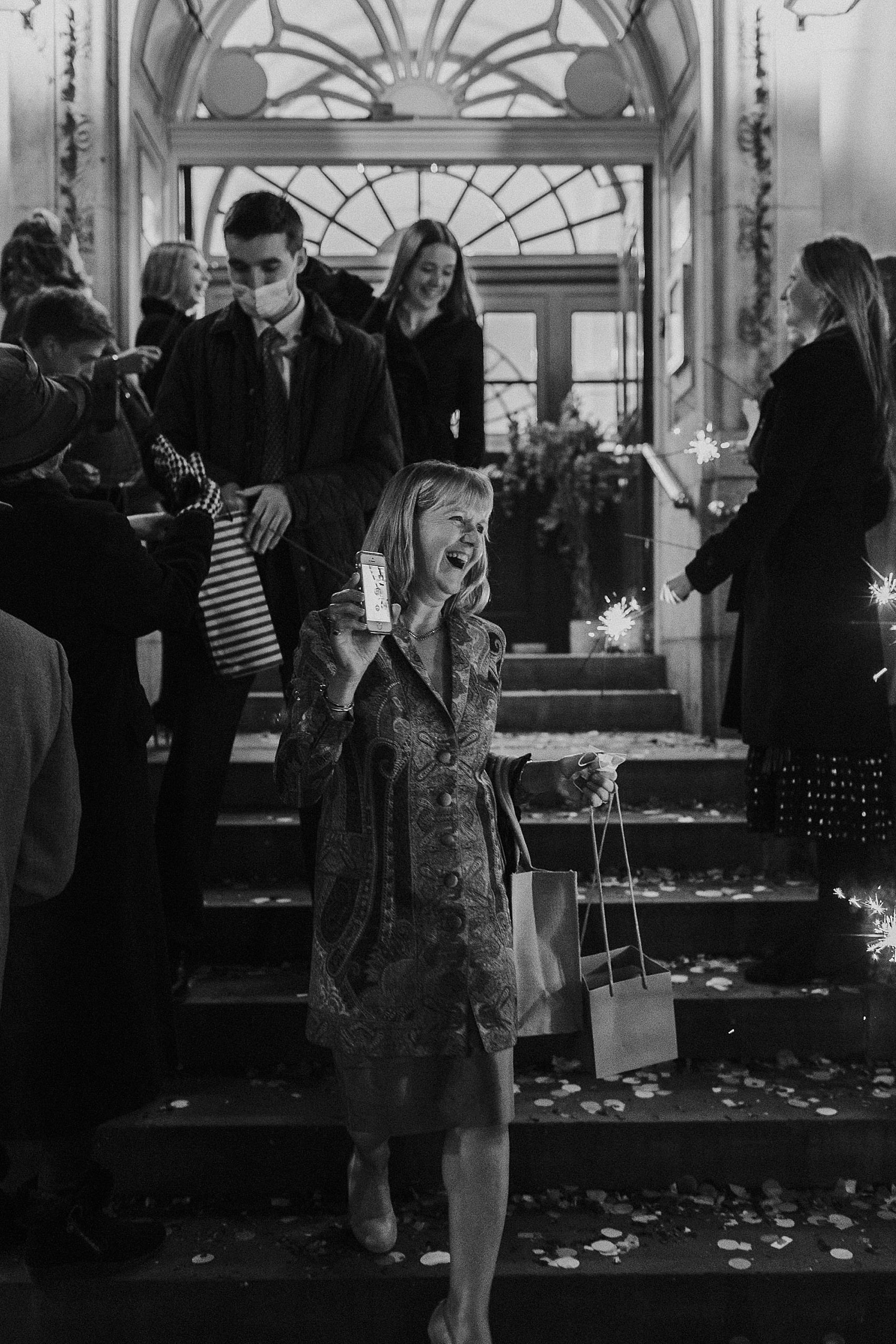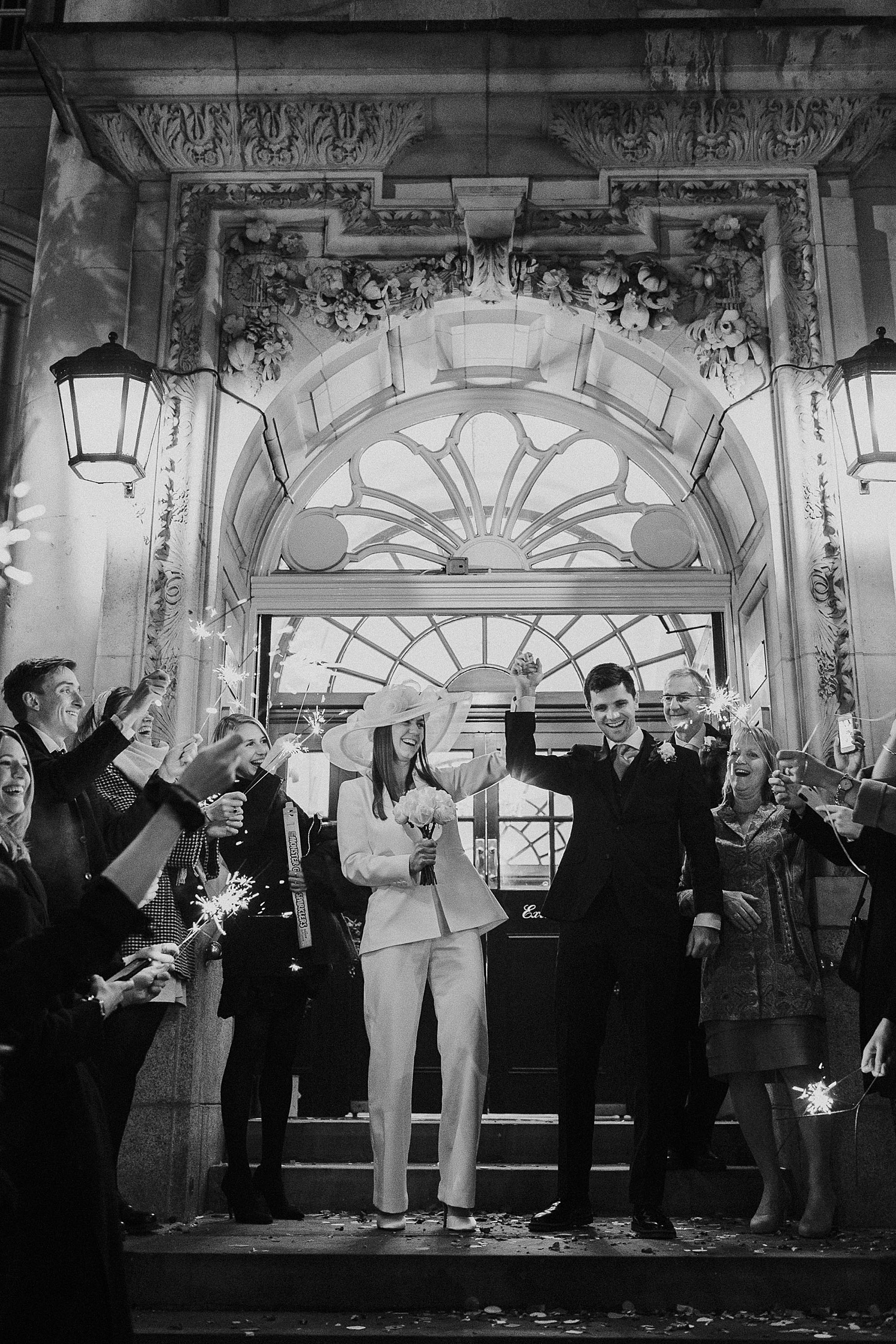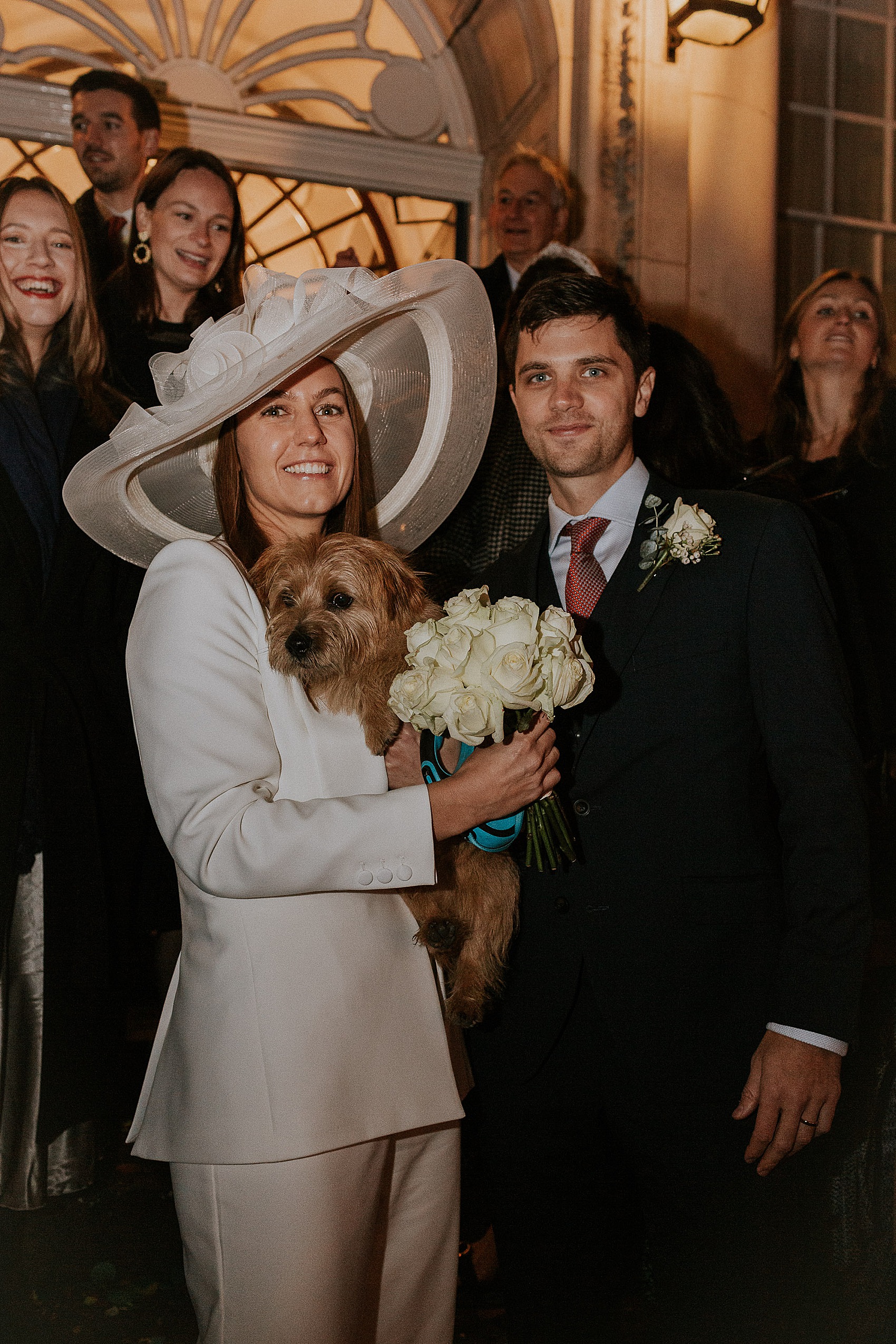 Words of Wedded Wisdom
"Don't feel obliged to follow traditions or what you think you are expected to do on your day – especially now that anything goes, I think it's exciting to embrace that, and I hope it stays that way in years to come."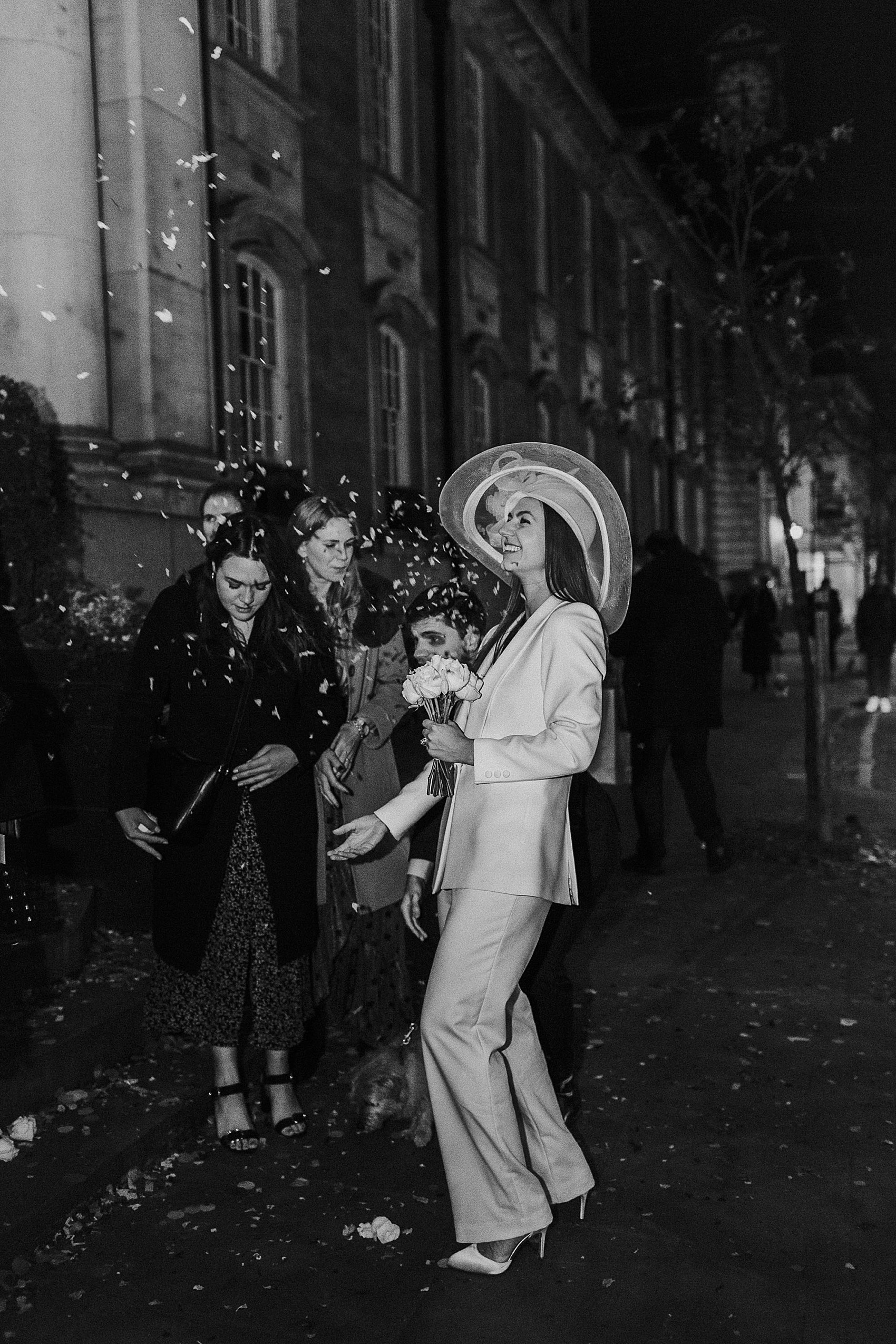 Felicity and Aaron, congratulations and thank you. What an absolutely beautiful, joyful celebration you had despite everything in these difficult and uncertain times. Huge thanks to the brilliant Maja Tsolo for these glorious, golden images, too.
With love,
Laura