I just love it when couples include their four-legged family members in their wedding celebrations. Today's couple knew this was something they wanted to do right from the start of their planning, so chose an outdoor ceremony where their dogs could be included, followed by a marquee reception at the family farm, with the Bride's horse and sweet Shetland ponies all part of the fun.
On the 7 September 2019, mortgage underwriter Vicki married Dan, a marquee erector for Bisley Marquees & Hire Co. Photography by the very talented Siobhan Beales.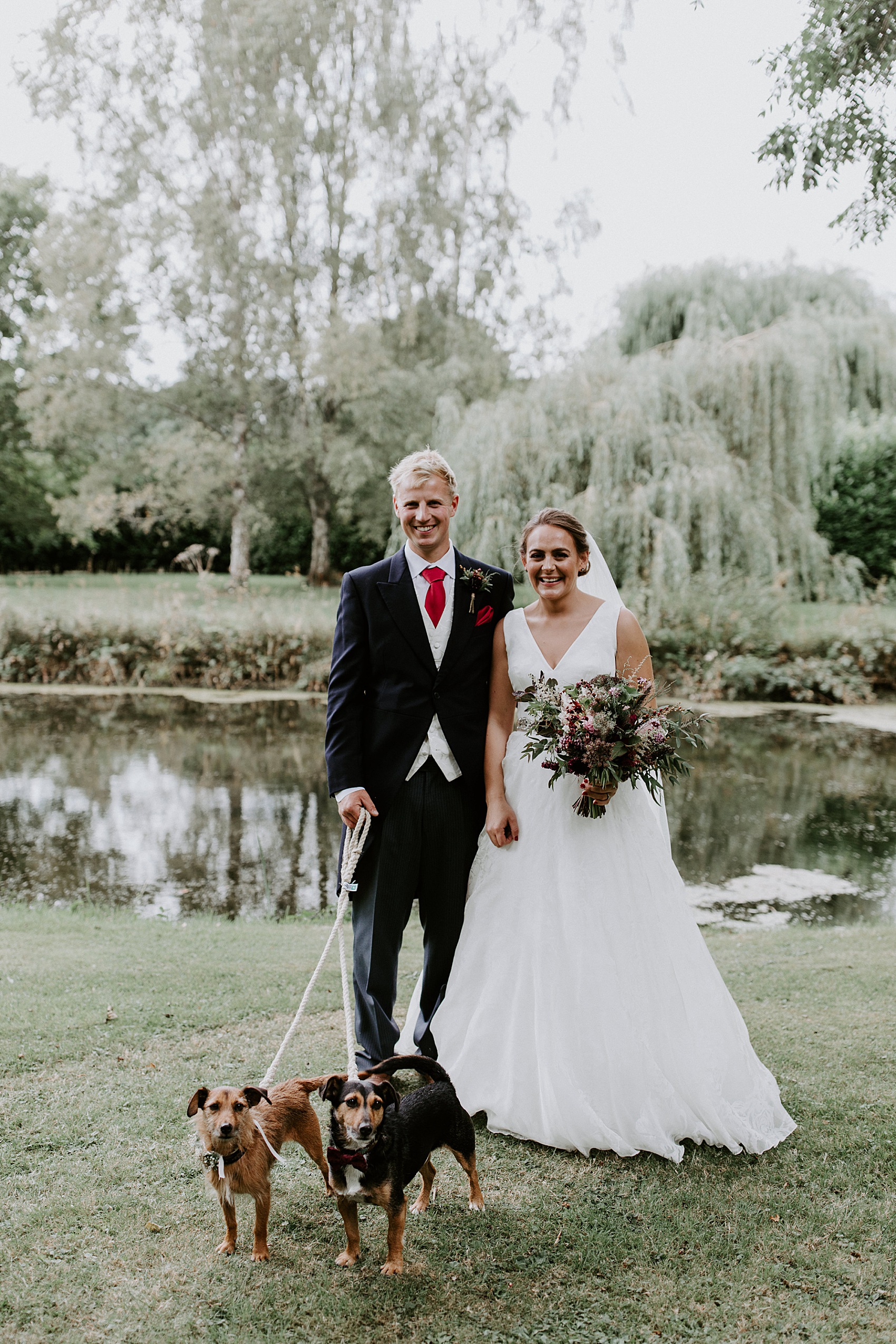 They held their outdoor ceremony in the idyllic rural setting of Bittenham Springs in The Cotswolds, before making their way to Vicki's family farm in The Camp, Stroud for their beautiful reception, with marquee hire from none other than Vicki's family's business, Bisley Marquees.
"We chose Bittenham because we wanted an outdoor, relaxed ceremony in a beautiful setting. It was important for us that we were able to have our two dogs – our Jack Russells Twiggy and Bruce at the ceremony."
Vicki was the picture of timeless, graceful elegance with her hair worn up, and styled beautifully by Vicky from The Beauty Barn in Stroud. It was Vicky who suggested that Vicki wear fresh flowers in her hair, too, which stayed in place right till the end of the night.
"Vicky was brilliant, she came to my house on the morning and did the hair for myself, my bridesmaids and my Mum. She was very relaxed and made sure we were all ready on time. She waited until I was in my dress and put my veil on for me. I didn't really mind what hair style the bridesmaids had as long as they were all happy!""
From Sarah Elizabeth Bridal Boutique in Cheltenham, Vicki chose a wonderful dress by Suzanne Neville; sleeveless with a simple v-neck and back, with a full skirt. The fabric of the dress was an exquisite floral damask with a lovely contemporary feel, and there was also a glittering embellished belt tied with a satin ribbon.
"I wanted a dress with the wow factor, and as soon as I saw the fabric on my dress I loved how unique it was! It was important that I was actually able to move in my dress."
"I had photos with my horse in his field, sitting down with the Shetlands who were at the reception, and ventured into the long grass in the field to get the most amazing photos at sunset."
"All of the dresses at Sarah Elizabeth Bridal are of outstanding quality. The shop is beautiful and Sarah made the whole experience very enjoyable. Nothing was too much trouble, and she went out of her way to make sure the dress fitted to perfection."
"She was very flexible with appointments and even opened up her boutique on her day off for one of my bridesmaids to have her dress altered on the Monday before our wedding, as she had only just returned from working abroad. I would 100% recommend to anyone.
Echoing the silver sparkle around her waist, Vicki's shoes were glittery heels by Jimmy Choo, a treat to herself via Net-a-Porter, which she will be able to wear again and again. As her old, borrowed and blue, Vicki wore a pair of sapphire earrings belonging to her grandmother.
"I wore a veil that was the same length as my dress train, from Rainbow Club via Sarah Elizabeth Bridal Boutique. I let Sarah pick the veil to suit my dress, and you could still see the fabric of my dress through the veil."
Having seen their work at marquee open days, Vicki and Dan chose local florists Saltbox & Co. for their wedding flowers. All of Saltbox's bouquets are made with their own homegrown and foraged blooms and foliage, and Vicki and the bridesmaids' arrangements contained beautiful pink dahlias, amongst lots of other lovely flowers and greenery.
"We were able to visit the field that the flowers are grown in, and Imogen created the perfect flower displays. Neither of us know much about flowers; we picked the colours we wanted, told Imogen the style we were after and let her come up with the rest! Again we had seen her work previously so knew that we could trust her."
Together with her Dad, David, Vicki walked down the aisle to Adele's Make You Feel My Love, performed live by Awen Duo Strings. Dan was there waiting, wearing a smart and classic morning suit in navy blue, with an ivory waistcoat and red tie from Moss Bros.
"Dan chose to wear tails as he doesn't dress up in a suit often and liked the traditional tails. He wore a pair of cufflinks, which were a christening present from his godparents in 1992!"
The couple exchanged traditional vows, and solidified their commitment to each other with rings. Vicki chose a simple white gold band from Goldsmiths Jewellers. As she is a keen equestrian, she didn't want to have anything too ornate.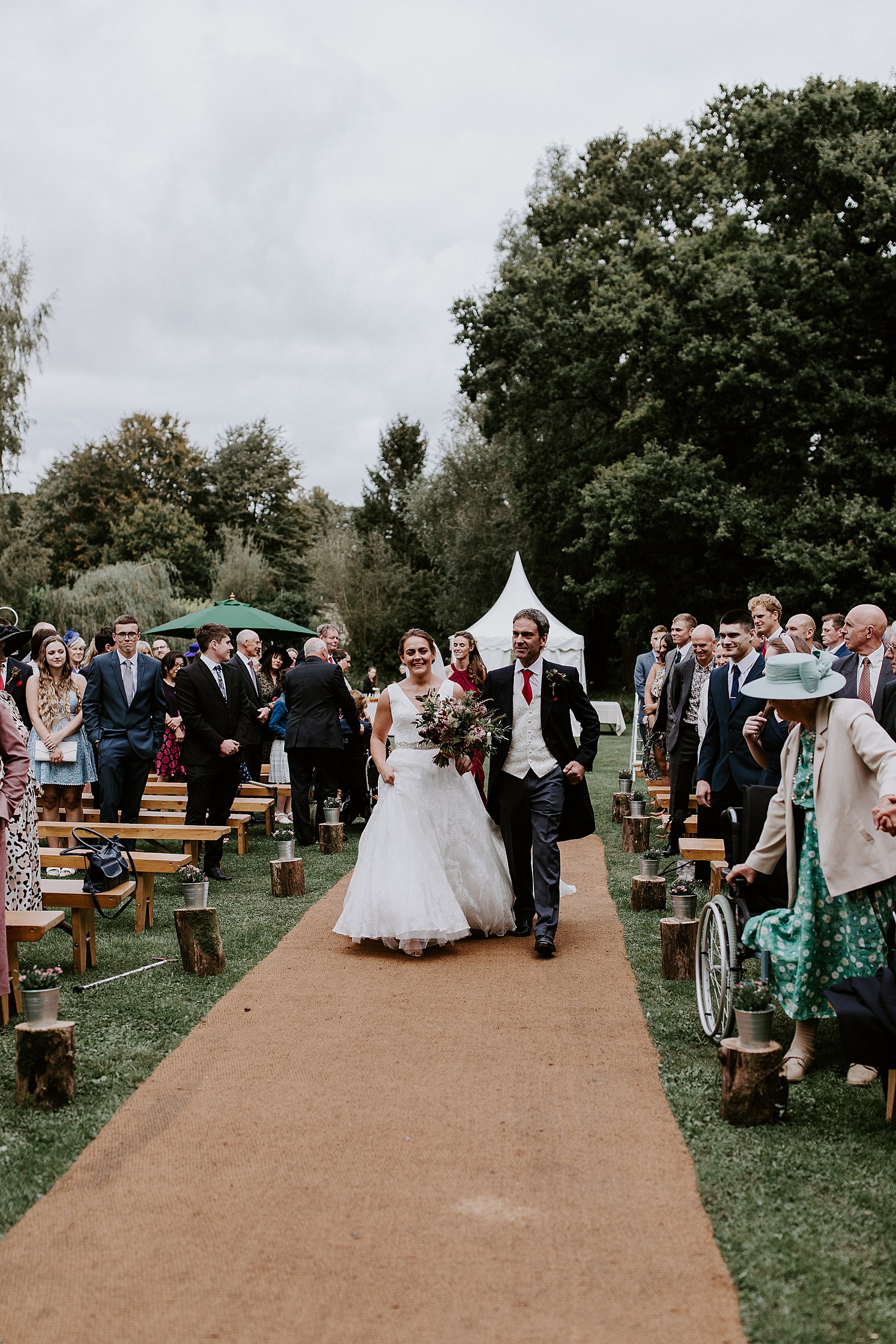 Dan's ring was an heirloom piece from his grandmother – a thick gold band originally bought in 1914 by Dan's great-grandfather, and worn by Dan's Nana from 1948. How lovely that Dan will now carry on that tradition.
"Dan's Dad wrote a poem and read that at the ceremony: 
'They are The Riders;
She on four legs; he on two wheels.
Vic takes care of the money;
And Dan takes care of the meals.
It's been nearly a decade;
Yes, 10 years, of true romance.
They just waited until they were sure;
Leaving nothing at all to chance.
They're as happy as pigs in the proverbial;
In cosy Number 2.
So Vicki and Dan, on your Wedding Day,
This poem's especially for you.'
"Even though we weren't at a church we still wanted to have a reading. Having a personalised poem meant a lot more to us than reading one out of a book."
"We met in 2009 through a mutual friend at sixth form. Dan eventually (!) proposed after 9 years in April 2018, in Cape Cornwall, one of our favourite places. We then got married in September 2019.We didn't want to rush the wedding as we wanted to make sure we could use all our first choice suppliers, and we wanted to be able to enjoy the planning stage."
Post-ceremony drinks and canapés were enjoyed at Bittenham Springs, and when it came to the couple's choice of caterers, this was a key decision, as Dan is himself a former chef. Relish Event Catering are local to Vicki and Dan, and have worked together with Bisley Marquees for many years.
"Relish also ran the bar and gin bar, providing the gin cocktails. We both like food (!) and hate being hungry at weddings, so we decided to have two drinks receptions with two lots of canapés!
We had the first after the ceremony at Bittenham Springs so everyone could enjoy the setting whilst we were having our photos taken."
The bridesmaids' dresses were pleated chiffon halterneck dresses in a rich shade of red by TFNC London, discovered via ASOS.
"Our flowergirl was our dog Twiggy! She had flower collar purchased on Etsy from Hidden Botanics Silk Wedding Flowers & Accessories."
Vicki and Dan first discovered their photographer Siobhan Beales when she photographed a Bisley Marquees wedding in 2018. They loved her work when they saw it, and knew she would be the perfect person to capture their day.
"We love her photography style and Siobhan as a person! She fitted in perfectly on the day and was always there at the right time to capture all the moments you wanted. We got our photos back so quickly, we would definitely recommend."
The couple's reception marquee was the most amazing, light and airy, highly personalised space, with its own veranda and a separate space for the gin bar, and the lining even had a lovely subtle print to it, too.
"Vicki's family own Bisley Marquees so a lot of knowledge and experience was on hand for the planning! Vicki also used Pinterest for ideas. We would definitely recommend using your marquee supplier's knowledge to help incorporate any ideas you want for the marquee."
"The Bisley team came up with an amazing layout – every marquee can be unique!"
Vicki's brother Chris helped the couple decide on the types of atmospheric lighting to use in the space, placing them perfectly for maximum impact. As well as this, Vicki's Dad David also made some chandeliers for the gin bar and entrance area.
"We used Kilkie Sands for the welcome sign, seating plan, menus, table names and place names. Becks created exactly what we were after and it was all perfect."
Around the circular gin bar was lots of comfy seating, including an egg chair, a Chesterfield and armchair. There were lots of garlands and flowers dotted all around, and miniature lanterns for candles on the dining tables.
"We wanted to have personal touches where we could. I collected my horse's shoes, which were made into table name holders, and we chose our table names from our favourite desserts and cakes."
As a nod to Dan's chef training, favours were jars of homemade strawberry gin, placed at the entrance/exit to the marquee with individual name tags so guests would remember to take them home at the end of the night.
"Adam from Relish helped design a menu with our input, and we had a very filling tasting to choose our final food. Dan's Mum, Jane, is a keen baker, so we wanted her to be in charge of the wedding cake."
"We opted for a naked sponge cake, as Dan doesn't like fruit cake, and I don't like icing! We had a six-tier cake with alternate jam/buttercream layers, and the cake was decorated with flowers from Saltbox & Co."
After more drinks and canapés from Relish Event Catering, everyone sat down to a wedding feast of braised lamb shoulder with rosemary, thyme and garlic, and Pommes Anna, vegetables and homemade mint jelly made by Dan's Mum, Jane.
As well as having photos with dogs Twiggy and Bruce, Vicki and Dan also stopped to stay hello to Vicki's beautiful horse Orlando, and two other guests of honour were Shetland ponies Charlie and Archie.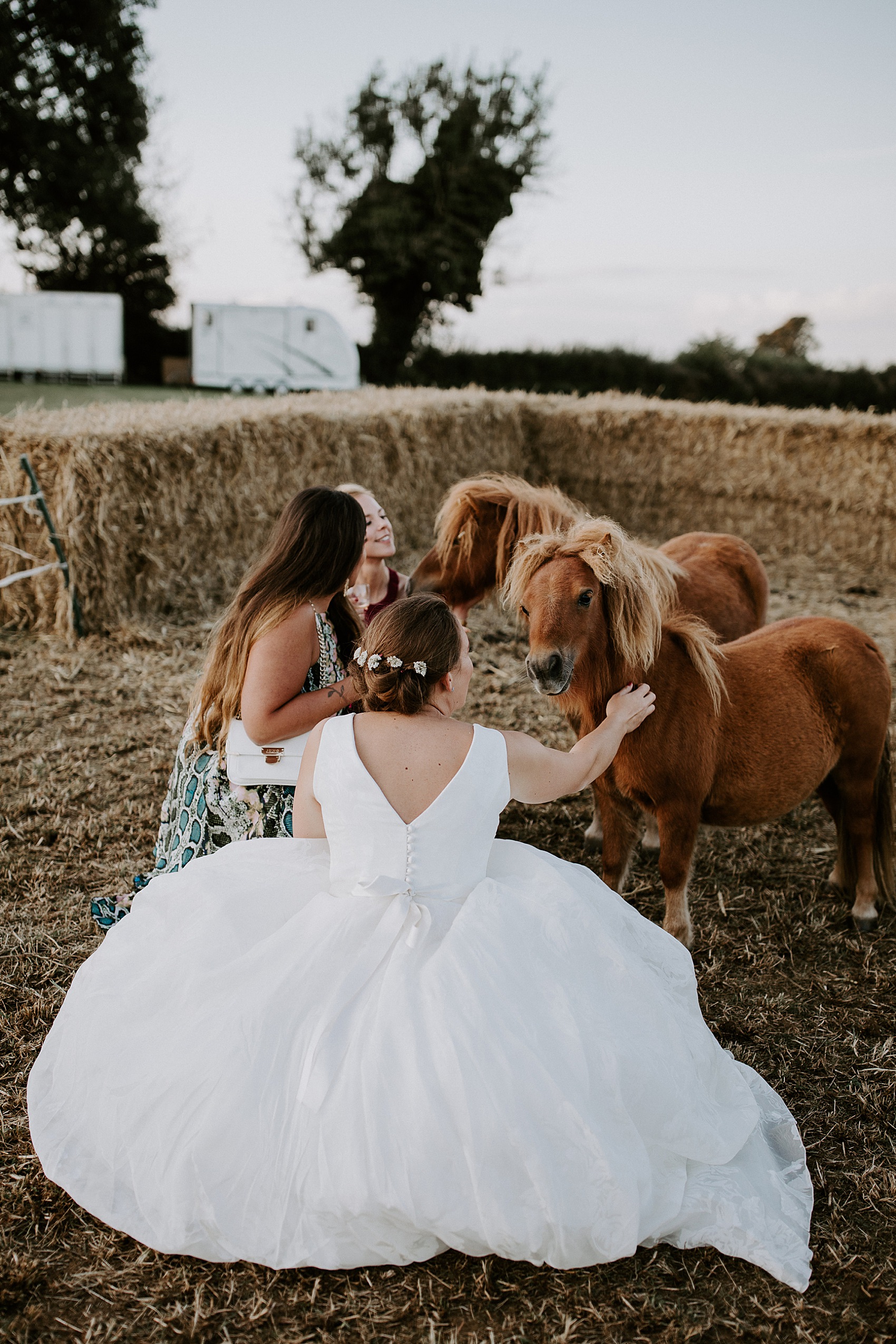 "We're both quite laidback and love the outdoors. I ride horses and Dan rides bikes and surfs,  so we wanted a laidback outdoor wedding, too. It was important to us that we could have our two dogs with us for they day (Twiggy and Bruce) and that the Shetlands (Archie and Charlie) could be star guests at the reception."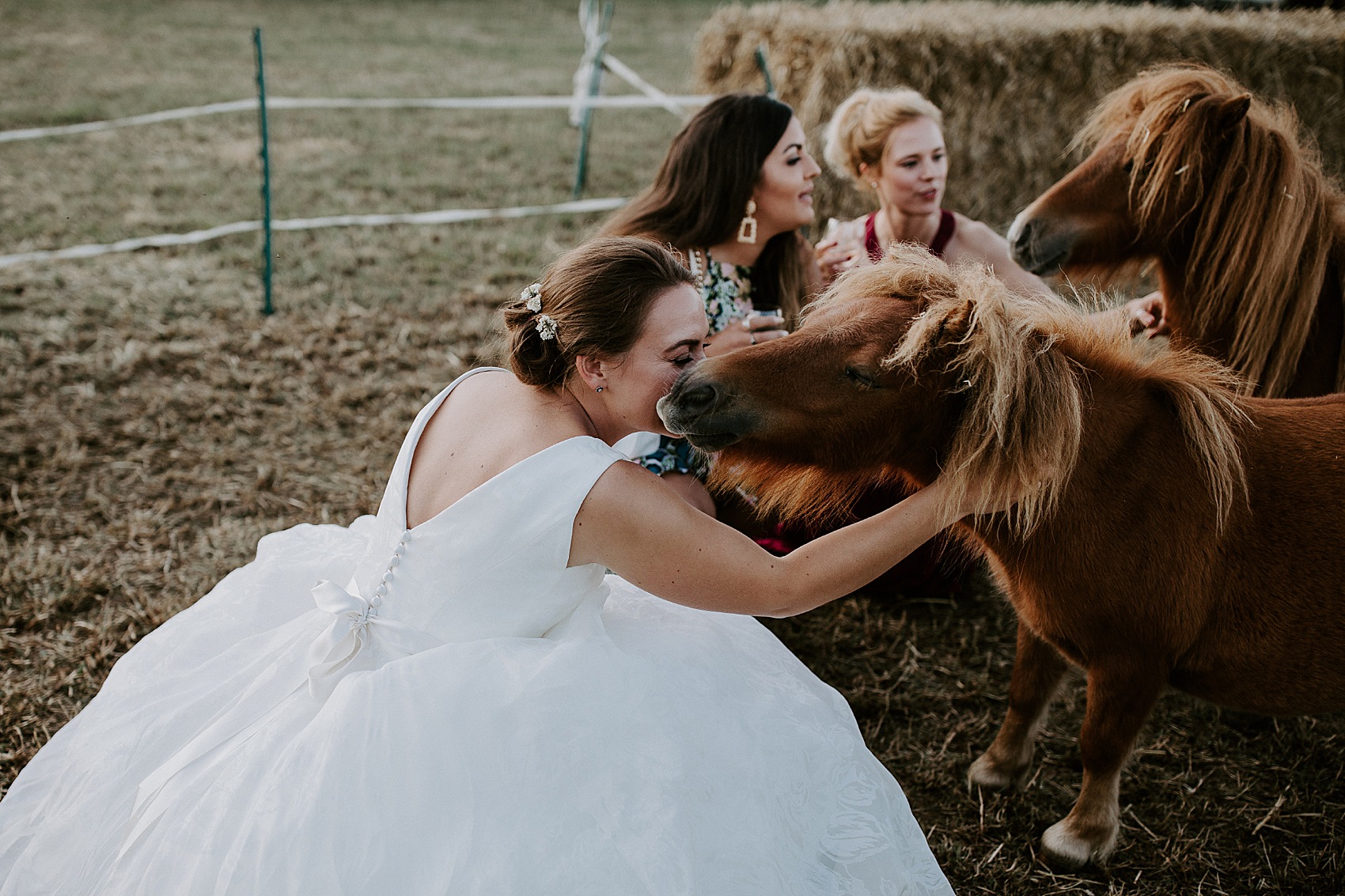 After dinner and speeches, guests mingled outside playing games, whilst Vicki and Dan took a beautiful golden hour stroll, and enjoy more pony cuddles. After the cake cutting, the couple headed to the amazing dancefloor, complete with huge disco ball, with the whole space looking like an incredible starry night sky.
"We used The Chip Shop Boys band. My Mum Caroline had heard the band before at a previous event and loved them."
They certainly kept the dancefloor packed all night! We chose The Kinks – All Day And All Of The Night as our first dance. We asked the Chip Shop Boys to play this, but a slower version, which was incredible! We chose it because we didn't want a traditional first dance song, and the lyrics summed up us getting married."
"We honestly couldn't pick a favourite part – we loved every minute of the day and night! The whole day was just perfect."
Words of Wedded Wisdom
"Do what you would like, not something to keep others happy. A wedding day is unique and doesn't have to be a traditional set up. Prioritise what is really important to you and make sure this is included in your budget first."
"We've heard a lot of people say about getting very stressed planning weddings, and not enjoying the day. It's your day, do what you want to do, pick trustworthy suppliers, and take their advice as they've done it all before."
Vicki and Dan, what a pleasure it's been to share your wonderful day with our readers, thank you so much. Huge thanks to Siobhan Beales for this lovely collection of pictures, too.
Until next time.
Love,
Laura