Held in the heart of the English countryside, this farm wedding had a breathtaking backdrop, just perfect for the golden hour photos that Florence Fox Photography has captured so beautifully.
School sweethearts Rachel, a theatre manager and Dominic, a doctor, chose 13 July 2019 for their relaxed, family-focussed wedding at St Edward the Confessor Catholic Church, Shenley Church End in Milton Keynes followed by a chilled reception at Primrose Hill Farm in Arlescote, Oxfordshire. For the couple, putting the comfort of their family at the heart of the day was key, wanting it to be a 'welcome to the family' for everyone there.
Florence Fox Photography

+ Follow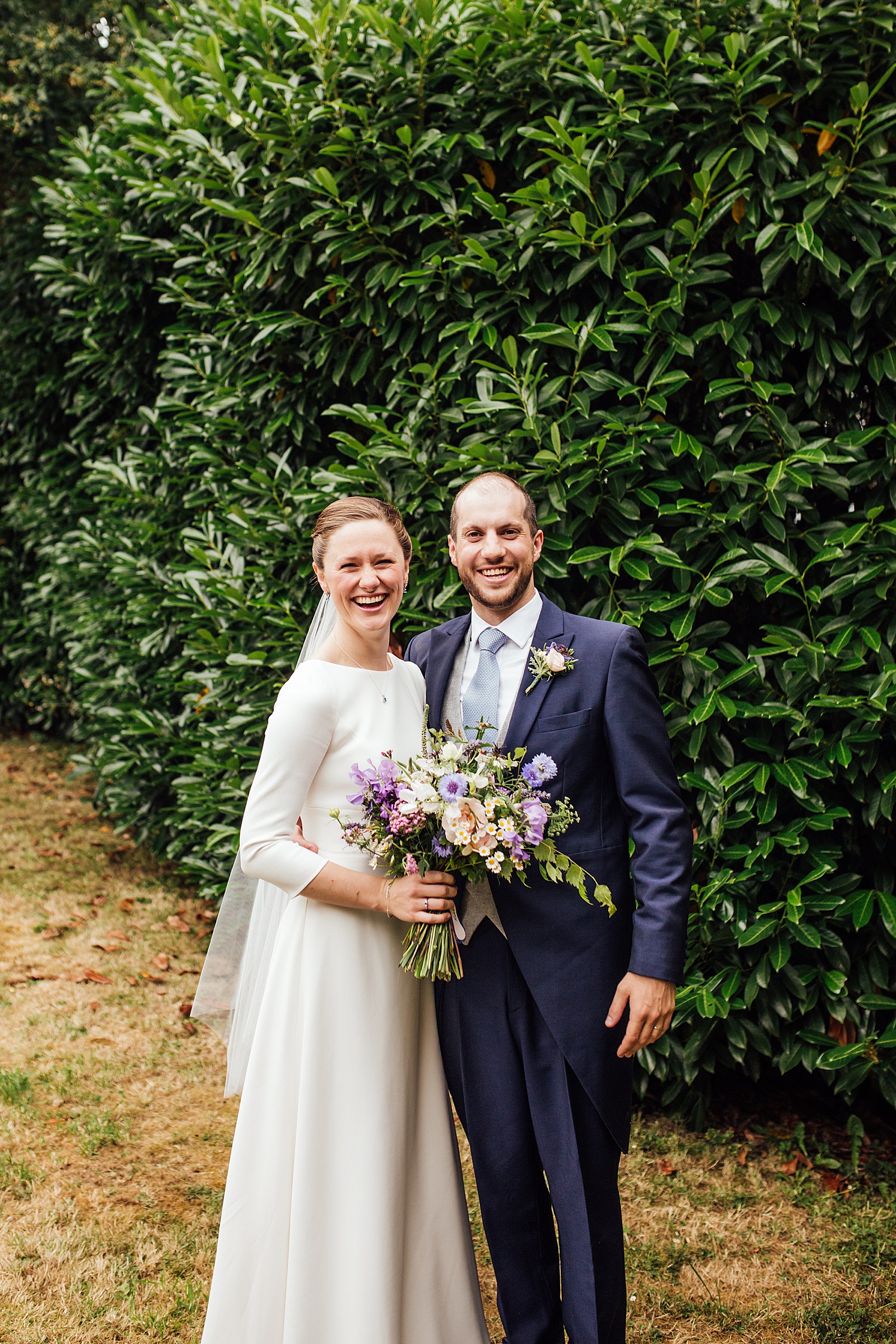 Rachel's voice and personality shine through her words (let's be friends!) so over to her to describe her simple, beautiful choice of open-backed Suzanne Neville gown, complete with a few summery adjustments.
"The dress is from Ellie Sanderson's boutique where both my sisters found theirs. As a family, we knew we'd have a quality and thoughtful experience with Ellie, Andrea and the team. Gentle guidance and expert input defines their service. Mum, Dad, both sisters and newly-born godson were all present when the dress was picked. Ellie's partner seamstress, Satish at Elite Alterations, made the dress fit me wonderfully. I felt fabulous thanks to their collective care."
"I chose this dress for a few reasons. It was a bright colour ('gave me a lift', as my mum says) and the detail was in the silhouette. It was practical to wear for the whole day and didn't require much 'managing'. I felt graceful and it had a lovely flow for dancing (I'm a bit dance-mad). I had the full-length sleeves shortened to ¾ to feel more summery."
"The transport was one of the few parts of the wedding that l had 'always dreamt of': having a black London taxi-cab. Just Married Wedding Taxis are based in Buckinghamshire and Simon took me and my dad to the church in the cab and then Dom and me across to the venue."
"We used family cars beyond that to take us where we needed to be."
"We instantly loved Primrose Hill Farm and JJ, the owner. We dawdled with booking whilst worrying about the 45-min journey from the church. We soon realised we were letting this get in the way of choosing a venue and team that would give us a brilliant day. JJ brings ease, optimism and class."
"On the day, you could see our guests relax upon arrival because of the joy and skill of the team hosting them. The space is beautifully finished and uncomplicated."
"Inside and outside are on one level, it has a great flow and there's no getting lost; it's big enough to find some peace yet still feel part of the revelling. It doesn't require any effort to have a good time here. We would whole-heartedly recommend JJ and his Primrose Hill Farm team."
"We aimed to keep things simple and meaningful, with nods to our story and our families' roots. We were conscious of waste and not buying lots of 'friggamagaries' (an Irish word I found myself saying a lot during planning – almost certainly the wrong spelling, apologies!) i.e. avoiding items that were just for the day and then would be thrown away or gather dust."
"This helped us put money towards aspects of the day that we felt would make a tangible difference to ours and our guests' time."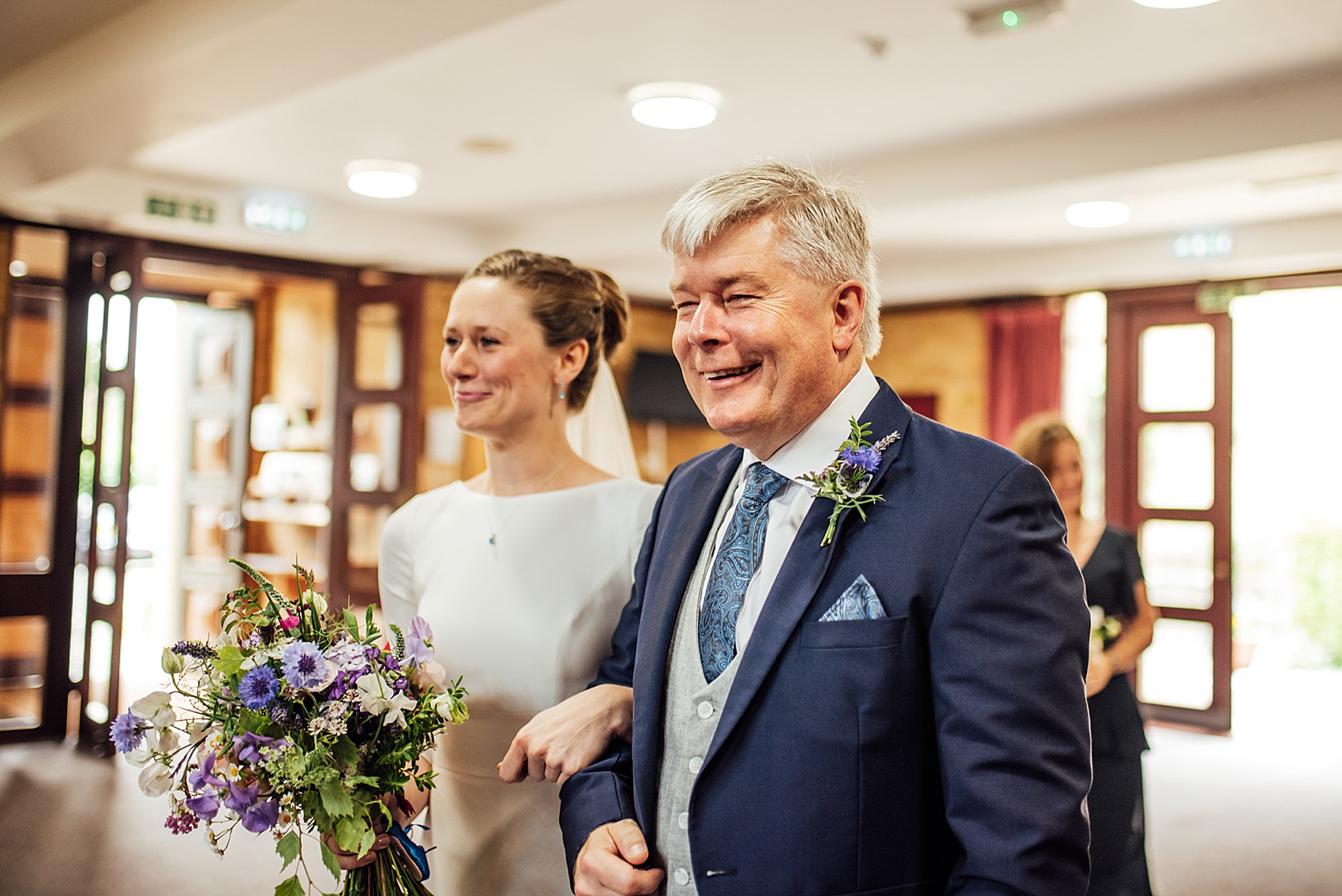 The couple went to secondary school together, getting to know each other properly in Sixth Form.
"We enjoyed London life at university, visiting each other in different places as we moved around for jobs before coming together in Yorkshire where we got engaged whilst picnicking at Fountains Abbey. Joy all round. That was June 2018 and we married a year later in July 2019."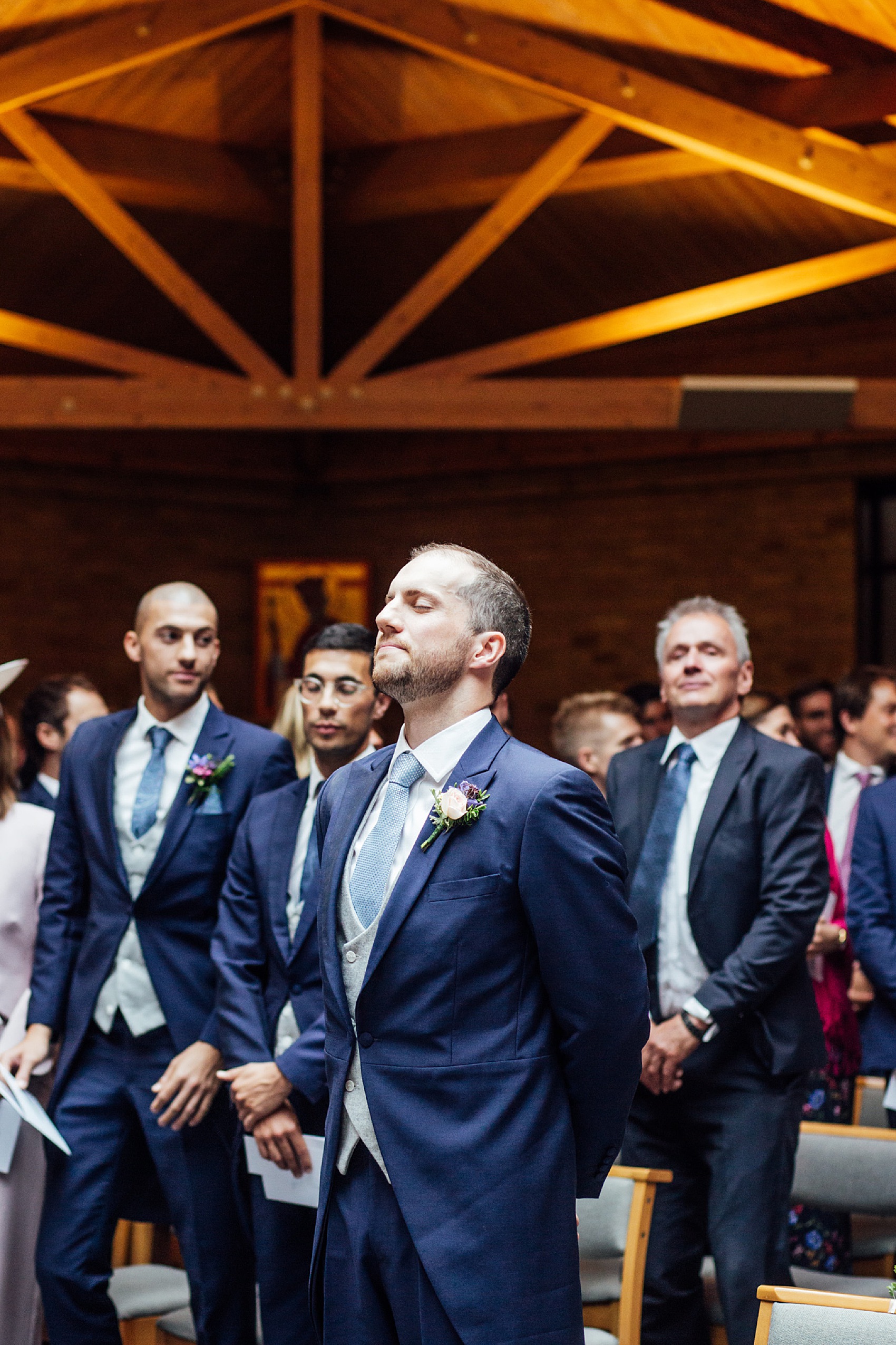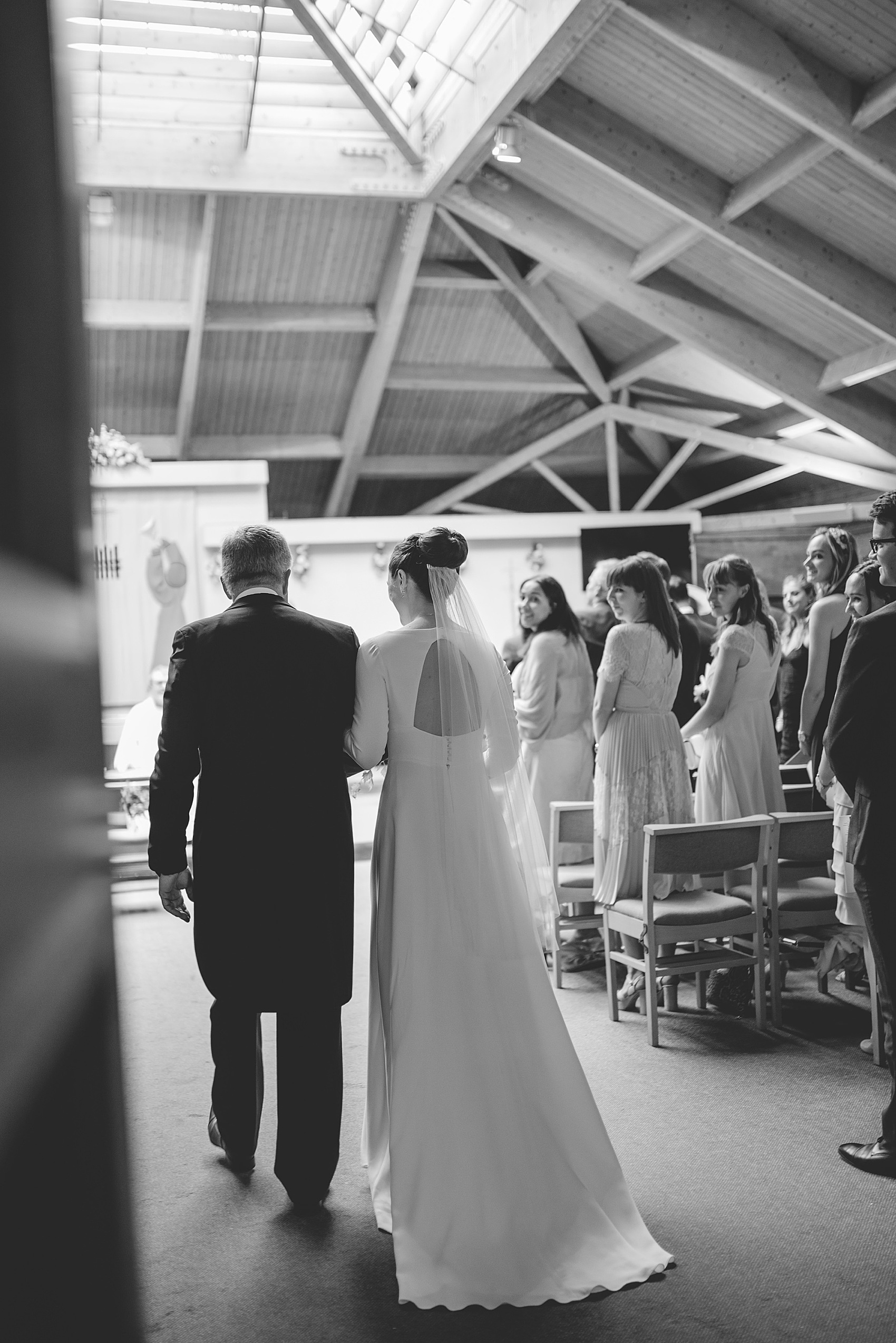 "St Edward's is my family church. Father Paul, who led our service, christened me and the banner hanging behind the altar was the same one up for my christening. Father Paul and the community mean a lot to our family and the church has a great atmosphere, especially when dressed up for celebrations and filled with people."
"It's a light and welcoming space. Dominic is not religious and I'm thankful to him and his family for embracing the church aspect. We did toy with other places for the sake of geography or Insta-amazing aesthetics; nowhere else matched the sentimental significance of St Ed's."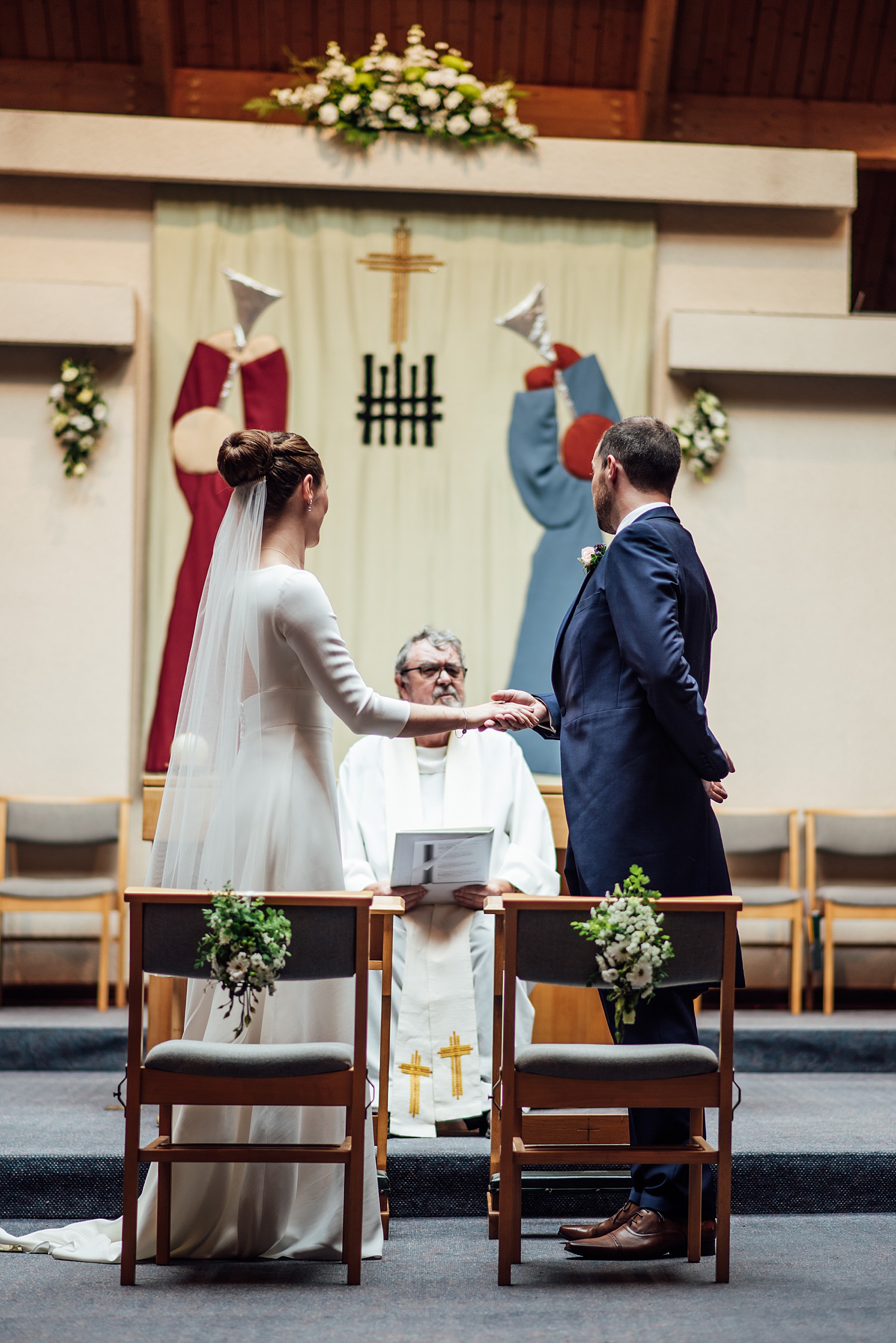 The blue theme continued with the bridesmaids' flattering V-neck gowns from Warehouse.
"Their shoes were Boden; very comfortable and have been worn a lot since. Gifts to my sisters were bangle and Popon sets from jewellery brand Recognised. 100% of profits go to different causes, in this case to mental health research charity MQ. Their necklace and earring sets were from Swarovski (as was my bracelet)."
As Rachel's father walked her down the aisle, the couple's talented friend Tom played an instrumental arrangement of 'Go the Distance' from Disney's 'Hercules' on the piano.
"It's a song I've always loved and it seemed a fitting sentiment for the day."
The couple have such fond memories of a truly personal service.
"Father Paul led the service and Father Lijo concelebrated and read the Gospel. We recited the traditional vows. We took pride in saying the significant words with sincerity. For both of us, it's one of our favourite moments from the day."
"Our loved ones' personal contributions and our priest's inimitable sense of humour and oratory made for a relaxed and moving service. We are very grateful. Friends from church, school and music came together for the music. We picked hymns with pretty melodies and meaningful lyrics; the string instruments sounded lovely and Celtic. We went for 'The Summons' to start; 'Love Goes On' and finished with 'The Lord's My Shepherd' (by Stuart Townend – just a little more flow than the 'Vicar of Dibley' one). My sister Jess sang Kate Rusby's 'Hundred Hearts', a Yorkshire folk song."
"The instrumental during the Signing of the Register was 'Poe Tiare', a Maori love song. Our readings were from the Song of Songs and the Letters to St Paul, read by my sister Erin and my mum. Our Gospel from Matthew was about the importance of showing your light to the world. We wrote our bidding prayers and our friends Gráinne and Kwame read them. Our chosen readings had sentiments we wished to take forward in our marriage and we hoped everyone felt like they could gain something from them too."
"Before we exchanged vows, my dad sang the hymn 'Be Still' to create a peaceful atmosphere ahead of the most important bit. He added a self-penned wedding verse as a surprise which really made us smile."
"Father Paul's homily was very thoughtful and showed why we had chosen to be in that church with him leading our marriage service."
Like many couples, Rachel and Dominic chose their wedding rings from the same shop as their engagement ring.
"Dan and the team at Rennie & Co are experts. They were generous with their time and advice and, as we were drawn to the simpler bands, they encouraged our preferences instead of pushing more expensive options. Their pieces are hand-crafted in the UK. We whole-heartedly recommend them."
After their service, the newly-weds and their guests gathered for treats before the drive to Primrose Hill.
"Great friends from church laid out special china and served cream teas and coffees after the service, alongside Swiss savoury treats made by Dom's mum – everything disappeared. It was special seeing our guests enjoying the 'post-Sunday-Mass teas and coffees' ritual."
The flowers really epitomise the feeling of high summer, with their seasonal, just-gathered style.
"Kate at Greenery Flowers did mine and the bridesmaids' bouquets, the buttonholes and the vases of flowers for the dining tables. With the intention of being more sustainable, we wanted a florist who worked with locally and seasonally grown flowers. The initial impression we got when speaking with a few suppliers was that this may restrict the choice of buds available. We then found Kate (based near to the venue). Kate was patient, full of ideas and gave us the most beautiful flowers."
"Many guests remarked on the flowers' colours and natural feel. We didn't expect the flowers to become a favourite memory from the day, yet they proved to be so. Kate supplied all the requested buds too: roses, fuchsias, crocosmias, cornflowers mixed with lots of other lovely ones and herbs."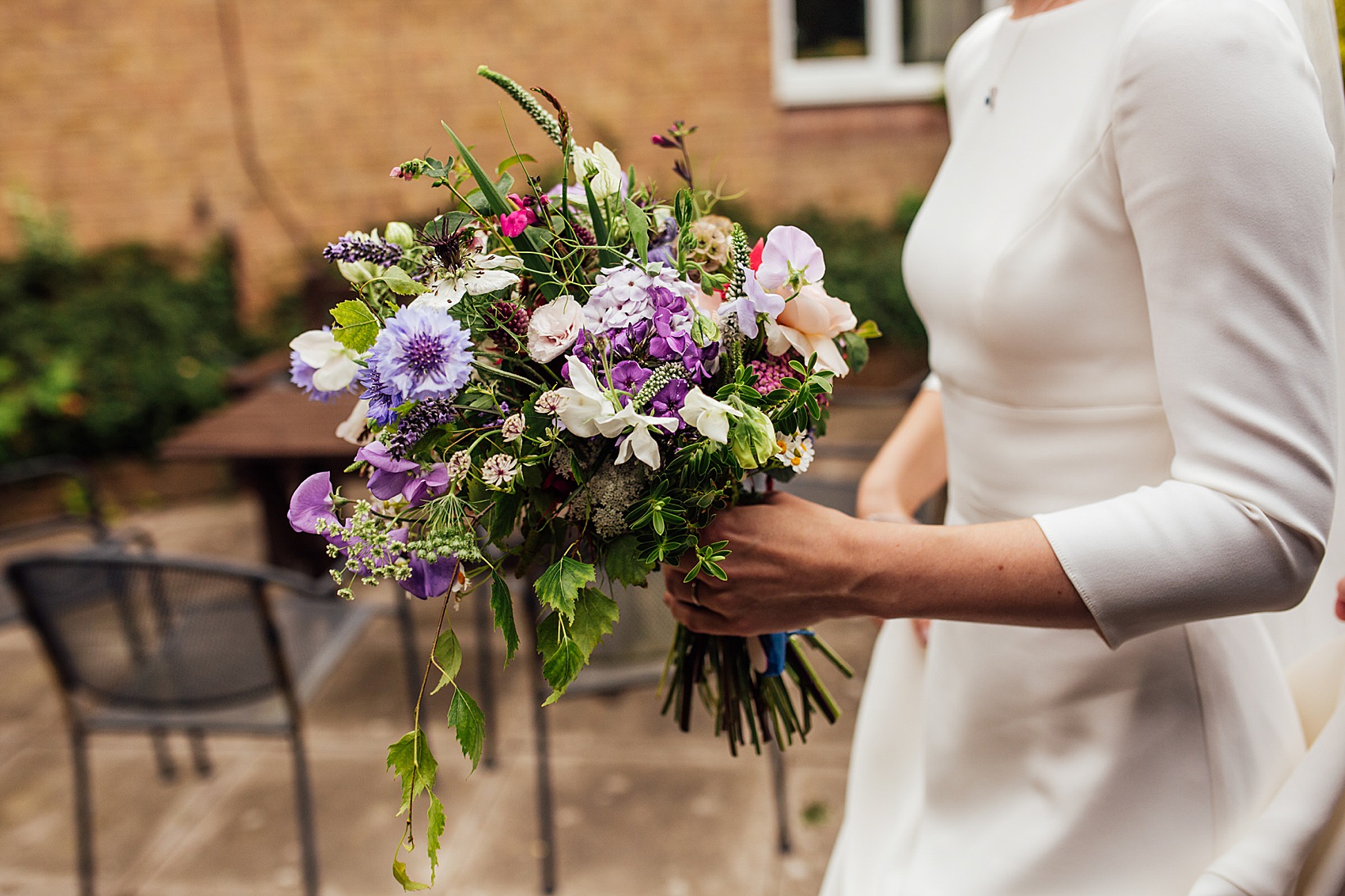 "I wore a fingertip-length (no trip risk), raw-edged, one layered, narrow veil. I wasn't set either way on wearing a veil. Andrea at Ellie Sanderson gave my mum and me time to experiment with accessories available in the boutique and we just felt the veil added something, its simplicity complementing the dress' open back."
I love the bride's choice of jewellery – antique pieces that are so exquisite and I love, love, love aquamarine.
"My earrings and necklace were from Norah's Antiques in Oxford (where both my sisters found pieces of their wedding jewellery) and birthday presents from my parents. The aquamarine's bright blue was a jolly splash of colour and complemented the blue of my sapphire engagement ring."
"My day shoes were from Rainbow Club (super comfortable, end-of-the-line, on-sale finds) and my dance-floor shoes were beautiful blue Rachel Simpson strappies from Anthropologie bought on sale a good while ago and not yet worn; their time had come. Anyone looking for a strapless/ backless stick-on bra that lasts the day: Marks & Spencer is your friend."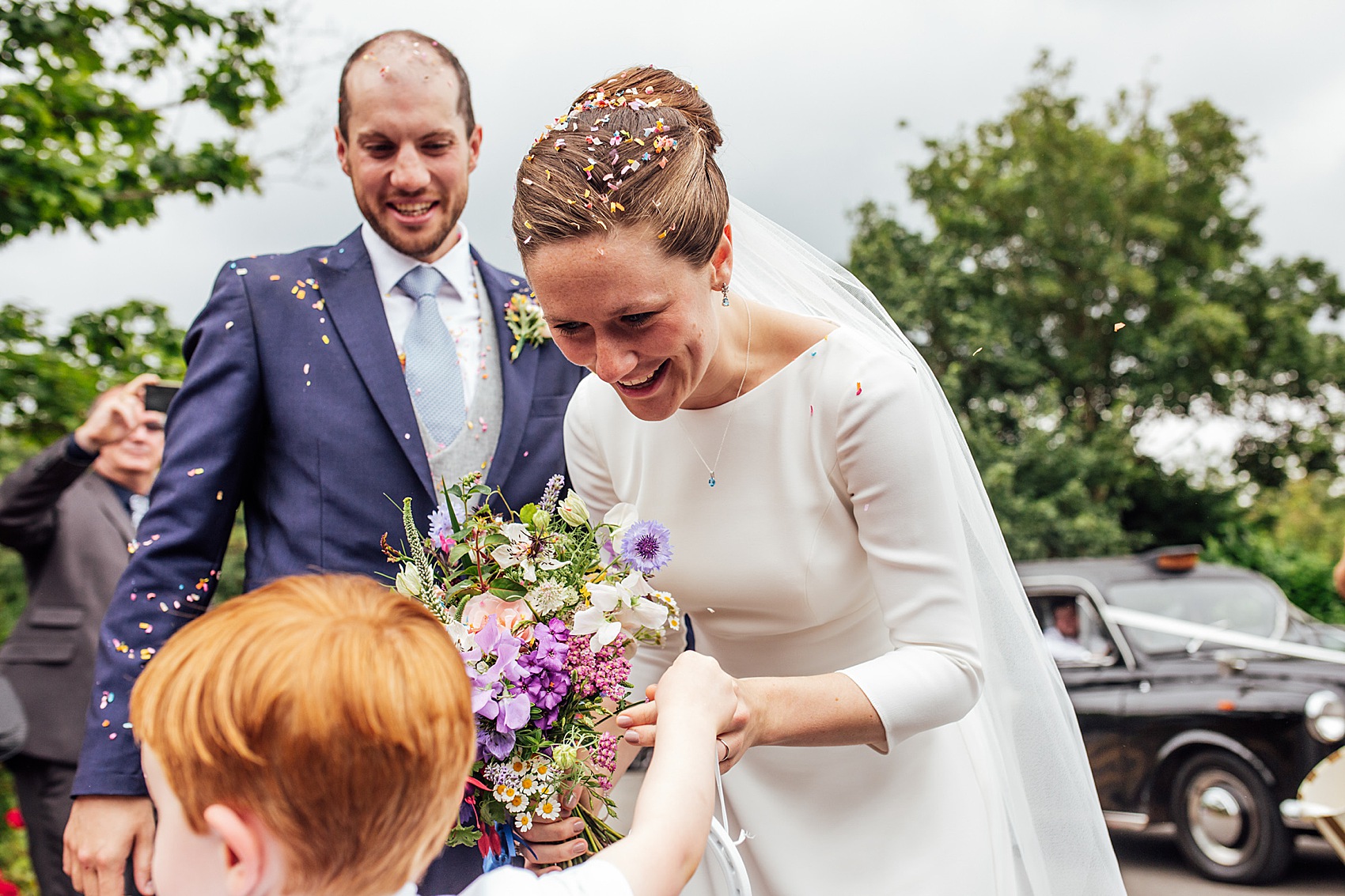 I'm in love with the little page-boy who totally rocked his wedding day look.
"Charlie is our oldest nephew and his outfit was from John Lewis and Next; the panda is his own and I believe from Ikea!"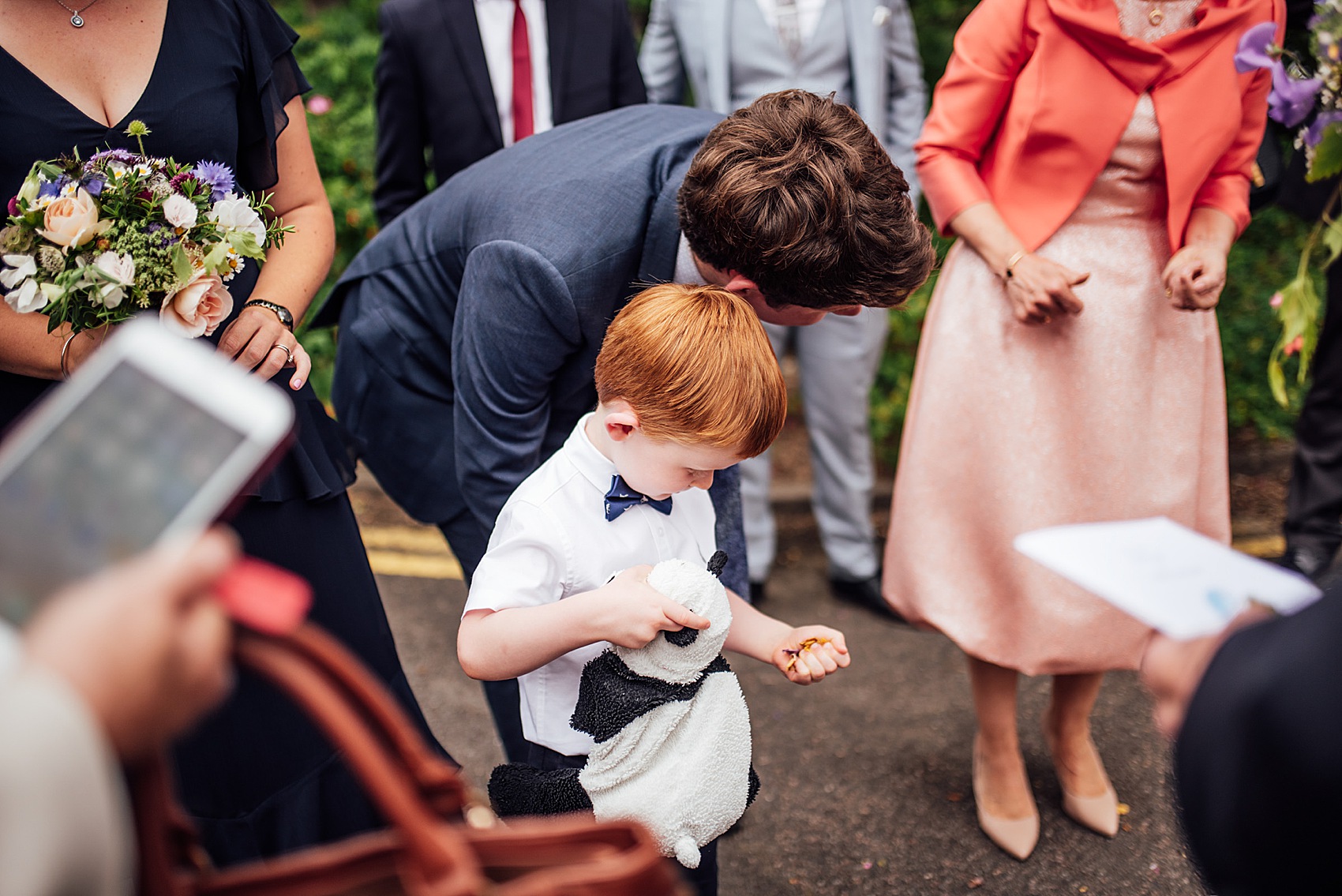 More food greeted the guests on their arrival at the sun-soaked farm.
"To stave off hunger early, we front-loaded the food with beefed-up quantities of canapés from Indulgence Boutique Hospitality upon arrival and cut the starter from the main meal. The canapés were personalised, tasty and great-sized portions. We had a grazing-style main with dishes in the middle of the tables and fab pavlovas and chocolate mousse for dessert. We went with pizza for evening food."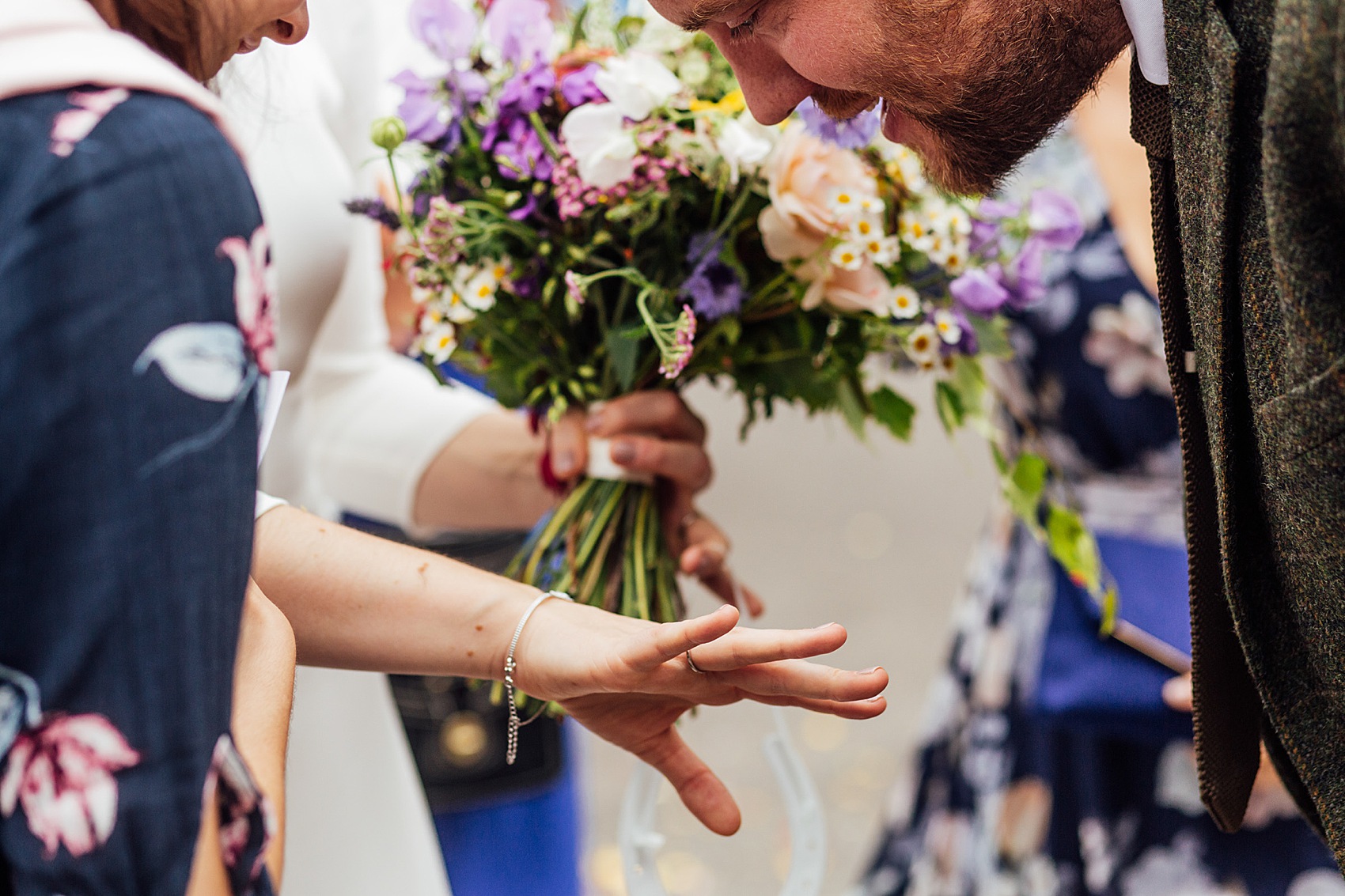 The couple found their photographer Florence Fox by googling weddings shot at Primrose Hill Farm, thinking it may be good to have someone already familiar with the venue. They made the right choice; Florence's work is such a joy and I love her candid, natural approach.
"Florence spoilt us with the most beautiful set of photos. They are crammed with joy, colour and laughs. When someone else comes and 'interprets' the memories of your day with their own photography, you run the risk of the images undermining or altering the glow of your memories: Florence's photos heighten the glow for us and that is a gift. Working with Florence was great from planning through to receiving our post-wedding 'sneak' photos and final gallery."
"Florence's pre-wedding Snap & Chat offer is great fun (I had to cancel our initial date last-minute and Florence was very amenable). Florence was important to the success of our whole day. We didn't quite get this until we reminisced together and thought: 'Florence took photos… and then some!'"
"Florence moved us along clearly, captured moments we were missing ourselves, gathered our guests, gently mentioned I should perhaps get dressed when running out of time in the morning(!)."
"Helen, Florence's second photographer, was a brilliant addition – merriment and skill all round. Don't be an eejit: book Florence as your photographer."
The couple also opted for a video of their day, asking a work friend, Christopher Lovelock, to weave his magic.
"Chris is a good friend from work and we're grateful to Chris for his kindness, enthusiasm, time and talent. The social media trailer video Chris produced for us is a nugget of joy I keep on my phone and may or may not watch on an embarrassingly regular basis. Chris also layered up the various video clips which guests had taken on their phones and sent to us. It's great to enjoy these linked together in one piece of footage instead of them languishing in corners of cloud storage. The multiple angles of 'Hey Jude' on the dance-floor are comical."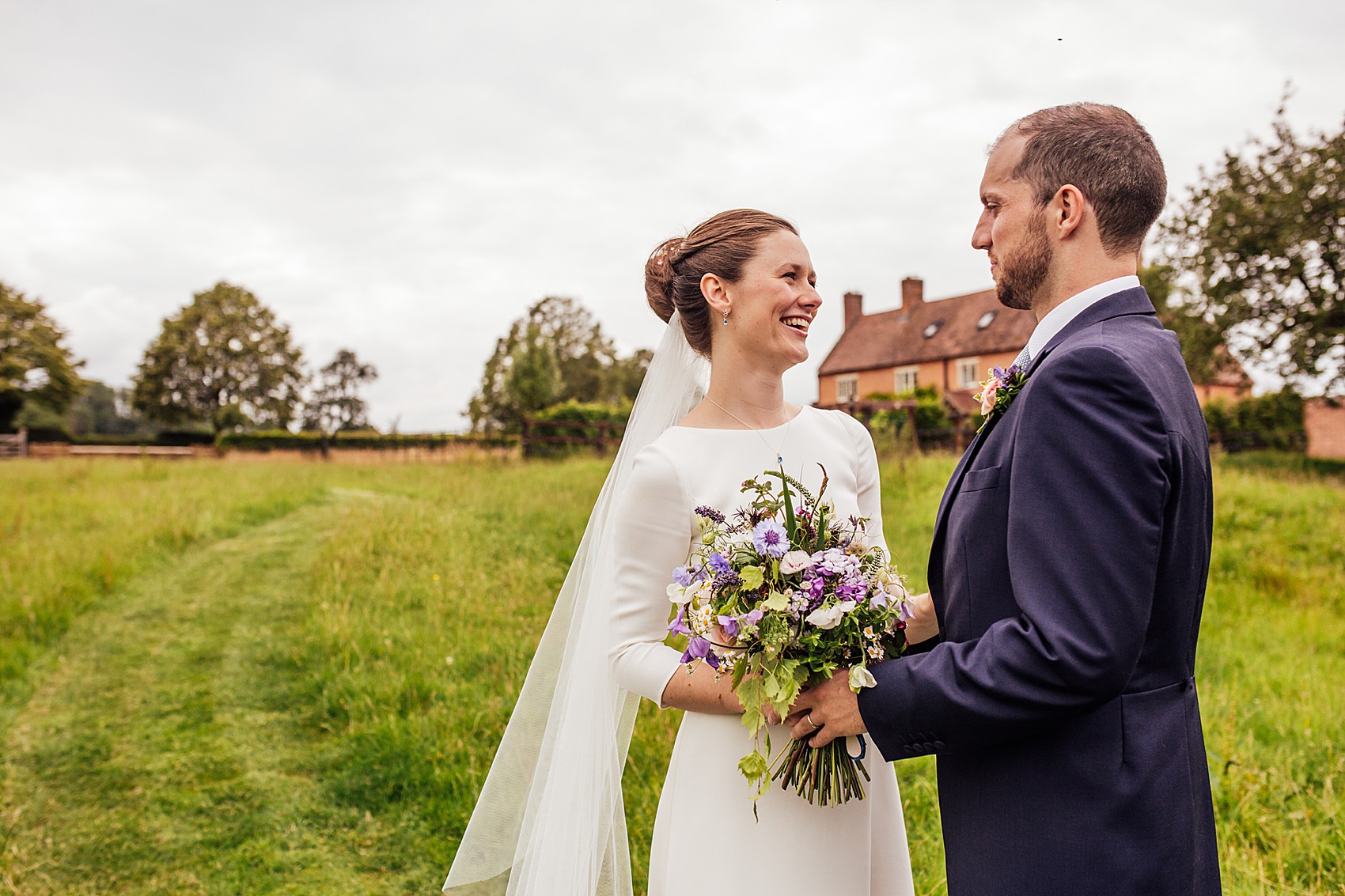 Before we move on to more details about the cake and the evening party, a word about the styling of the light, airy barn.
"The space at Primrose Hill Farm is so lovely already that we didn't add much. The hanging greenery, lights, linens, crockery and so on were included with the venue and catering. Our mums framed photos of our parents' and grandparents' weddings to go on the table with the guest book (a pretty notebook my sisters sourced)."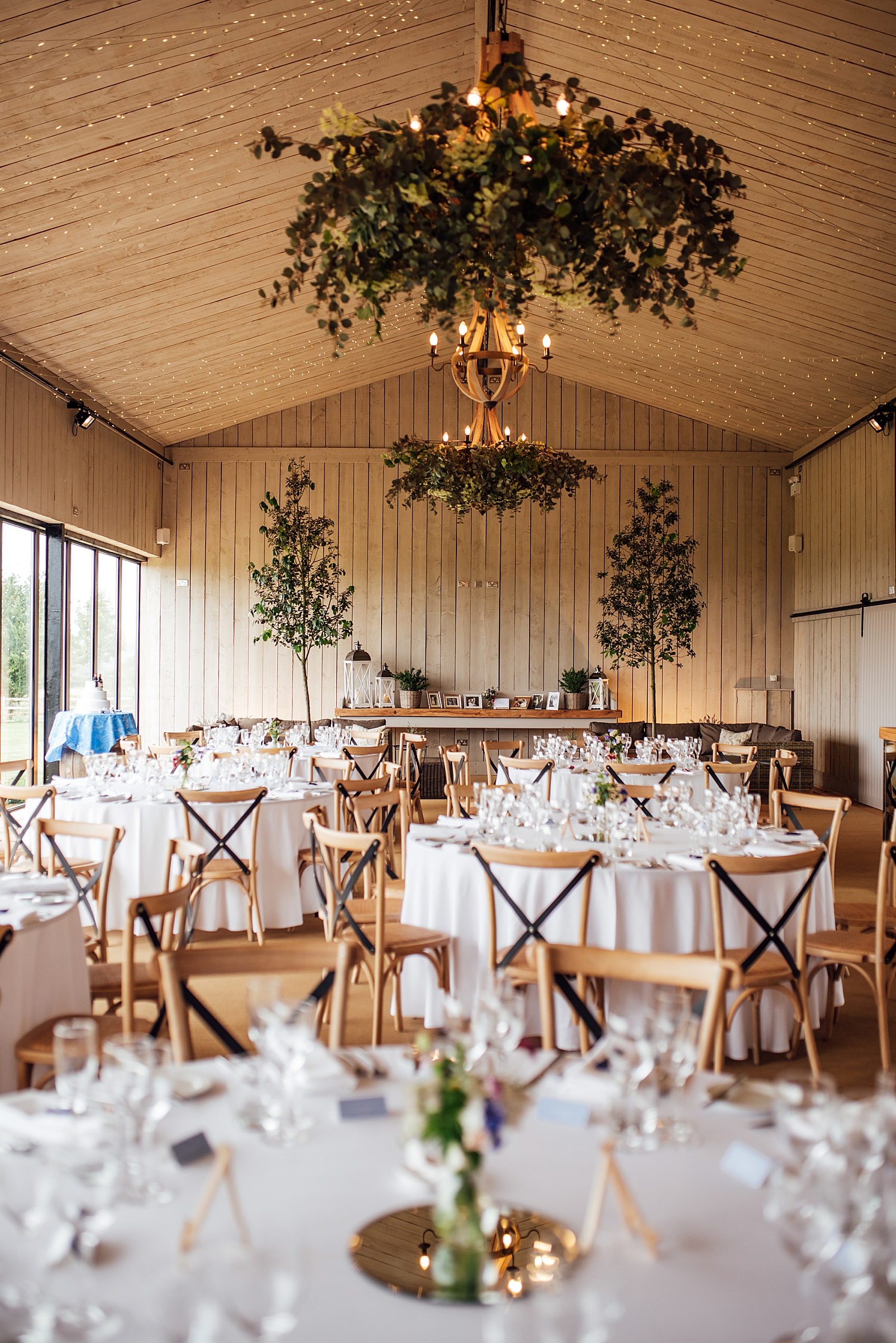 The wedding cake was chosen from The Cake Shop in Oxford's covered market, another family recommendation.
"Rachel's oldest sister and brother-in-law chose them for their wedding so we knew they'd smash it. We had two Victoria sponge layers and a chocolate layer with matching buttercreams, white fondant icing and no marzipan in sight – delicious. We had a little 'icing Dom and Rachel' in school uniforms sat on the edge of the cake's top tier. I kept this as a surprise for Dom. The Cake Shop team worked from photos and the detail was brilliant."
"I'm from Milton Keynes and Dom grew up there. The artists at 'MK Cows' made us a bride and groom concrete cow pair to go next to the cake and they now sit in front of our TV. The beautiful blue cloth on the cake stand came all the way from Rarotonga (the Cook Islands)."
It really does sound as if the couple had the best time surrounded by their loved ones, as they were all the entertainment they needed.
"Our friends and family bring entertainment and joy by being themselves. Live music for the dancefloor was important as it was a wedding attended by keen dancers. We found Mastersound via Function Central. They let us steer the playlist, providing a great mix so guests of all generations heard tunes they loved. We attempted a Siege of Ennis (an Irish set dance) which was hilarious carnage. Mastersound were talented musicians, full of well wishes and gave us a great night."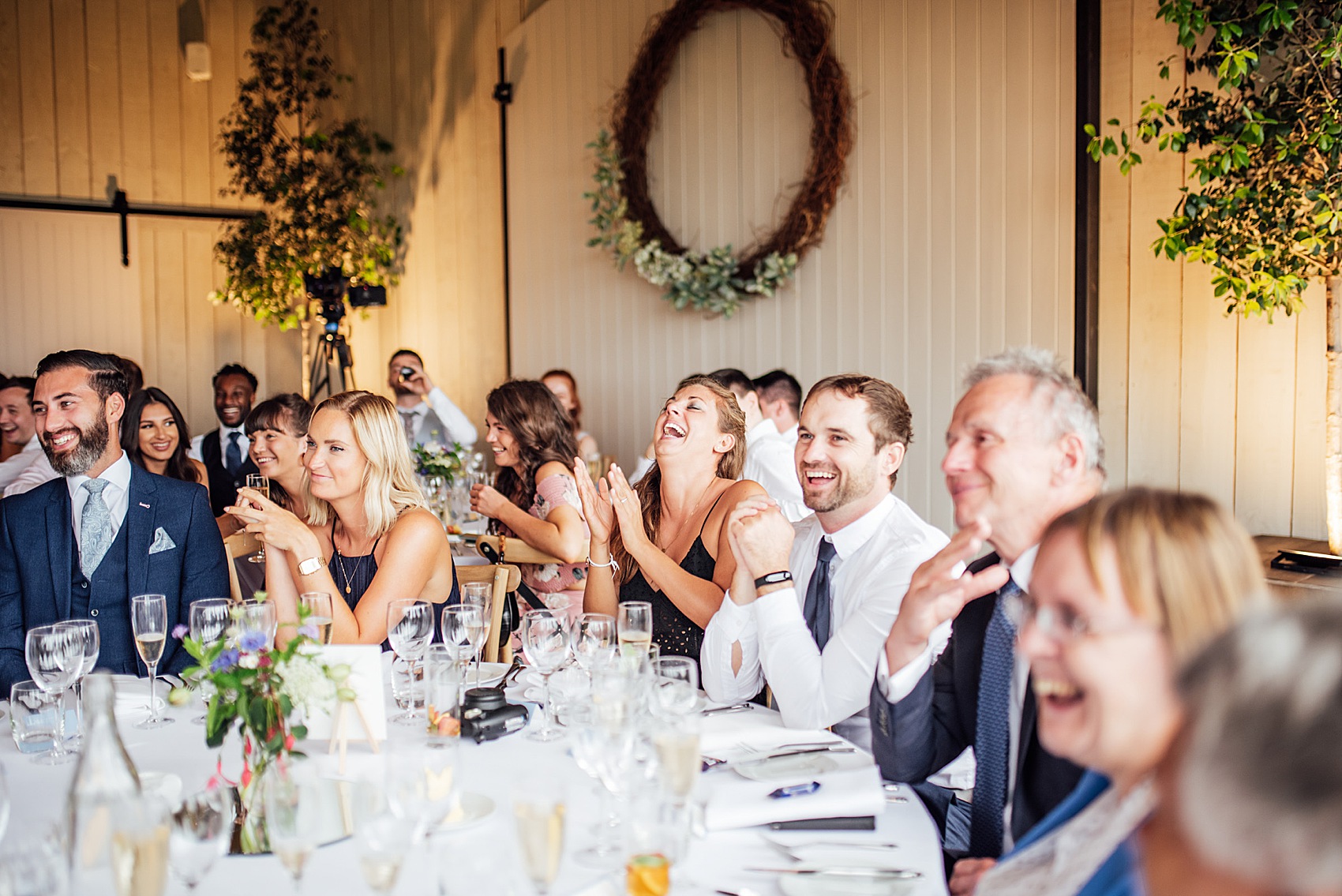 The bride wore her hair swept up in a ballet-inspired bun, styled by Hannah of HK Hair, and did her gorgeously-glowing make-up herself.
"I used products I knew already (mostly The Body Shop) with the addition of Dior's Lip Glow for some light colour and sparkle. The beautician on the Dior counter chose it for me in response to my contradictory request for, 'Something with a bit of colour but not too much'. I did a test run of make-up in the week before the wedding and piled on every primer, foundation and setting spray known to humankind in a bid to do a look that would 'last'. My face went red as it overheated underneath all the layers! It proved a valuable exercise so I scaled it way back on the day in the name of comfort and feeling like myself."
"Hannah is a good friend of ours. Jean, Hannah's mum, did my mum's and sisters' hair and it was joyful sharing the morning with them both. Giggles, dedication and care all round. I knew that I'd love the experience as well as the end result with Hannah. We could speak openly about styles and preferences and had great fun. I wear my hair up regularly so an up-do felt natural, it was out of the way and inspired by my love for ballet. Hannah made me feel fabulous."
"The Indulgence Boutique Hospitality team is quality. We loved our tasting and they paid close attention to flavours we loved. Indulgence were determined to serve our guests thoughtfully. For example, they noted when we predicted our grandparents would appreciate a cup of tea appearing! They were flexible when we were running late on the day and surprised my mum with a birthday pavlova (it was her birthday). Their guidance on quantities and keeping things simple helped us maximise our budget and the food was terrific."
"North Oxfordshire Wine work with Primrose Hill Farm to provide the drinks and they matched wine to our menu. We had Champagne and Pimms on arrival and an open bar (big thanks to parents for enabling this)."
The first dance was to a favourite from their student days.
"We chose Ray LaMontagne's 'You Are The Best Thing', a song we listened to a lot at university, with a good groove and soul."
Luckily for the newly-weds, the party continued the next day thanks to some fabulous fore-thought.
"We stayed in the adjoining farmhouse the night of the wedding which meant a delicious spread for breakfast the next morning, a gorgeous roll-top bath and a refreshing family jump in the pond."
 Finally, Rachel and Dom have some heartfelt thankyous.
"The whole day was a 'favourite'. Each moment built on the joy of the one before. We are grateful to everyone (family, friends and suppliers) for the constant love, laughs, thought and good times."
Words of Wedded Wisdom
Rachel and Dom have so many pearls of wisdom which they would like to pass on to you lovely lot.
"Having access to the venue the day before was helpful and made for a relaxed morning of prep. The venue being ours the day after to pick things up was great and meant no 'end-of-the-school-disco, lights-up' abrupt finish on the night."
"Don't lose sight of the fact that it's about your partnership and the people who are there. The people make the day."
"When making decisions, pose the question 'is that going to be a hassle on the day?' and, if the answer is 'yes', just get rid."
"Don't worry if parts of the planning are stressful: it's normal. Different couples find different parts of the planning difficult and you will have moments of really enjoying yourselves too."
"Our families are very important to us and their involvement (as bridesmaids, groomsmen, readers, witnesses, singers, speech-providers, and the rest) pretty much lent our day the style we desired."
"Food tastings are great pre-wedding dates."
"If photos are important to you, a second shooter is a great move. We were grateful to have: a) both the bride's and the groom's families' precious wedding morning moments captured; b) extra glimpses of moments we hadn't picked up on ourselves which then prompted great reminiscing with friends and family after the wedding."
"I initially worried about our day looking too typically 'weddingy'. My sister wisely advised not to worry as it was a wedding thus would unavoidably look 'weddingy'. It was a liberating notion to accept!"
"During planning, follow social accounts that feed your excitement and unfollow ones that feel like they're 'heightening the stakes' of what your day should be i.e. adding stress (and, likely, costs to the budget that aren't important to you both)."
"Our parents contributed to our budget alongside our own amount. We wouldn't have been able to have the day we had with all our important people present without their support. We will always be thankful. We tried to put money into parts we felt would make the biggest difference to the time we all shared together (such as prioritising the bar and food over lots of décor)."
Well, what a day and what a beautiful account. Rachel and Dom, thank you from the bottom of my heart. I'm so glad that we could share your day with all of our readers. Thank you to you both and to Florence Fox Photography too.
With love,
Ele xx