When a former professional wedding cake maker and her city worker husband decided to escape to Cornwall, little did they know they'd end up creating an idyllic wedding venue.
These images were sent in by Andi Freeman, formerly of Andi Freeman Cakes, now proud owner of The Cornish Place, her business and home nestled deep within the glorious Cornwall countryside.
The Cornish Place

+ Follow
I'm going to let Andi tell her story of how these images came together – we are delighted to see our highly recommended supplier, Miss Bush Bridal, involved in the talent lineup.
Founder and expert bridal fashion stylist Emma, loaned these glorious designs by Jesus Peiro and Anna Kara designs.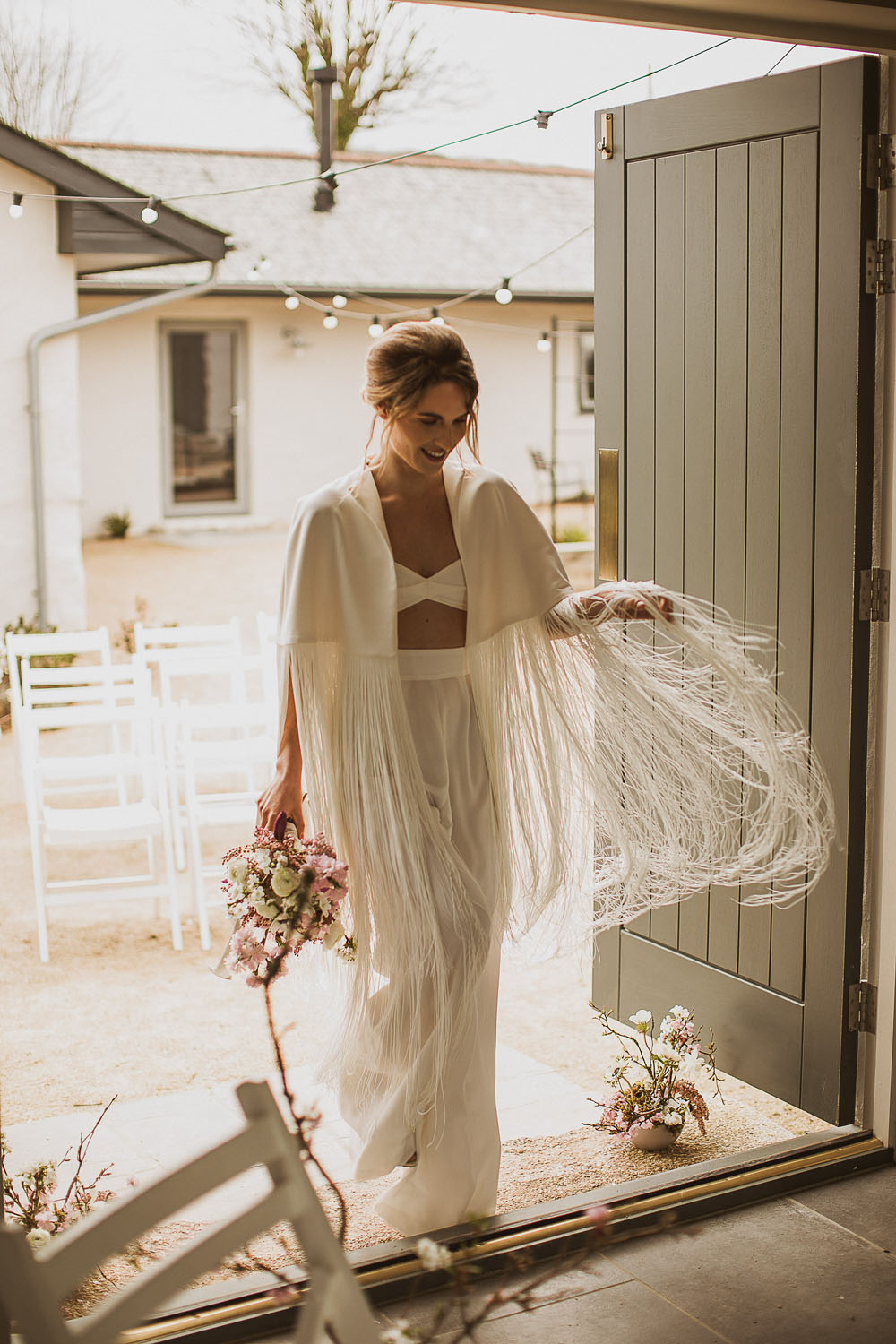 "Many people talk about running away to the country, whether in terms of elopements or a bigger life change."
"We (Andi and Adam Freeman) had talked about relocating to Cornwall from Surrey for years, but there never seemed to be the right time/we were never brave enough!"
Miss Bush Bridal

+ Follow
"In 2018 we began to realise we had a window where it fitted in with all of our kids' schooling and by May 2019 we were living the (slightly shell shocked) dream."
"Adam had worked for years in the very London-centric world of media and wanted a way to escape the daily torture of commuting, so we found a farm with outbuildings and set about creating The Cornish Place – self catering cottages with a little bit more luxury thrown in."
"Weddings seemed a natural addition to our offering and the lovely people at Cornwall Council suggested there were at least 3 venues on our farm that they deemed suitable."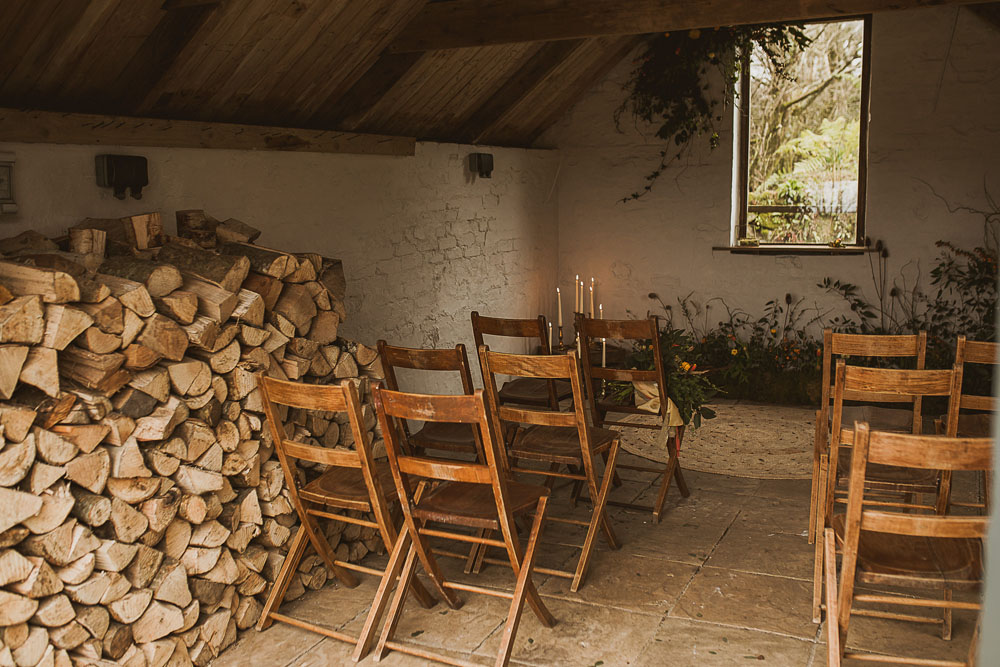 "I had set up Andi Freeman Cakes in 2009 and worked with Emma at Miss Bush Bridal Boutique on a number of occasions."
"A chance social media comment from her, that The Springles photographers had also relocated way down West and that we ought to organise a shoot, sat at the back of my mind."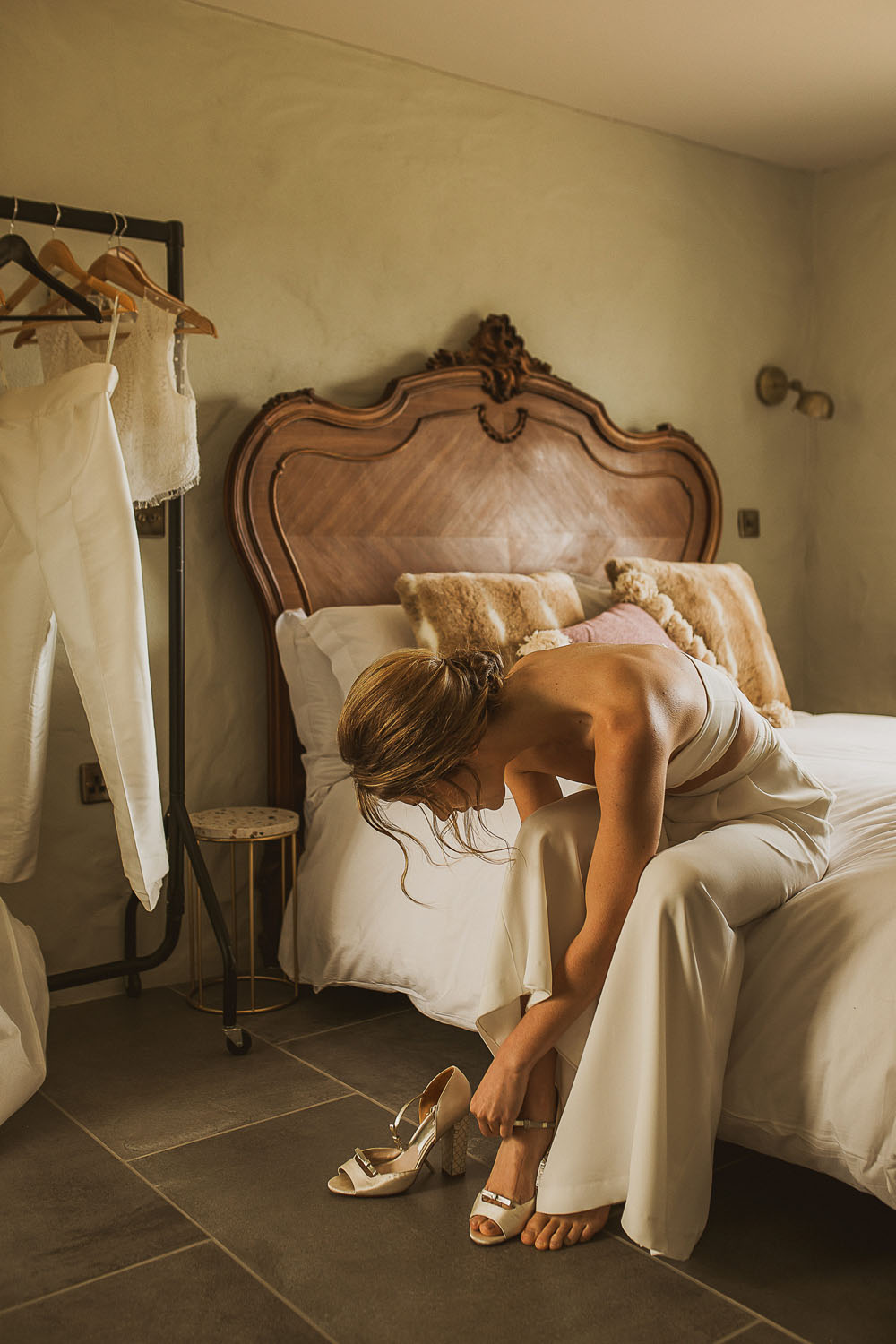 "With the chaos thrown at the wedding industry in 2020/21, small weddings and elopements really began to be a thing."
"I had asked Phoebe from Piccolo Weddings to come and have a look at our venue and her excitement about the potential became infectious."
"Having moved from the big venue madness of Surrey, I hadn't appreciated how much small weddings and elopements have always been a thing in Cornwall."
"The Springles have always been great Destination Wedding photographers, and suddenly with weddings abroad becoming impossible, Cornwall had become that new destination."
"It felt really great to be able to meet and support a whole load of small local suppliers with our shoot. Big flower markets are just not a thing in Cornwall with many local florists growing their own."
"A morning spent with Ingrid from Lafonia flowers foraging her supplies from around the farm was such great fun – climbing trees for the best cherry blossom, and fighting the spikey berberis that provided her with such a great backdrop for locally grown tulips and poppies, ranunculus and anemones. Her creativity really set the tone for each venue."
"Phoebe knows the best local suppliers inside out and also owns Stargazey Hire, so her vision for each venue came together beautifully."
"The Piggery with its beautiful countryside views and a contemporary rustic vibe was perfect as a more pretty, sophisticated venue in our beautiful courtyard; the recently refurbished Woodshed was much more earthy, intimate and rustic."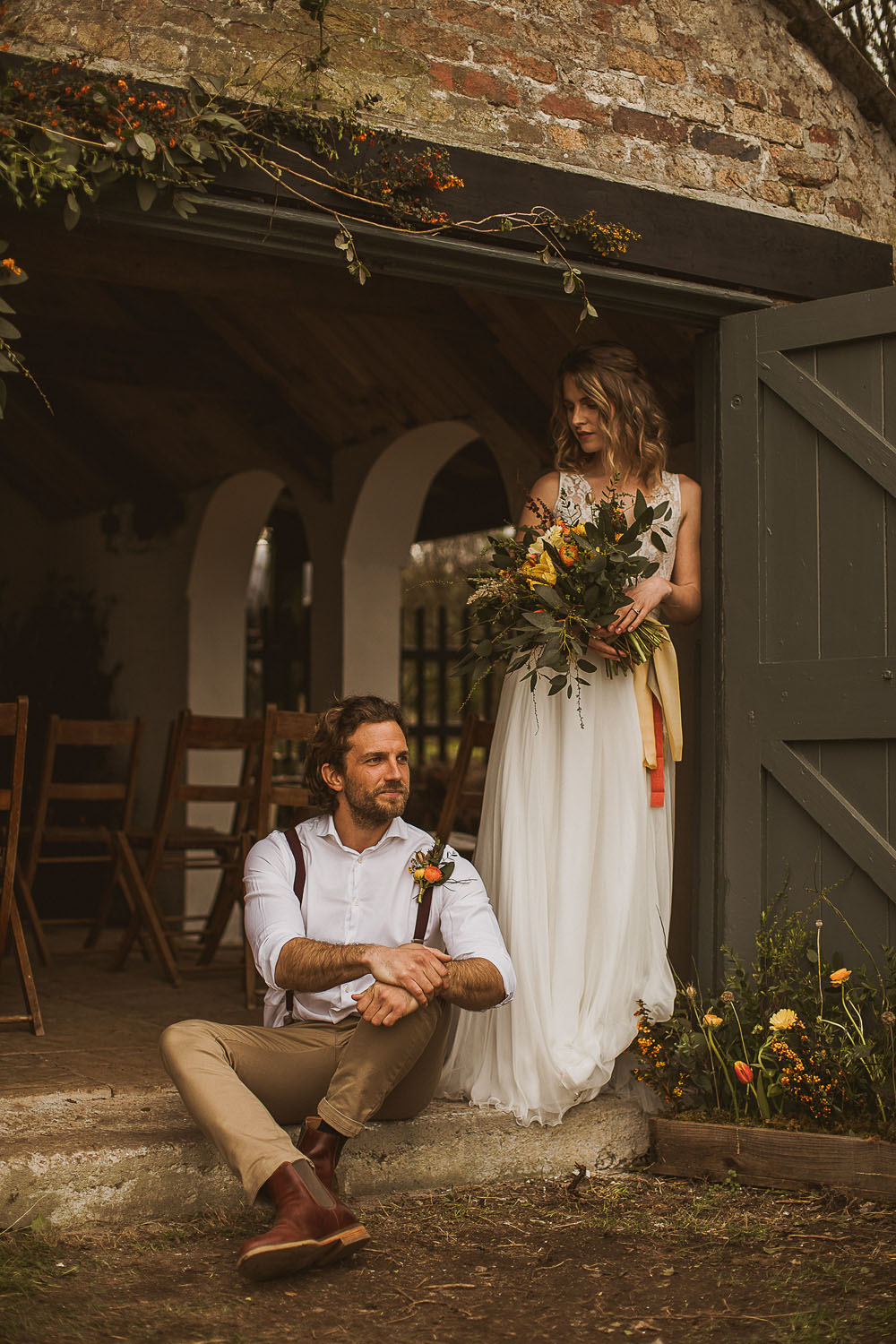 Jesus Peiro & Anna Kara
Words by Emma Marshall of Miss Bush Bridal Boutique
"Our fashion selections for this editorial reflect our ongoing love affair with bridal trousers, the mixing and matching of separates, sustainability, and flexible dressing."
"With the current demand for micro weddings and multiple celebrations, these options offer brides the chance to create multiple looks from a variety of pieces, perfect for being reworn for separate events."
"The first two Jesus Peiro looks featured are both based around Style 223, a stylish wide leg palazzo pant made from soft, billowing crepe."
"Outfit number one sees the trousers paired with a simple bralet styled with a statement floor length fringed cape – our version of carefree coastal chic."
"For the second look we swapped the cape for a delicate tulle top embroidered with beautiful leaves and vines (Style 251) perfect for an intimate candlelit dinner."
"We were also delighted to include two of our Anna Kara gowns in this shoot. Handcrafted in Poland, these dresses were perfect for the relaxed, rustic vibe of the venue."
"The elegant halter neck, soft floaty tulle and intricate embroidered vines of the Chey wedding dress work wonderfully in the coastal location and look beautiful alongside the natural stone, wood and textures of the surroundings."
"The second Anna Kara look features the simple, pretty Holly wedding dress, with a figure-hugging lace bodice that sits above a romantic, floaty tulle skirt."
"If you love trousers but palazzo pants aren't your thing, we also included a smart tailored trouser in this editorial. Made from crisp white taffeta, Style 156 consists of elegant ankle length cigarette pants, paired with a cropped fitted Bombay crepe top with scalloped lace applique detailing."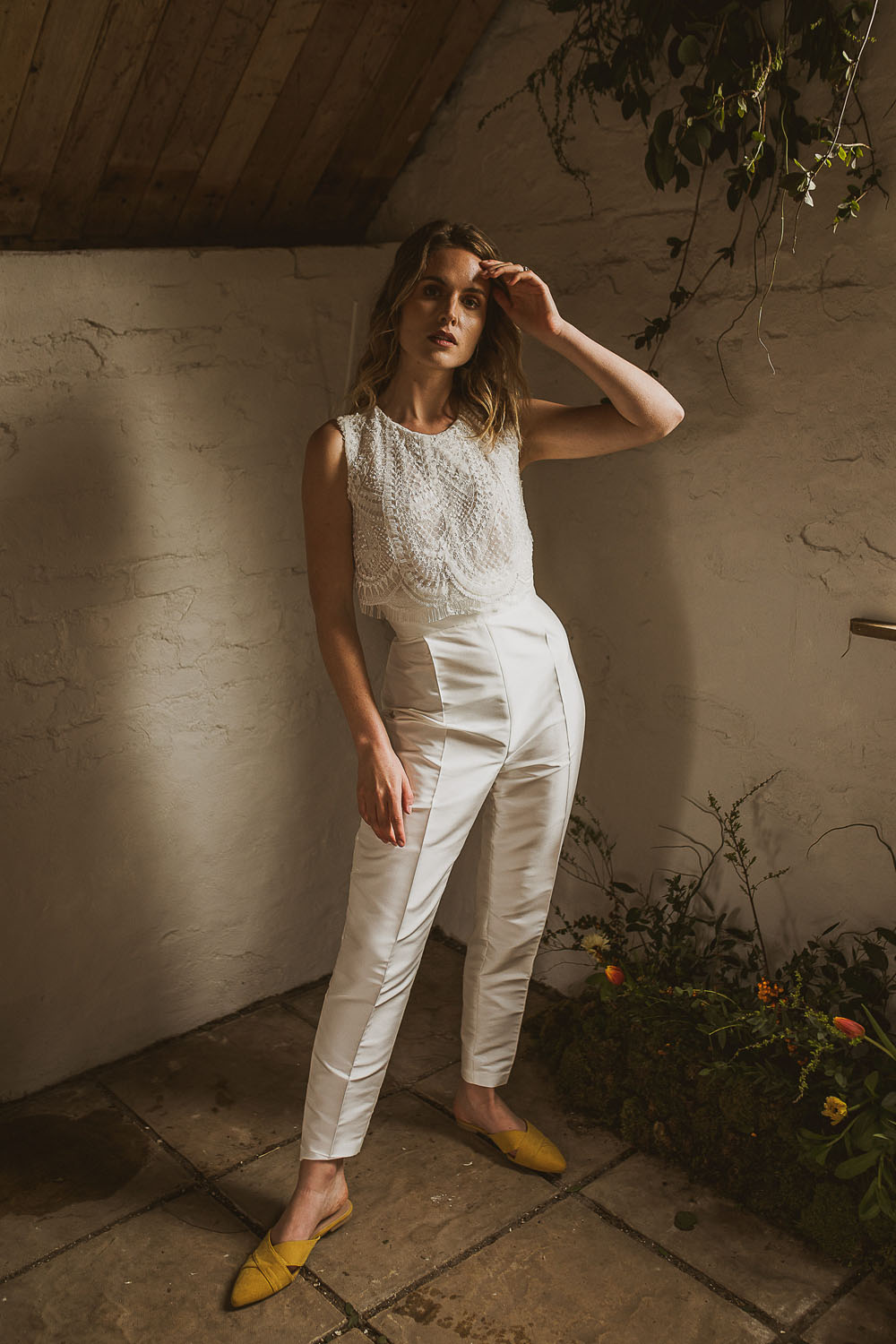 To find out more about this beautiful new wedding venue, visit thecornishplace.com – Andi and her husband would love to chat with you about your own plans to escape to coast and country and celebrate your love.