The wonderful and world-famous Kew Gardens is the setting for the enchanting celebration I have the pleasure of sharing with you today; a springtime affair that took place just prior to Coronavirus lockdown restrictions last March.
This is the beautiful wedding of Anna, a Project Manager, and Jack, a Consultant on the 12th March 2020, who were married at the Royal Botanic Gardens, Kew.
From San Diego boutique The Dress Theory, Anna chose her elegant, off-the-shoulder dress by Lihi Hod, and had a wonderful experience with the helpful team at the boutique, too.
"The Dress Theory were unbelievably helpful! During our ~2 year engagement I tried on well over 100 dresses and hadn't found one I was particularly attached to."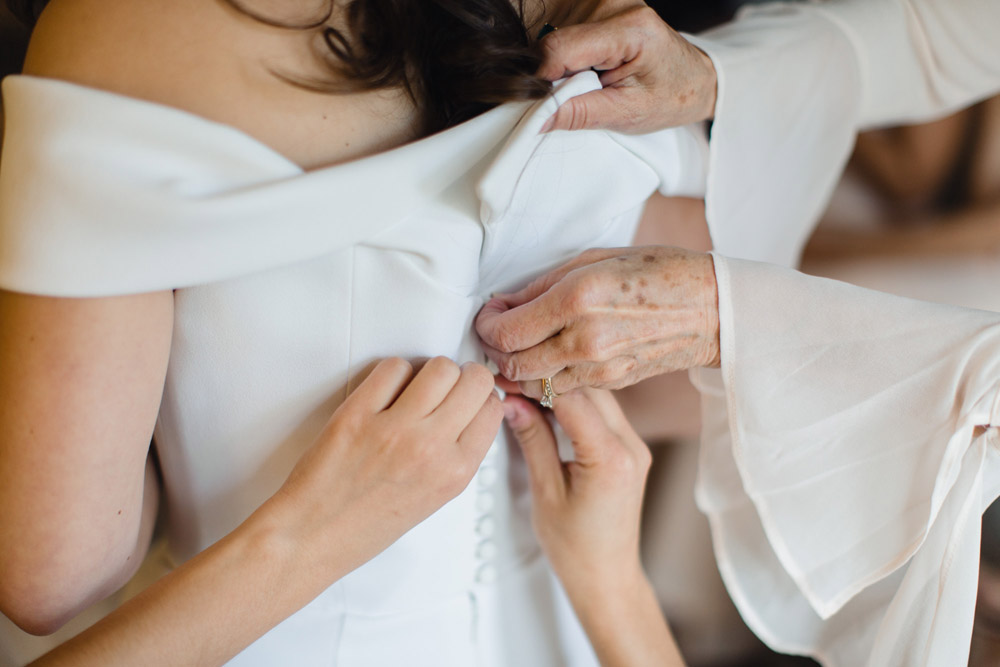 "I had about 1 week before I absolutely had pick a dress, so they sat down with me and went through pictures of all the dresses I had tried on, as I told them what I did and did not like about the dresses."
"That's when they pulled this one. Both me and my sister teared up and tried it on! It's a beautiful memory."
One beautifully handmade element of Anna's wedding outfit was a cathedral length veil scattered with pearls, sewn by her mother.
"It was absolutely beautiful and a fun activity for us to do together the week of the wedding."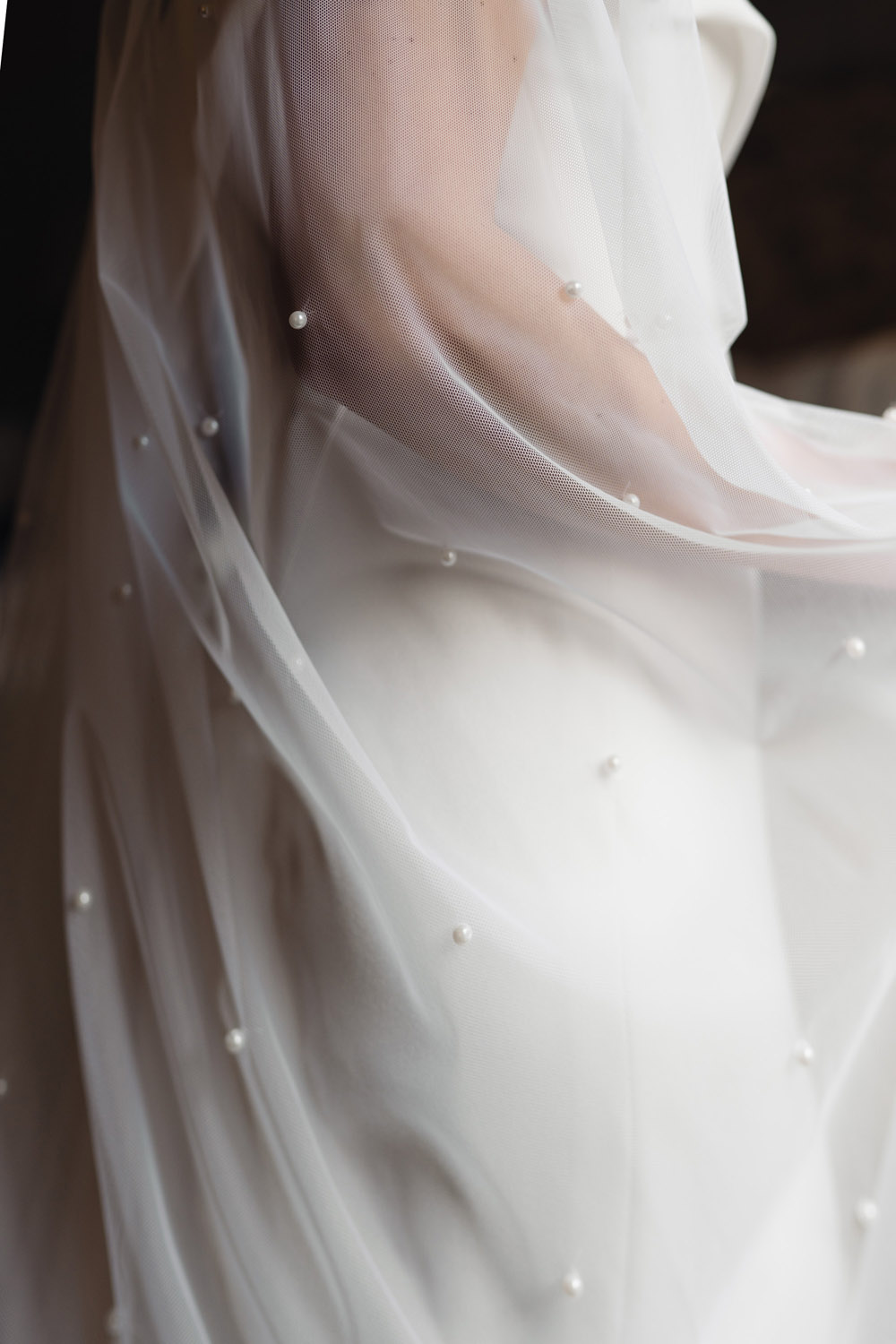 Anna's parents gifted her a pair of pearl earrings made by family friend Arman Jewelry, and on her feet, Anna wore black block heeled sandals by Steve Madden.
On hand to ensure Anna and her bridal party felt like the very best versions of themselves was Blue Vanilla Beauty and Hannah Monk Hair and Make-up, whilst Not Another Stylist and Sarah Wells took care of hair styling.
The couple first met at at university in San Diego, when they both went along to the same party.
Two days later they found themselves in the same Chemistry class together, discovering they also had many mutual friends.
"We really wanted to get married outside, and when we settled on March in London I wanted to make sure we felt as close to outside as possible."
"The flowers were meant to look overgrown, and we chose fragrant plants like eucalyptus and jasmine too, so even while we were in inside looking out on the gardens you could smell them."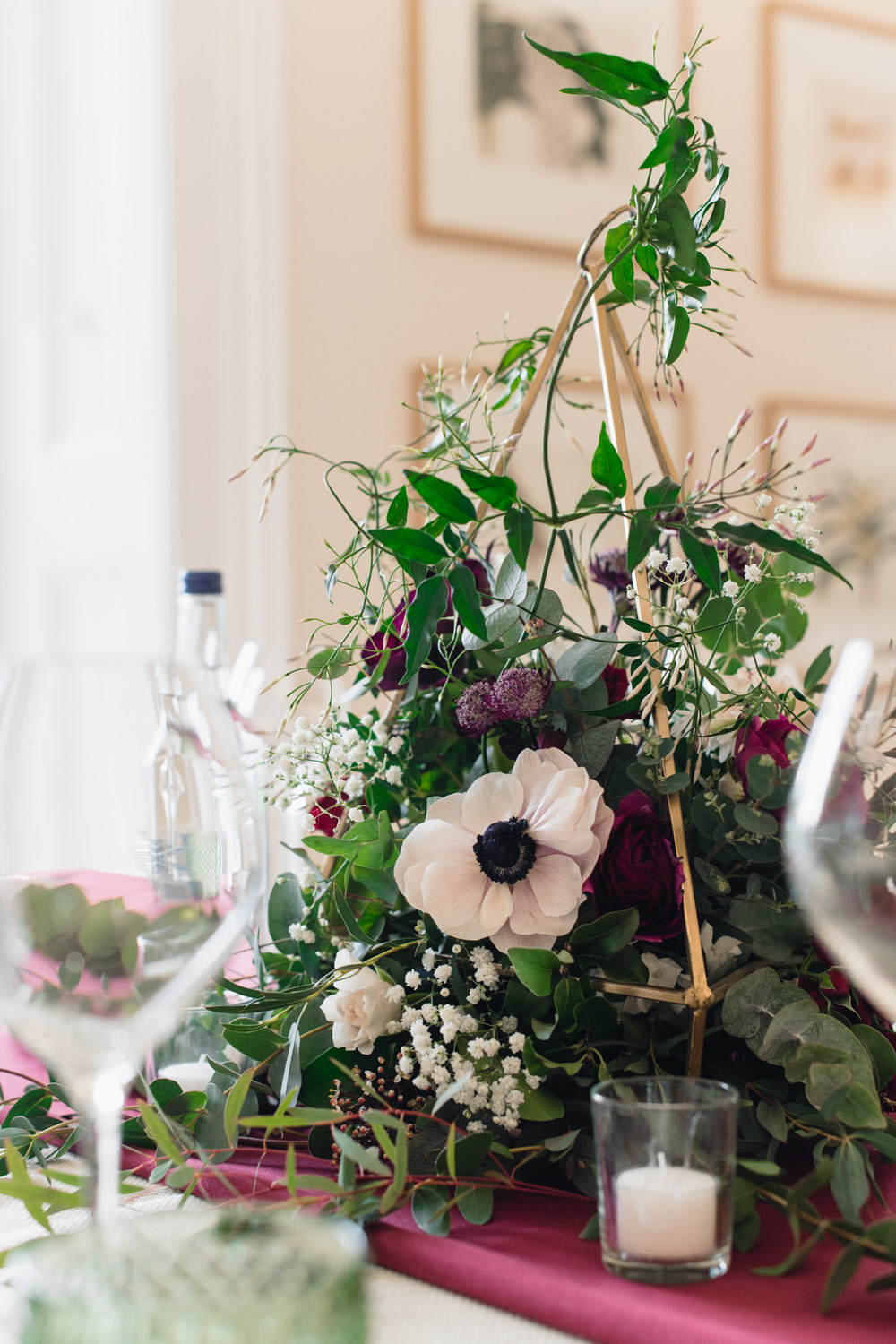 Inside Anna and Jack's ceremony room were beautiful floral arrangements and candles lining the aisle casting soft, romantic light.
An acoustic guitarist from Prelude Entertainment played Hallelujah as Anna walked down the aisle together with her dad.
Eagerly awaiting their arrival was groom Jack, wearing a smart navy blue suit from Ted Baker.
The couple's brother-in-law was their celebrant, and during their lovely ceremony, Anna and Jack chose an excerpt from The Alchemist by Paolo Coelho as a reading – one of my absolute favourite books as well!
"Our rings were made by Arman Jewelry. Arman is a family friend who is an incredibly talented jeweller."
"When Jack proposed I knew I wanted him to make the rings. They hold such a special place in our hearts knowing they were made by someone we
know and love."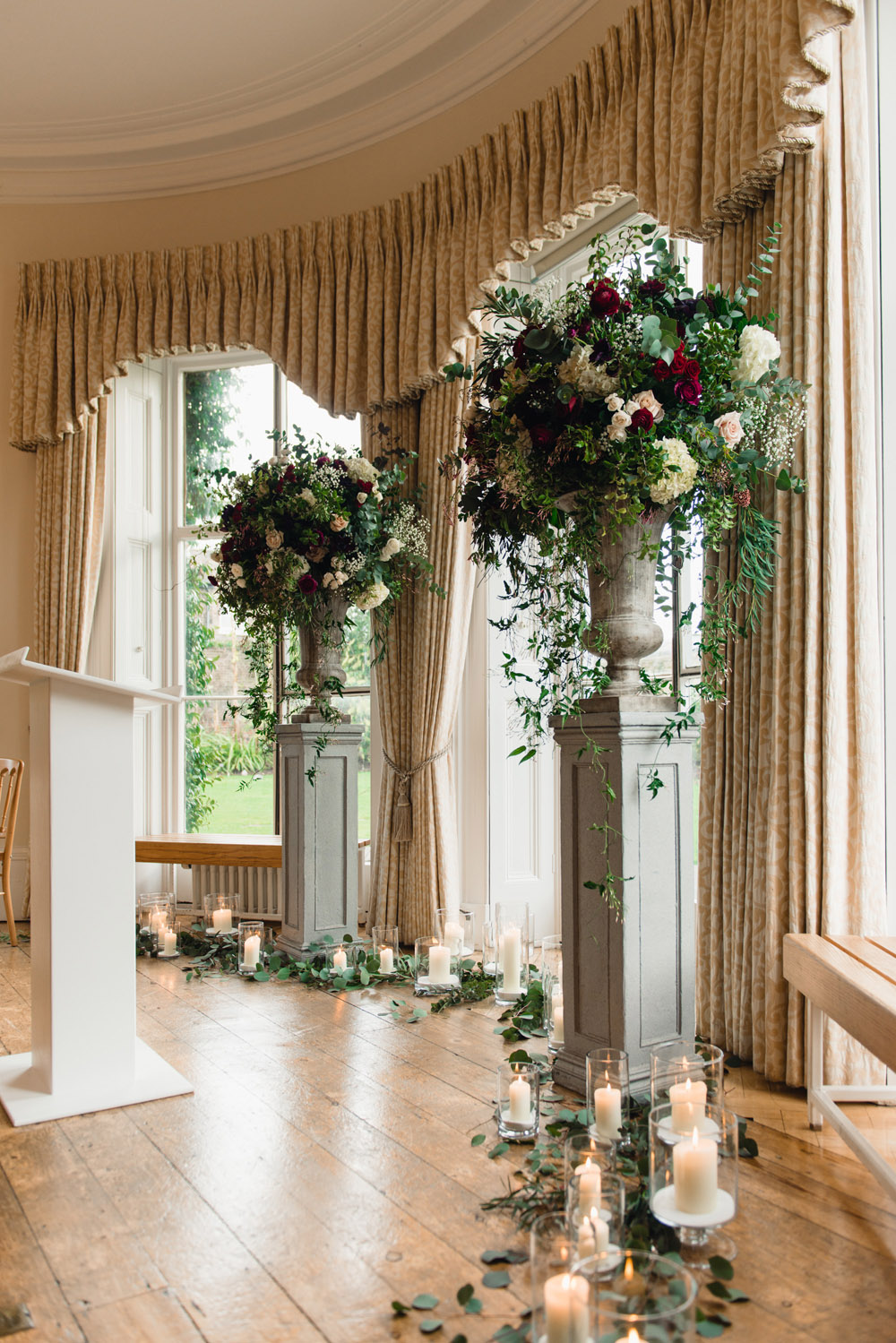 "Jack proposed in February 2018 while we were in front of Scripps Pier walking on the beach in San Diego."
"We were engaged for 2 years (1 year was spent living on different continents while we waited for a visa)."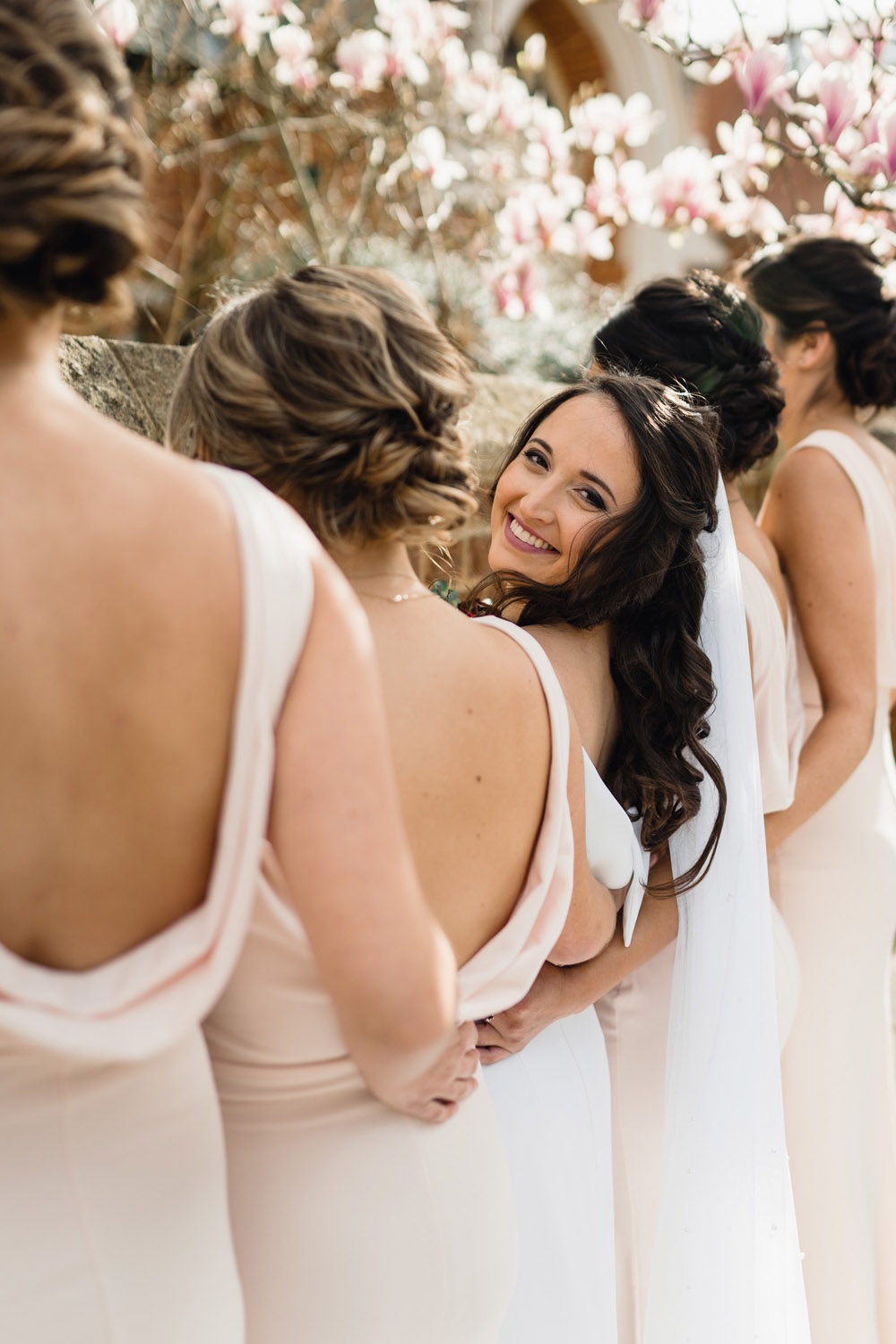 "Everything I thought I wanted in a dress wasn't what I ended up liking. I absolutely loved my dress, it was by far my favourite thing I wore. I also adored the earrings my parents gave me as a wedding gift."
The bridesmaids looked wonderful in backless pale blush pink gowns from Lulus, worn with their own choice of footwear and gold or natural toned jewellery.
In her hair, Anna wore a comb of fresh flowers by florist Mary Jane Vaughan, and she and her bridesmaids carried exquisite bouquets filled with deep red and crimson roses and ranunculus, sweetly scented jasmine and eucalyptus.
"I just loved their style. I fell in love with a photo of their centrepieces on Instagram from a past wedding they did at Kew. It was a really easy choice."
"I knew planning from so far away I wanted a florist I could trust to make it the venue look like a dream with little direction. They did an amazing job of capturing our style just from an inspiration board."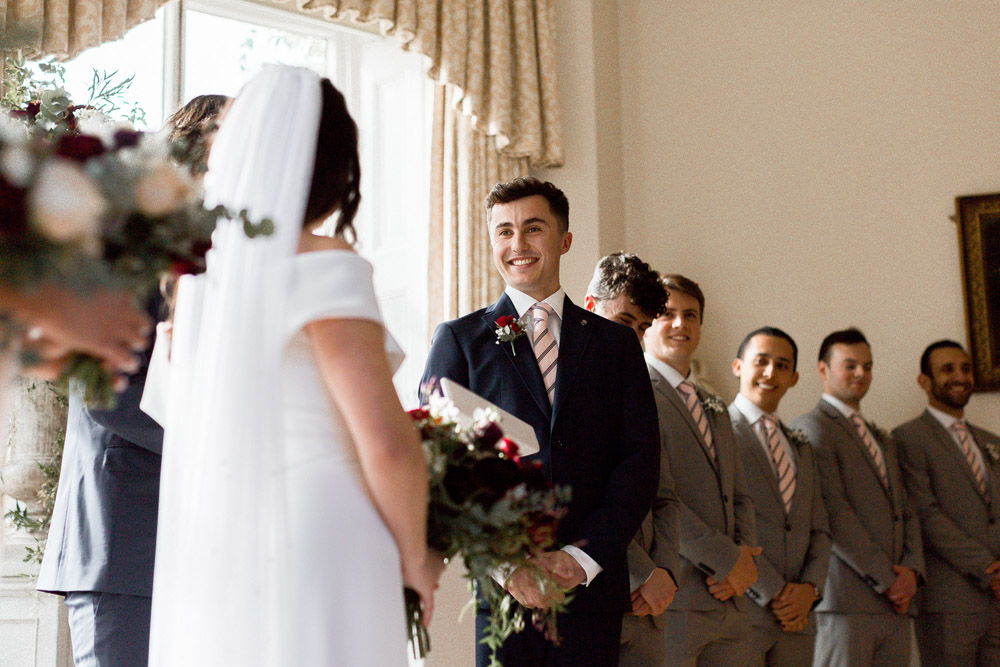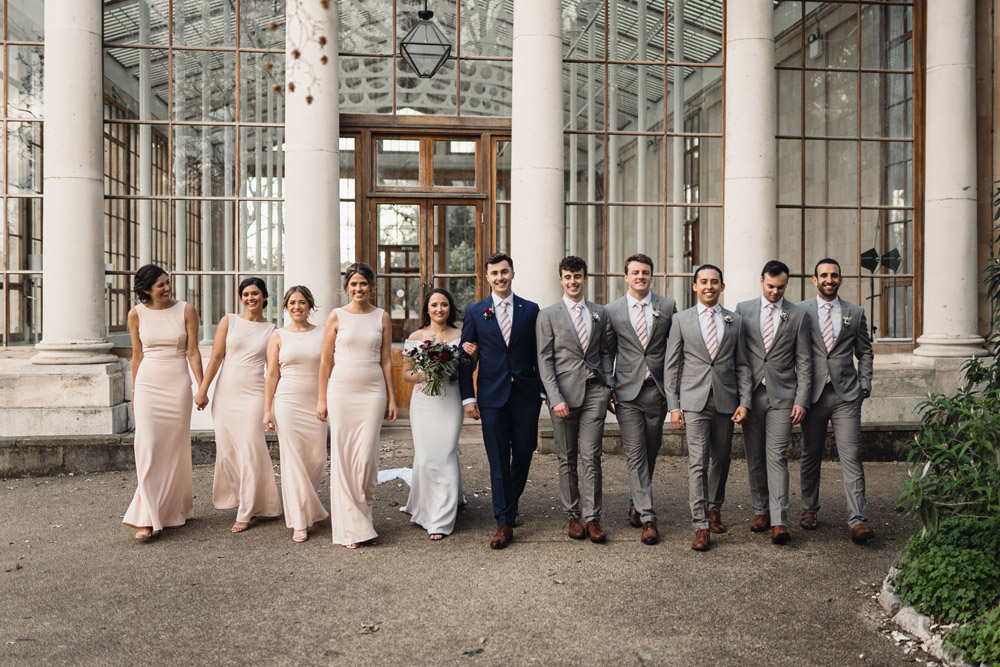 Photographer Rebecca Searle's stylish editorial approach lent itself perfectly to Anna and Jack's gorgeous day, and their spectacular venue.
Taking an hour post-ceremony to shoot with Rebecca (including inside Kew's magnificent Palm House) was one of the couple's favourite parts from their day.
"I really wanted our wedding to make a great picture album with candid photos that everyone could enjoy."
"However, I found that many of the photographers that took good candid photos didn't take good group shots."
"We had so many people travelling from so many different places so it was very important to us to get some good posed group shots, since we knew these moments aren't going to happen too often."
"I also love couples portraits! Rebecca was the only photographer who was comfortable and good at taking all of them."
"She was extremely accommodating, met us the week before the wedding to walk through the gardens and talk about the day and how we wanted it captured."
"Rebecca could not have done a better job! She perfectly captured the day."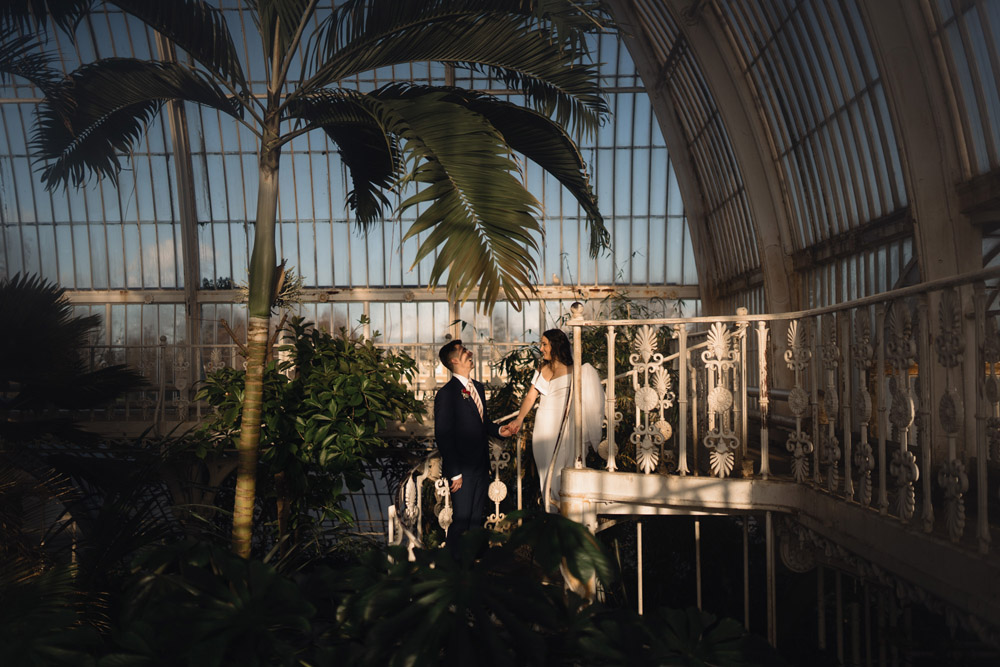 "It was nice to have some alone time after the ceremony and to roam around the gardens all dressed up. It felt like a fairytale."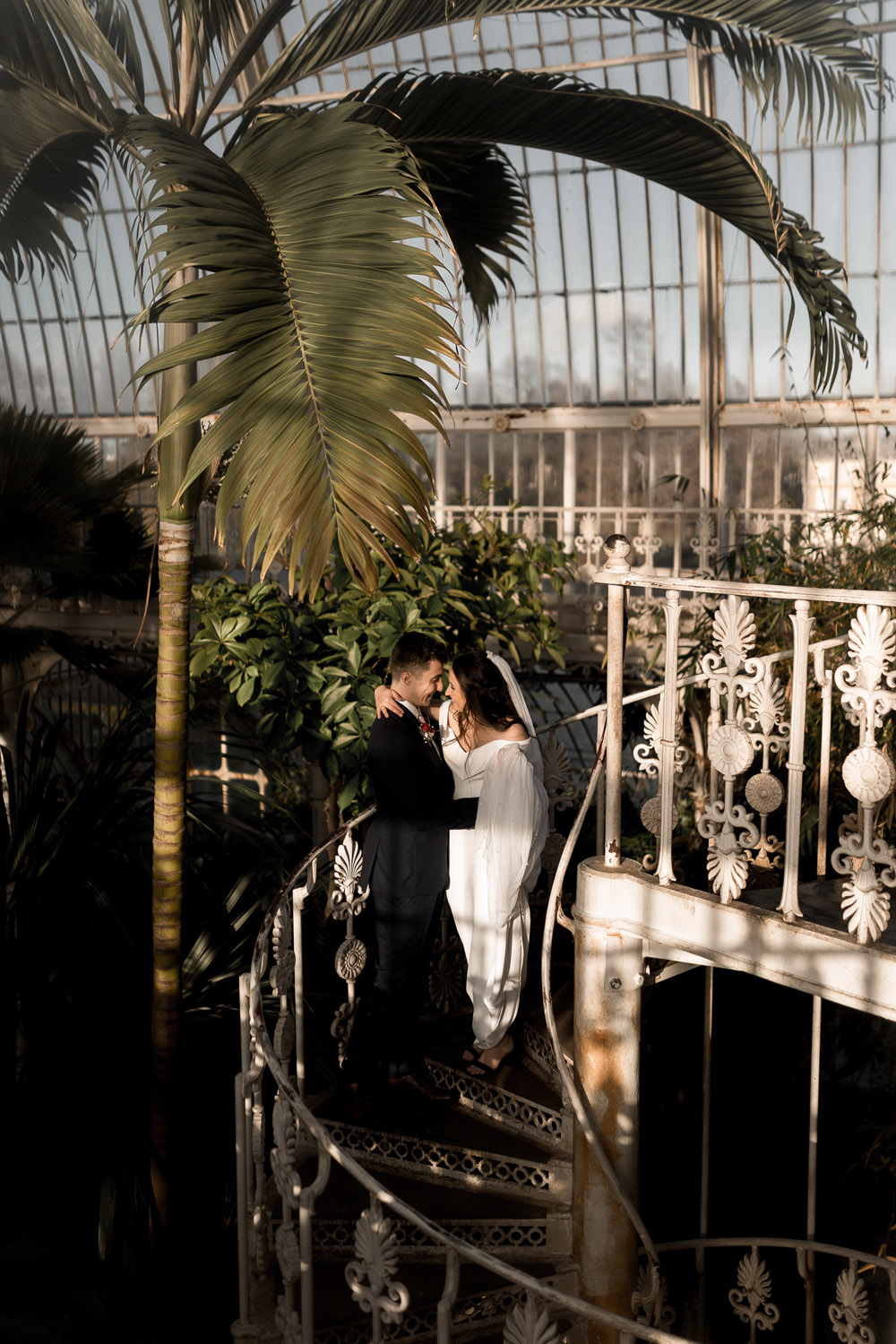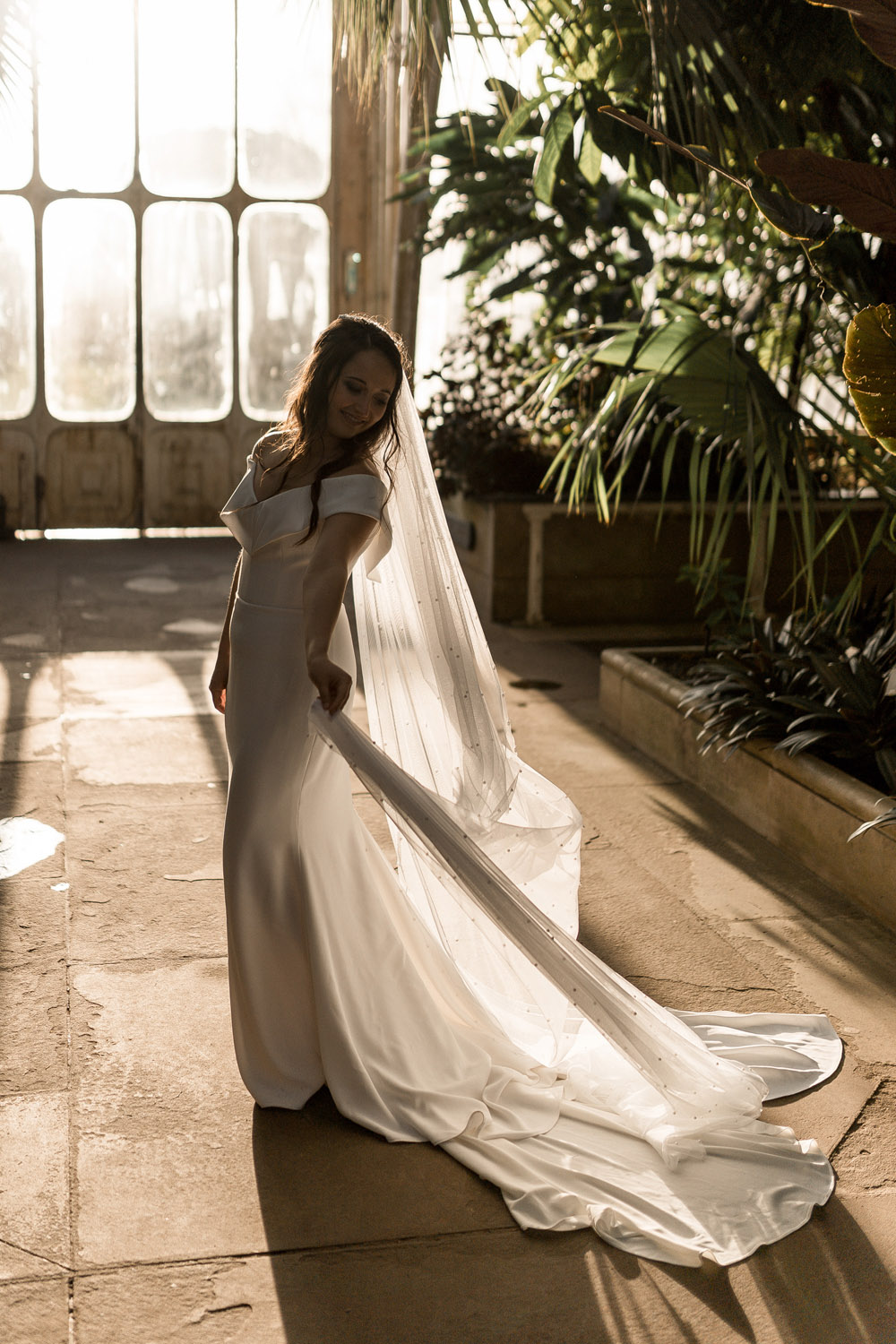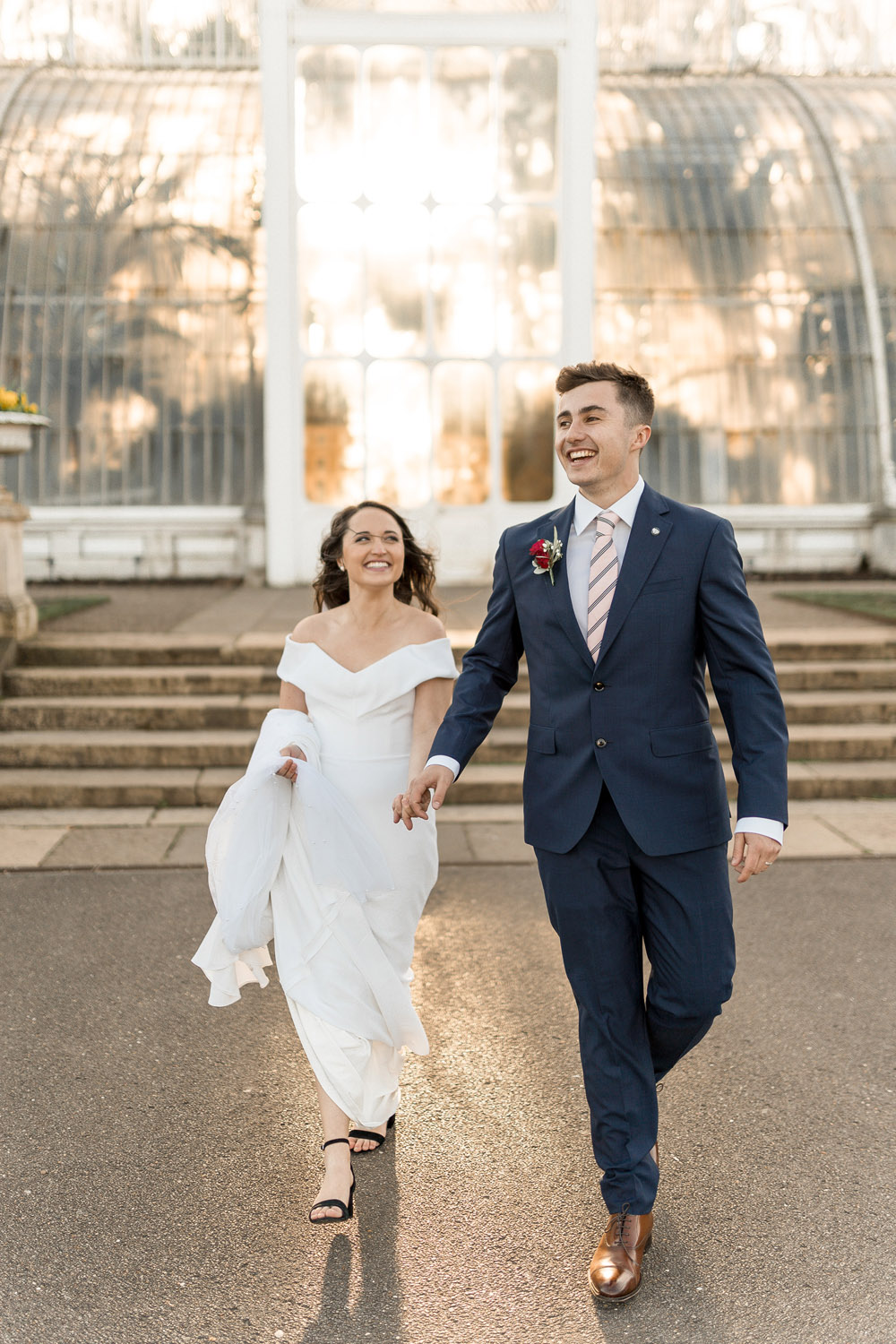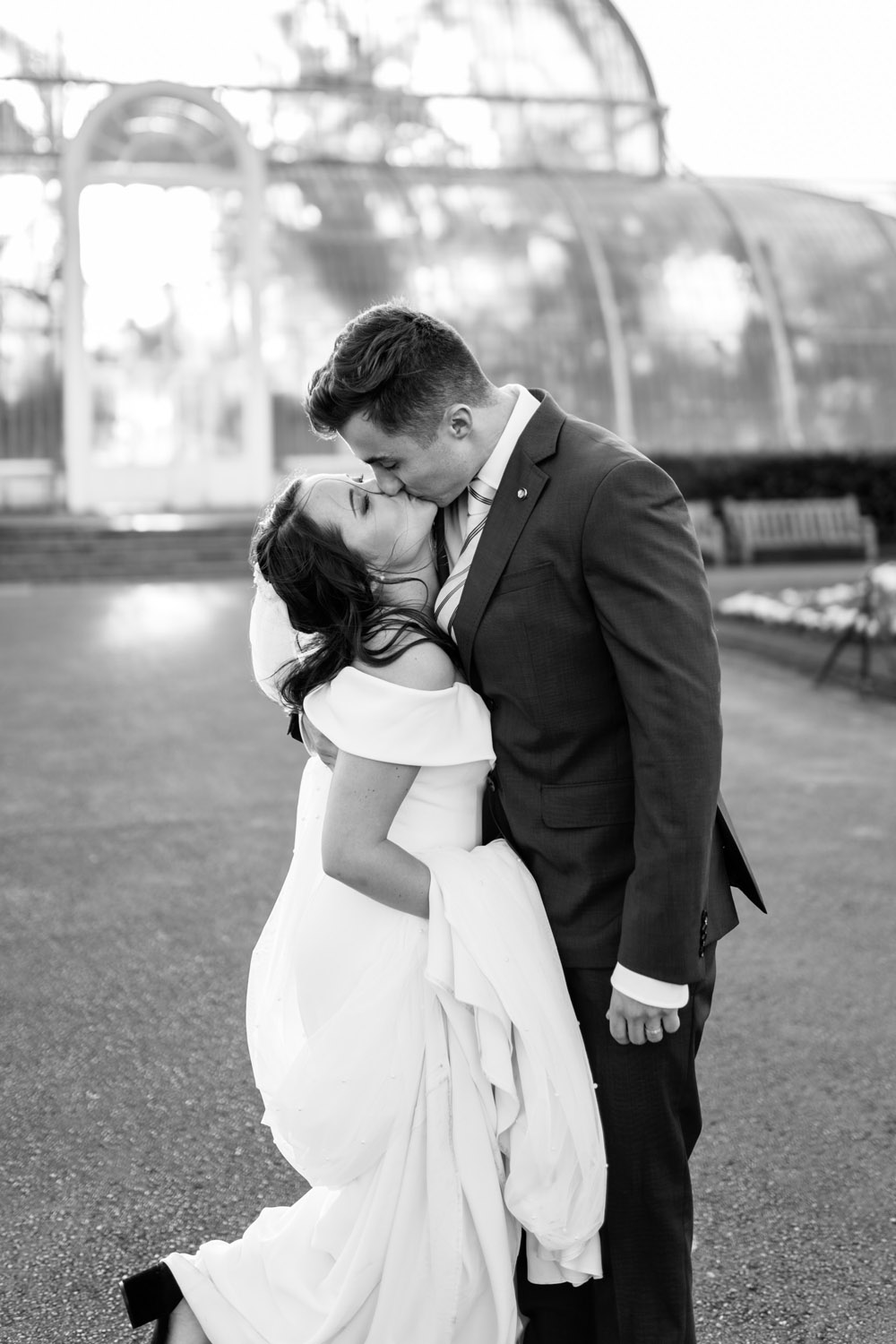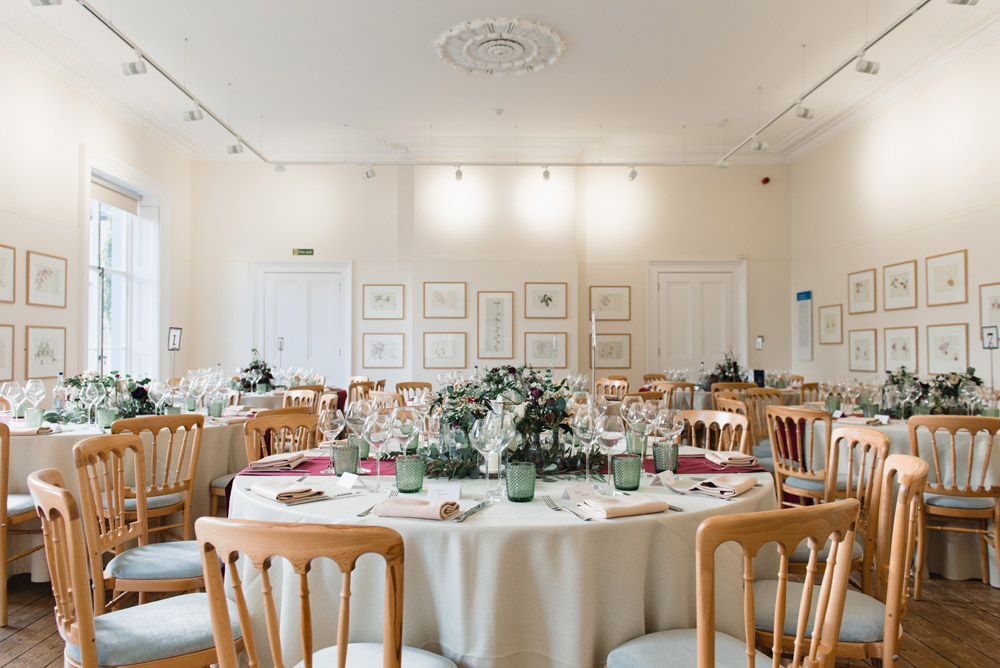 The reception space was decorated with lots more candles for a cosy atmosphere, and tables were beautifully adorned with burgundy runners, terrarium centrepieces and eucalyptus leaves scattered around.
The wedding feast came courtesy of Create Food, and there was a delicious three-tiered cake from Le Papillon Cakes.
"For our first dance we chose Lucky by Jason Mraz and Colbie Caillat. We wanted something fun and upbeat. Dancing to this song felt like we were in a conversation, plus it did a great job of showing how we feel about each other."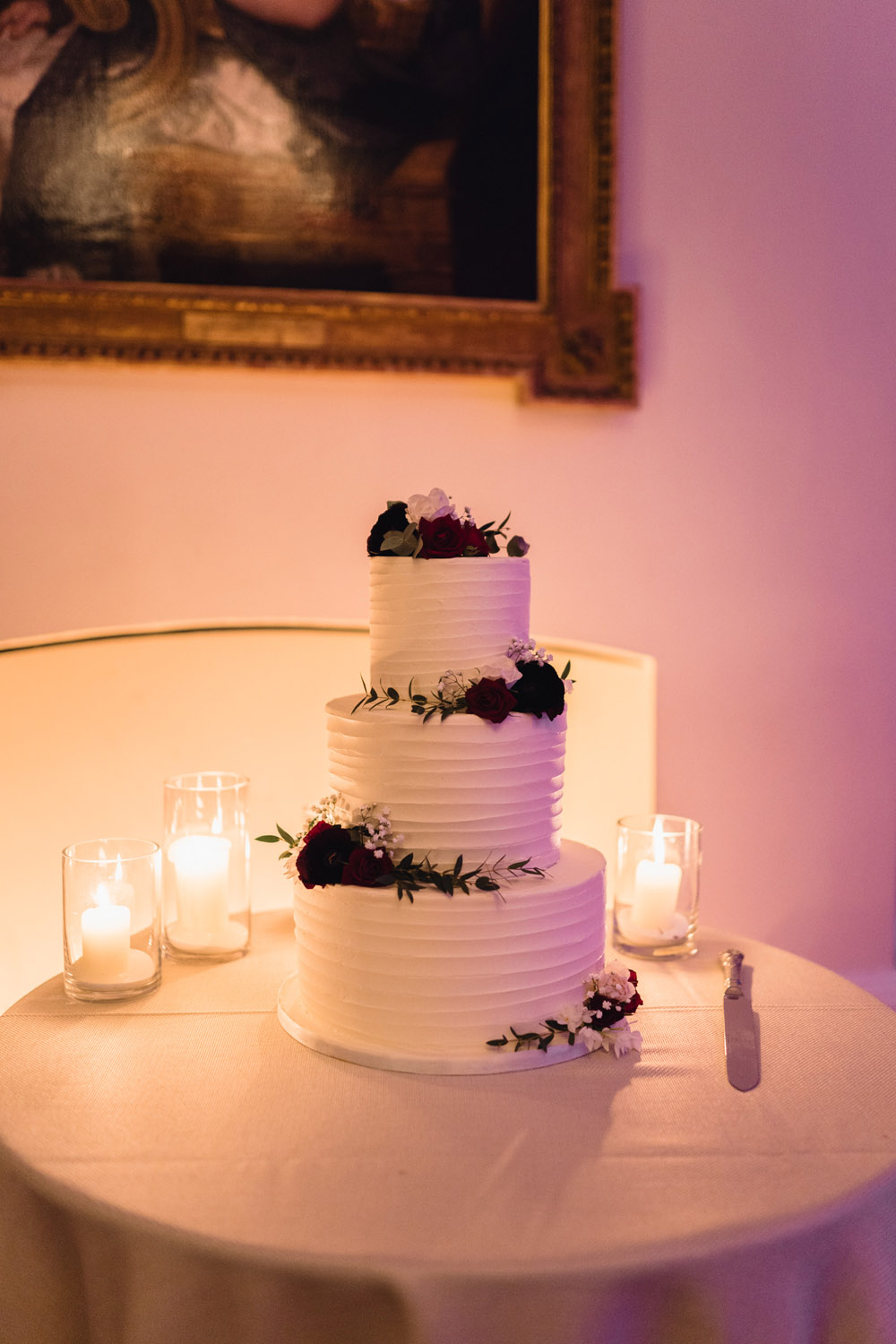 Words of Wedded Wisdom
"Chill out, it's going to be great!"
Thank you so much Anna and Jack! What a gorgeous, elegant day you had filled with such joy – it's so wonderful to see. Many thanks to Rebecca Searle for her beautiful images, too.
Until next time!
Love, Laura